A local thrift store posted a photo of this antique dresser on their Facebook page, and you bet I drove over there immediately – wouldn't you?  🙂  I brought my 2-year-old son along for the fun – thankfully I have a pretty big SUV.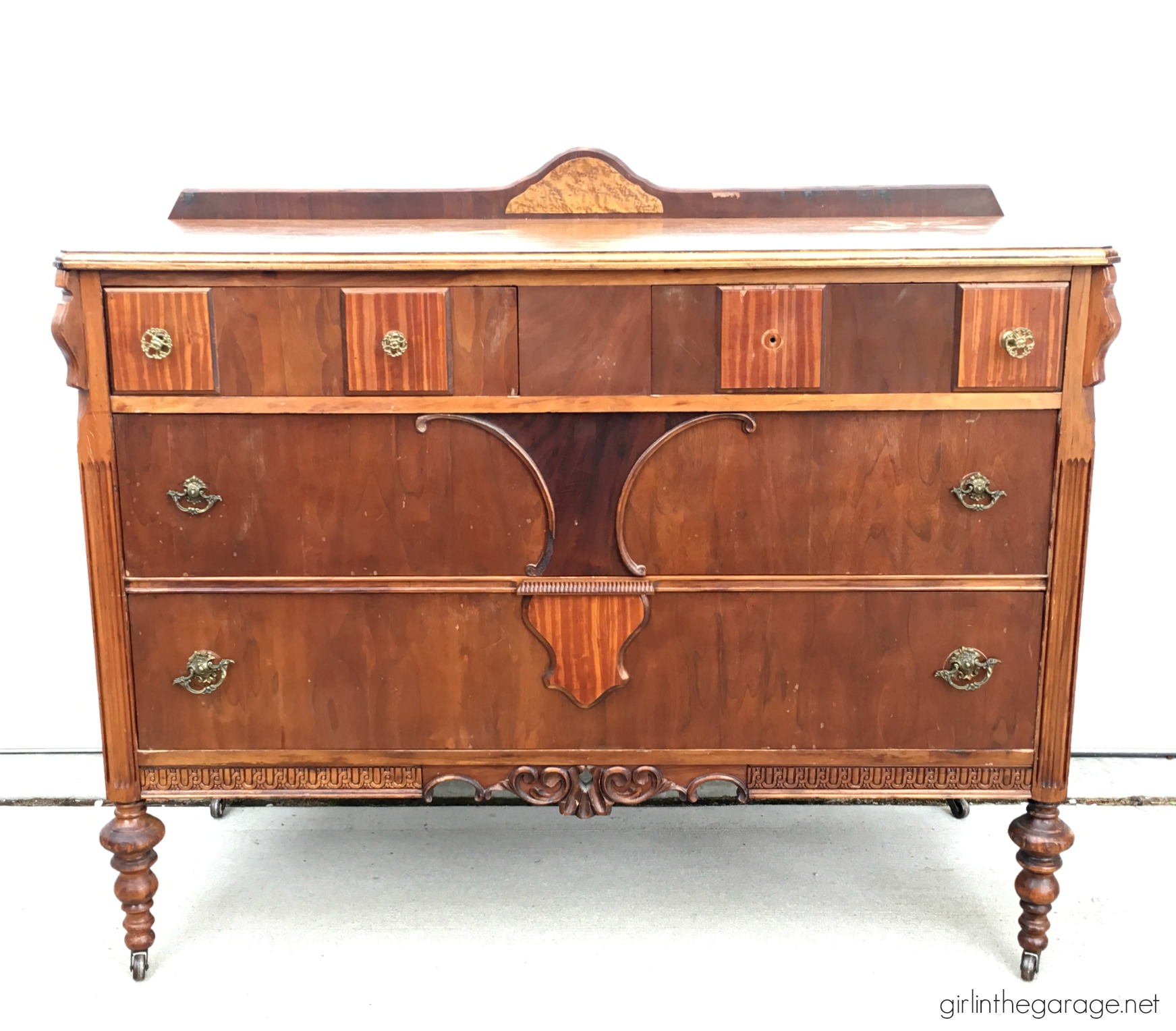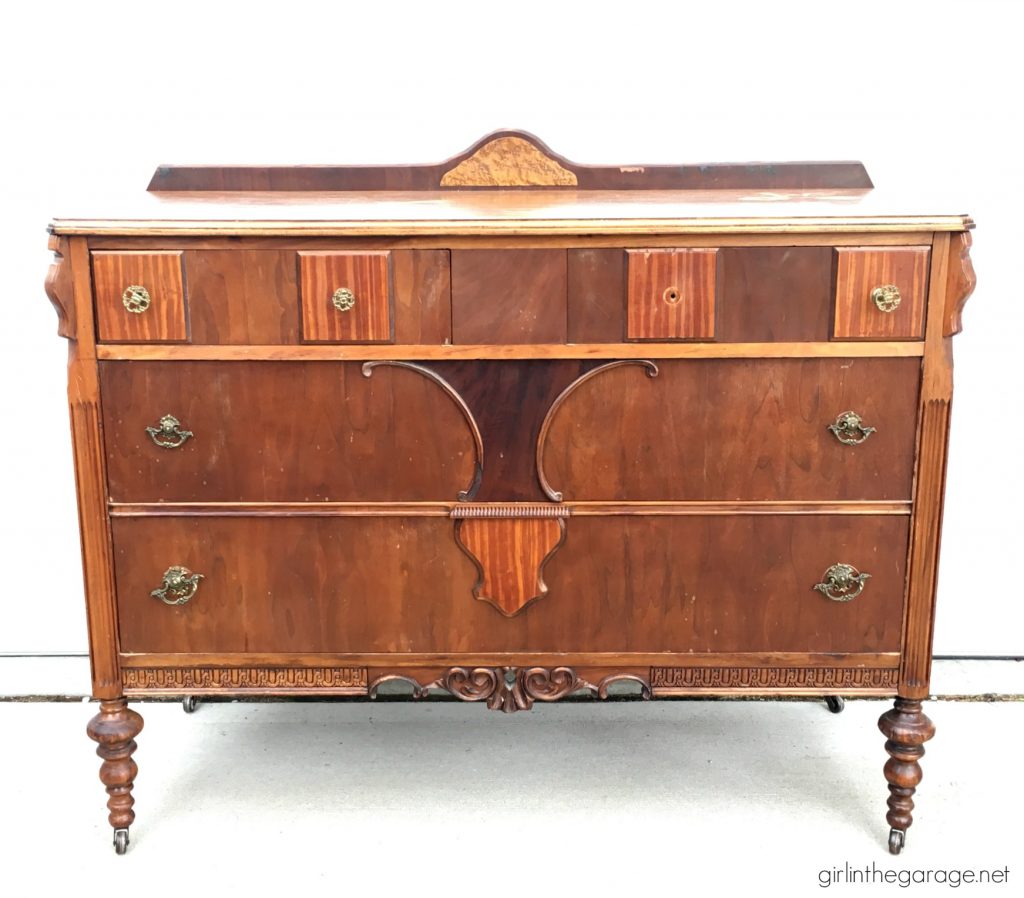 It was on sale for about $60 I think.  It was pretty scratched up and the veneer was chipping in some places, and there were a lot of different types of wood colors and patterns which seemed kind of odd/distracting to me. 
It was the perfect candidate for an antique dresser makeover!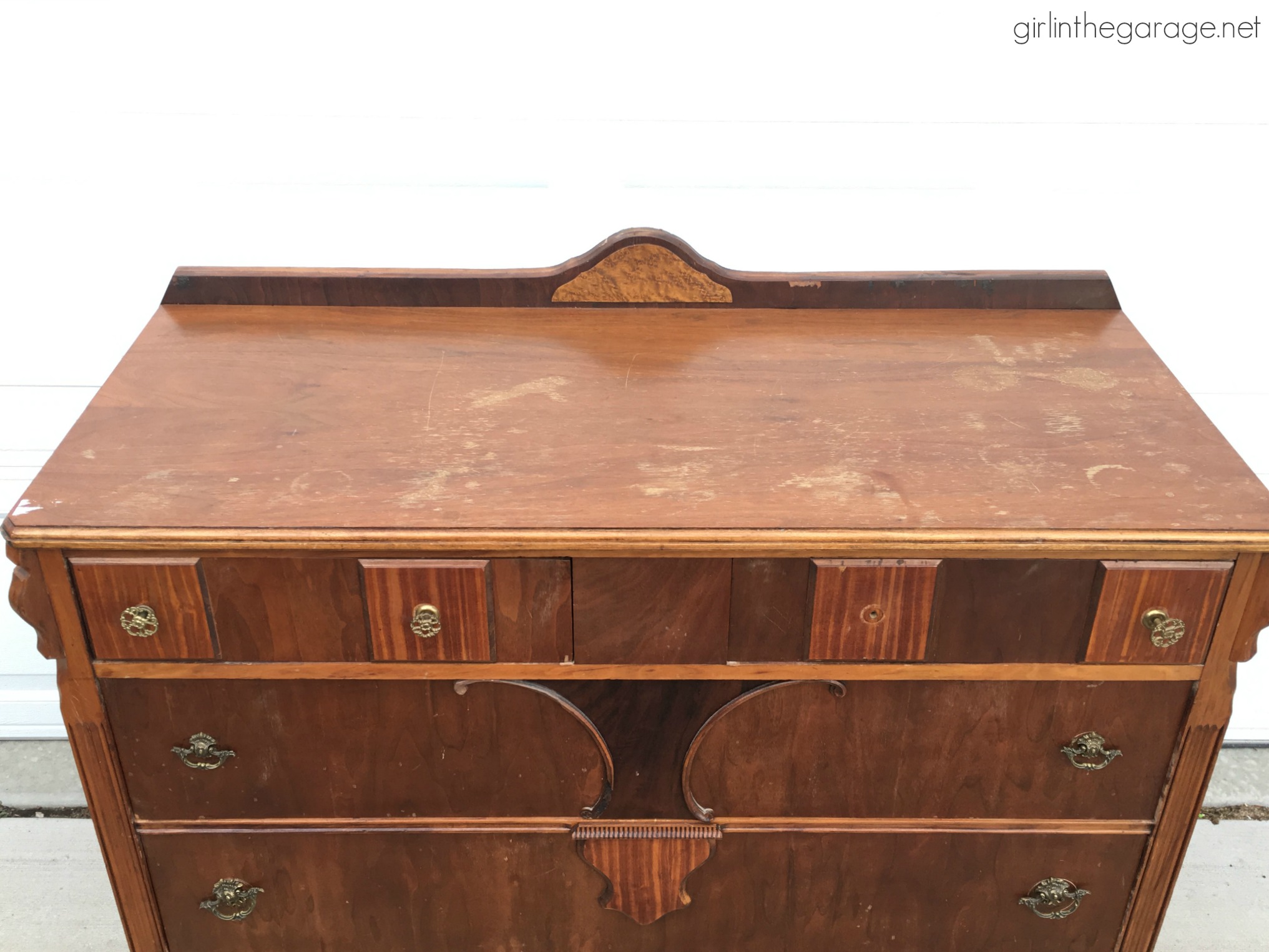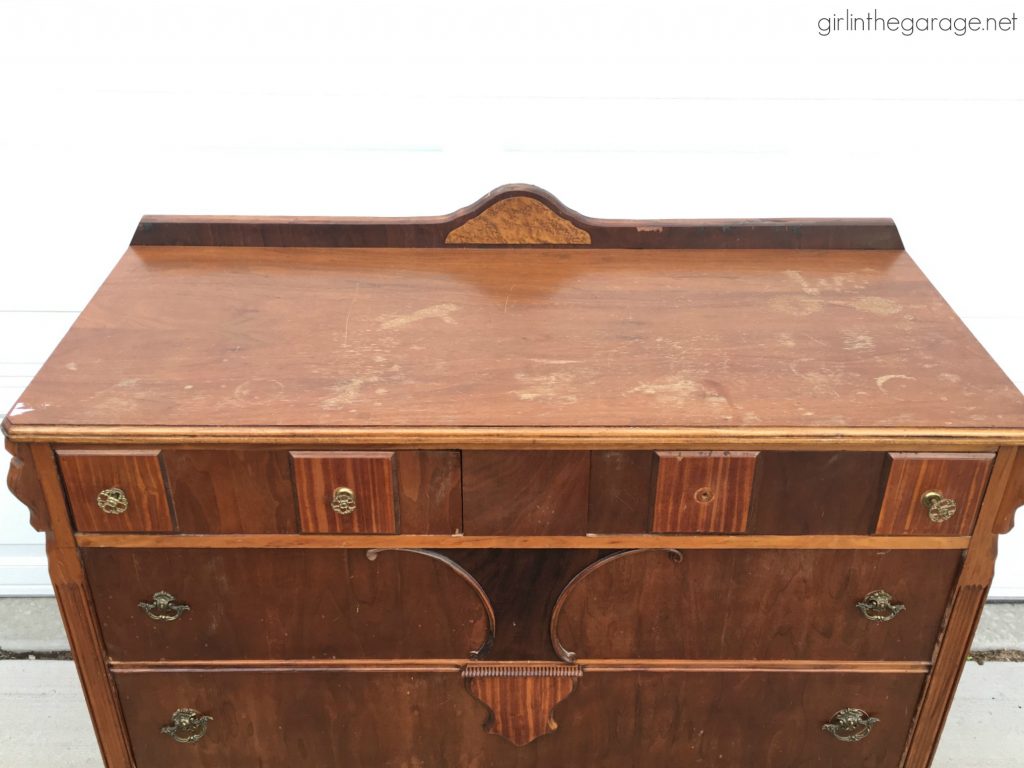 **Today is Furniture Fixer Uppers day with some of my good blogging friends – see their creative furniture makeovers at the bottom of this post.  Also, this post contains some affiliate links so you can easily find the products I use and recommend.
Here we are after getting it loaded (it barely fit).  Haha!  My helper is such a cutie.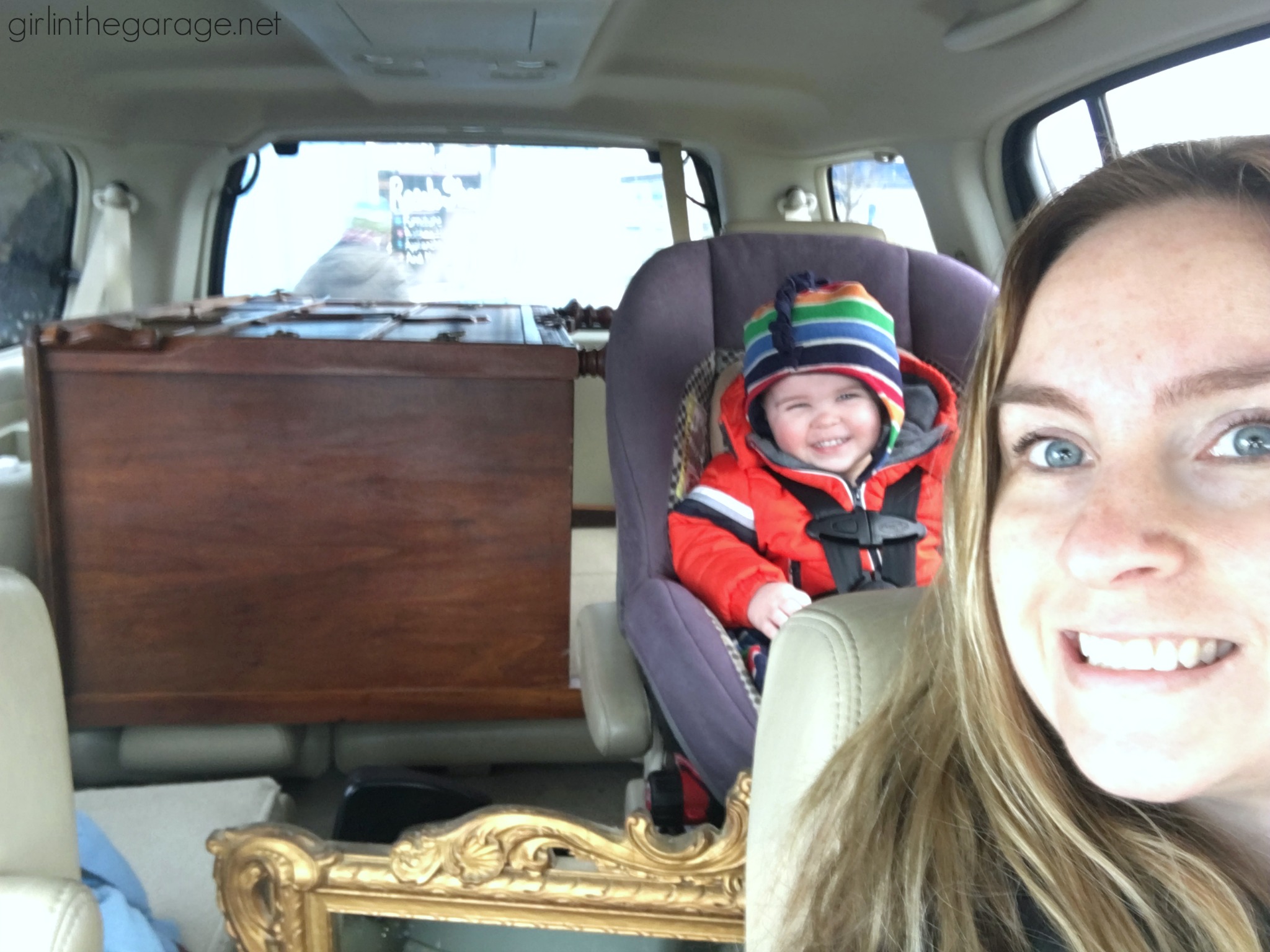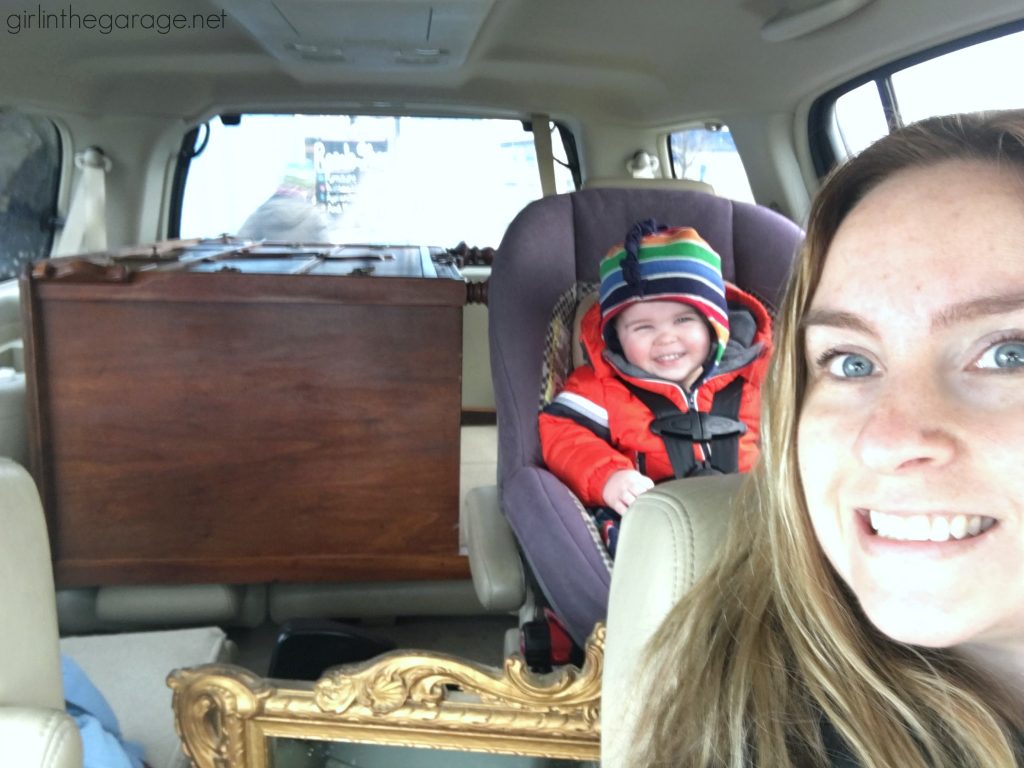 After getting home, we cleaned it up and Guy in the Garage sanded the top smooth.  The wood was just gorgeous!  (Ignore the strange tree branch shadow.)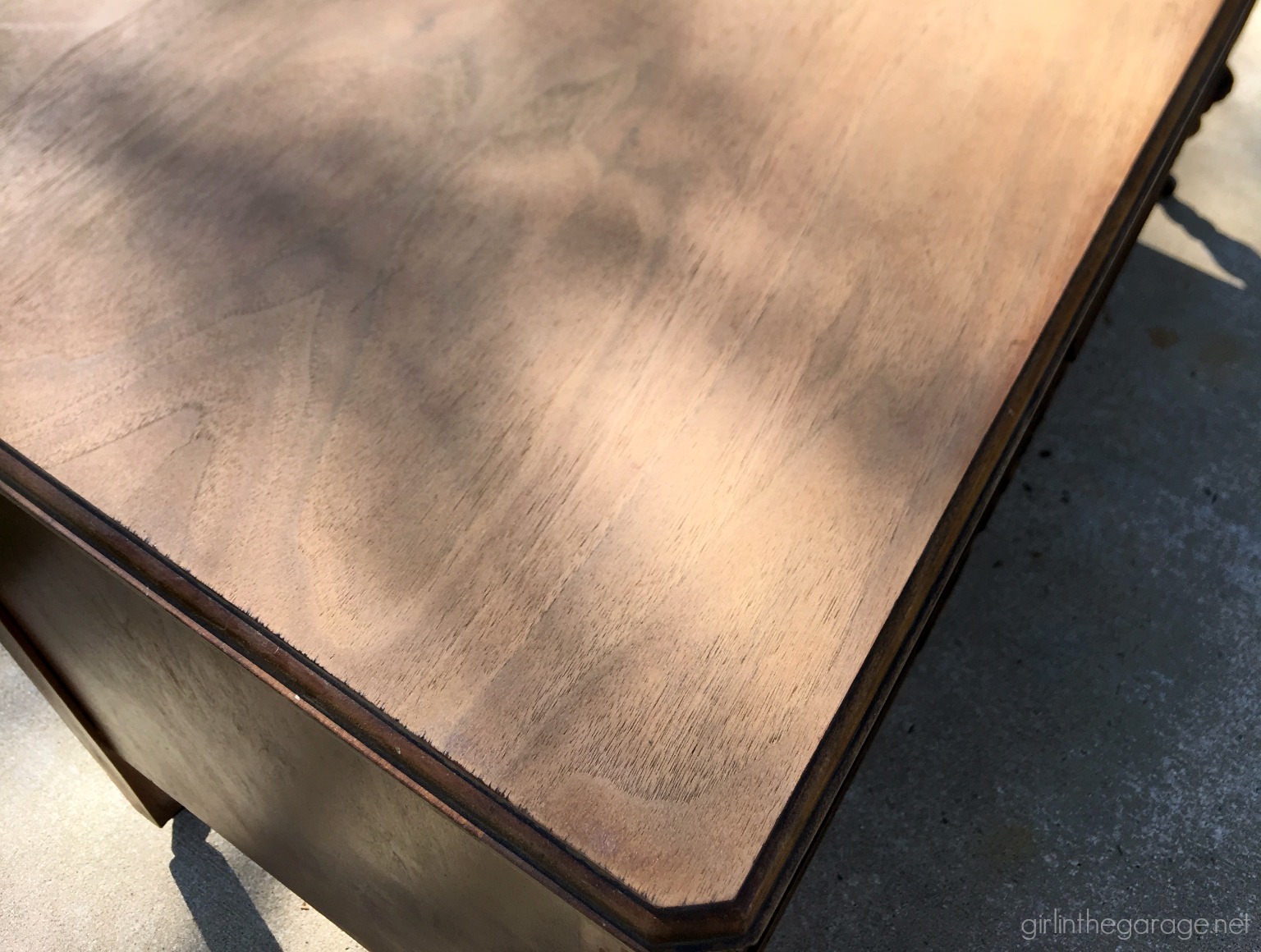 The back of the dresser has a stamp that says "Walnut Veneer" – the wood color was so pretty and didn't deserve to have the good areas painted over. 
Minwax stain in Special Walnut was pretty much the perfect match.  Hubby stained the top and then sealed it with matte polyurethane.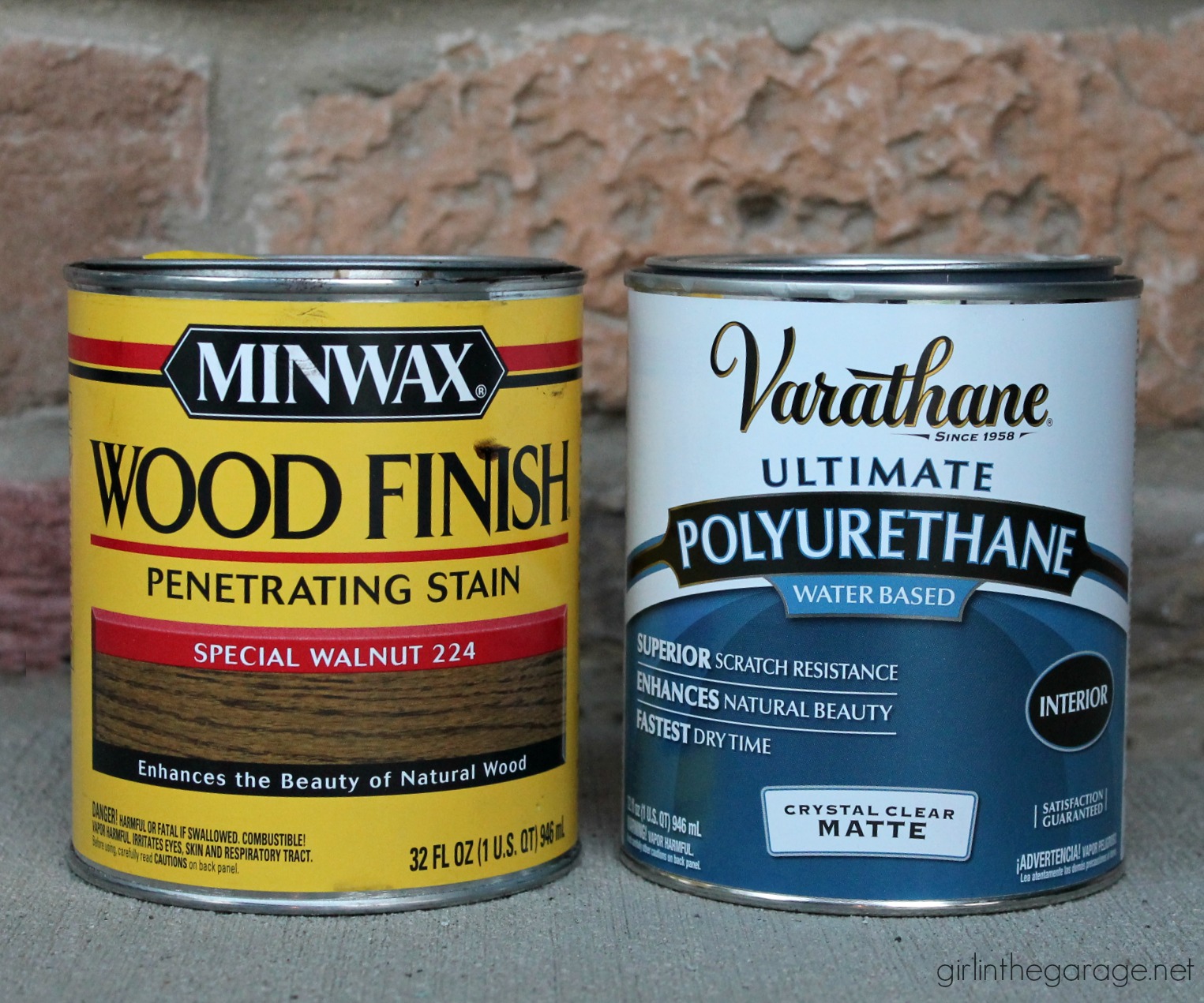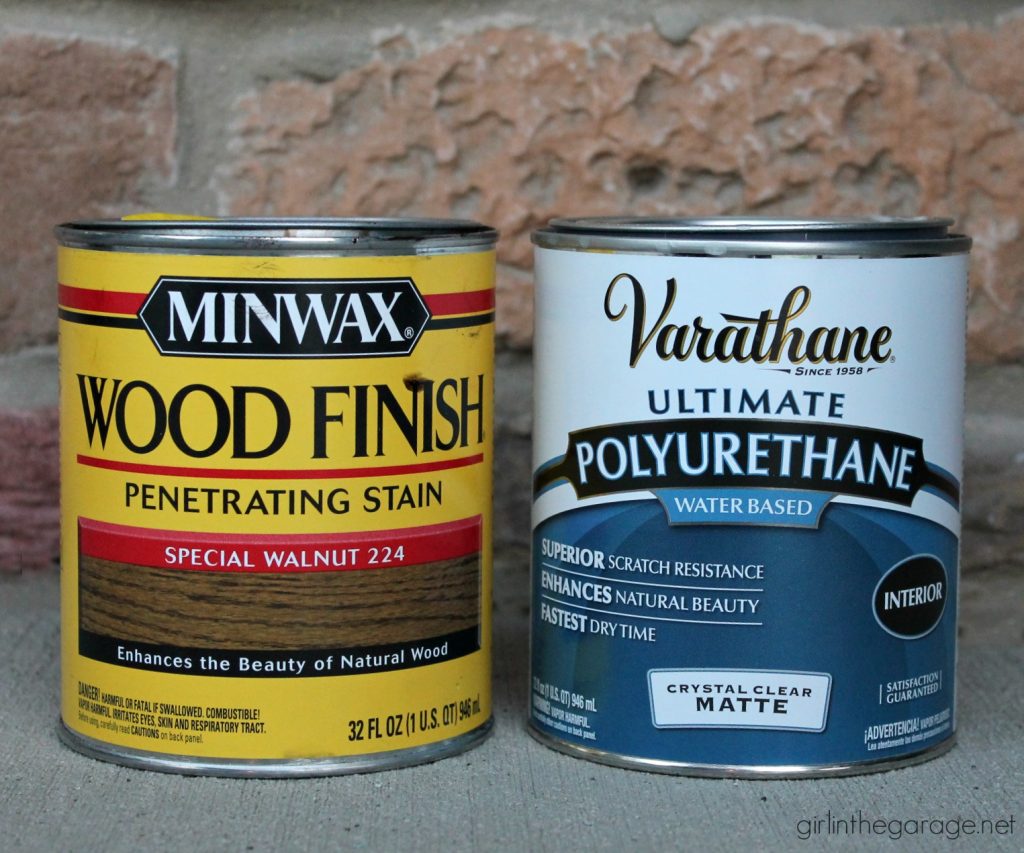 Next up, the drawers were sanded and the areas that were going to be painted were first primed with my favorite shellac primer.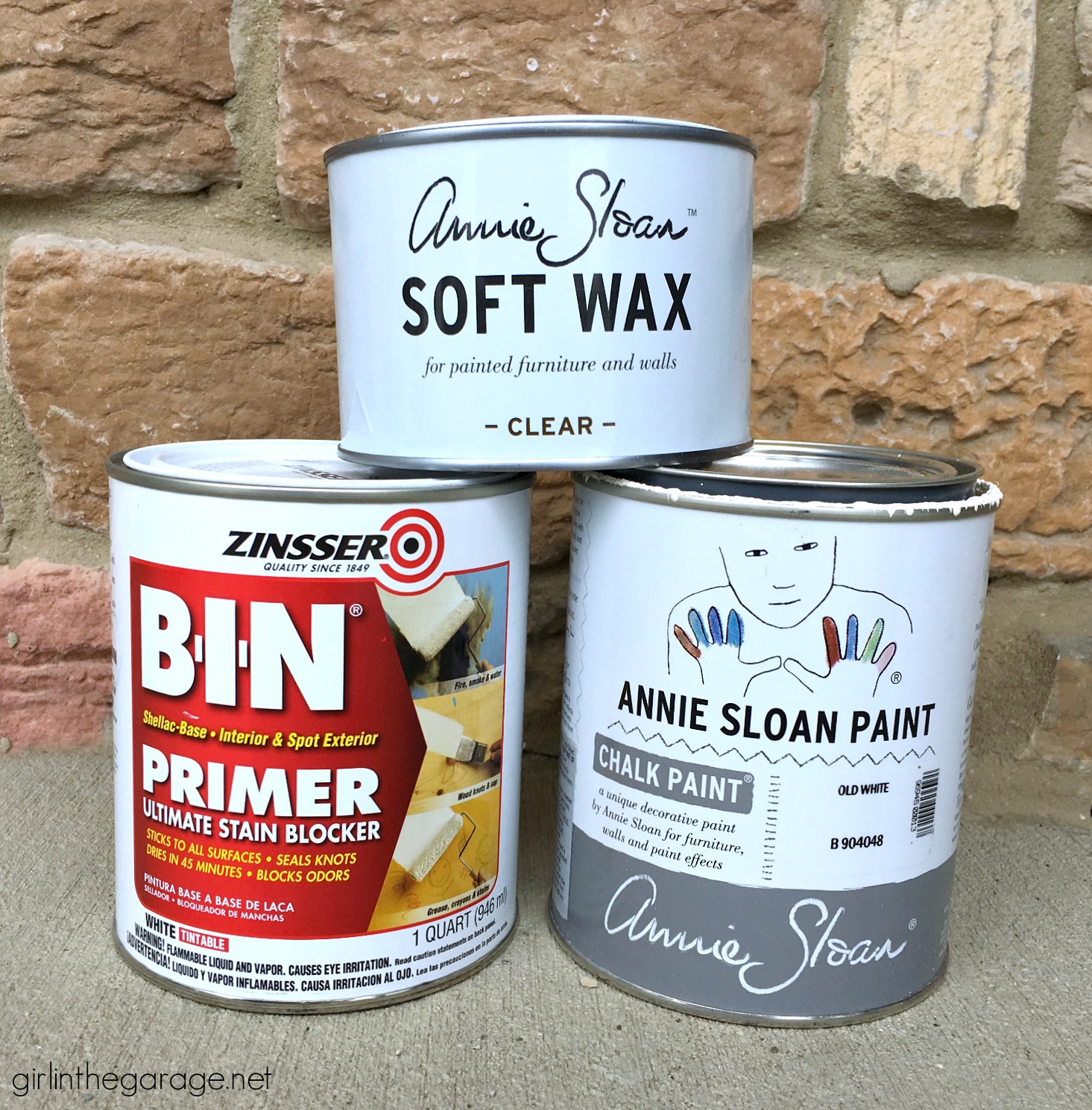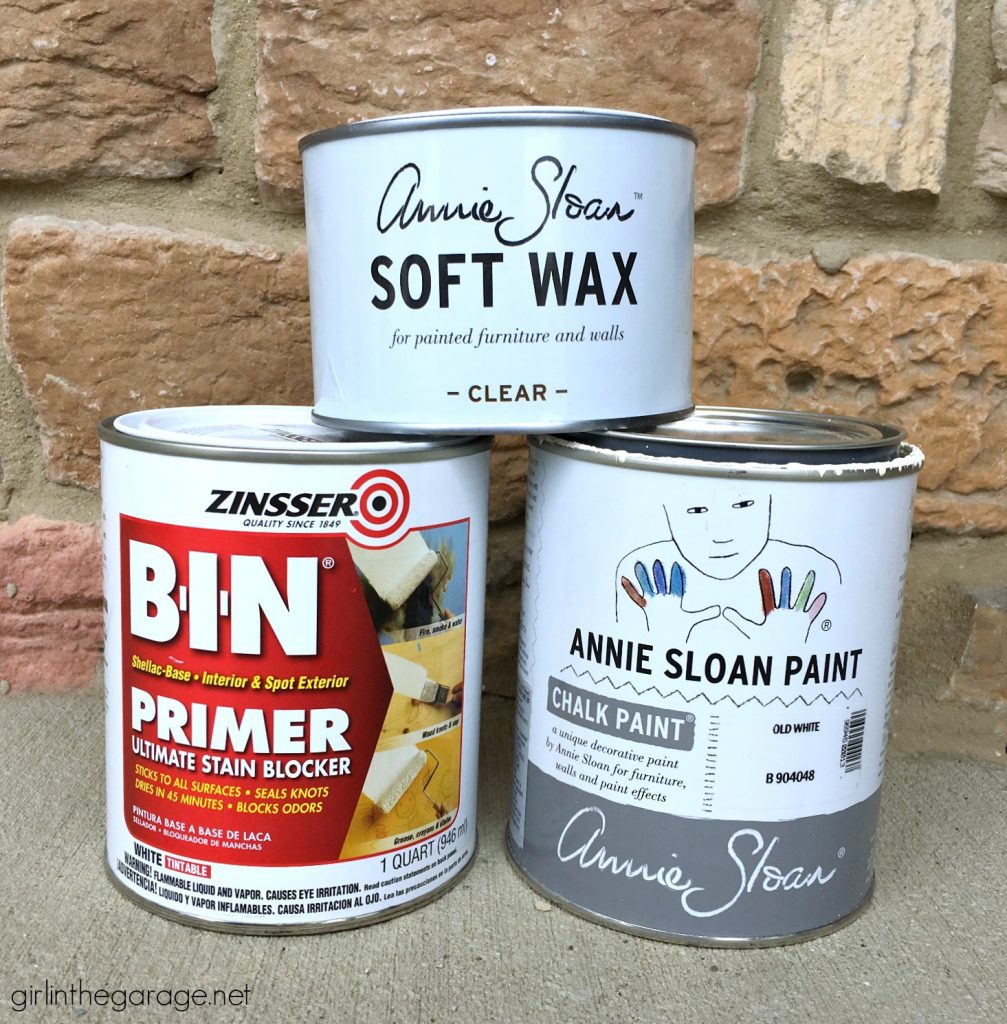 (See priming before/after below…)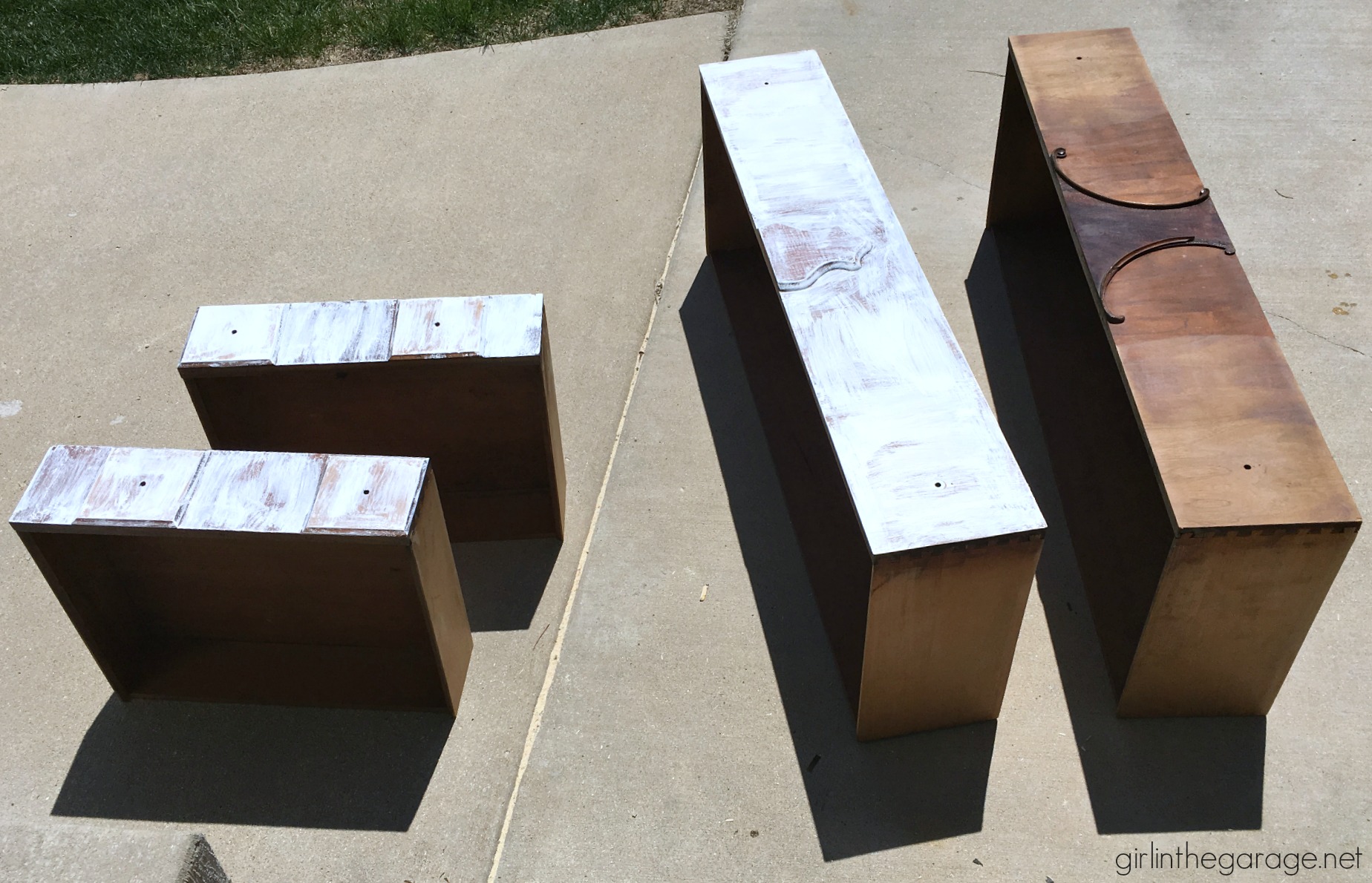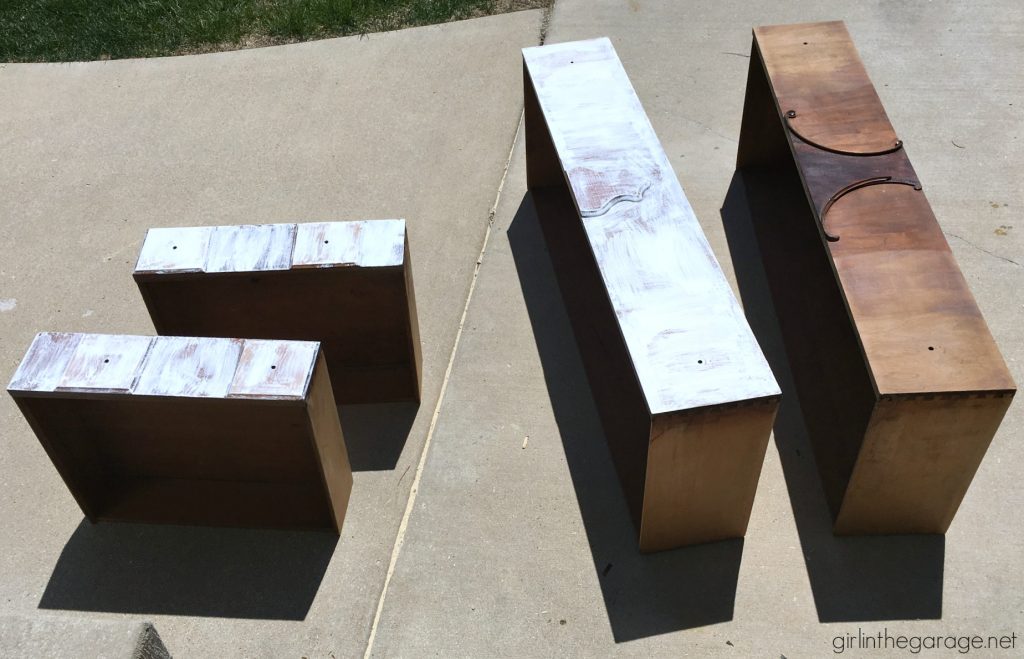 The drawers and the decorative parts of the body were painted with Annie Sloan Chalk Paint in Old White, sanded and lightly distressed, and then protected with clear wax.  Below, sections are taped off in preparation for painting.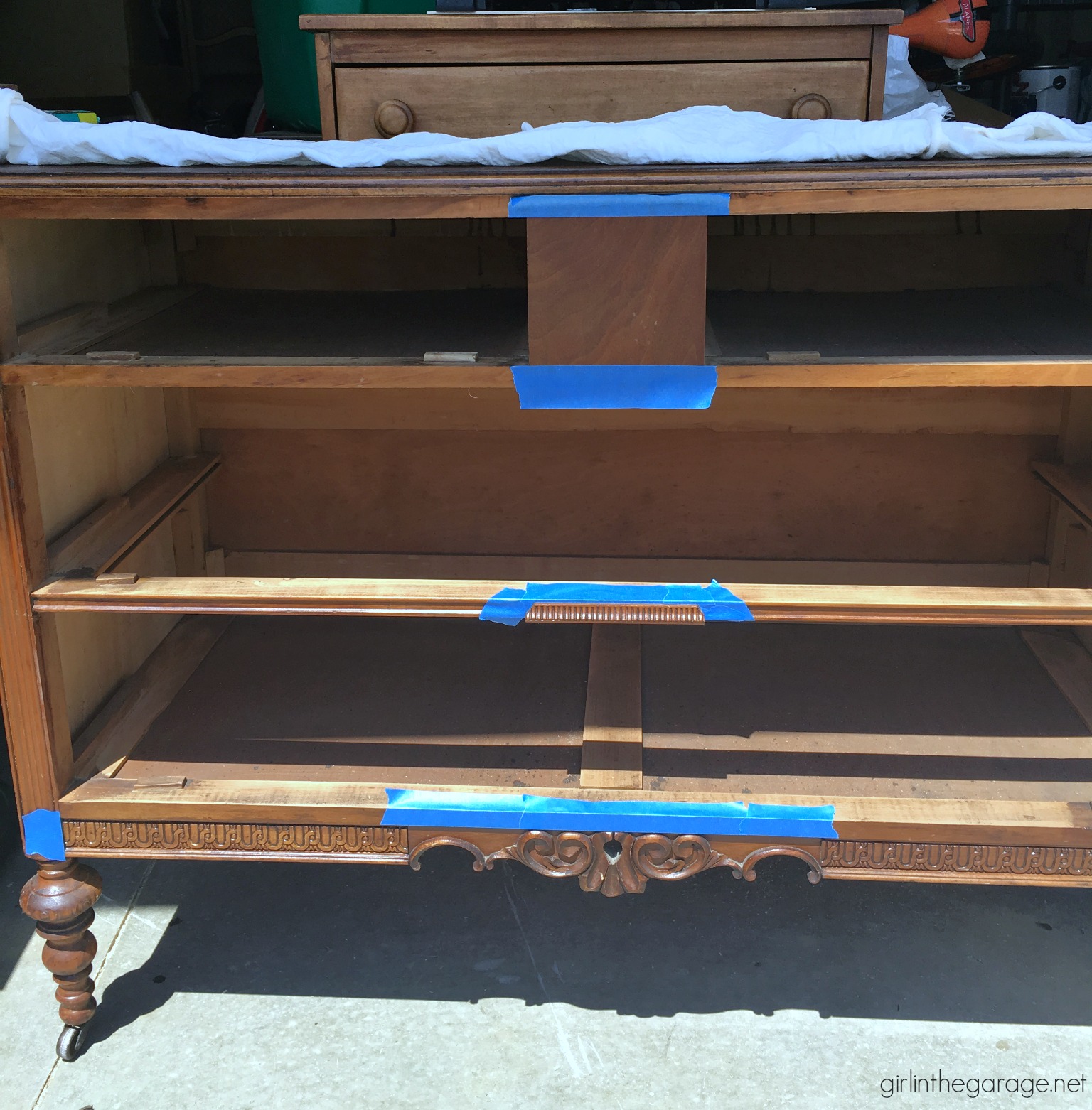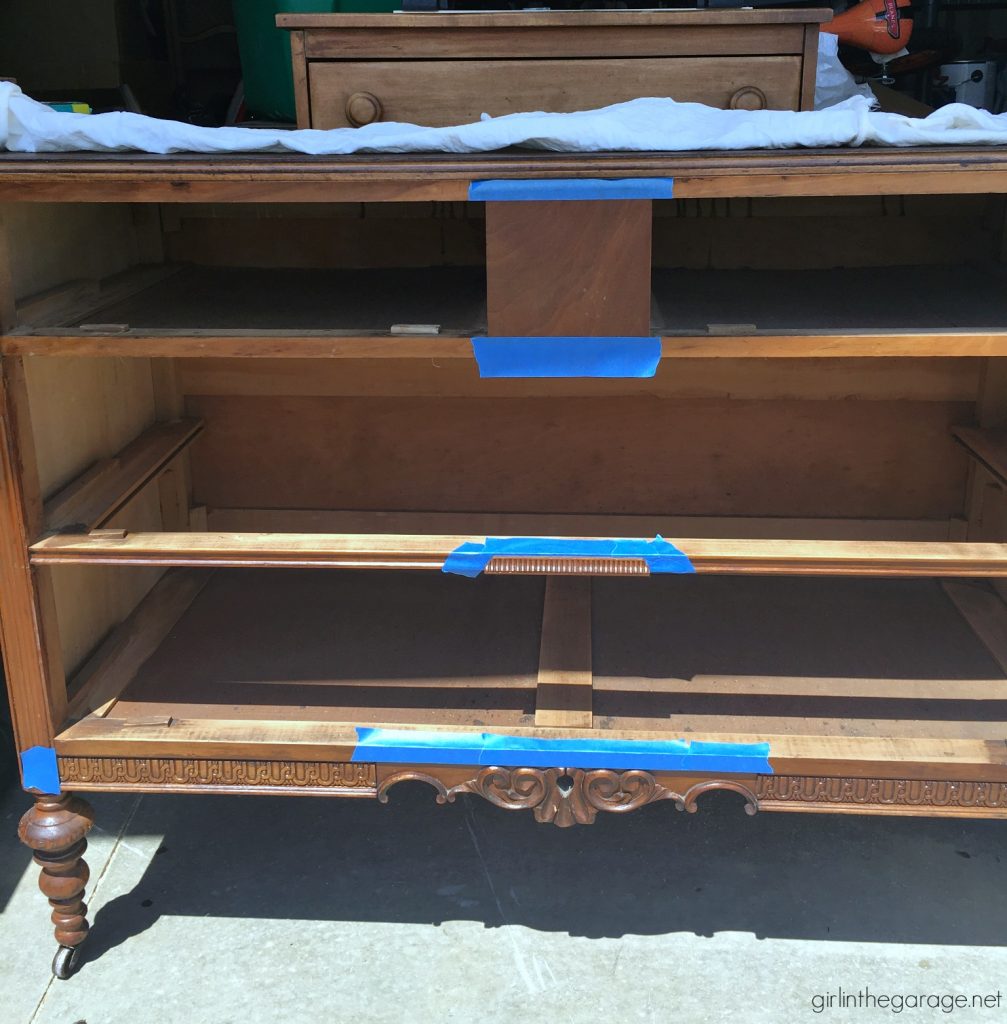 Finally, the remaining wood areas (the sides, legs, and between the drawers) were given a good wipe down with hemp oil.  It helps revive dry wood and makes it look oh-so-pretty again.
Here's how this antique dresser makeover looks now: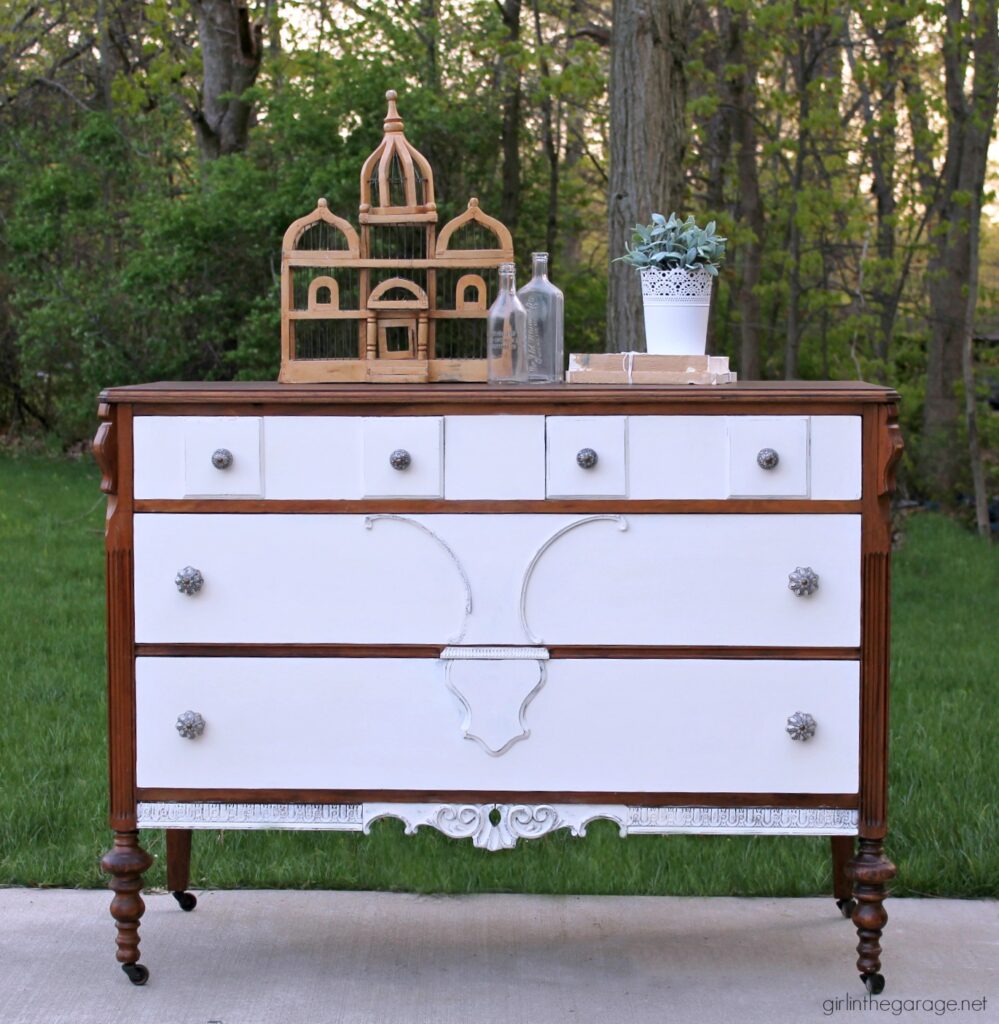 And here's a closer look at that beautiful top with the new walnut stain: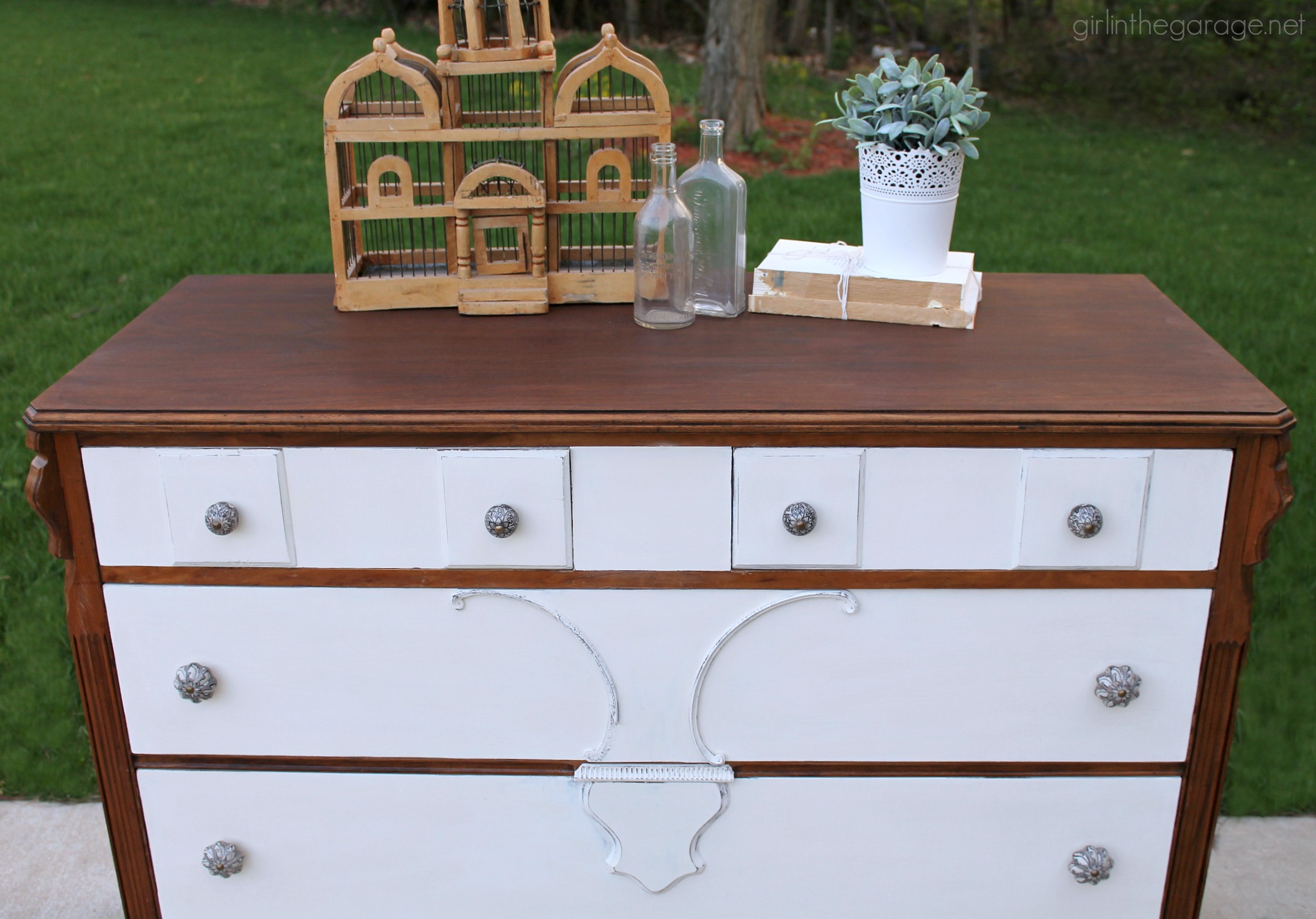 And oh my goodness – how could I forget my favorite part?  The new patterned knobs from Hobby Lobby.  (All the heart eyes!)  Truth be told, I bought them first and then planned the rest of the antique dresser makeover around them.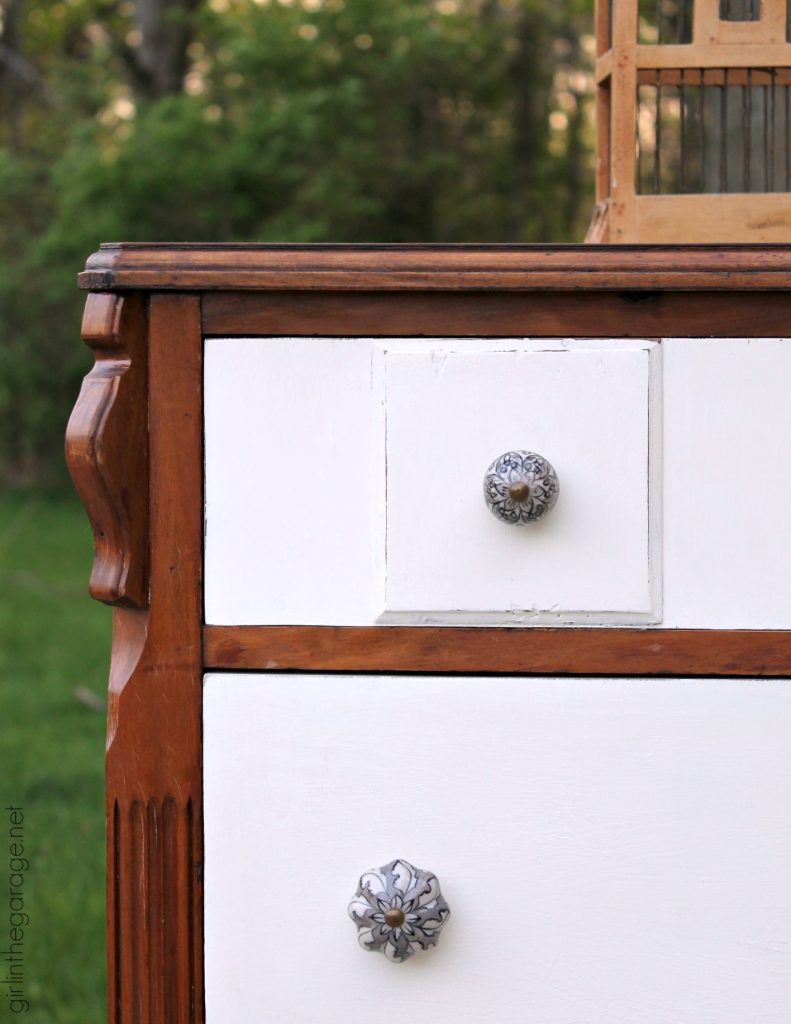 Does anyone else see the face below?  Ha!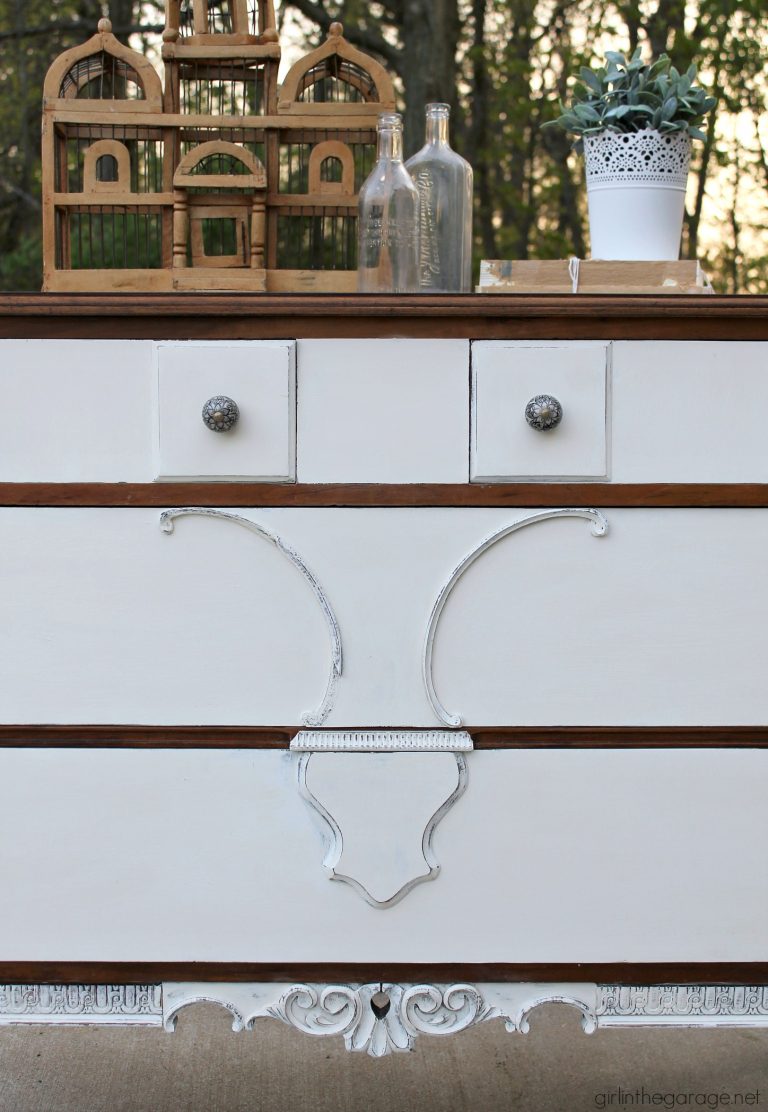 The details and trim really pop after being painted and sanded.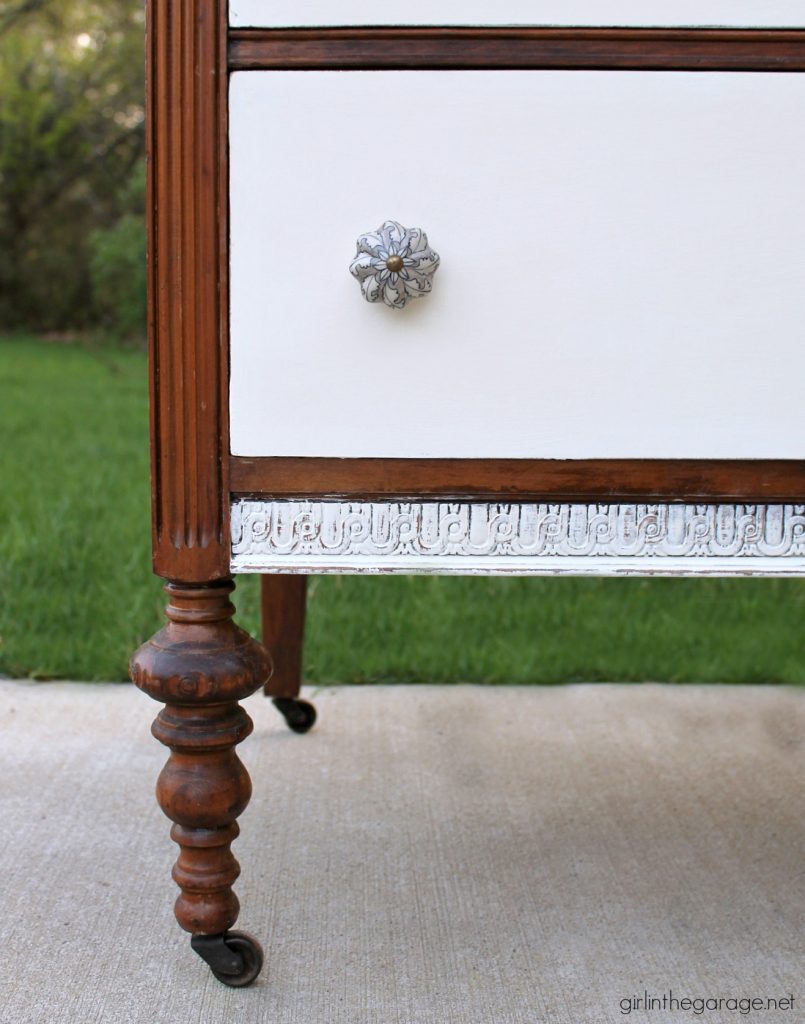 This is truly one of my new favorite pieces!  I love it so much, but sadly we don't have a place for it in our home.  We took it to my booth at Antiques on Main (Crown Point, IN) last week.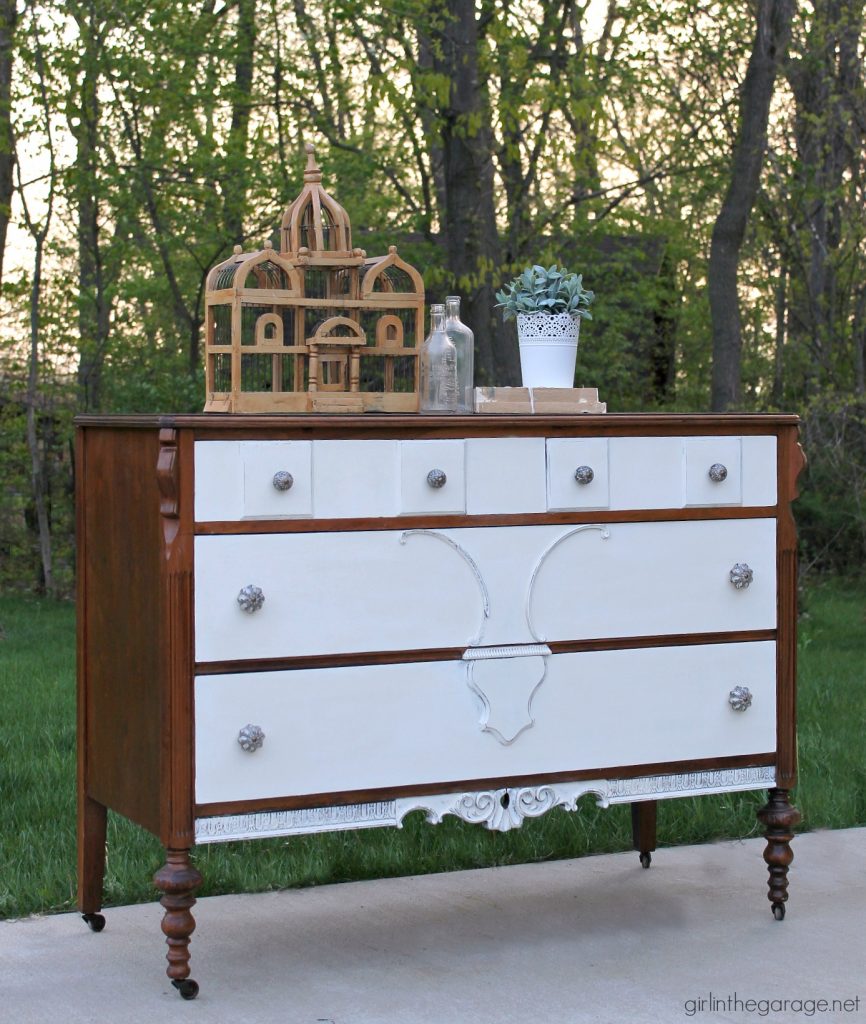 And because we're goofballs, we totally forgot to put the backsplash back on for staged photos!  So here it is in my booth with the painted backsplash attached.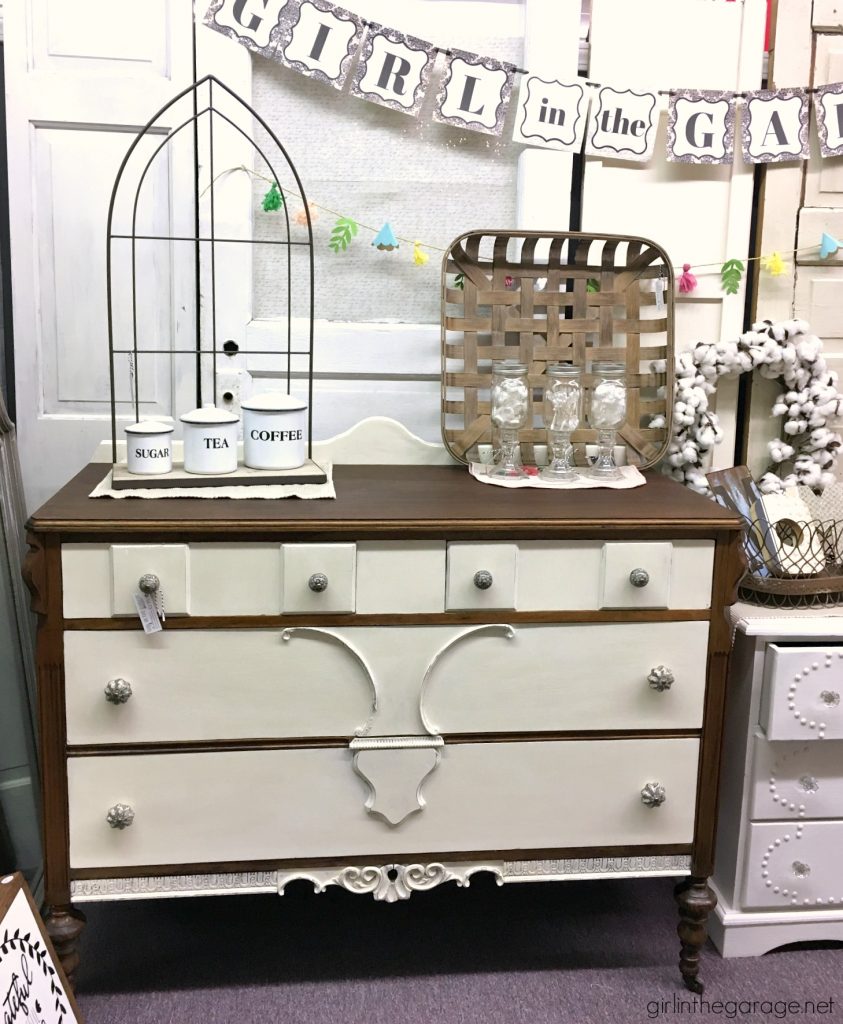 Here's a before-and-after of this antique dresser makeover one more time: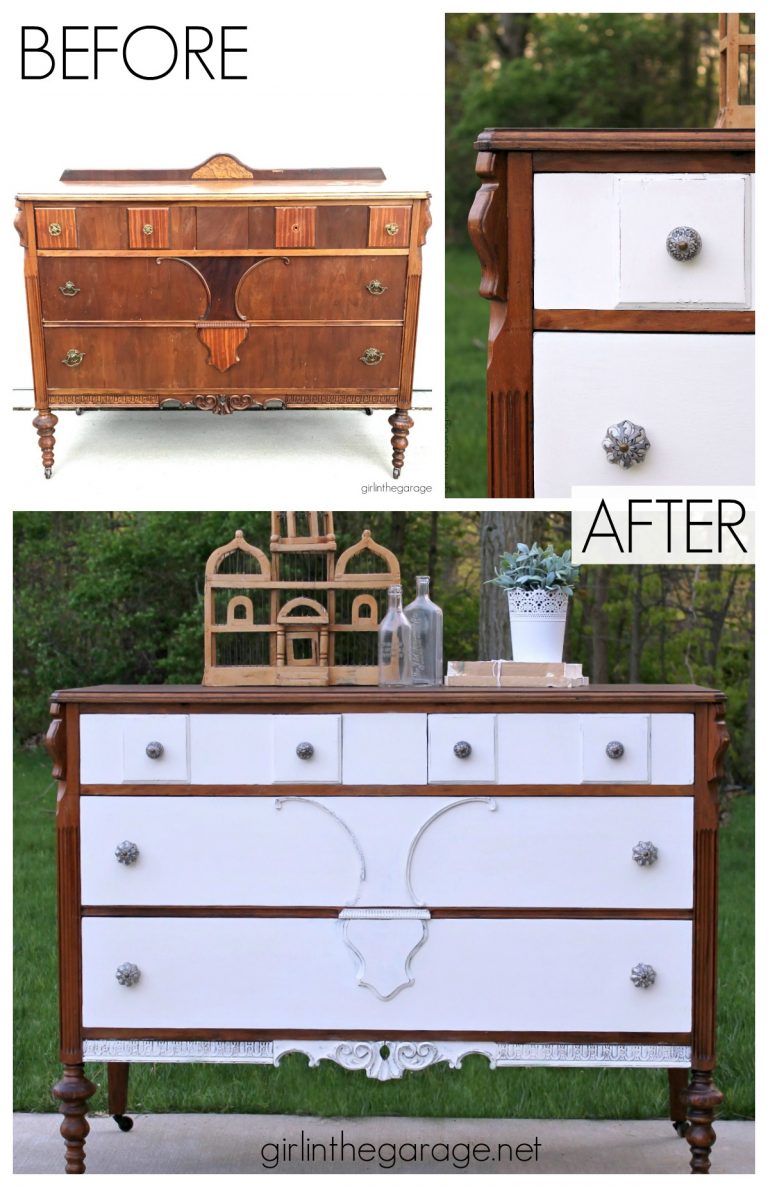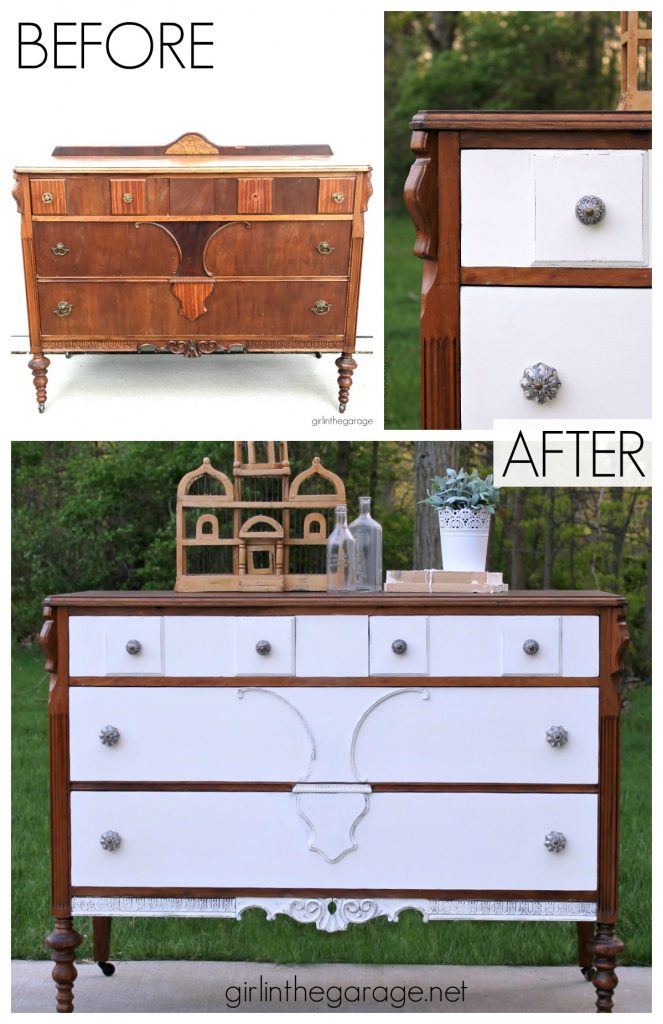 As always, I'd love to know your thoughts.  Please leave a comment below and pin/share this project so that others can be inspired too.  Thank you, friend!
– Jen
Also, it's Furniture Fixer Uppers day again, which means 5 more creative makeovers to inspire you!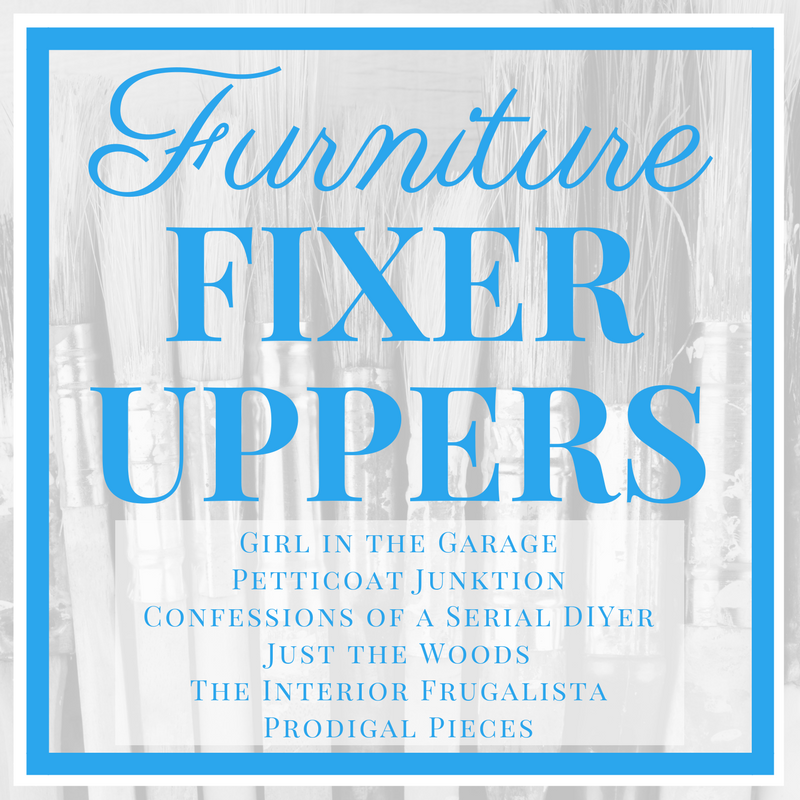 Below are the Before photos – visit the links underneath to see the Afters and learn how they did it: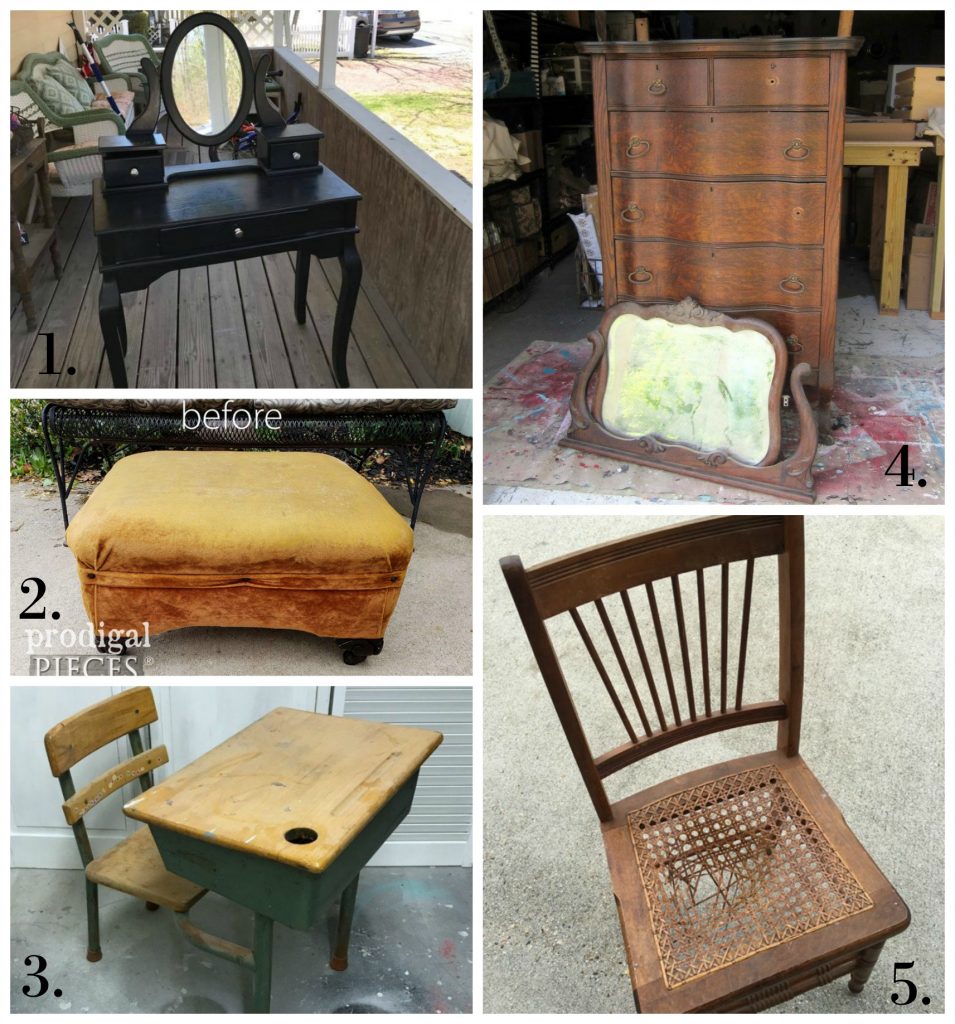 1. Just the Woods
2. Prodigal Pieces
3. The Interior Frugalista
4. Petticoat Junktion
5. Confessions of a Serial DIYer
.