Welcome back, friend! For this project, I ventured outside my usual style and I kind of LOVE it! Today I'll show you how to blend paint colors for a brilliant finish on an old console table (with a helpful video too).
But first – recently I had the privilege of chatting with Annie Sloan live on her Instagram page. I was so nervous at first but Annie made me feel very comfortable and we had the best time talking about how I got started painting, my book Amazing Furniture Makeovers, and seeing some of my past projects at my house.
Below are a few screenshots of us chatting and laughing: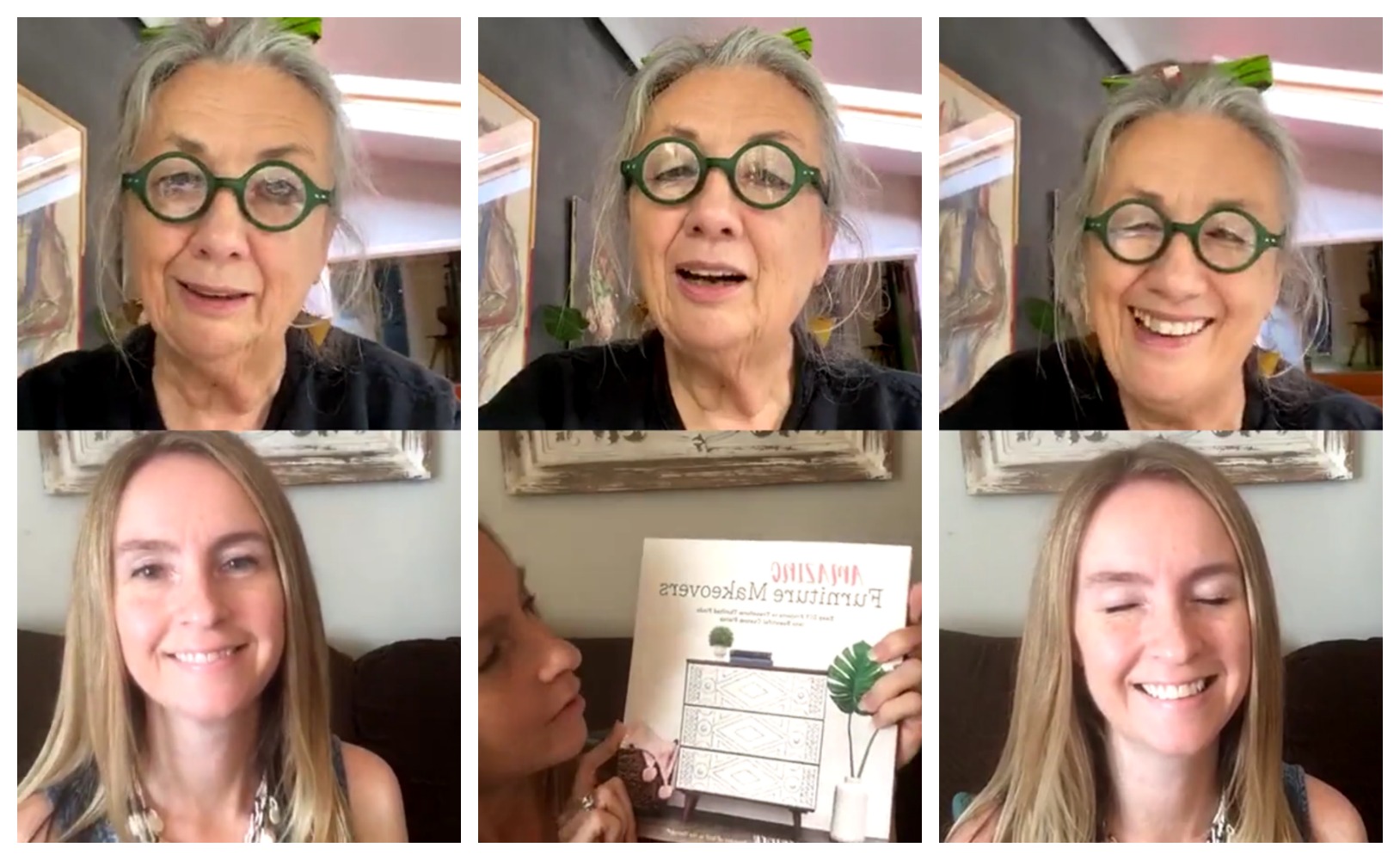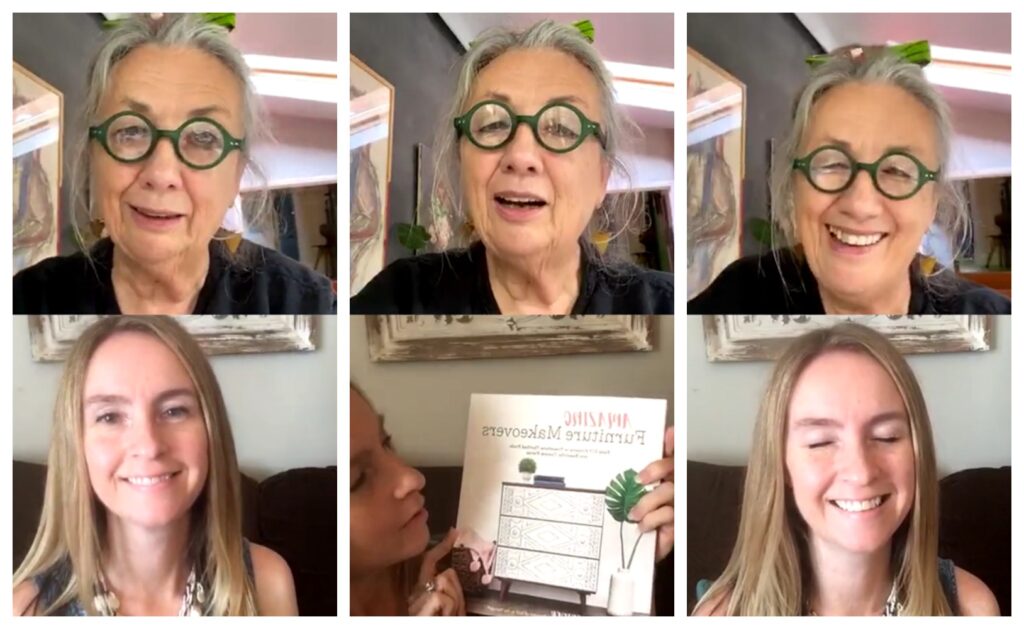 There is a replay available on Annie's Instagram page here. (You can watch it even if you don't have an Instagram account.)
Now for some furniture makeover fun!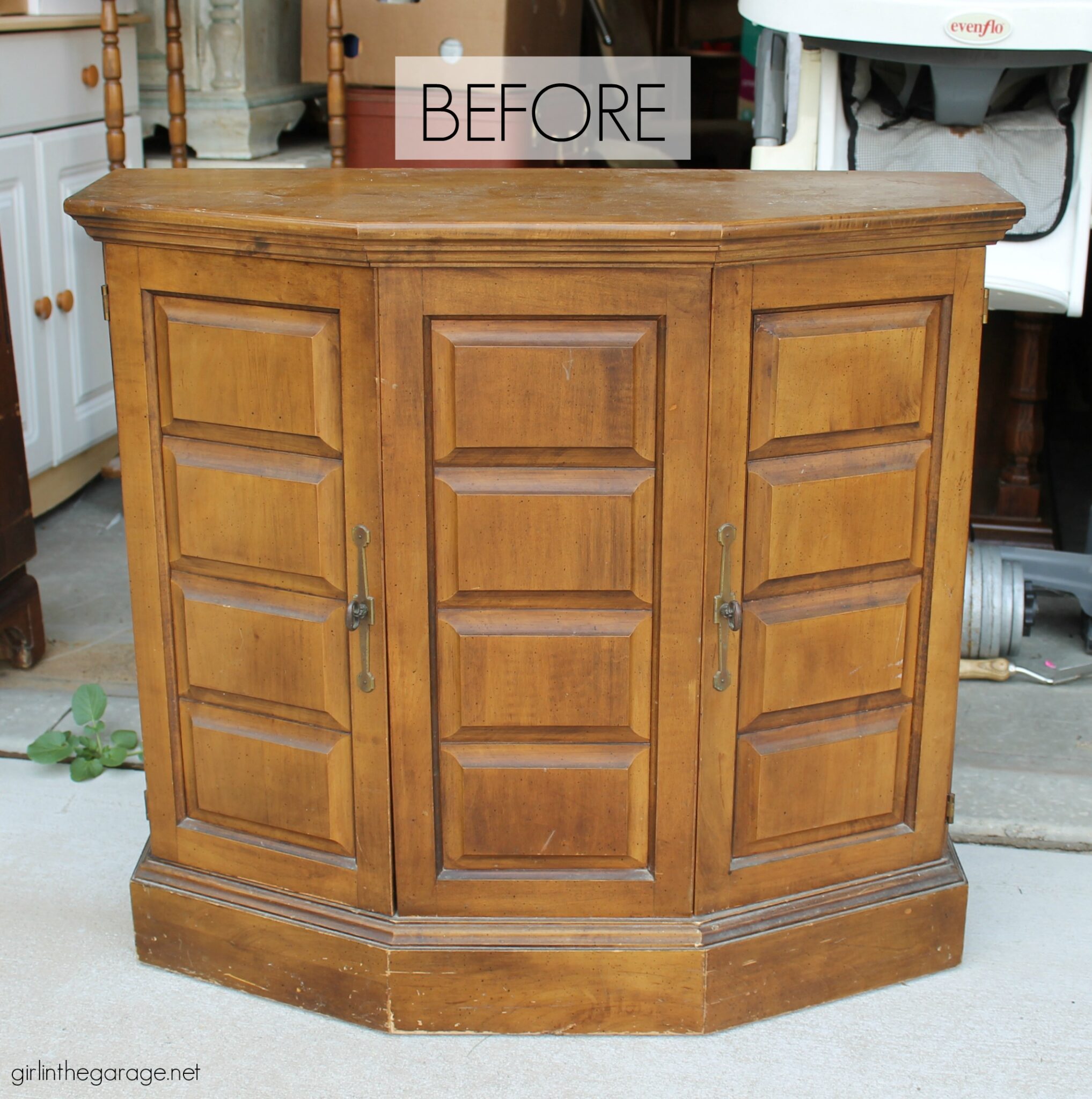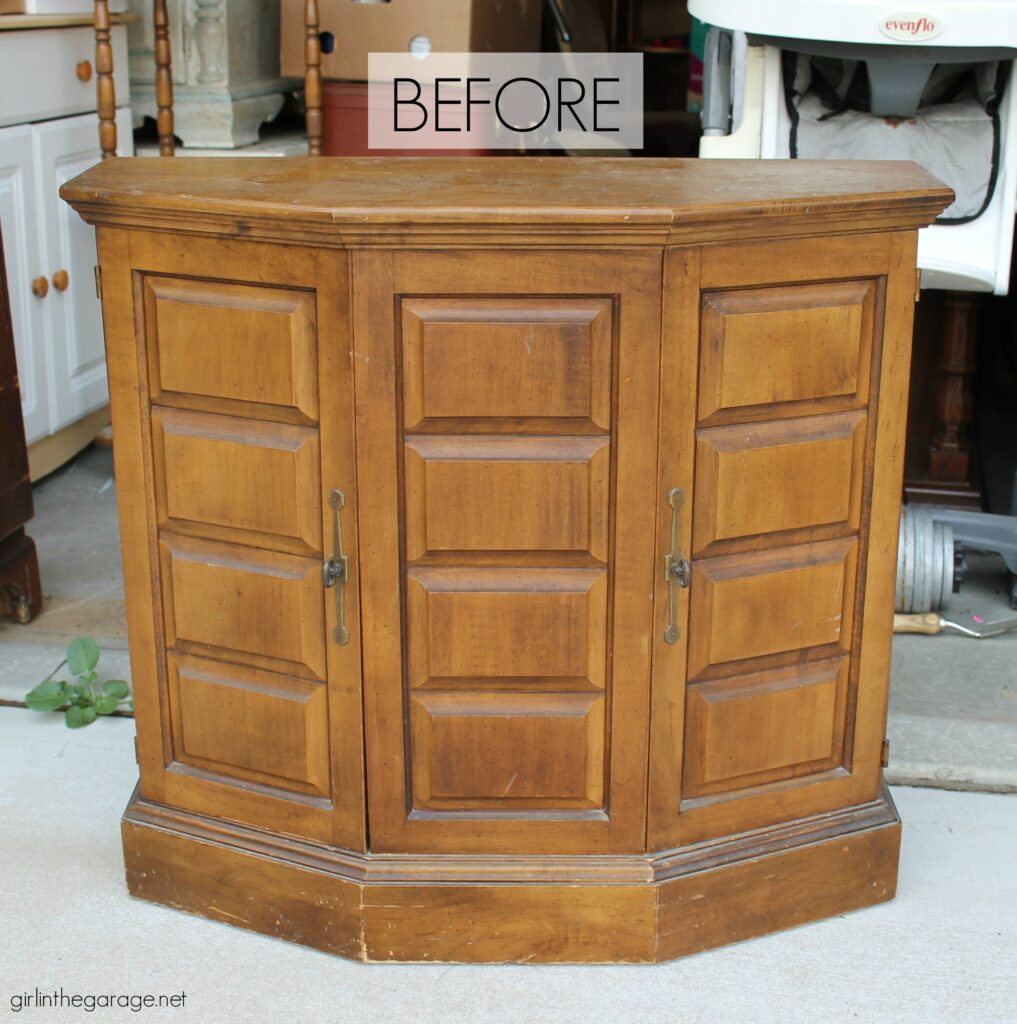 My mom gave me this console cabinet about 6 years ago. 😬 For the life of me, I could never decide how to update it. It was just…. ugly. And I was worried that whatever I did to it, it was cursed to always be ugly. Ha!
I've been trying to work through my large stash though, so I jumped in with Duck Egg Blue Chalk Paint by Annie Sloan (and one of my trusty Purdy brushes). Discover all my favorite products and brands for doing DIY makeovers here.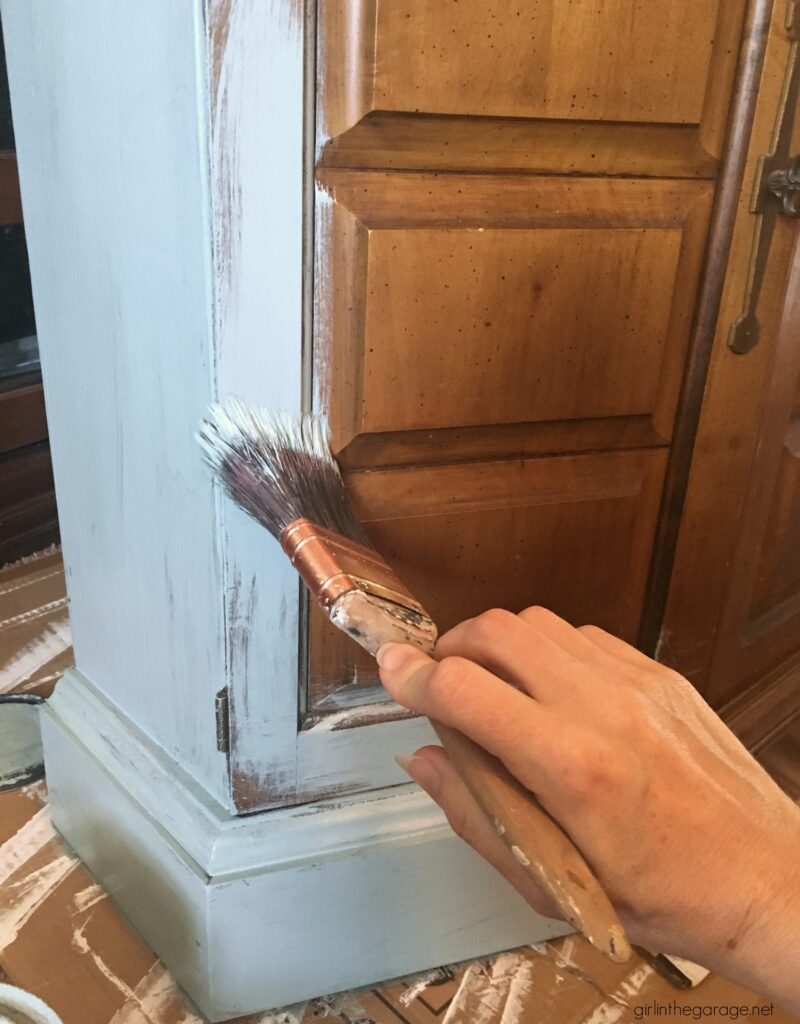 I rarely ever start painting without having a plan first, but that's what happened. Sometimes it's good to be carefree and wing it! And since this piece isn't particularly rare or special, I could have some creative freedom.
How to Do a Color Wash
After the first layer of Duck Egg had dried, I decided to do a color wash with Napoleonic Blue. If you know how to whitewash (like I did on this table), then color washing is pretty much the same. Only- I did it over paint this time instead of over bare wood.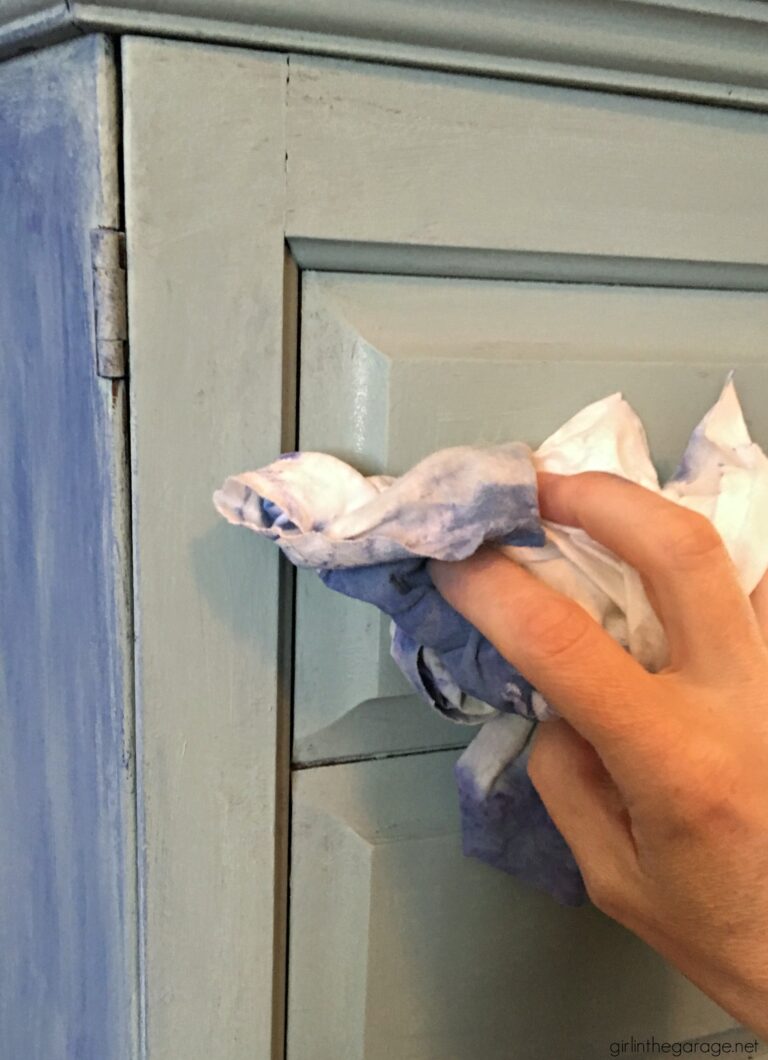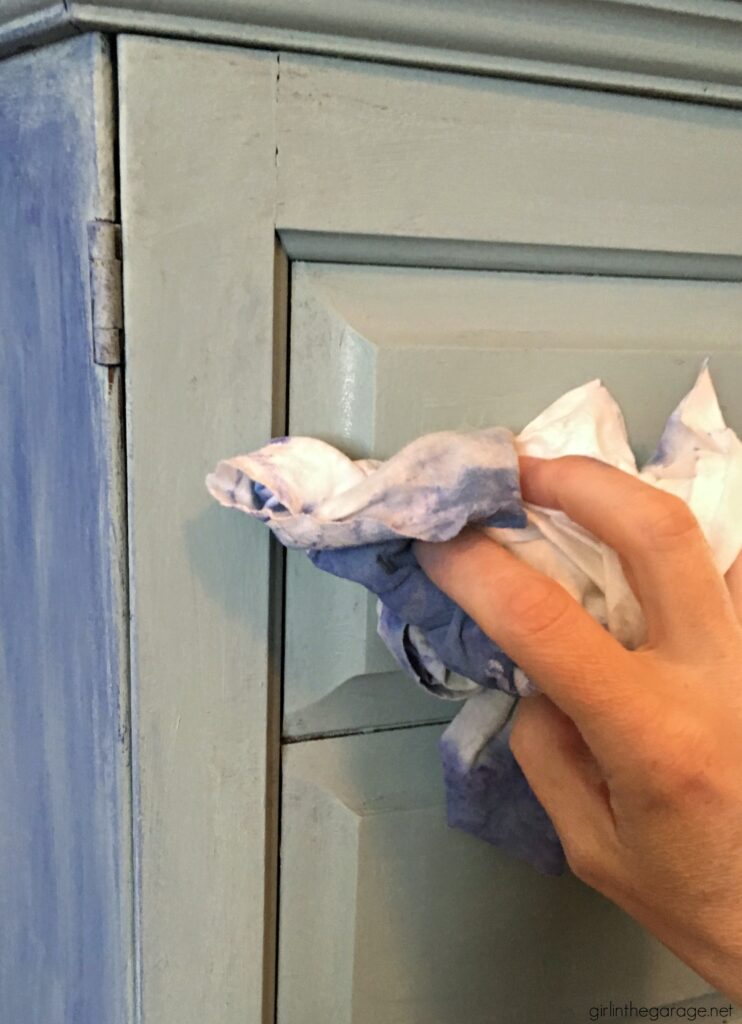 First, wet the surface (one section at a time). You can use a spray bottle but be careful of over-spraying and getting water spots in places you don't want them. Or you can spray directly onto a clean cloth.
Either way, wipe the water so that the wetness is evenly distributed on the surface. Then brush on your paint kind of haphazardly.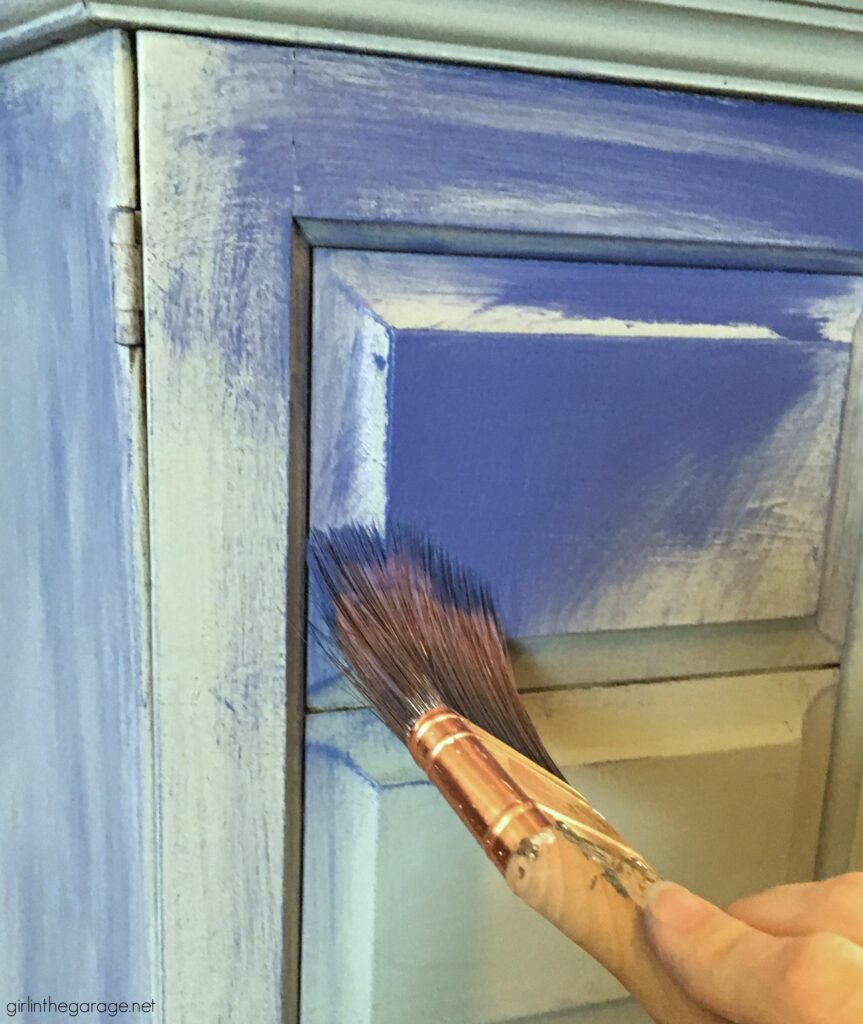 Then take your damp cloth and wipe away the paint you just applied, smoothing the brushstrokes. It seems odd, but trust me here.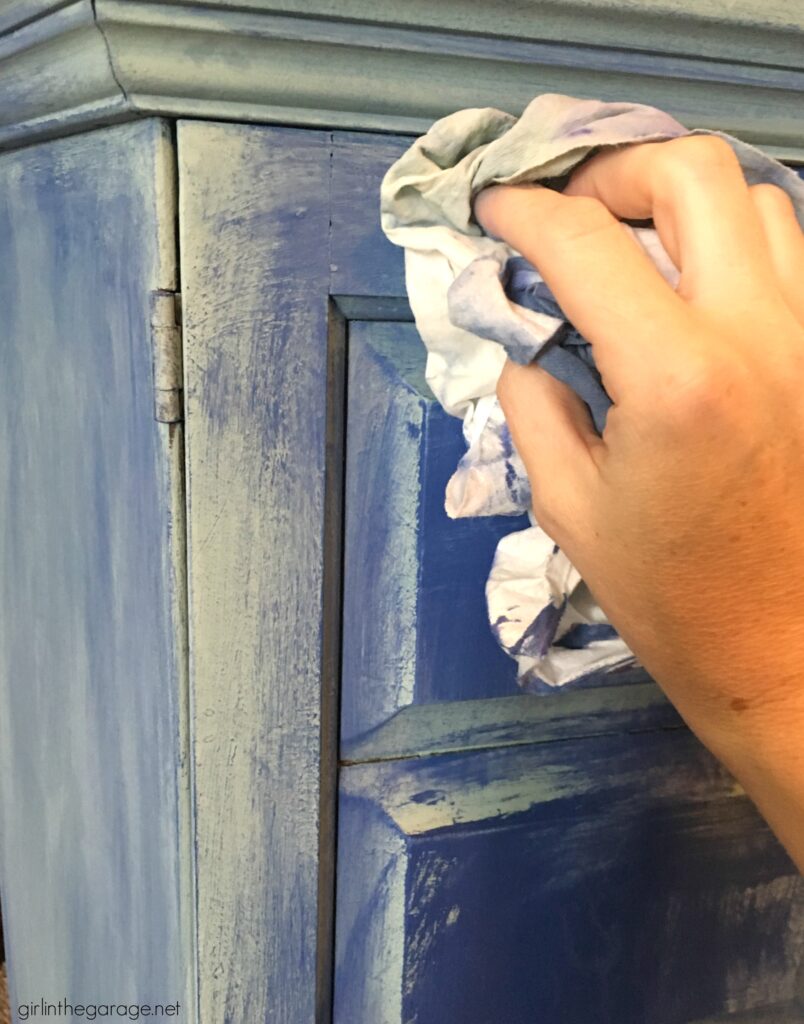 How to Blend Paint Colors
Although the cabinet looked interesting with the two colors, I was curious what adding some Provence (turquoise) would do.
When you keep layering on more paint colors with the color wash method, you're essentially blending the layers together to make a unique piece of art. Keep reading to see how it turns out!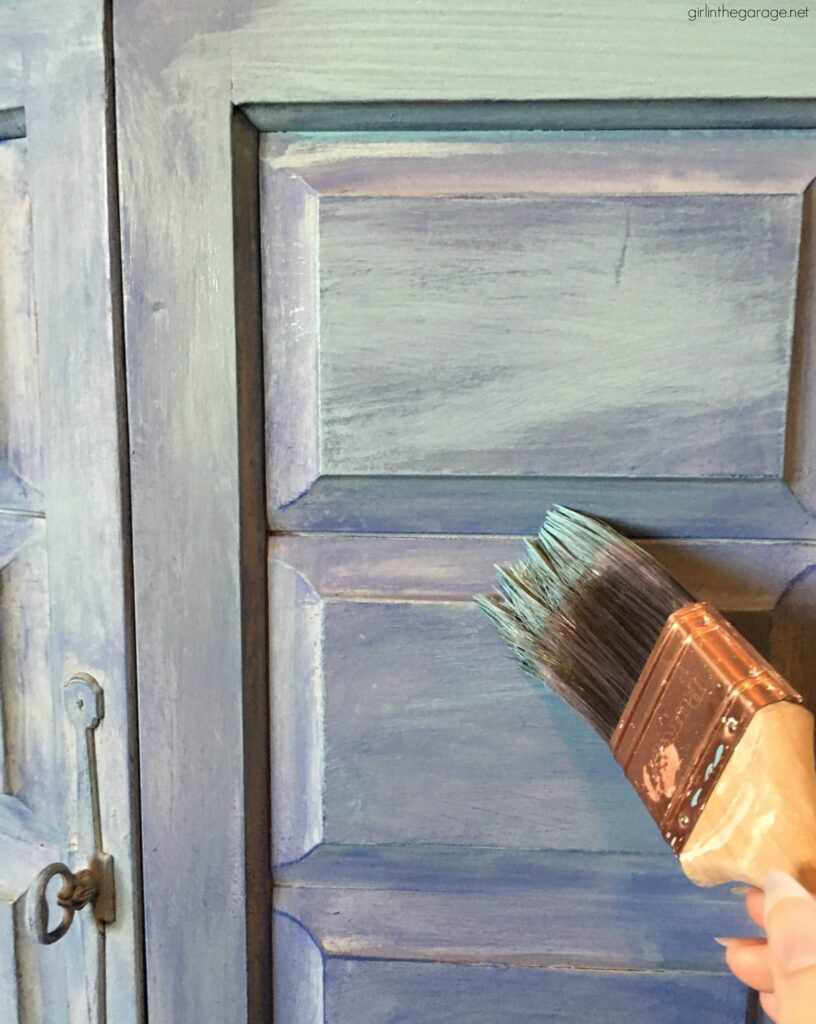 This layer went on the same way – wet one section at a time, brush on the paint, wipe away the paint with the damp cloth.
With each layer you get more depth and texture – but not too much texture since the paint is thinned out by the water.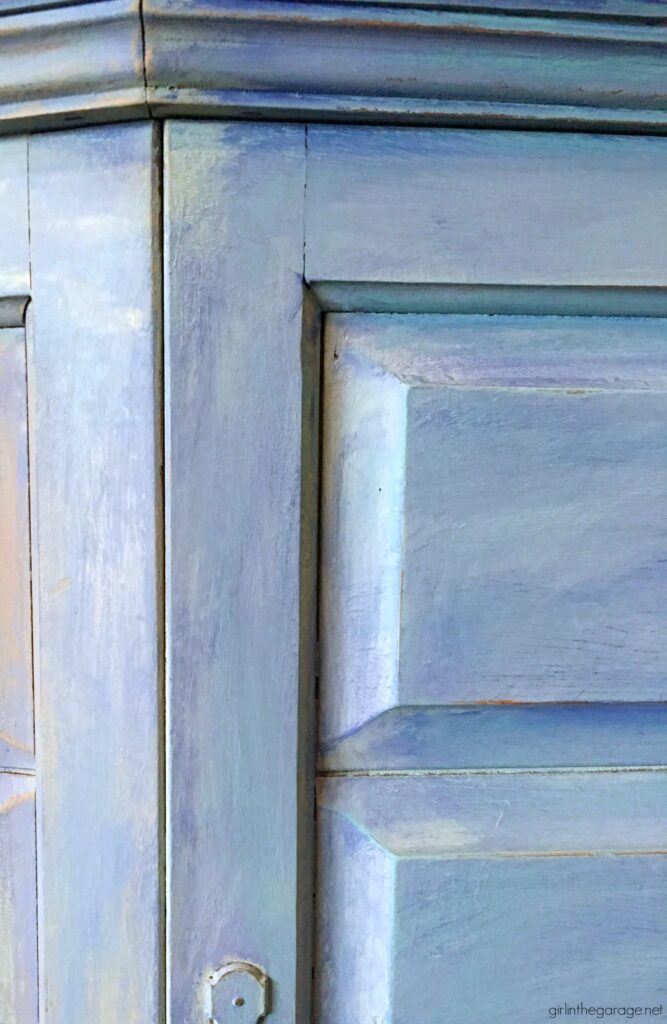 Even though I used three different shades of blue (Duck Egg, Napoleonic, and Provence), the cabinet had some bright purple tones coming through which was not my intention.
Back to the spray bottle and damp cloth again (truthfully I used about 10 lint free cloths for this project!) – this time with French Linen (gray/taupe) to try to blend some neutral in there.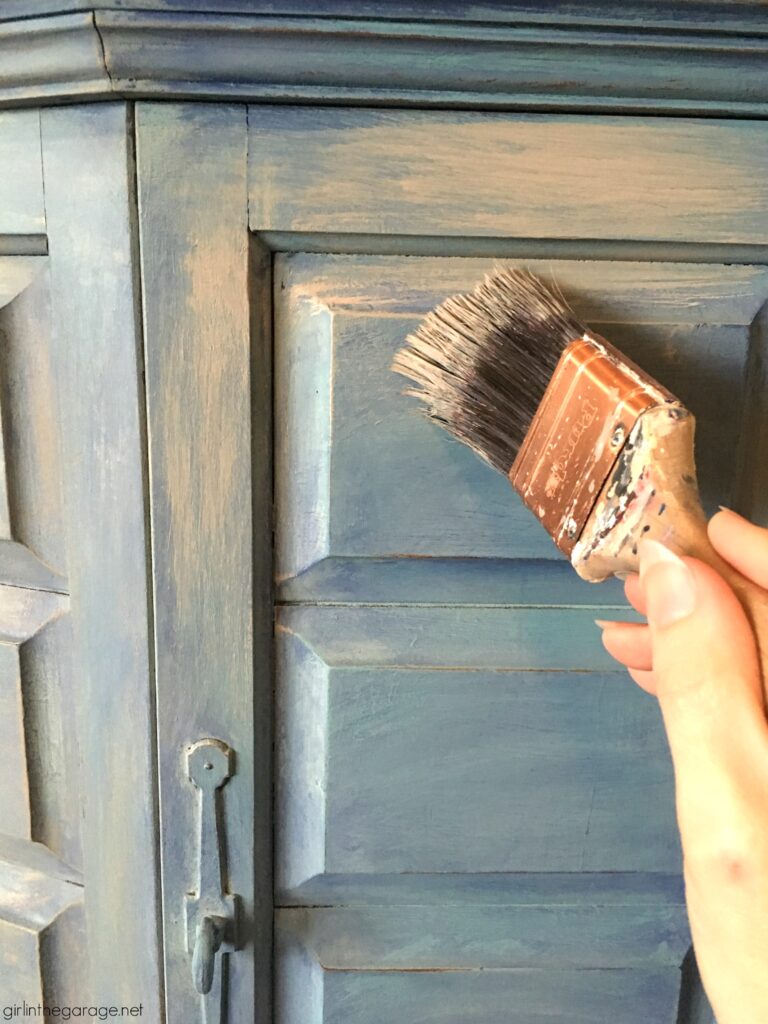 Honestly this vintage console cabinet still has a lot of vibrant color and it's unlike pretty much anything I've done before… but I really like it!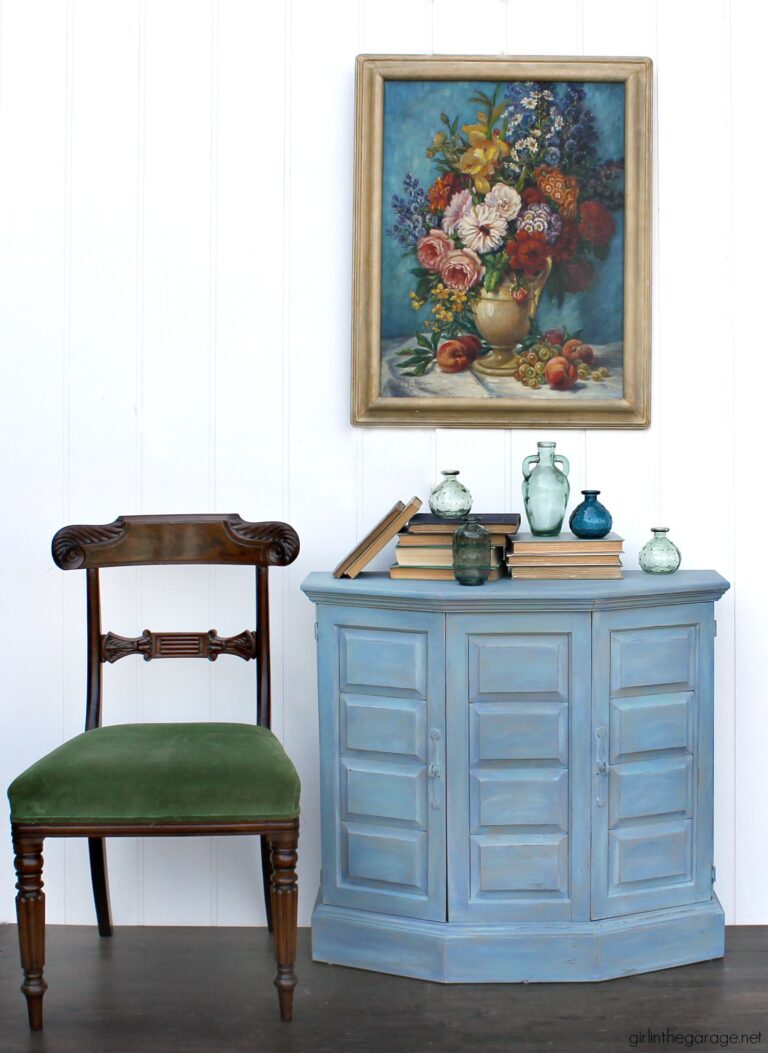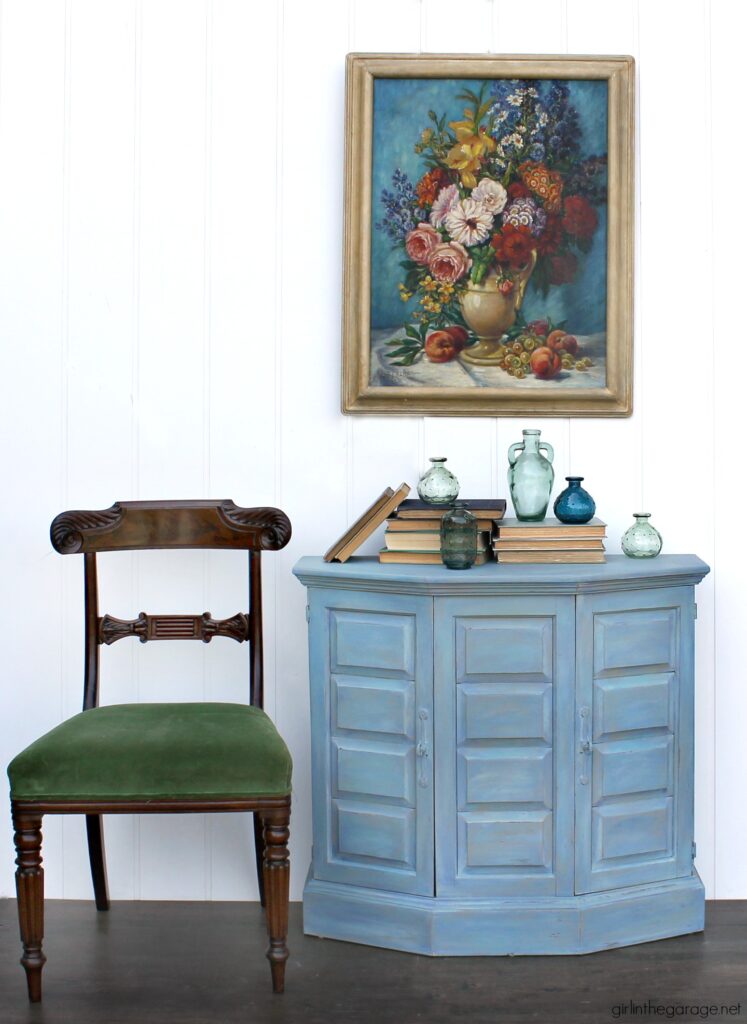 The painting and chair both came from an estate sale a couple years ago… aren't they fantastic? I have debated repainting the frame possibly white – what do you think?
In bright lighting the individual paint colors really pop on the cabinet.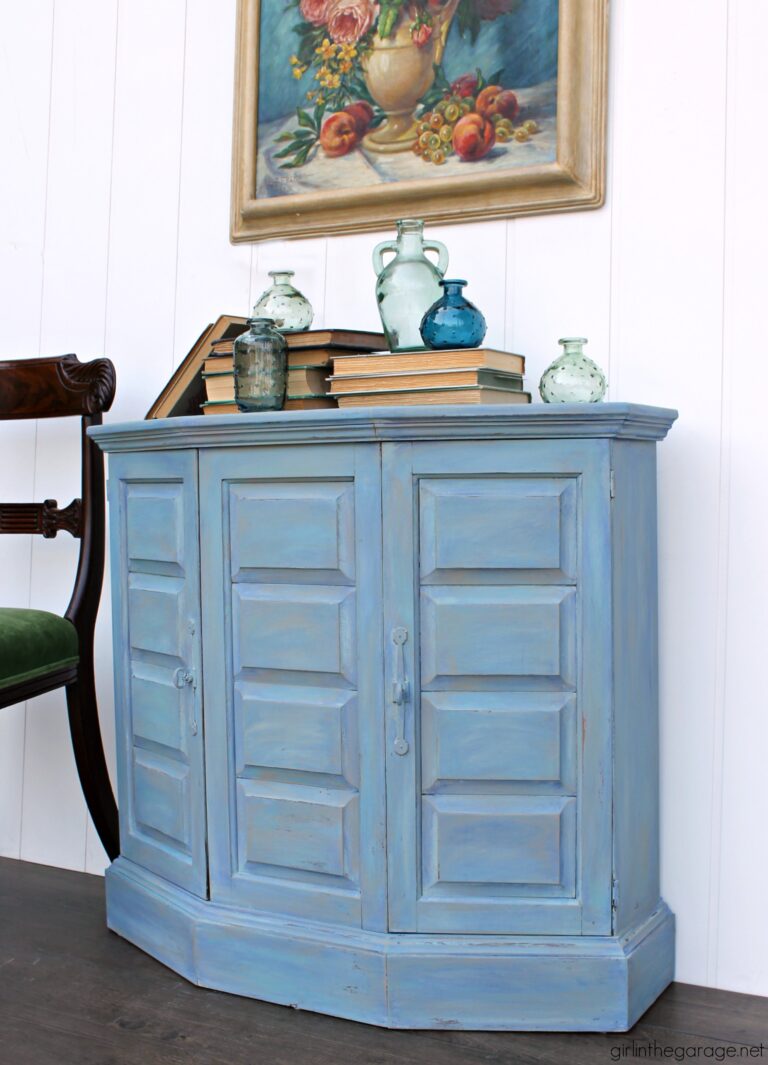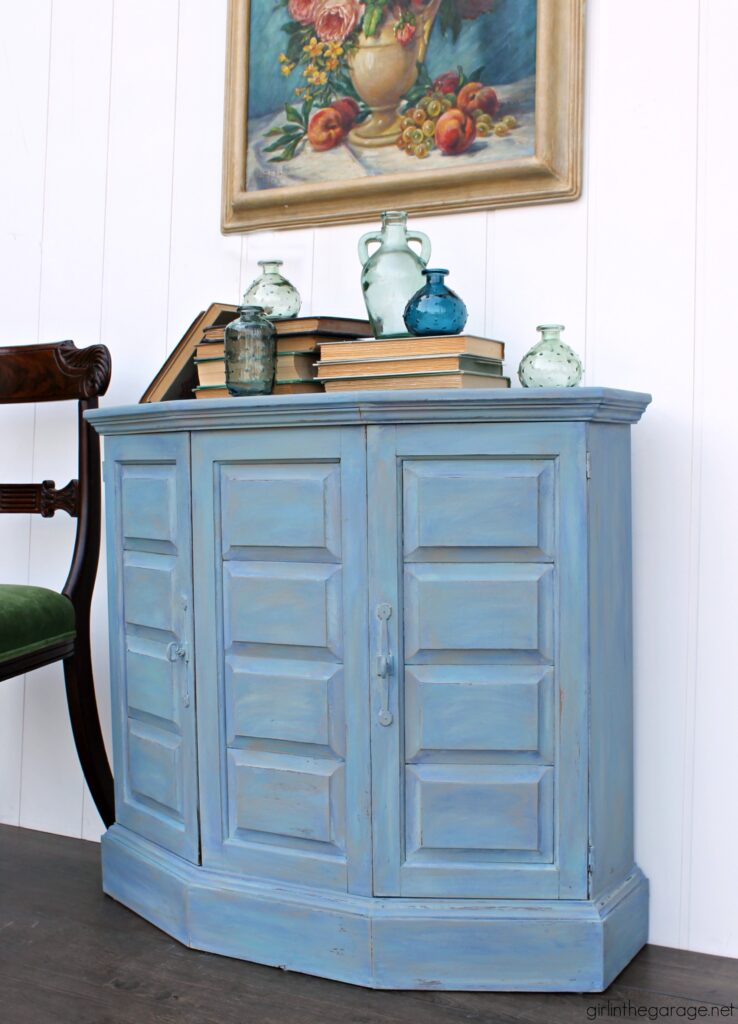 I kept the hardware on and painted it because it seemed like they fit perfectly with this piece, and I didn't want the pulls competing for attention.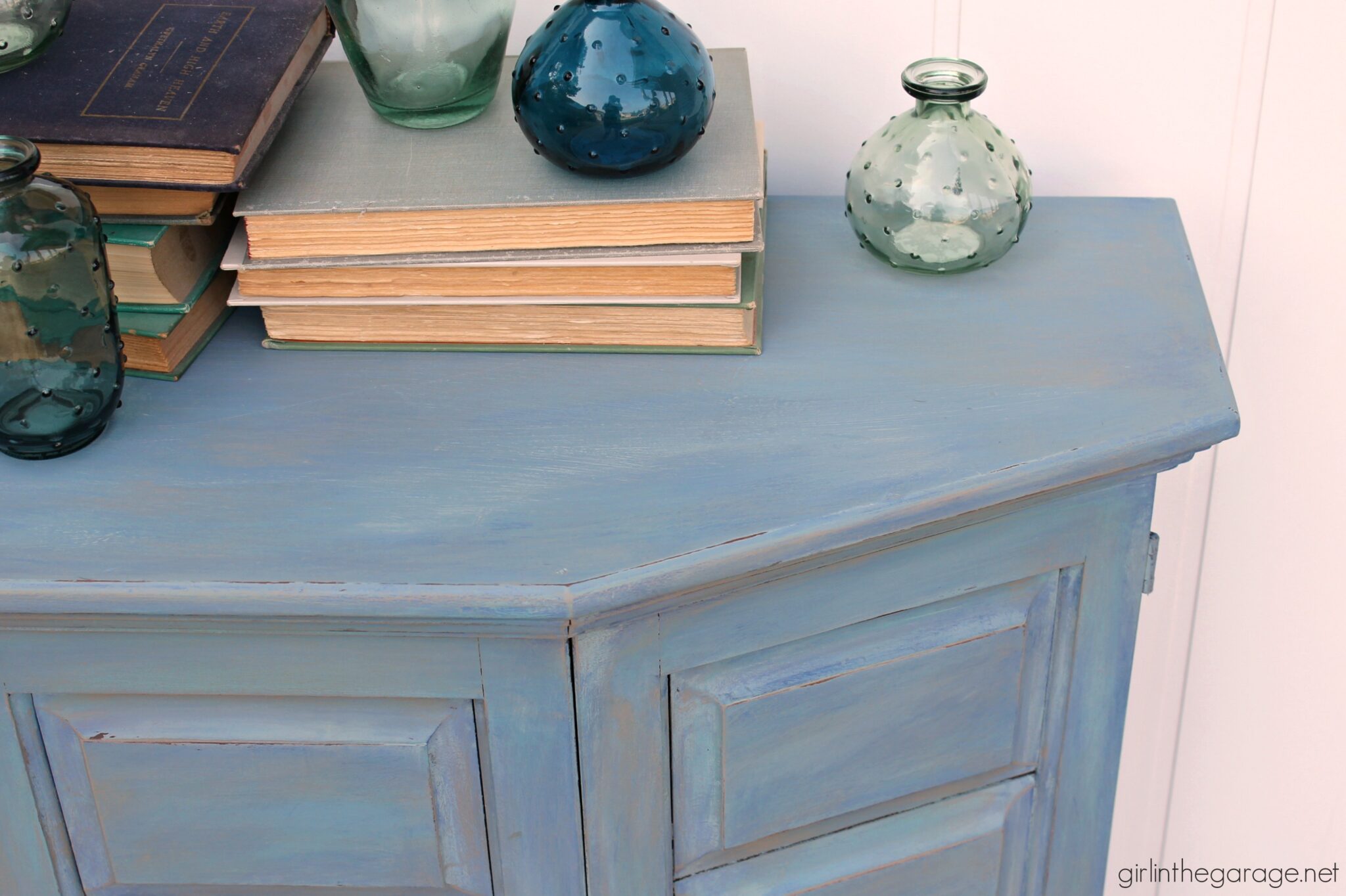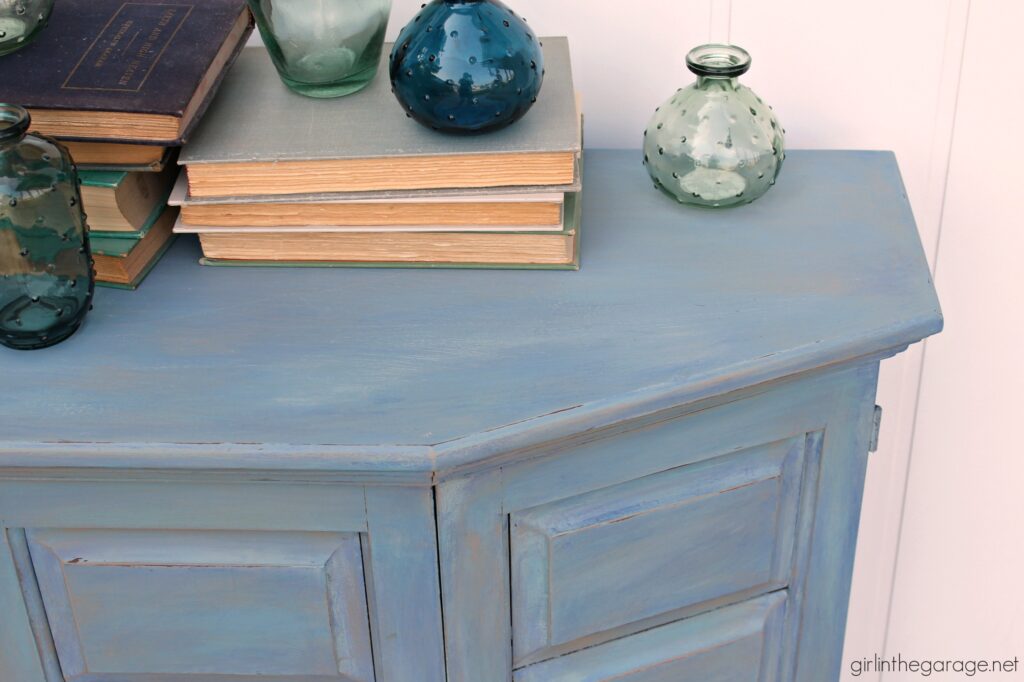 I thought about adding another color or some black wax for drama, but I think I'm done. Do you think it needs anything else?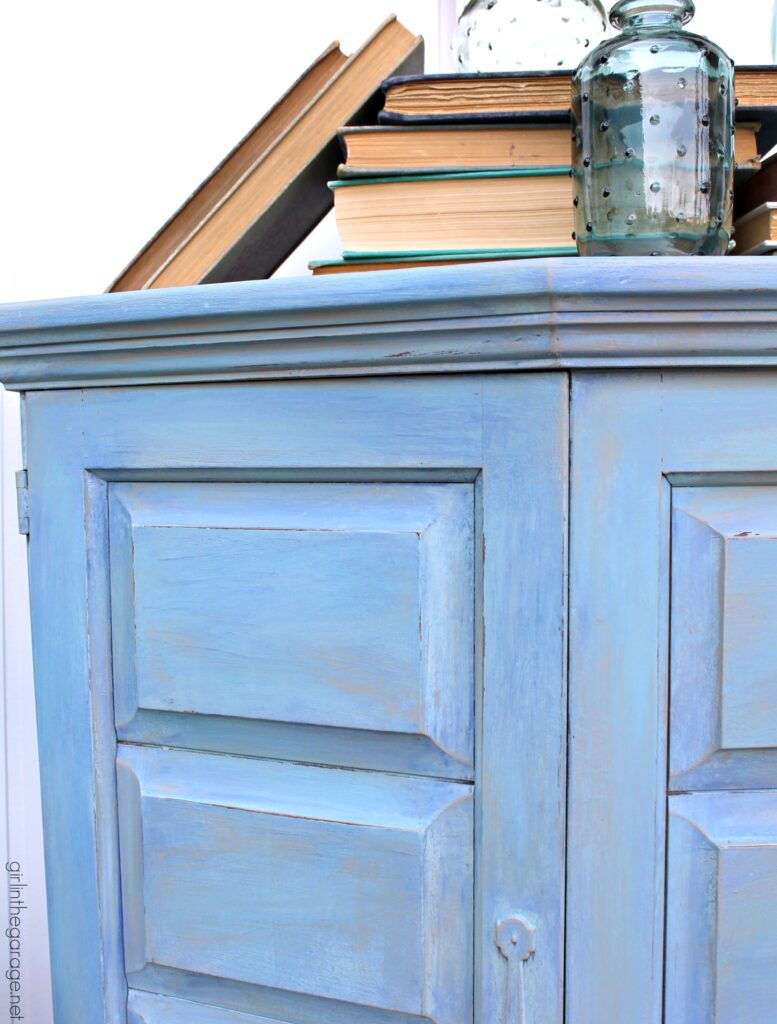 P.S. If you're wiping paint away that you just applied, you may wipe enough to actually "wet distress" in the process of blending. You can see it here on the edges a lot. I didn't mind though, I think it adds to the artsy vintage style.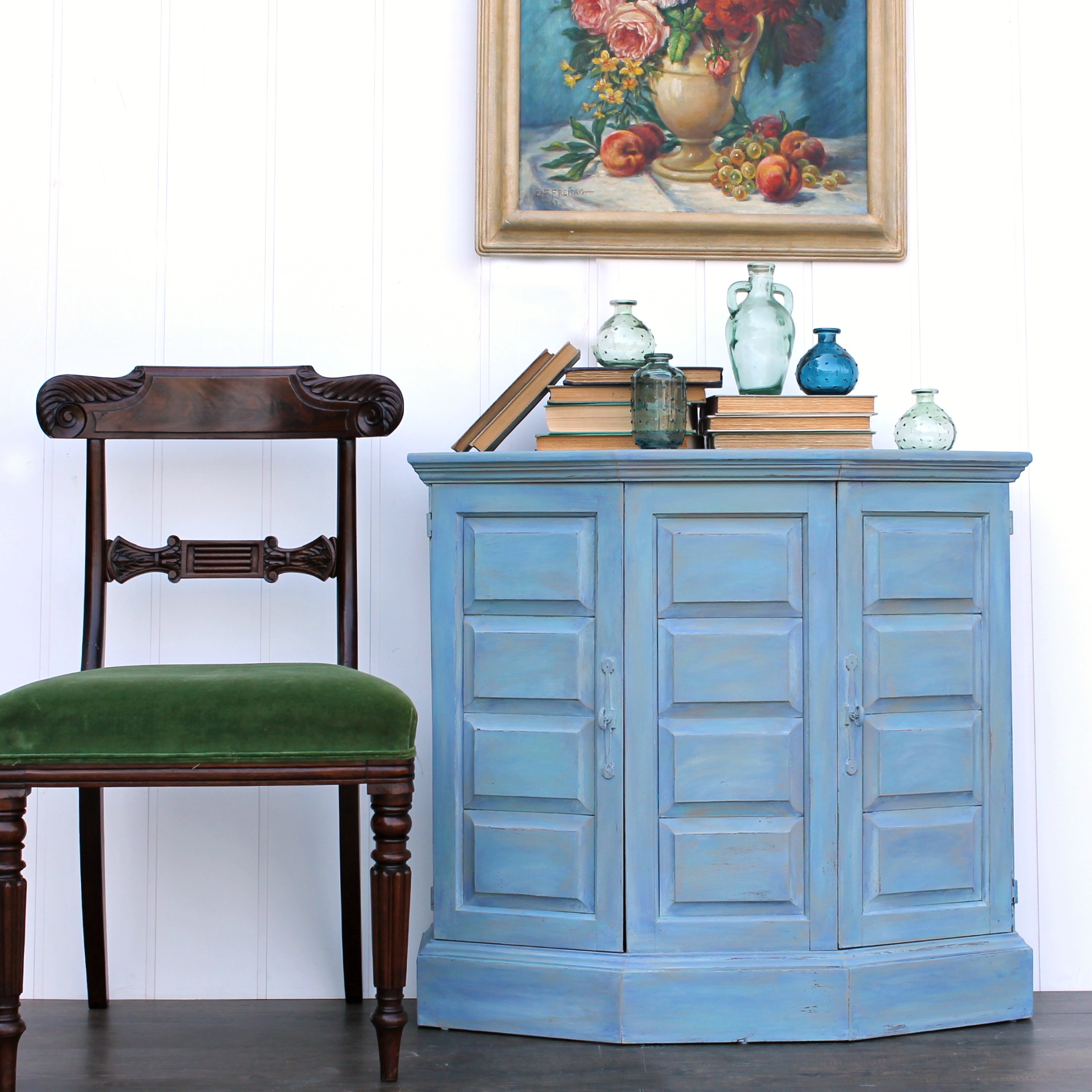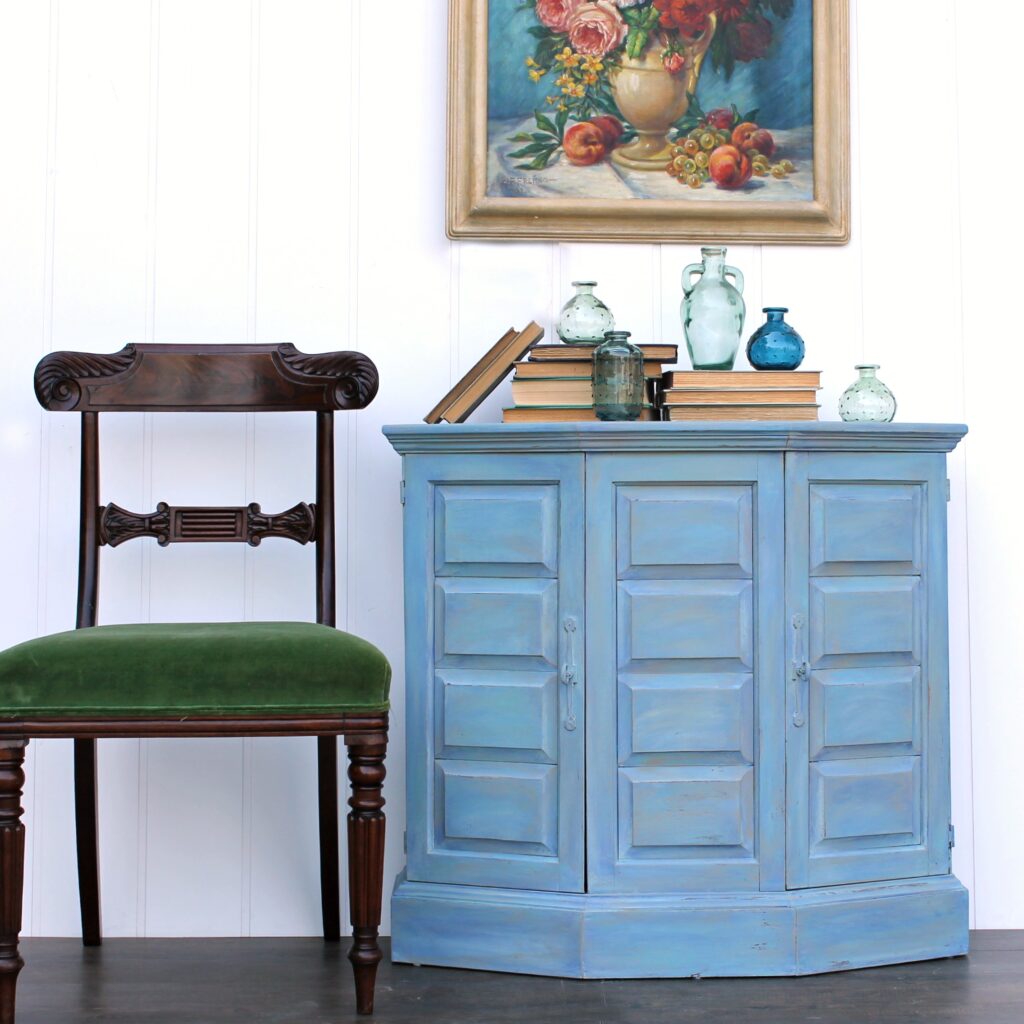 Here's the before and after again – feel free to share or Pin any images in this tutorial so you can easily find it again later: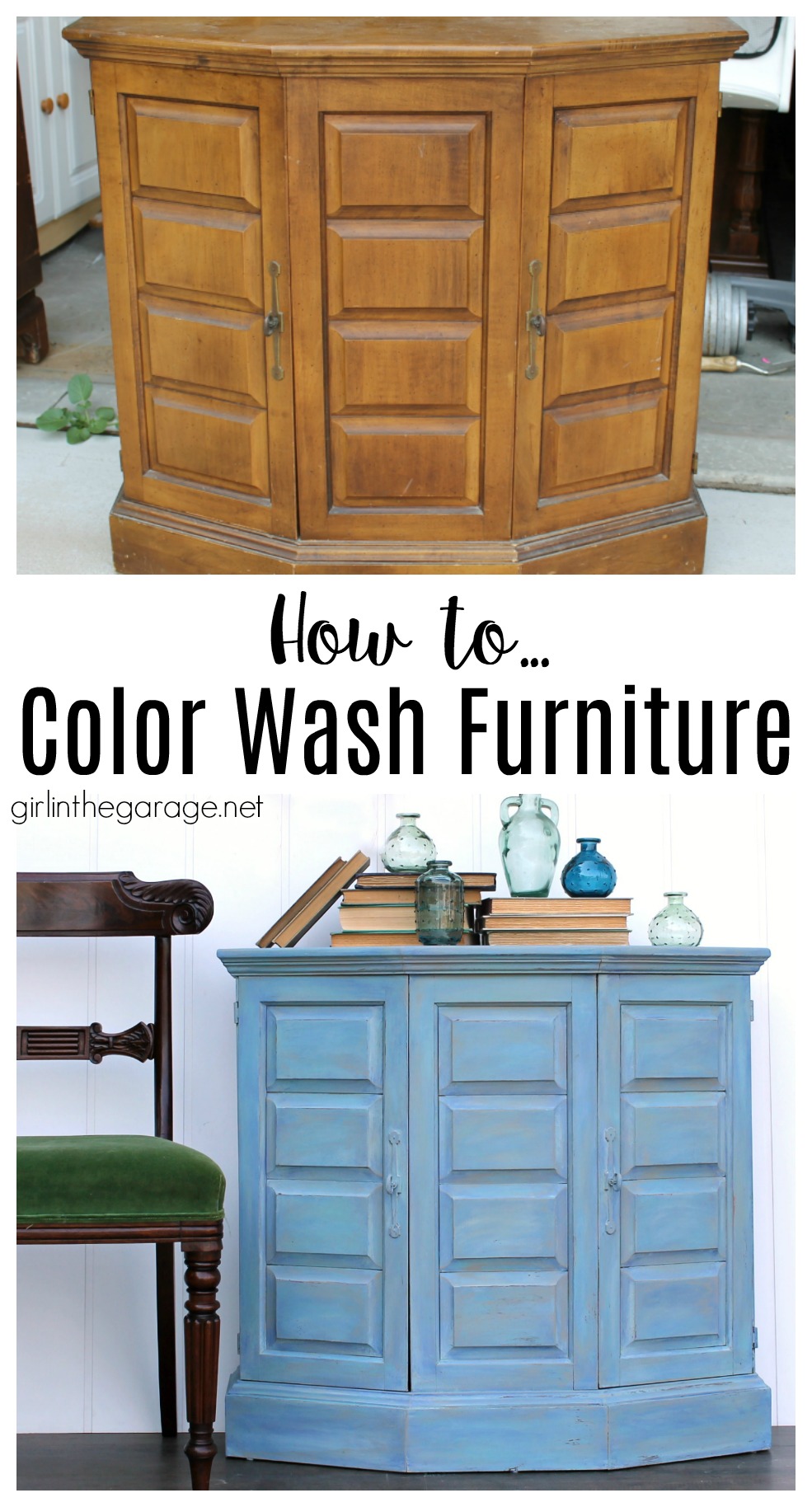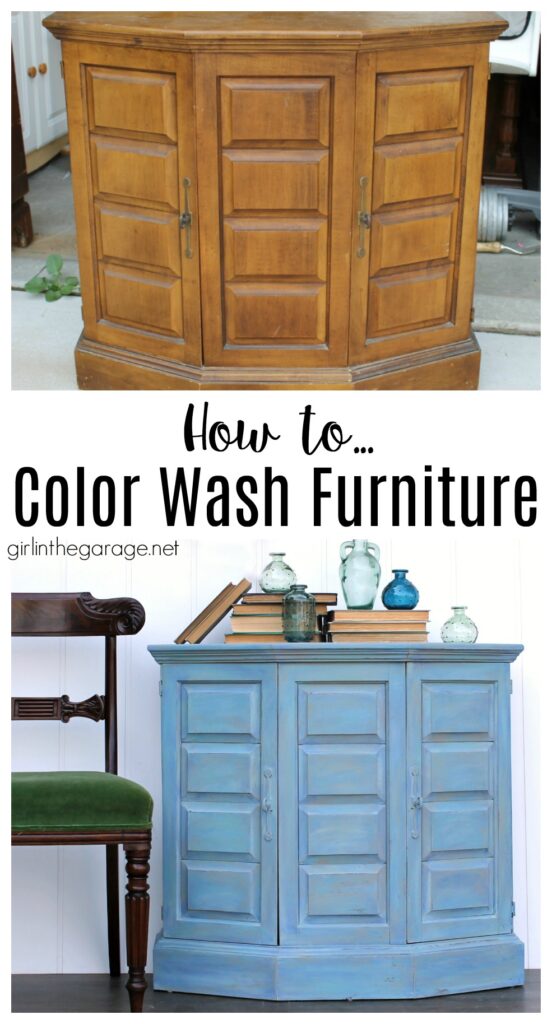 Friend, I hope you've learned something new today or you've been inspired to try something different like the color wash technique or how to blend paint colors together. Please let me know if you try it!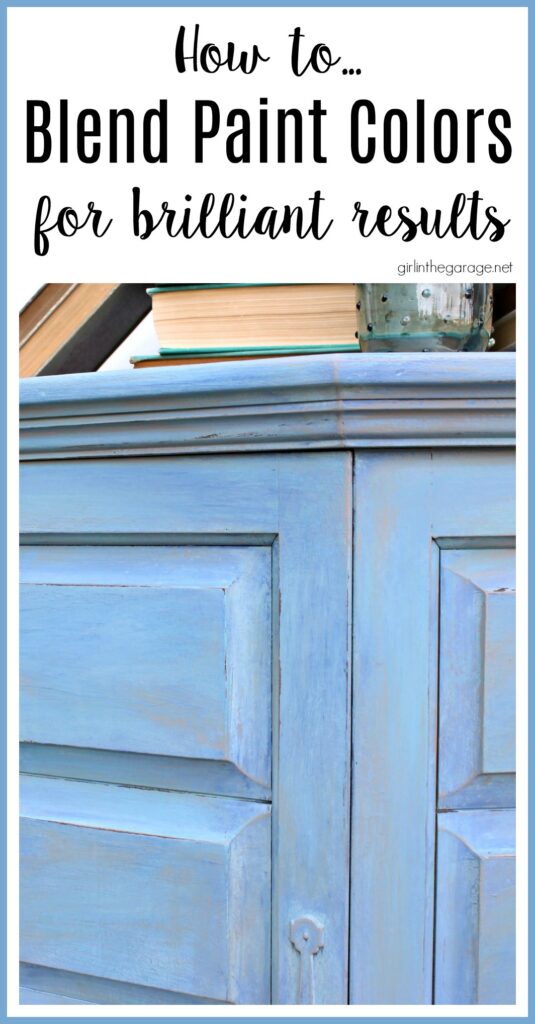 Now it's time for more furniture makeovers with my thrifty painting friends.
Below are the Before photos – visit the links underneath to see the fantastic Afters and to learn how they did it: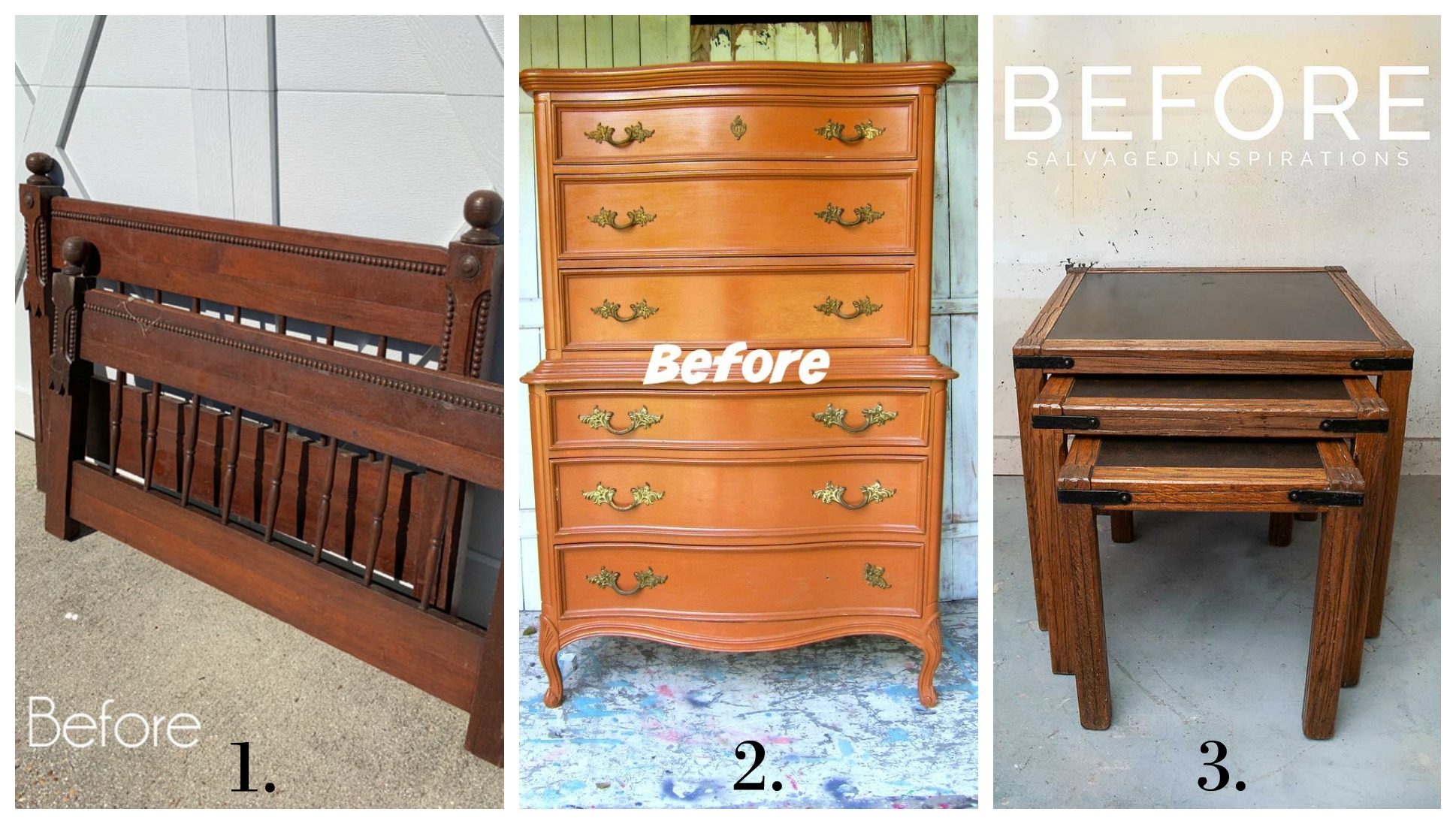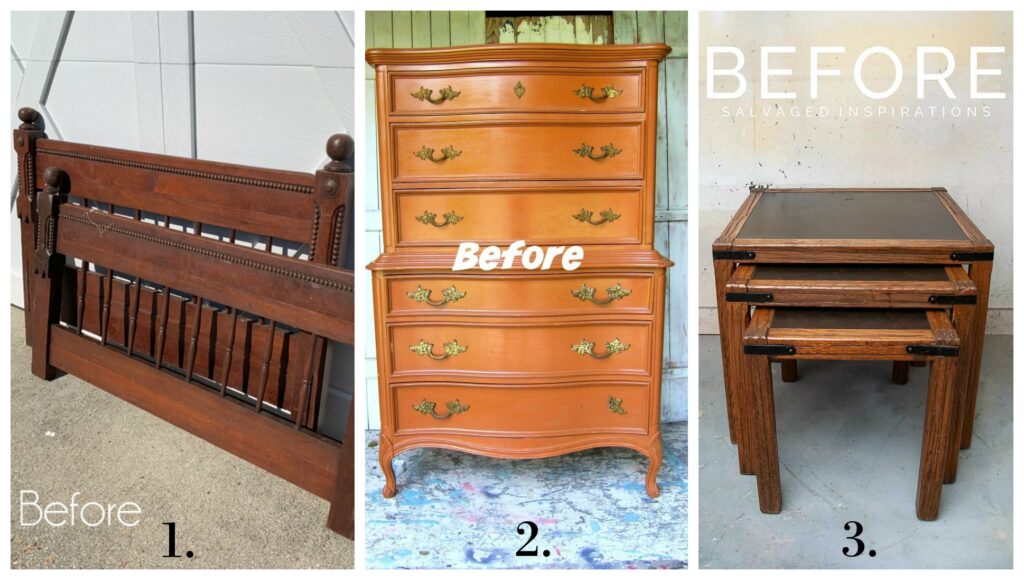 1. Confessions of a Serial DIYer
2. Petticoat Junktion
3. Salvaged Inspirations