Learn how to remove paint from wood and also how to whitewash wood furniture with Chalk Paint for today's painted furniture makeover tutorial. There's also a helpful video included below for your convenience.
When you need a little stress relief at home… having a stash of furniture to repair, prep, and beautify definitely helps pass the time.
And if power tools and elbow grease are needed? Even better.
This little end table has been in my family for a very long time. My mom got it from her parents, and it was dark brown wood when I claimed it decades ago.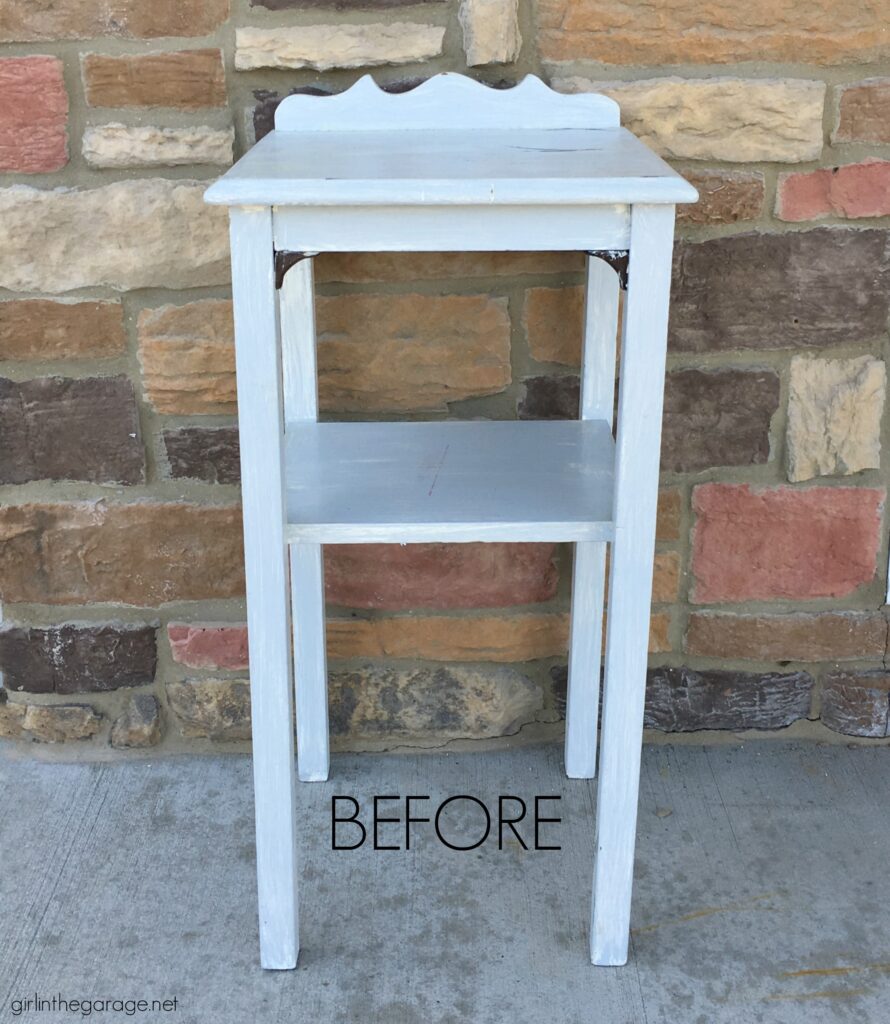 Sometime back before I started blogging, I decided to paint this table although I had no clue what I was doing. But hey – you have to start somewhere, right?
*This post contains some affiliate links so that you can easily find the products I use and recommend. Discover all my favorite brands and tools for doing DIY makeovers here.
There's some white paint on there and then some streaky gray latex paint on top of that. And the fabulous product I used as a topcoat? Good ol' Mod Podge. I wouldn't recommend that now!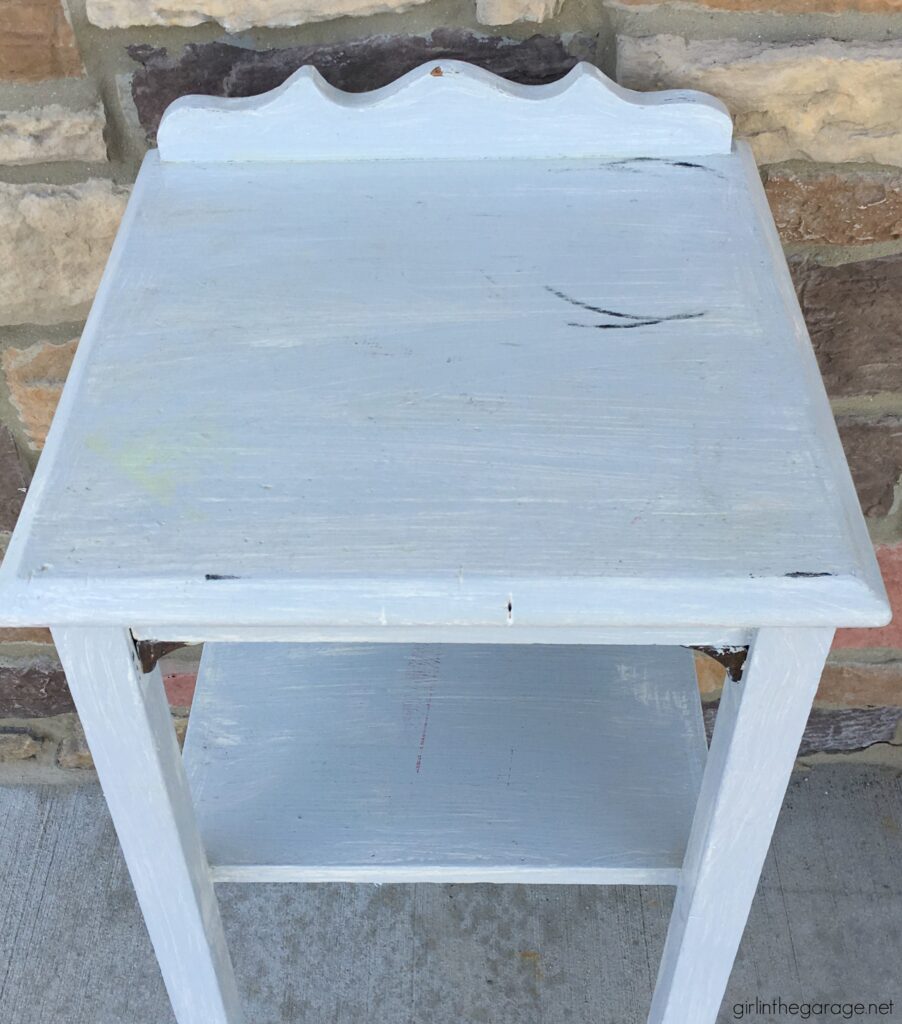 Like I said, I had no idea how to paint or refinish furniture. And I definitely didn't know what to use as a topcoat. You live, you learn…
In today's post I'll show you how to remove paint from wood and then how to whitewash wood furniture with Chalk Paint.
How to Remove Paint from Painted Wood Furniture
There are several ways to remove paint from wood. For bigger pieces, your best option is probably to remove paint with a paint stripper like Citristrip.
I used it for this antique armoire (below) in my book Amazing Furniture Makeovers and it worked awesome to get that old yellow and brown paint off.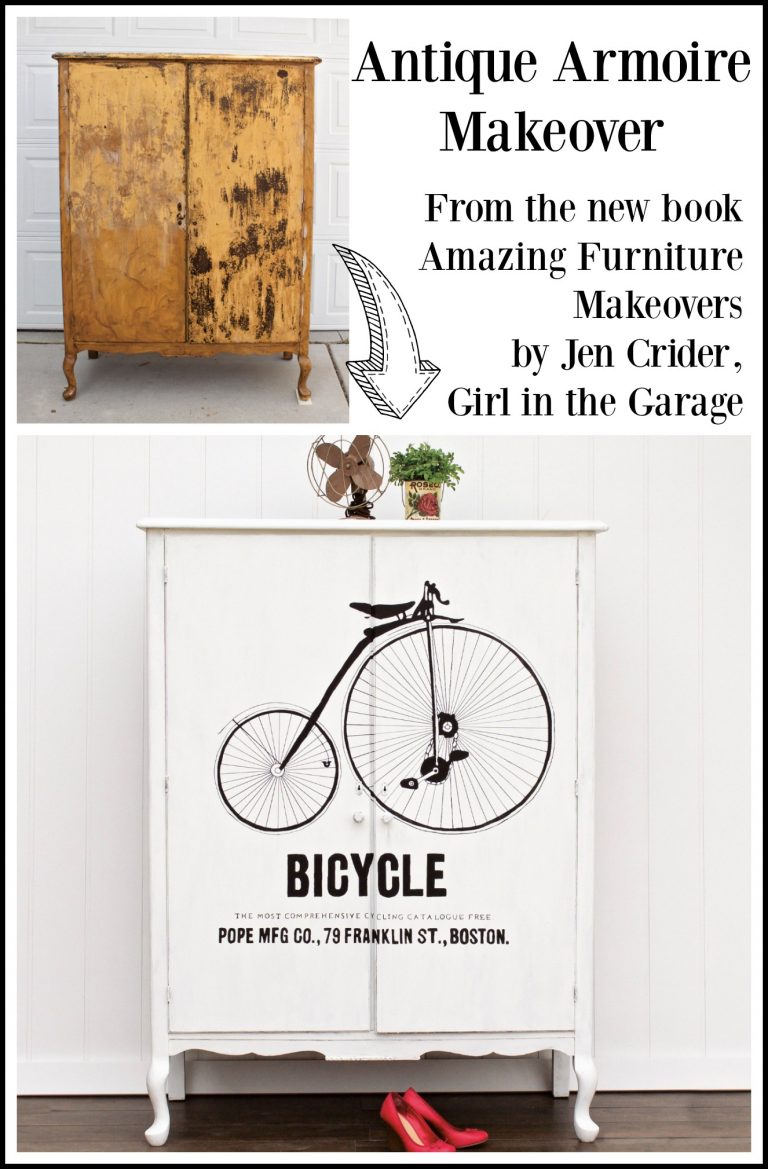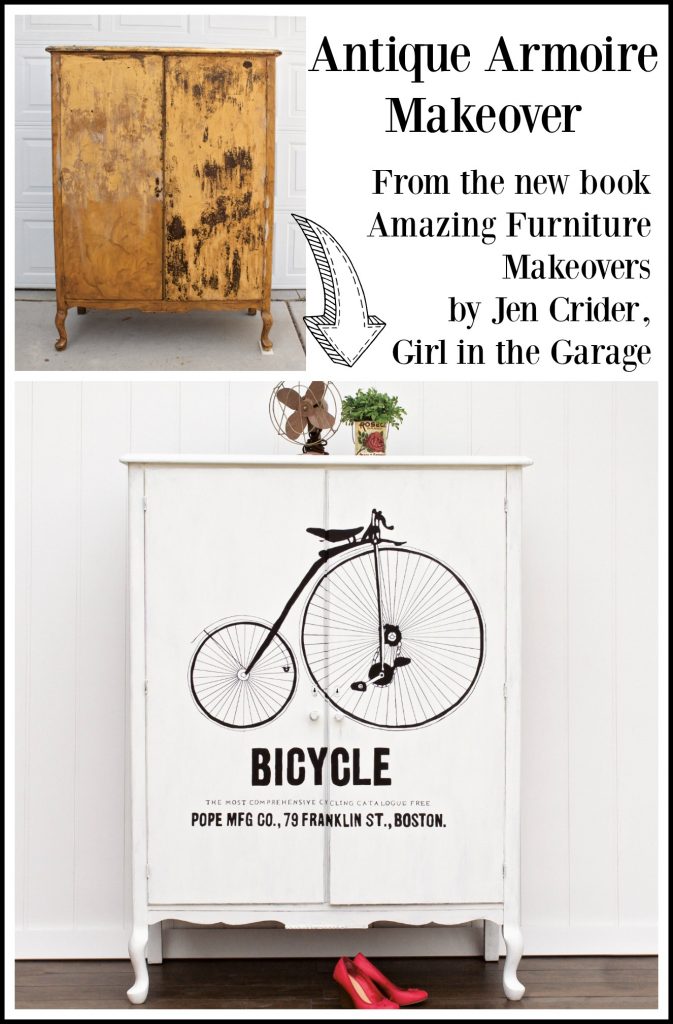 Since this is a small end table, I opted to remove the old paint with an electric sander. (Update: I don't use a Skil sander anymore. This is the new sander I use and love – and it has excellent reviews!)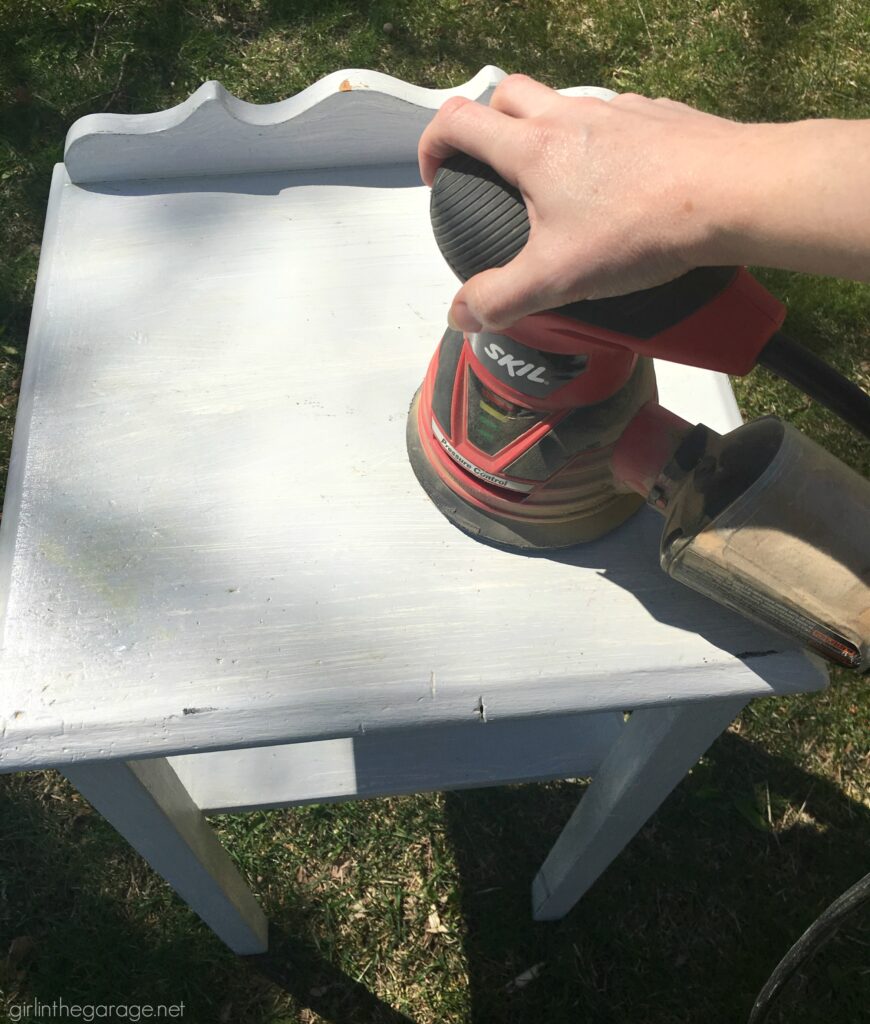 Note: This post is full of lots of lessons I learned the hard way. First, don't use regular Mod Podge as a topcoat. Here is one reason why…
Mod Podge is similar to Elmer's glue that's been watered down. I had basically put a thick layer of glue over the latex paint I used (facepalm).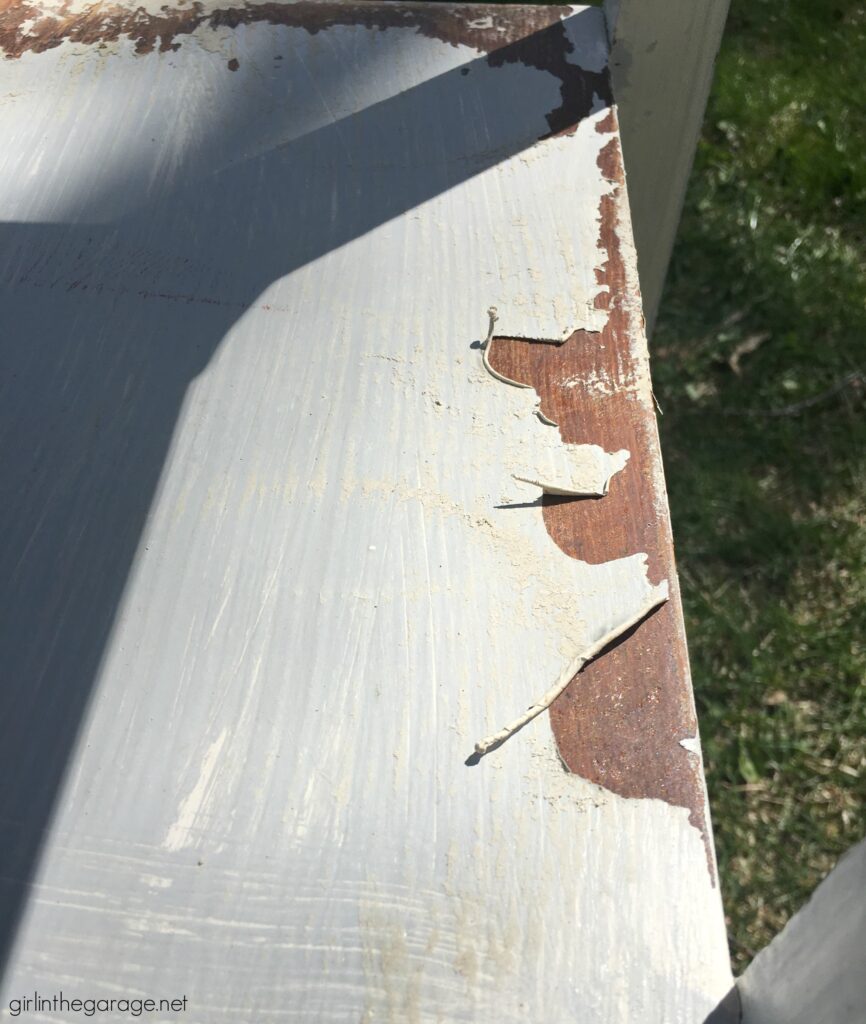 The latex paint curled up in some areas and the Mod Podge piled up and tried jamming my sander.
I attempted to loosen the glue with a hair dryer on high heat (I wish I owned a heat gun!) and a scraper. It worked alright for a bit. Update: I have since bought a heat gun – yeay!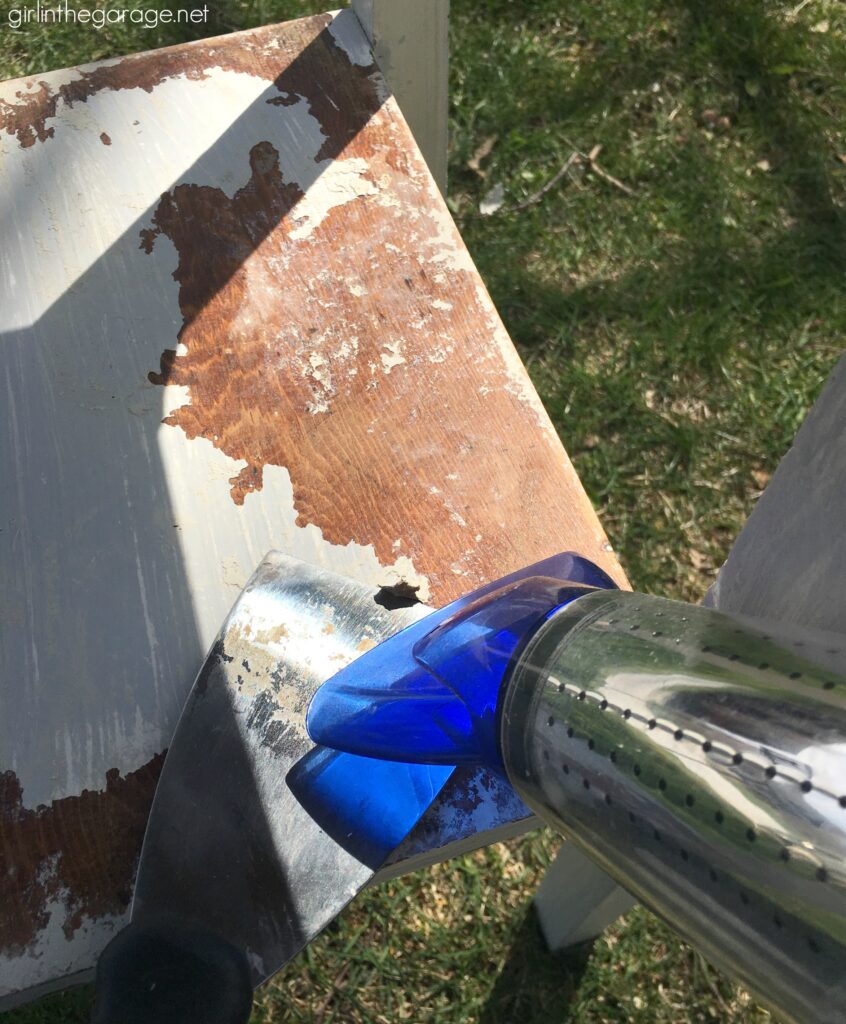 Then I went back to the electric sander again. All this sanding took place over several days and let me tell you, my arms were spaghetti after each day! I guess that means I need stronger arm muscles.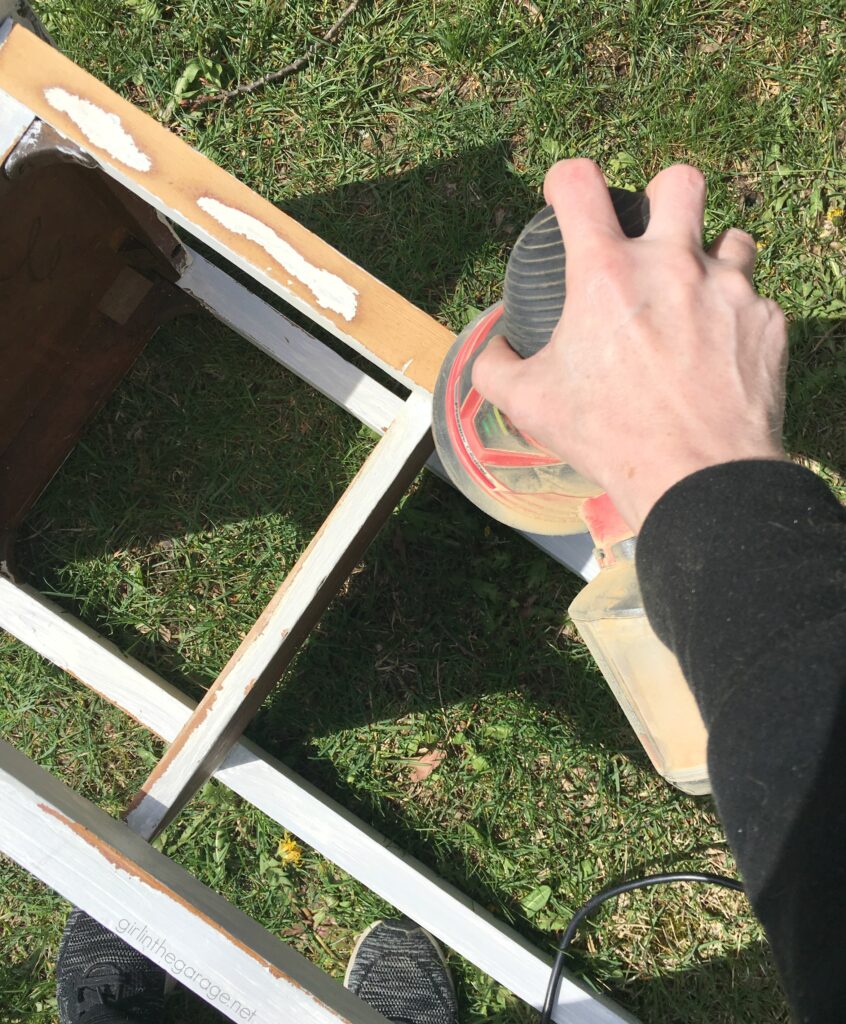 Finally I removed all the paint I could with the electric sander and there were just small areas left to deal with.

To reach the corners and edges, I pulled out our Dremel Multi-Max with the sanding accessory. More sanding work + Some help from Guy in the Garage this time = Still some spaghetti arms.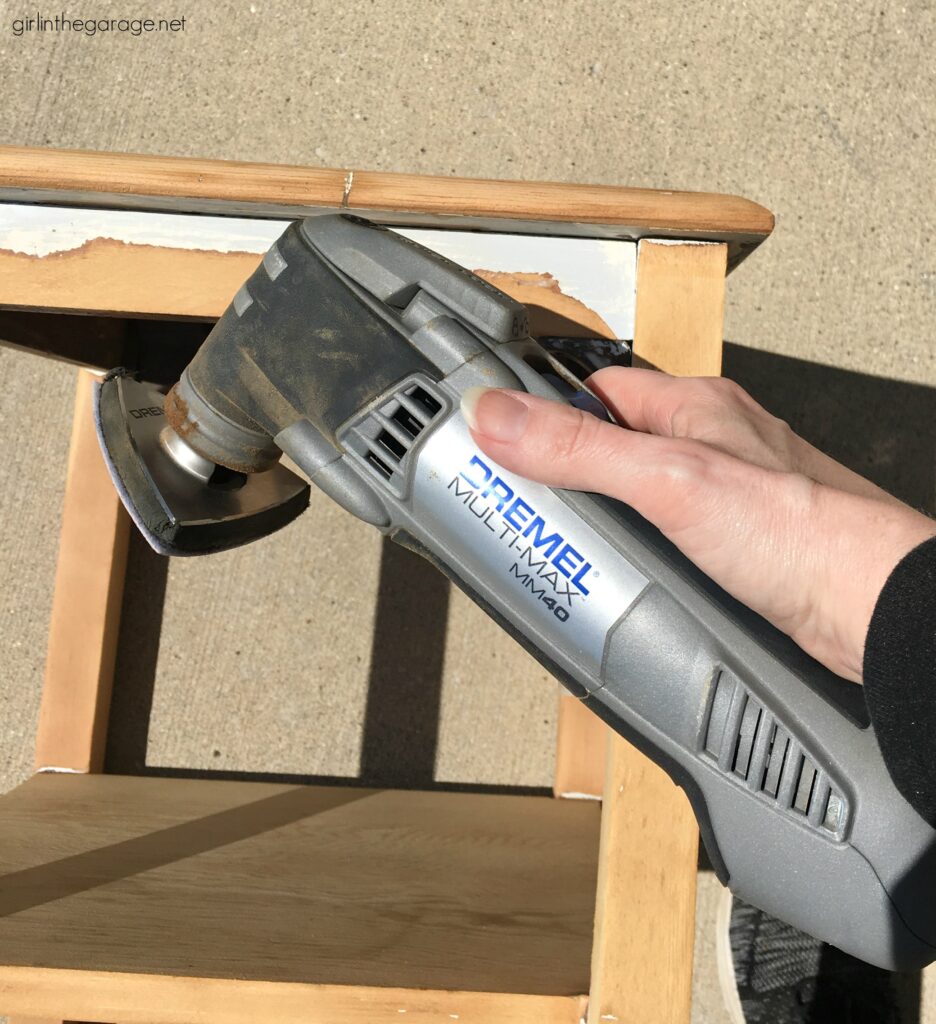 Ta da! What a natural (wood) beauty.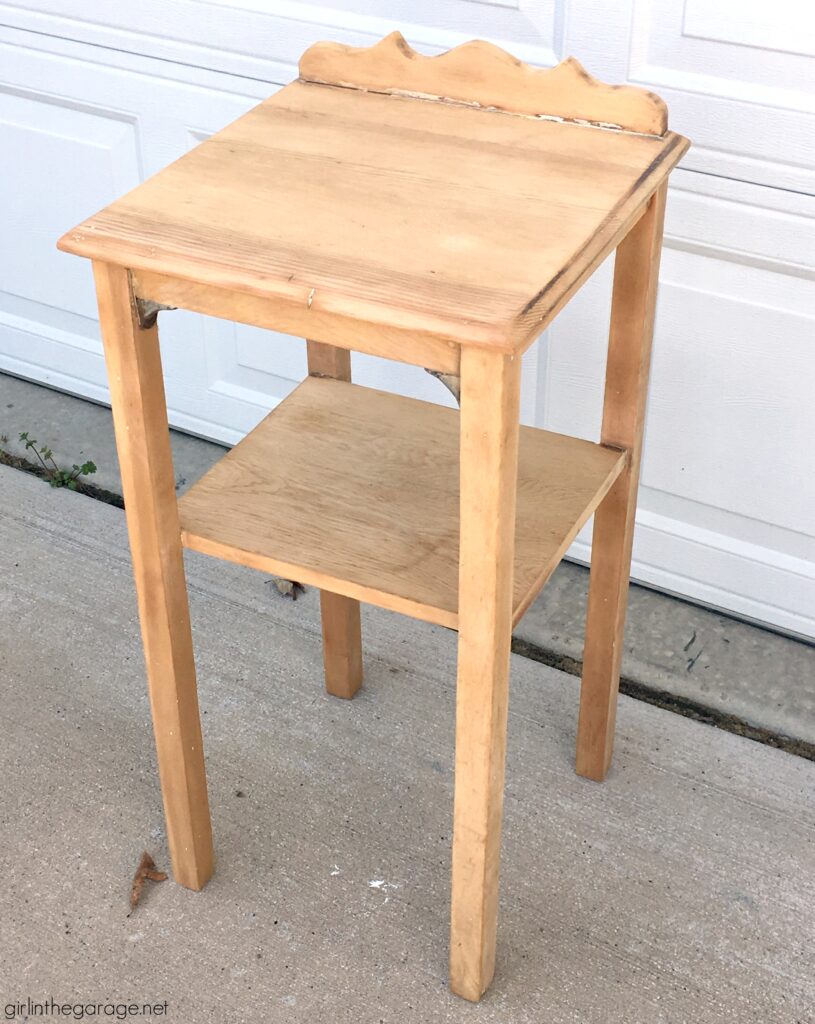 At this point in the project, I had a decision to make.
I was either going to whitewash the wood table or attempt to revive the wood with hemp oil. This was another lesson learned…
Using Hemp Oil on Wood Furniture
I've used hemp oil in the past, like on the Old World Cabinet (below) which was featured in my book Amazing Furniture Makeovers – and it really breathed some new life into the unpainted wood areas.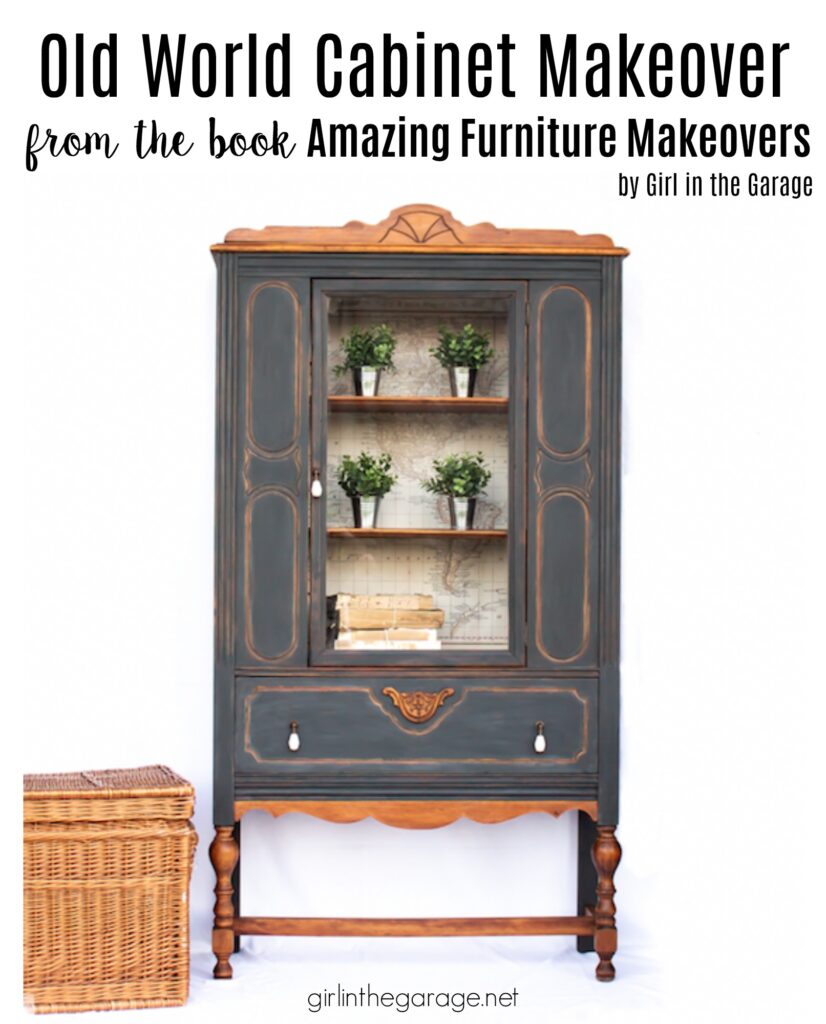 I pulled out the natural hemp oil made for furniture refinishing and a lint-free cloth.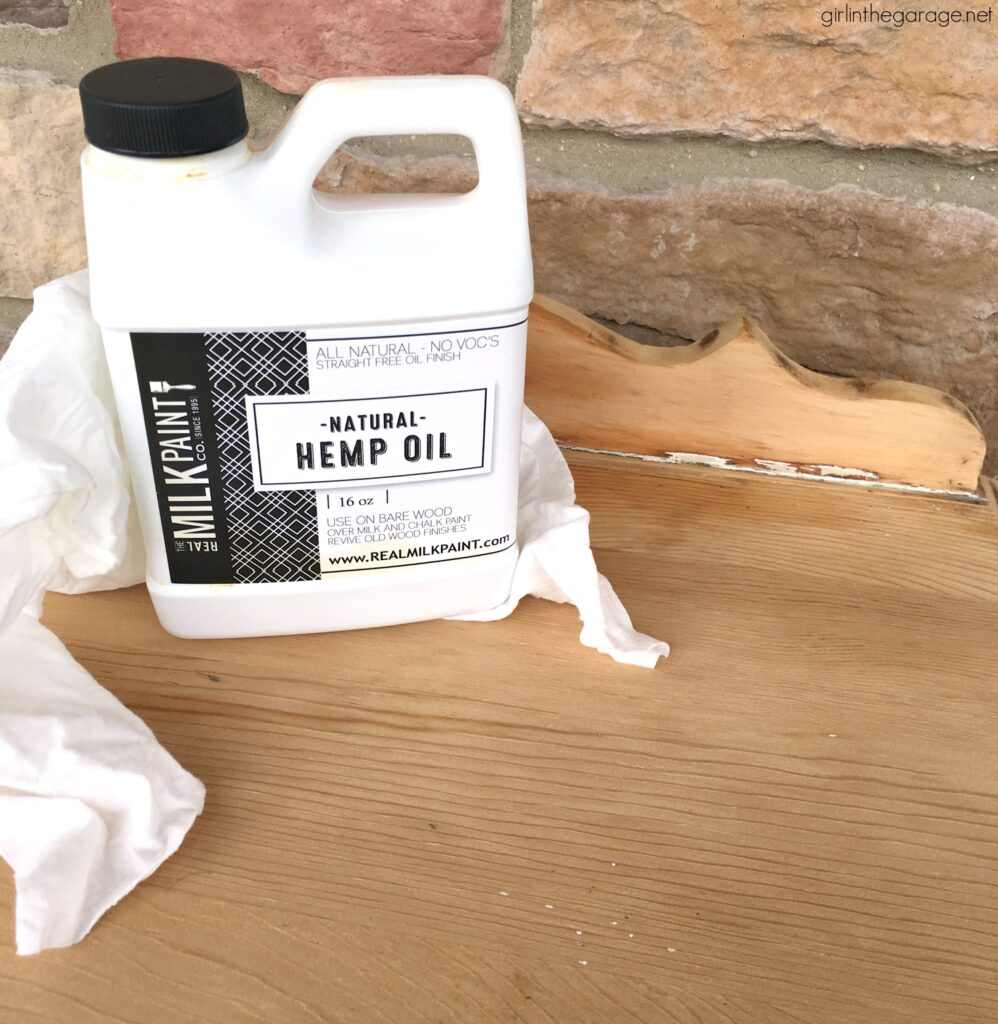 Then I went to town, rubbing the hemp oil in the direction of the woodgrain.
Mistake: What I should have done was test it in a small area first. But alas, I did not. This is how the table looked when I was done.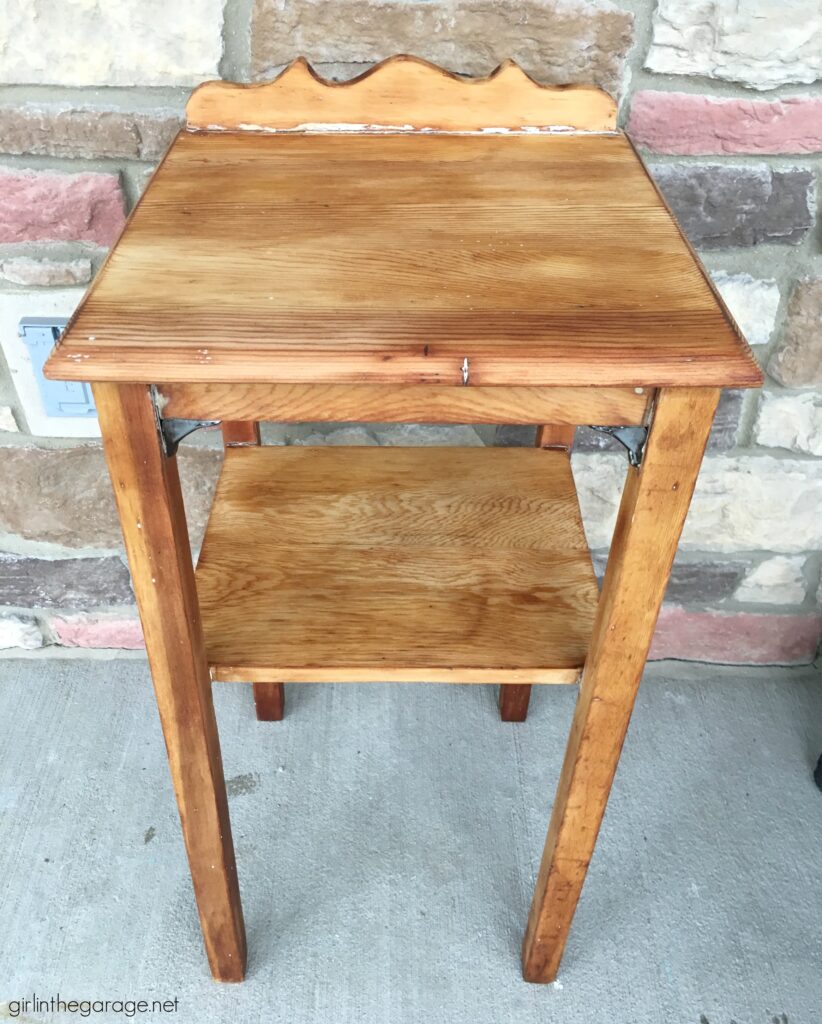 Which was not at all what I was going for. Unfortunately this type of wood (I think pine) turned majorly orange with the hemp oil on it. I let it sit overnight while I thought about what to do.
The next day I called the manufacturer.
How to Remove Hemp Oil from Wood
They advised to wipe away the hemp oil with mineral spirits or paint thinner, which I didn't have, and I wasn't able to run to the store. He also said I could try to "flush out" the hemp oil by washing the table down with water and dish soap, since the oil had only been sitting for 24 hours.
I tried that, but it didn't help much. So guess what? Back to the sander. (What a joy learning experience this project was!). 😜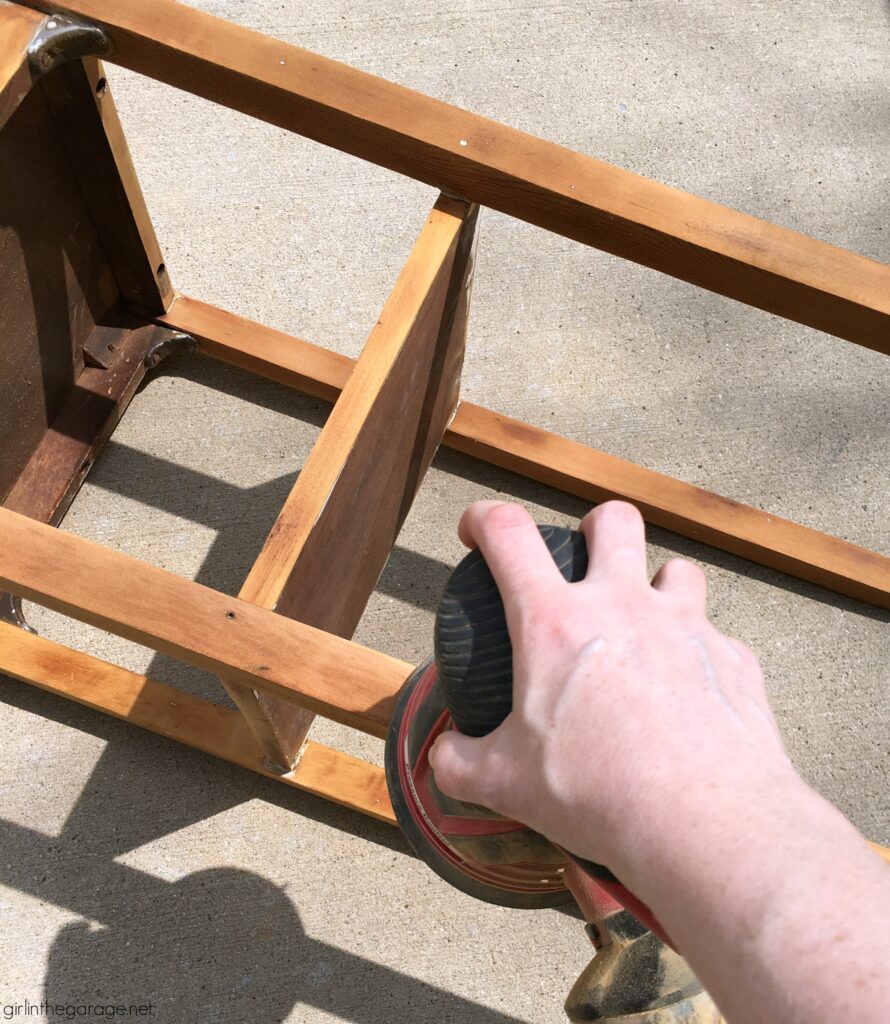 I couldn't get the table back to the original sanded finish, but it was pretty close. (Oh dear friends, how I wish you can learn from my problems with this project so you will save yourself time and frustration.) Finally I could move onto Plan B…
How to Whitewash Wood Furniture with Chalk Paint
White washed furniture has a muted, pale white look. I love it because you can still see the woodgrain on a beautiful piece, and it's a fairly easy technique.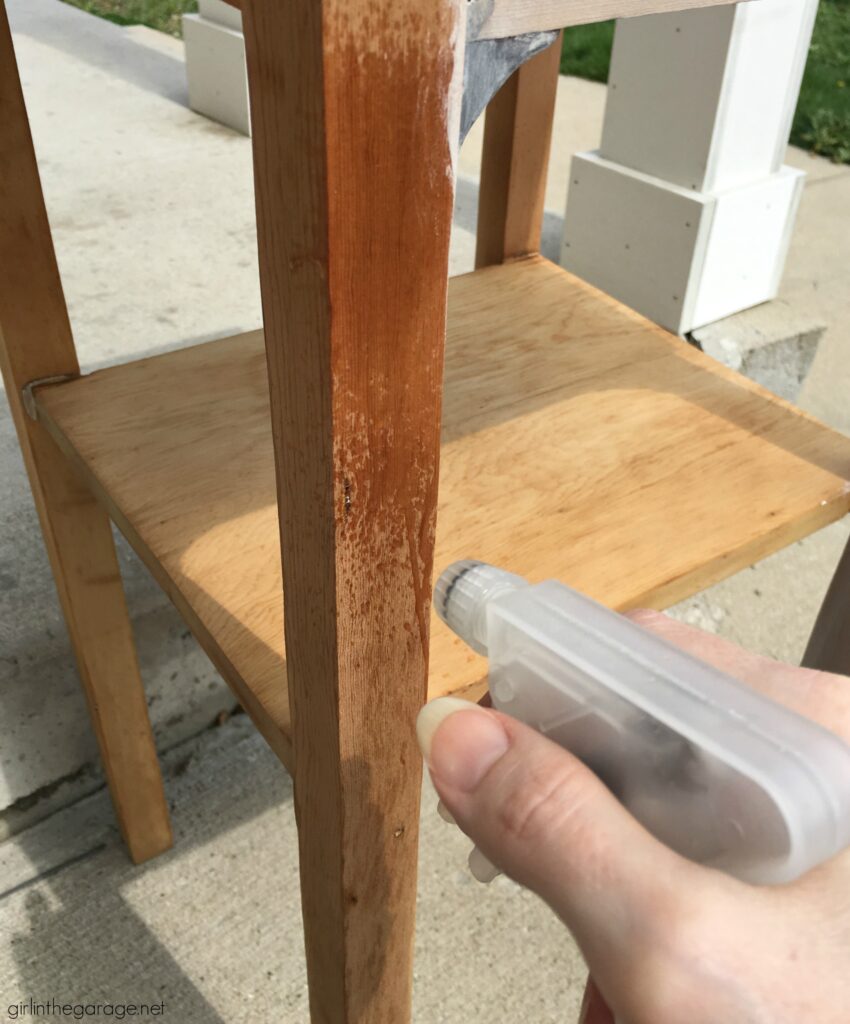 You will need a spray bottle with water, white paint (I used Annie Sloan Chalk Paint in Pure White), paintbrush, and a lint-free cloth.
To whitewash wood with Chalk Paint, spray water on one section at a time. Get it pretty wet.
Then lightly dip the end of the paintbrush (these brushes are my favorite) in the white Chalk Paint and brush over the wet area.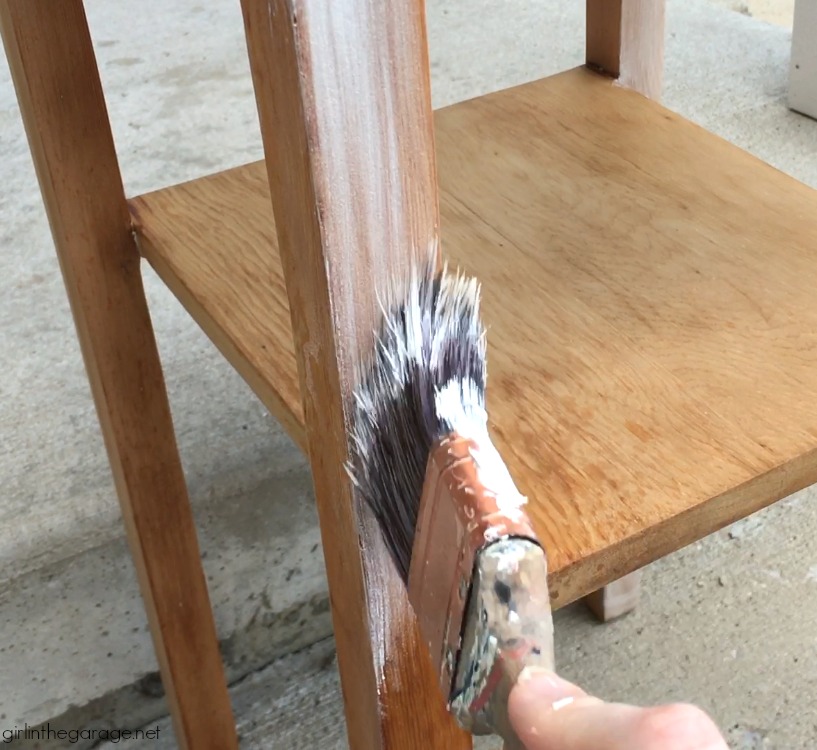 The paint will thin out and might even be runny. That's okay because next you'll take your cloth and wipe over the area in the direction of the woodgrain.
Below I had been over the entire top section once, and had started a second coat on the very bottom area in the photo. You can control how much white paint goes on by spraying more water or wiping more away.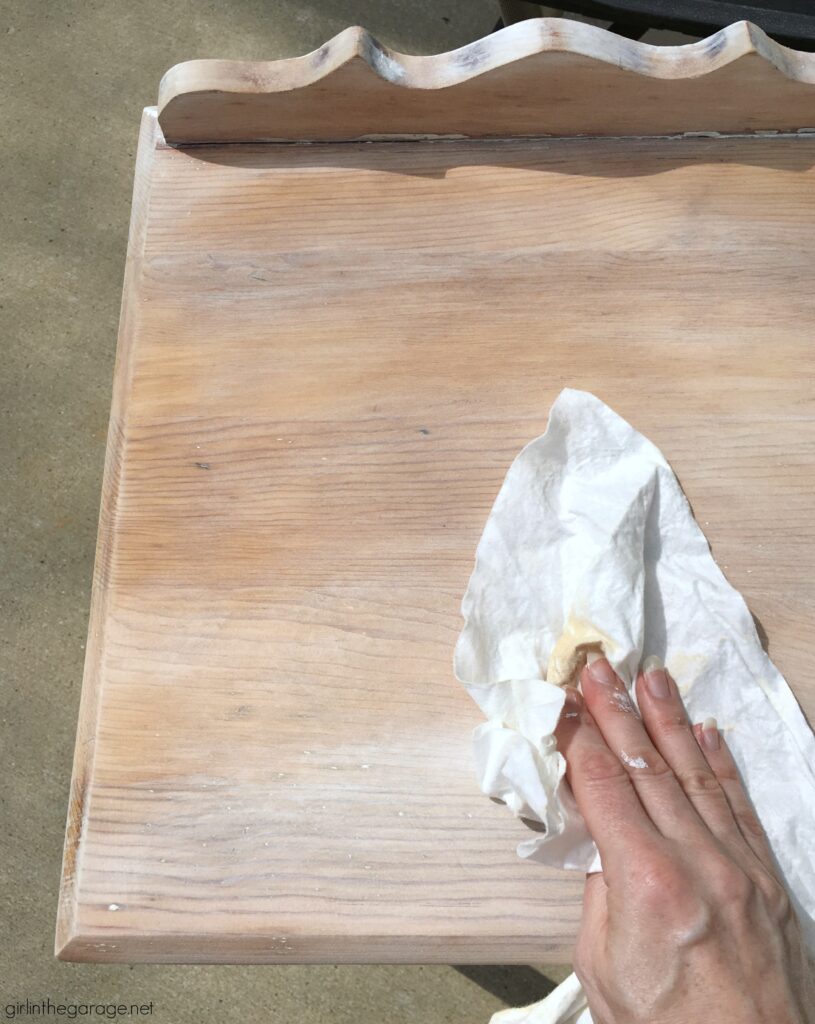 Below you can see where I had finished whitewashing most of the table except for the left leg. This type of white washed wood also looks like bleached wood, but without the harsh chemicals.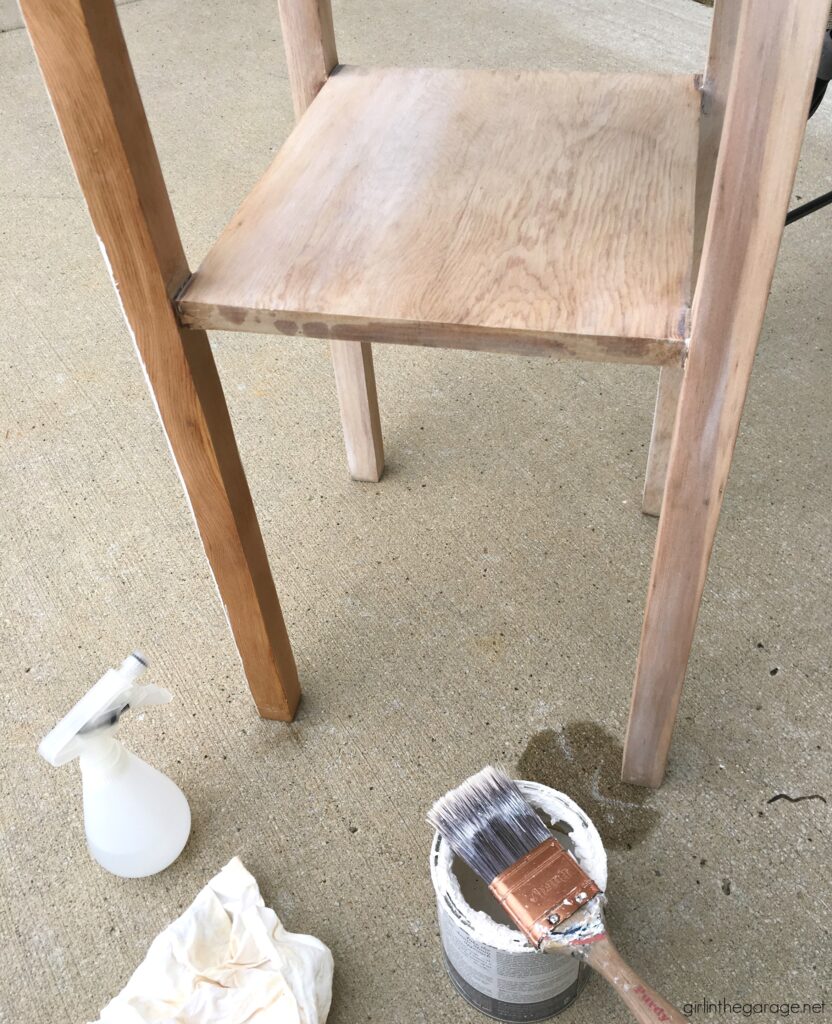 How to Seal Whitewashed Wood Furniture
Since you are only lightly tinting the wood and not fully painting it, you have a couple options to seal whitewashed wood furniture:
When using Chalk Paint, it's advised to use furniture wax as protection. You could apply either clear wax or white wax with a lint free cloth after whitewashing.

If you're fine with the rustic look you've already achieved, and the piece won't have a ton of use, you may decide not to seal it at all. (Update: I didn't seal it with anything, and after 10 months of daily use next to our couch, the finish still looks exactly the same.)
With a table this old, there will be some little imperfections and that's perfectly fine. They give it more character and charm.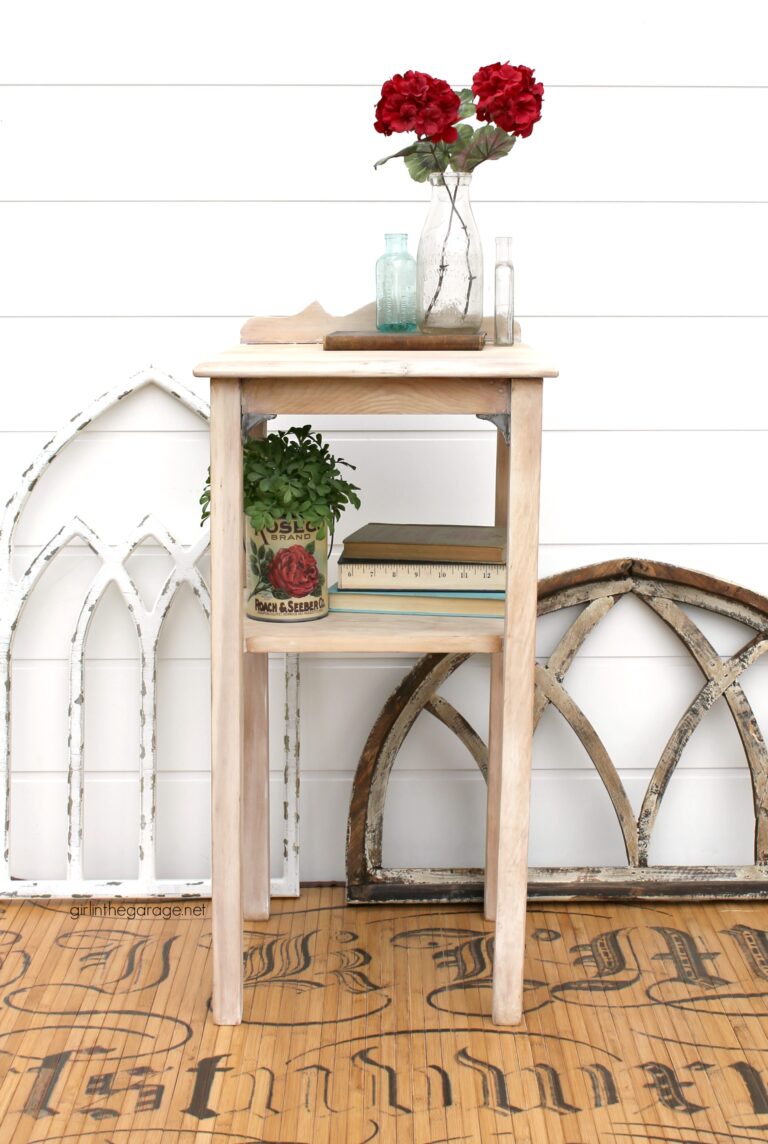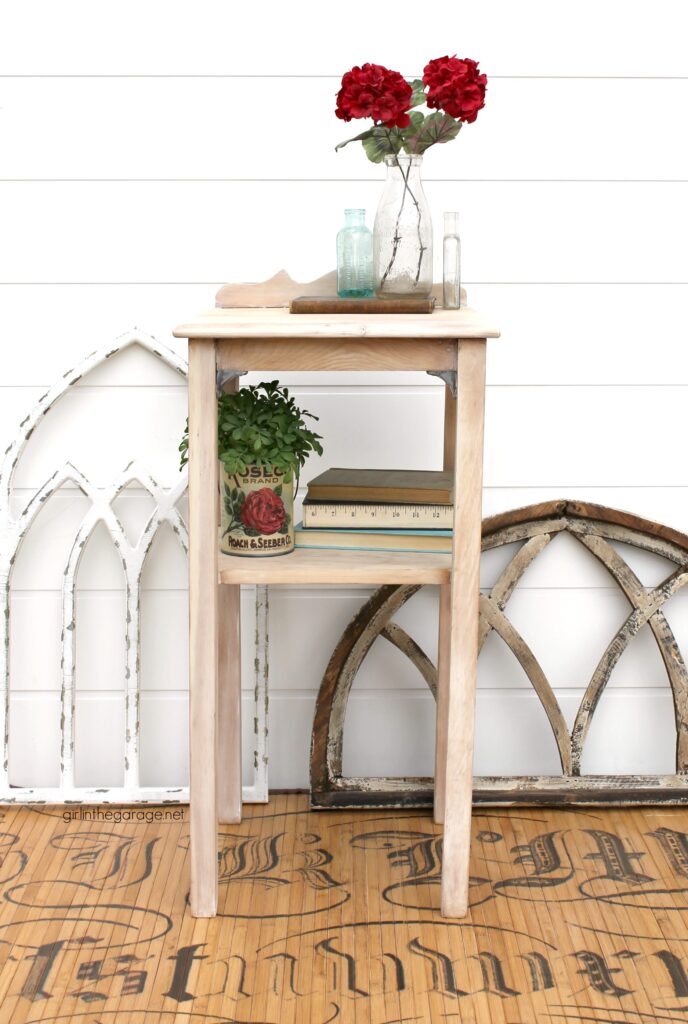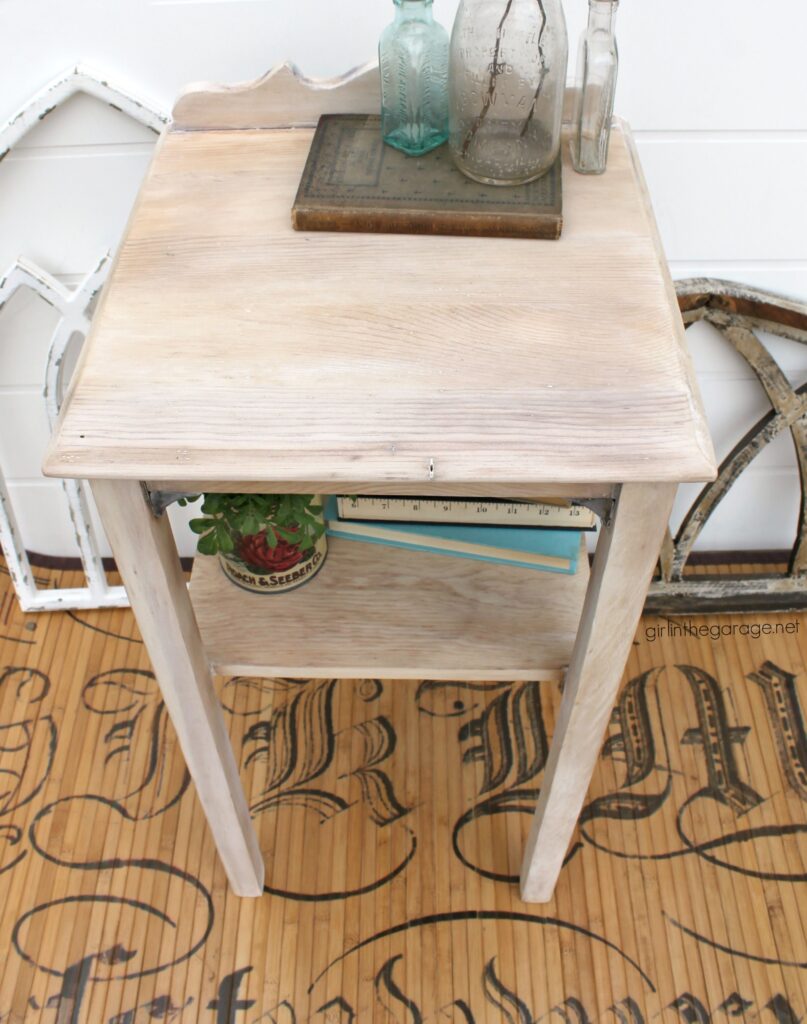 It took a lot of work and a few mishaps to get here, but it's finally exactly how I envisioned it.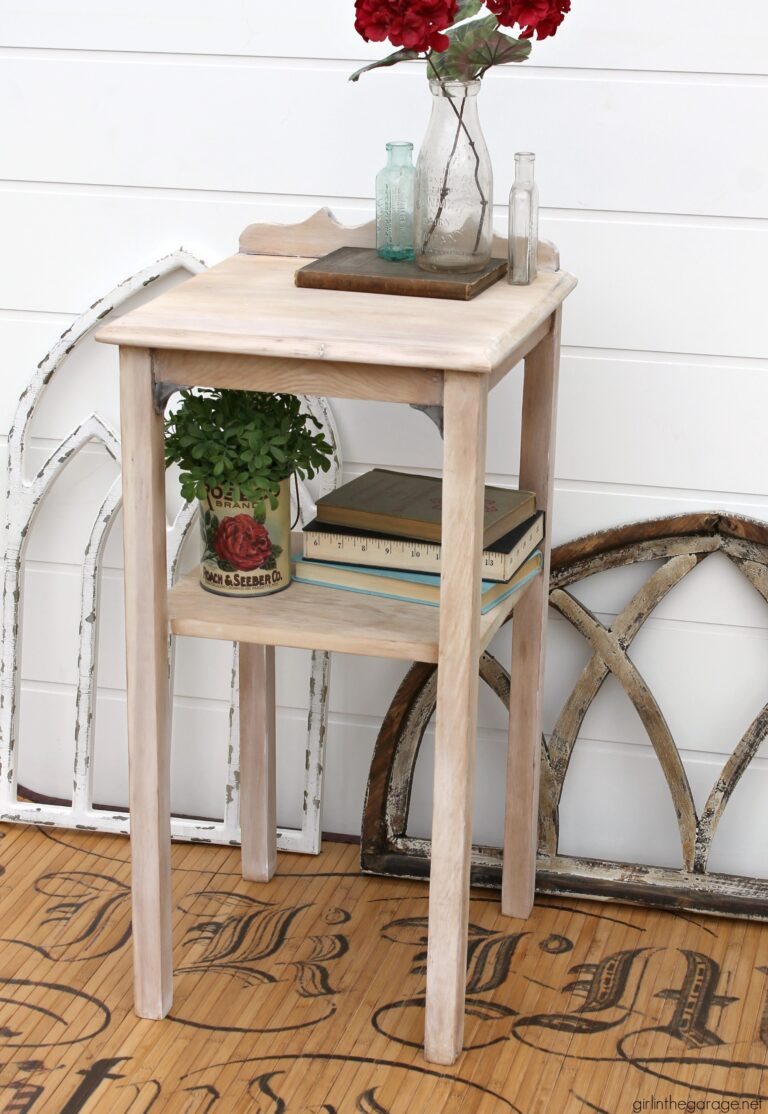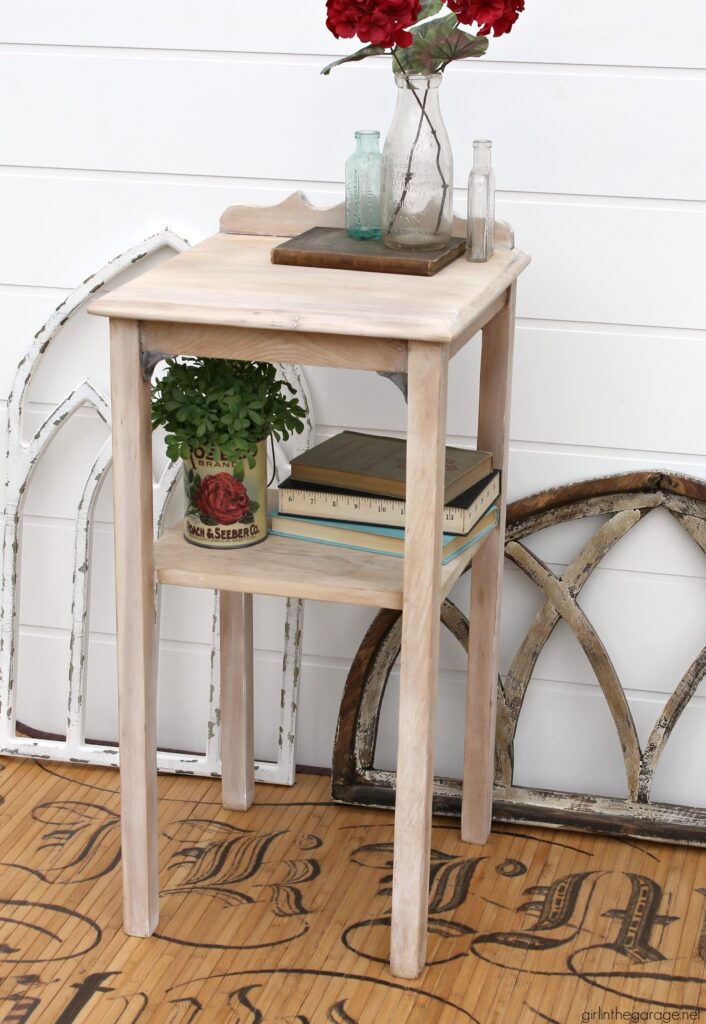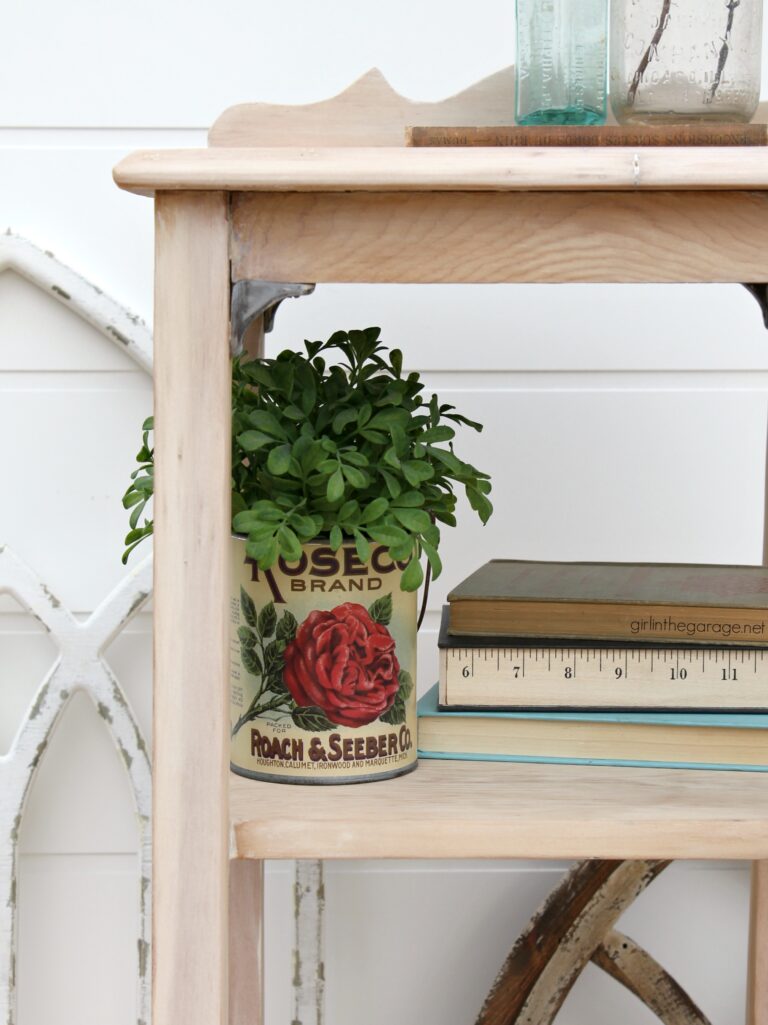 Seriously… in love. ❤️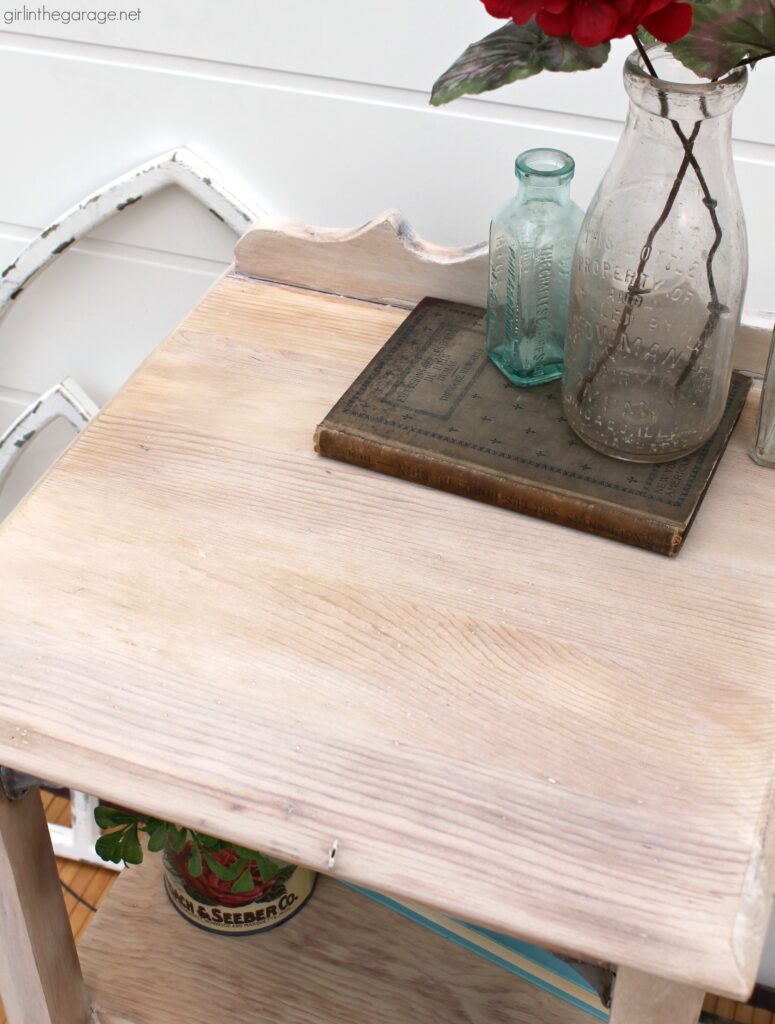 If you enjoyed this project tutorial for How to Remove Paint from Wood and How to Whitewash Wood Furniture with Chalk Paint, would you please Pin or share this post with others? Thank you! It's a blessing to be able to inspire people to be creative and try new things.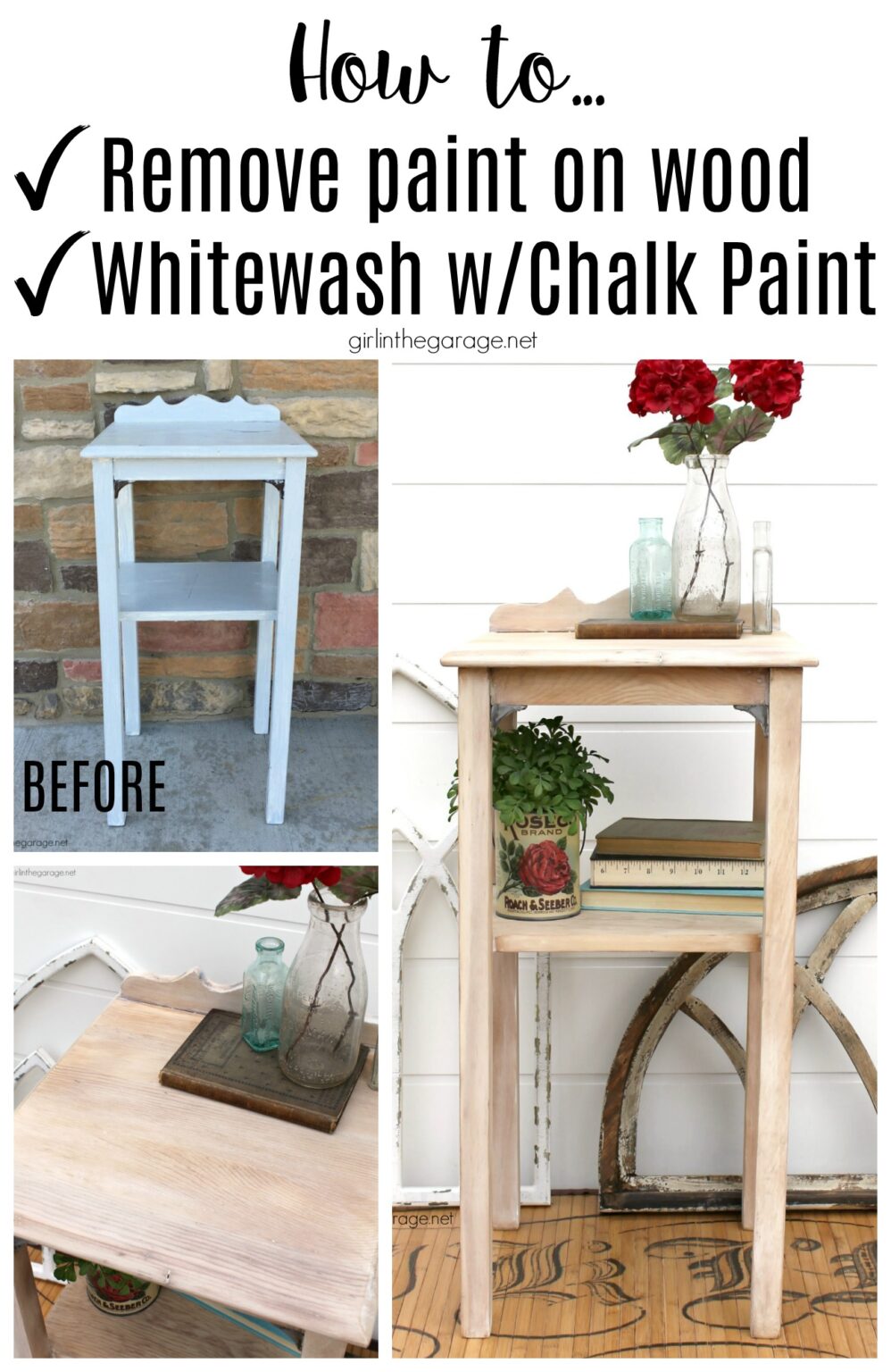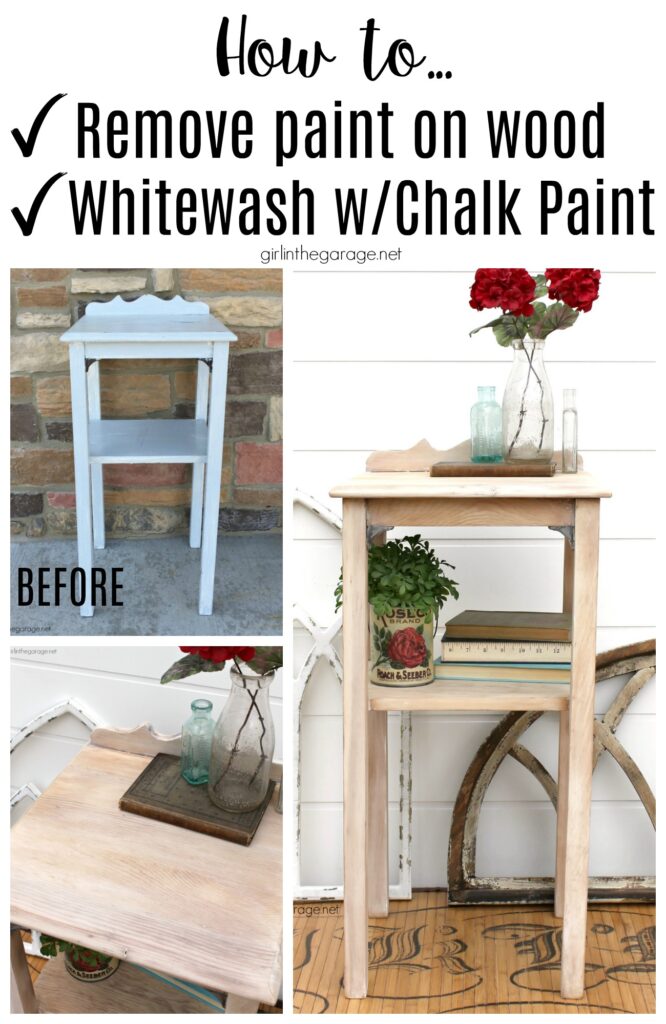 Learn all my best tips for How to Chalk Paint Furniture here – or click the image below.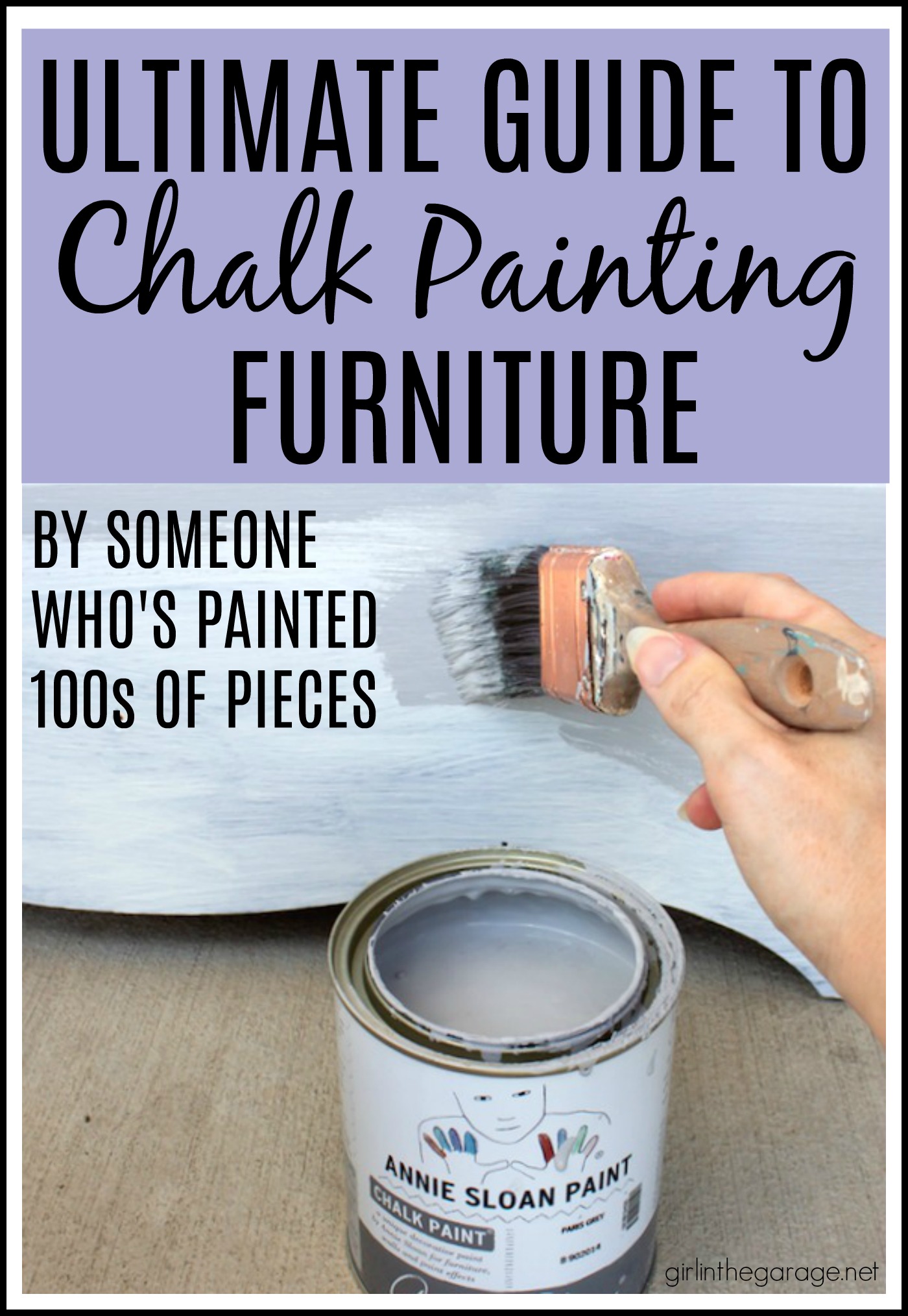 Now it's time for more projects from my talented blogging friends! Below are the Before photos – visit the links underneath to see the amazing Afters and to learn how they did it: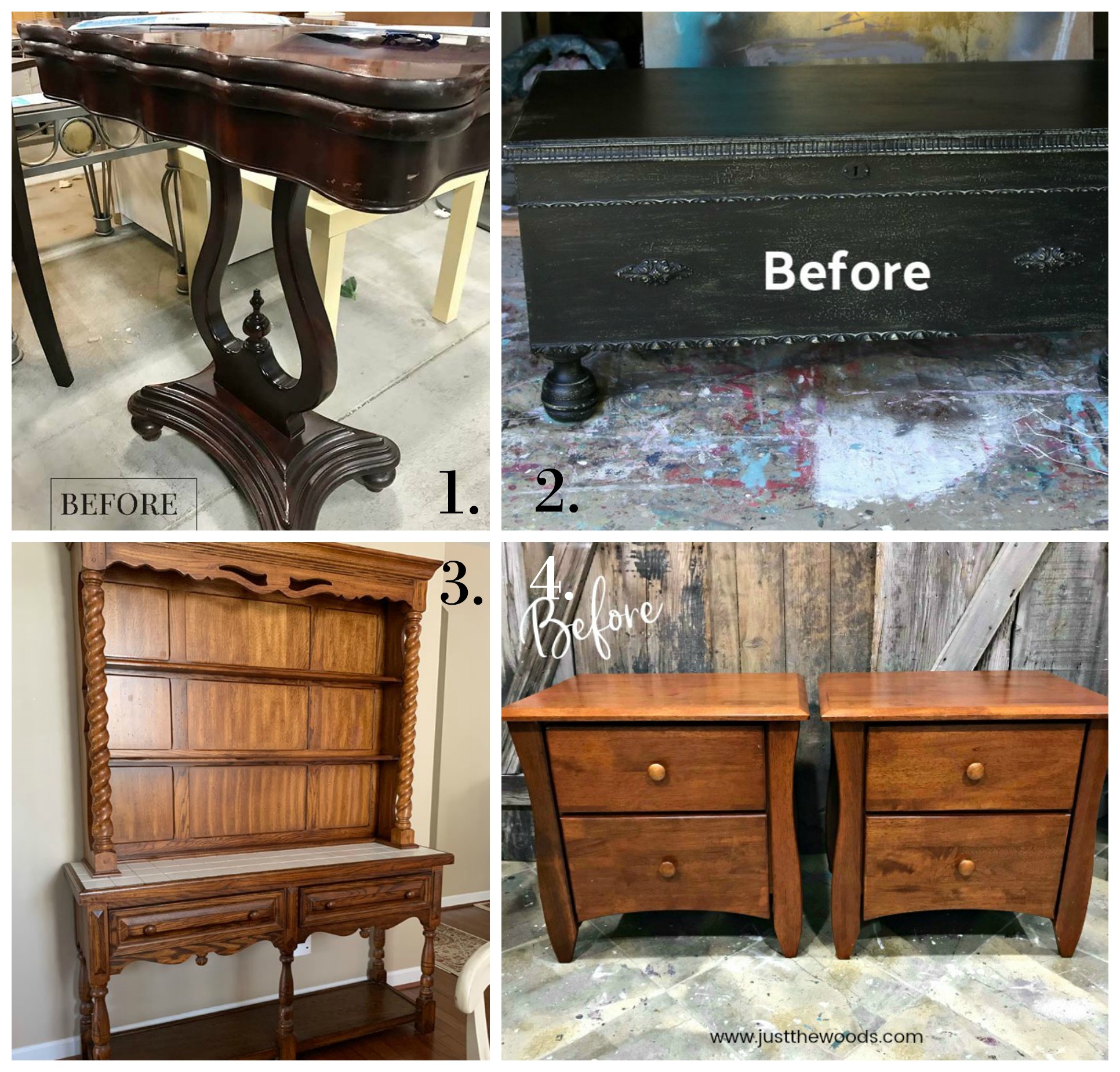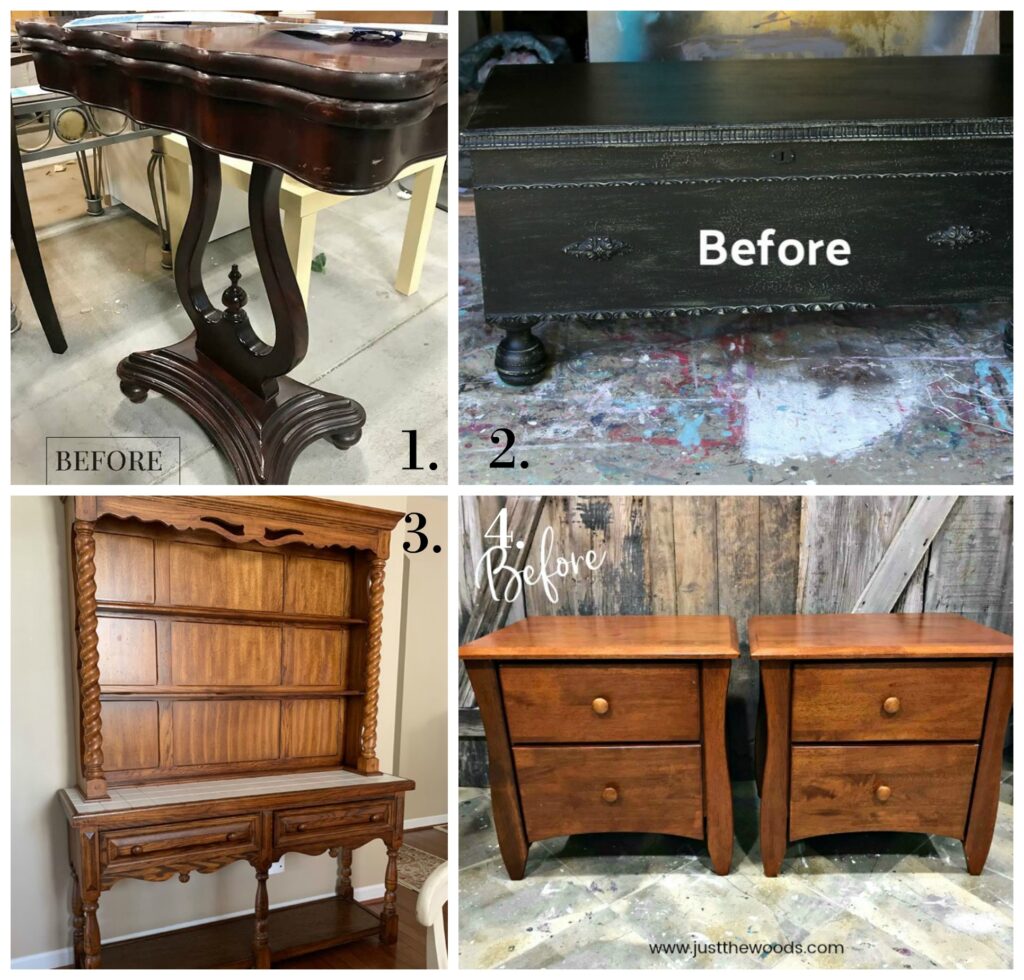 1. Salvaged Inspirations
2. Petticoat Junktion
3. Confessions of a Serial DIYer
4. Just the Woods