Welcome back, sweet friend! It finally feels like spring outside and today I have a very spring-y repurposed project idea where I'll show you how to decoupage fabric onto old books.
You can see some of my past repurposed book projects here – including where I like to find lots of old books for super cheap! There's also a short video included below so you can watch me in action doing this project.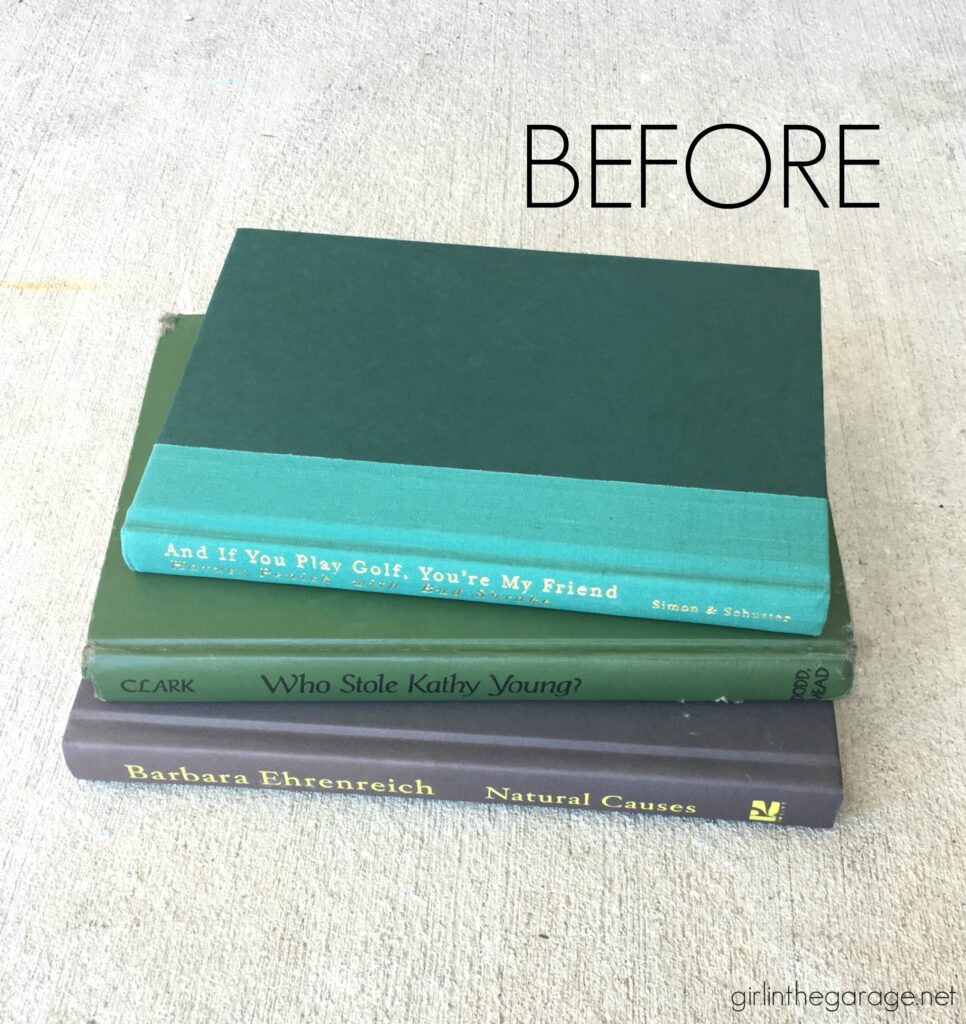 *Great news – it's Trash to Treasure Tuesday which means you can find bonus thrifty makeovers from my blogging friends at the end of this post. Also, this tutorial contains some affiliate links so you can easily find the products I use and recommend. Discover all my favorite brands and tools for doing DIY projects here.
Prepping the books
Since I planned to decoupage fabric over these, I chose three coordinating fabrics from my stash first.
Then I decided to paint the two green books white so the lighter fabrics wouldn't have any green showing through from underneath.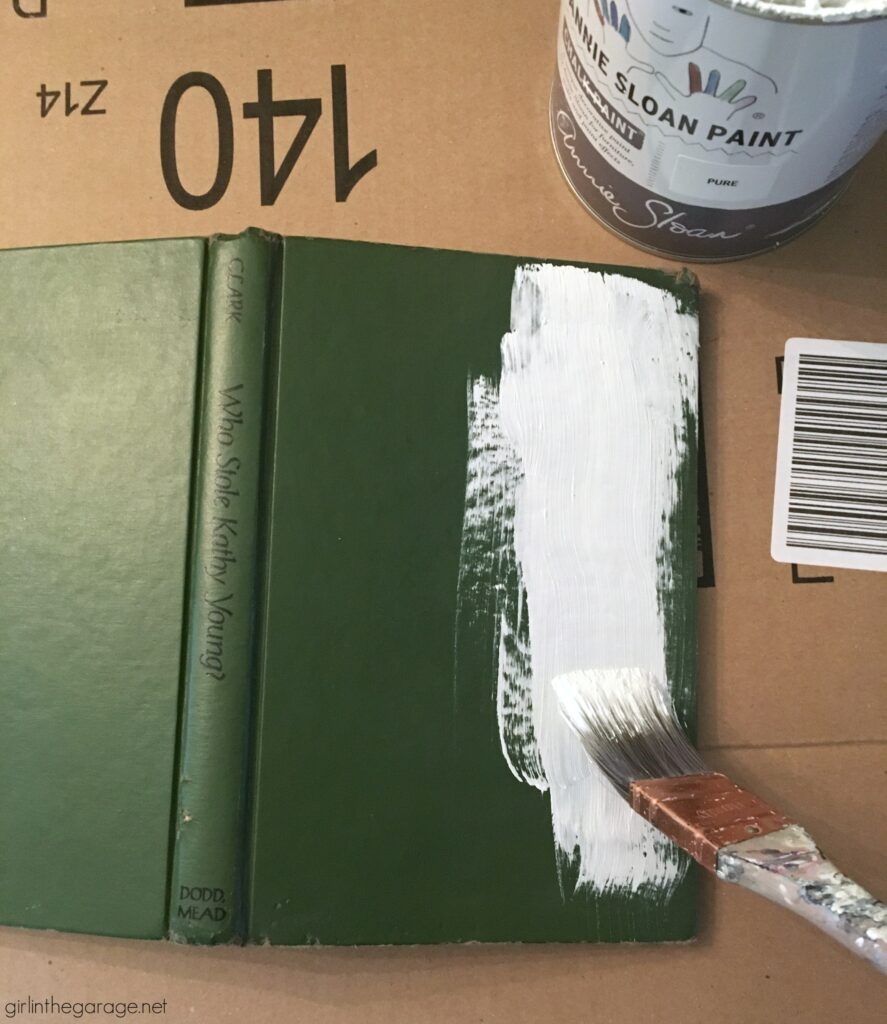 I used Annie Sloan Chalk Paint in Pure and one of my favorite Purdy brushes. I'm nearing the bottom of the paint can, so the Chalk Paint is a little lumpy and textured right now. It's not a big deal for this project though since it's just acting like a primer.
Psst… Read all my best tips for How to Chalk Paint Furniture: Ultimate Beginner's Guide to Chalk Painting here.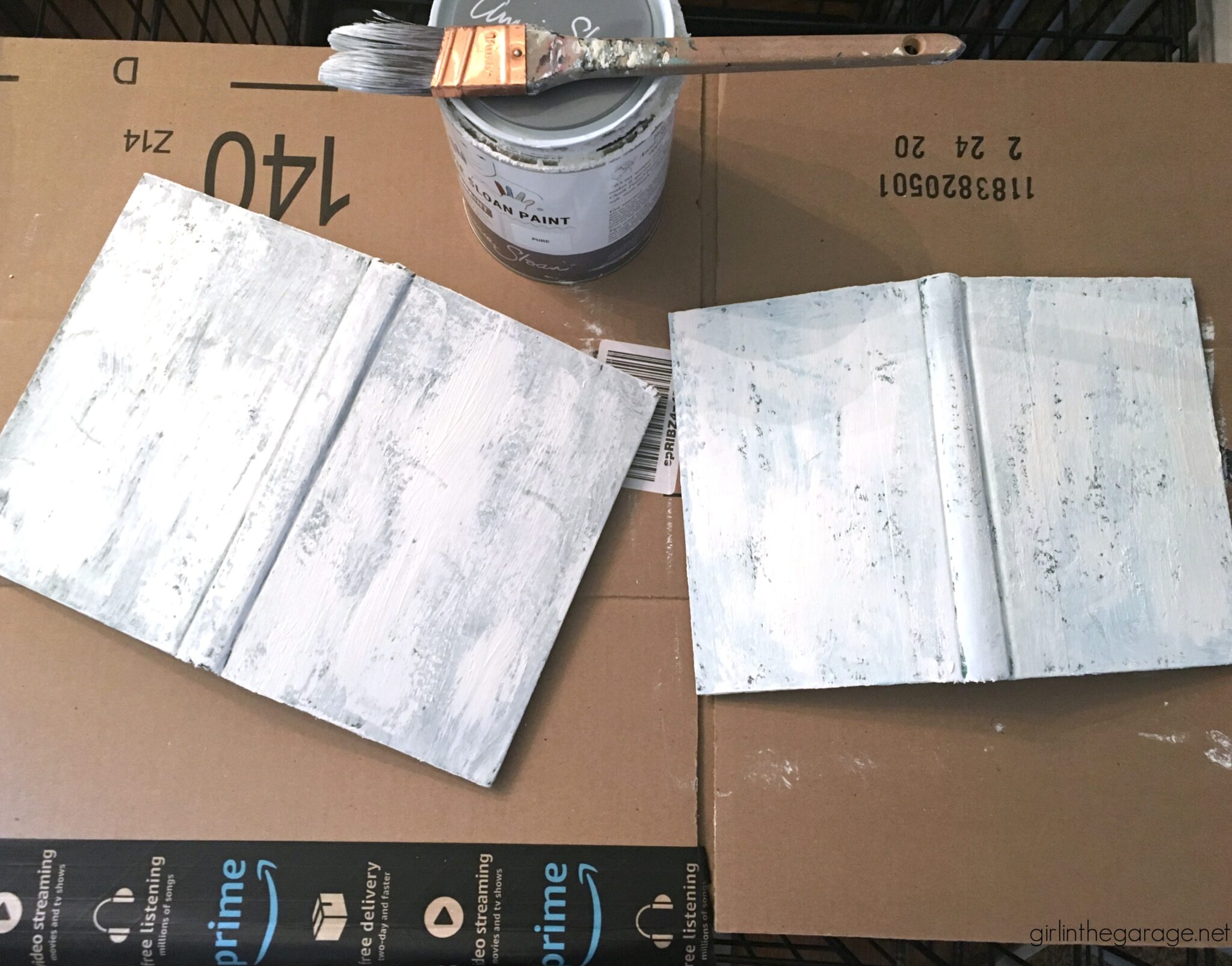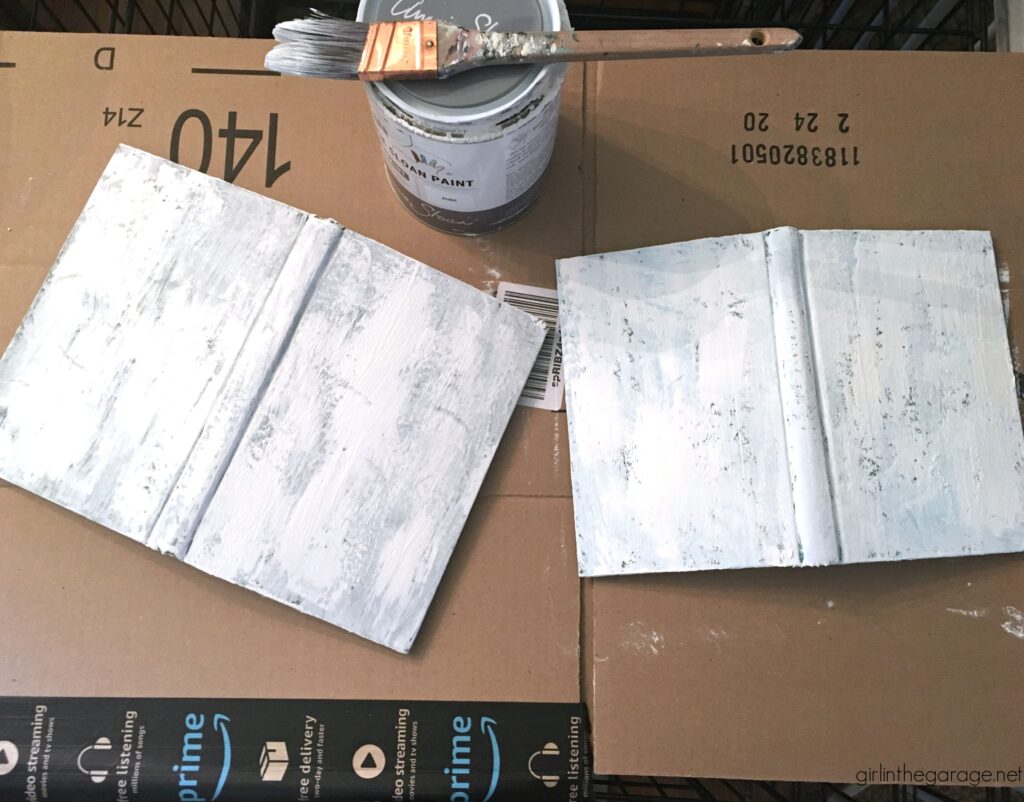 Preparing the fabric to decoupage onto books
Make sure your chosen fabric is clean and ironed. Set the book on top and fold the fabric over, leaving about two inches all around. You will be folding the sides in as shown below. Use good fabric scissors while cutting.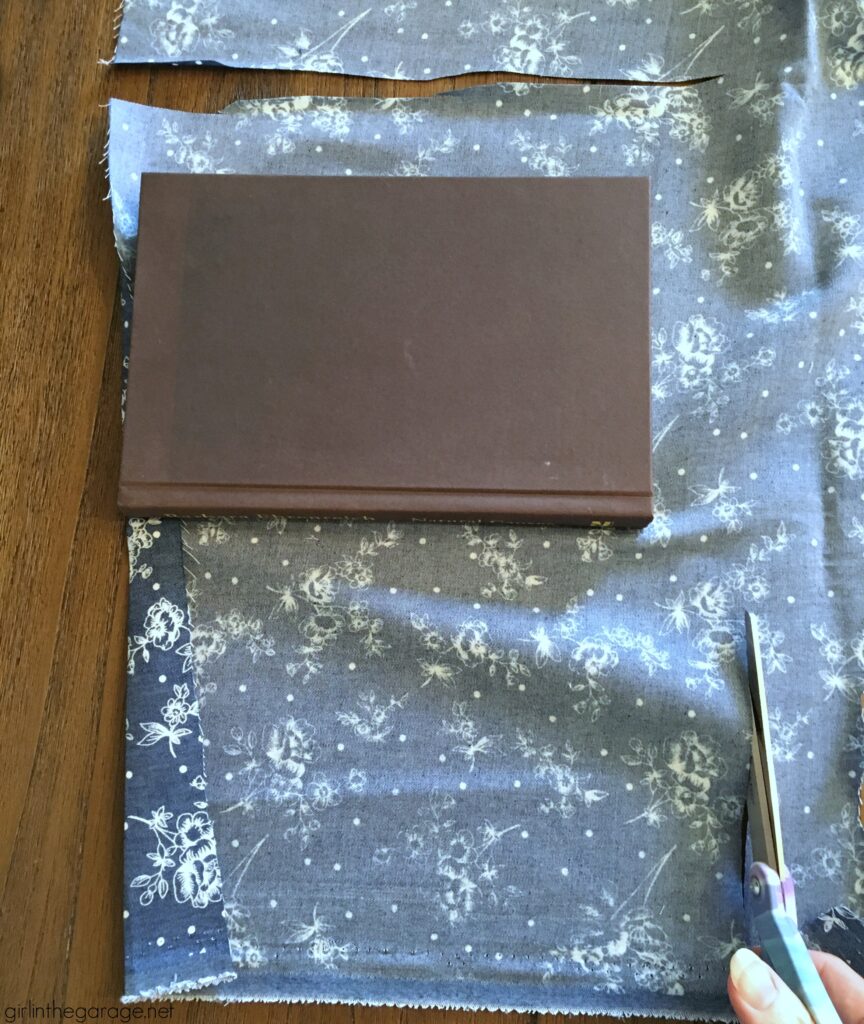 The front and back covers will each have about one inch of fabric folded over like below.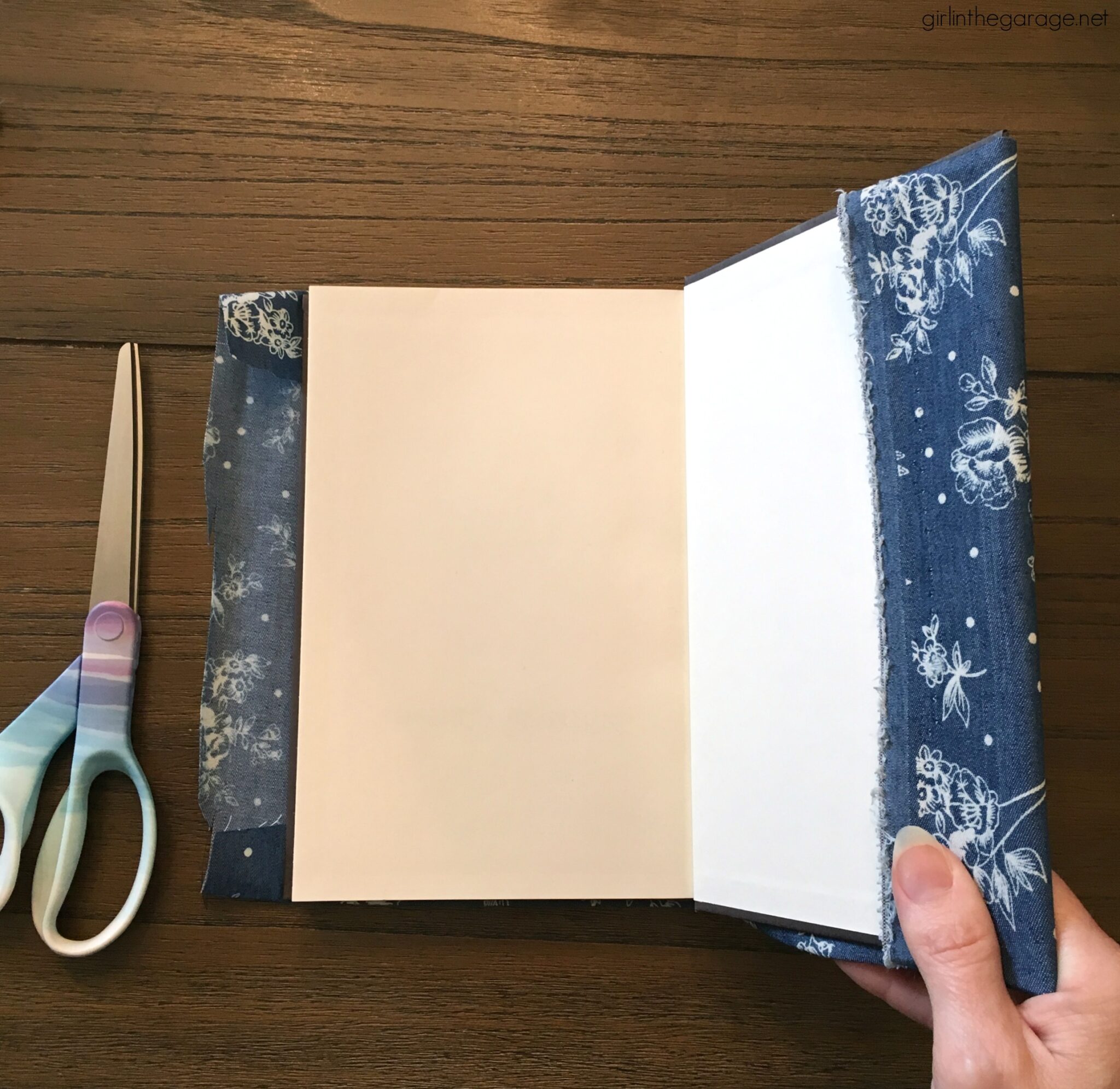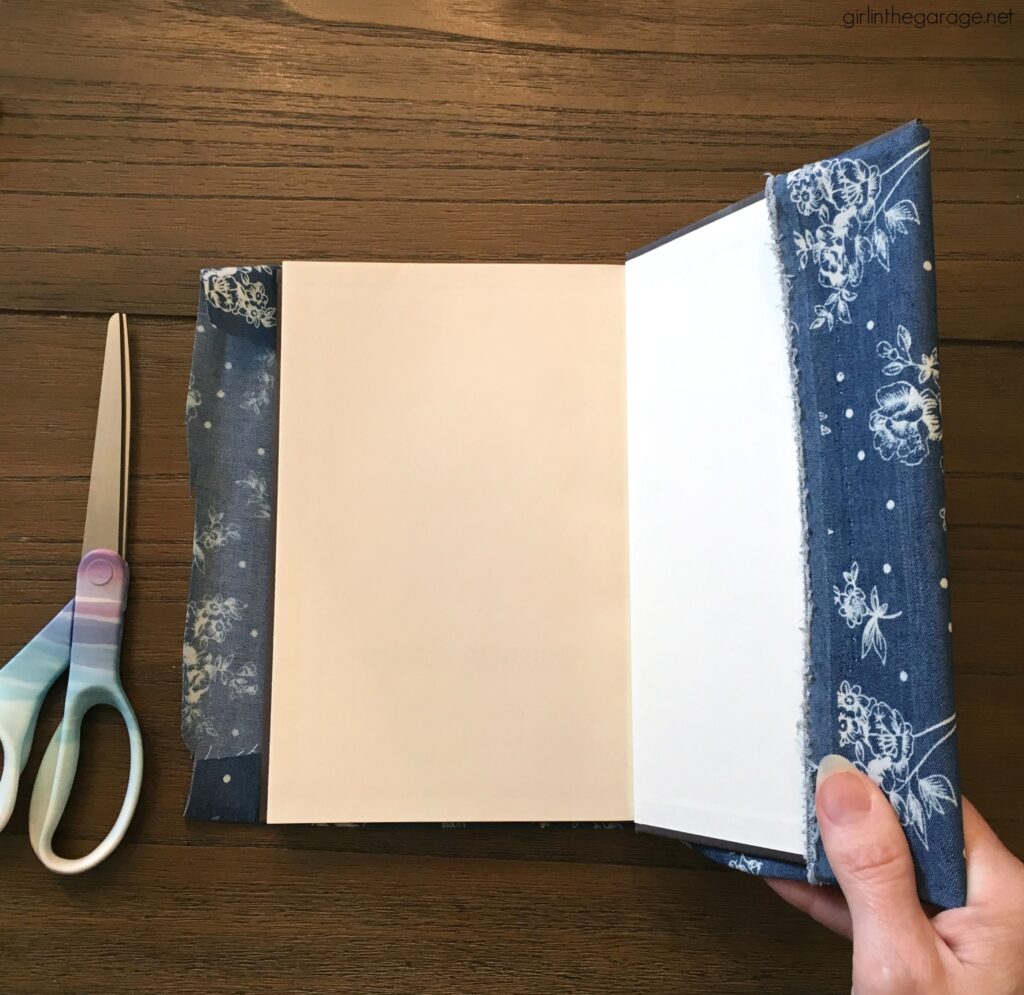 Decoupage fabric onto the books
For this step you will need some matte Mod Podge and a foam brush. I usually buy 2-inch wide foam brushes and then cut the sides of the foam slightly for it to easily fit inside the Mod Podge bottle.
Lay your fabric and book out like below.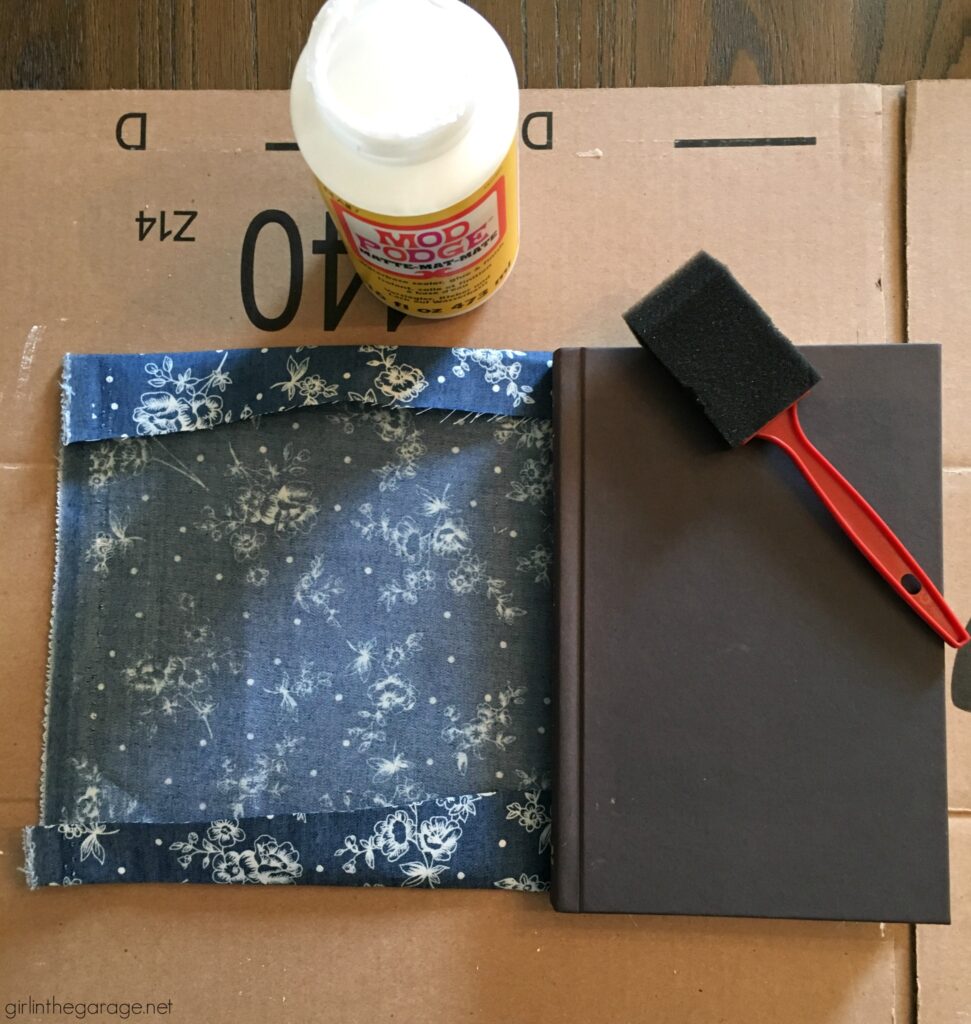 Brush the Mod Podge directly onto the book cover, one side at a time. Cover the area well but don't overdo it! Also, it helps to know that the glue dries pretty fast. (You can watch the steps closely in the video included in this blog post.)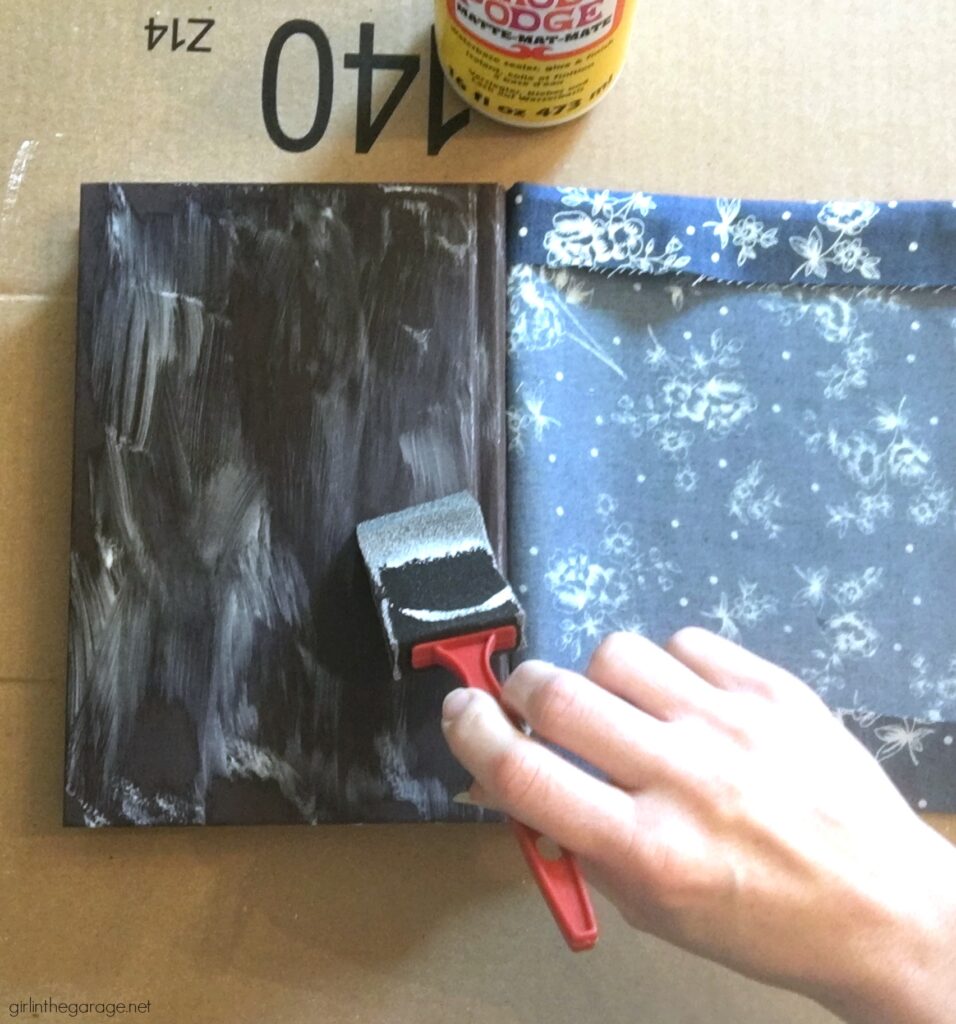 Smooth out the fabric with your hand for about 30 seconds, and then you can flip the book and do the other side.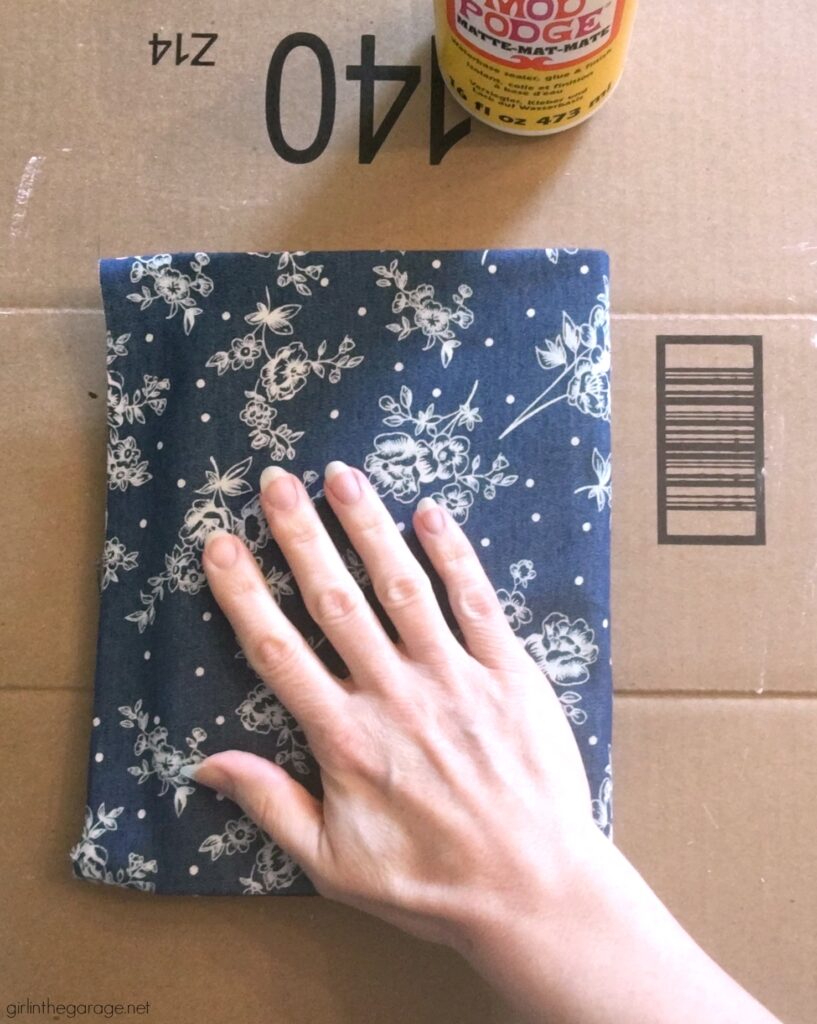 I set the book aside to dry for a few minutes and left the ends undone while I did the other two books.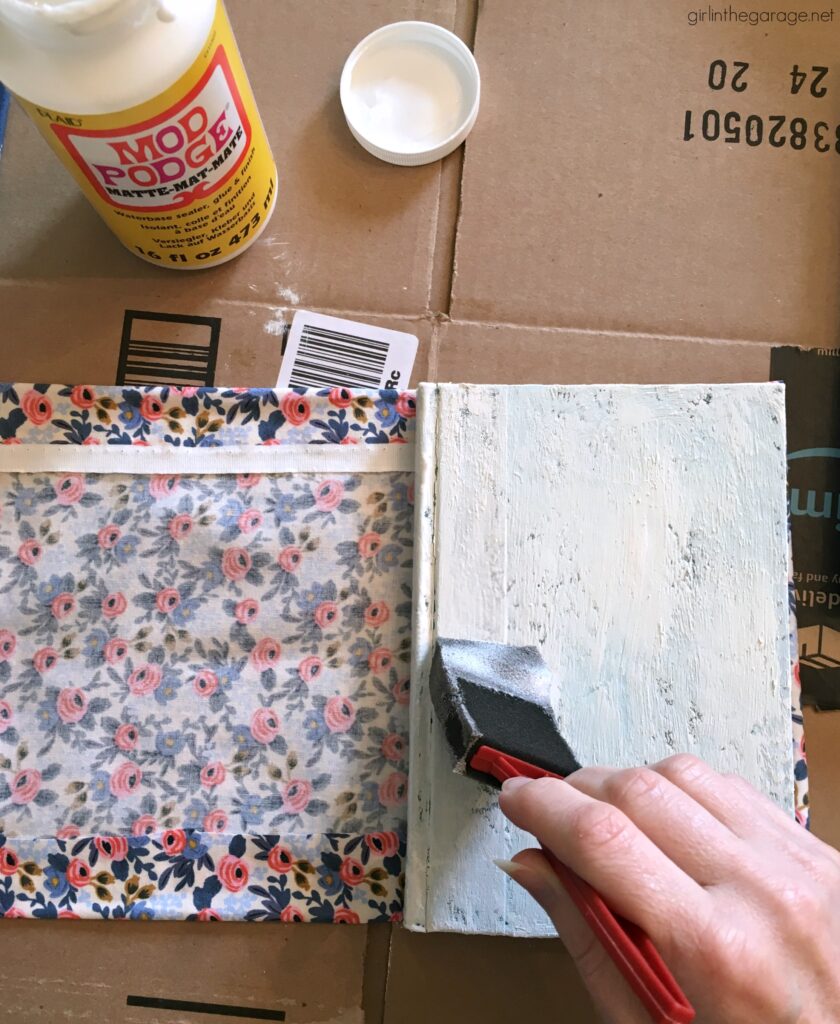 For the last part, I applied the Mod Podge just near the edge of the cover (about an inch wide area) where the fabric would lay.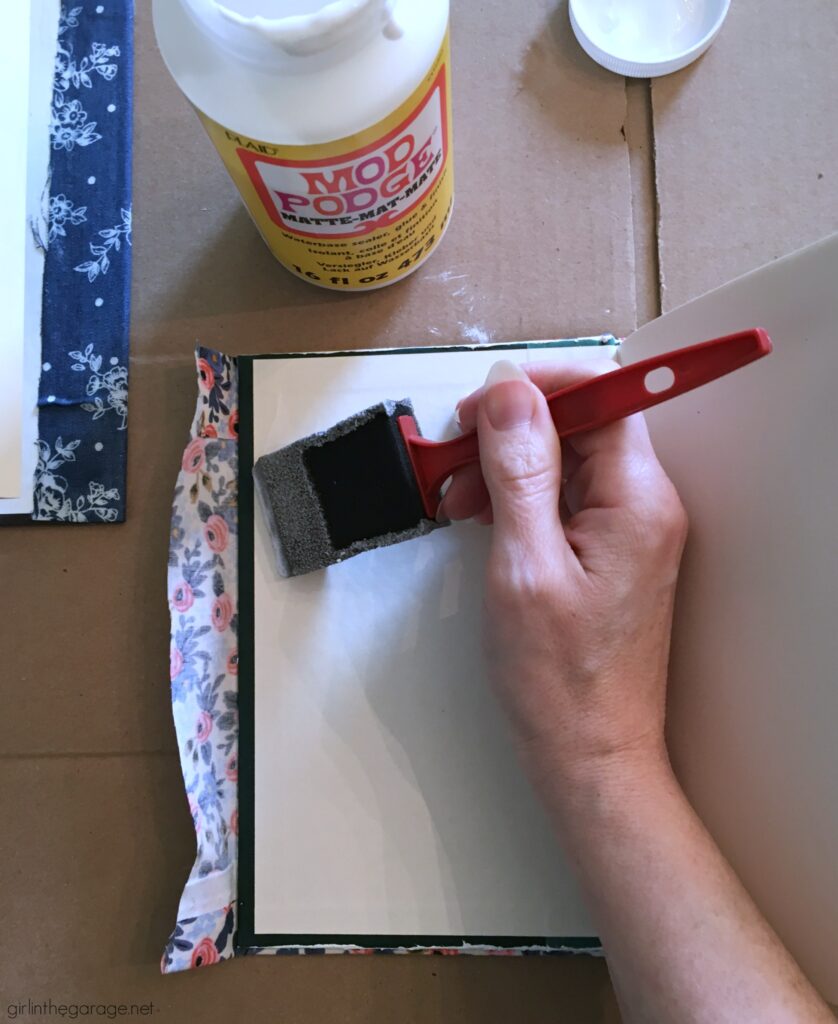 Then I pressed the fabric down for about 20 seconds.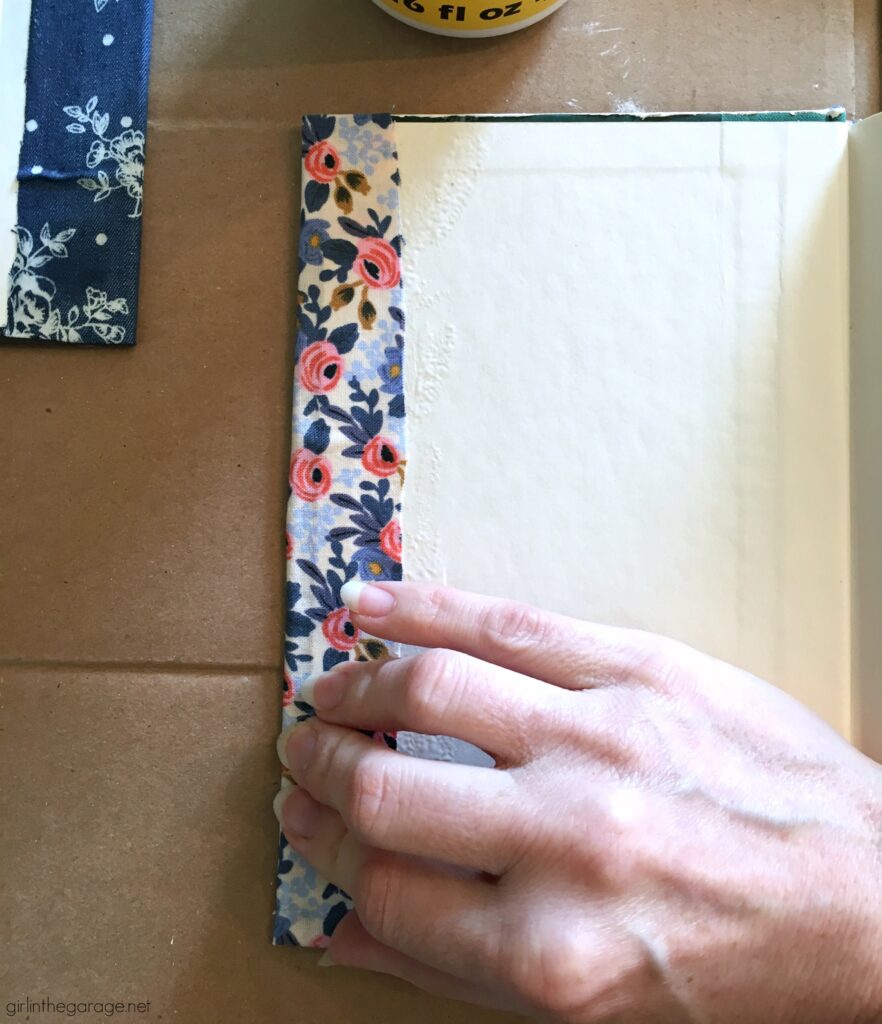 Repeat for the other side and the other books, and let them sit to dry for about 10 minutes. (I propped the pages up so they weren't touching the glue.)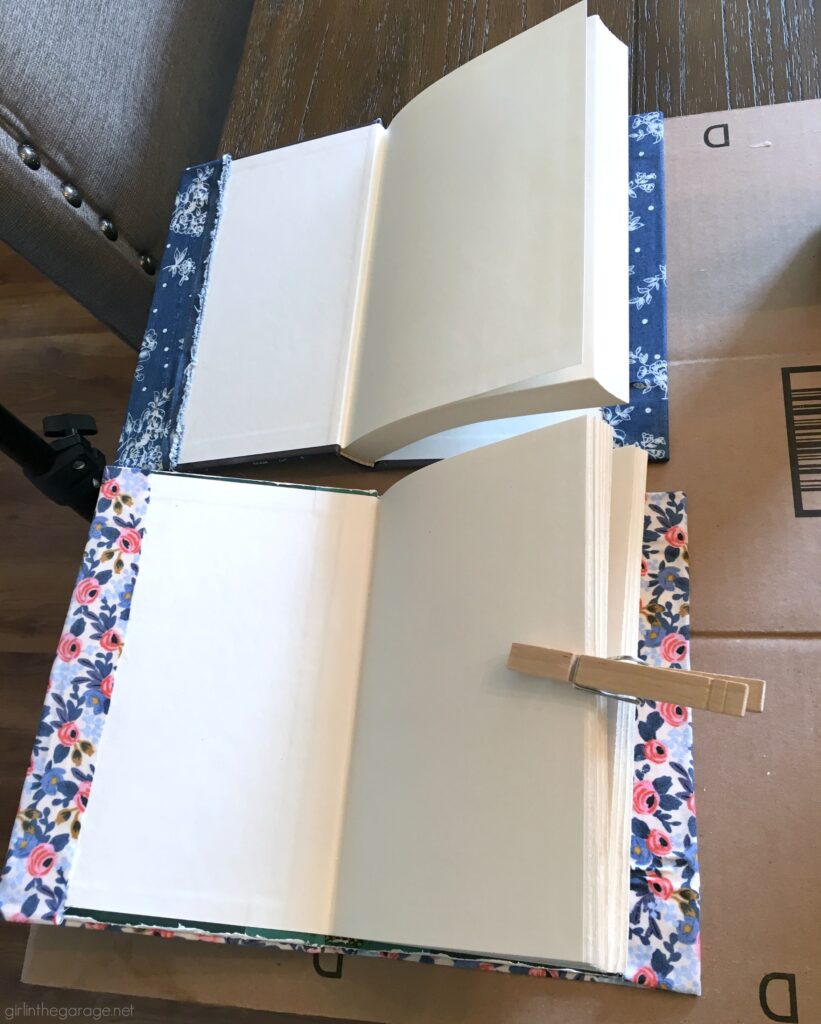 Finally these gorgeous decoupage fabric books were finished and ready to become part of my spring decor (which would honestly work for summer too).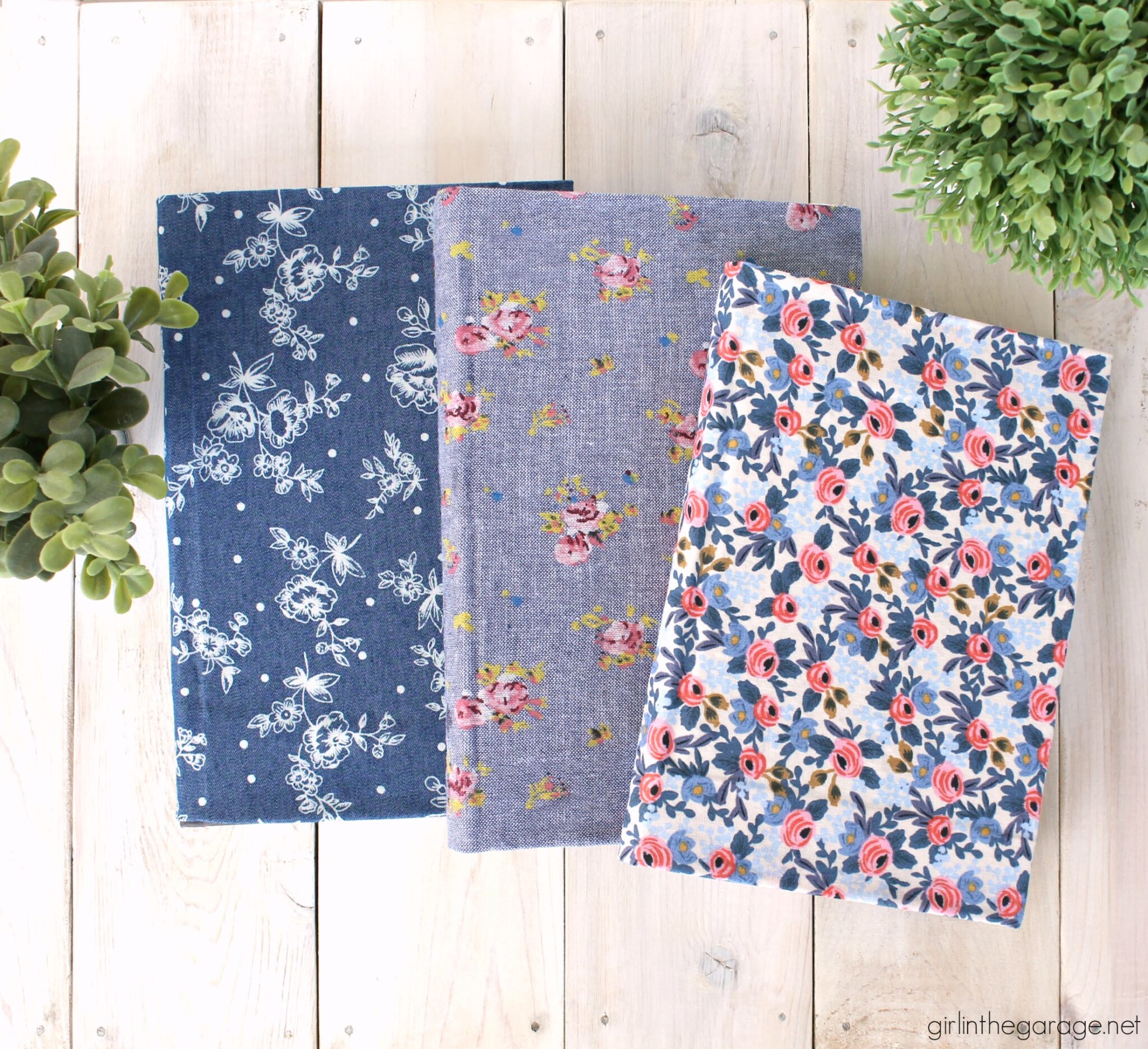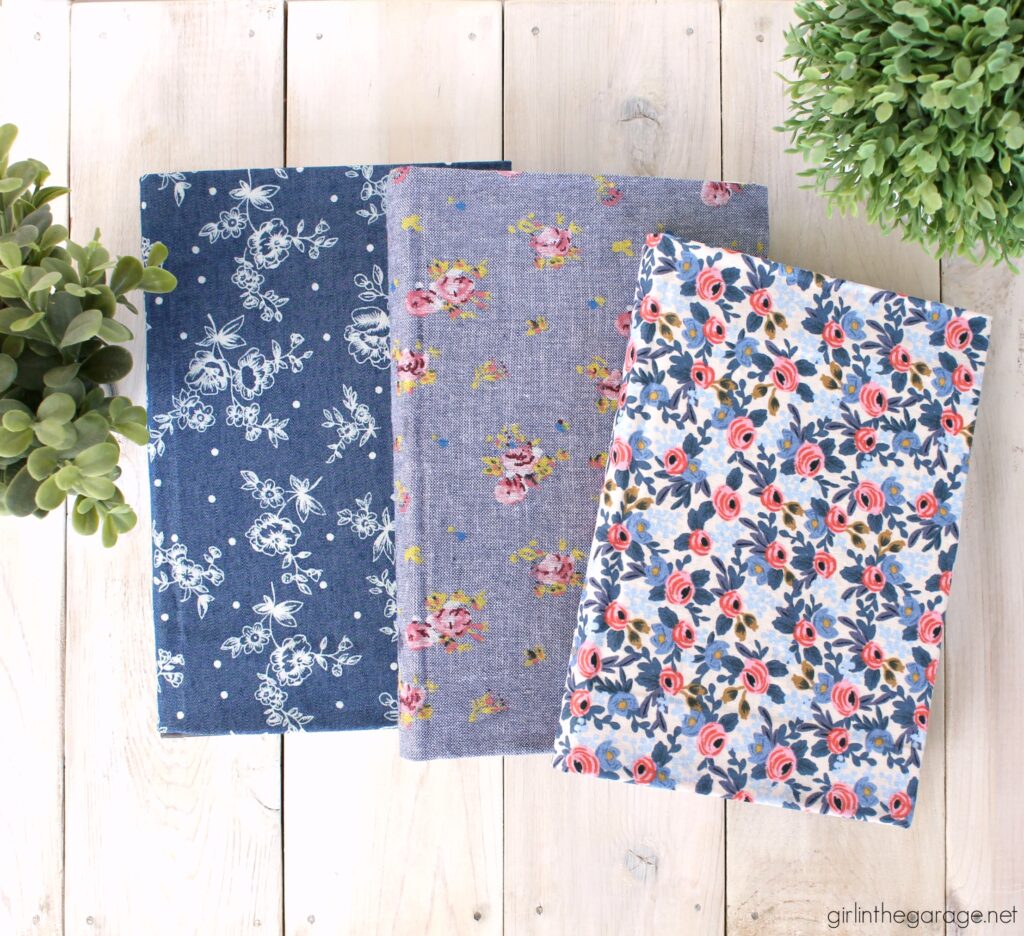 So lovely grouped together!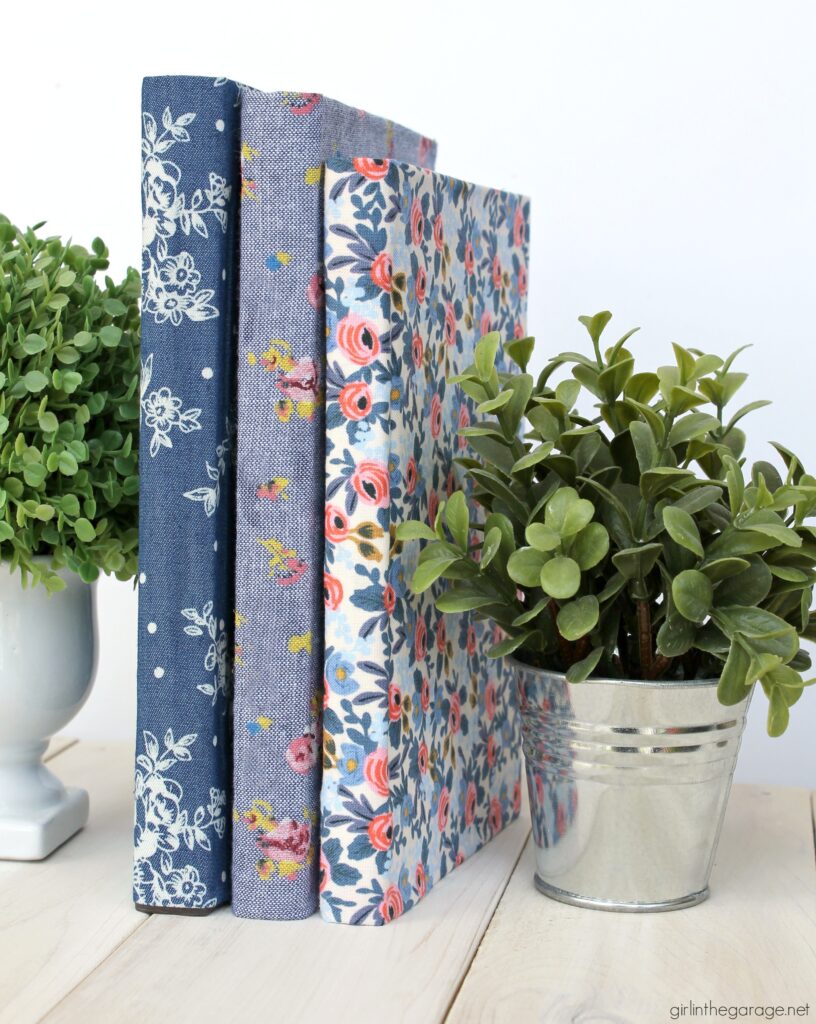 You could do this with any type of hardcover books – vintage or even pretty-up some brand new journals to brighten your day every time you use them.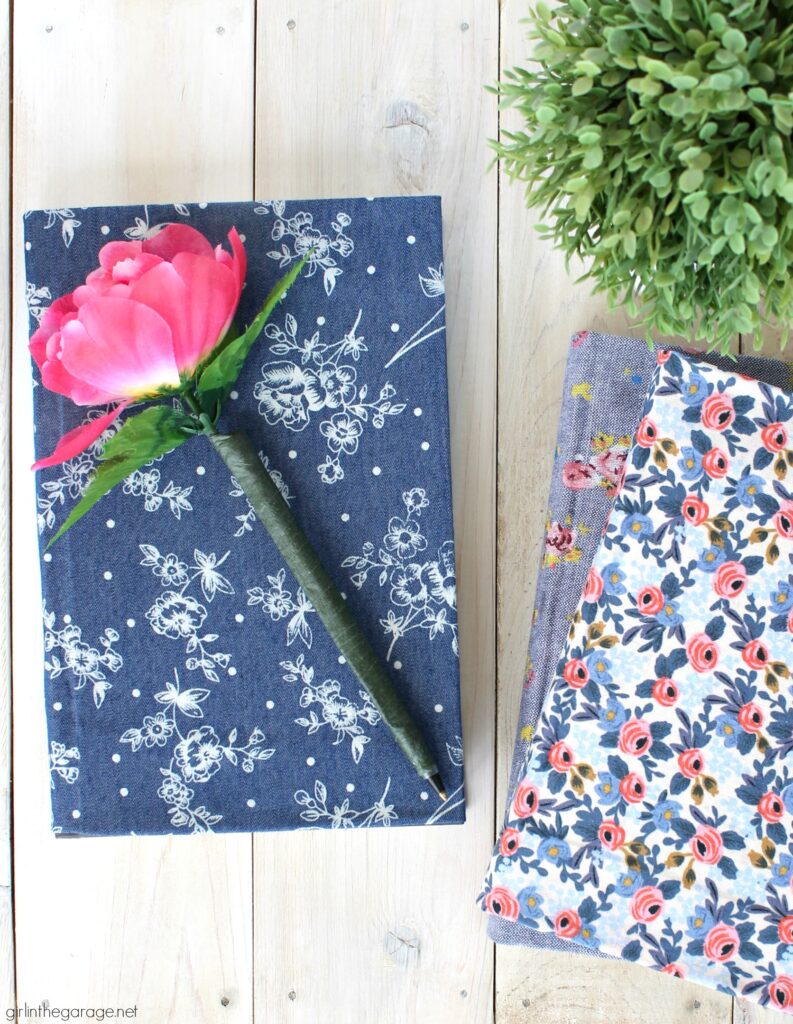 This could also be a great DIY gift idea too.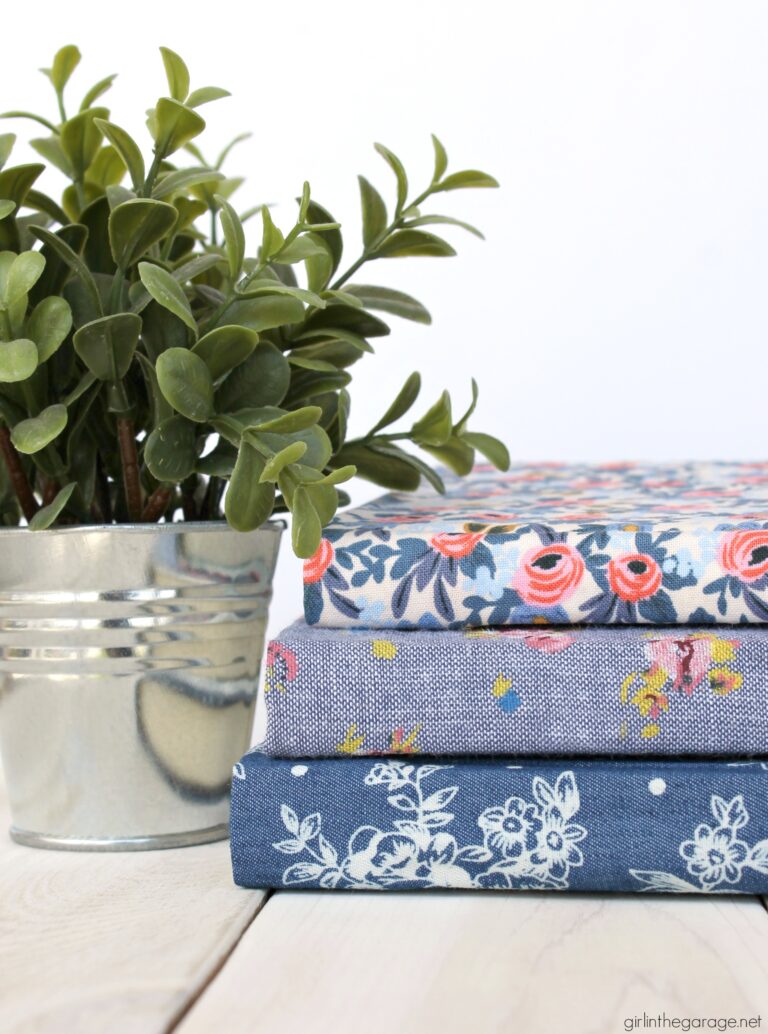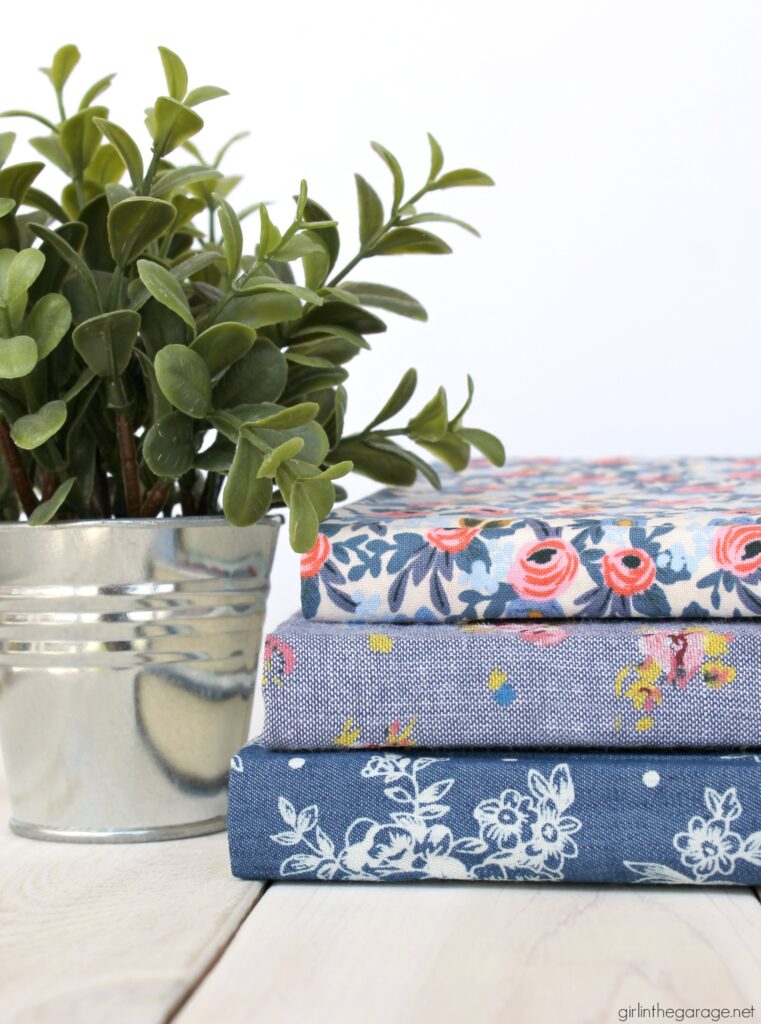 I'd love to know your thoughts, friend! What do you think of this idea? Would you try this project at home?
Here's a handy before-and-after image if you'd like to Pin this for easy access later: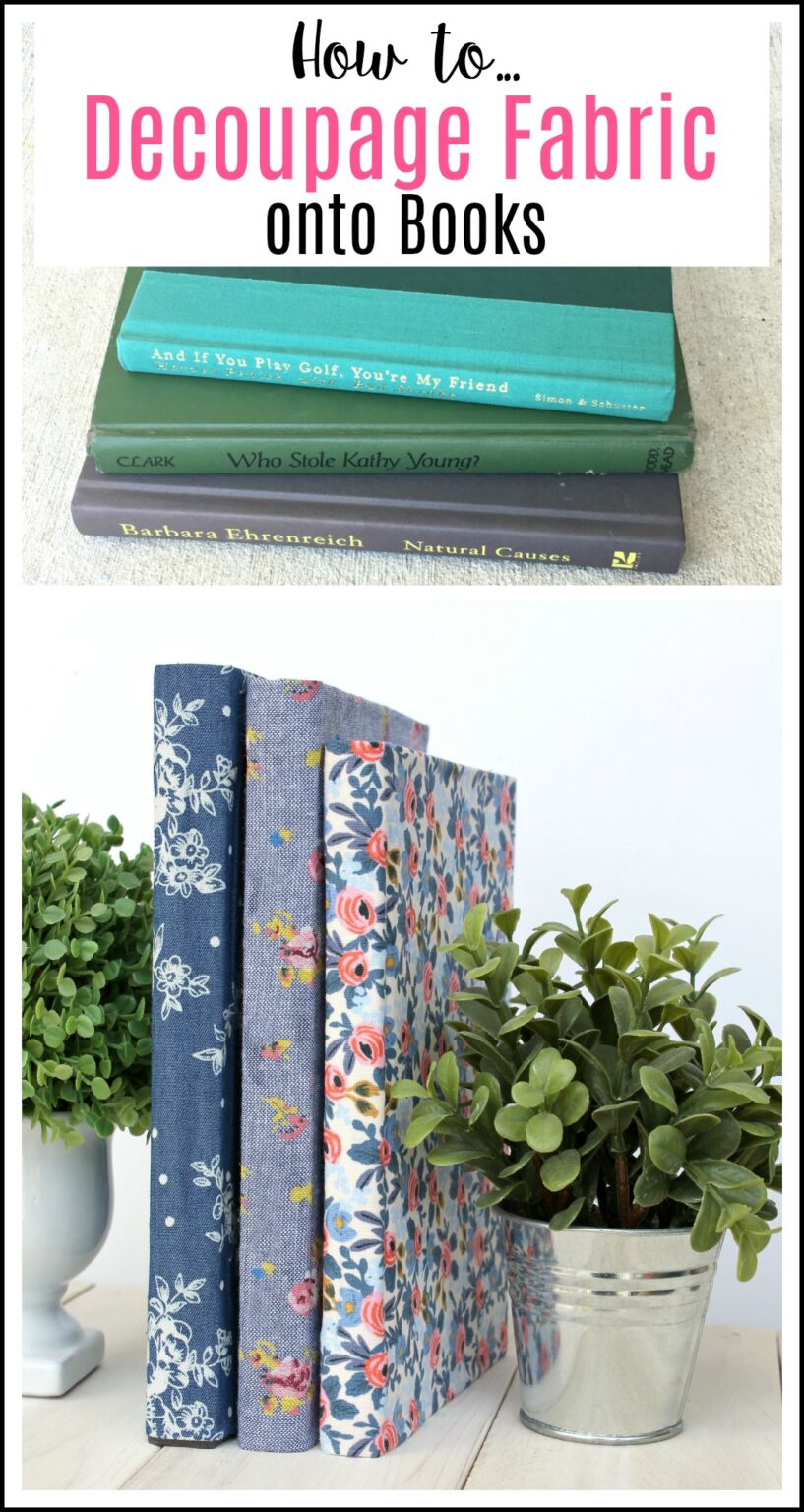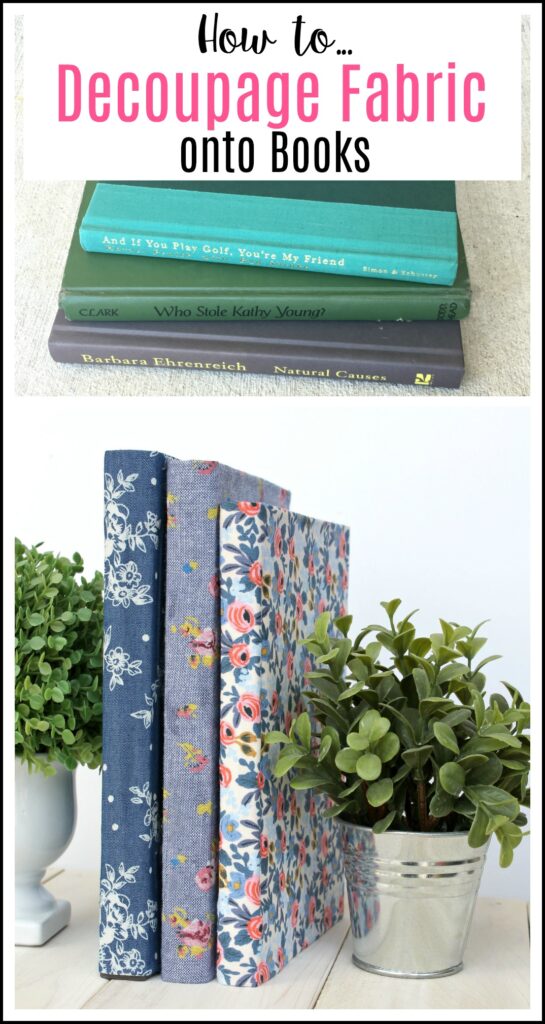 I might have become a little obsessed with decoupage furniture and home decor project ideas over the years…
You might also like this project: How to Decoupage Napkins onto Wood Crates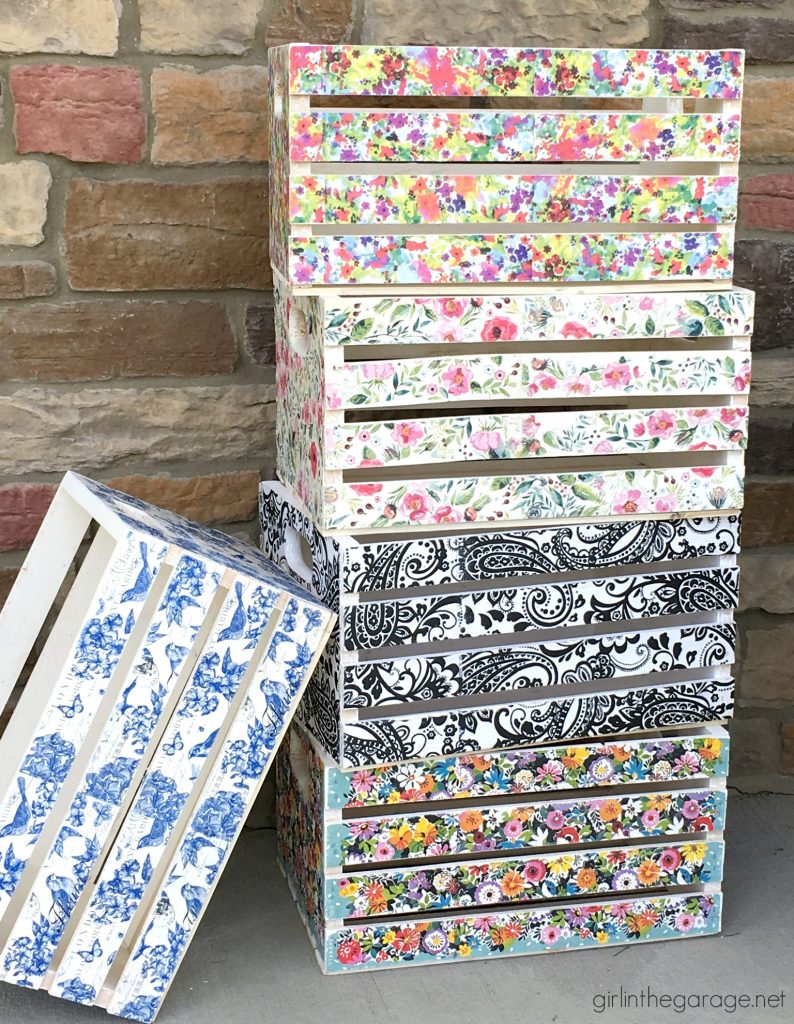 And here's another helpful post all about How to Decoupage Furniture: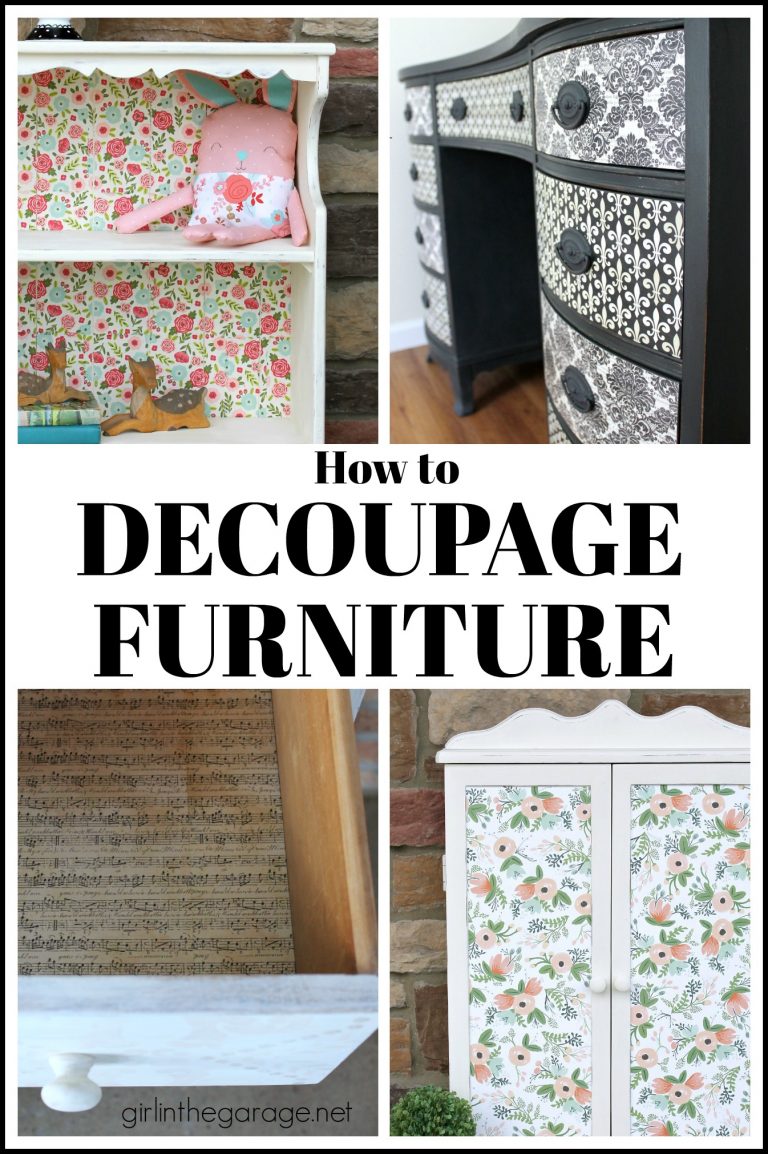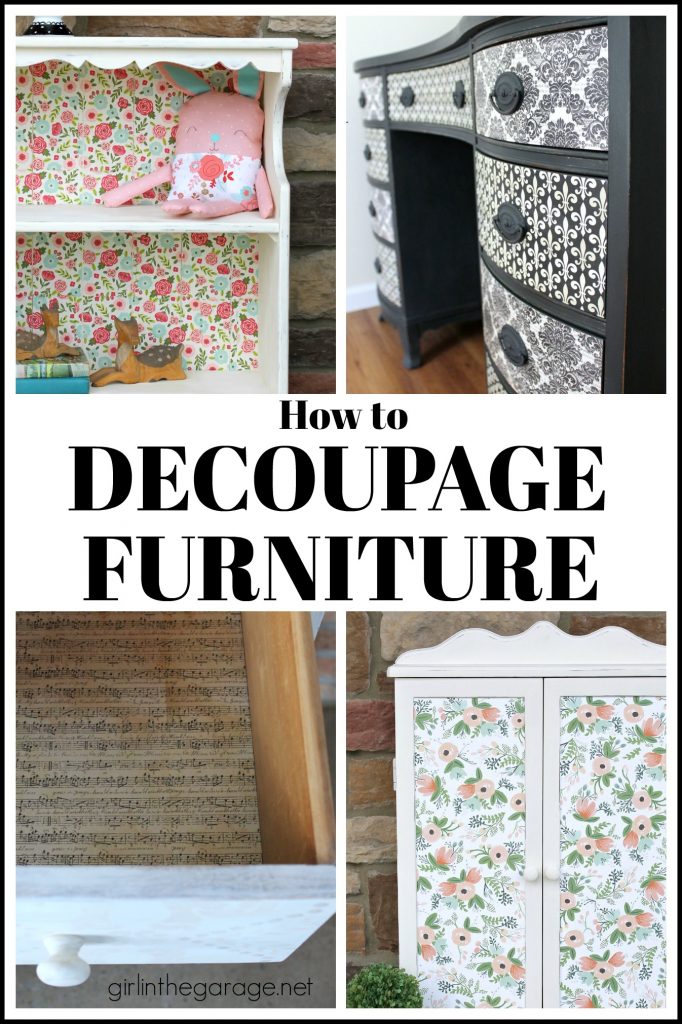 Now it's time again for Trash to Treasure Tuesday with my creative blogging friends!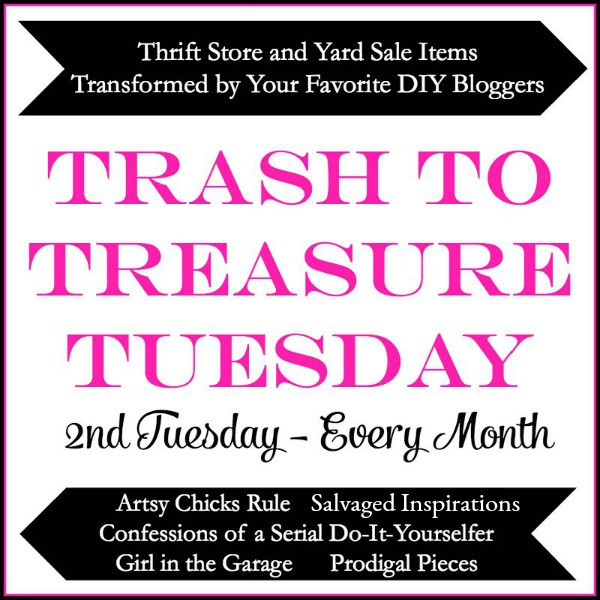 Below are the Before photos – visit the links underneath to see the amazing thrifty Afters and to learn how they did it: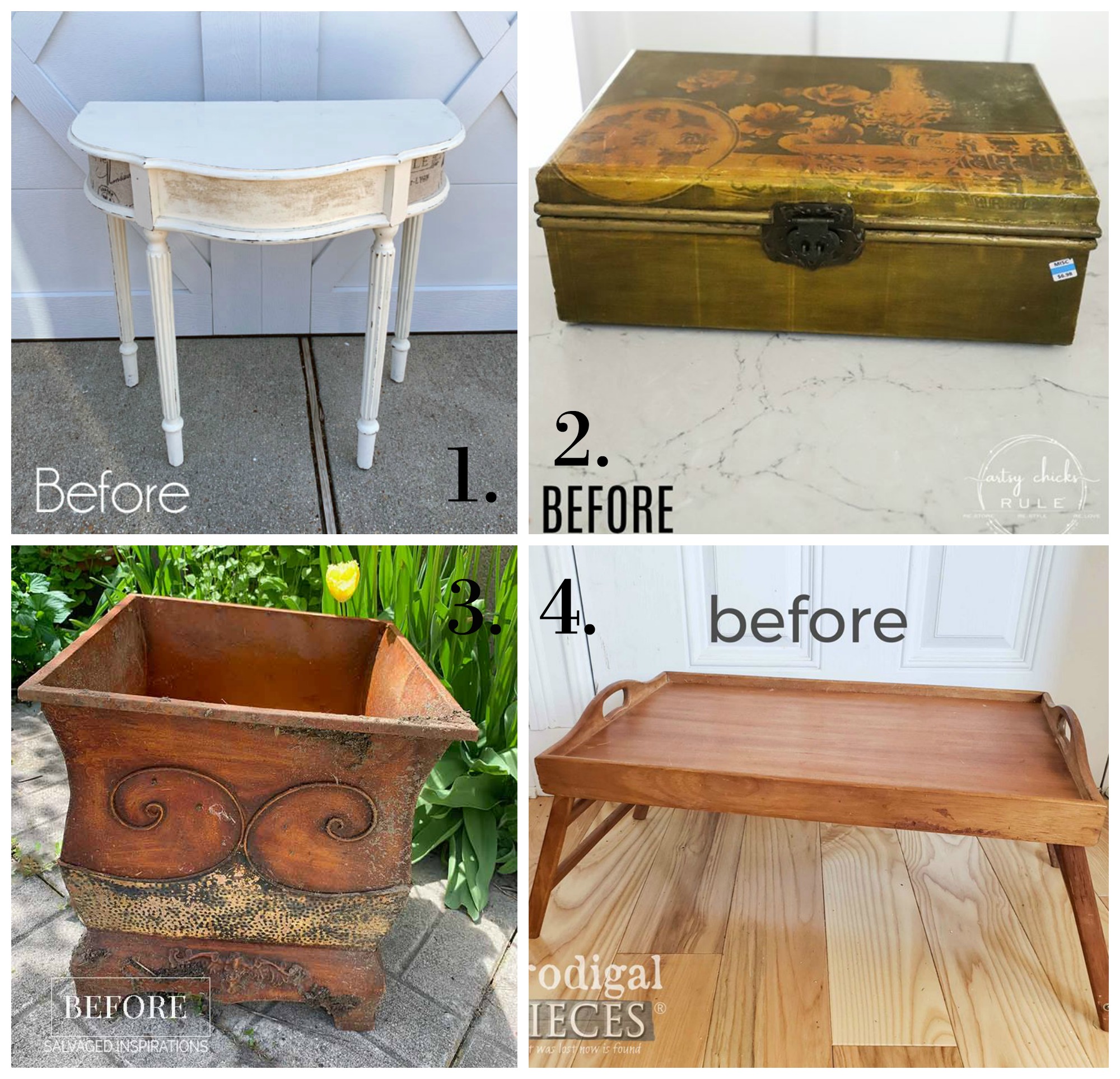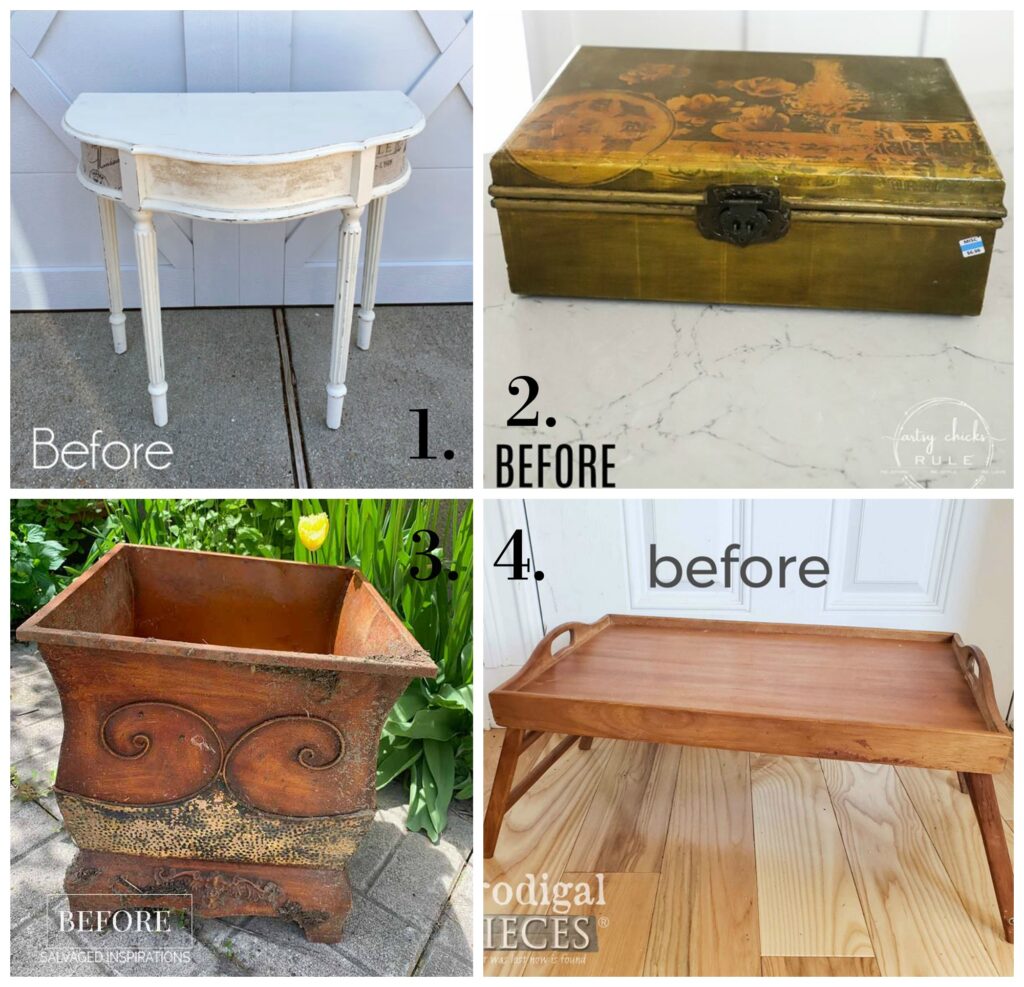 1. Confessions of a Serial DIYer
2. Artsy Chicks Rule
3. Salvaged Inspirations
4. Prodigal Pieces