Hello again, friend! Wow this month is flying by, isn't it? It's already time for Trash to Treasure Tuesday with my blogging friends. I have a love for collecting old books, and I like to make repurposed book projects with the not-so-pretty ones. You can see several more thrifted book makeover ideas at the end of this post.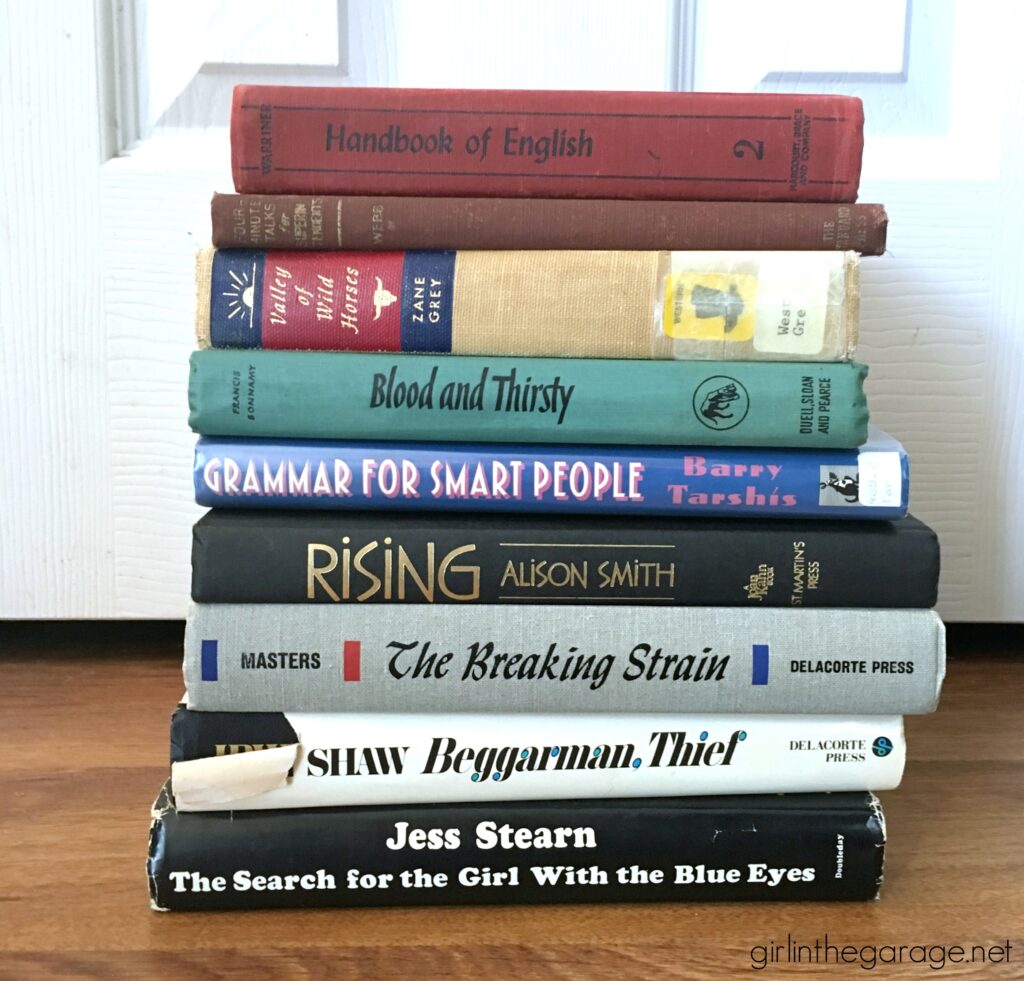 Here's one of the recent stacks I worked on (Grammar for Smart People sounds intriguing! LOL). You may be wondering, where do I find old books for projects? Yard sales and thrift stores can be hit-or-miss. Lately I've been hitting the jackpot at public library sales! There's never a shortage of books and the hardcovers are usually only $1 each at our library.
I prefer to use older books because the bindings and pages usually have a nice worn texture – it just looks better in a lot of the upcycled book projects you might want to try.
This post contains some affiliate links so you can easily find products I use and recommend. Discover all my favorite brands and tools for doing DIY projects here.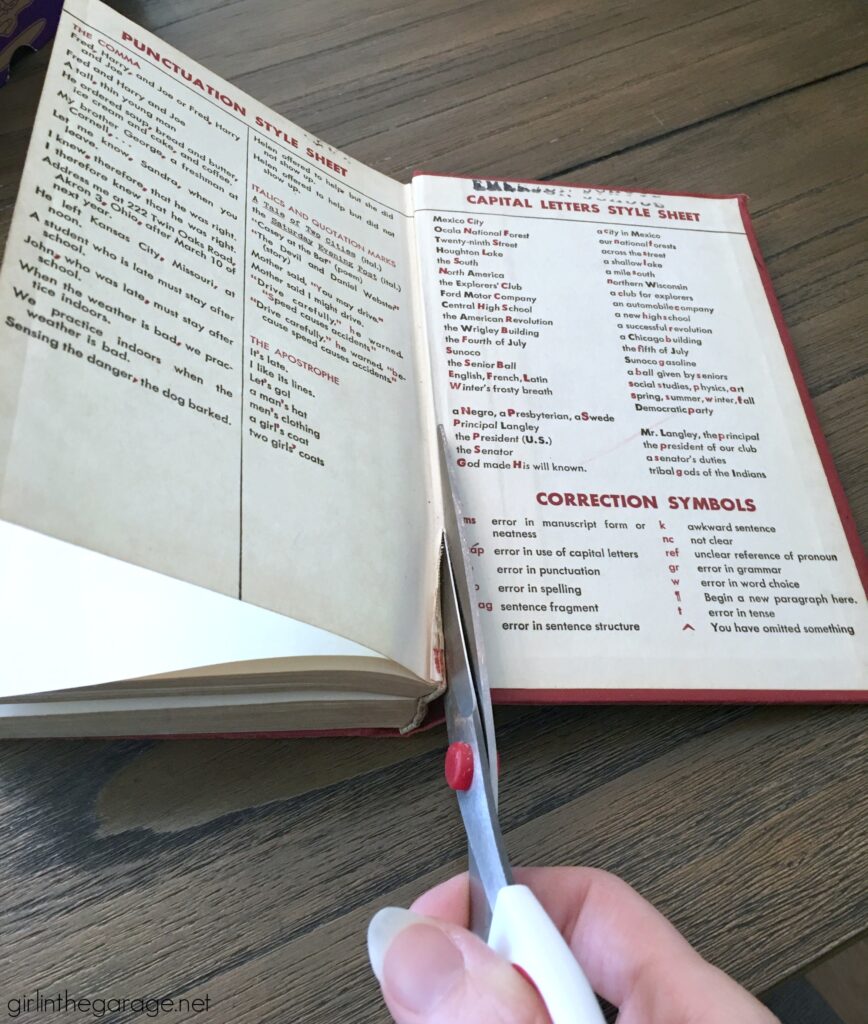 Depending on how you're planning to repurpose books, you may want to remove the cover. If so, lay the book flat and carefully cut both sides until the cover is off – save it for a future project later (you can see some of my book cover projects further below).
I also remove 1-2 pages from the front until I can see the title page.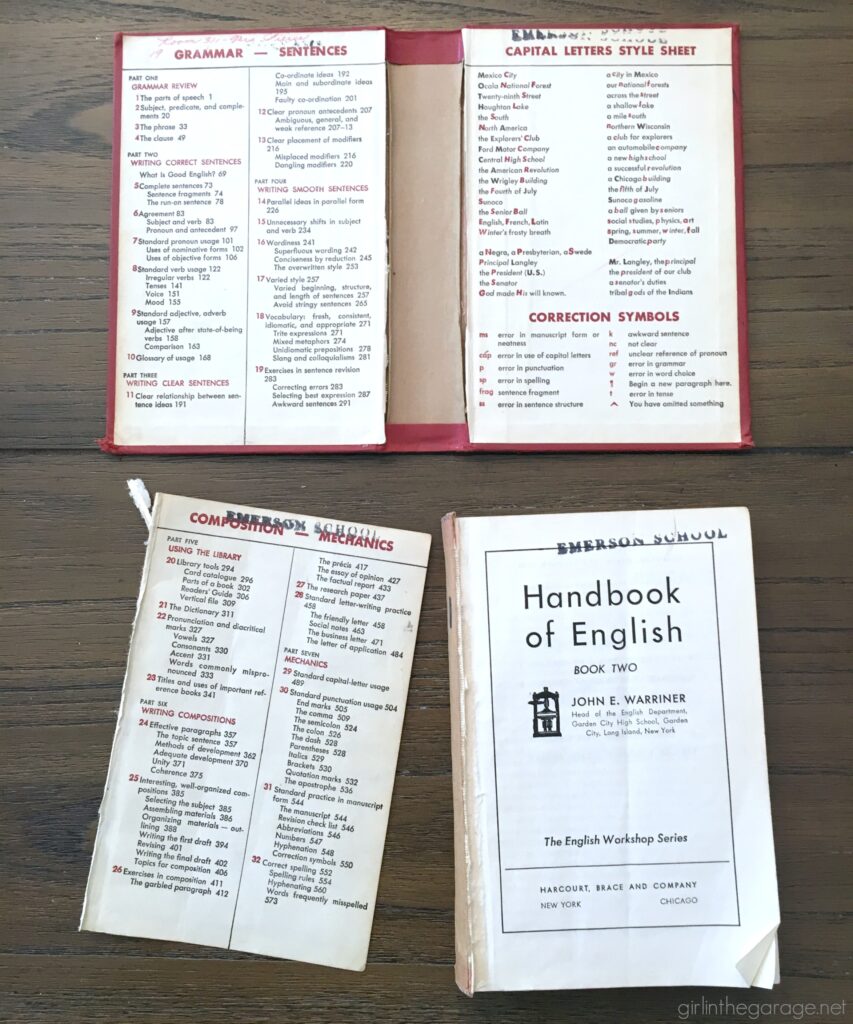 I love the nostalgia of the way we used to check out books – how the librarian would remove the card and stamp the return date inside and put it back in the pocket. I'd tape "pockets" inside my own books in my bedroom and make my parents and sister come in and "check them out."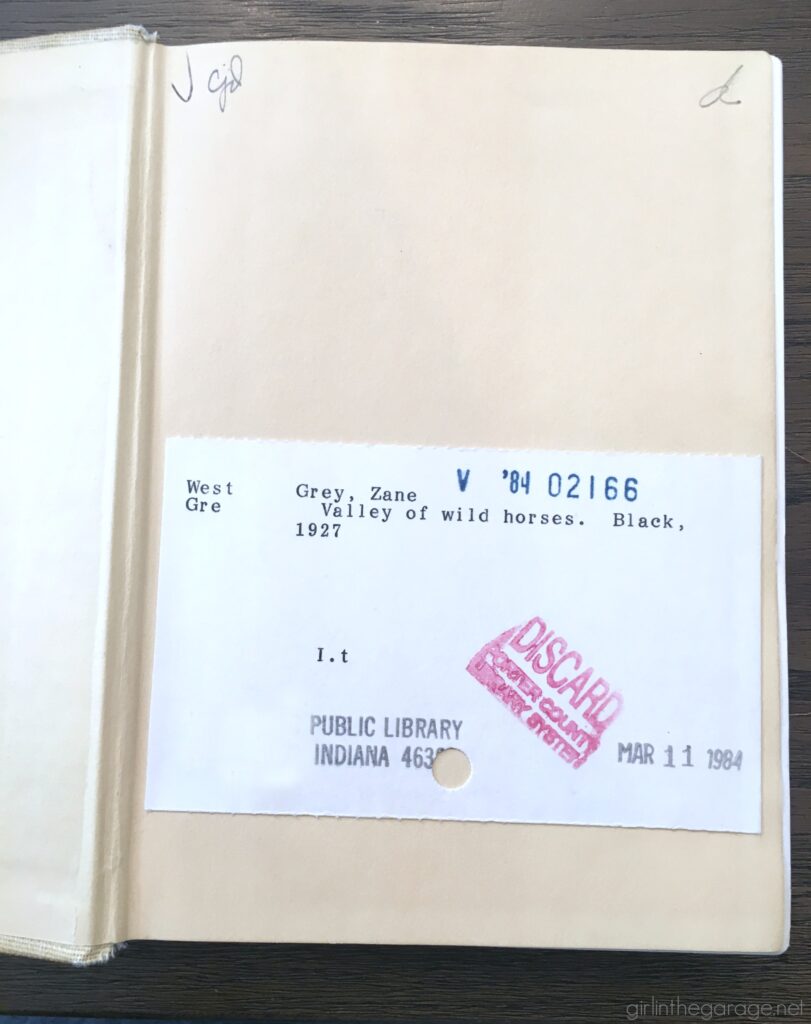 I'm thankful that my sons love going to the library now as much as I always have. (And they always beg to go to the book sale because they know I'll buy them something.) 🙂
When you've repeated these steps for several books, stack them in piles of 2-3 with the smaller ones on top. If you're lucky you'll end up with a variety of interesting bindings.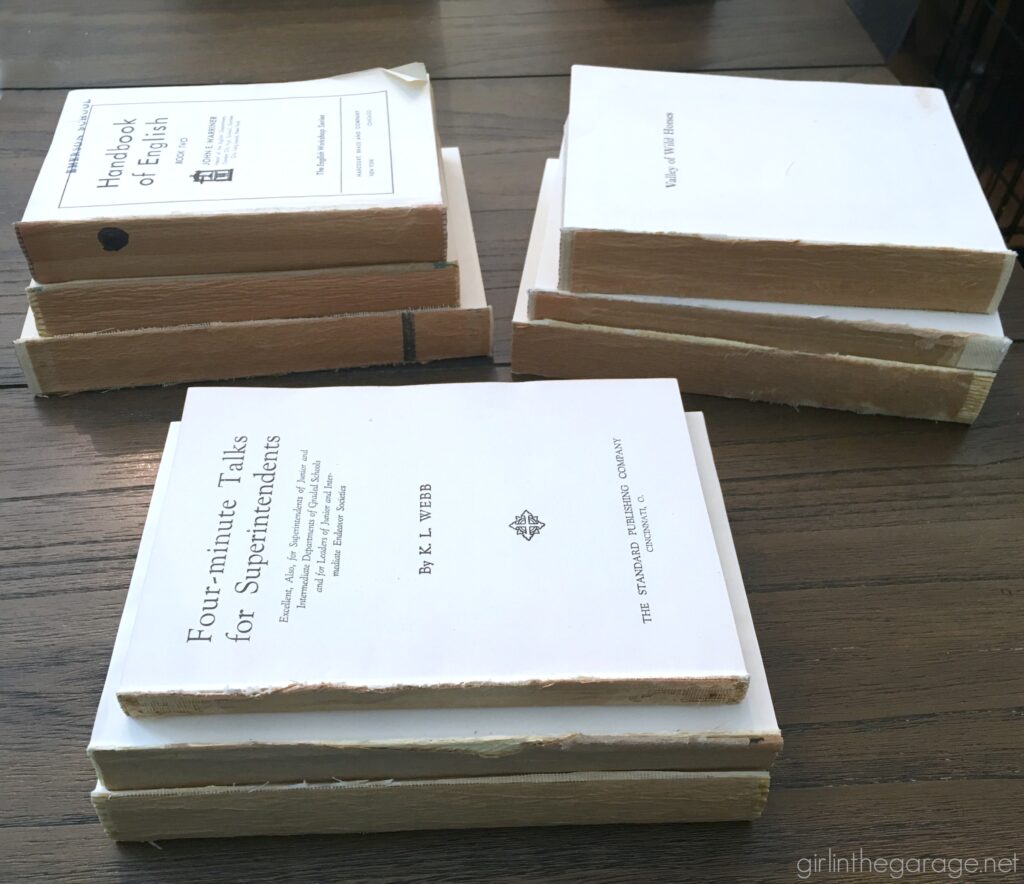 Keep your scissors handy and you'll also need some cotton twine for this repurposed book project.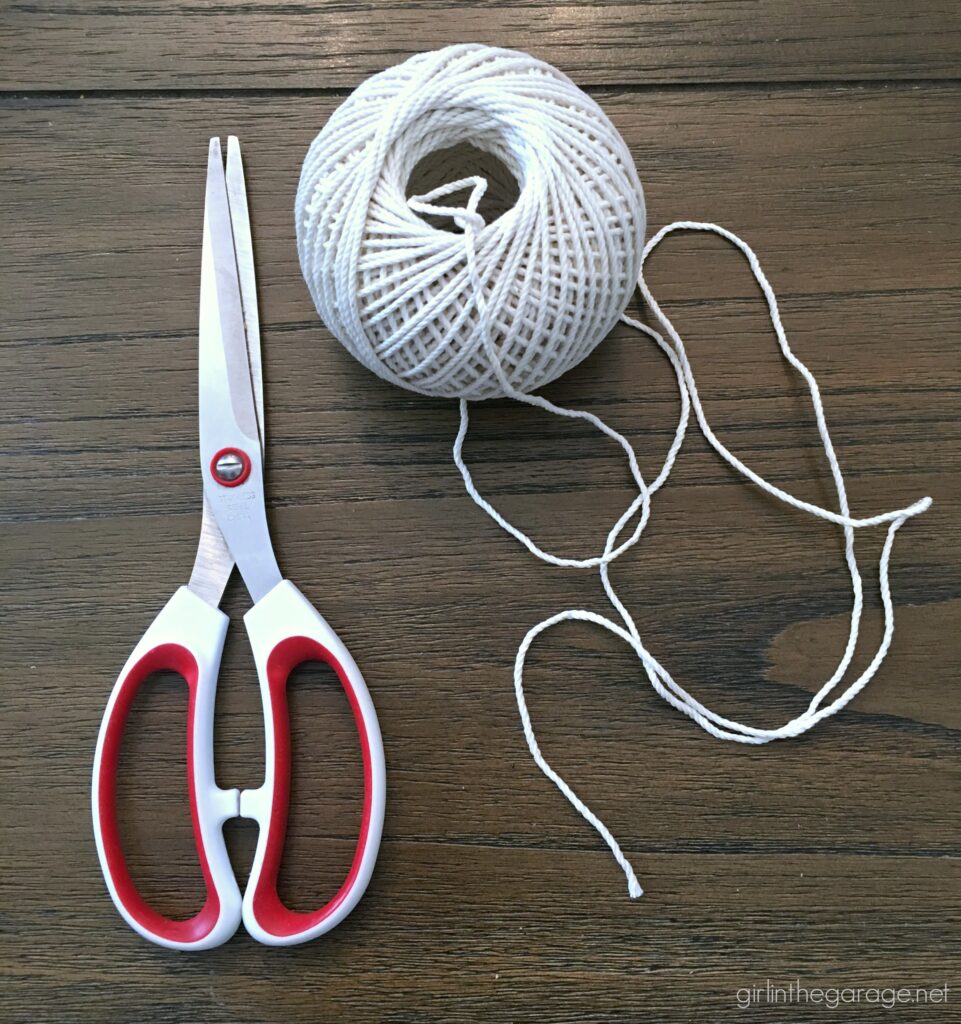 I don't typically measure how much twine to use, but I pull a few arm lengths and set that off to the side (don't cut it yet). Then tie 1-2 layers of string tightly around the stacks like you're wrapping ribbon around a present (that will never be opened, ha).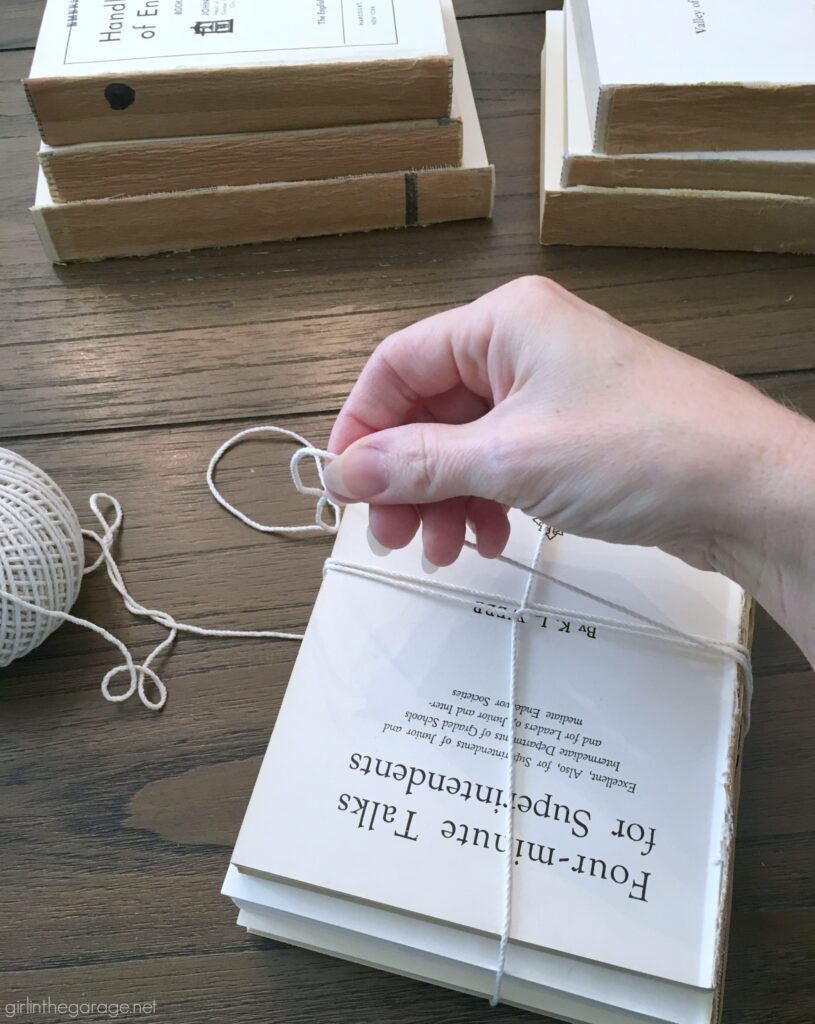 Finish by tying a big floppy bow on top and double-knotting it. Cut off the excess string.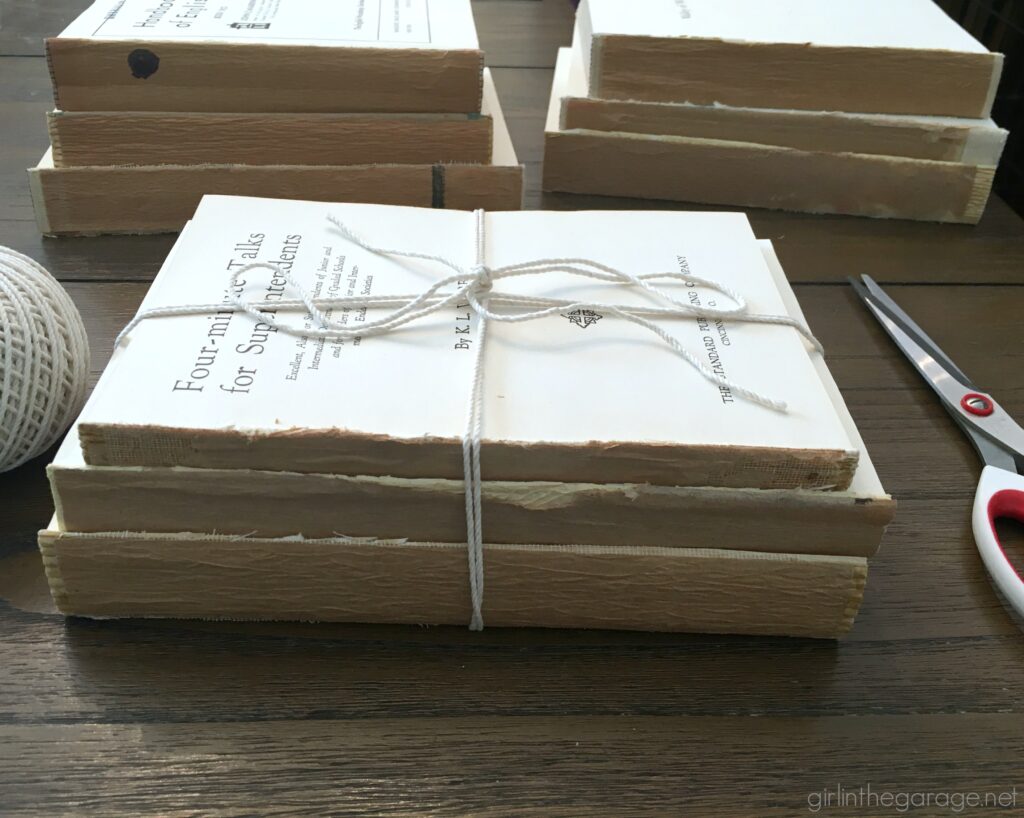 Isn't this an easy project? Use the deconstructed stack of books as neutral home decor – I have a stack right now on my mantel and also use stacks when staging blog photos all the time! I'm sure you've noticed them before. 🙂
Below are a few examples of how I've used them:
If you're a vendor at an antique booth or sell at markets, you can also sell these stacks of books and make a decent profit. I've been making repurposed book stacks like these for years, but I recently saw a popular online deal site offering them for sale at a hefty price: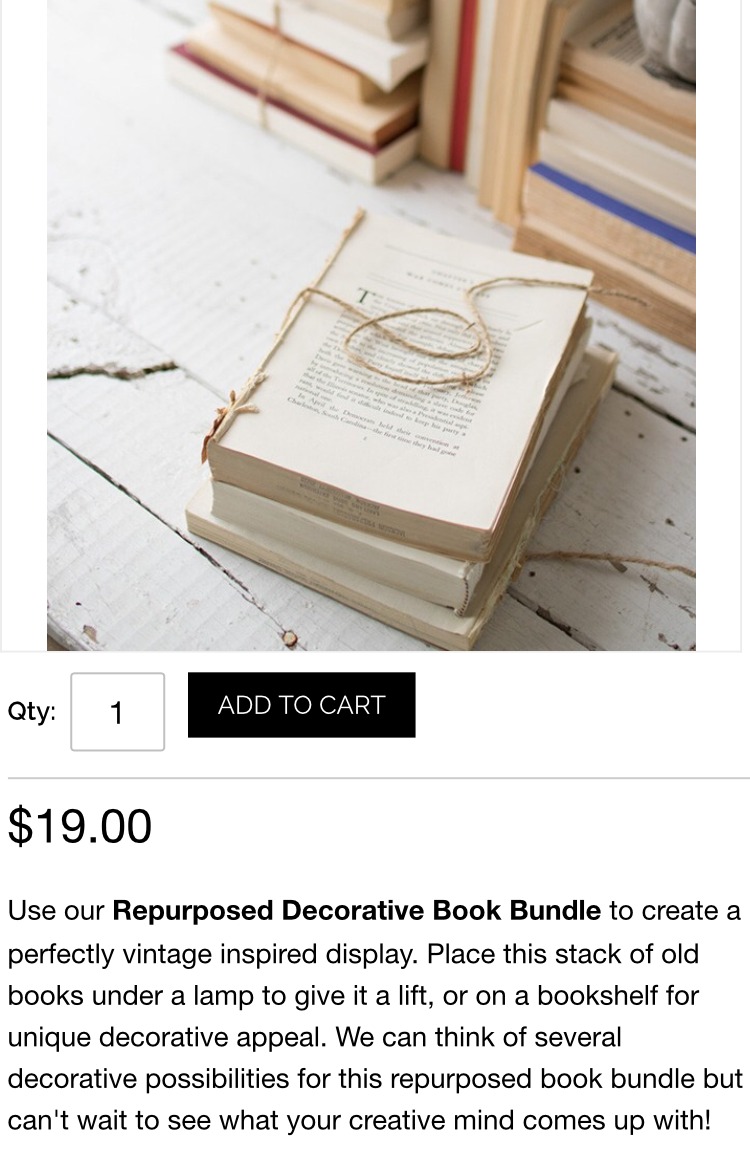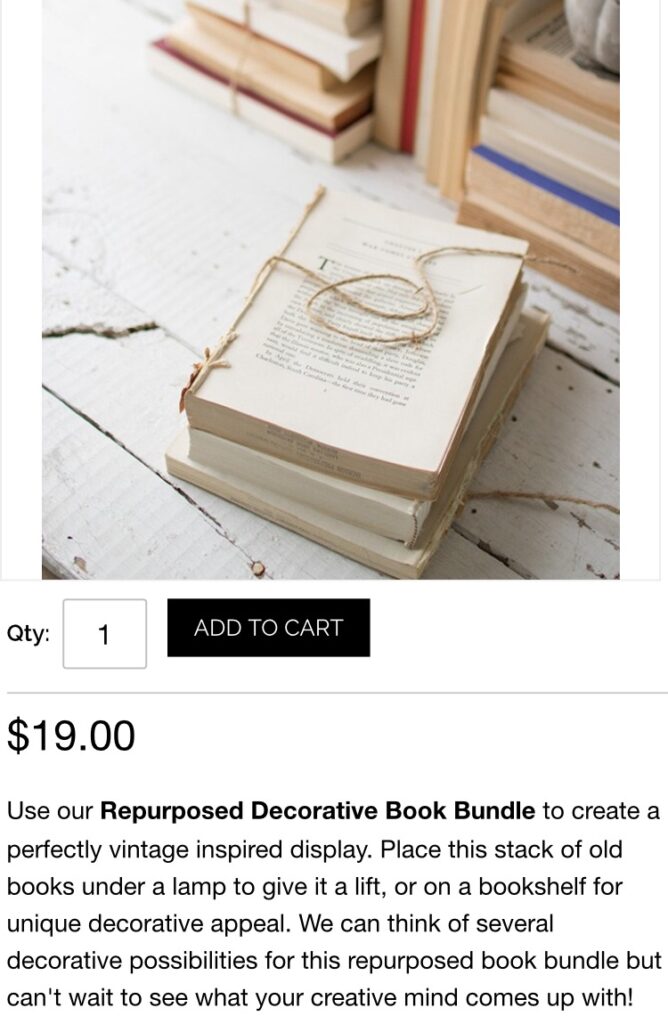 For holiday decor, you can also create a Christmas themed stack – use red string and tie on some faux berry stems for a festive look.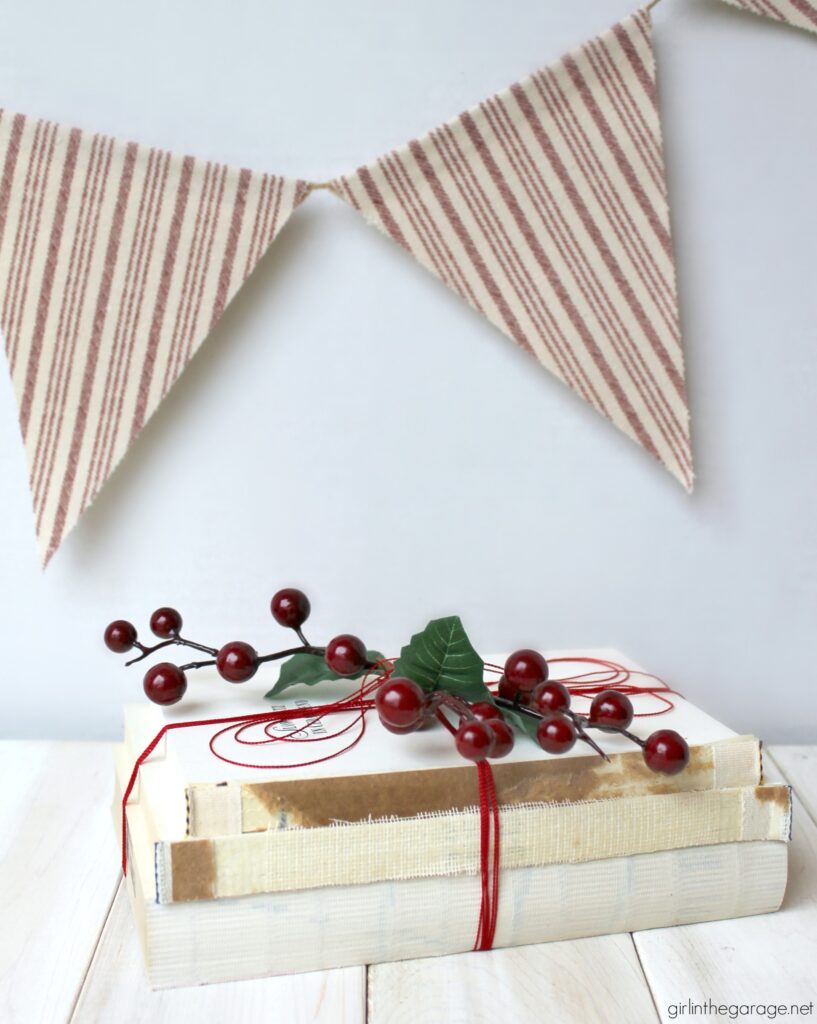 The bindings on these books are very textured and pretty.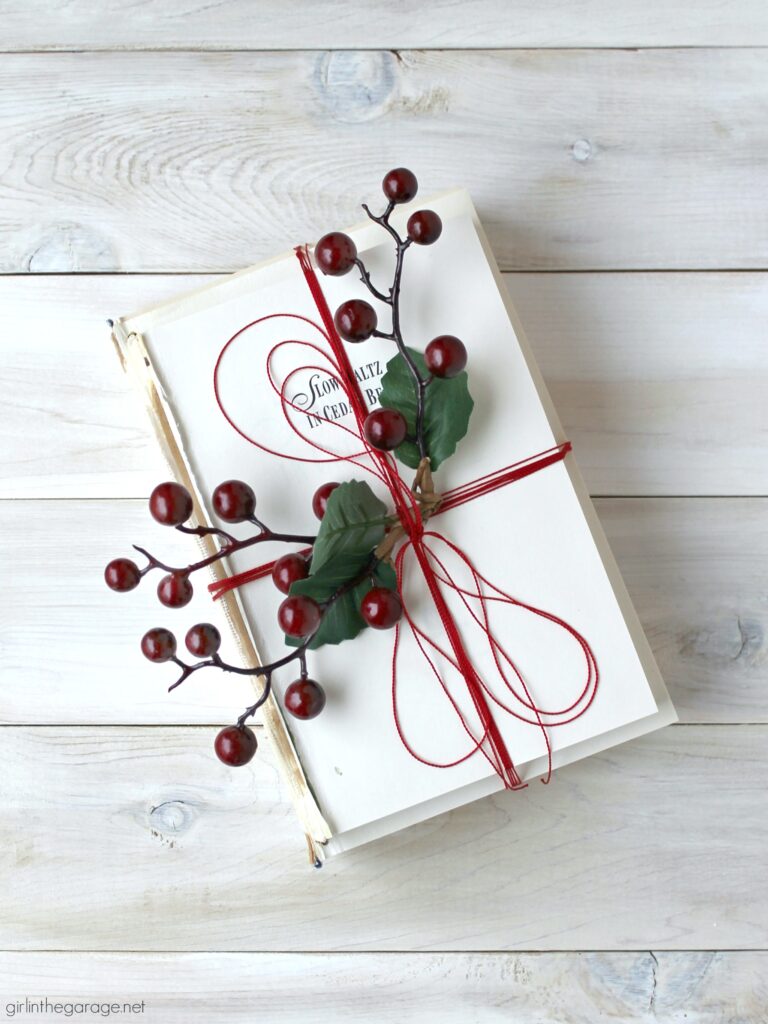 I hope you like this simple DIY decor idea of repurposed books – there are several more book project ideas below after my friends' Trash to Treasure Tuesday makeovers.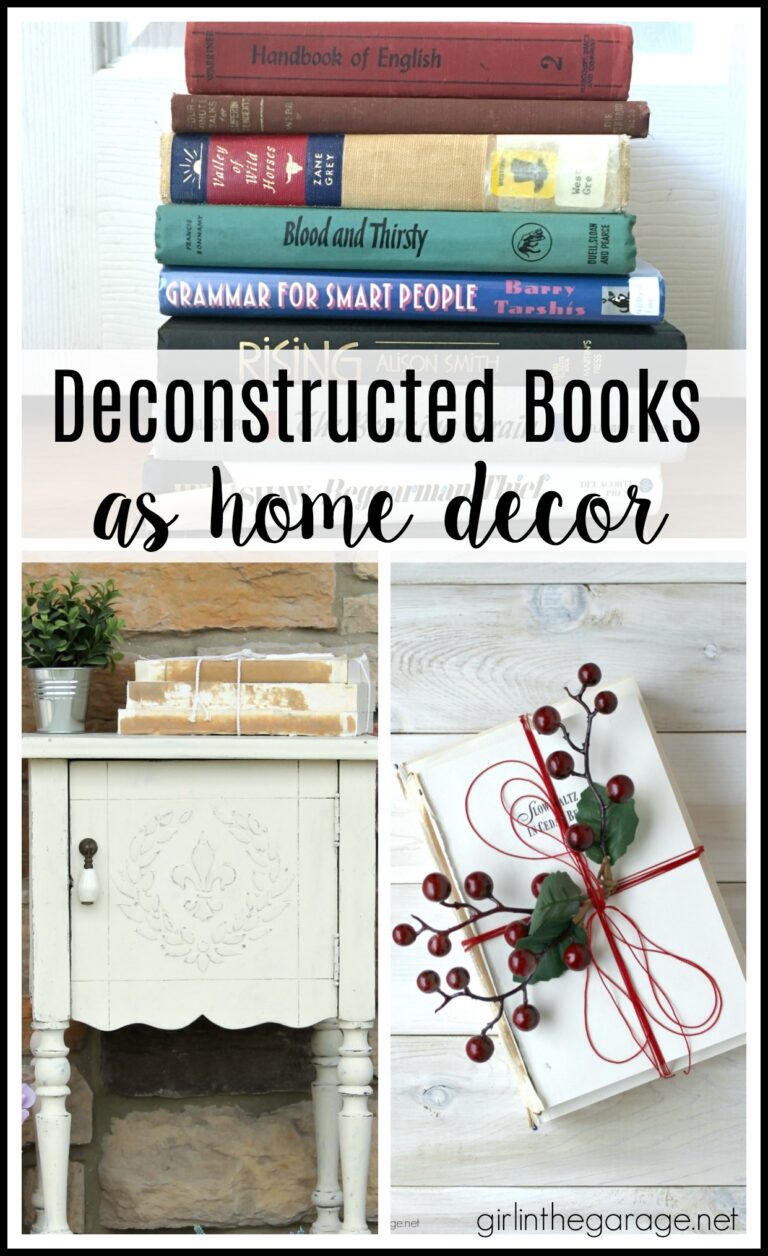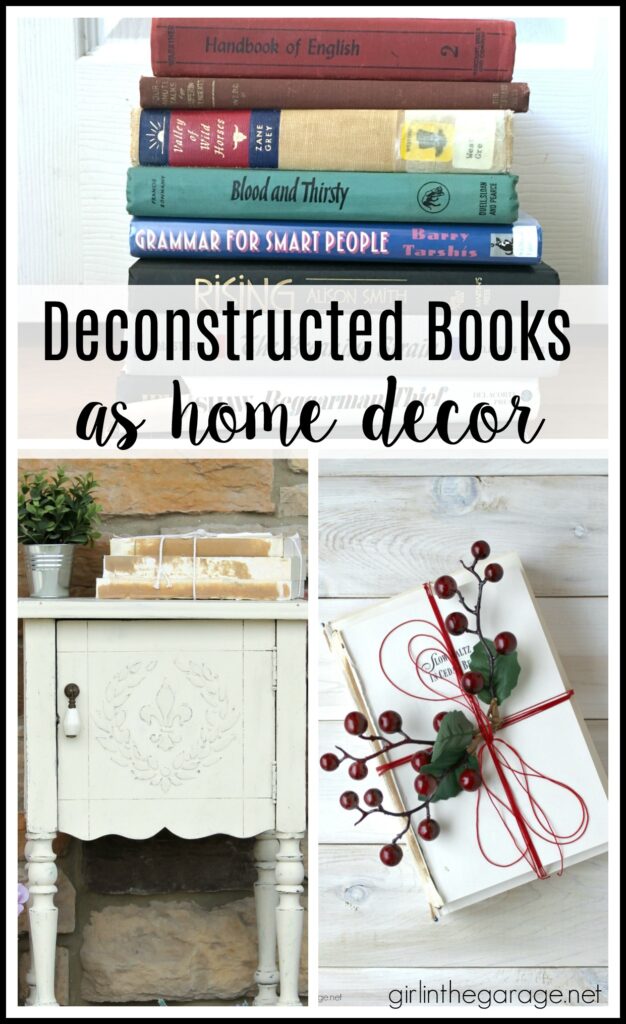 Now it's time for Trash to Treasure Tuesday!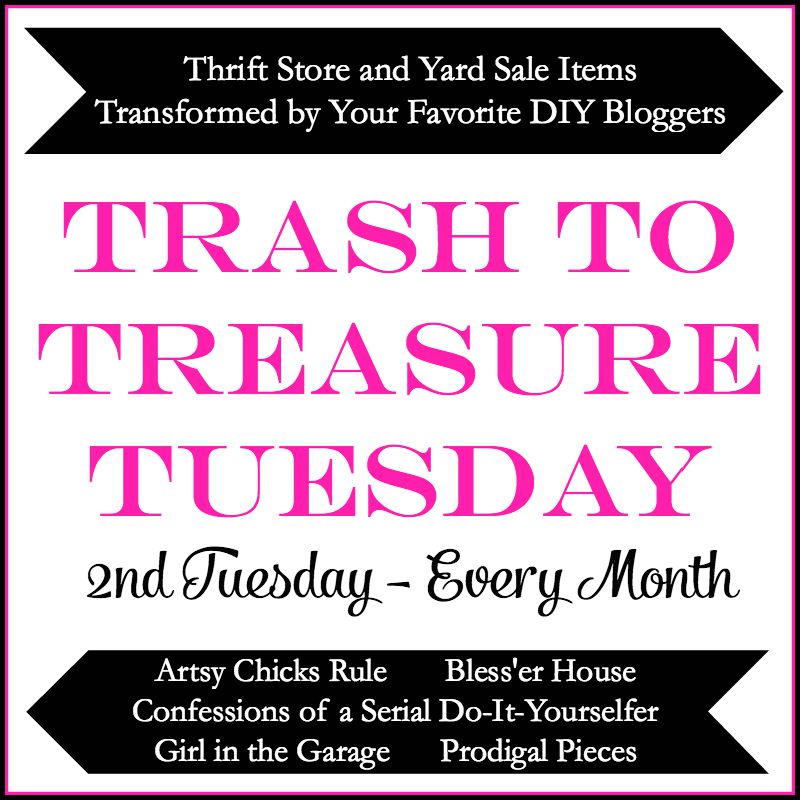 Below are the Before photos – visit the links underneath to see the incredible Afters and to learn how they did it: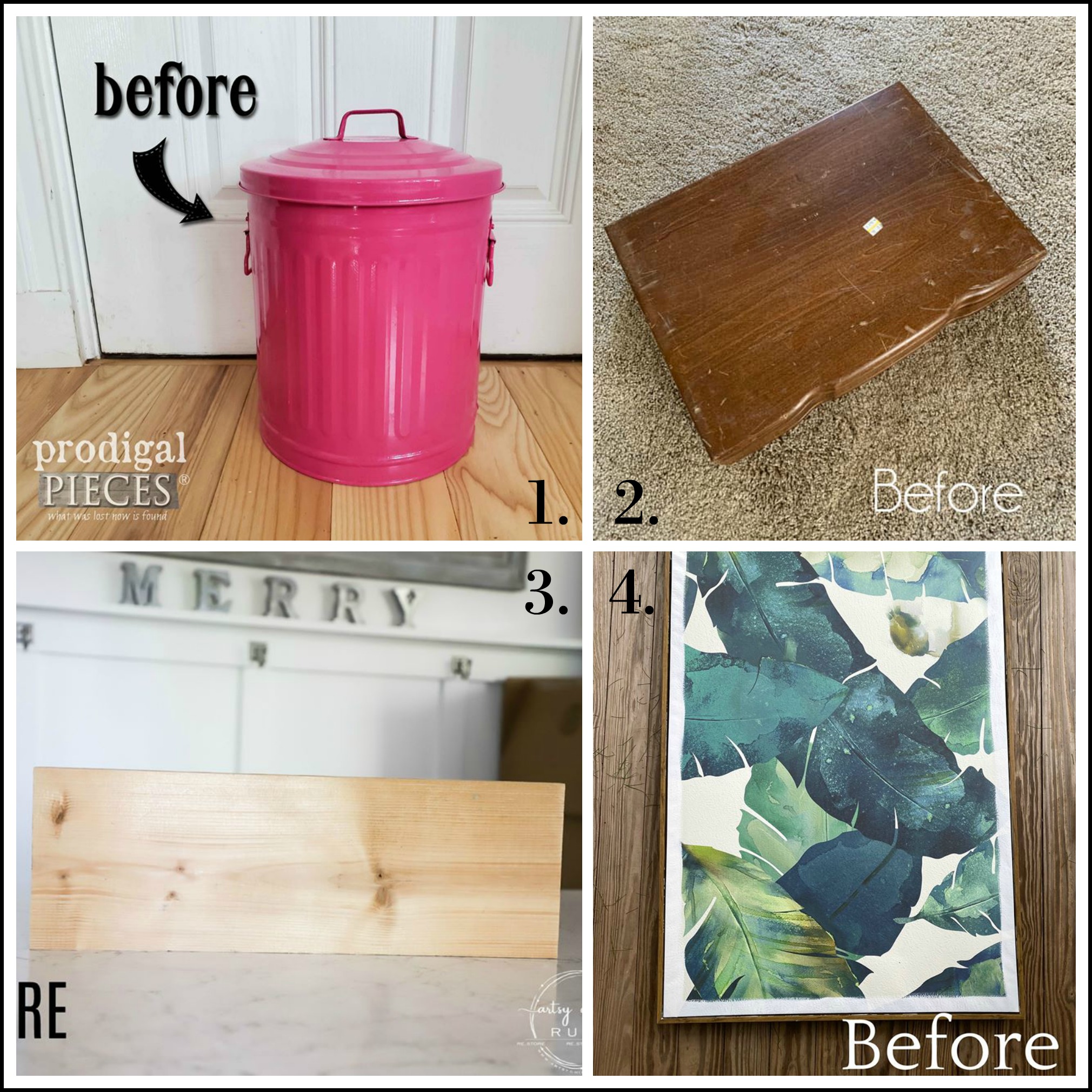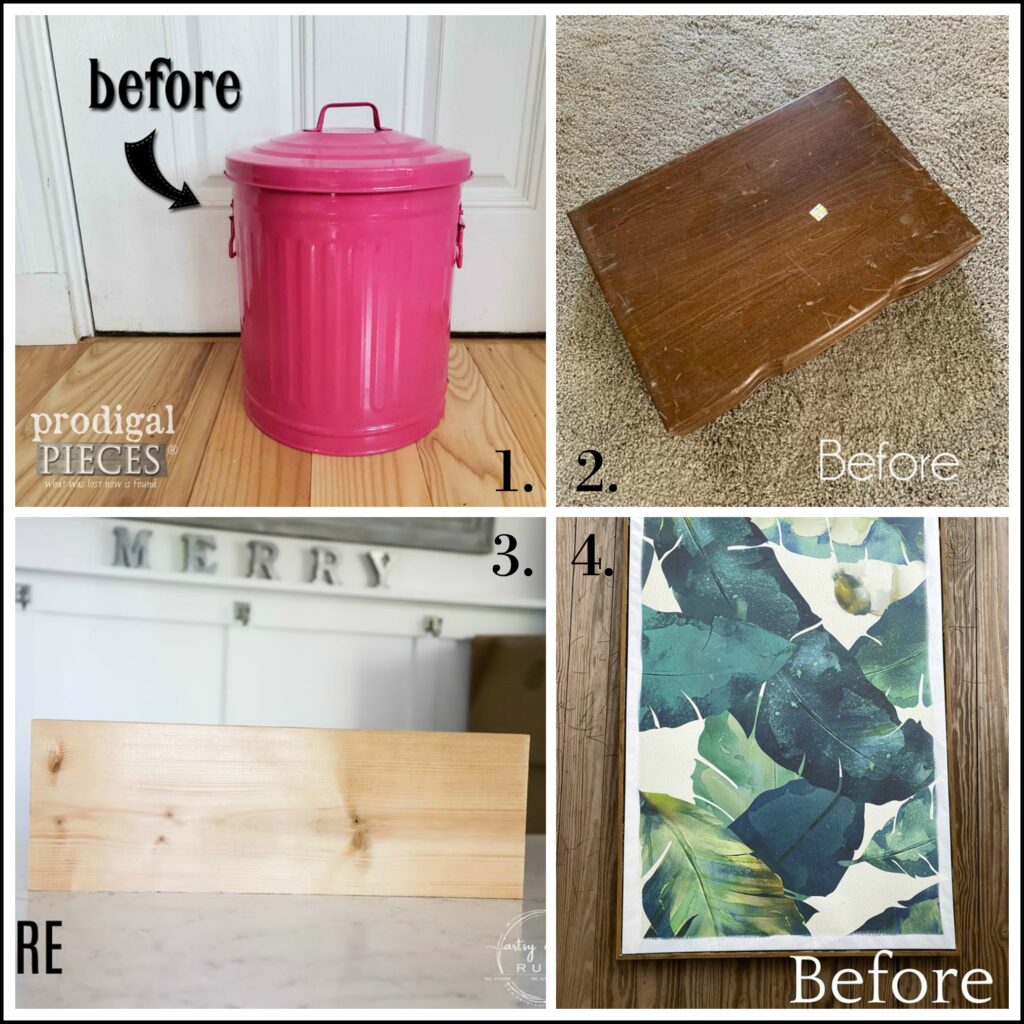 1. Prodigal Pieces
2. Confessions of a Serial DIYer
3. Artsy Chicks Rule
4. Bless'er House
Now here are more repurposed book project ideas:
Repurposed Book Projects
There are so many creative ways to make over old books. Use these ideas as inspiration for your own repurposed book projects!