If your family is like mine, there are certain people in your life who are always hard to buy for. (Or maybe you have no idea what to put on your own wish list!) That's why I created this list of the Best Gift Ideas for Creative DIYers – it includes products and ideas to help anyone be a little more creative.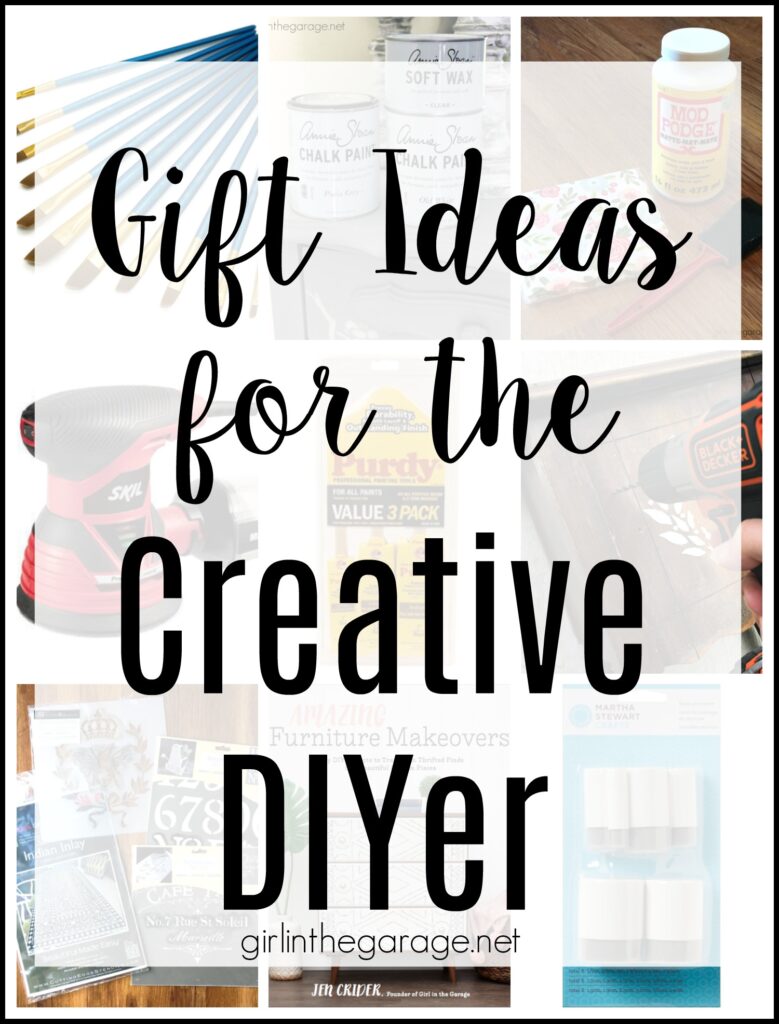 This post contains some affiliate links so you can easily find the products I use and recommend. Discover all my favorite brands and tools for doing DIY projects here.
First and foremost, I couldn't create a gift guide for creative DIYers and leave off my book…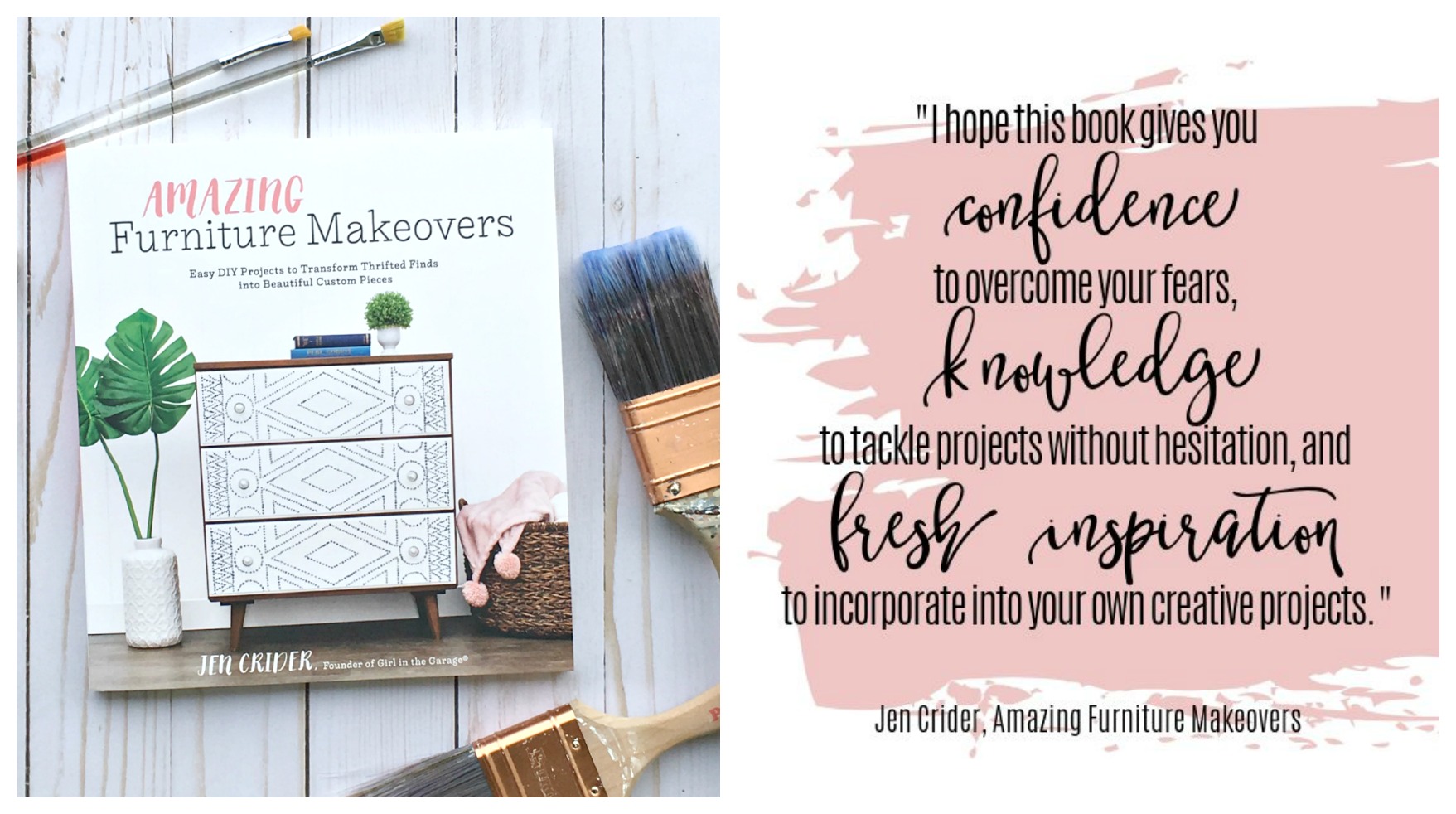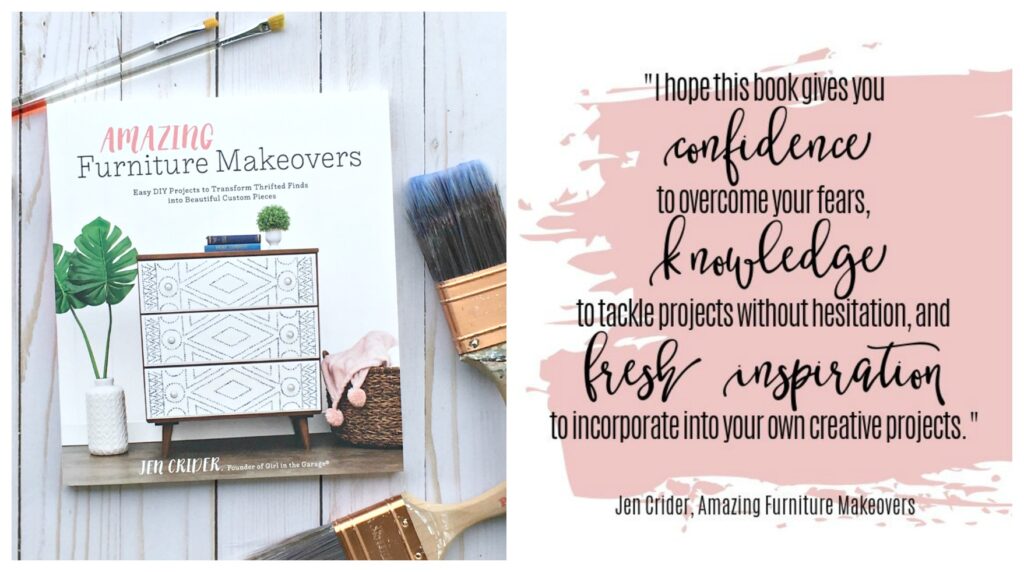 Amazing Furniture Makeovers: Easy DIY Projects to Transform Thrifted Finds into Beautiful Custom Pieces was released exactly 6 months ago today!!! 🎉 Thousands of creative DIYers like you have already read through the exclusive tutorials inside and been inspired to create their own works of art on furniture. Learn more and find out where to buy here or read through all the 5-star reviews on Amazon here.
Next, a few of my favorite paint brands and brushes…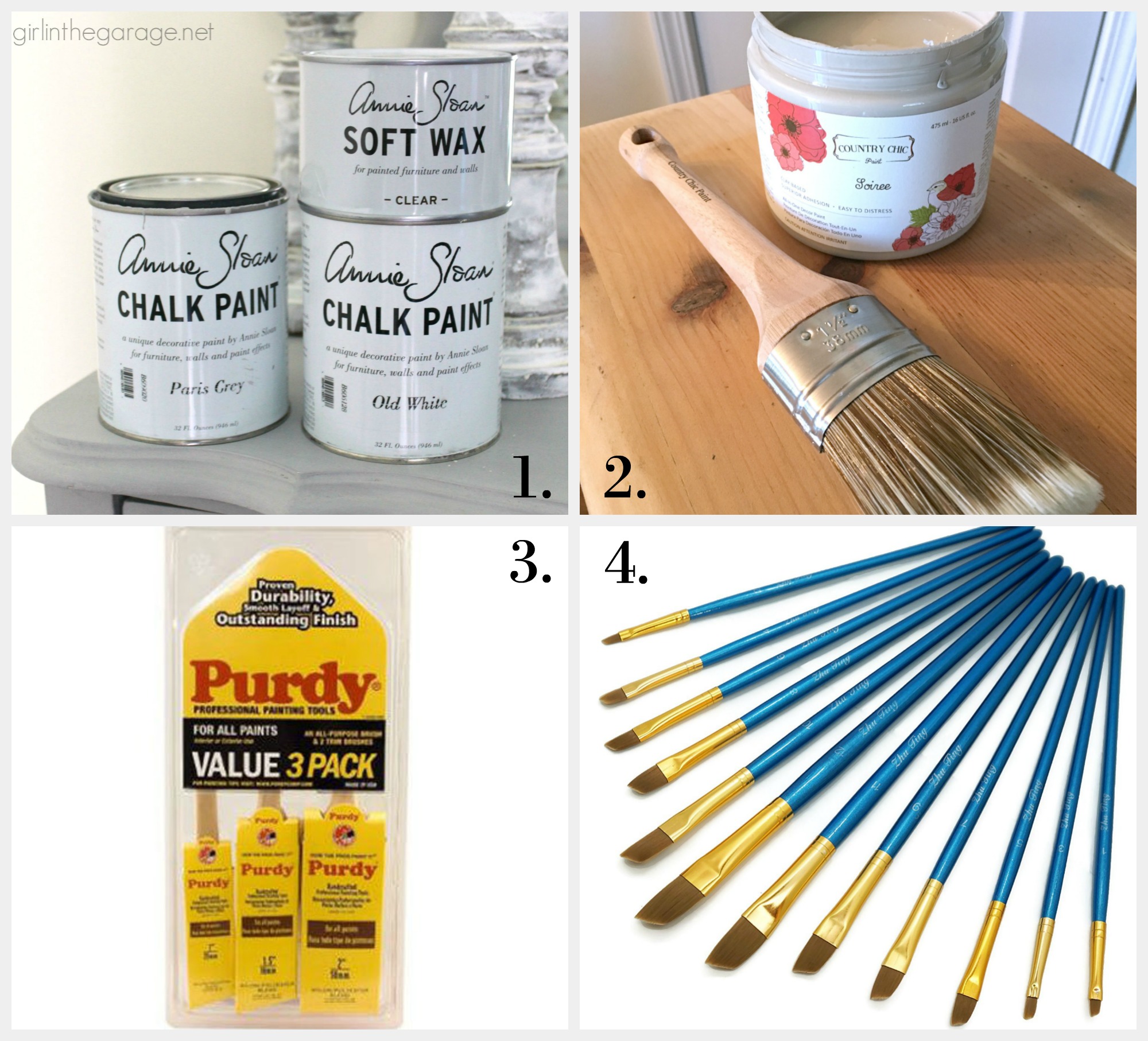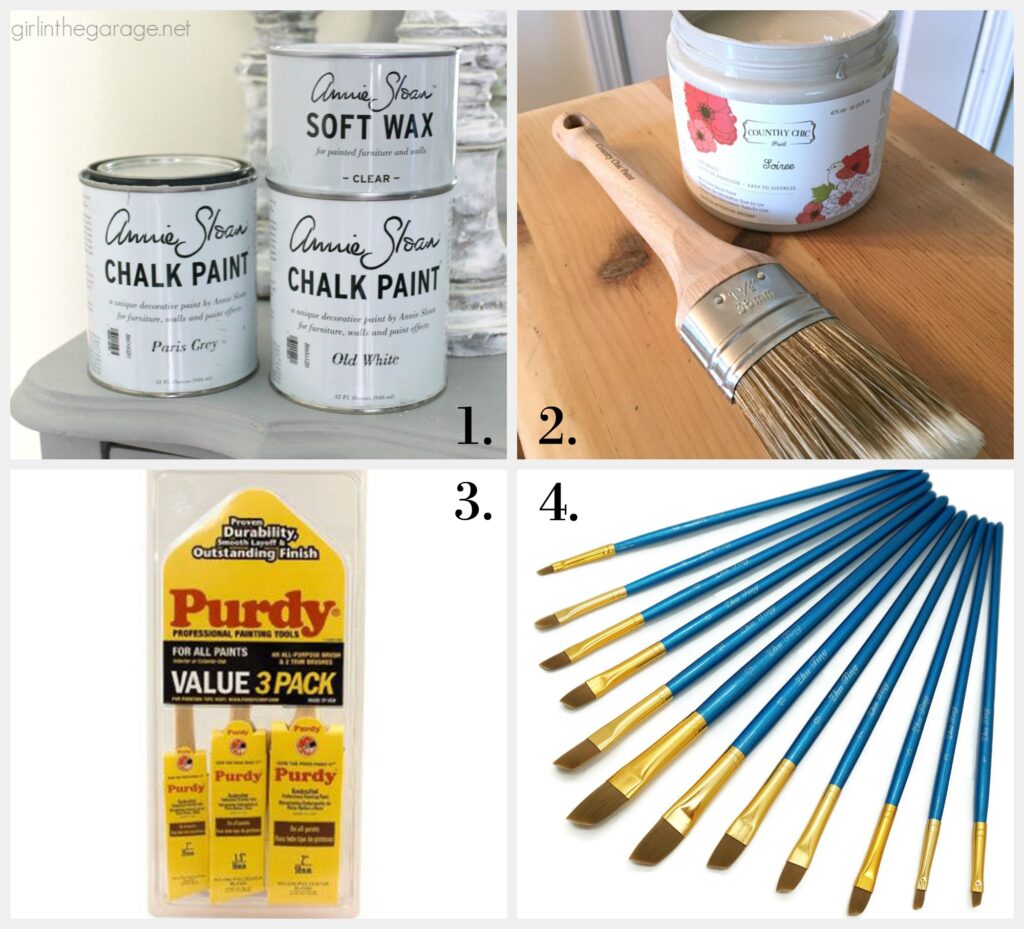 1. Annie Sloan Chalk Paint has been my favorite for several years now, and I've even written a complete Beginner's Guide for How to Chalk Paint Furniture. Try a new-to-you color in a sample pot or a liter can. Find Annie Sloan Chalk Paint retailers here – or even buy a gift card and support your local small business.
2. Another paint brand that I've been liking a lot lately is Country Chic Paint. It's VOC-free and all-in-one (although I always recommend doing proper prep work before any furniture makeover). Find Country Chic Paint store retailers here or learn more on Amazon here.
3. For years I've preferred Purdy paint brushes over any others. I have an assortment of sizes and they hold up extremely well with no bristles falling out.
4. For touching up small areas, a set of artist brushes is the best. They're perfect for detailed areas – but I do recommend replacing them every so often since the bristles wear out.
Here are some of my favorite ways to make furniture and decor beautifully unique: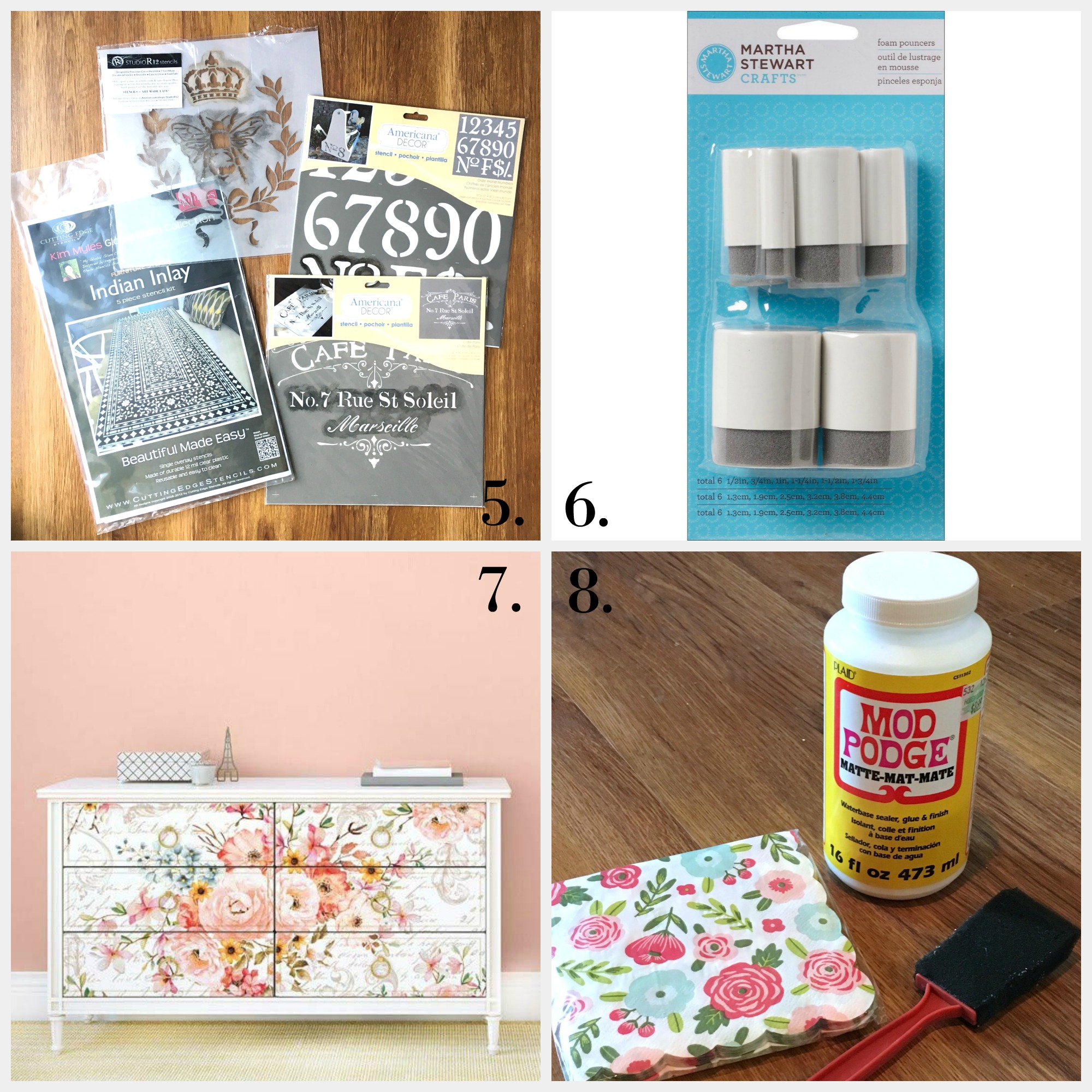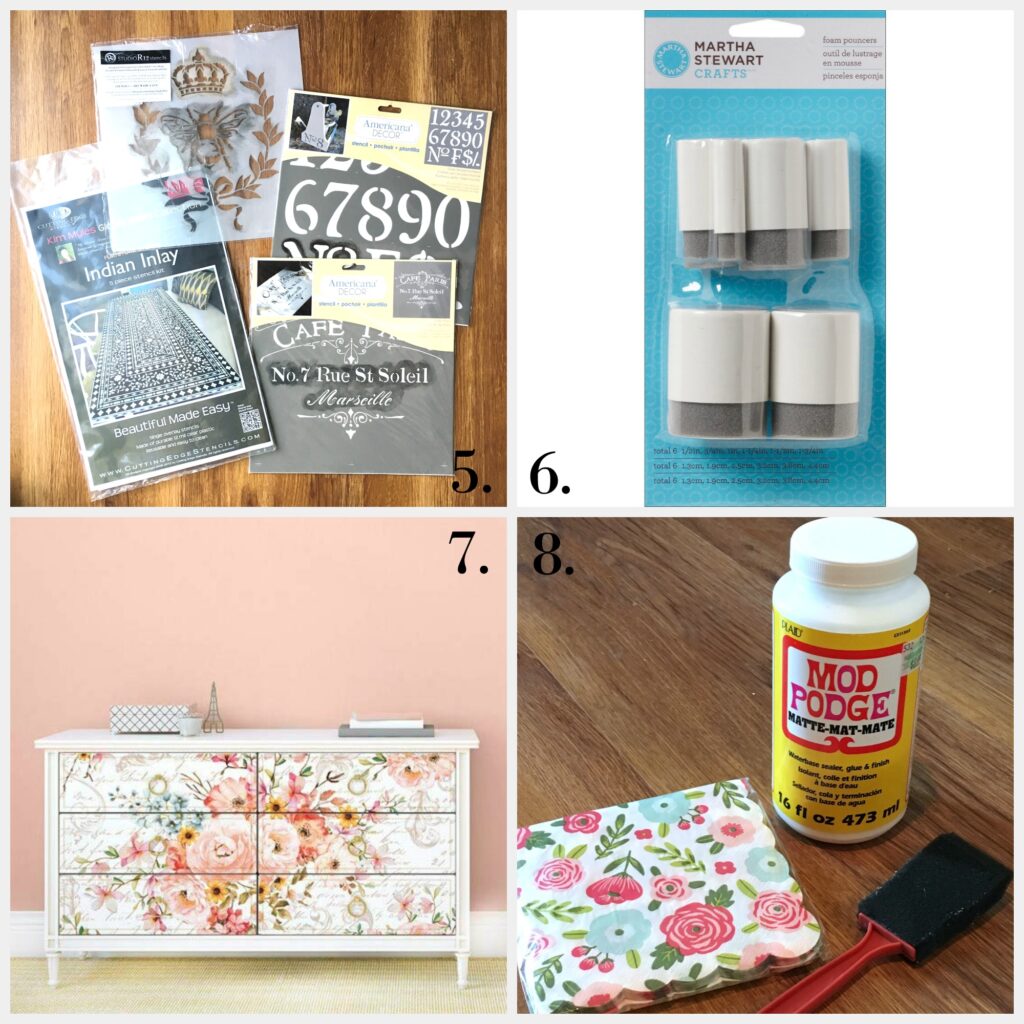 5. Stencils are one of the easiest ways to update furniture and decor, and there are so many amazing designs to choose from! Here are a few favorites that I've used: Indian Inlay by Cutting Edge Stencils – Studio R12 French Bee Stencil – Americana Decor stencils (I own quite a few!)
6. When stenciling, you really need to use these foam pouncers by Martha Stewart. They are awesome! The foam part is removable so you can clean it easier or just switch to the other end when one side wears down. I love the variety of sizes too. I bought this set years ago and still don't need to replace it.
7. Take your furniture makeovers up a notch with image transfers. They're easier to apply than you might think – read this: How to Easily Apply Rub-on Image Transfers. Redesign by Prima makes some gorgeous designs (this one is called Rose Celebration).
8. Another creative way to upcycle furniture and decor is with decoupage. You'll need matte Mod Podge, a foam brush, and something to glue – I love using colorful napkins. Find lots of beautiful napkin styles for cheap here.
Finally, here are some tools that can be really helpful with your DIY projects:

9. For big or really rough areas, I can't recommend an electric sander enough. This Skil one that I own works wonderfully and it's less than $40!
10. I'm always pulling out my Black + Decker drill/driver for projects. It helps with screwing and unscrewing, and for all the new hardware holes that need to be drilled. Use this for numerous DIY projects around the home.
11. This one I don't use quite as often, but it's a lifesaver when you need it. Use a Kreg Jig system to make pocket holes when you need to attach two wood pieces at an angle. It's good for woodworking projects like benches, tables, etc.
These are just some of the products and tools I recommend for doing furniture makeovers and DIY projects. Discover all my favorite brands and products here.
Finally – it's giveaway time! It's so exciting to celebrate Amazing Furniture Makeover's 6-month birthday with you. It's been a fantastic ride so far and I can't thank you enough for supporting my little blog and book. Best of luck to you!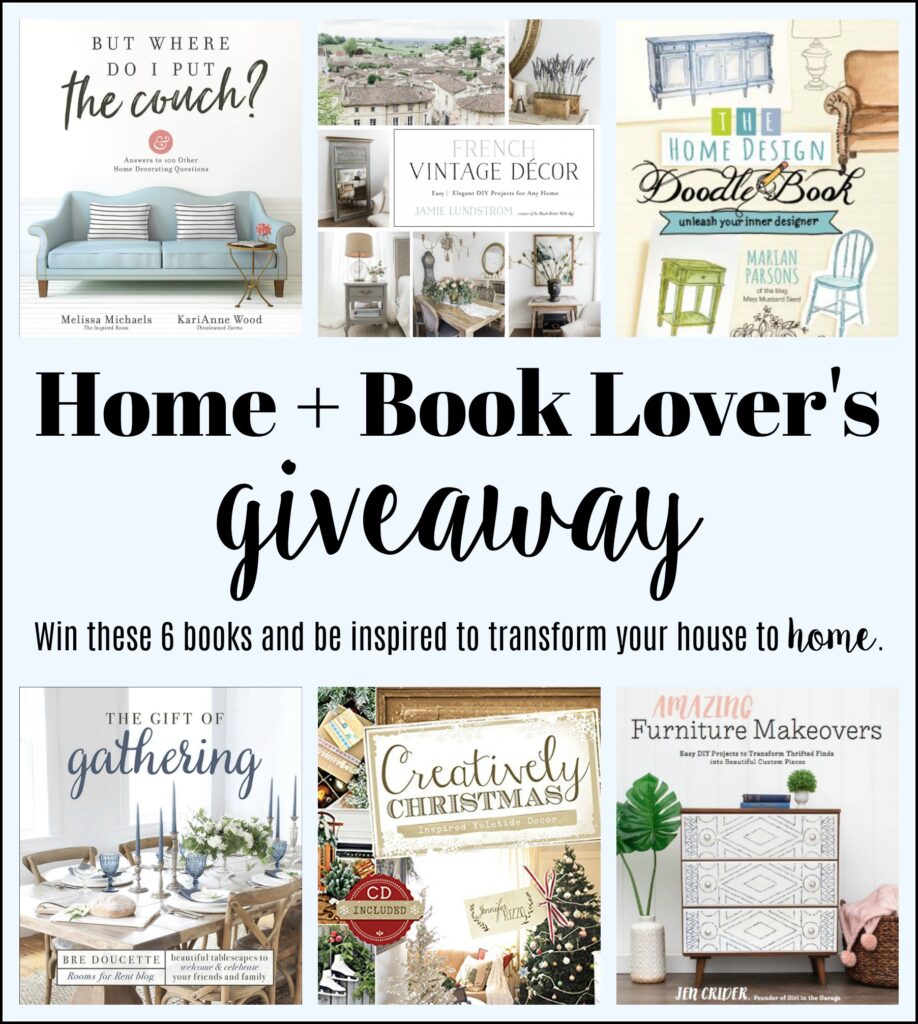 Bloggers have a special knack for sharing their ideas with the world and connecting with readers in a personal way. The DIY and decorating books listed below were all written by creative bloggers who are passionate about teaching and inspiring others. Here's your chance to win your own copies – just in time to spruce up your home for holiday gatherings!
Visit the links below to learn more about the books (also perfect for gift giving) or visit the bloggers' websites.
One lucky winner will receive all 6 of these popular DIY and decorating books:
1. But Where Do I Put the Couch? & Answers to 100 Other Home Decorating Questions, by KariAnne Wood of Thistlewood Farms and Melissa Michaels of The Inspired Room
2. French Vintage Decor: Easy & Elegant DIY Projects for Any Home, by Jamie Lundstrom of So Much Better With Age
3. The Home Design Doodle Book: Unleash Your Inner Designer, by Marian Parsons of Miss Mustard Seed
4. The Gift of Gathering: Beautiful Tablescapes to Welcome and Celebrate Your Friends and Family, by Bre Doucette of Rooms for Rent blog
5. Creatively Christmas: Inspired Yuletide Decor, by Jennifer Rizzo of JenniferRizzo.com
6. Amazing Furniture Makeovers: Easy DIY Projects to Transform Thrifted Finds into Beautiful Custom Pieces, by Jen Crider of Girl in the Garage
Follow the directions to enter below. Giveaway open to US and Canada through Dec. 7, 2019.