Hello again, sweet friend! This bookcase was originally bought last year to be a furniture makeover in my book, but plans changed. Finally it's time for this outdated thing to get a new look for Furniture Fixer Uppers day, and with this project you'll learn the steps for how to whitewash wood planks. (Are you ready? Are you excited? I hope so, I am!) 😄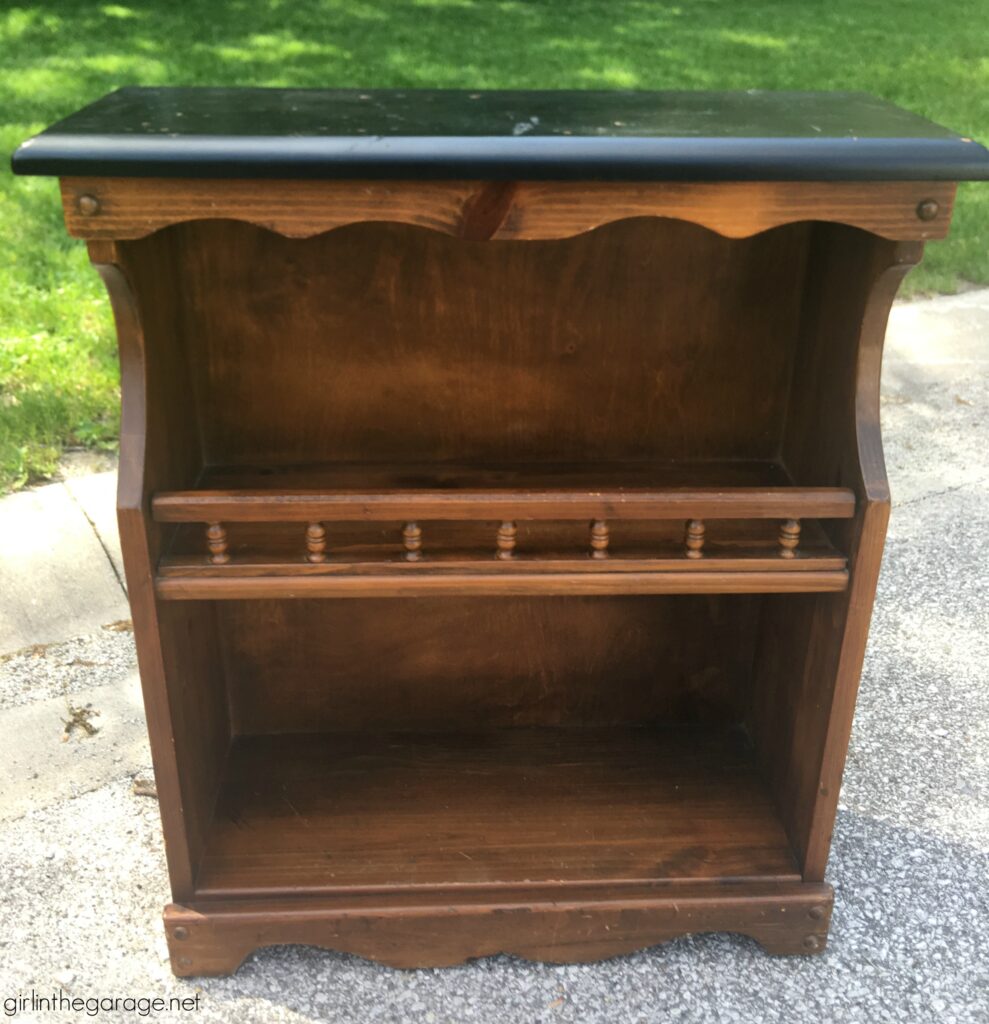 *This post contains some affiliate links so you can easily find the products I use and recommend. Learn all my favorite brands and tools for doing DIY projects Here. Also you can discover all my tips and advice for how to prep furniture to paint Here.
Bookcase Makeover: Prep Work and Repairs
First up, the railing had to go. It's my mission to rid the world of those things, slowly but surely! I've gotten rid of at least 3 or 4 by now over the years – it's easy with a flathead screwdriver.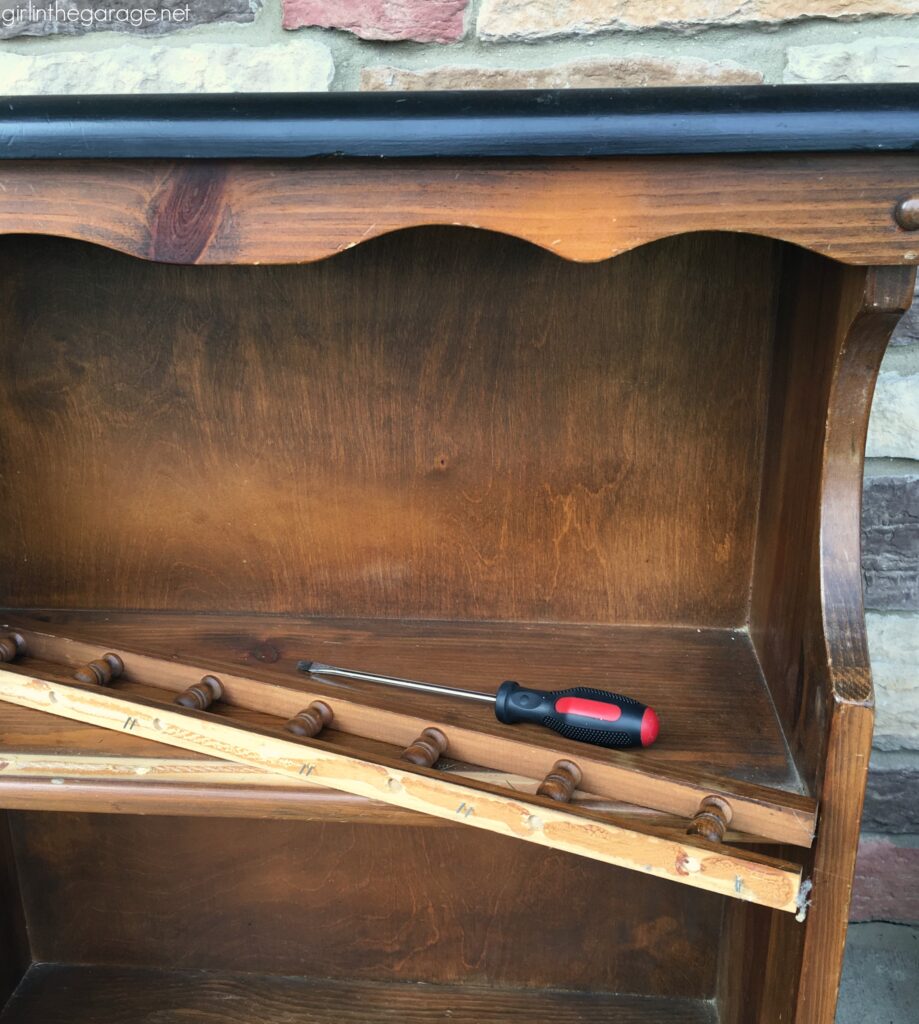 Next, the buttons (or plugs? I've always called them buttons). Anyway – with the same flathead screwdriver and help from my strong fingernails, I popped all 6 out.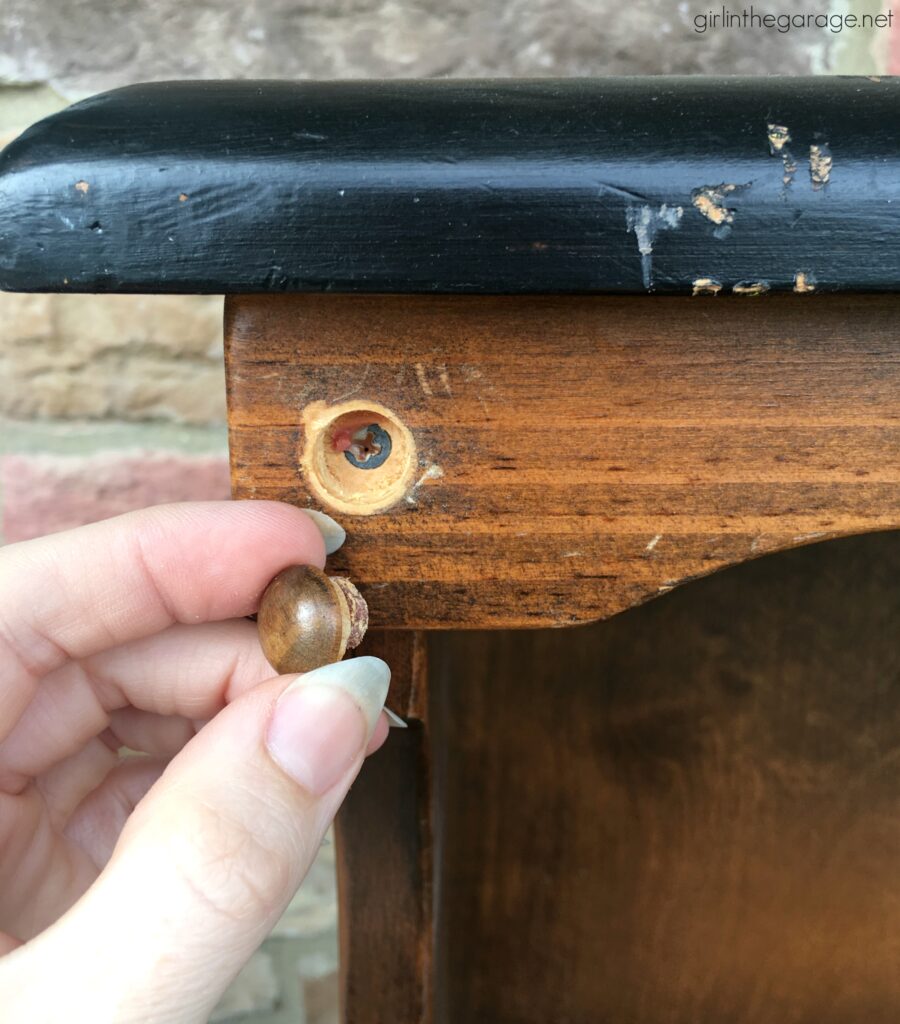 Finally it was time to remove the bookcase back. Sometimes these are easy to get off and other times they're a giant pain. This time was a little difficult.
Staples and glue held the back in place, so when I loosened the staples (with the flathead again) and pulled the back off, pieces of the wood ripped off. You can see how it all went down in the short video in this post.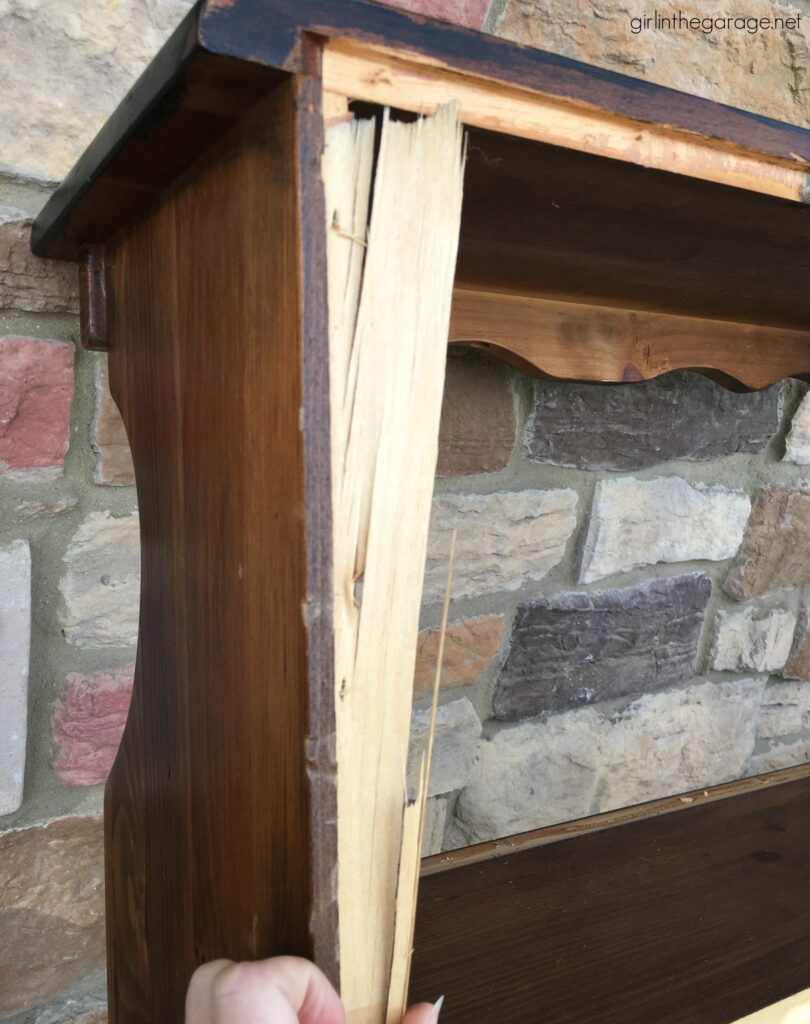 It took a little extra effort to get all the wood shards off.
Then all the holes and gouges were filled with my favorite wood filler. For bigger areas, apply several layers if necessary. Allow to dry between layers.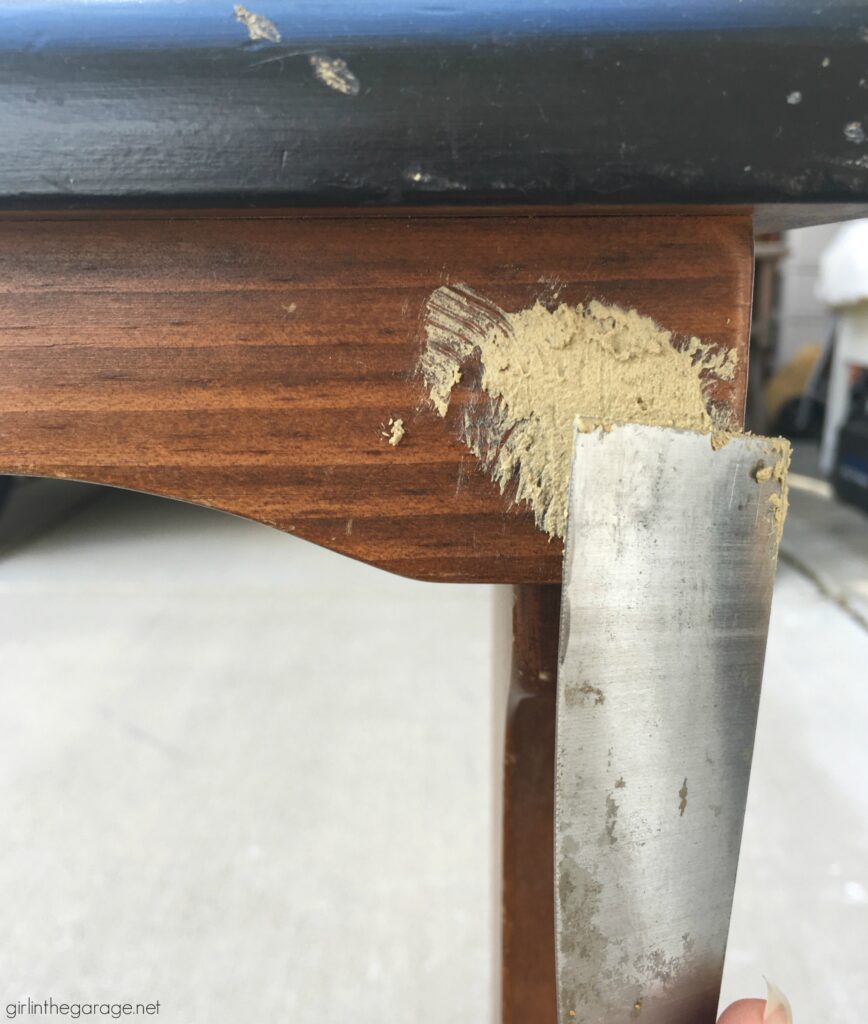 Since so many areas were bumpy and the top had latex-type black paint on it, I used the orbital sander (find this inexpensive one Here) to smooth it all out.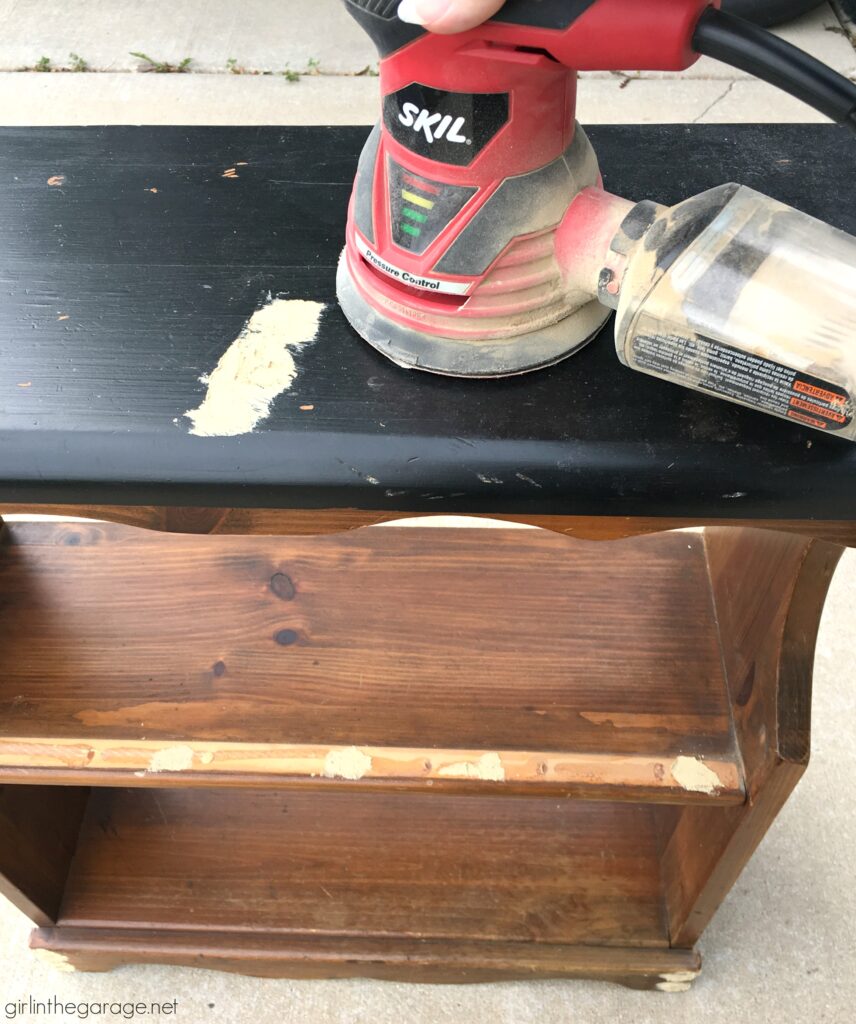 Once I started sanding the top, the black paint literally started rolling up in sections. I knew I had to remove all of it to be able to properly paint the bookcase.
Here it is, sanded everywhere it needed: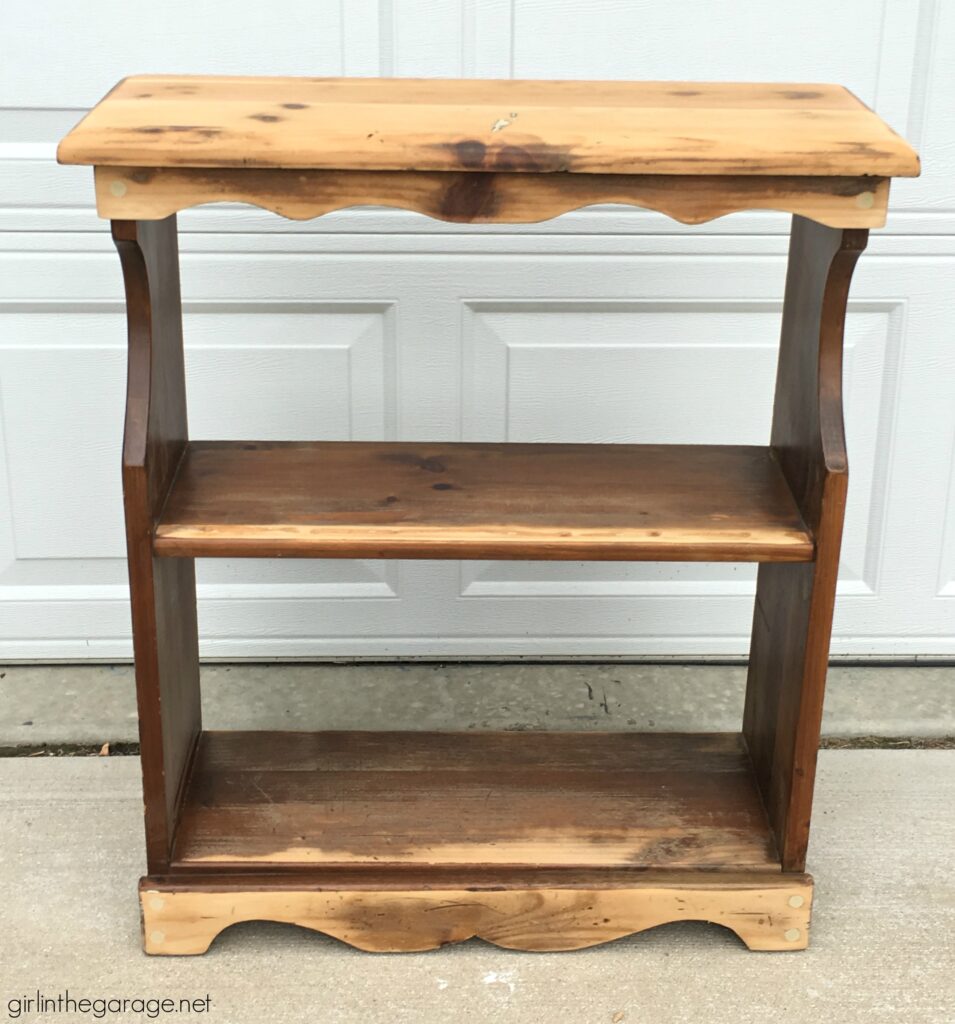 After cleaning the bookcase again, I painted the body in Country Chic Paint in Soiree (a very pretty light gray/taupe neutral). Soiree is part of the Lustrum Collection of colors, just like Belle of the Ball that I used on this antique table makeover recently. I also used my Country Chic oval paint brush which I've been really happy with (thick bristles and no shedding!).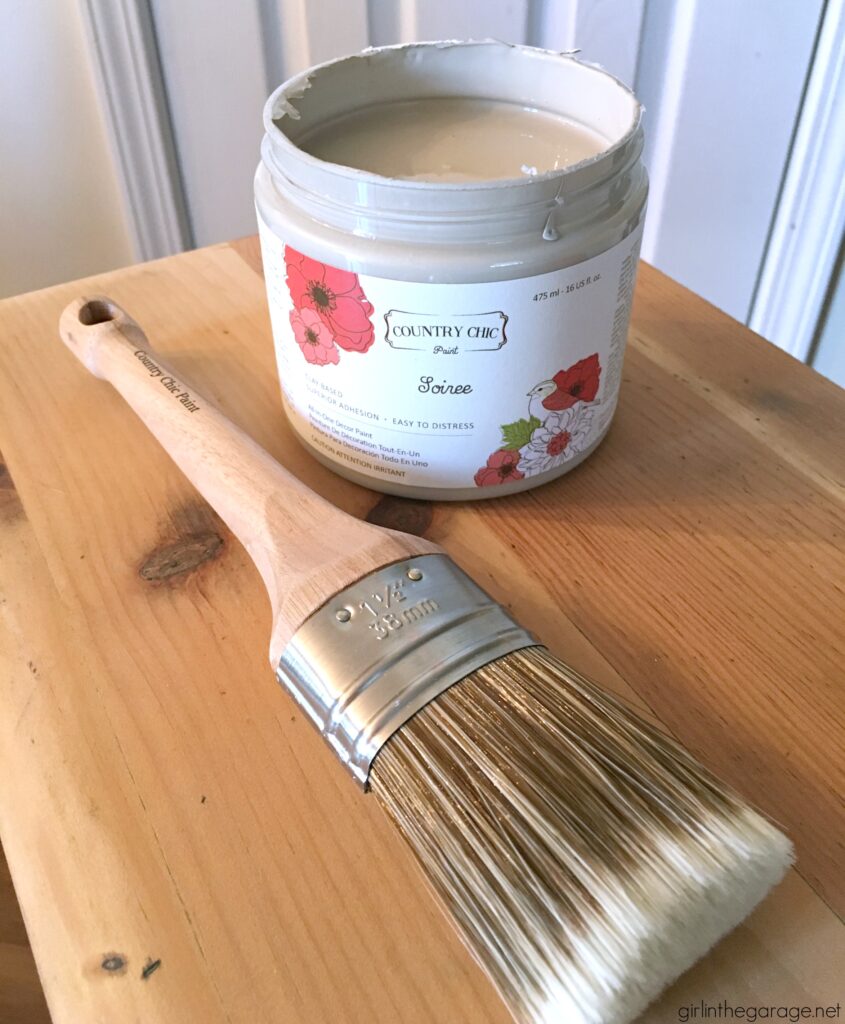 I've been impressed with all the Country Chic Paint colors that I've used on quite a few projects already, and the paint distresses really well which is something I always look for. Country Chic Paint graciously provided me with the paint for this project, but my opinion is 100% my own. You can learn more about CCP Here.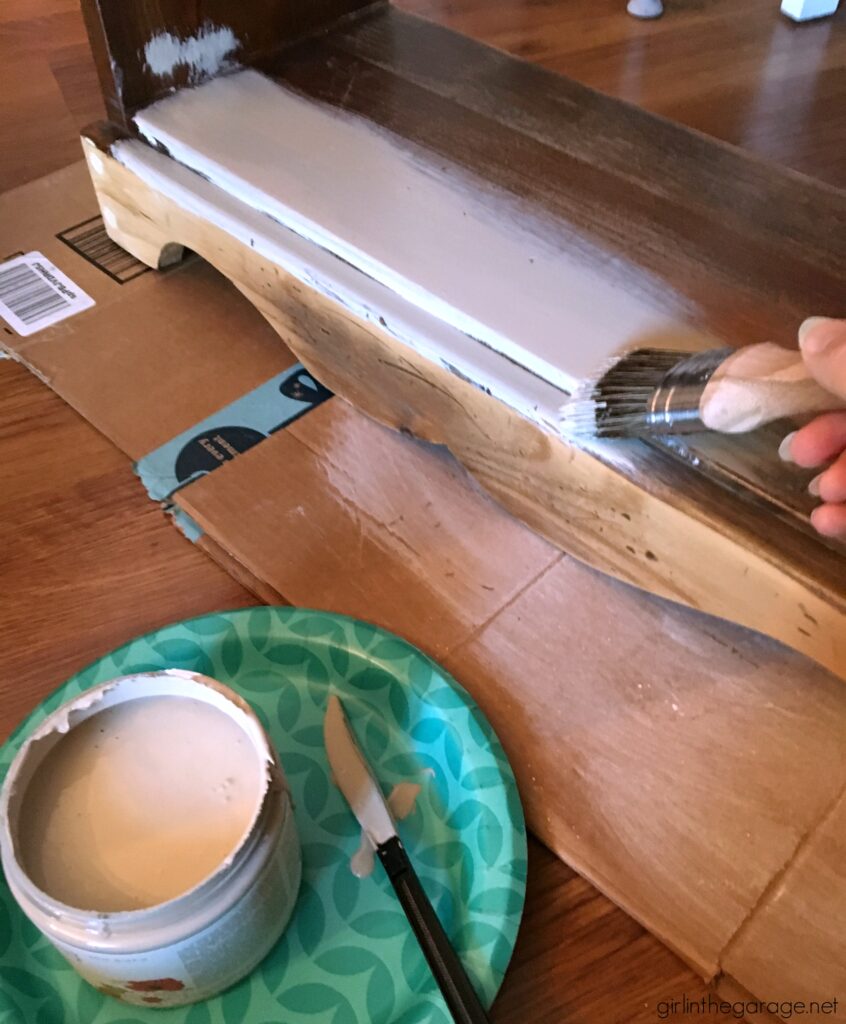 I didn't use any primer and only needed about two coats of paint to cover the bookcase.
How to Make a Bookcase Back with Wood Planks
The goal was to make a new back for the bookcase out of wood planks. Guy in the Garage and I headed to the local home improvement store and finally found what I was looking for – not in the lumber or trim aisles, but as toekicks in the kitchen cabinet area. Funny, huh? All the other wood was thicker than I wanted.
After measuring, Mr. GITG cut six wood planks to cover the back of the bookcase. (*Always follow directions and wear proper safety gear when using power tools.) Our saw is older, but you can find a new highly-rated one Here.
Instead of just painting or staining the planks, I wanted to do a whitewash with paint so the gorgeous woodgrain would still show through.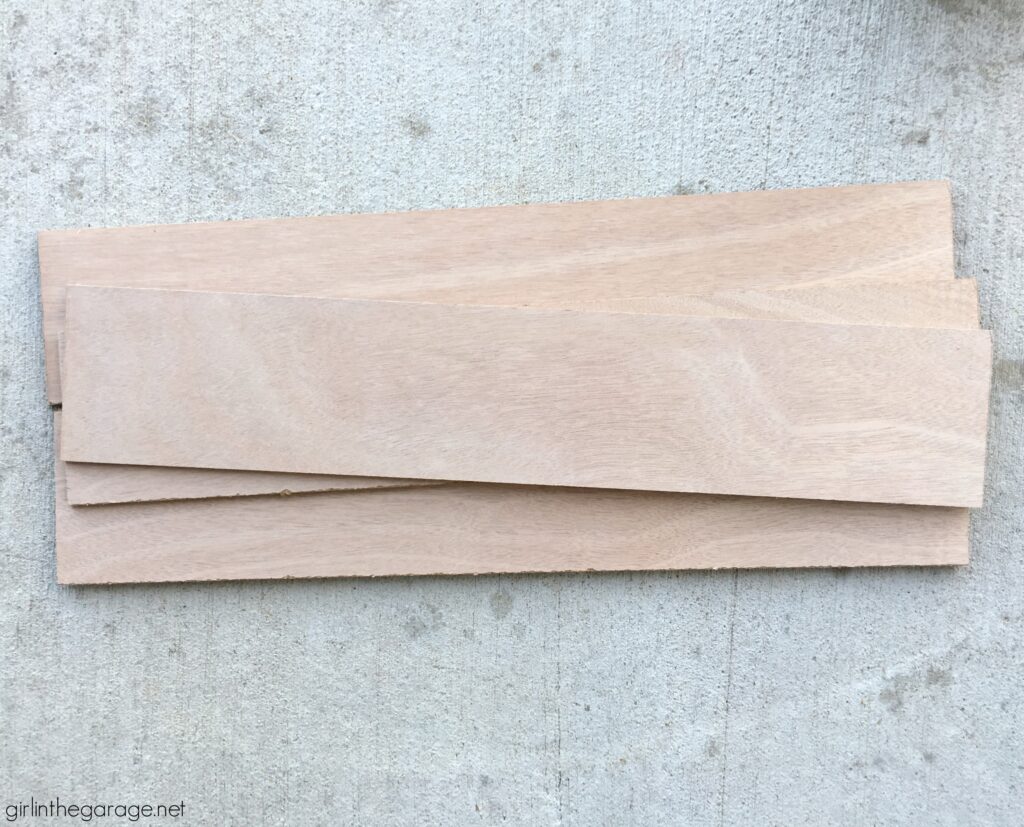 How to Whitewash Wood Planks
Find a flat surface to paint all the wood planks at once, it's just easier that way. I put cardboard on top of a big dog cage so I wouldn't have to bend over to the ground.
I chose Simplicity by Country Chic Paint to use for the whitewashing. I also used a paint brush and a spray bottle with water.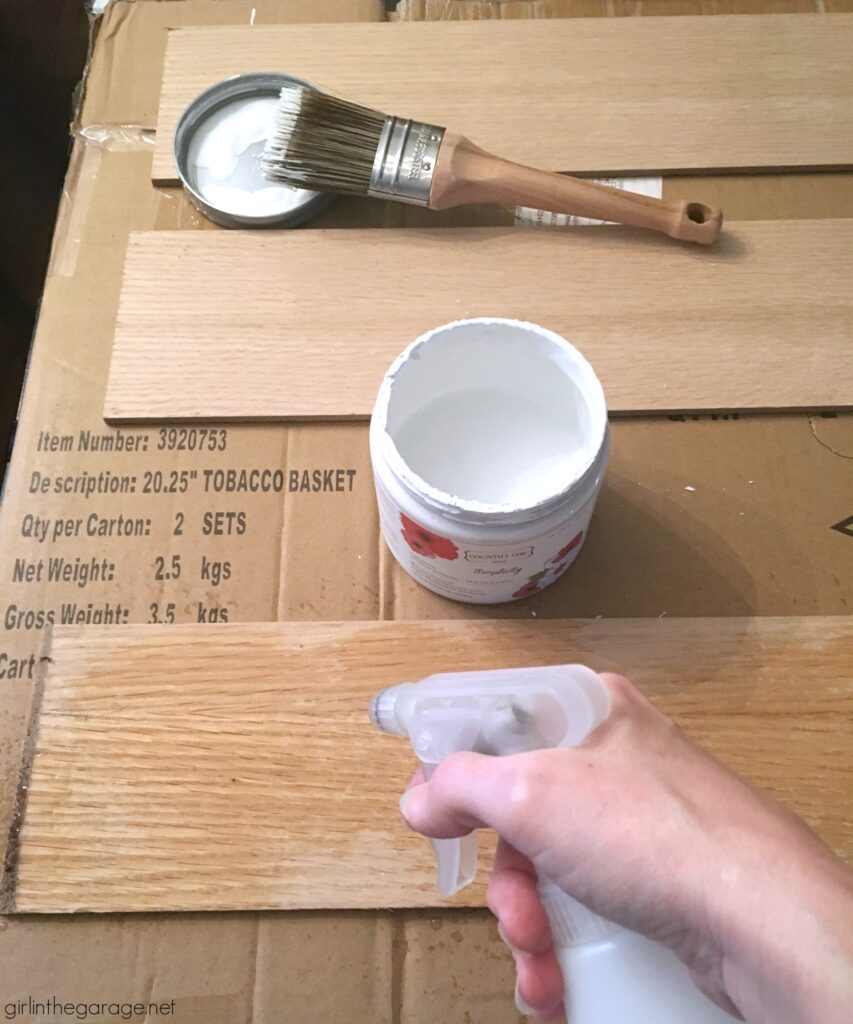 One plank at a time, lightly mist water all over it. Then dip your brush in the paint.
Brush the paint over the wet plank just like regular painting. The paint will thin out and you'll be able to see the woodgrain through it. (You can see the process better in the short video included in this post.)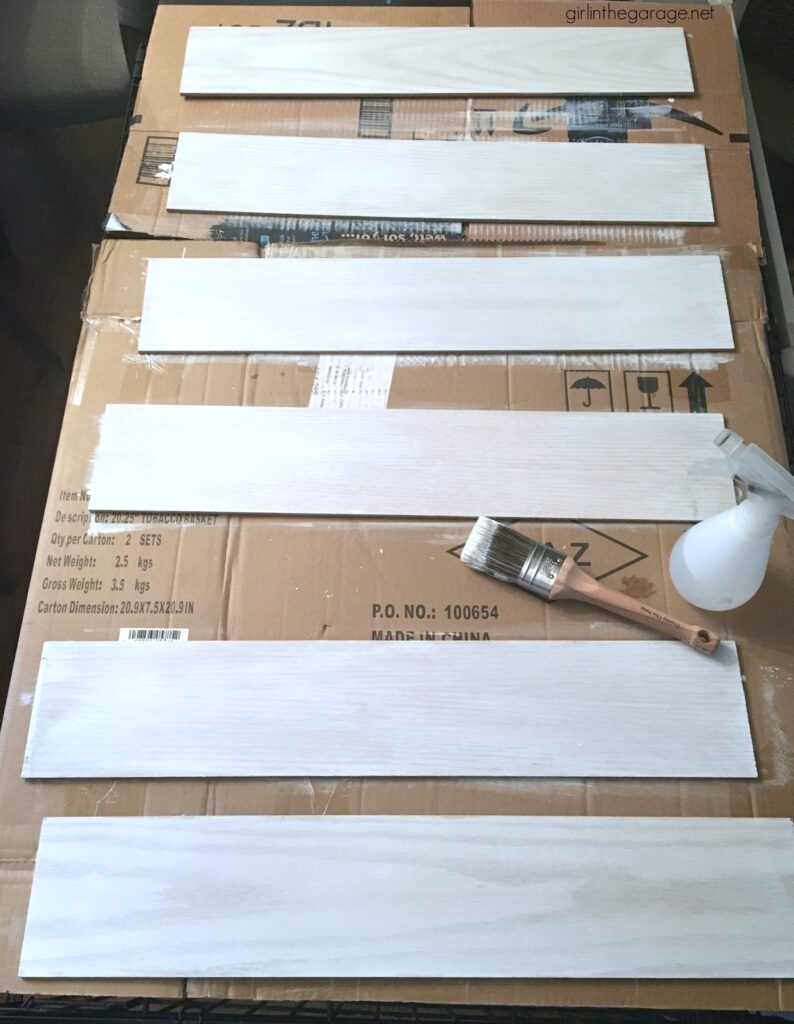 Whitewash all the wood planks, and then go over them a second time if you want (I did). You can also choose to lightly sand them down to distress (I didn't).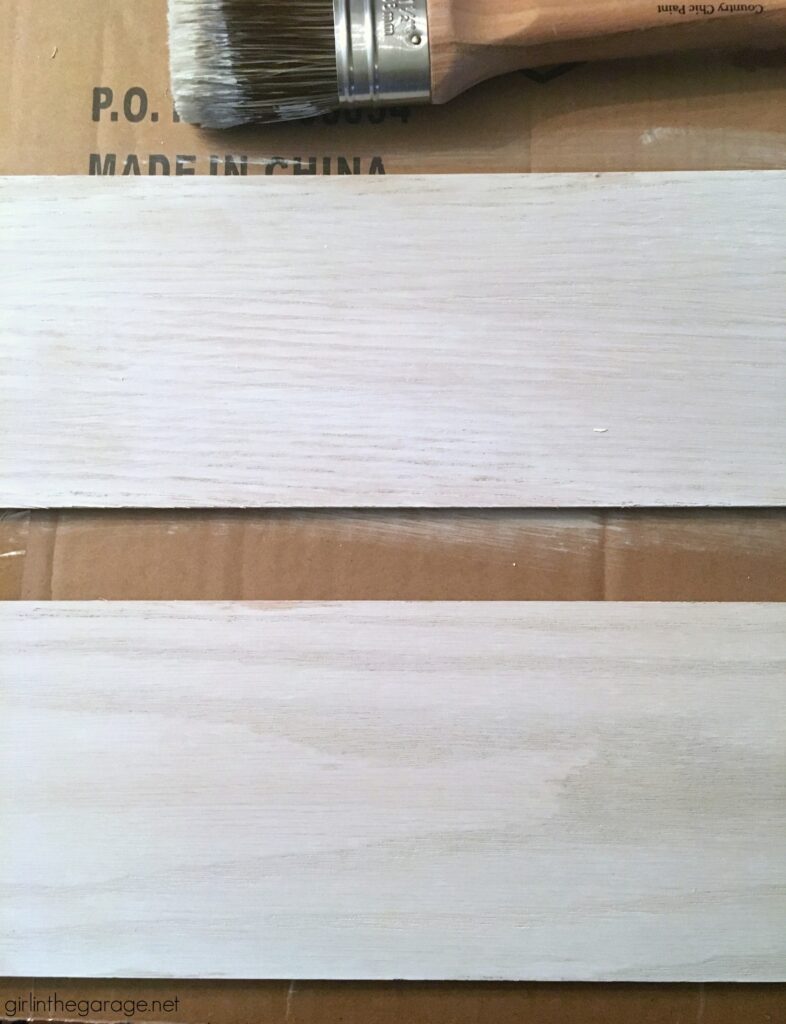 Once the planks are dry you can attach them to the back of the bookcase. Lay some cardboard down and then the bookcase over it.
I used small 5/8 inch nails and a lightweight hammer. Starting at the top of the bookcase, I put nails in every corner and a few more across the very top.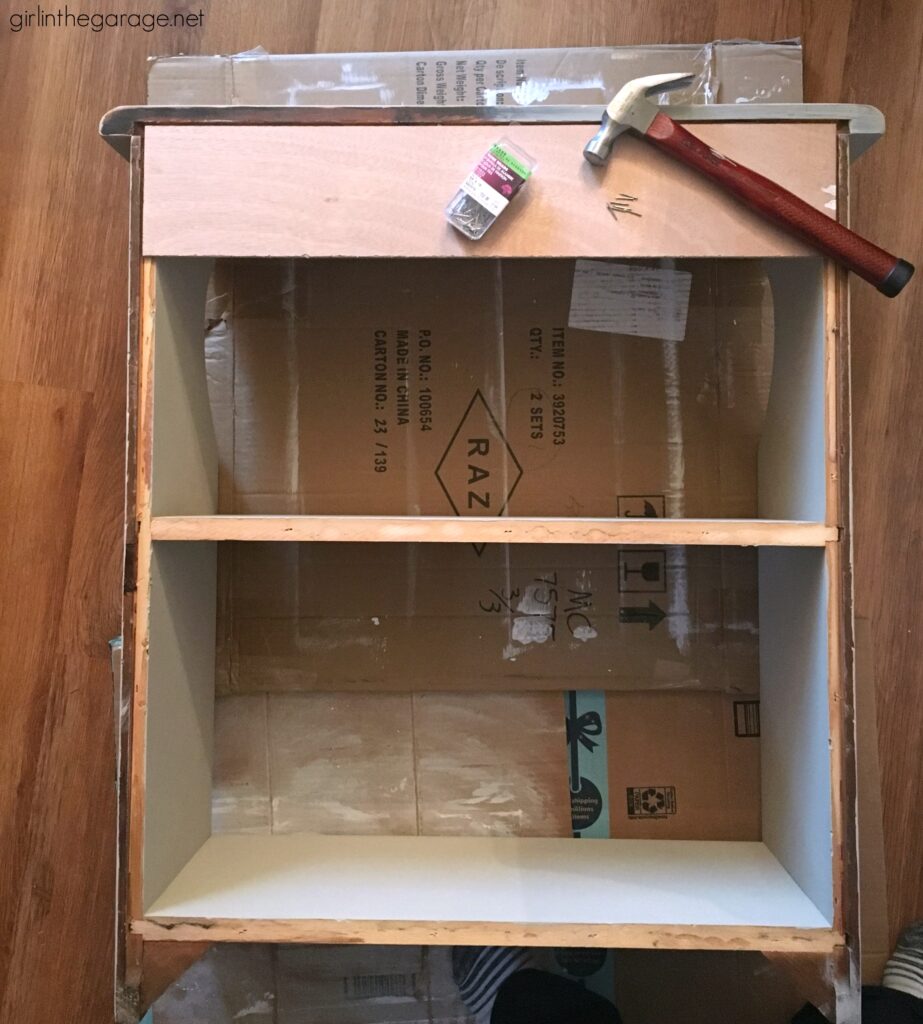 Continue until all the wood planks are secure.
Lastly you can sand with 320-grit sandpaper to distress the paint just a little bit.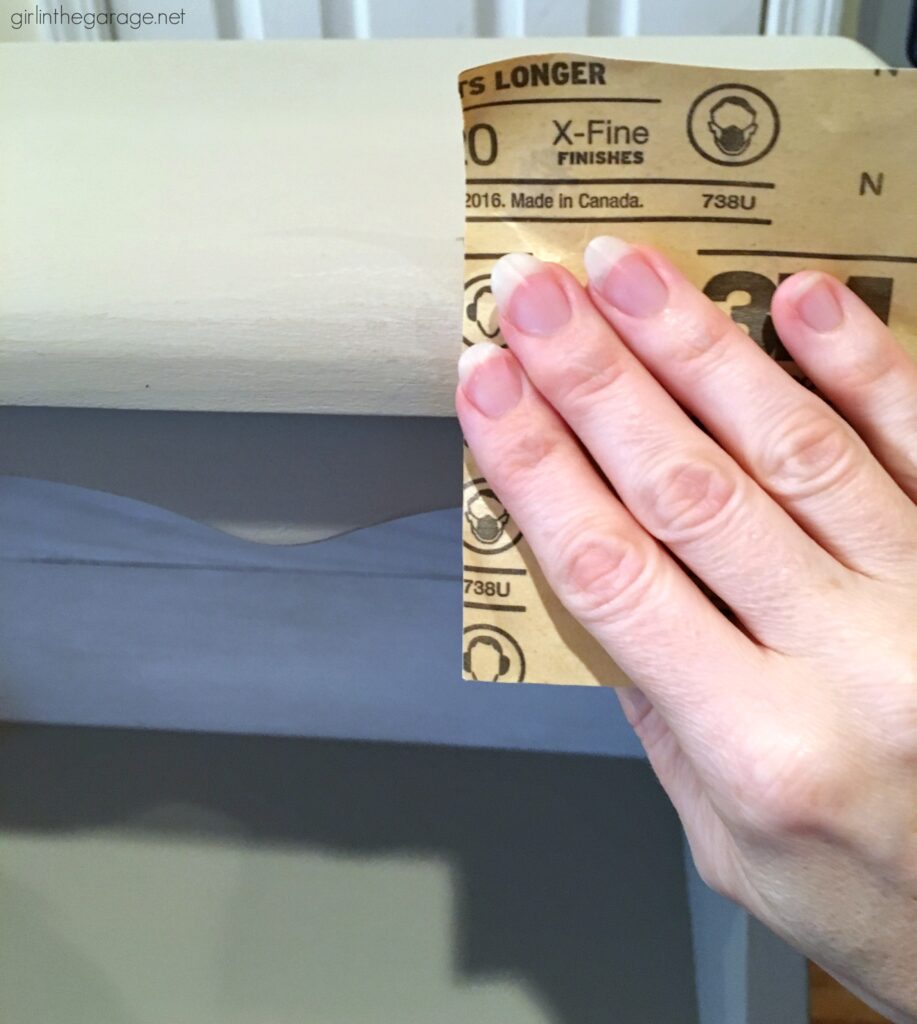 Whew! After all that work, here's the bookcase makeover with whitewashed wood plank back: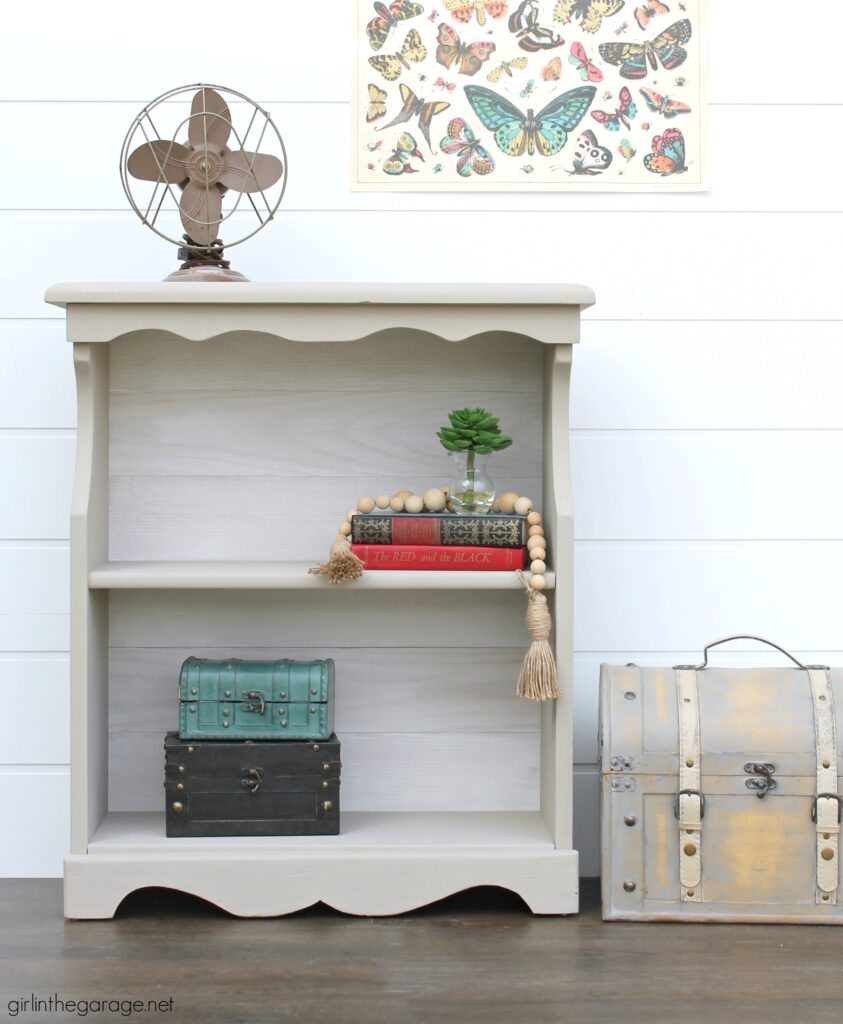 I'm so glad the railing is gone, haha. And the buttons, and the weird black latex paint…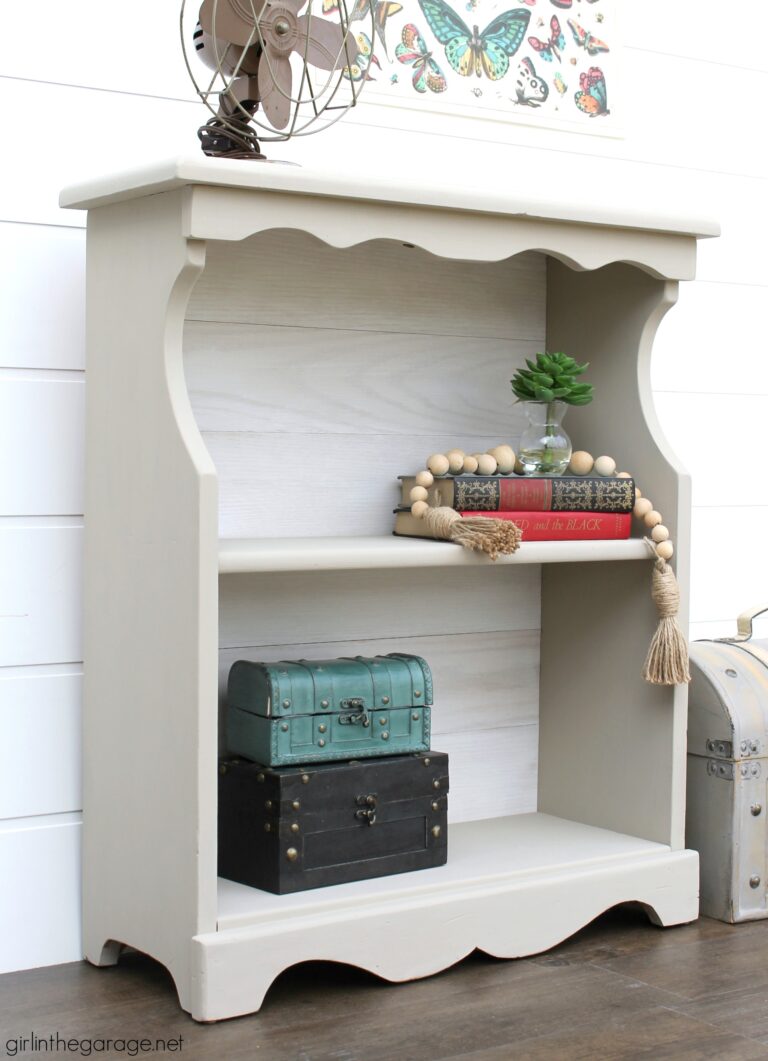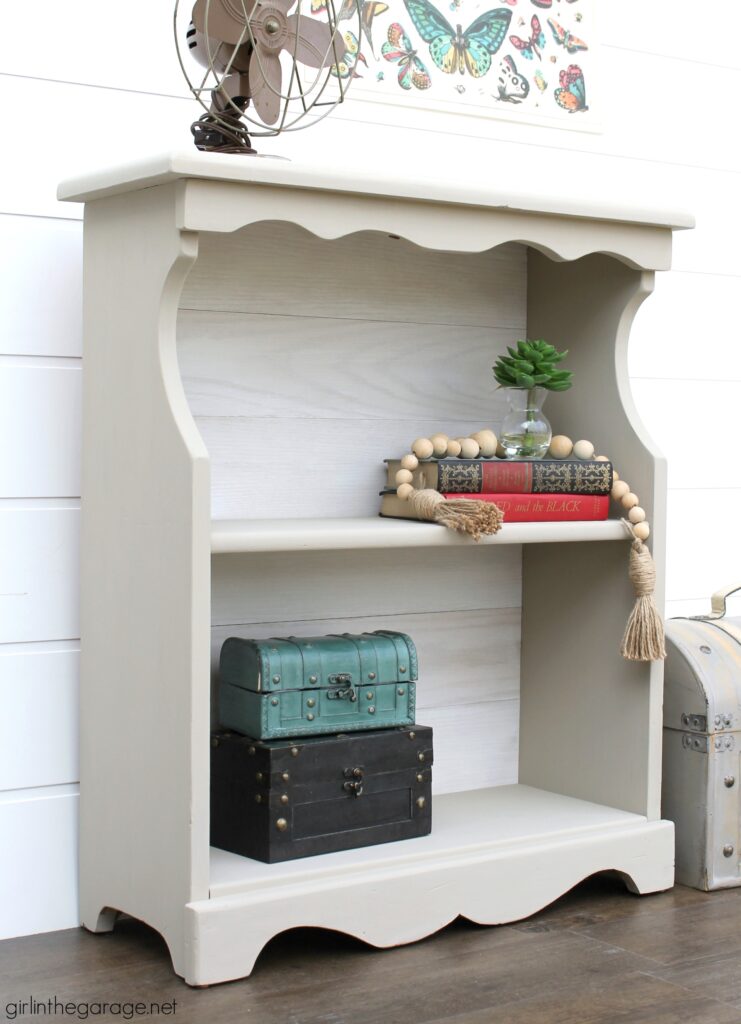 The colors Soiree and Simplicity compliment each other perfectly for this farmhouse chic furniture makeover.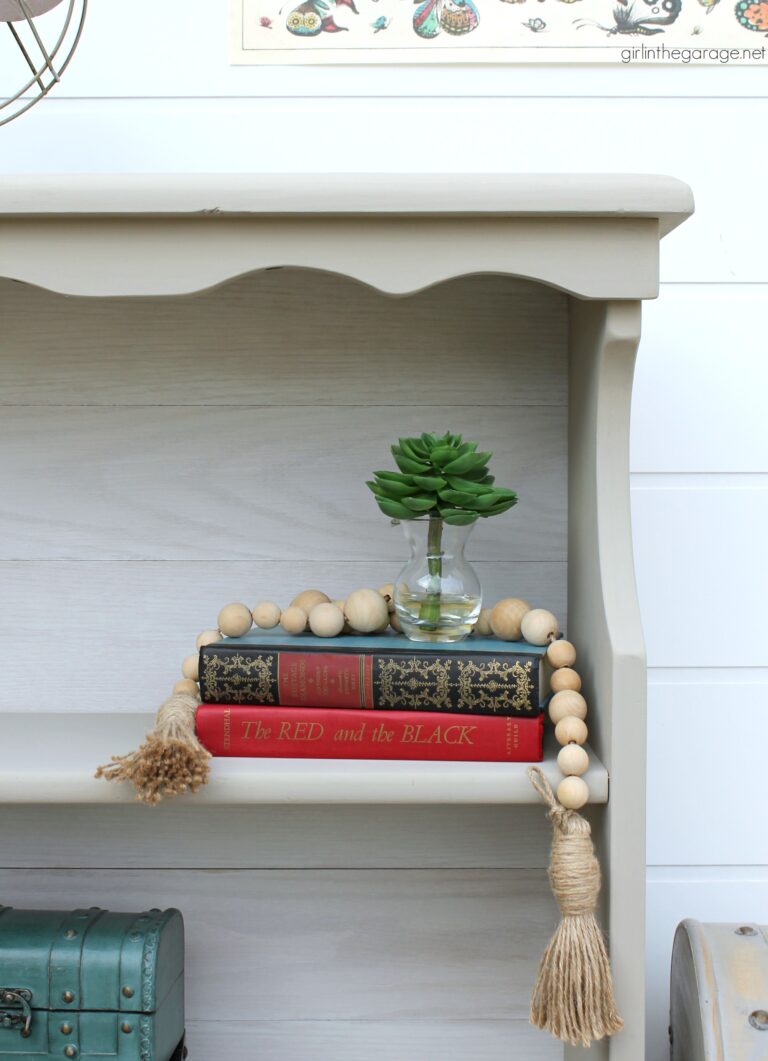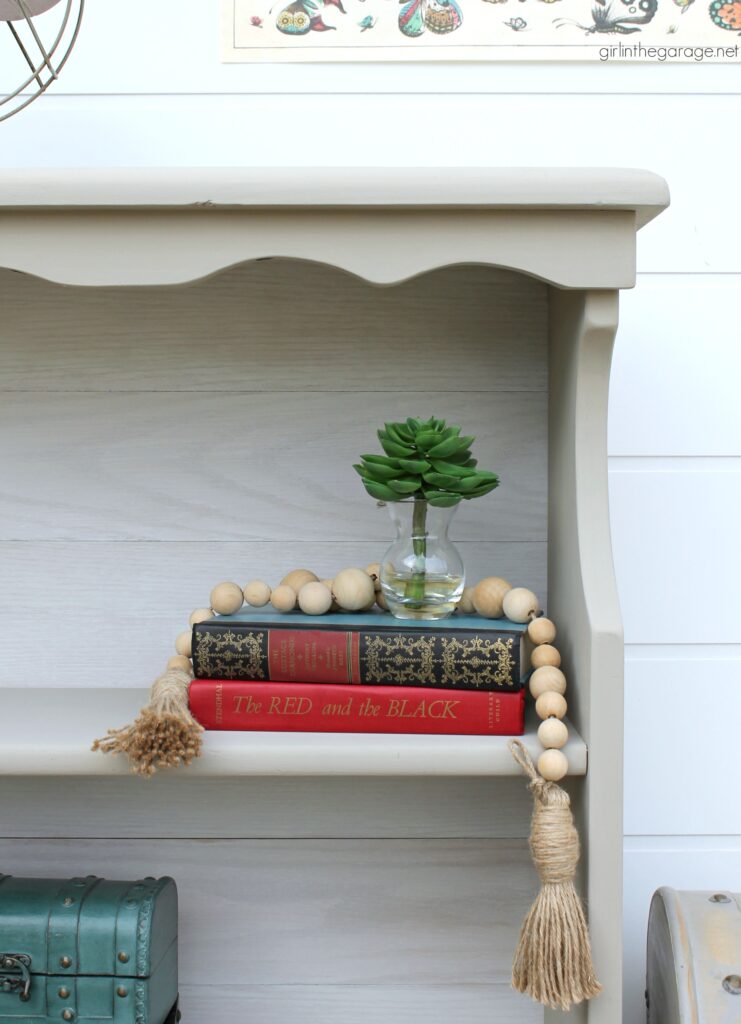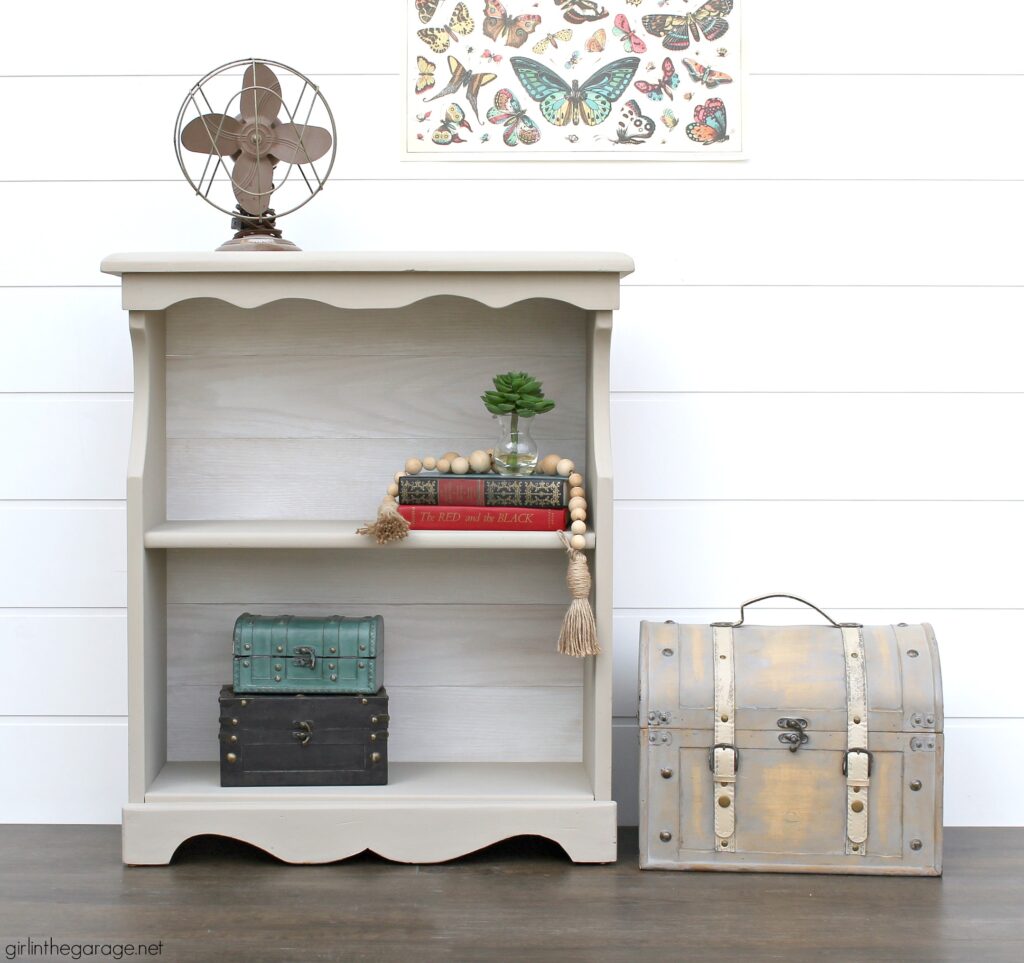 I'm crushing on those sweet vintage curves! How about you?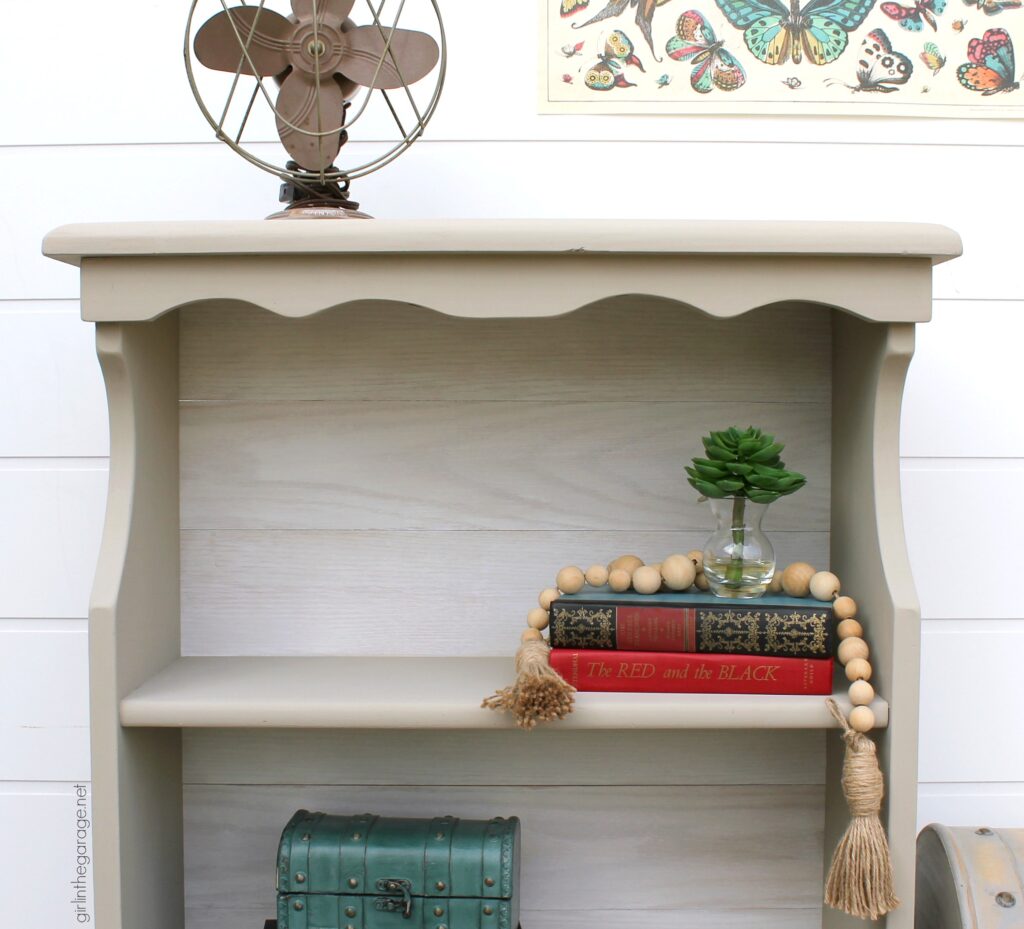 Here's a handy before-and-after reminder – please Pin or share this project to inspire others and for easy access later: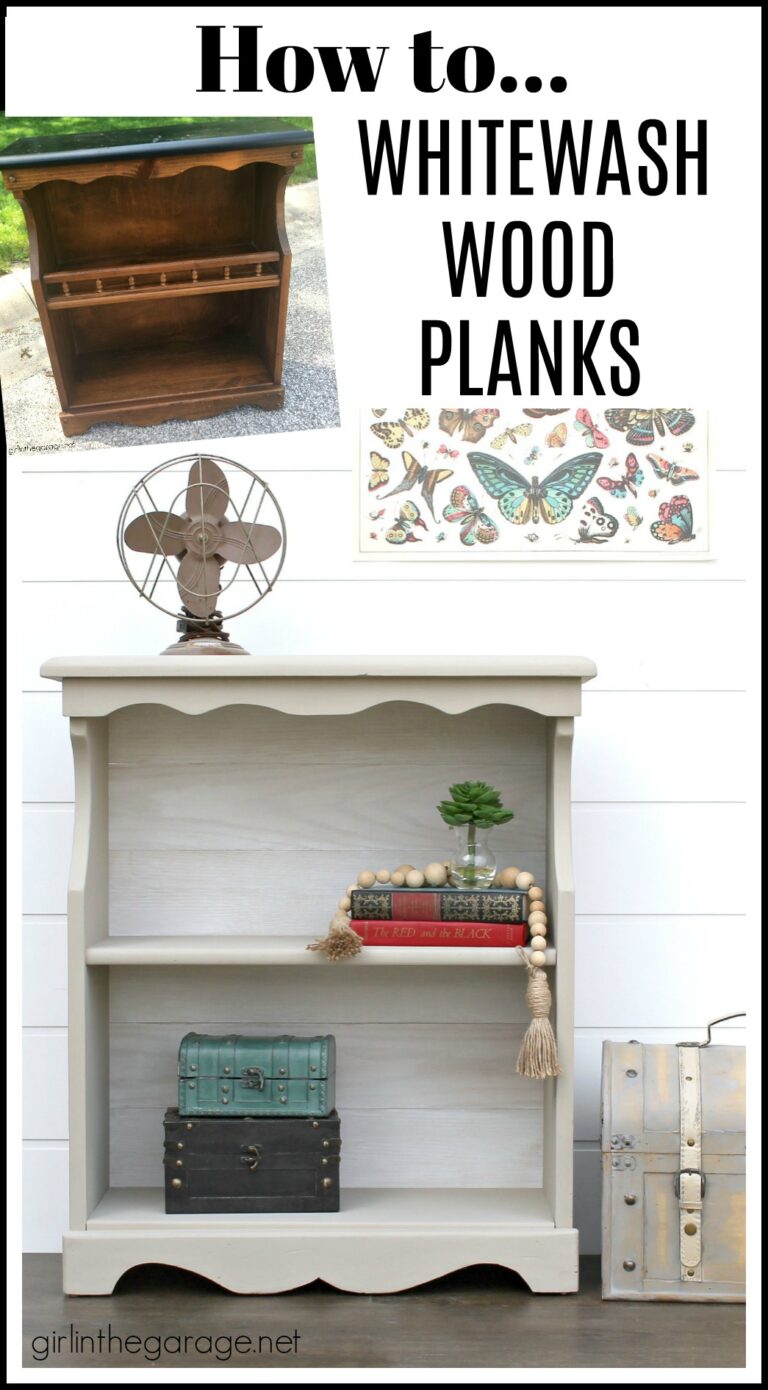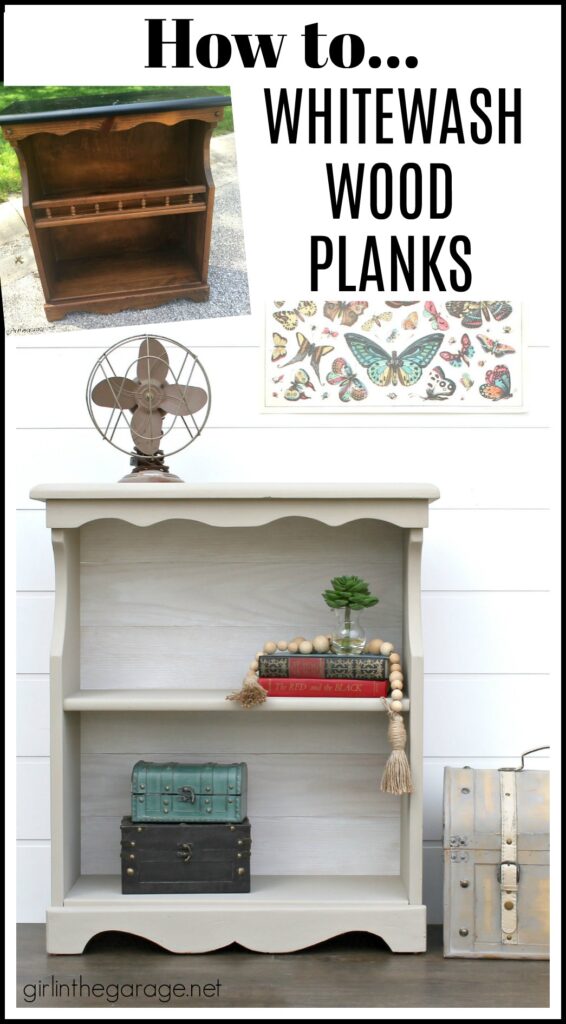 Friend, I hope you've enjoyed today's How to Whitewash Wood Planks on a Bookcase Makeover tutorial – maybe you've learned something new or you've been reminded again of how beautiful this technique can be. I always love reading your comments below. Thanks as always for your support – I appreciate you!
– Jen –
Now it's time again for Furniture Fixer Uppers day, where my blogging friends and I share our latest DIY furniture makeover tutorials with you.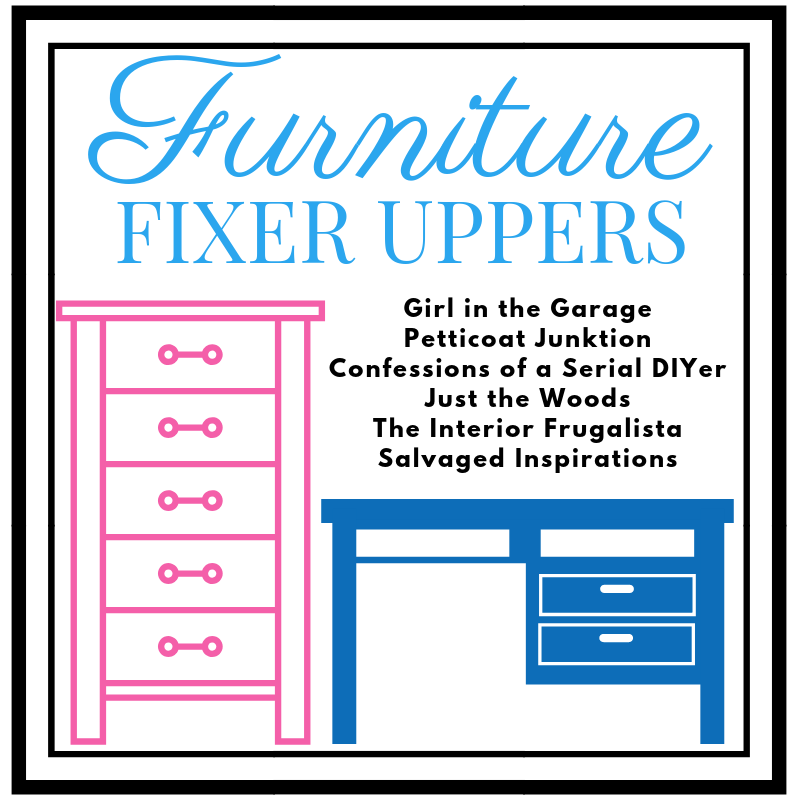 Below are the Before photos – visit the links underneath to see the creative Afters and to learn how they did it: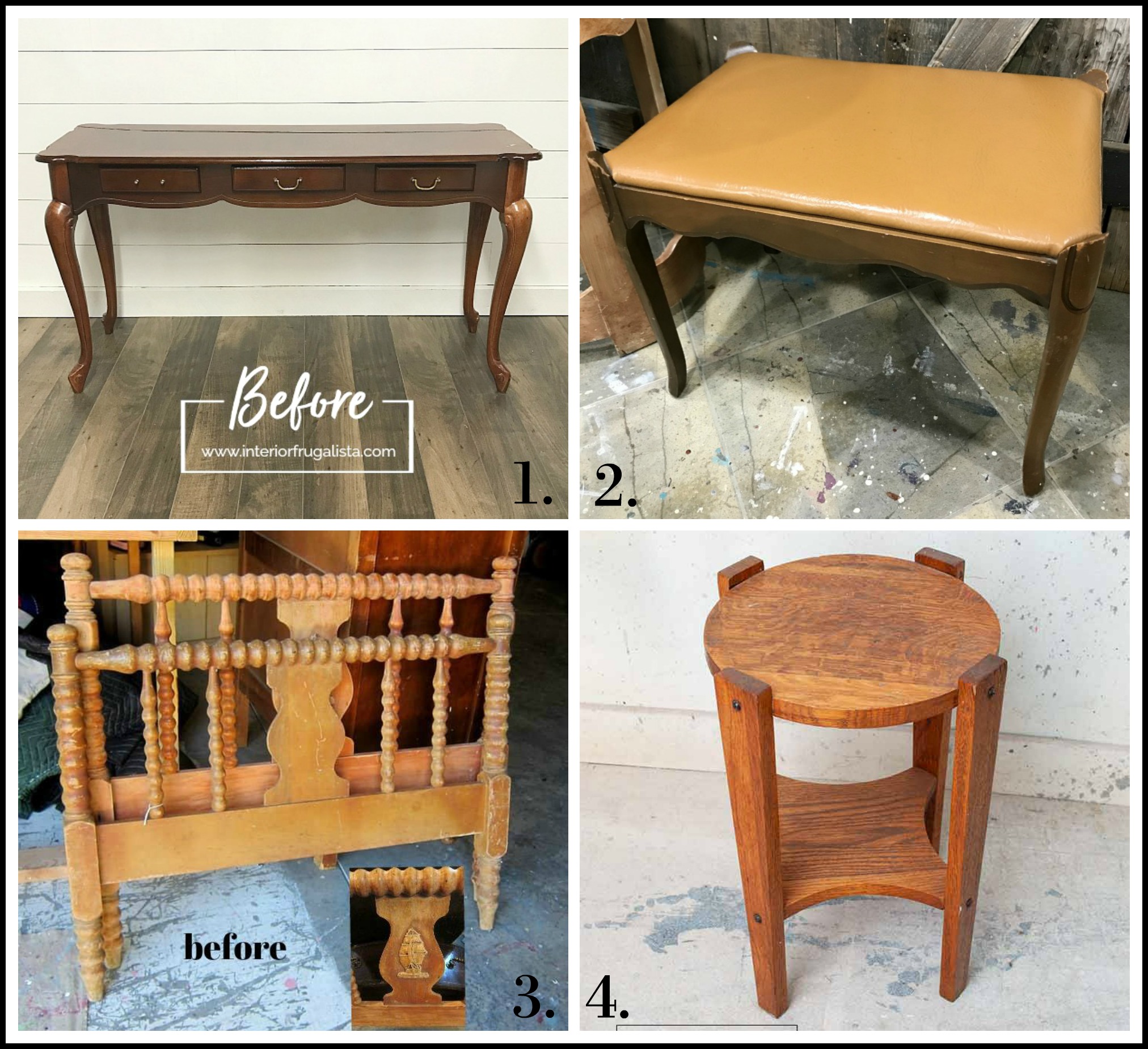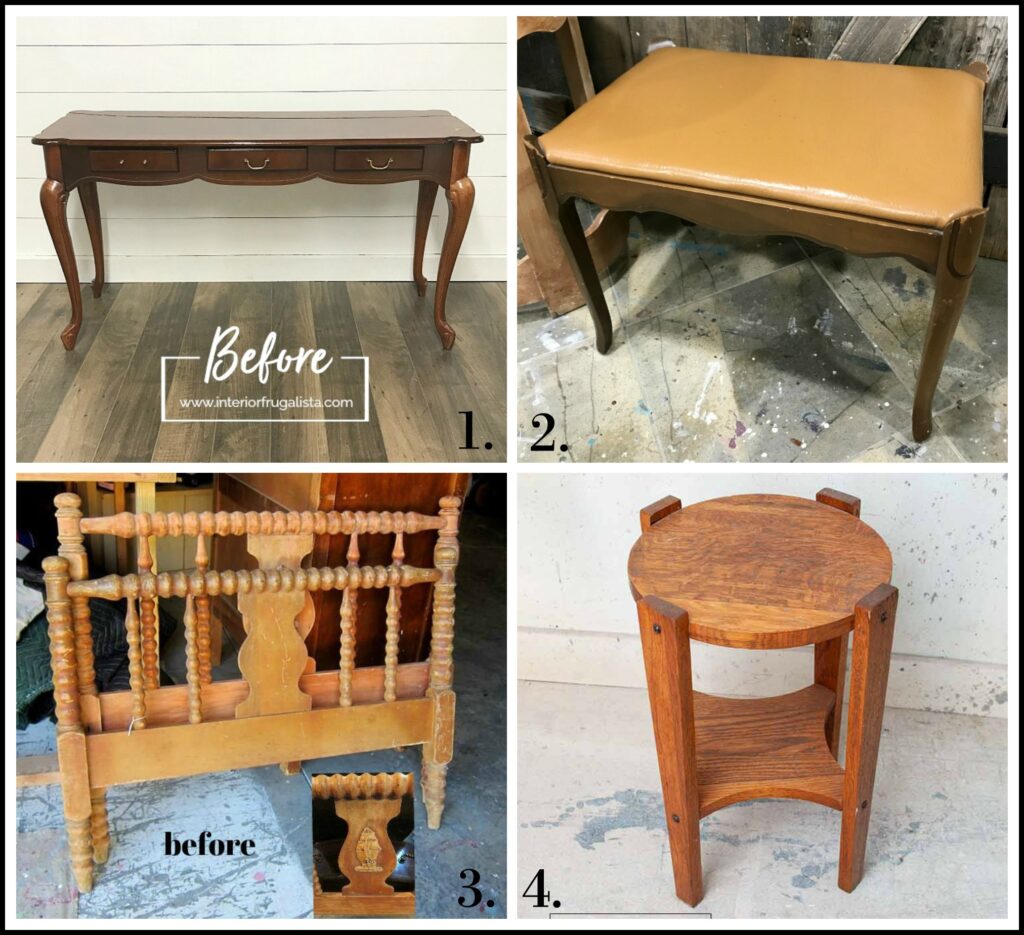 1. The Interior Frugalista
2. Just the Woods
3. Petticoat Junktion
4. Salvaged Inspirations