Friend, I am back on this beautiful day with some of my favorite creative blogging friends sharing our Trash to Treasure makeovers. (See our past T2T makeovers Here.) Some dramatic before and afters are sure to melt away the winter blahs! This month I'm teaching how to paint a barn quilt on a thrifted tray.
This big tray was marked $4.99 at Goodwill, and I got it for half off. Gotta love that!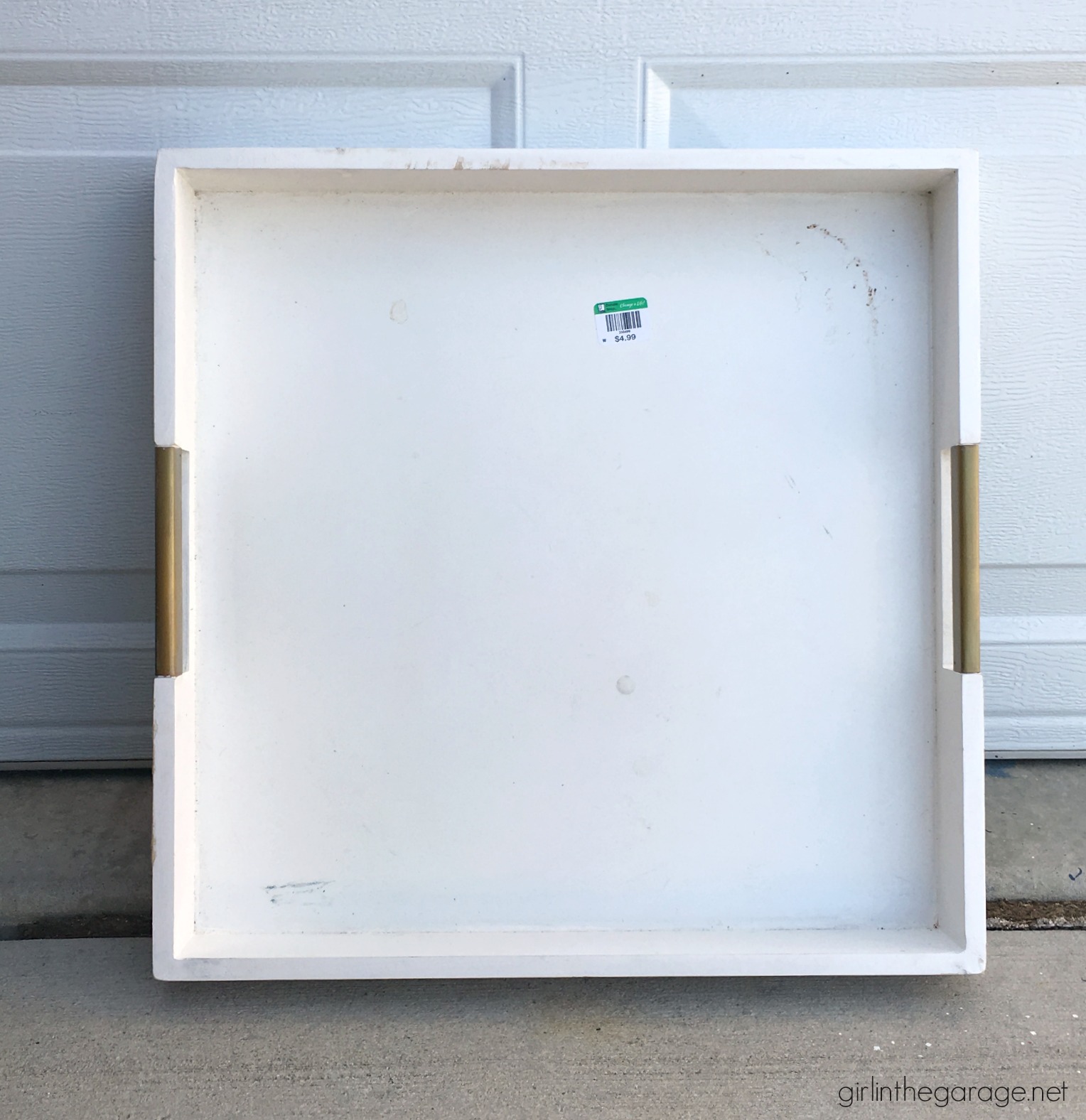 Quick story: My friend Helen owns a shop in St. Charles, MO called Helen Nichole Designs, where she sells home decor and upcycled furniture. She also offers painting classes, and I saw on her Facebook page that she was painting barn quilts as wall art. Honestly I had no idea what a barn quilt was, but I loved how the art looked and it sparked me into doing some research.
Here's one of Helen's barn quilt paintings:
Barn quilts are basically large wooden squares (usually 8x8ft or even 4x4ft) that have been painted to look like a quilt and are hung on the side of a barn as a symbol of the farm and the family's heritage. (Learn more here – it's very interesting!)
Here are just a few examples of barn quilt patterns: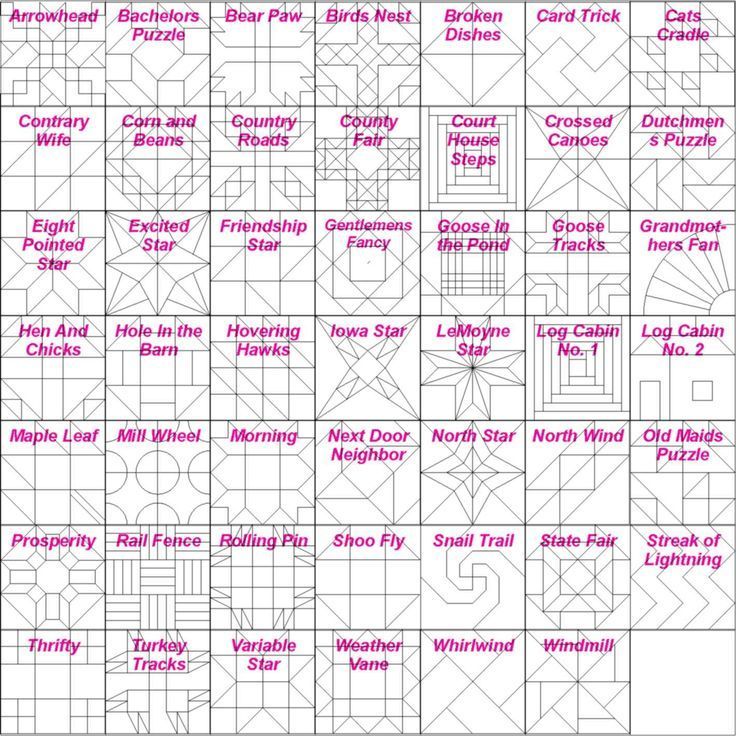 There's even an adult coloring book of barn quilts by Marian Parsons (aka Miss Mustard Seed):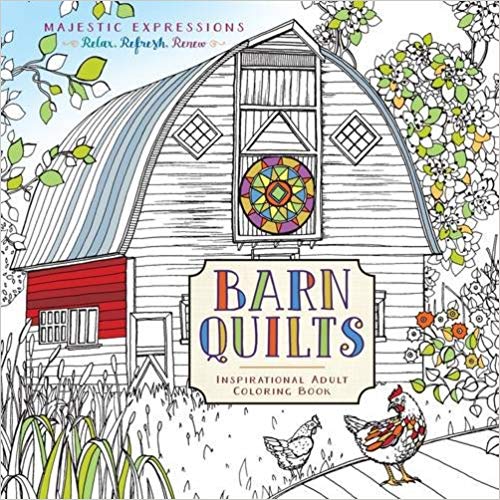 And here's a lovely quilt barn puzzle I stumbled across: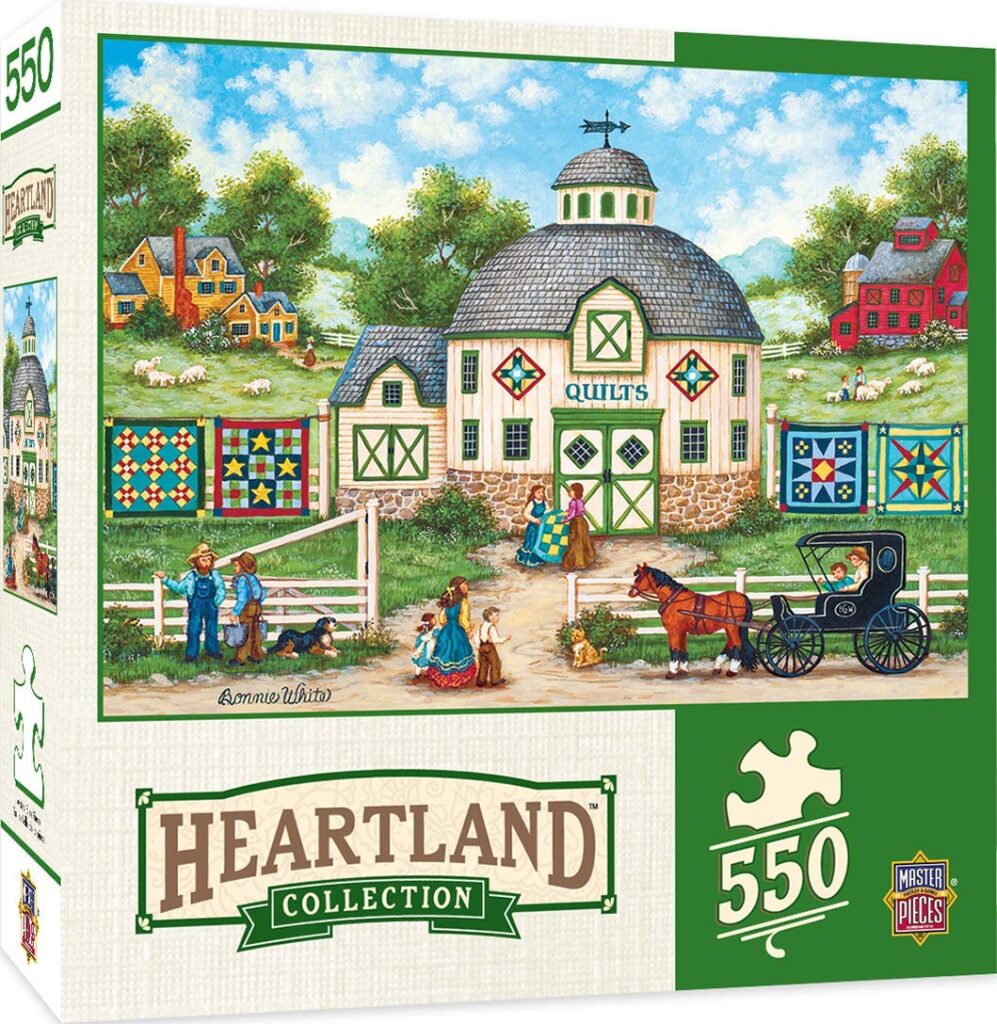 (We own two Heartland puzzles by Bonnie White and they are absolutely gorgeous! Take a look at July 4th Fireworks and also Double Dip.)
Unfortunately I'm too far to take a class from Helen, and I couldn't find hardly any tutorials online. But I did look through Pinterest for inspiration and found a pattern I loved. I think it's called a Star or Starburst.
With no directions, I went to Excel to make my own template. The tray was 17×17 inches, so I made a square that was 17 boxes wide and 17 boxes tall. Then I made lines every 2 inches and played around with the different parts of the design until it made sense and looked a little like my inspiration piece. I also colored in some of the areas in Excel to make it easier when I painted.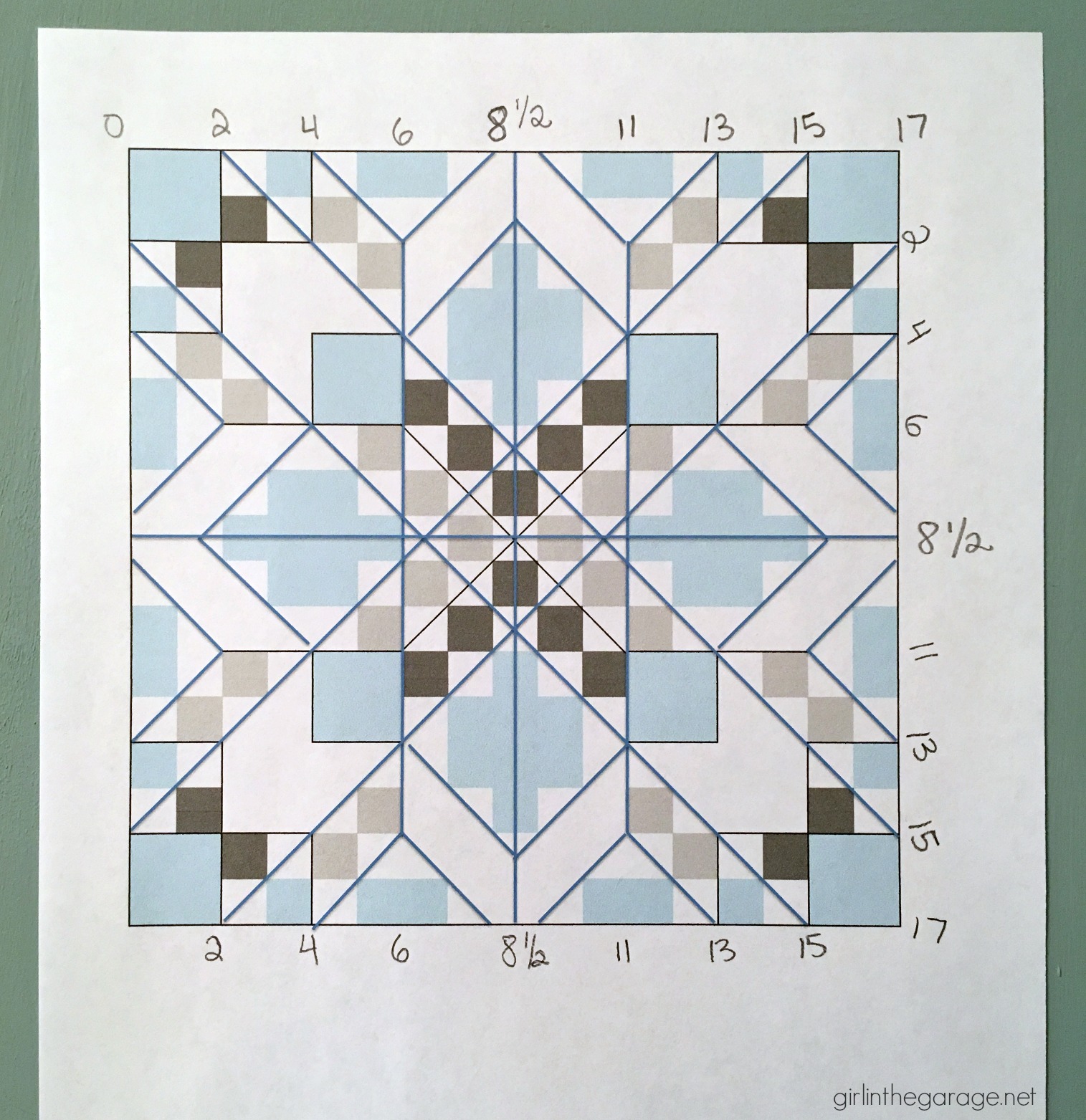 *This post contains some affiliate links so you can easily find the items I use and recommend. Find a list of all of my favorite DIY products and tools Here.
How to paint a barn quilt on a tray:
Products used: Annie Sloan Chalk Paint® in Duck Egg, French Linen, Paris Grey, and Old White. My favorite Purdy paint brushes. Delicate Surface FrogTape. 3M 320-grit sandpaper. Annie Sloan's clear wax.
First the tray was cleaned and lightly sanded. Then I painted it in Annie Sloan's Chalk Paint in Duck Egg.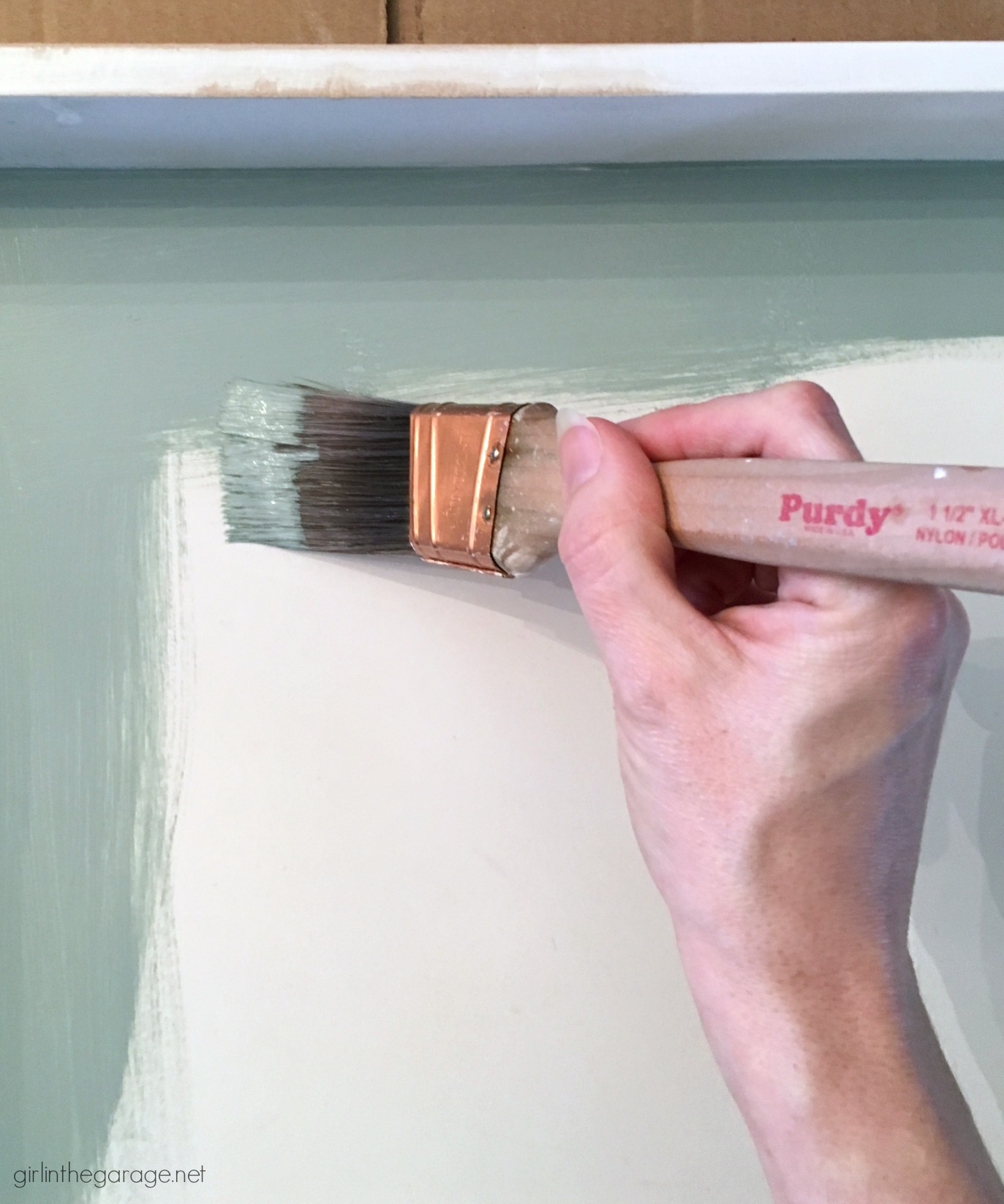 Next I measured and marked every 2 inches on the tray (except 8 1/2 in the middle) with a pencil.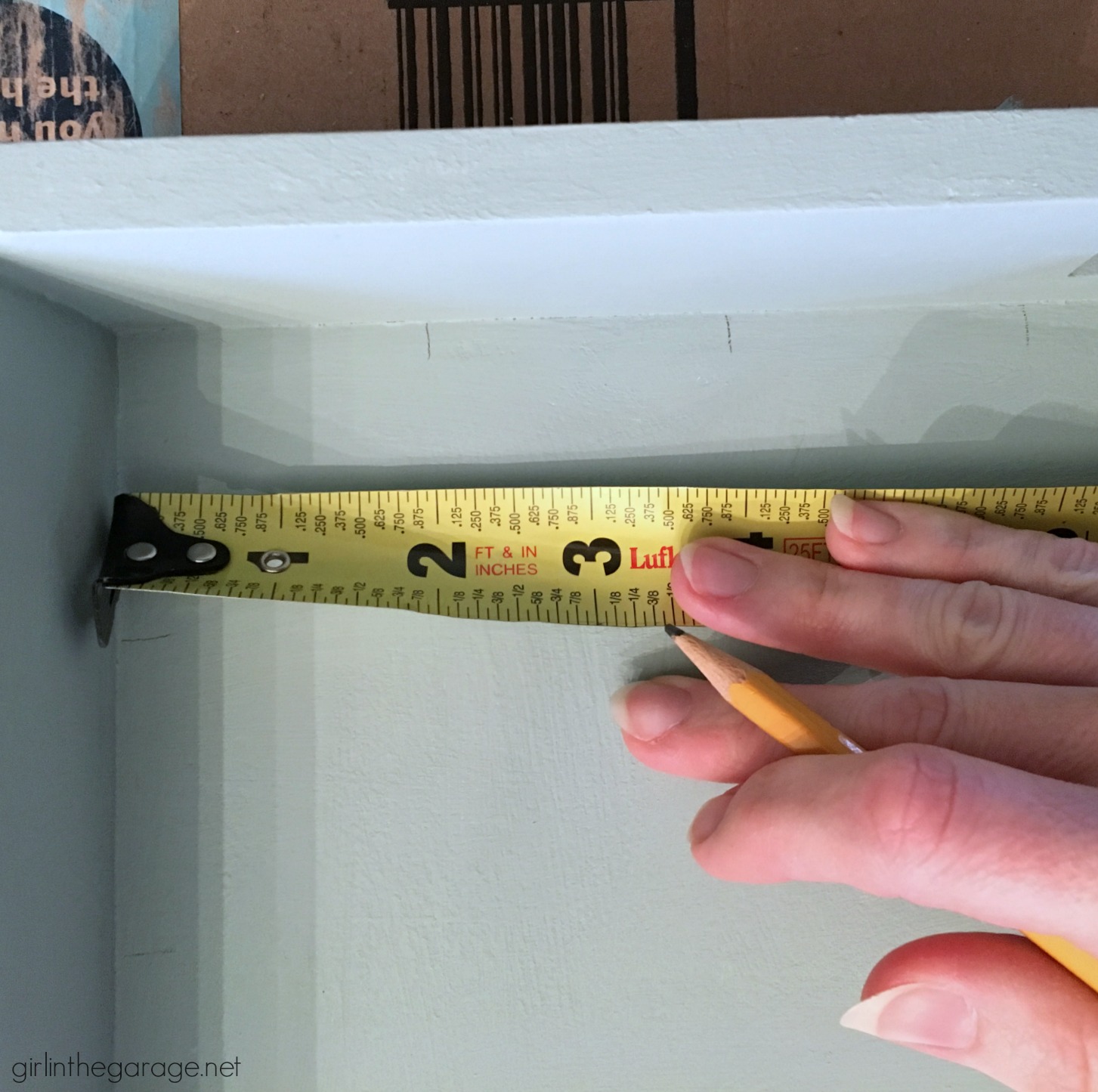 Instead of drawing lines everywhere, I made little plus marks at each intersection.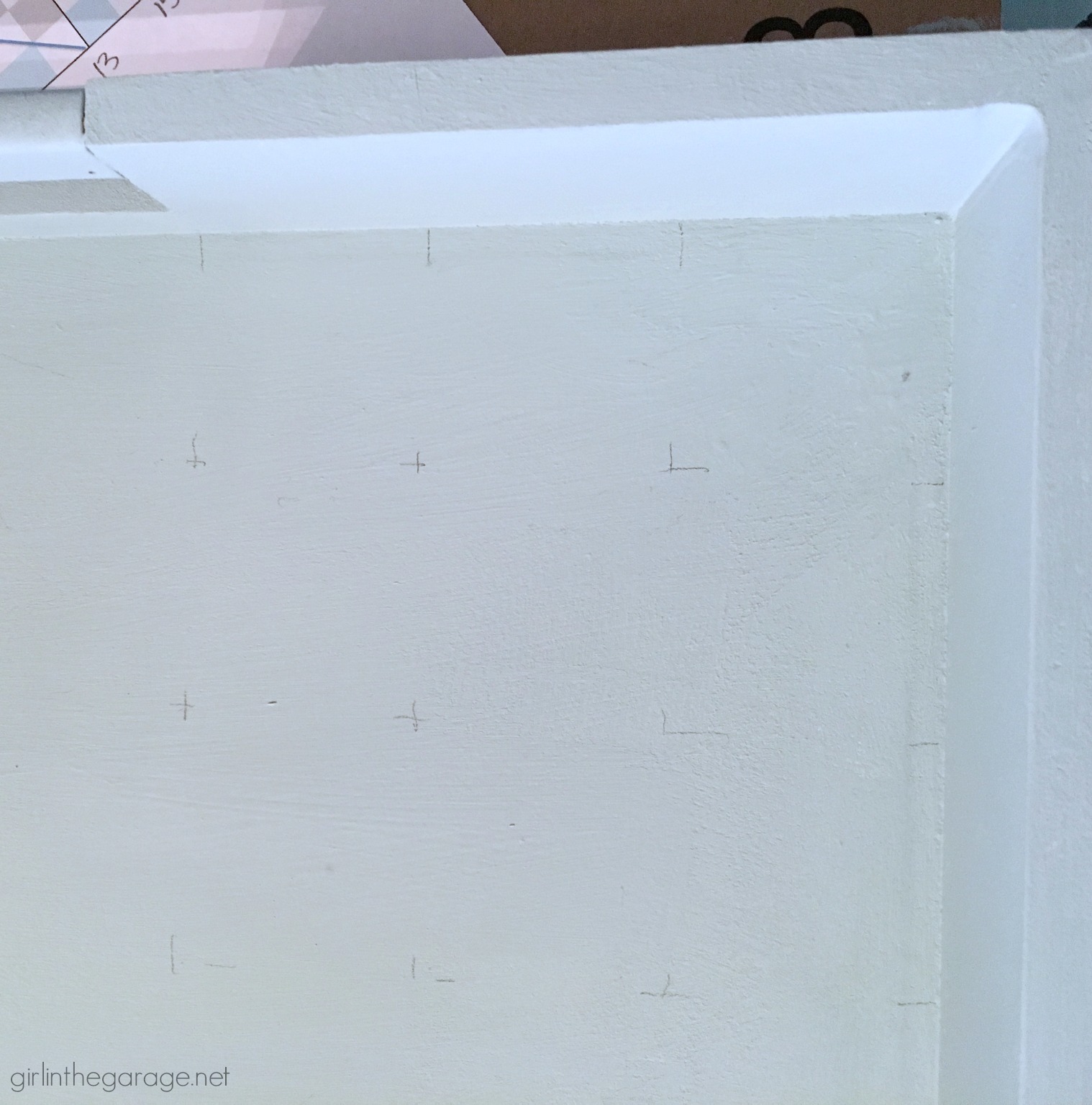 Then, following the Excel sheet I made, I started taping off areas with FrogTape. I started with the dark gray areas first (Annie Sloan Chalk Paint in French Linen), painting several of them at once as long as the tape wouldn't overlap sections. Be sure to remove the FrogTape while the paint is still slightly dry so your lines will be more crisp.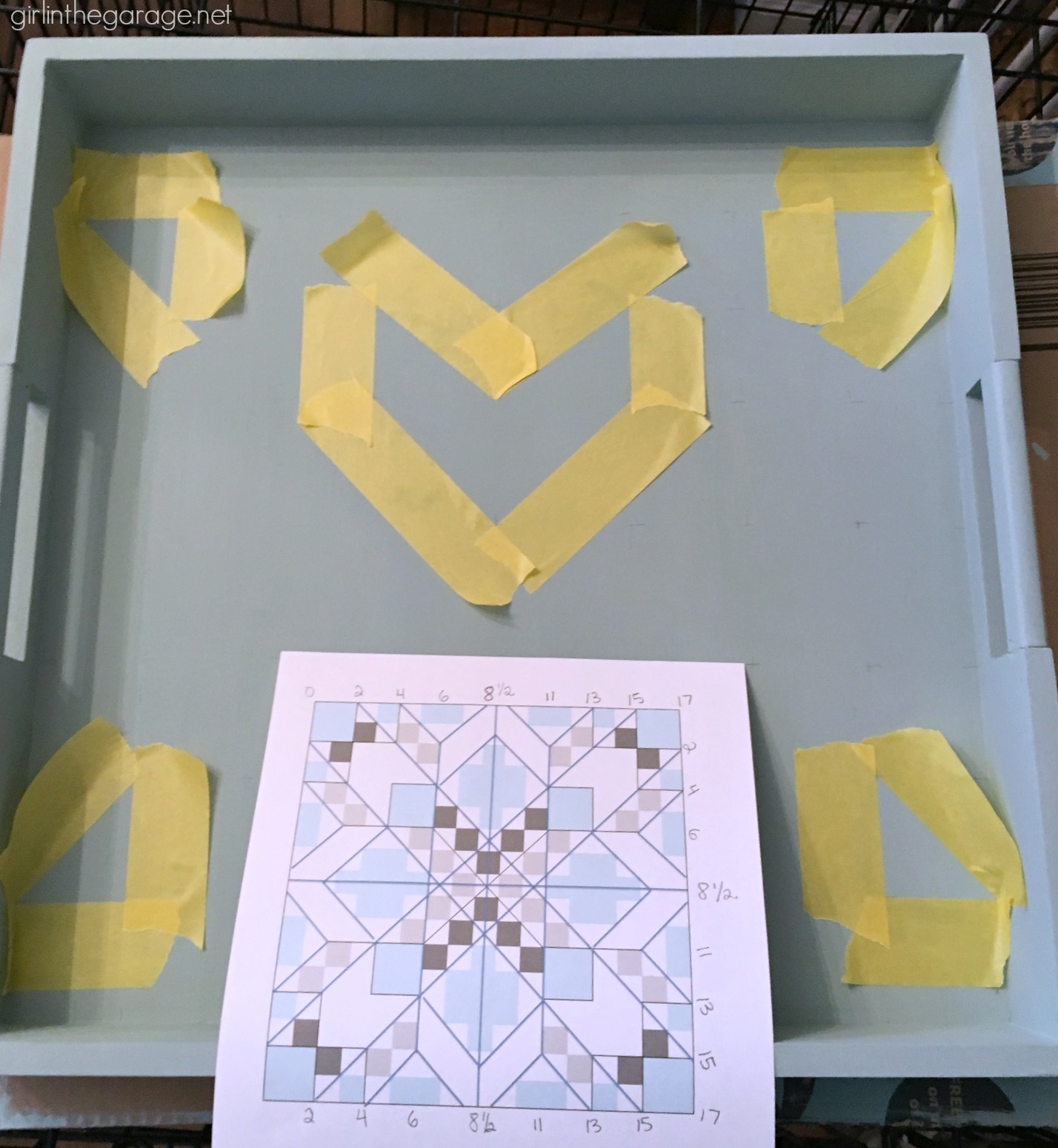 Curious about how to use Chalk Paint? All your questions are answered in this post: How to Chalk Paint Furniture: Beginner's Guide to Chalk Painting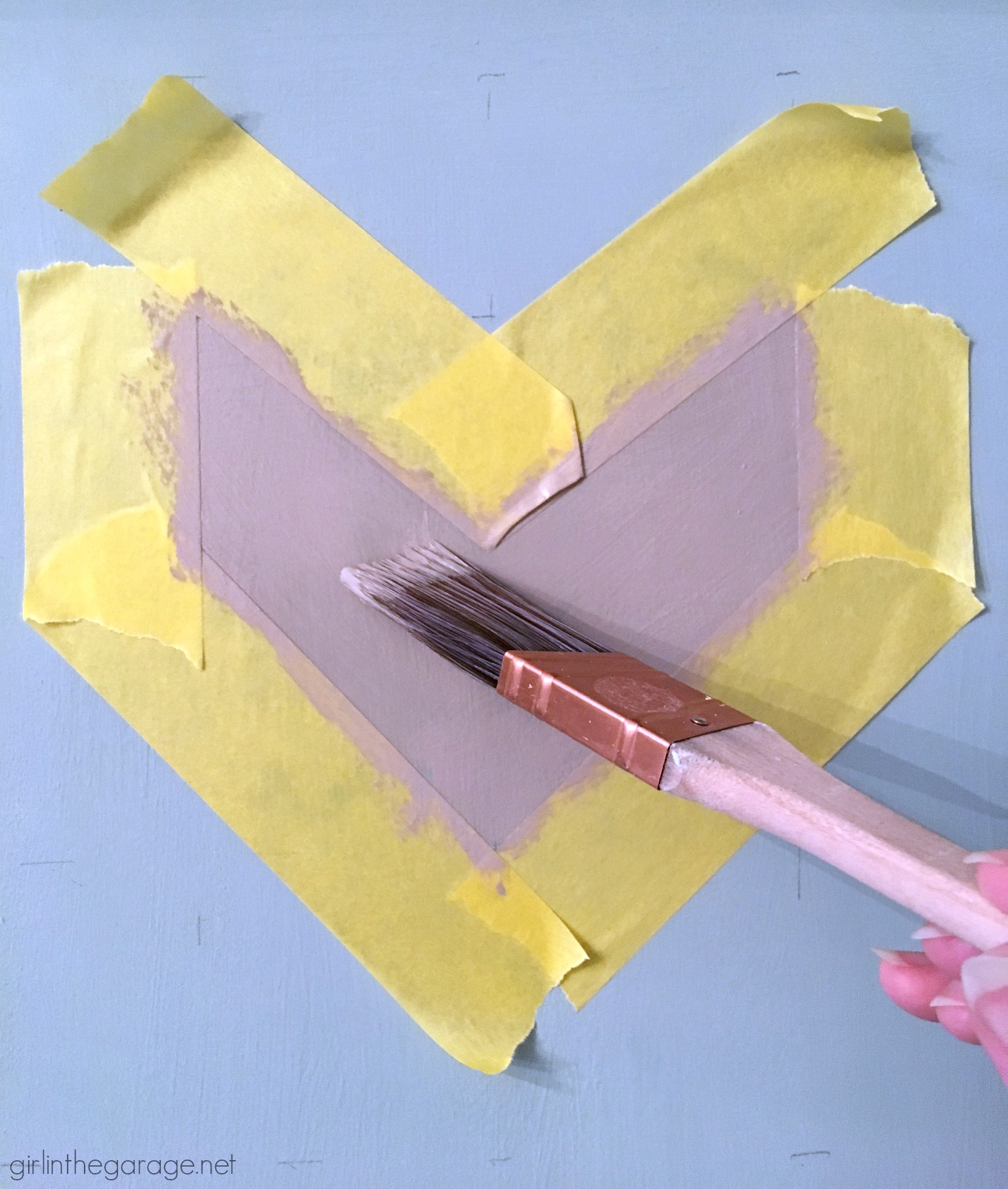 Next for the barn quilt tray I taped and painted the light gray areas (Annie Sloan's Chalk Paint in Paris Grey which has a hint of lavender color, especially on top of the blue paint).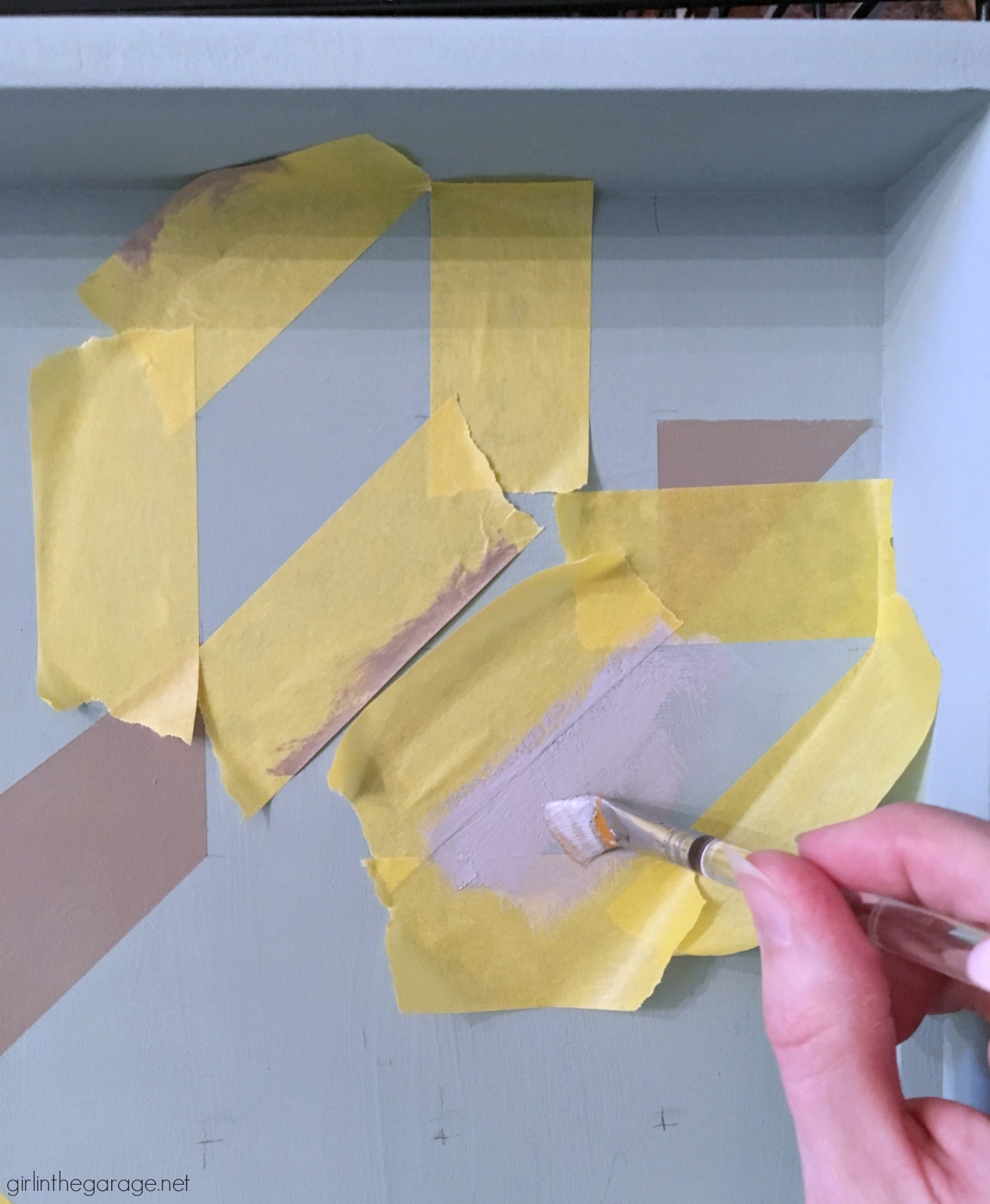 Then I went back and finished painting the rest of the dark gray areas.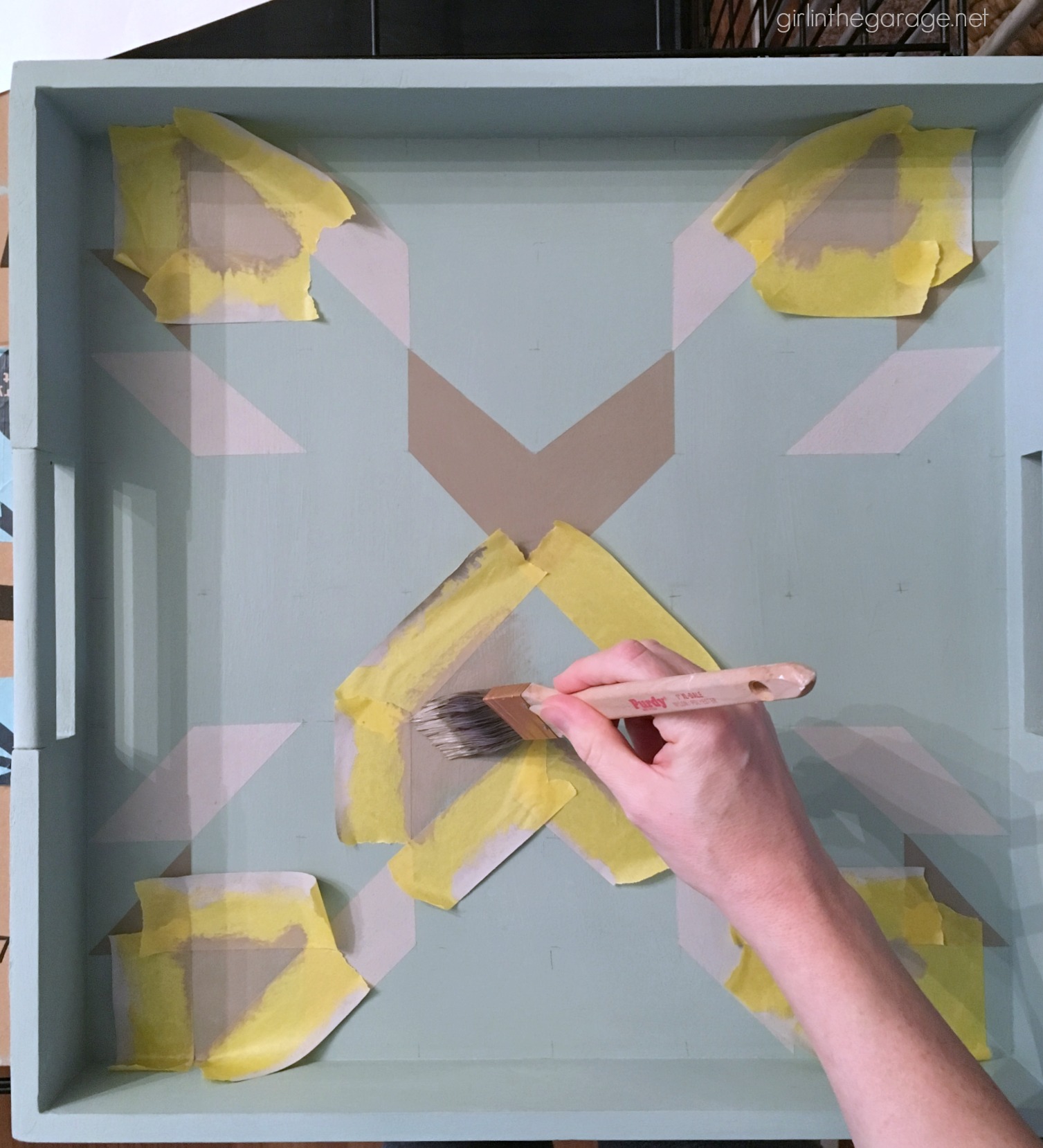 And then the rest of the light gray.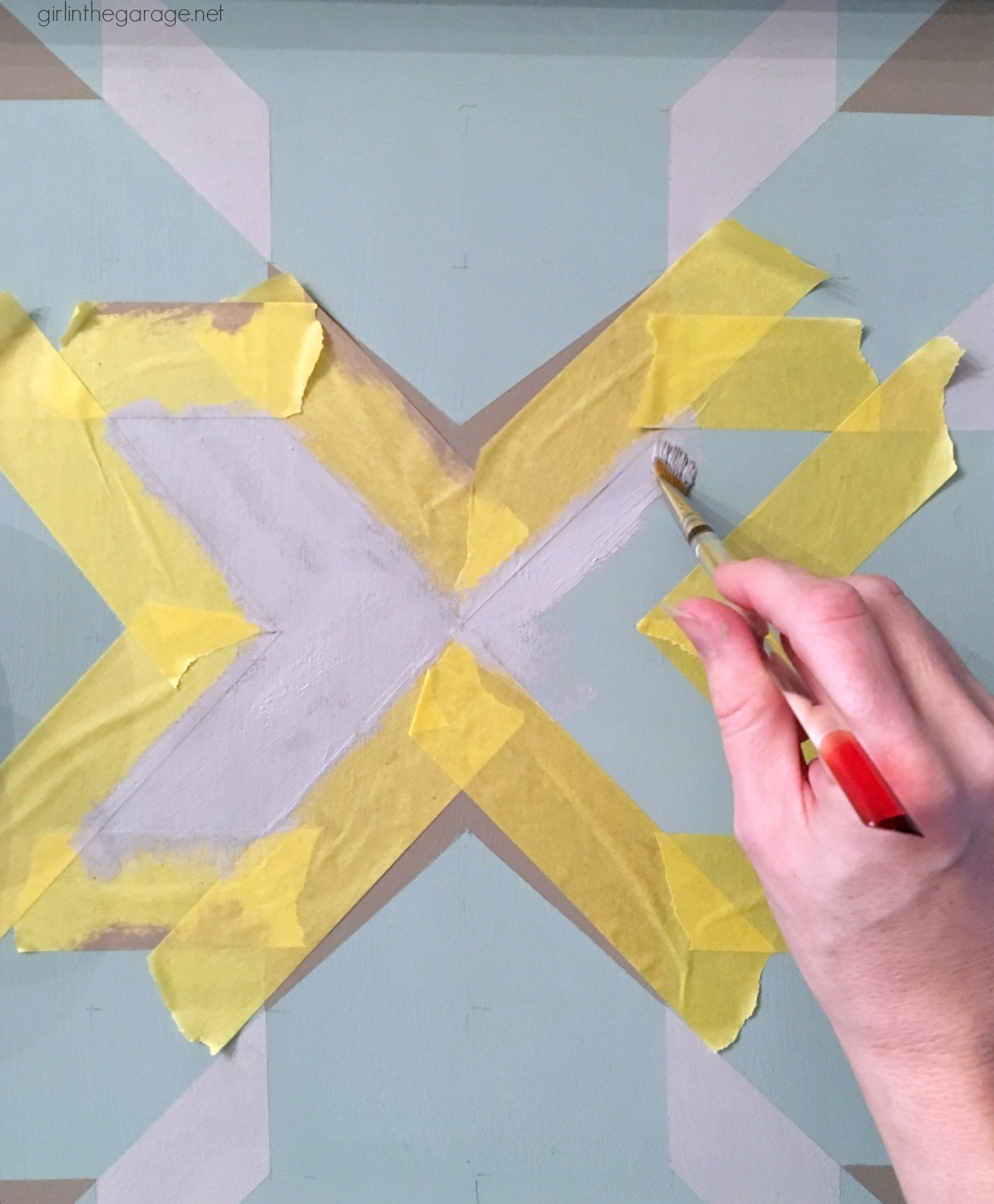 Phew, that's a lot of tape so far! If you plan to paint a barn quilt, make sure you have a decent amount of painter's tape.
It's not finished yet, but here's how it looks now (the light gray is still wet on the middle arrows).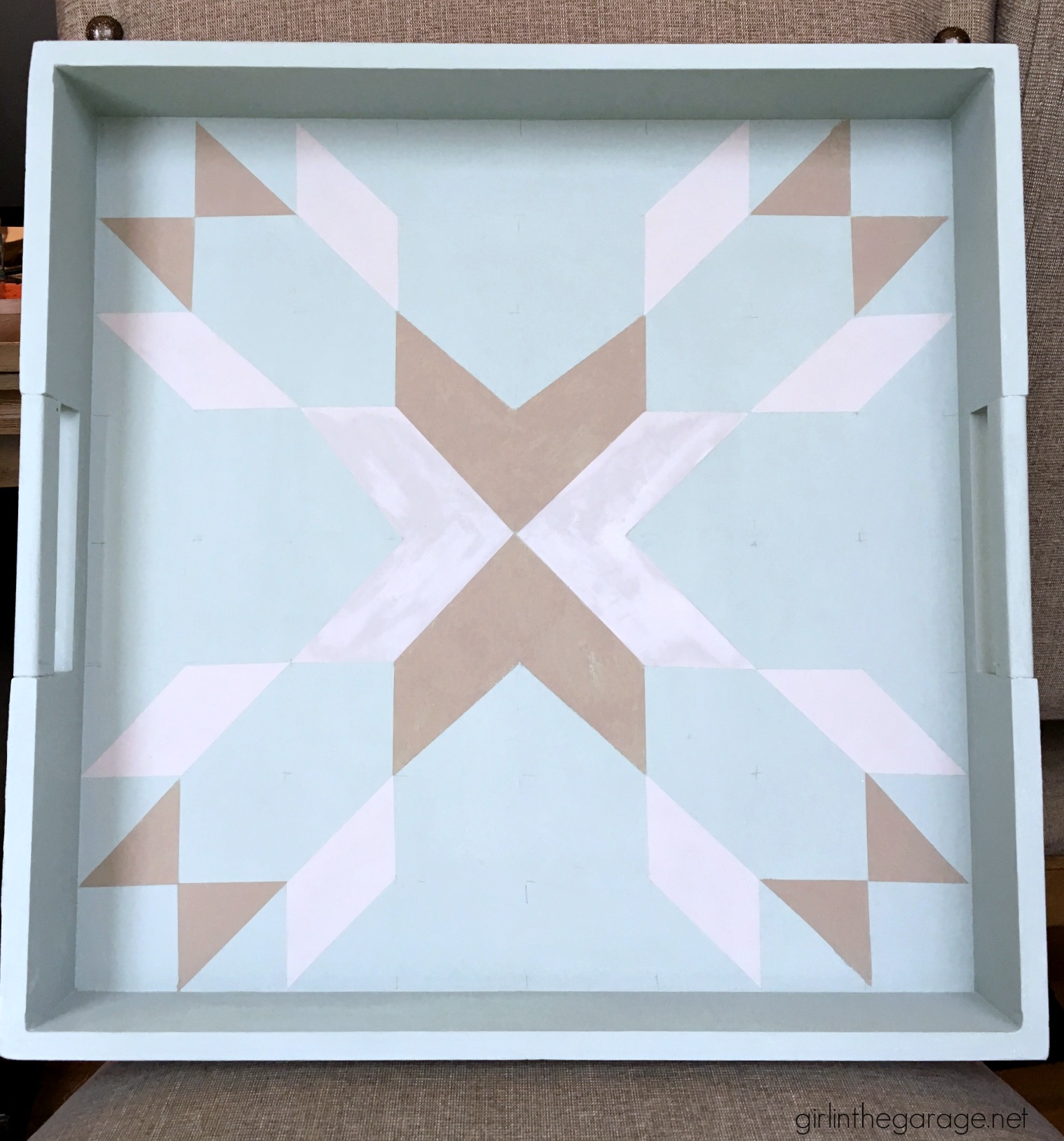 Finally, paint the white areas in two different sessions being sure not to overlap the tape. I used Annie Sloan's Chalk Paint in Old White.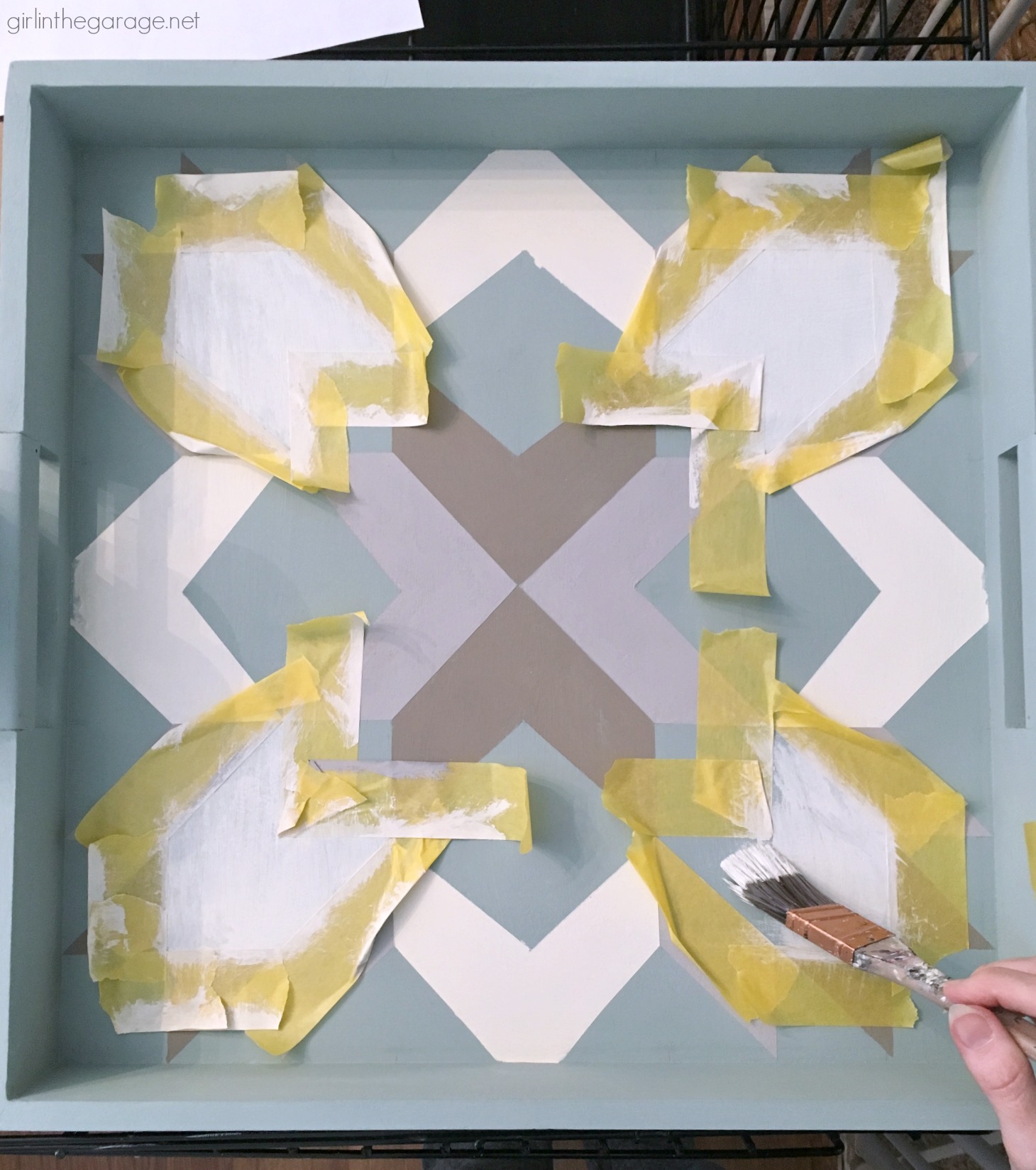 Touch up any little blemishes with a small artist's brush and then lightly sand with 320-grit sandpaper. Protect it with clear wax or any other non-yellowing topcoat. (Note: my barn quilt painted tray is not food safe.)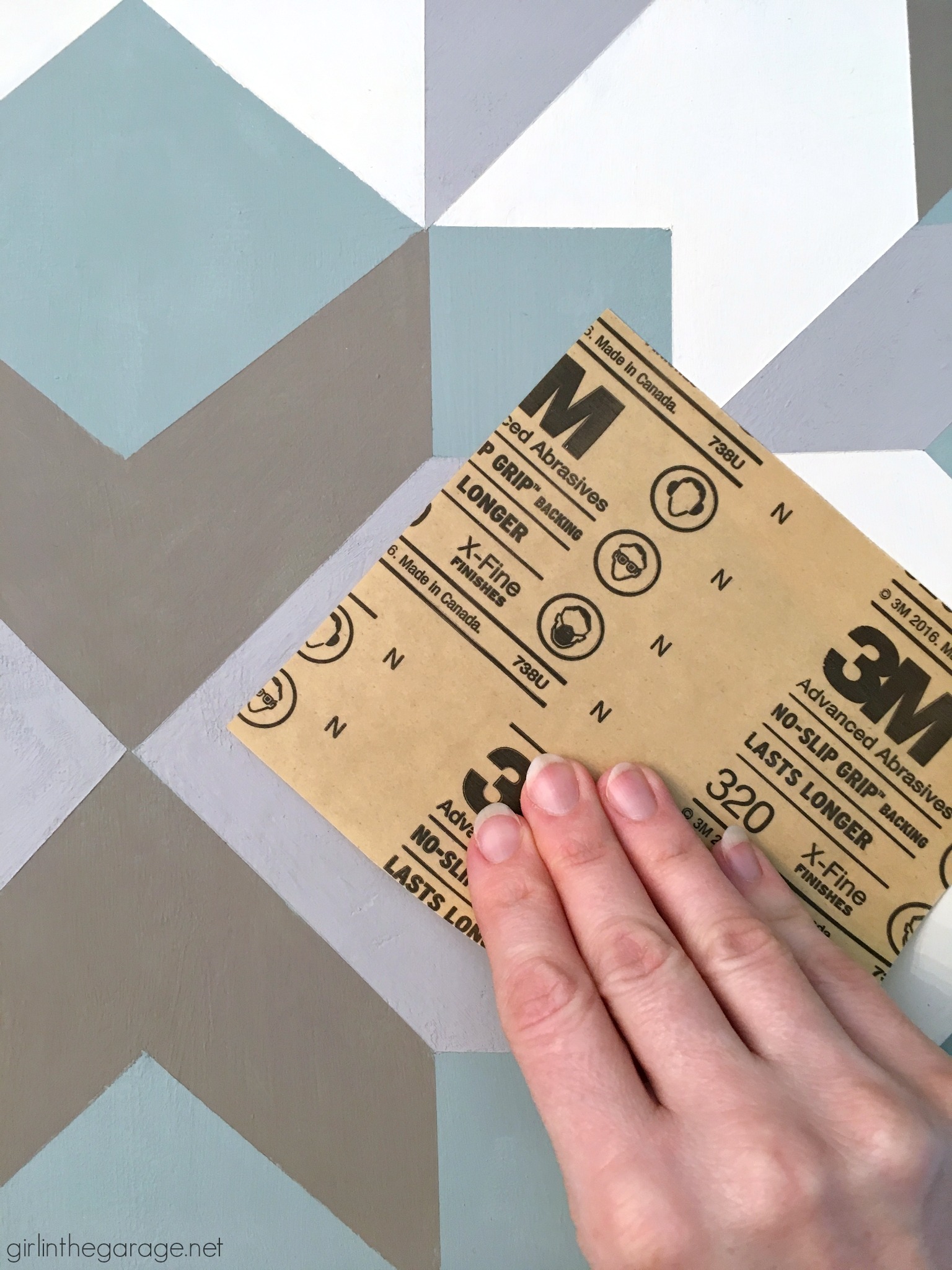 I love how this can be used standing up as an art piece or laying down as a tray!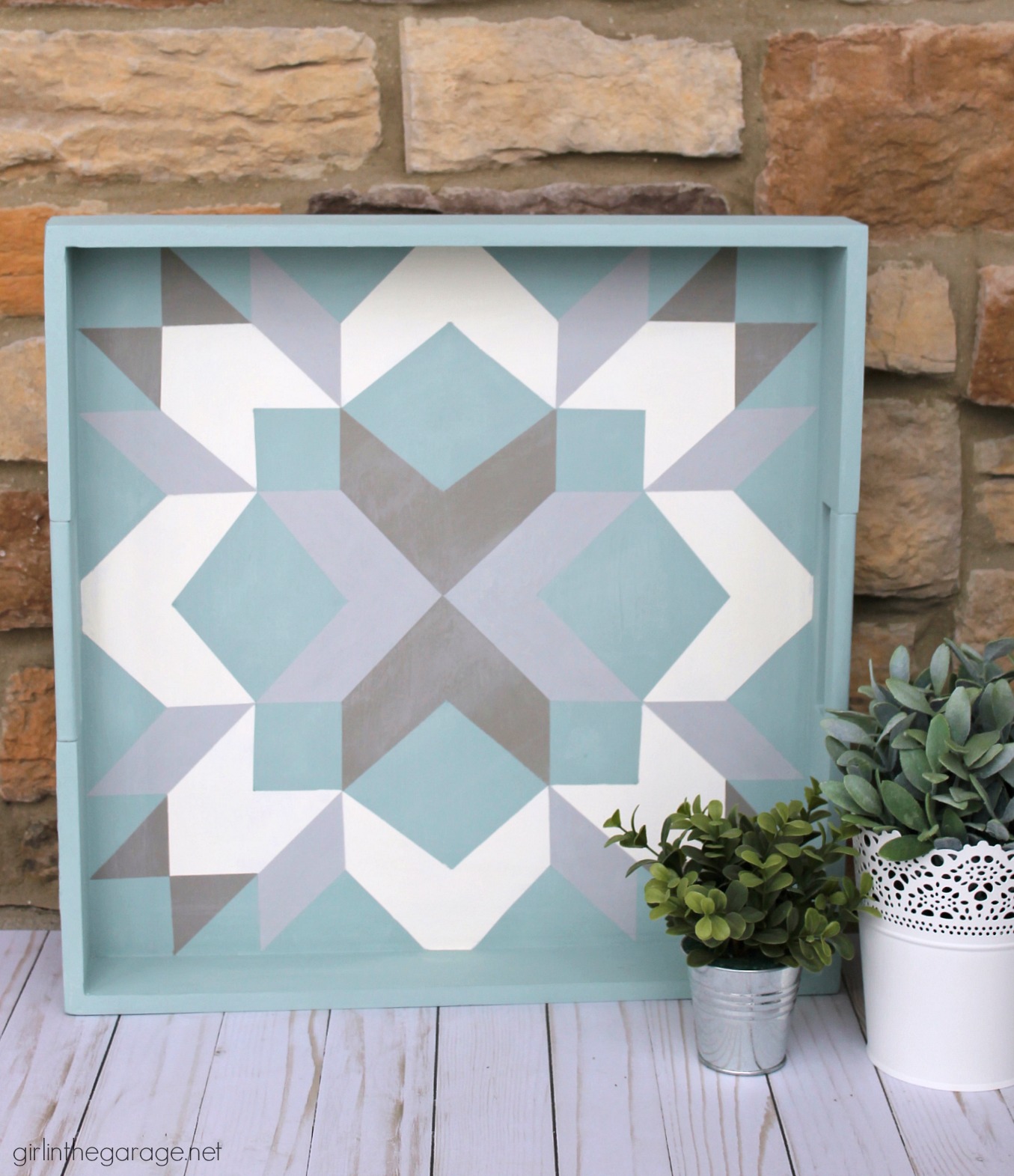 I've been into sewing a lot more lately since launching Thread and Cloth Studio (find my handmade cloth animal dolls on Instagram and Facebook), and I'd love to make a quilt someday. I have a lot of respect for people who do!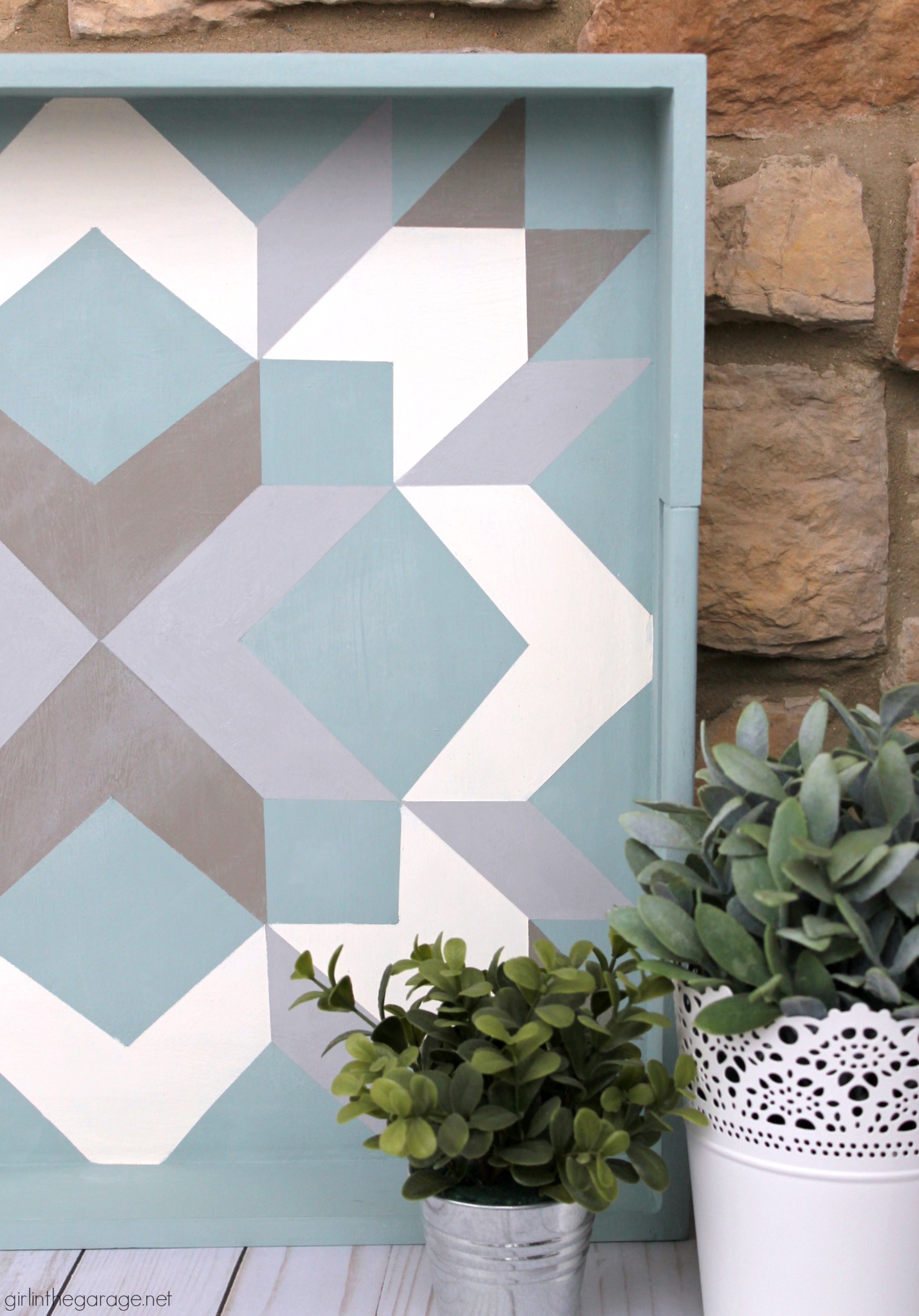 I did make a little mistake in measuring/marking but I don't think it's very noticeable – let's just say if I was making my own barn quilt art on a wood background I would make sure the sides were all an even width instead of odd.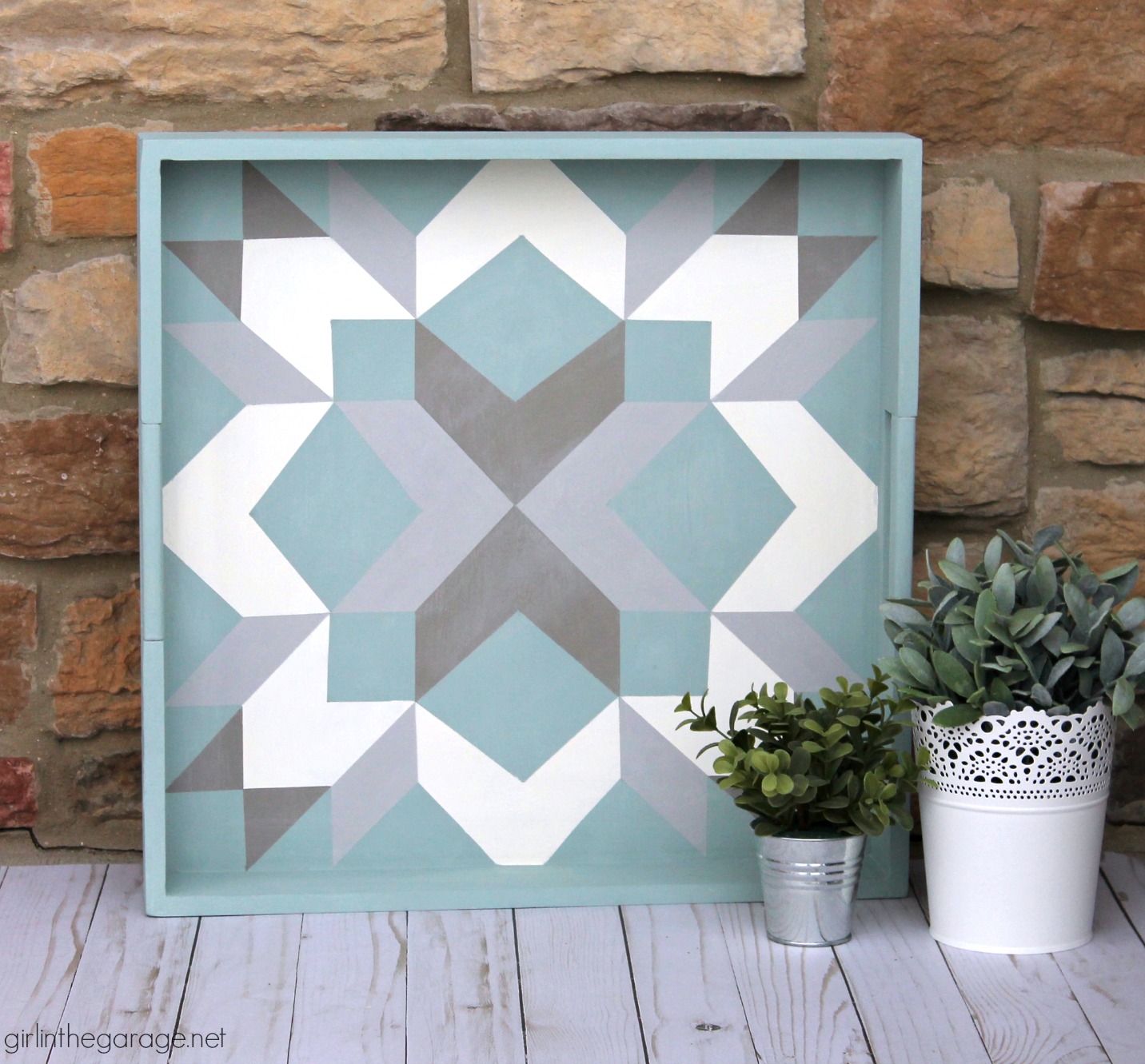 Here it is styled as a regular tray: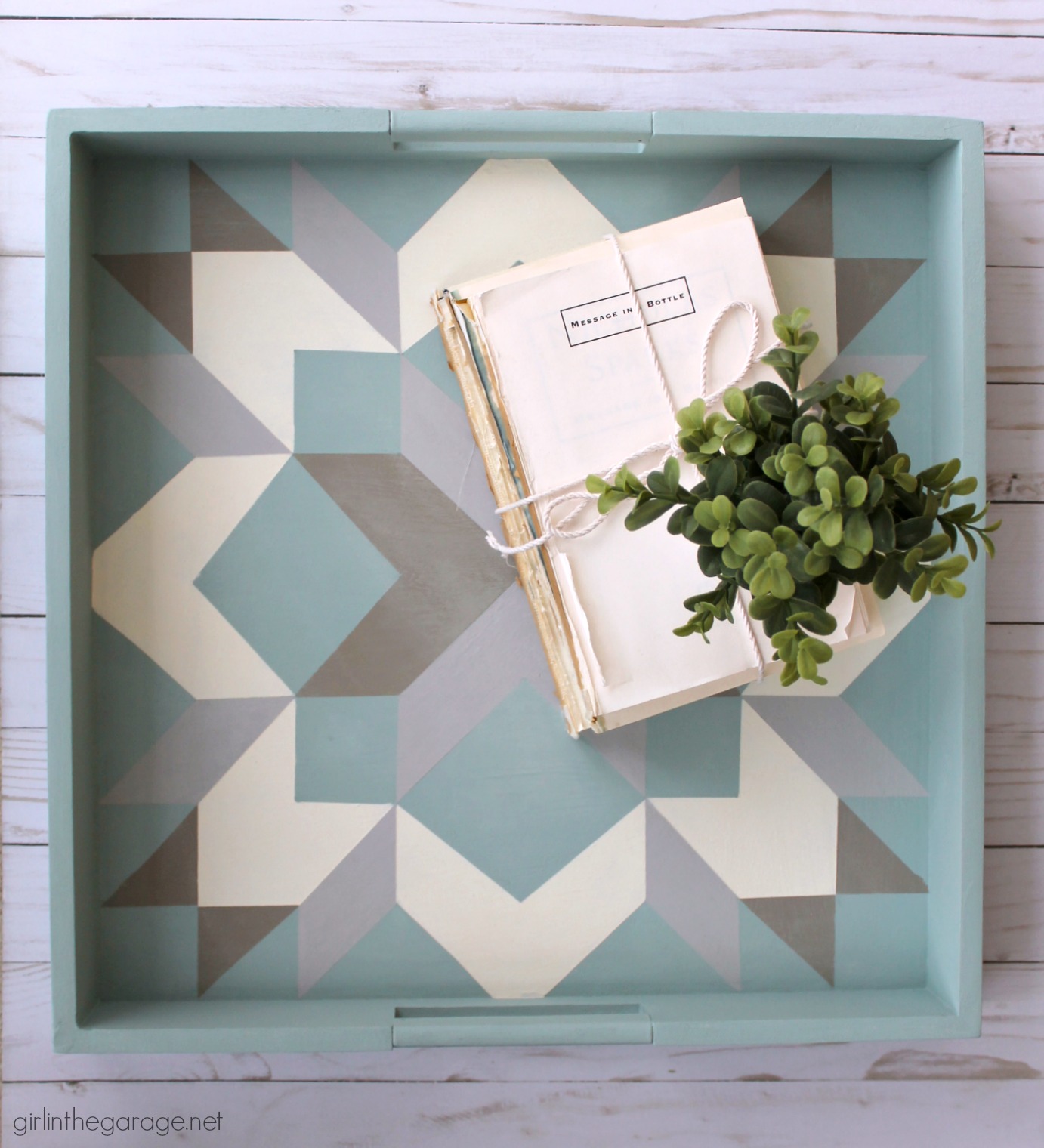 Here's a reminder of the before and after photos of How to Paint a Barn Quilt on a Thrifted Tray (feel free to Pin for easy access later):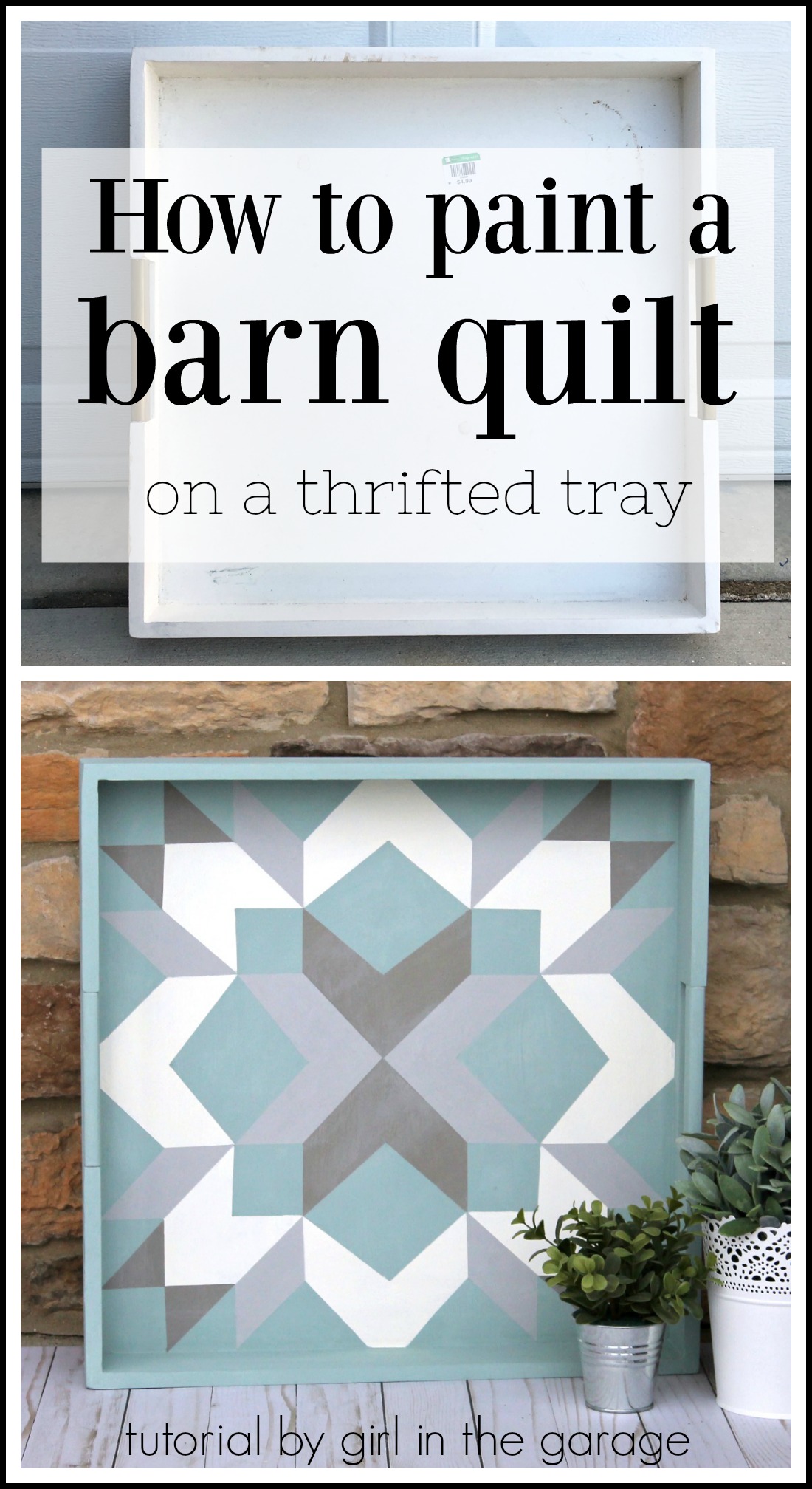 I'd love to know what you think of this $2.50 Goodwill tray makeover – and also let me know if you're familiar with barn quilts. I learned so much while researching this project! xo
*
And now it's time again for Trash to Treasure Tuesday with my girls: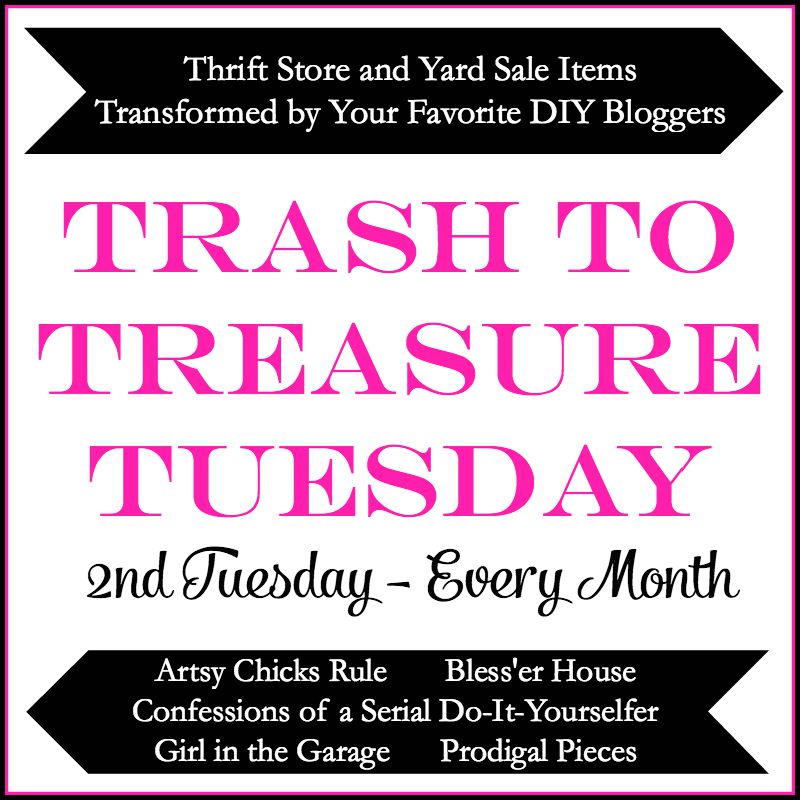 Below are the Before photos – visit the links underneath to see the amazing Afters and to learn how they did it!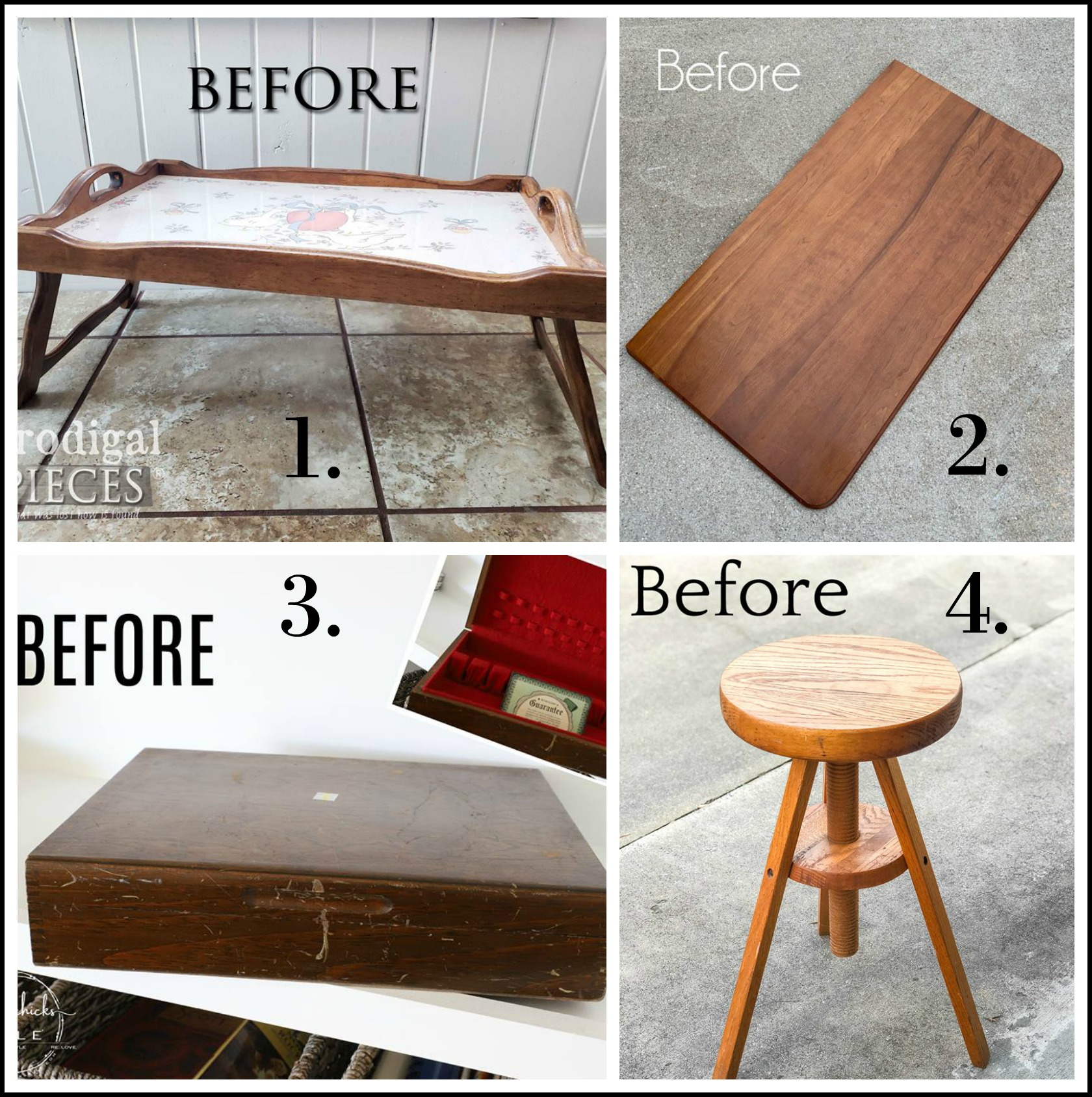 1. Prodigal Pieces
2. Confessions of a Serial DIYer
3. Artsy Chicks Rule
4. Bless'er House