Hello again, sweet friend. Today is Furniture Fixer Uppers day again with my talented blogging friends and I'm sharing the makeover of this interesting little storage cabinet and I'm showing you an easy way to paint furniture to look like stain.
Sound like fun? Good, let's get started!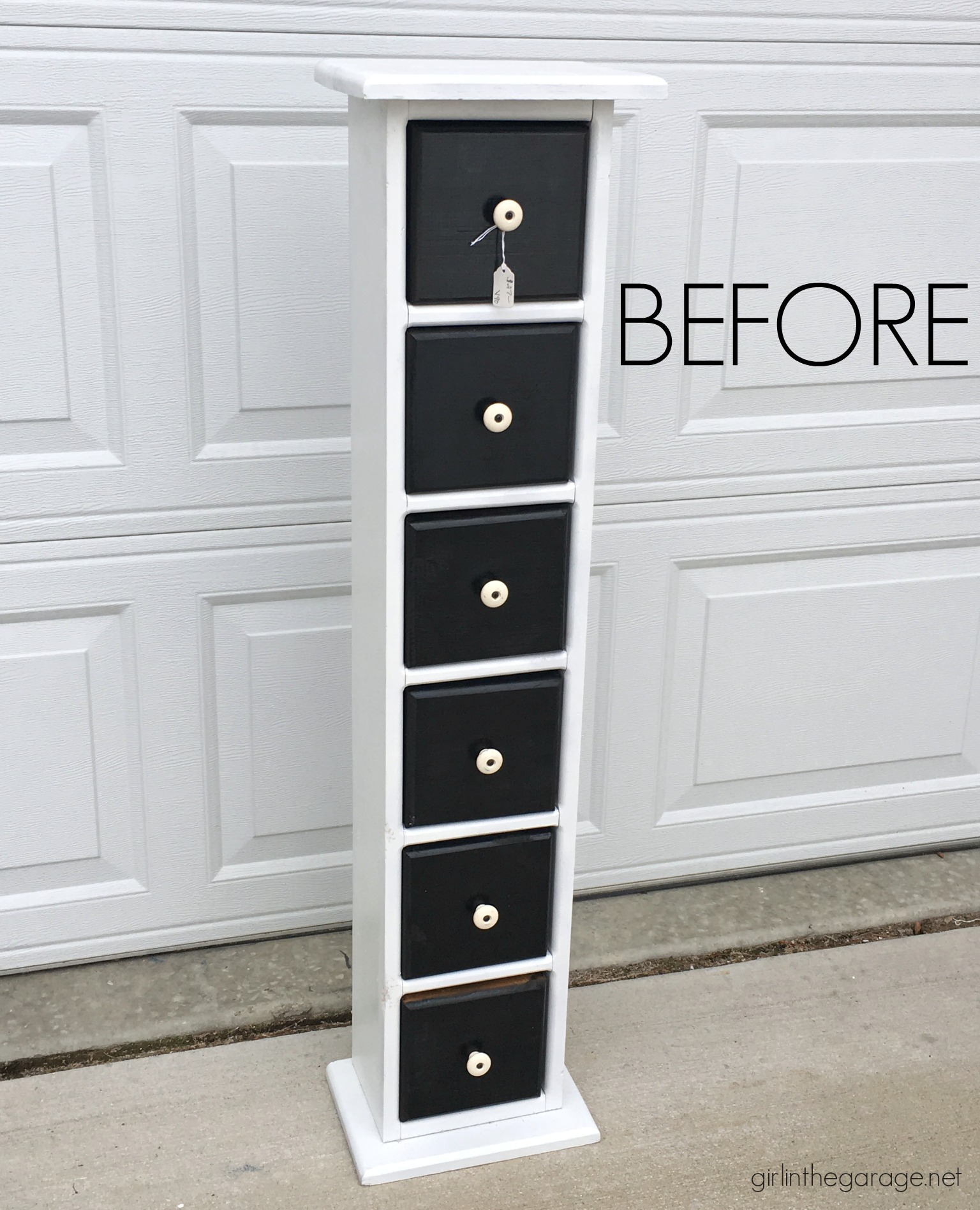 This piece was for sale in an antique shop for about $28.
It had great potential with all those drawers for storage, yet it would fit perfectly even in small spaces because of its narrow design.
*This post contains some affiliate links so you can easily find the products I use and recommend. Learn more about all of my favorite products and tools for doing DIY projects Here.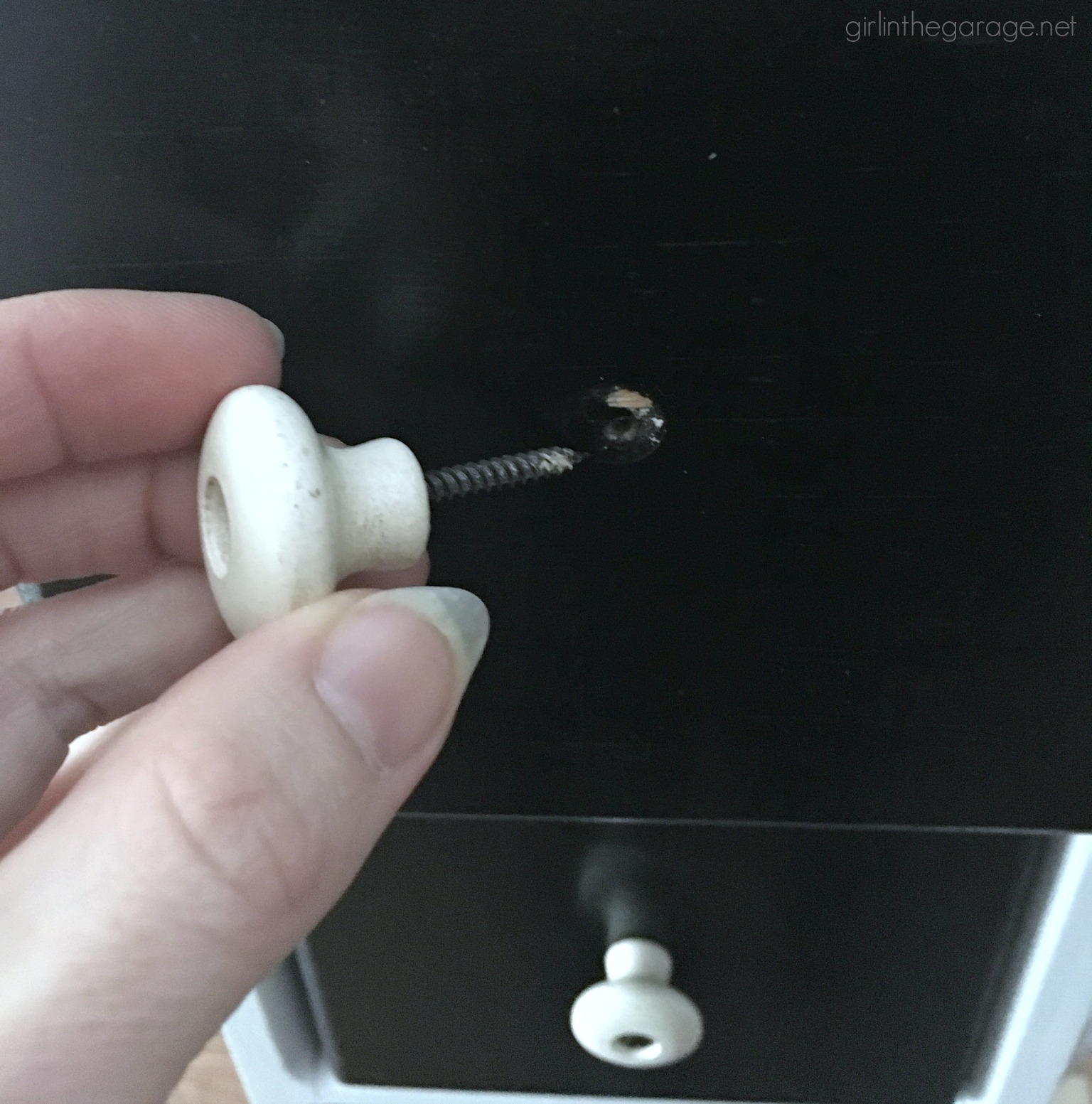 The first step was to remove all the old hardware. These were just screwed in with regular screws.
Then the holes were filled with wood filler and left to dry for a few hours.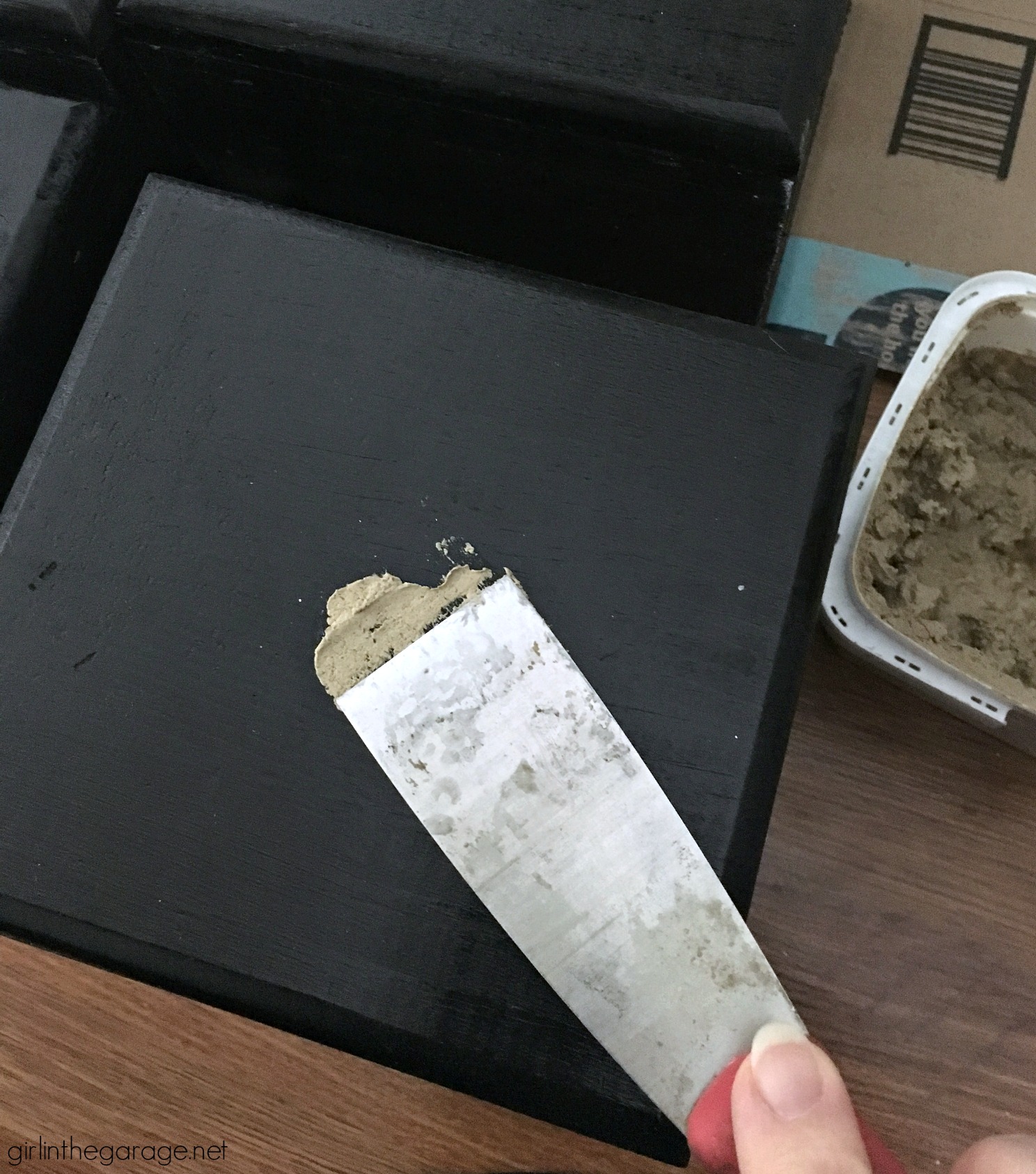 The drawers were sanded over with 220-grit sandpaper – not just the middle where the dried wood filler was, but all over to de-gloss the original paint so the new paint could adhere better.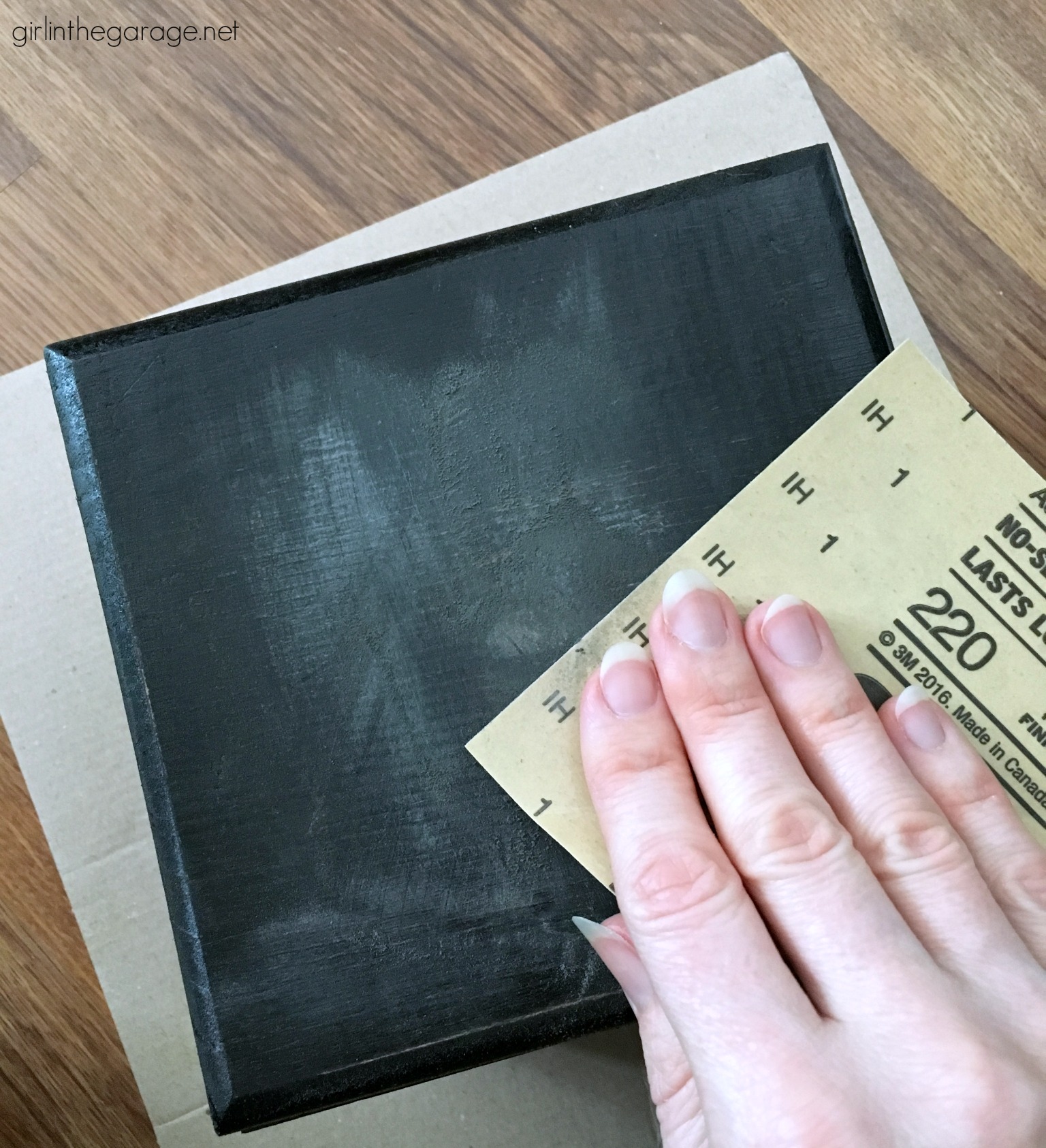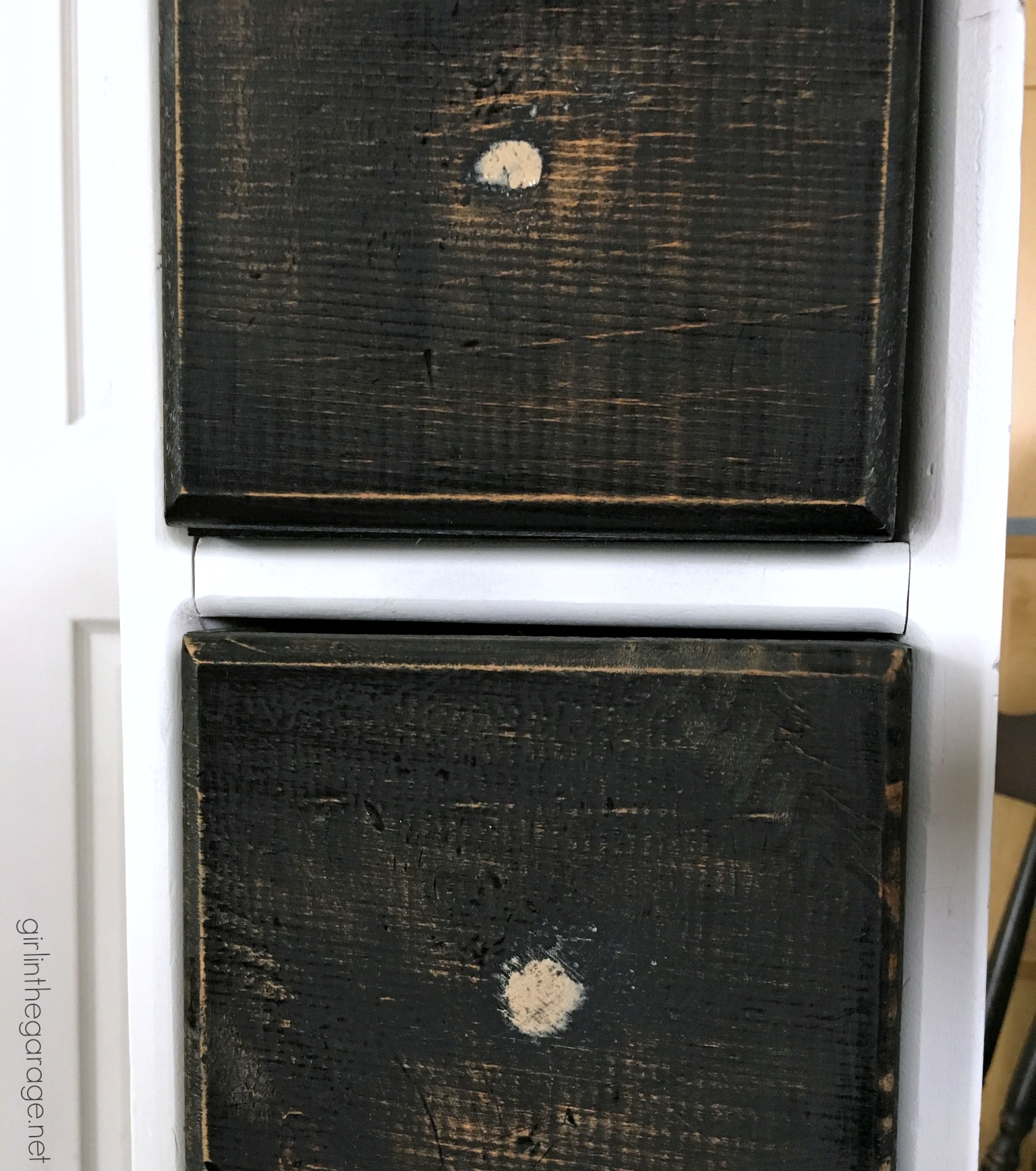 How to Paint Furniture to Look Like Stain
Next I painted everything in Annie Sloan Chalk Paint in Graphite with my favorite Purdy paintbrush to cover the white and so the base coat would be the same all over.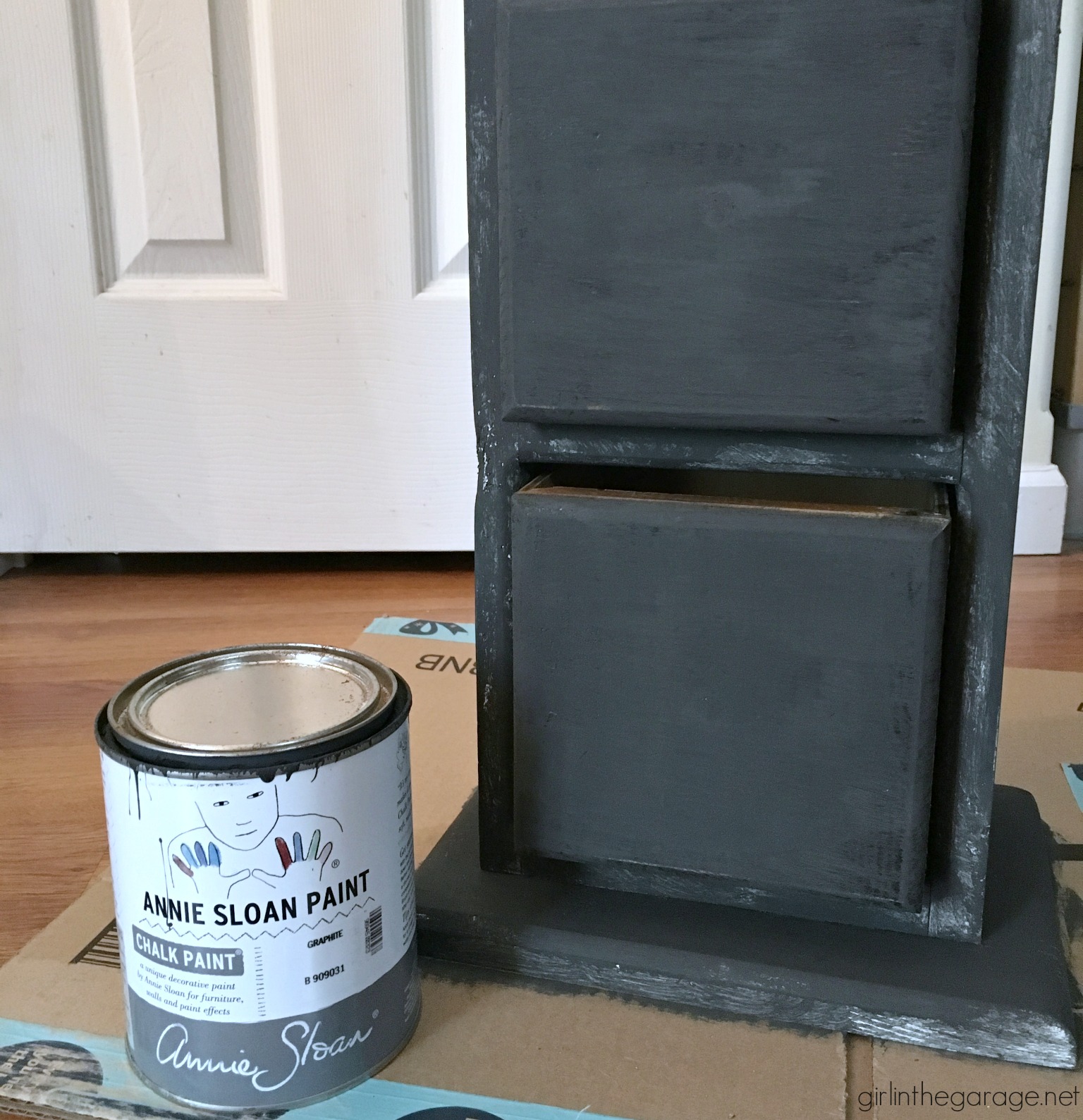 The next step in painting furniture to look like stain is to paint the piece brown – in this case, Chalk Paint in Honfleur.
Let me tell you, for a long time I wouldn't try brown paint because I thought it was really odd that someone would paint their furniture brown. I mean, it was brown wood to start with, so what's the point of painting it brown?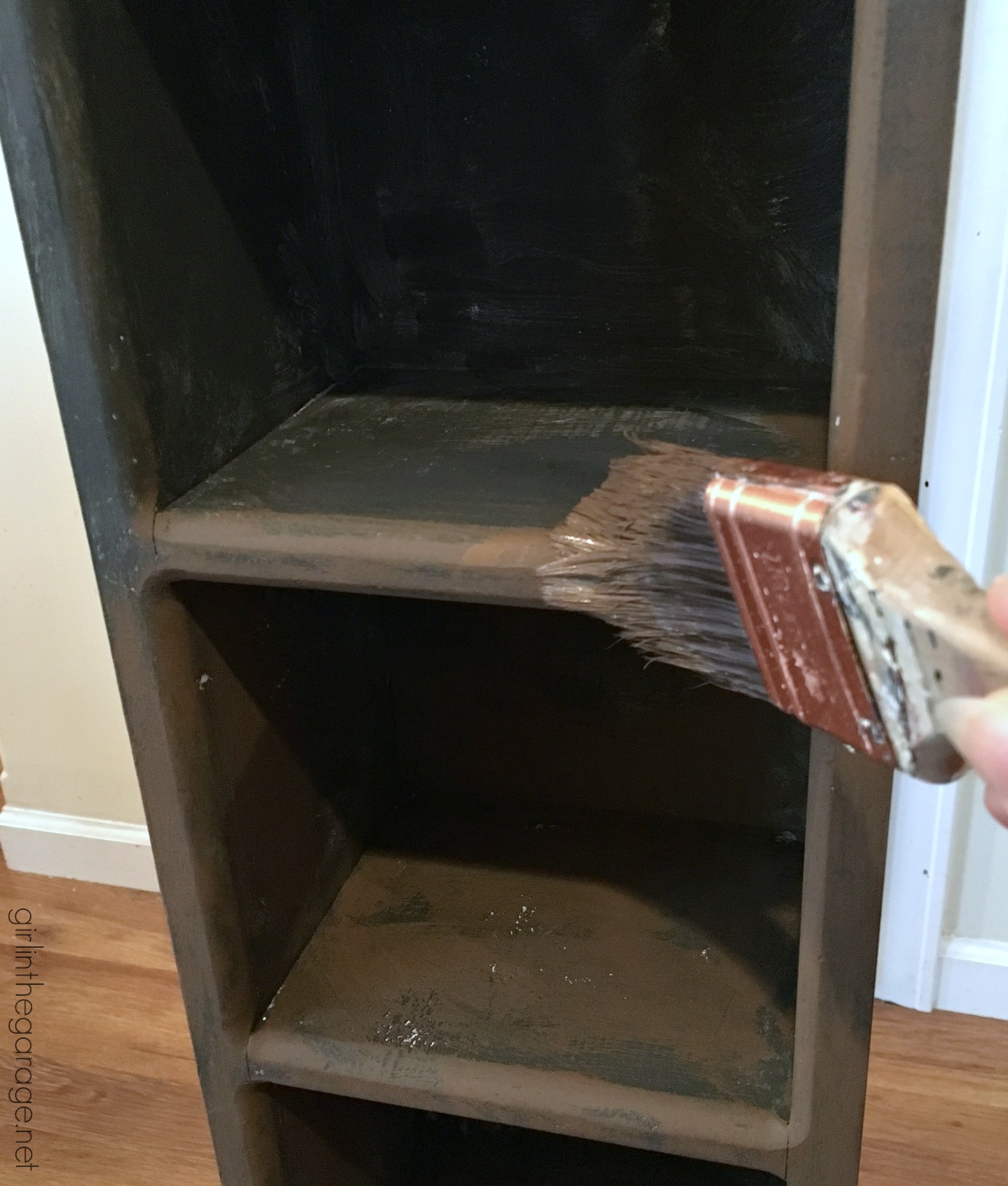 Then I bought Honfleur to use in one of the furniture makeovers for my book Amazing Furniture Makeovers. It's actually a project where I paint a midcentury laminate dresser with a faux stain finish, and it's a more advanced and detailed tutorial than today's project (this is the cheater version, haha).
Needless to say, I've become a fan of using brown paint in some projects like this one to look like stain.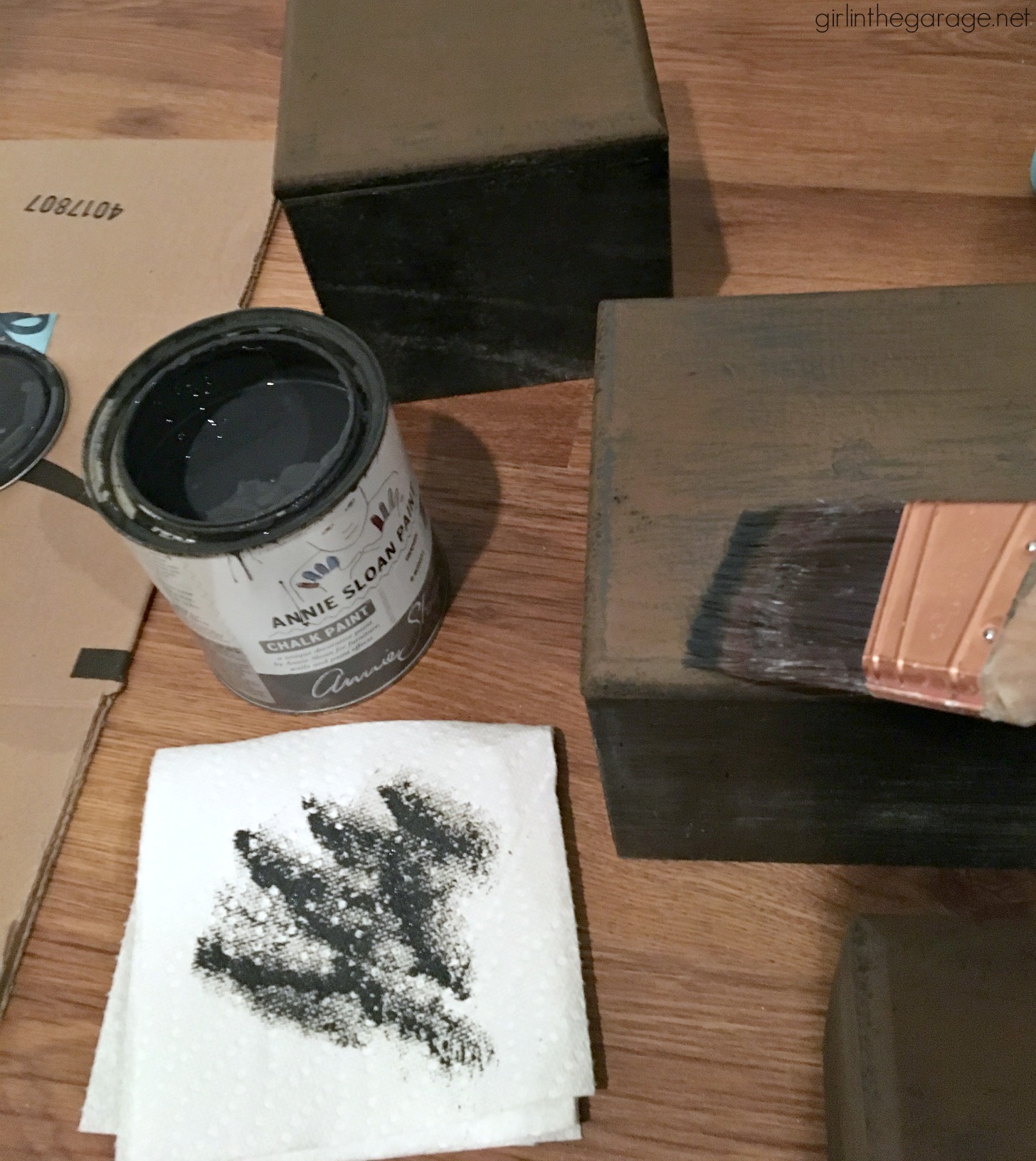 Finally, lightly dry brush the Graphite paint back over the Honfleur for a textured, woodgrain effect. Keep going until you're happy, and if you add too much, then dry brush some Honfleur back over it again. (Here's more info on dry brushing.)
Since we were having a winter ice storm outside and I was working on this in my kitchen, I didn't do much sanding between coats. You can sand as much or as little as you want for a smoother or more textured appearance.
Follow up with a topcoat like Annie Sloan's black wax and a lint free cotton cloth for a more aged, rustic finish.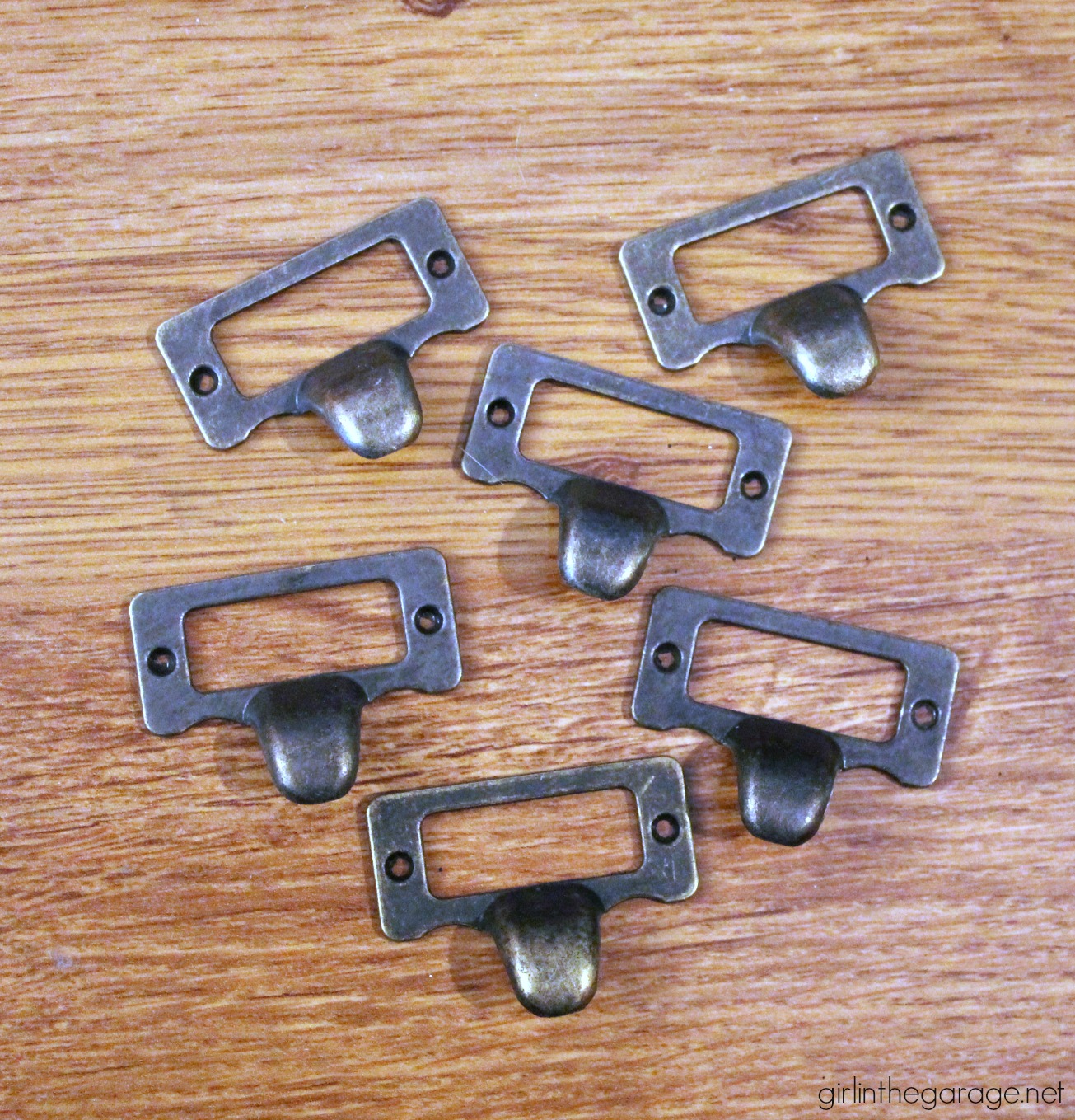 Finally: Card catalog drawer pulls! If you've been following me for any length of time you know how I looooooove a good faux card catalog. And they usually sell pretty well in my booth, so why not?
The square drawers and the faux stain finish are perfect for this type of furniture makeover.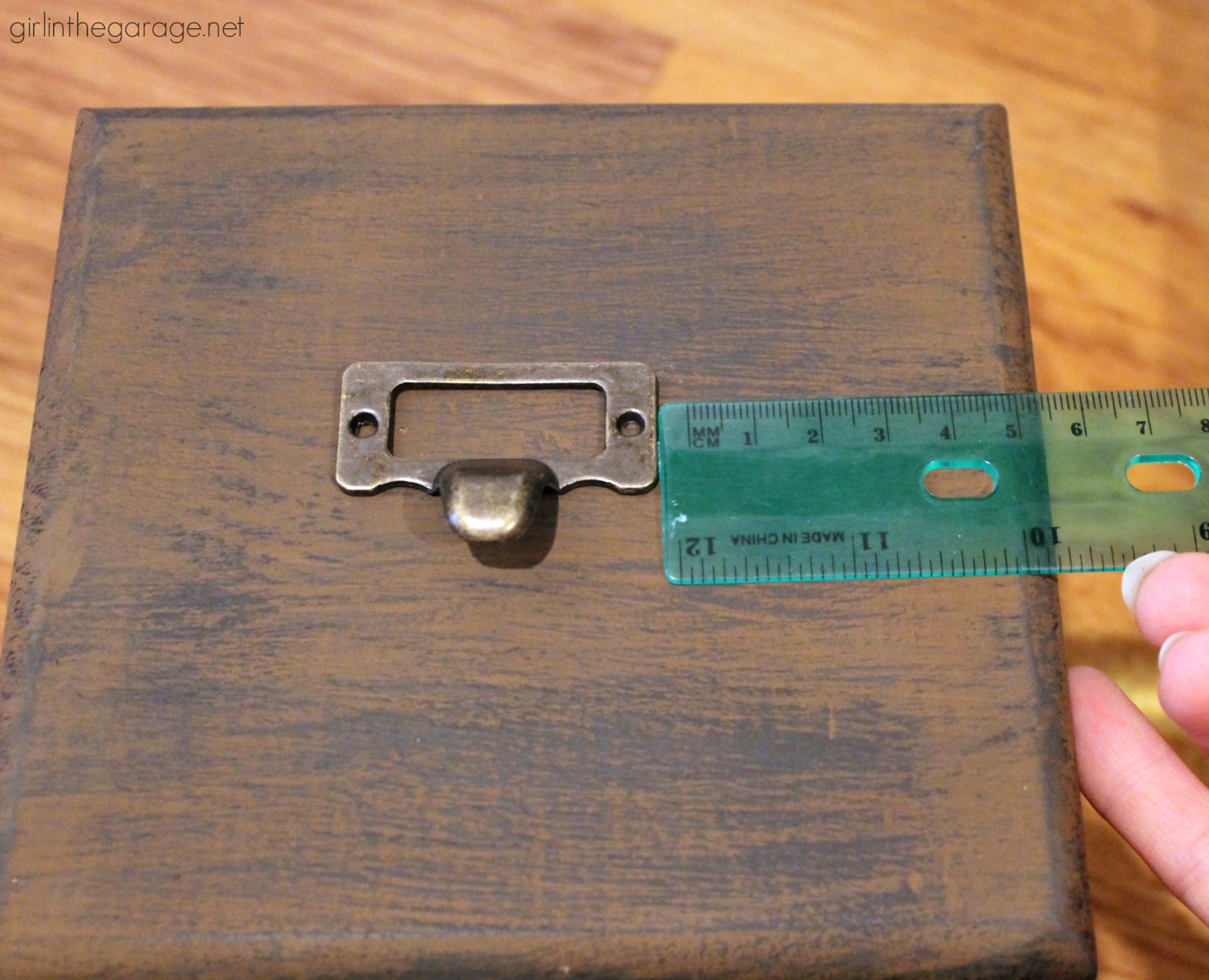 You can buy a pack of these card catalog pulls online Here for quite cheap, and they also come with the little screws you need.
Measure where you want the pulls to go, usually near the center of the drawer. Then use a nail or long screw to mark the spot through each of the holes, in case you bump the pull then you won't have to re-measure again. (Oops!)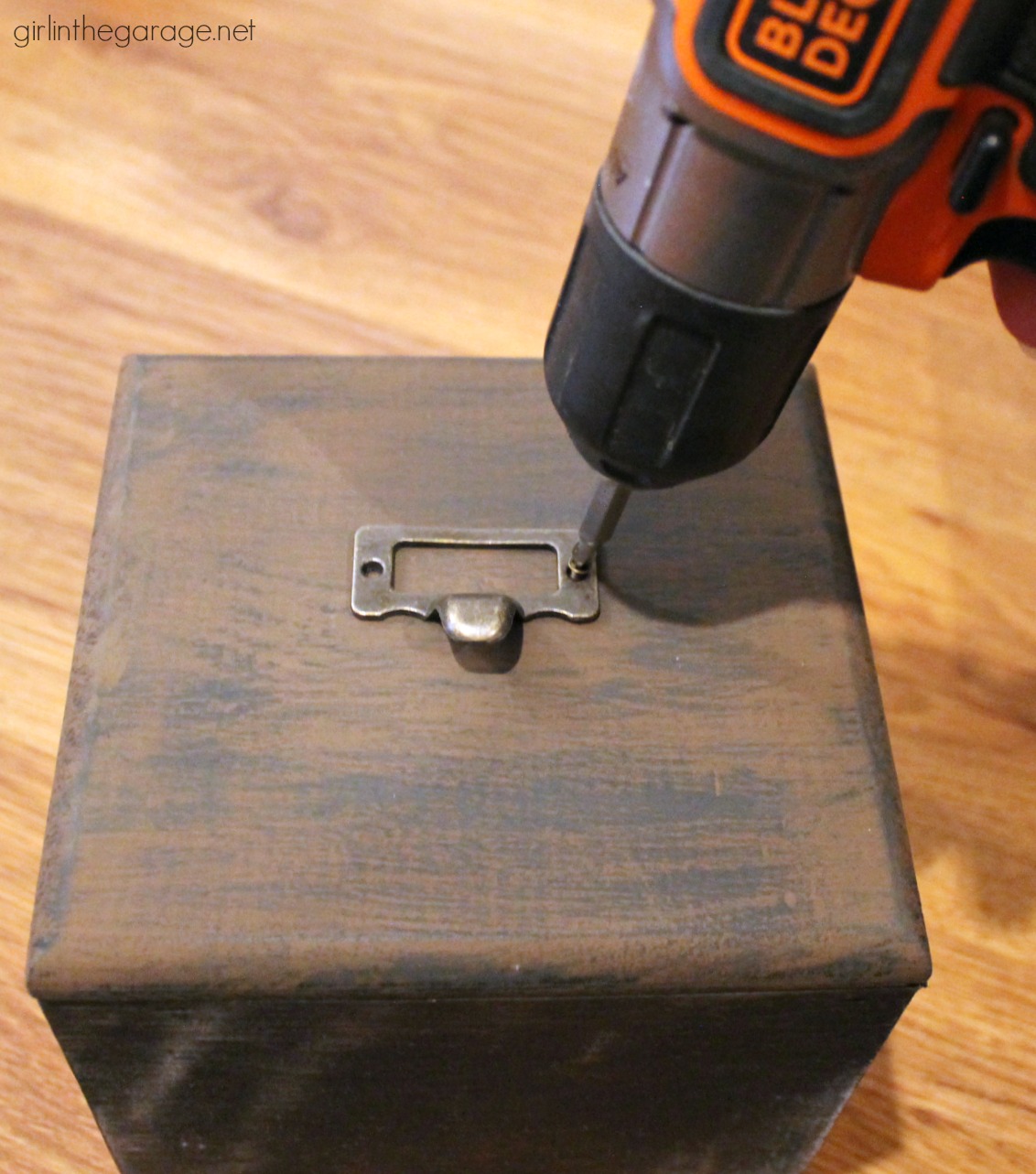 The screws went in super fast with my cordless drill/driver, plus no arm cramps from turning a screwdriver countless times.
Here's the finished DIY faux card catalog using paint that looks like stain: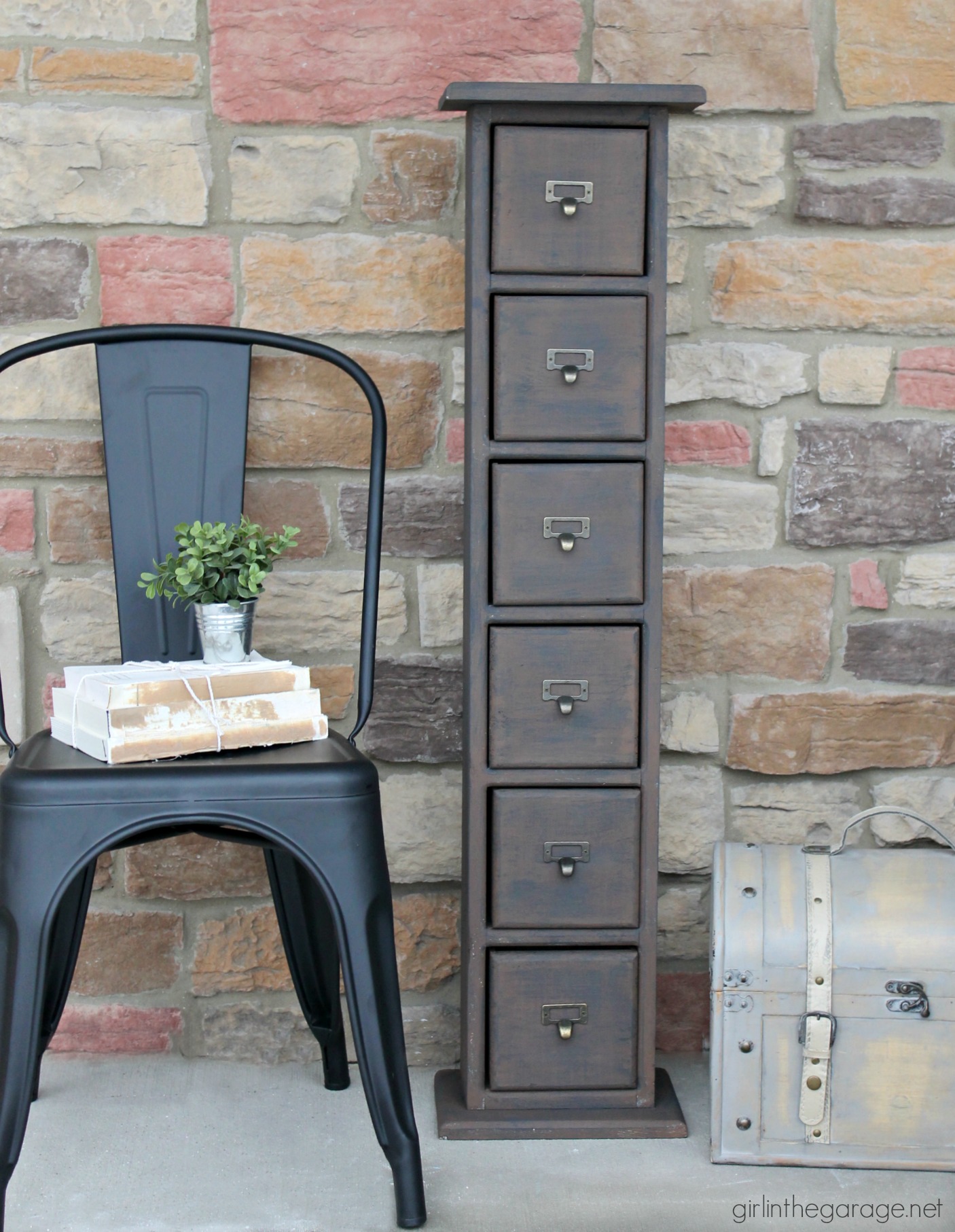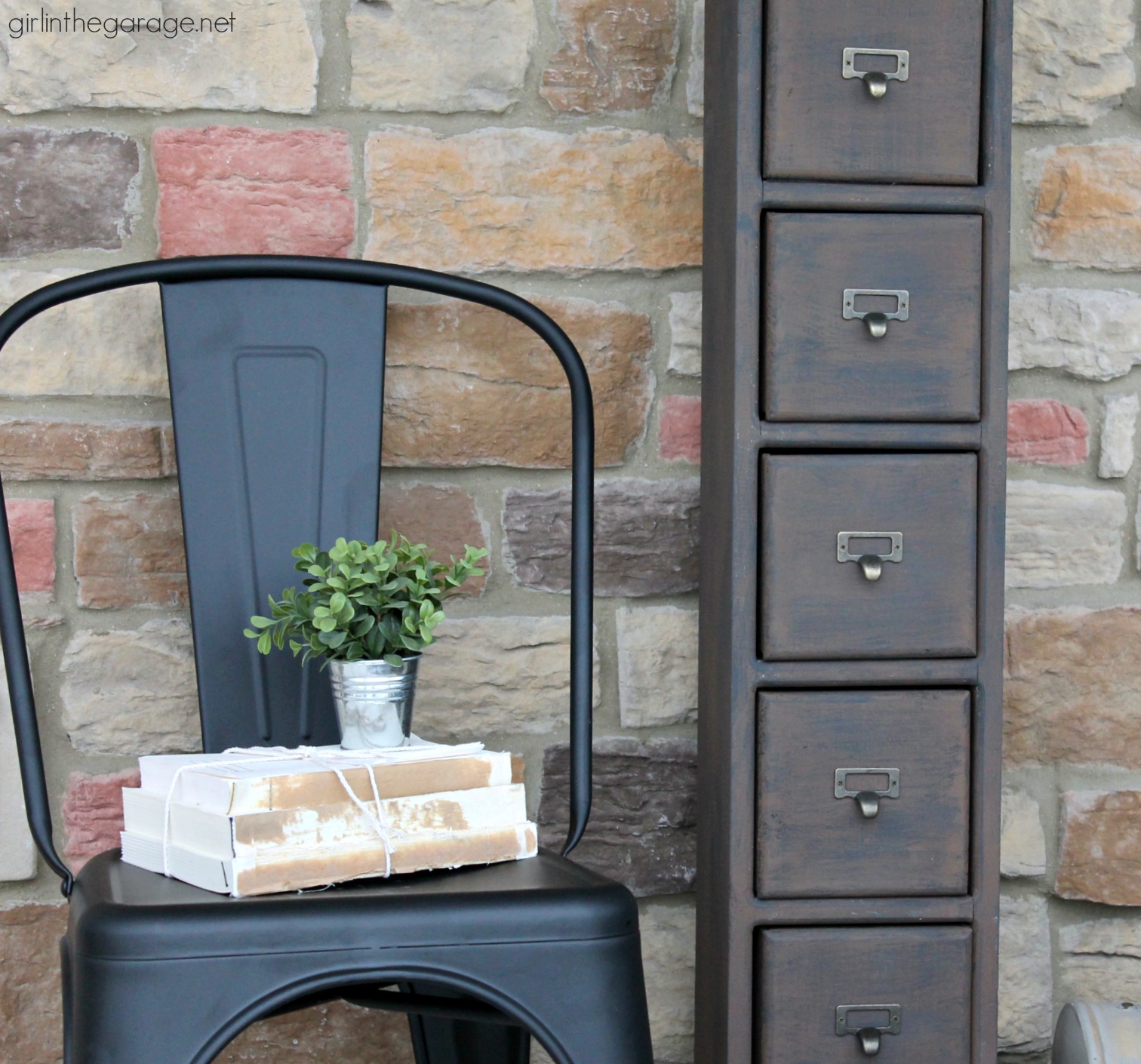 Why would anyone want to paint a faux stain finish instead of actually using stain? There are a few reasons:
You might not be working in an area where you can get really messy and have strong odors like stain produces. (Inside the house, no proper ventilation, etc.)

Your furniture might not be real wood, but you want the look of stain. (Like the dresser makeover I mentioned earlier in my book.)

You might be nervous to try stain, for fear that it won't turn out or you just don't know how to use it. Truthfully I don't work with stain much; Guy in the Garage usually handles the stain projects for me. (Update: I'm not scared of stain anymore! Learn all about how to stain wood furniture here.)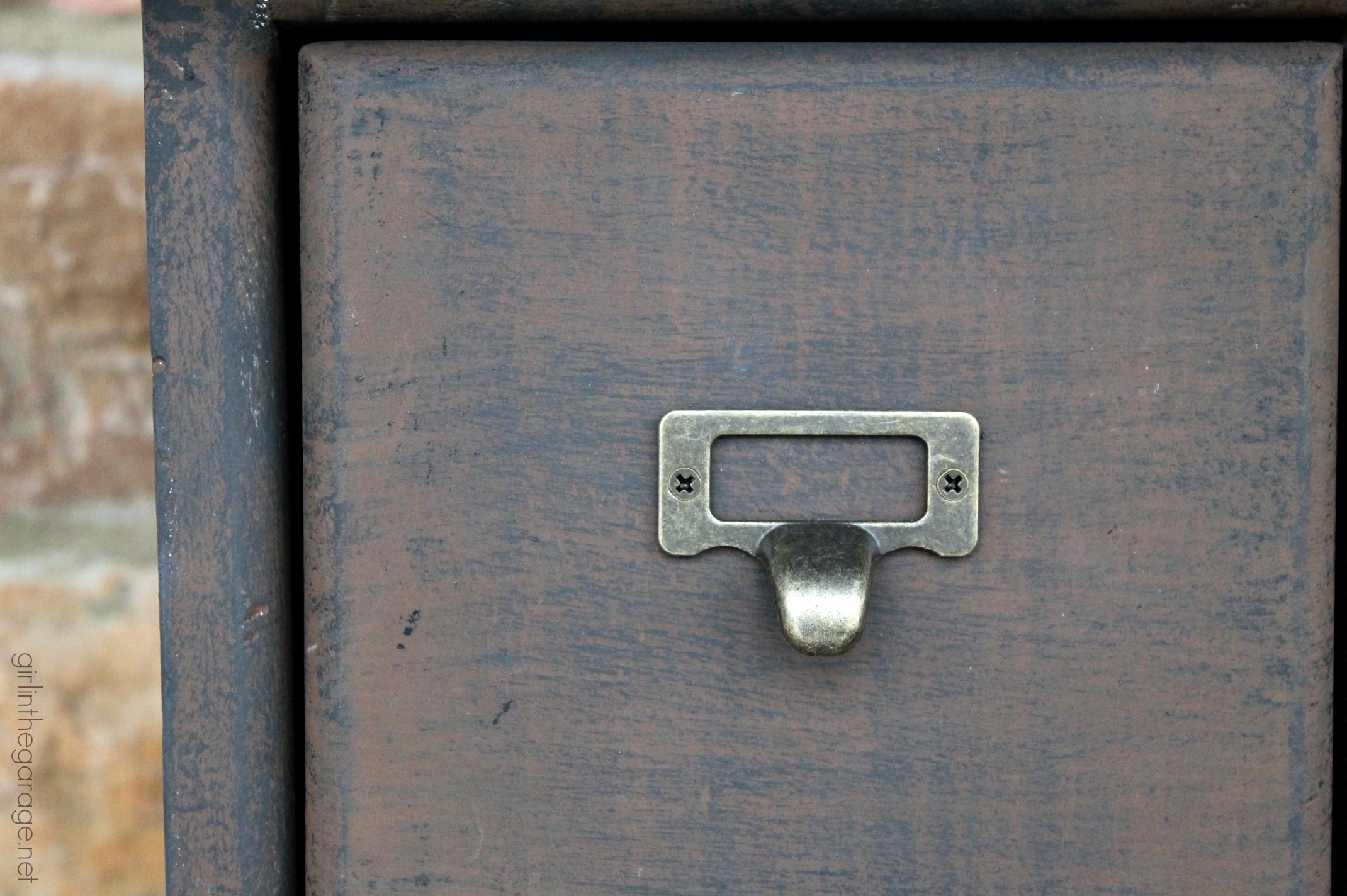 For as easy as this technique is, I think it's a pretty good fake!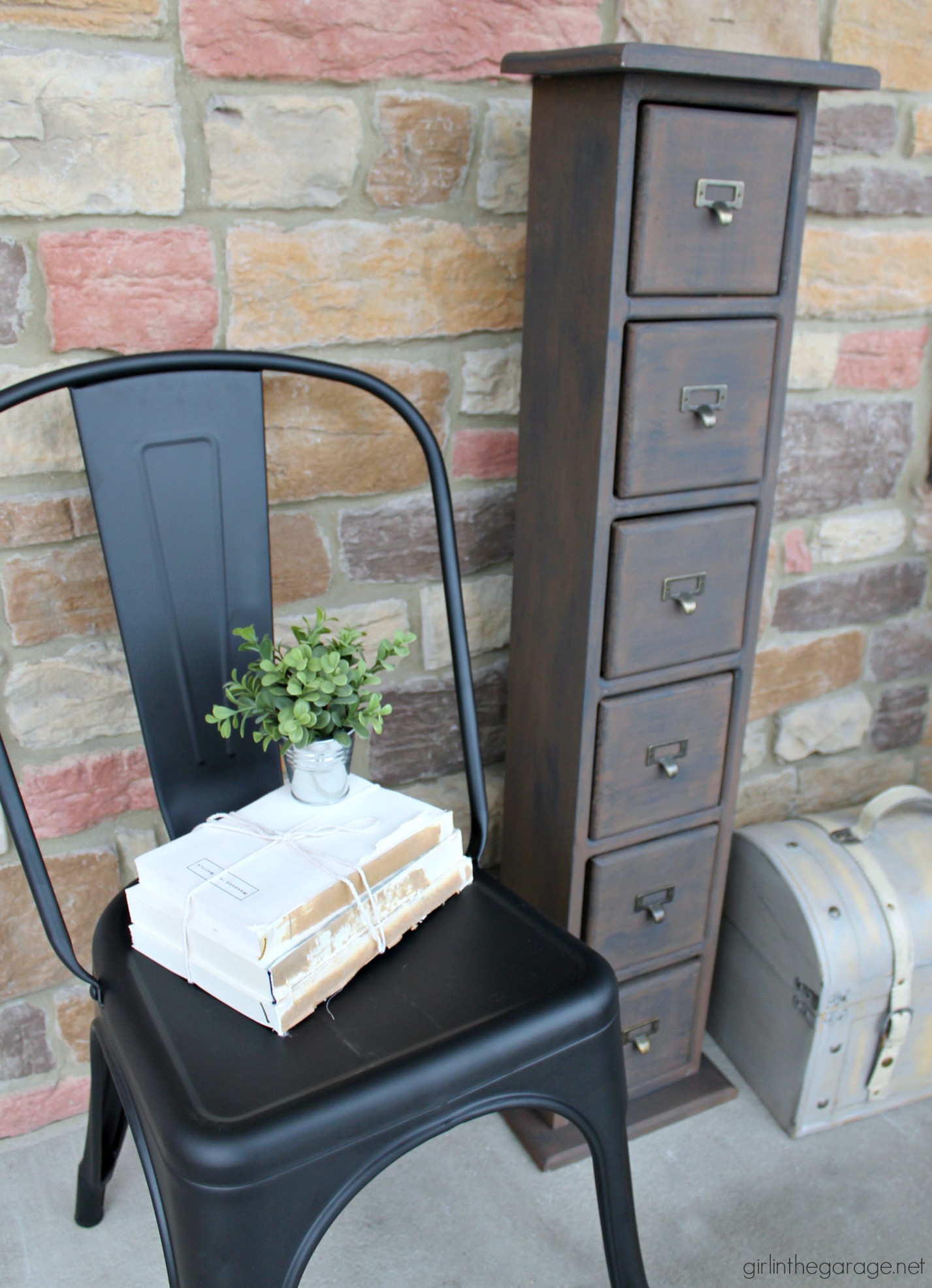 Once again you can see the black-and-white glossy Before and the faux stain finish After of this cabinet makeover: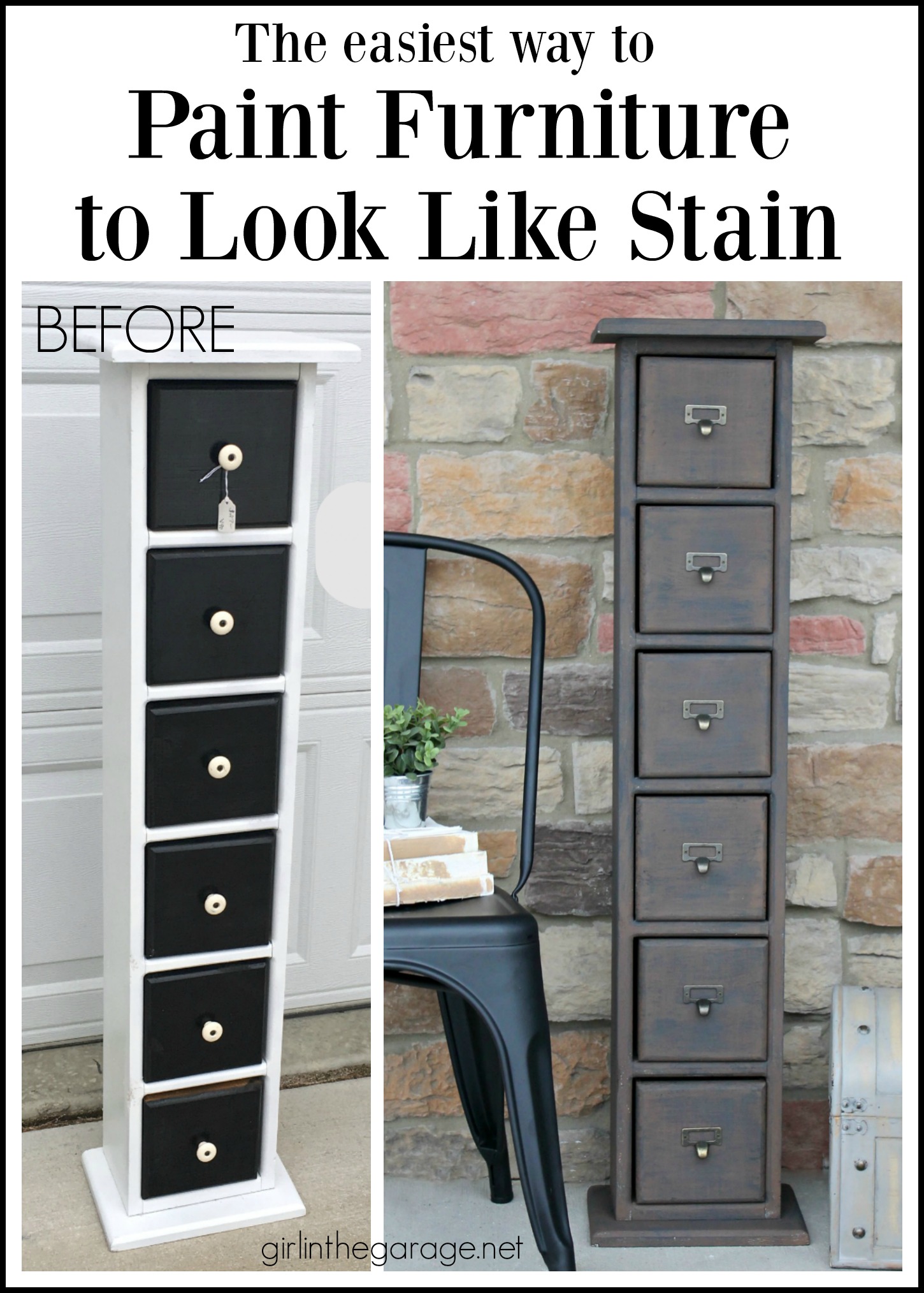 I don't typically like redoing something that someone else has already painted, but this was a small simple cabinet that I really wanted to give new life as a faux card catalog.
Please let me know what you think of this "paint that looks like stain" technique and this makeover in a comment below. Plus I'd be so grateful if you'd Pin or share this with a friend! Thank you! 🙂
Also – check out my friends' creative projects for Furniture Fixer Uppers day: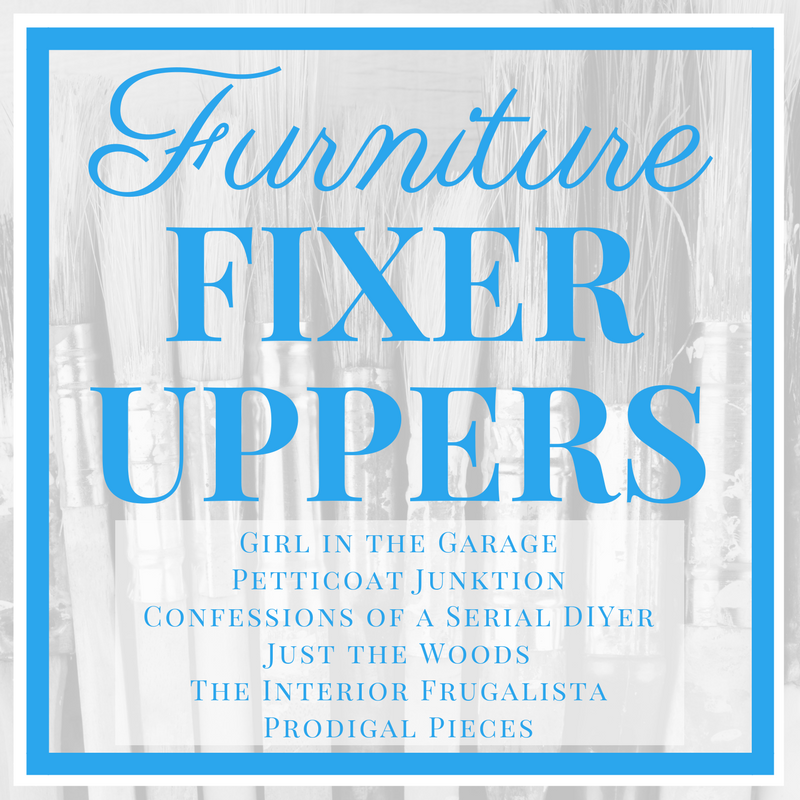 Below are the Before photos – visit the links underneath to see the amazing Afters and to learn how they did it…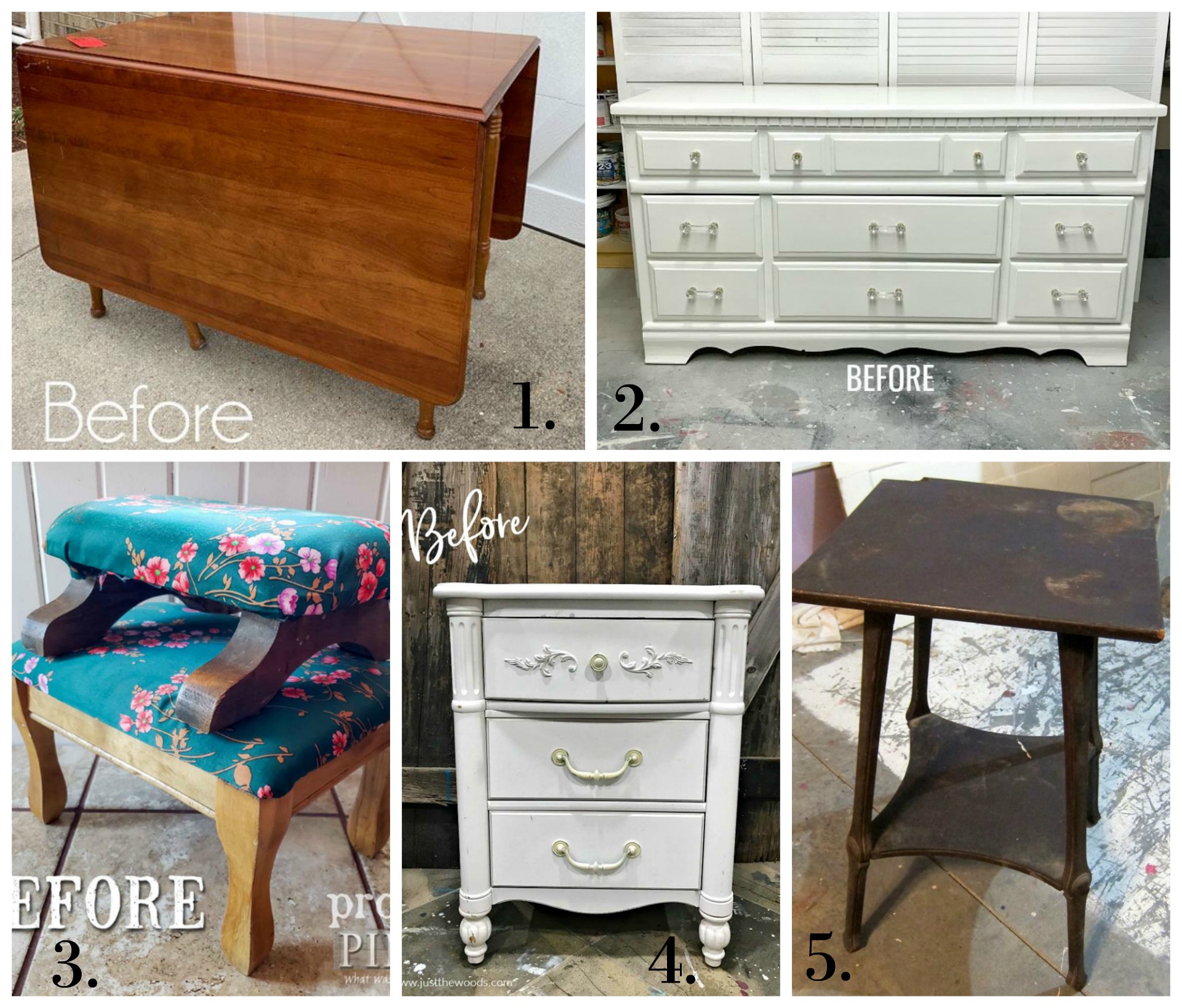 1. Confessions of a Serial DIYer
2. The Interior Frugalista
3. Prodigal Pieces
4. Just the Woods
5. Petticoat Junktion
* Here are a few other faux card catalog makeovers you might like: *