After 5 years, I finally refinished this damaged vintage card catalog I got from an antique shop. Today I'll show you how I did it, and the same techniques apply for whenever you need to stain wood furniture. (Don't be afraid of stain like I used to be!) There's also a short helpful video included below.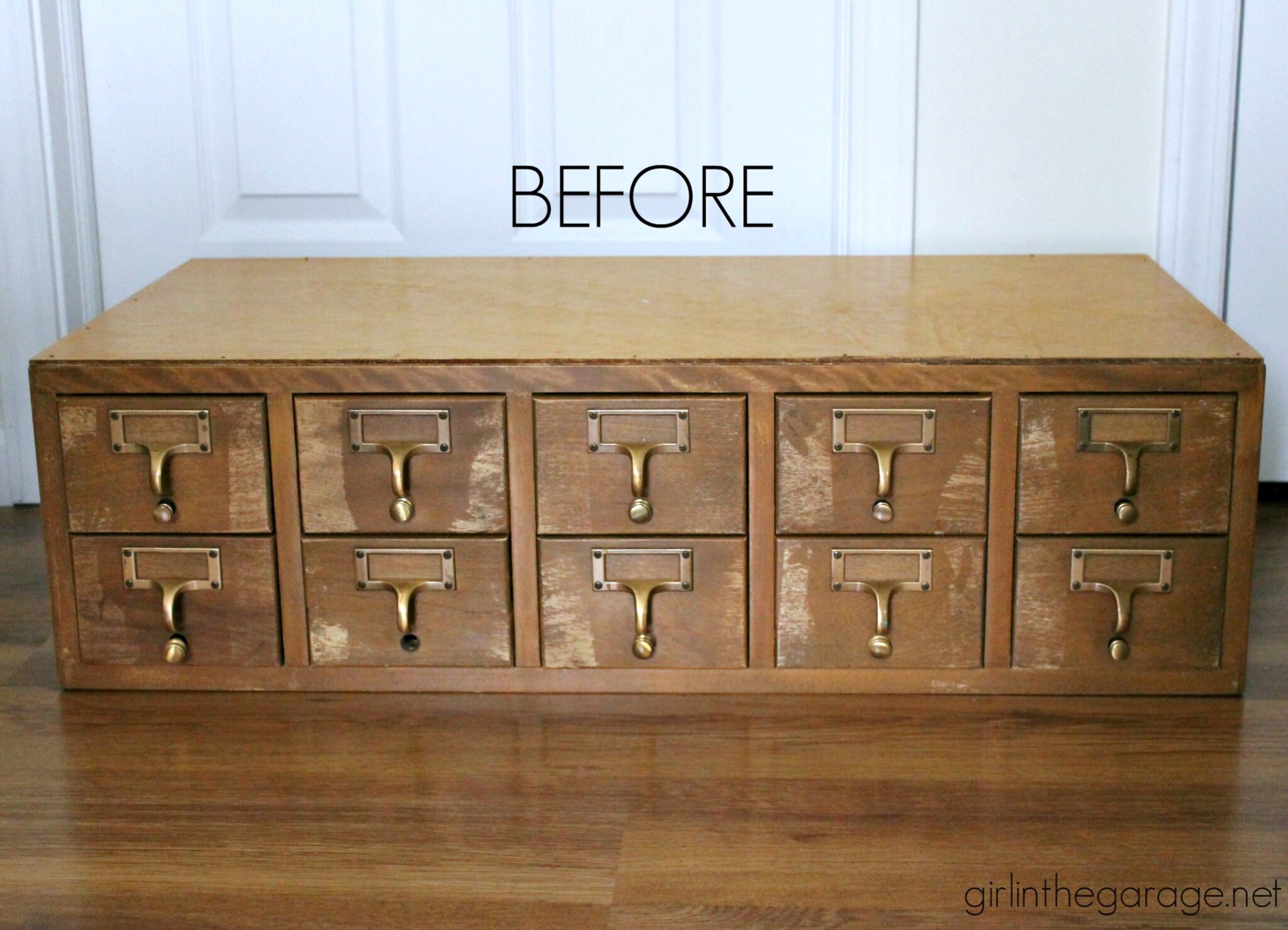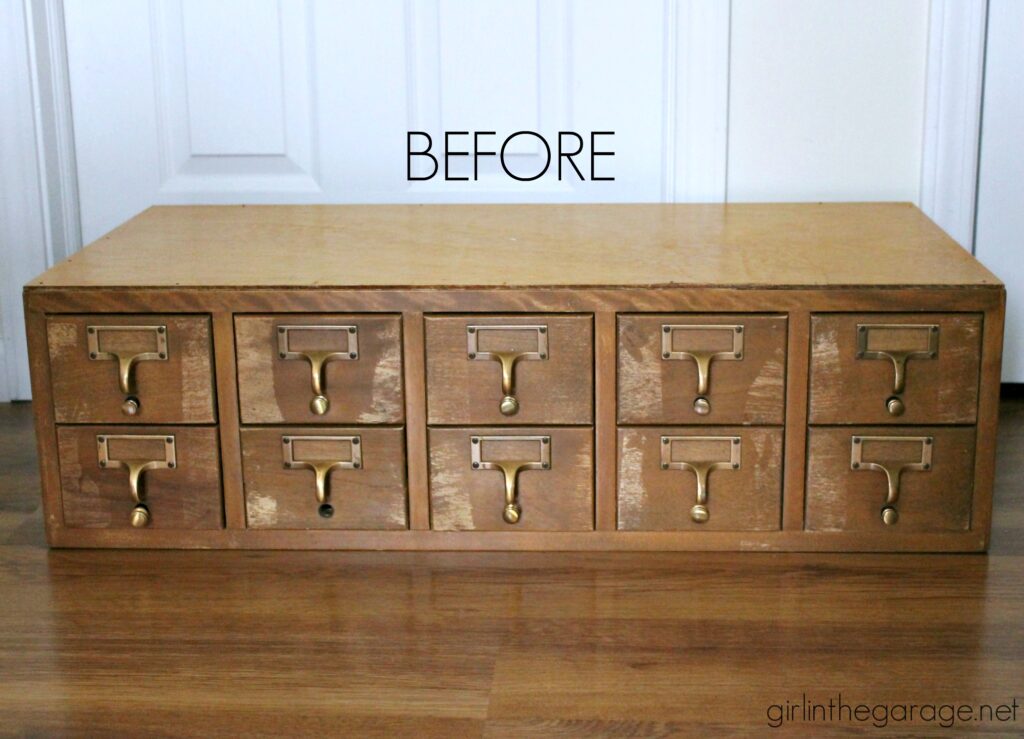 Before we get started I also want to mention that it's Furniture Fixer Uppers day, so there are 3 more bonus makeovers below from my friends too.
It looked like someone had taped the drawers at some time for storage or transporting, and the finish came off. The top had a thin board nailed on (not original) and the bottom was wide open (see below).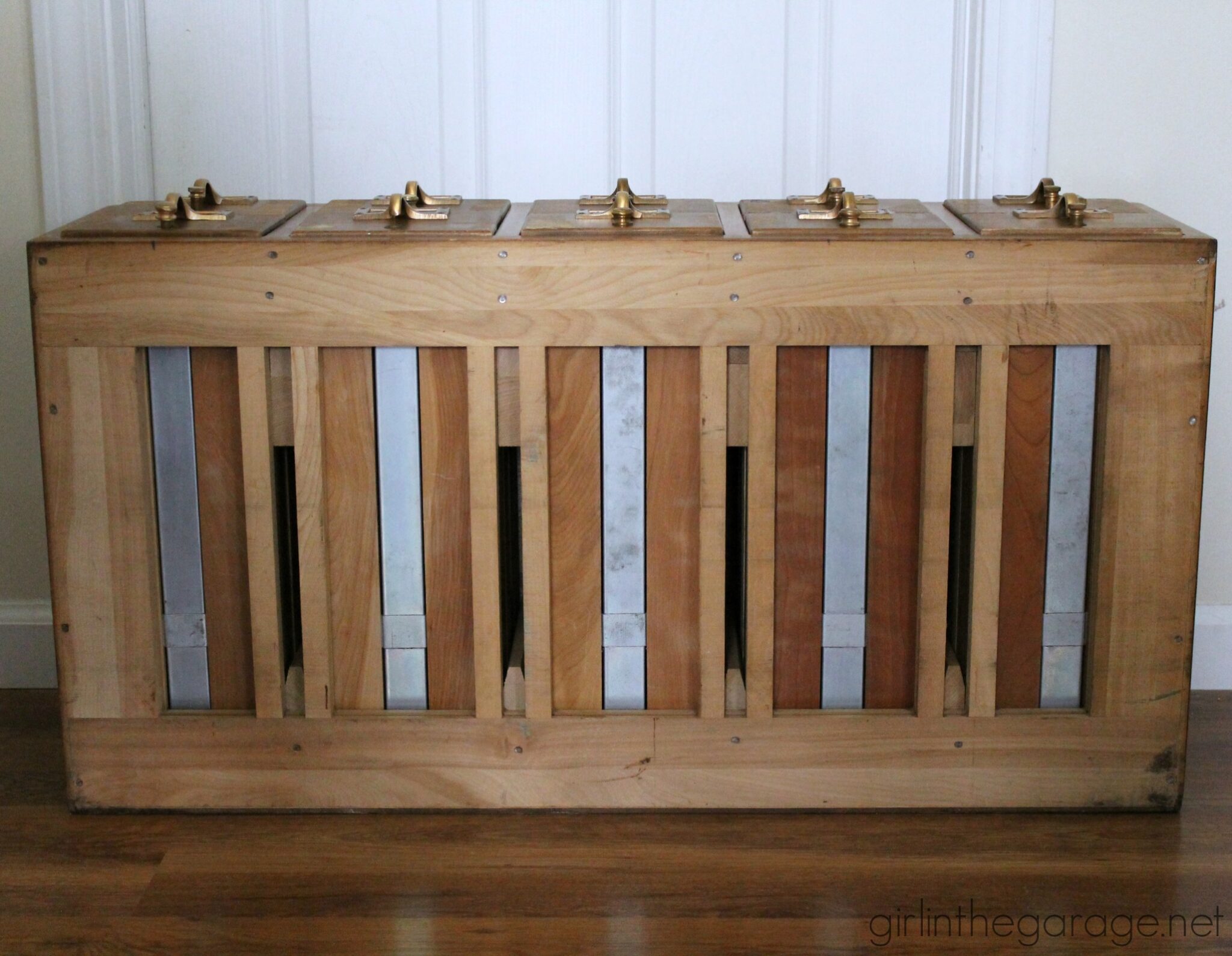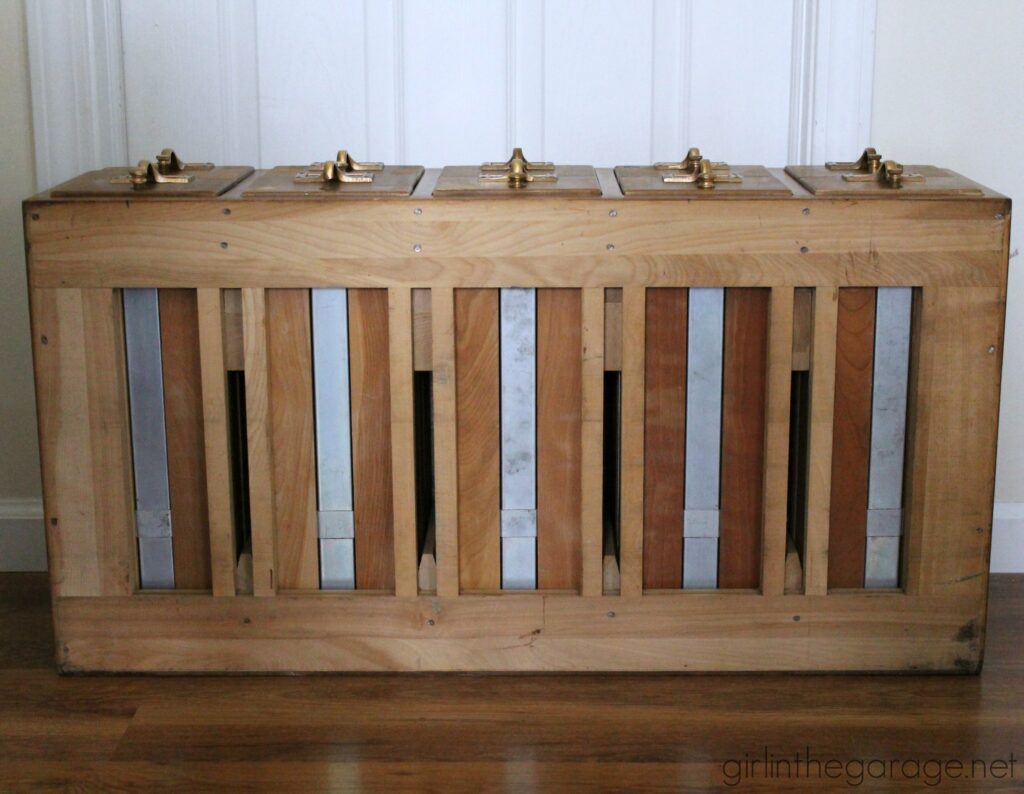 The plan: Refinish the card catalog, add a new stained top and bottom, and add stylish legs. With some effort, this piece could become a beauty again.
Prepping the Card Catalog
First, remove the hardware and set it aside for safekeeping. Put small pieces in a sandwich bag.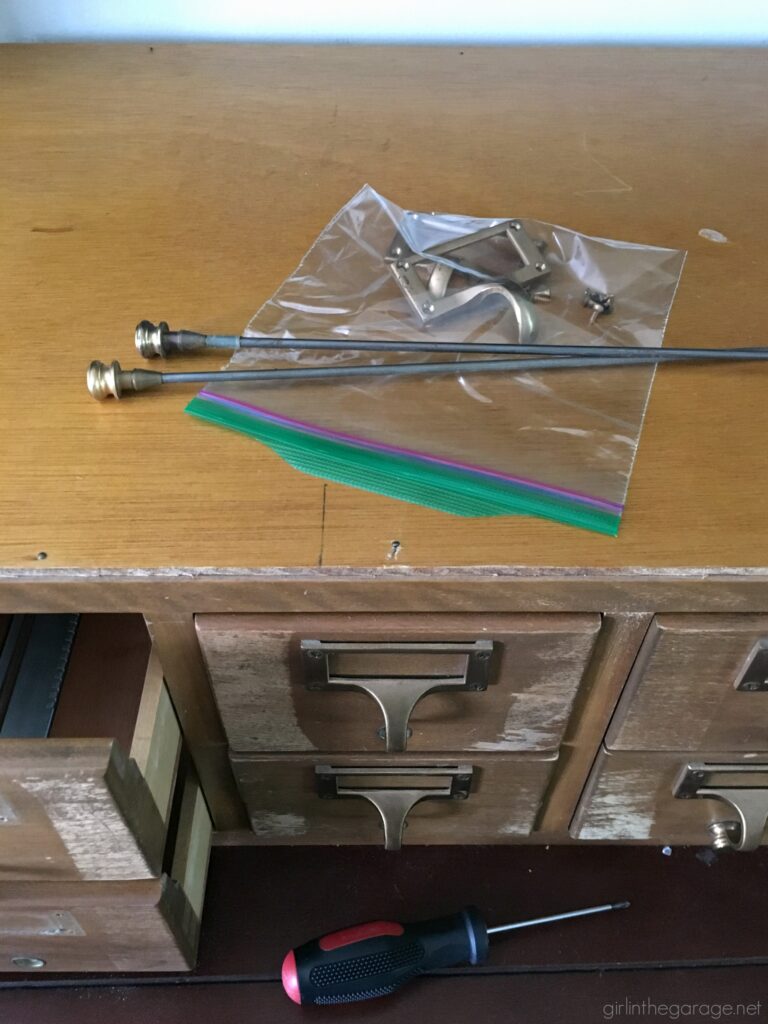 Sand the drawer fronts with a random orbital sander. Remove the top finish so that the bare wood is even-toned.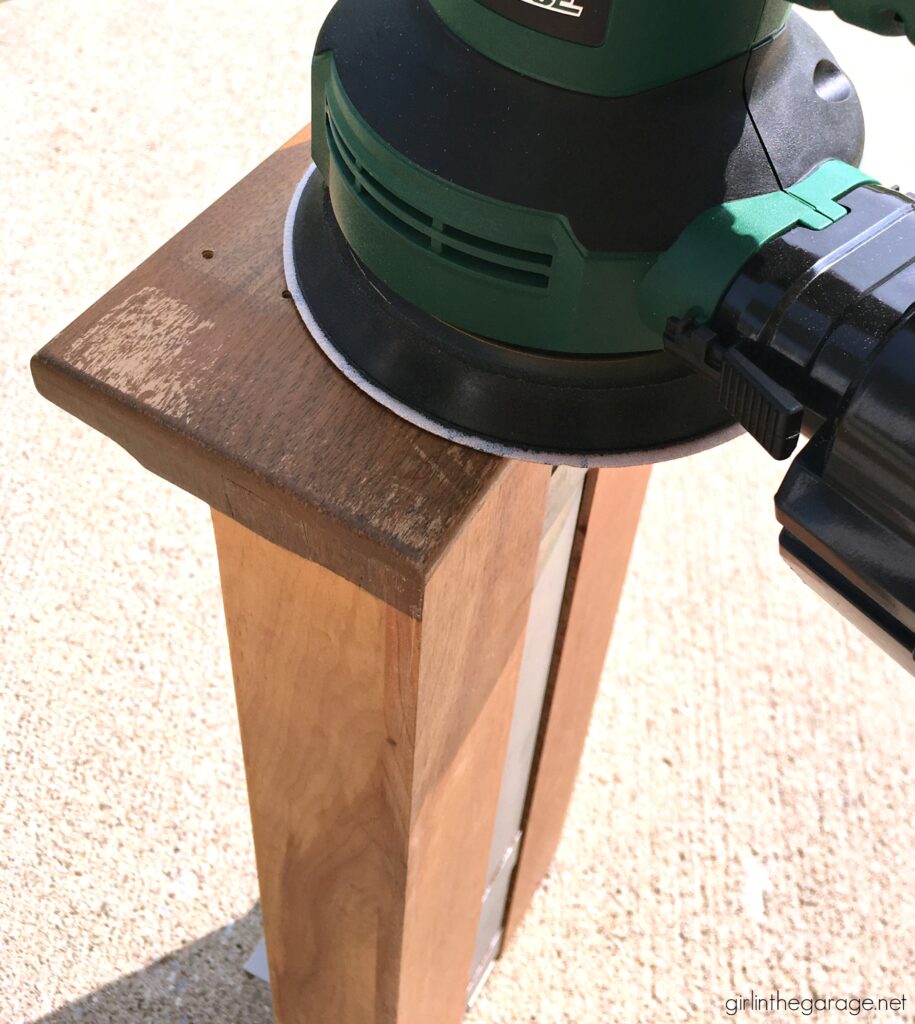 Below you can compare the sanded drawers on the left with the original damaged drawers. The wood grain looks sooo nice.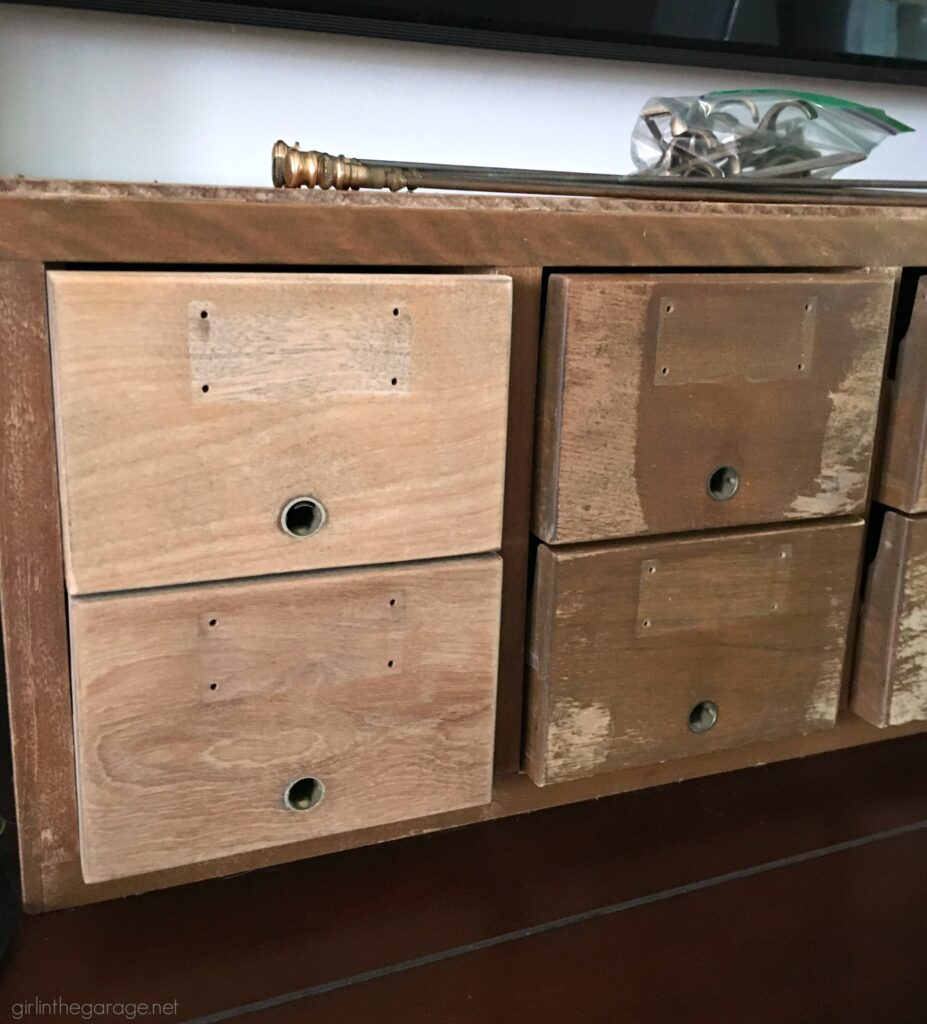 Next it's time to remove the cheap board on top. This piece will be discarded and replaced with a thicker, better quality wood. I used a flathead screwdriver to lift the board and pliers for any stubborn nails.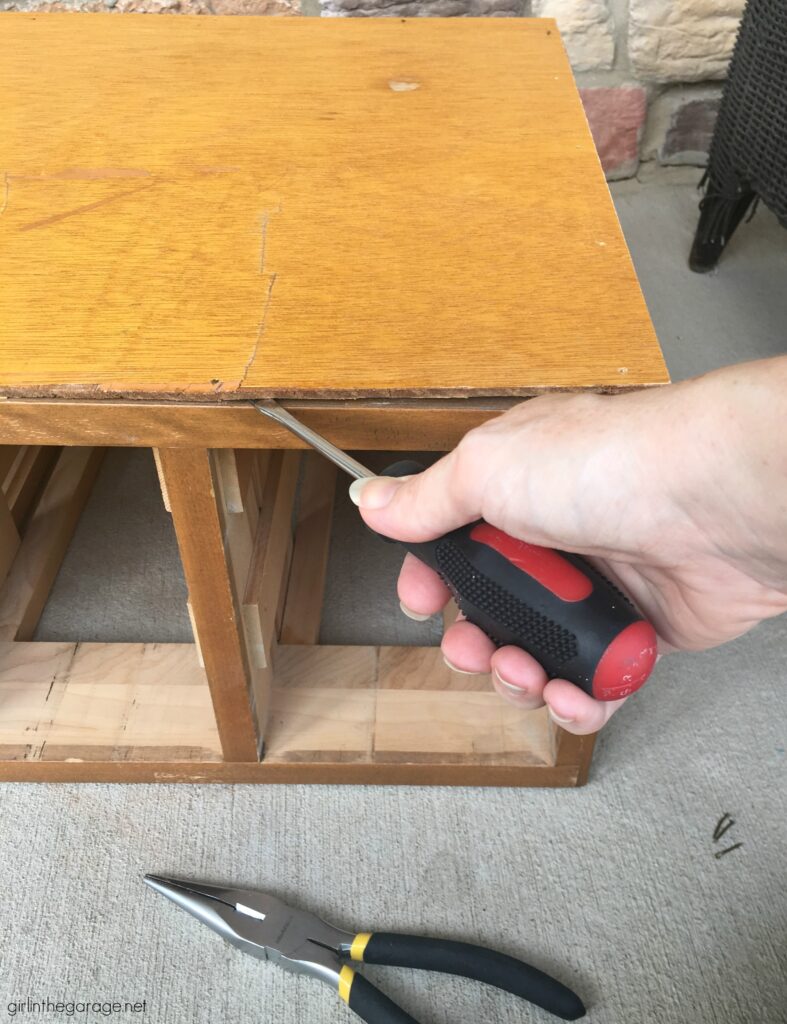 Next sand the front and sides of the card catalog which will be stained.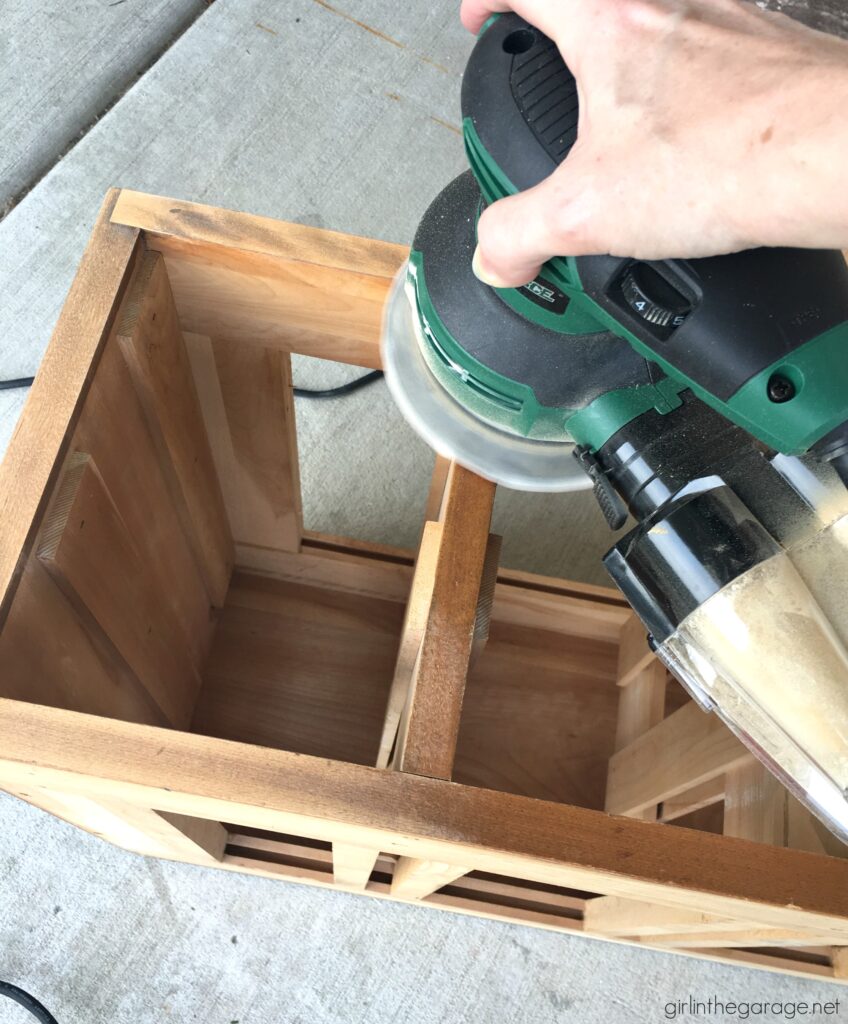 For the new top and bottom, I chose laminated pine 3/4x24x48″ (2 boards since the card catalog is 17×33″). The wood grain on these is really interesting, and from the side view, the wood is solid and doesn't look like several panels glued together like cheaper quality wood does.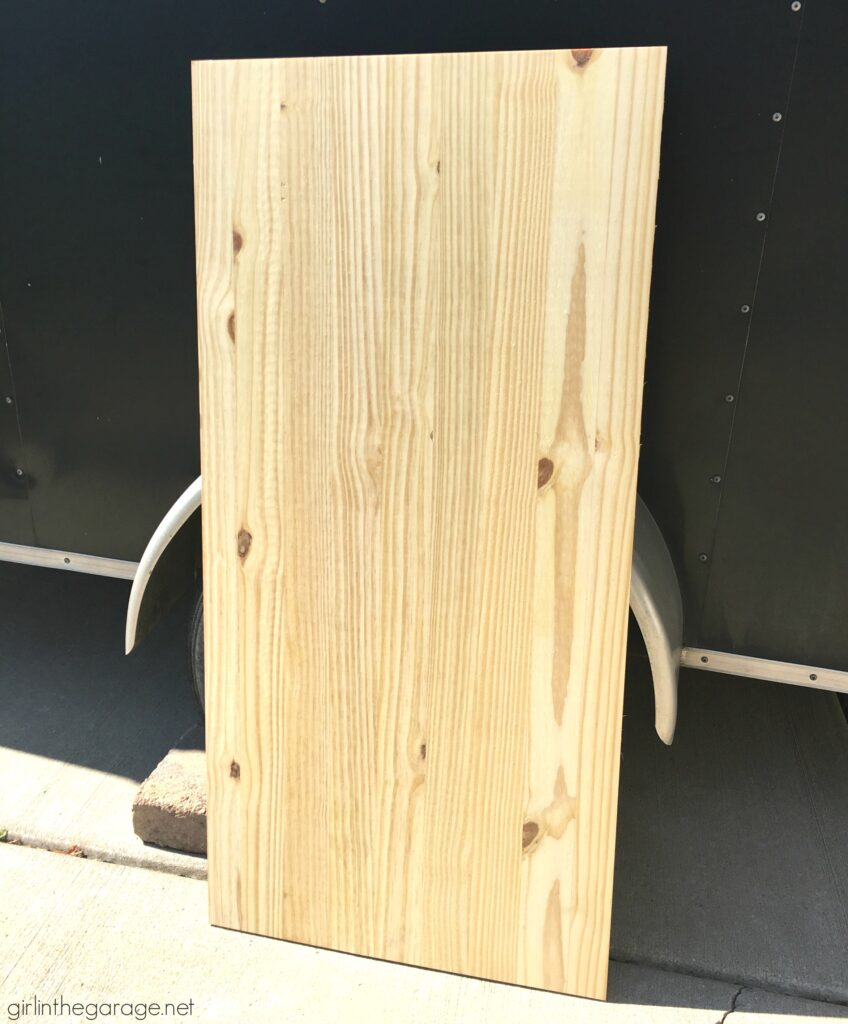 Guy in the Garage helped by cutting the wood with our folding table saw. Always use caution when operating power tools and wear proper safety gear.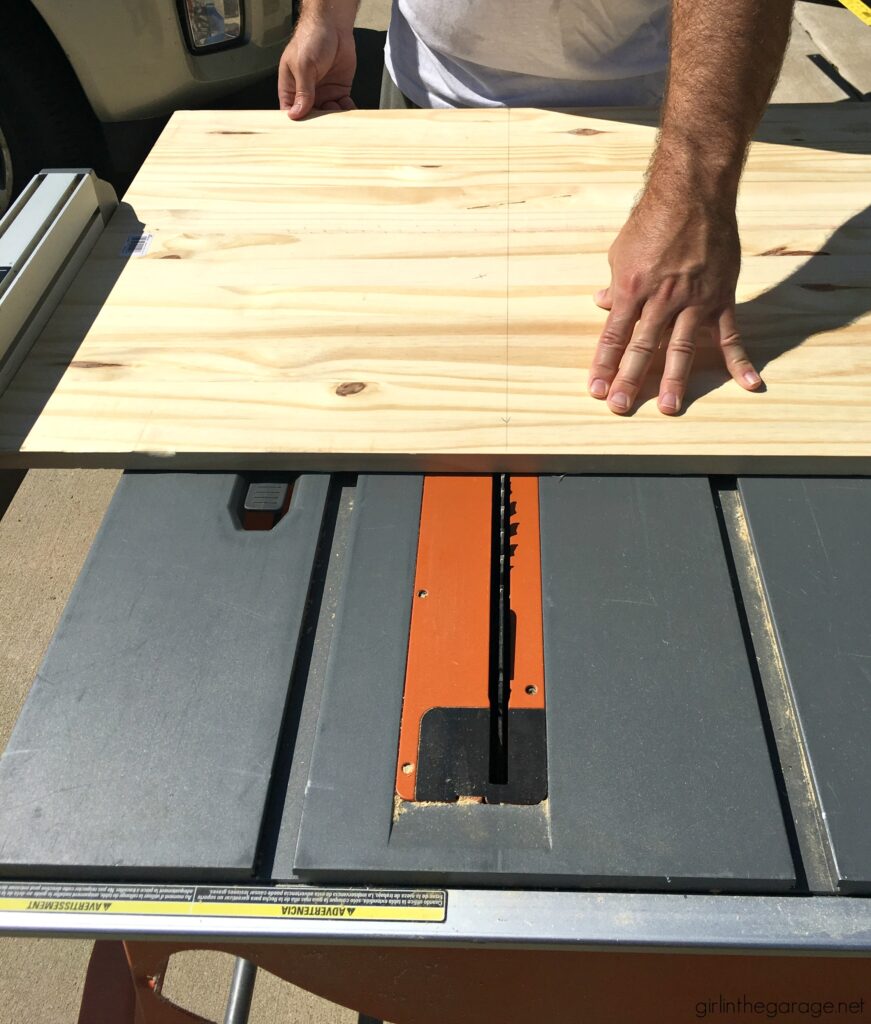 Sand to make sure the wood is really smooth and then wipe away the sanding dust.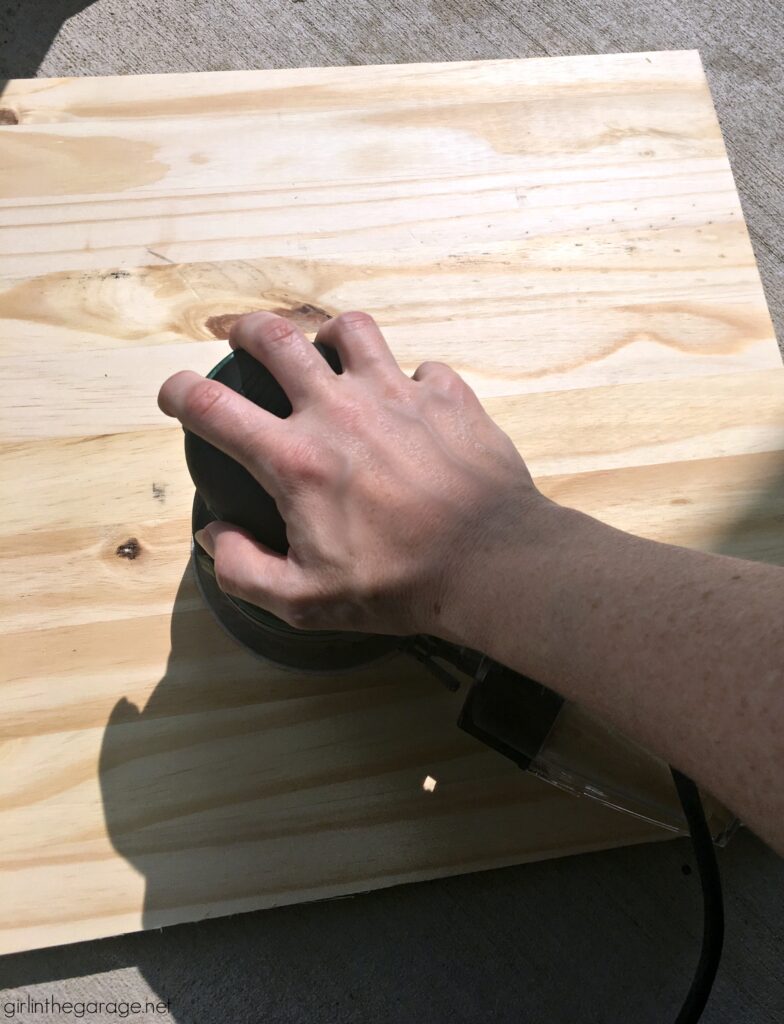 How to Refinish a Card Catalog with Stain
Next it's time to stain the wood. Minwax has graciously sponsored this project, but I would have chosen their products anyway. Honestly guys, until recently the idea of staining furniture made me nervous, and I'd have Guy in the Garage do that part for me. But now with some practice, and because Minwax's products are easy to use with simple directions printed on the can, I feel totally comfortable doing the staining myself.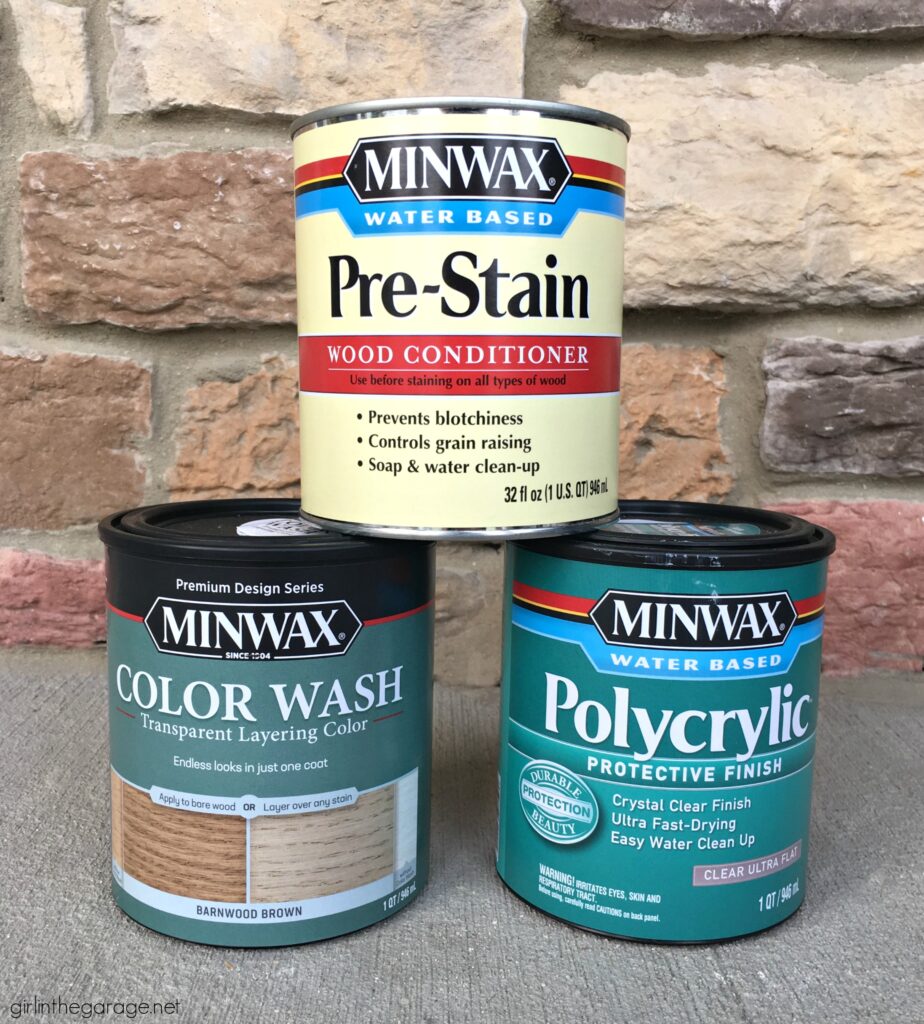 Minwax products used below (all water-based):
Minwax Pre-Stain Wood Conditioner – to prevent blotchiness and create an even finish

Minwax Design Series Color Wash in Barnwood Brown – a transparent stain that can be applied over bare wood or layered over another stain (remove the original topcoat first)

Minwax Polycrylic in Clear Ultra Flat – Protective topcoat to protect stained surfaces
After sanding with 220-grit sandpaper and cleaning the wood, stir the Pre-Stain Wood Conditioner frequently before and during use. I applied it with a Purdy synthetic bristle brush.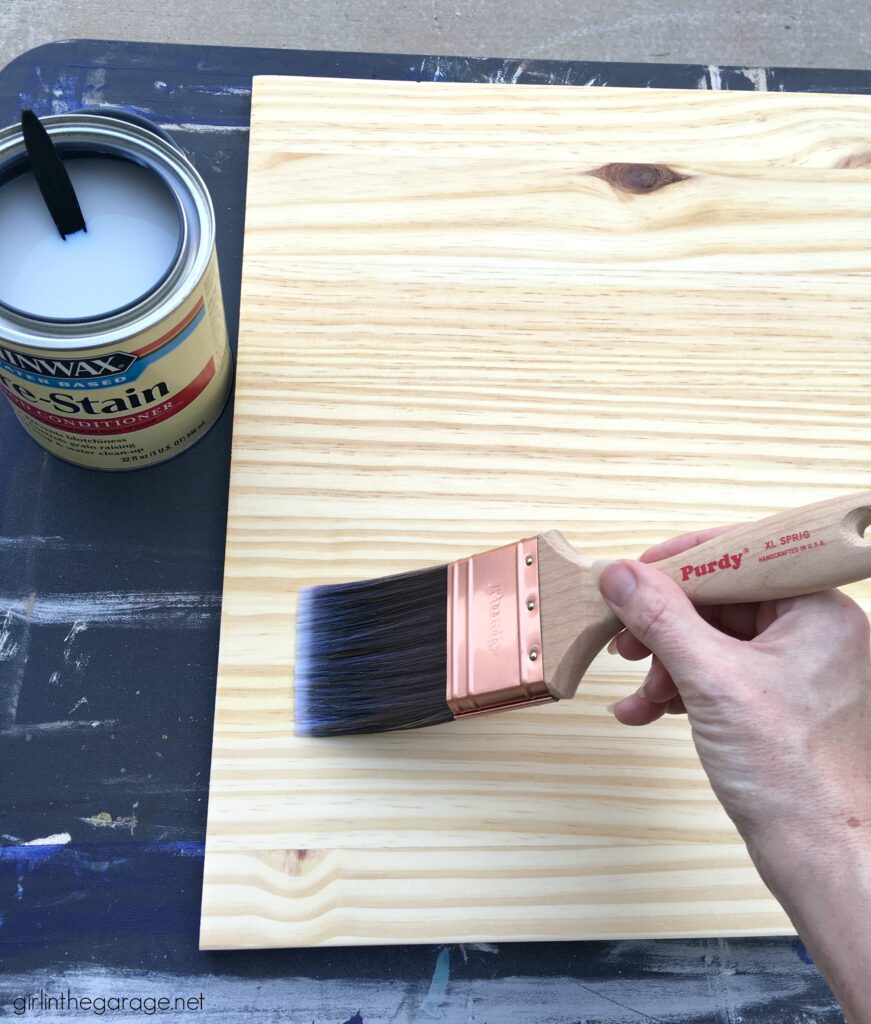 Let the conditioner sit for 1-5 minutes and then wipe away the excess with a clean cloth (don't let it dry on the surface).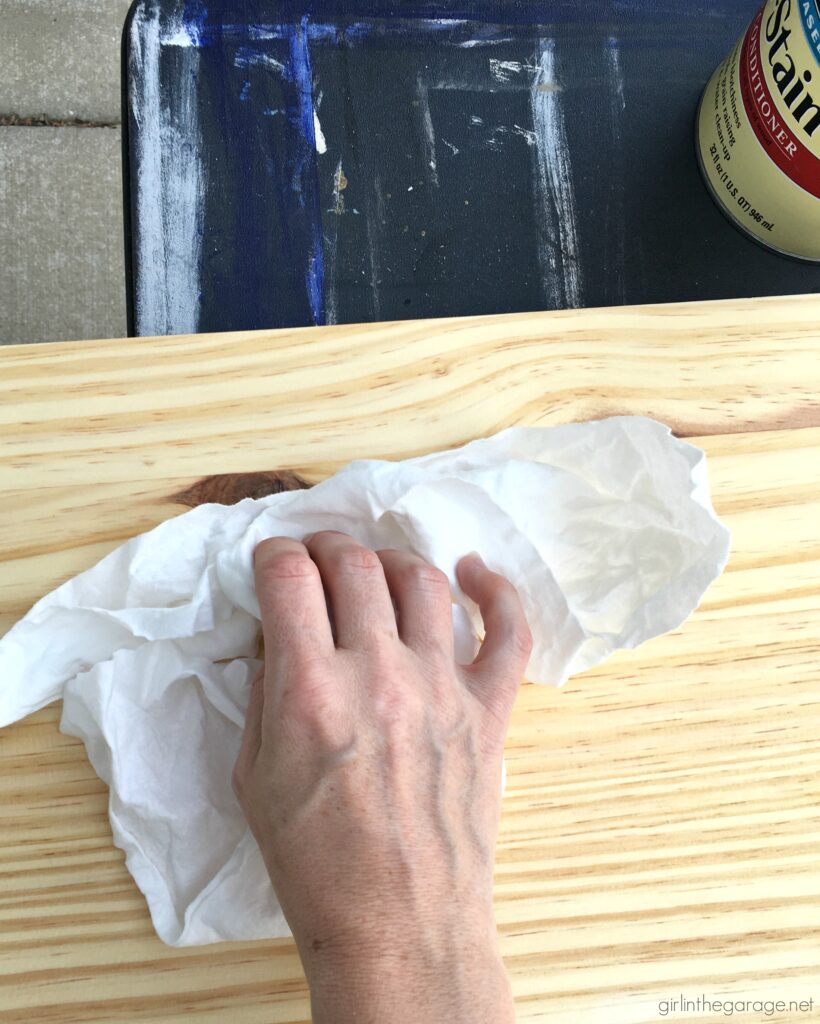 Repeat for every piece that you're planning to stain.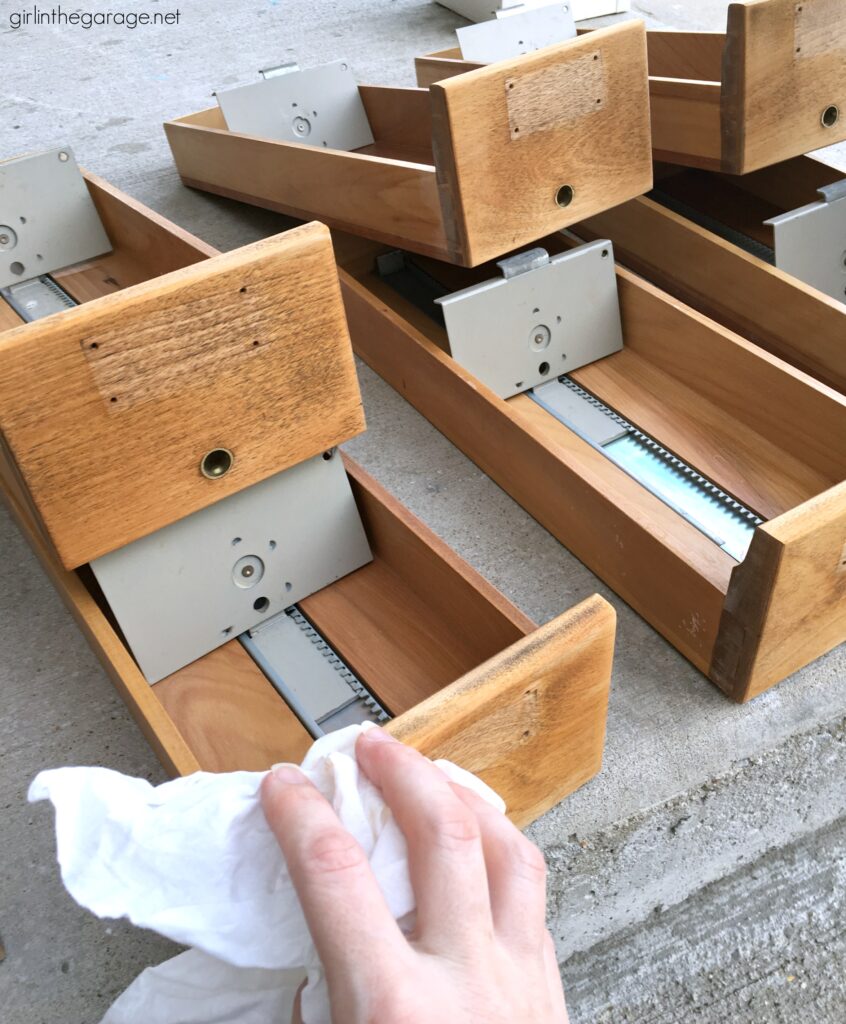 Then after 15-30 minutes, lightly sand the surface again with 220-grit sandpaper to smooth any raised woodgrain. Wipe away any sanding dust.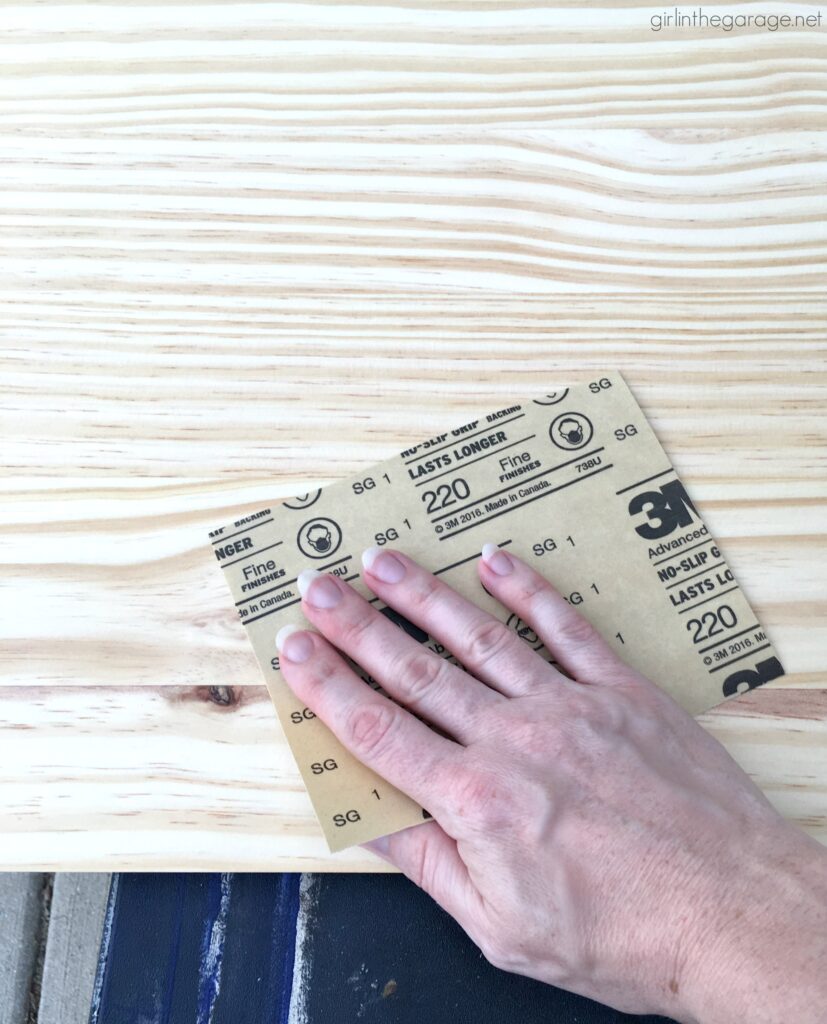 I chose the Minwax Design Series Color Wash because I liked the idea of a water-based transparent stain to give a bit of a rustic look to the card catalog. I knew the new pine boards would take the stain differently than the original wood, but together they'd create the vintage character that's perfect for this project.
It's available in three colors – White Wash, Weathered Gray, and Barnwood Brown. The brown ended up being the exact color I envisioned.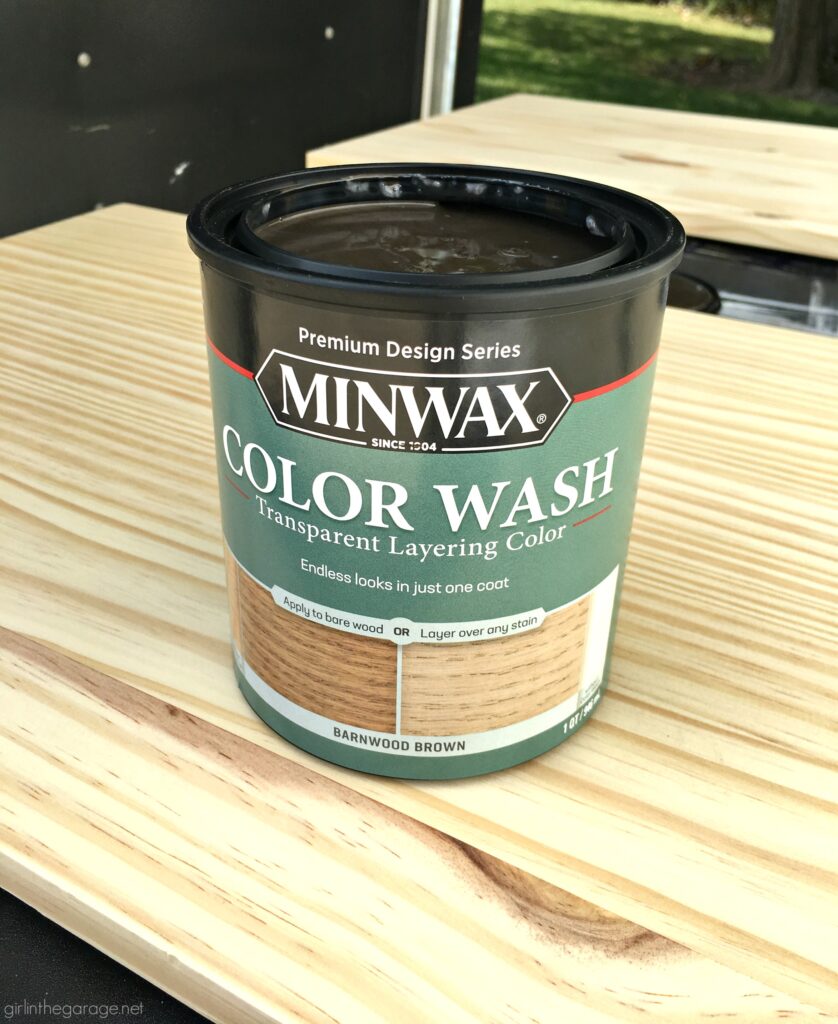 Stir the stain often, before and during use. I chose to apply it with a lint-free cloth.
The interesting difference from most stains is that according to the directions on the can, this one should be applied against the grain.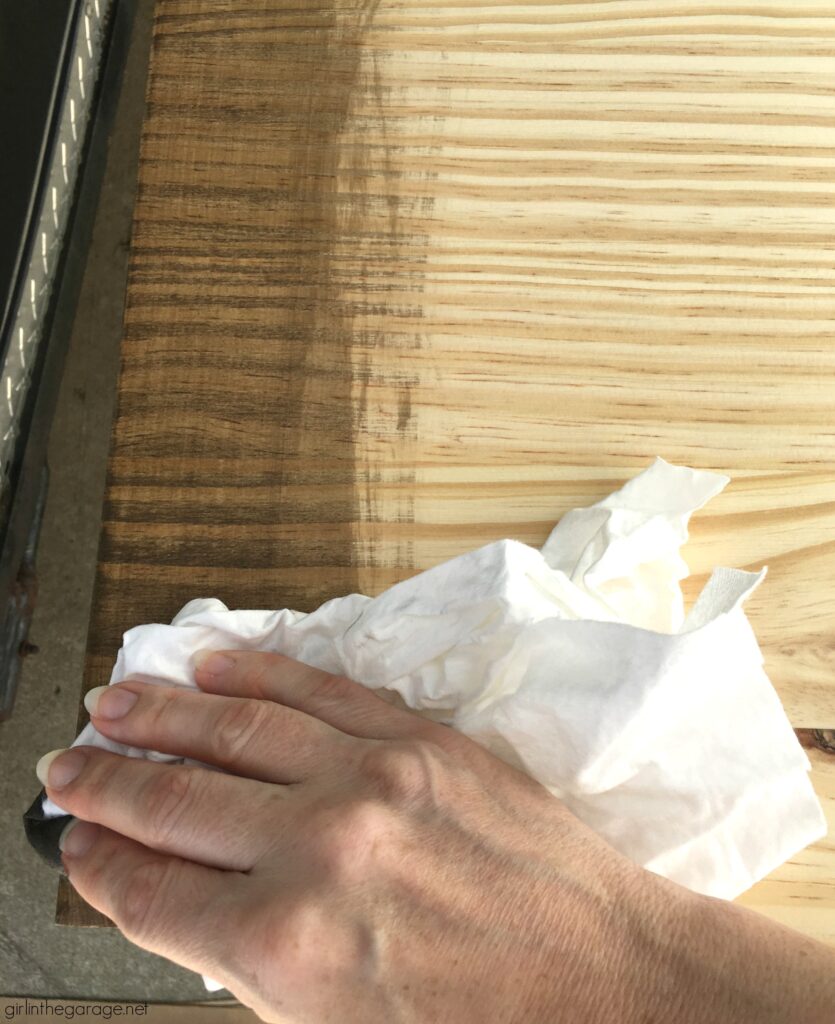 The formula dries fast, so wipe the excess stain away within 1-2 minutes after applying it – going against the grain again.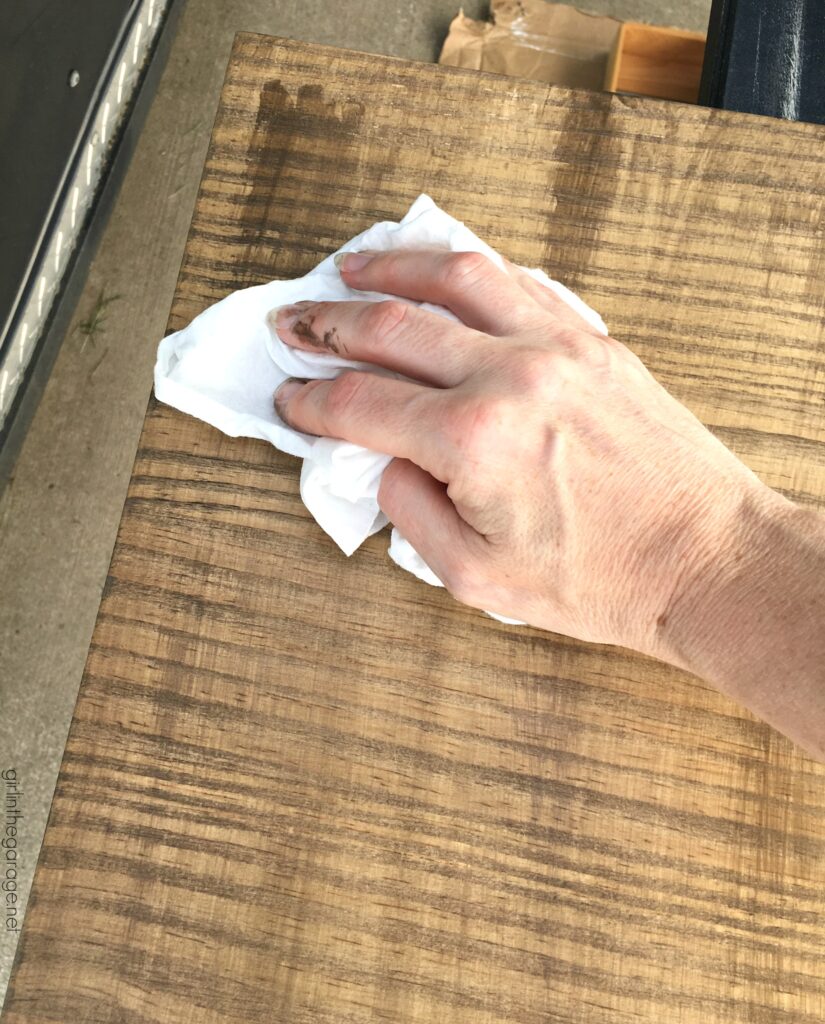 Repeat the process for all pieces of the card catalog. Below, the two drawers on the left are slightly more brown because the stain has been applied to them.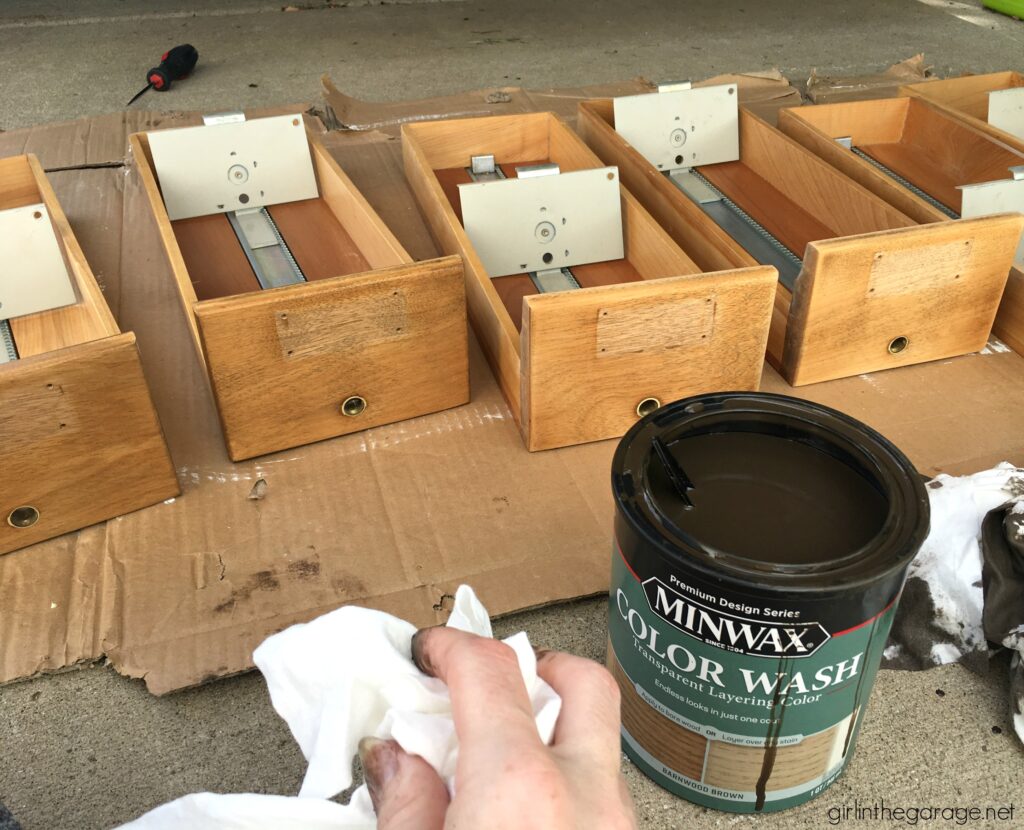 After one hour, you can apply another coat of stain or move on to the topcoat. (Don't sand between coats.) I only did one coat because I didn't want the wood any darker.
Minwax Polycrylic in Clear Ultra Flat dries fast and gives a protective finish without being glossy. I applied a thin coat with a good synthetic bristle brush, in the direction of the wood grain. Let it dry for 2+ hours, then lightly sand with 220-grit sandpaper. Remove the sanding dust and then apply 1-2 additional coats, sanding after each (I did two coats). Finally, let the Polycrylic dry 3 hours before light use and 24 hours before regular use.
After the topcoat has dried, attach the top and bottom panels to the card catalog with thin nails.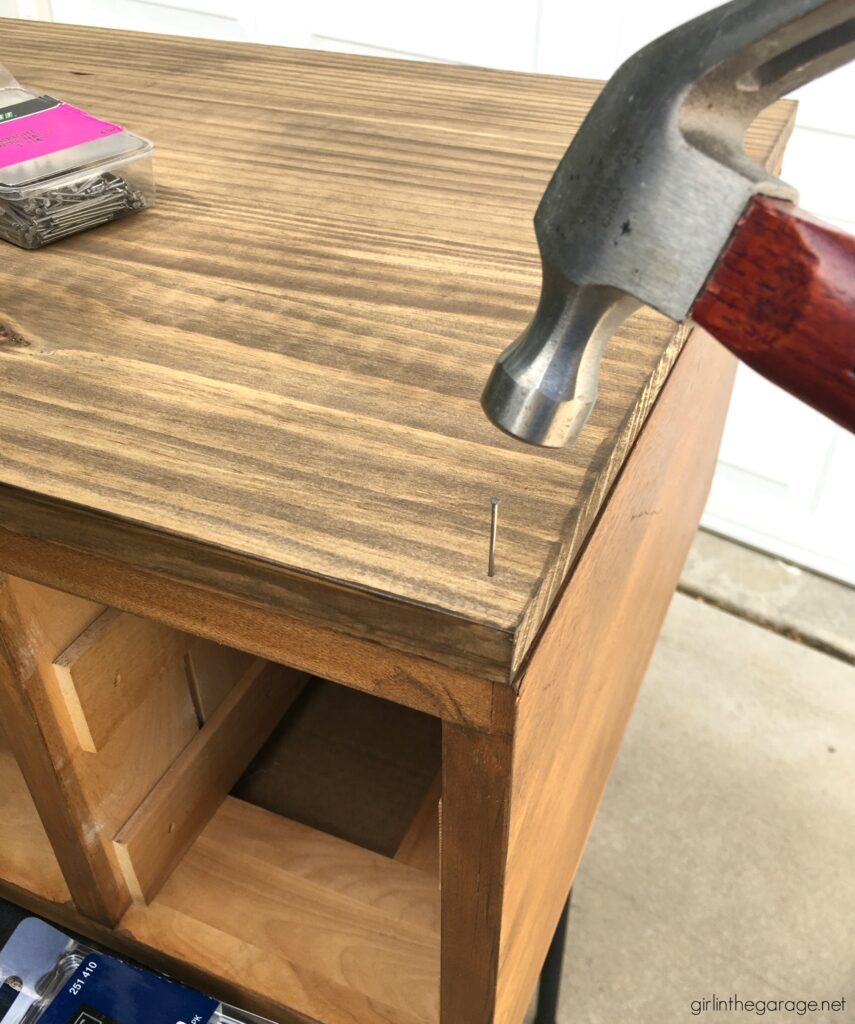 Then attach hairpin legs to the bottom corners. Pre-drill the holes first with a thin drill bit to prevent the screws from cracking the wood.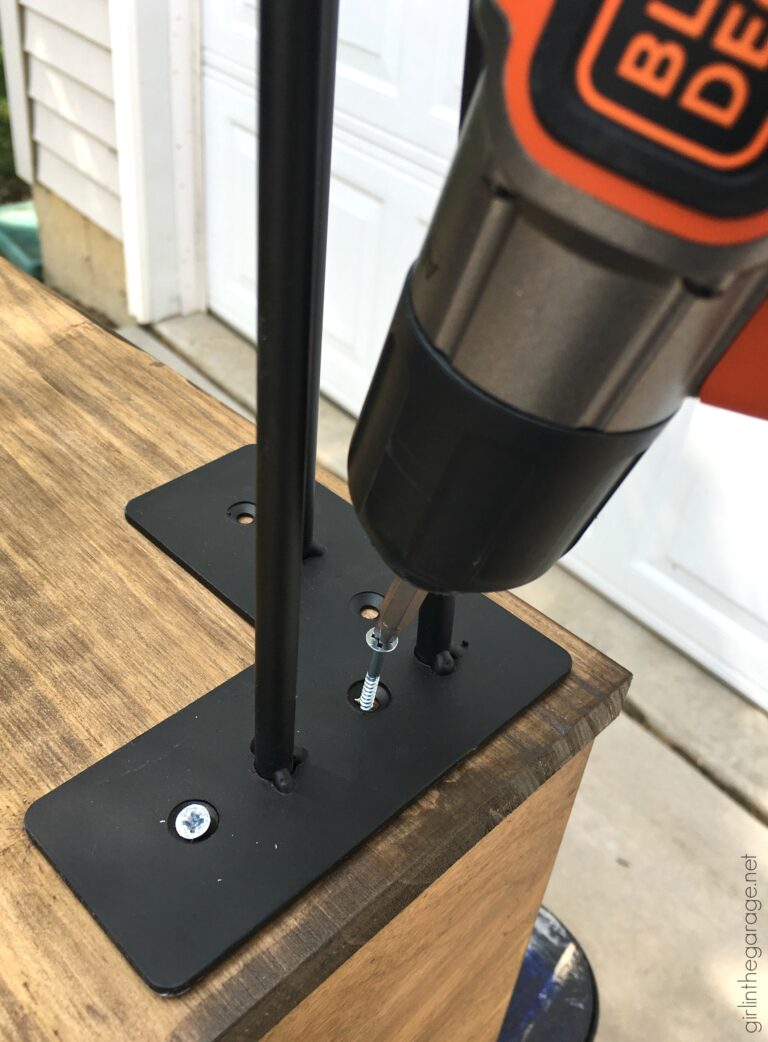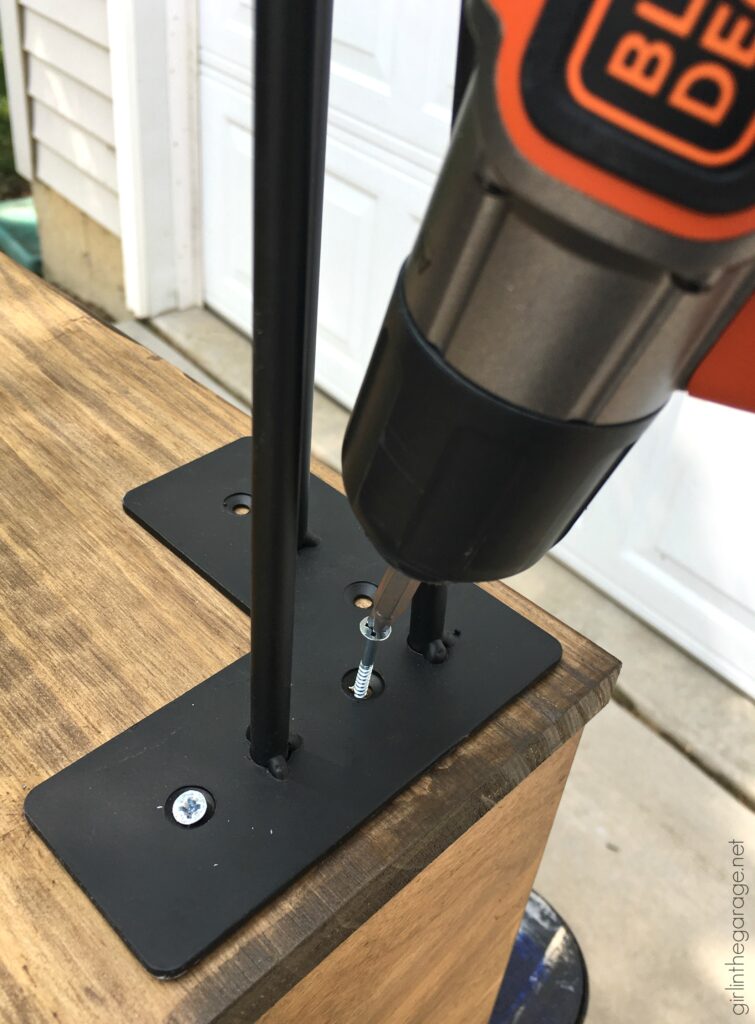 Finally, install the card catalog hardware back onto the drawers. (These brass pieces are a little beat up but they still make me swoon!)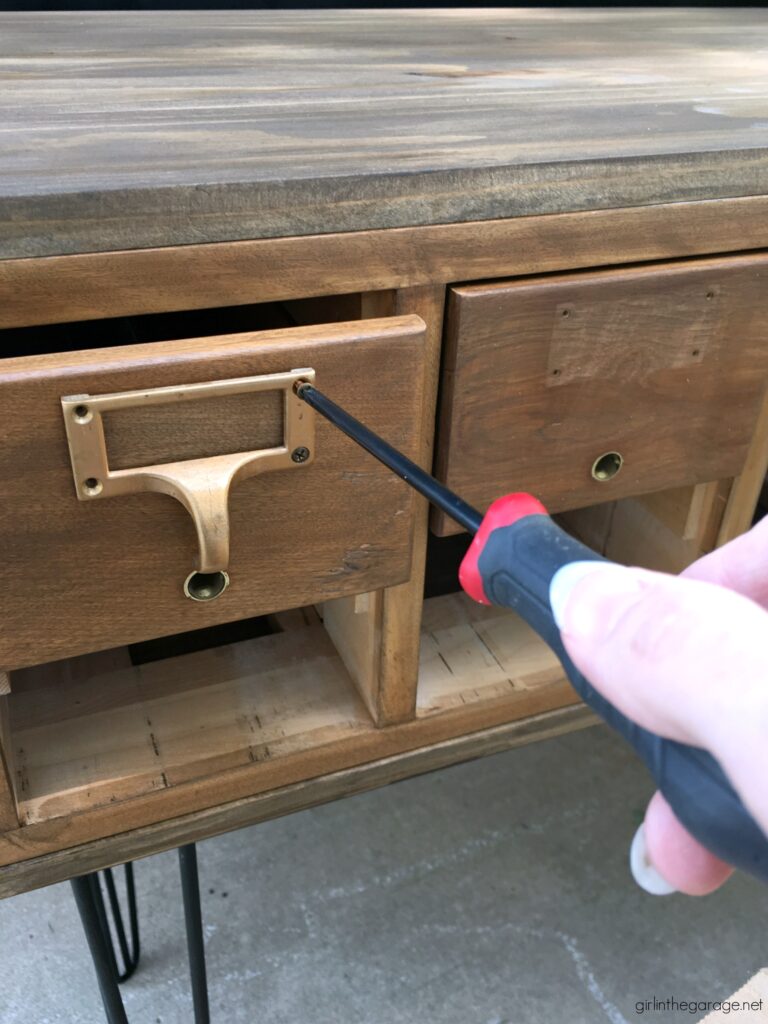 The whole project took me a couple days, but I tend to start and stop a lot because of my kids.
Finally, here is the fabulous stained and refinished vintage card catalog table…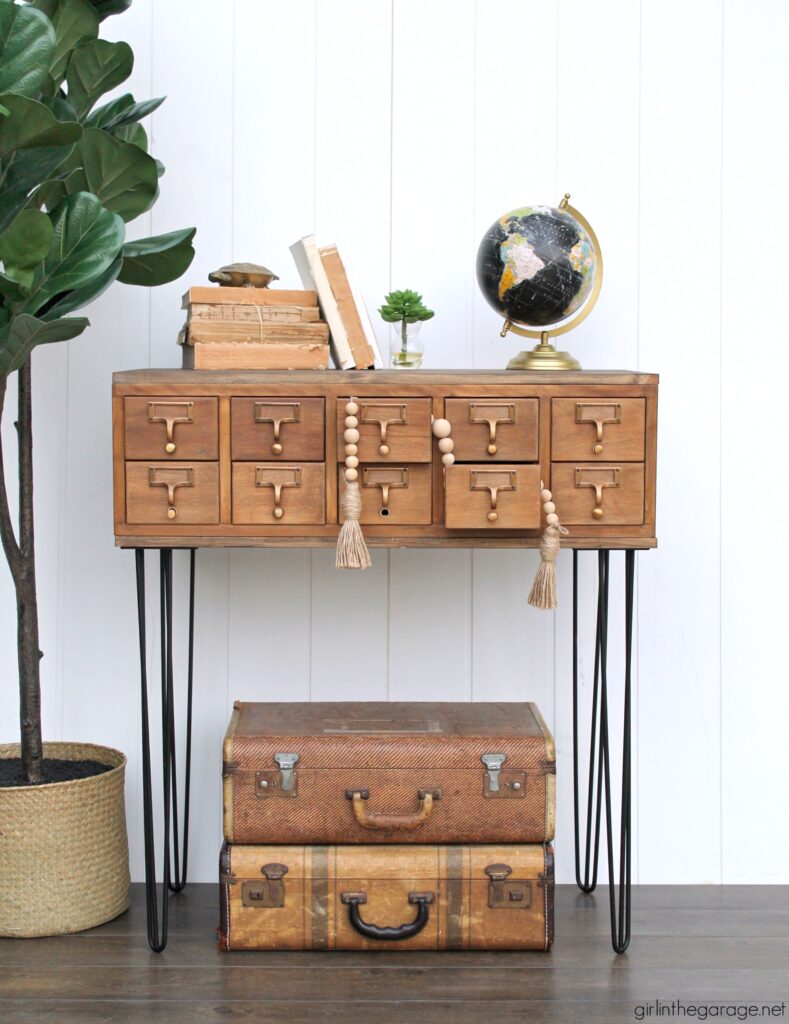 I did an entire furniture project without any paint – woot!
And check out how good that stained top looks, you guys. I did that – and it wasn't scary!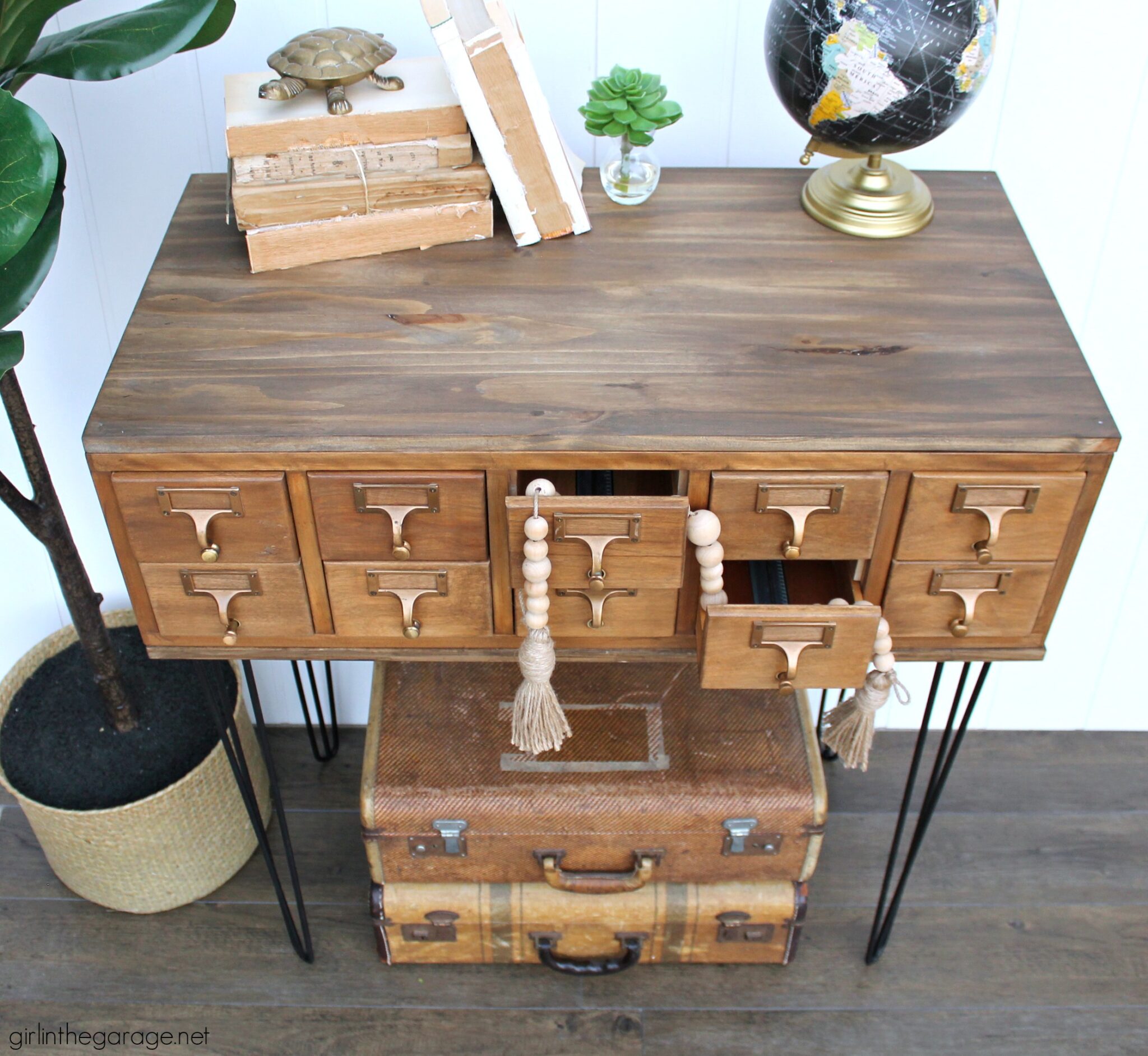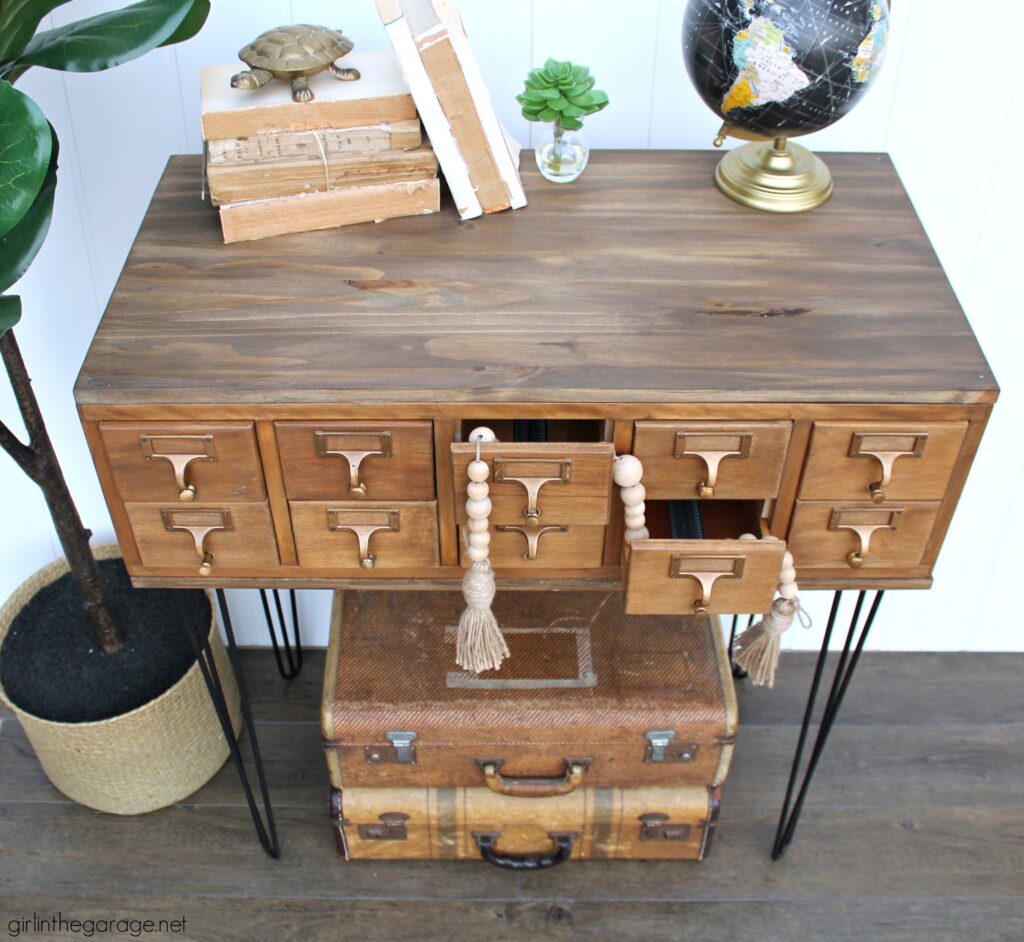 Here's a closer look below: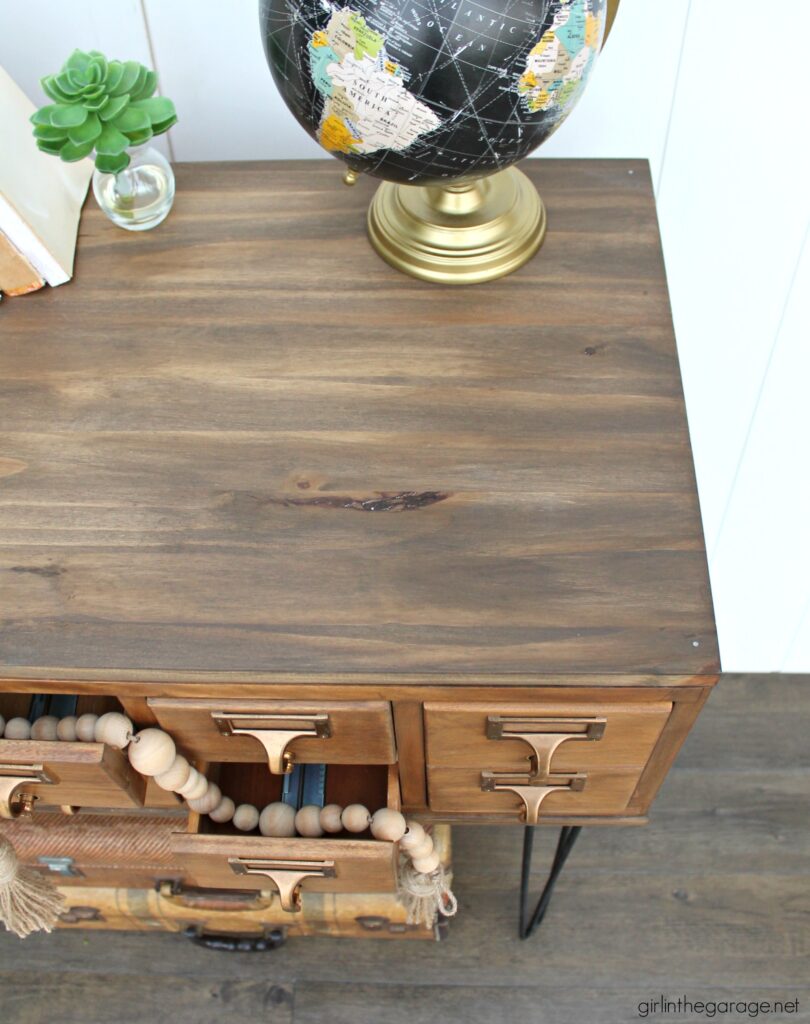 I found the turtle below while thrifting awhile ago – when you push down on the tail, the top opens to reveal a compartment inside. Such a neat little treasure.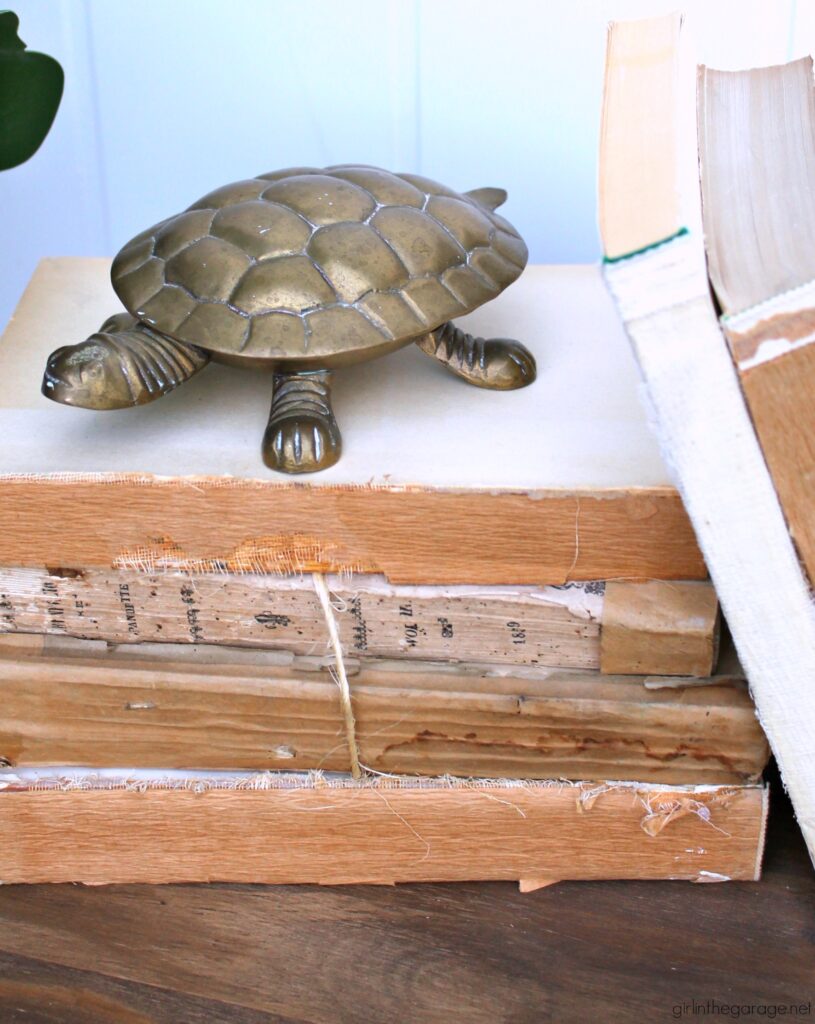 It's such a relief to finally have this project crossed off my list – and lucky me, it's a keeper! Now I just have to find the perfect spot for it.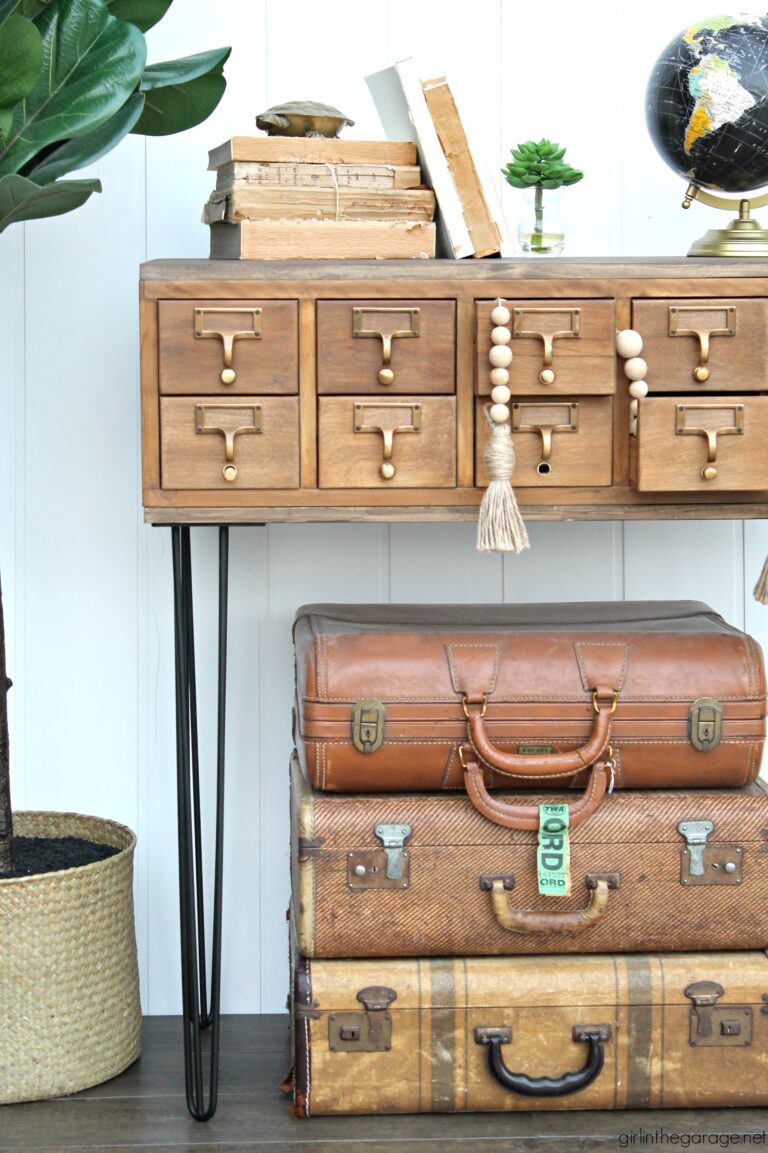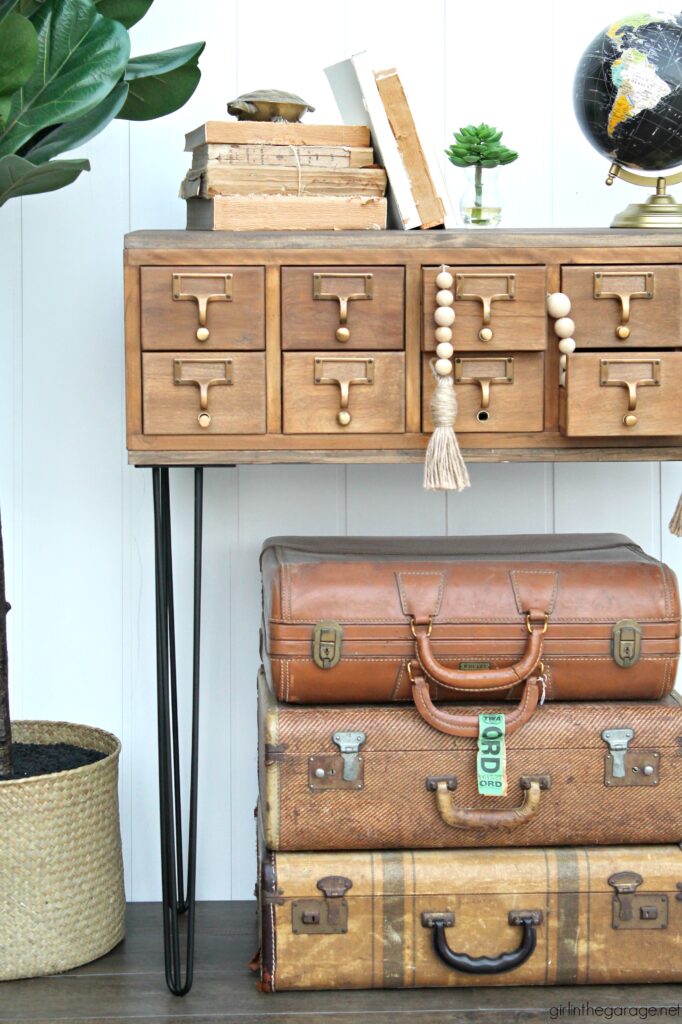 Feel free to share or Pin this project to easily find these How to Stain Wood instructions later.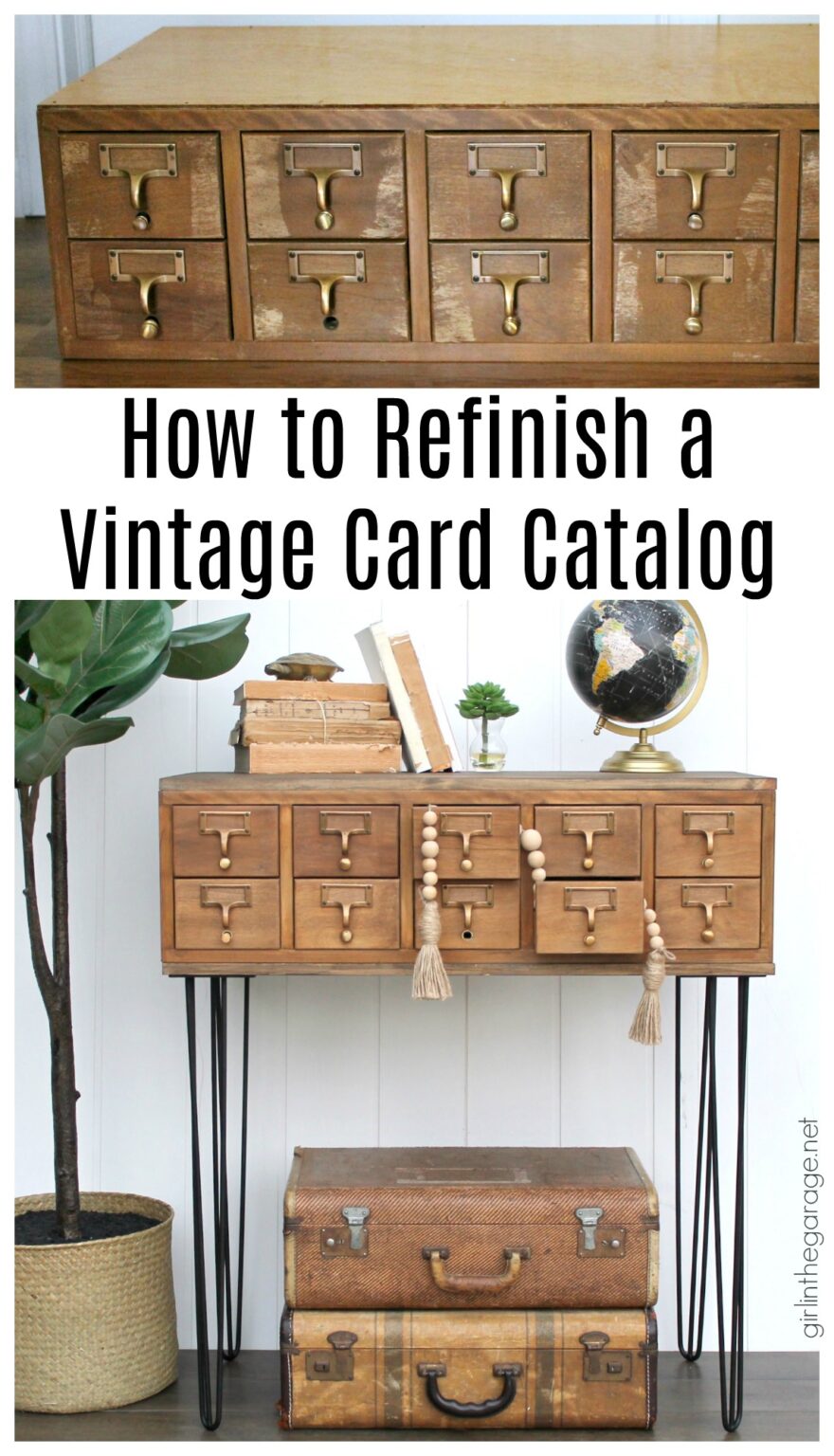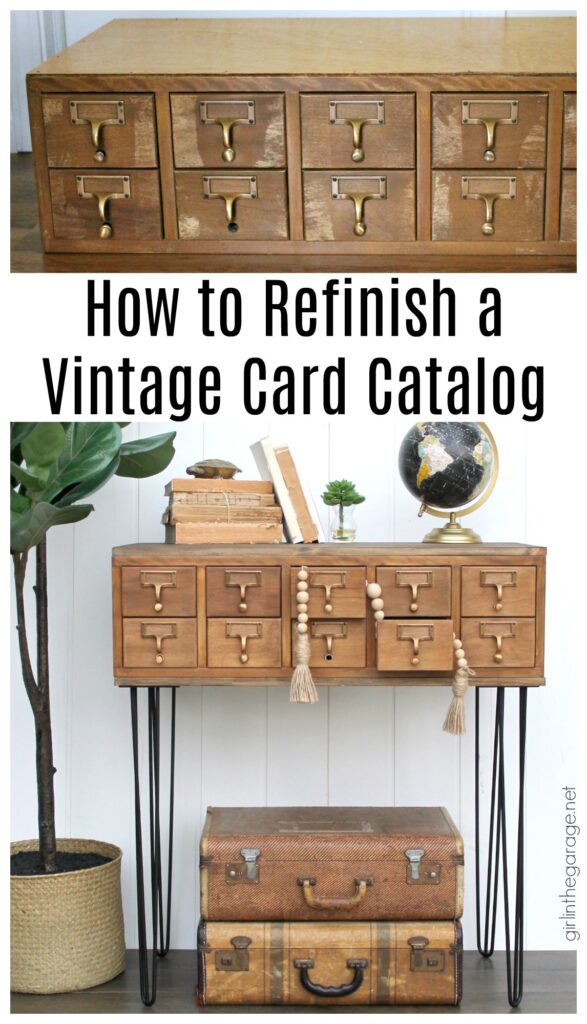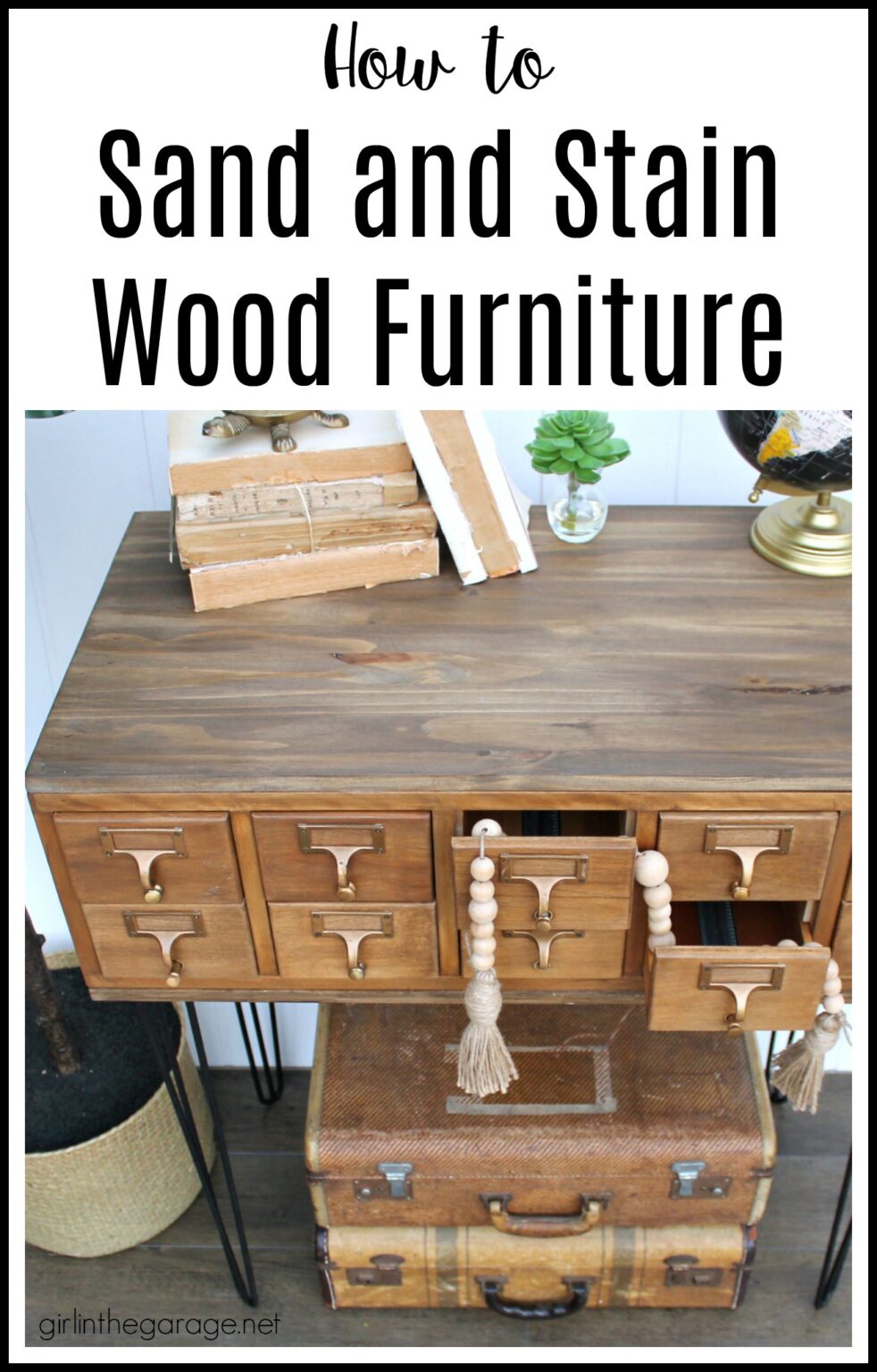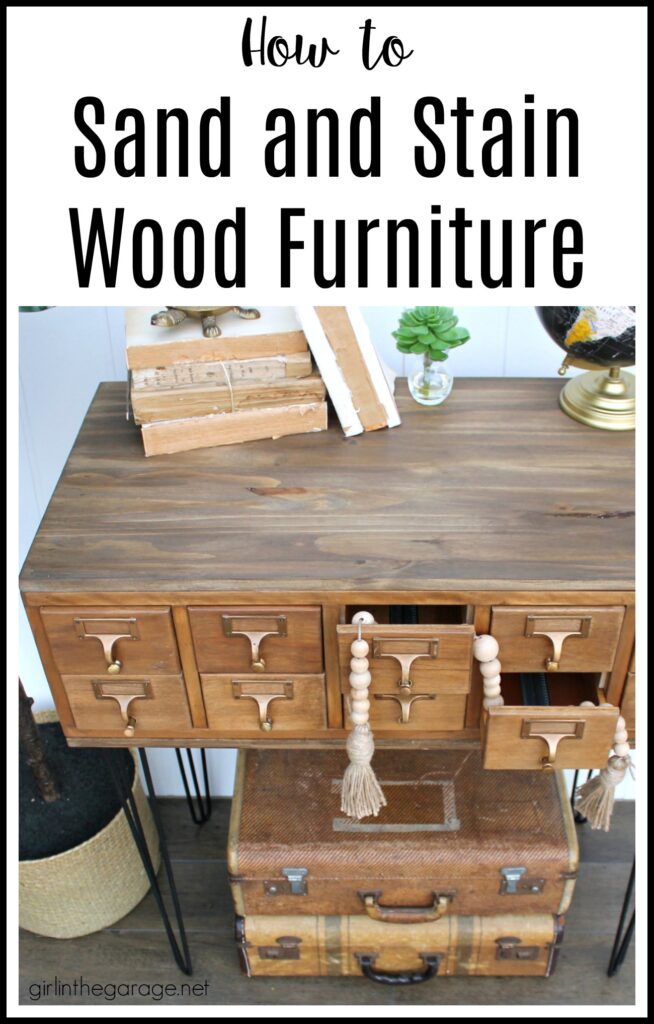 I'd love to know how you feel about staining – are you fine with it, or does it intimidate you like it did me? Leave me a comment below.
Thankfully Minwax makes the process way more comfortable with easy-to-follow directions on each can and tips on their website. Click here for more inspiration and ideas from Minwax. – Jen
And now let's have a giveaway (NOW CLOSED): the winner will receive a Minwax prize pack of great products + gift card! GOOD LUCK!
And of course I couldn't forget Furniture Fixer Uppers day: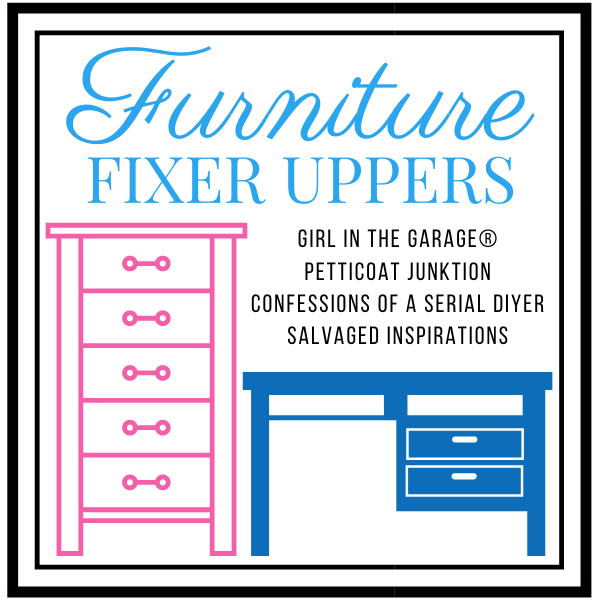 Below are the Before photos – visit the links underneath to see the creative Afters and to learn how they did it: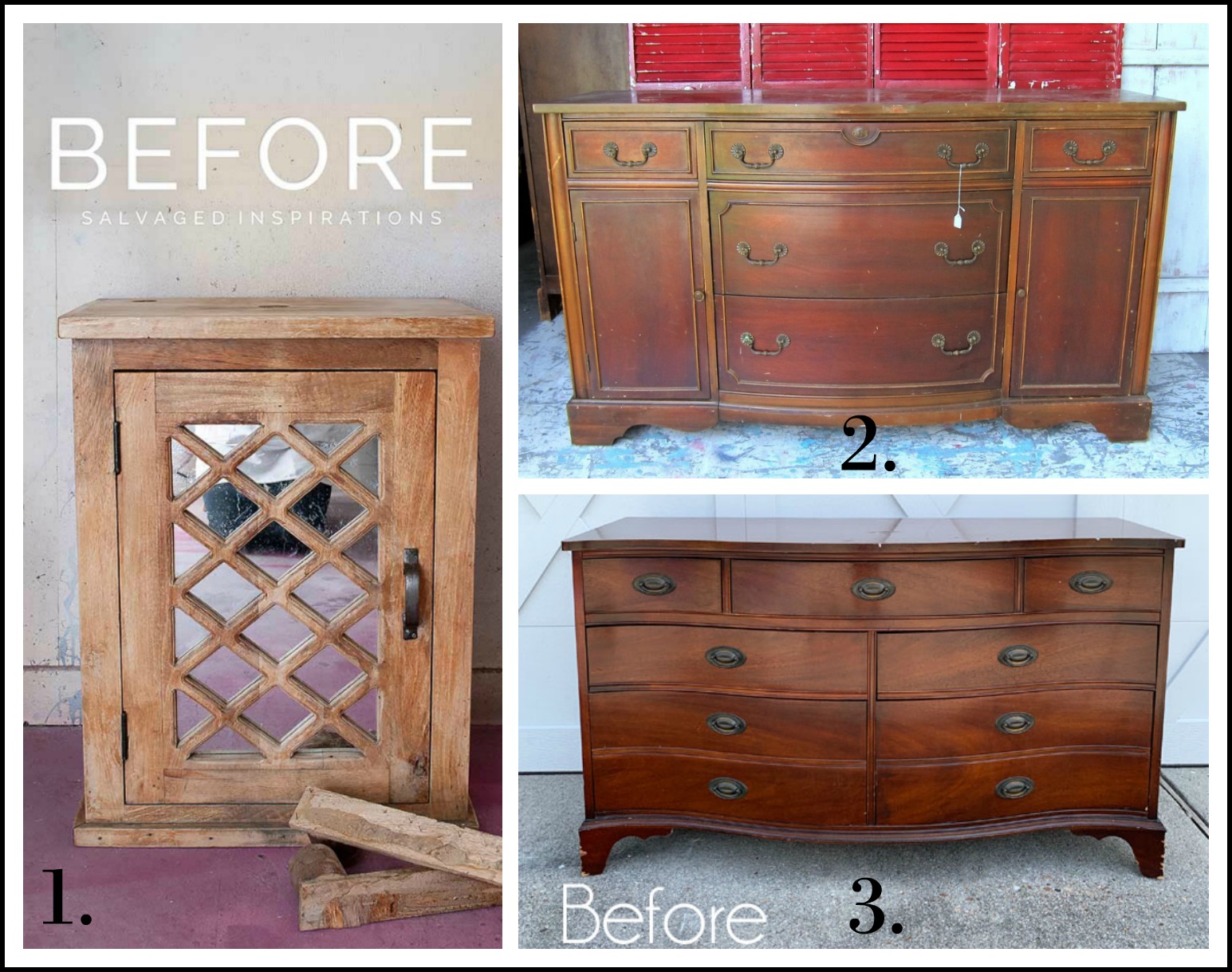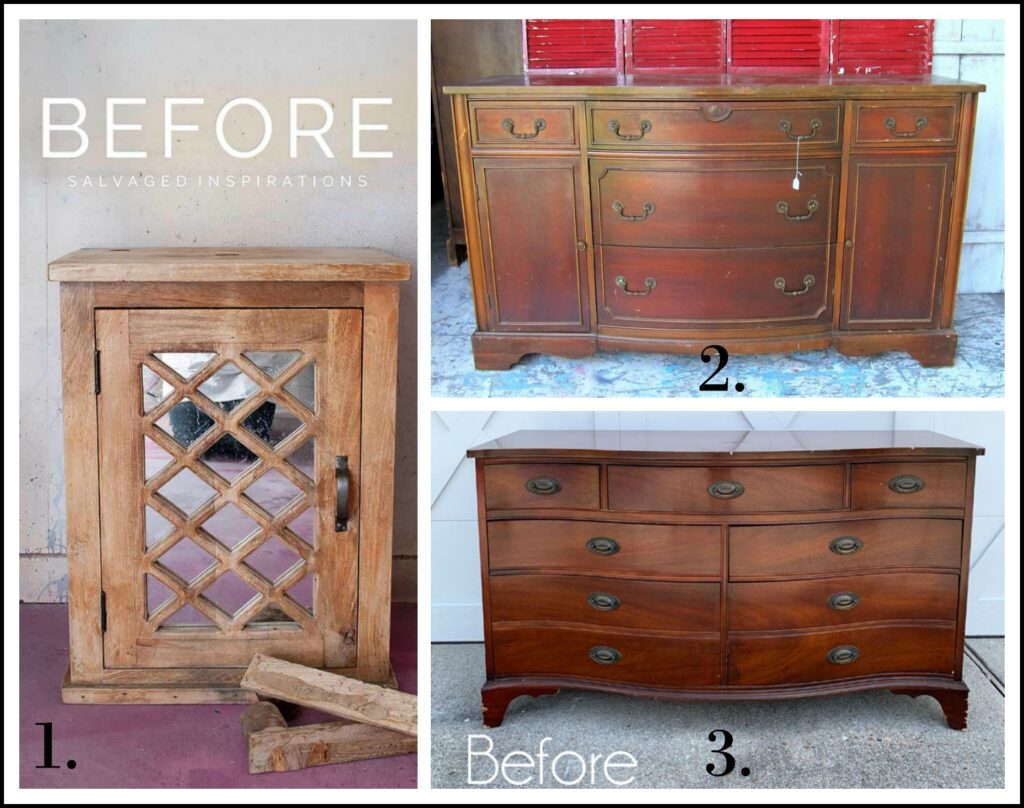 1. Salvaged Inspirations
2. Petticoat Junktion
3. Confessions of a Serial DIYer