Welcome back, friend – it's Trash to Treasure day again! These tables were left behind after a house was sold and the new owners (my friends) offered them to me – so sweet!
I believe these are maple… the wood grain is really beautiful on top. Today I'll show you how I updated them to farmhouse-style stained and painted side tables.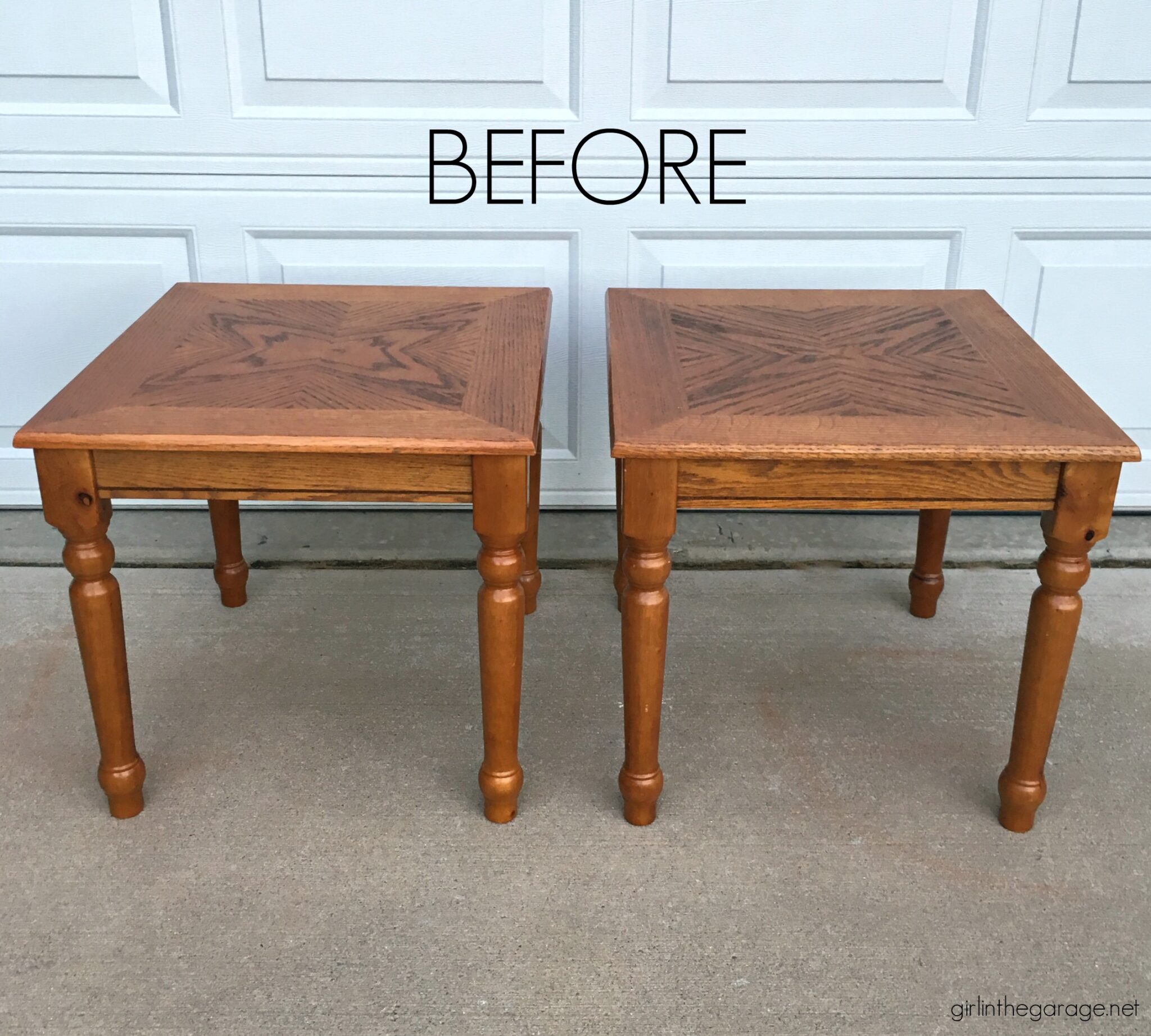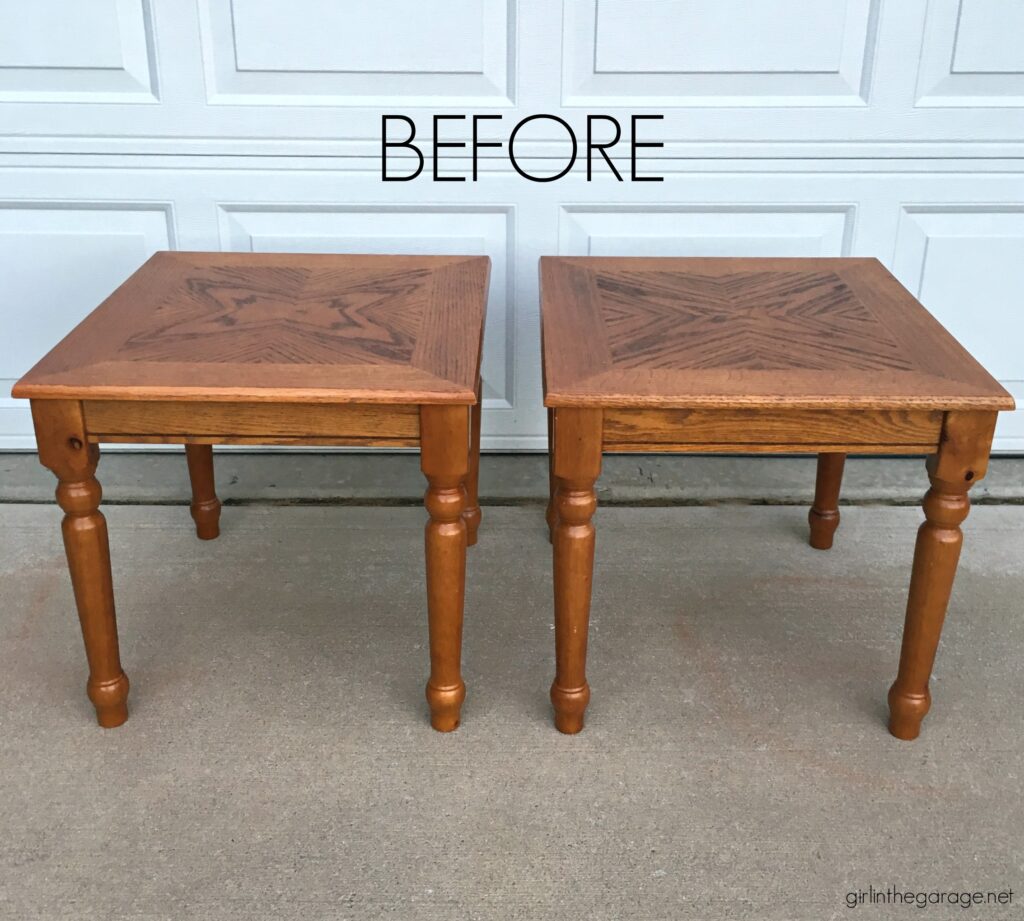 **I've also included a brief helpful video of this tutorial a little further below. It helps to show the process a little better. AND there's a giveaway below too! 🙂
Here's a closer look at one of the table tops: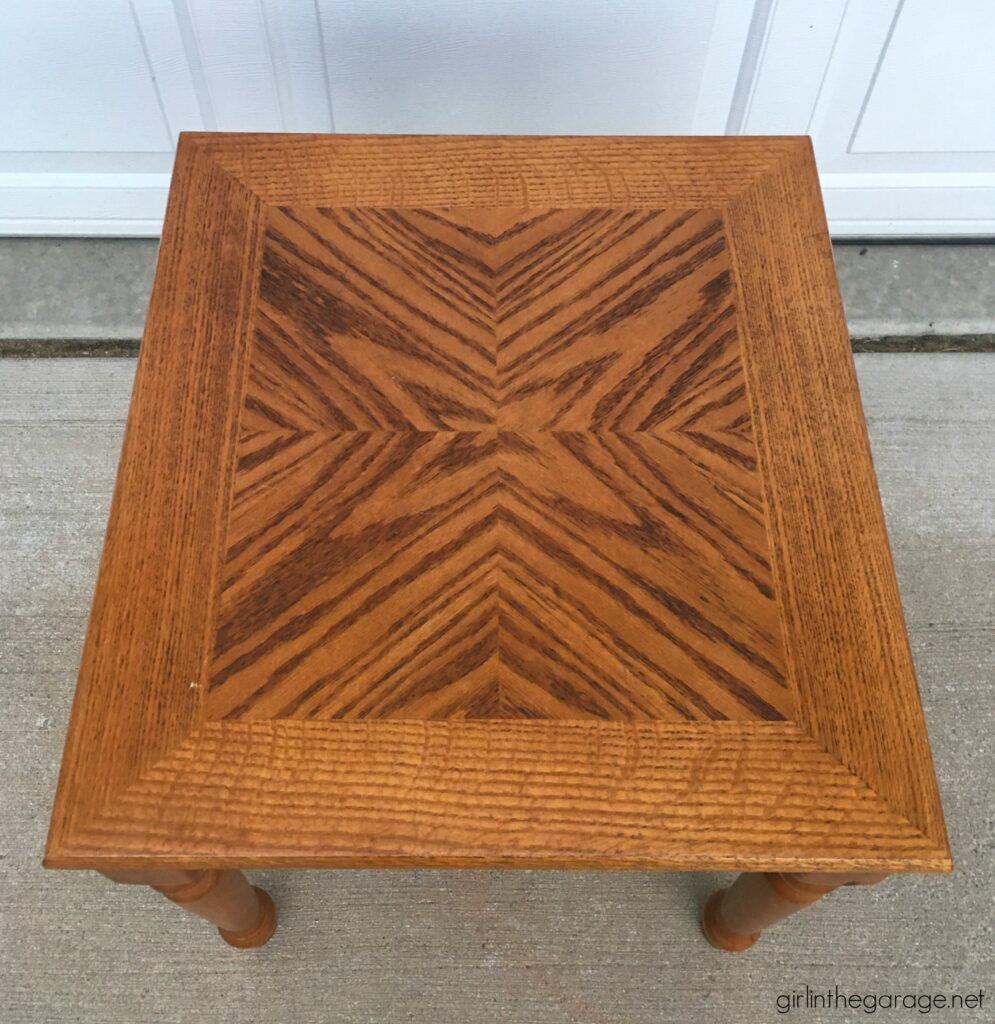 Before we start sanding: safety first! Always follow safety guidelines when using power tools – in this case, wear eye protection and a face mask when using a sander.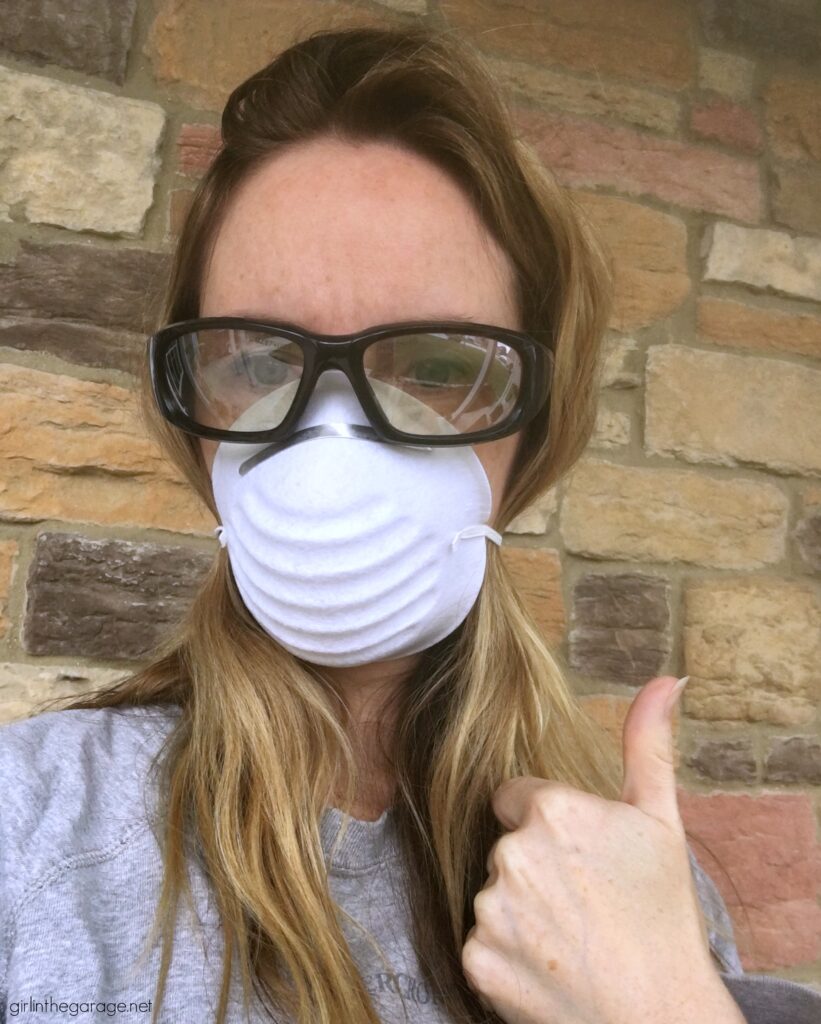 Sand the tops down with an orbital sander and 220-grit sanding disks until the original finish is gone.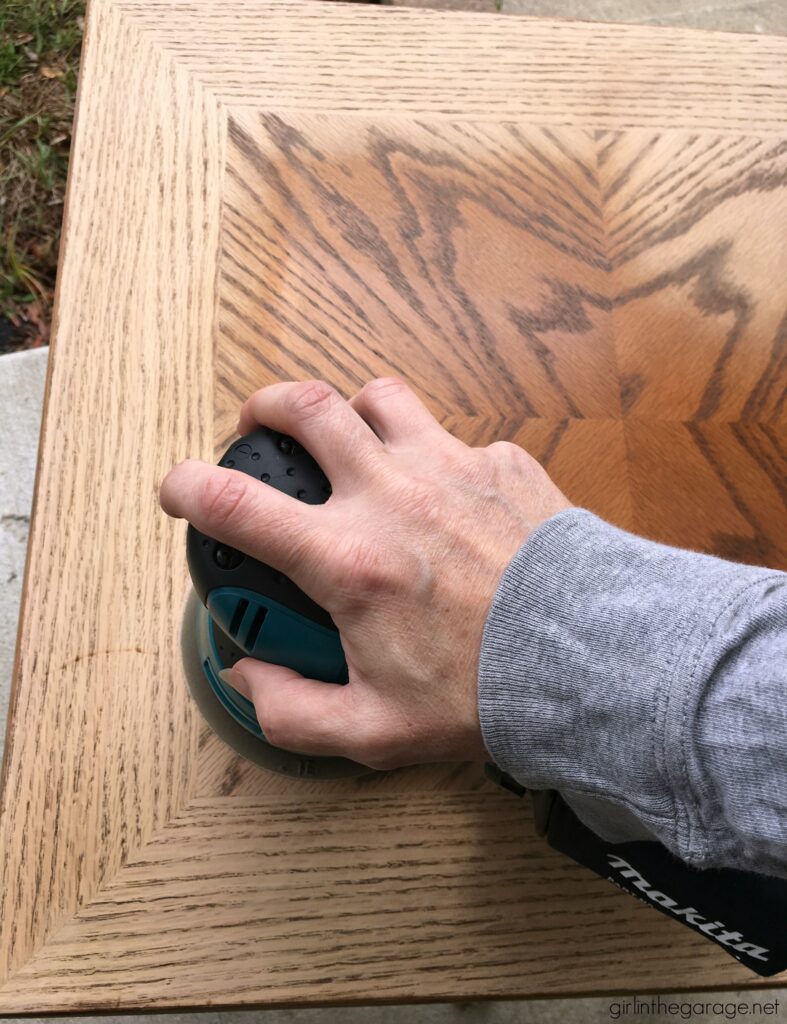 Below you can see the original stained finish vs. the sanded top.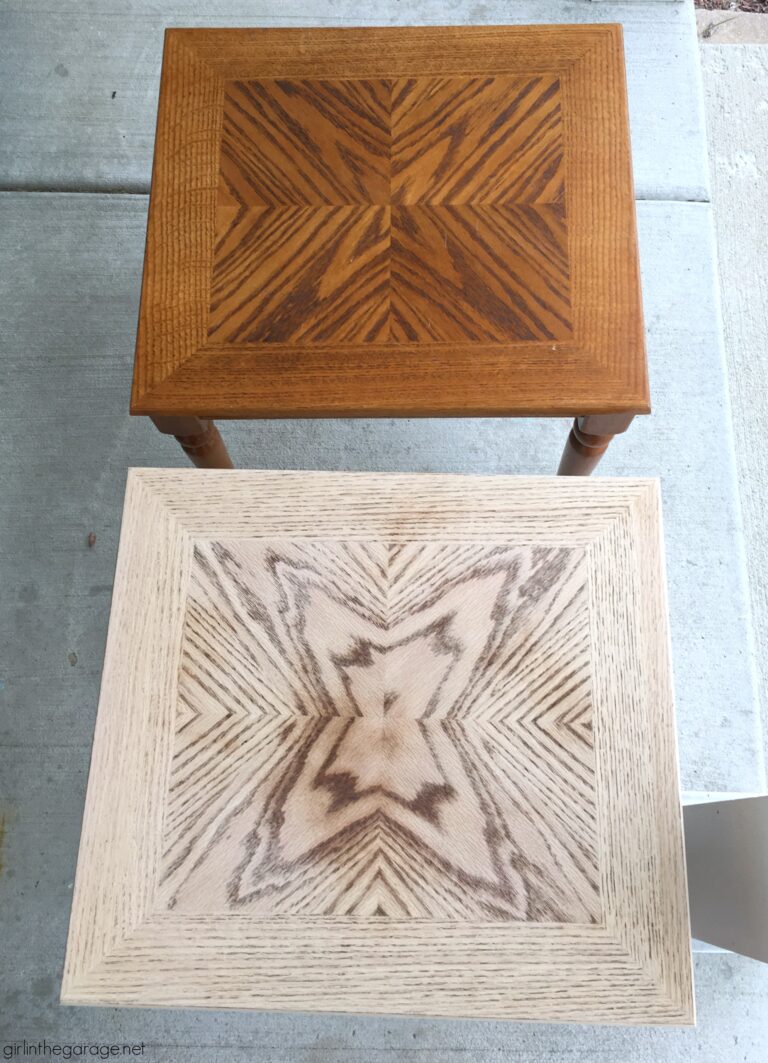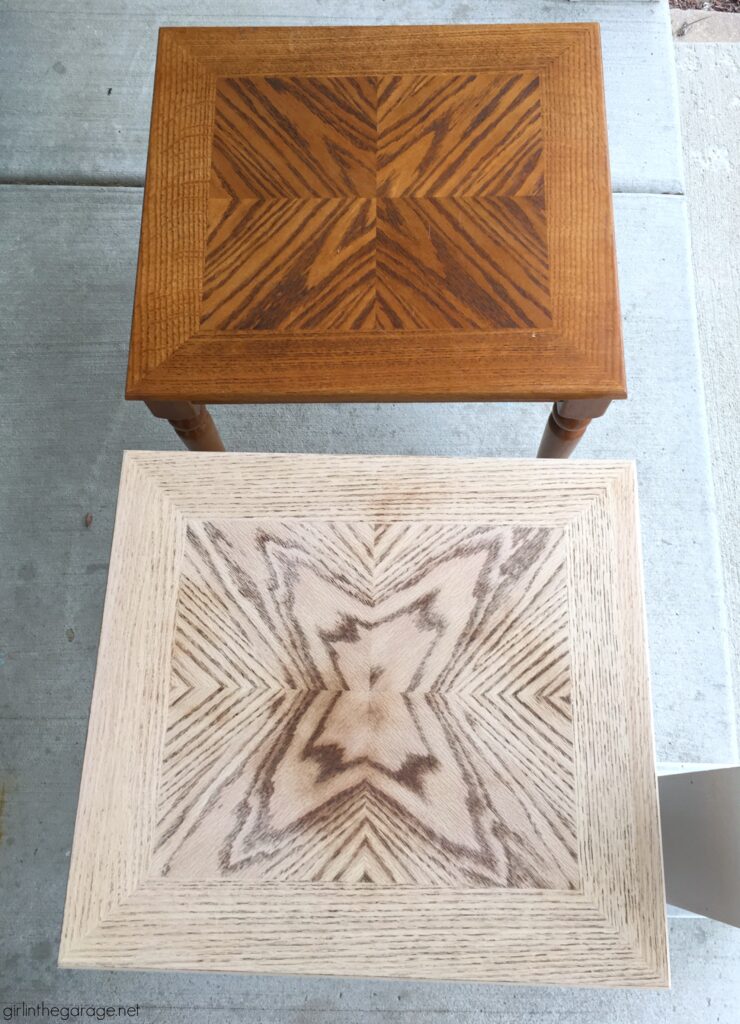 Next it's time to stain! Minwax sponsored this project, and I've really been enjoying using some of their brand new products lately. You can see my blue stained DIY crate bookshelf here or the refinished card catalog here. You can also discover more inspiration and ideas from Minwax here.
Supplies for this project (all from Menards):
Minwax Pre-Stain Wood Conditioner – helps the stain go on evenly

Minwax Wood Finish Semi-Transparent Color Stain in Weathered Fence – a new gray color stain that still lets some wood grain show through

Minwax Polycrylic in Clear Ultra Flat – protective topcoat

Dutch Boy Dura Clean white paint

Purdy brushes

Lint-free cotton cloths

Sandpaper: 220 and 320-grit
Click here to discover where to buy Minwax products near you.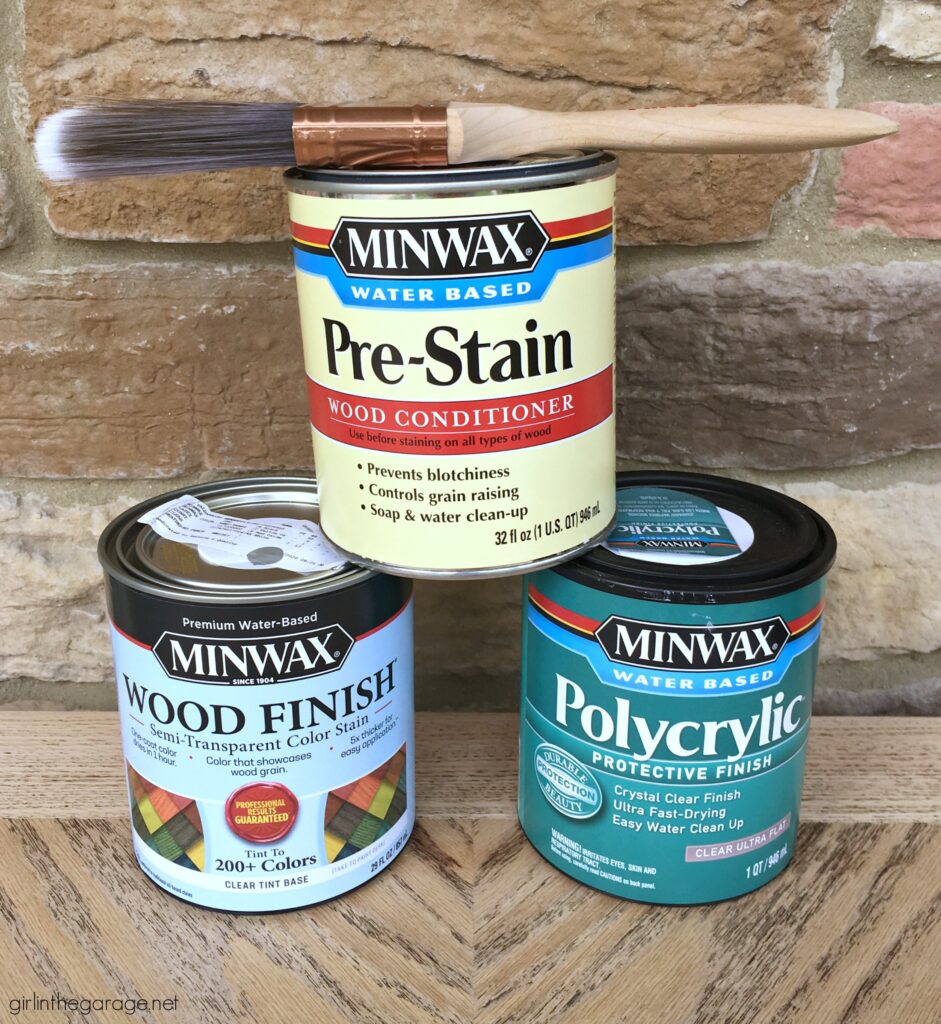 After sanding and removing any dust, start with the Minwax Pre-Stain Wood Conditioner. Apply it lightly with a good quality synthetic brush and let it sit for 1-5 minutes.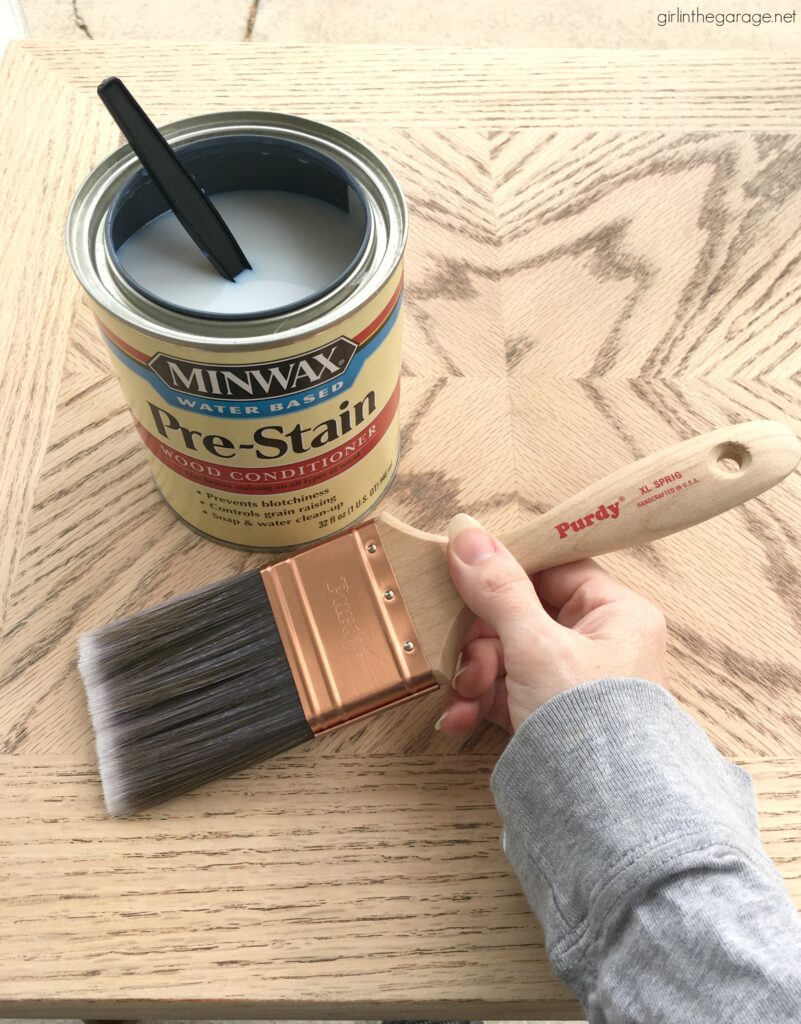 Wipe away any excess conditioner with a clean, lint-free cloth. Don't let it dry on the surface.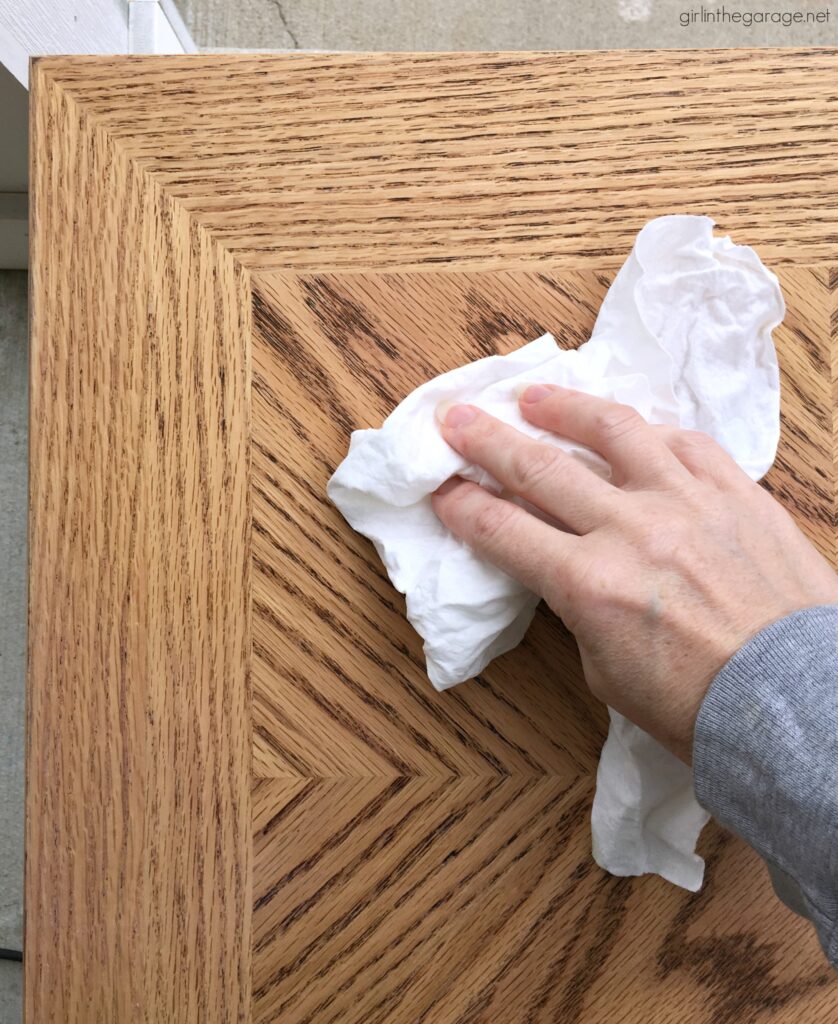 Next, gently sand the top again with 220-grit sandpaper to smooth out any raised wood grain, and then wipe away the sanding dust. I applied one coat of wood conditioner before staining.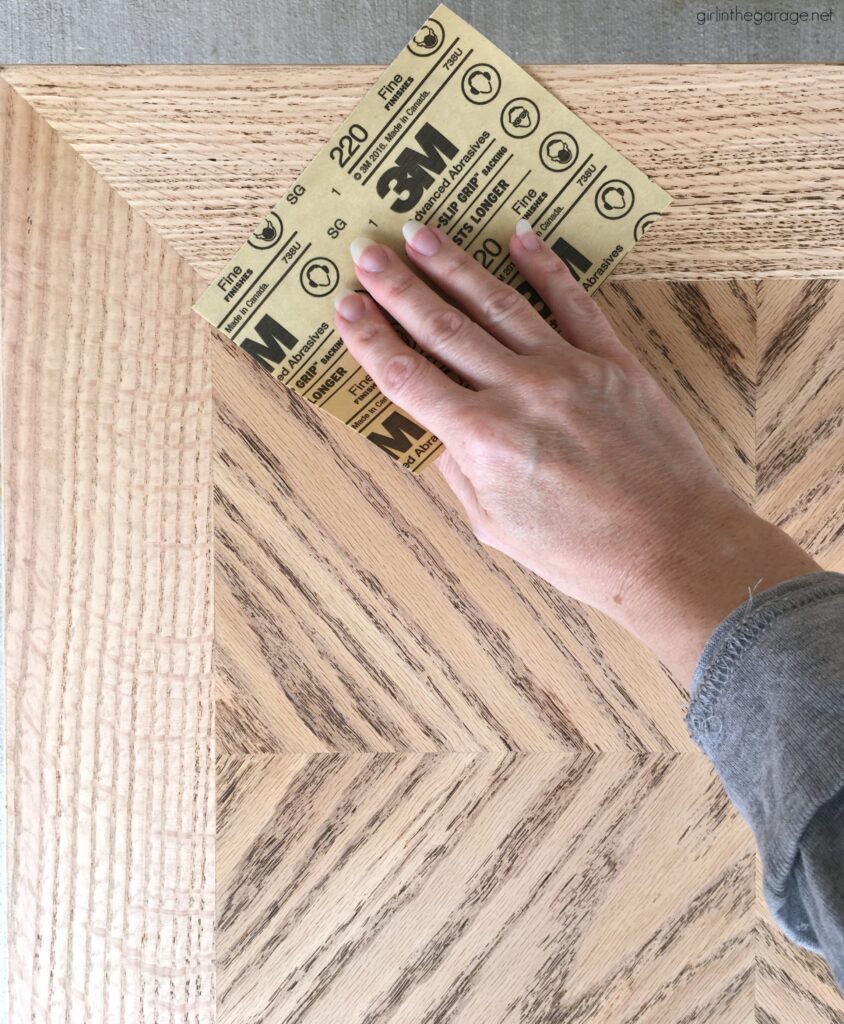 Now it's ready to be stained. I chose Minwax Wood Finish Semi-Transparent Color Stain in Weathered Fence. This product adds color while still allowing some of the wood grain to show through. I like that it's water-based AND it's tintable with over 200 color options! It's thick like paint though and dries quickly, so it's best for smaller projects. There is also a Solid Color Stain version available besides the Semi-Transparent.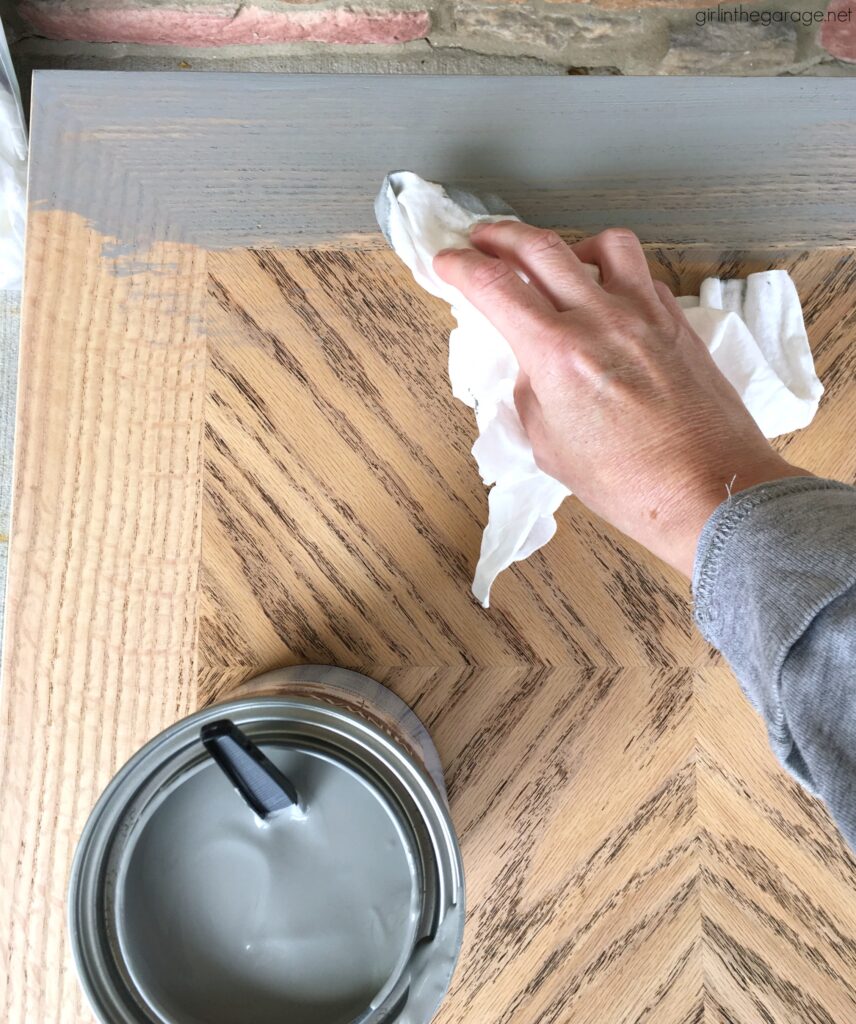 Apply the stain in the direction of the wood grain. Staining the tops of these tables was a little tricky, because the wood grain goes in so many different directions.
After applying the stain, quickly (within 1-2 minutes) wipe away the excess with a clean cloth. I did the first coat and then decided to do a second coat for more even coverage. Don't sand between coats.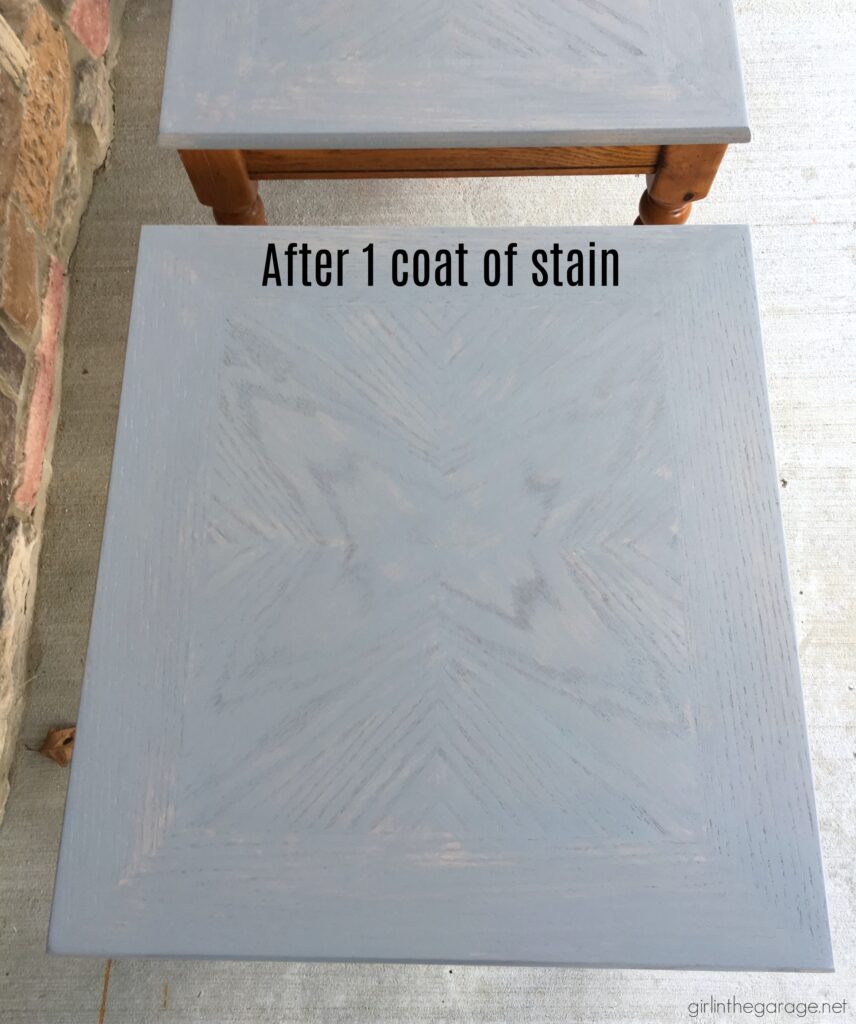 Wait at least 2-3 hours before applying a topcoat.
During this time, I painted the bottoms of the side tables in two coats of Dutch Boy Dura Clean in white and let them dry overnight. Then I lightly sanded them for a distressed farmhouse look, starting with 320-grit and then changing to 220-grit sandpaper.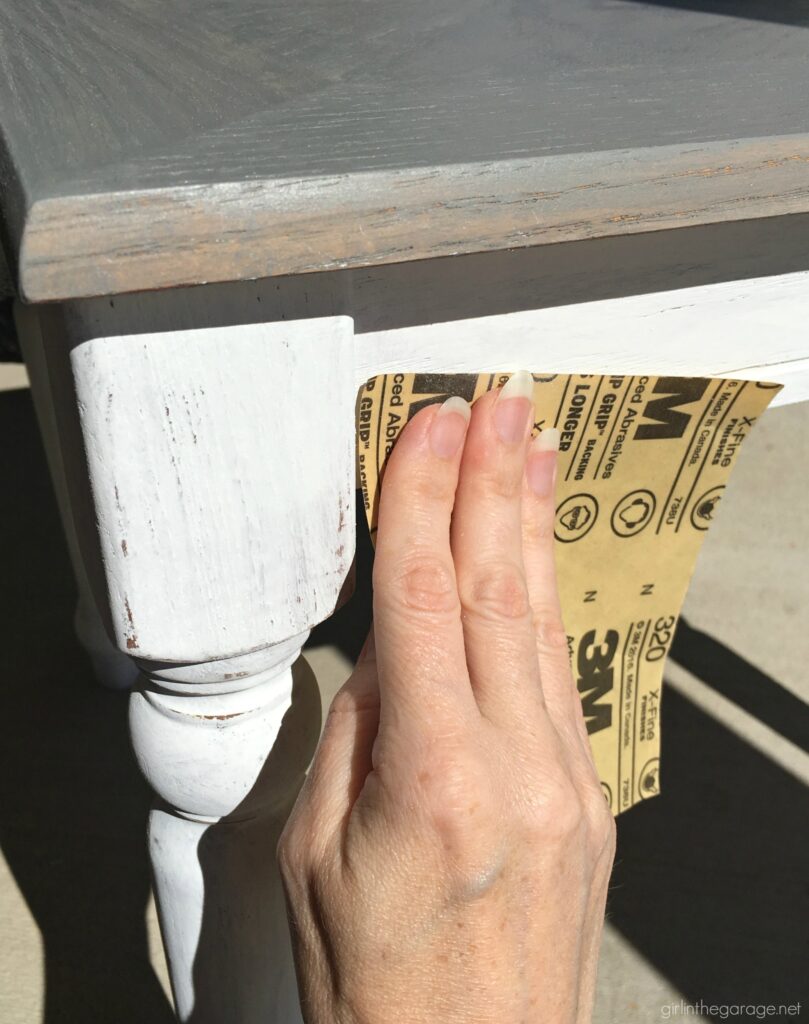 Finally, I protected the stained and painted side tables with Minwax Polycrylic. This is a water-based formula that dries clear with a flat finish (Clear Ultra Flat). Be sure to use a good quality synthetic bristle brush.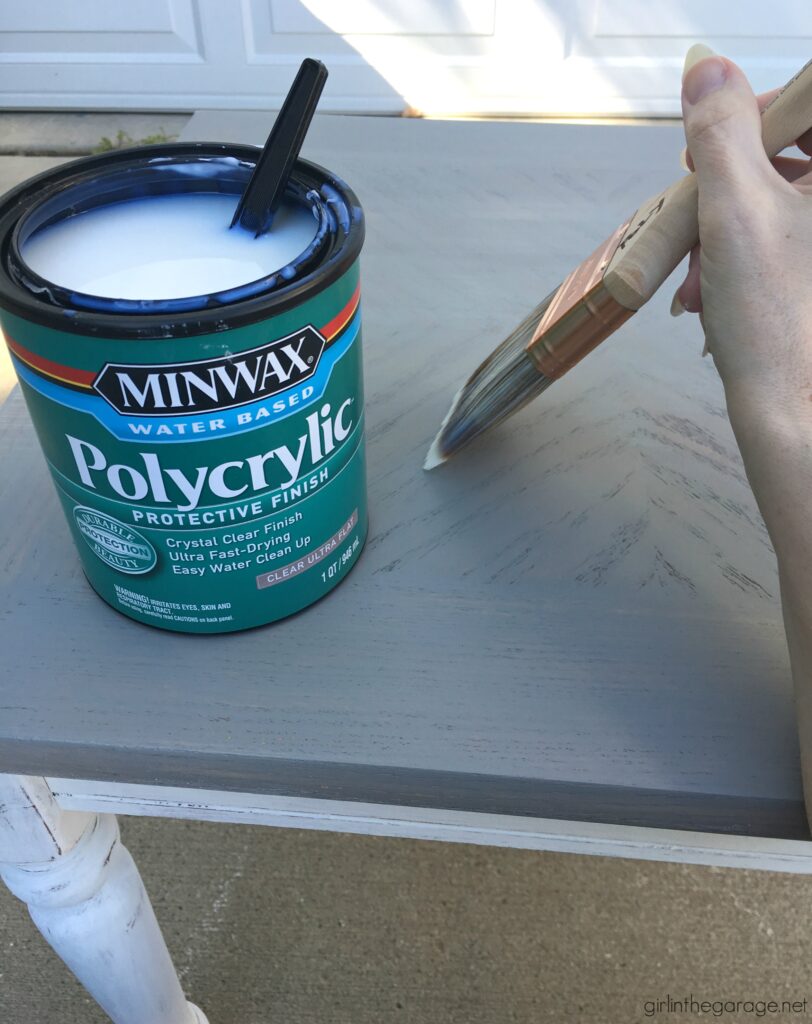 Let it dry for at least 2 hours, then gently sand with 220-grit sandpaper and wipe with a clean cloth. Apply another coat, repeating the steps. I did three coats for extra durability. Be sure to let it dry for 3+ hours before light use.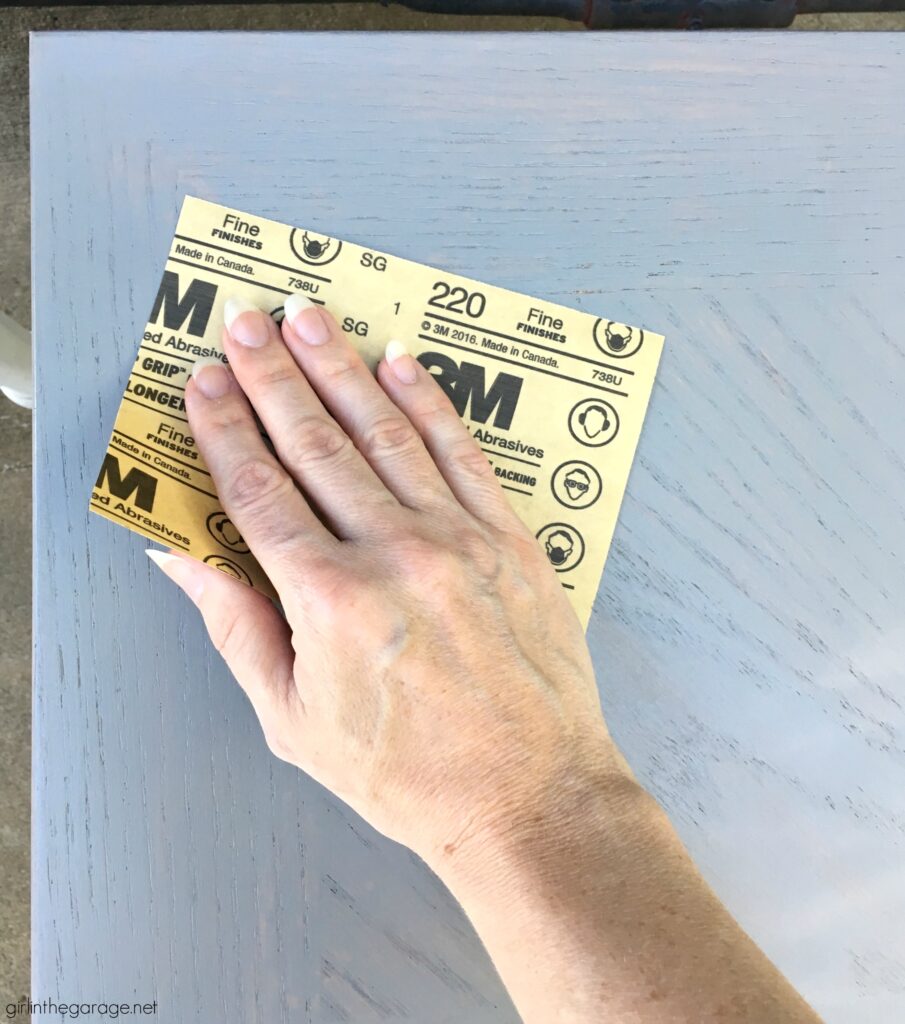 It took me about a day and a half to completely finish this project.
And now for the final reveal of these farmhouse-style stained and painted side tables…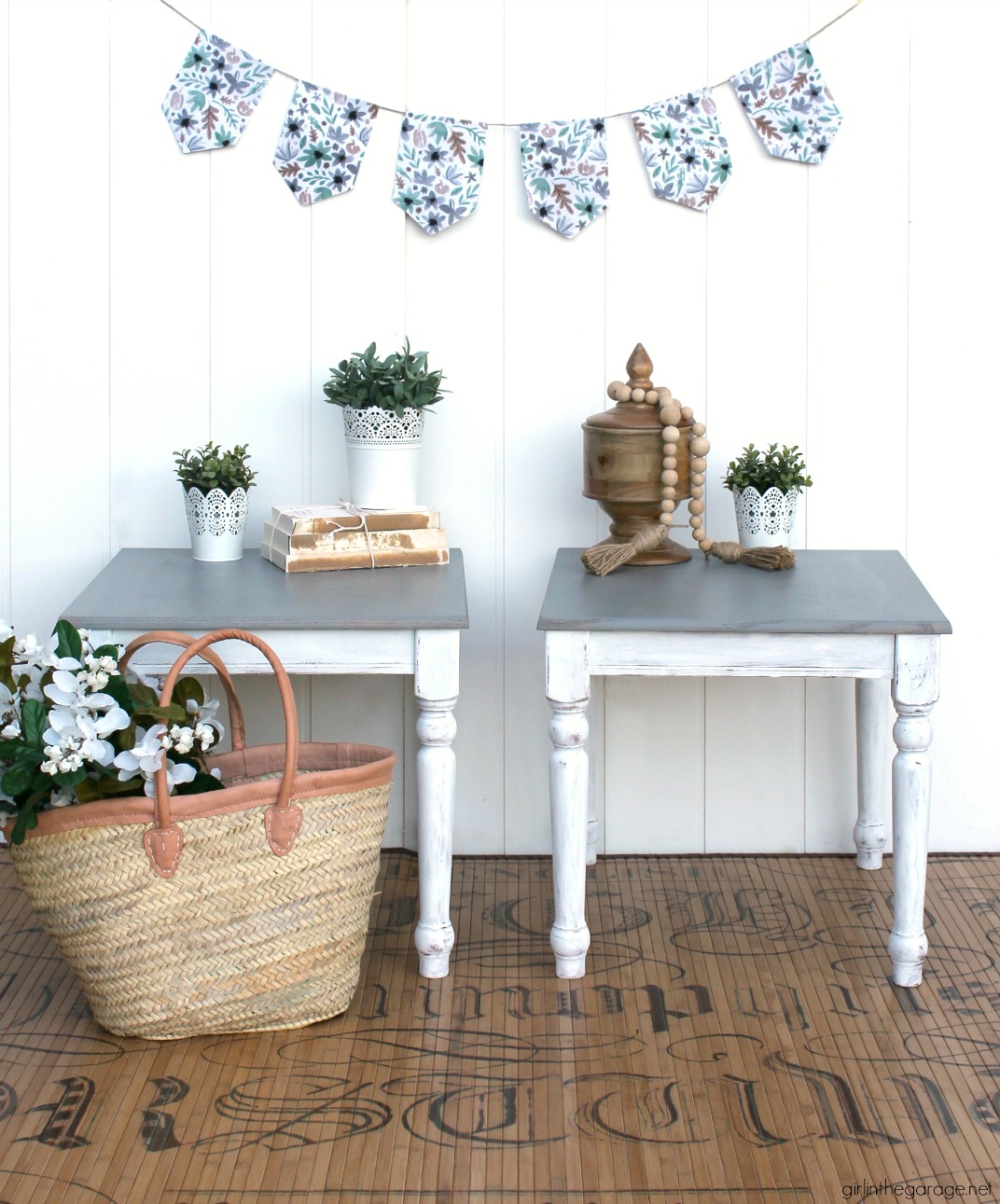 Definitely more updated than their original look, but still very charming and versatile.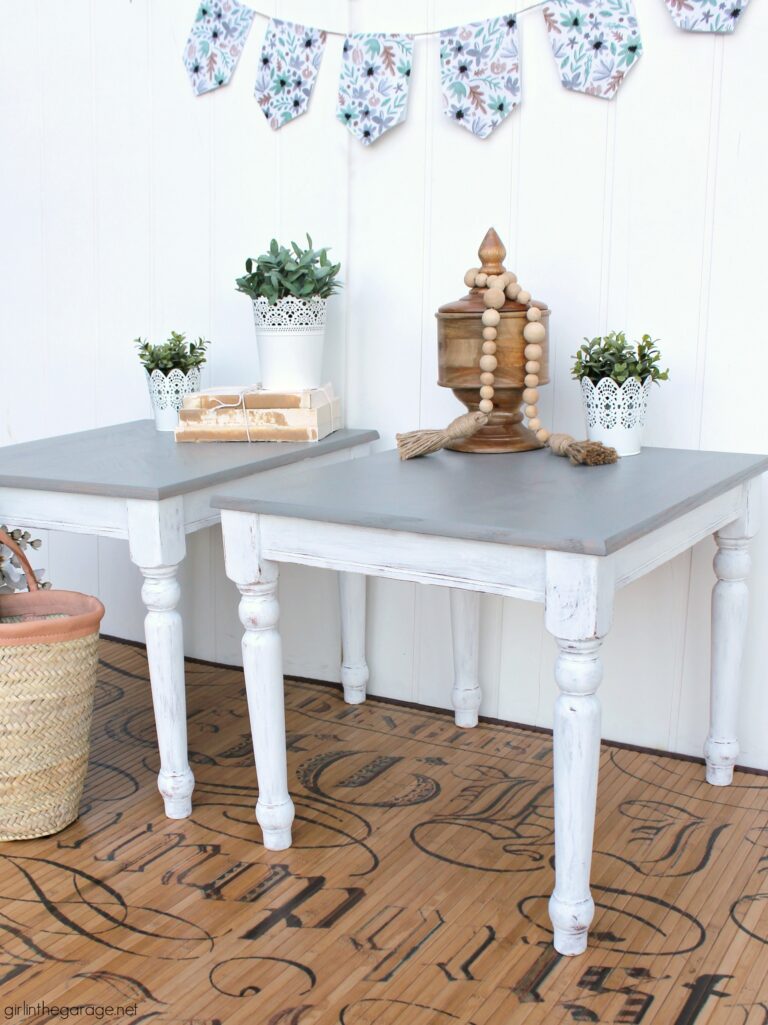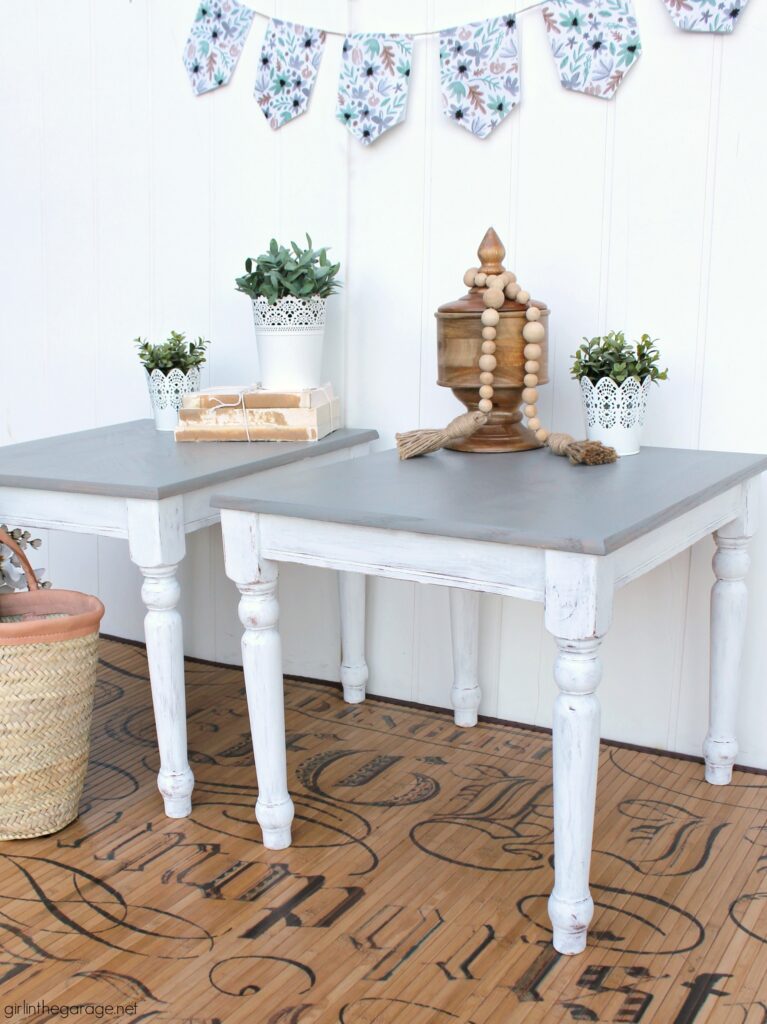 And while the tops are stained gray now, you can still see the beautiful wood grain patterns.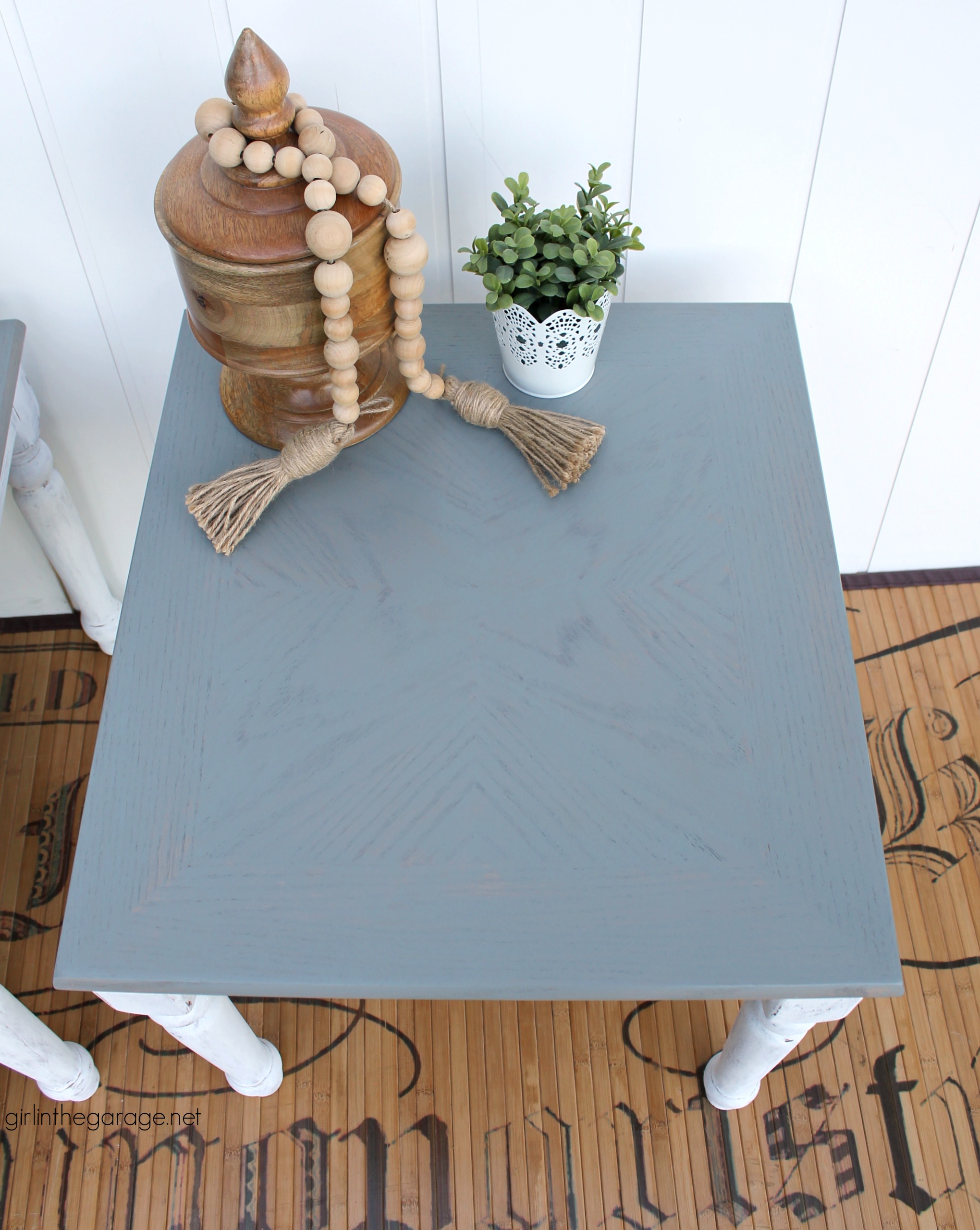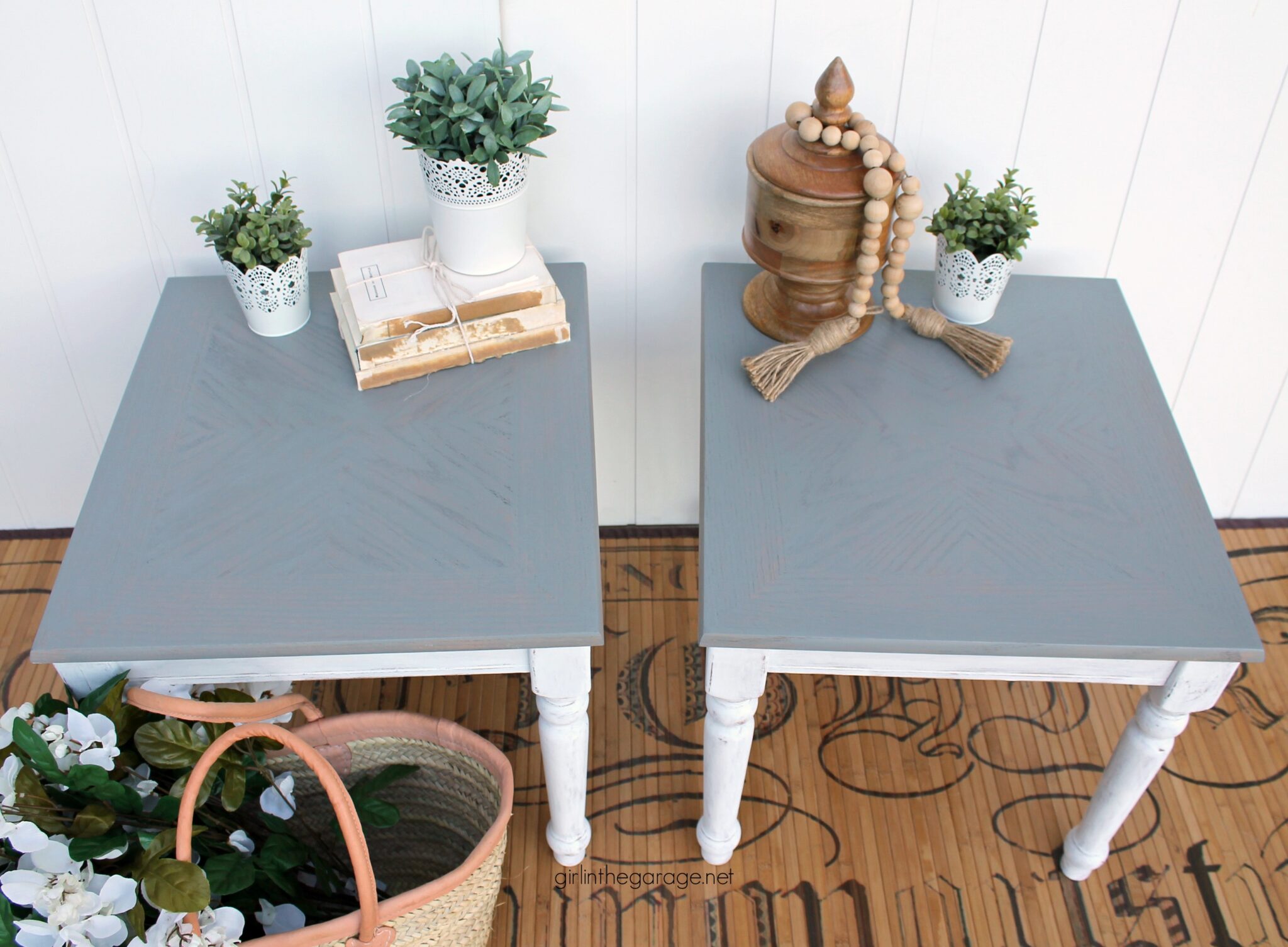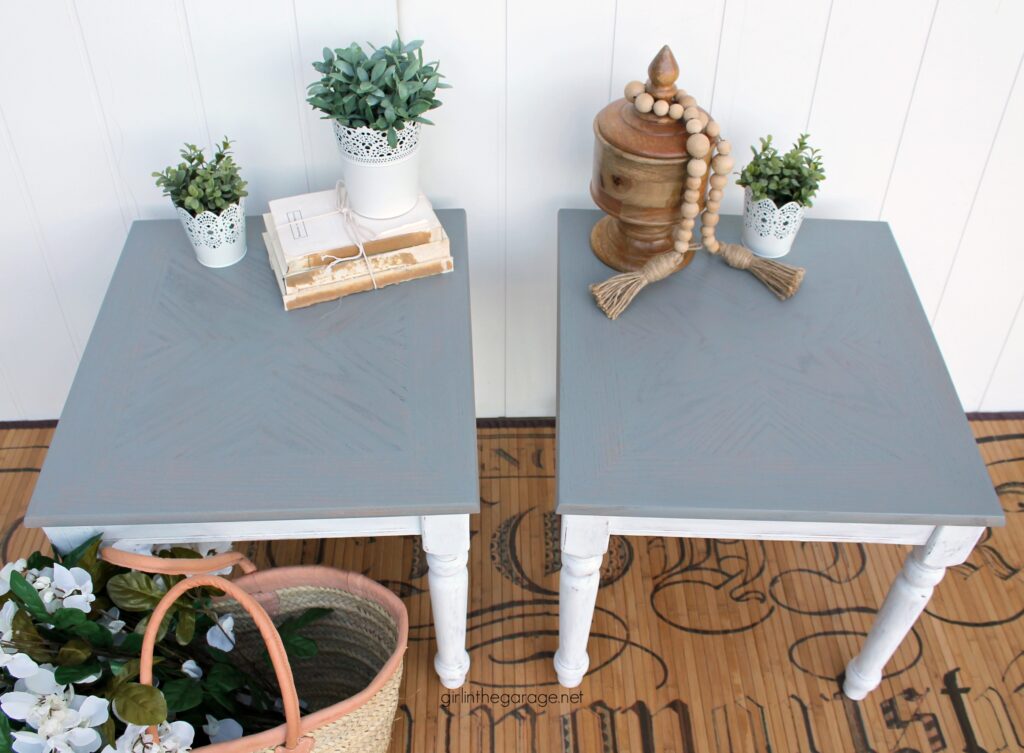 The gently distressed look is just a little rustic.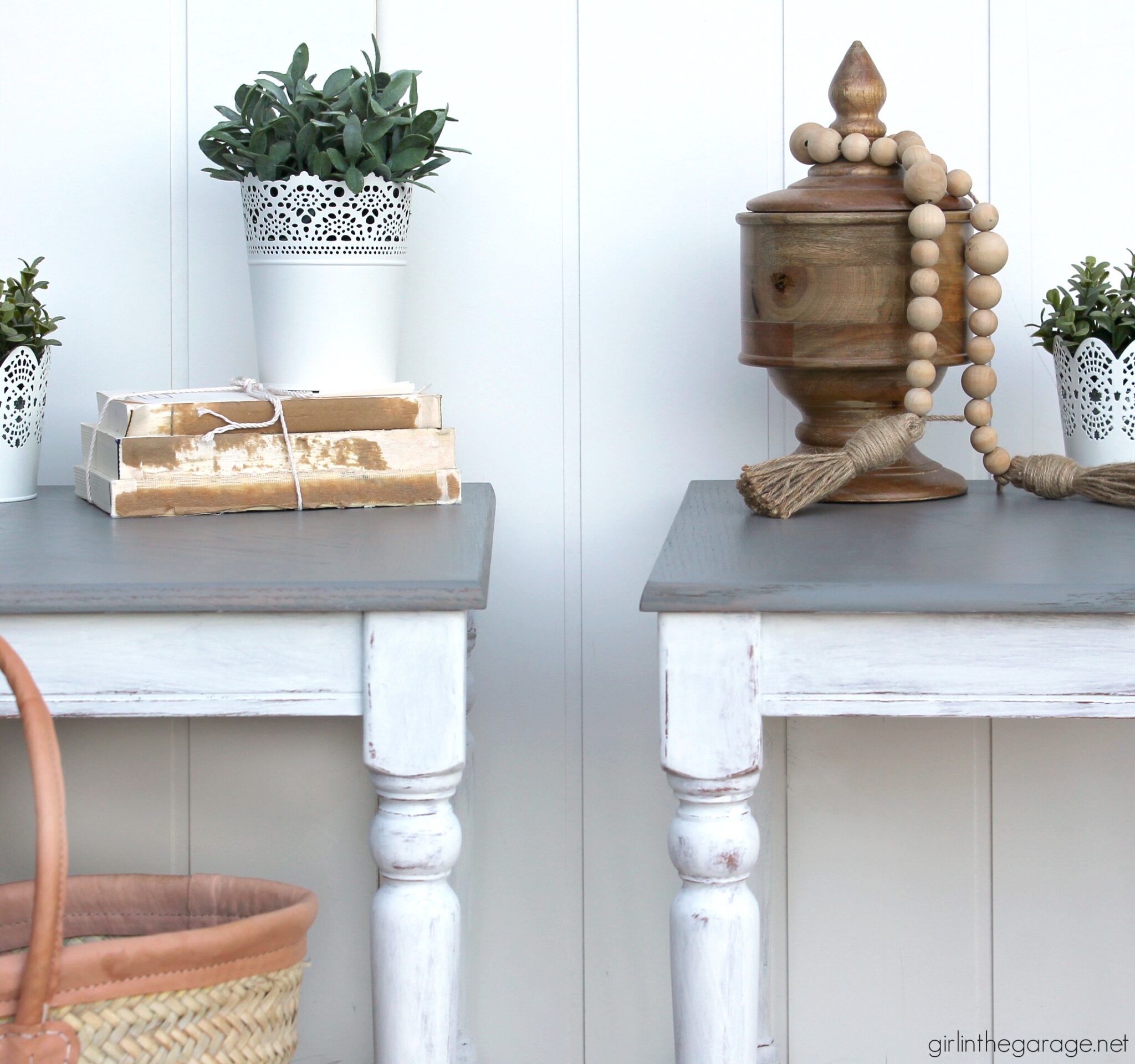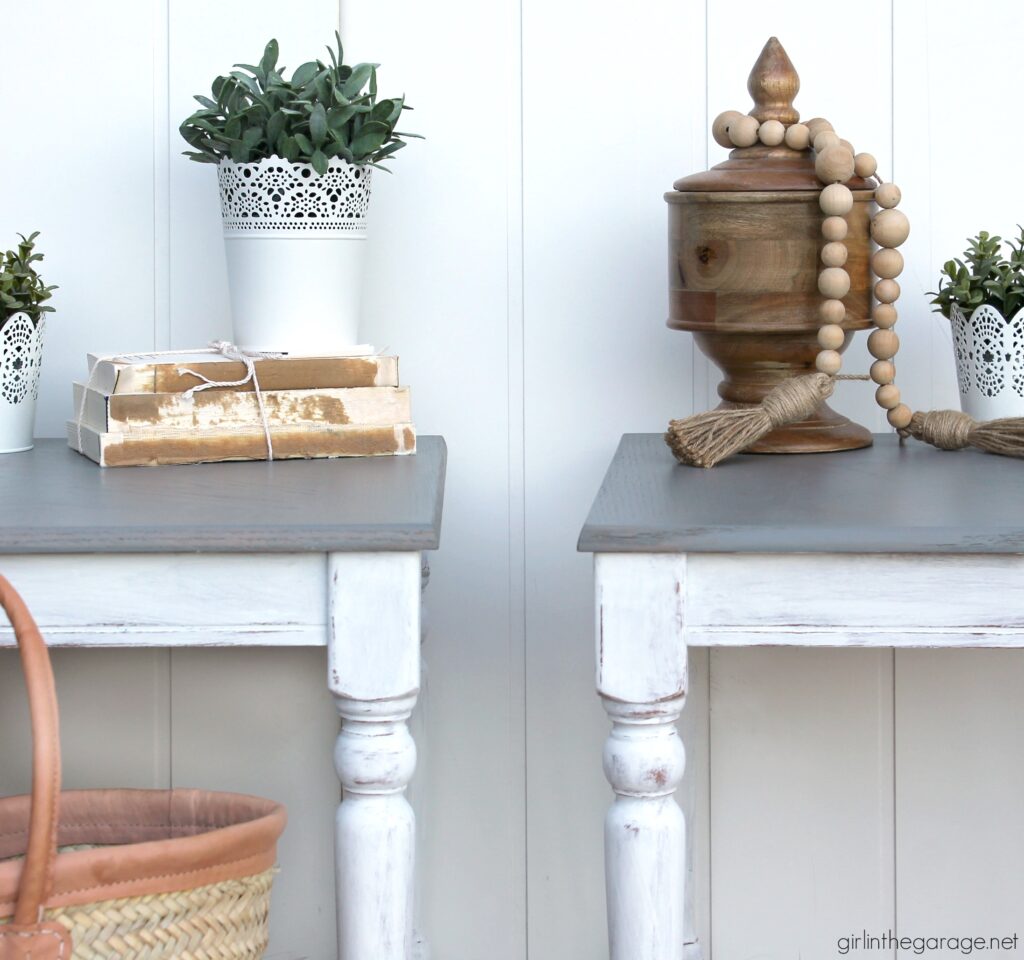 Such a sweet pair for any modern farmhouse or cottage!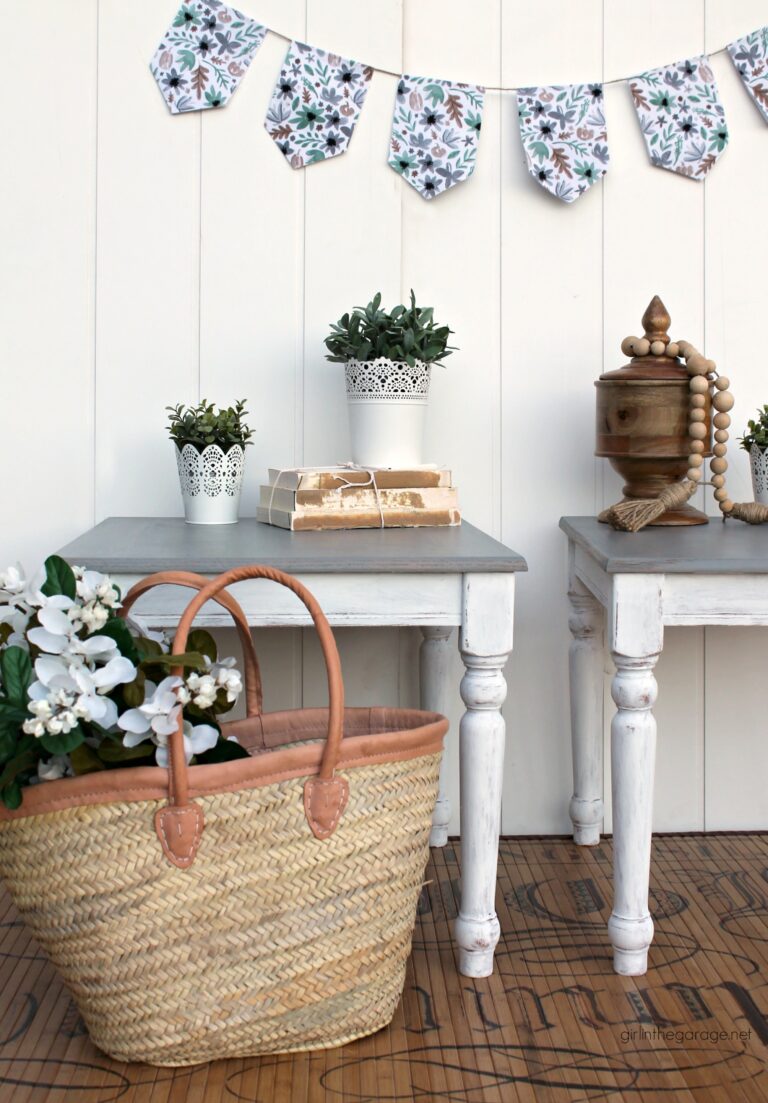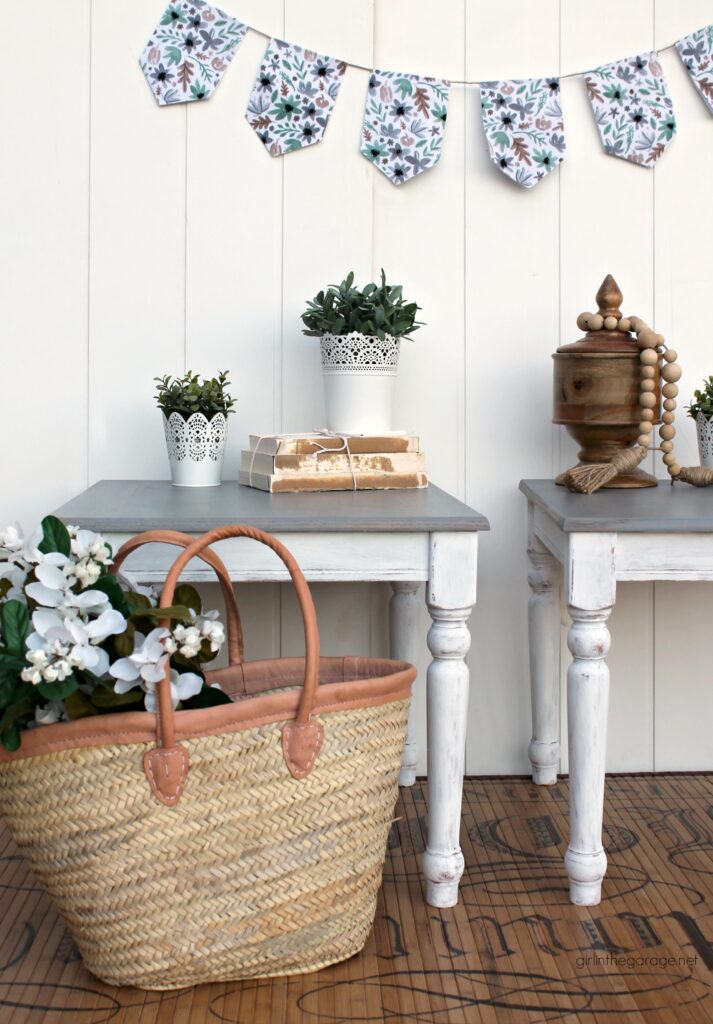 The Minwax stained tops and painted distressed bottoms look so good together, don't they? Click here to discover where to buy Minwax products near you.
Feel free to share or Pin the images to easily find this project later. 🙂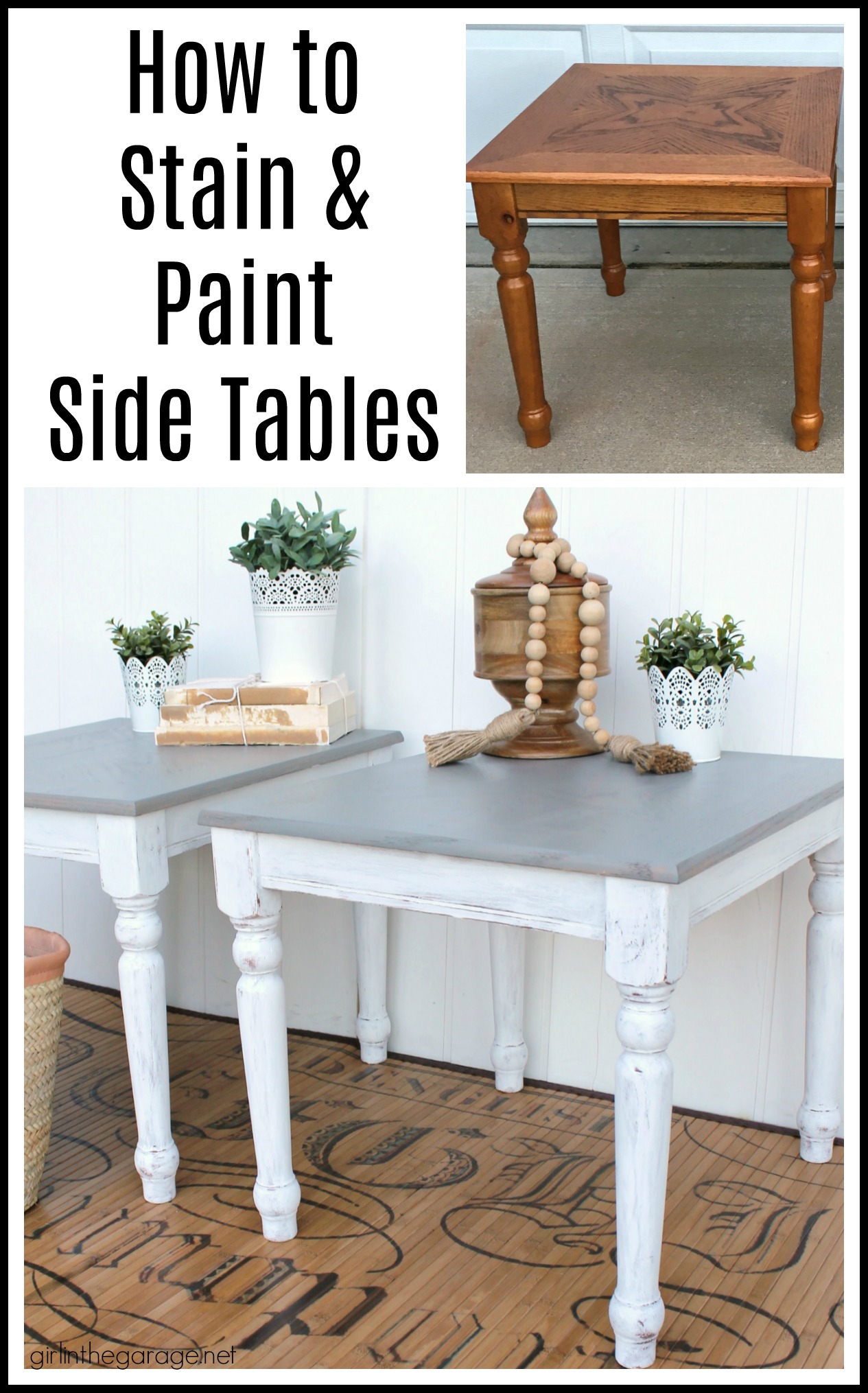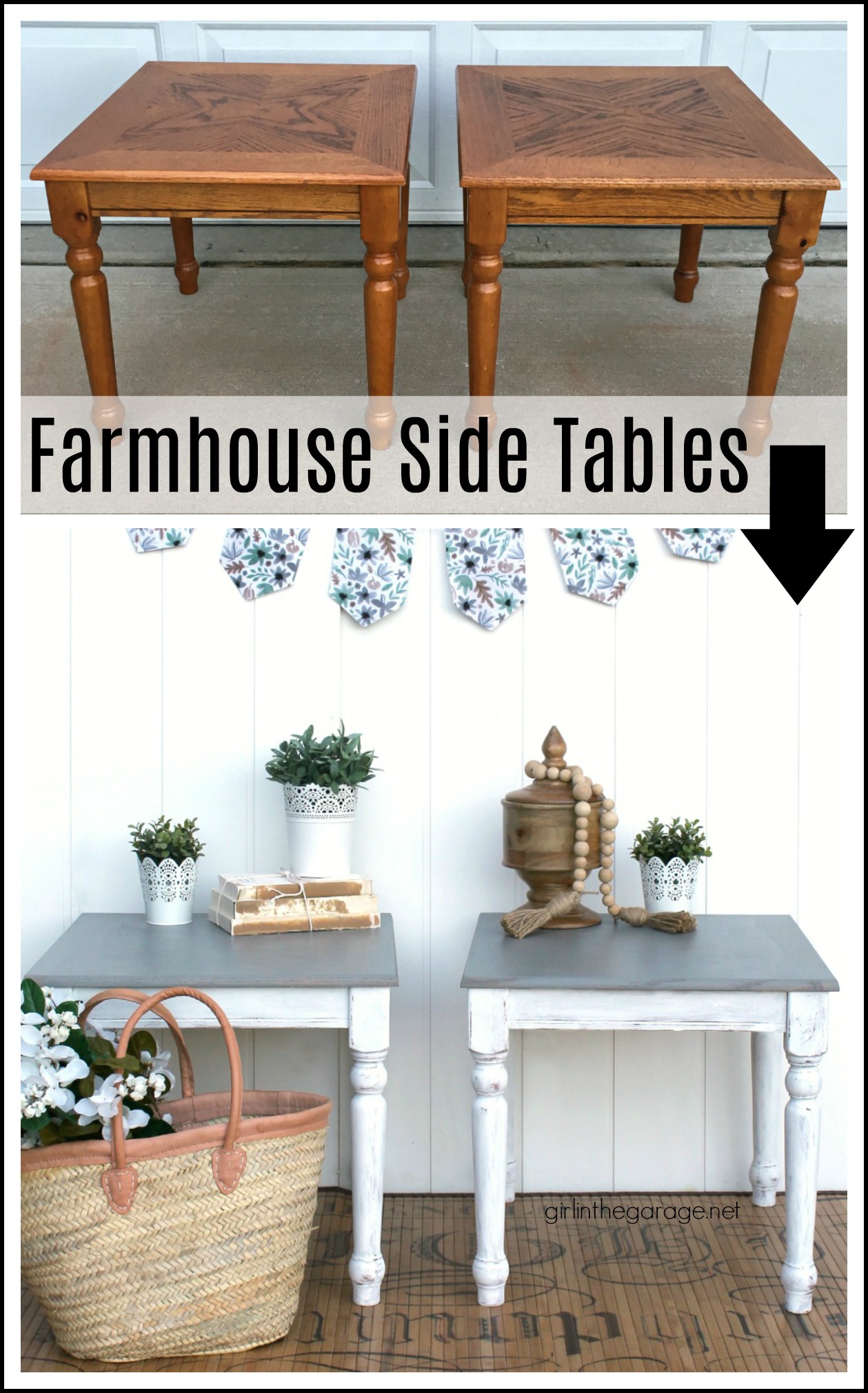 I used to be intimidated by staining but I'm getting quite comfortable with it now – and I appreciate gorgeous wood grain so much more by knowing how to properly refinish it! Click here for more inspiration and ideas from Minwax. – Jen
And now let's have a giveaway: the winner will receive a Minwax prize pack of great products + gift card! GOOD LUCK!
Finally, it's time for Trash to Treasure Tuesday with my friends – where we each update a thrifted or free item in a budget-friendly way: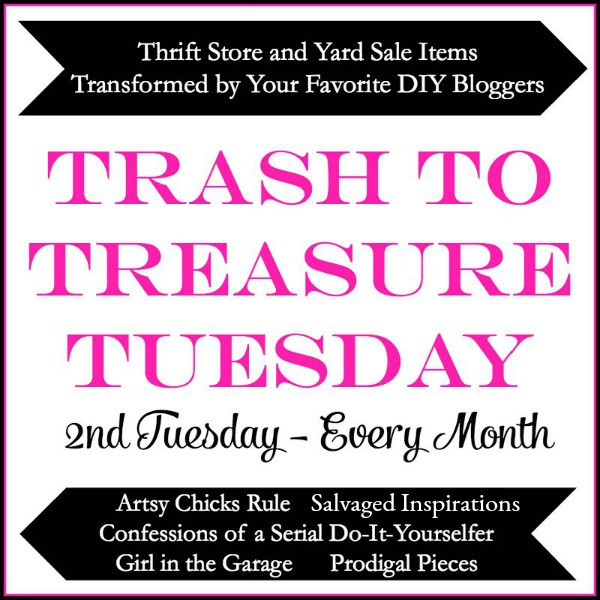 Below are the Before photos – visit the links underneath to see the amazing Afters and to learn how they did it: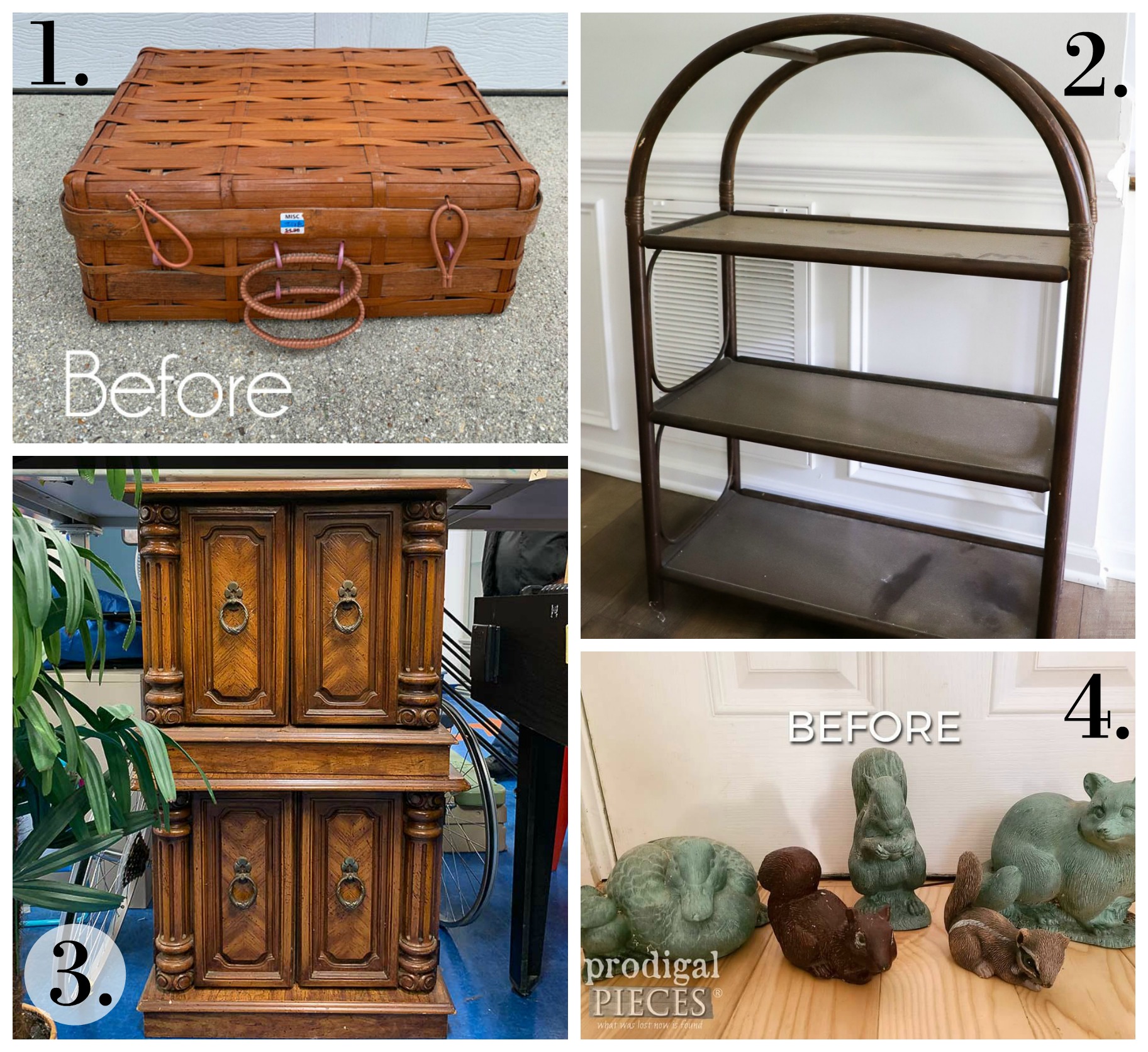 1. Confessions of a Serial DIYer
2. Artsy Chicks Rule
3. Salvaged Inspirations
4. Prodigal Pieces