UGG. Have you ever updated a piece of furniture and thought you did a pretty awesome job but then it sat and sat and sat in your booth and no one bought it?
So finally you brought it back home to live in your basement for a few years because you refused to just let it go for peanuts? (Just because a piece isn't selling doesn't mean you should practically give it away. There are other options to try first.)
Here's a little upholstered bench I brought home in 2015 (yep 4 years ago):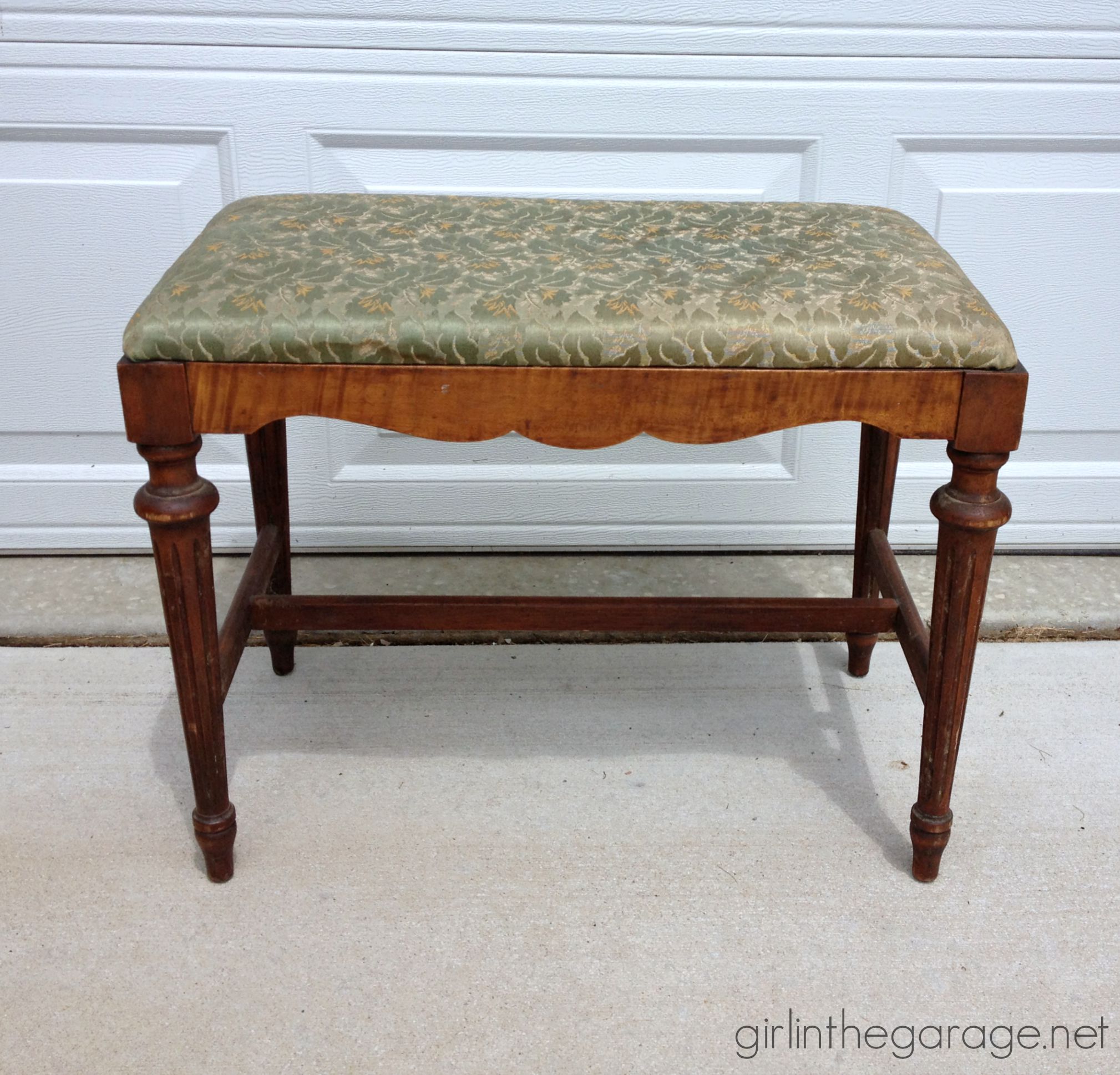 That summer I gave it a makeover with fresh white paint and an antique embroidered pillowcase (read all about it Here) and I thought it was so pretty. Isn't it pretty??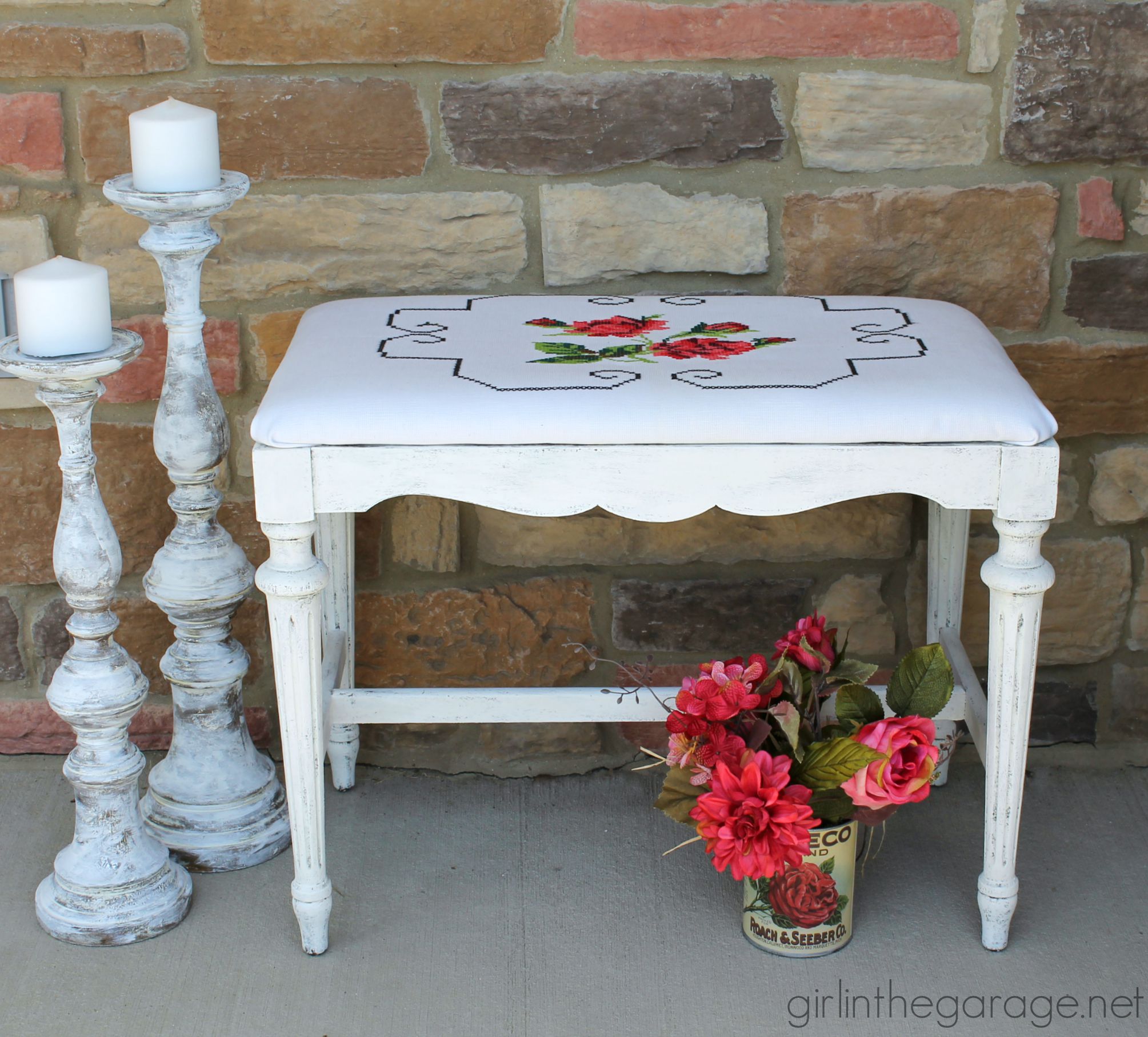 Apparently it wasn't the right style for most people, so after almost a year I brought it back home. Thankfully it was small and didn't take up much room in my booth.
After all those years of waiting I finally figured out what to do with the bench for this month's Furniture Fixer Uppers project: a faux DIY French grain sack makeover.
First I unscrewed the seat and set it aside. I didn't want to repaint the wood, but I did want it more roughed up and distressed looking so I sanded it with 320 grit sandpaper.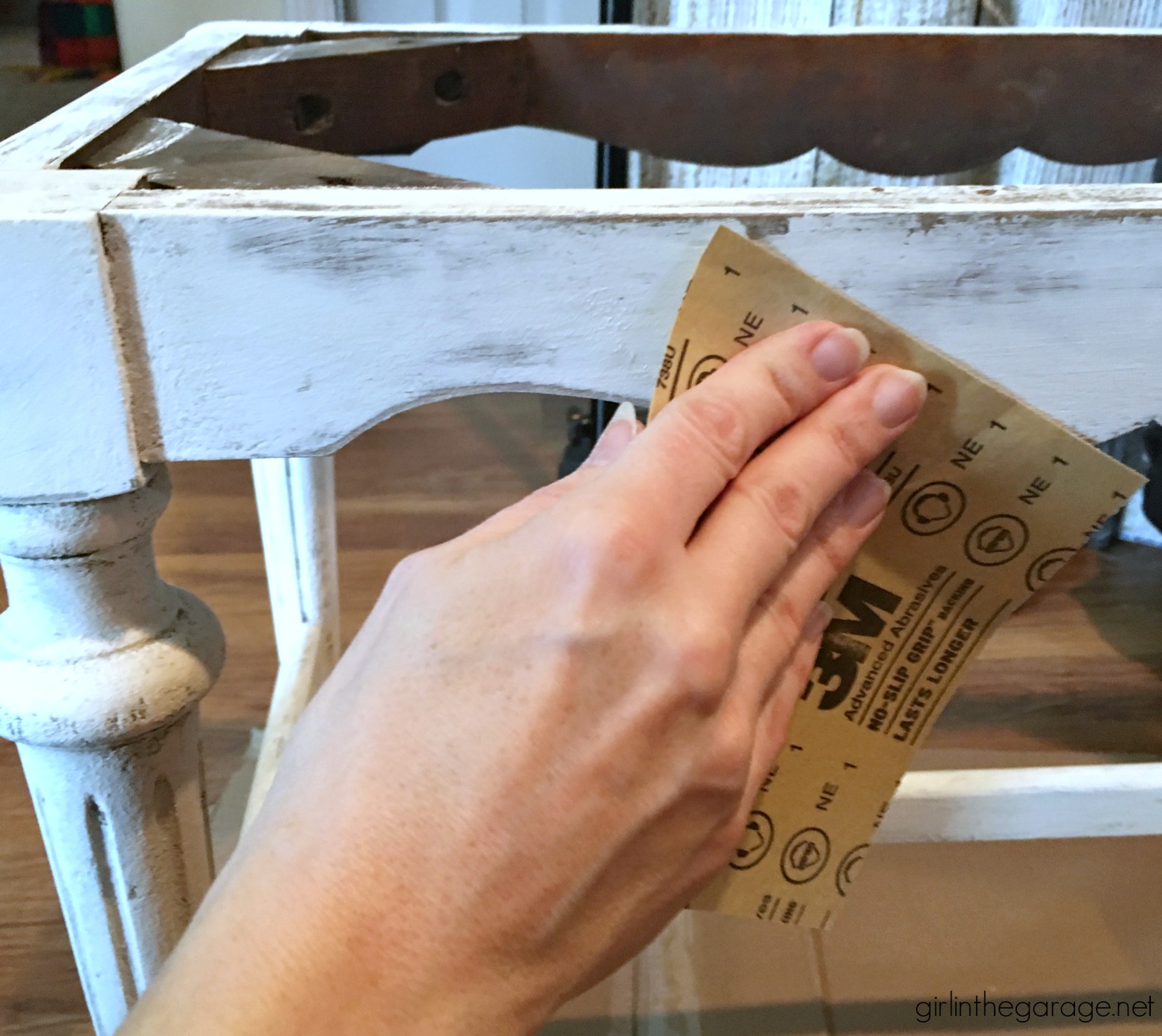 * This post contains some affiliate links so you can easily find the products I use and recommend. Learn more about all of my favorite DIY products and tools here.
Next I carefully removed the embroidered pillowcase that I had used to recover the seat the first time.
Using an upholstery staple remover like this one really helps the job go faster – I really don't know how my hands survived so long without it. It also helps to have needle nose pliers nearby in case a staple breaks while still lodged in the wood.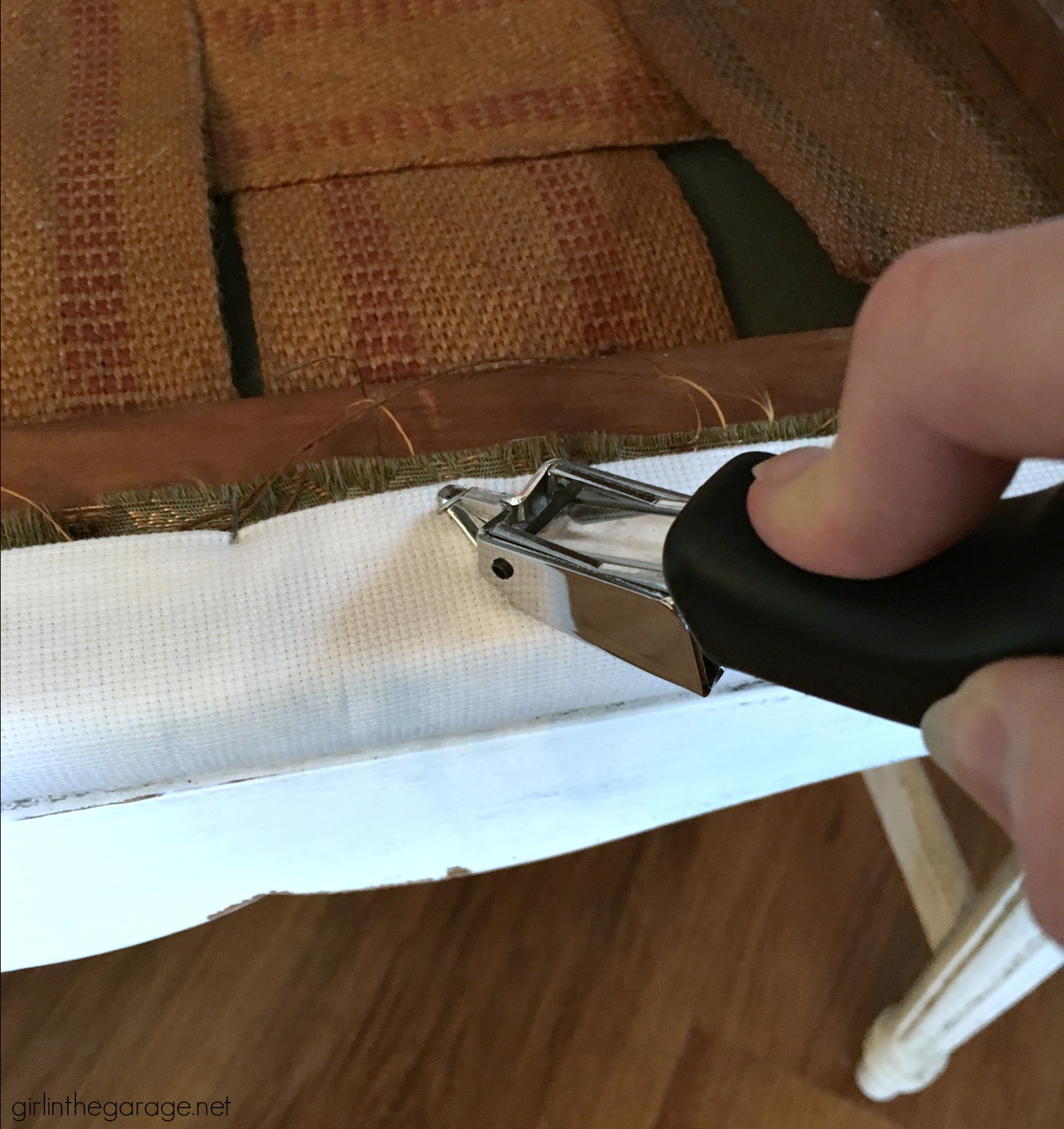 The seat and padding were still in pretty good shape so I opted to just recover it again.
I cut cotton batting first (I buy it by the yard – this type is my favorite) to add a little bit of extra softness and a light color for under the new fabric.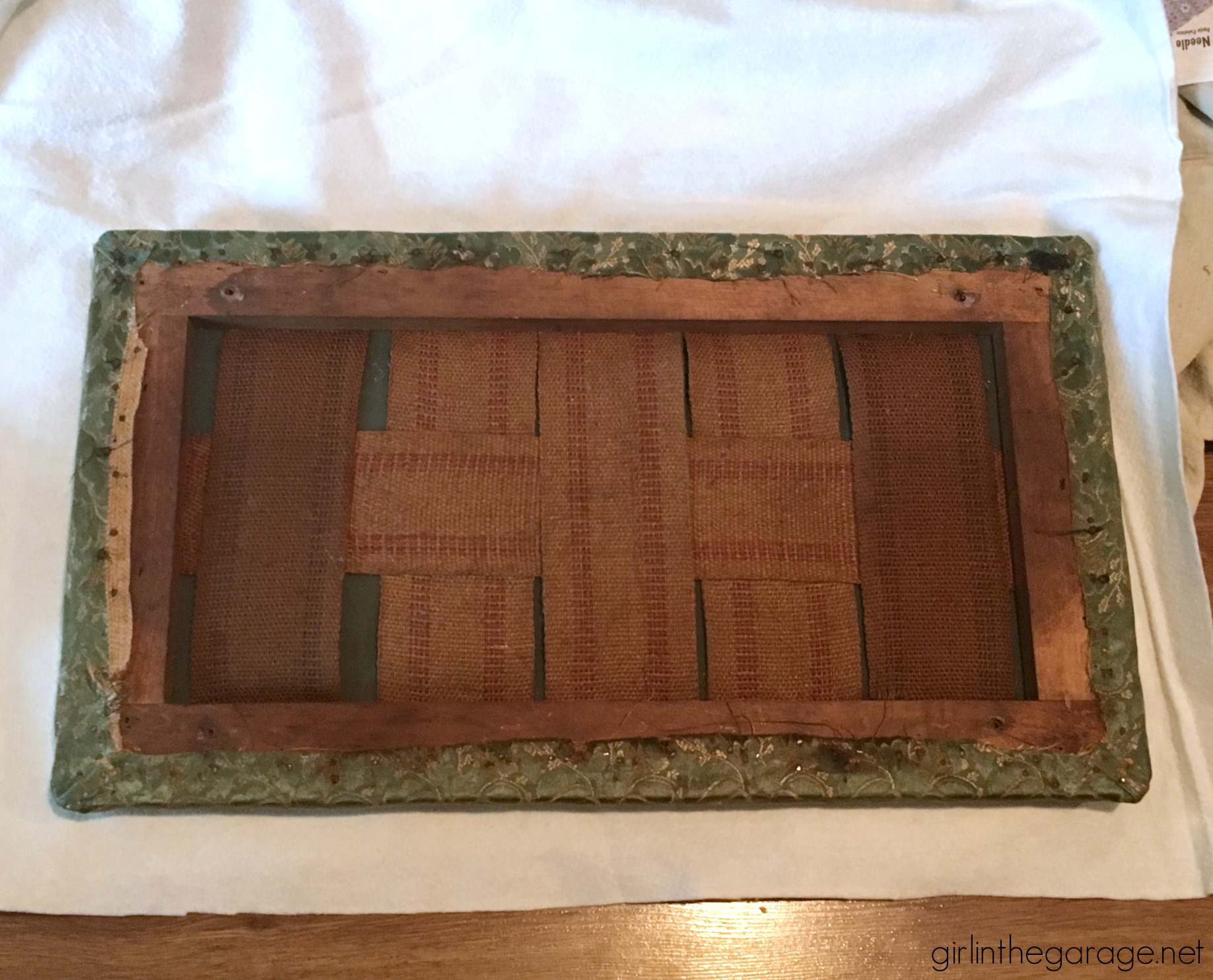 Next I used a heavy duty staple gun to attach the batting, and sometimes had to tap with a hammer to make the staples go in all the way.
I used to use a basic upholstery stapler from Hobby Lobby but after using it so many times it really couldn't keep up with my projects. It's fine though if you're just starting out or only planning to do 1-2 simple upholstery projects.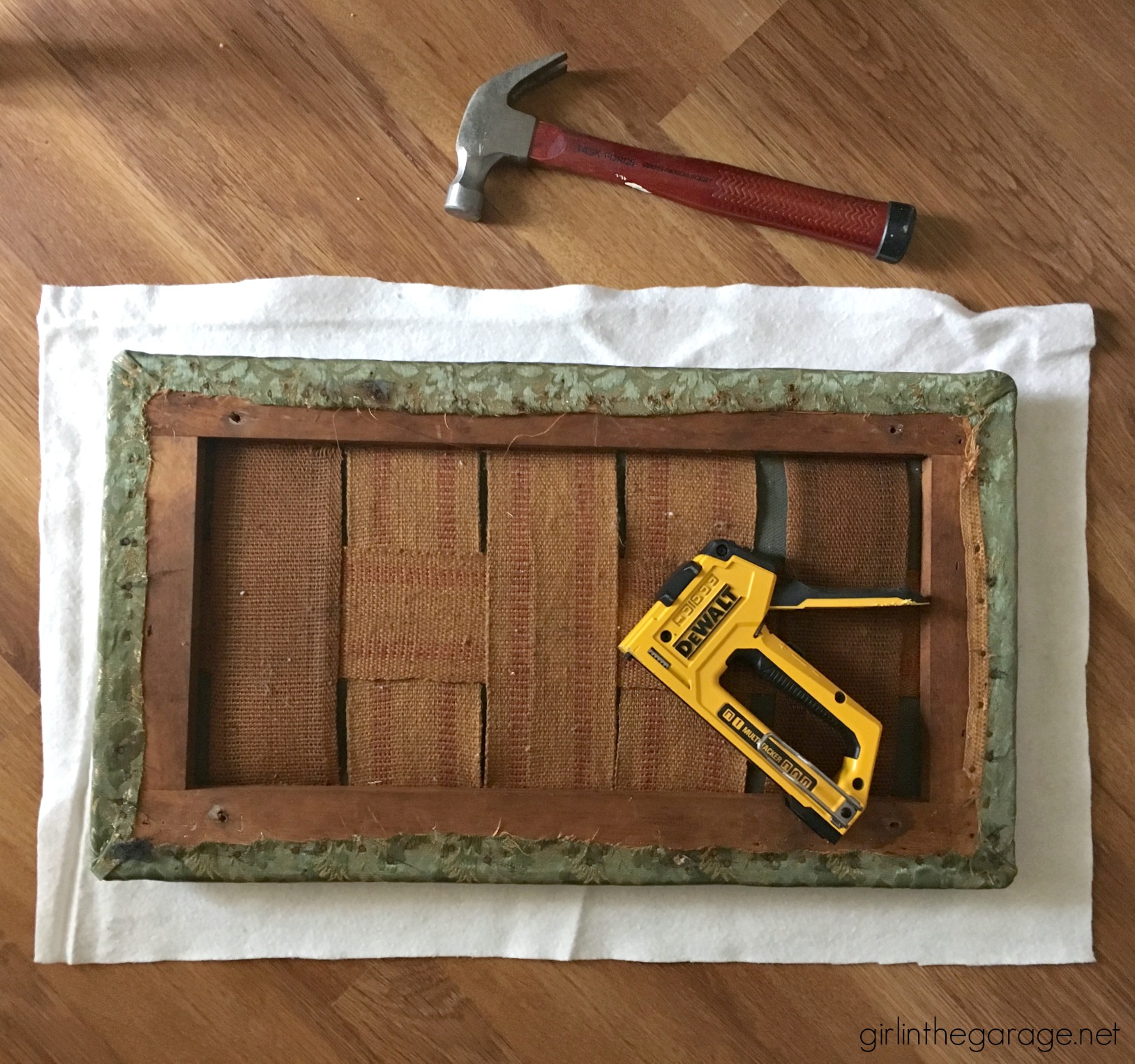 Be careful when folding the corners so you don't have too much thickness – and don't cover up the holes where the screws go!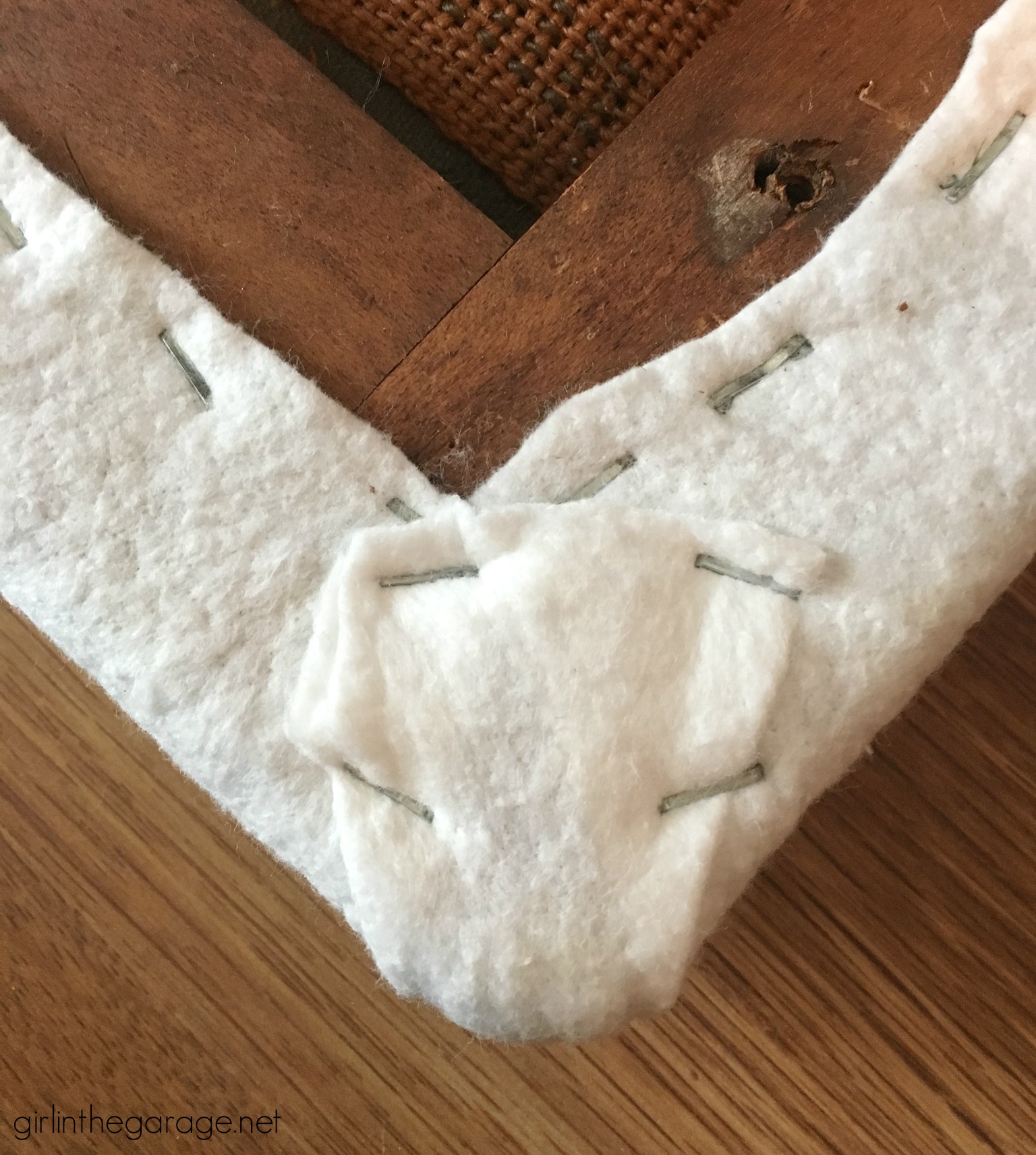 How to Make a Faux DIY French Grain Sack:
First start with painter's drop cloth from the hardware store (or order here online). Wash and dry to make it softer and in case it might shrink.
Funny story: I bought this drop cloth for one of the furniture makeovers in my upcoming book and I decided to get the largest size, not realizing it was about 9ft x 12ft – it will last me forever! haha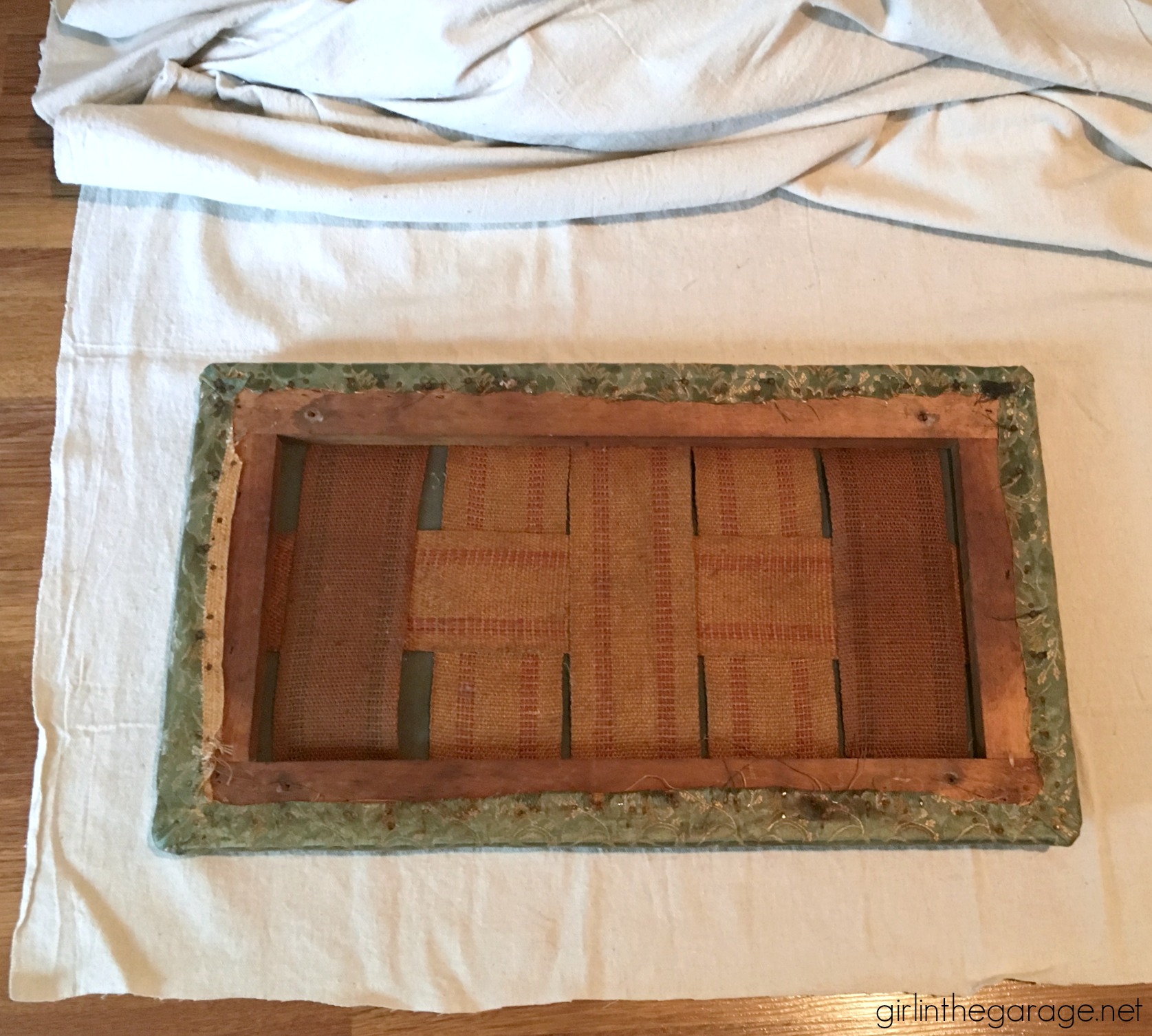 Cut the cloth several inches wider than the bench on each side and then iron it.
Staple it over the batting, folding the unfinished edges under as you go for a neater look.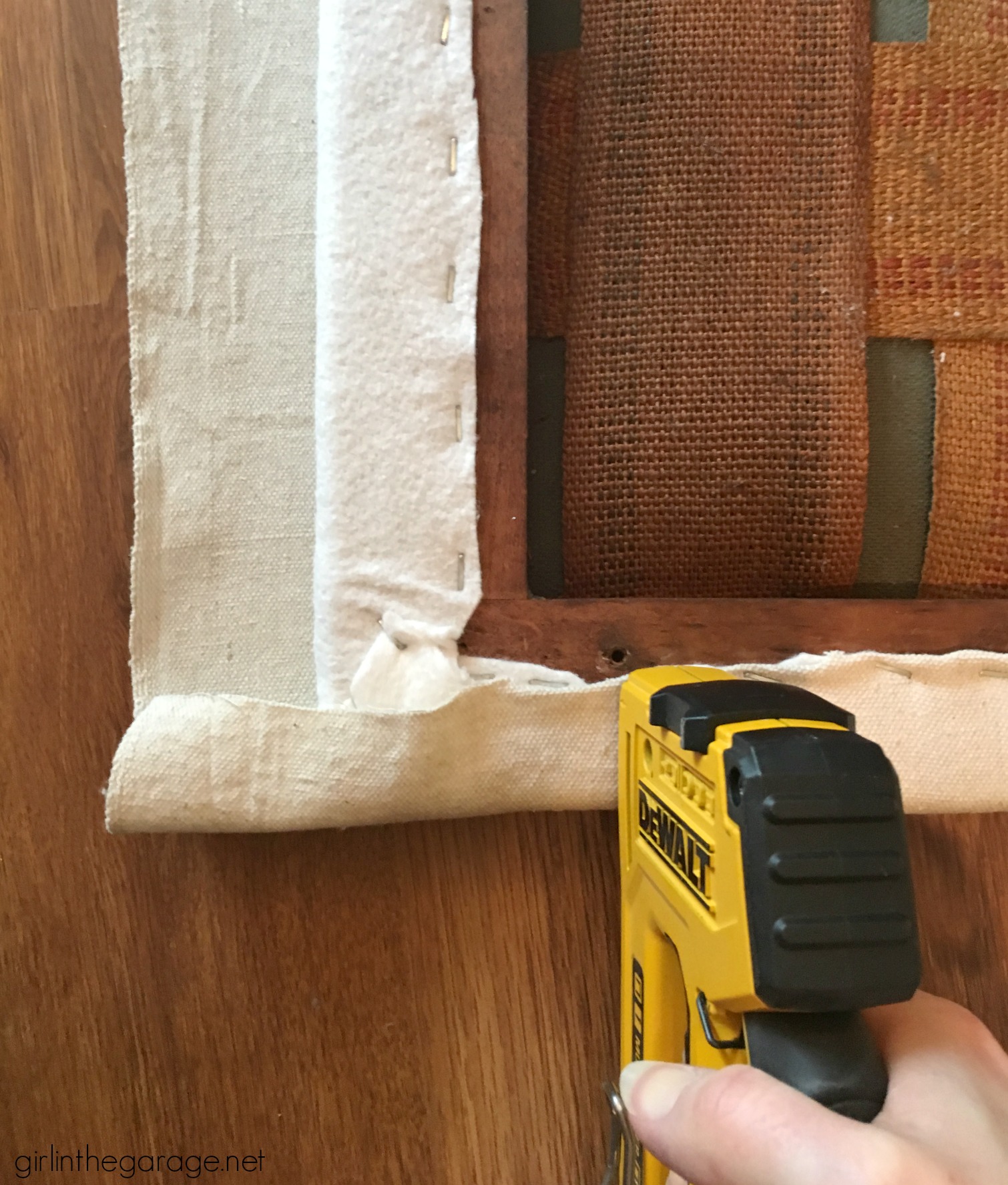 Staple one side and then turn it around and do the opposite side, pulling tightly. Then do the last two sides. Finally, finish the four corners.
It will look something like this from underneath:
It doesn't need to look perfect but it shouldn't look like a big mess either.
Next for your faux DIY French grain sack you will need a stencil like this one. Center it over the seat and tape it in place.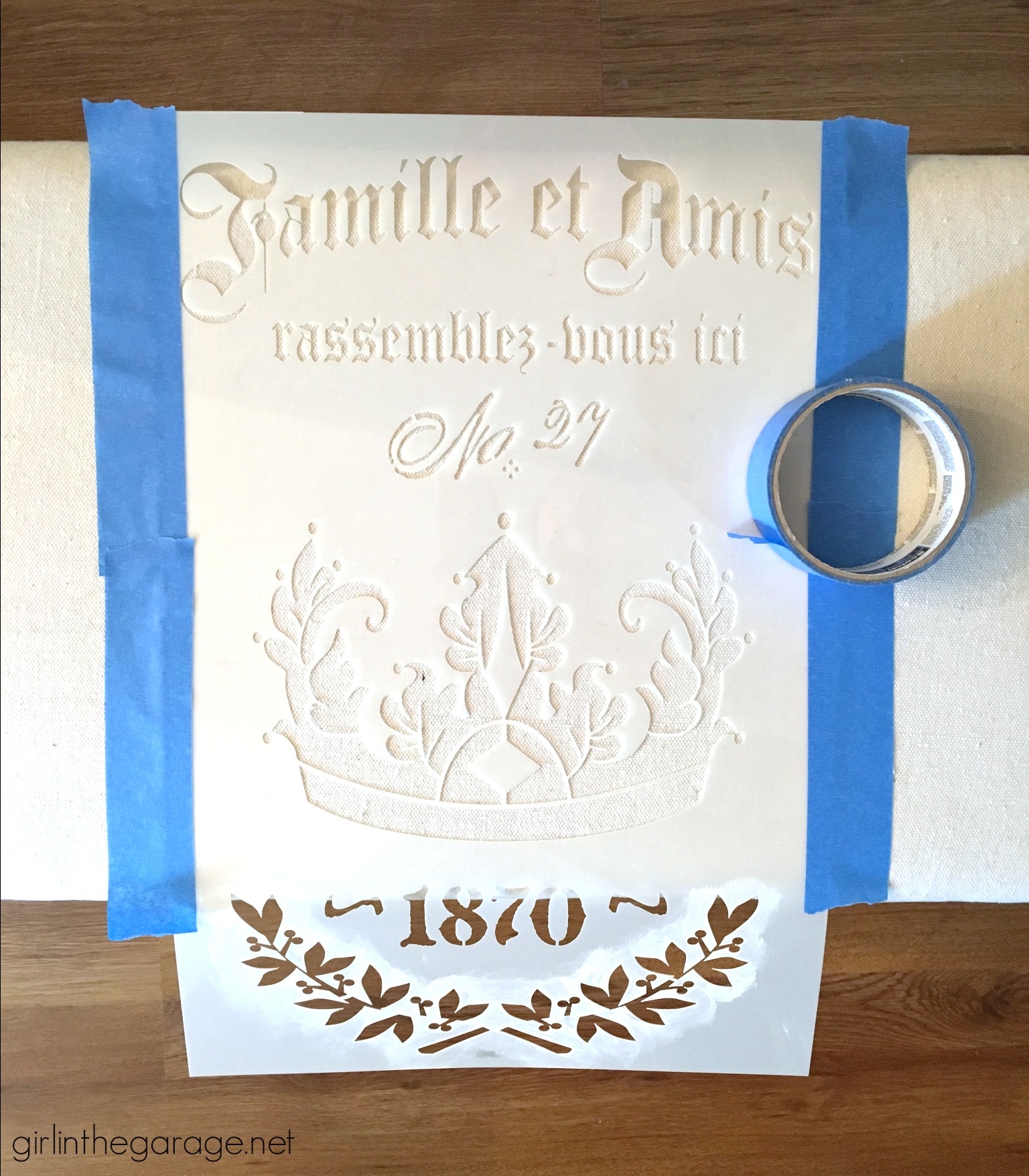 Then take a sponge pouncer and lightly dip it in black paint (I used Annie Sloan Chalk Paint in Graphite), then blot it onto a paper towel to remove most of the paint. When you're stenciling, less is best.
Curious about how to use Chalk Paint? All your questions are answered in this post: How to Chalk Paint Furniture: Beginner's Guide to Chalk Painting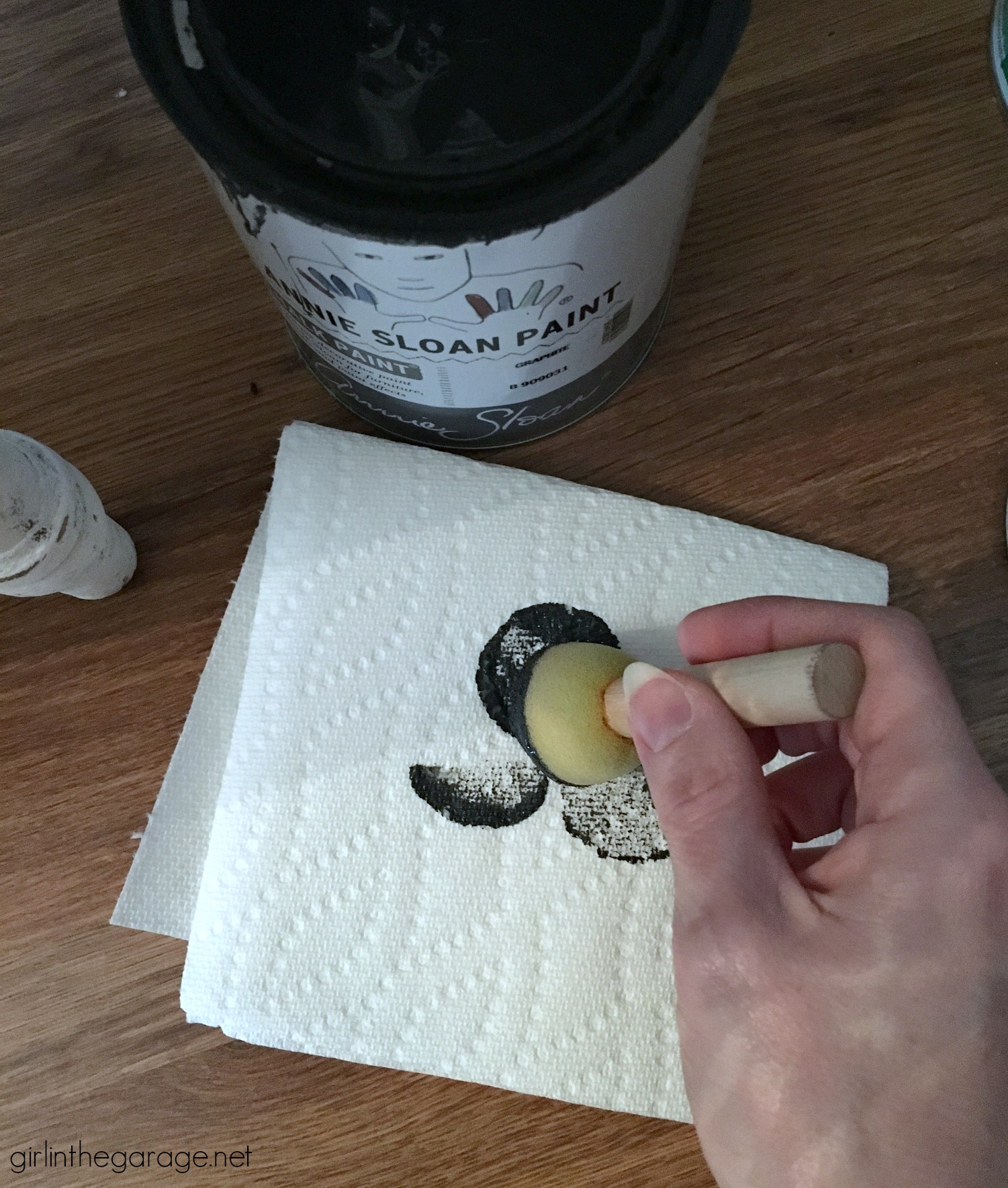 Use the pouncer to paint the French stencil onto the fabric. When you run out of color on the pouncer, dip it in the paint and blot again.
The color doesn't need to be vibrant or even consistent – it's supposed to look vintage, so it's okay to look faded and imperfect in some places. That adds to the charm. 🙂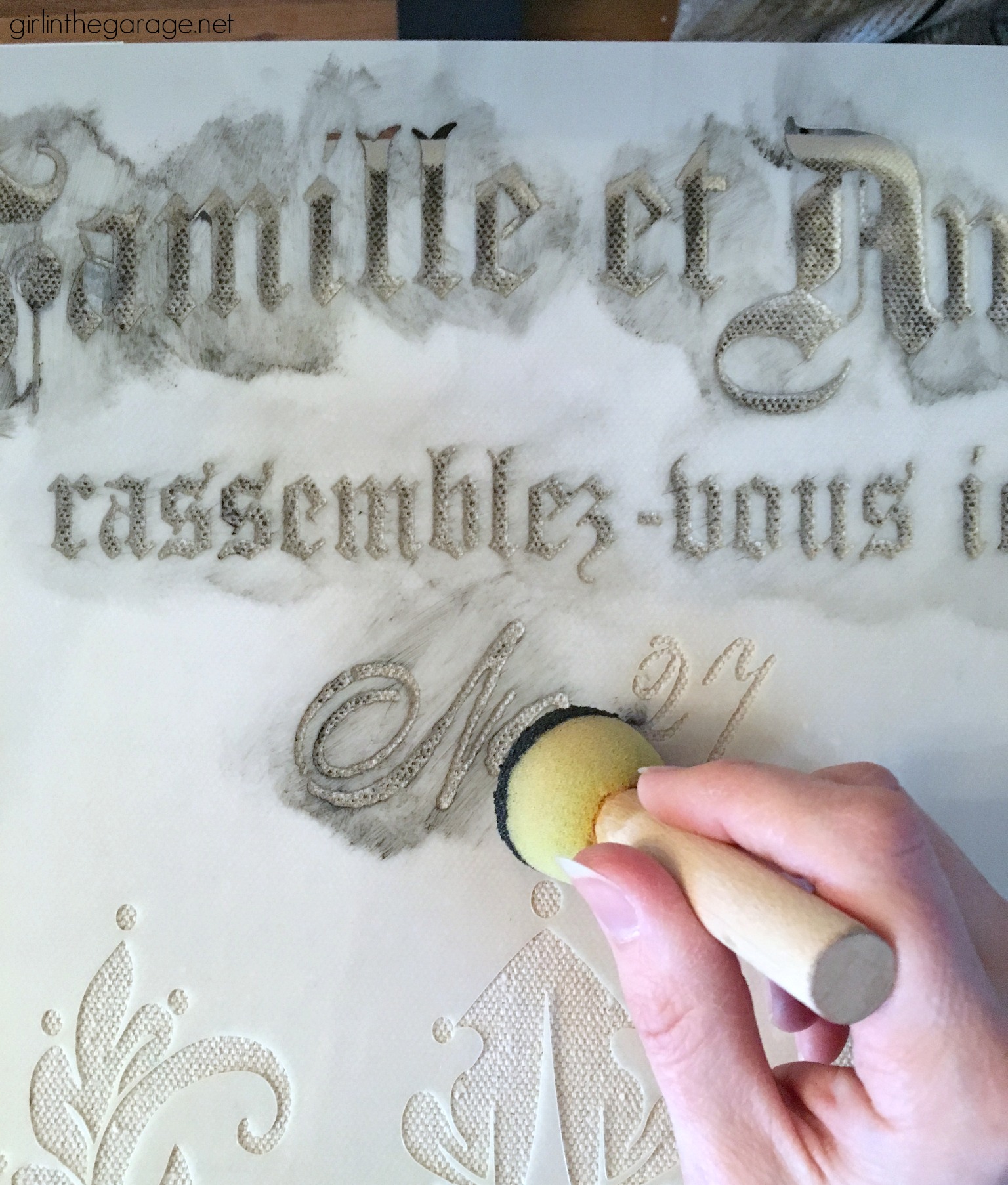 Once the middle section is finished, use a grain sack stencil (or just use painter's tape) to add stripes on both sides. I used Annie Sloan Chalk Paint in Coco and a Martha Stewart pouncer this time, curving the stencil on the edges of the seat.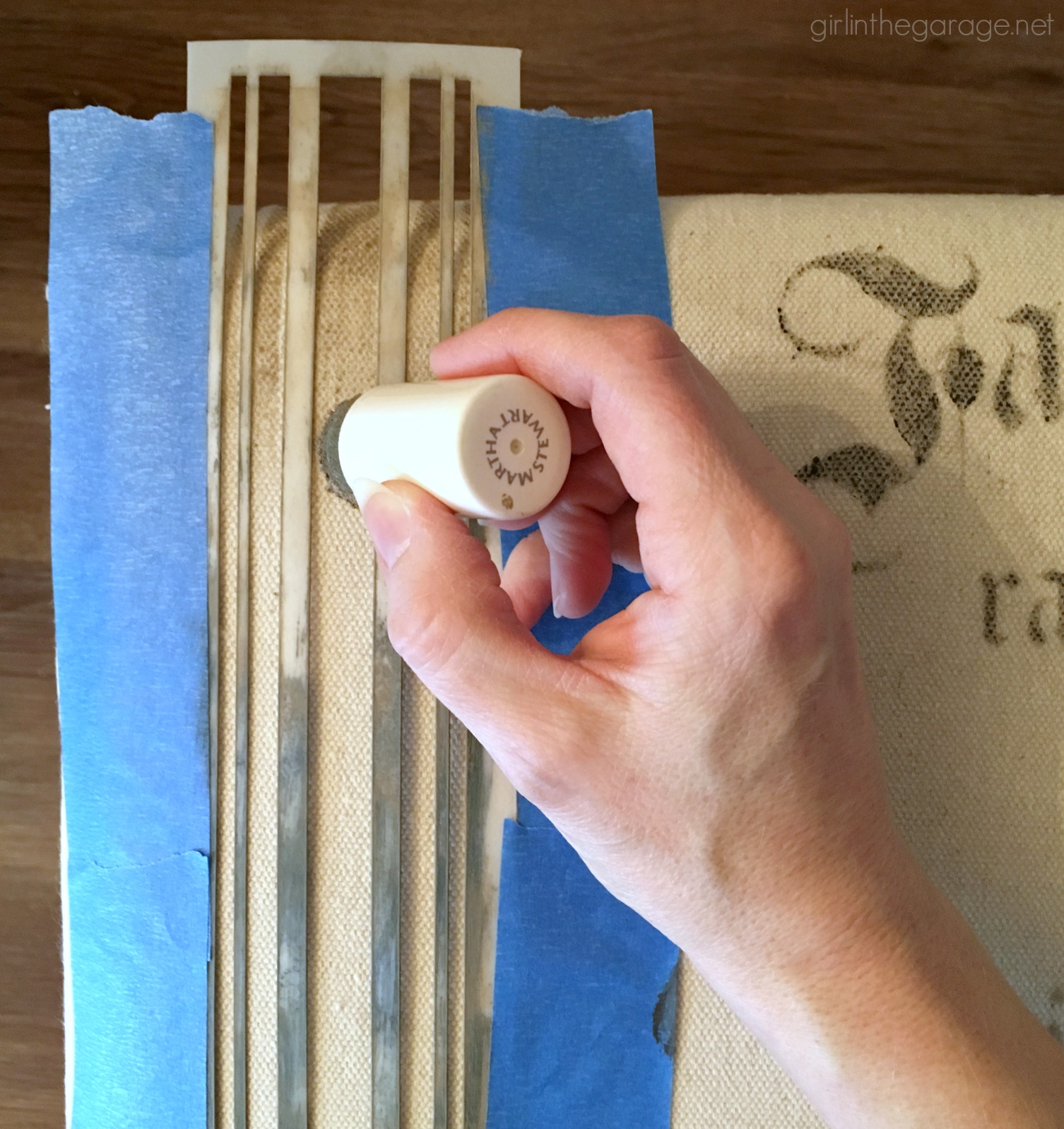 And here is the 2nd makeover of that little bench from four years ago…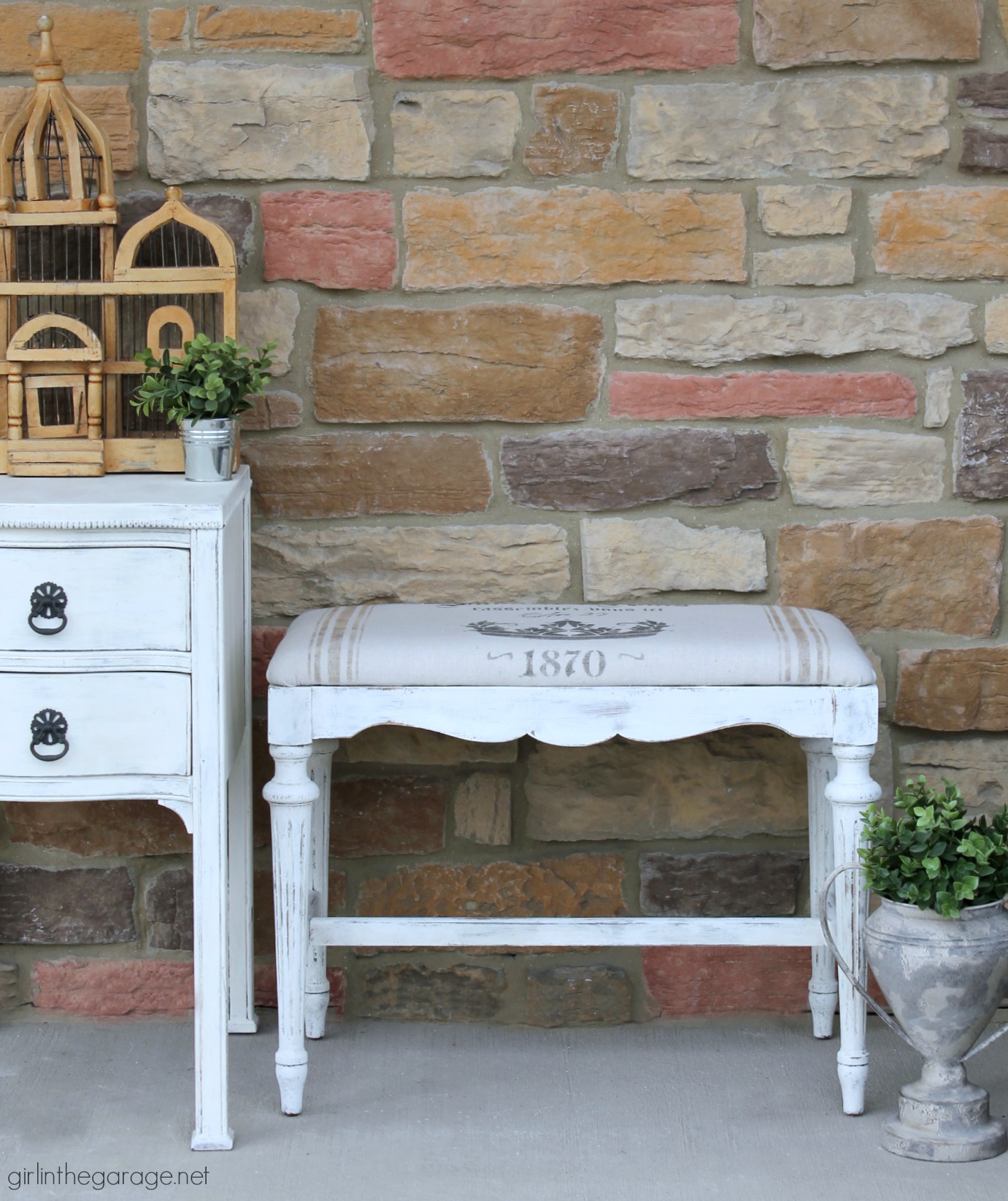 View from the top: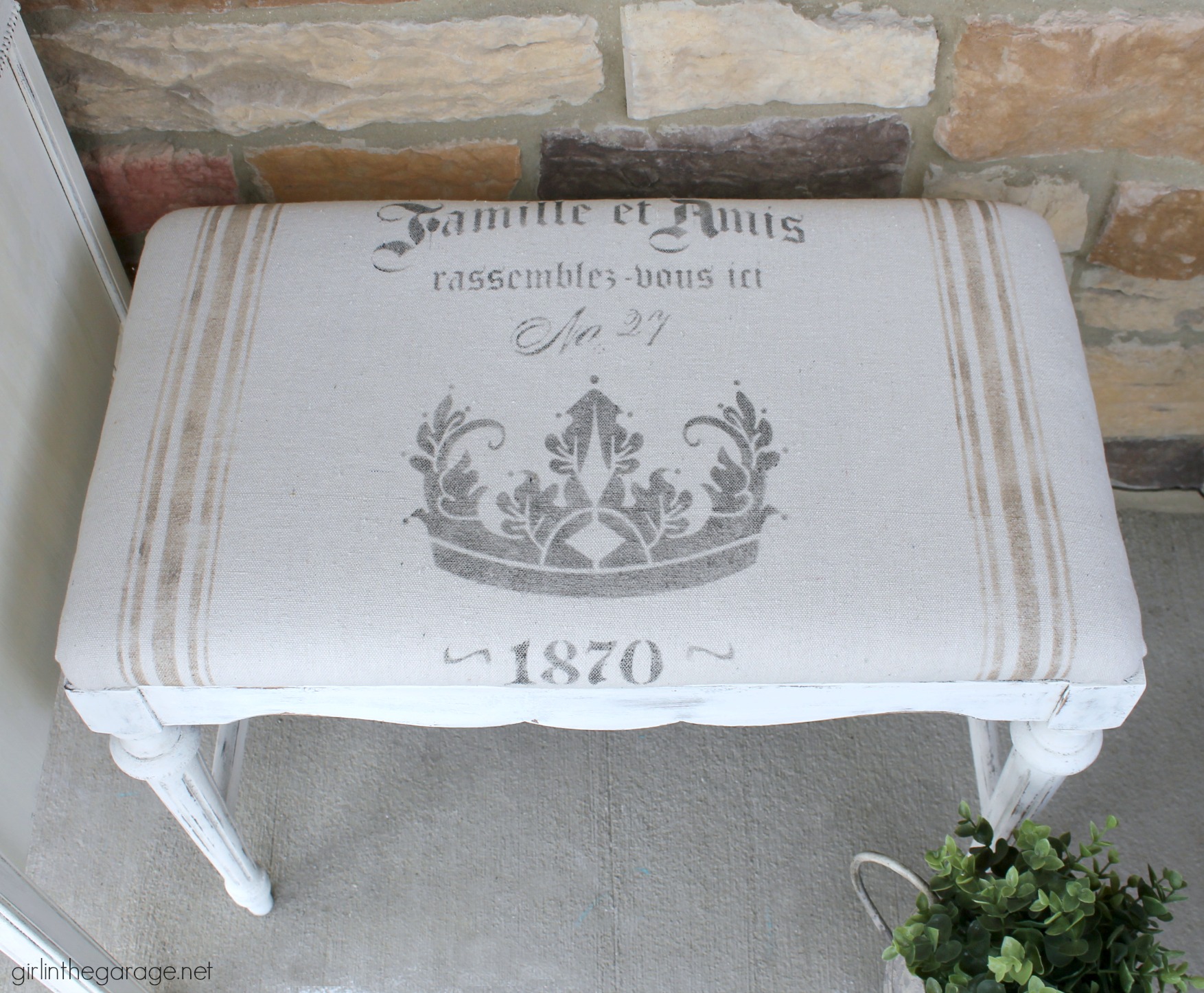 Closeup of the faux DIY French grain sack (I just love how the drop cloth looks so beautiful and authentic when used this way):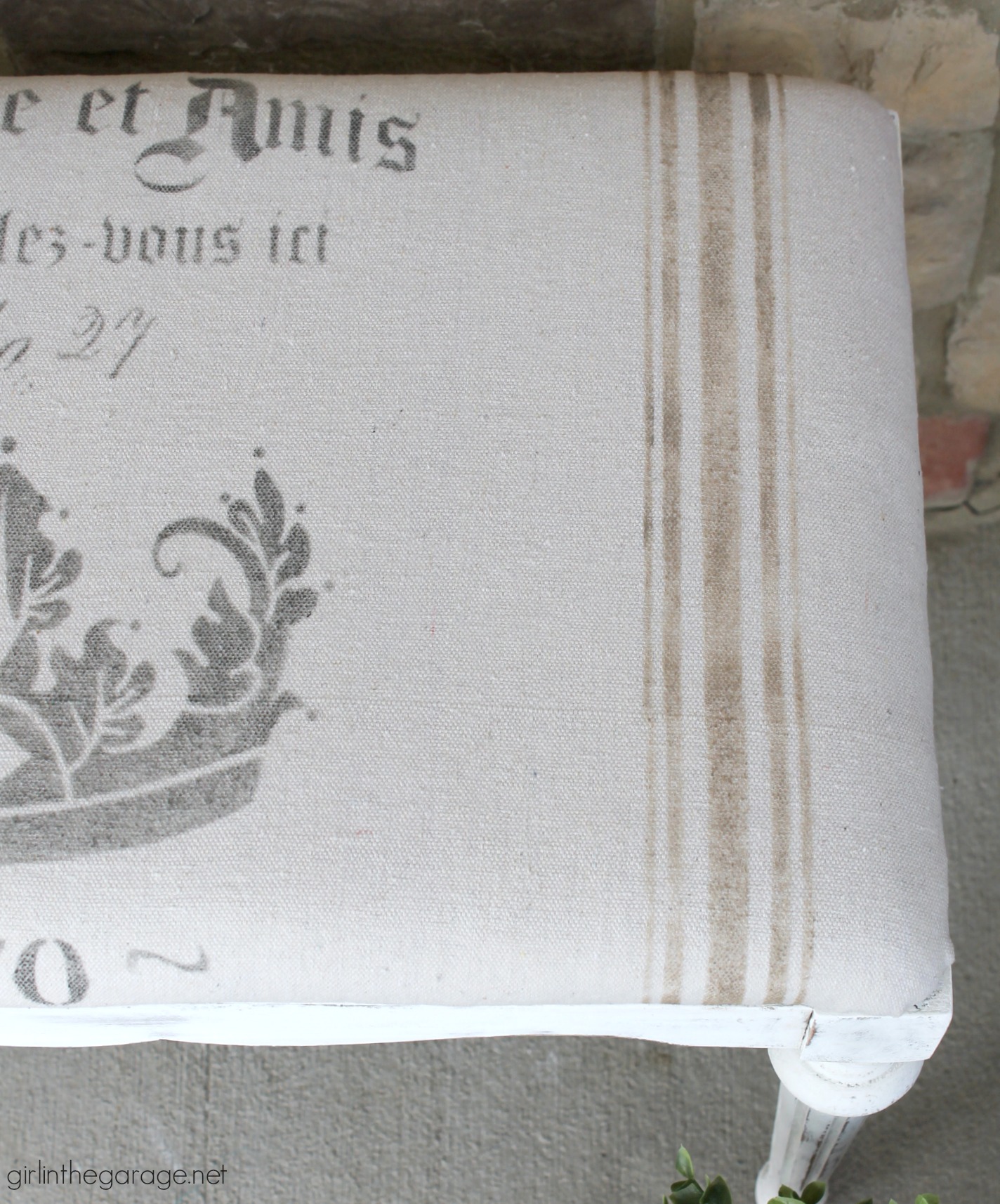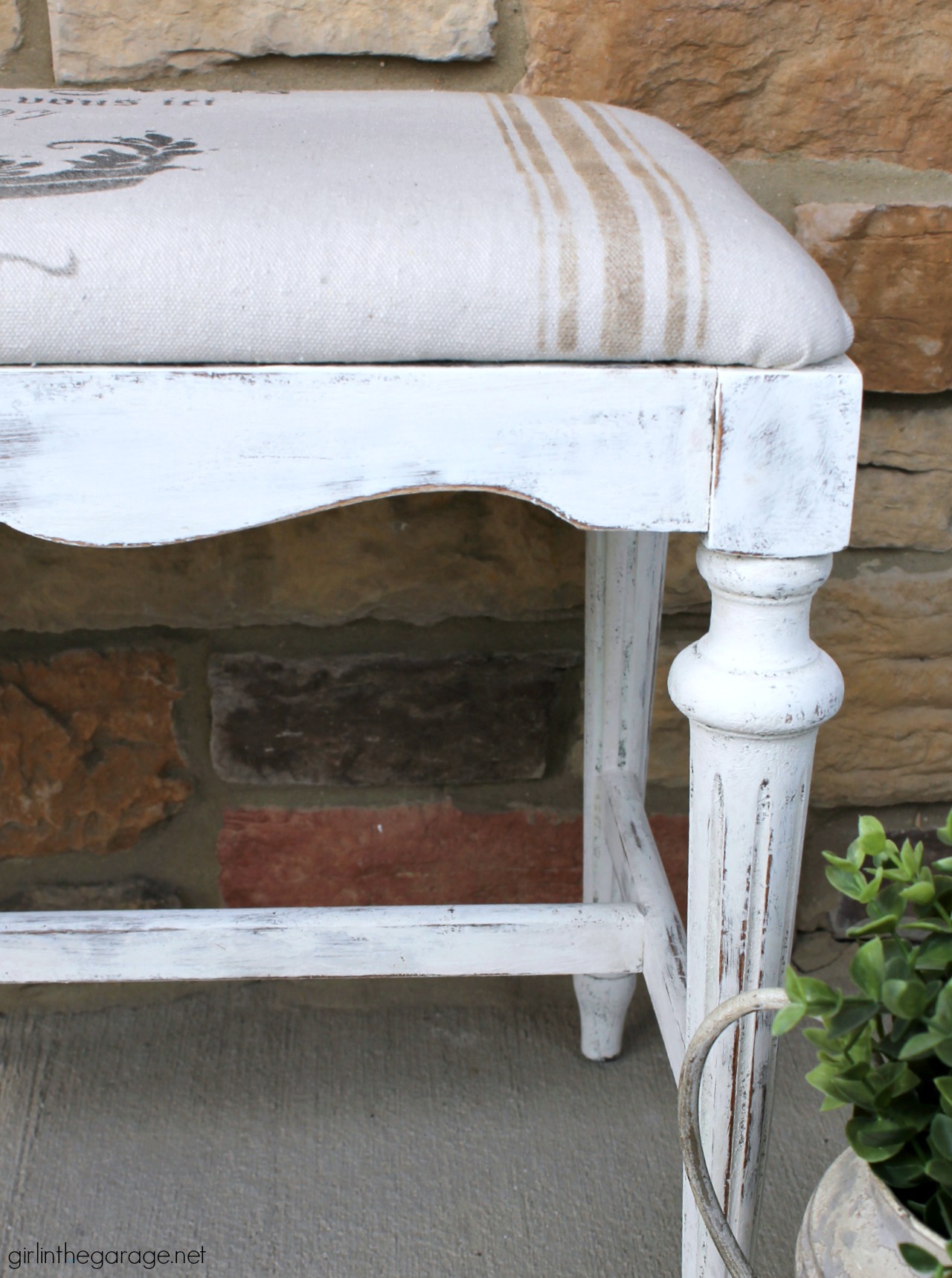 It's time for this little bench makeover to head back to my booth! I have a feeling it won't sit for several months this time.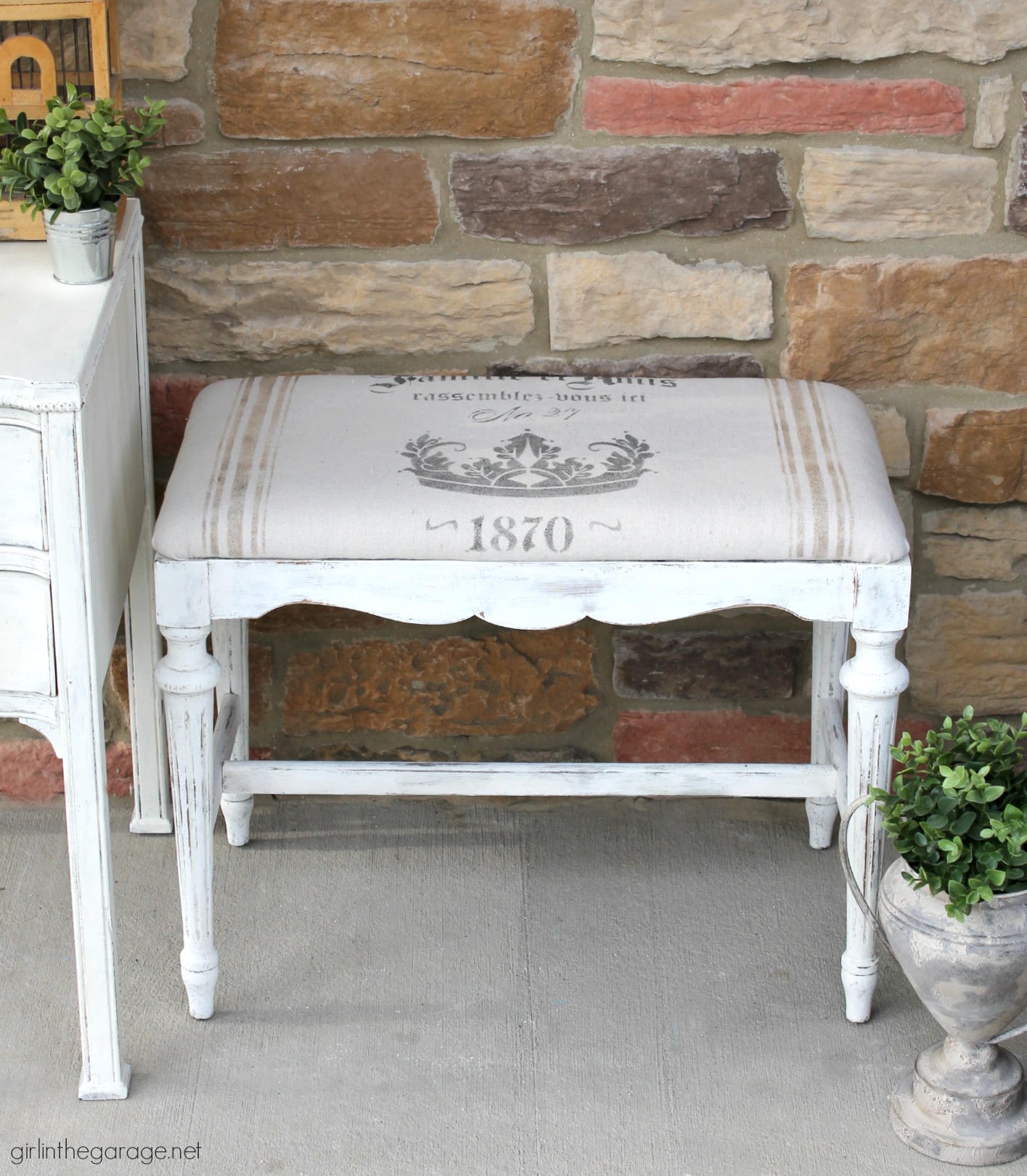 And here's a handy before and after comparison again – feel free to Pin it for easy access later.
Friend, I would love to know what you think of this bench makeover-makeover. And I'd be so grateful if you'd Pin or share this online so others can learn and be inspired too. I'll be sharing more tips soon for things you can try if a piece has been sitting too long without any bites.
.
Now it's time for Furniture Fixer Uppers day with my creative furniture makeover friends. Every month we get together and post our latest projects to inspire YOU.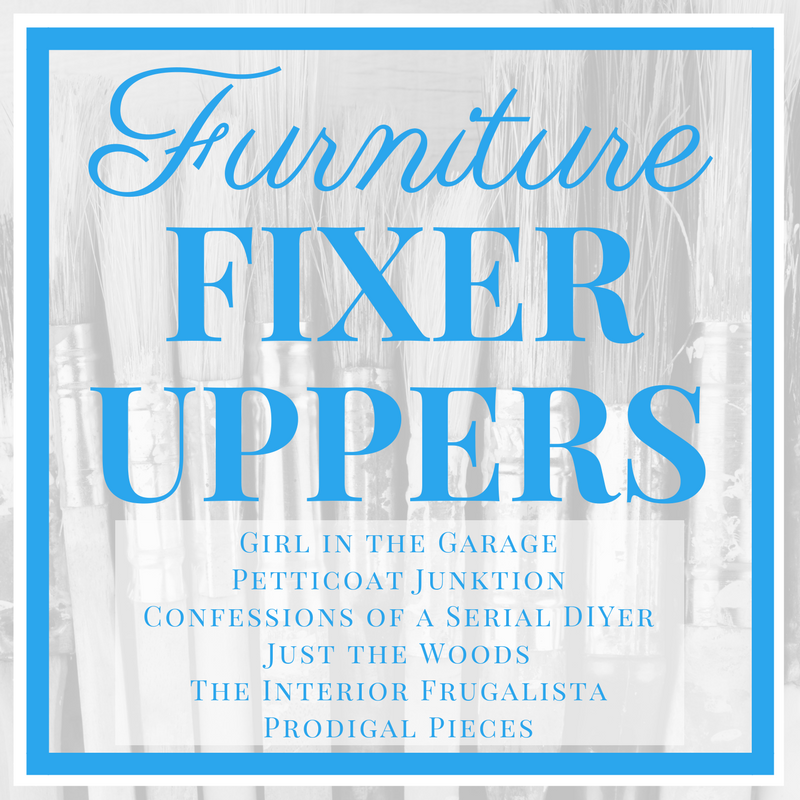 Below are the Before photos – visit the links underneath to see the amazing Afters and to learn how they did it: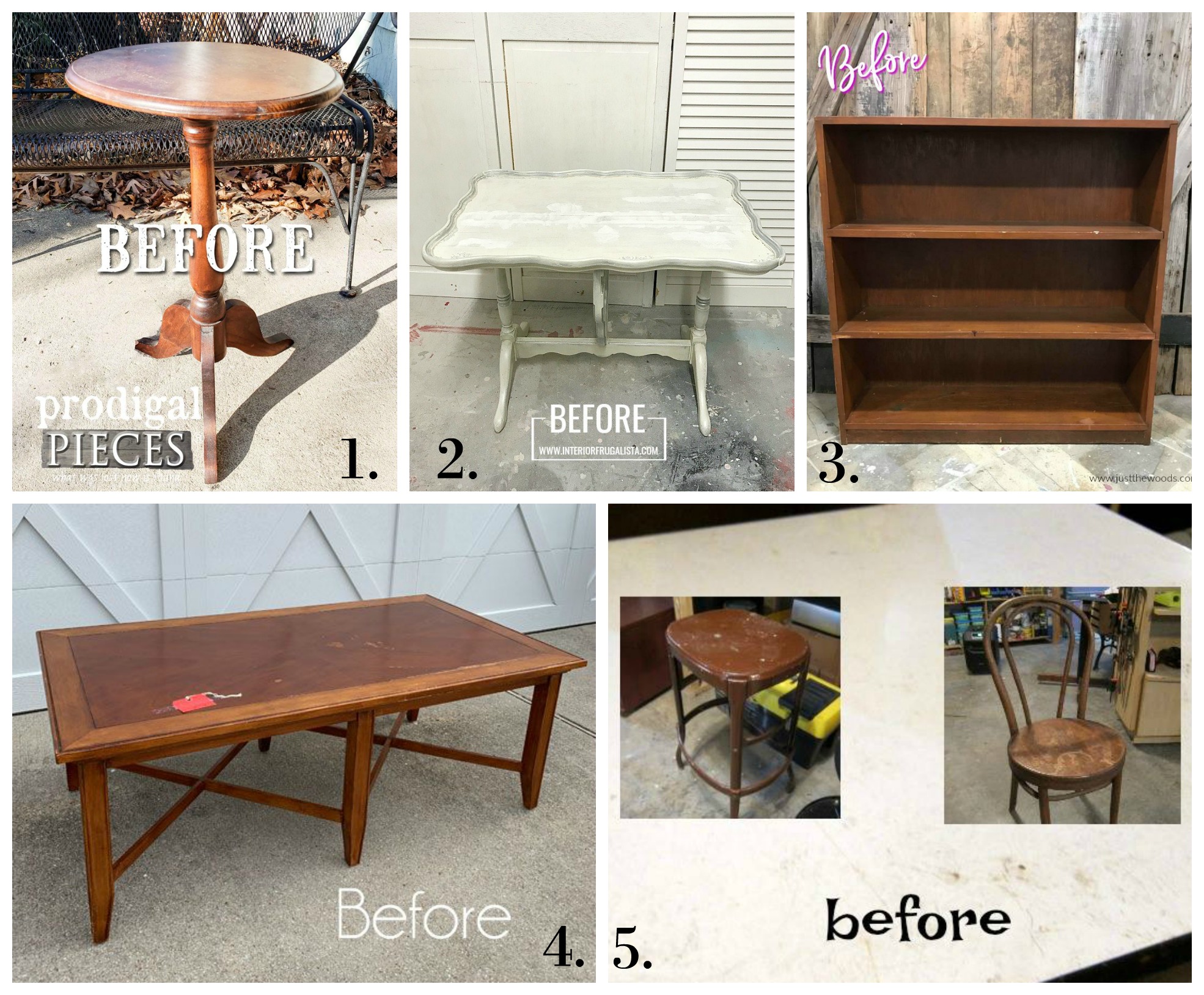 1. Prodigal Pieces
2. The Interior Frugalista
3. Just the Woods
4. Confessions of a Serial DIYer
5. Petticoat Junktion