Welcome back, friend! Today I'm revisiting a painted bench makeover that lived through two different updates – no one bought the first style after a long time in my booth, so it came back home and got a completely different look!
I'm also sharing several other painted bench makeover ideas below: upholstery, wood, headboard, stenciled, etc. I looooove a good bench makeover.
Here's the cute little bench when I first got it: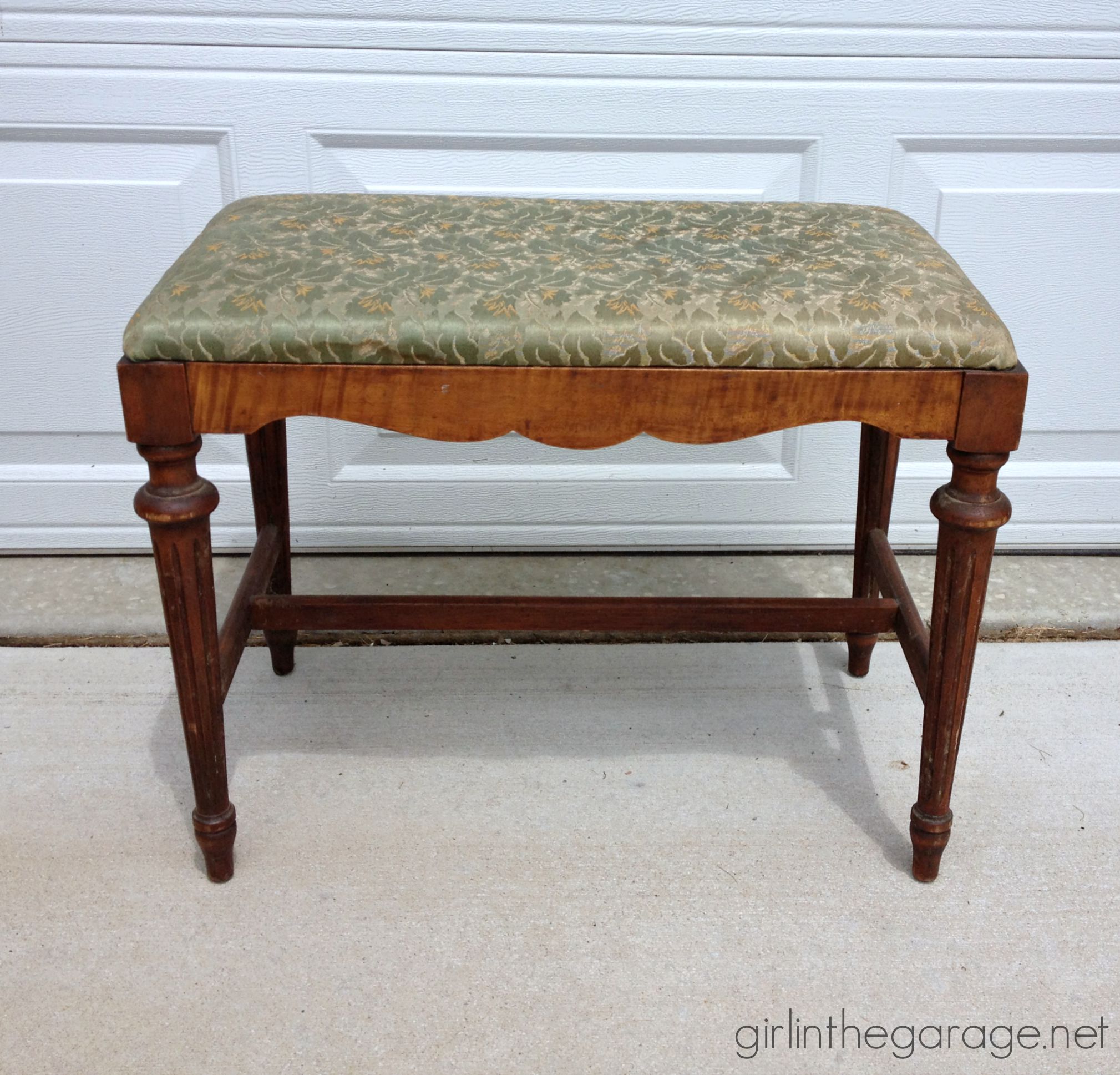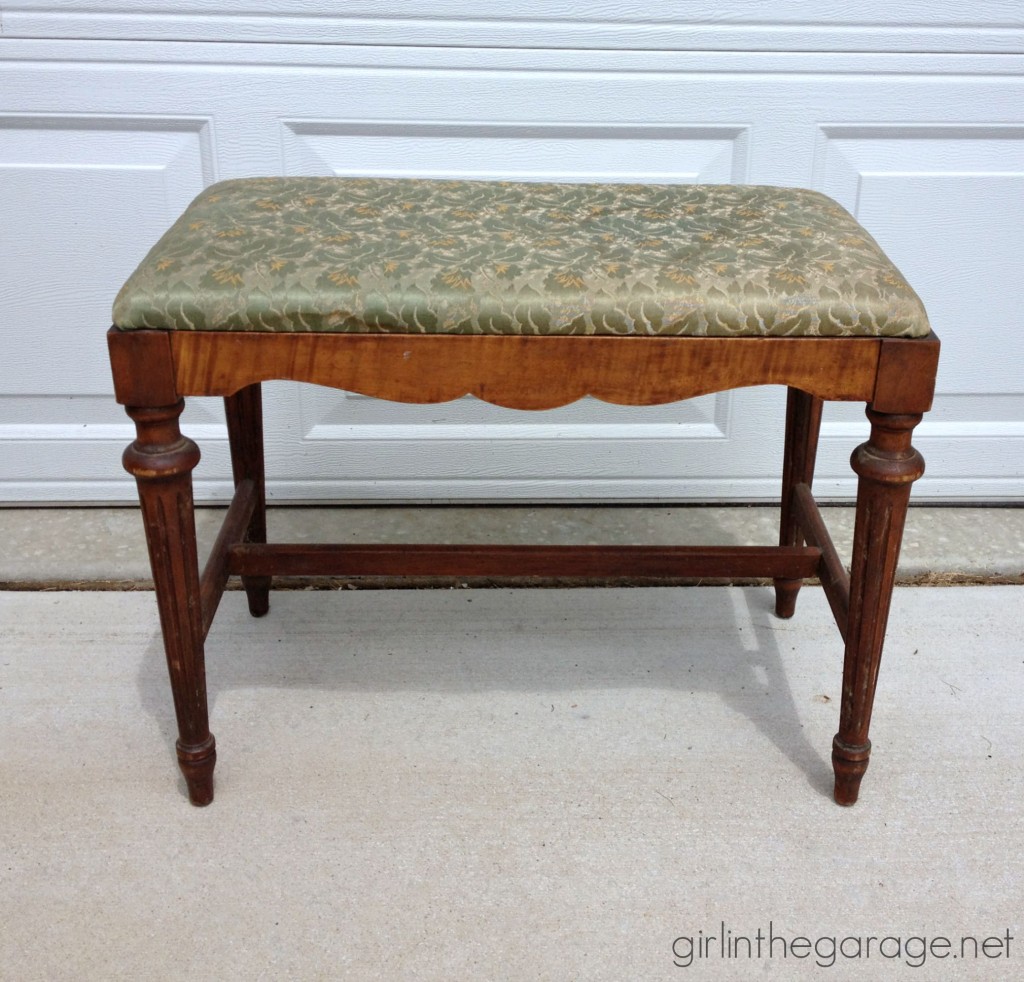 This post contains some affiliate links so you can easily find the products I use and recommend. Discover all my favorite brands and tools for doing DIY projects here.
How to Update a Vintage Bench – Option 1
First I unscrewed the seat and turned it over. I ended up using a vintage cross-stitched pillowcase for the new fabric (thankfully I didn't have to cut it at all) and just stapled it over the old green fabric.
If the seat foam needs replaced, I recommend using 2-inch upholstery foam which you can cut to size with scissors – and you can use an upholstery stapler like this one for this type of simple upholstered bench makeover.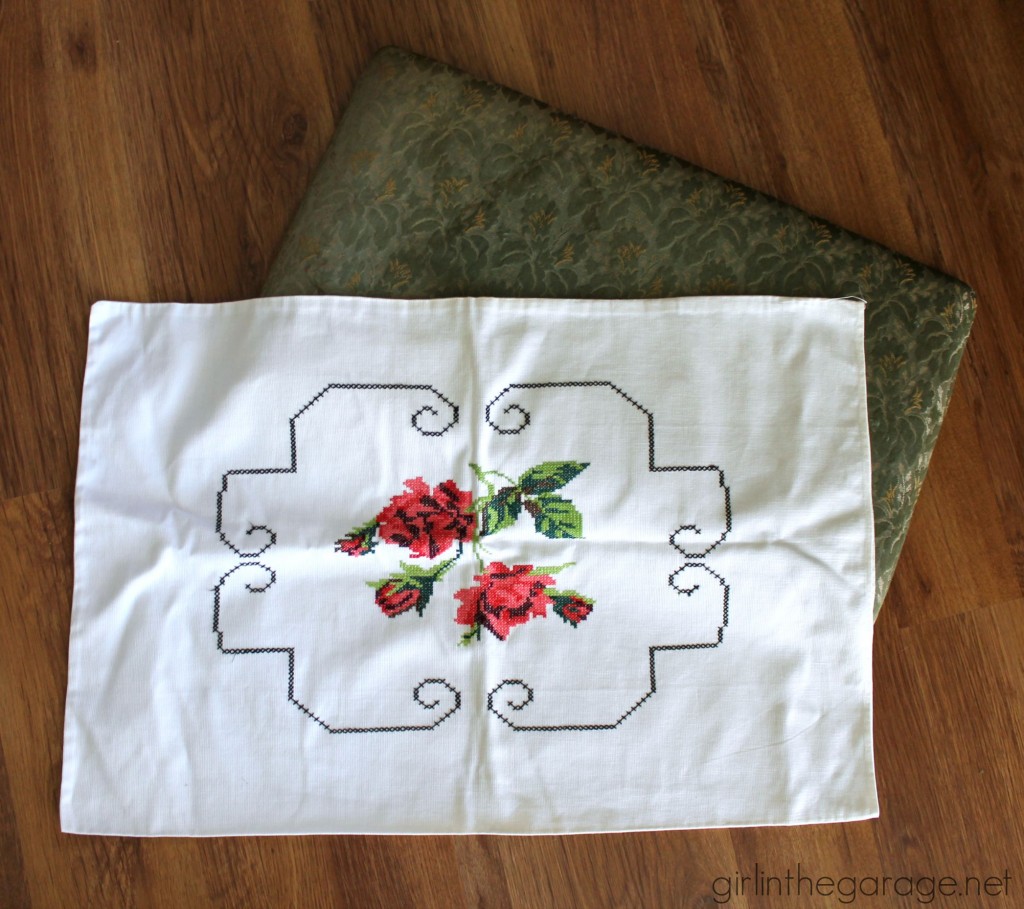 The wood was painted white and protected with clear wax. (You can learn more about this project and see more photos here.)
Here's the first version of this painted bench makeover…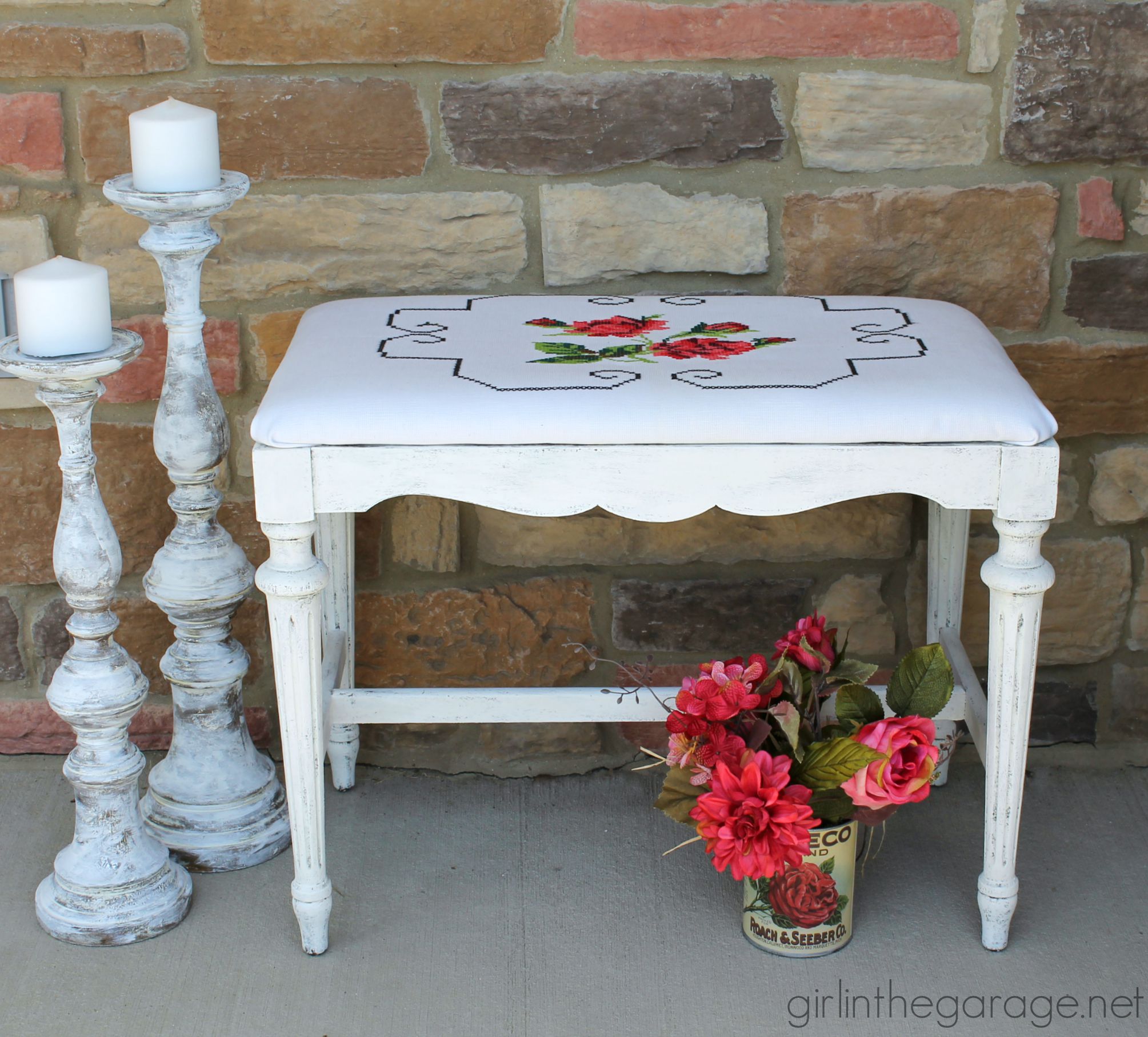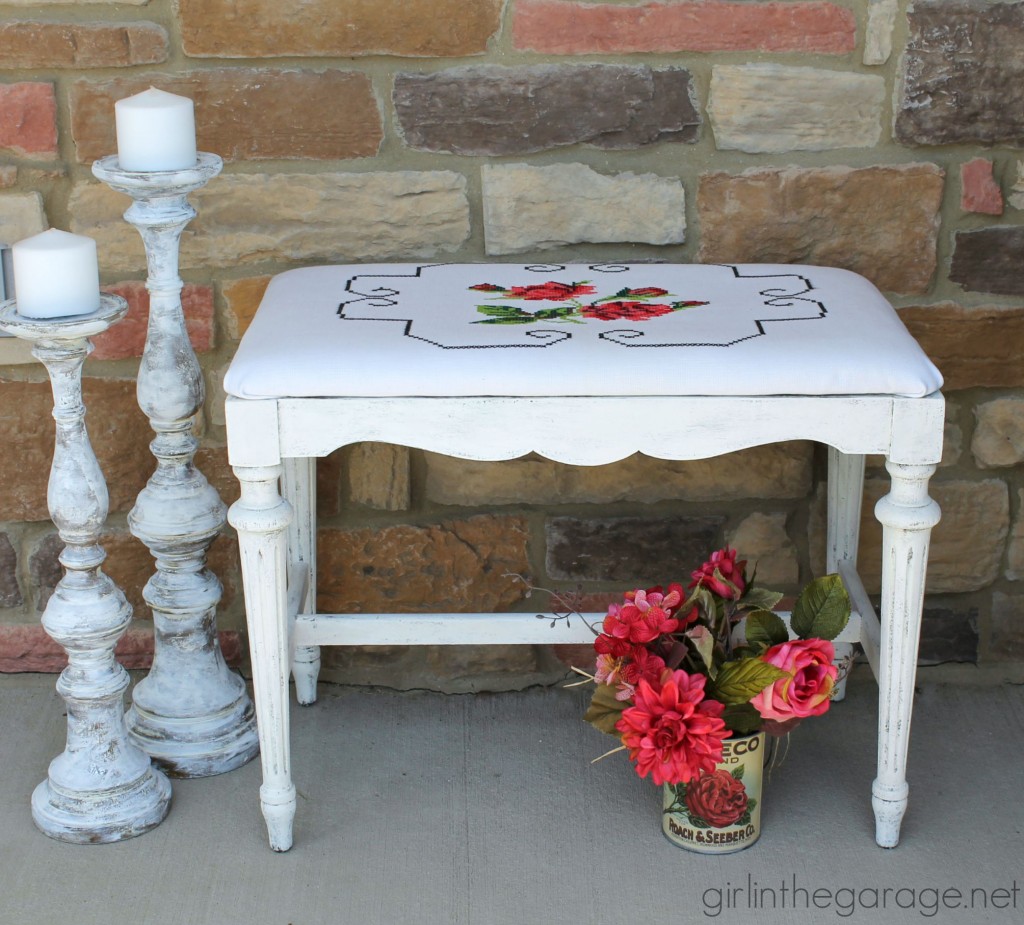 So very vintage and lovely. But I think it was just too much white for most people, and would be hard to keep clean – so it sat in my booth for a long time.
How to Update a Vintage Bench – Option 2
I rarely redo furniture that I've already updated, but I got excited to try something different on this piece (I told you I love doing bench makeovers!).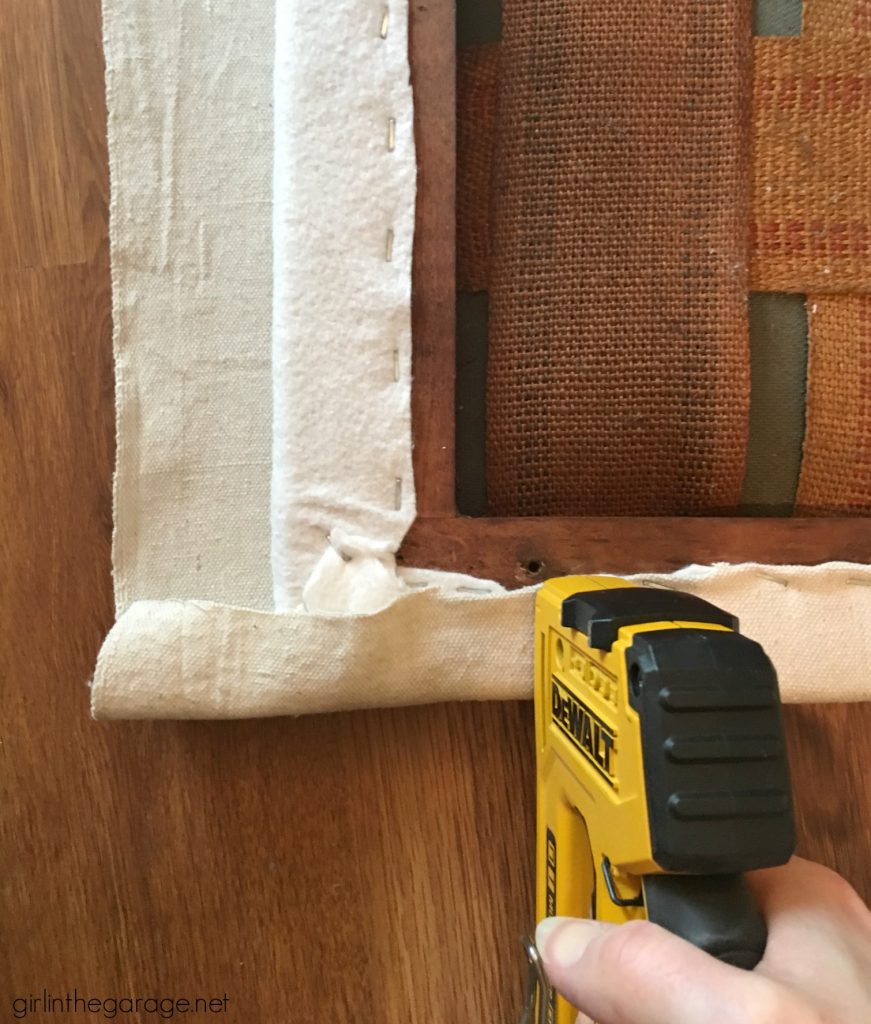 I carefully removed the cross-stitch pillowcase with this upholstery staple remover (someone recommended it to me a long time ago and it makes the task so easy and painless). This time, I stapled this cotton batting over the green fabric. It makes for a softer seat and helps make a bright blank slate for the new fabric (think of it kind of like priming before you paint).
I almost always use cotton batting now in my reupholstery projects – the finished outcome just looks more professional. Then I used painter's drop cloth as the top fabric.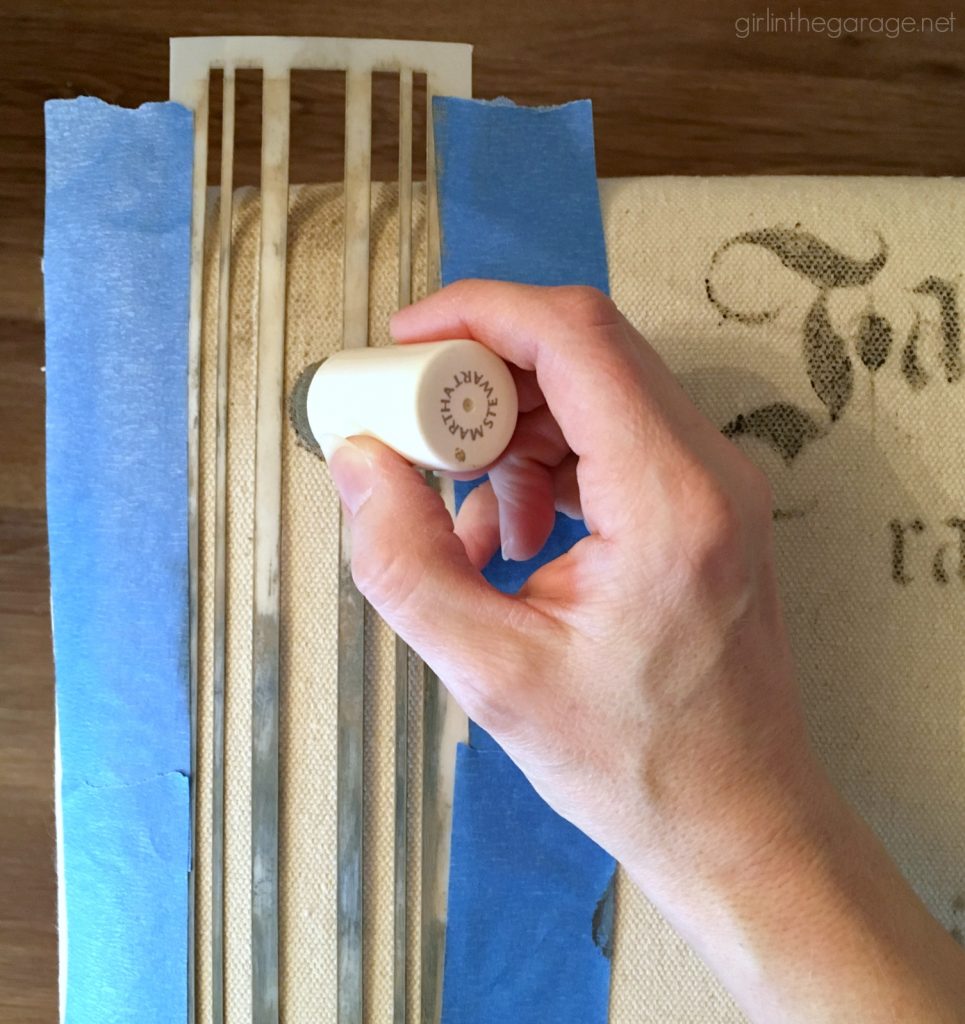 I carefully used stencils and a foam pouncer to create the look of a DIY French grain sack on the upholstered bench makeover. You can read the whole tutorial and see more photos here.
And here's how it turned out the second time…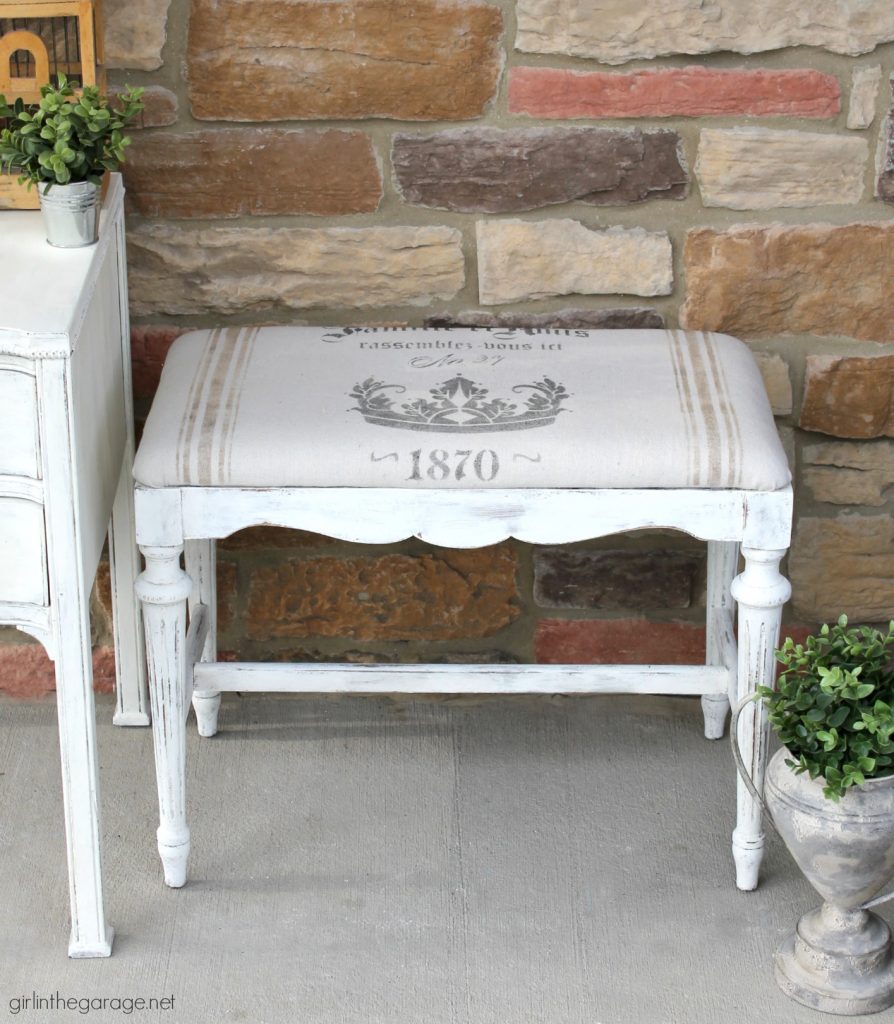 It has such a soft sweet farmhouse style – plus it sold quickly in my booth this time!
Here's a quick recap of the different lives of this little bench makeover: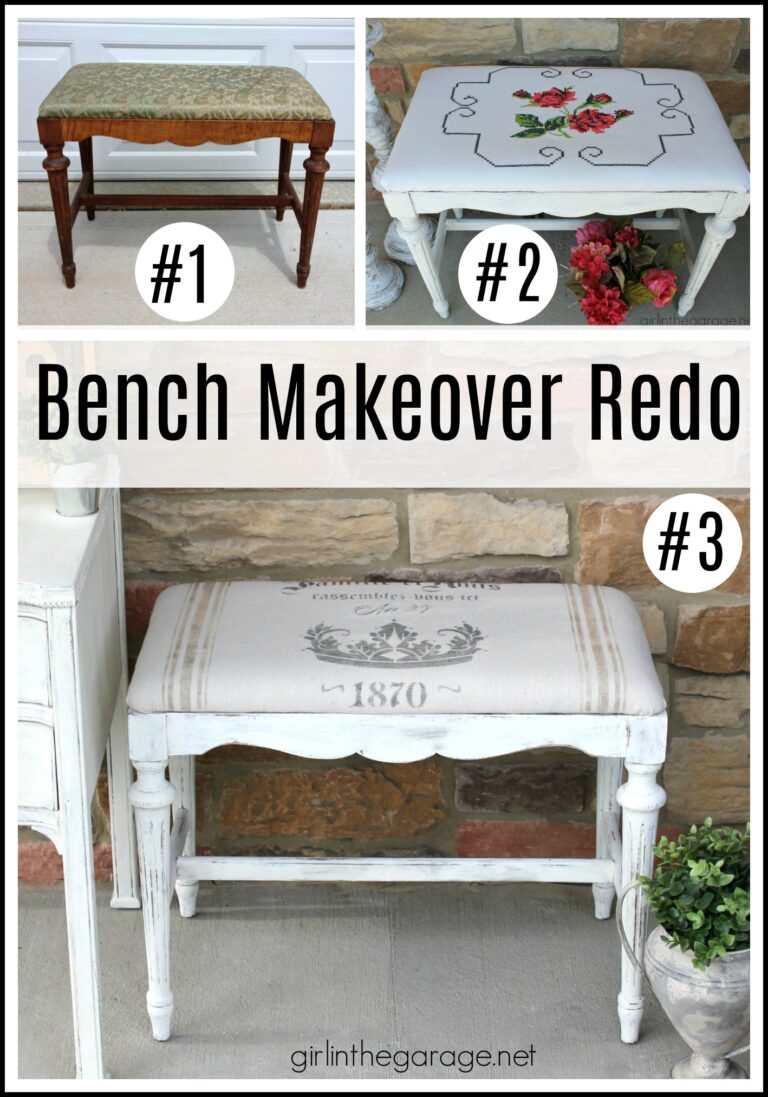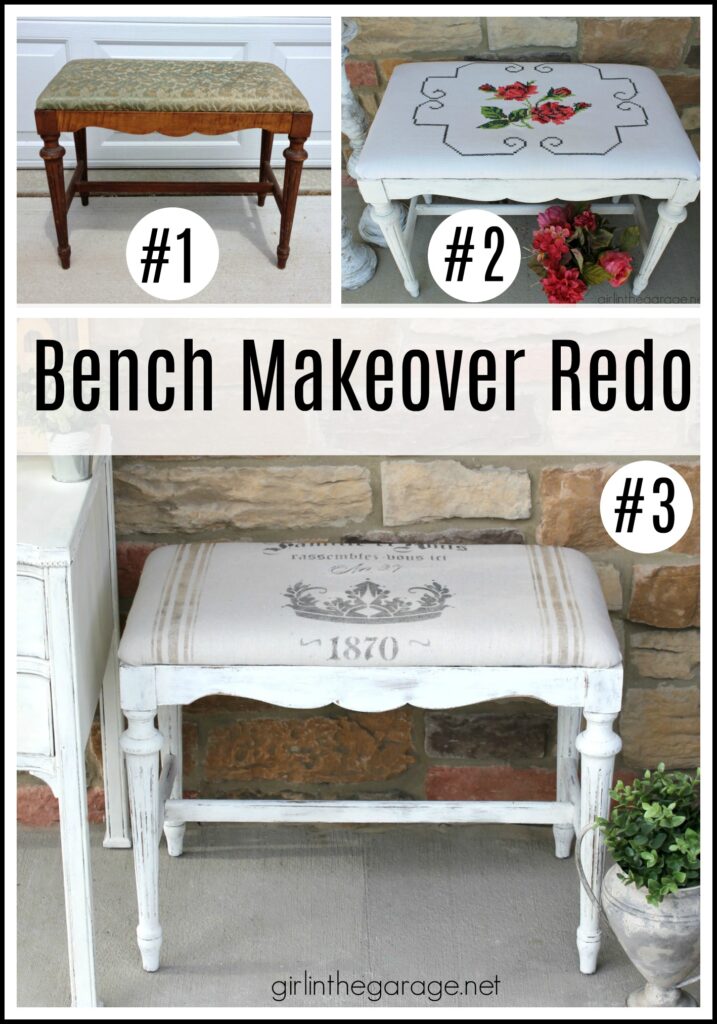 There's also a beautiful reupholstered French armchair makeover in my book Amazing Furniture Makeovers in which I also stenciled drop cloth: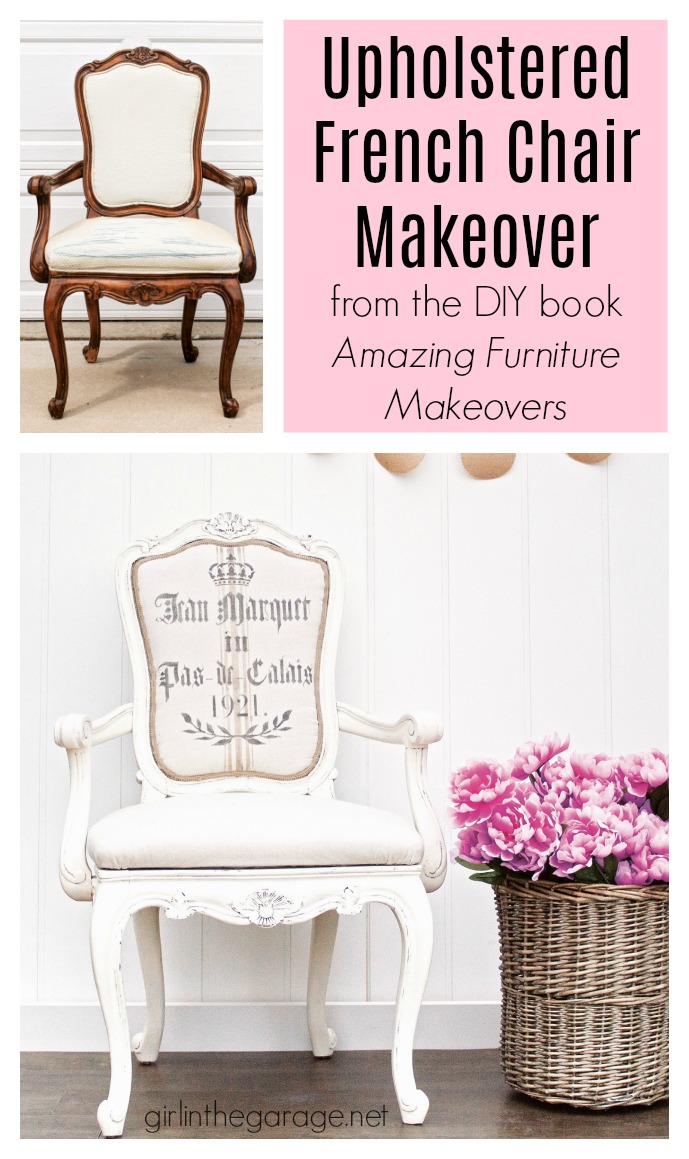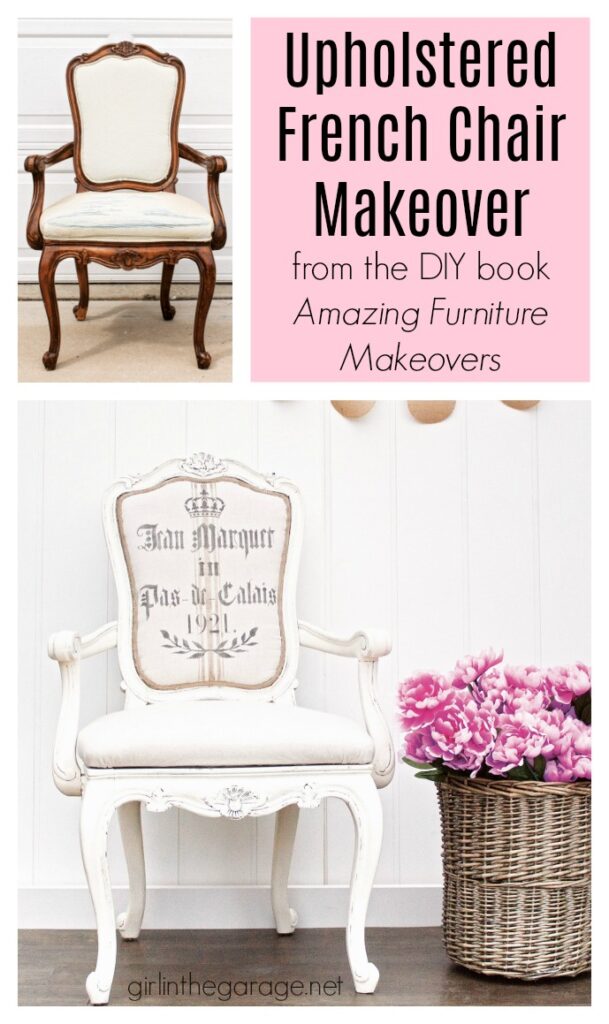 Discover several more DIY bench makeover ideas in just a moment below.
But now, it's time for Furniture Fixer Uppers day with my blogging friends, and this month we're all sharing some favorite furniture makeovers from the past: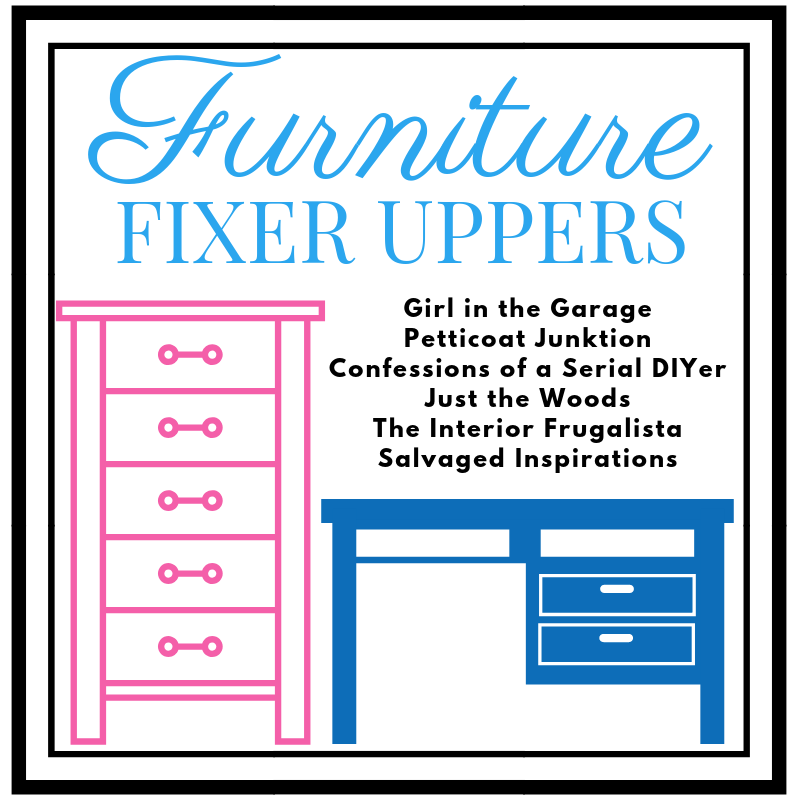 Below are the Before photos – visit the links underneath to see the creative Afters and to learn how they did it: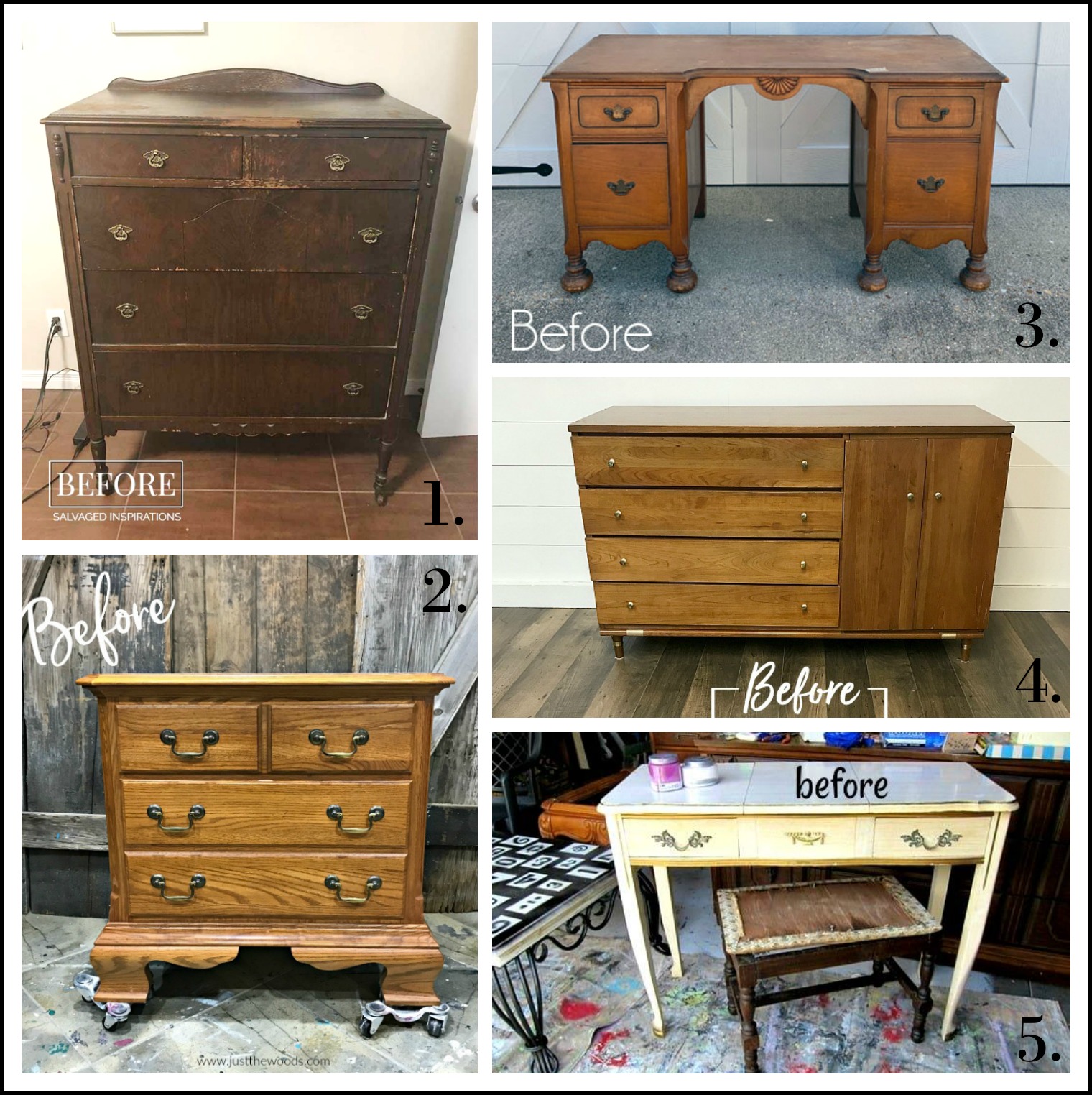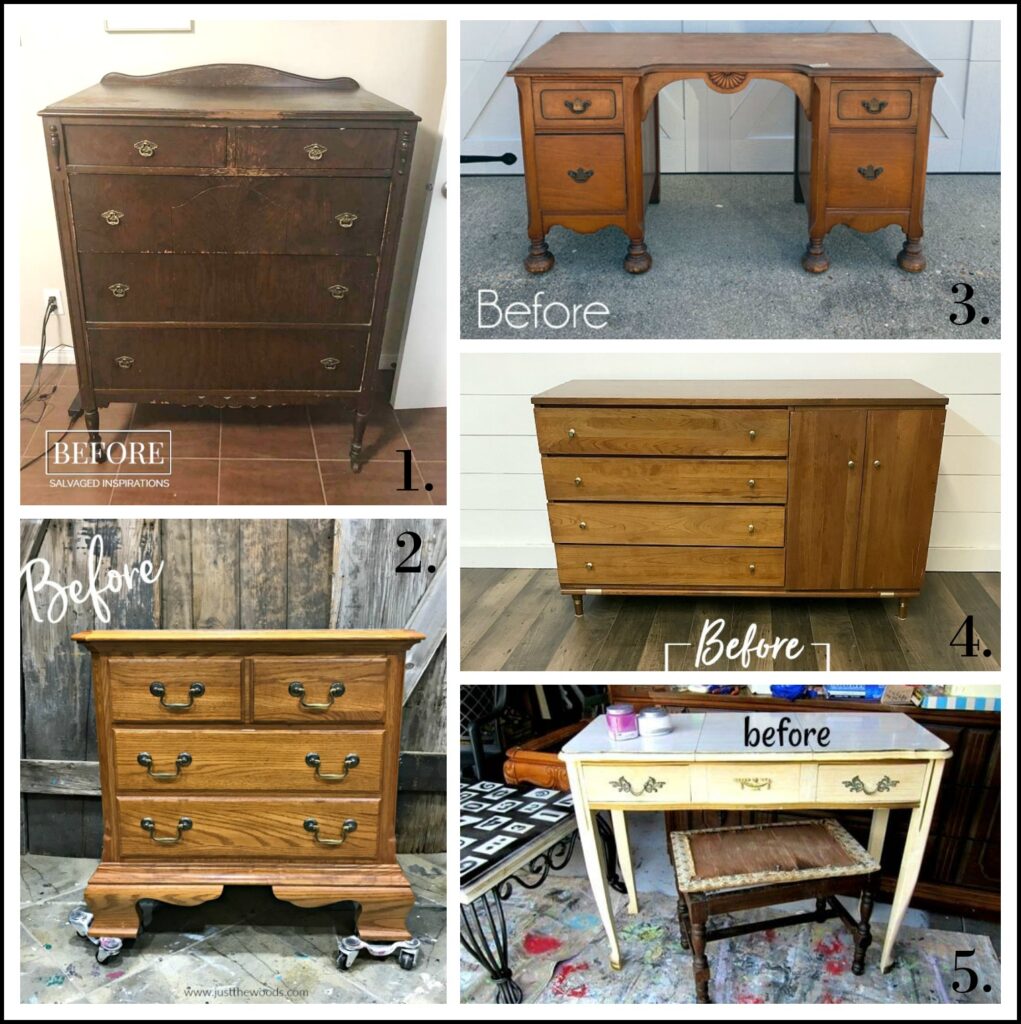 1. Salvaged Inspirations
2. Just the Woods
3. Confessions of a Serial DIYer
4. The Interior Frugalista
5. Petticoat Junktion
Painted Bench Makeover Ideas: Upholstery, Wood, Headboard, Stenciled
Creative bench makeover ideas for your next thrifty furniture makeover project.