Welcome back, friend! First I want to thank you for sharing in my excitement the other day as I helped announce the Minwax Color of the Year with a refinished dresser reveal. It's such a gorgeous color!
Today I'll show you how to paint furniture with black Chalk Paint. This was my first time using Athenian Black by Annie Sloan. (Yes, I'm a firm believer that Annie Sloan makes the BEST Chalk Paint! And not only because she's trademarked the term "Chalk Paint." And now after using Athenian Black on this nightstand, I do believe that it's the best black paint for furniture.) Plus there's a quick video included so you can watch me work.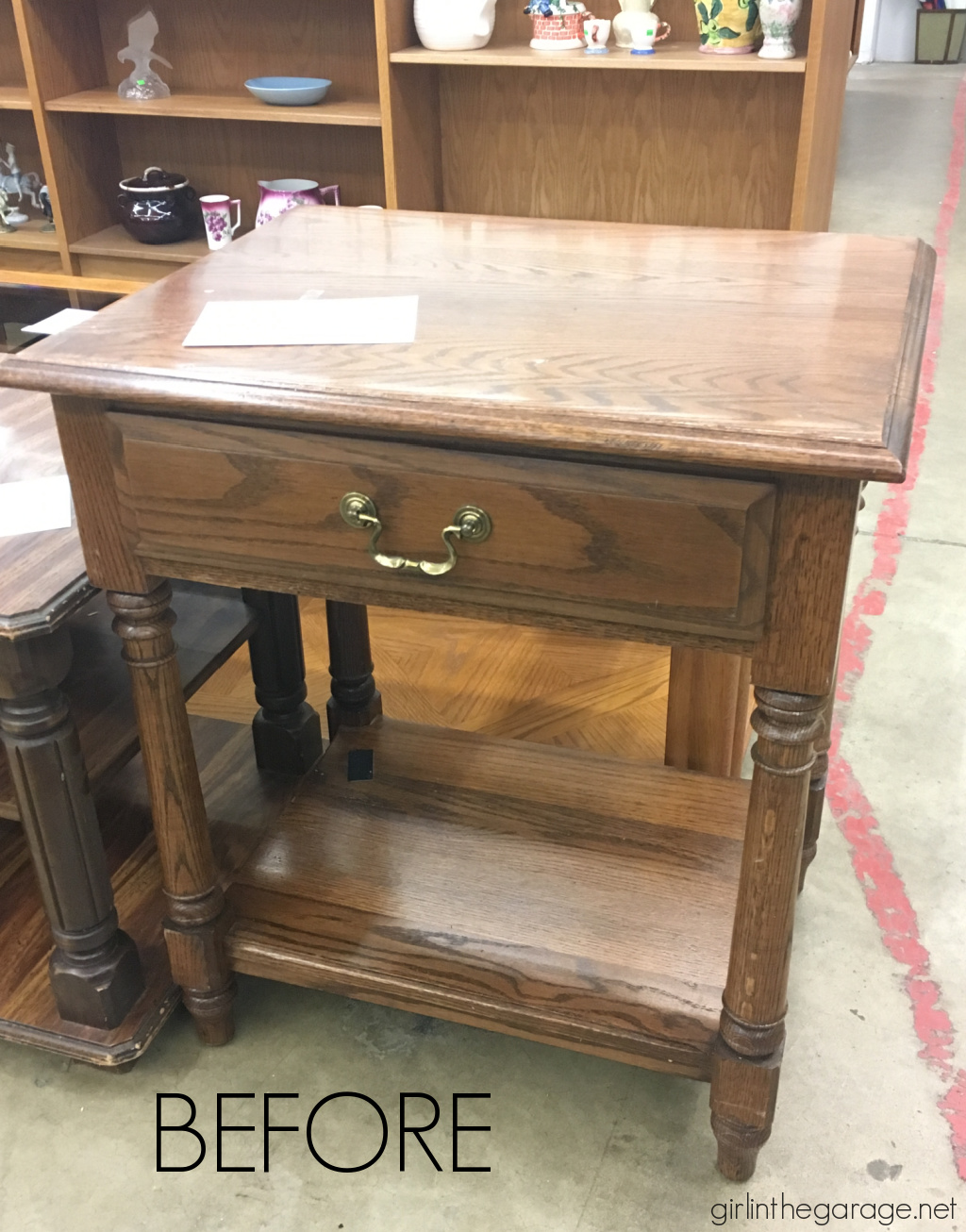 This is an Ethan Allen nightstand, and I knew right away that it was well crafted before I even saw the maker's mark. It cost me $22 at the thrift store.
I got a can of Athenian Black from the local Annie Sloan Chalk Paint stockist and planned to use this animal print poster board as part of the project.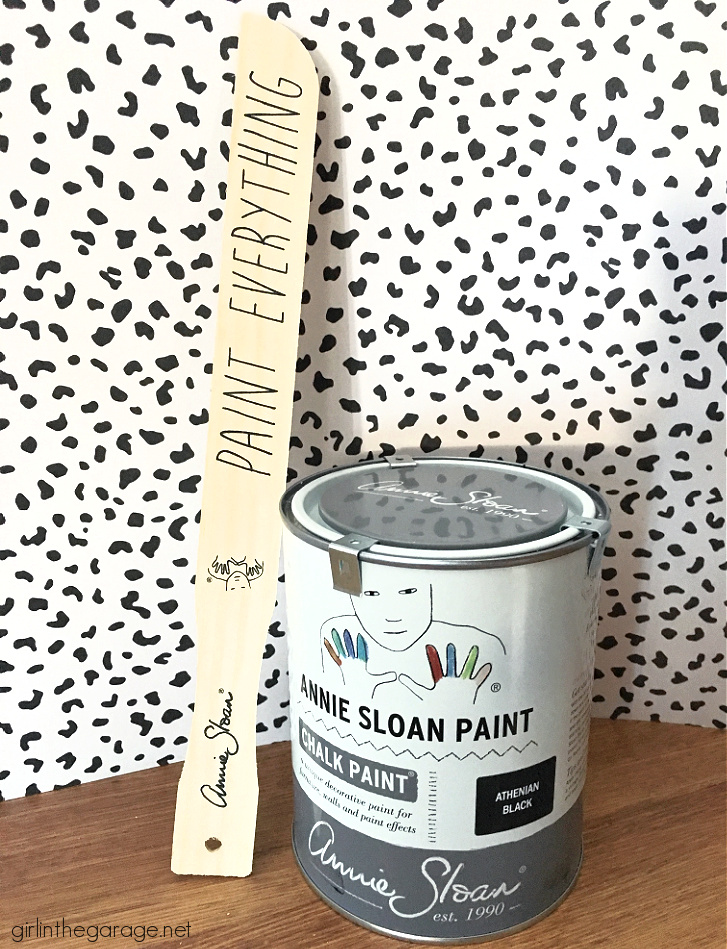 *This post contains some affiliate links so you can easily find the products I use and recommend. Discover all my favorite brands and tools for doing DIY makeovers here.
First, make sure the piece is clean and lightly sanded. I used 220-grit to remove a little of the clear topcoat, although it's not always necessary to sand before using Chalk Paint. (Learn all about How to Prep Furniture for Painting here and How to Chalk Paint Furniture here.)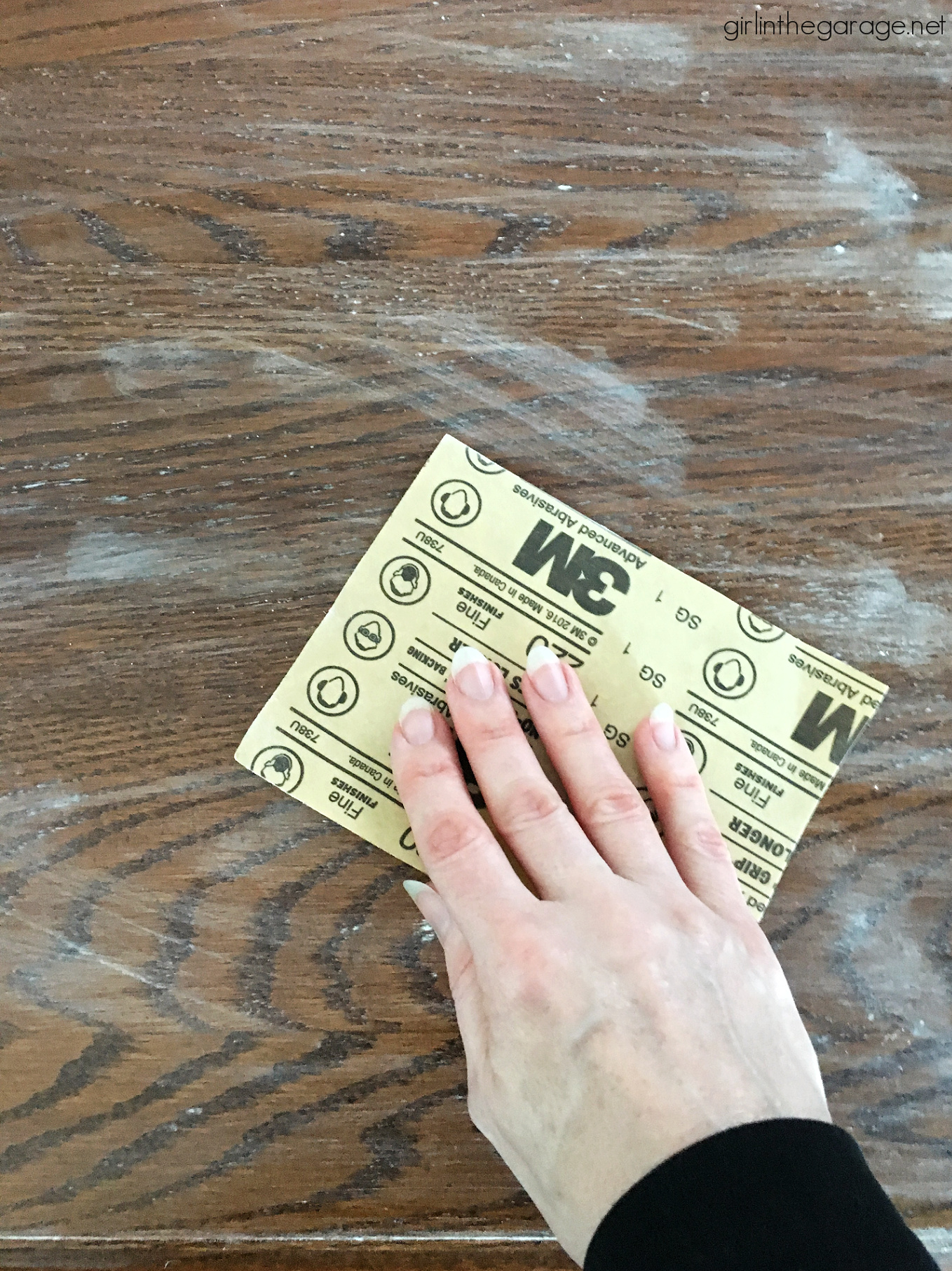 Next, I drilled a new hole for the new drawer pull with my trusty drill/driver and filled the old hole with wood filler. If you look at the gold pull below, you'll see that the bolts aren't centered with the front of the arrow. So that's why I only drilled one new hole… they needed to be a little off-center due to the bolts. (If you look straight on though, the pull looks centered on the drawer.)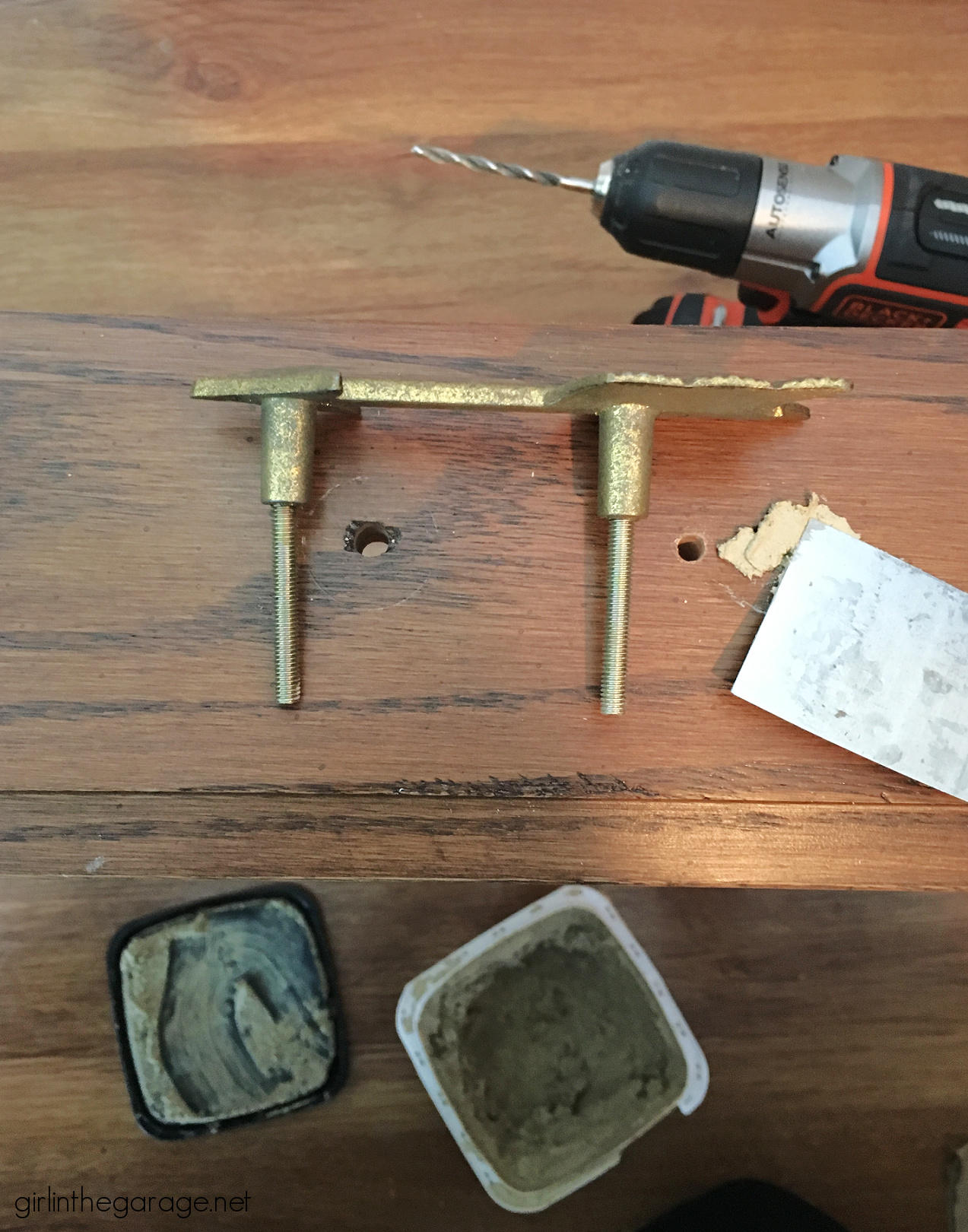 How to Paint Furniture with Black Chalk Paint
Next it's time to paint! Athenian Black Chalk Paint is a gorgeous deep black that Annie Sloan just released in the last couple years. Previously, Graphite was the closest color option to black and it's really more of a dark gray like a chalkboard.
Athenian Black is a true black and doesn't need any priming for bleed through. You only might need to prime (with a clear or tinted primer) if painting laminate furniture (fake wood) or a slick surface.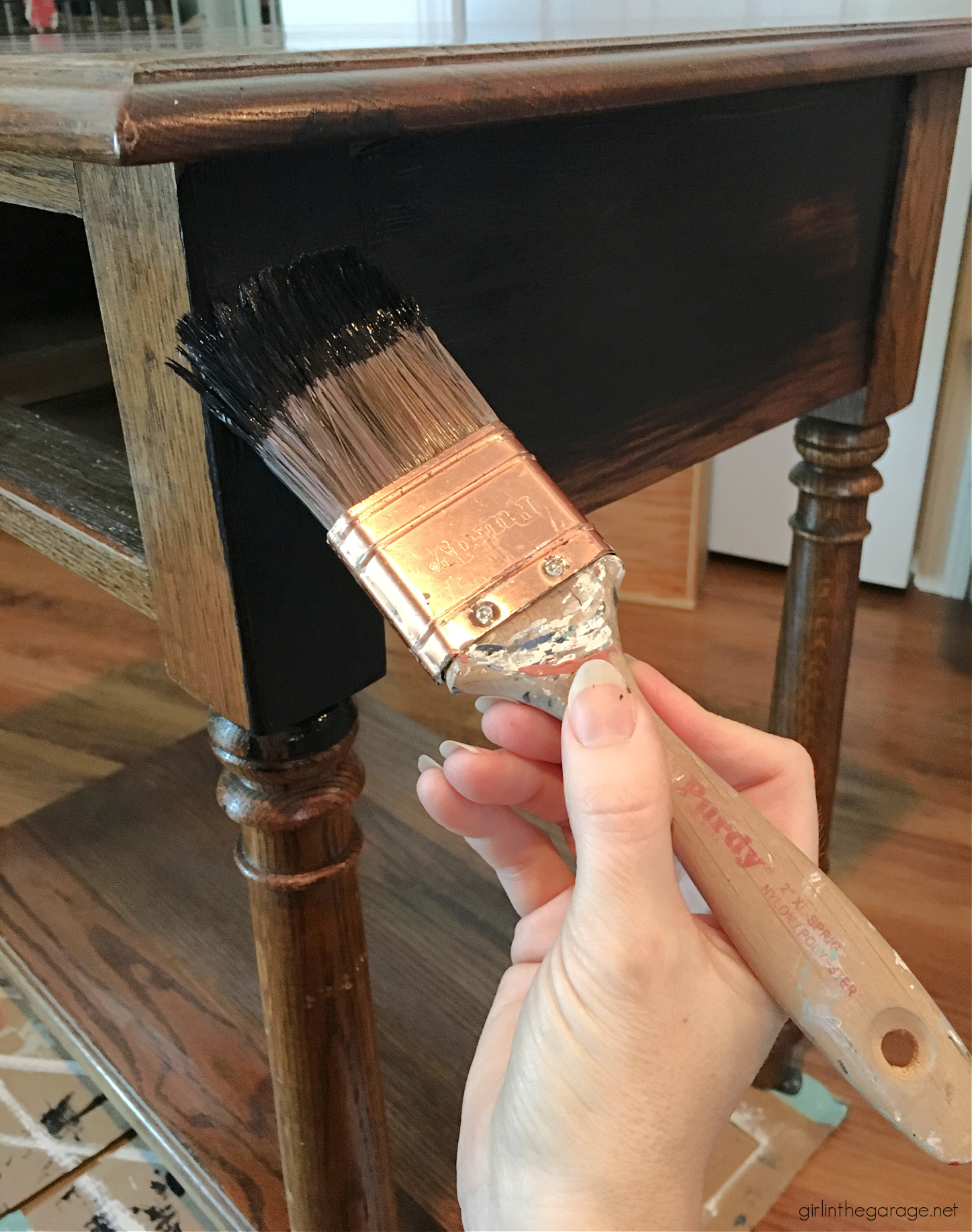 Use a good quality brush – Purdy has always been my favorite brand.
Chalk Paint is really thick, so brush it on and then leave that area to dry while you move onto the next area. If you brush over the same area before it's completely dry, you'll end up with a lot more texture than you probably expected. However, it dries pretty quickly, so once you're done with the first coat, you should be able to start the second coat right away.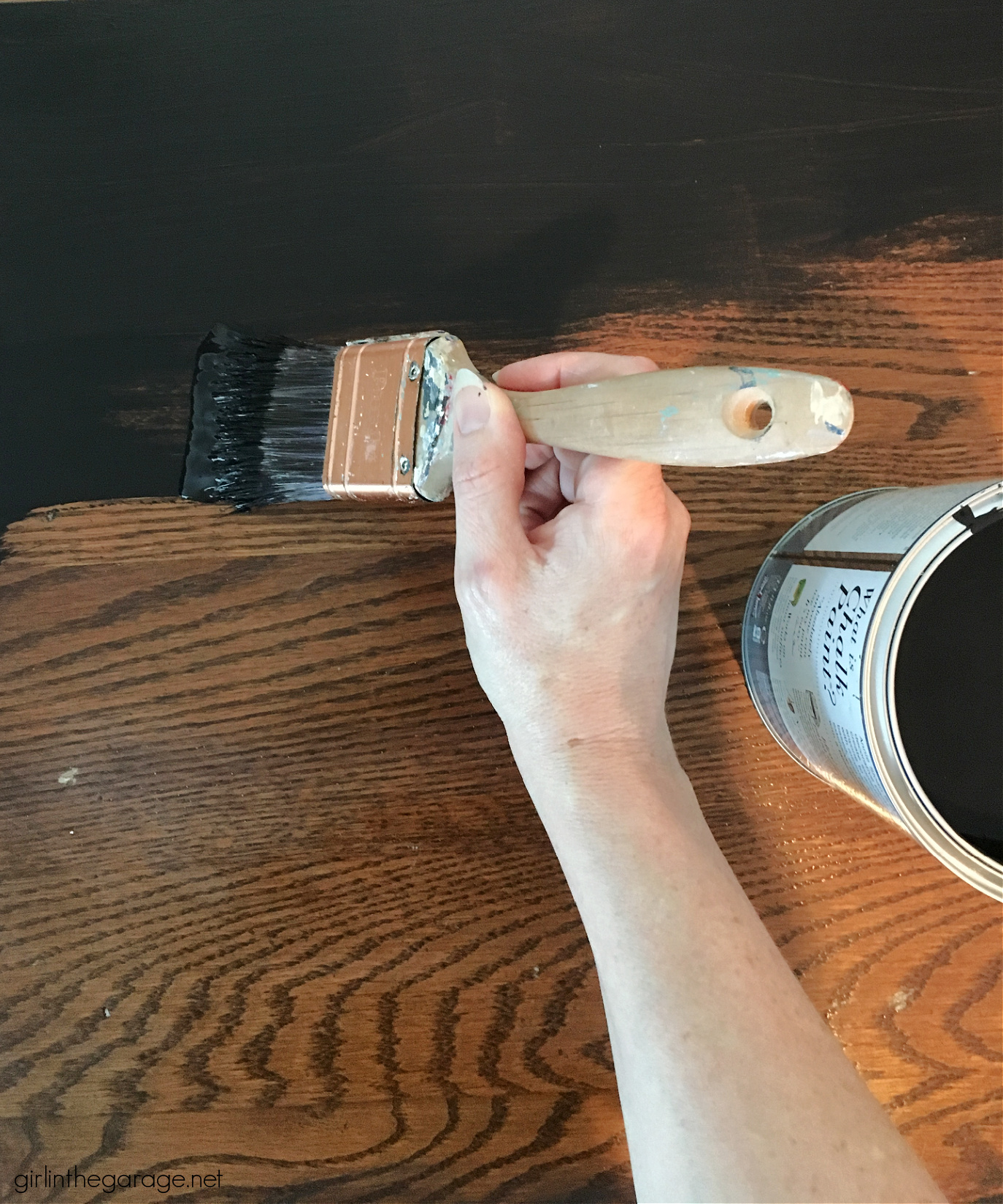 I applied about 2-3 coats of black Chalk Paint on this Ethan Allen nightstand.
How to Distress Black Painted Furniture
Once it's all dry, lightly sand the piece for smoothness and more on the edges and curves to distress it. I used 320-grit sandpaper for this part.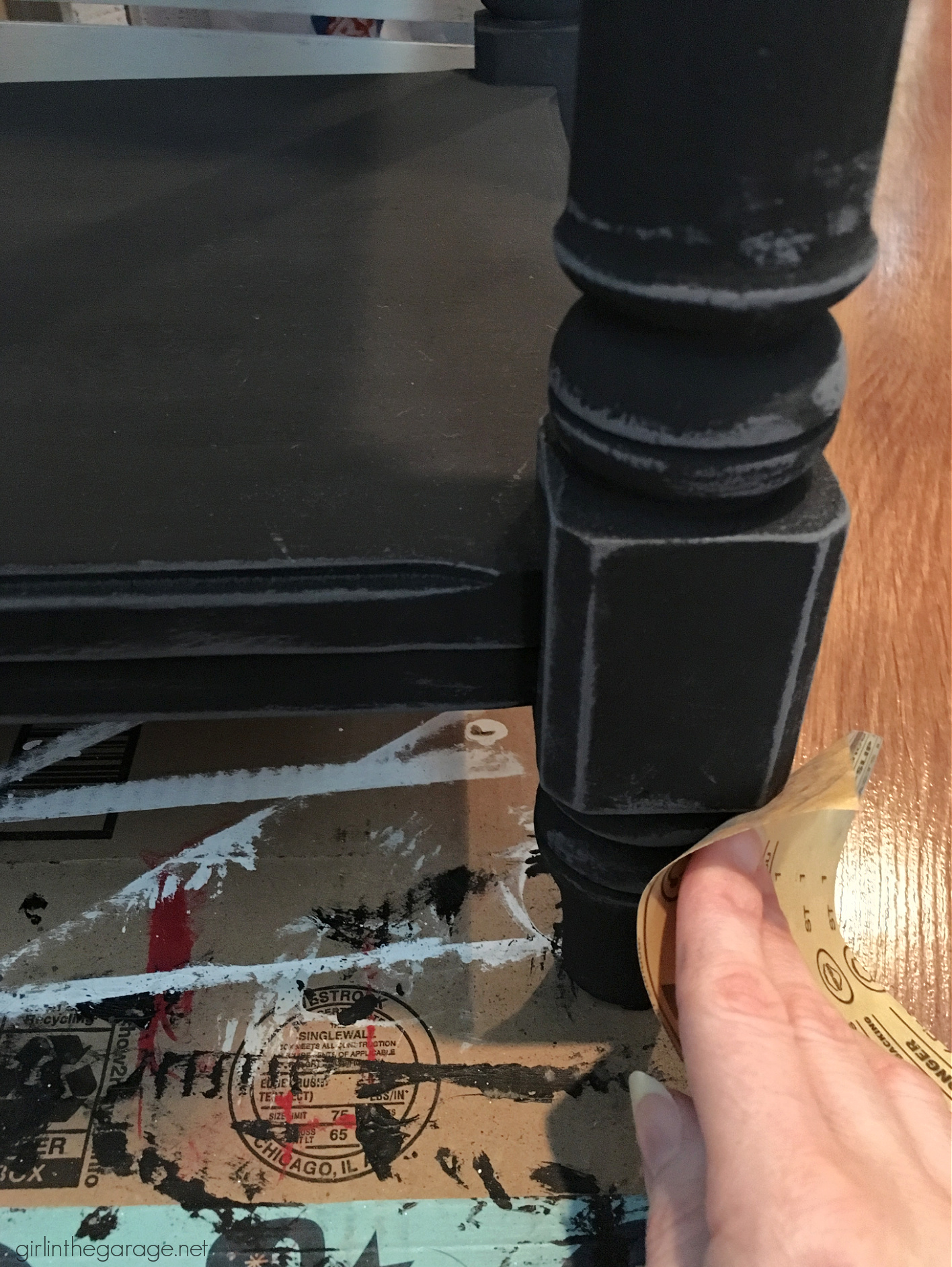 You can see in these photos that once you sand the black Chalk Paint, the edges will look light gray. Wipe the sanding dust away and I'll tell you how to overcome the gray edges just a little further below after we line the drawers.
If you keep sanding, you will see some of the original wood finish peek through. It's up to you how much you want to distress – I prefer the "less is more" approach.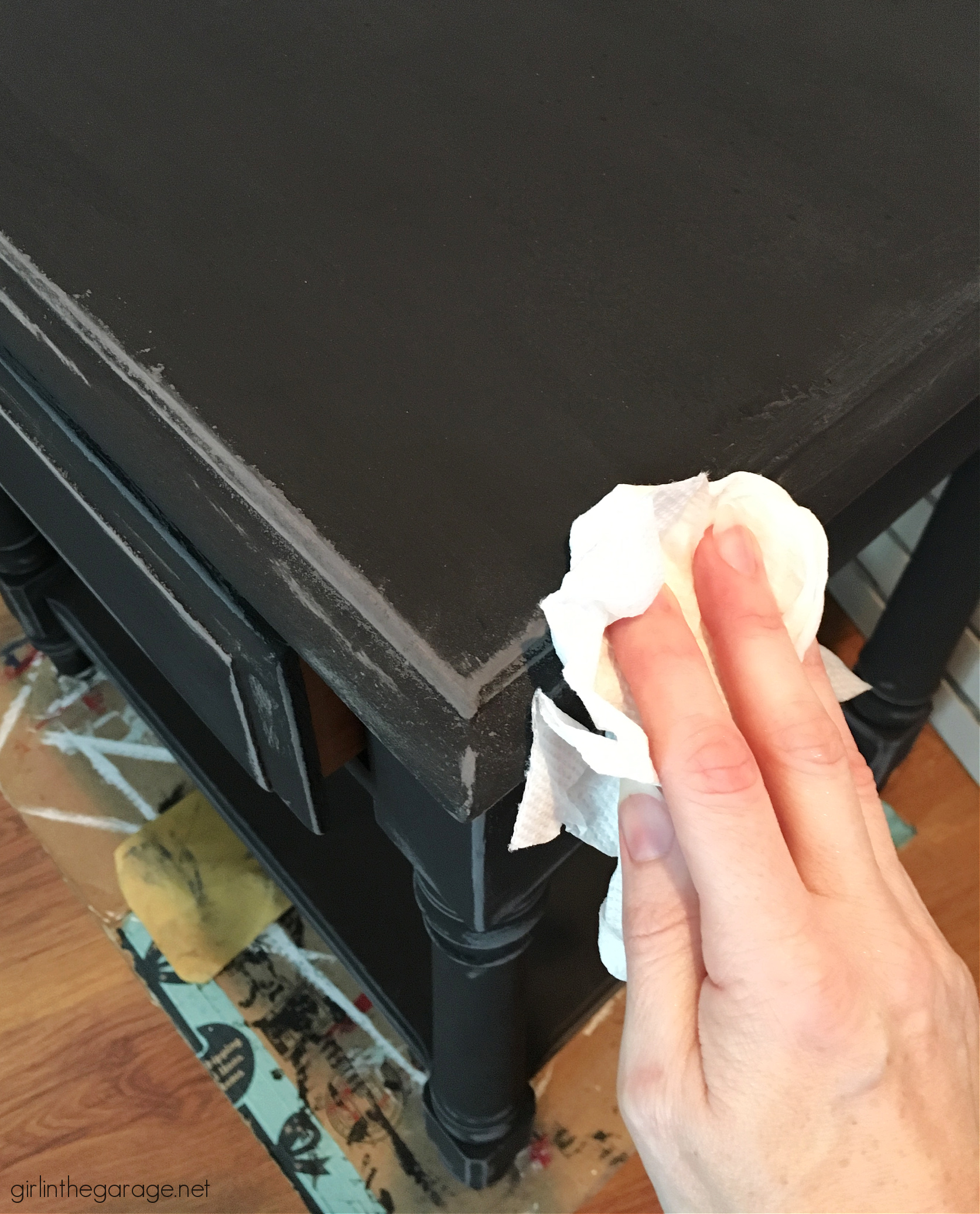 How to Line Drawers with Poster Board
I wanted this piece to be fun and a little modern, so I bought this animal print poster board to line the drawer. First I measured the drawer and then measured/marked the same area on the poster board.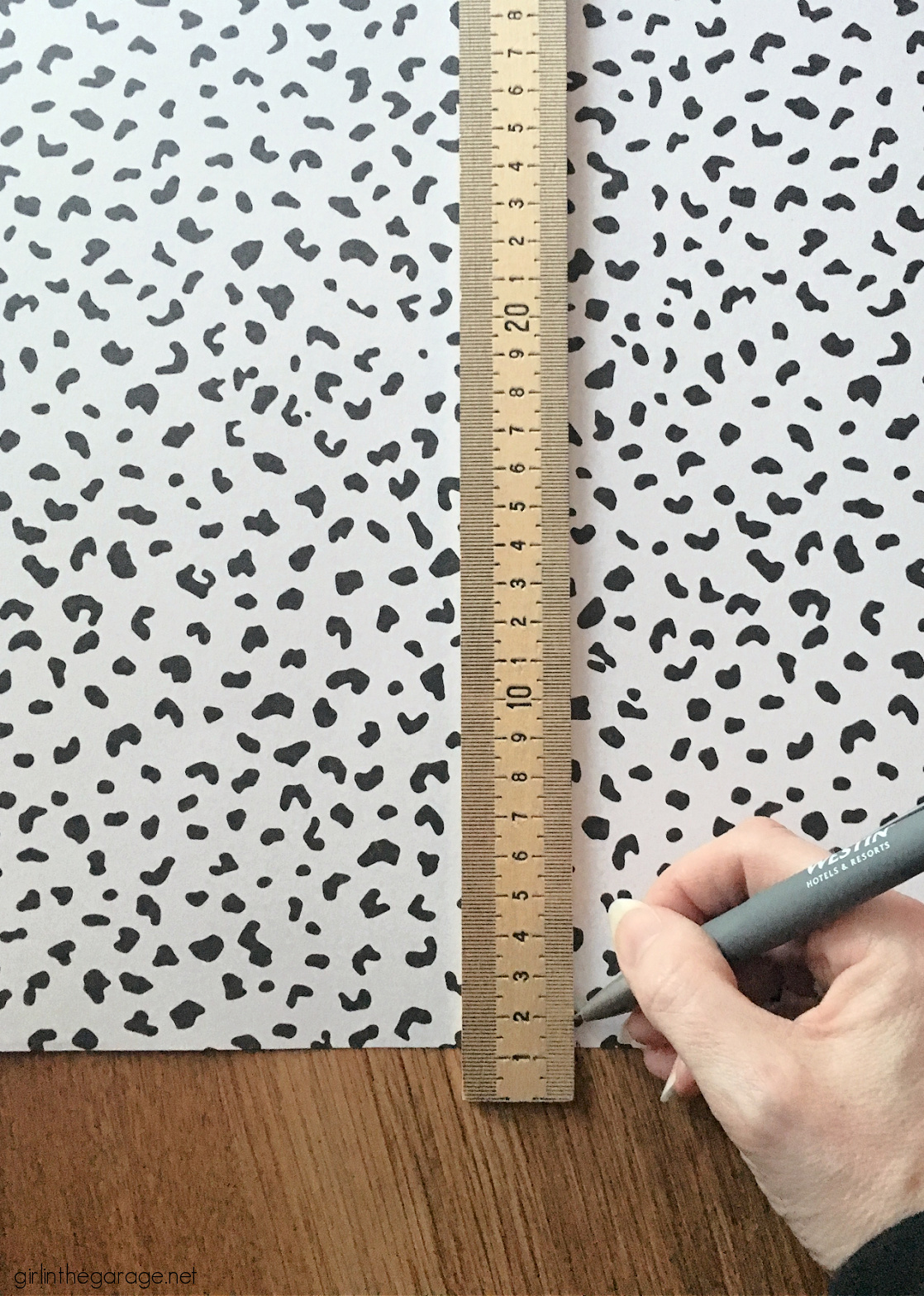 Cut carefully – it's better to cut it a little too big and then trim off the excess after.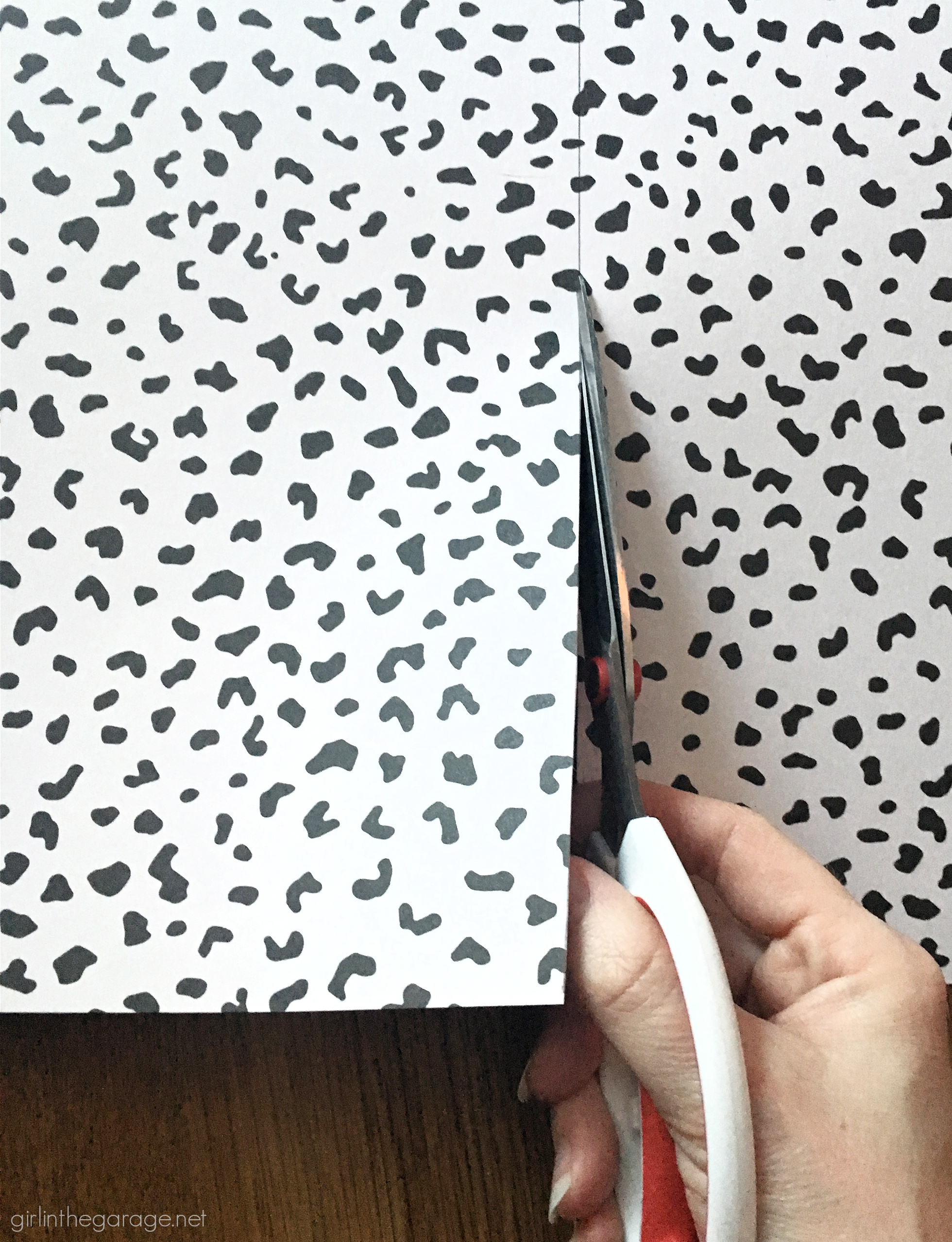 You can line drawers with different types of materials – poster board, scrapbook paper, contact paper, fabric, a large map, wrapping paper, etc. I don't always line drawers but it does give a makeover an extra special finishing touch, like a surprise inside.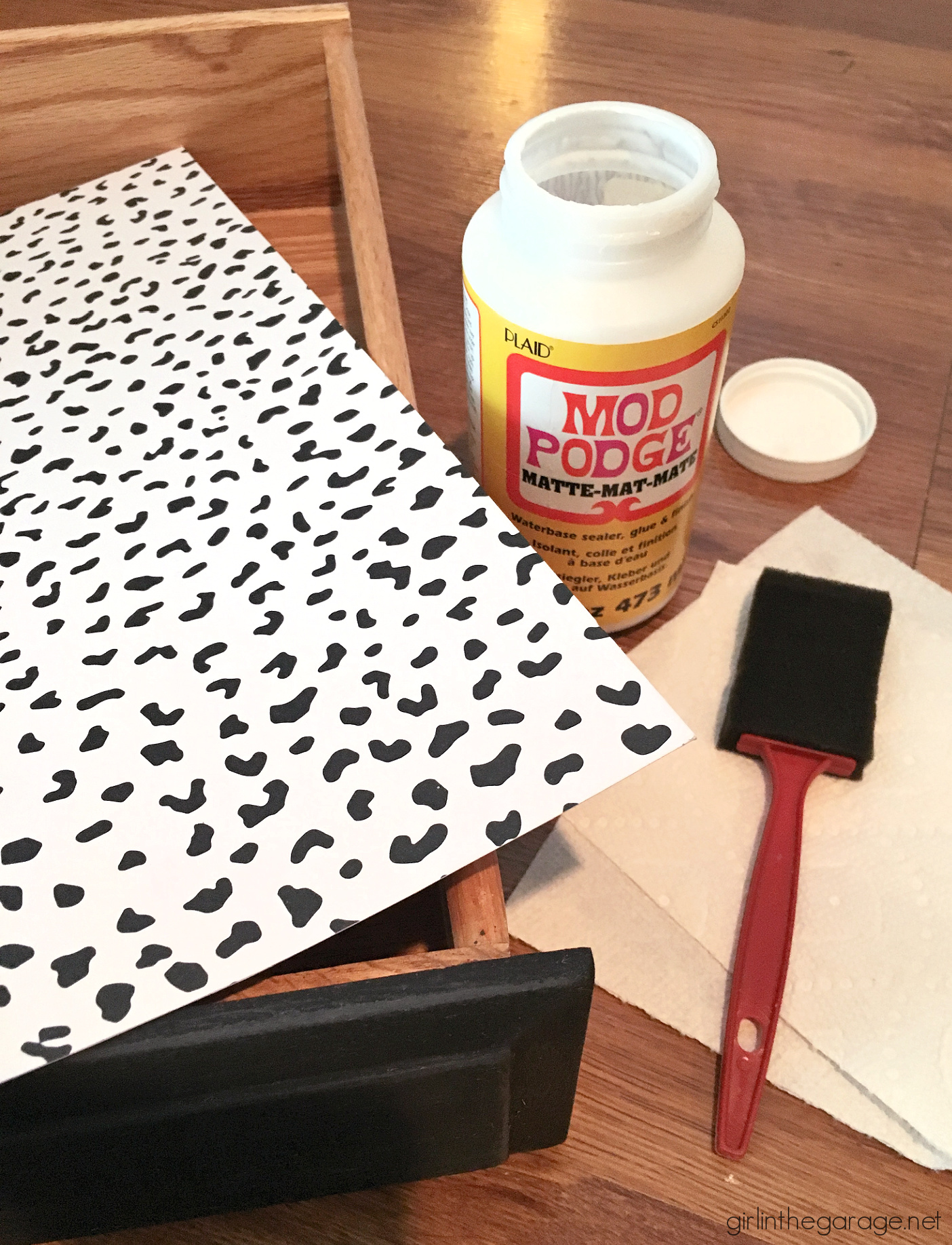 You can also glue the paper on with different products, but I usually use matte Mod Podge and a foam brush. Apply a thin layer across the front of the paper and then press it down – gently rub back and forth for 1-2 minutes. Don't use too much glue or you'll have a mess, and might tear the paper if it's thin.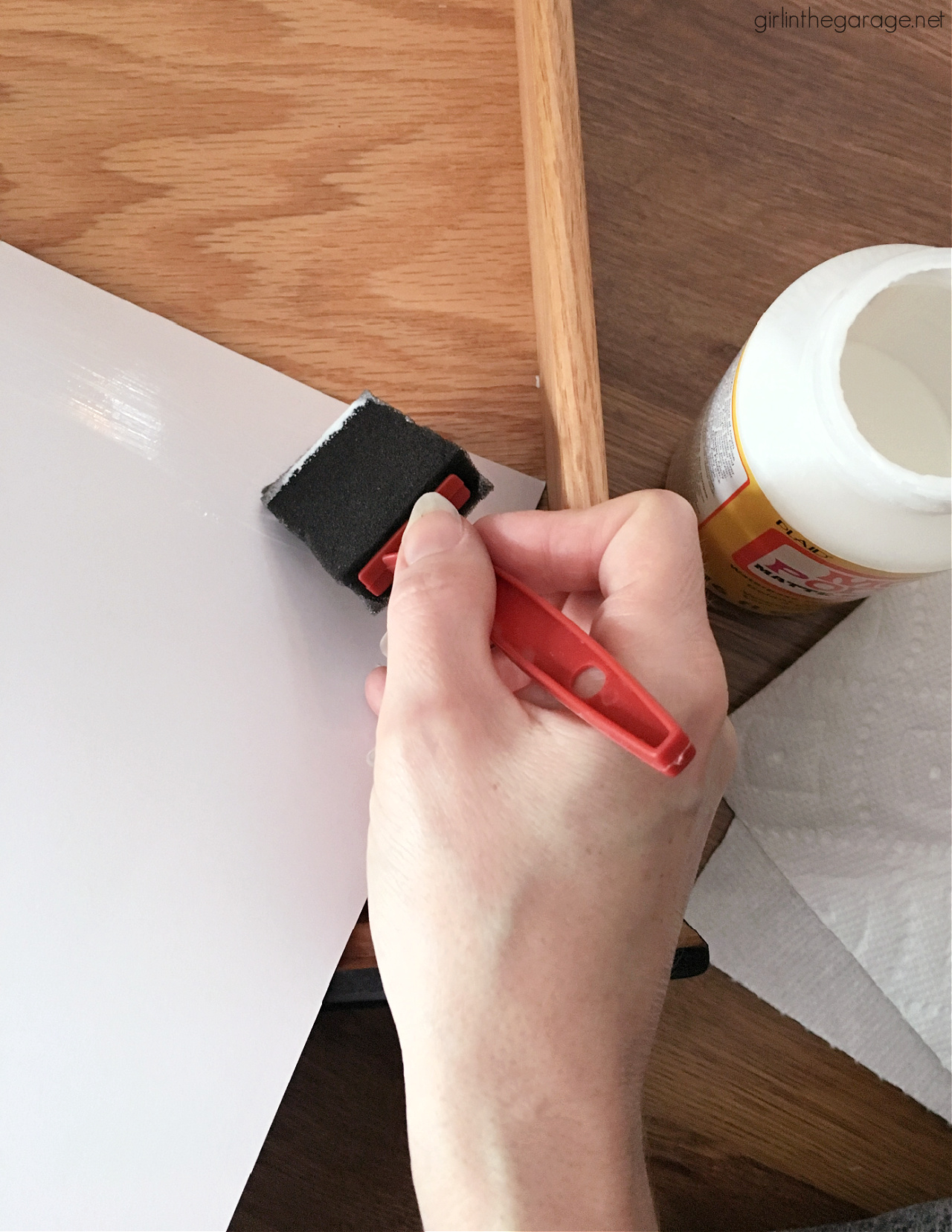 Repeat in sections until the paper is completely glued and let it dry.
How to Use Black Wax with Black Chalk Paint
The best topcoat to use after Chalk Painting furniture black is Black Wax. You can apply it with a brush, but I prefer to use a lint-free cloth.
Normally when using black wax over other paint colors, it's best to use clear wax first and then black on top. The clear wax acts as a barrier and lets you control how much black wax is actually applied. Because if you use too much, then wipe a little clear wax over the top and it removes some of the black.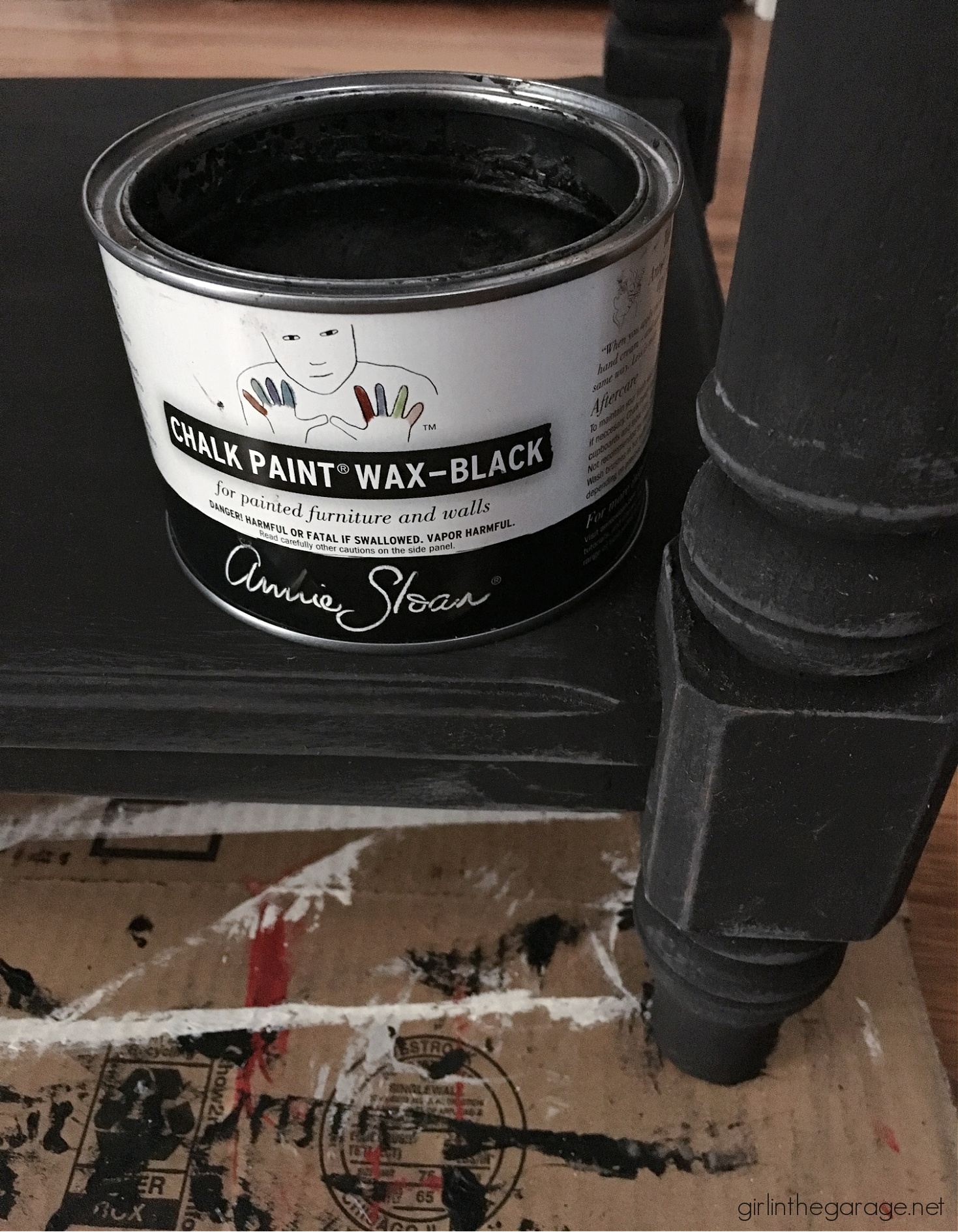 However, I recommend using black wax directly over the black Chalk Paint. It gives it a gorgeous rich finish and covers up those gray edges from when we sanded earlier. You can compare the photos above and below to see the difference.
One word of warning: If you apply the black wax with a lint-free cloth, you'll probably end up with some wax on your fingers. It comes off fairly easily when washing – but don't worry about the cloth, you can just toss it in the trash.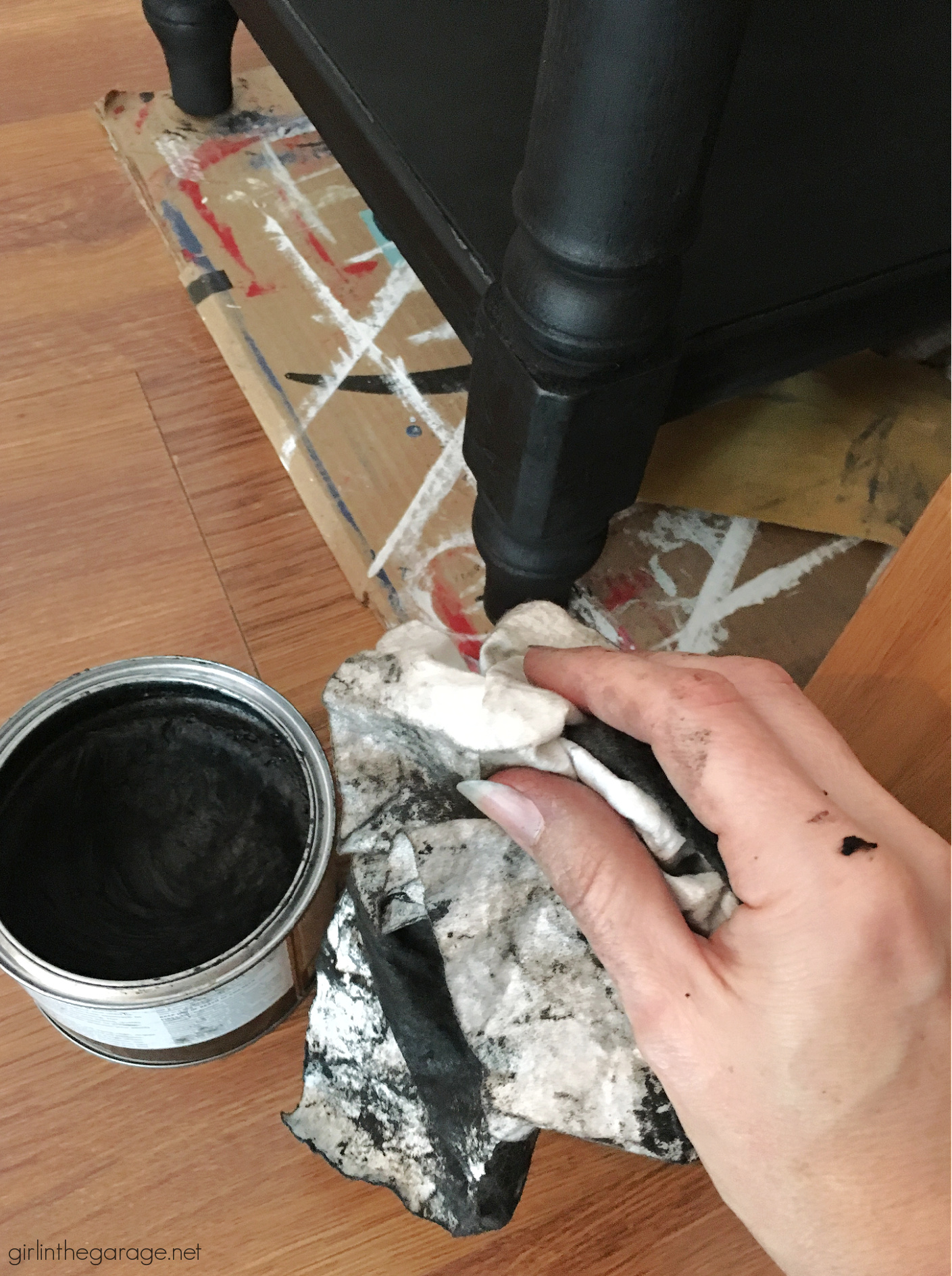 Depending how much use your piece will get, you might need 1-3 coats of wax for protection. Also – wax takes about 30 days to fully cure, so use it only lightly for the first month or so.
And here's the Athenian Black Chalk Painted nightstand: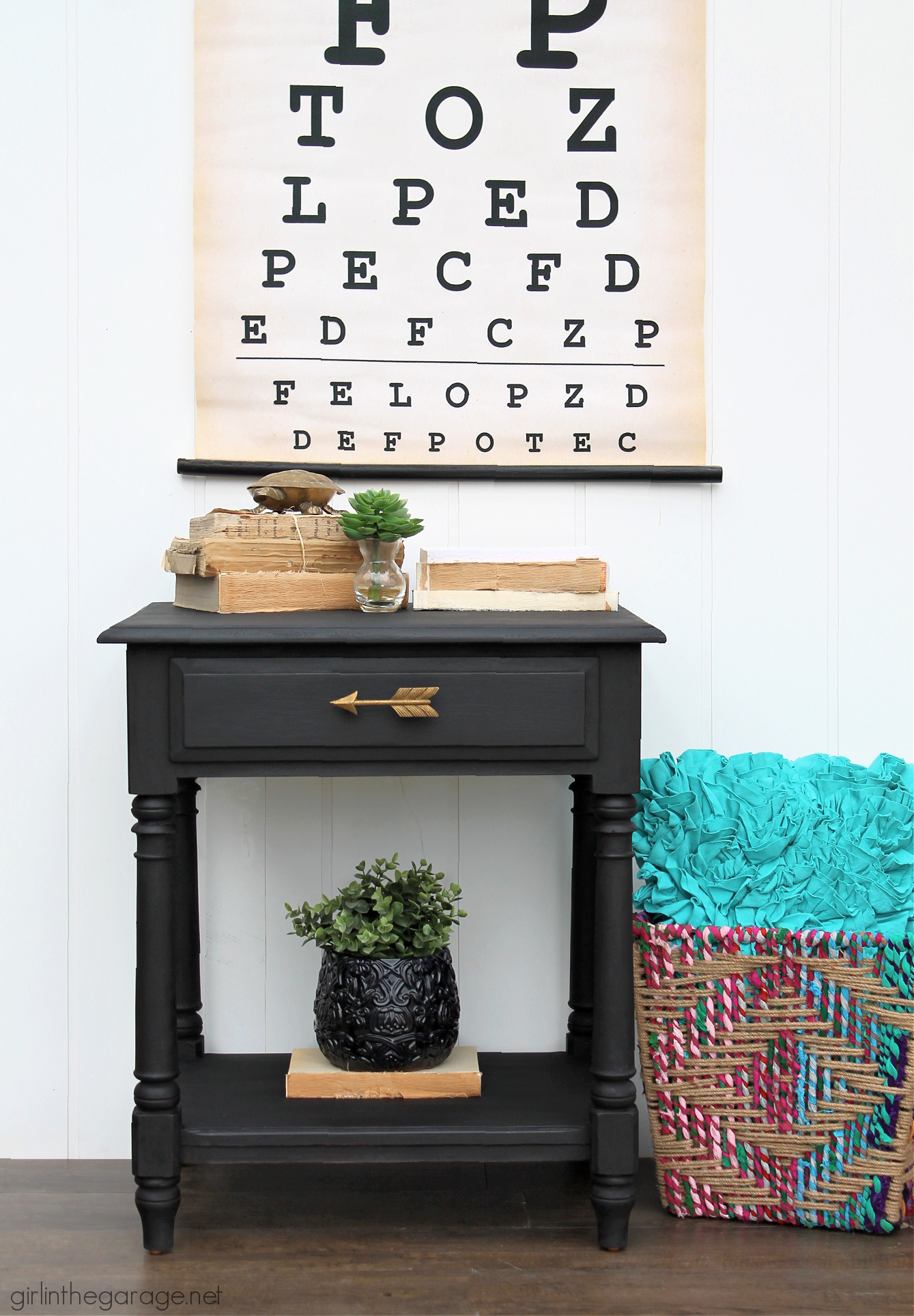 I just love how Chalk Paint can make a piece look vintage, shabby chic, or even sleek and modern depending on how you use it. And I thoroughly enjoyed painting and distressing with Athenian Black – which is why I think it's the best black paint for furniture. In fact, I'm already looking for my next piece to use it on!
The gold drawer pull and poster board drawer liner were made to be together. ❤️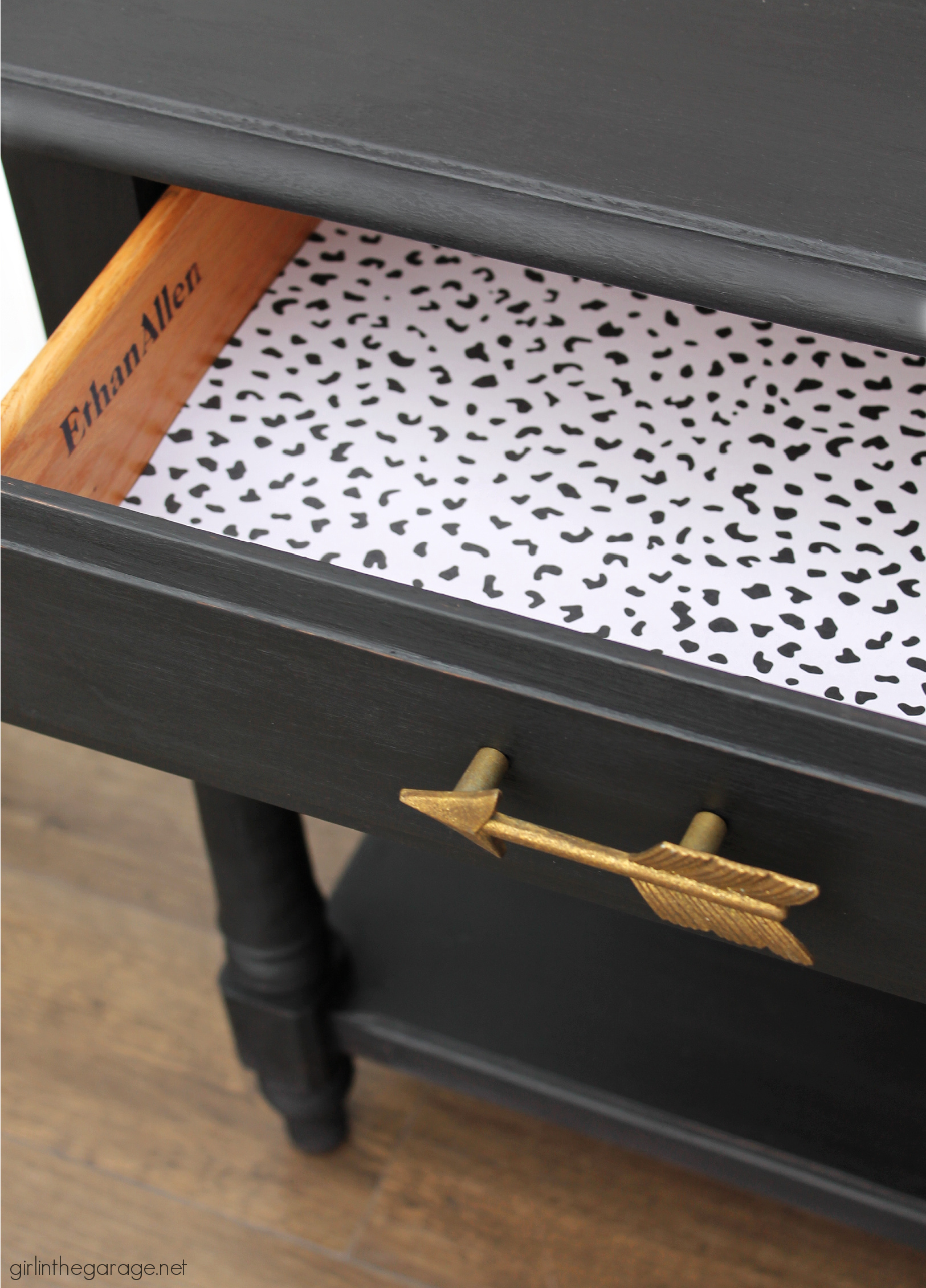 Have you tried Chalk Painting furniture black yet? What do you think you'd use Athenian Black Chalk Paint on?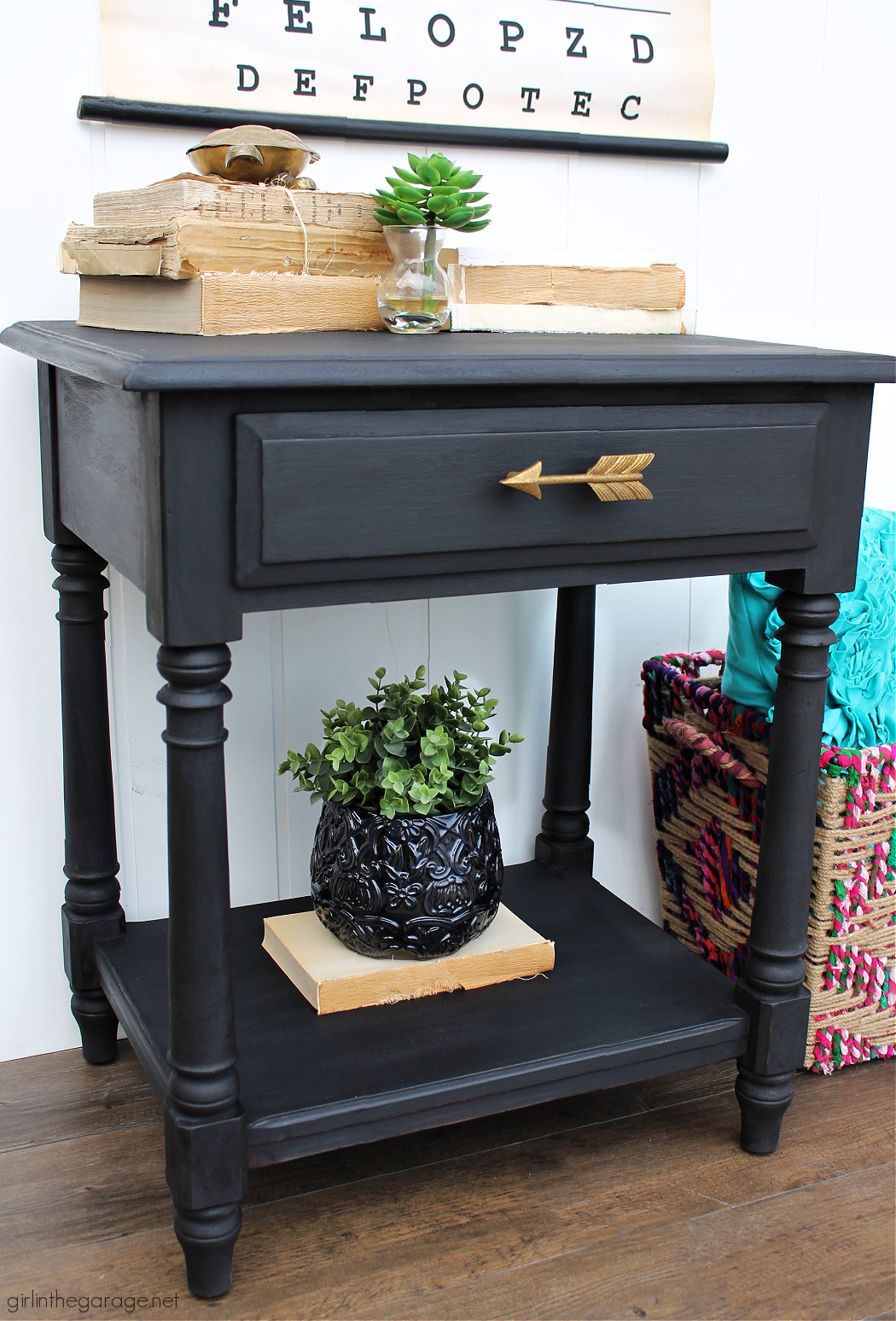 Painting furniture black almost instantly gives it a more sleek, modern look.
Here's a before and after reminder – feel free to share or pin any images in this post to easily find this project again later.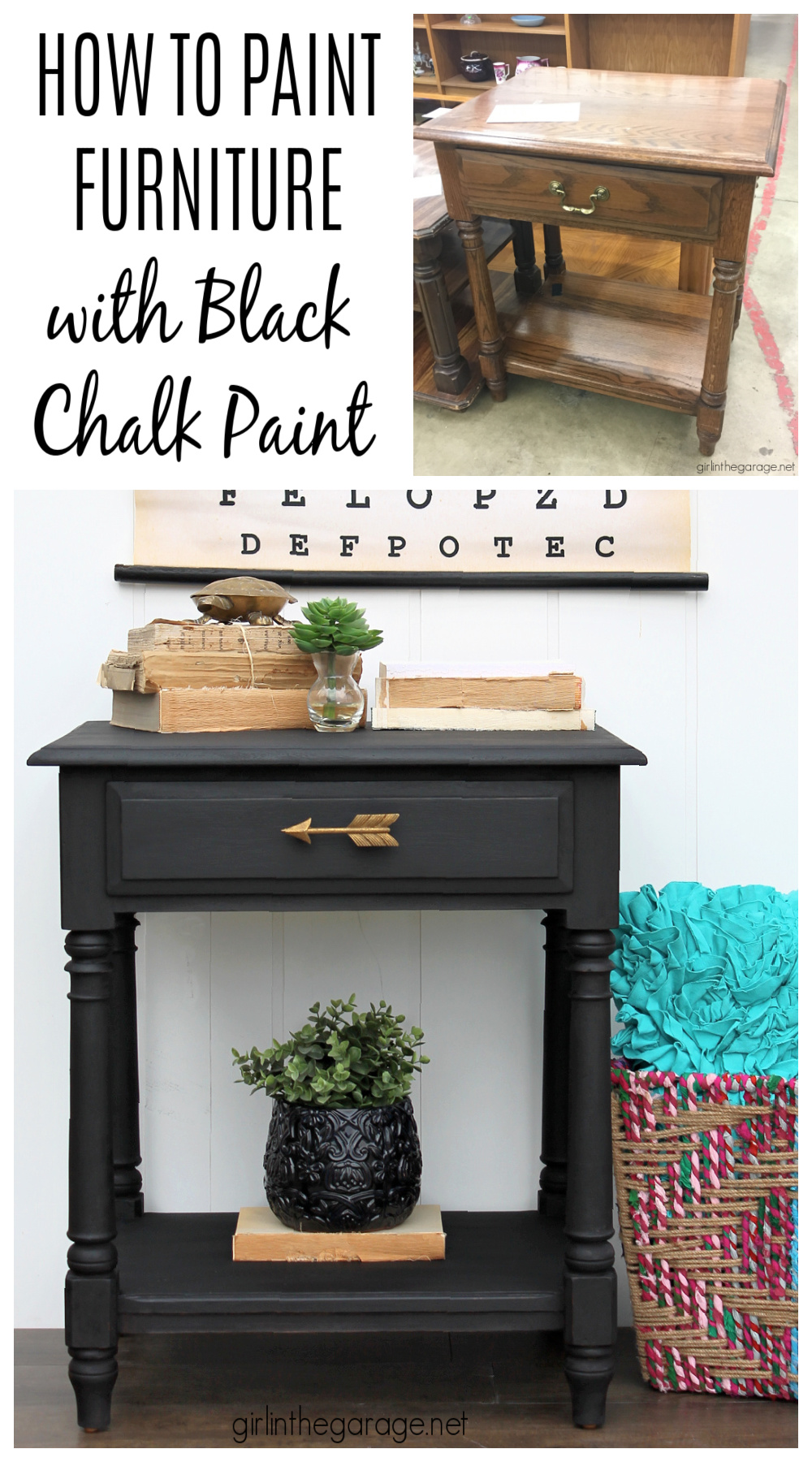 I'm trying to remember to be more "present" in my project photos – so here I am. (Hi, friend!) 🙂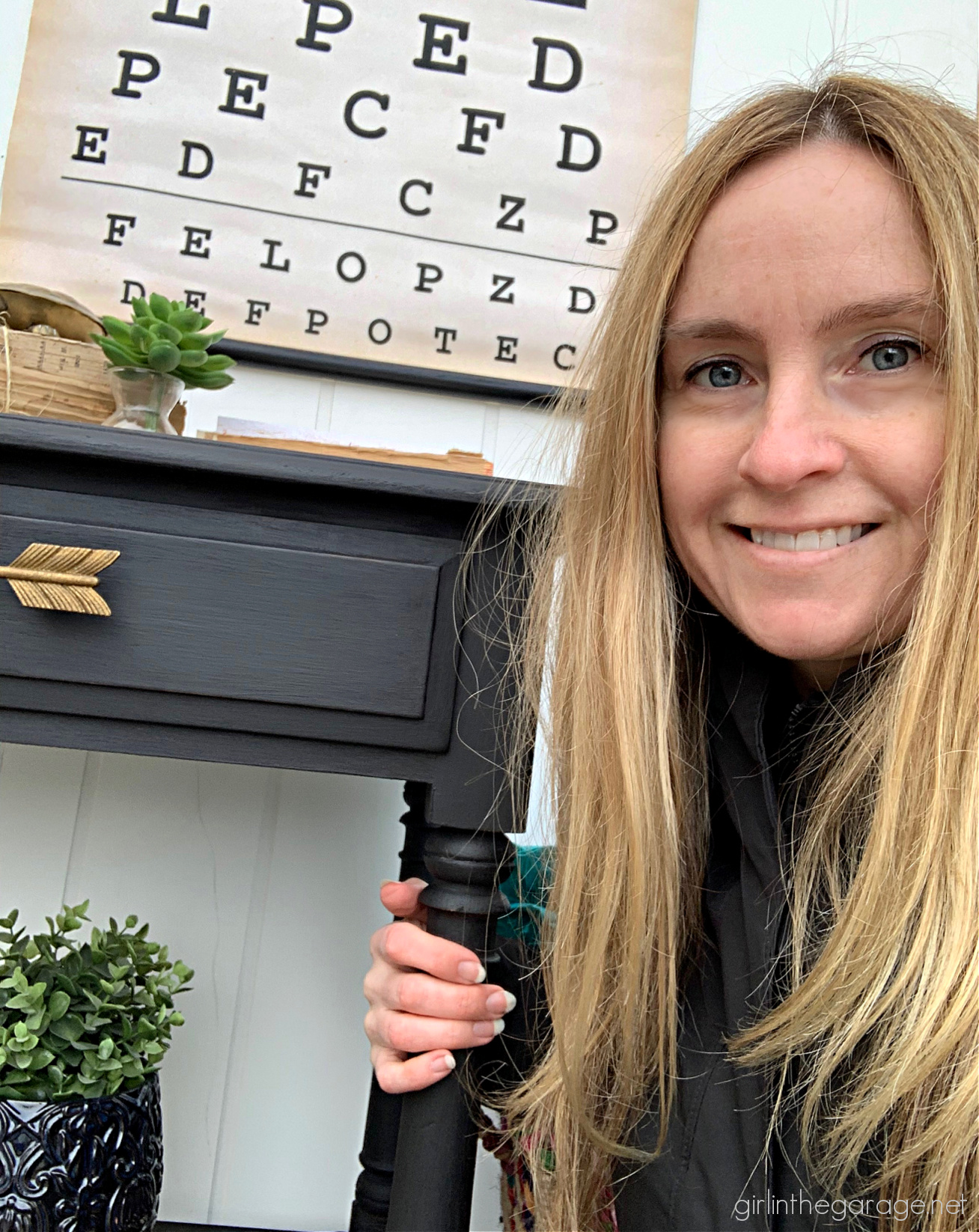 I love painting Ethan Allen furniture. Here's another painted Ethan Allen nightstand I did – and this one definitely isn't modern: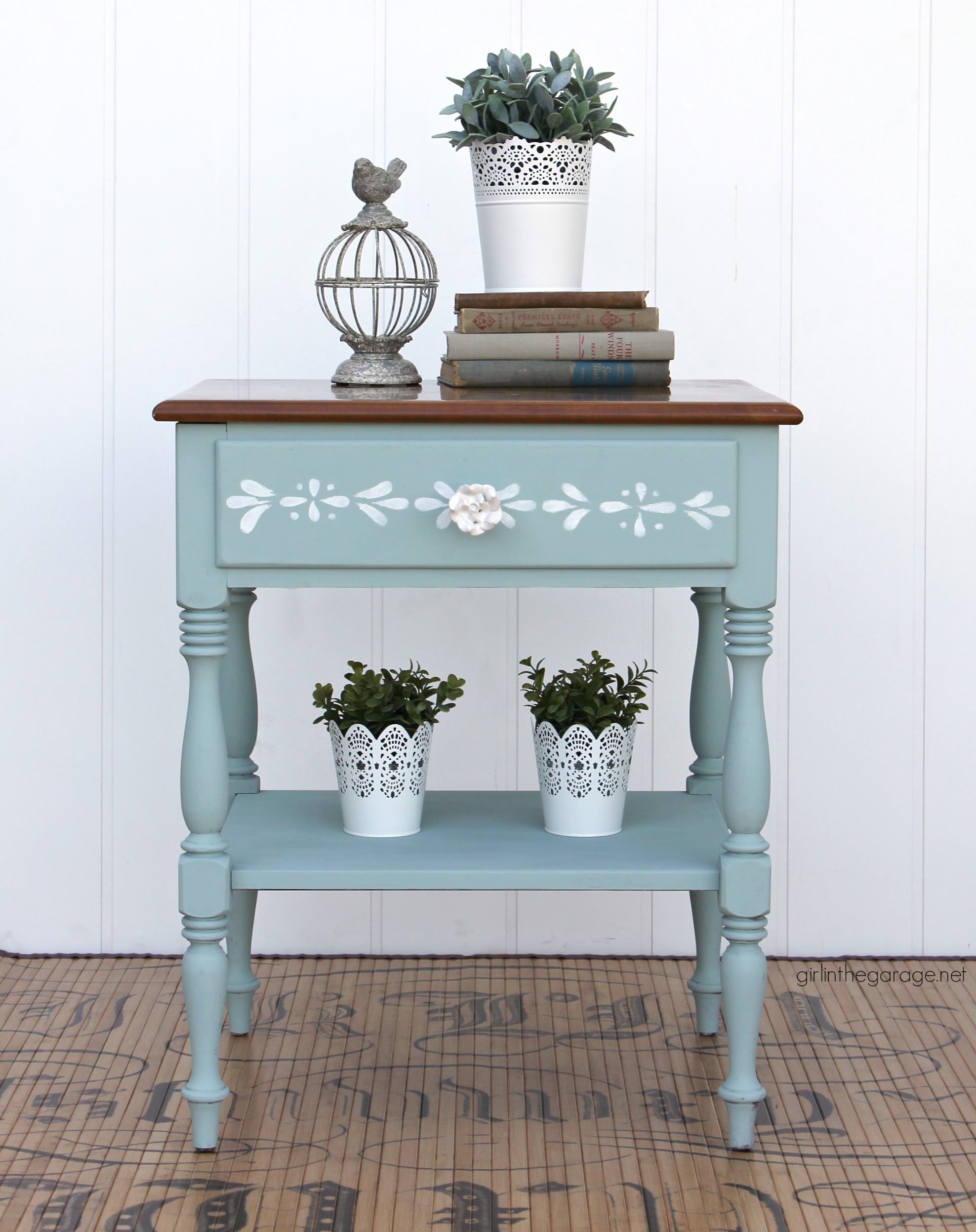 Now it's time for more makeover projects from my blogging friends! Below are their Before photos – visit the links underneath to see the fantastic Afters and to learn how they did it:

1. Confessions of a Serial DIYer
2. Petticoat Junktion
3. Salvaged Inspirations
You might also like this similar flashback project: Painted Table in Graphite with Decoupage Drawers