Friend, don't you love a lucky curbside score? This little dresser was sitting by the curb on a busy road when I was driving to pick up my kids from school, but I didn't have time to stop. Thankfully it was still there when I came back, and in great condition.
I knew it would be perfect to show you guys how to refinish a dresser using the Minwax 2021 Color of the Year! 🎉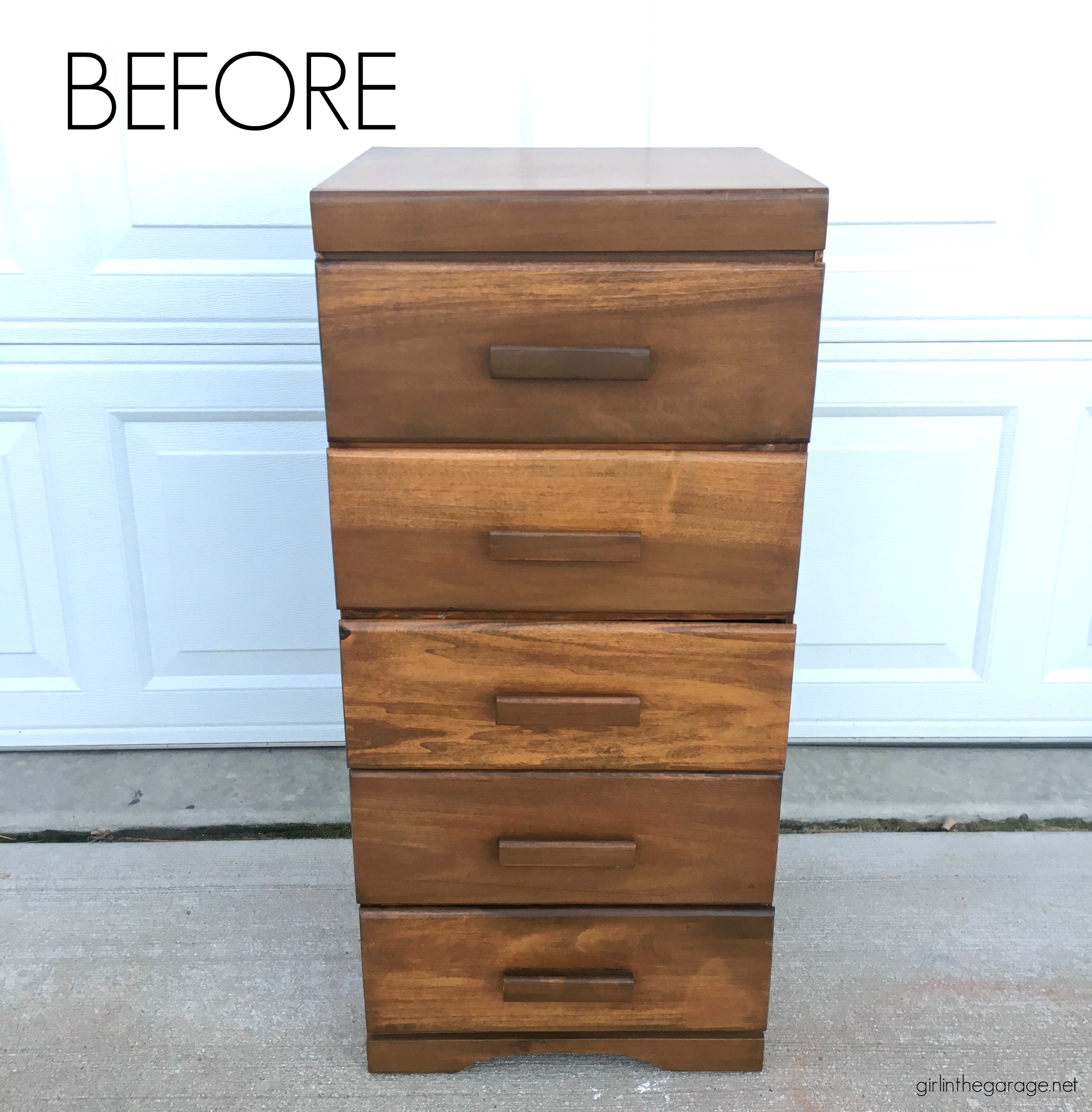 Thank you to Minwax for sponsoring this post, but honestly I'd choose their products anyway. You can see some of my past Minwax projects here: Refinished Card Catalog, Farmhouse Stained and Painted Side Tables, and How to Build and Stain a Wooden Crate Bookshelf.
There's also a short video tutorial included in this post for those of you who like to see my projects in action – and there's a fun giveaway too!
Below you can see the inside of the drawers. I'll also show you how to line drawers with paper for an extra finishing touch.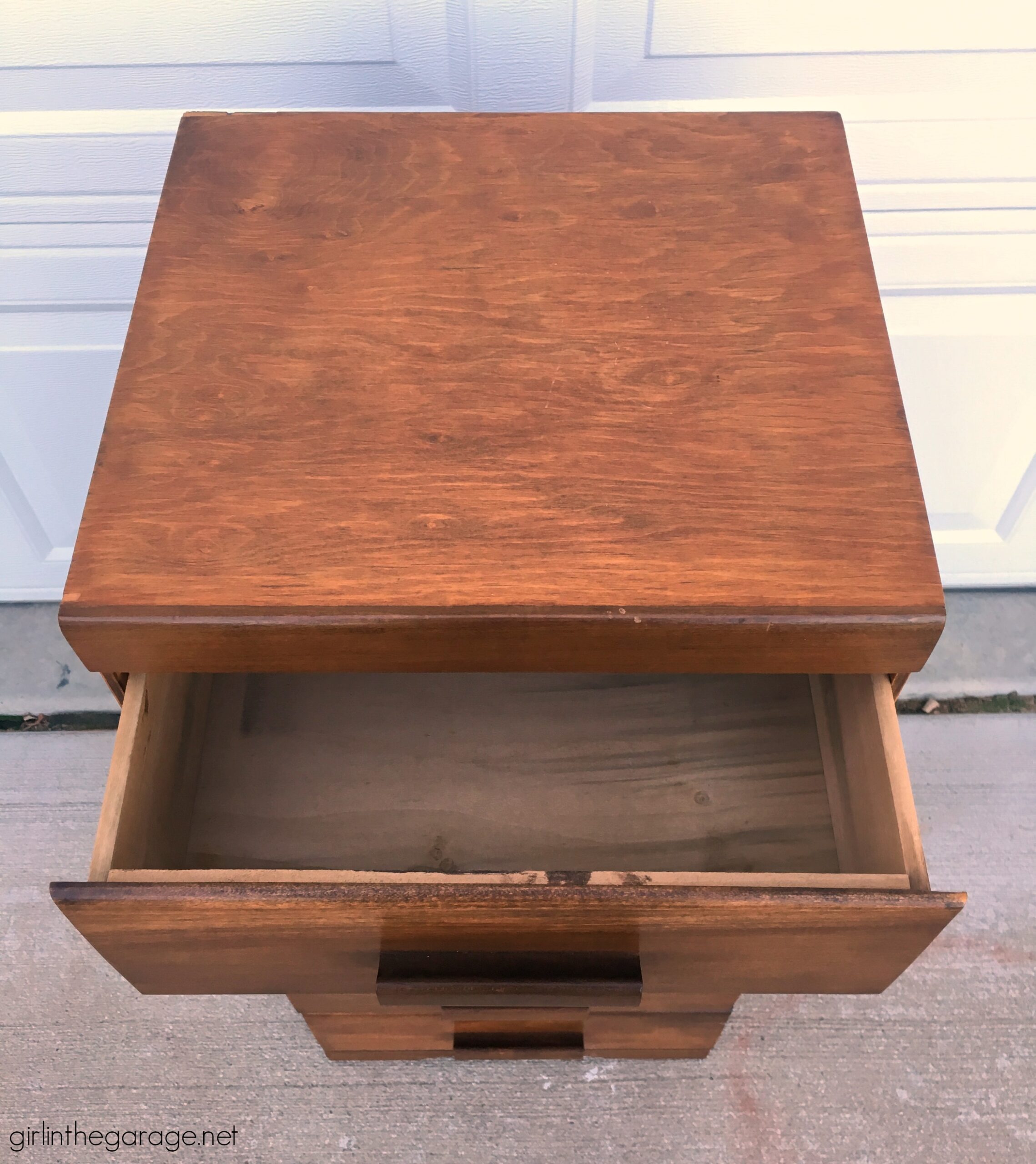 First, the handles had to come off. These wooden pulls were attached with two nails instead of screws, and not evenly spaced. So I knew right away that I'd have to drill new holes for different hardware. (I didn't fill these with wood filler because the new pulls would cover the old holes.)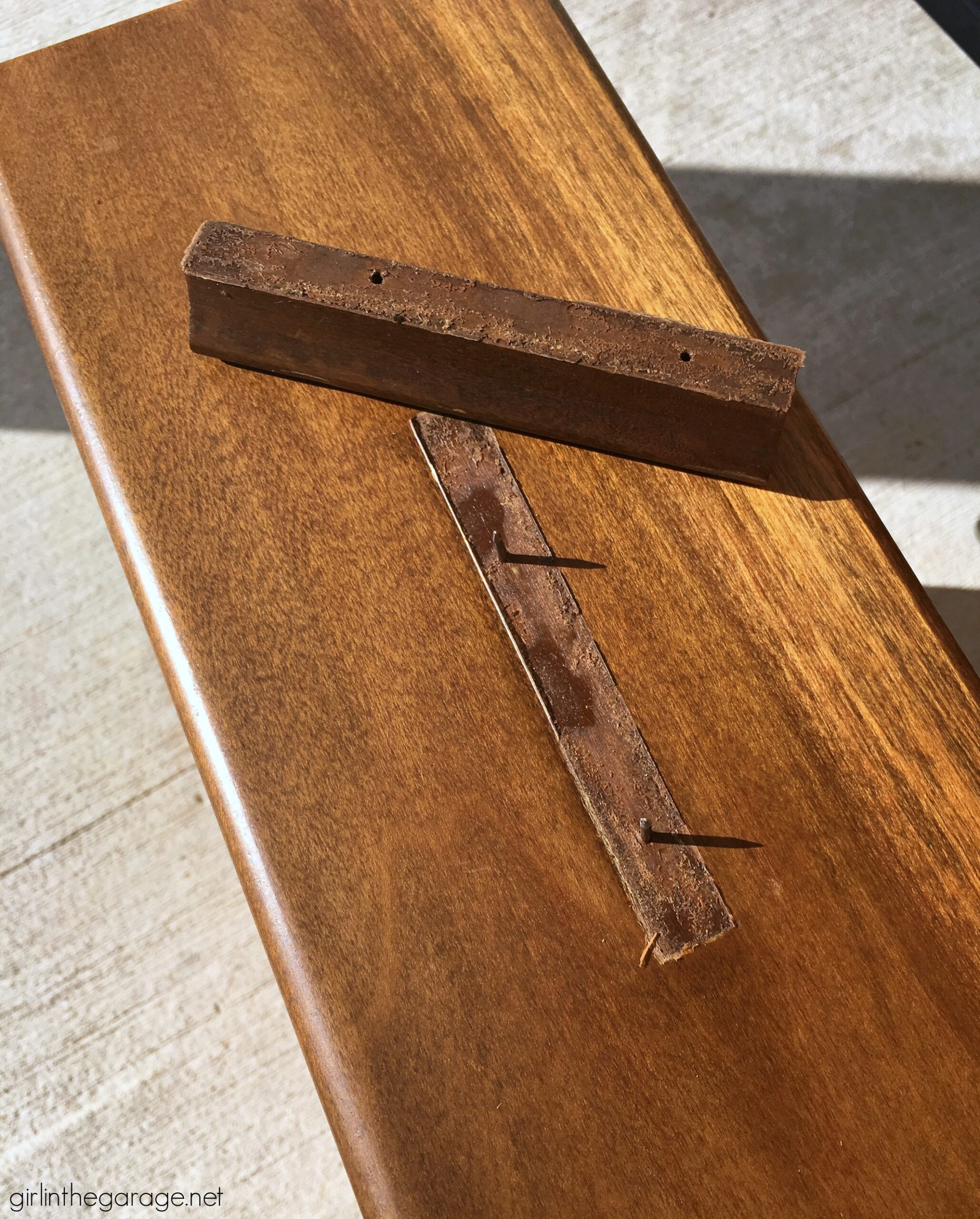 Next it was time to sand the surface with an orbital sander. I planned to completely update the drawers with new stain in the Minwax Color of the Year, so I sanded the existing finish off. The body of the dresser was just lightly sanded to remove the topcoat.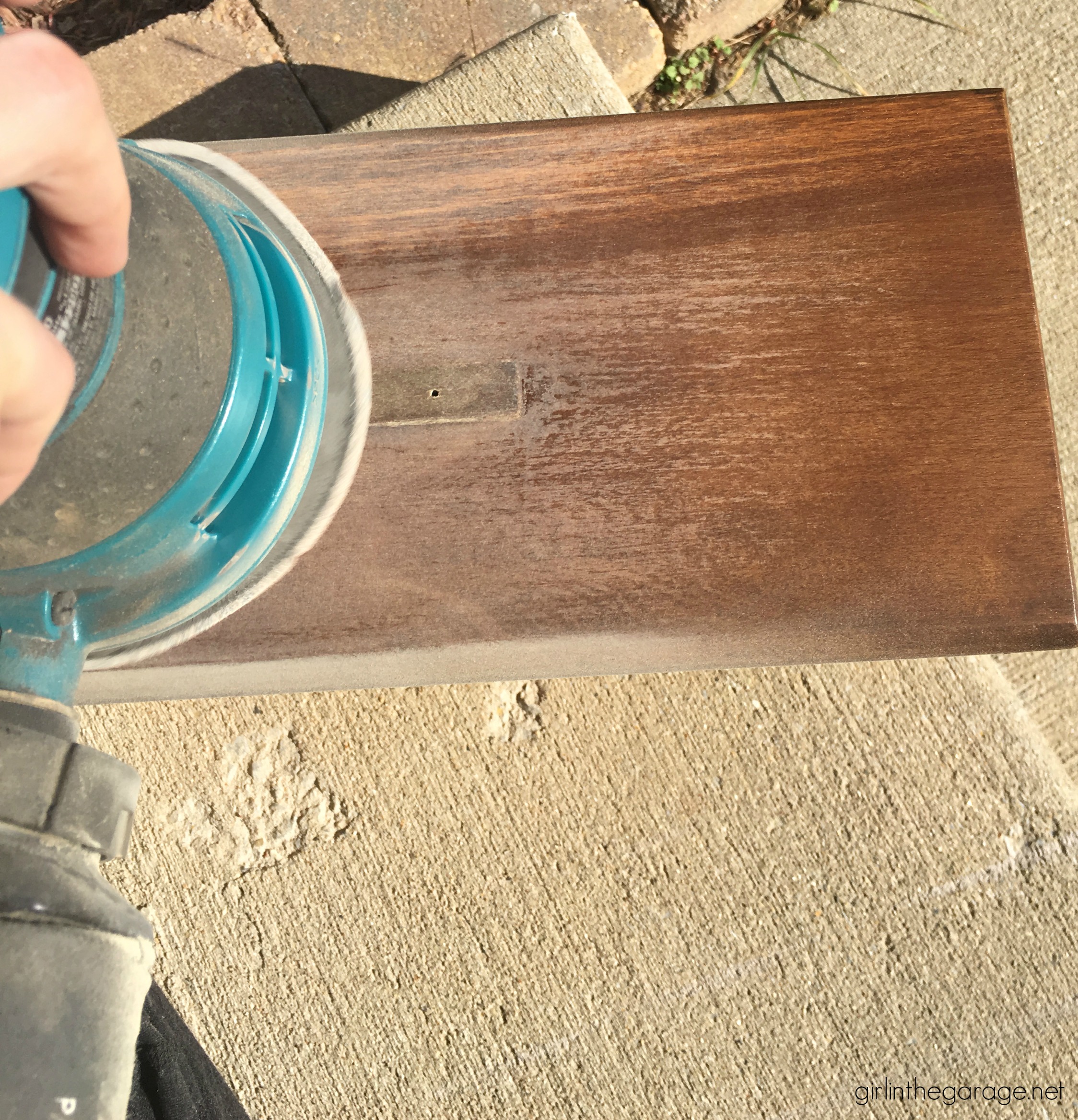 Supplies used for staining this refinished dresser:
Minwax Water Based Pre-Stain Wood Conditioner

Minwax Wood Finish Semi-Transparent Color Stain in Vintage Blue (2021 Color of the Year)

Vintage Blue is a gorgeous blue-green color with gray undertones

The Semi-Transparent Color Stain allows the natural wood grain to show through

Minwax Design Series Transparent Color Wash in Barnwood Brown

Minwax Water Based Polycrylic in Clear Ultra Flat

Synthetic bristle brush

Lint-free cloths

220-grit sandpaper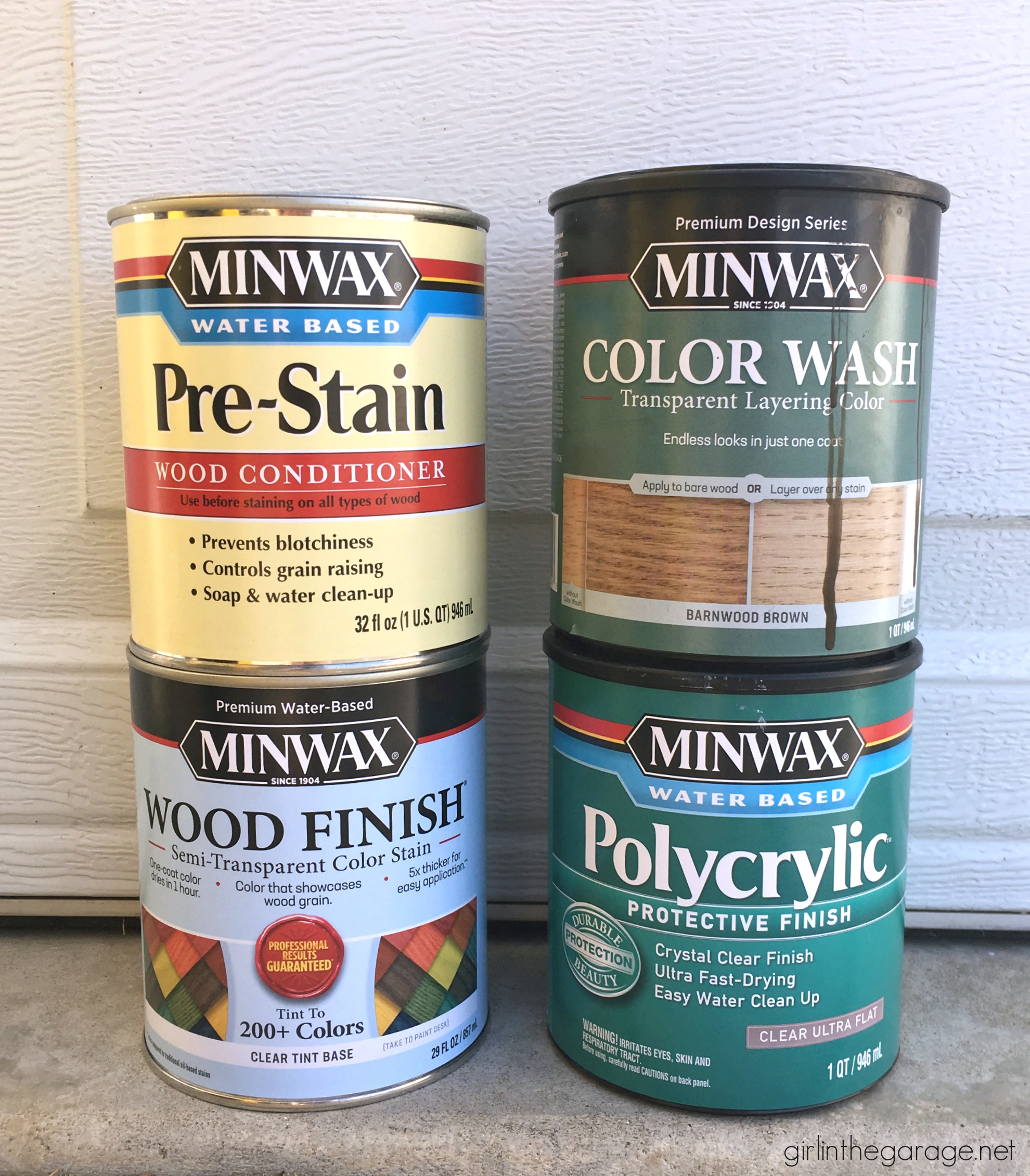 How to Stain a Dresser
After sanding the wood, make sure it's clean and then you should always start with the Pre-Stain Wood Conditioner. It's kind of like primer and helps the stain have a more even finish.
You can apply it with a brush or a clean lint-free cloth. Wipe it on and then let it sit for a few minutes, but don't let excess conditioner dry on top of the wood. Wipe it away fairly quickly.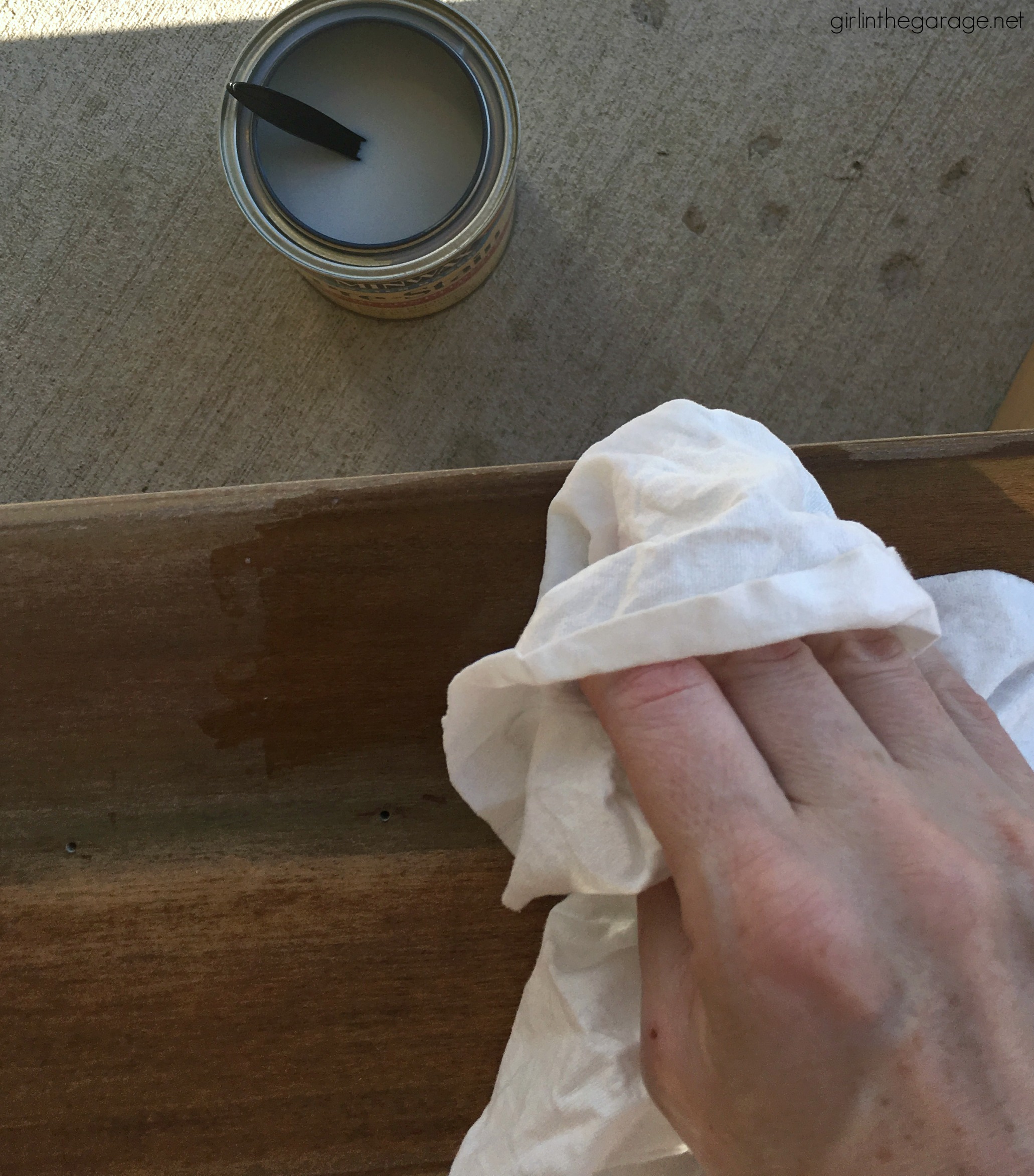 Then after about 20 minutes, lightly sand the wood again with sandpaper. Sometimes the conditioner raises the wood grain a little bit, so this step makes sure the finish is extra smooth before staining. Wipe away any sanding dust.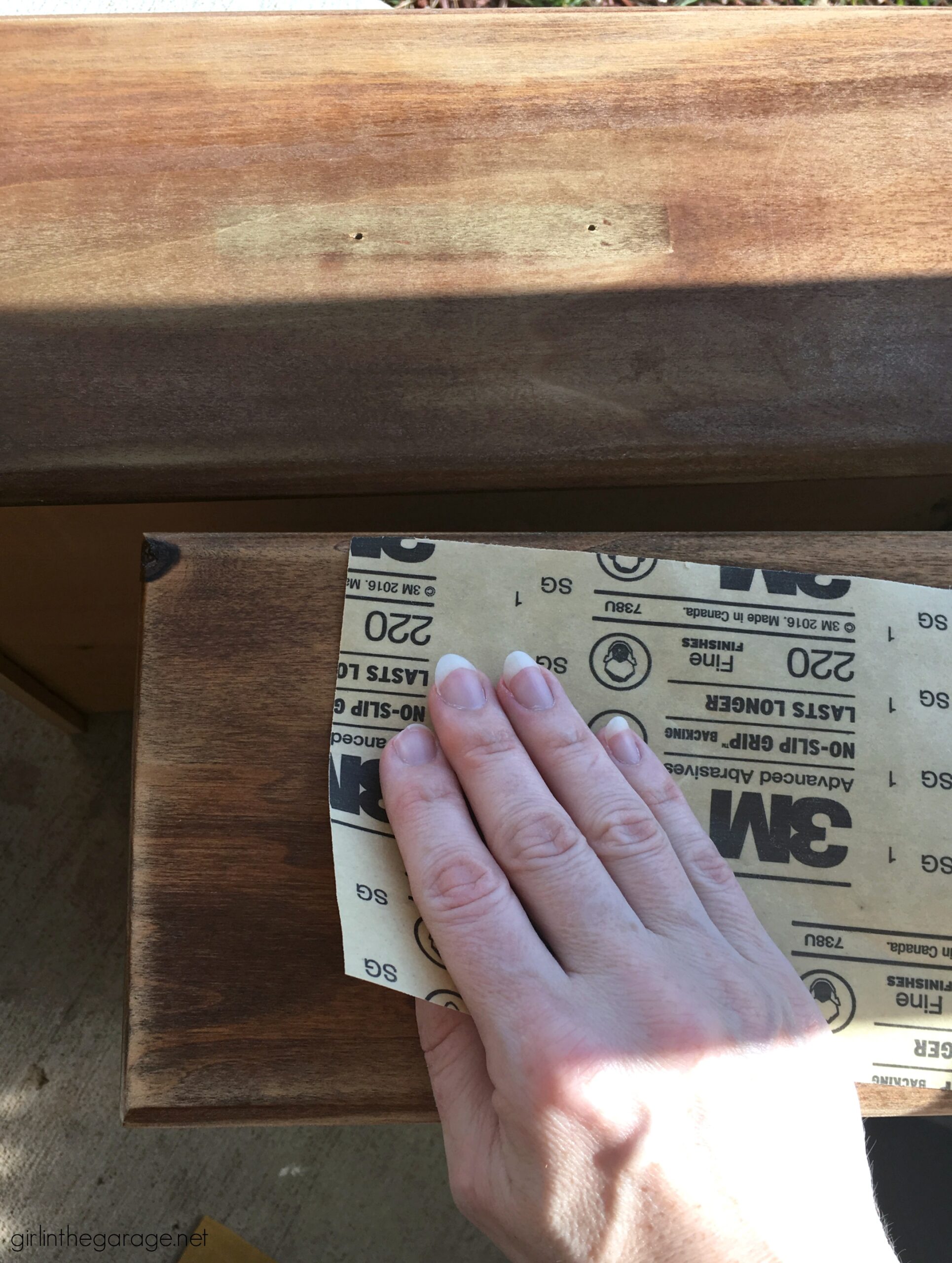 Next, apply the Minwax Semi-Transparent Color Stain in Vintage Blue. In full disclosure, this product usually allows the wood grain to show through, but I applied about 5 generous layers because I wanted a really deep color with the plan to distress it afterward.
Once you wipe the stain on, wipe it away within 2 minutes. (Wipe on, wipe off.) This product dries very fast. Let it sit for about 20 minutes before adding another coat, depending on the look you're trying to achieve. Don't sand between coats.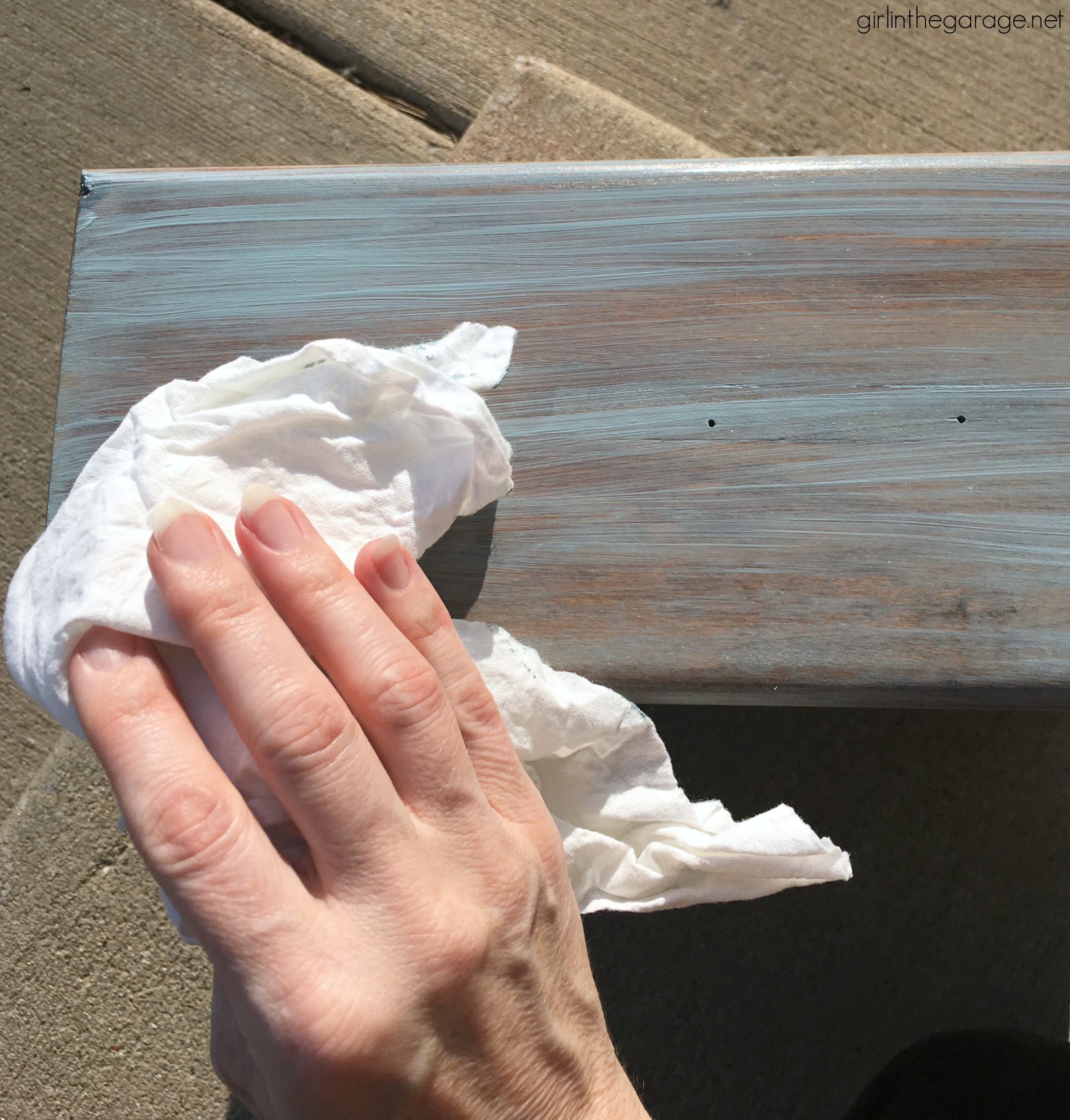 After staining, I measured and drilled new holes in the drawers for copper cup pulls I found online.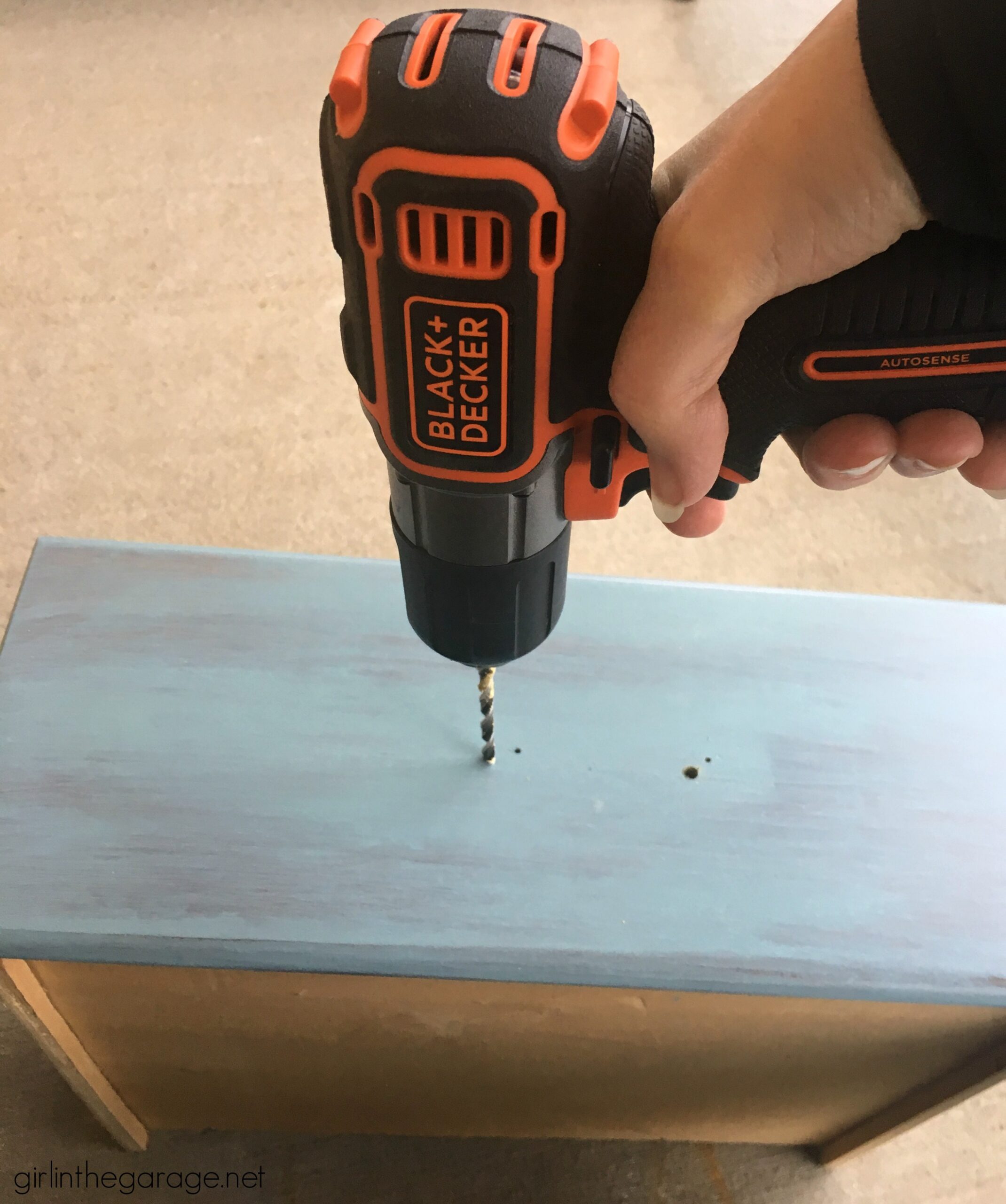 Finally I sanded over the drawers to distress them, focusing more on the edges to make it look more natural and let the original wood peek through.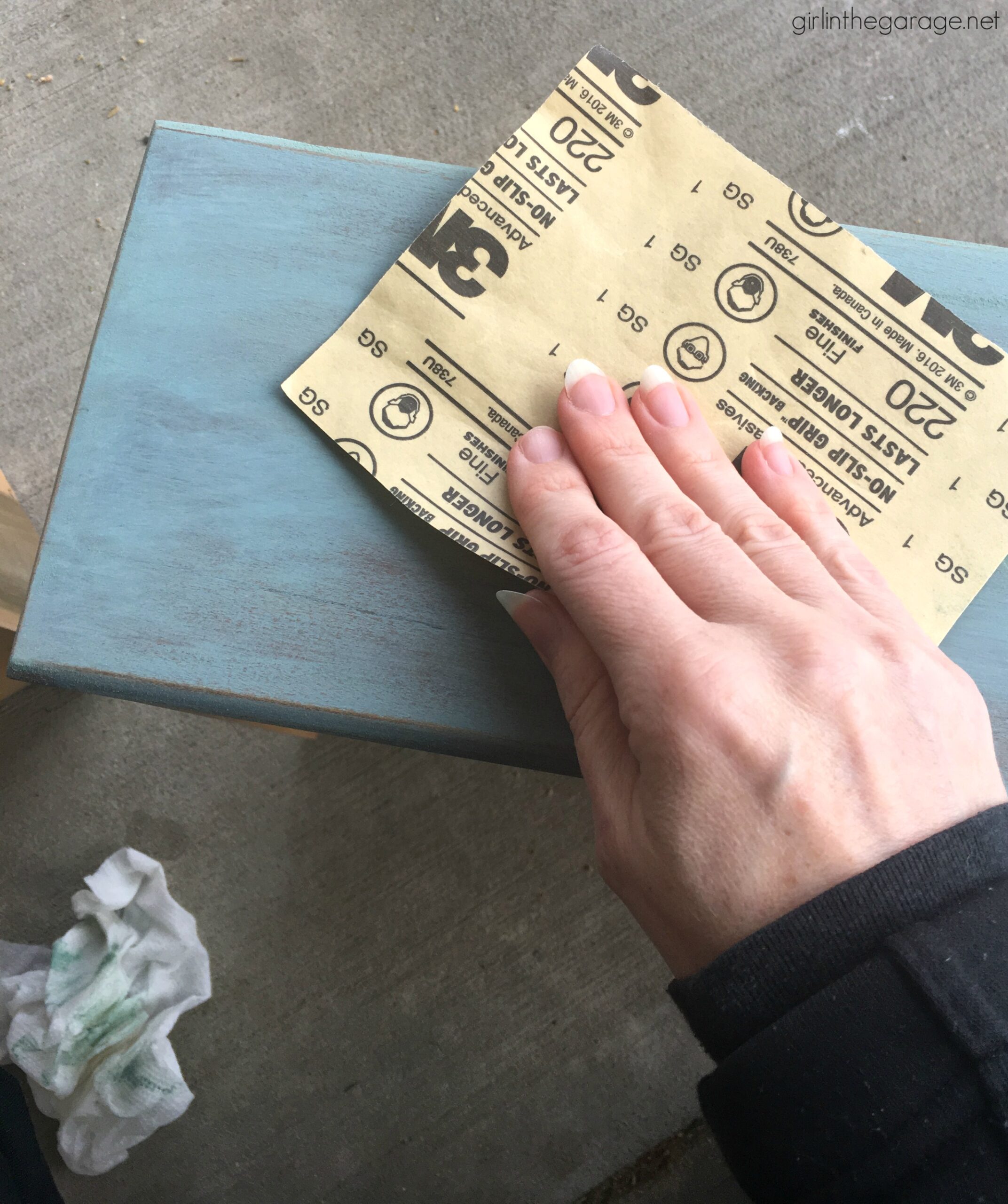 The body of the dresser was updated with the Design Series Color Wash in Barnwood Brown. It's a transparent stain that you can layer over another stain as long as you've removed the topcoat first (which I did earlier when I used the orbital sander). It gave the wood a little darker tint.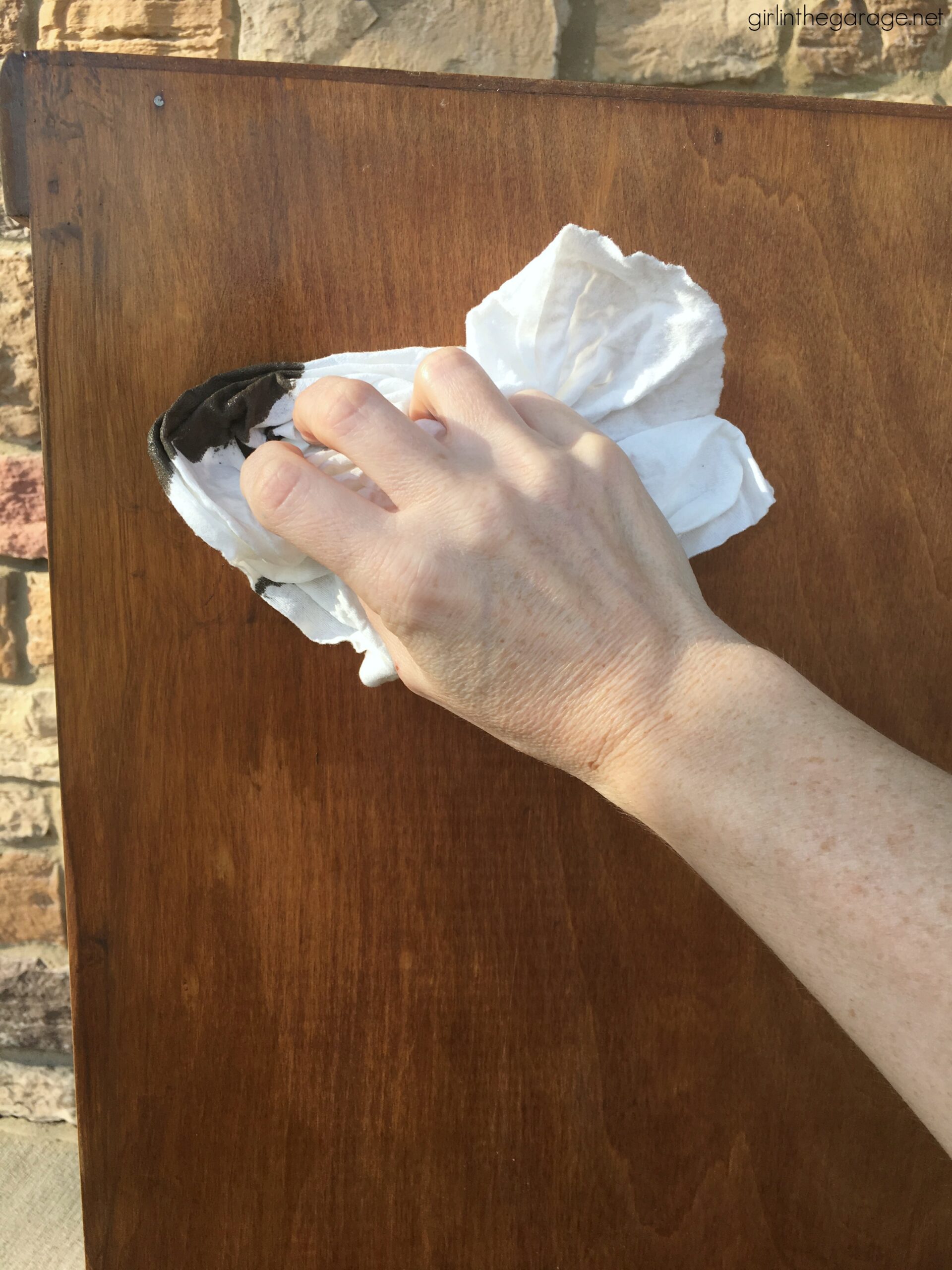 For a protective finish, I used Water-Based Polycrylic. All of the products I used are water based which makes cleanup much easier!
After staining, wait at least 2 hours and then brush on the Polycrylic thinly with a synthetic brush. Let it dry for at least 30 minutes. Lightly sand with 220-grit sandpaper, wipe clean, and then apply another coat. At least 3 coats are recommended. Let dry 3+ hours before light use.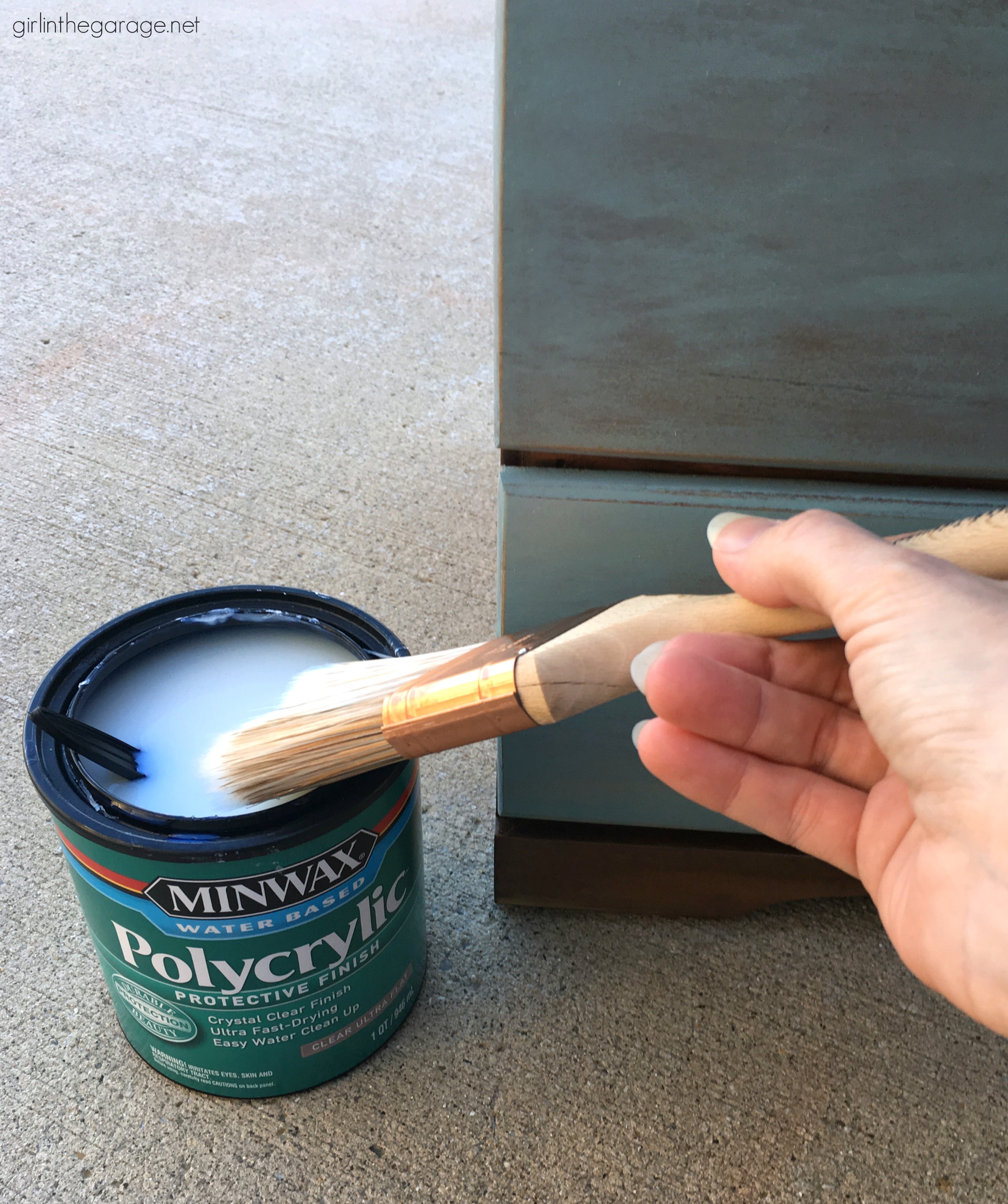 How to Line Drawers with Map Paper
Next, I knew Vintage Blue would look amazing with the colors in a traditional world map. This one is thick with a little sheen to it, which is easy to measure and cut to line the drawers.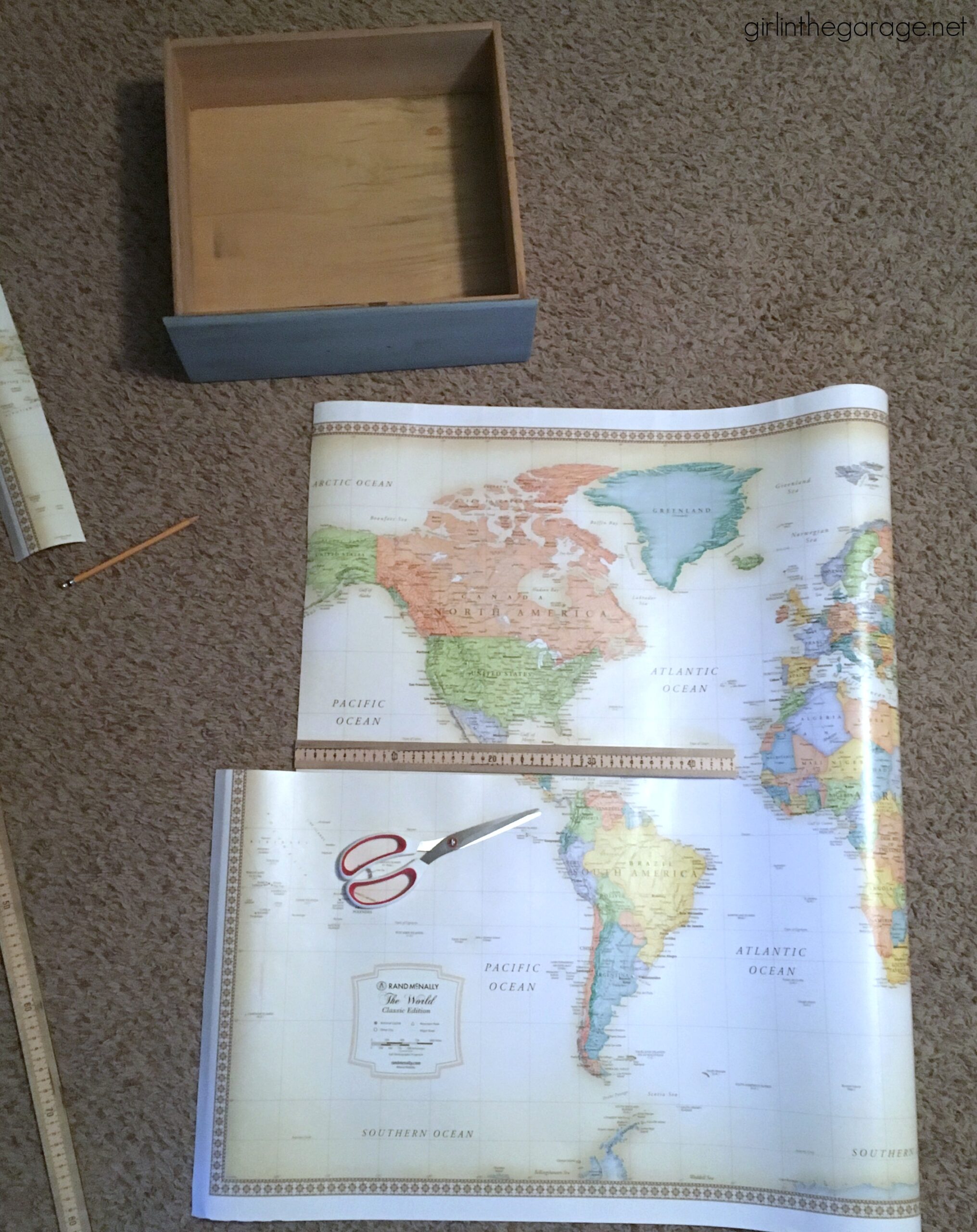 This map was big enough for all 5 drawers (12×13 inches inside) with some paper leftover.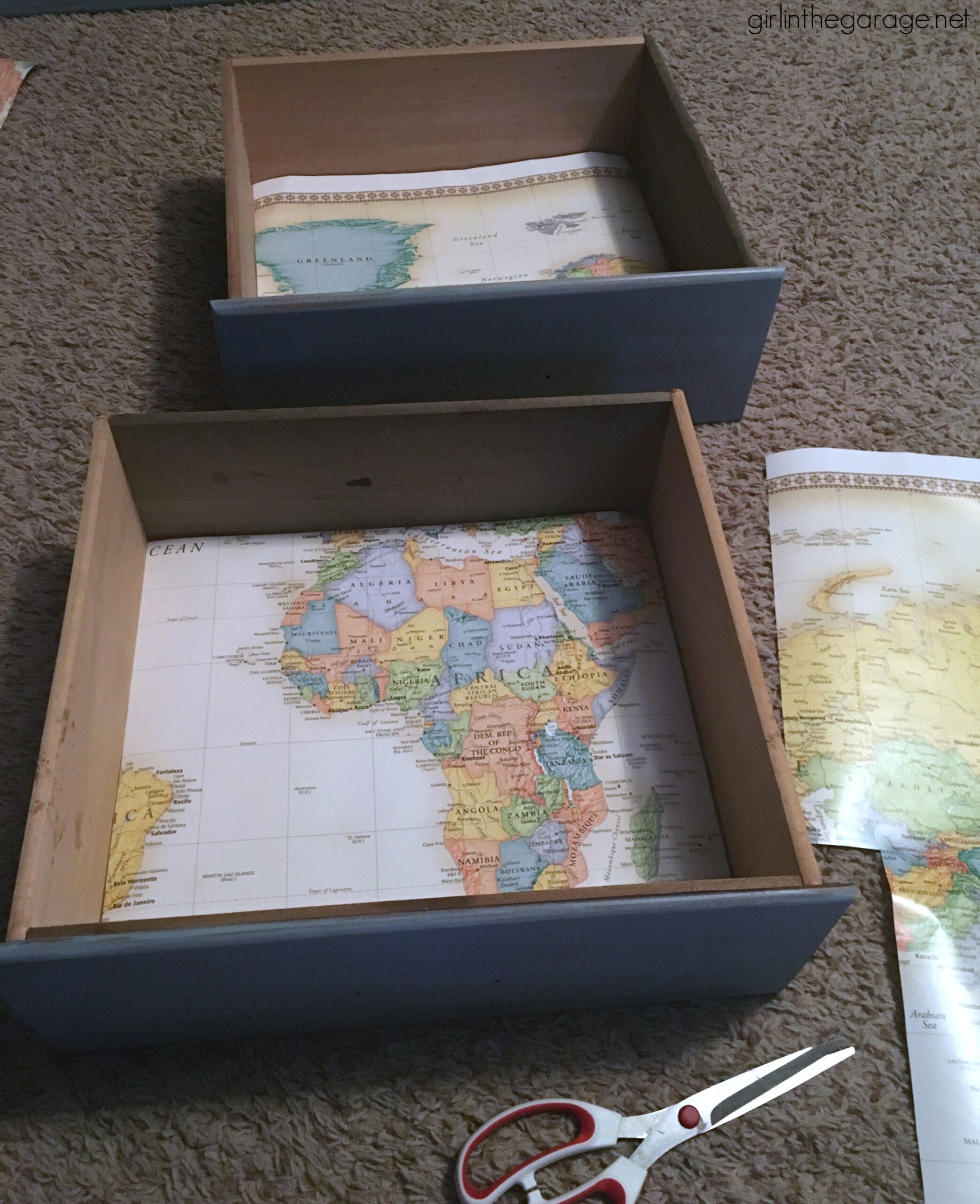 I raided my kids' supplies and put a thin line of glue across the front of the paper and pressed it down for a few minutes, and then did the same with the back area. The paper is thick and won't rip easily, so I didn't see the need to rub glue all over the back.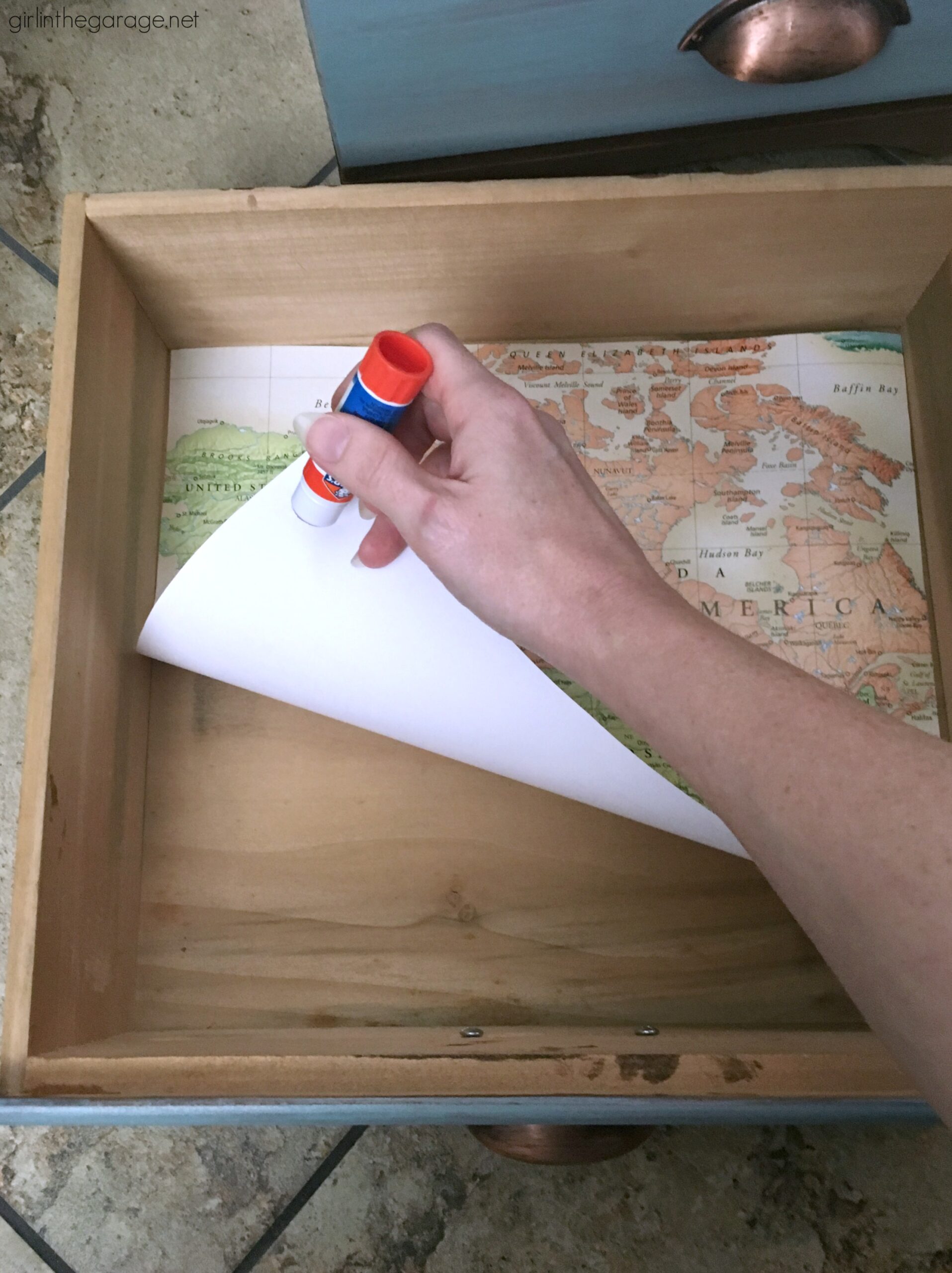 Almost done! Lastly, I found these gorgeous copper pulls but they were way too shiny and "clean" for the look I wanted. So I used some brown and black furniture wax to make them look aged and kind of dirty. I wiped the wax on, let it sit for a few minutes, and then wiped some off.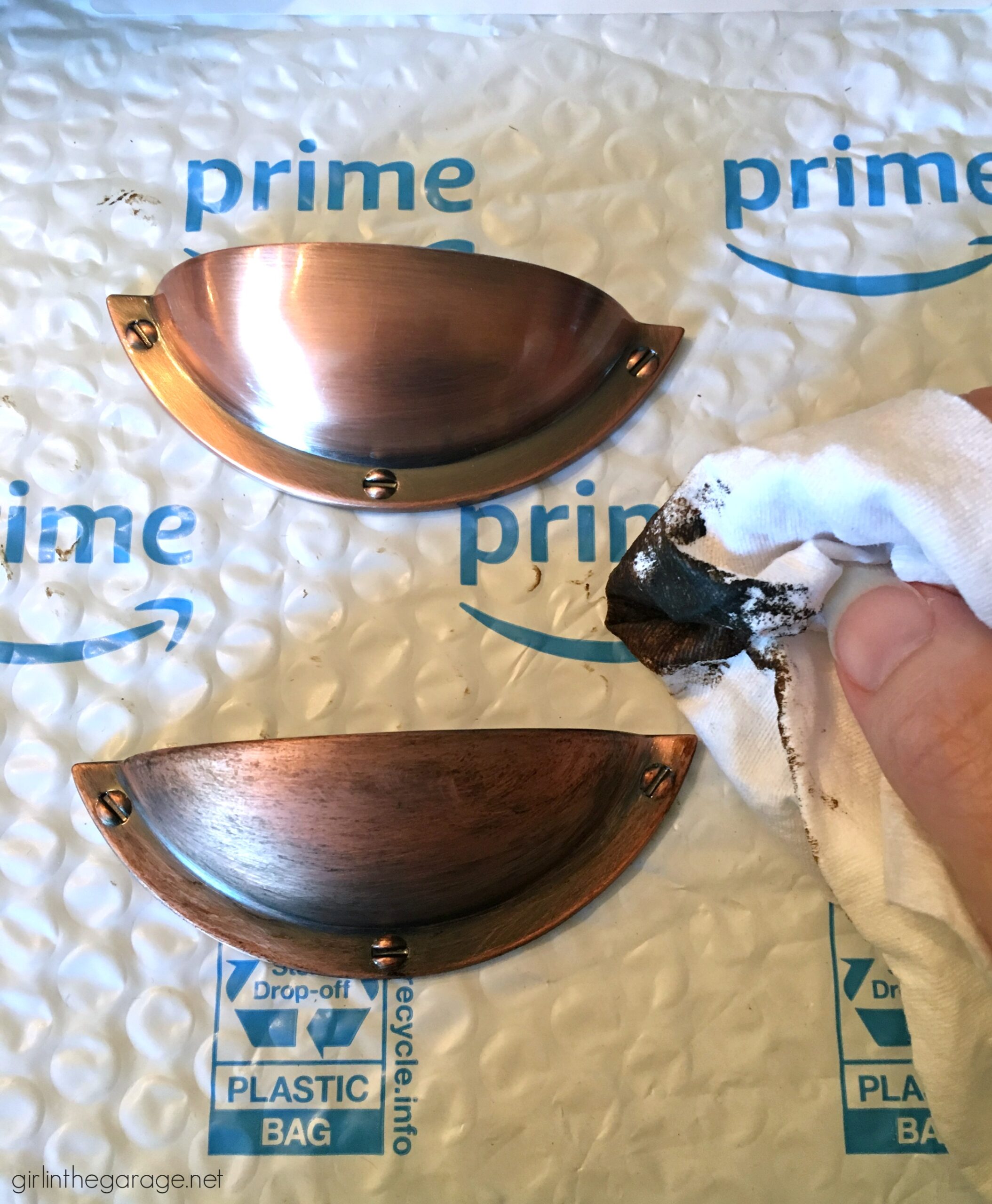 It took me a few days to complete this project start to finish, and luckily I had some decent weather to do the sanding and staining outside. 🙂
And ladies and gentleman, here's the refinished dresser from the curb now made unique and beautiful: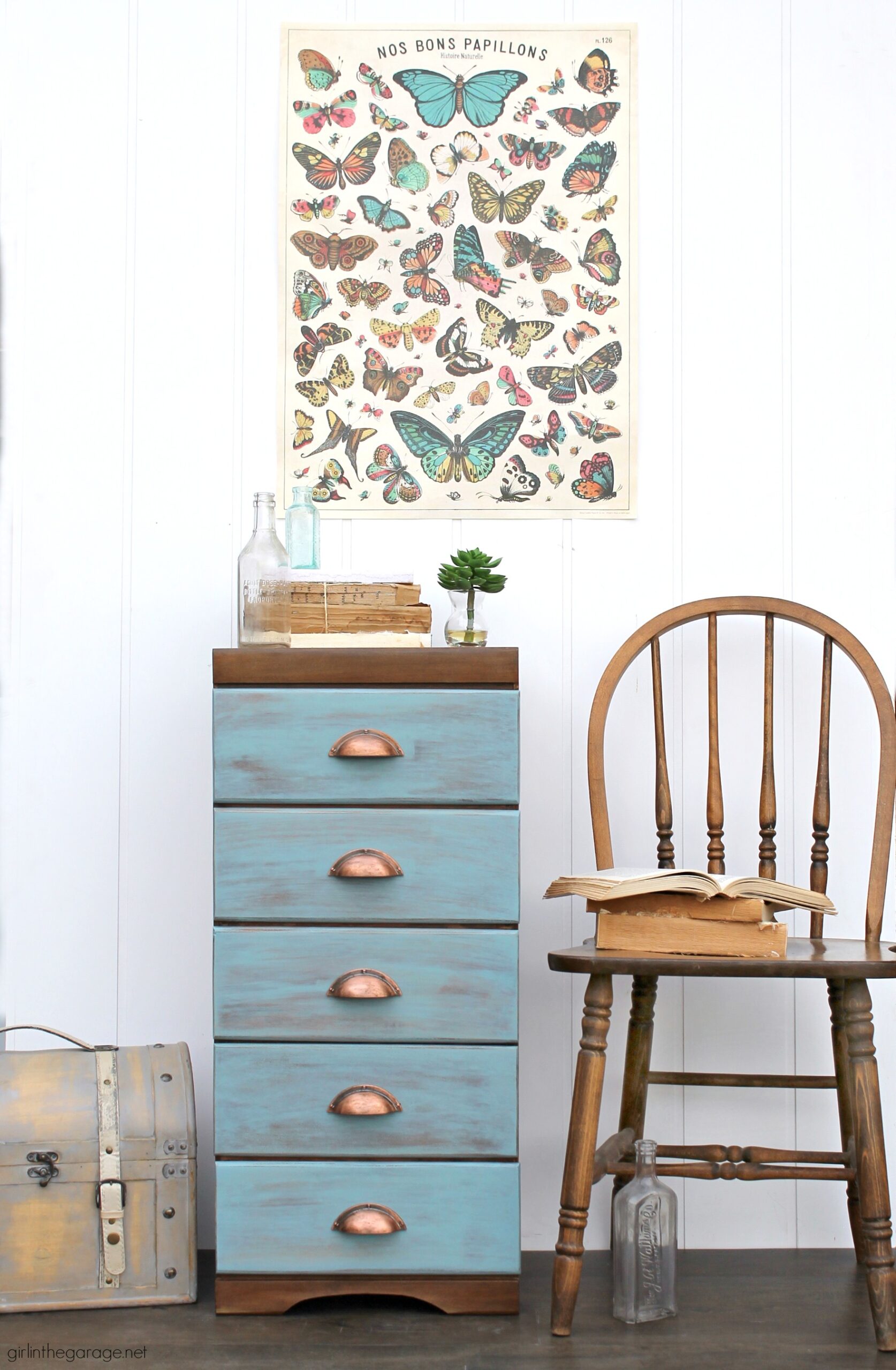 When I first heard that the Minwax Color of the Year was Vintage Blue, I was thrilled. What an amazing color! It's like a mix of duck egg and turquoise, and it really pops against the brown wood body and faux-aged copper pulls.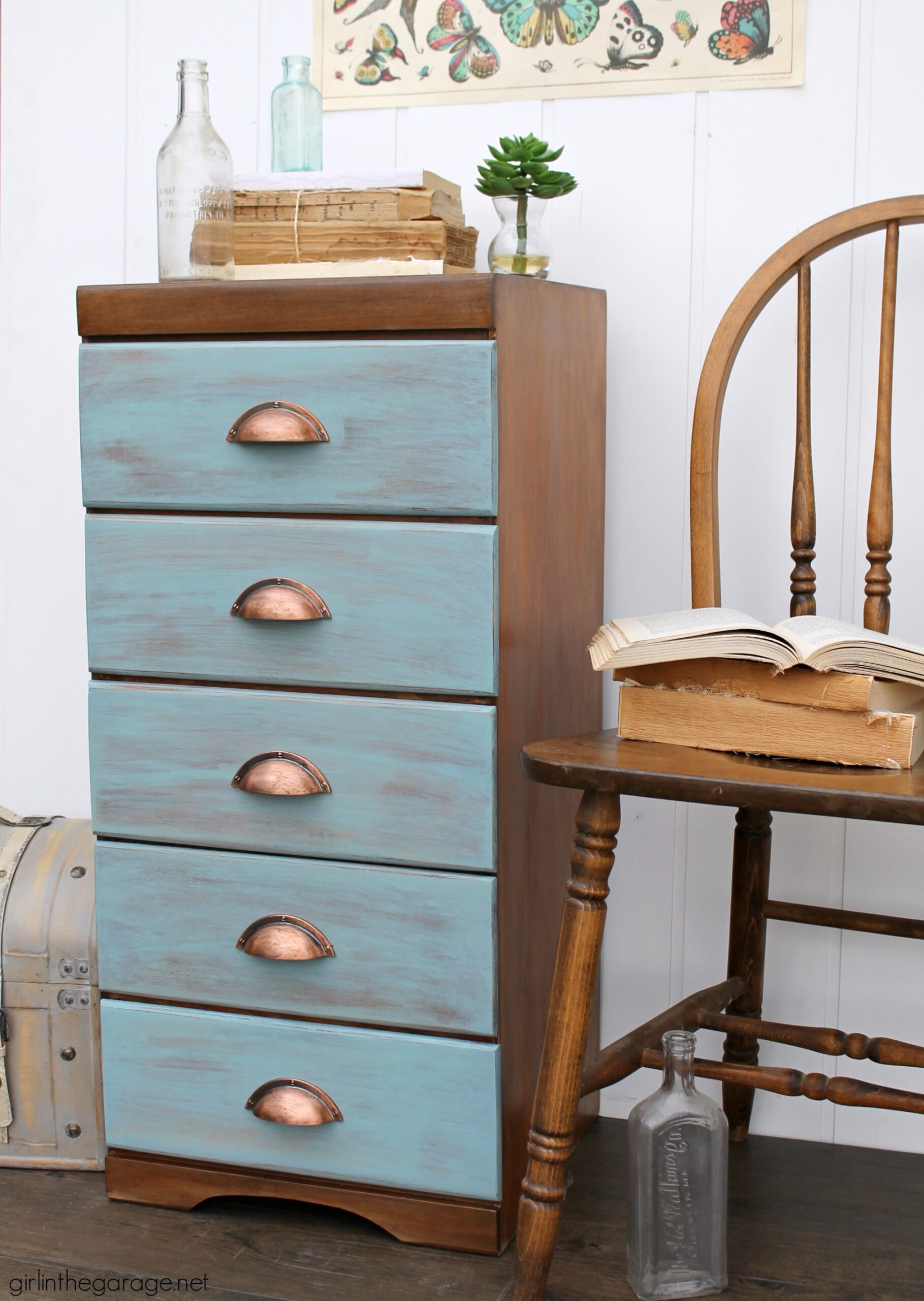 And I love how the dresser looks updated, but also timeworn and rustic.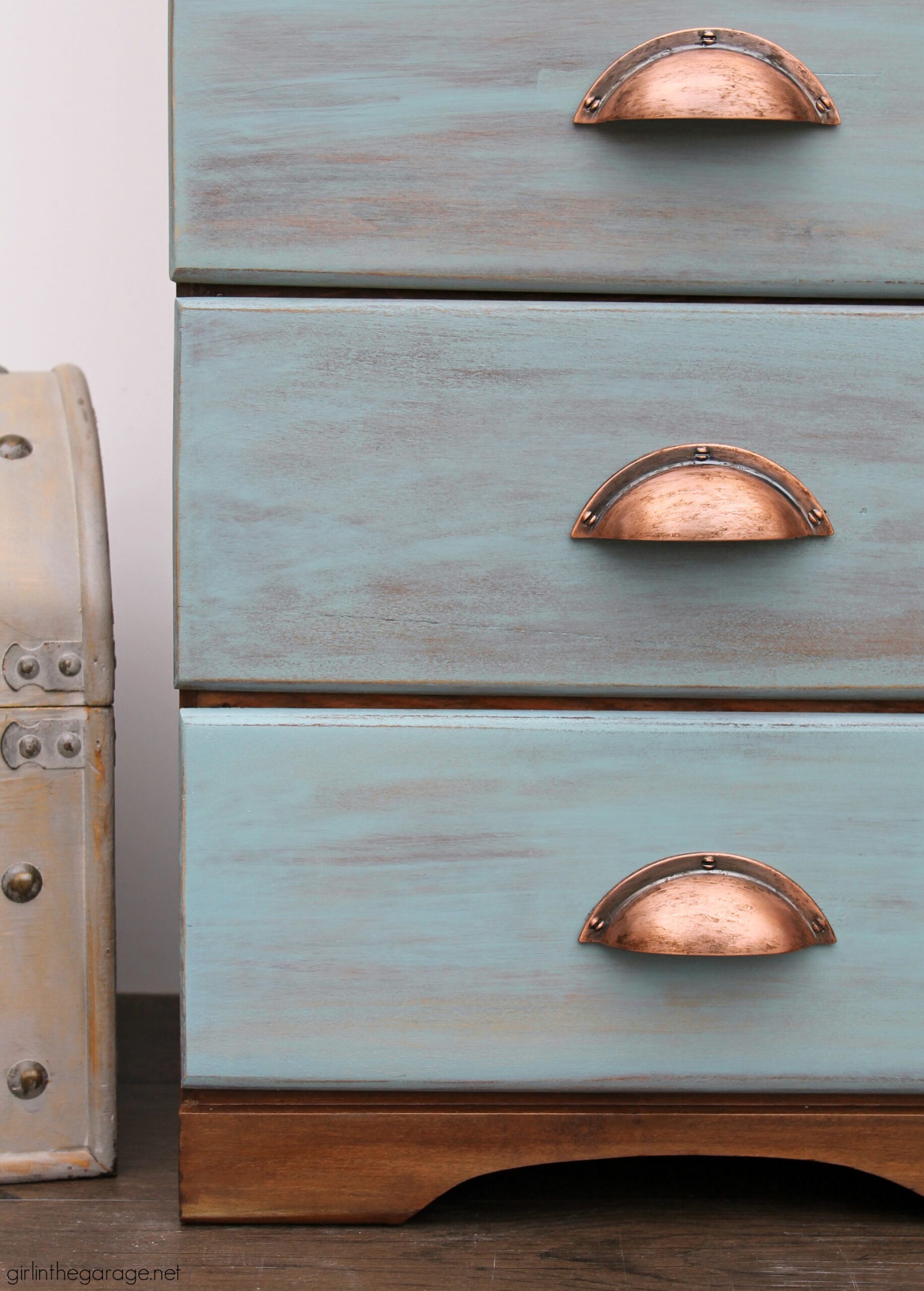 Open the drawers and you'll discover the beautiful colors of the world map which complement the Minwax Vintage Blue stain.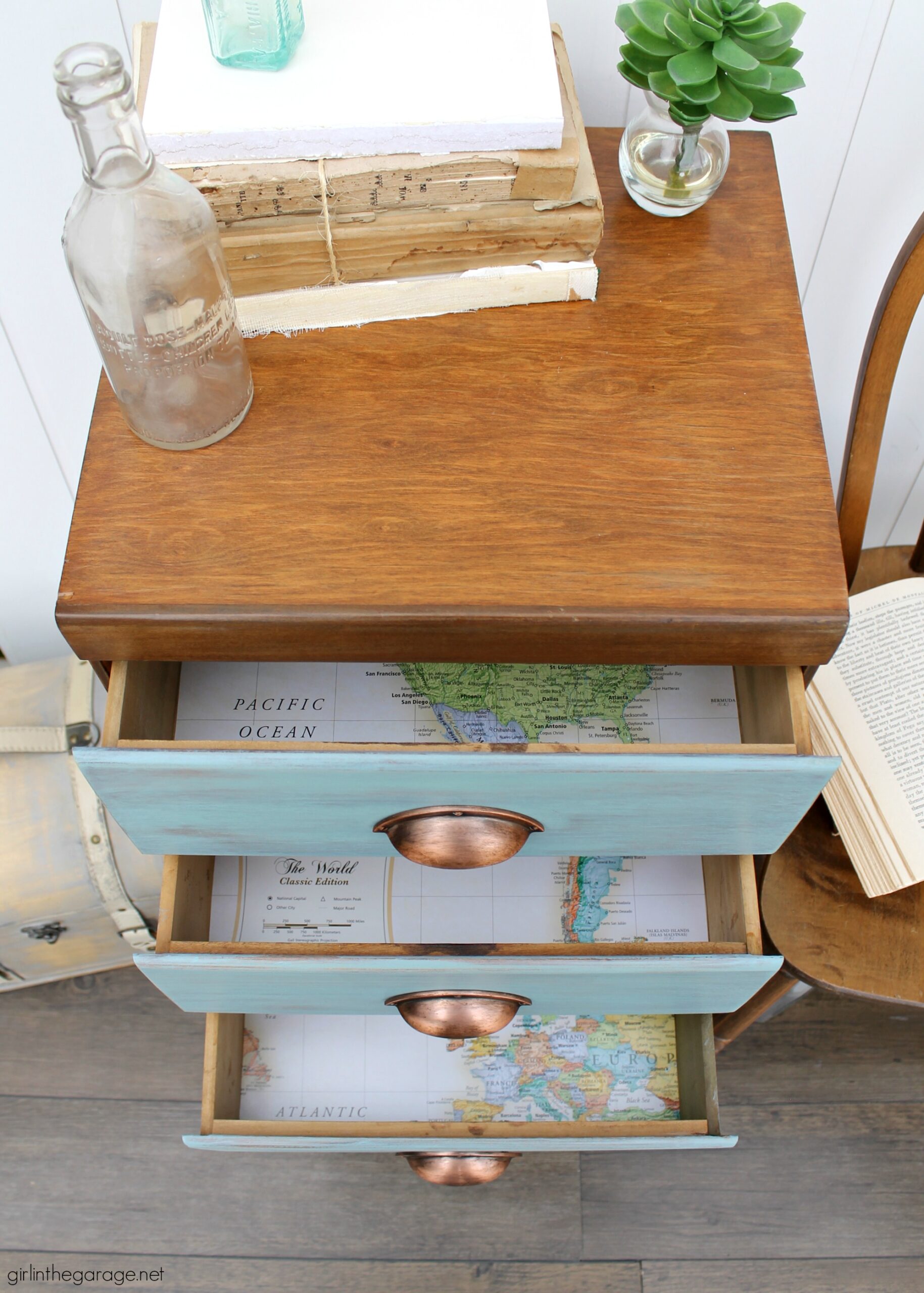 It's a little masculine, but this narrow refinished dresser could work in many areas of the home.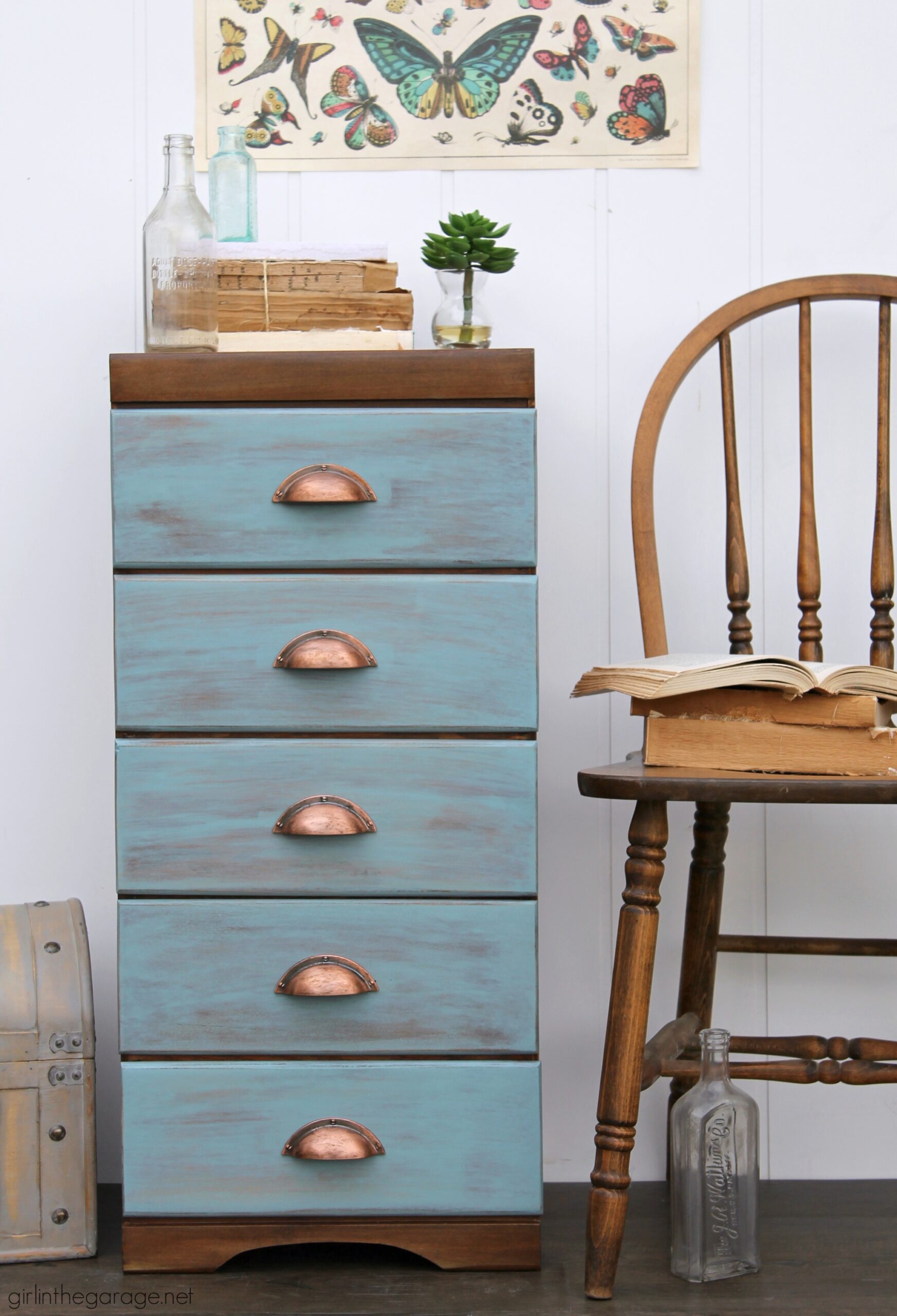 Friend, you're encouraged to pin or share any photos from this project to easily refer back to the DIY tutorial later. I've created a couple more images below: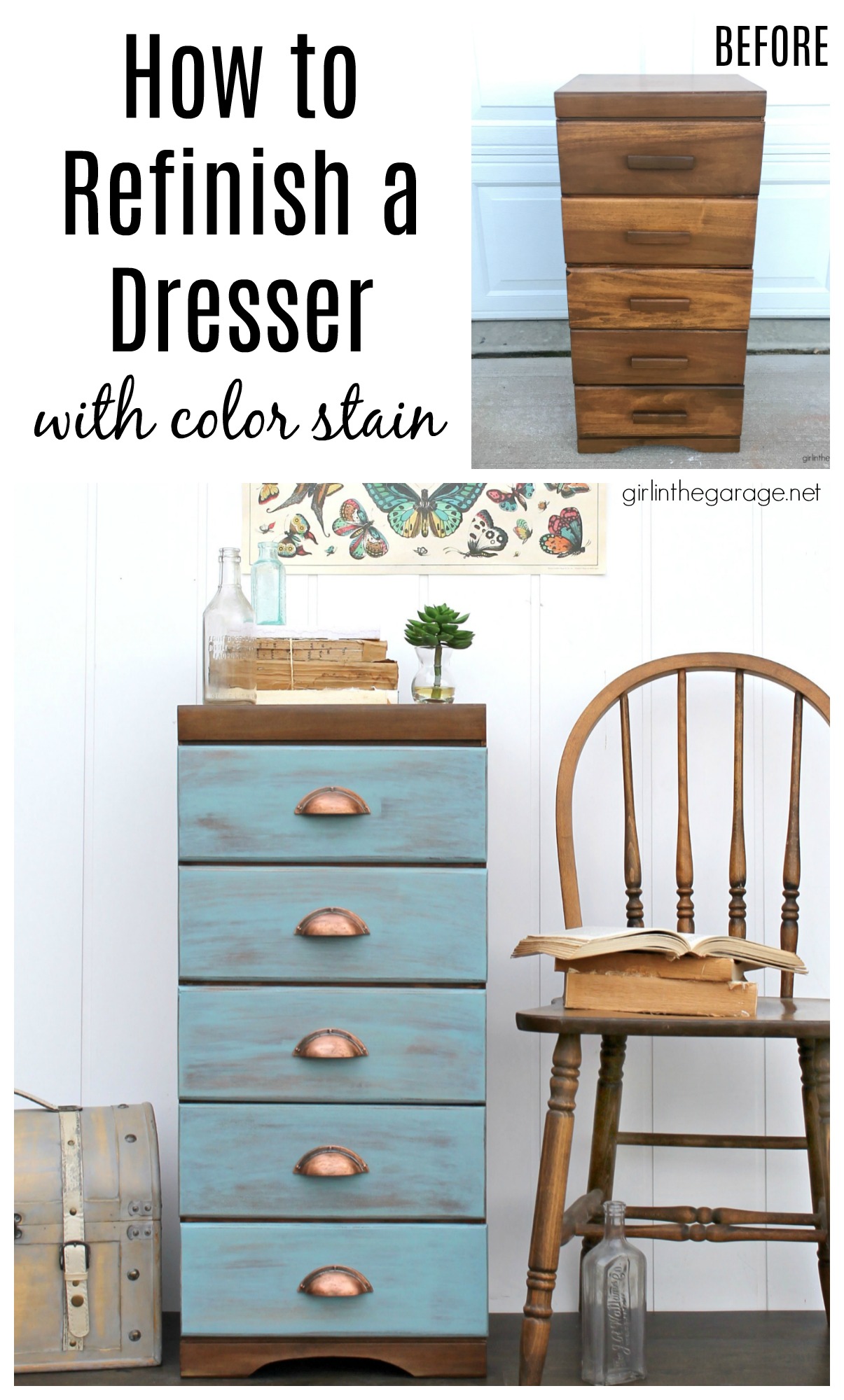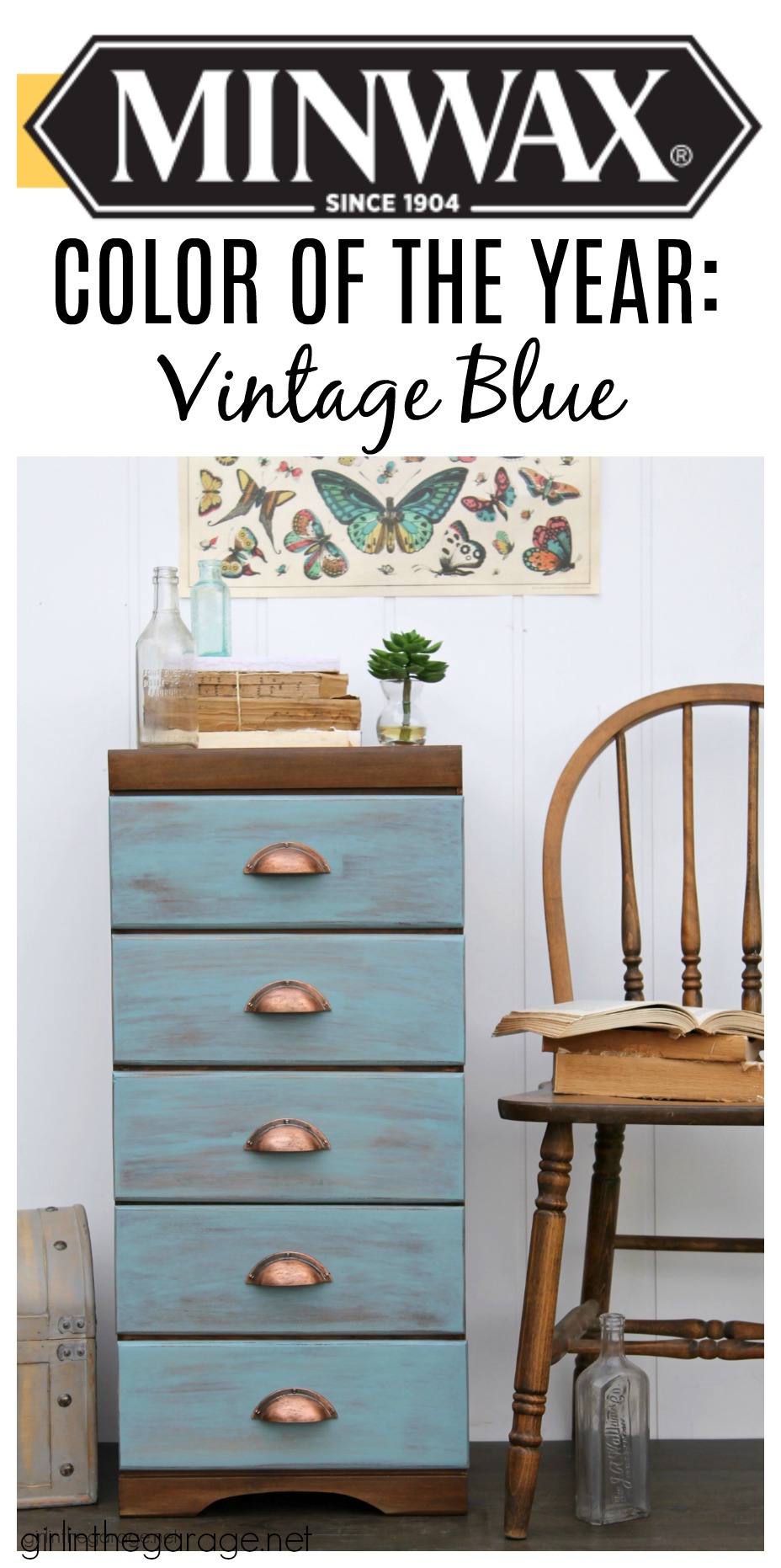 I hope you've been inspired by this curbside refinished dresser makeover with Minwax products and the 2021 Color of the Year: Vintage Blue. Click here to learn more about Minwax product trends.
And now let's have a giveaway: the winner will receive a can of Minwax Vintage Blue stain, the 2021 Color of the Year!
GOOD LUCK!