DIY Tutorial for How to Stencil Bone Inlay Furniture
aka How to Save Yourself Thousands of Dollars by Getting the High End Look for Less
Friend, this is one of those pieces that you find on FB Marketplace, go to the kinda creepy house, things seem a little off, get the furniture loaded, then hurry your butt outta there and call your mama while you're driving away to let her know you made it out alive. (Or am I the only one who does that?)
I try not to go anywhere alone to get furniture, but if I do I always tell my husband or mom the address and details of wherever I'm going… and I stay away from Craigslist anymore. You just never know!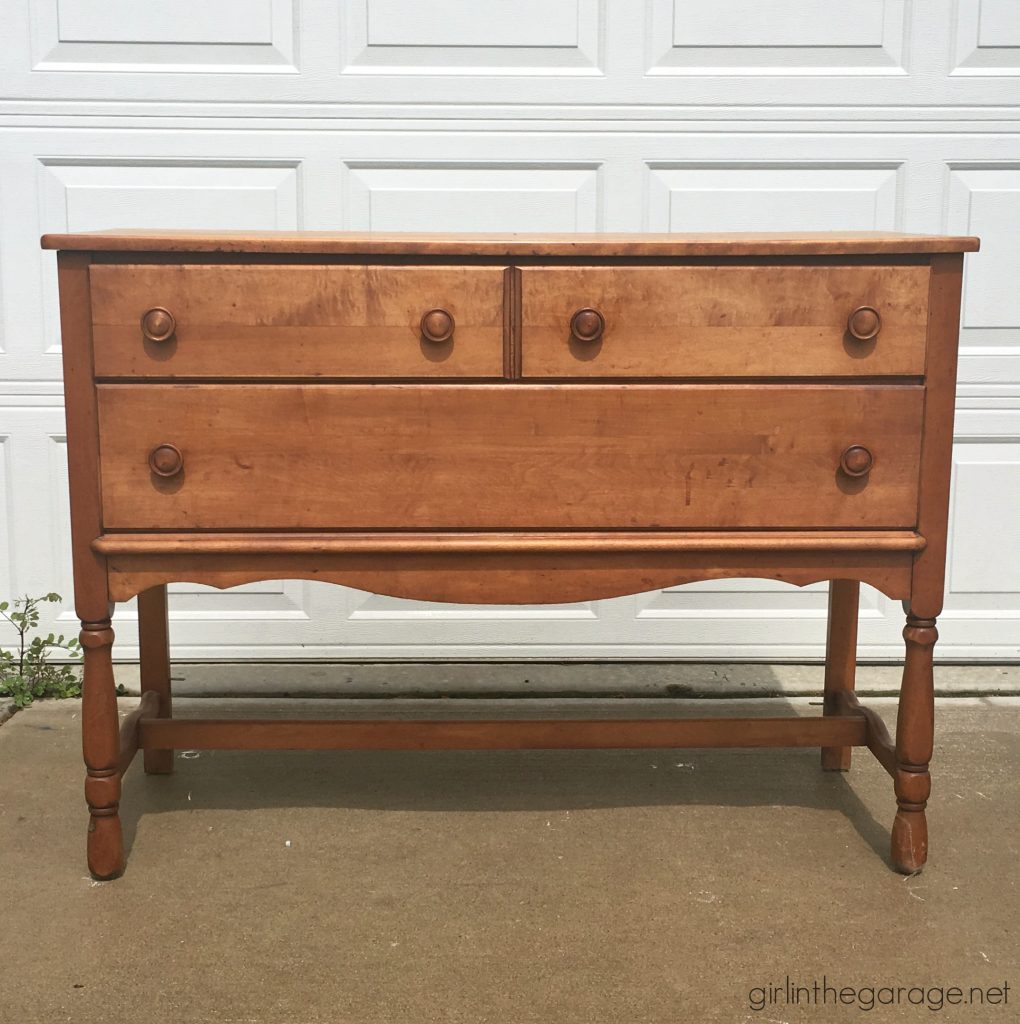 P.S. I also made you a short helpful video of this stenciled sideboard makeover – look for it in this post.
The shape and style of this sideboard were just too charming to pass up. There's no maker's mark but it's definitely well built, and someone took care to protect the drawers…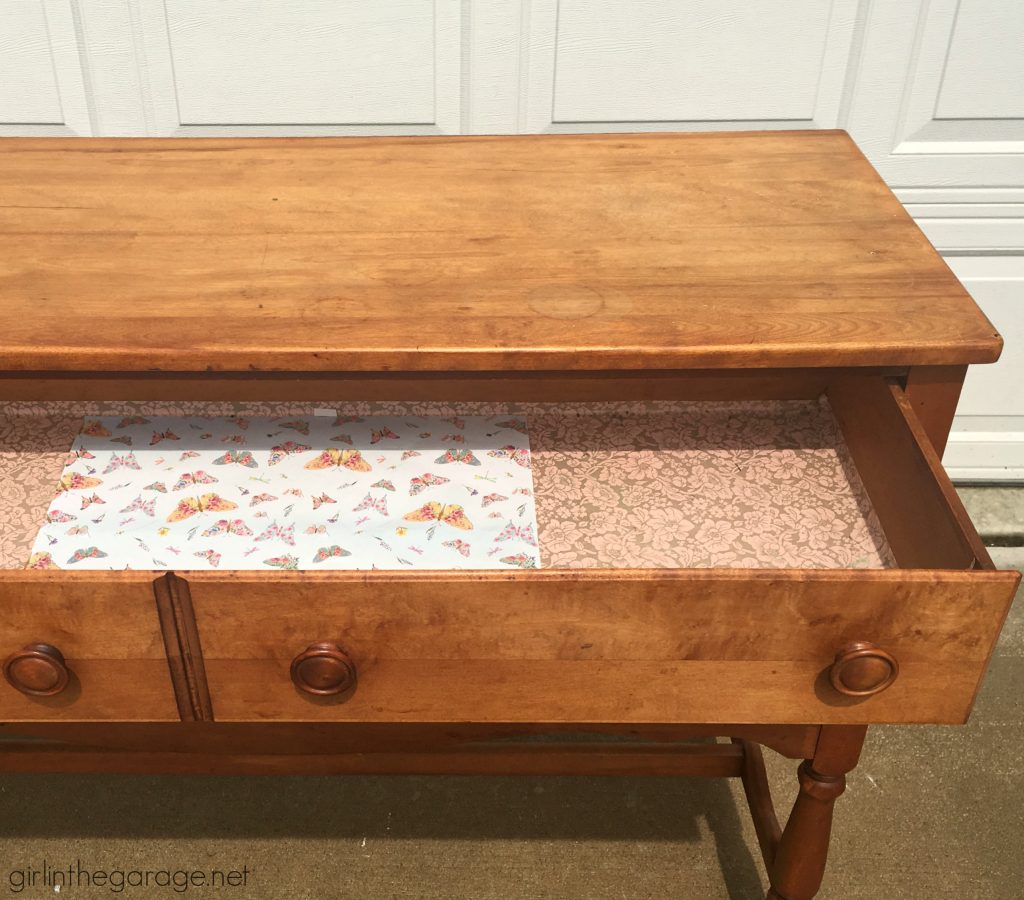 and even the back side. LOL. I'm not sure who would put contact paper on the back of a sideboard?
Learn how to remove contact paper the easy way here.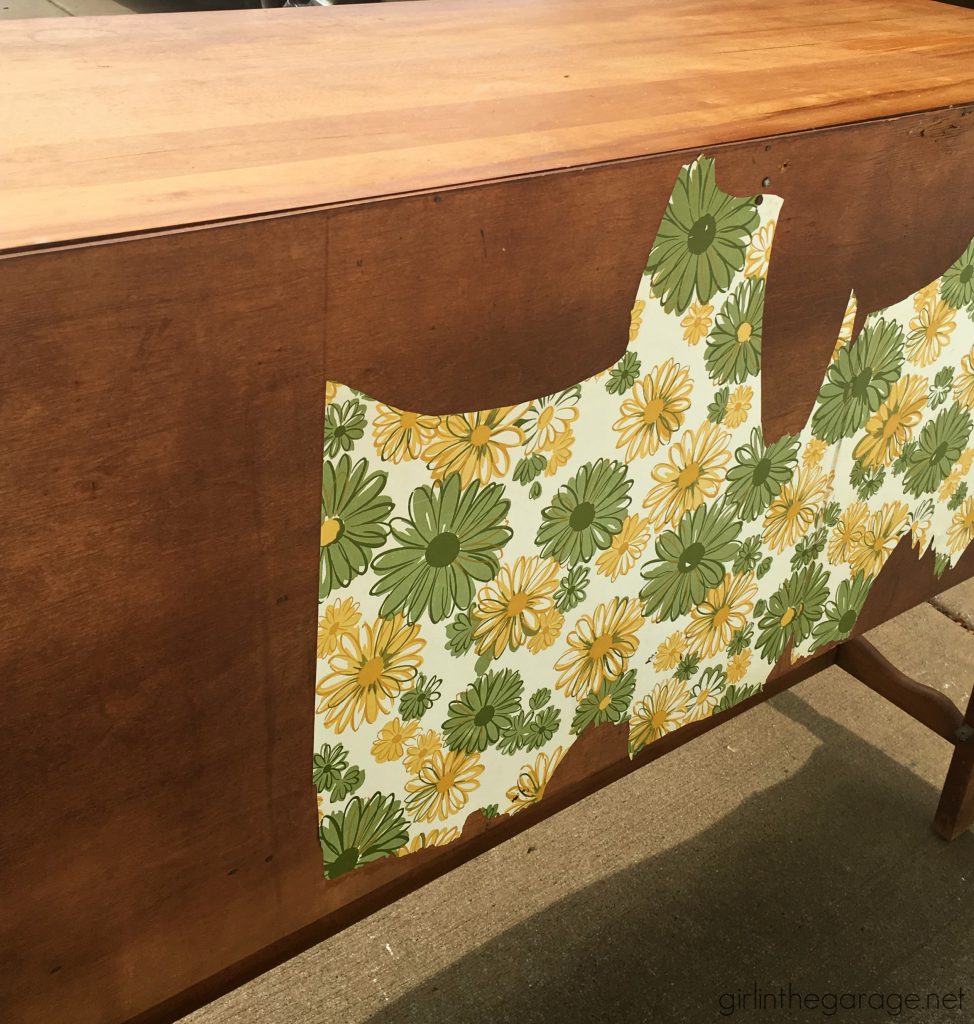 **This post contains some affiliate links so you can easily find the products I use and recommend. Discover all my favorite brands and tools for doing DIY projects Here.
The top had some water rings and small scratches, so Guy in the Garage helped out and sanded it down for me with our inexpensive yet handy orbital sander. As a reminder, please wear safety protection and follow directions when using any power tools.
Learn more about all the steps for prepping furniture like a pro Here.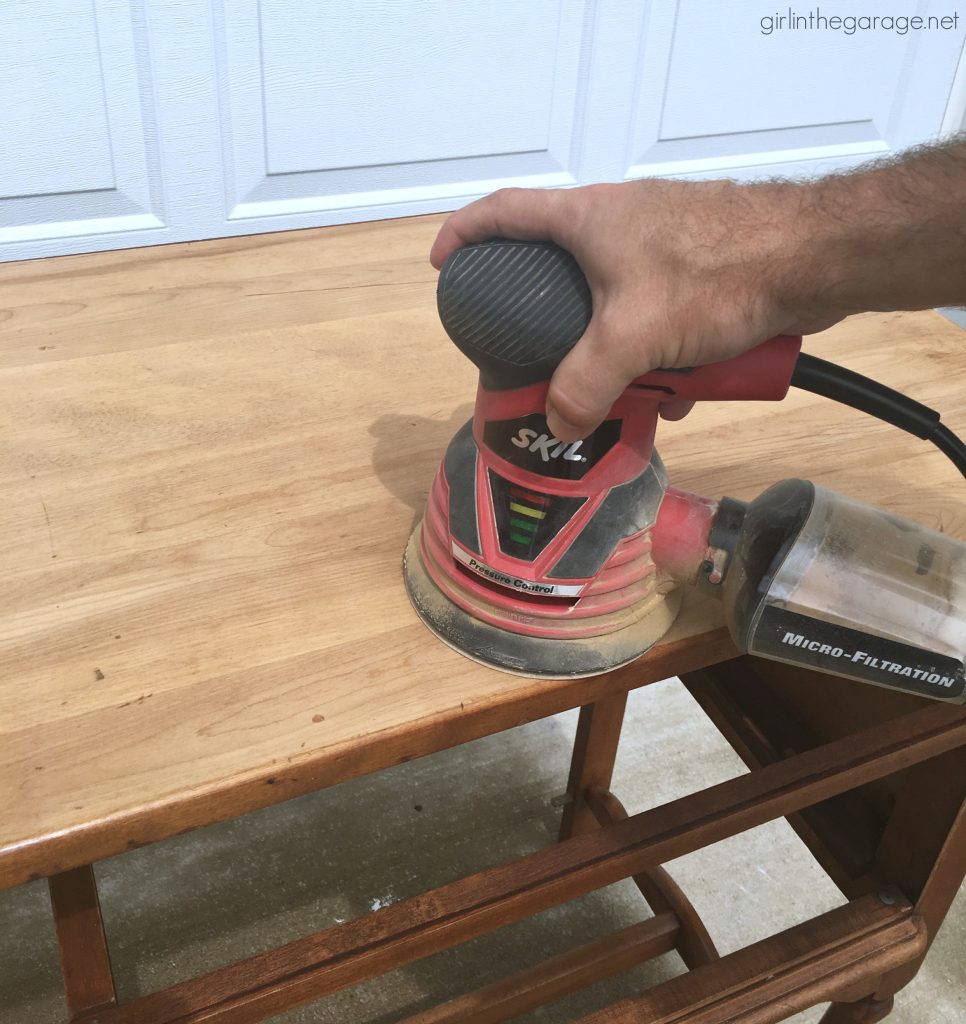 With the top sanded down, I was smitten with the beauty of the woodgrain (maple I think) and decided that I couldn't just cover it all up with paint.
So I decided to…….. Stencil right over the gorgeous bare wood. <3 A stenciled table top can be charming and unexpected!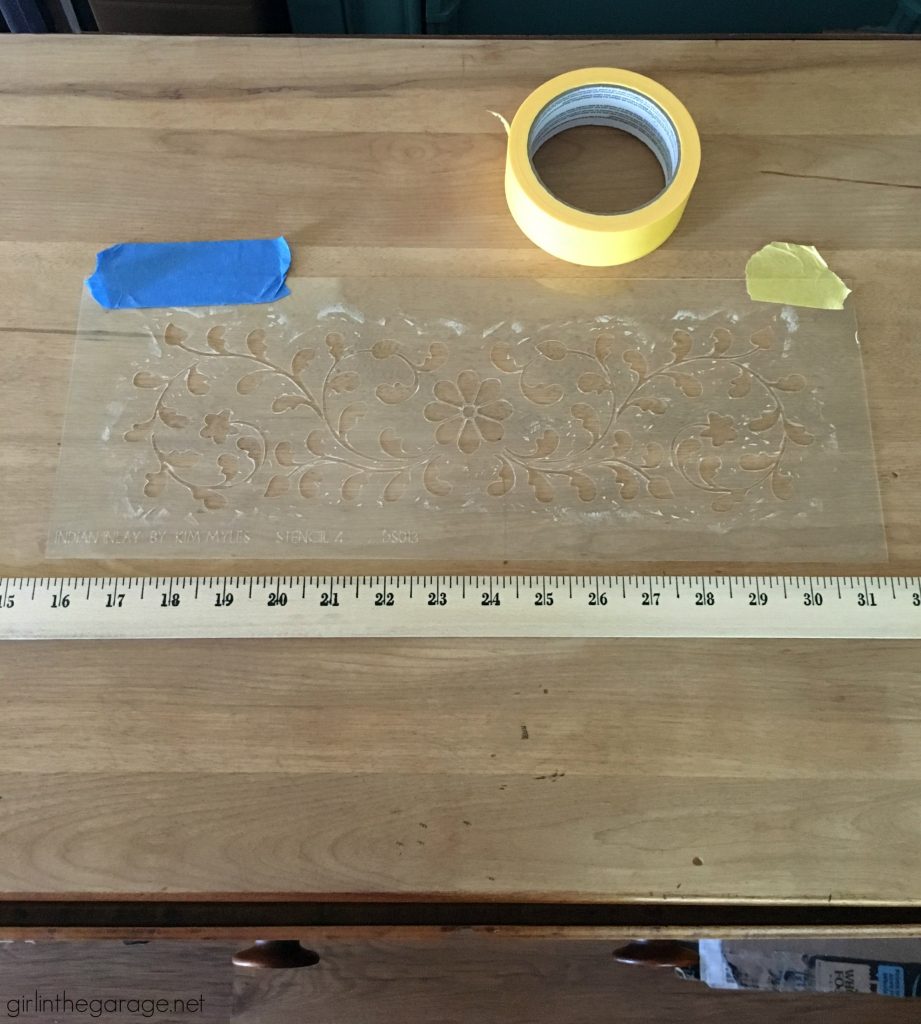 Bone inlay furniture is incredibly gorgeous but also verrrry expensive. This is the perfect way to get the same look for much less dinero.
How to Stencil Bone Inlay Furniture – Stenciled Table Top Tutorial
First, get a good quality Indian Inlay stencil like this one I used. Here are some more pretty options. I also used this same stencil about four years ago on this nightstand makeover (I like this new project better though – you live and learn).
Also, a tape measure will be your BFF in this furniture makeover so you can always stay symmetrical.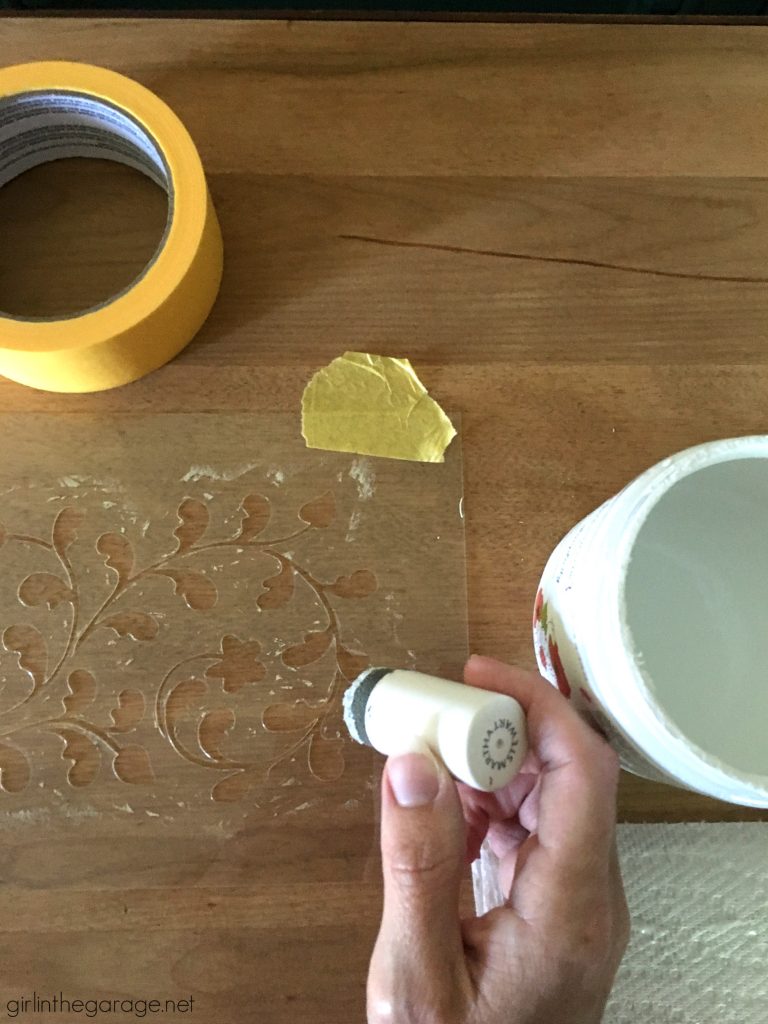 This stencil kit comes with five different designs. Lay them out to decide what should go where. Start with the stencil centered in the middle and tape it with painter's tape.
For this project I used Country Chic Paint in Simplicity, which is a really nice crisp white, and I used this 6-pack of my favorite foam pouncers for stenciling.
Whenever you're stenciling furniture, lightly dab the pouncer into the paint and then blot it onto a folded paper towel nearby. You want very little paint on the pouncer to avoid smudges when you stencil.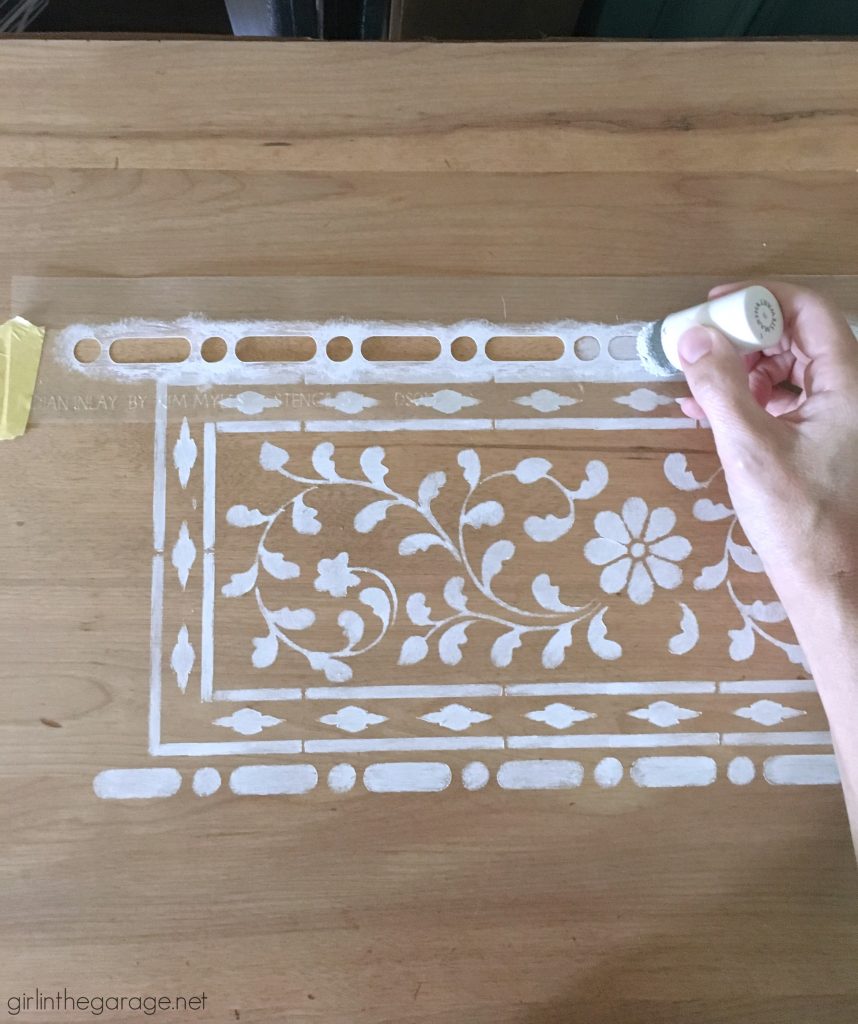 Pay special attention to the corners – when you're getting close, stop and decide if you need to end a section early or scoot it over a little to make the ends meet nicely. You might have to improvise to get the design centered near a corner or on a shorter edge of the stenciled area.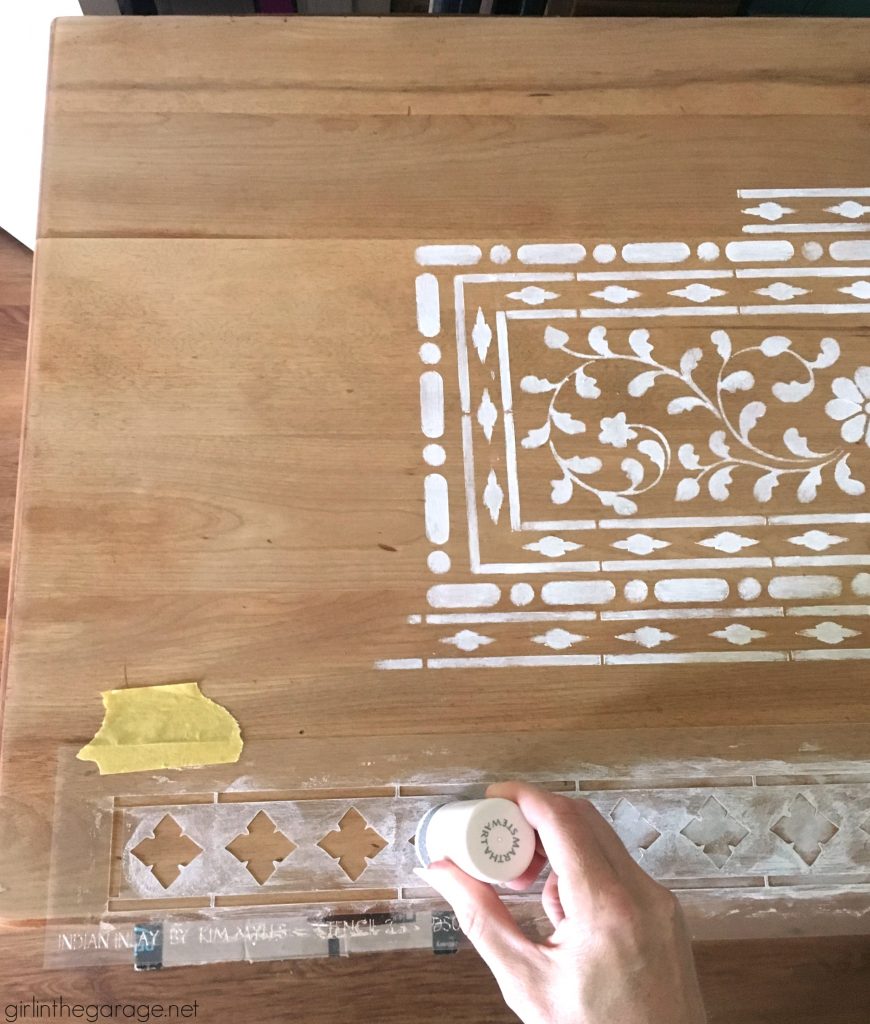 Also, since you're reusing the same stencil piece over and over in this type of furniture makeover, you might want to take a break to wash and dry it before continuing. Too much paint buildup can cause the pattern edges to not look crisp.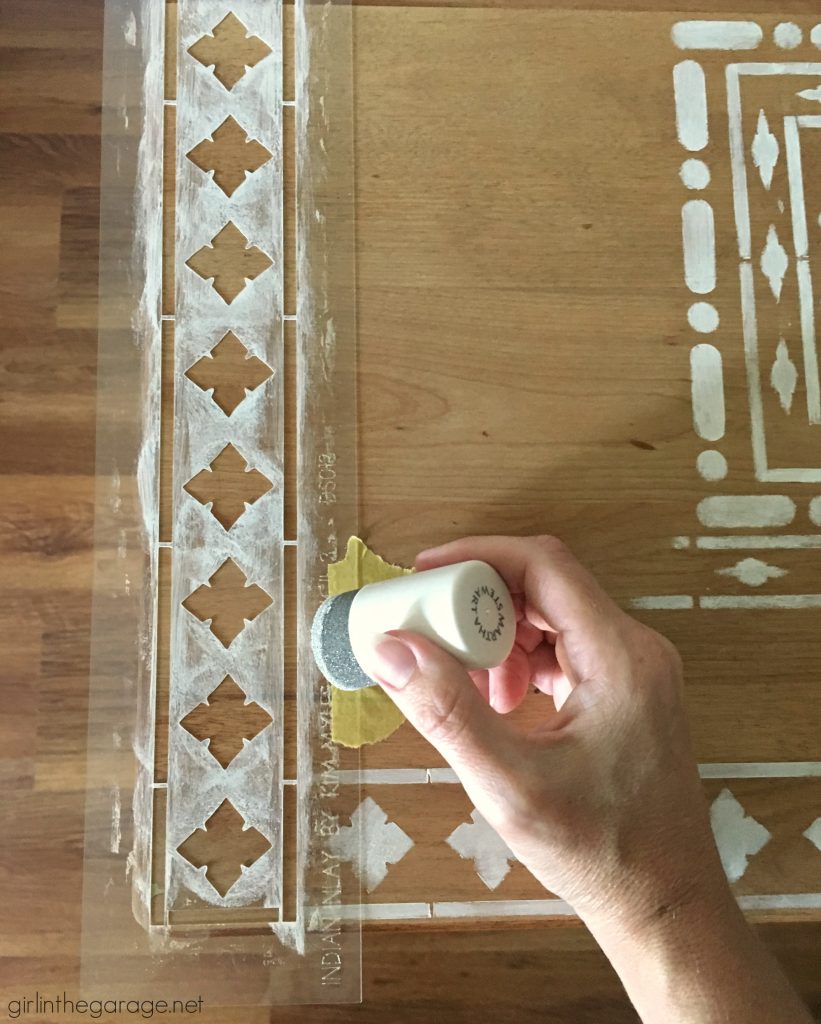 I stenciled the middle area with the Indian Inlay stencil and then made a border around the edges. That was easier for me to see what I still had room for in that open space, and thankfully the small and large floral pieces fit perfectly on the stenciled table top.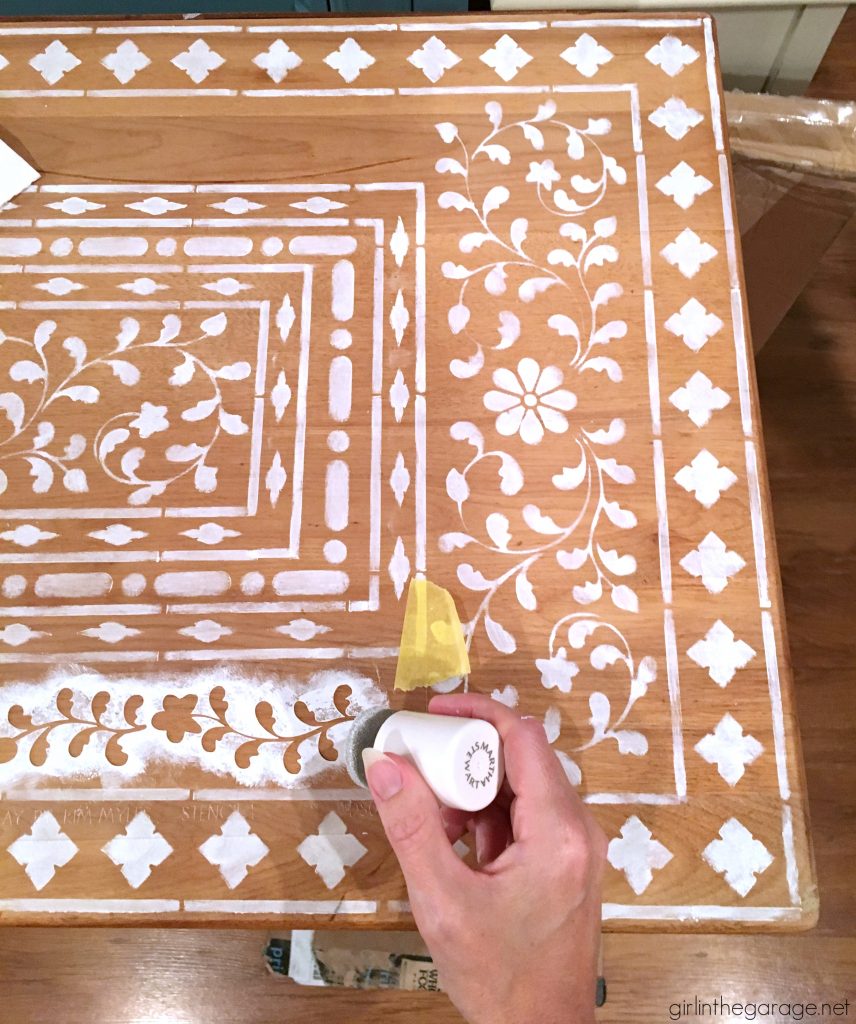 Finally I added a little stencil around the side edges of the table top.
For the body of the sideboard, first I primed it with a few coats of shellac primer to help avoid bleed through. (That stuff is really stinky when you're using it, so apply it outside or in a well-ventilated area.)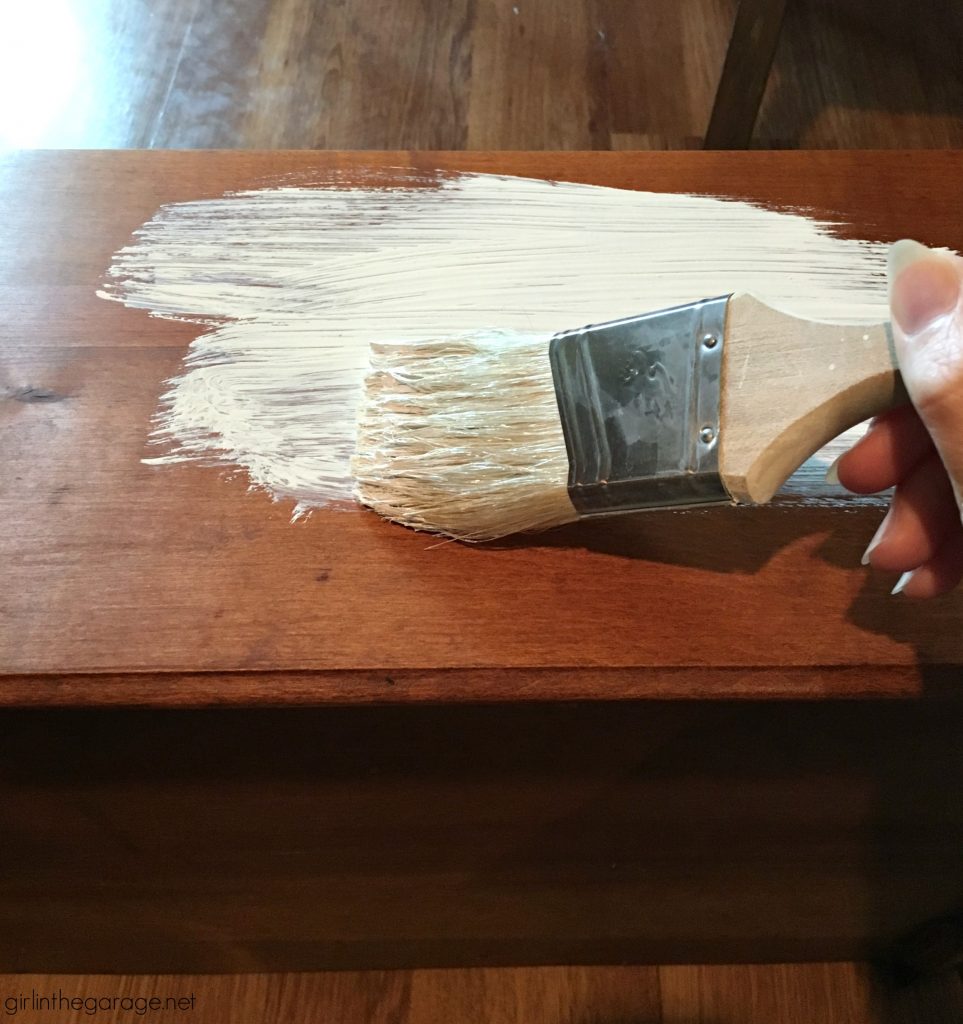 The body was also painted in Simplicity by Country Chic Paint, and no topcoat is required with their paint unless it's a high traffic area.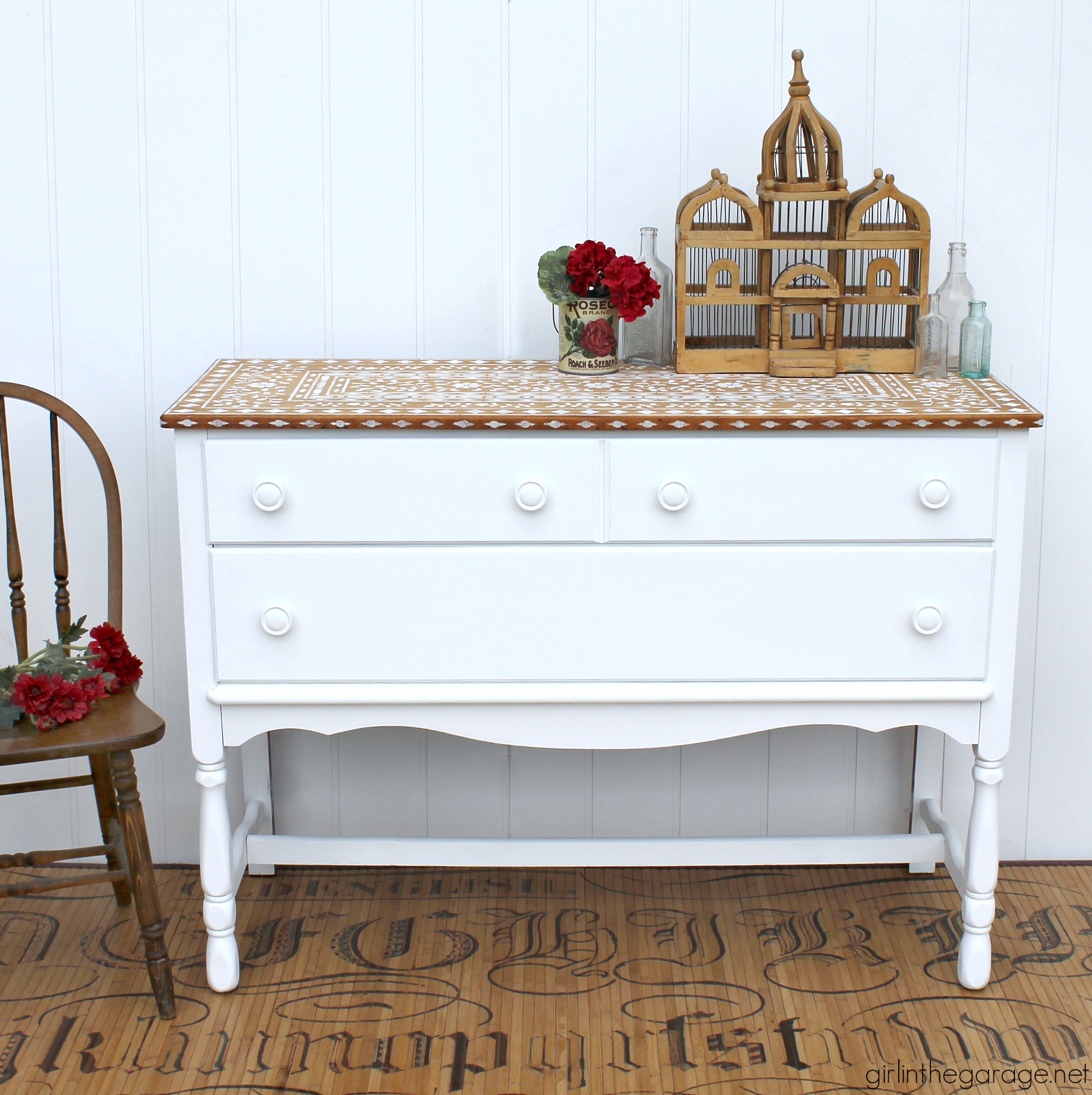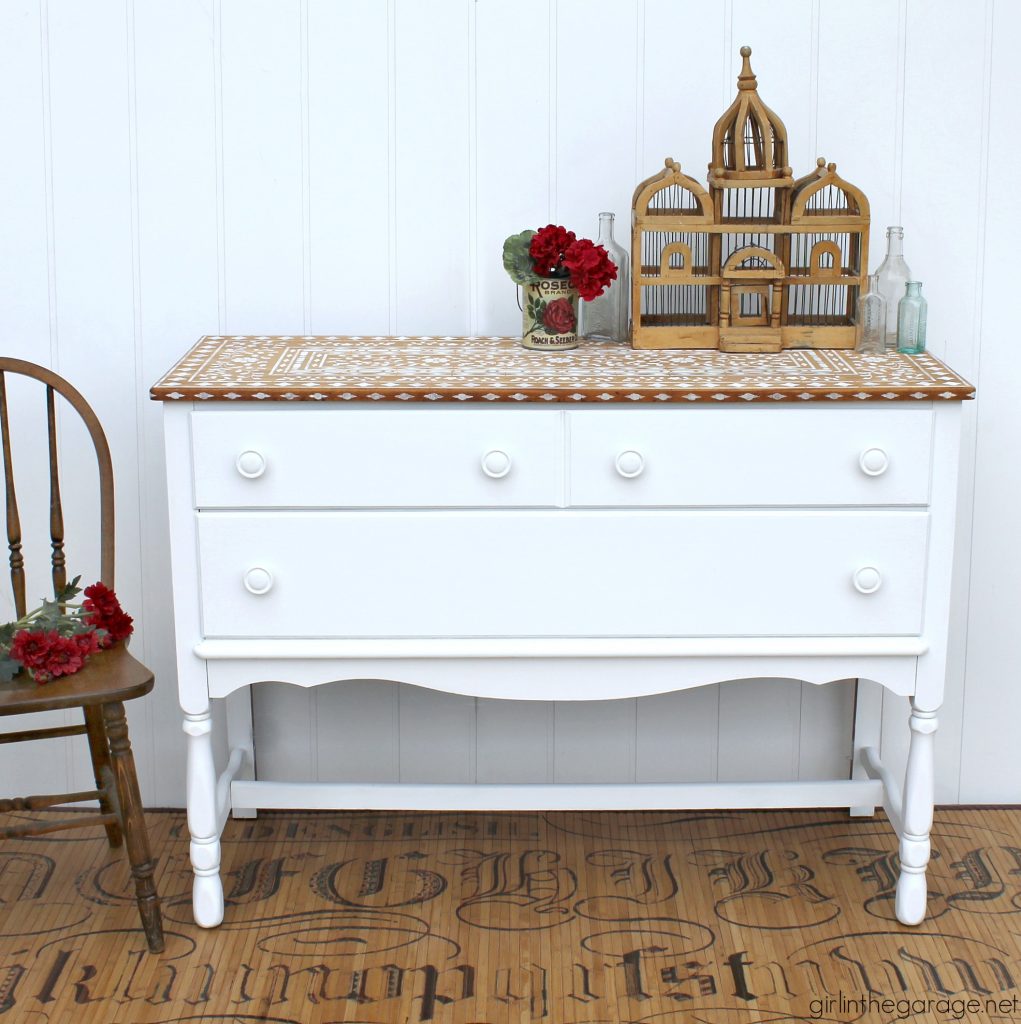 I couldn't be happier with how this piece turned out. It has so much more charm now with the beautifully stenciled table top.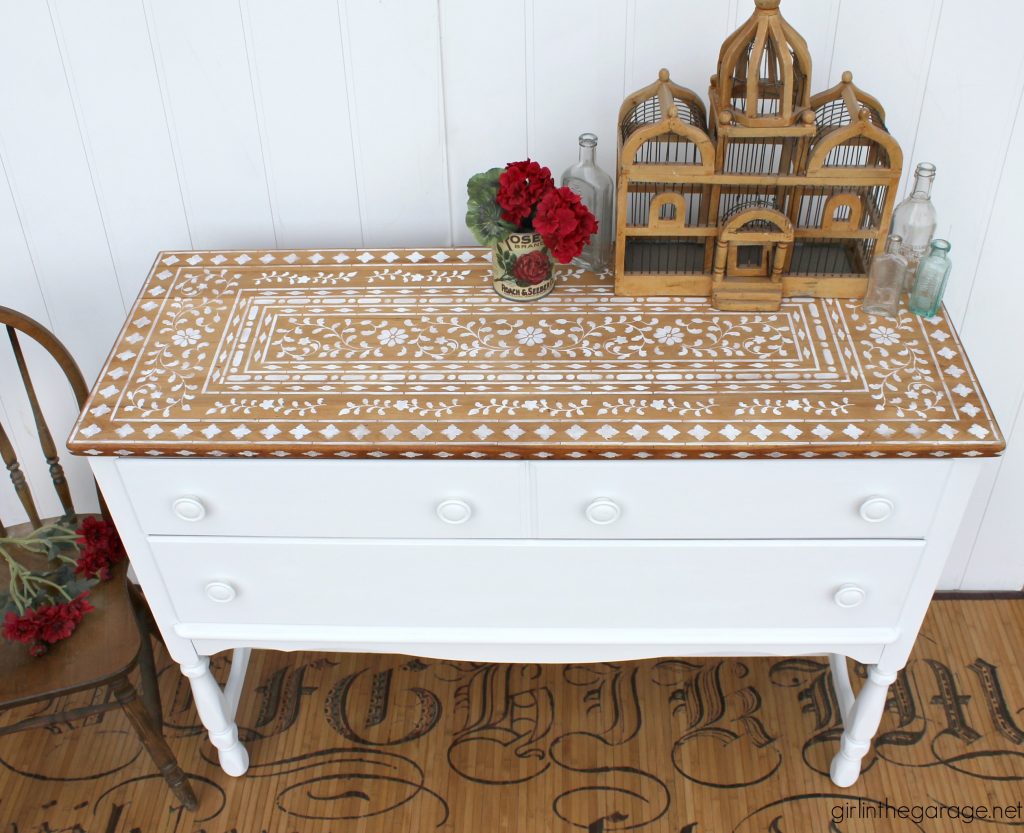 I love how this stencil kit can completely transform a plain piece of furniture into a high-end piece for thousands of dollars less than buying real bone inlay furniture – and no bones required (thank goodness).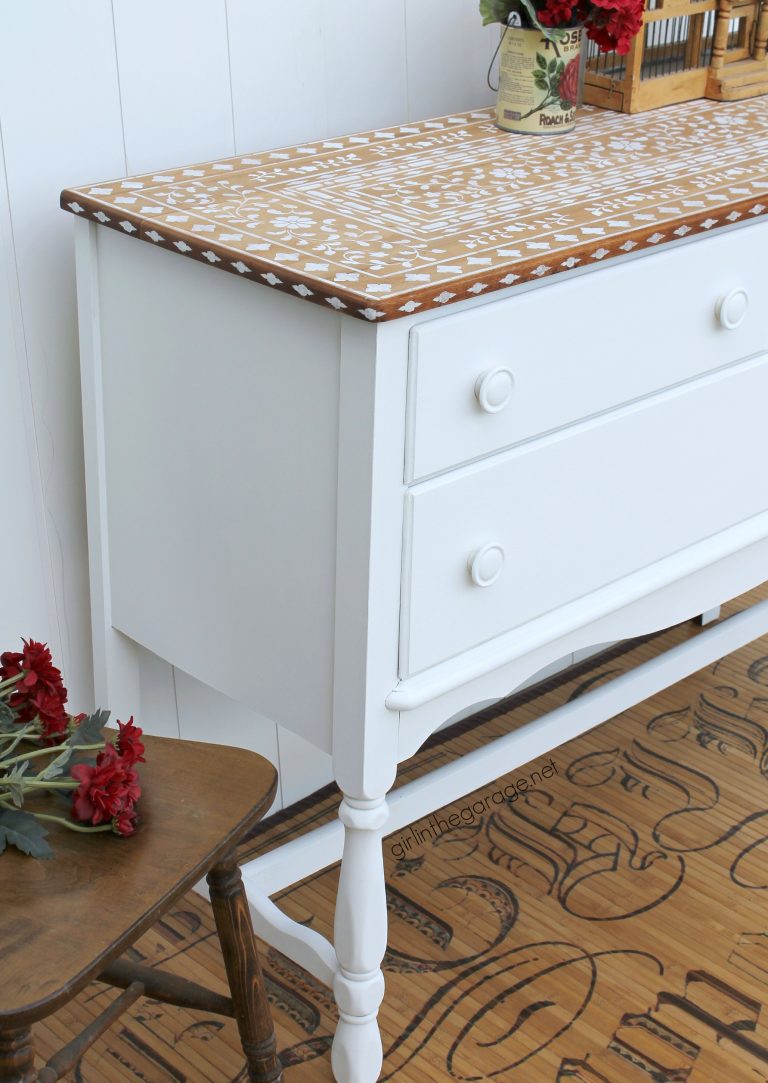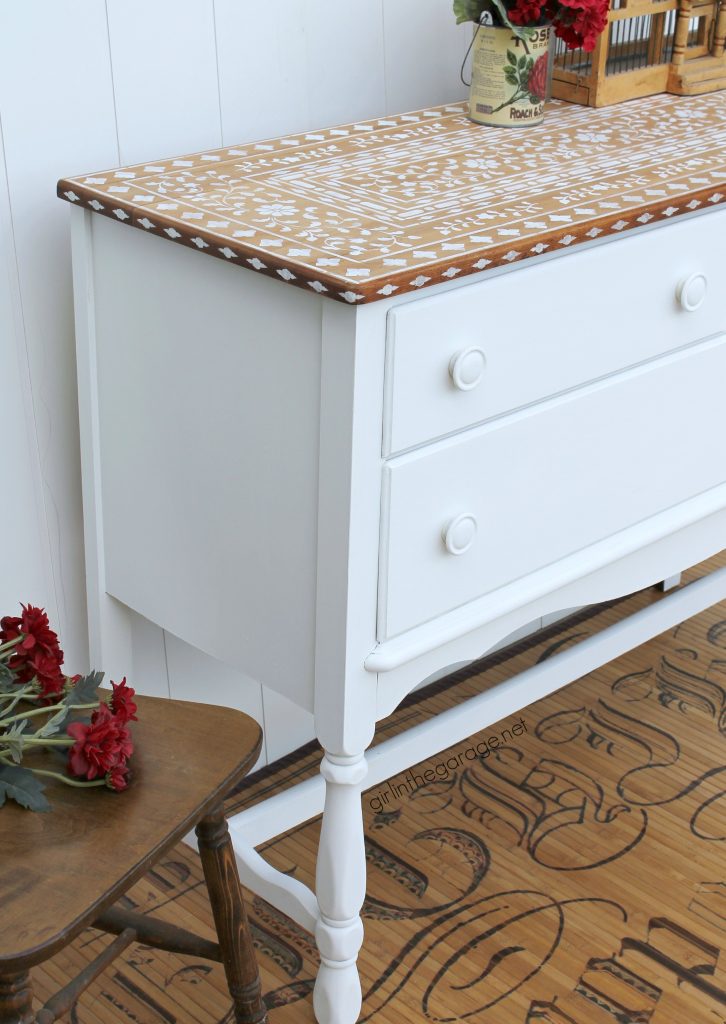 Here's a better view of the top: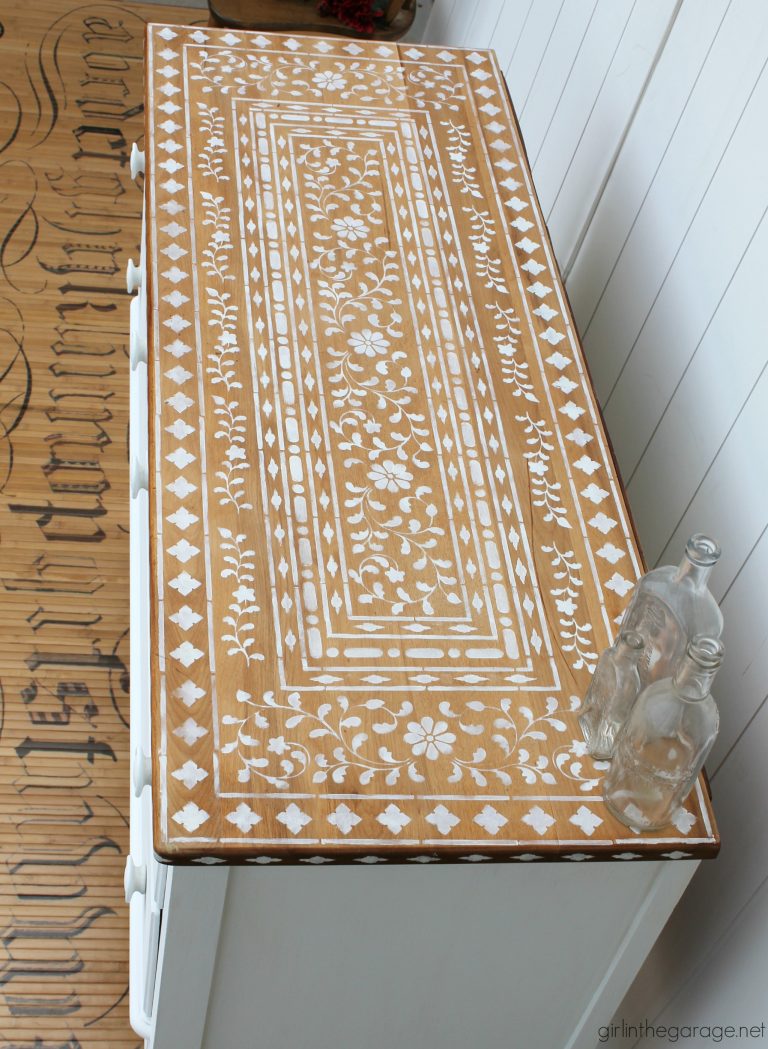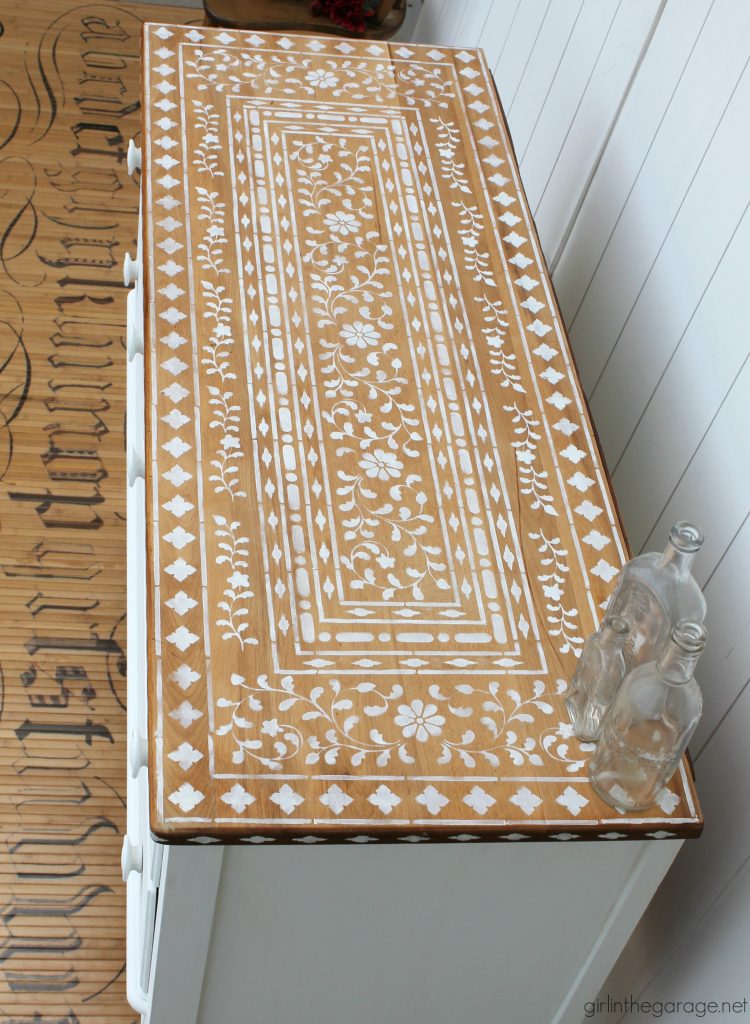 My heart skips a beat just looking at it!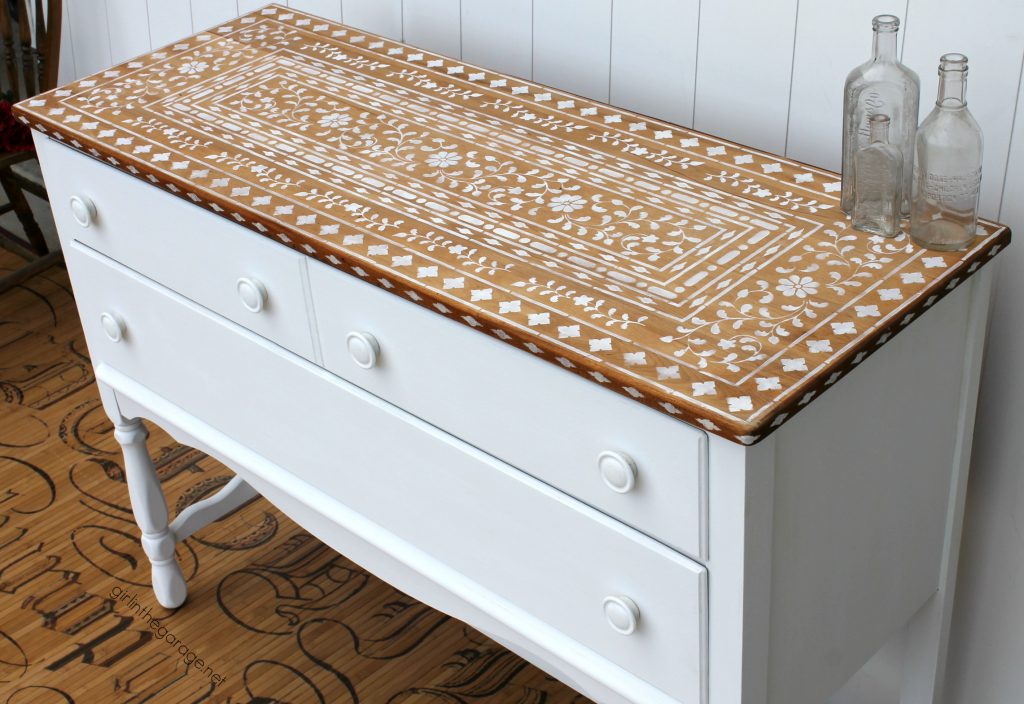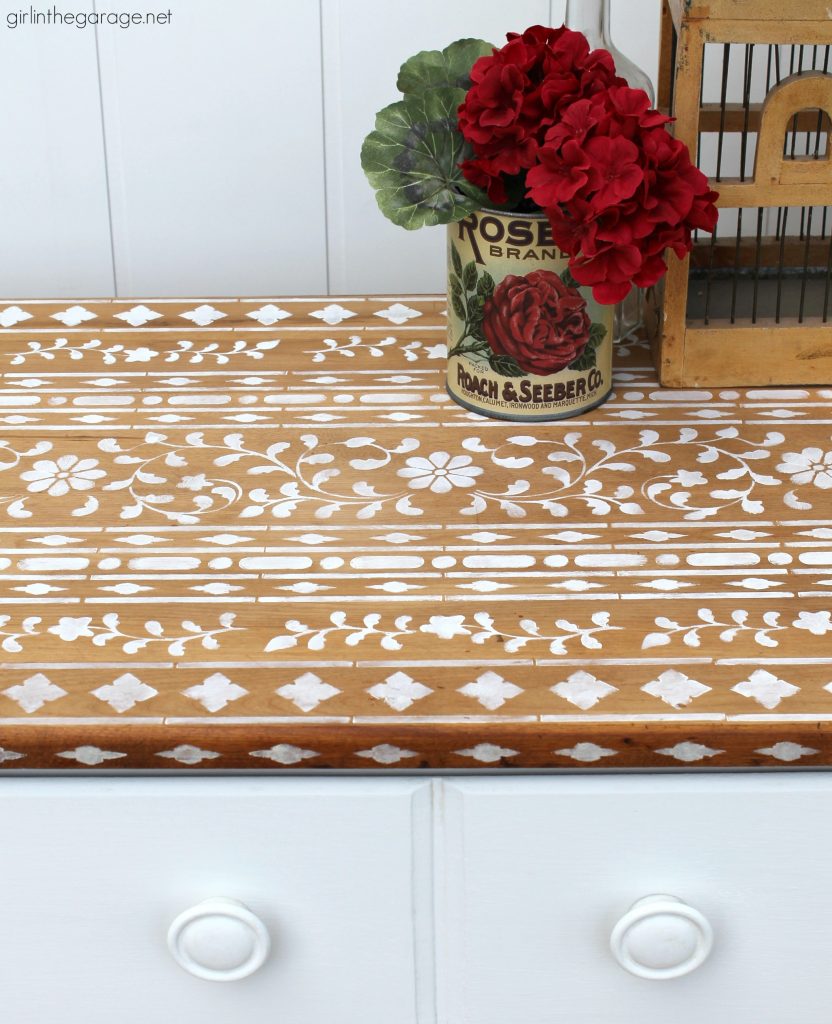 How to Stencil Bone Inlay Furniture Tutorial –
Here are a few photo options to pin this project for easy access later: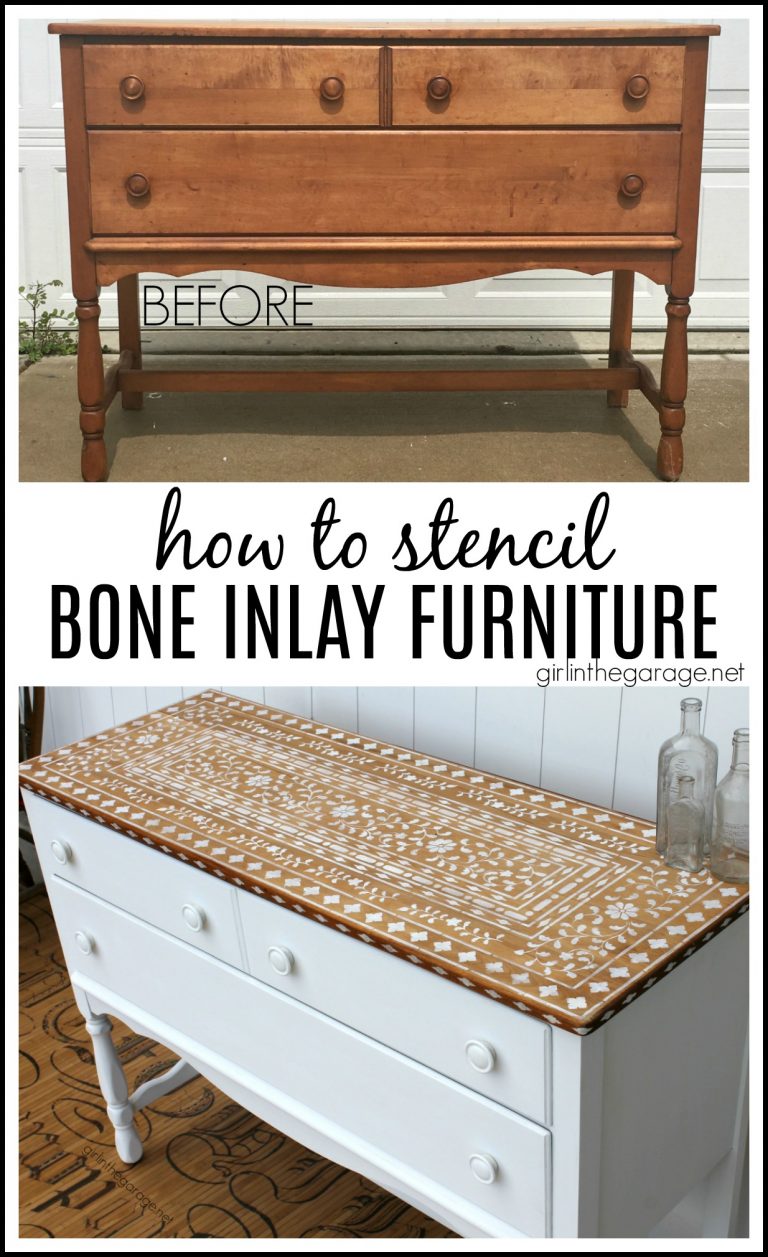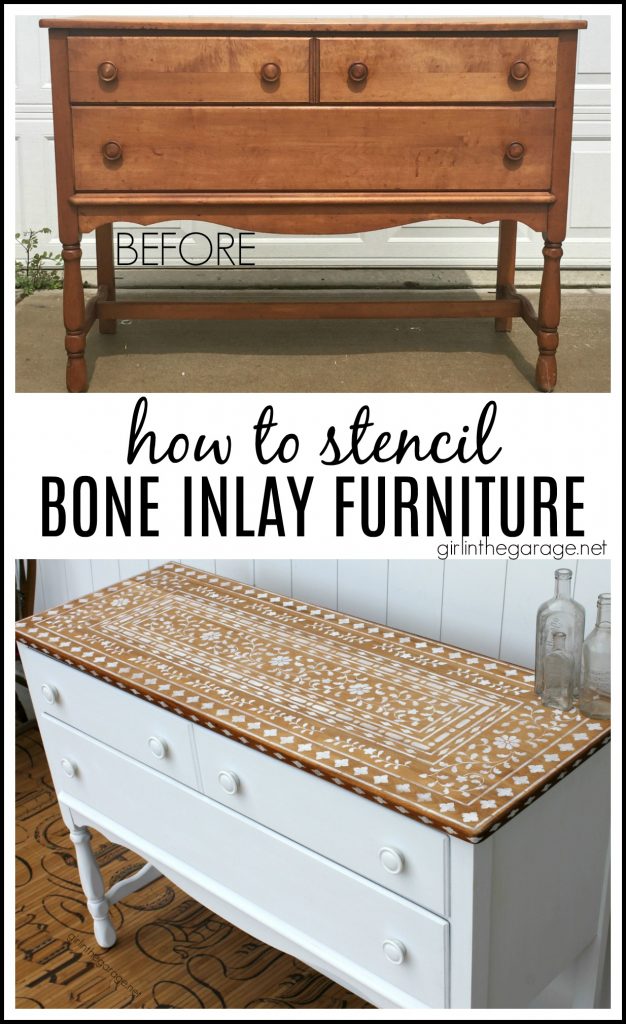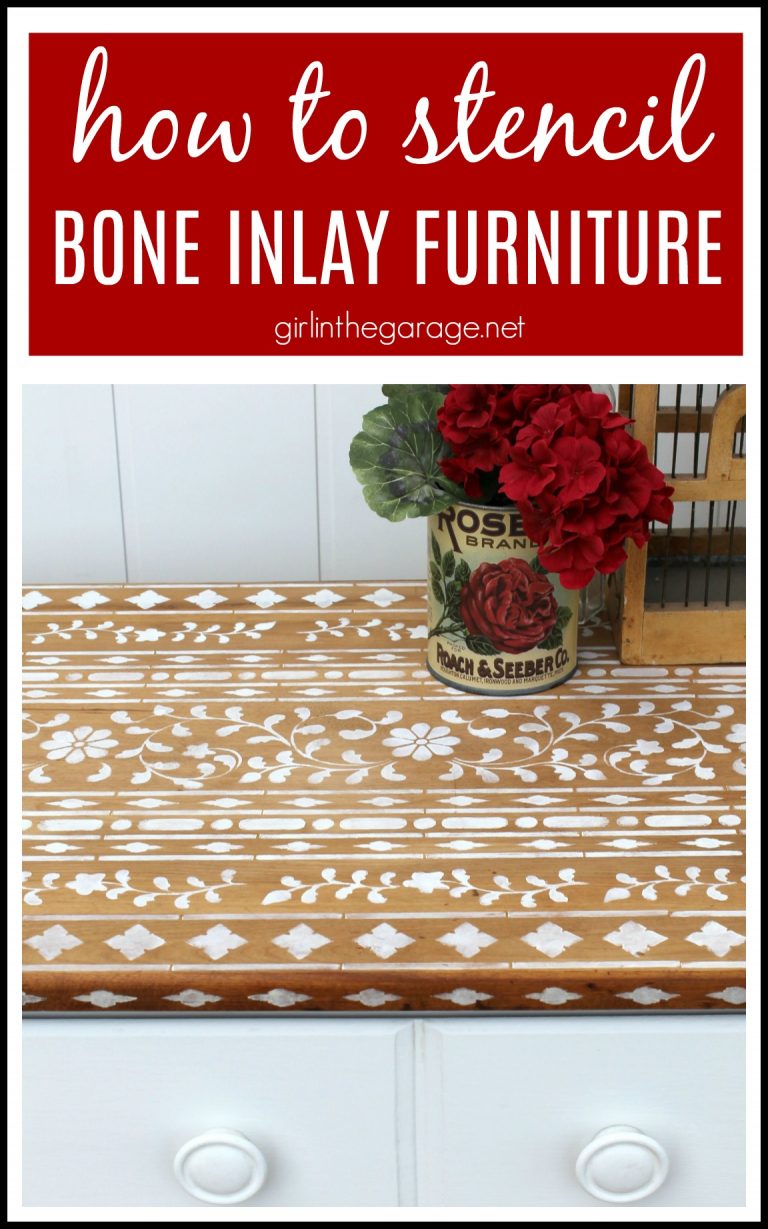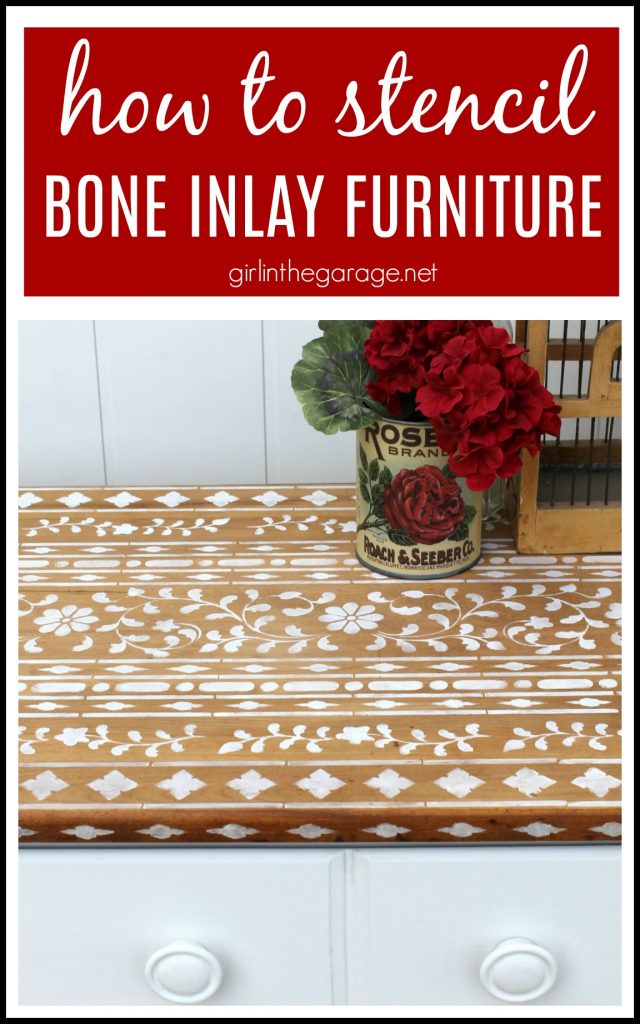 Let me know your thoughts – have you tried to stencil bone inlay furniture before? Wow, it definitely takes some planning and patience, but a stenciled table top is so worth it. Please leave a comment below – I appreciate you guys so much!! xo Jen
Also – click here to read: How to Remove Contact Paper the Easy Way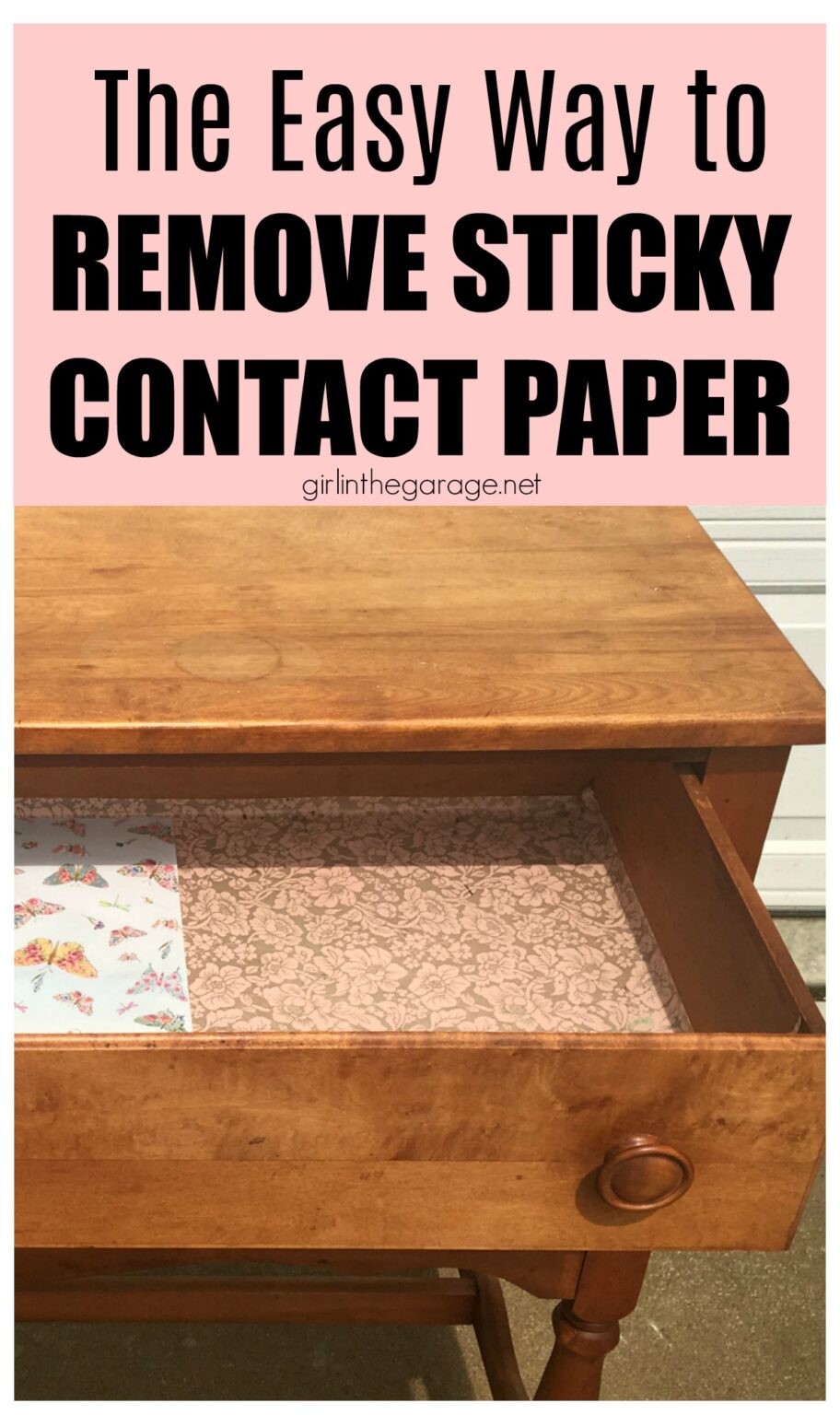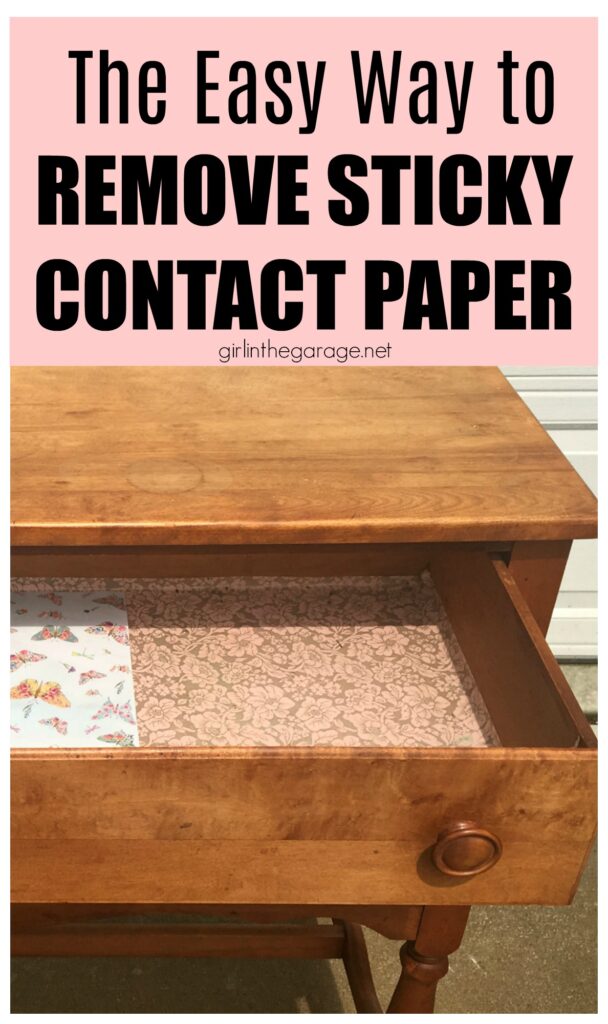 Now it's time again for Furniture Fixer Uppers day with my creative furniture makeover friends: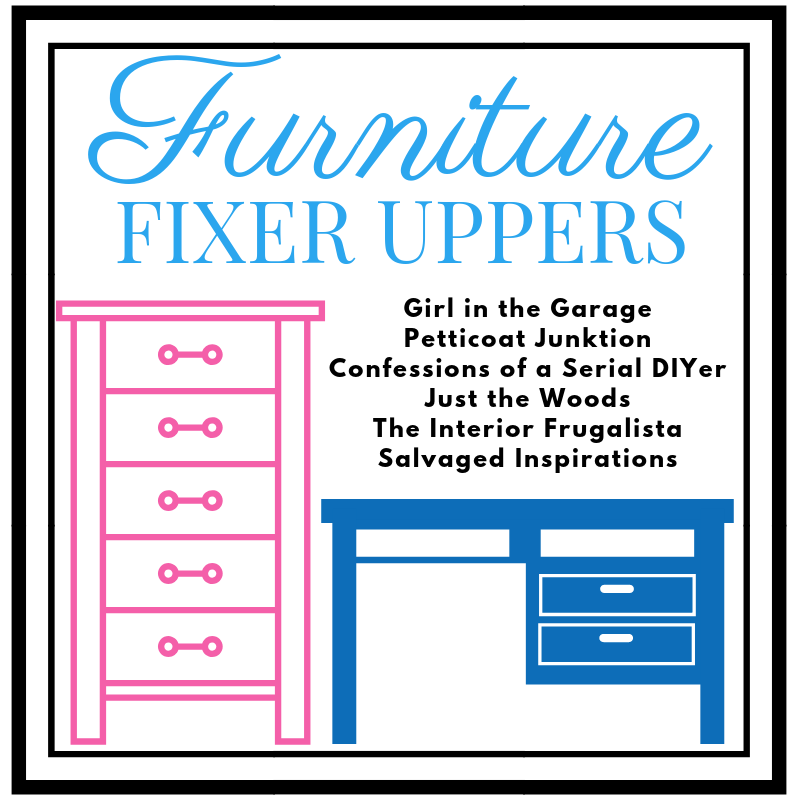 Below are the Before photos – visit the links underneath to see the amazing Afters and to learn how they did it: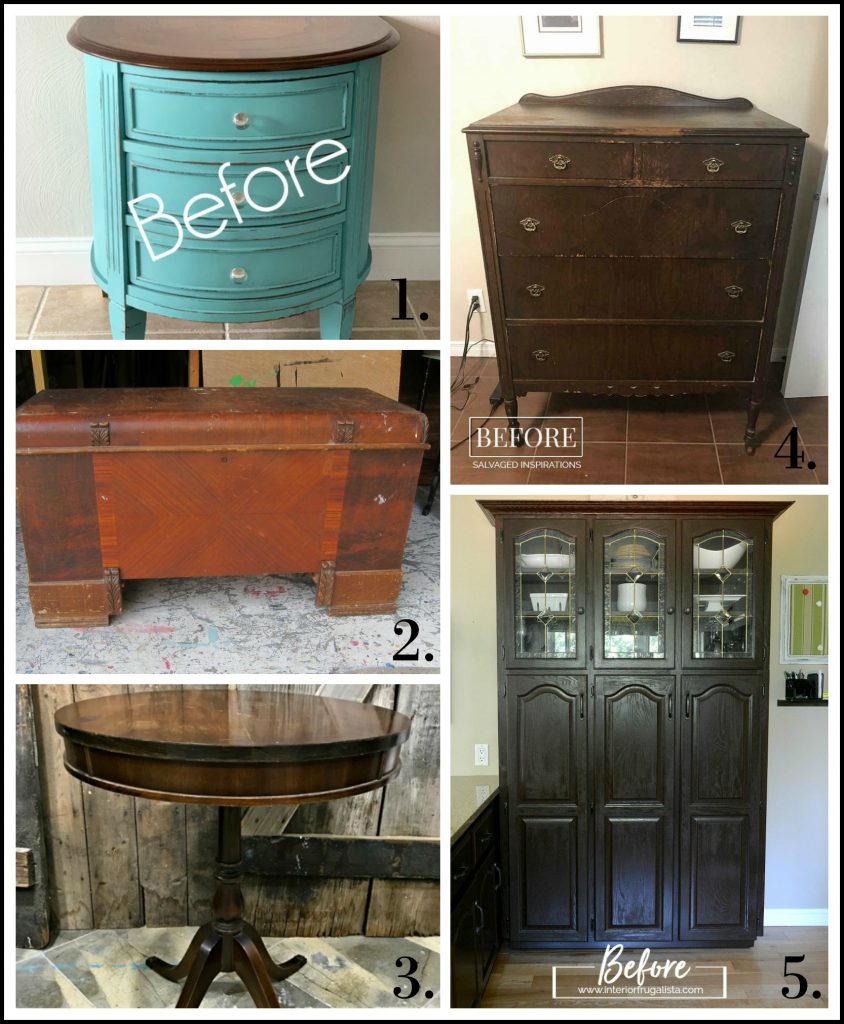 1. Confessions of a Serial DIYer
2. Petticoat Junktion
3. Just the Woods
4. Salvaged Inspirations
5. The Interior Frugalista
If you really love furniture makeovers and want even more ideas and inspiration, my new book Amazing Furniture Makeovers: Easy DIY Projects to Transform Thrifted Finds into Beautiful Custom Pieces is just what you need. Learn more and read 300+ satisfied reviews Here. Also here's a peek at a few of the projects: