Friend, today's painted folding bookcase makeover for Trash to Treasure Tuesday isn't really all that trashy, but it sat forgotten in my garage for about three years collecting dust, so that counts right? 🙂
These folding bookcases are great for temporary storage pieces and college dorm rooms – but do you know what else they're perfect for? Vintage market and craft fair displays.
I had a market this past weekend and needed something else for my booth layout, and thankfully I remembered this convenient thrifted piece hiding in the garage. (I knew it would come in handy one day! <— says every furniture hoarder. Haha)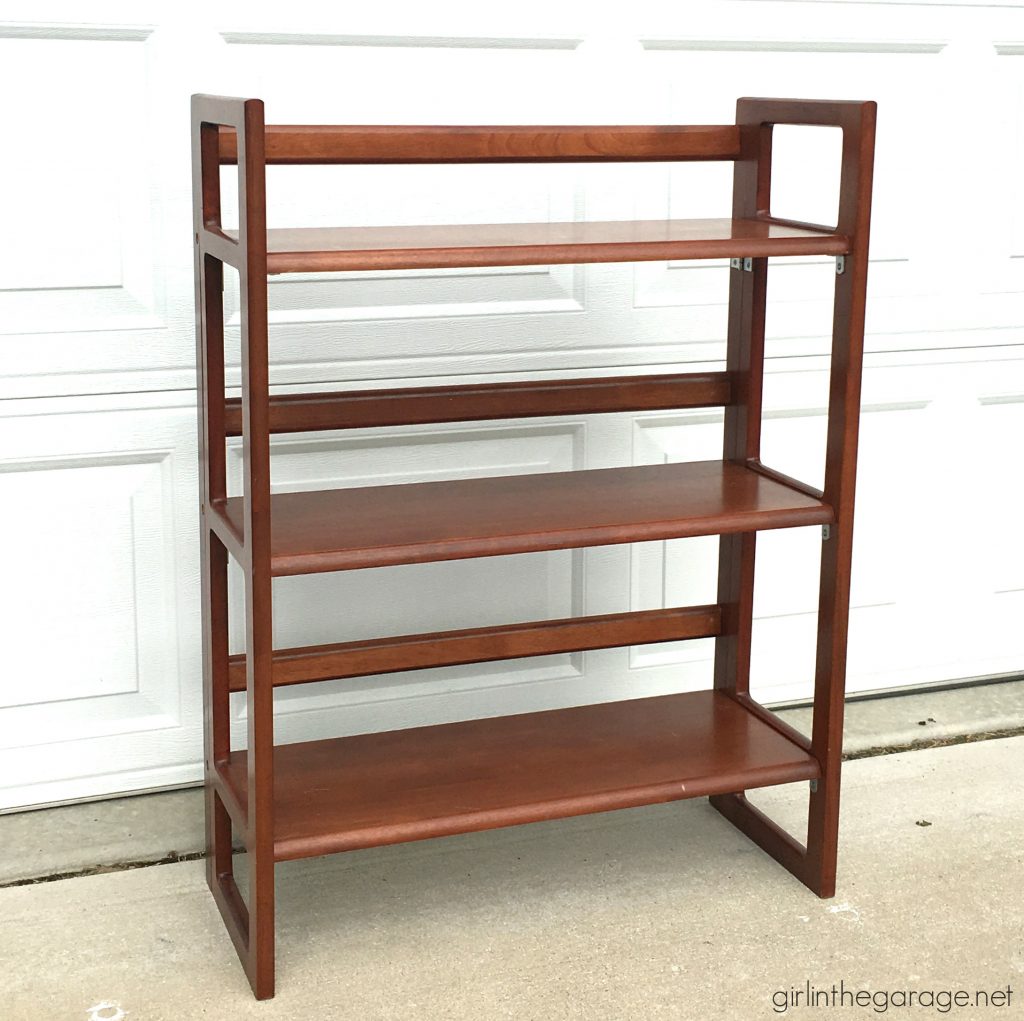 *This post contains some affiliate links so you can easily find the products I use and recommend. Discover all my favorite DIY products and brands for doing furniture makeovers Here.
Find this same portable folding bookcase currently discounted Here – and with Amazon Prime free shipping.
I also use two taller folding bookcases that I got from Hobby Lobby, and they're kind of "rustic chic" (you can see them further down this post). I really wanted this painted folding bookcase to match the rest of the decor and staging pieces for my market booth display, so I decided to paint it in layers and then give it a distressed finish.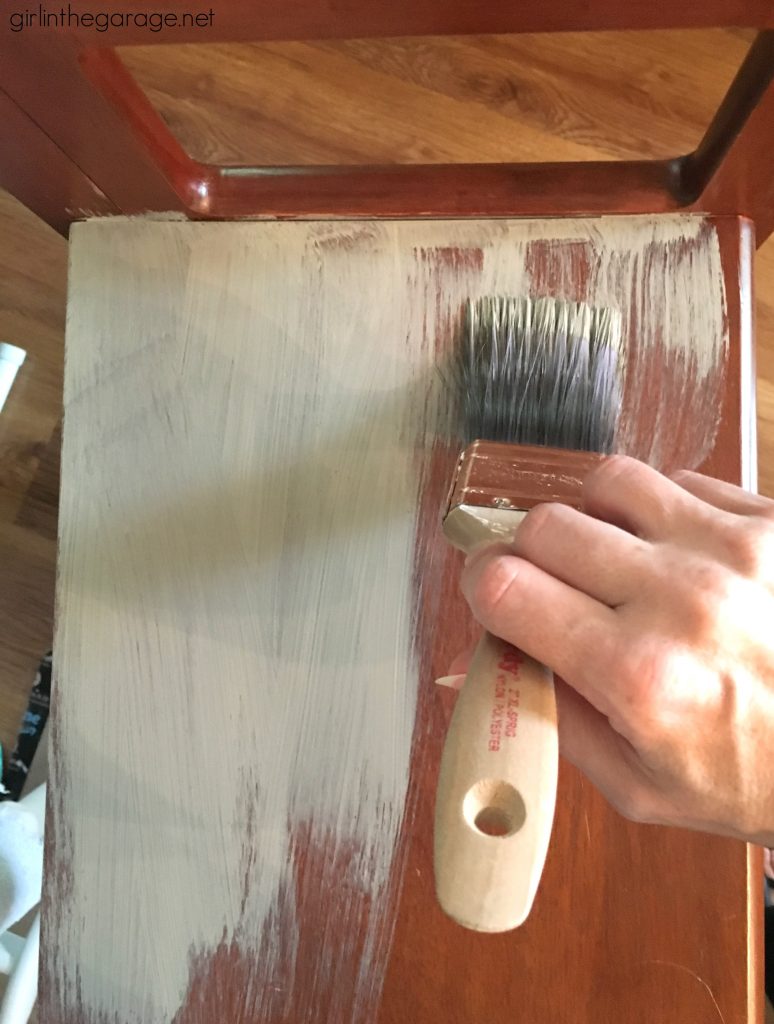 First the bookcase was painted in Annie Sloan Chalk Paint in Chateau Grey as a base coat. I used my favorite Purdy paint brushes as always.
For the next layer, I added a little bit of Annie Sloan Chalk Paint in Coco for some light brown depth.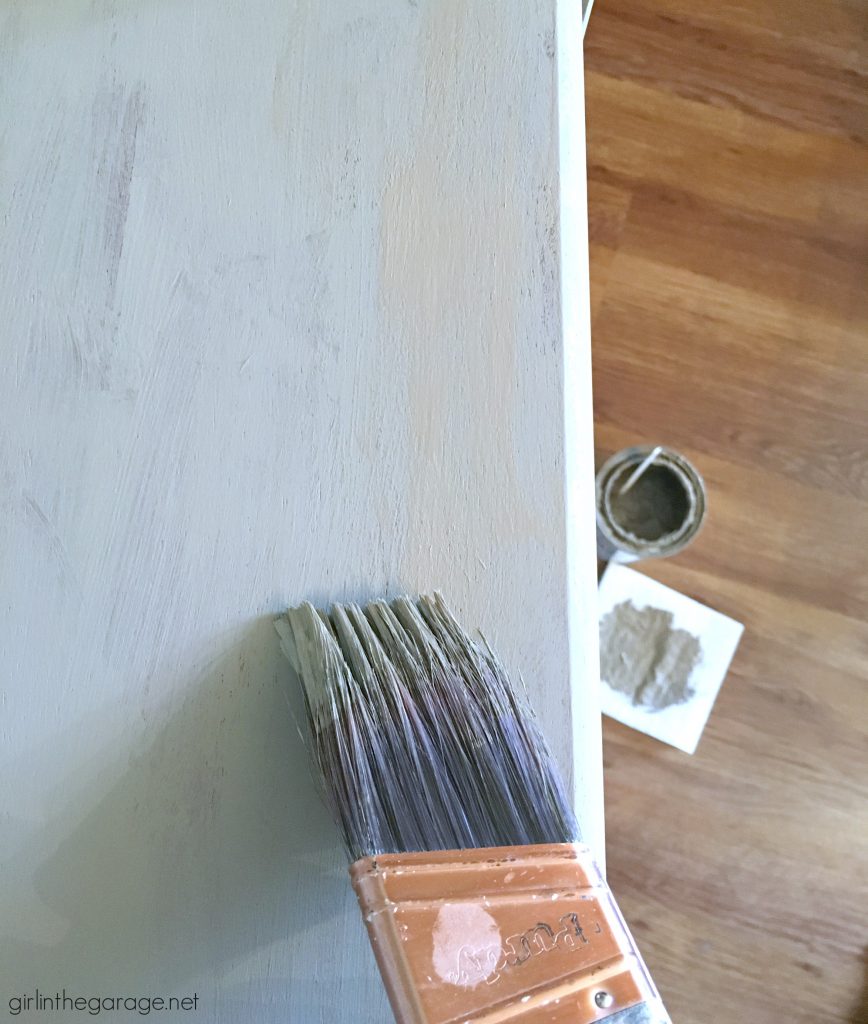 Finally the bookcase was painted in Annie Sloan Chalk Paint in Pure White. (I lightly dry brushed over the hinges so they could still move easily.)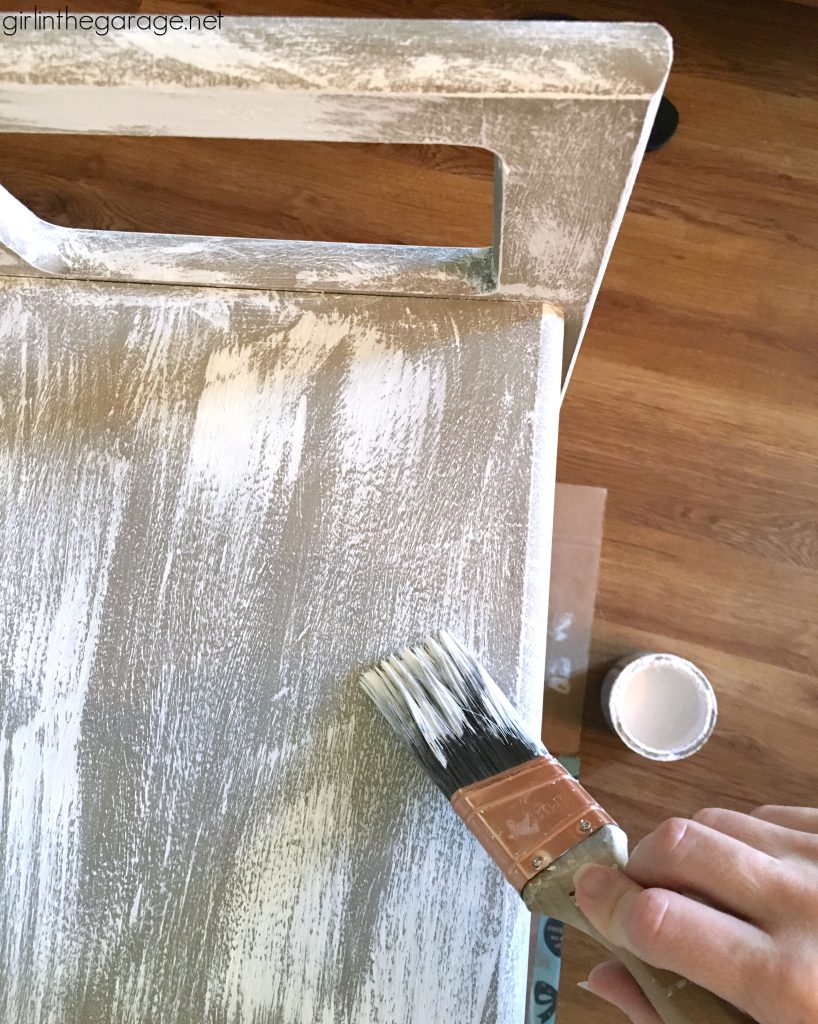 With all three layers, this painted folding bookcase had a lot of texture and was looking a little too rustic for my taste.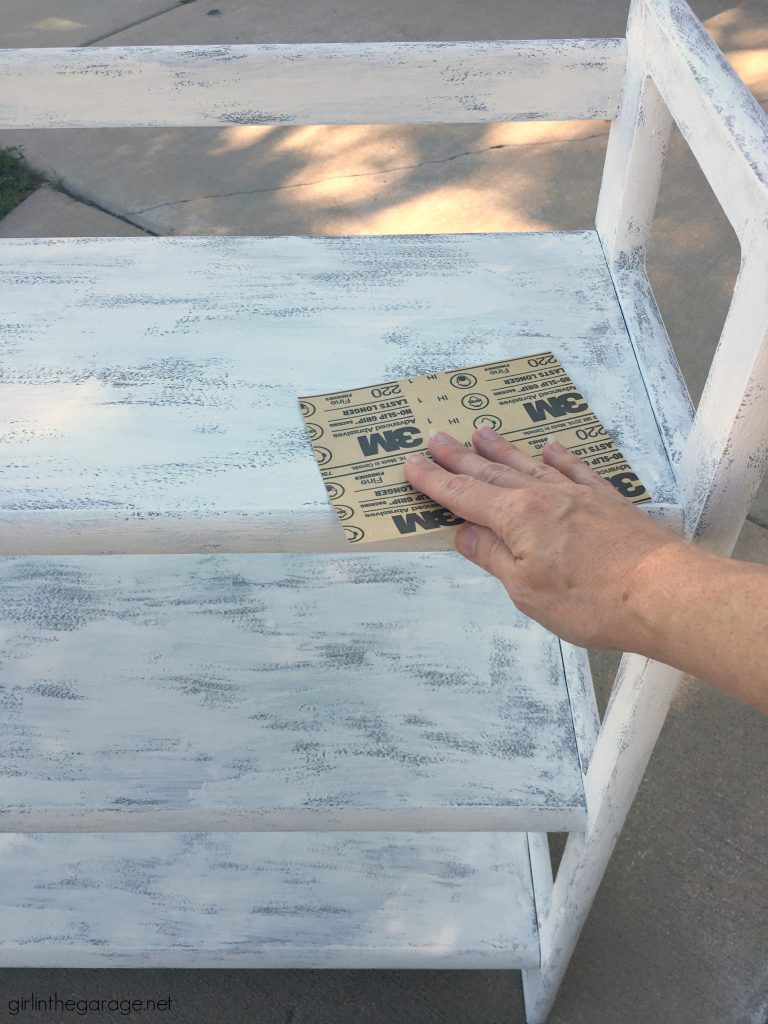 The next step was to sand, sand, sand with 220-grit sandpaper to smooth out the texture and make it look more rustic chic.
After sanding, I wipe away all the paint dust with damp paper towels. I usually end up with dust all over my arms, clothes, feet – everywhere. That's confirmation that I did a good job, ha.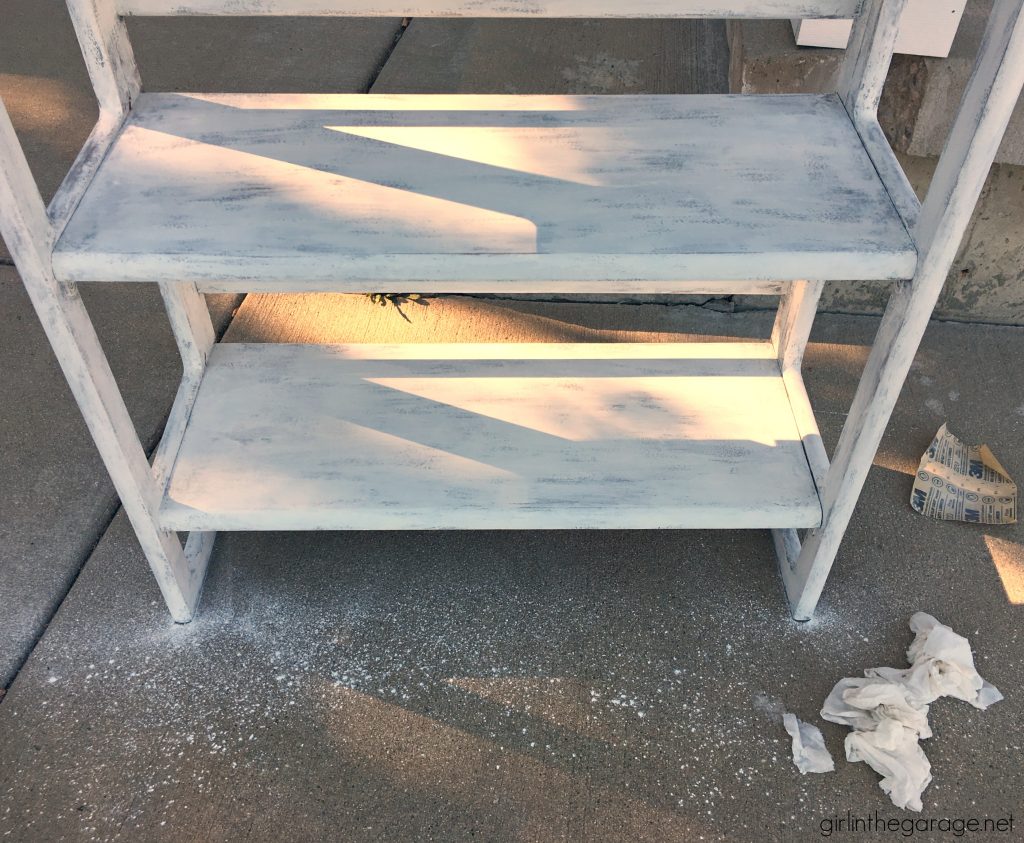 After she was all cleaned up, here's this little beauty staged with some cute and colorful accessories: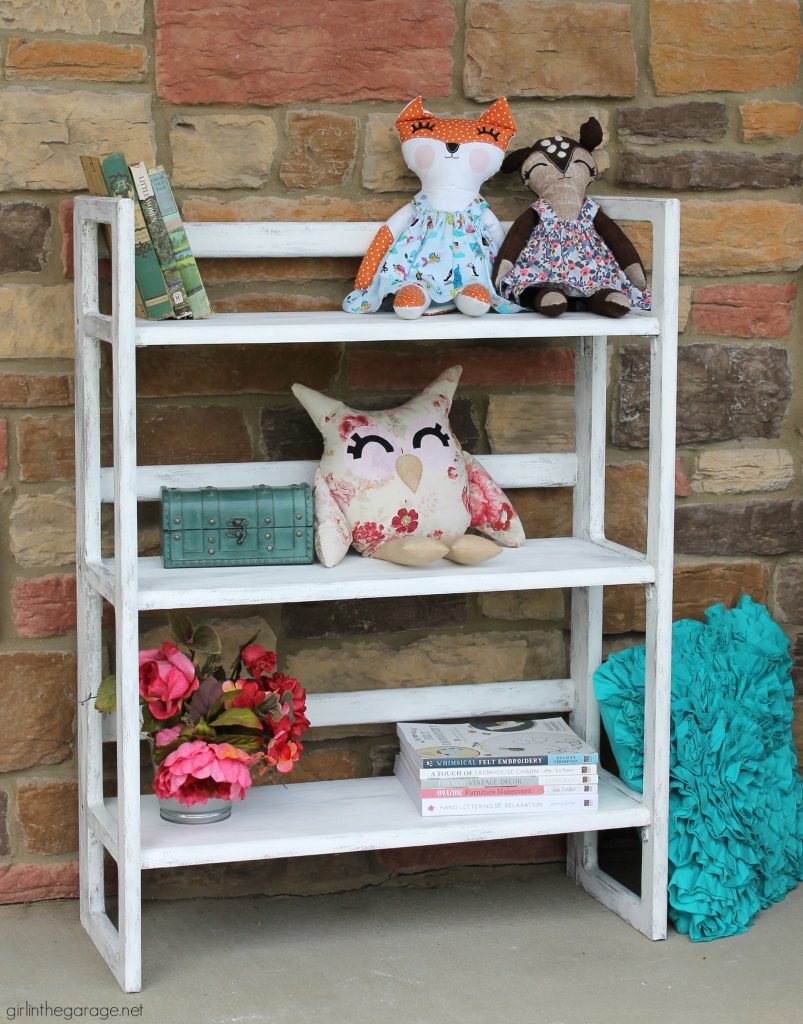 The paint layers and strategic distressing were just the look I wanted for my market booth – you'll see photos further down.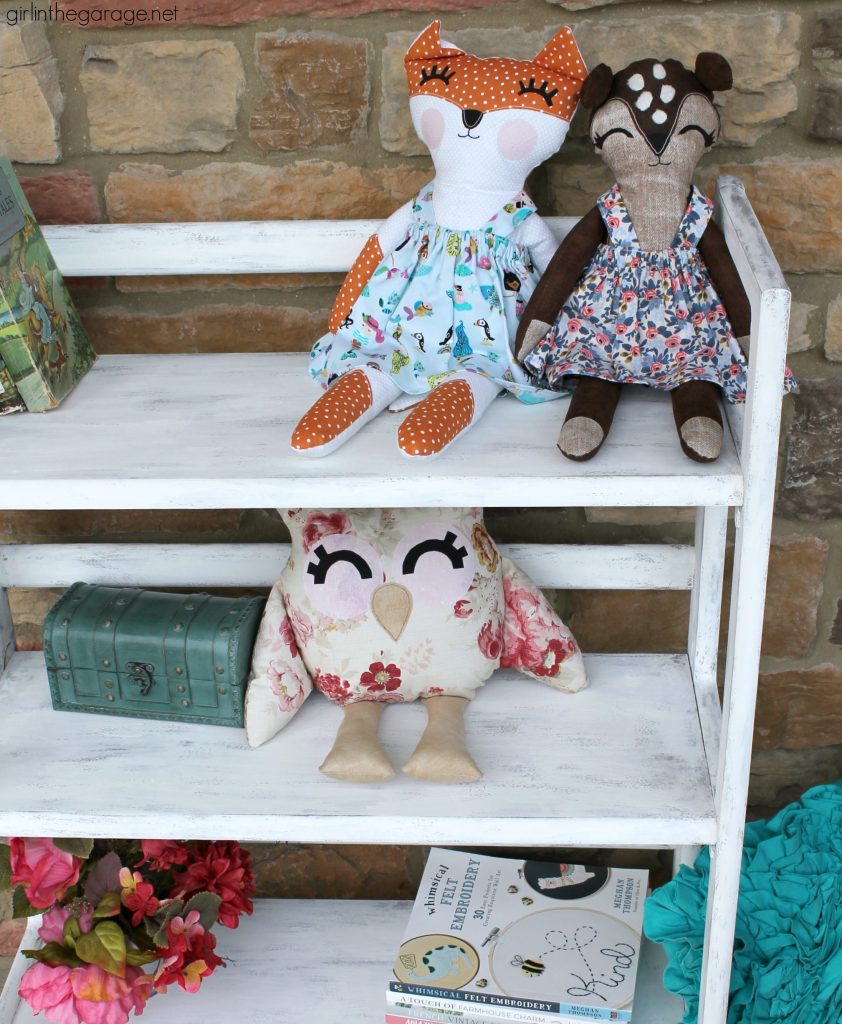 It's a pretty easy way to give any piece of furniture a rustic chic style makeover.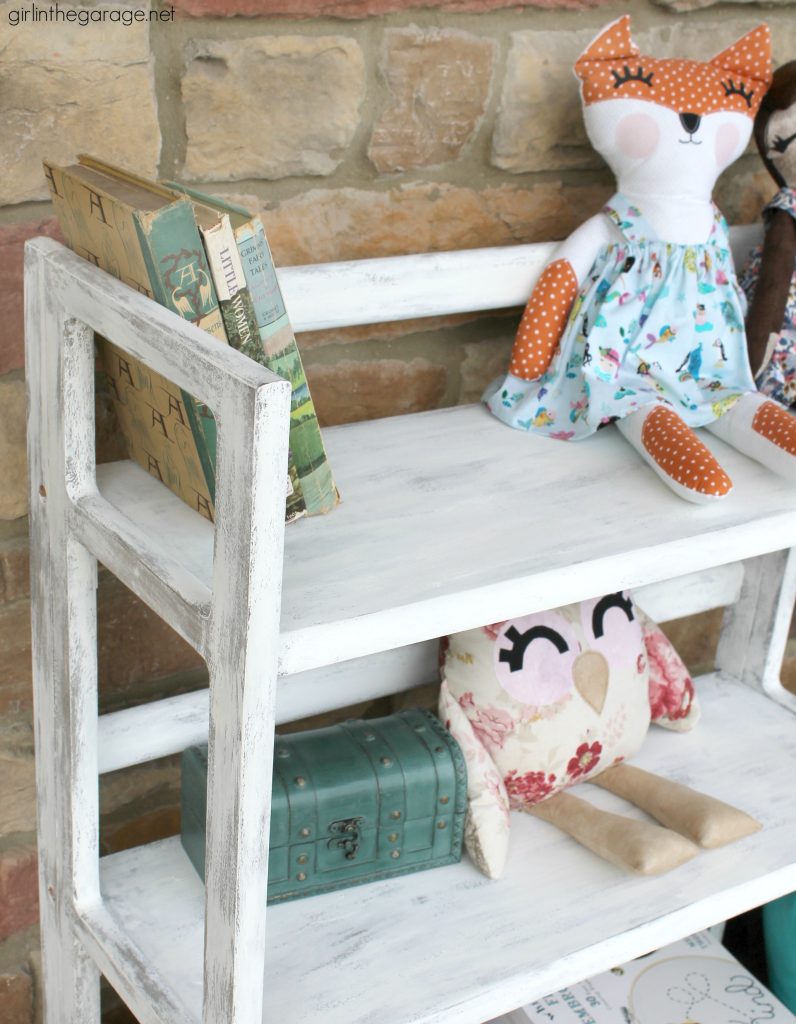 And I couldn't help but include some of my favorite creative DIY/crafty books when staging: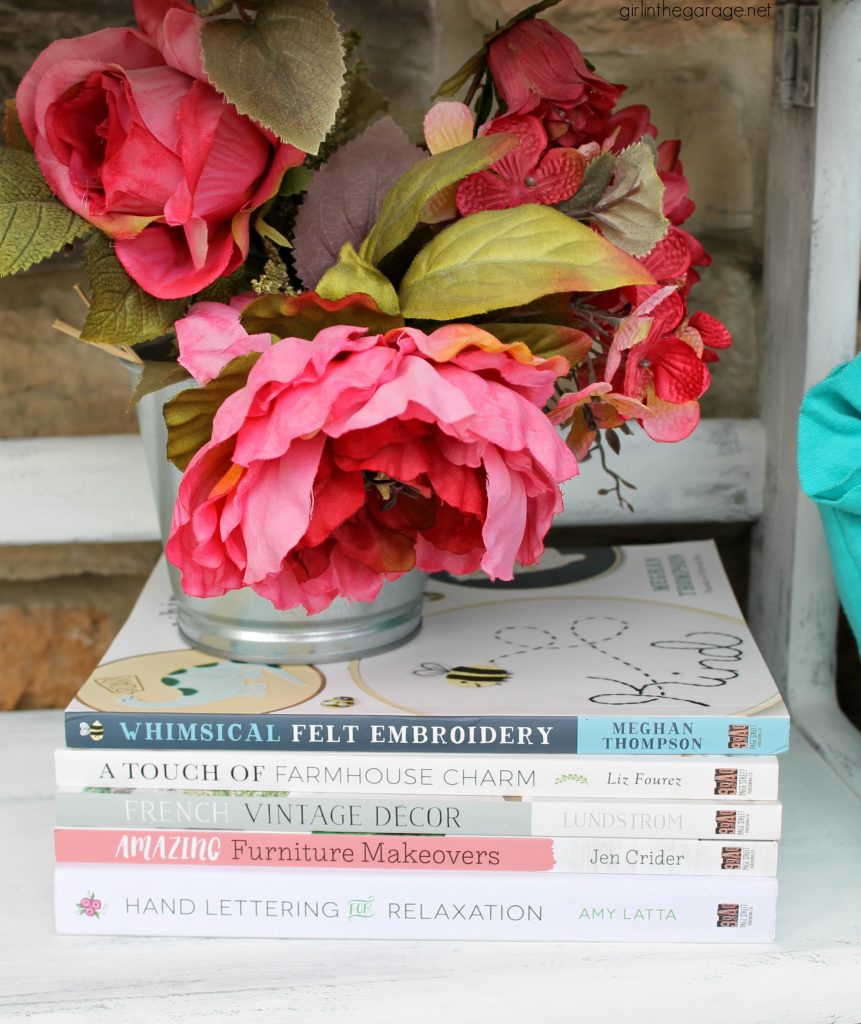 From the top:
And here is my Fetching Market display from this weekend, where I promoted my side gig Thread & Cloth Studio (adorable handmade animal dolls and pillows – they were in the photos above also):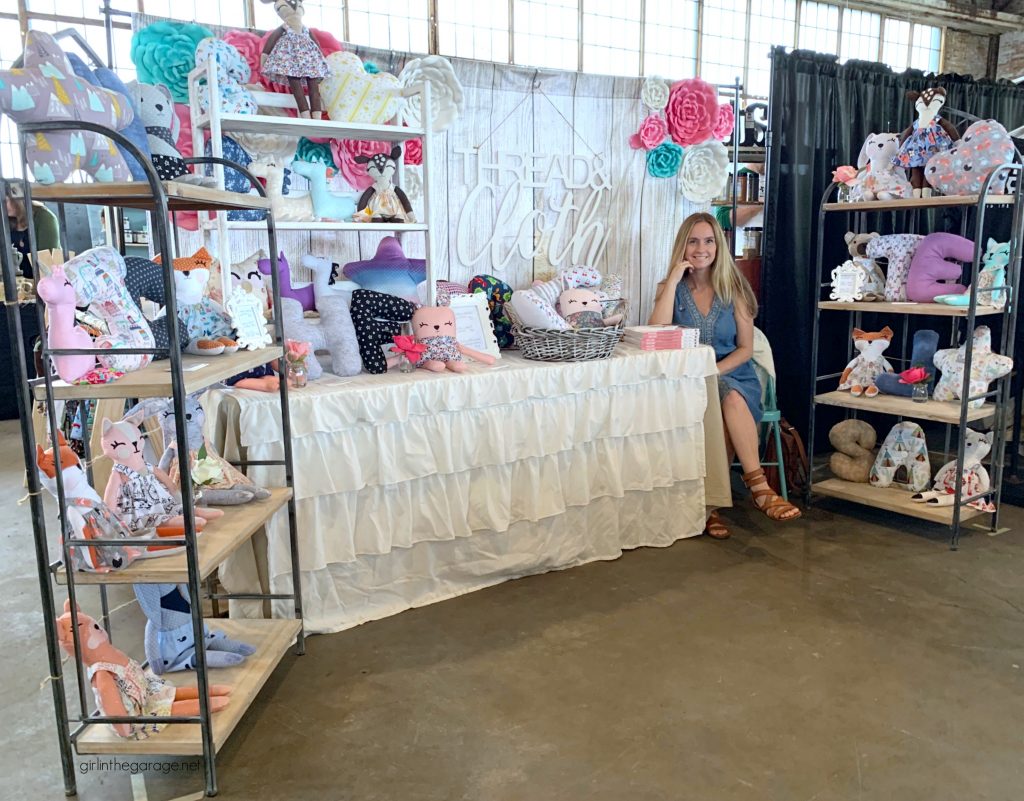 My new portable painted folding bookcase is perfect sitting on the table for added height and storage space. And the new distressed finish looks great with the faux wood backdrop (find it Here and find the adjustable backdrop stand Here) and the rest of my market booth display.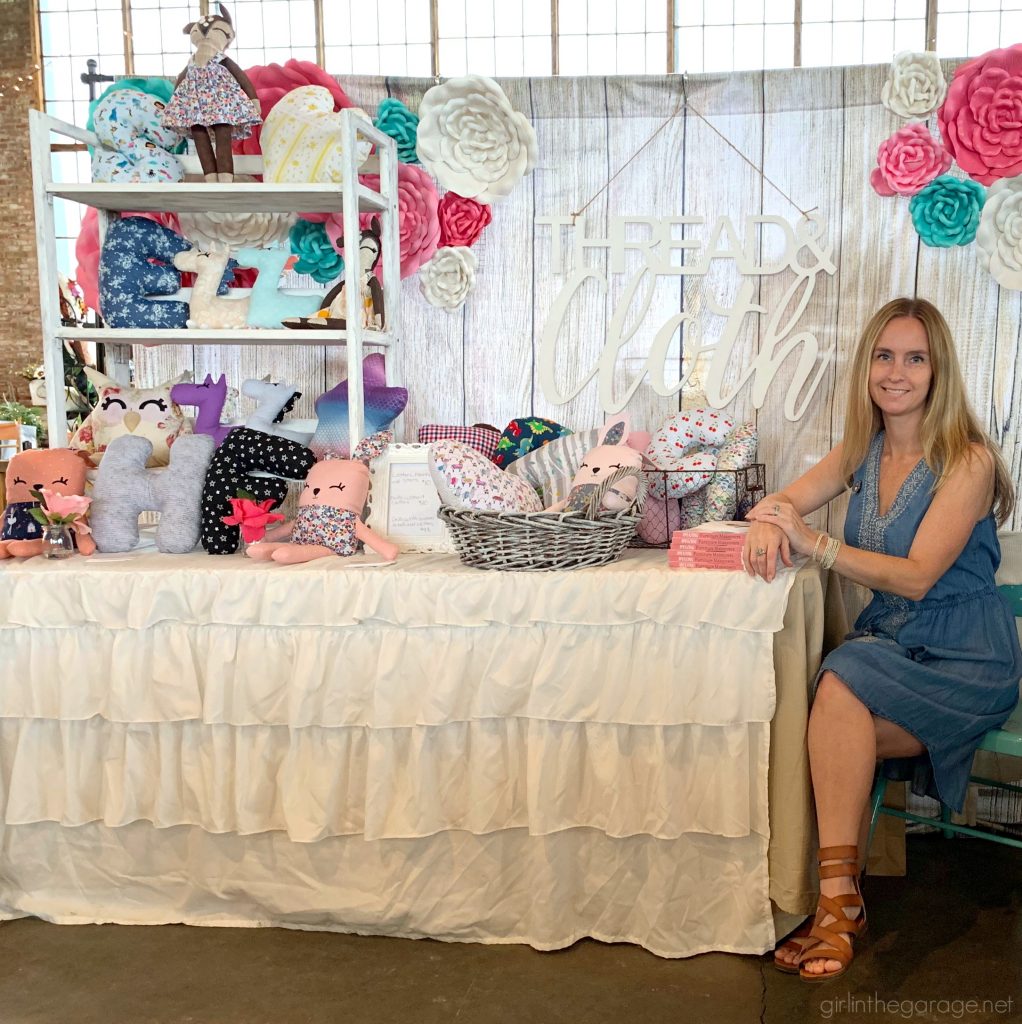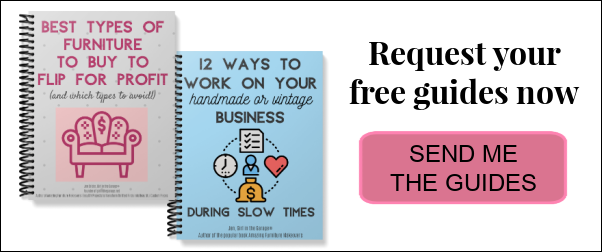 *Want more ideas and inspiration for doing a market or fair? Go Here for lots of tips and advice.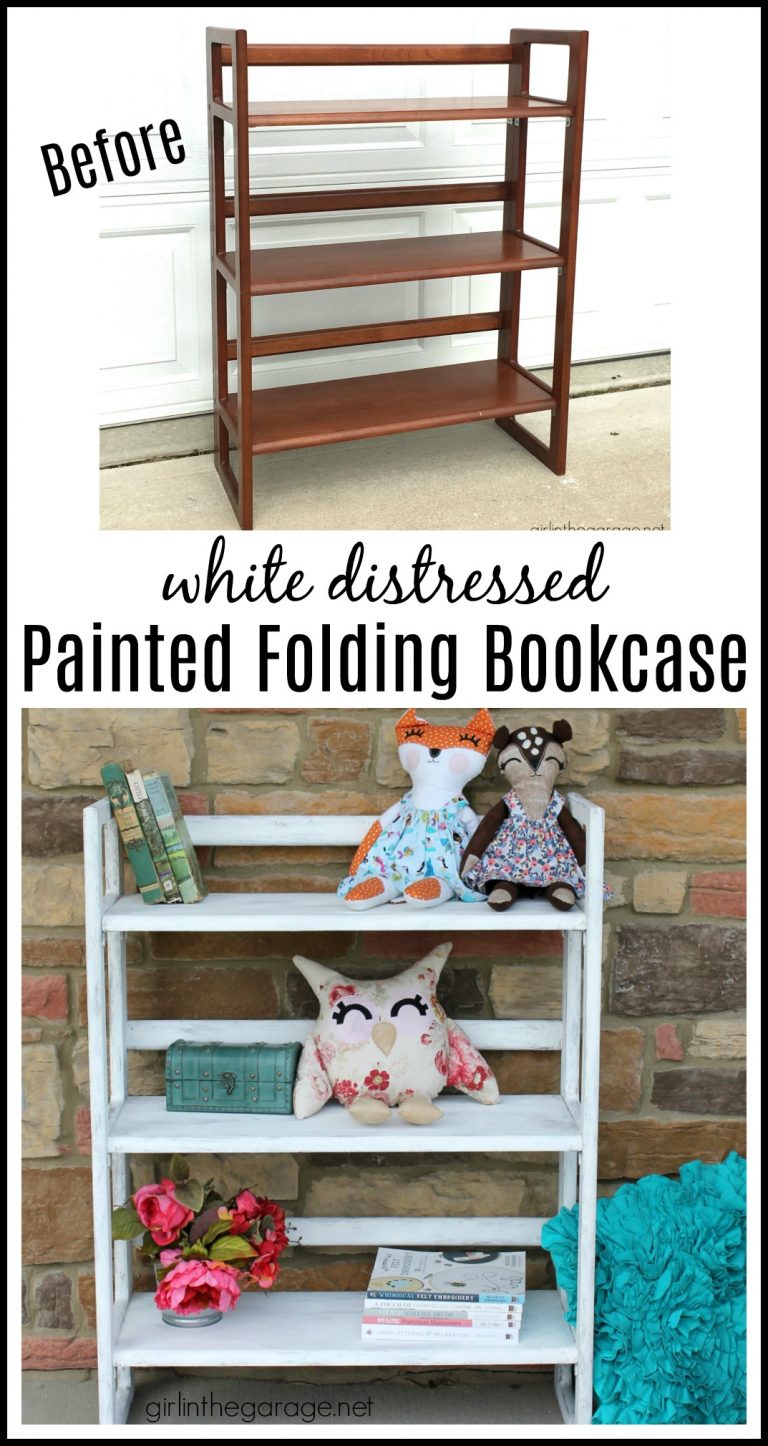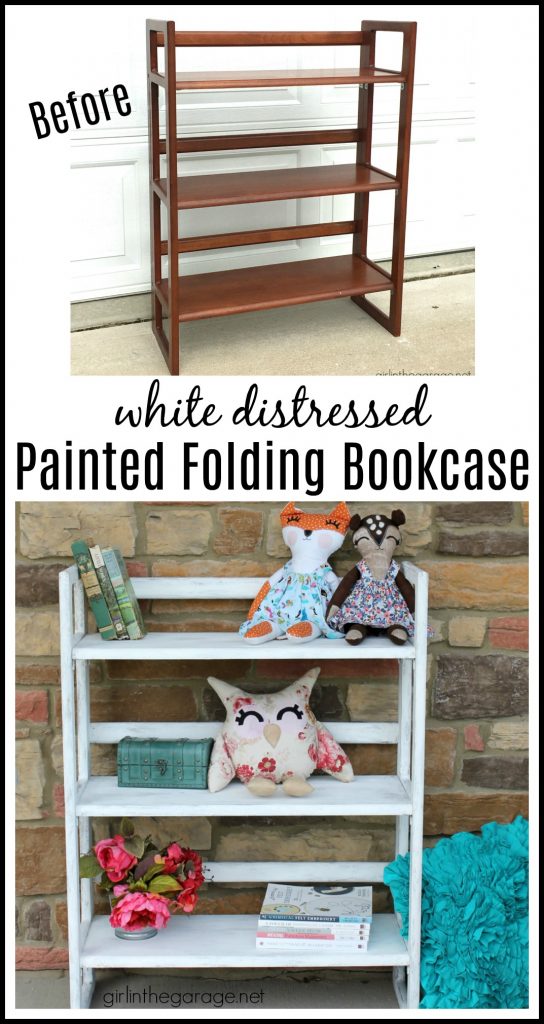 This bookcase is so convenient for craft fairs and market displays. It takes up very little room in the car and sets up in seconds. You can even stack two together if you want. Learn more about this folding bookcase Here.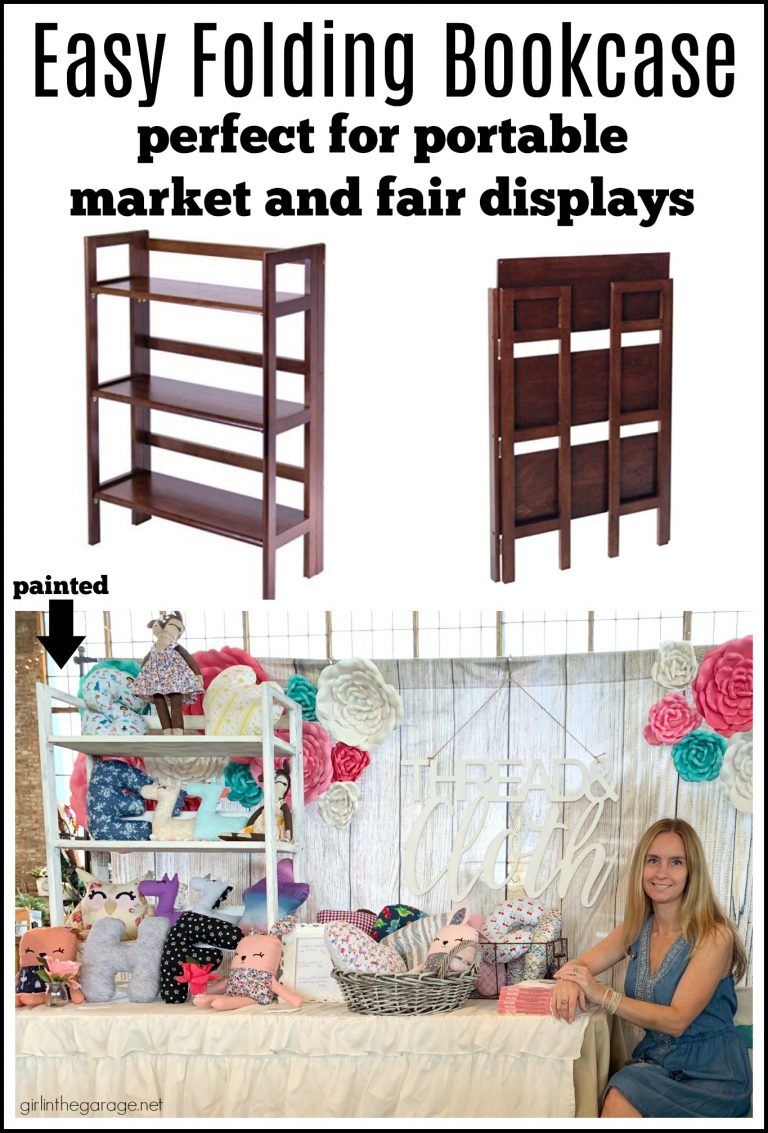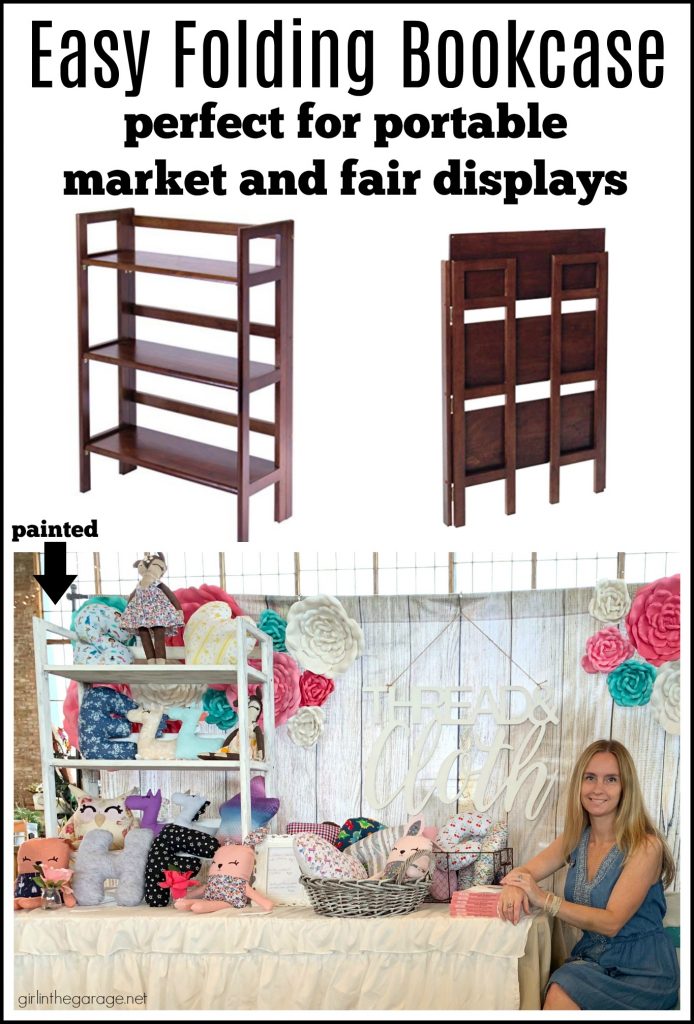 Woot! Now it's time again for Trash to Treasure Tuesday with my creative blogging friends.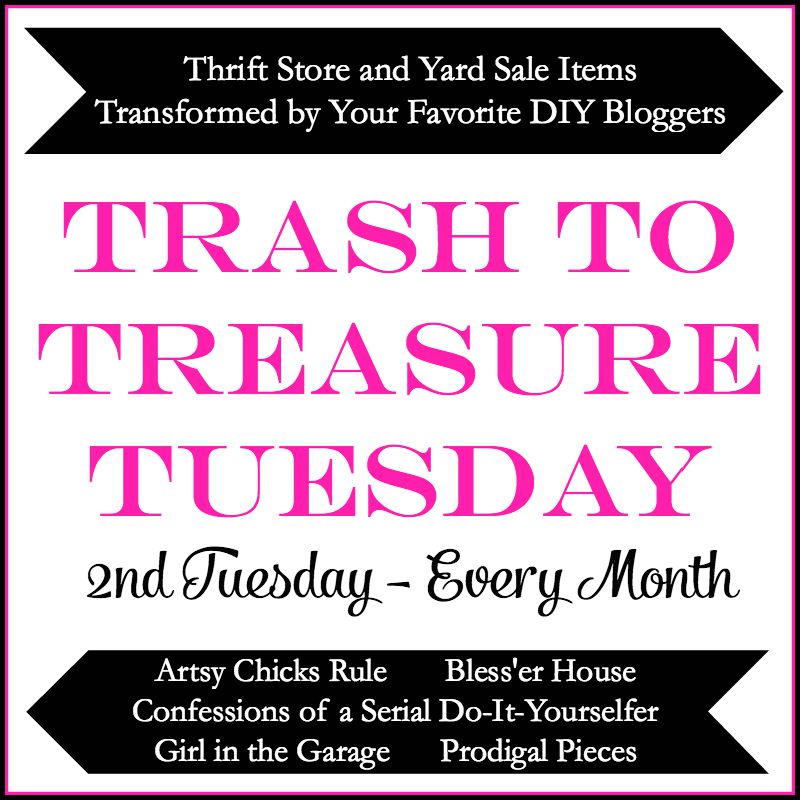 Below are the Before photos – visit the links underneath to see the amazing Afters and learn how they did it: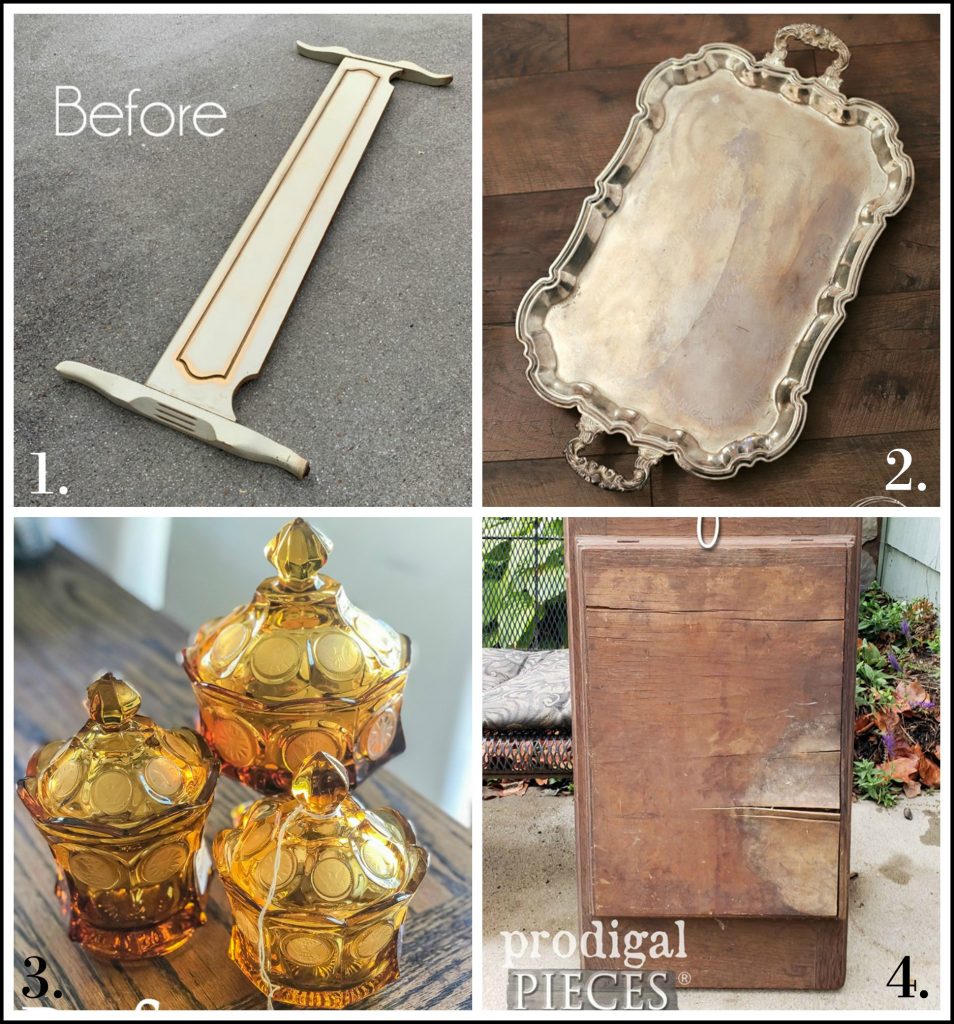 1. Confessions of a Serial DIYer
2. Artsy Chicks Rule
3. Bless'er House
4. Prodigal Pieces
You may also like this related post: Portable Display Ideas for Vintage Markets and Craft Fairs