Hello again, friend! Today I have another repurposed book idea to share with you. In the past I've done a repurposed book cover box, a secret storage book box, and decoupage fabric books to name a few book projects. Today I'll show you how Chalk Painted books (with a stencil!) can be beautiful and easy DIY decor.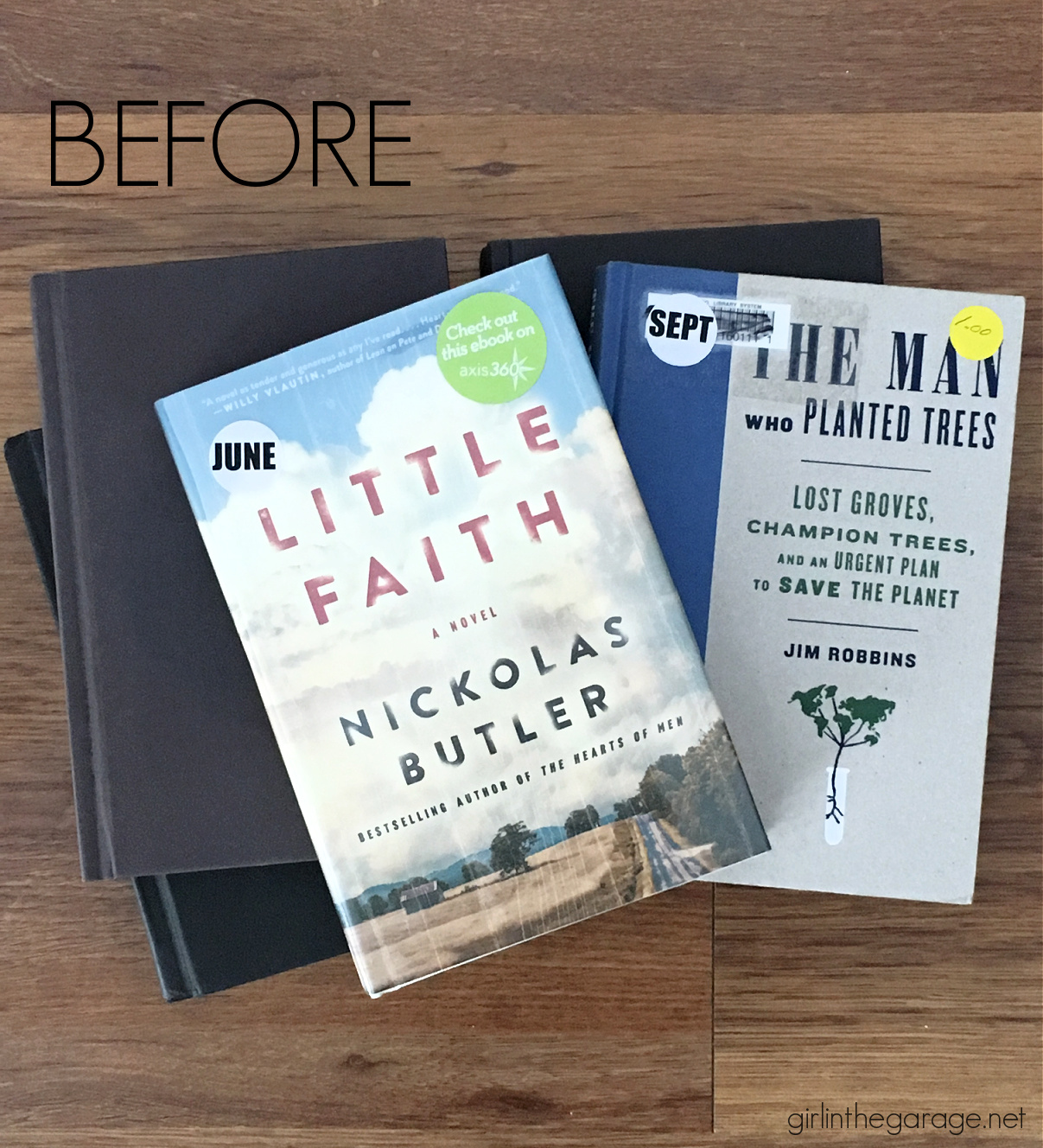 I've also included a short video tutorial so you can see the thrilling action of how to paint books. 🙂
I chose 5 old books from my stash from when I go to yard sales or visit the library sale for discarded books. The books I chose are all the same height and similar thicknesses – you'll see why that matters in just a minute.
**This post contains some affiliate links so you can easily find the products I use and recommend. Discover all my favorite brands and tools for doing DIY makeovers here.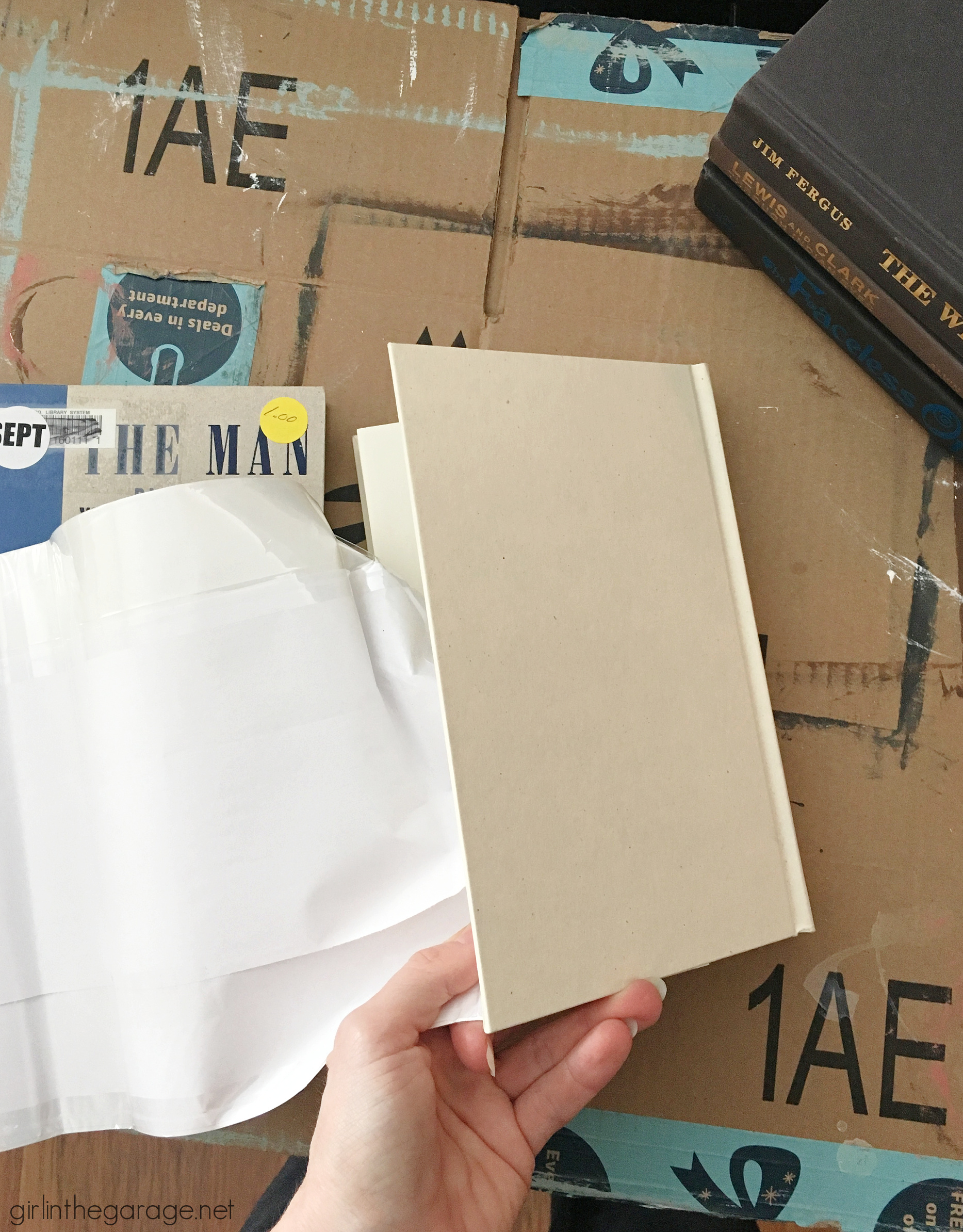 First, remove any paper covers or stickers that may be on the books. Both of the library sale books had stickers to remove.
You'll end up with a book stack like below. (Since I planned to start with a base of white Chalk Paint, I purposely didn't chose any red books which might've looked pink under the white paint.)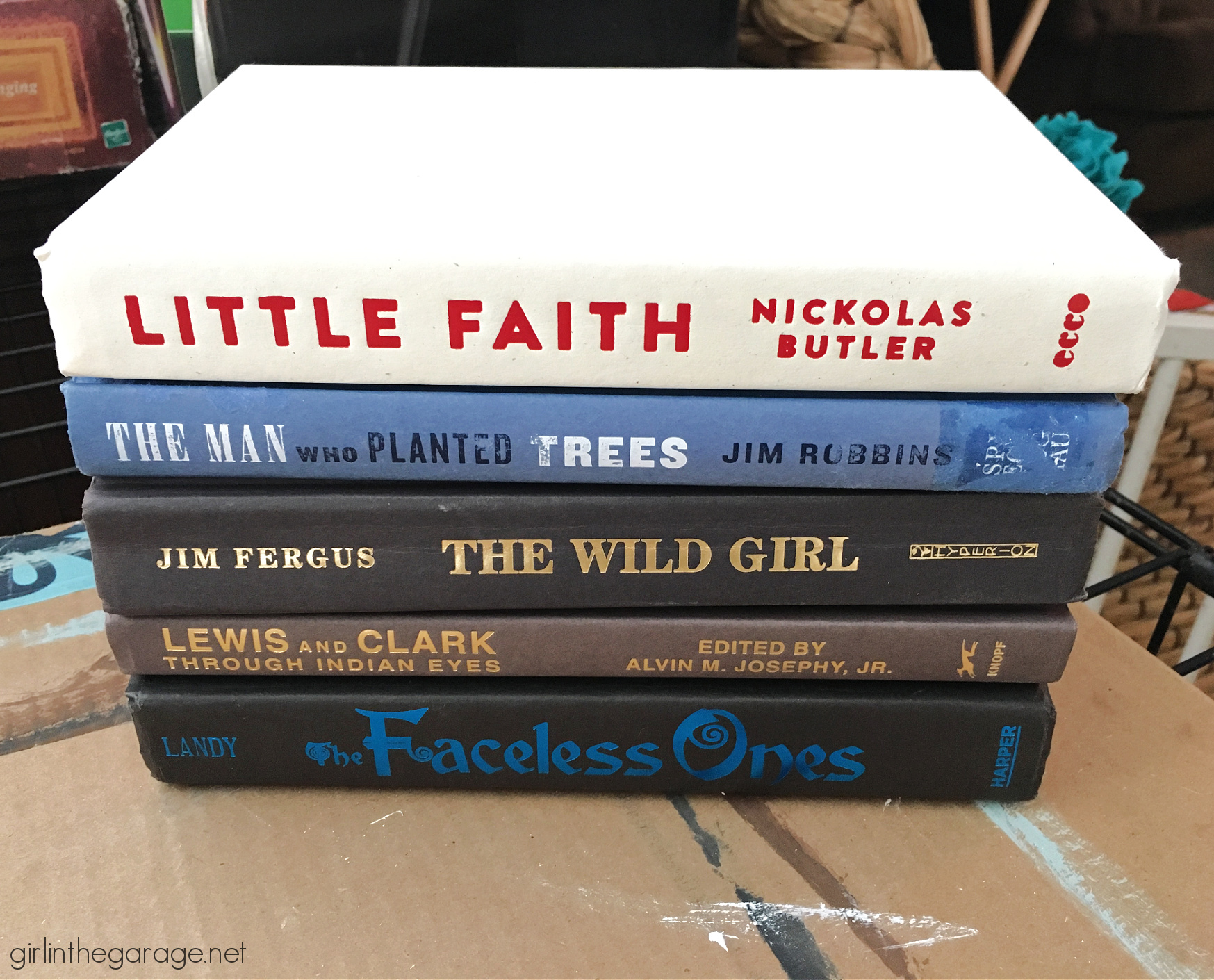 How to Chalk Paint Books
One by one, I started painting the books in Annie Sloan Chalk Paint in Pure White with one of my favorite Purdy paint brushes. Learn how to choose the right paint brush for your DIY project here.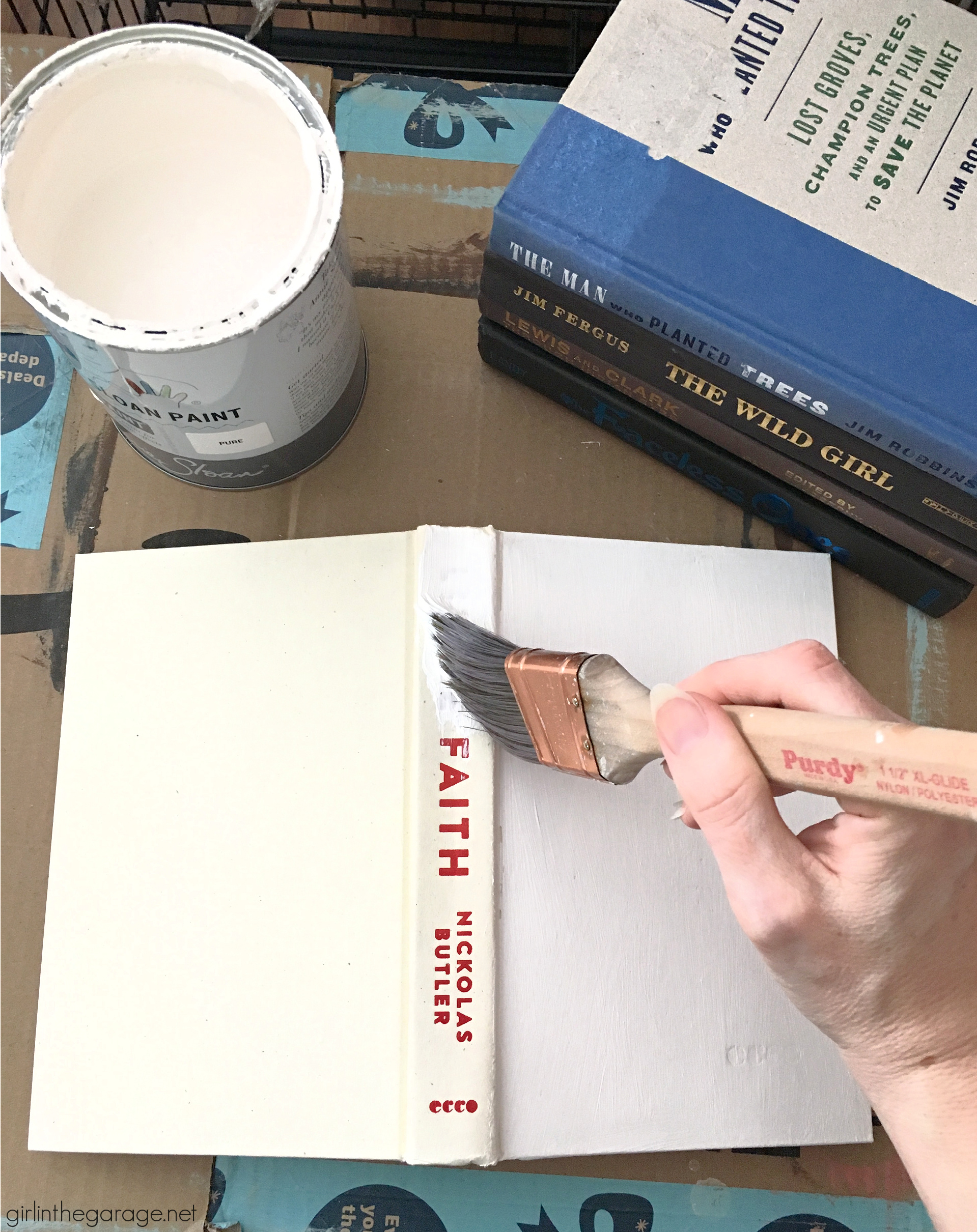 Each book was given 2 coats and then left to dry overnight. In total, they got about 3-4 coats each, focusing more on the spine which would be the most visible when the project is finished.
Chalk Paint is quite thick, so it gives a nice simple texture and covers the lettering up pretty well.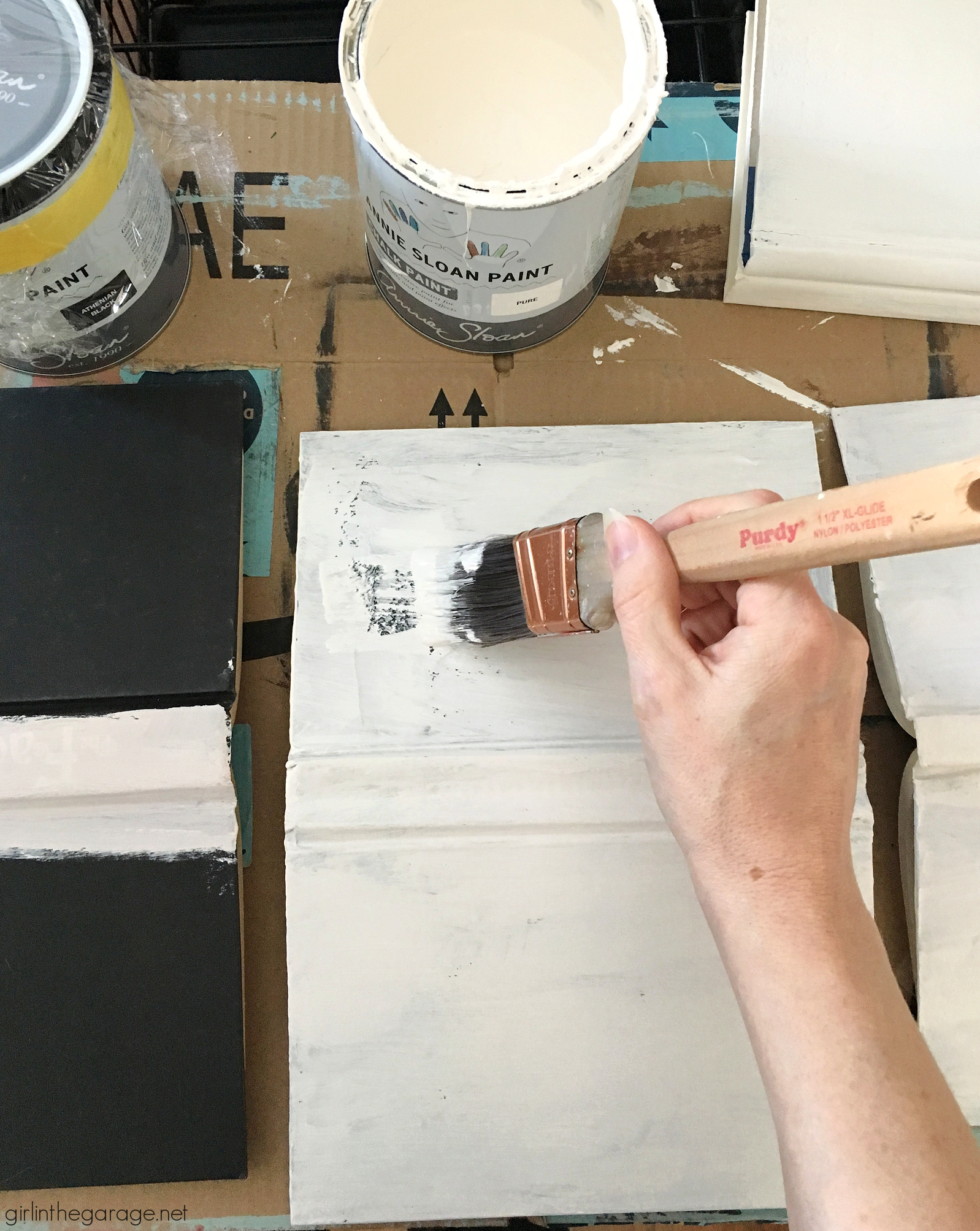 How to Stencil Painted Books for DIY Decor
Next it's time to make these Chalk Painted books a little more exciting. I turned the books upside down so the spines were all aligned and also made sure the bottoms were aligned, then used two large clamps to secure them together tightly. Then I flipped the painted book stack over which you can see below.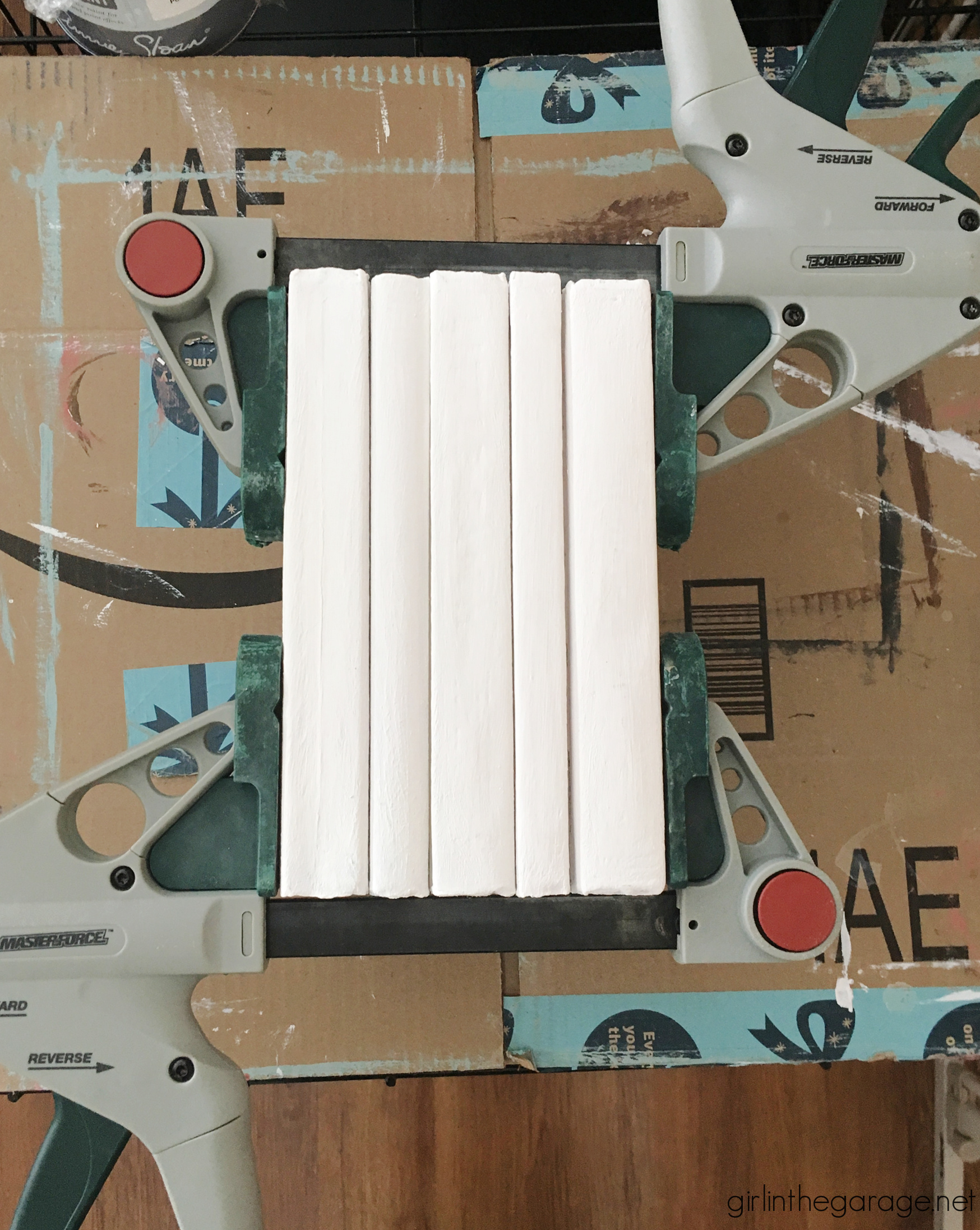 Since three of the books were a little thicker, you can see I had placed them every-other in a pattern for aesthetics.
I chose 5 books because I knew the stencil would need to fit all the way across. I've used this bee stencil before and I adore it! You can find it here to get your own.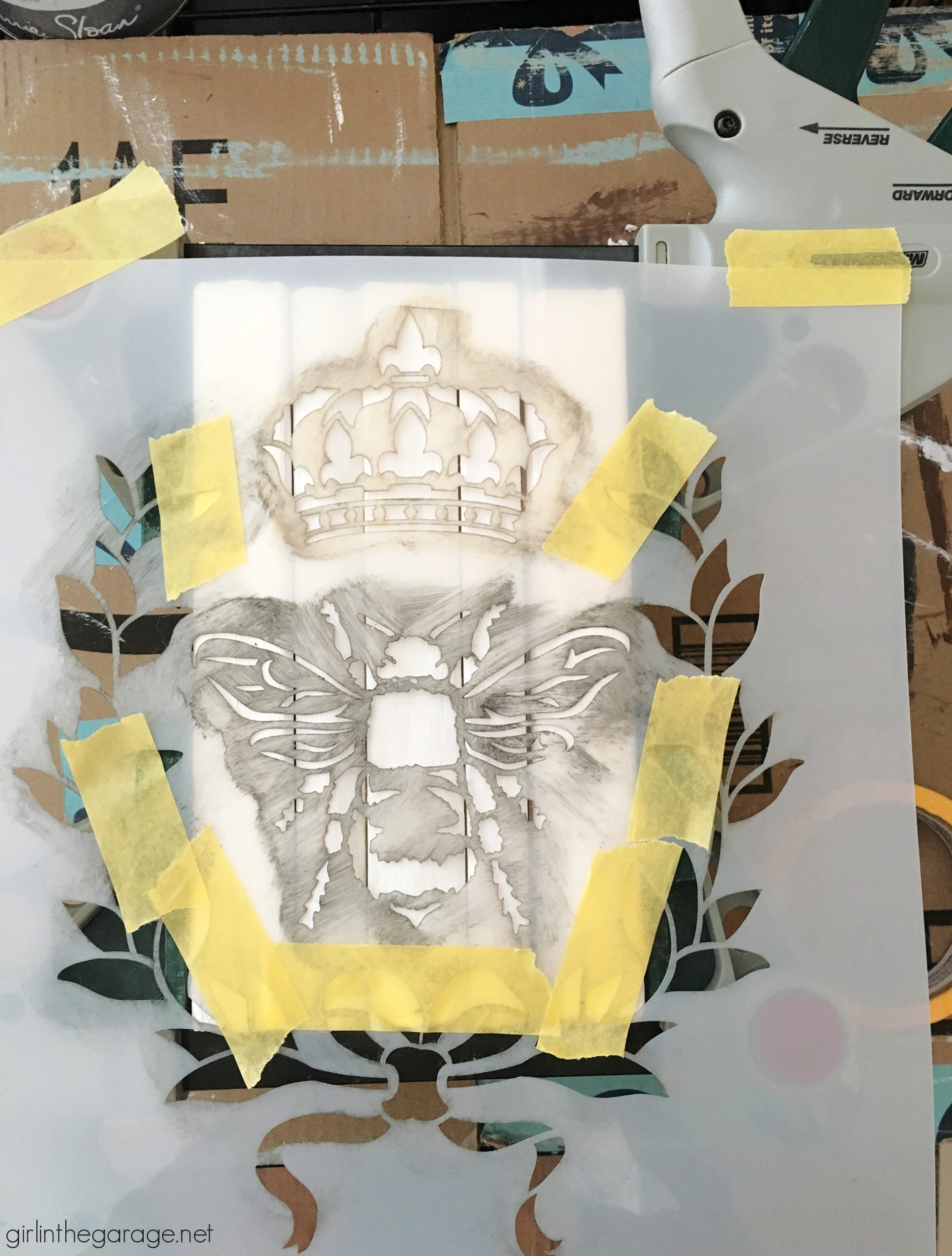 I secured the stencil with FrogTape anywhere I could – onto the clamps and even directly through the holes where I wasn't going to use that part of the stencil.
For the crown I chose gold metallic paint and used my favorite foam pouncers for stenciling the painted books. (These pouncers are inexpensive and make stenciling so much easier! Find them here.)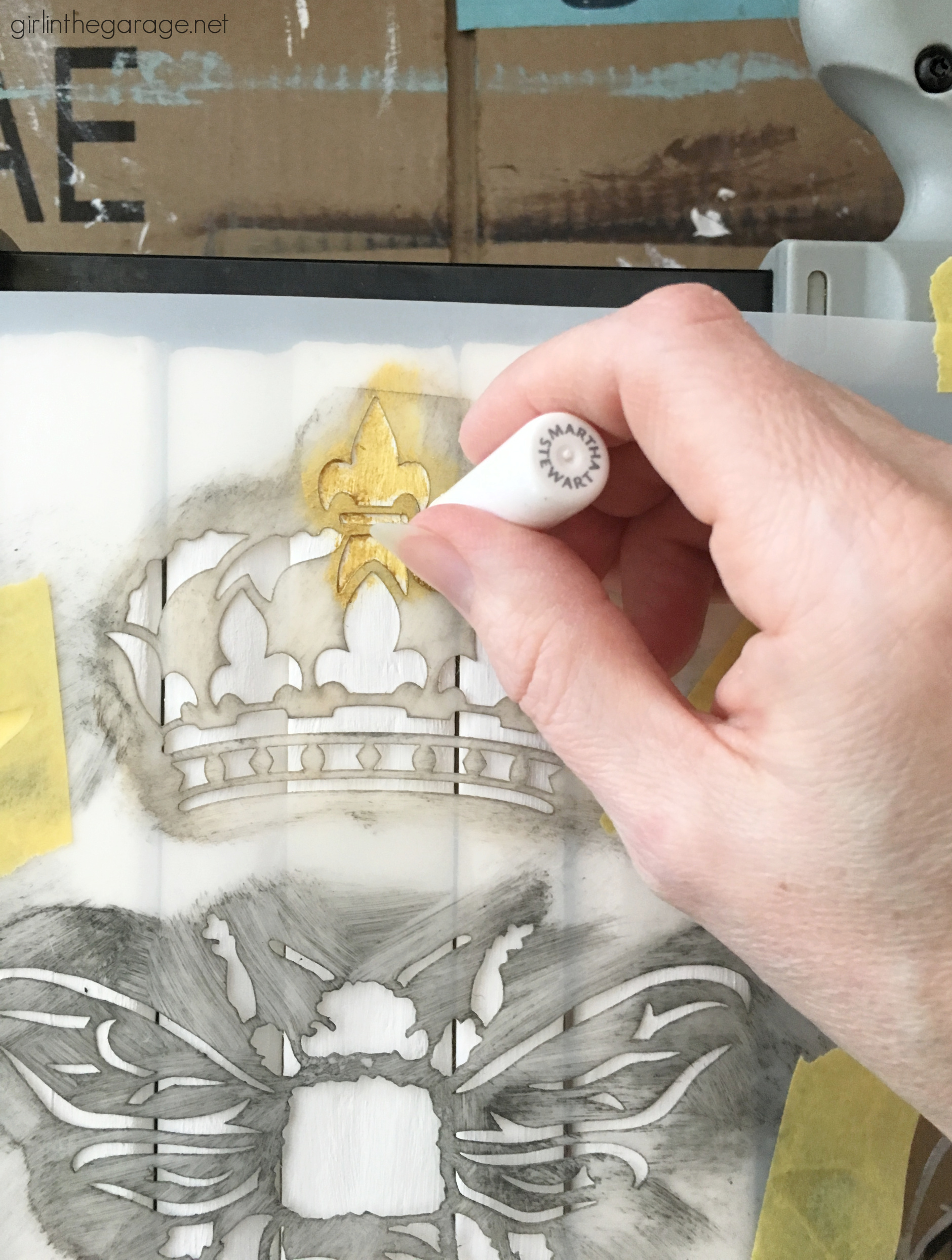 Make sure to blot the pouncer on a paper towel to remove excess paint before rubbing on the stencil.
For the bee, I used Annie Sloan Chalk Paint in Athenian Black and used a larger pouncer from my set. (Did you see the Ethan Allen nightstand I painted in Athenian Black last week? It turned out so chic! Now that I think of it, it also has white and gold…hmmm)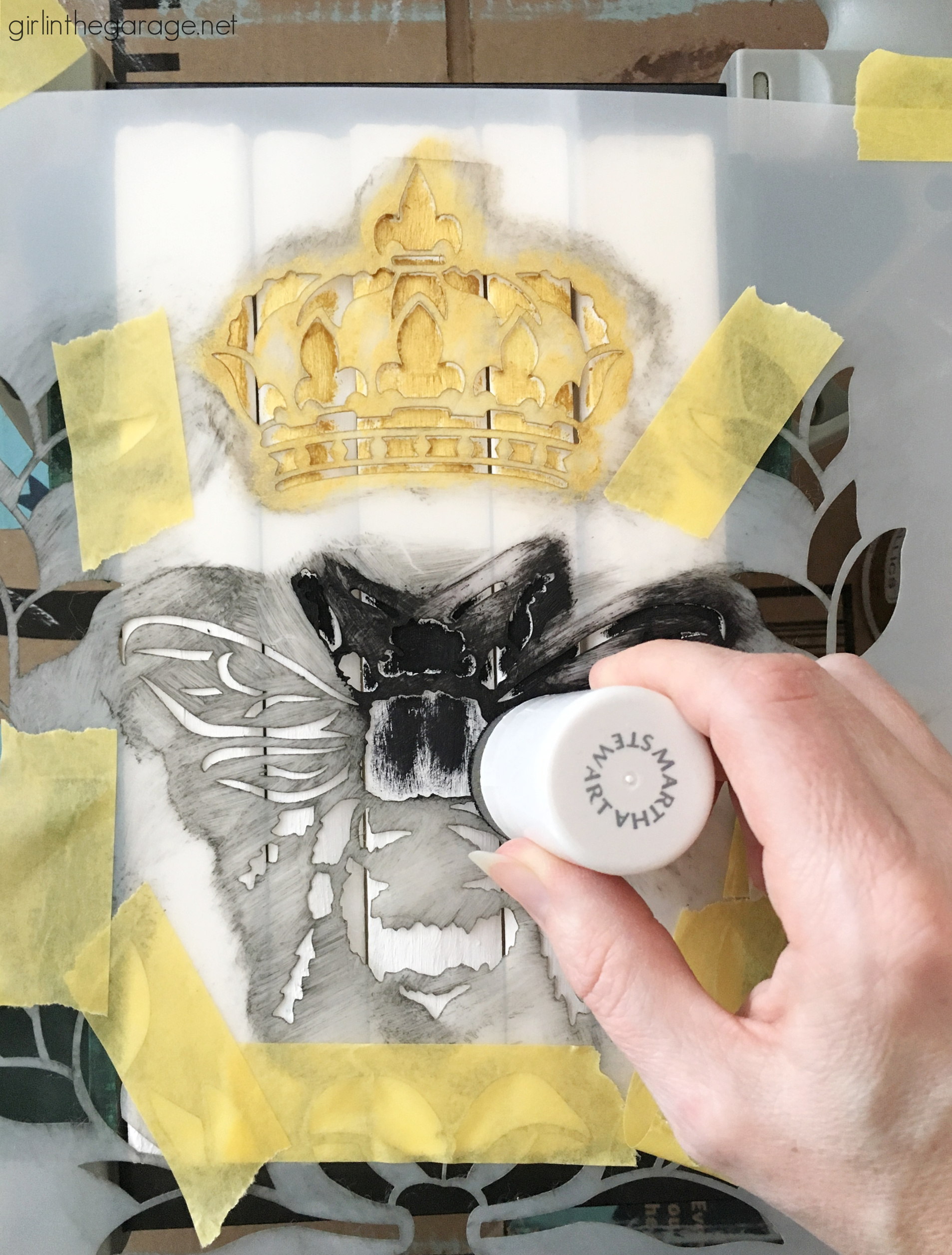 If your book spines are curved like a few of mine are, you may have to use a small artist's brush to fill in gaps from stenciling. (A thin Sharpie works great for tight areas too.)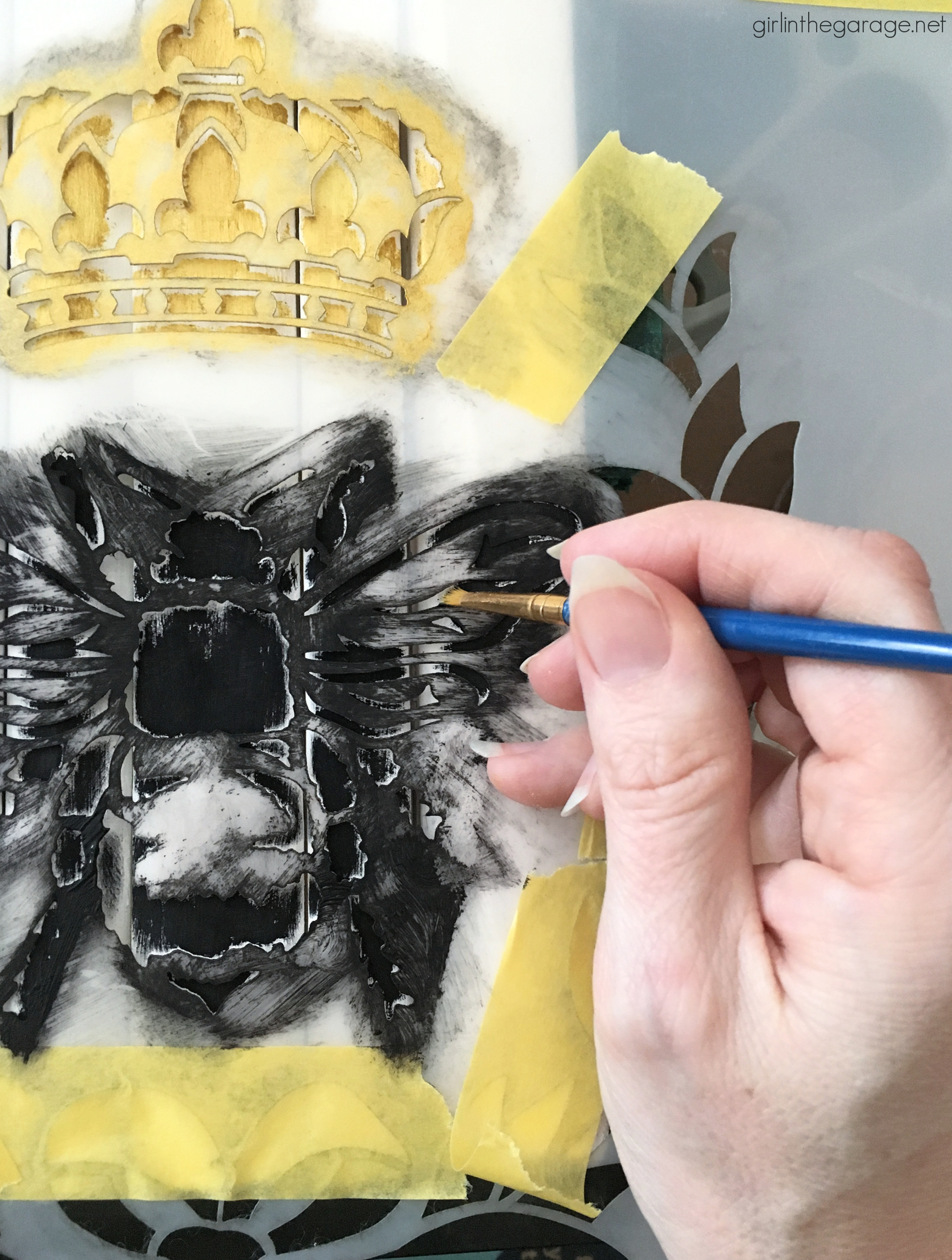 Carefully remove the tape and the stencil. Let the paint dry and lightly sand if desired – no need for a topcoat. Then you're all finished!
Your Chalk Painted books with decorative stencil will look something like this…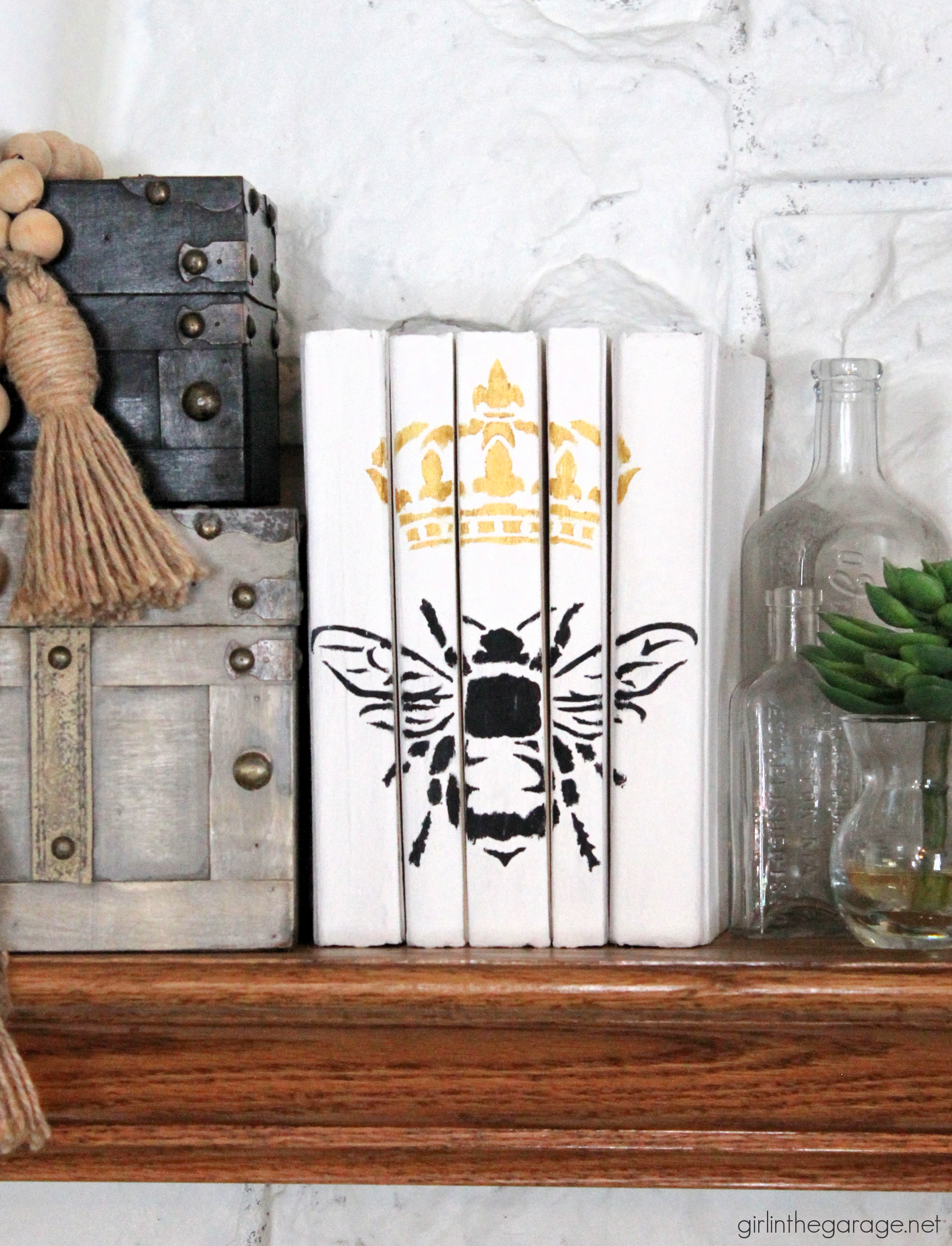 I think it turned out really cute! And now I have even more ideas for painting old books for easy decor.
P.S. Learn all about how I painted my stone fireplace white here.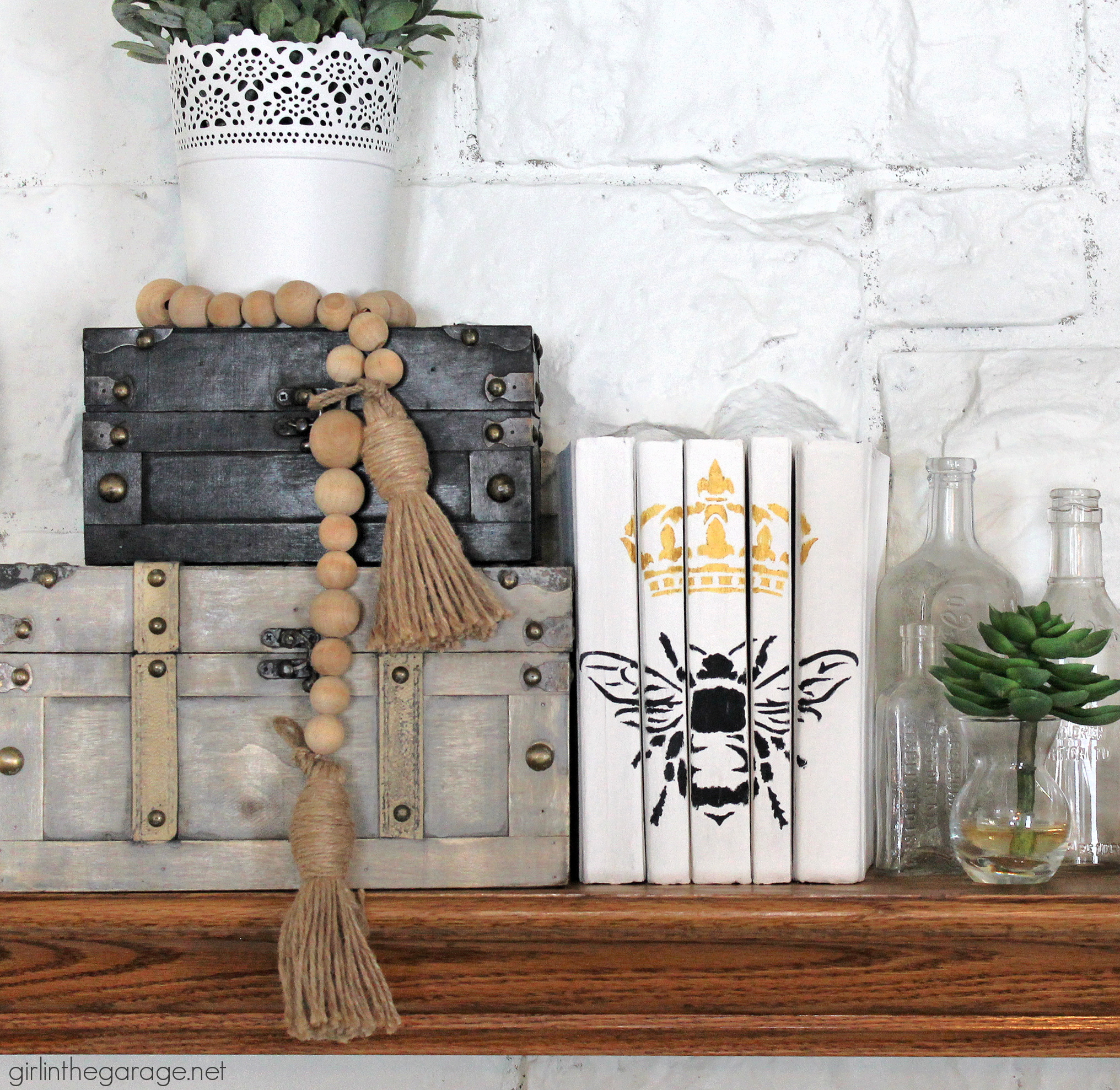 Did you know you can Chalk Paint books – or have you thought of stenciling books? It's both budget friendly and simple to create this kind of DIY home decor.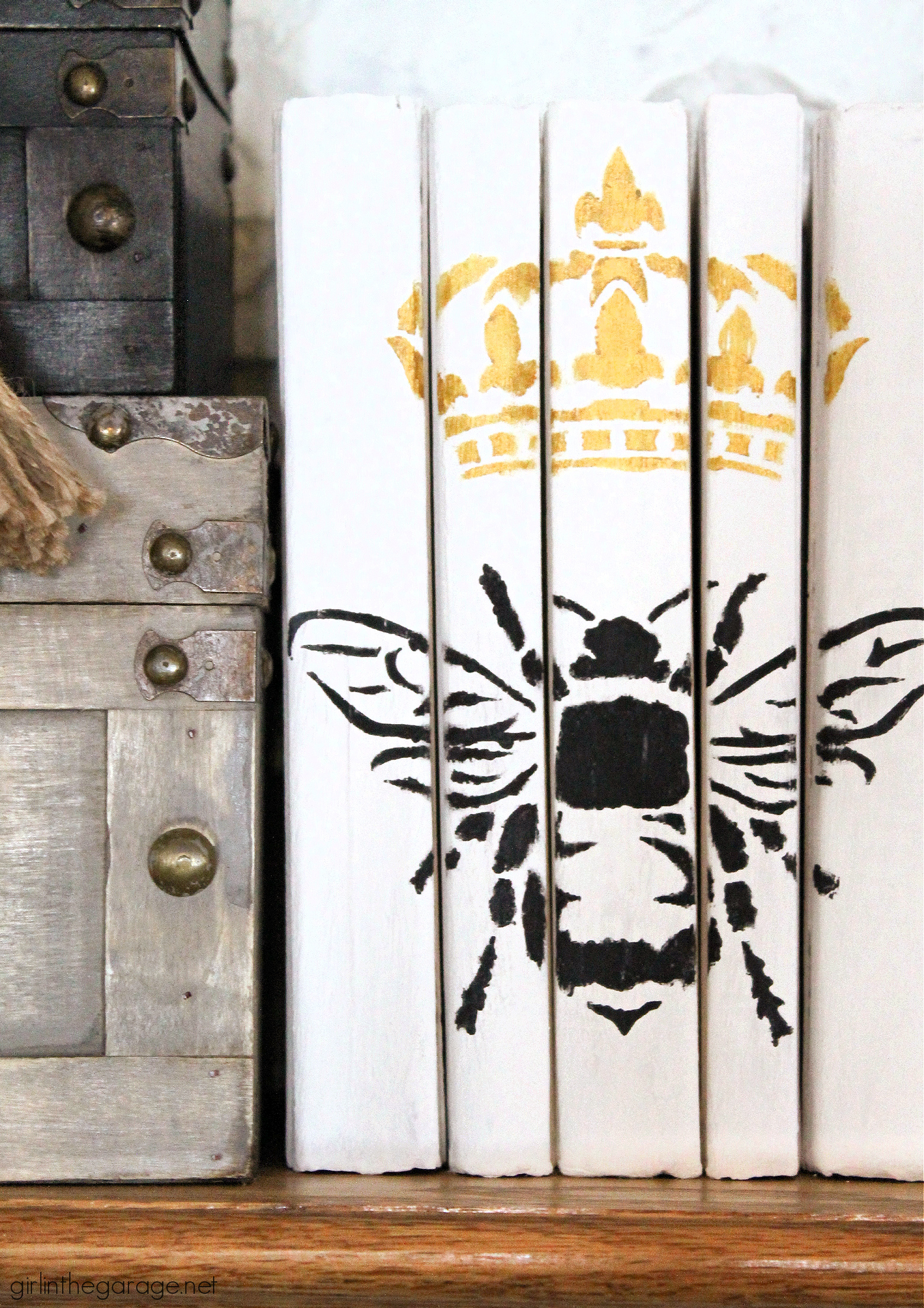 Here's a reminder of the before and after – feel free to save this project or Pin it for easy reference later.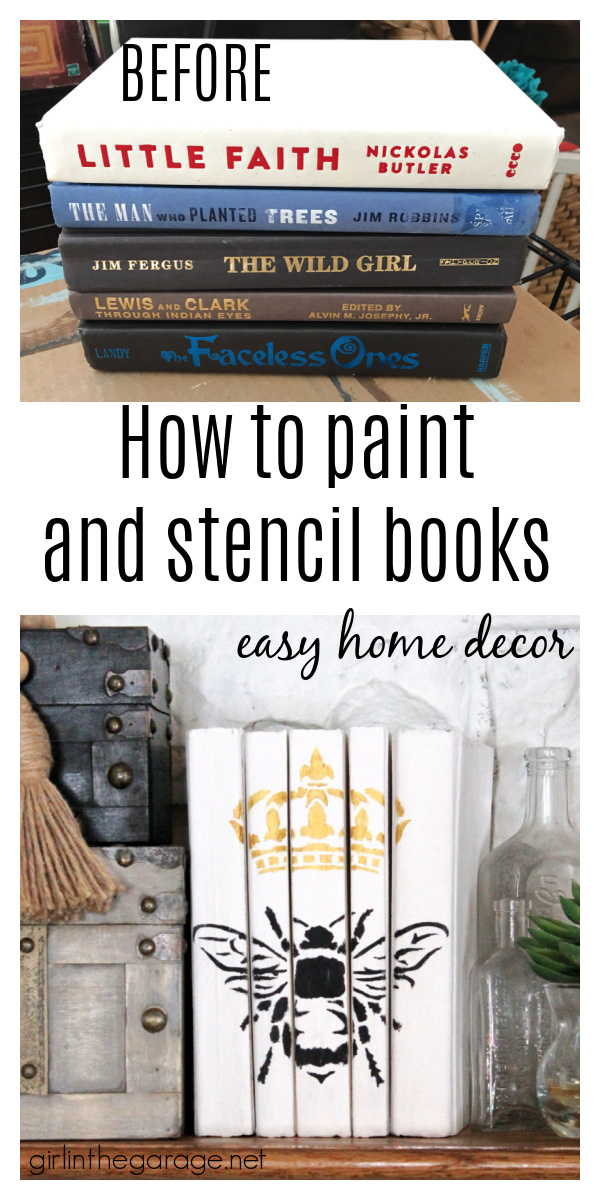 *You can also find many more of my DIY home decor project ideas here.
Now it's Trash to Treasure time with my friends! Be inspired by their amazing projects. Below are the Before photos – visit the links underneath to see the creative Afters and to learn how they did it: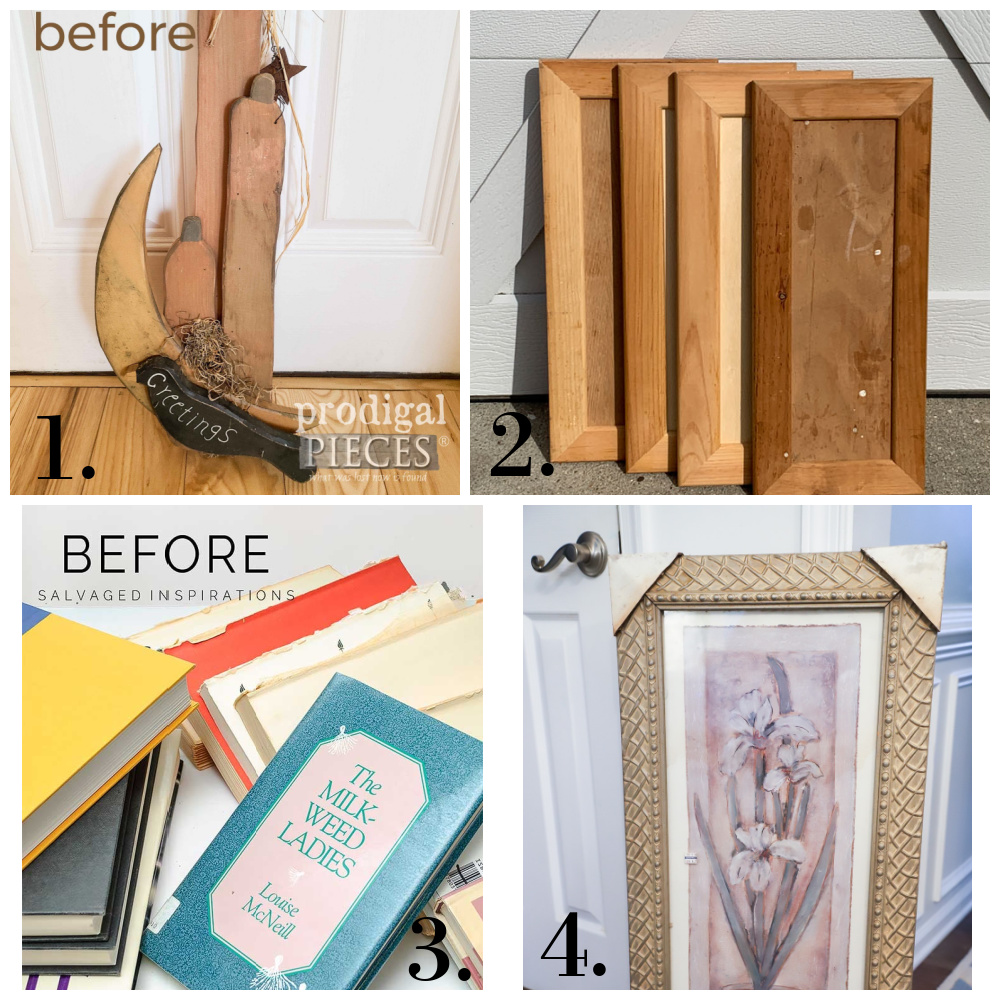 1. Prodigal Pieces
2. Confessions of a Serial DIYer
3. Salvaged Inspirations
4. Artsy Chicks Rule
Learn all about How to Chalk Paint Furniture in this Beginner's Guide to Chalk Painting: