You guys – I painted our stone fireplace white!
We purchased this house new, and we've been here 9+ years now. Because it was new, I felt a little guilty thinking about changing some of the permanent fixtures like this fireplace. We actually did get to choose the type/color of stone, but I've always wished it wasn't stone at all – plus it's a little awkward being in the corner of the living room.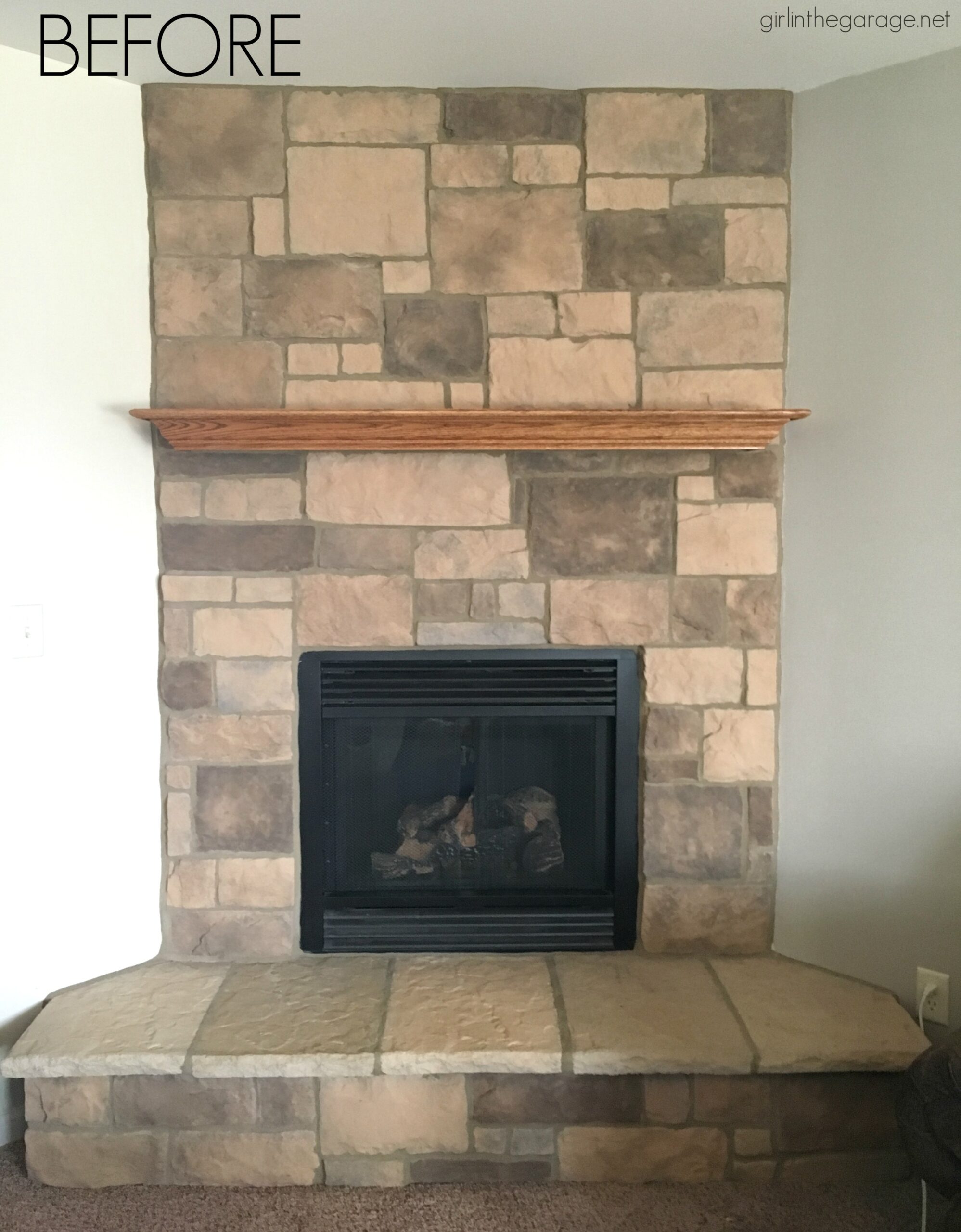 Plus – this room is usually quite dark. Mr. GITG loves that it's easy to relax in here, but sometimes I feel like I'm in a cave. The brown fireplace definitely doesn't help.
UGG did I mention I painted the entire fireplace two different colors in two days? Stay tuned, folks… (plus there's a video and a giveaway!)
This stone is very textured and has some jagged areas. The first thing I did was wipe it all down with a damp cloth, which loosened some tiny pieces of rock.

After wiping, I sucked up all the little pieces with my handheld vacuum. That's all the prep work I did as far as cleaning.

The mantel is staying brown and is not removable, so I covered it with brown paper and tape so I wouldn't drop any paint on it.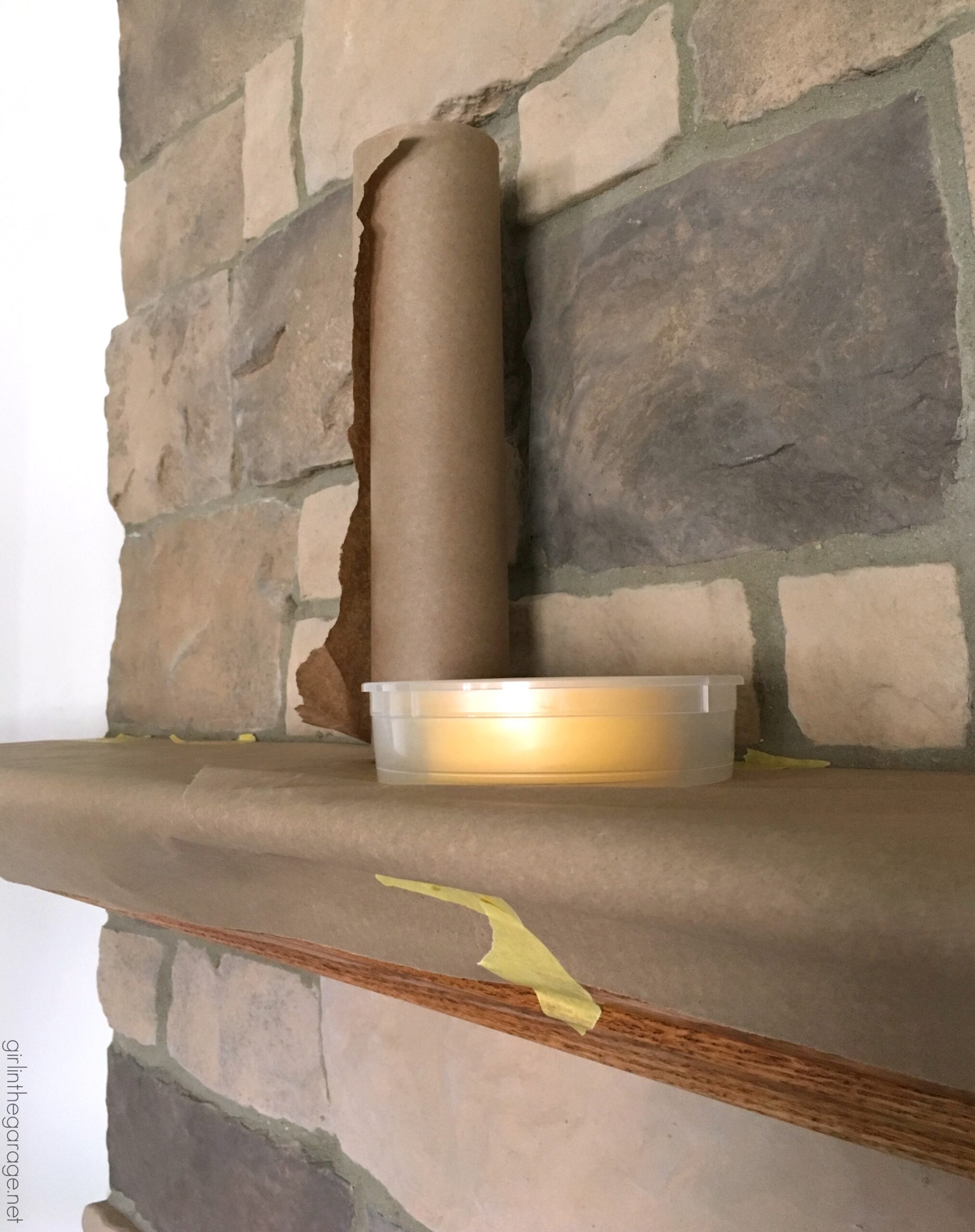 I chose Purdy products for painting my stone fireplace. You guys already know I've been using Purdy brushes for years, and I'm proud to have them sponsor this project.
Here are a few reasons I prefer Purdy:
They've been a trusted American company for almost 100 years.

All of their brushes are handcrafted by craftspeople and "signed" on a sticker by the person who made it.

Purdy products are highly recommended by both professional painters and DIYers.

They are really well made. In my experience, they can last forever if you care for them properly.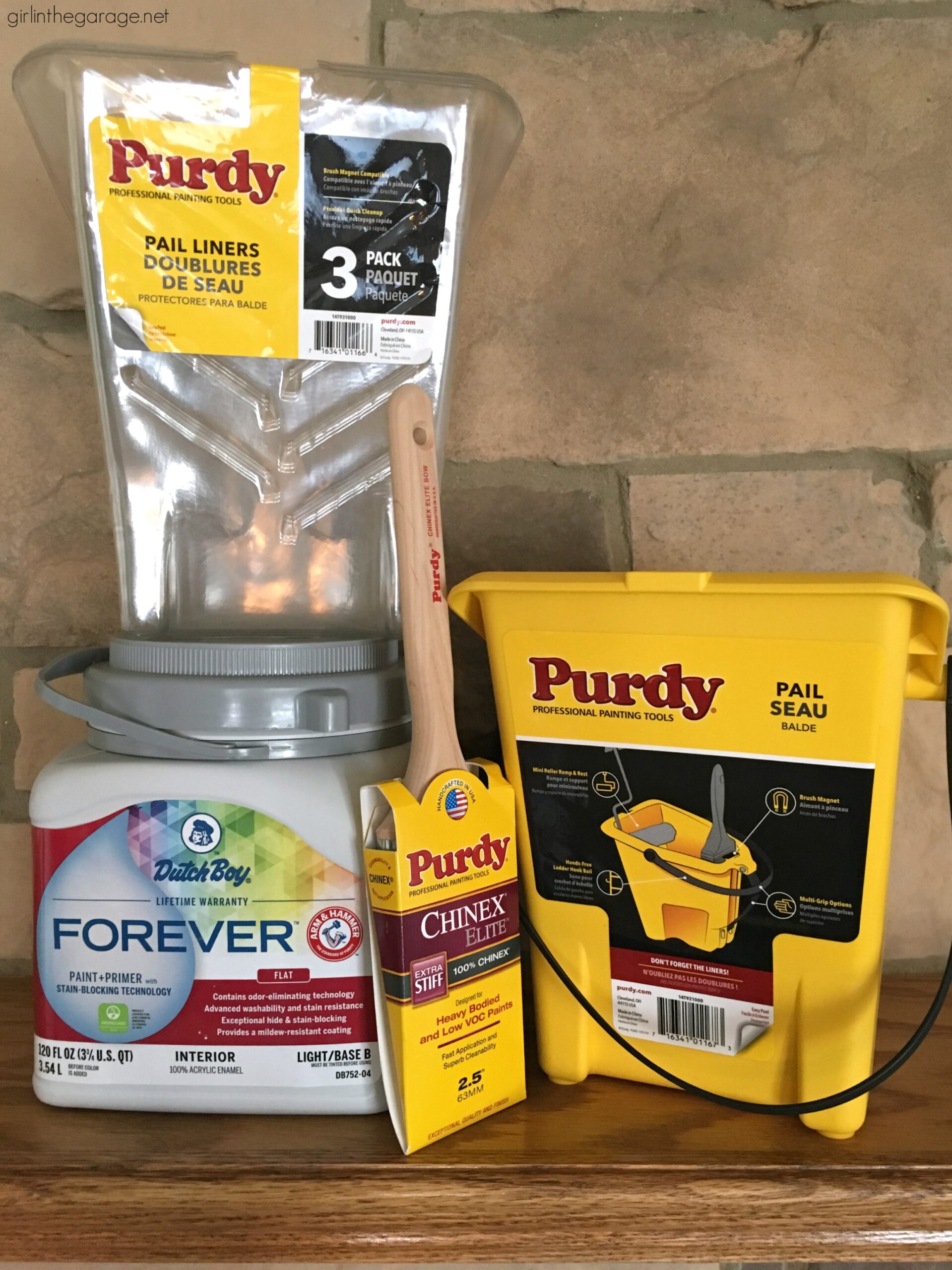 Products used to paint the stone fireplace:
Purdy Chinex Elite Bow brush – Great for rough or textured surfaces like brick, stone, or concrete. The extra-stiff bristles are more durable and are preflagged to hold more paint and apply it more smoothly.

Purdy Pail – This little bucket is both helpful and clever. It holds a Pail Liner for easy cleanup. It has two different handles to help ease hand fatigue. AND there is a magnet on the inside of the pail to hold your brush out of the paint if you need to take a break. (So cool!)

For my paint, I chose Dutch Boy Forever in Seafoam White (flat). But hold on because that's not the color I ended up sticking with…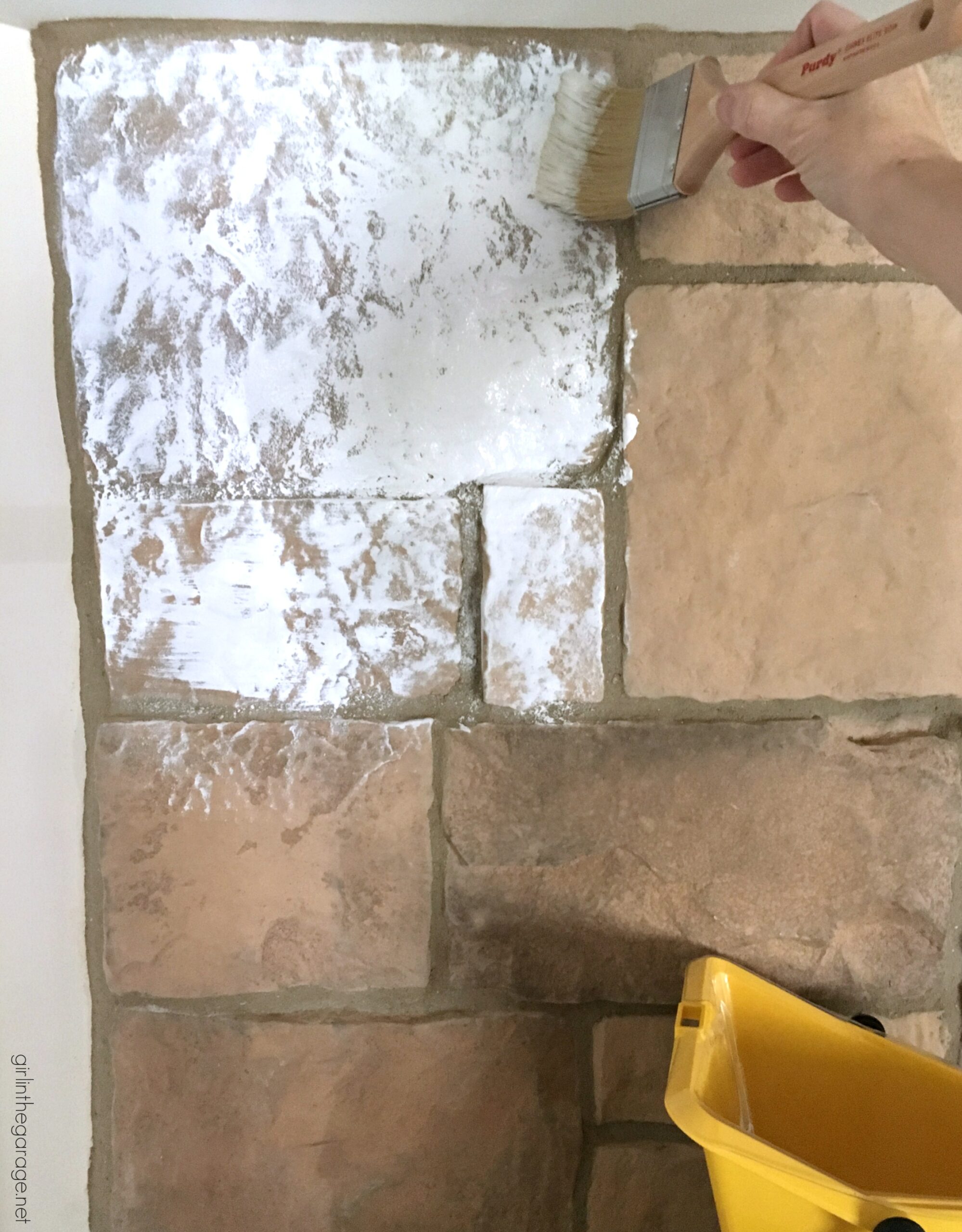 The idea of painting the fireplace white made me nervous. As I said, there wasn't anything wrong with the stone, it just wasn't my style anymore. And I really wanted to brighten up the living room.
That first time I touched the brush to the stone my heart skipped a beat! But I knew the vision in my mind for the end.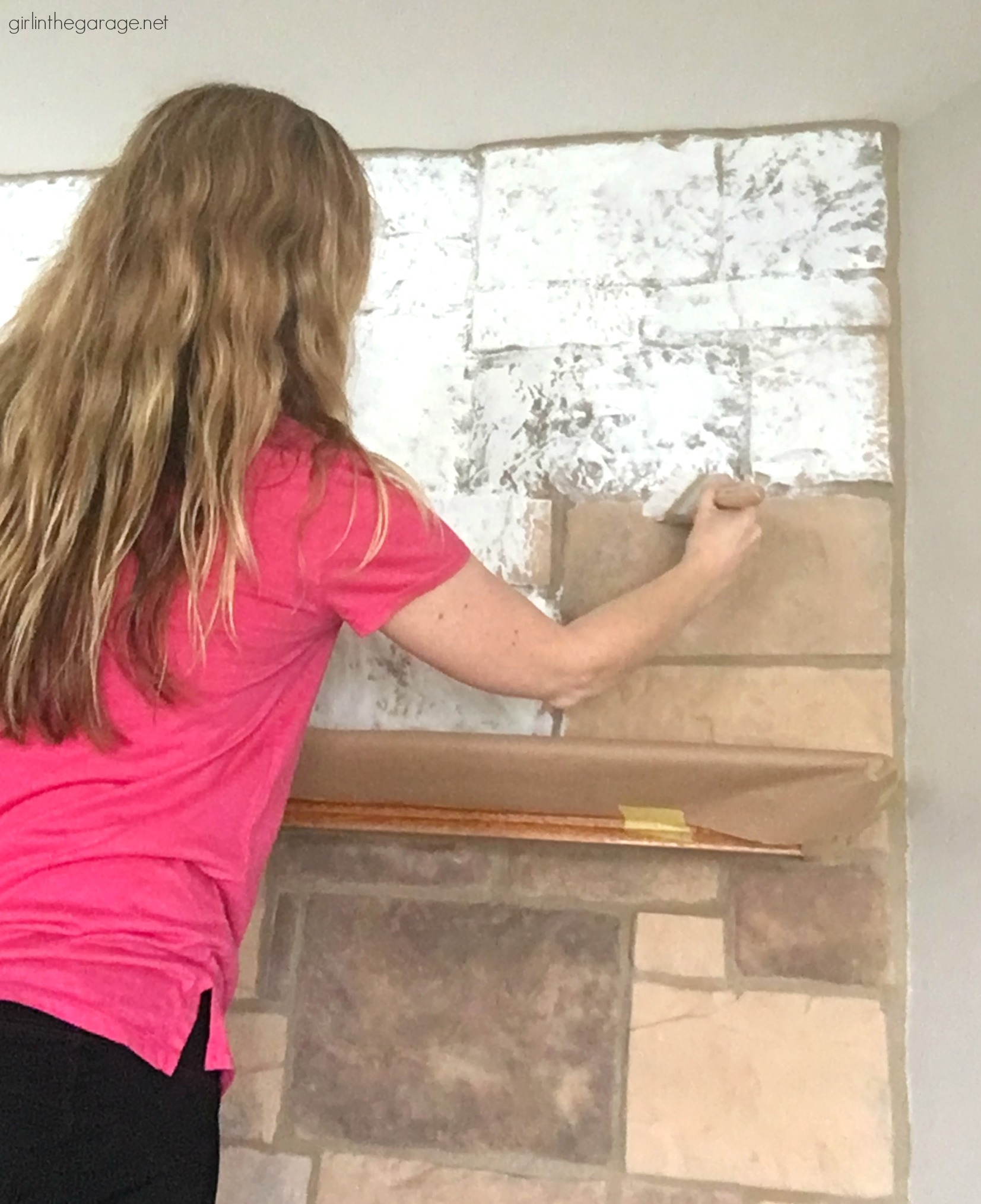 When you're painting a really rough and textured surface, get a decent amount of paint on your brush and then make sure to apply it in every direction. I was a little light on my first coat because I didn't want 100% of the stone to be covered – I wanted some small areas darker to show variation.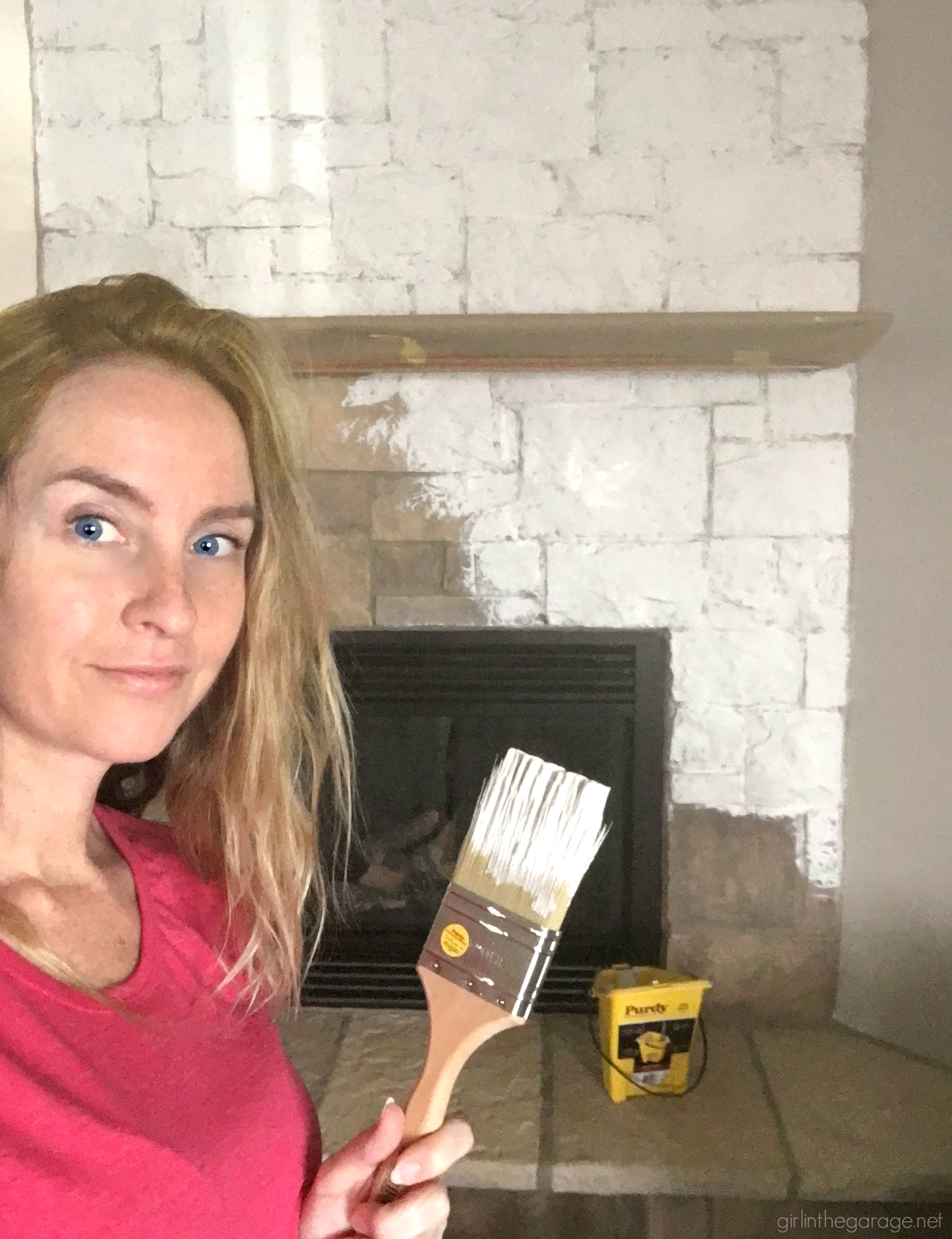 I started painting about 11am one day and finished around 4pm. All I had left was some touch-ups and the edges near the walls and floor.
Here's another neat Purdy tool: the Brush and Roller Cleaner. Use it when you're washing your brush to help loosen the paint and keep the bristles nice and straight. The curved area is to clean roller covers.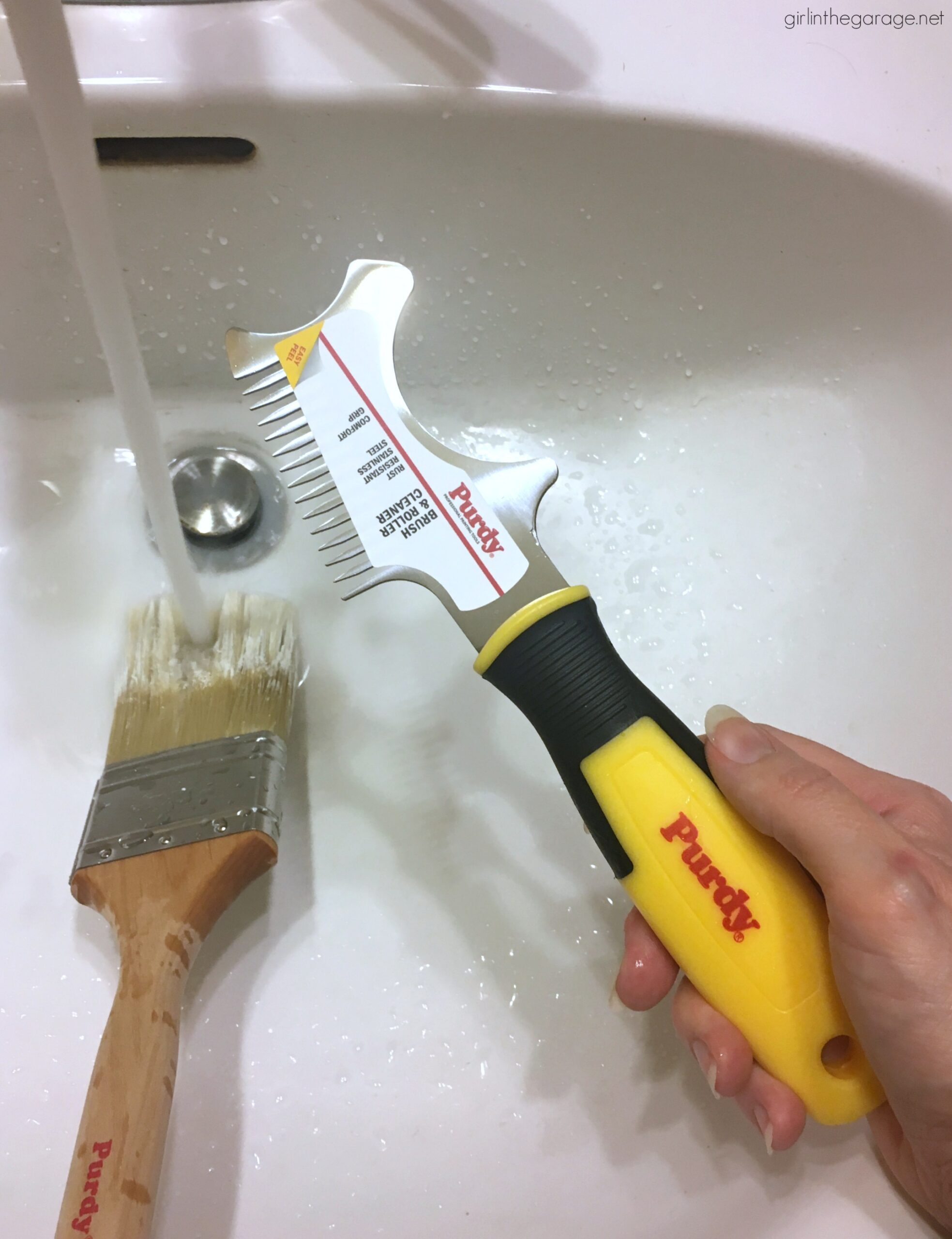 After that first coat of Seafoam White was finished, below is what it looked like. It may be hard to see the coloring perfectly here but it was definitely more of a white-gray than white, and not what I planned.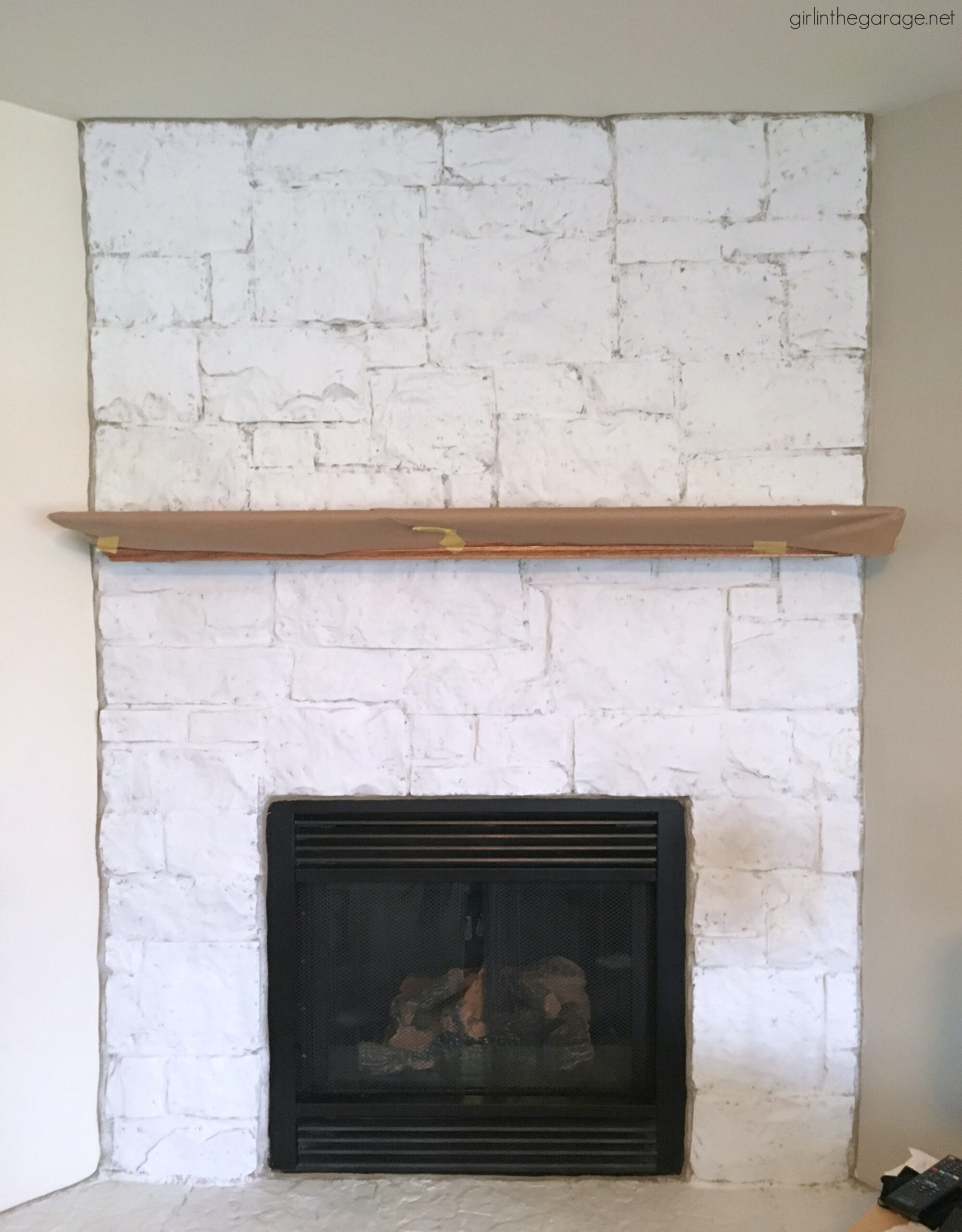 Being the stubborn person I am, the next day I found leftover Alabaster white paint from when I painted our basement a few years ago. This is HGTV Home by Sherwin Williams in eggshell. Then I pulled out the Purdy Pail and Chinex Elite Bow brush again (see how clean it is after using it the day before?).

Below you can see the top half with Alabaster (still wet) compared to the Seafoam White on bottom. The top is a softer, warmer white while the bottom is more stark and cold.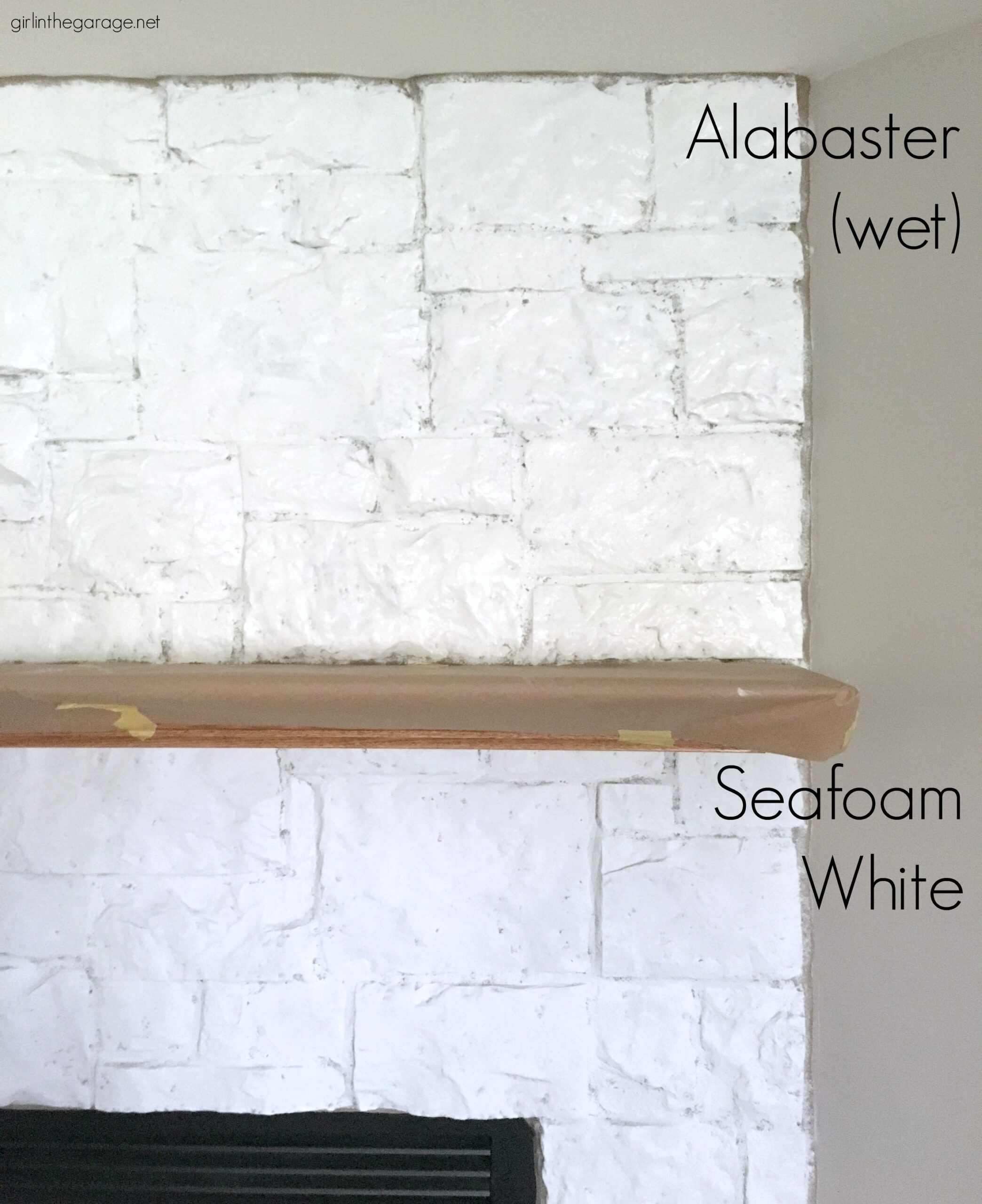 The second day, painting went much quicker since it already had a base coat. It only took a few hours that day.
Here is the final look… (FYI Next year we plan to replace the carpet with wood floors.)

It took a day to get used to just because it's so different than before, but I really love how it brightens up the whole room!
(P.S. The hand painted sign on the mantel was made by my friend at Three Mango Seeds.)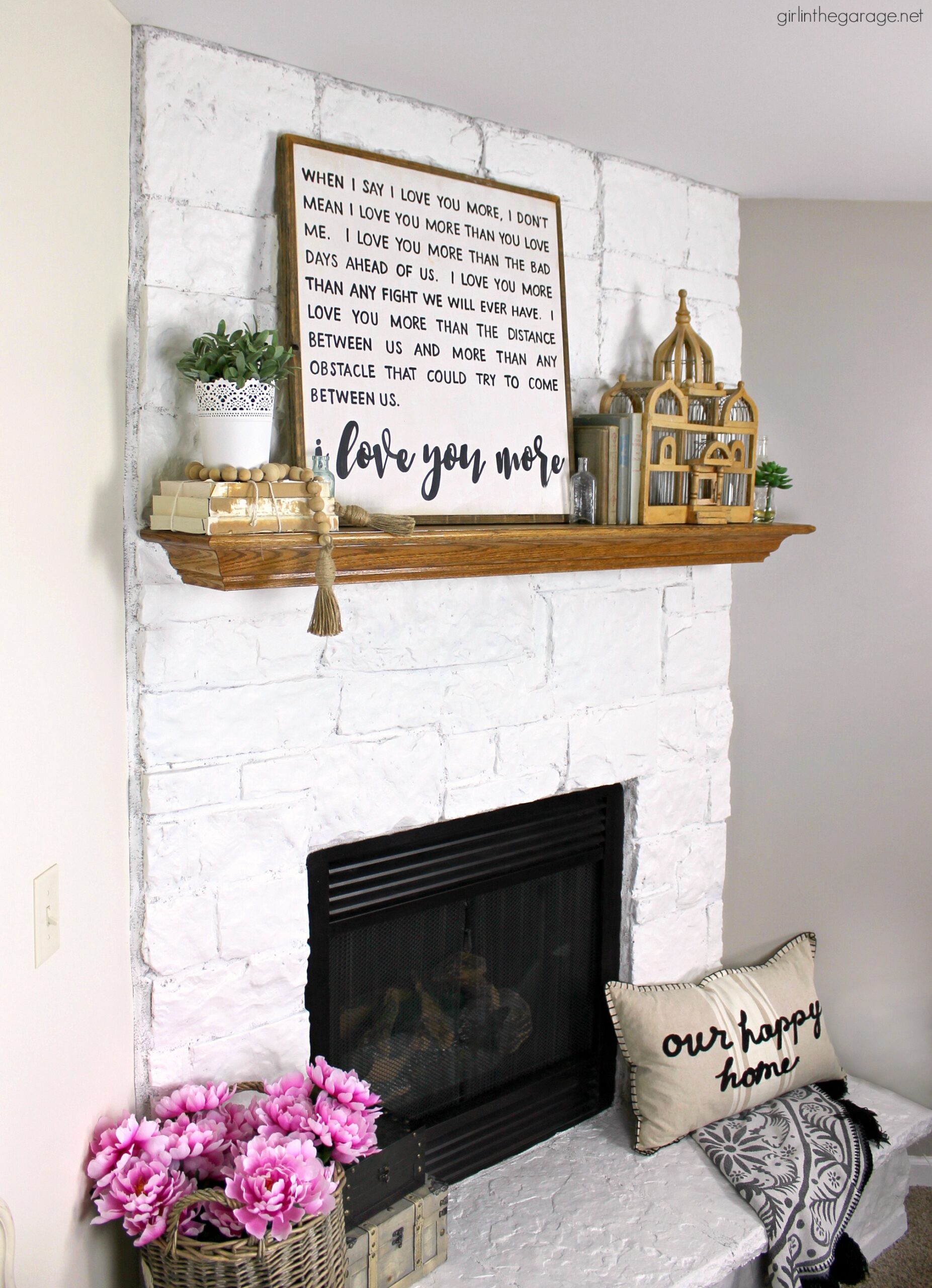 Plus it's more versatile and updated for today's style trends – although still a timeless look.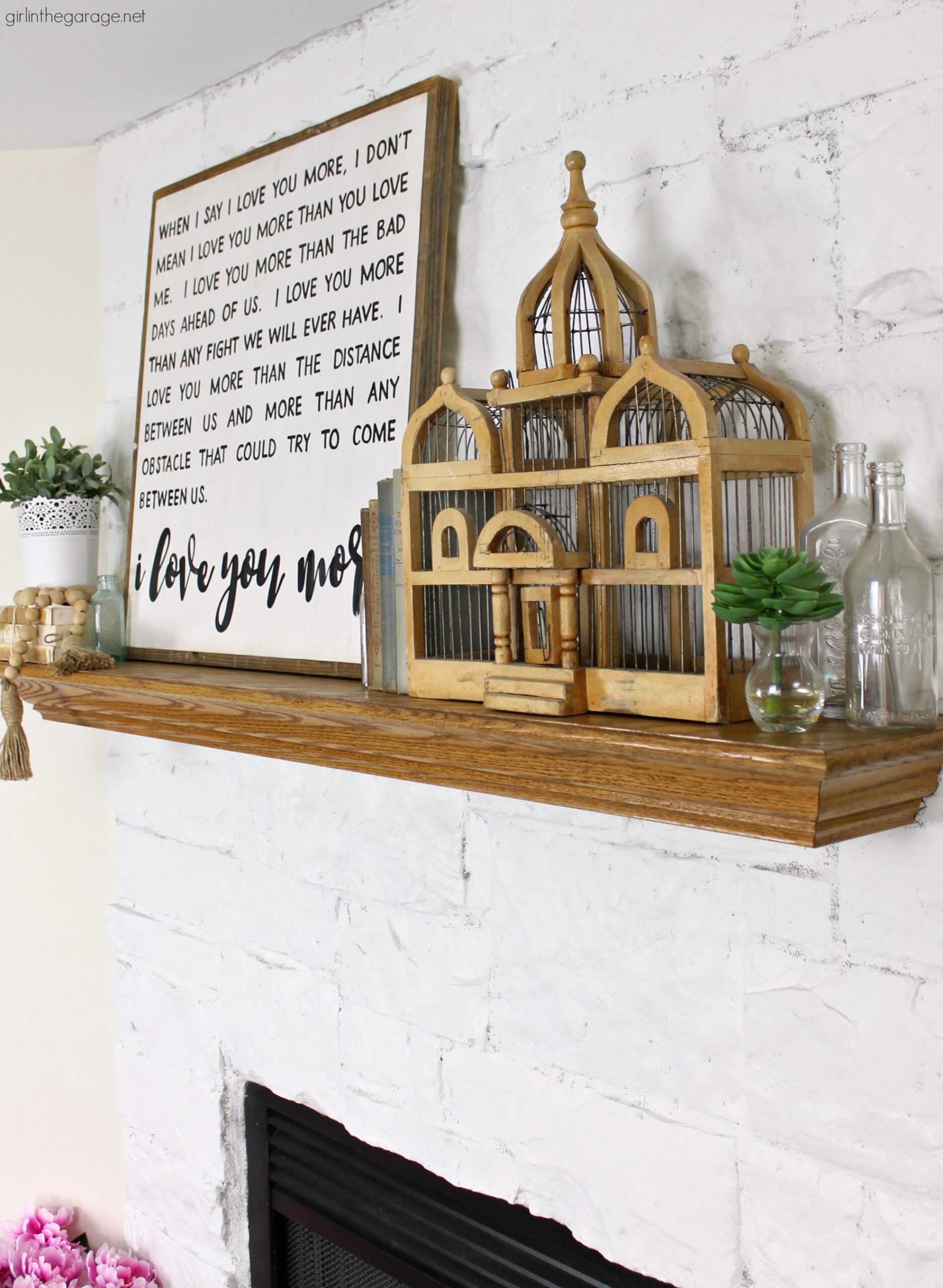 I can just imagine how gorgeous it's going to look when decorated for the holidays!

Here's a before and after again. Feel free to share or Pin the images in this post to easily find this tutorial later.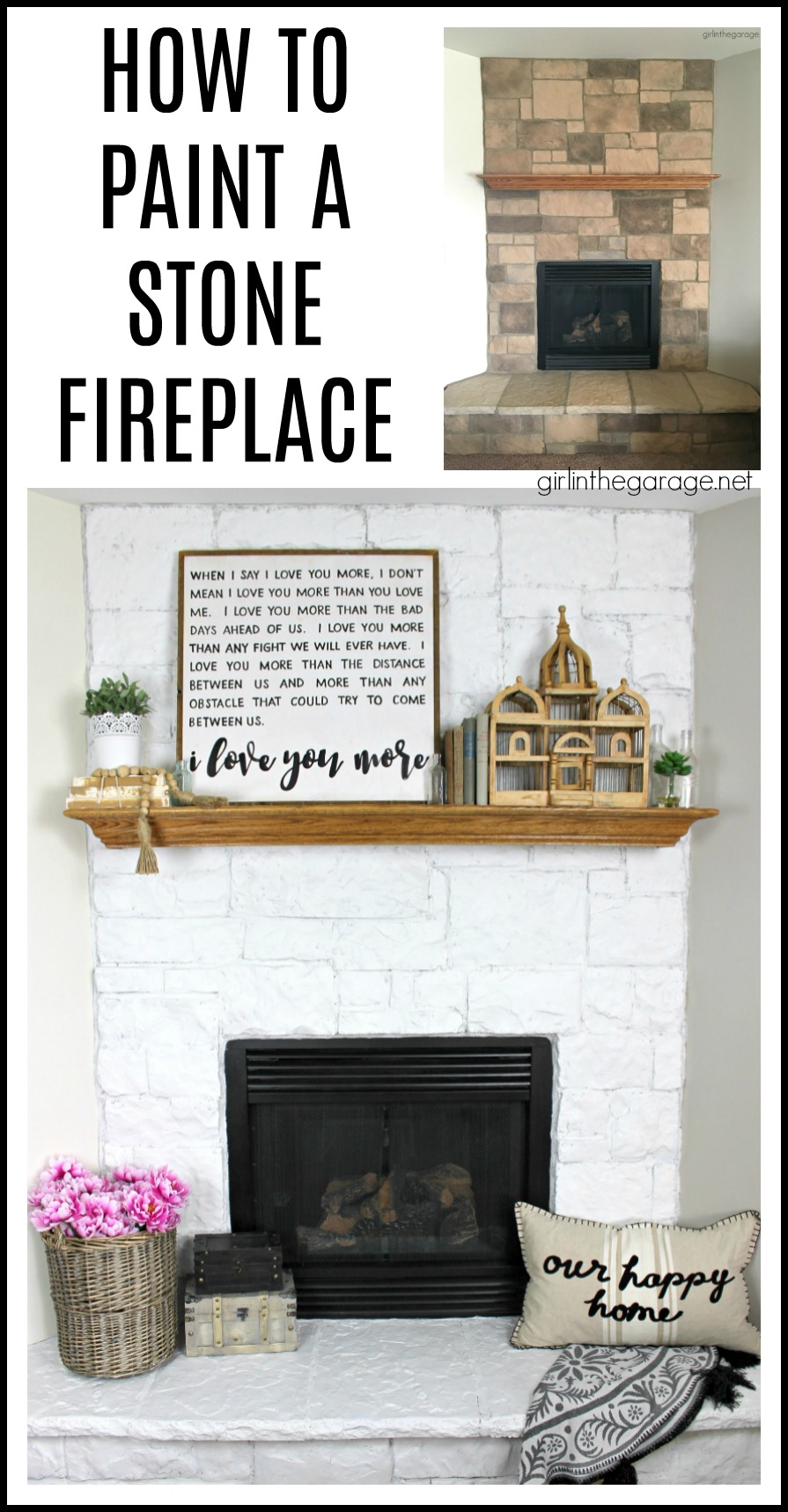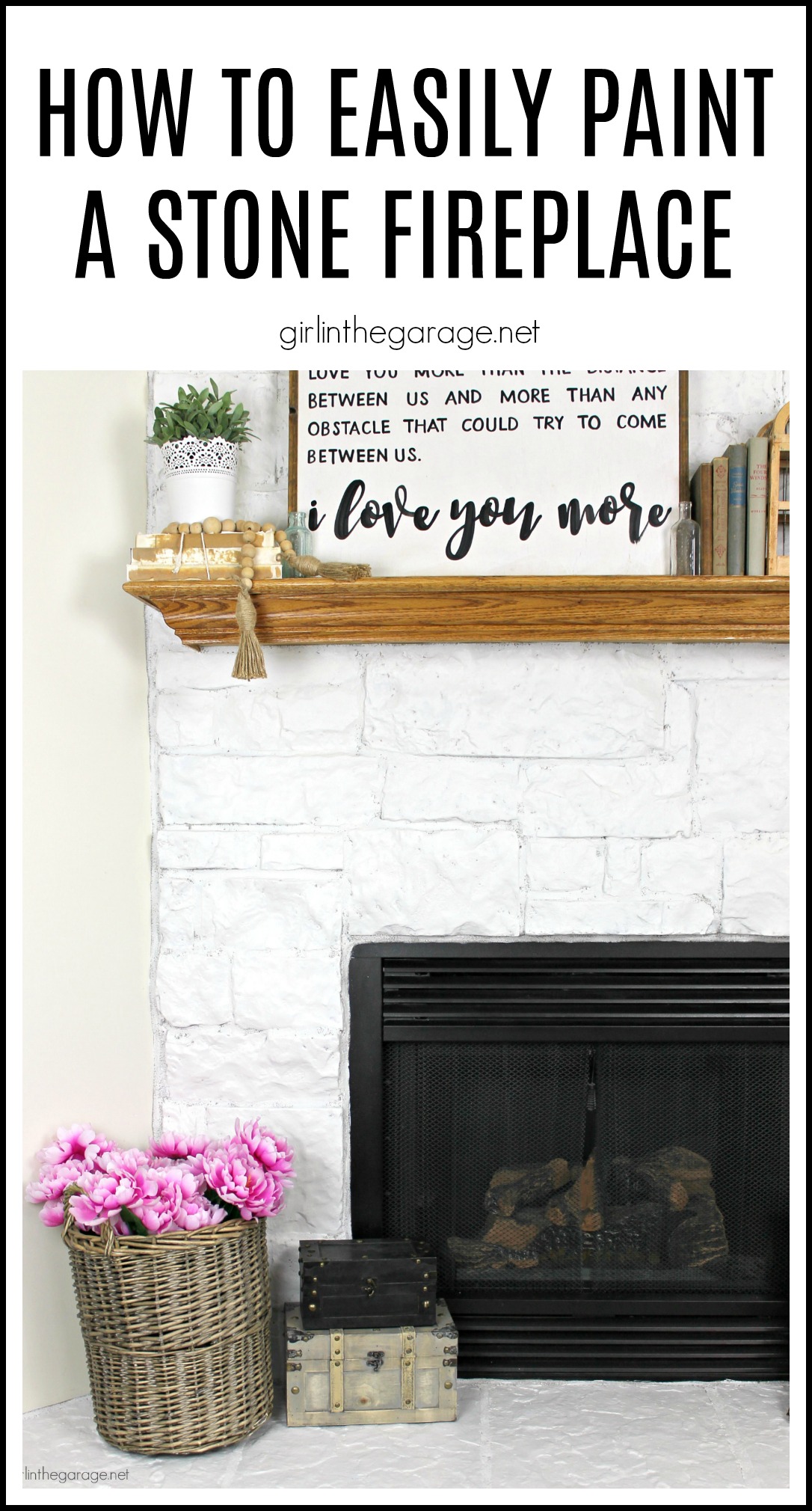 Now it's time for a giveaway!
One lucky person will win a 3-pack of fabulous Purdy brushes to use for upcoming painting projects.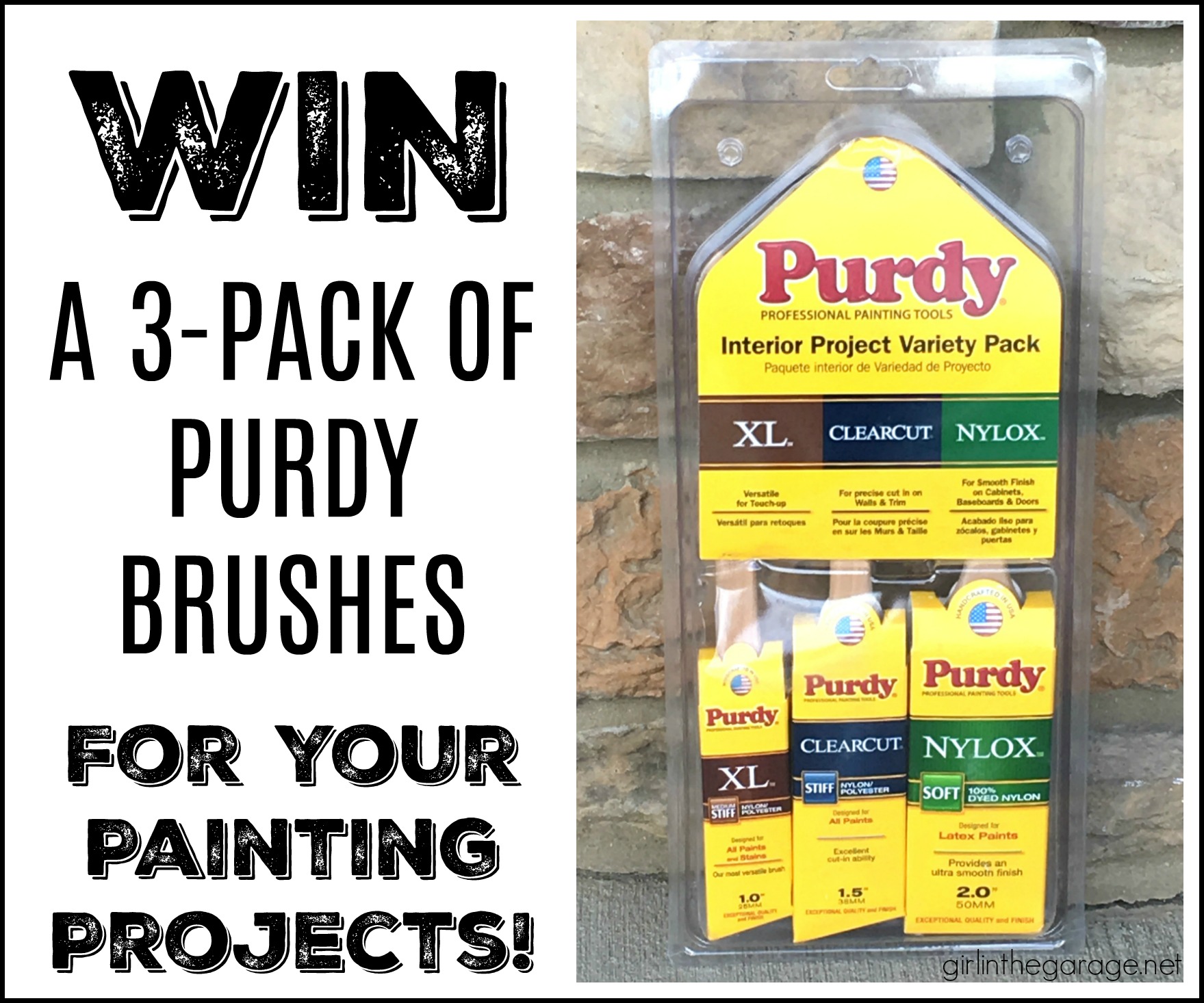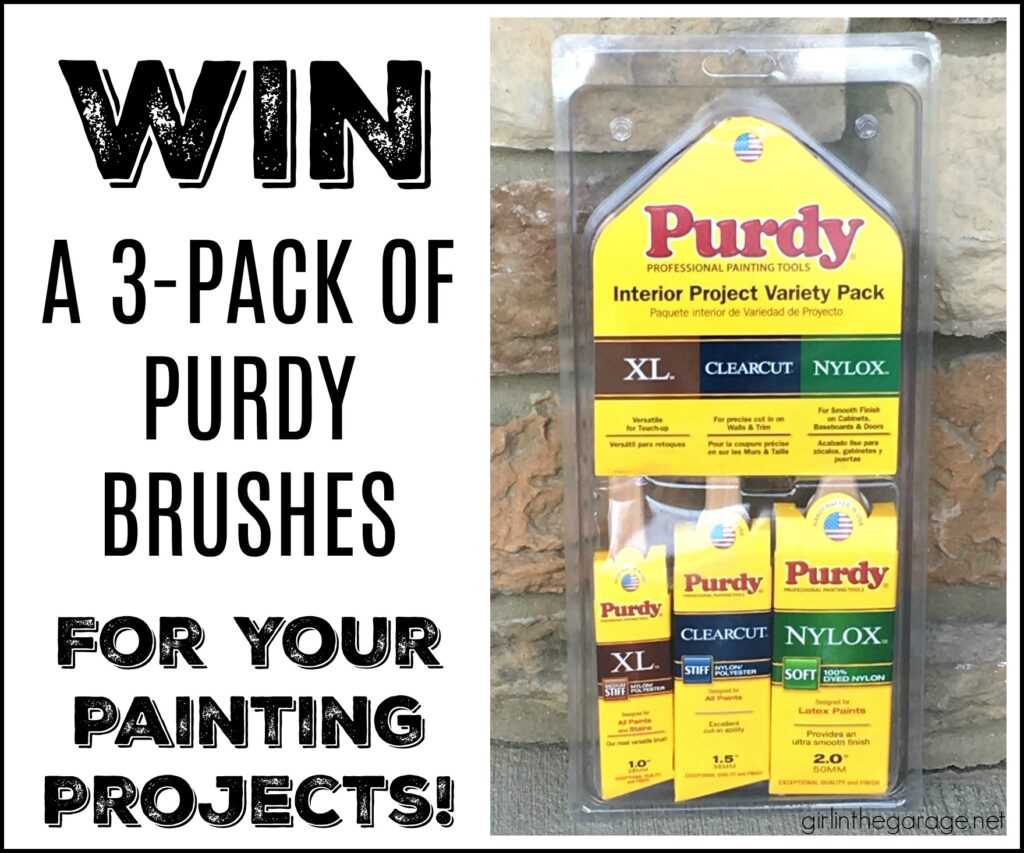 Giveaway open to US residents, 18+ years old.
Good luck!
a Rafflecopter giveaway