Welcome back friend – you're here at the perfect time because it's Trash to Treasure day again! I'm setting aside my paint brush and sandpaper and instead grabbing some fabric, lace, and ribbon from my fabric stash.
I didn't buy anything new at all for this project – most of the pieces were leftover from other blog projects like this fabric garland backdrop and rag garland. However this time we're making a lovely DIY embroidery hoop wreath with scrap fabric and flowers.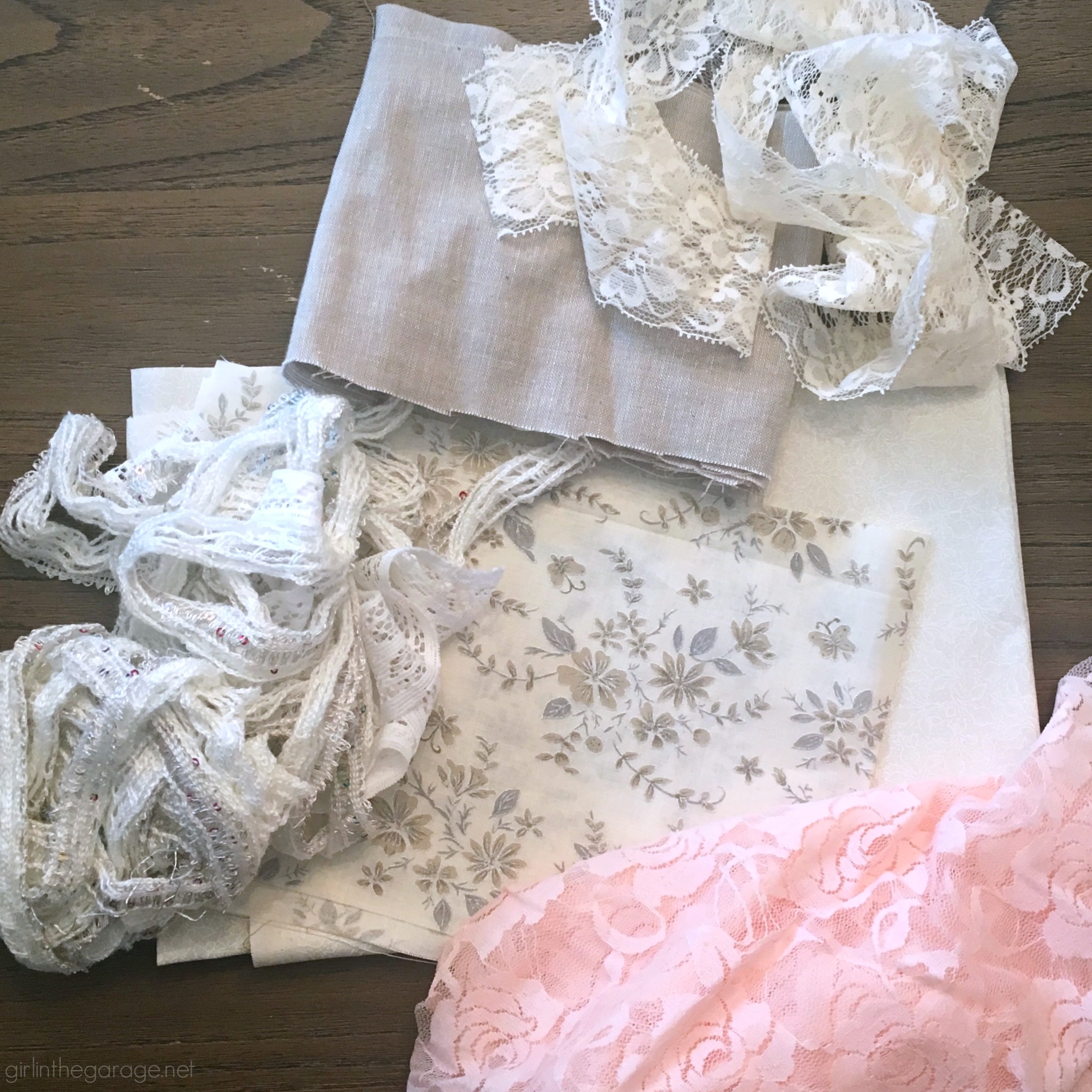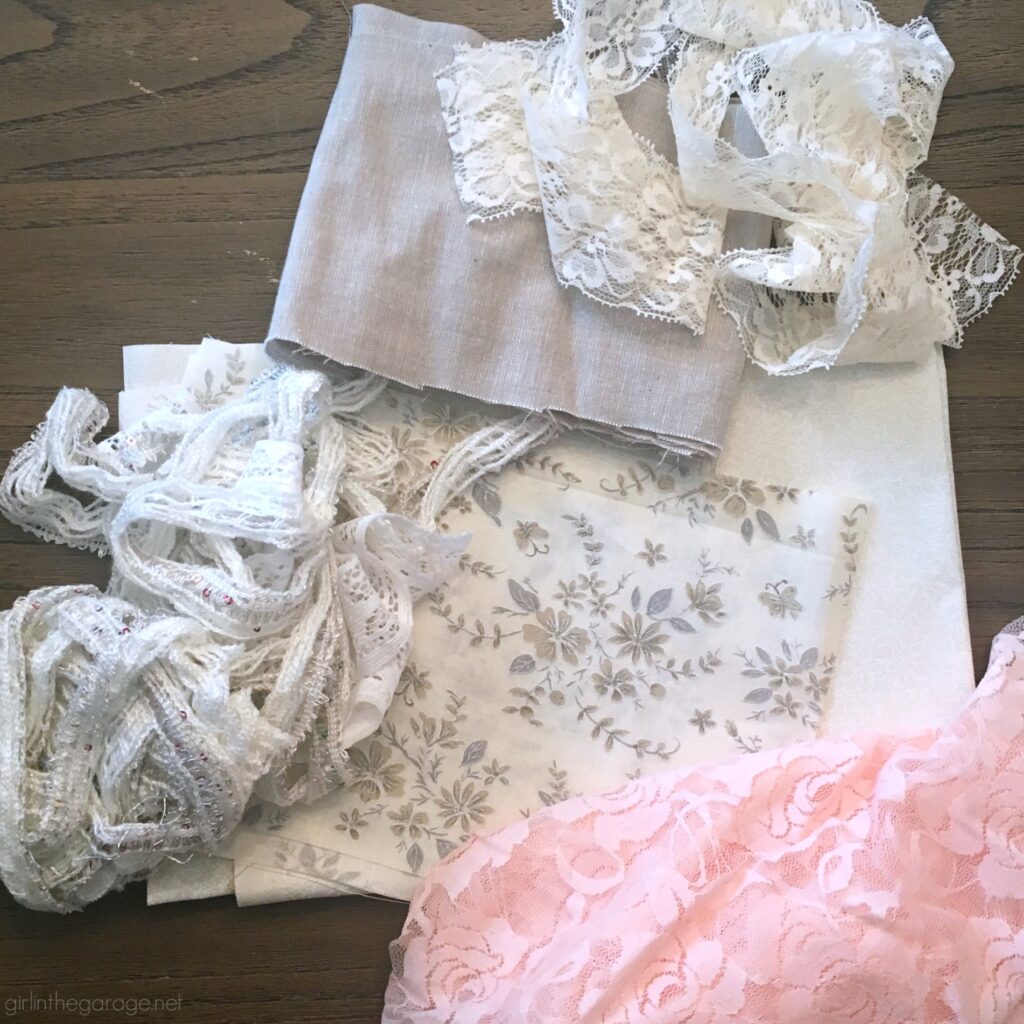 *This post contains some affiliate links so you can easily find the products I use and recommend. Discover all my favorite brands and tools for doing DIY projects Here.
Prepare the Embroidery Hoop
Before we get to the scrap fabric, let's start at the beginning. I used an 8-inch wood embroidery hoop and decided to wrap it tightly with jute cord. You could choose to leave the wood exposed if you'd like.
I tied a knot on the left side and tucked the end under when I started wrapping. That area will be covered with flowers later anyway.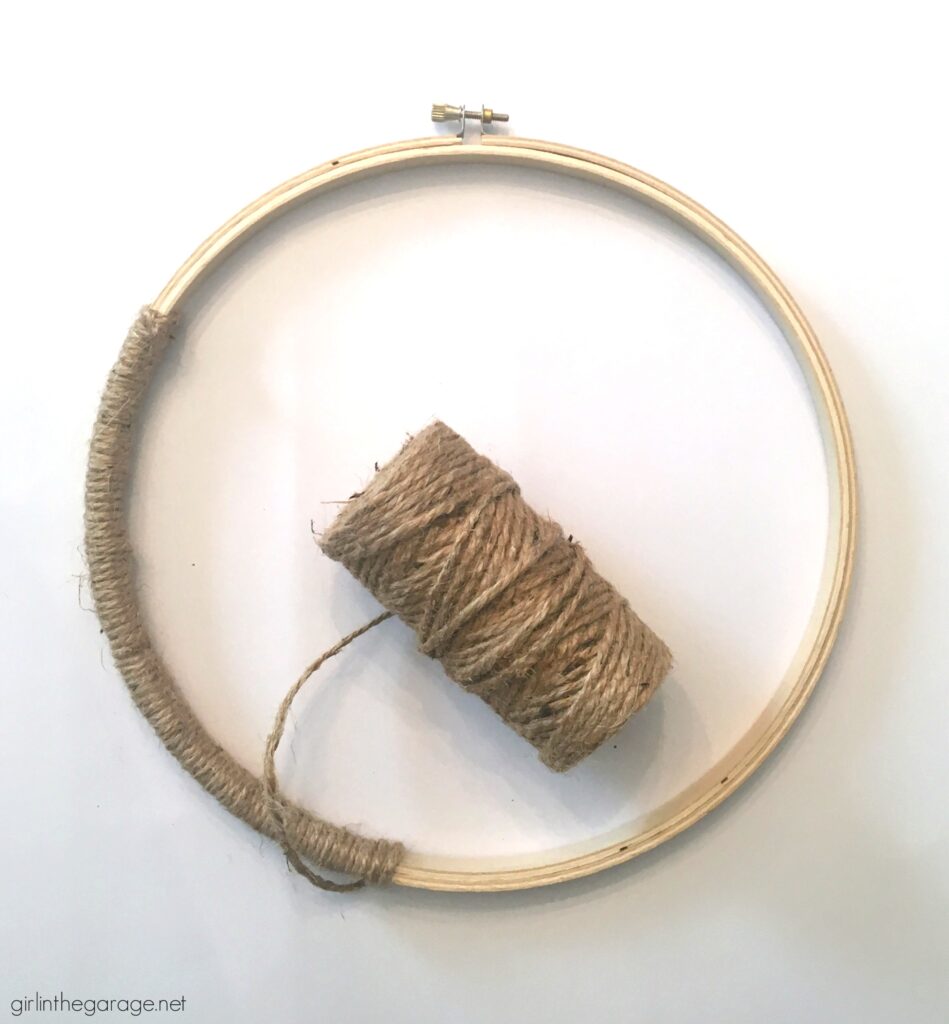 Scrap Fabric for the DIY Wreath
Next I pulled some neutral fabric, lace, and ribbons and then some flowers out of my stash and made sure that they all looked good together.
I cut the fabric in thin strips with my trusty fabric scissors. If I was making longer cuts, I would've used my rotary cutter and self-healing cutting mat because they're amazing for bigger jobs (like this fabric garland backdrop).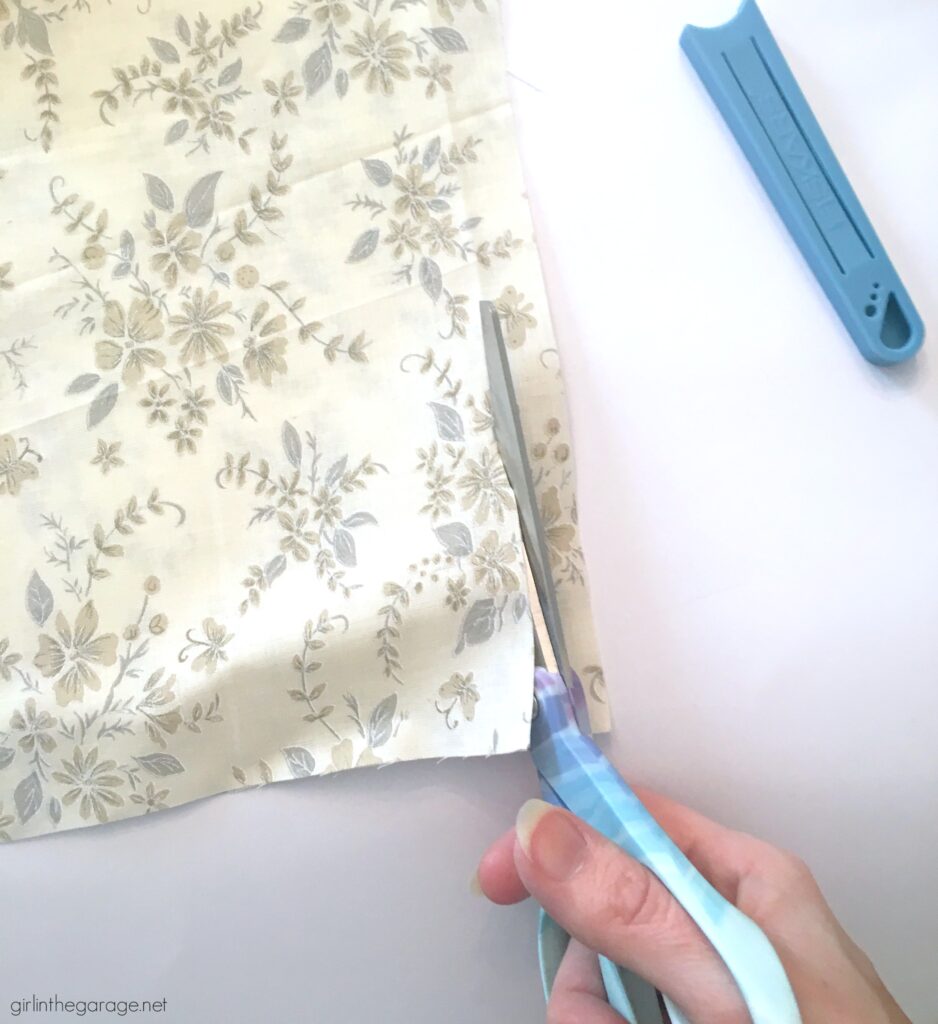 As you're cutting, cut some of the strips longer and some shorter, laying them out in the approx. order you're going to tie them onto the embroidery hoop wreath. When folded in half, my strips range from 6-13 inches.
Keep in mind that the end pieces will end up looking a little shorter because the hoop curves.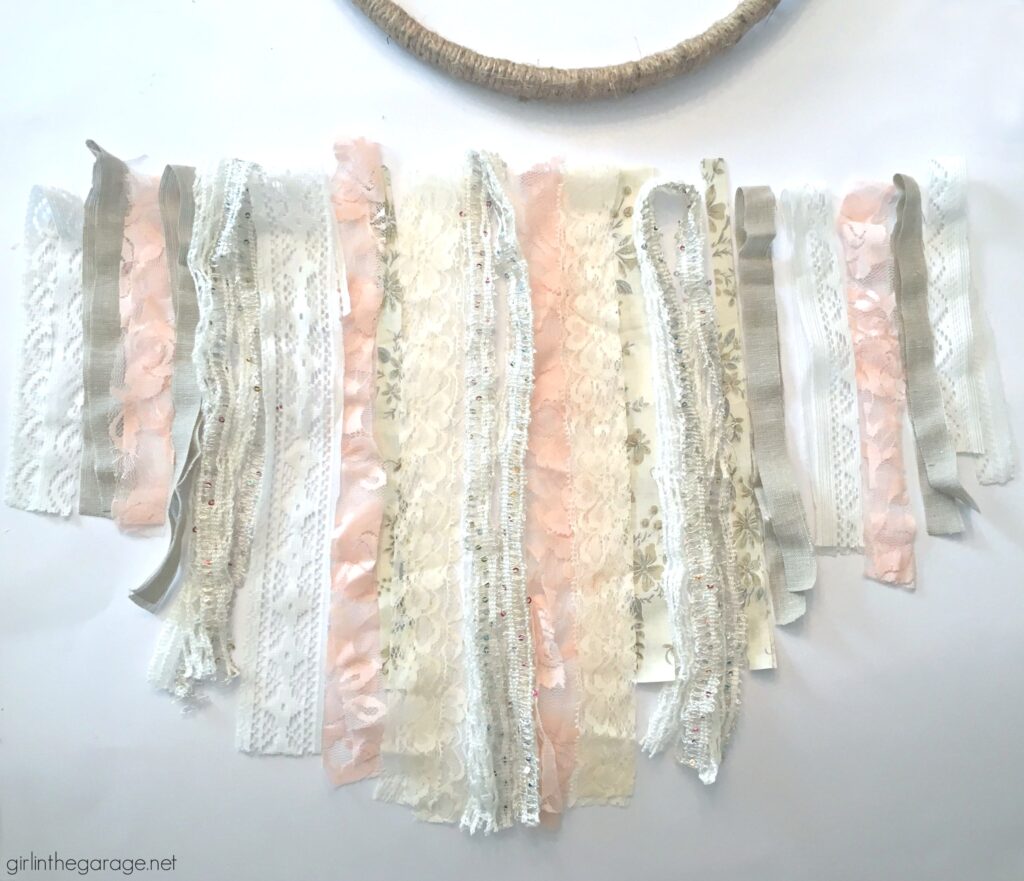 Tying Fabric Scraps onto the Wreath
Starting in the middle, loop the fabric and then pull the ends through like below. This is similar to how I made my 4th of July bandana wreath except those strips were much thicker.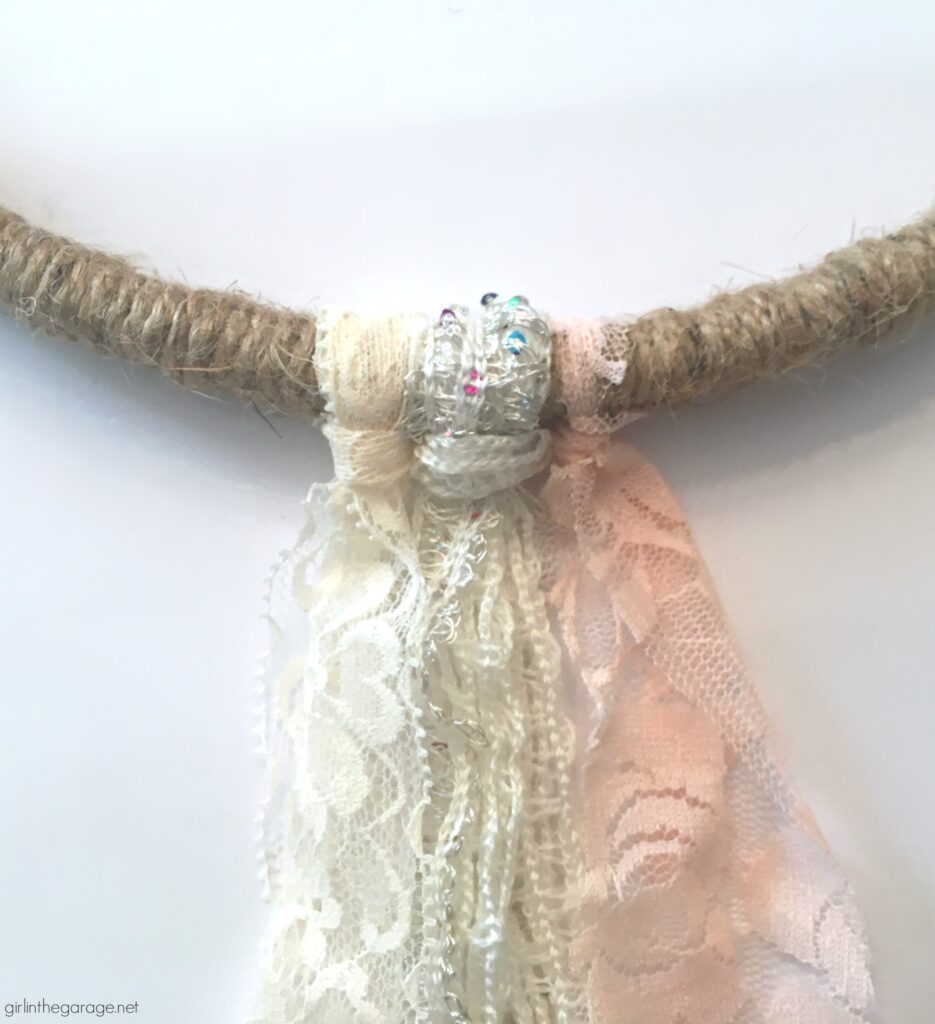 Push the fabric strips close together and keep tying more on. I alternated sides just to keep everything centered and even.
When you're all finished, you can trim the pieces to make them look more like a V if you need to.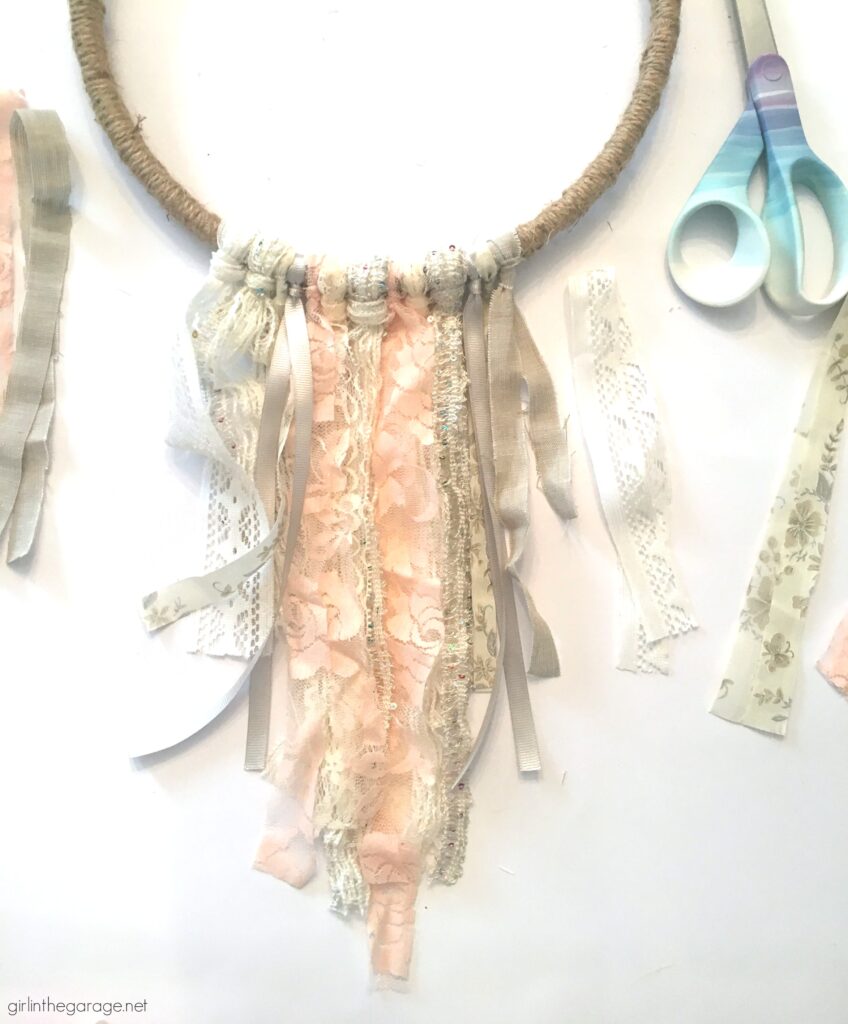 Adding Flowers to the Embroidery Hoop Wreath
These flowers were leftover from a project I did many years ago (find similar gorgeous flowers for crafting here). I played around with them trying to decide which order looked best before gluing them onto the wreath.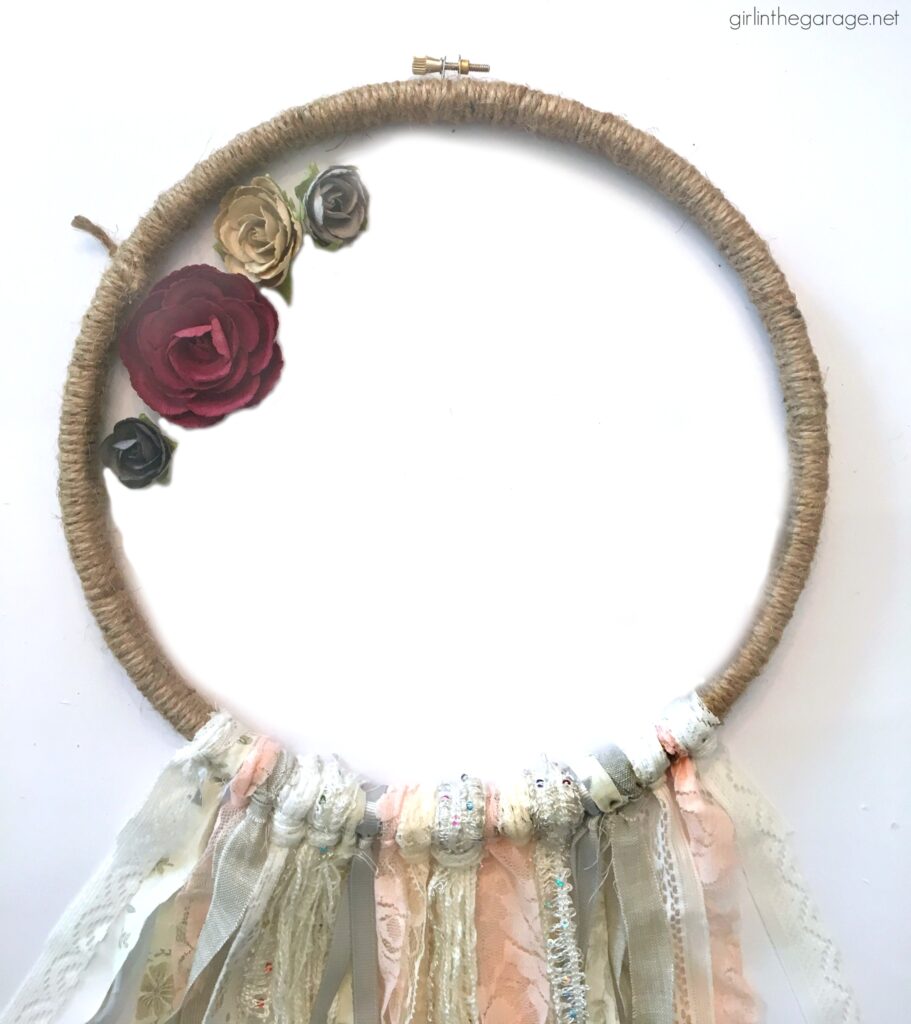 My cheap low heat gun and glue sticks were perfect for this wreath (this dual-temp glue gun would also be amazing for all kinds of projects).
In only a couple minutes the glue was warm and ready to go (and the low heat option means you won't accidentally burn your fingerprints off!).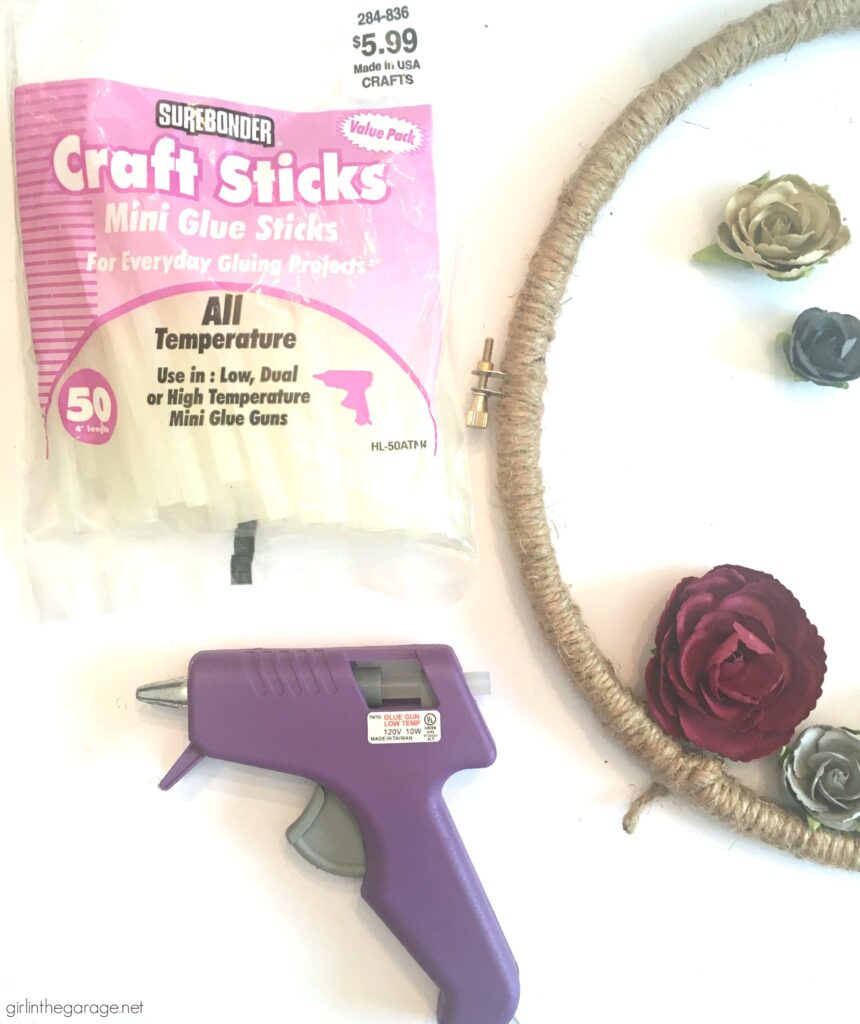 First I folded the end of the jute cord in and added a dab of glue. Next I chose the biggest flower to do first.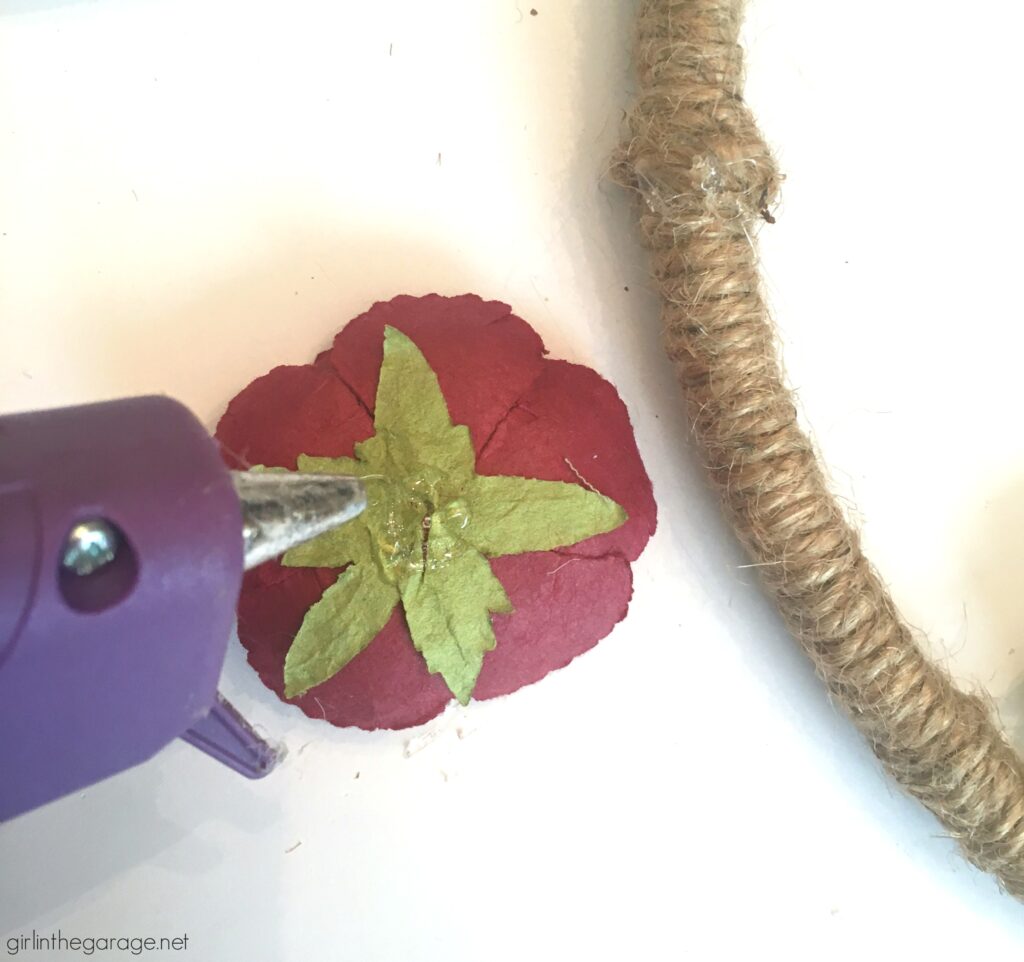 Once the glue is on you only need to press the flower down onto the wreath for about 5 seconds before it's secure.
Repeat with the other flowers you've chosen.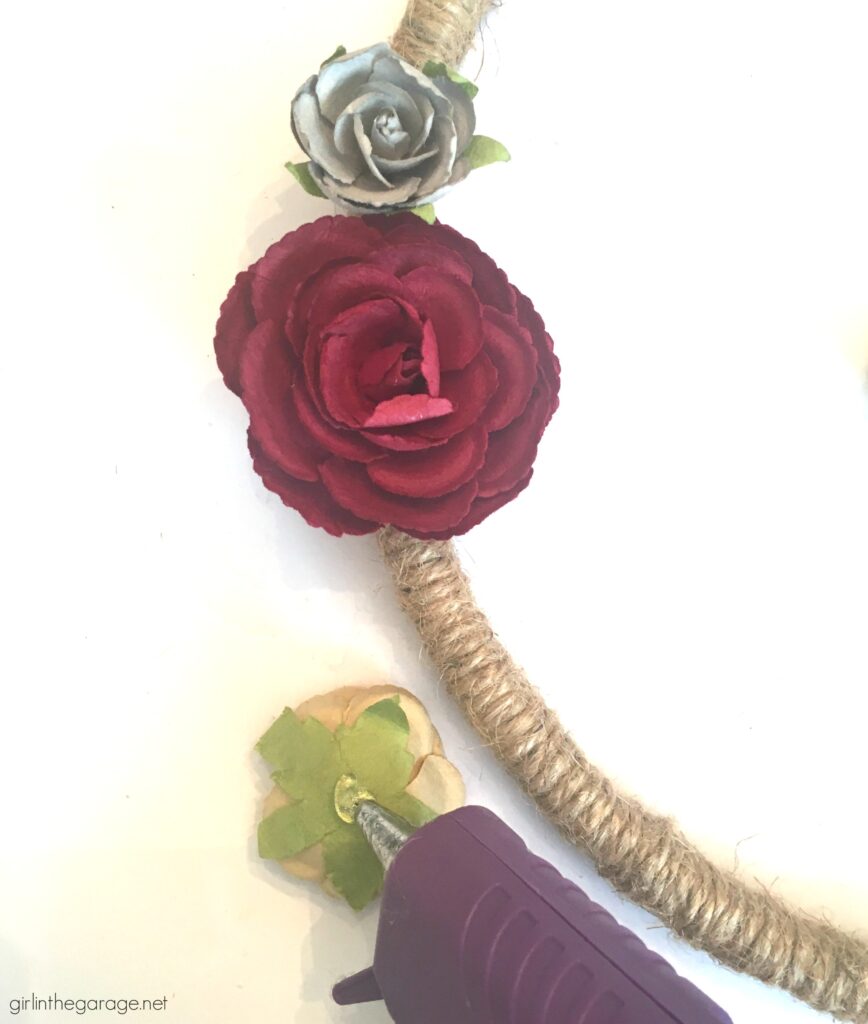 Below is a side view of the jute cord and the flowers glued on. Remember to remove any little leftover glue strings – and then your wreath is finished!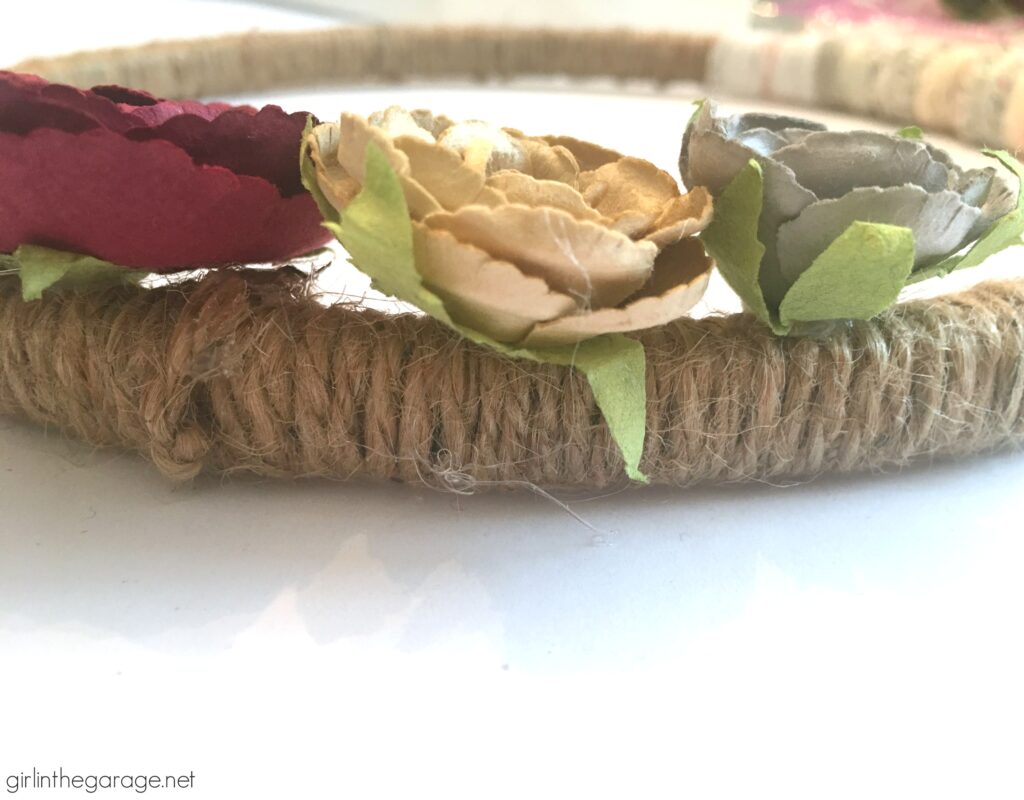 How to Hang the Embroidery Hoop Wreath
You can hang this DIY embroidery hoop wreath made with scrap fabric on a door (with string looped through the screw) or on a wall with just a thin nail, like below. Easy, breezy, beautiful.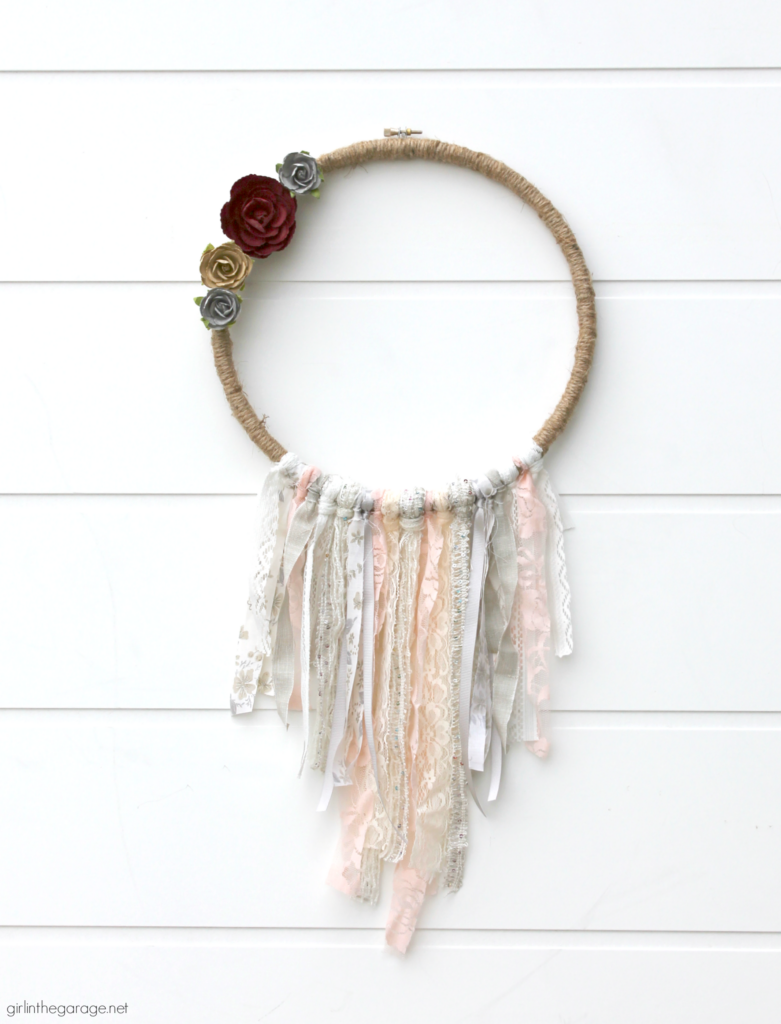 It makes for stunning DIY home decor, especially now with spring coming soon.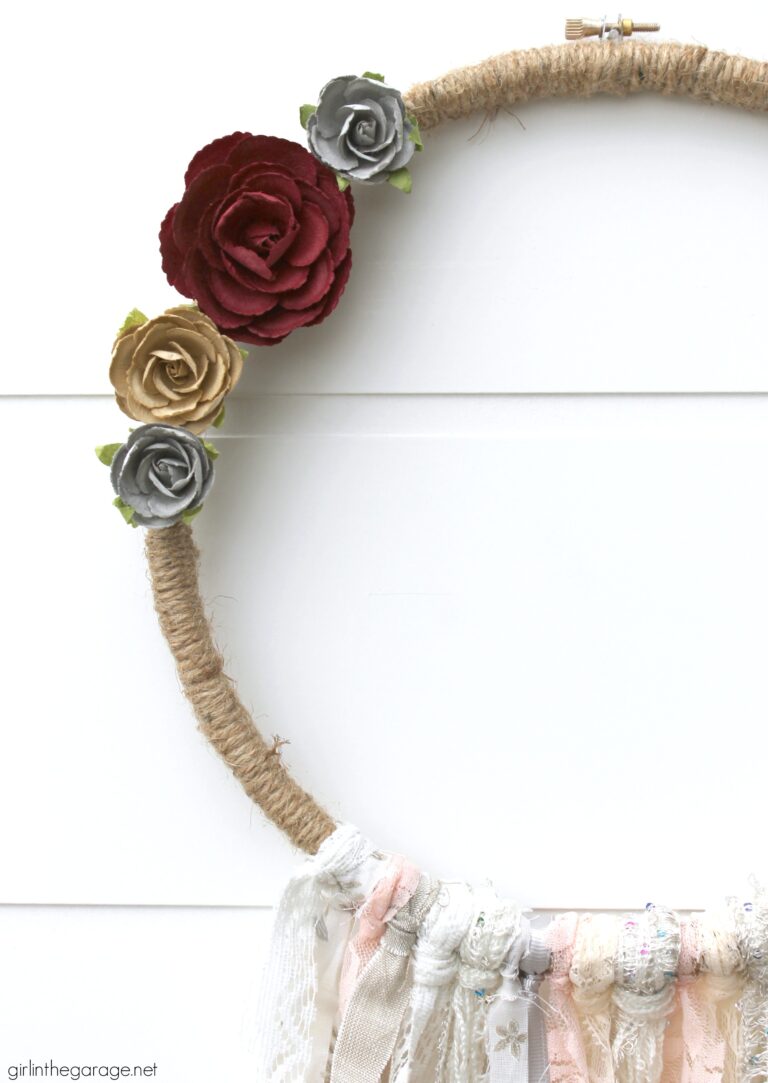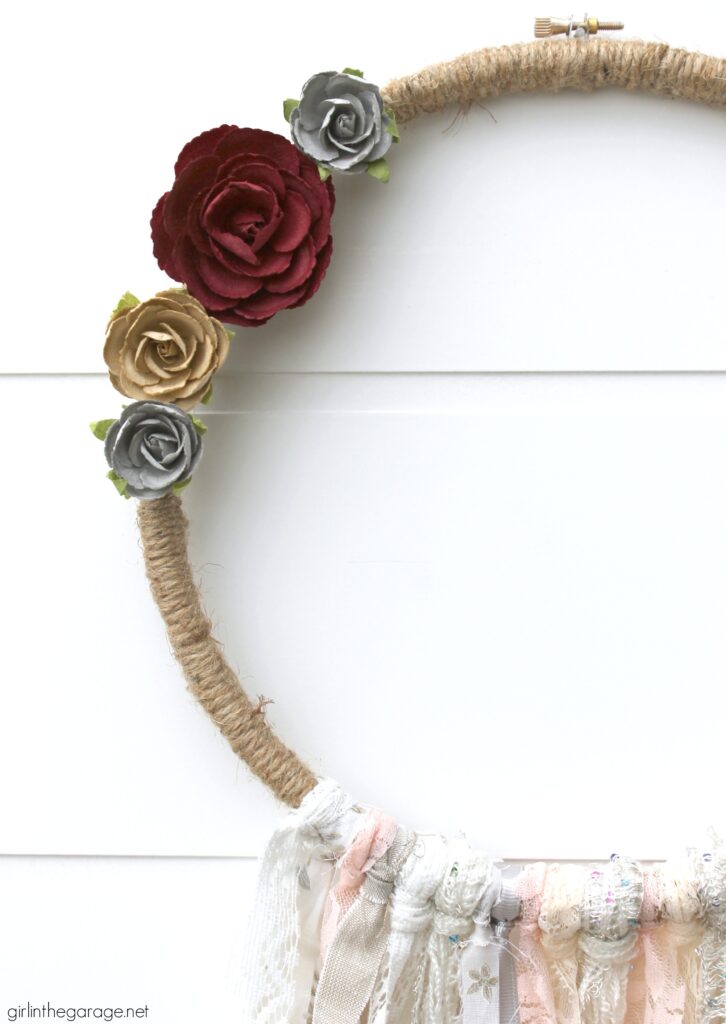 The fabric, lace, and ribbon all work together beautifully for a neutral, almost vintage look.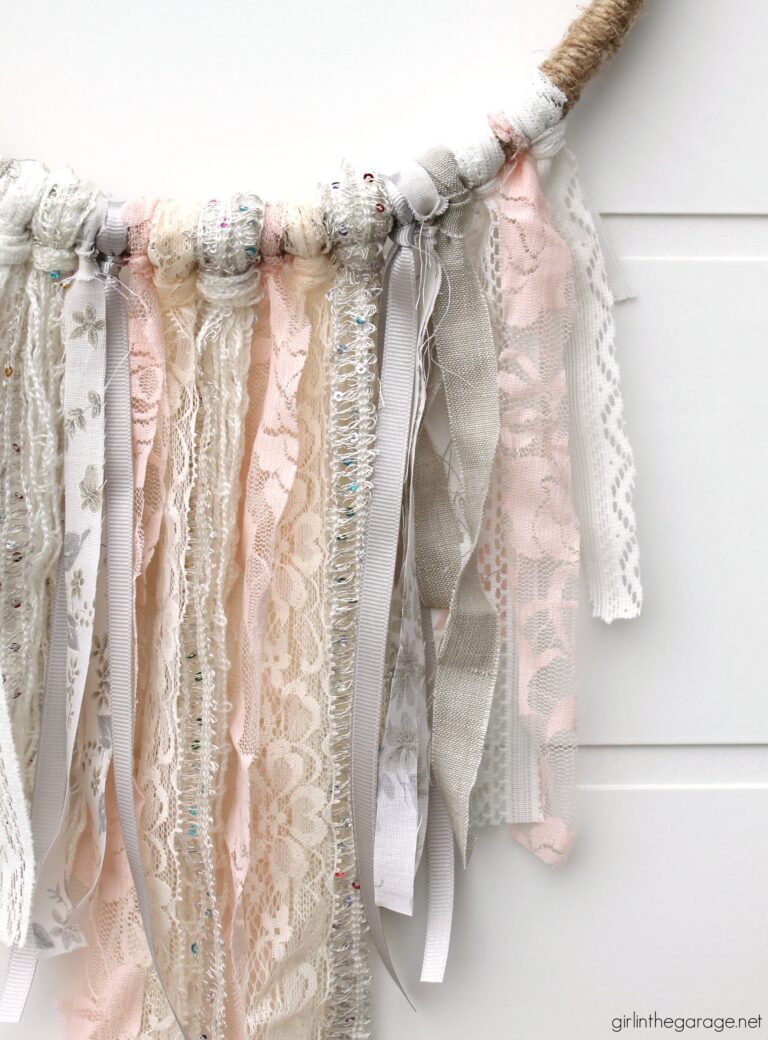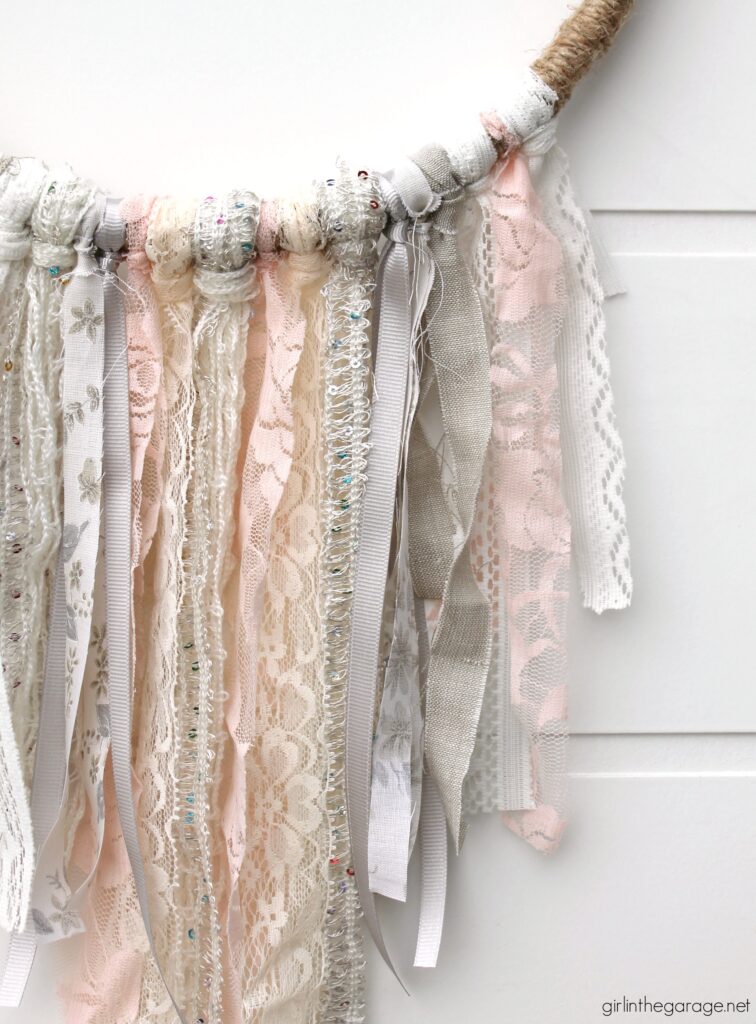 I'm just excited that this project was made with only pieces I already had at home, so no new money was spent. Gotta love that!
If you've enjoyed this embroidery hoop wreath made with scrap fabric and flowers, please share this decor idea with a friend or Pin it for easy access later.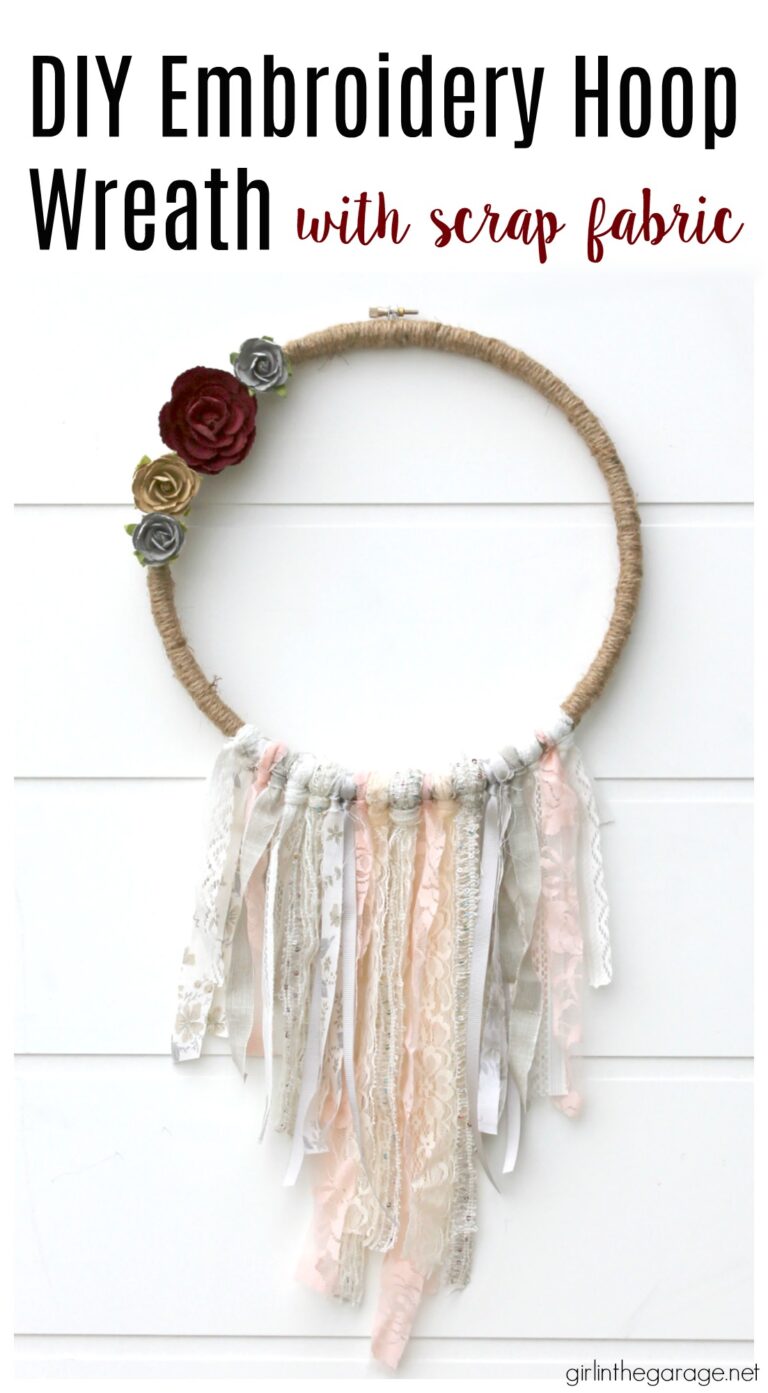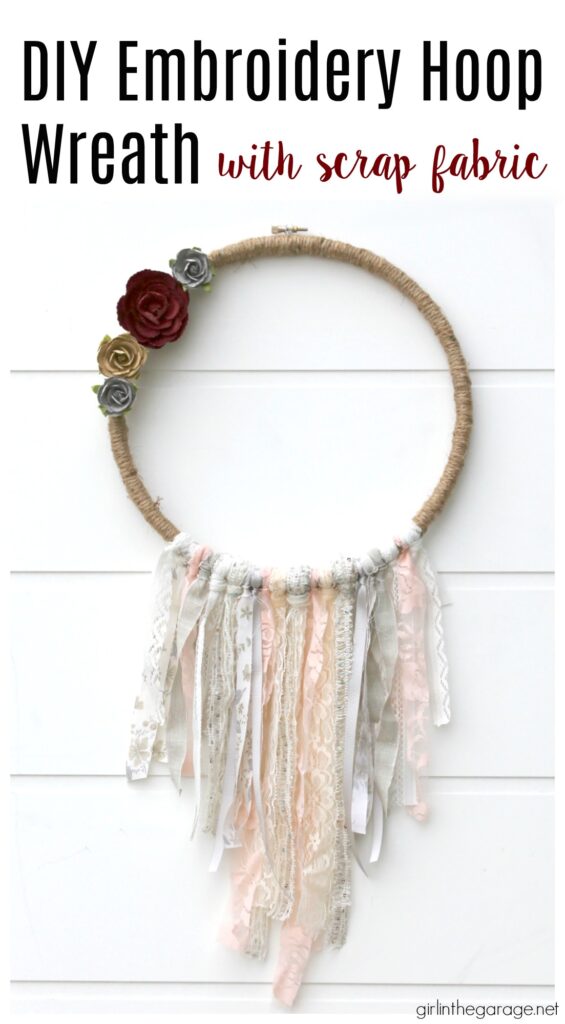 Do you have a big fabric stash? What type of projects do you like to use the scraps for?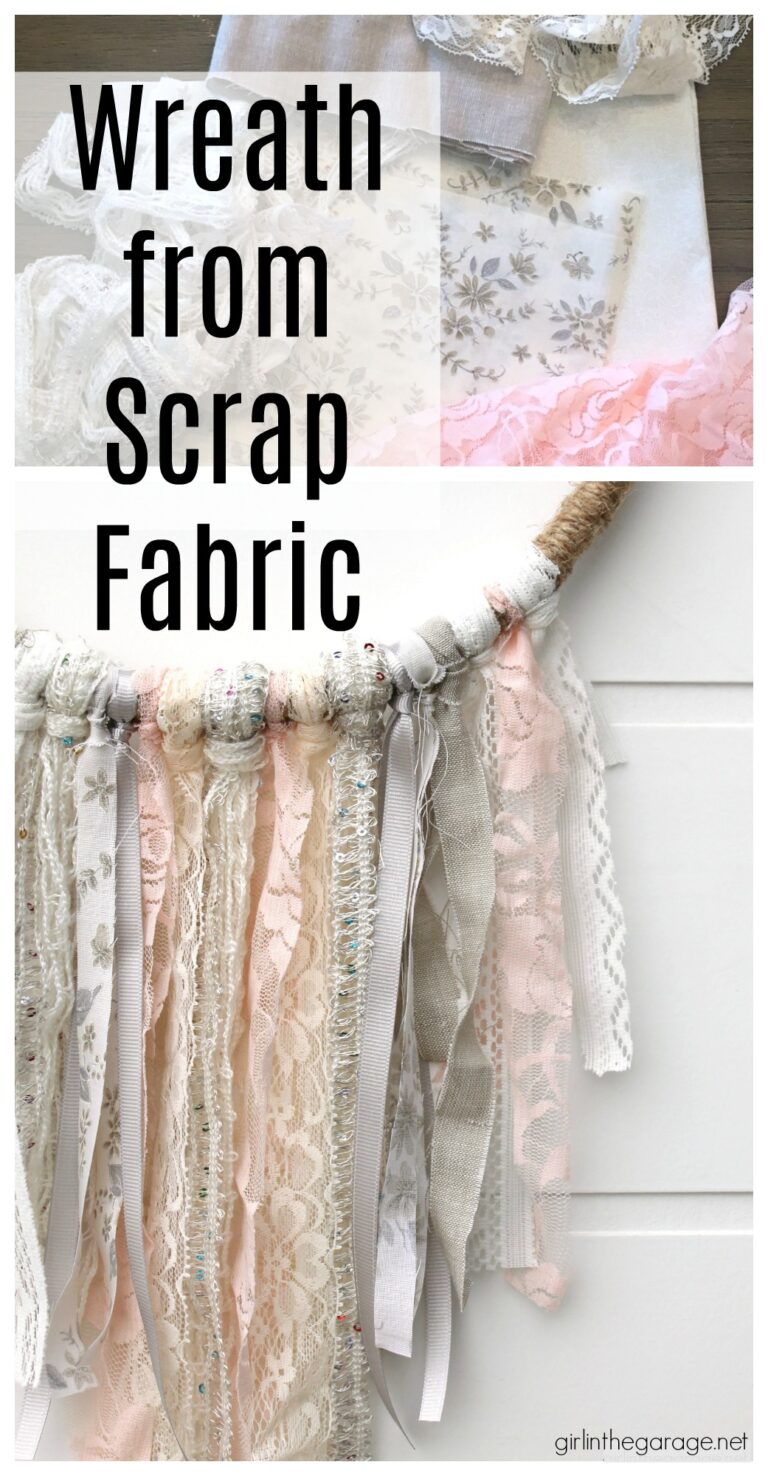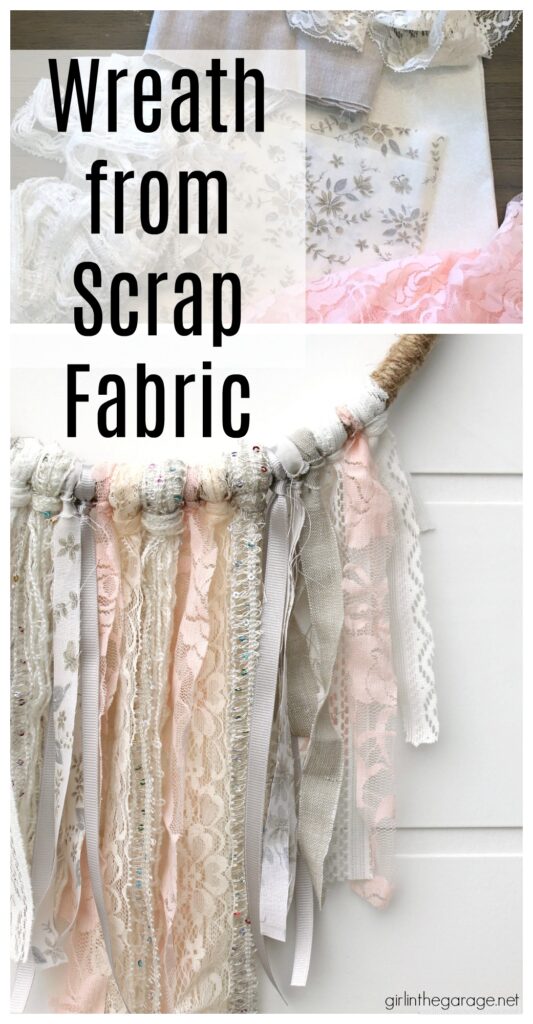 I've also been working on some other pretty things involving embroidery hoops, and I will definitely let you know when they're finished! Be sure to join my email list to get all the new project tutorials as soon as they're available.
Now it's time for Trash to Treasure Tuesday – and there's big news! Denise from Salvaged Inspirations has joined our fun group, and I know you'll love seeing her beautiful work too.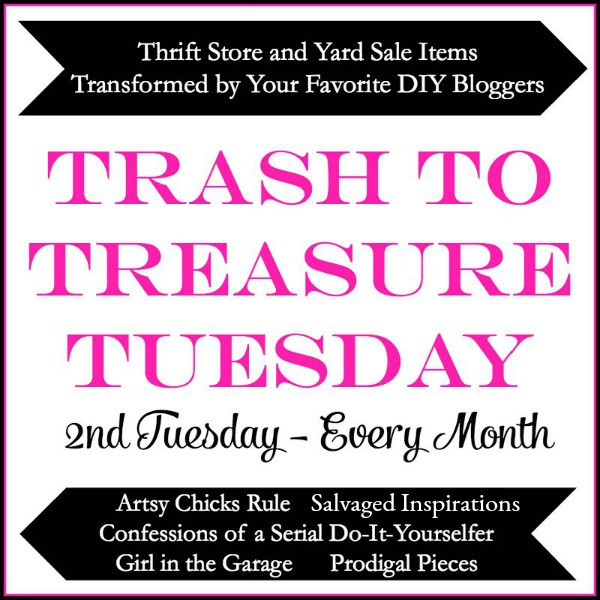 Below are the Before photos – visit the links underneath to see the amazing Afters and to learn how they did it:

1. Confessions of a Serial DIYer
2. Artsy Chicks Rule
3. Prodigal Pieces
4. Salvaged Inspirations (our new member!)
Similar DIY Decor Projects
You may also like these similar DIY home decor projects.