So you've finally painted that hand-me-down dresser from your parents – or you just bought a thrifted dining set and updated it to match your style. You're feeling mighty proud and ready to tackle another piece! Maybe you're even considering buying and flipping furniture to sell for profit.
You've caught the painted furniture makeover fever – the only problem is, you're lacking the funds, workspace, or time needed to work on more projects.
So how do you start flipping furniture when it doesn't seem like it can fit into your current life situation? Continue reading below to find helpful tips and practical ideas to get you started with this creative hobby (or profitable business, depending on your goals).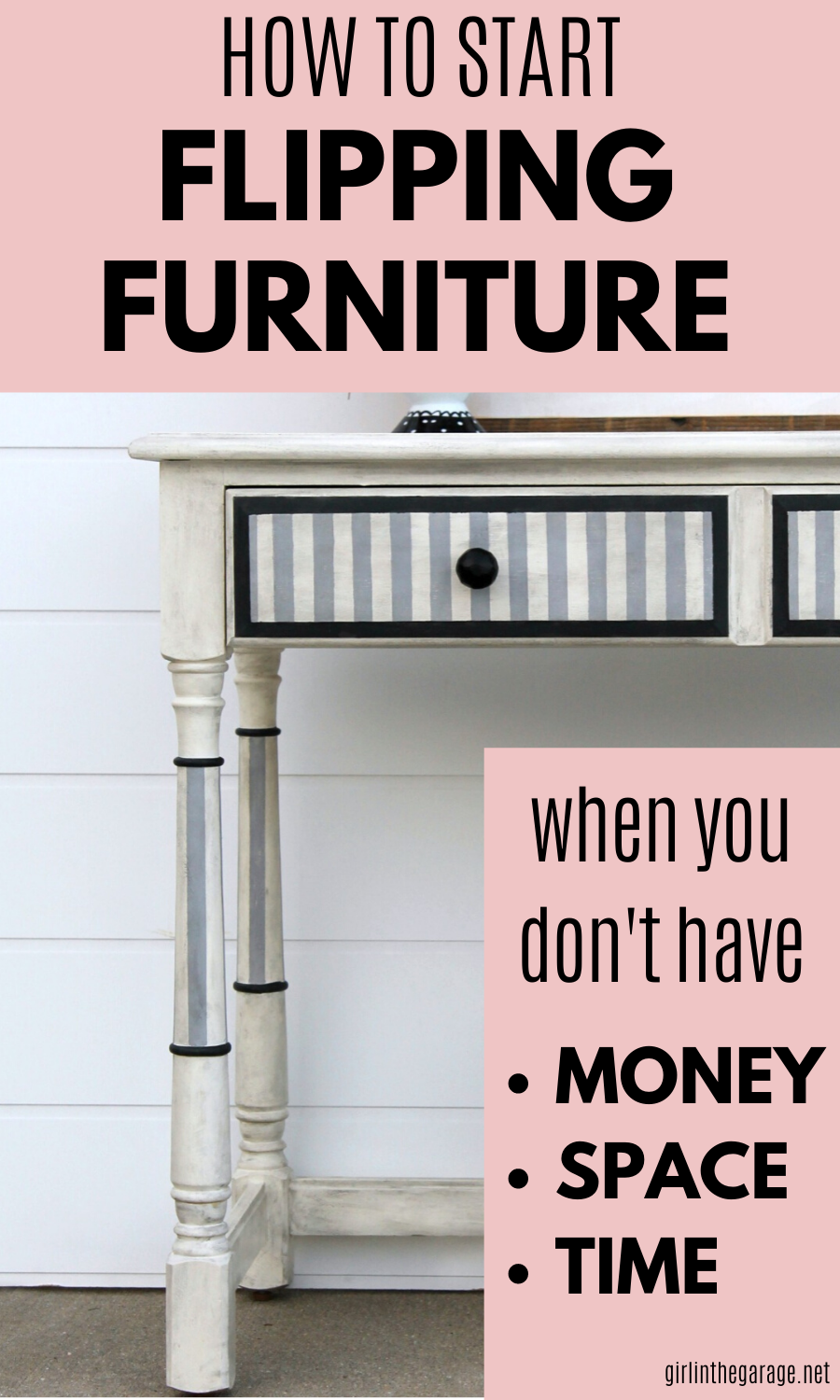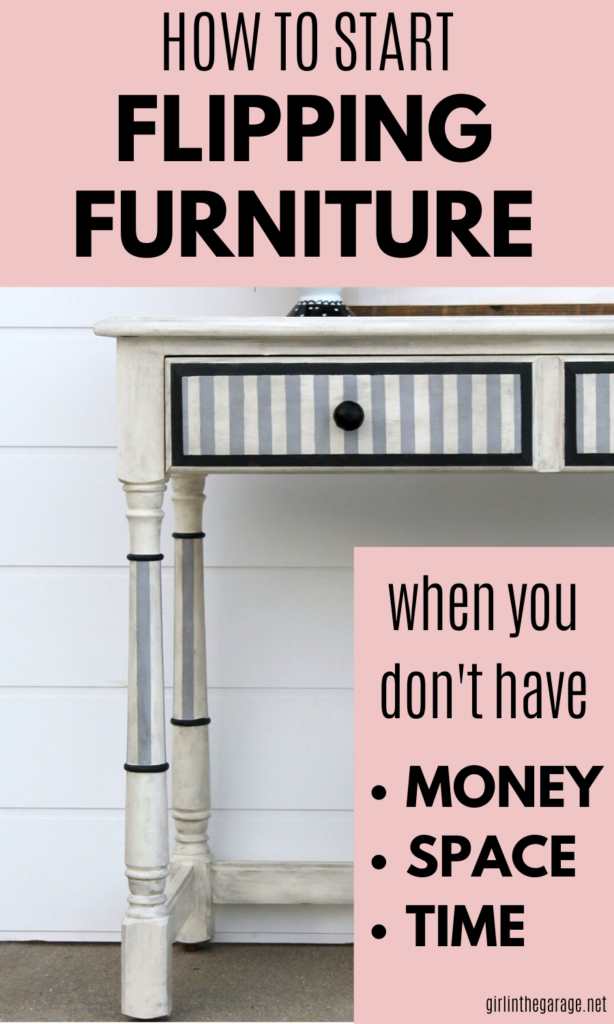 How to Start Flipping Furniture When You Don't Have Much Money
Contrary to what many people think, you do not need to have a lot of money to start flipping furniture. Painting furniture is one of those hobbies where you can start with very little upfront expenses and still have beautiful results.
I've been officially painting furniture as a business for almost 8 years now, and after all this time my arsenal of tools and favorite brands has grown. But back when I first started, I would choose easy projects and use almost any products I could get my hands on for cheap.
Here are some tips for how to start flipping furniture when you don't have much money:
Start with your own furniture. Everyone has a spare table or old dresser gathering dust in the garage. Work with what you already have until you can afford to buy other pieces. But be warned – it's easy to become your own worst critic when you're just starting out! Give yourself some grace. This post may help –> Why Done is Better Than Perfect

Buy cheap sturdy pieces to practice on. Not $20 WalMart bookshelves – but visit yard sales (especially neighborhood sales where you can do a lot of treasure hunting in a shorter time), thrift stores, and resale shops for great deals on vintage pieces – and show up early when stores have discount days.
Also accept pieces that friends and family are willing to give away – you can kindly put word out that you're willing to take unwanted furniture to practice on. Plus it can be hard to resist a good curbside castaway, so keep your eyes peeled before garbage pickup day!

I don't use latex paint anymore for furniture, but when I was starting out I would buy small sample jars for a few bucks or scour the "oops" section at home improvement stores for discounted cans.

Don't skimp on prep work or primer when the project needs it, or it may end up costing you more time or money later. Learn all my tips for prepping furniture for painting here.
Reuse hardware when you can – either clean it up well or paint it. If you must buy new hardware, shop around – for example, you can find some inexpensive sets on Amazon like these crystal knobs or these card catalog pulls and have them delivered as soon as the next day.

It can be tempting to try all the fun "extras" right away – rub-on furniture transfers, expensive stencils, decoupage products – but instead work on perfecting your technique with just paint first to save money. Layer paint colors, blending, dry brushing, paint stripes or designs with FrogTape, try distressing paint with sandpaper or vaseline – all are cheaper techniques that can give you really different outcomes when practicing painting furniture.
How to Start Painting Furniture When You Don't Have Much Space
I receive emails all the time from readers who want to refinish furniture but they're concerned because they have a small workspace. Maybe you live in a small house or an apartment without a garage. I work in the garage, the driveway, the basement, the kitchen (even the living room sometimes) – wherever I can, and if I have a market coming up, sometimes all those places at once. Even a shed or carport could work for you.
Here in Indiana, I'm usually always painting furniture indoors in the winter. It can get tricky trying to work on projects with five people and two dogs in my house, so I have to try to plan ahead and work smarter.
While lack of space certainly can create problems, there are some ways to maximize your workspace area. Here are some tips for working on furniture when you don't have much space:
Choose small furniture that you can finish within a few hours or less than a day that doesn't need repair work (a small end table, a plain wooden chair). Also practice techniques on thrifted decor like frames, jewelry boxes, flatware boxes, baskets.

Set up your work area during a day when no one else is home (or at night when the kids are asleep) so you won't have people walking through. Also, keep pets away so Fluffy doesn't end up with a blue stripe on her tail.

If you don't have a garage or outdoor space, almost any room can become a temporary work area. Use cardboard and drop cloths to protect floors and other furniture.

Use a wet sanding technique which makes less mess compared to regular dry sanding.

Choose products that have a reputation for easy clean-up, just in case you get messy. (I love how easily Annie Sloan Chalk Paint cleans up on most surfaces – but be aware that it sticks very well to masonry.)

Also make sure you have proper ventilation or look for products without any strong smells if you're working in an enclosed space.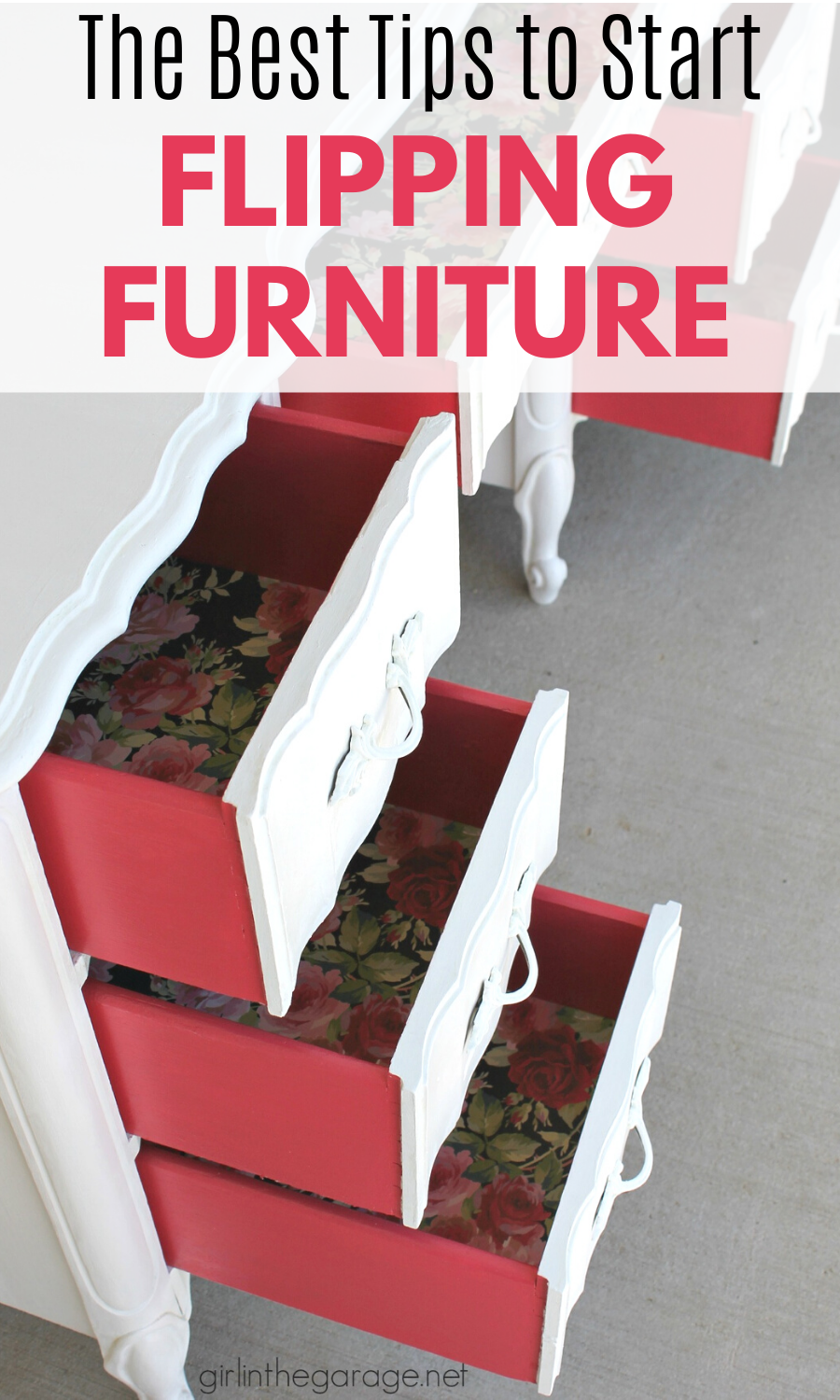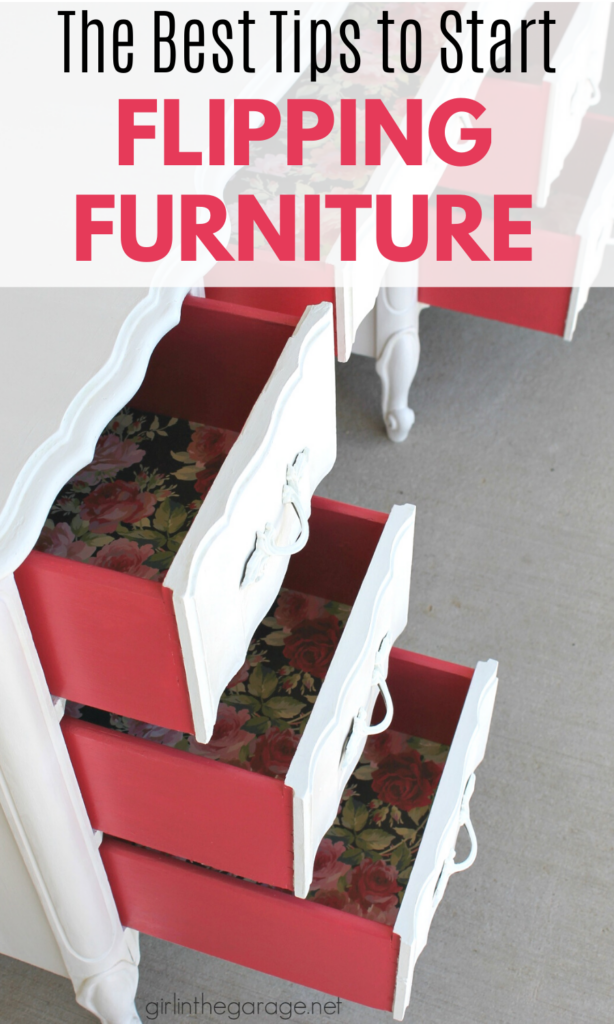 How to Start Flipping Furniture When You Don't Have Much Time
As I mentioned earlier, start with smaller projects that you can finish more quickly like jewelry boxes, old flatware boxes, suitcases, small tables, etc. When you complete a project, you'll immediately feel a boost of energy and excitement for the next project.
If you have 40 minutes here and there to work on furniture but you're updating a massive hutch, then you're going to get bored and it will take forever to make any real progress. Would you rather start and finish one piece per weekend or one piece per month?
Here are some helpful tips for getting started painting furniture when you don't have a lot of extra time:
When you're just starting out flipping furniture, the easier, quick wins will help you stay motivated – and you'll get to practice more creative techniques on different types of furniture. Save the bigger, more intensive projects for when you have more free time to really go all in.

It also helps to use the right products and do proper prep work. It may take extra time to apply two coats of primer to a cherry wood nightstand, but if you skip the primer and later have a bunch of pink bleeding through your white paint, then you've just wasted precious time and money. Discover my tips for how to prep furniture for painting here.
Cutting corners might be okay if you're updating your own personal furniture, but if you're planning to sell your work, then please don't skip important steps just to save a few minutes or a few bucks. Trust me, you'll want a strong reputation for doing quality work right from the beginning. You can find all my favorite products and tools for doing furniture makeovers here.
Another way to save time is to only update part of the furniture. For example, if the top is in great shape, only paint the body. That's what I did for this Ethan Allen nightstand makeover: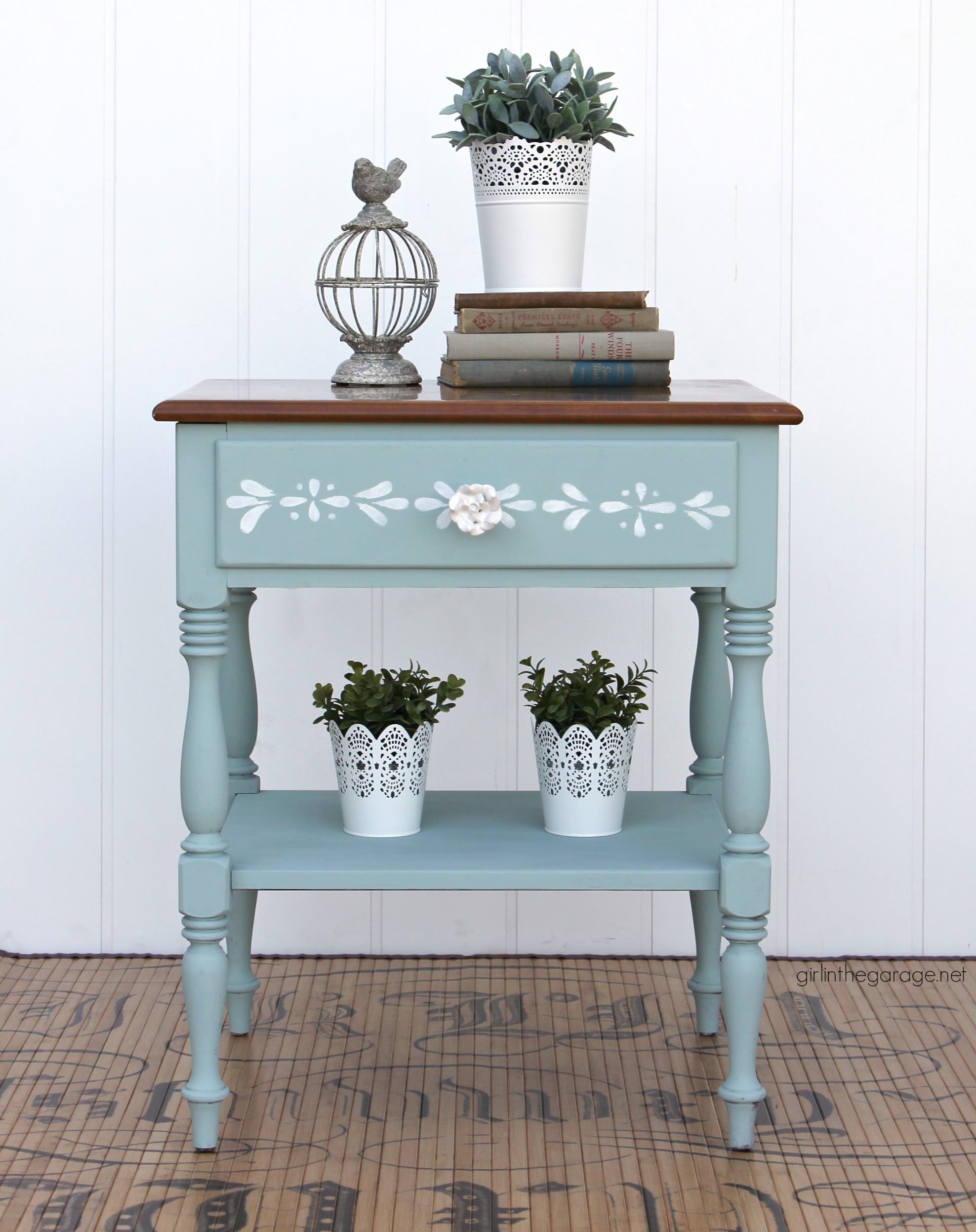 Giving pieces a weathered or dry brushed look is also an easy update and very forgiving. The beauty is in the casual, imperfect style, like this weathered oak bench makeover: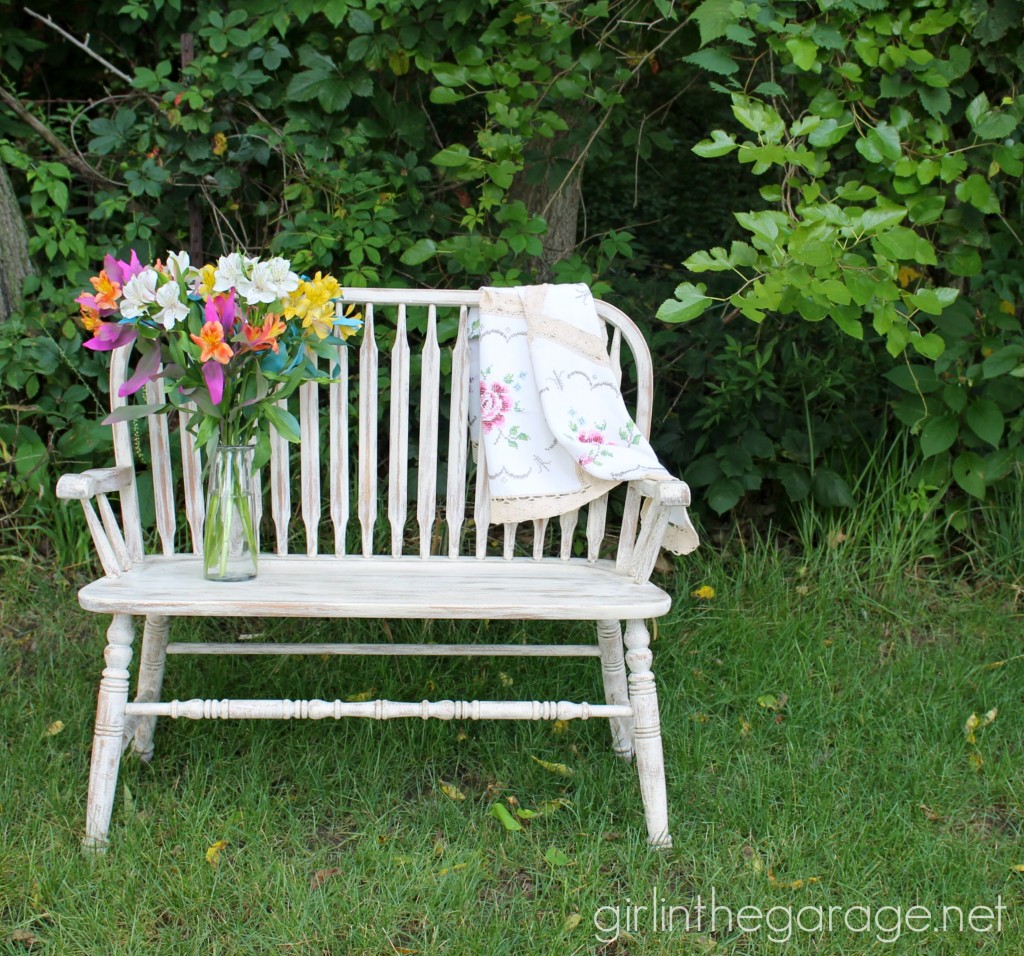 If you've started on the path of flipping furniture, don't assume that you need a bunch of money, lots of extra time, or a big garage before you can really dive in and get creative. Like any new hobby or business venture, keep things simple until your life allows you more flexibility and freedom.
Soon you'll be creating beautiful masterpieces like a seasoned pro!
Learn more about painting and selling furniture and decor as a creative business: