With the weather warming up and the outdoor market season fast approaching, crafters, makers, and vintage vendors are planning ahead to get their displays ready. I'm always looking for ways to update my booth layout, make my display as stylish and portable as possible, and make a lasting impression on everyone who visits my space.
I usually do a lot of indoor markets because the weather in Indiana can be so unpredictable. But I have done some outdoor markets, and used a canopy tent that I bought several years ago. However, the canopy is gray and makes it dark inside and hard to see the true colors of my items (it's meant more for casual events/camping/backyard parties).
I've since learned that many outdoor markets and craft fairs require a tent with a white canopy, so I plan to upgrade soon. I'm sharing my research here in case you're looking for a new canopy tent too.
Let's take a look at some of the best highly-rated 10×10 tents and tent weights for outdoor markets and fairs…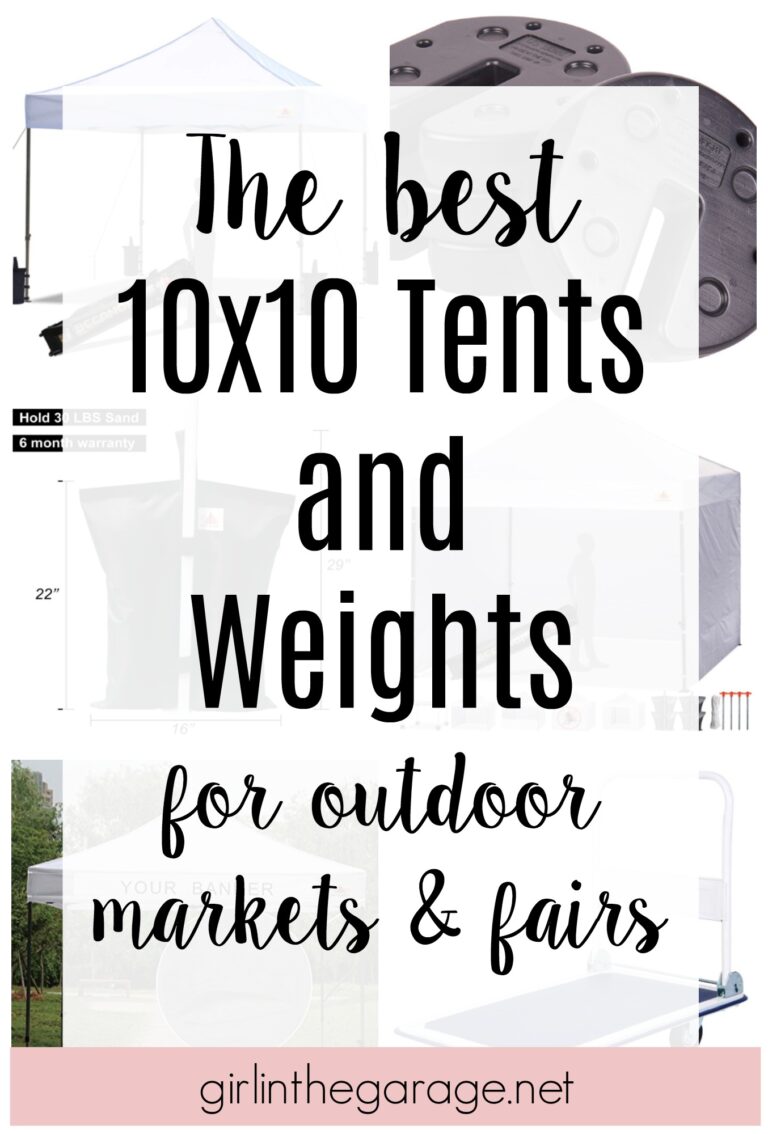 This post contains some affiliate links so you can easily find the products I use and recommend. Discover all my favorite brands and tools for doing DIY projects here.
Highly-rated 10×10 canopy tents for outdoor use
Even though all of the above tents come with sandbags, it is a great idea to have more weight holding your tent down. Often big wind gusts can lift or bend otherwise sturdy tents, and some events require a certain weight amount holding your tent down. You can create a DIY solution such as using heavy buckets or full jugs tied to each corner.
Highly-rated tent weights for outdoor canopy tents
Here are a few tent weights that you can purchase if you don't want to DIY:
Lastly, if you just want to order a replacement canopy or side wall, here are some highly-rated choices:
What type of tent or market display piece are you planning on using for your events? A great display invites people in, and great staging helps sell more products!