With the weather warming up and the outdoor market season fast approaching, crafters, makers, and vintage vendors are planning ahead to get their displays ready. I'm always looking for ways to update my booth layout, make my display as stylish and portable as possible, and make a lasting impression on everyone who visits my space.
I usually do a lot of indoor markets because the weather in Indiana can be so unpredictable. But I have done some outdoor markets, and used a canopy tent that I bought several years ago. However, the canopy is gray and makes it dark inside and hard to see the true colors of my items (it's meant more for casual events/camping/backyard parties).
I've since learned that many outdoor markets and craft fairs require a tent with a white canopy, so I plan to upgrade soon. I'm sharing my research here in case you're looking for a new canopy tent too.
Let's take a look at some of the best highly-rated 10×10 tents and tent weights for outdoor markets and fairs…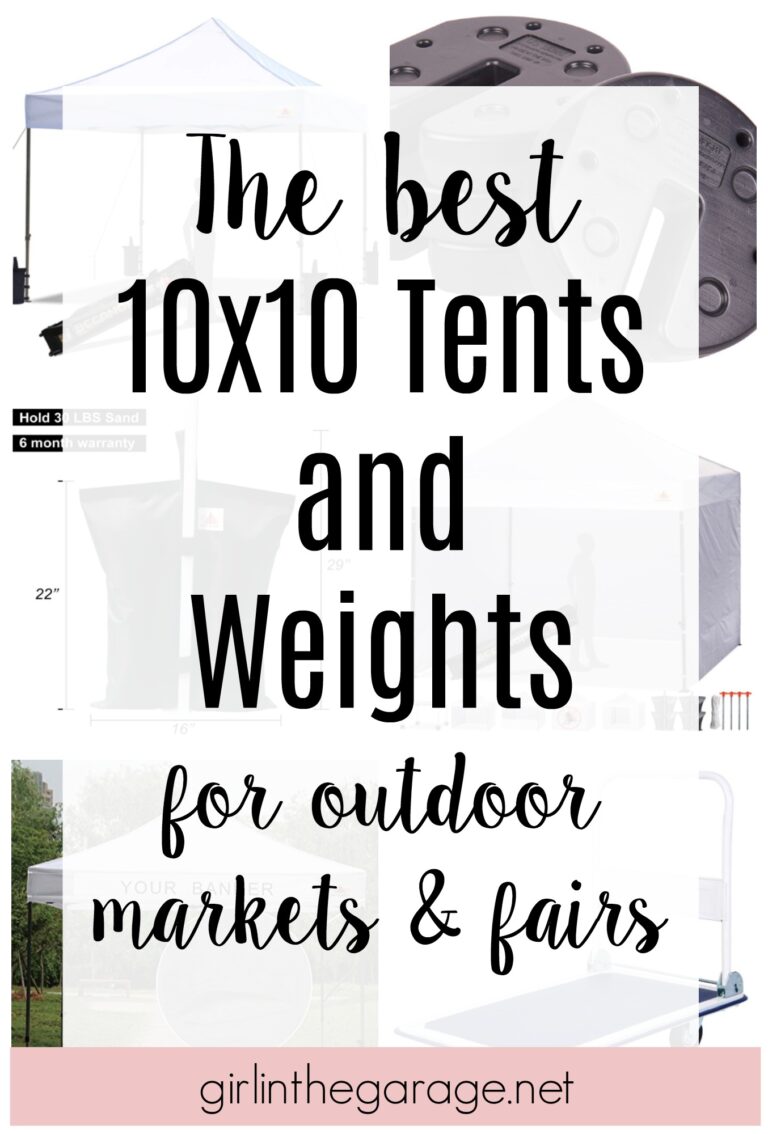 This post contains some affiliate links so you can easily find the products I use and recommend. Discover all my favorite brands and tools for doing DIY projects here.
Highly-rated 10×10 canopy tents for outdoor use
* First let's start with what seems to be one of the most popular and reasonably priced pop-up canopy tents on Amazon (photo below). There are currently about 1,400 reviews with an overall rating of 4.5 stars. The canopy blocks UV rays and is waterproof. It also comes with 4 sand bag weights, 4 stakes, ropes, and a rolling storage case to hold everything.
Price: Currently on sale for $129 and free shipping with Prime. Learn more about this popular 10×10 pop-up canopy tent here. (There are also other canopy colors besides white.)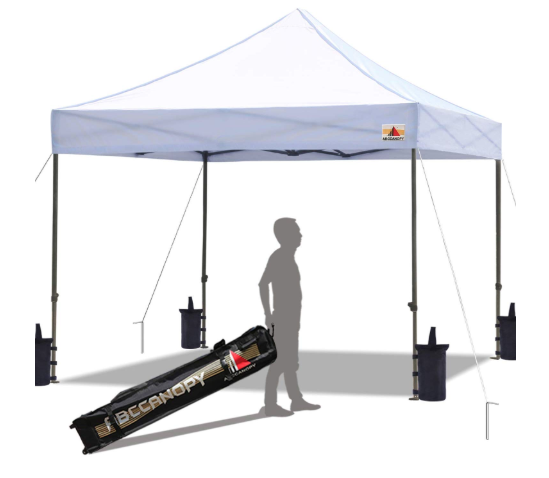 * Here's another 10×10 canopy tent option that's a bestseller on Amazon (4.6 stars and almost 900 reviews). This is similar to the one above but also comes with SIX removable wall options: three solid panels, one with a roll-up door, one mesh wall, and one half wall (see photo below).
Price: Currently $199 and free shipping with Prime. Learn more about this canopy tent with walls and weights here. (Also there are many other colors available.)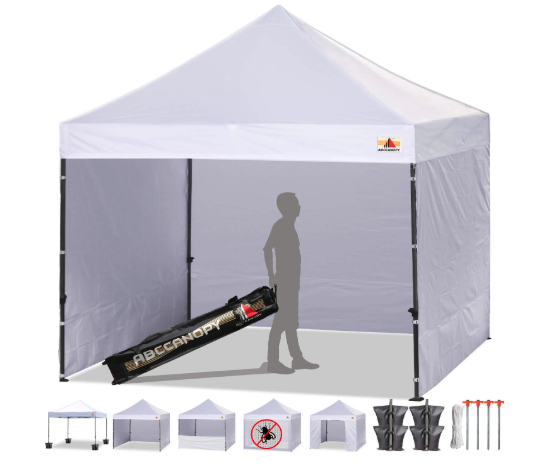 * This Eurmax EZ Pop-Up canopy tent (below) is also really popular with over 1,000 ratings and 4.5 stars on Amazon. The reviews are a little mixed though, so be sure to read through them before making a decision. The easy up tent comes with 4 removable side wall panels, sandbags, and rolling storage bag.
Price: Regular $399, currently on sale for $228. Learn more about this EZ Pop-Up tent here.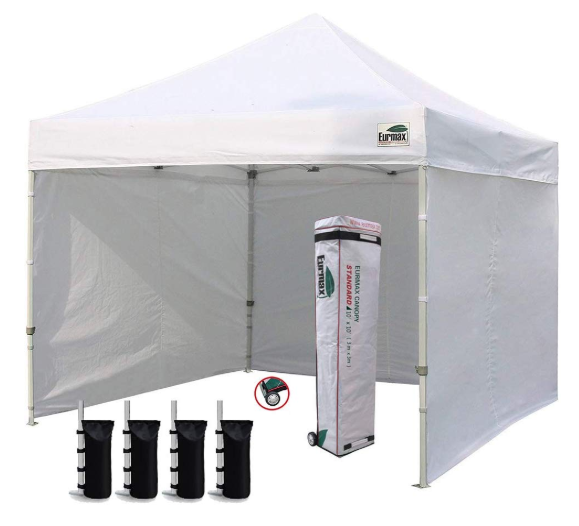 Even though all of the above tents come with sandbags, it is a great idea to have more weight holding your tent down. Often big wind gusts can lift or bend otherwise sturdy tents, and some events require a certain weight amount holding your tent down. You can create a DIY solution such as using heavy buckets or full jugs tied to each corner.
Highly-rated tent weights for outdoor canopy tents
Here are a few tent weights that you can purchase if you don't want to DIY:
* This set of 4 canopy tent weight bags has 69 ratings and 4.6 stars. They hold about 30 pounds of sand or rocks. Just make sure the velcro is wrapped tightly around the tent legs.
Price: About $16 for four, with free Prime shipping. You just need to add your own sand or other filler. Learn more about these industrial grade canopy tent leg weight bags here. (Available in black, gray, or blue.)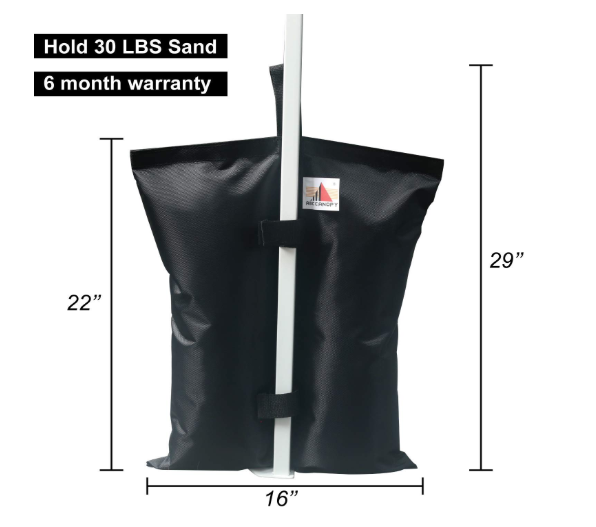 * I currently have a set of tent weights like the set below (you can see them in the very first photo at the top). This set includes four 10lb. weights (total 40lbs). You don't have to fill them because there's cement inside. They're easy to stack and you could use them together with a velcro weight bag on top if you'd like.
Price: Currently on sale for about $40, with free Amazon Prime shipping. Learn more about these "Amazon's Choice" tent weights here.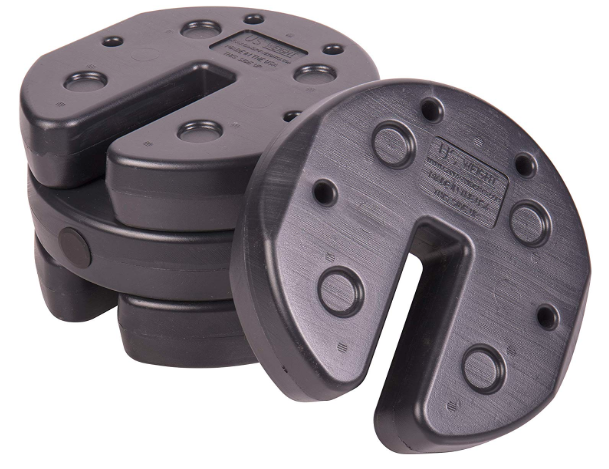 Lastly, if you just want to order a replacement canopy or side wall, here are some highly-rated choices:
* If you need a new tent canopy, check your measurements and consider a replacement canopy like the one below. This one claims to be waterproof and also comes with 4 bonus weight bags. It also has convenient loops for hanging a banner, and comes in lots of colors.
Price: About $70, plus an extra coupon discount right now. Free shipping with Amazon Prime. Learn more about this replacement tent canopy here.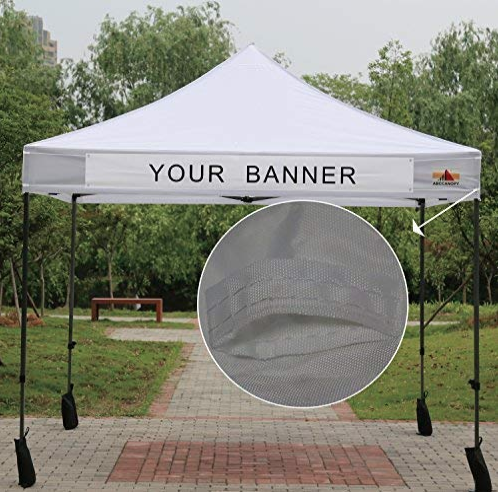 * If you only want a new tent wall, the one below is a great option. It should fit most straight-leg 10×10 tents, but double check your size before ordering. It helps protect you and your items from the weather; order several to have some privacy on sides where shoppers wouldn't enter anyway. (I can tell you from experience, it is awesome having at least one back wall in your space!)
Price: Currently on sale for less than $14, plus free shipping with Amazon Prime. Learn more about this 10×10 tent wall here. (Many colors to choose from.)
* Finally…. this next product doesn't have anything to do with tents but it has been such a big help moving things when we do markets… this is the exact rolling flatbed cart I own and I fully recommend it!
It holds up to 660lbs (great for heavy furniture), the handle folds down for storage/travel, and it's honestly a really good deal for less than $65 and free Prime shipping. Learn more about this folding rolling flatbed cart here.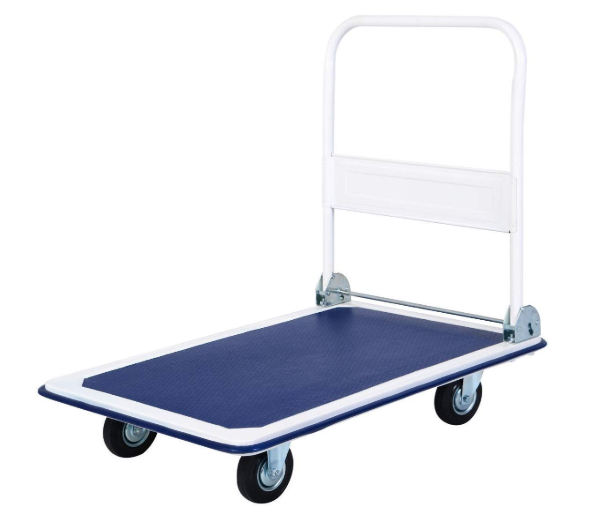 What type of tent or market display piece are you planning on using for your events? A great display invites people in, and great staging helps sell more products!
Join the GITG Community
When you join this thriving online community of 90,000 creative souls, you'll be inspired to discover hidden artistic talents and learn skills to boldly face DIY projects with confidence.
You'll also receive my free guide "Just Paint It: 7 Tips for Transforming Furniture with Confidence."