Welcome back, friend! For today's DIY project, I chose this little wood bookcase that I bought along with this small table that I gave a chic new look recently. I had a cool idea for the back area, but first it needed some paint. (There's also a quick helpful video below of this makeover.)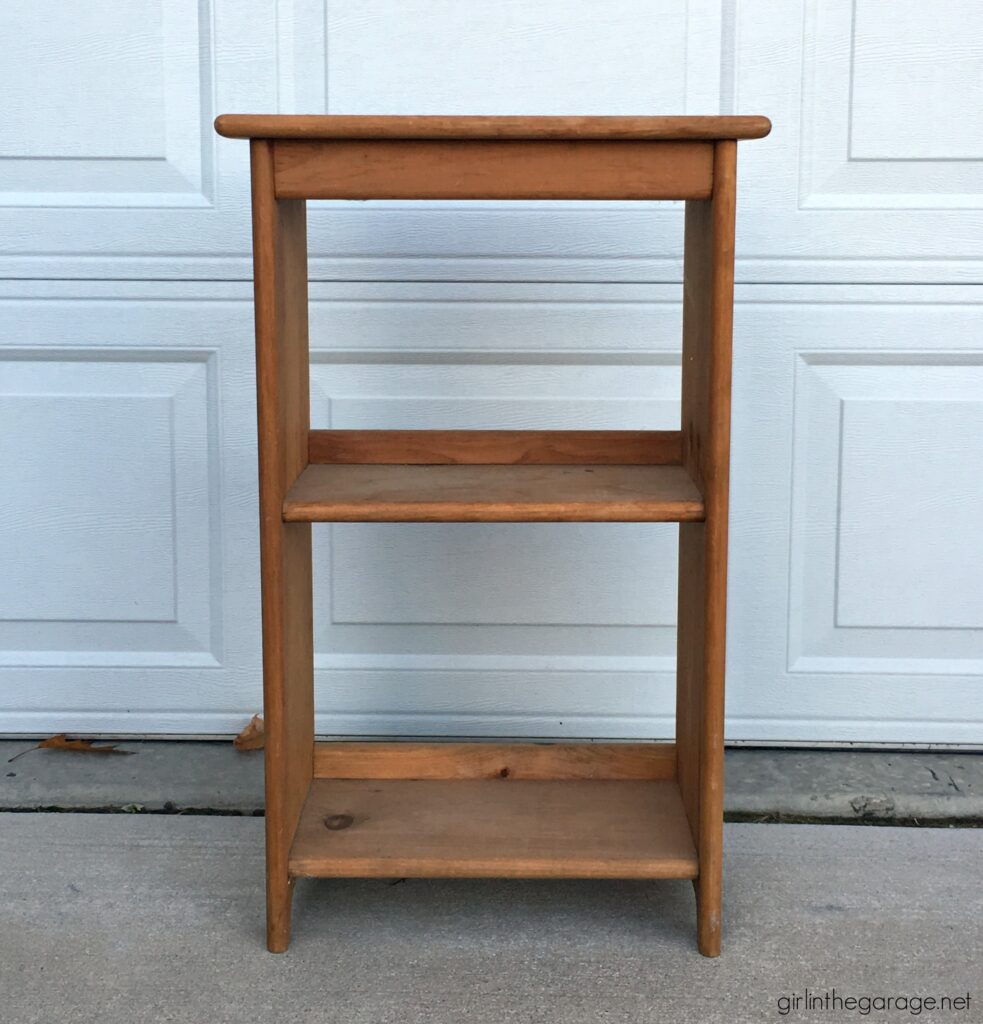 This post contains some affiliate links so you can easily find the products I use and recommend. Discover all my favorite products and tools for doing DIY projects here.
Painting the thrifted bookcase with Chalk Paint
I decided on Annie Sloan Chalk Paint in Duck Egg for this wood bookcase. (This is the old version of Duck Egg in the United States – this color formula is now known worldwide as Svenska Blue.) I also used one of my favorite Purdy paint brushes.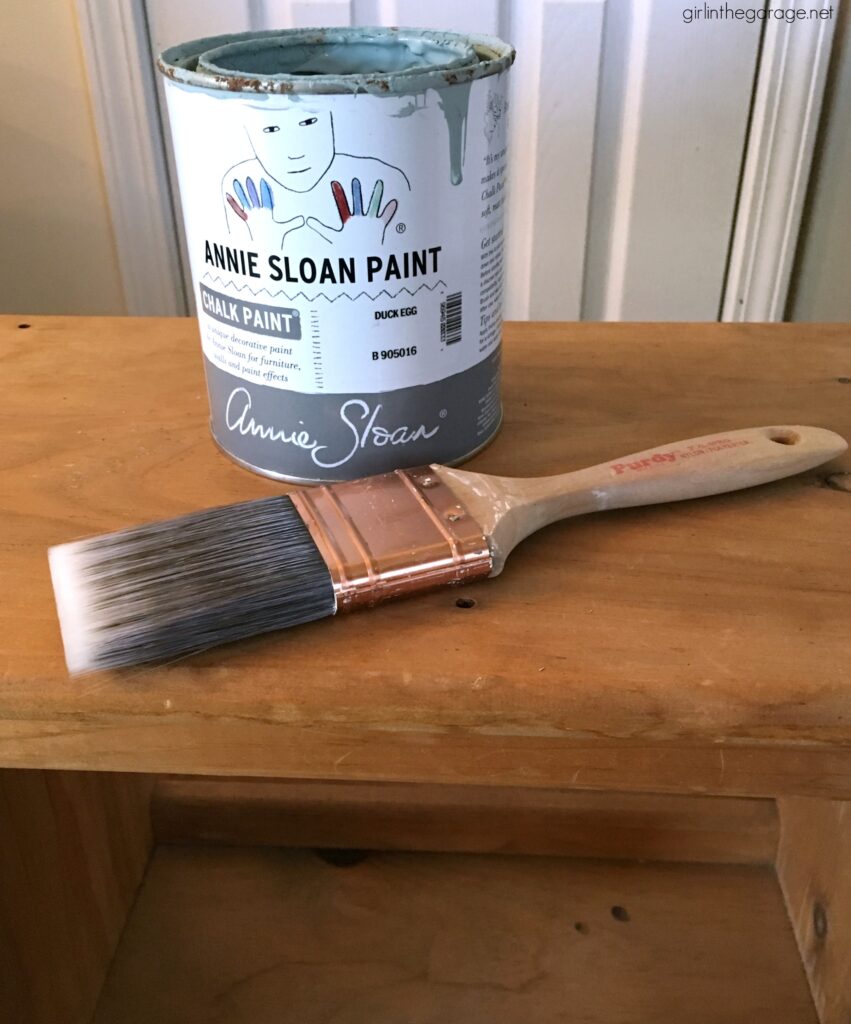 First I lightly sanded with 220-grit sandpaper to smooth some rough areas. You can read through all my tips for how to prep furniture for painting here.
I thought I might have to prime first, but decided to try it out and see what happened. There was no bleed through! 🙌🏻 If I was painting this white, I definitely would've primed first with my favorite shellac for a crisp look. But with the soft blue I actually wanted a little bit of a rustic vintage look. You'll see why in a minute.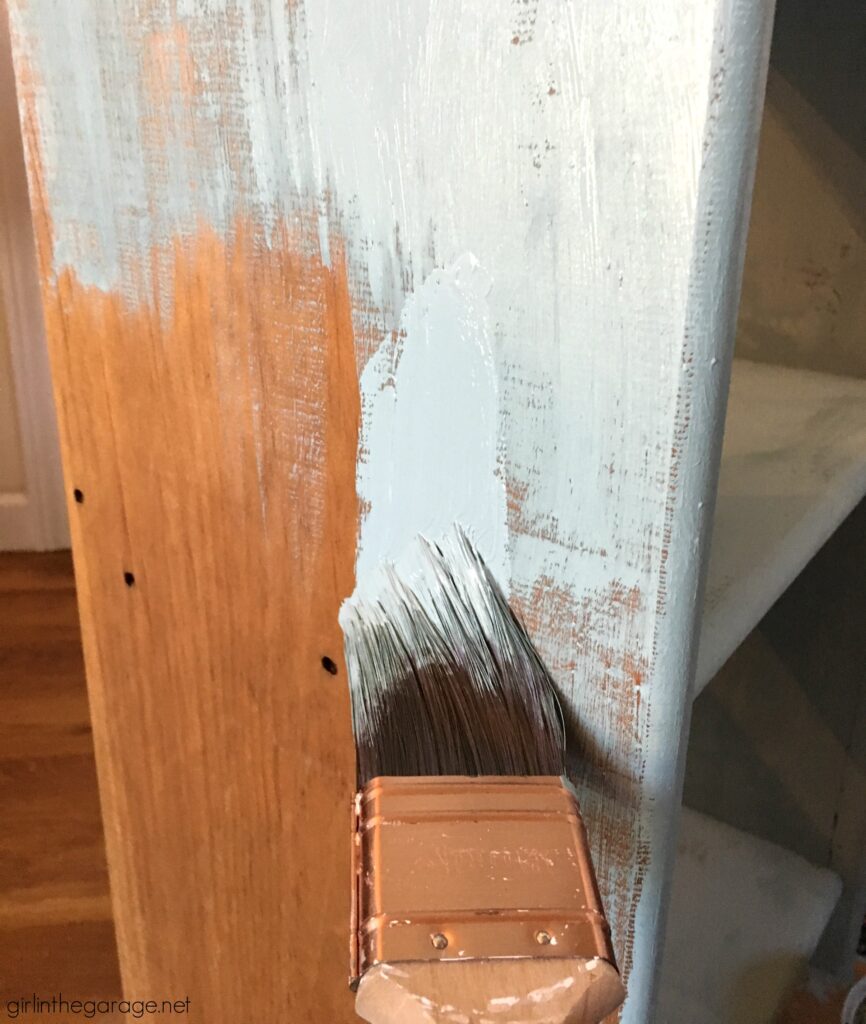 I painted two coats and gently sanded again for smoothness. Finally I followed with Annie Sloan's clear wax and a lint-free cloth for protection.
Adding repurposed yardsticks to the back of the bookcase
Next it was time to work on my idea for the back of the bookcase. Since the back opening is only about 24in x 15in, I decided to finally use my stash of yardsticks that I've been hoarding saving for awhile now.
(If you're looking for basic new yardsticks, you can get a pack of 10 for about $15 on ebay like I did. If you're looking for some unique vintage yardsticks, I'd recommend ebay or Etsy.)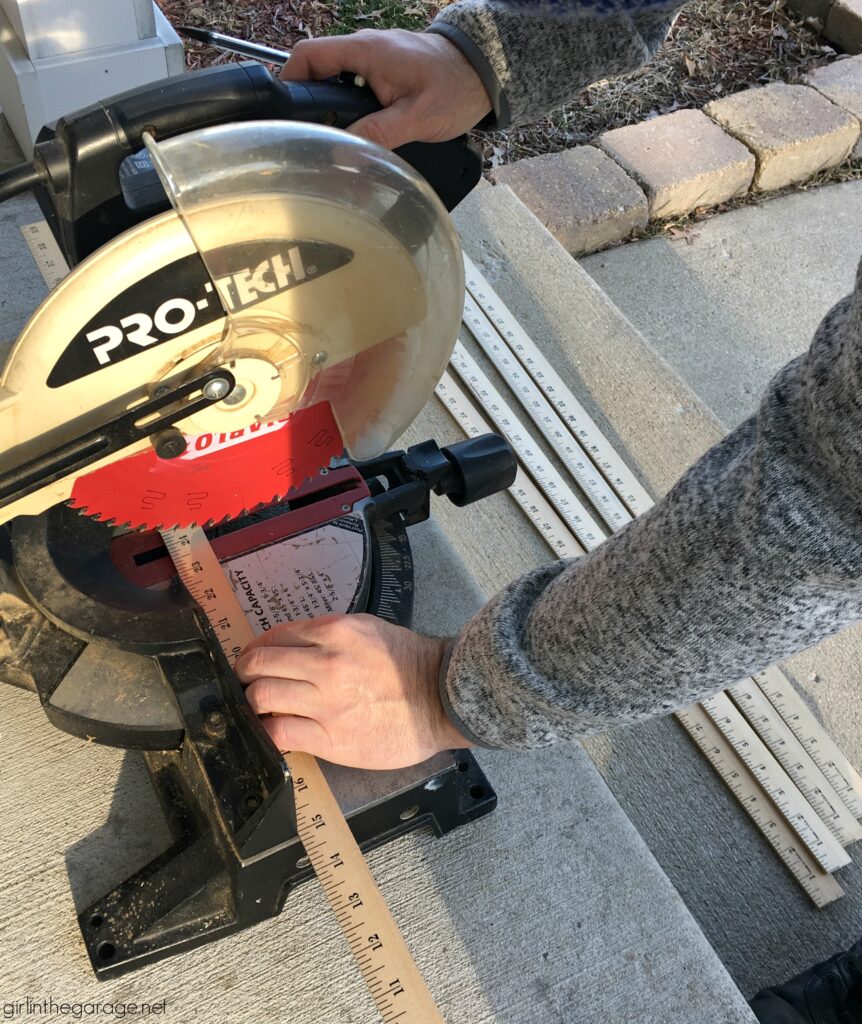 Guy in the Garage helped me out by cutting the yardsticks with the chop saw outside while I refereed our boys who were wrestling playing in the living room. Our saw is older, but here's a highly-rated and inexpensive brand new option. (Remember to always wear safety goggles and follow all directions when using power tools.)
In total, 9 yardsticks were used for this project. I used 9 pieces cut at 24 inches long and then 8 pieces at about 12 inches long (leftovers from the nine). This way there was almost zero leftover waste.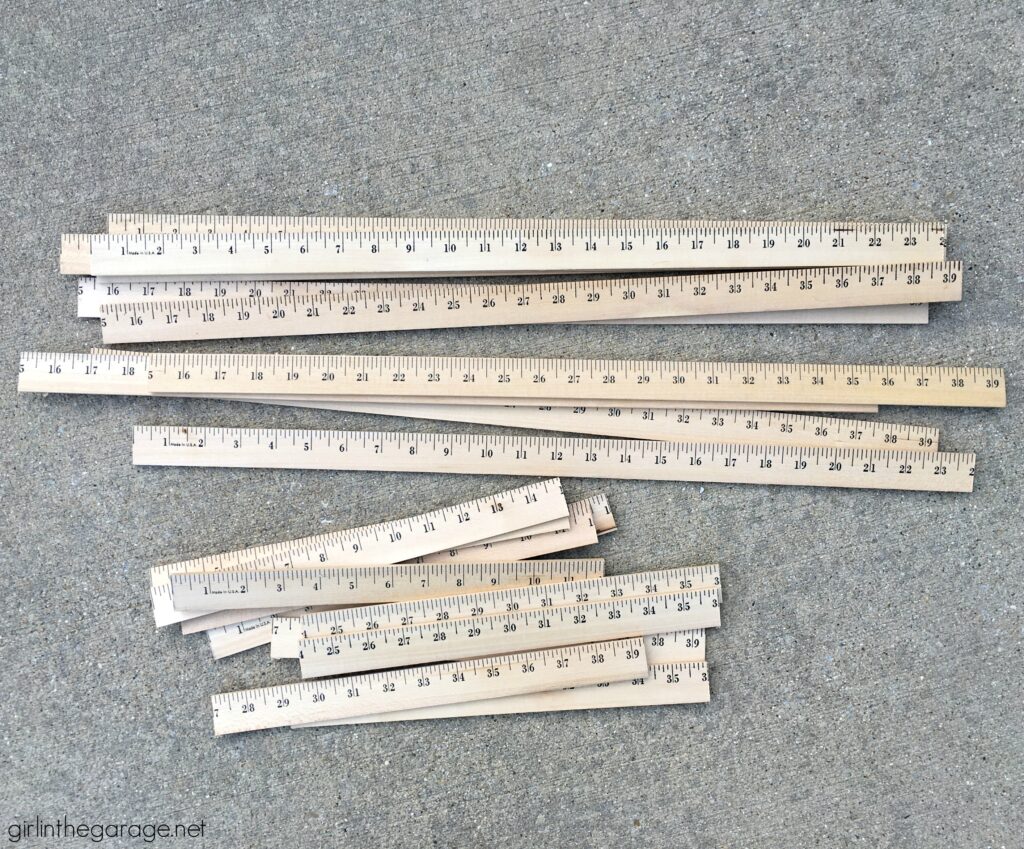 I tried to be strategic when nailing the yardsticks in place, so that no two were exactly the same side-by-side. I checked how each one looked from the front before actually nailing it in place with small 5/8 inch nails.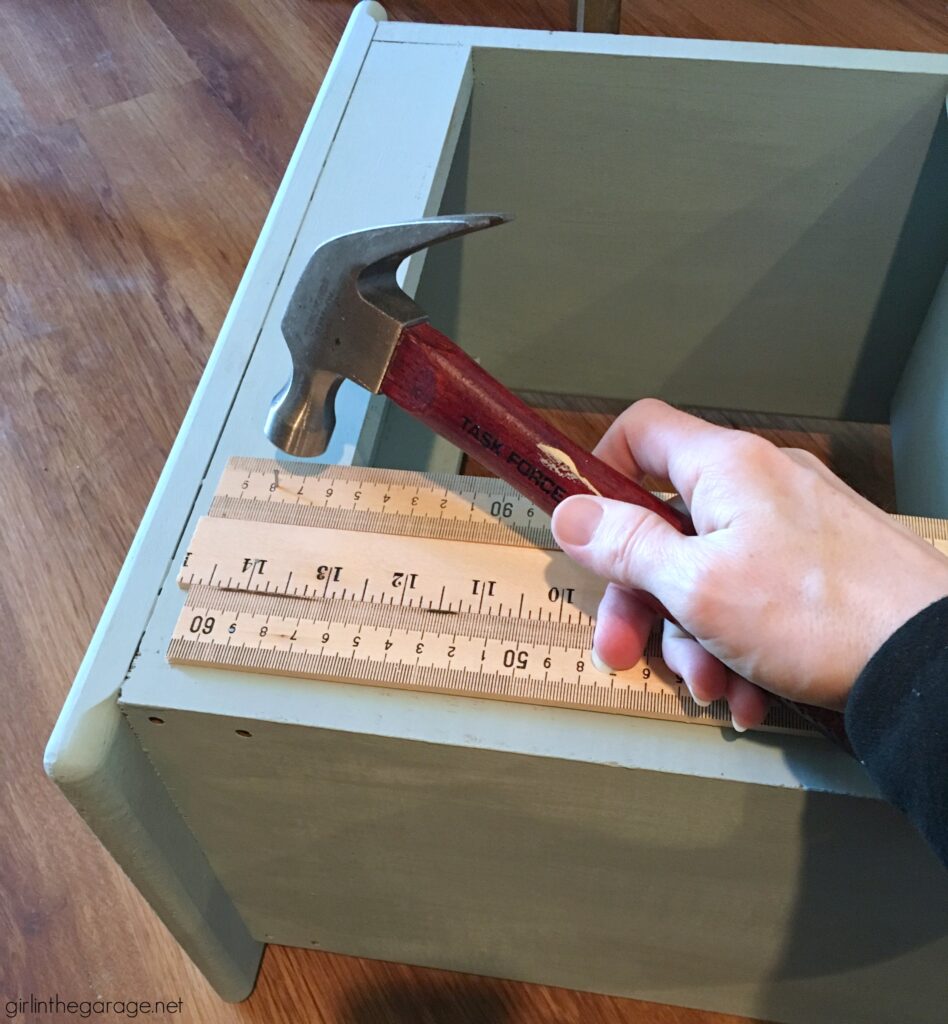 The 12-inch pieces were stacked and nailed from behind the center shelf (see below).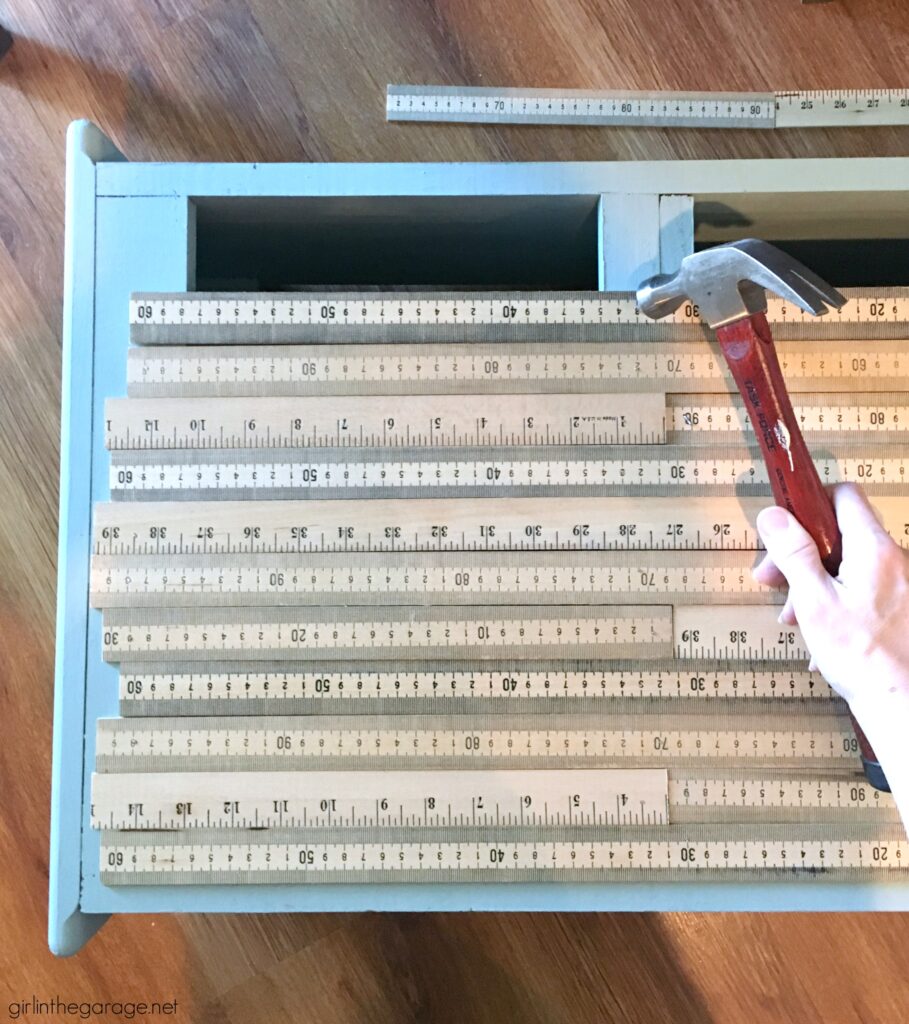 It was actually a pretty easy project, and you could totally use a regular saw and miter box (and some good ol' muscle) if you don't have a power saw to use. This miter box and saw set is about $13 and free shipping with Amazon Prime (and I've used this set many times myself).
When all was finished, here's how this painted bookcase with repurposed yardsticks looks now: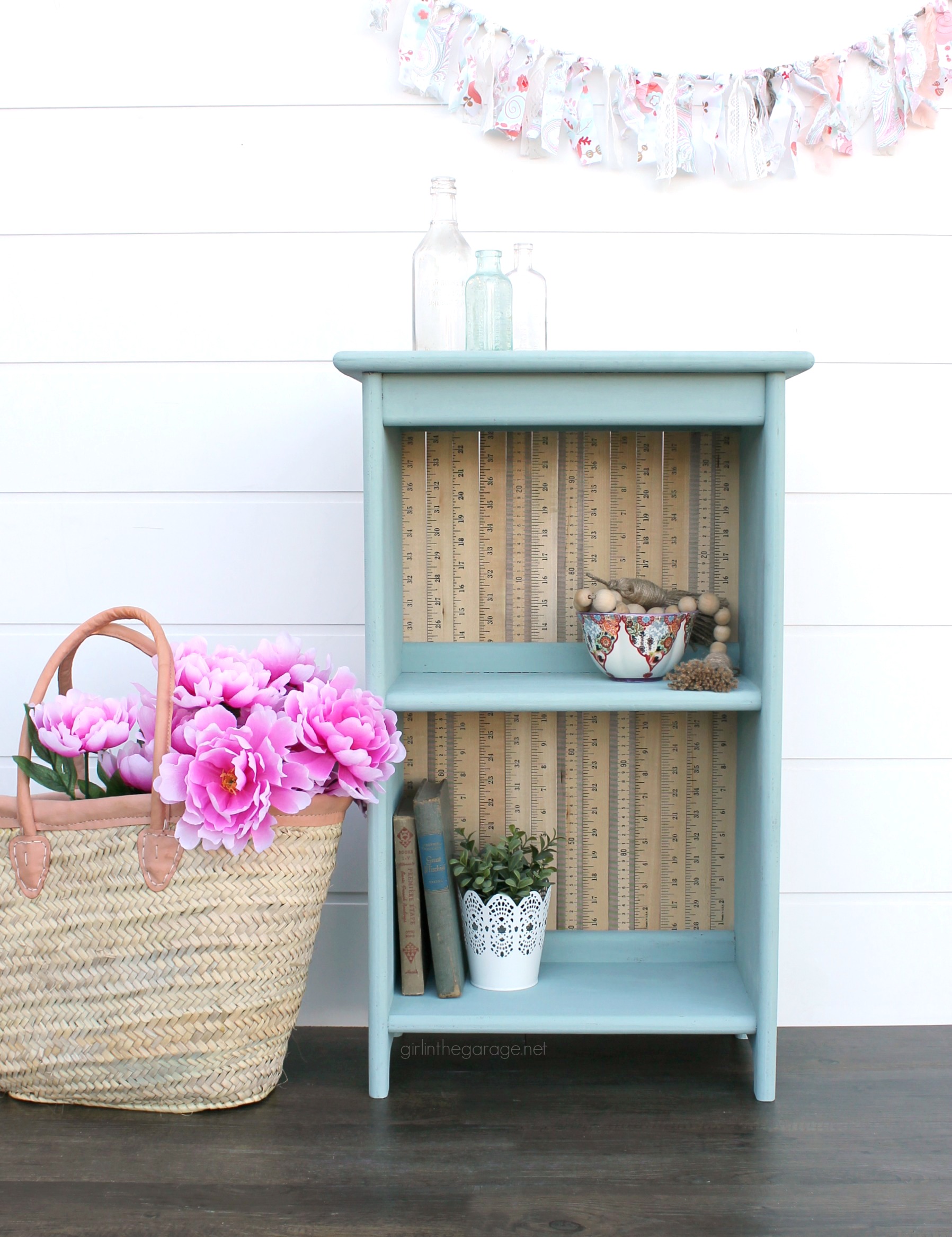 It kind of oozes vintage charm, don't you think?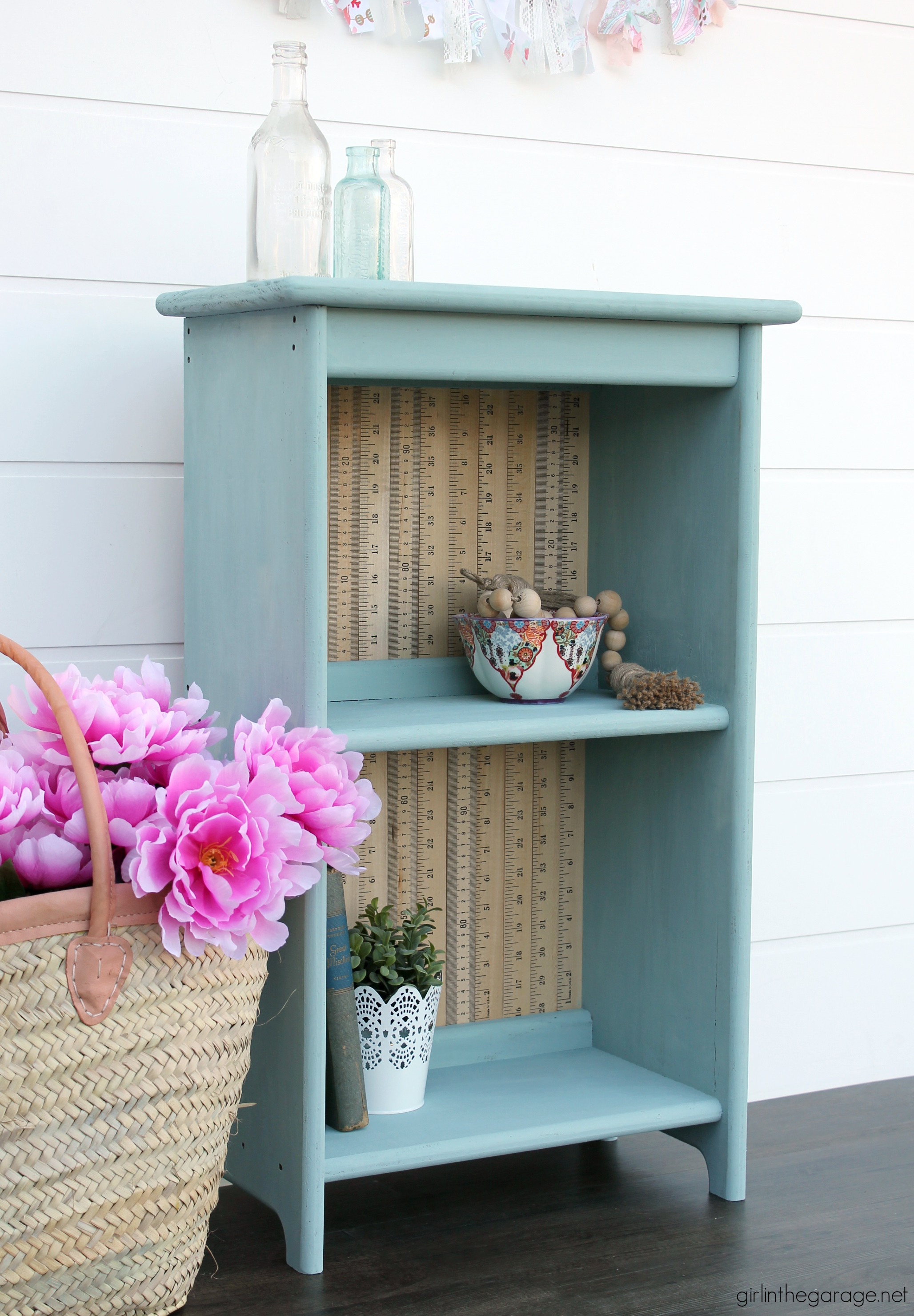 Here's a closeup so you can see the yardsticks better: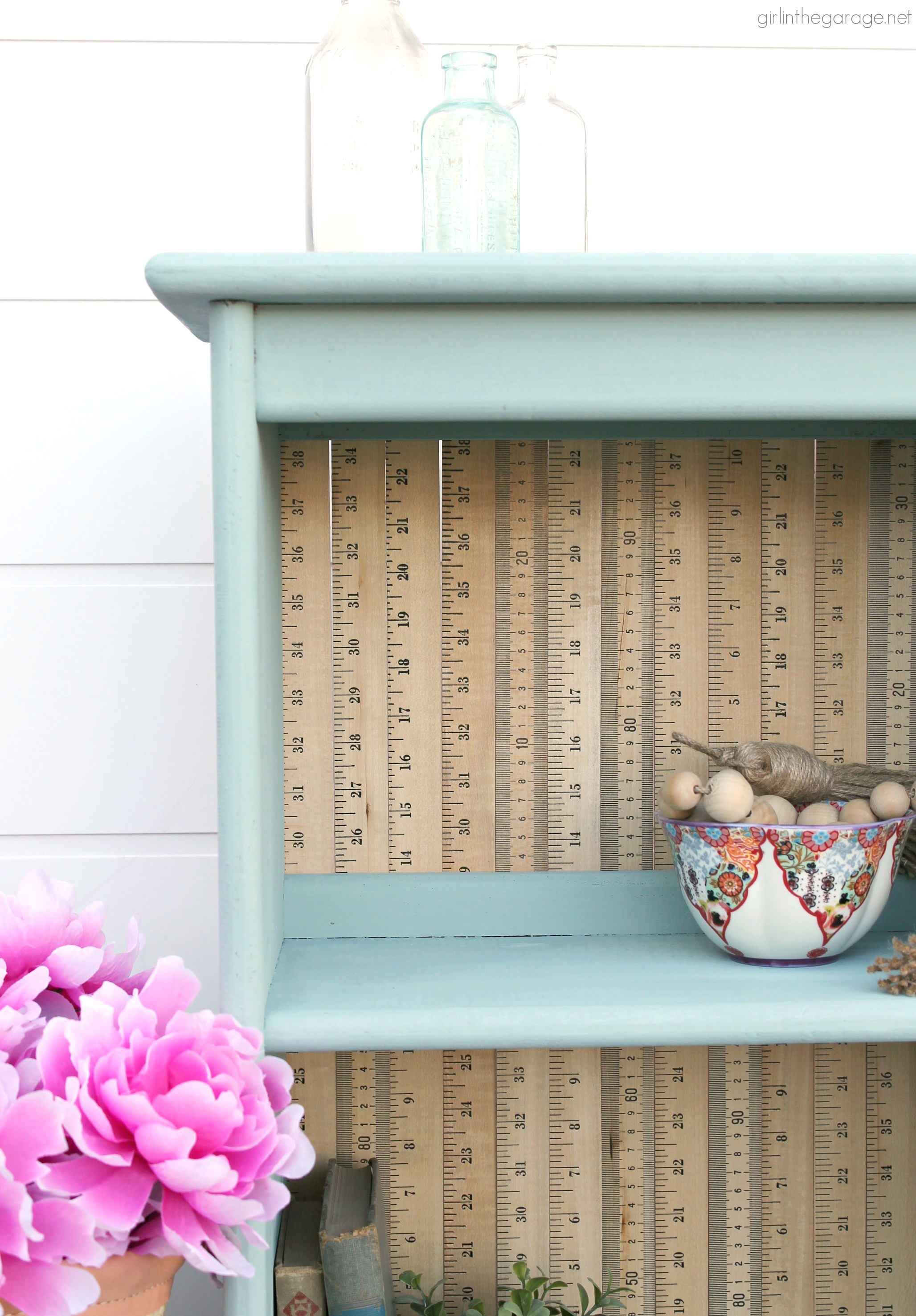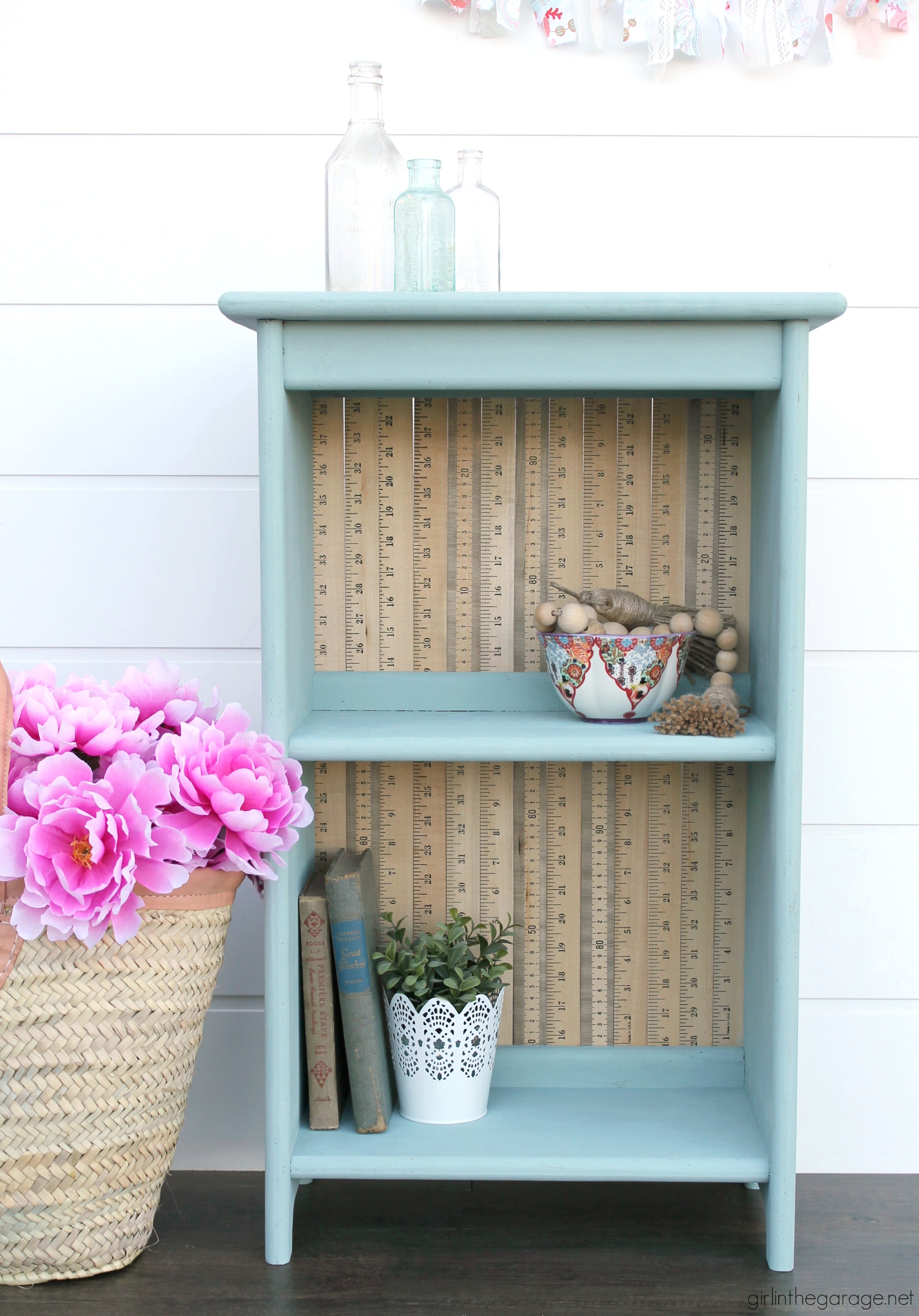 It was an easy project but I think the results are pretty fantastic!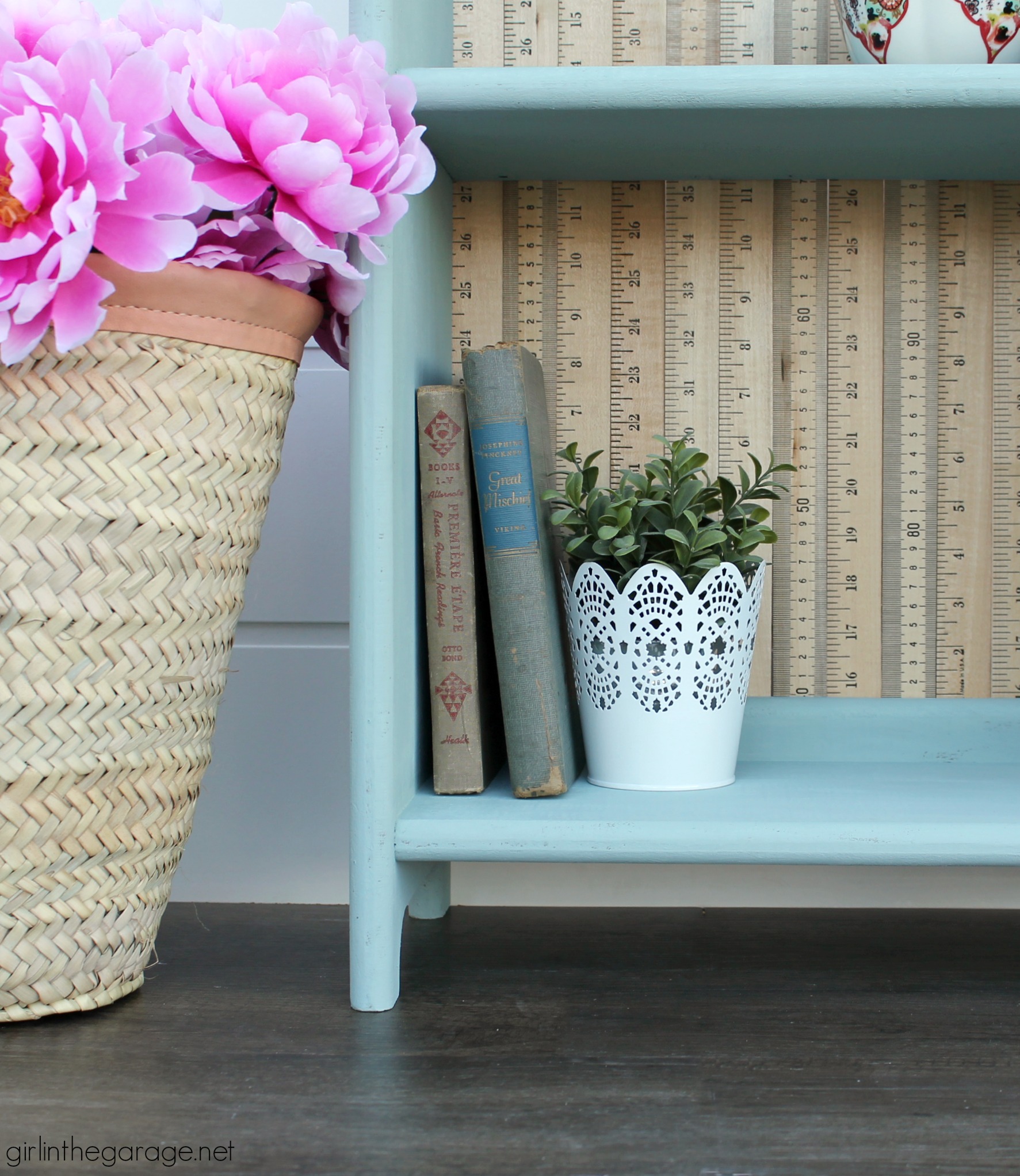 Here's another reminder of the before and after of this project: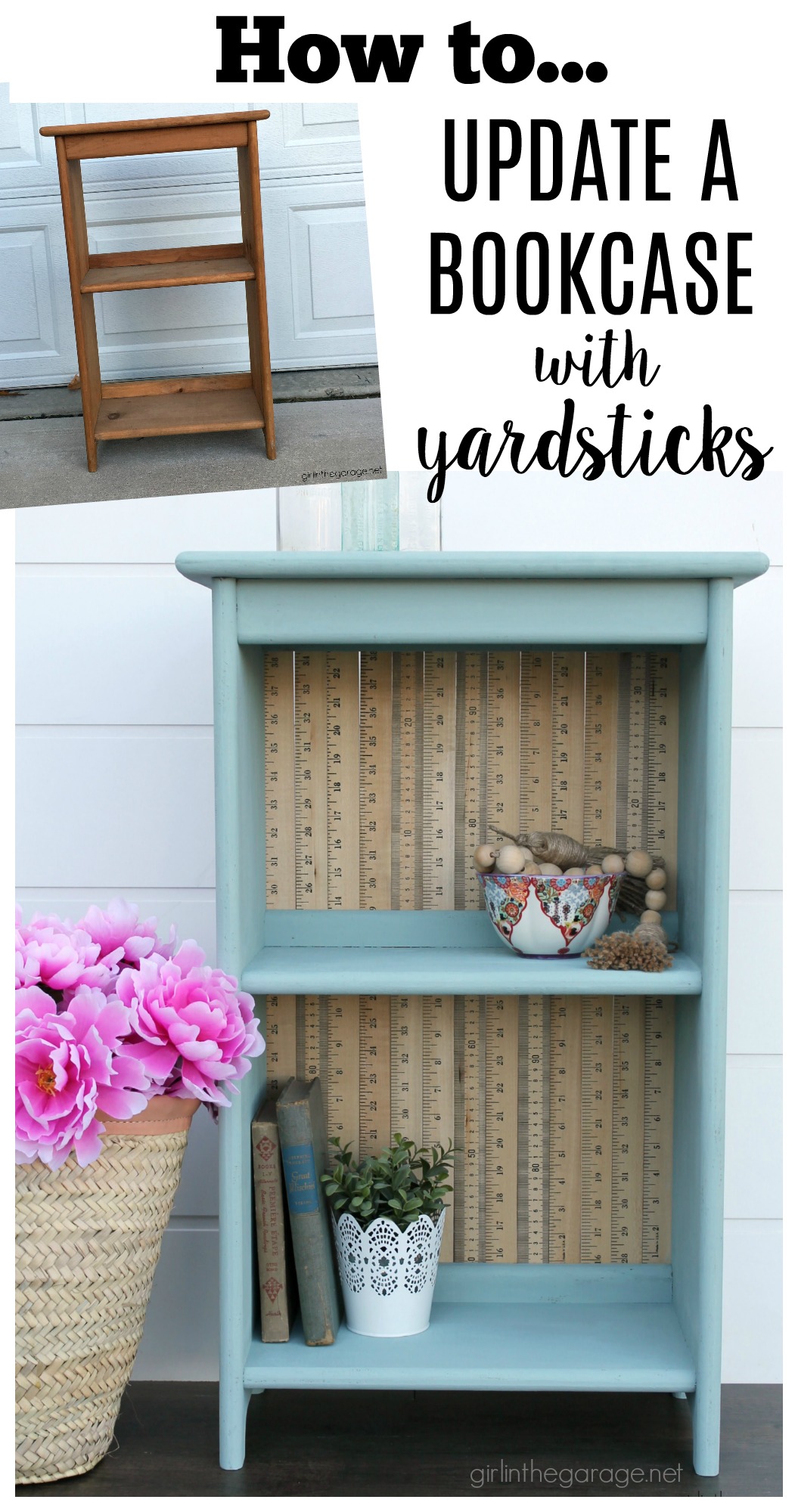 I'd love to know what you think of this painted bookcase with repurposed yardsticks. Did you expect that I might use yardsticks for the back of this bookcase? I hope you were surprised! 🙂 I'd also love for you to Pin or share this makeover with a friend. I appreciate you! – Jen
Now it's time for some Furniture Fixer Uppers makeovers. Below are the Before photos – visit the links underneath to see the amazing Afters and to learn how they did it: