Friend, it's a beautiful day and I'm happy to be back again sharing a new makeover with you. My project is this cute little orange-y side table, and I'll show you how to add a gorgeous stencil and then how to get a sleek black wood stain look with furniture wax (which will tone down all that orange!).
This post contains some affiliate links so you can easily find the products I use and recommend. Discover all my favorite tools and brands for doing DIY projects here.
Repair and Prep the Table
First, always check your furniture for any wobbly parts or damage. You can read all about how to prep furniture for painting here. Although this thrifted table was only $5, it was very sturdy. It did have a little chunk missing off the bottom shelf though.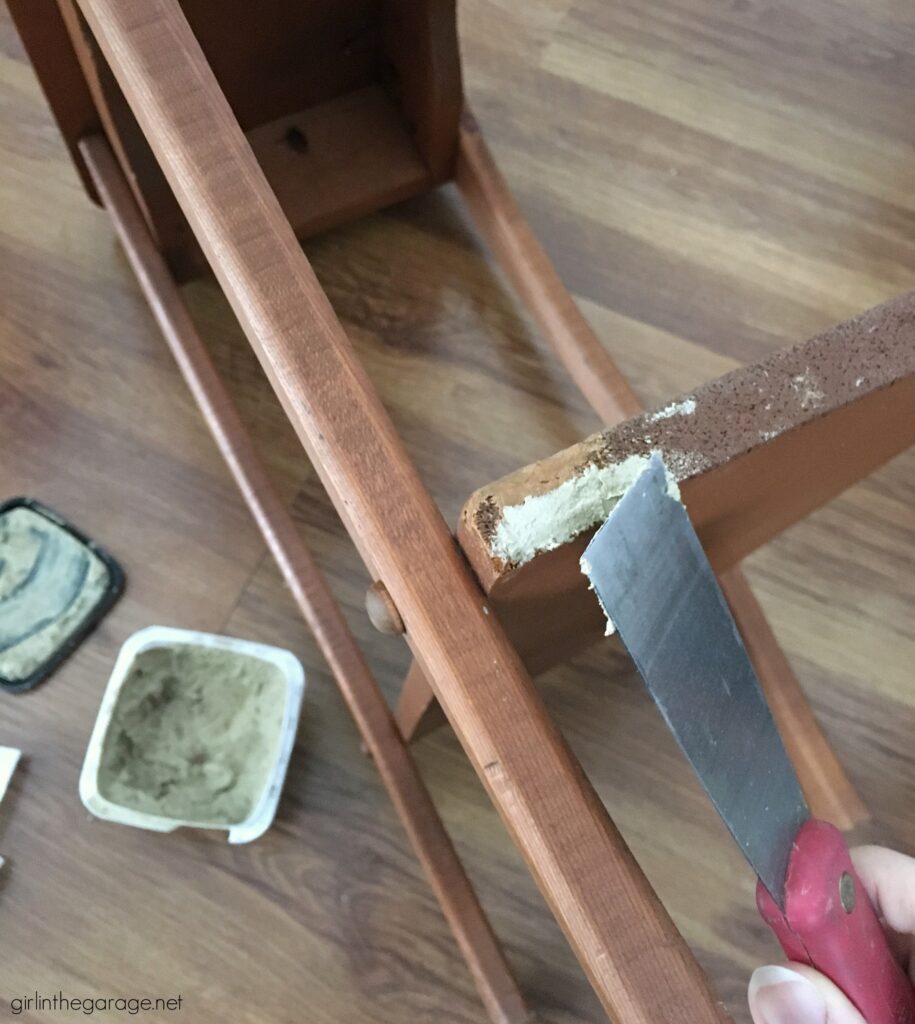 I applied my favorite wood filler with a small putty knife and let it dry. Since this was a small chunk, it only needed one layer of wood filler.
Once it was dry, I lightly sanded over the area with 220-grit sandpaper. Although I use higher and lower grits depending on what's needed, 220 is the one I use most often on projects – so I always try to have plenty in my stash.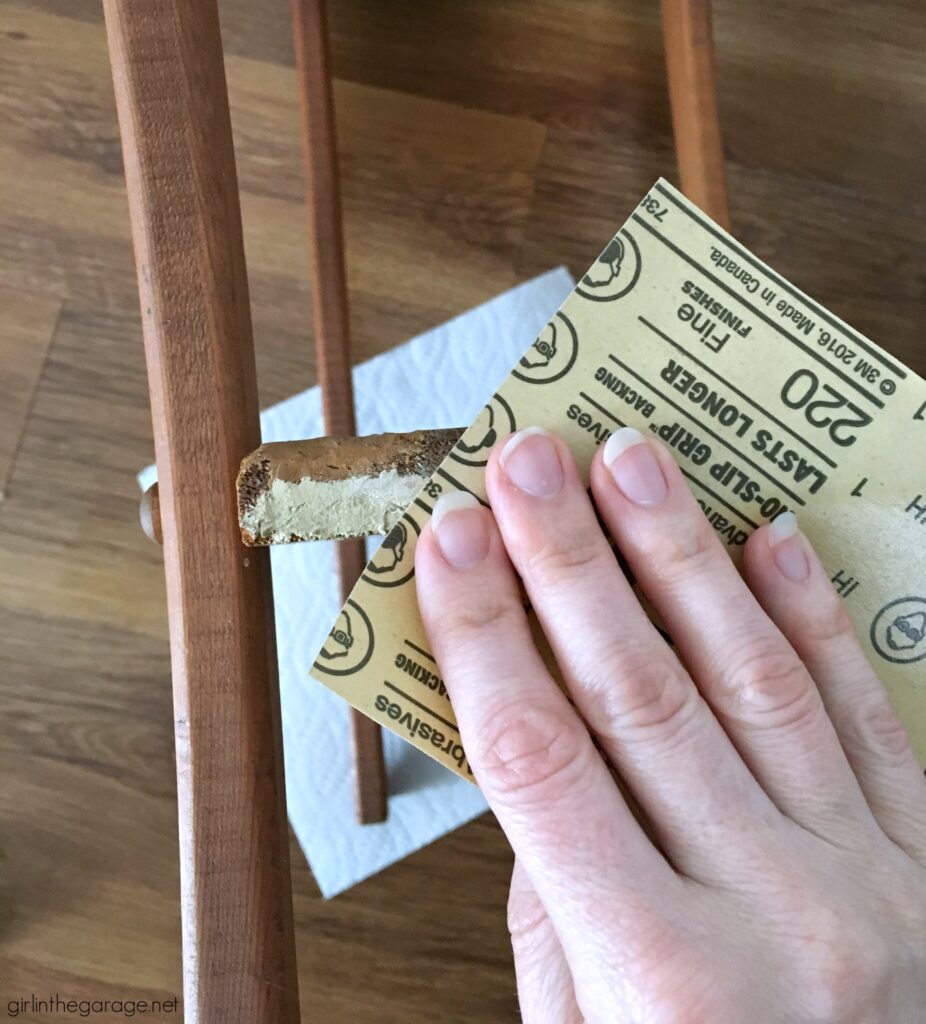 I also sanded some areas of the table where there was dried red paint and some rough edges.
How to Stencil a Wood Table
I chose a large stencil for this small table – the Lisboa Stencil by Royal Design Studio. Now I've been painting furniture for almost 8 years and I own a whole lot of stencils – but this is one that I've used over and over again. I'll include photos at the bottom of this post so you can see some of the other furniture that I've painted with this stencil. It really is fabulous – it has a Scandinavian vibe – and I hope to use it on a wall or floor someday.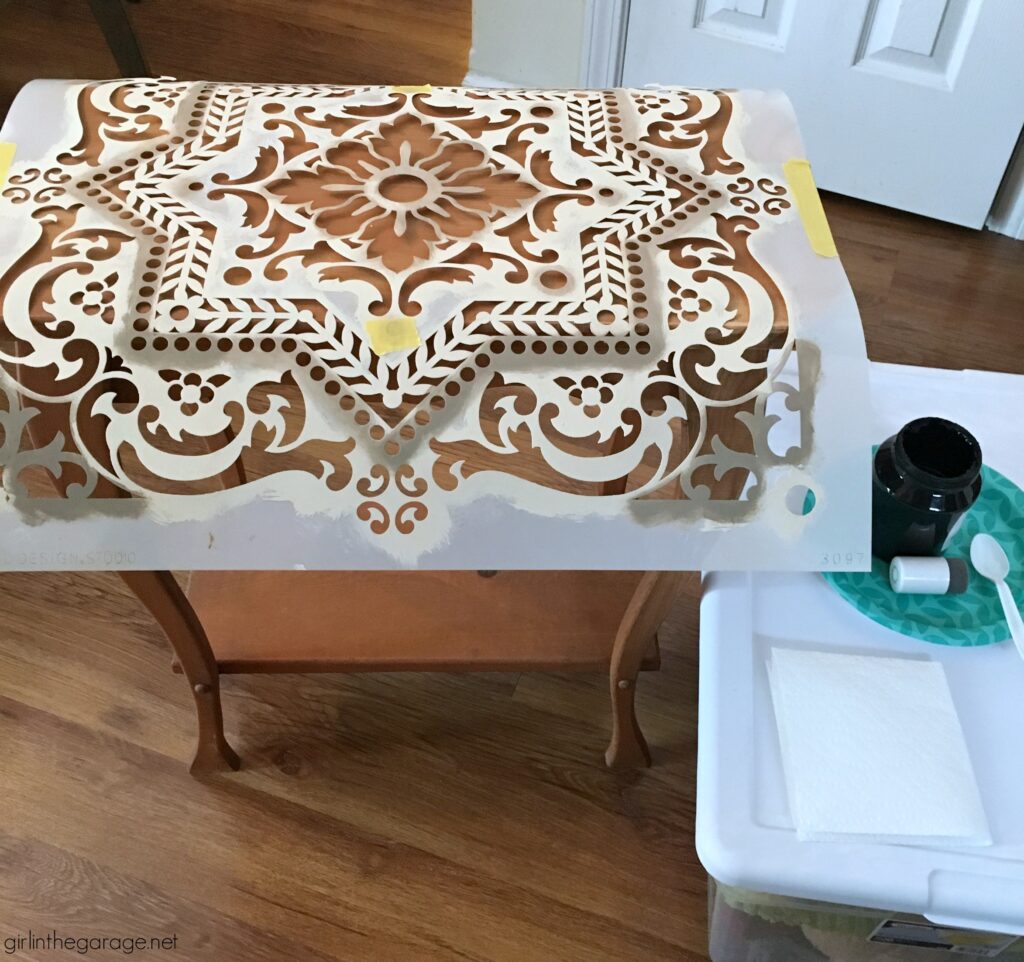 First I centered the stencil on top of the table and secured it with FrogTape. Then I got the rest of my painting supplies ready: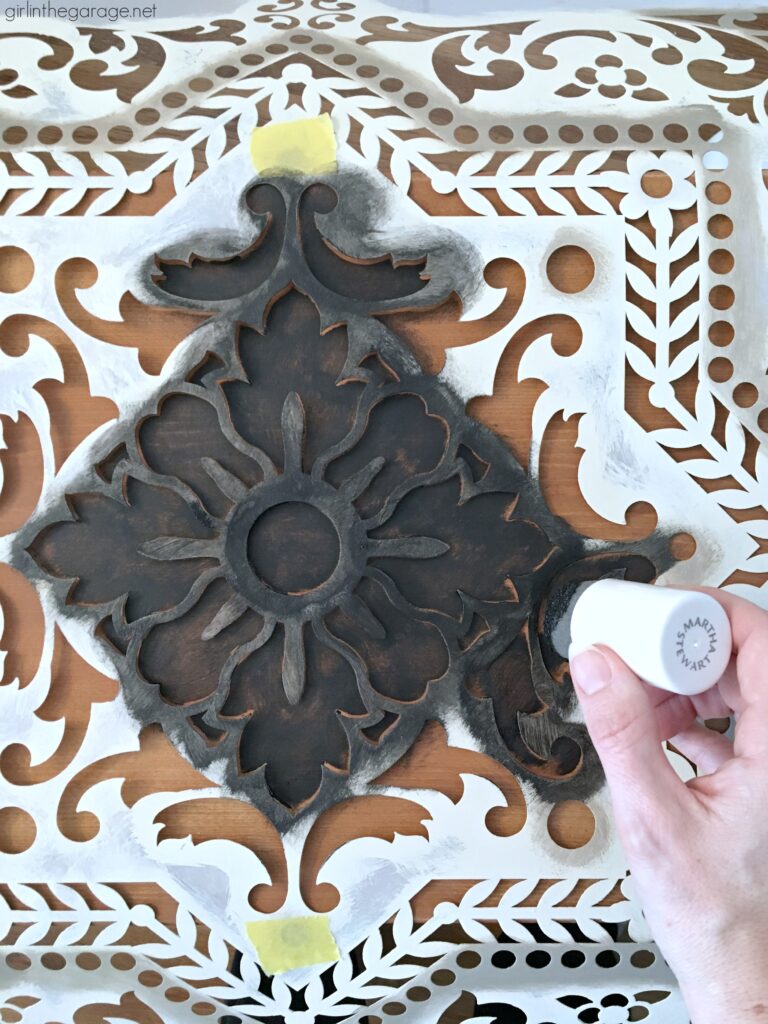 Use the plastic spoon to scoop some paint onto the plate. This is much easier than dipping your pouncer directly into the paint can.
Lightly dip the end of the pouncer into the paint and then blot it onto the paper towel. When stenciling, less is more! You definitely don't want to end up with paint smudges under your stencil.
Do 1-2 thin layers of paint depending how you want it to look. I wanted the paint to have a little of a faded look, so I mostly just did one layer.
When the top was finished, I removed the stencil right away before the paint was fully dry. Next I placed the edge of the stencil on the bottom shelf for a funky look. It's so exciting to watch a plain table transform into a very detailed piece of art in front of your eyes.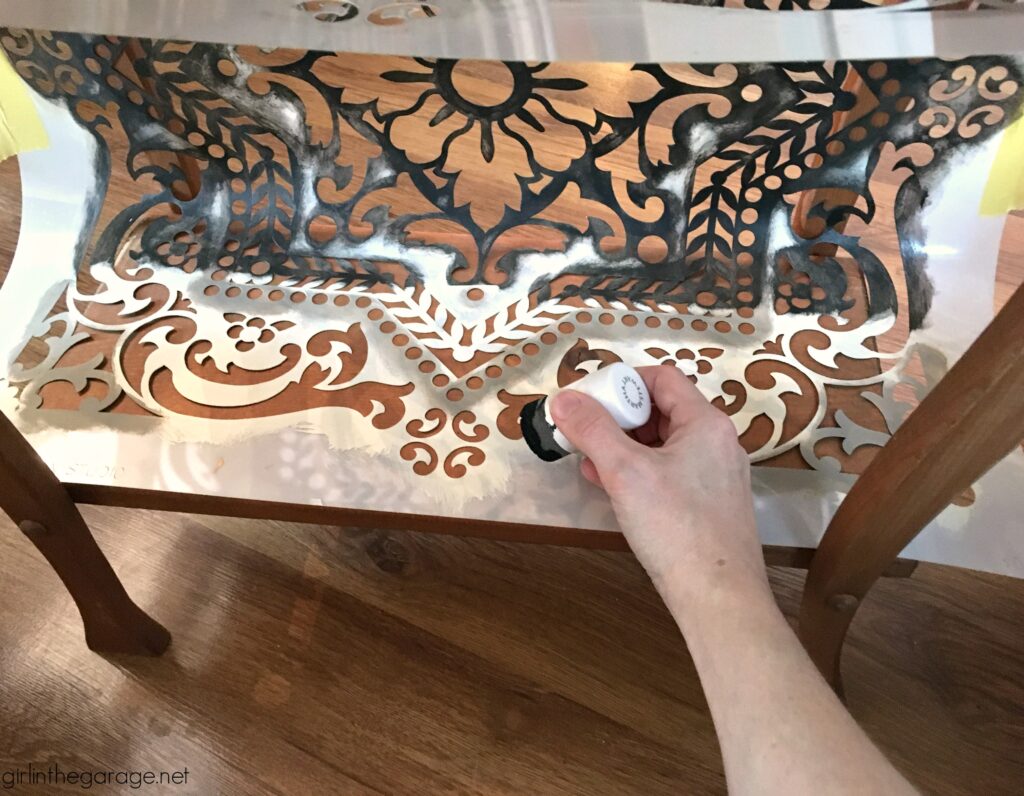 After the bottom shelf was stenciled too, I couldn't stop there. I used a smaller foam pouncer from the same set of 6 and used it to make little polka dots around the horizontal edges of the table. (You can see exactly how I do it in the brief video tutorial in this post.)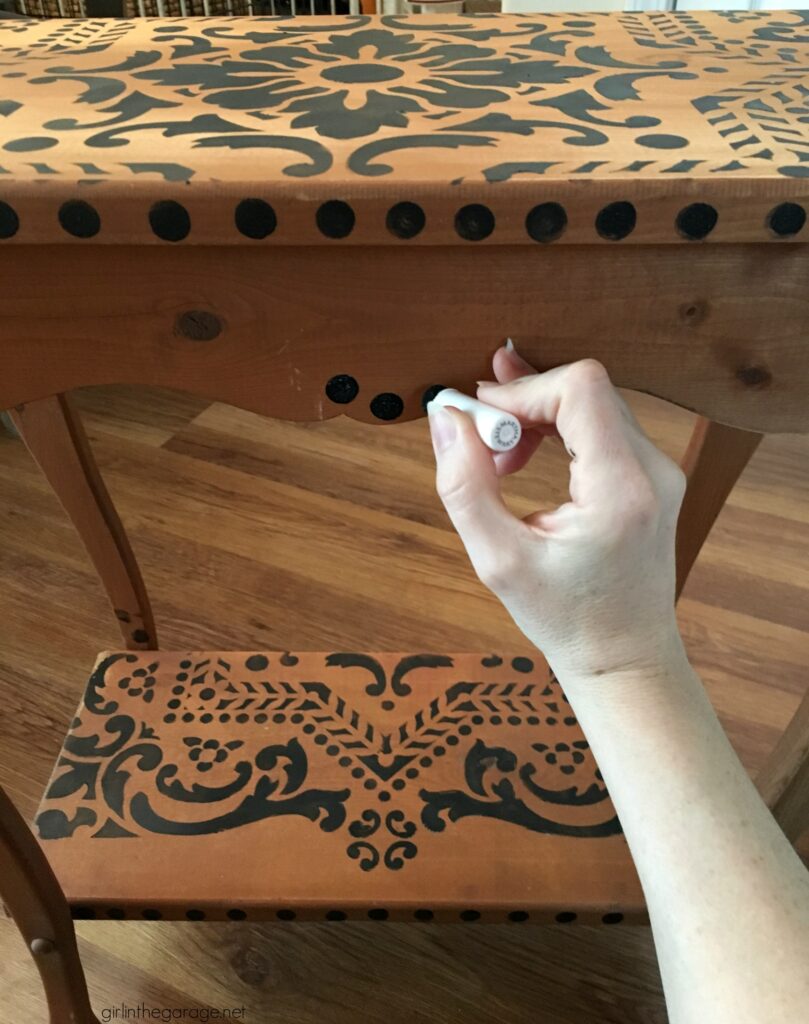 When the dots were finished, I lightly sanded over all the stenciled areas to make it a little more faded and to make it look less painted.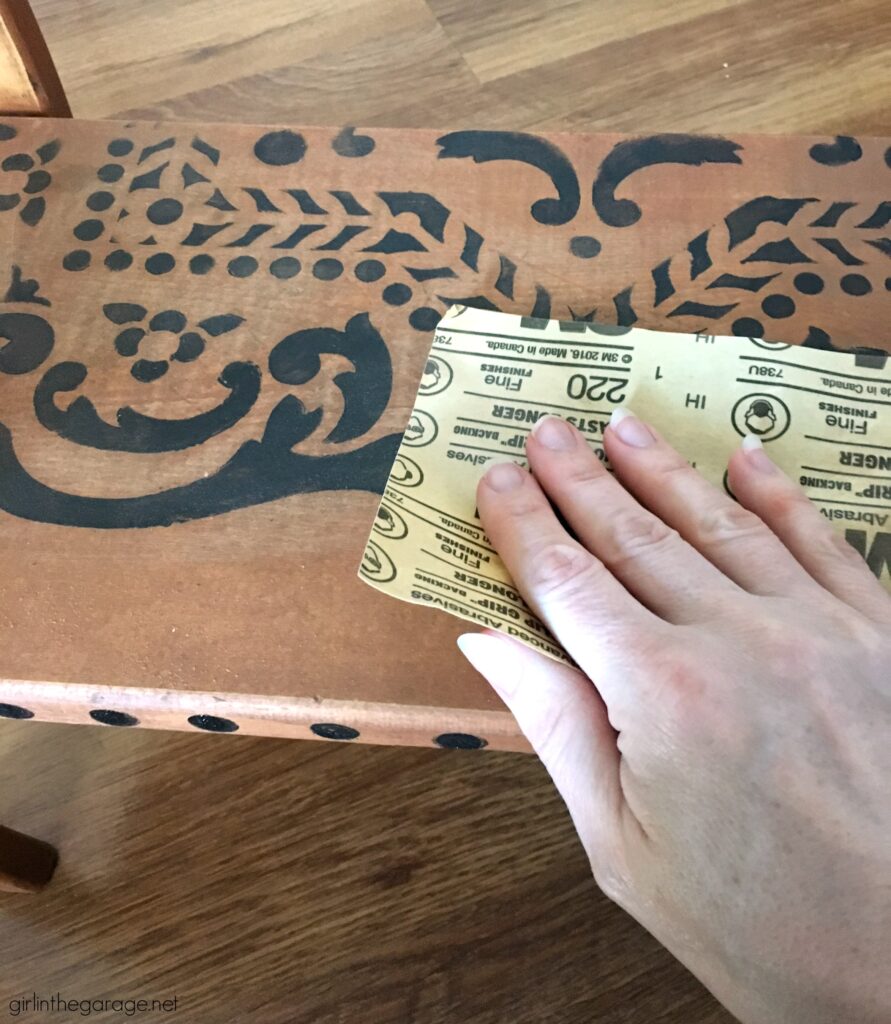 If there are any areas where you sanded too much away or maybe you didn't get enough paint in that area the first time, you can easily fix it with a small artist's brush and a steady hand.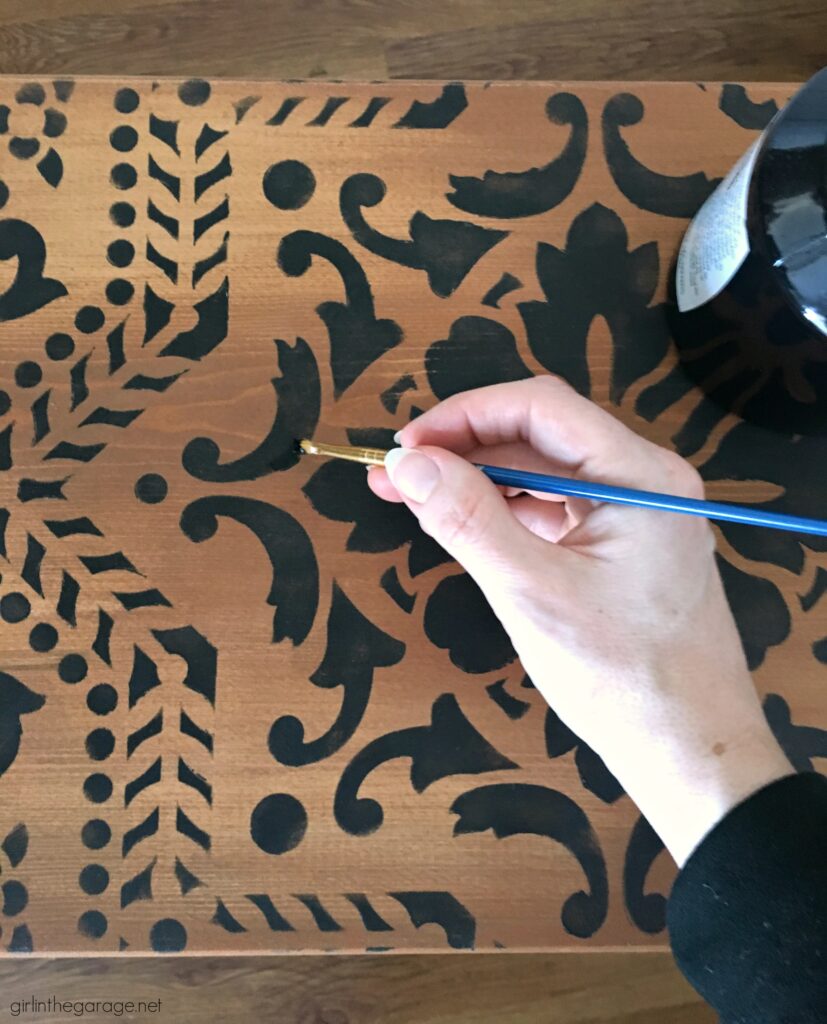 How to Stain Wood Black with Furniture Wax
You probably noticed that I stenciled directly over the raw wood table instead of painting it first. I did that because I love the look of stained wood and painted stencil together. (Take a look at my stenciled bone inlay buffet which is a similar project.)
For this project, I planned to stain the wood black by using furniture wax. It's less messy than using real stain, there's less dry time, and I already had Annie Sloan's black furniture wax on hand so I didn't have to go buy any new products. Oh – and since it's 34 degrees outside, I could easily do this project inside my house, but if I had used real stain I would've needed to work outside.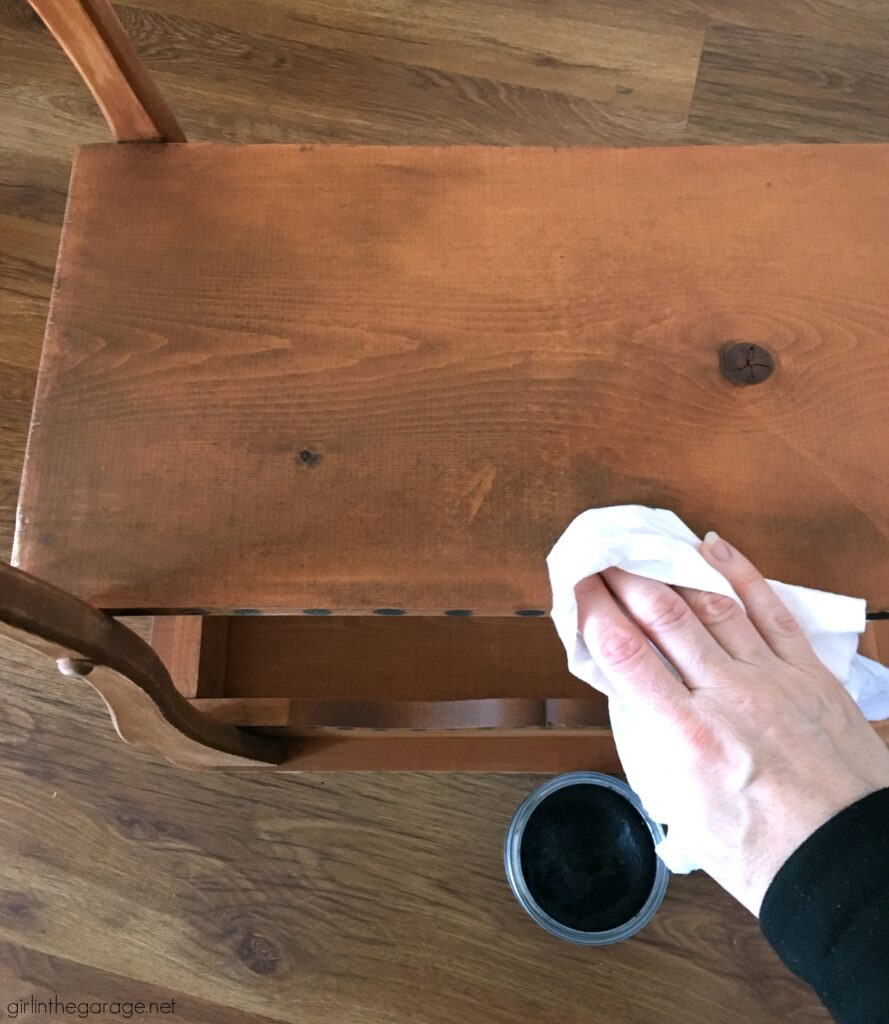 For large furniture pieces I use a wax brush, but for smaller projects I always use a lint-free cloth to apply wax. It's easy and you can just throw it away afterwards. You can also use an old clean t-shirt or bed sheet.
Always test your piece in a hidden area before diving in, to see how the raw wood takes the black wood stain (in this tutorial I'm referring to the black furniture wax as stain since we are still staining the wood, just with a different product). I tested the stain on the bottom of the table and you can see in the photo above how it darkens the wood but still looks natural and not streaky.
Make sure you rub the wax into the wood really well. Below you can see that the black wood stain really helps the wood grain stand out beautifully.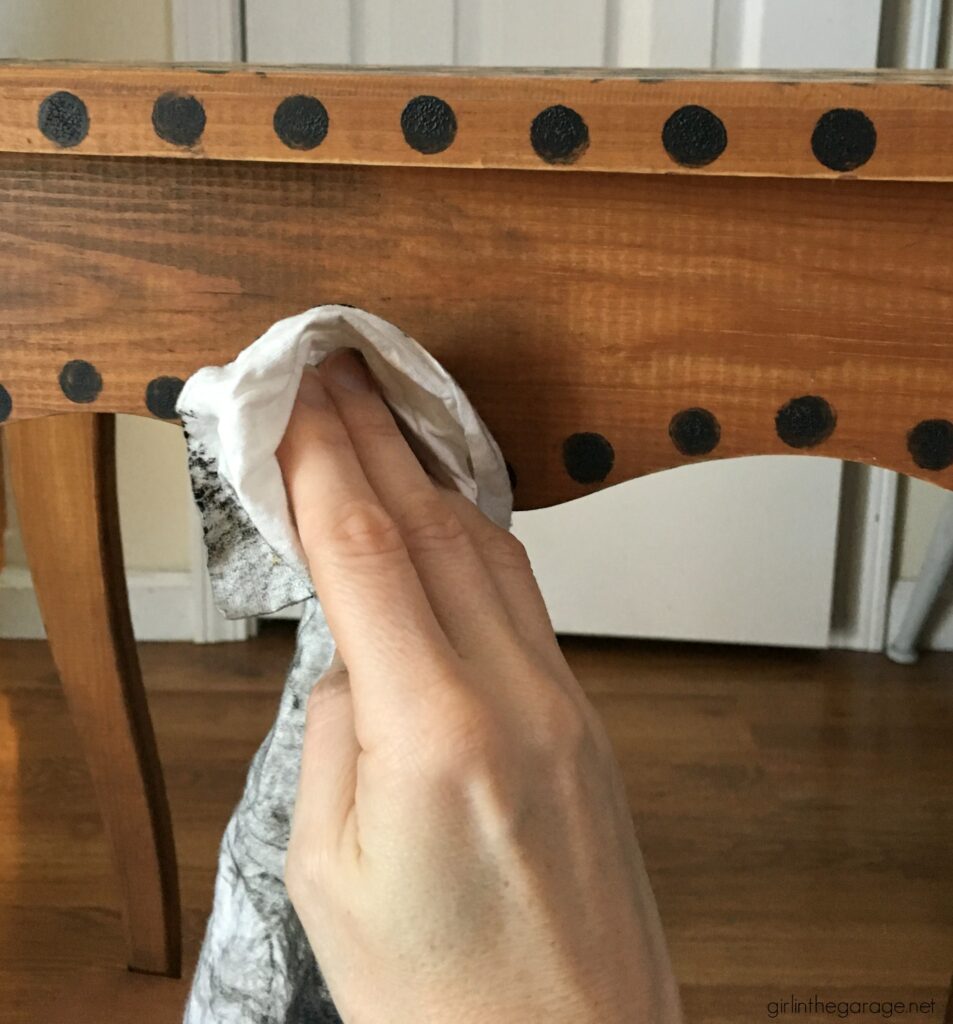 And here is one more photo of the top of the table, where the stain was applied to the lower left corner. It really evens out the finish and just makes the table look more modern without all the orange tones.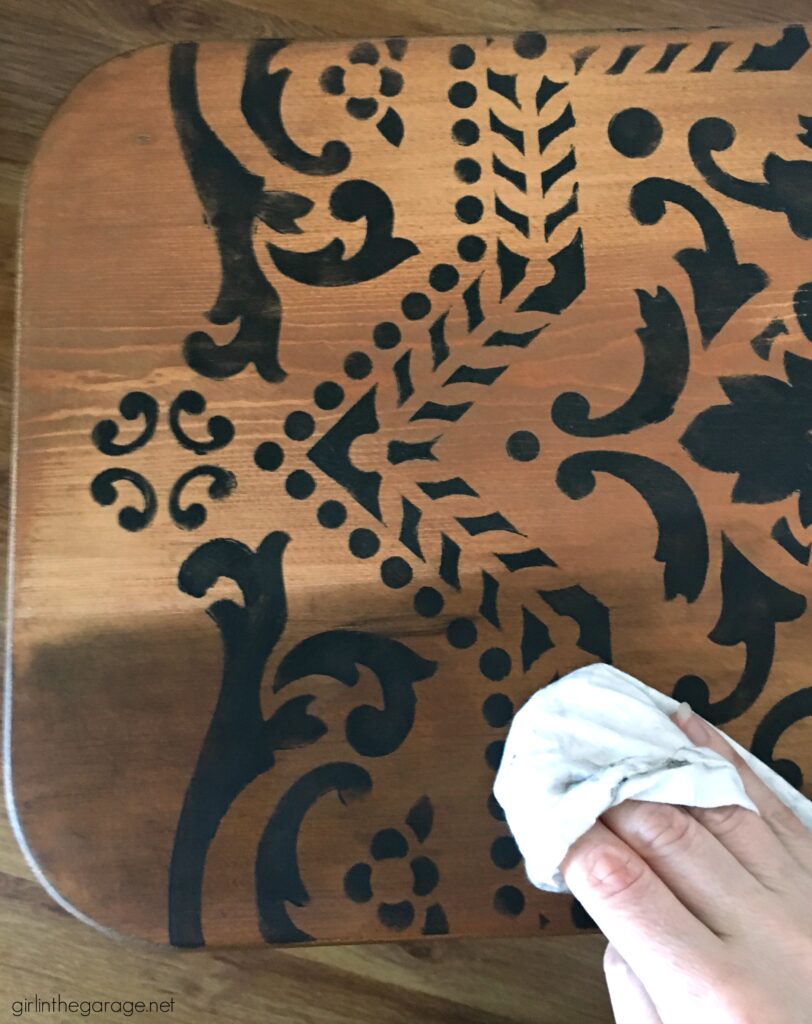 I wiped on a second layer of black furniture wax in a few areas just to keep it consistent all over. It only needed a brief time to dry and then it was finished!
Here's how it turned out…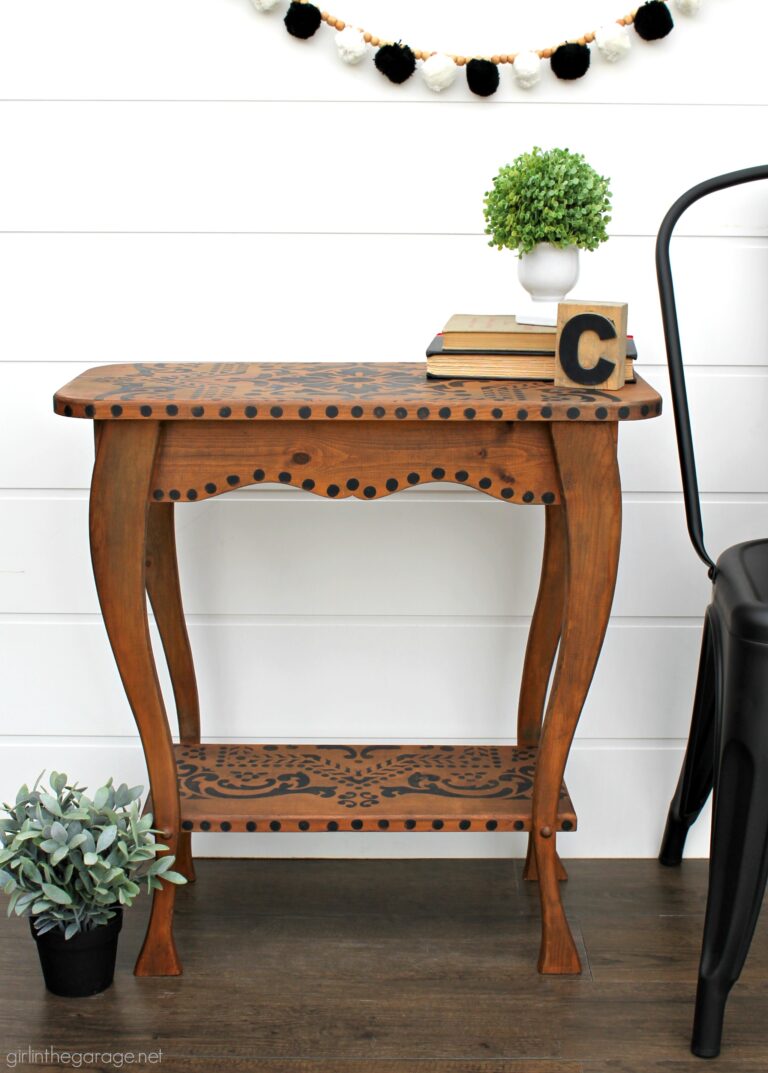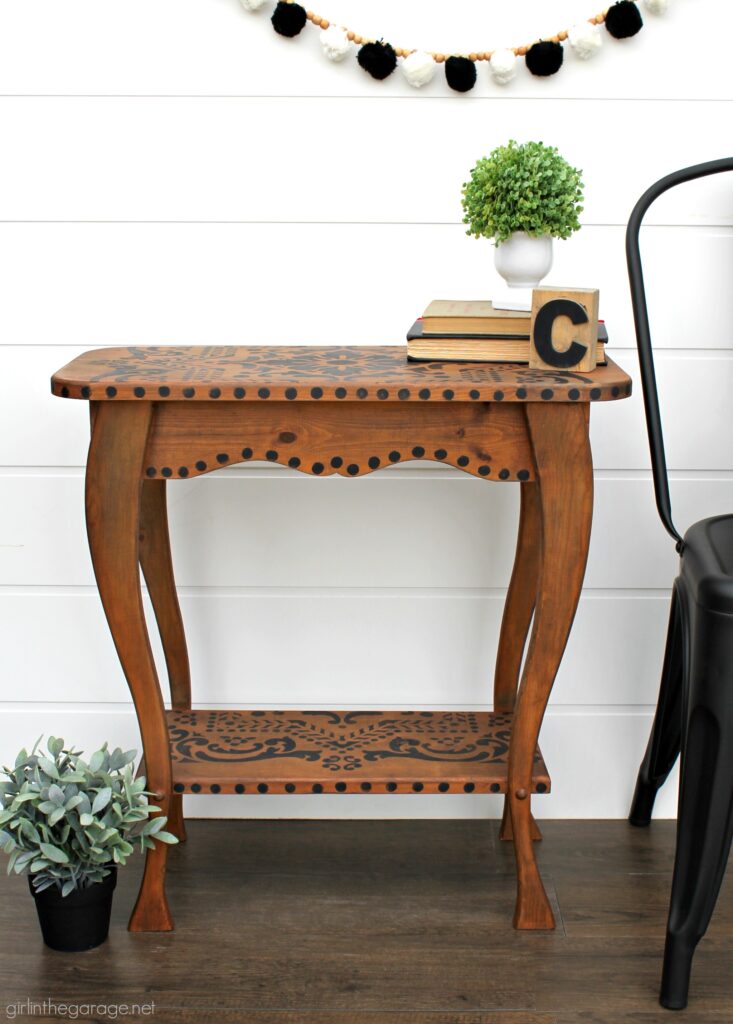 This little table went from plain to funky and chic and fabulous.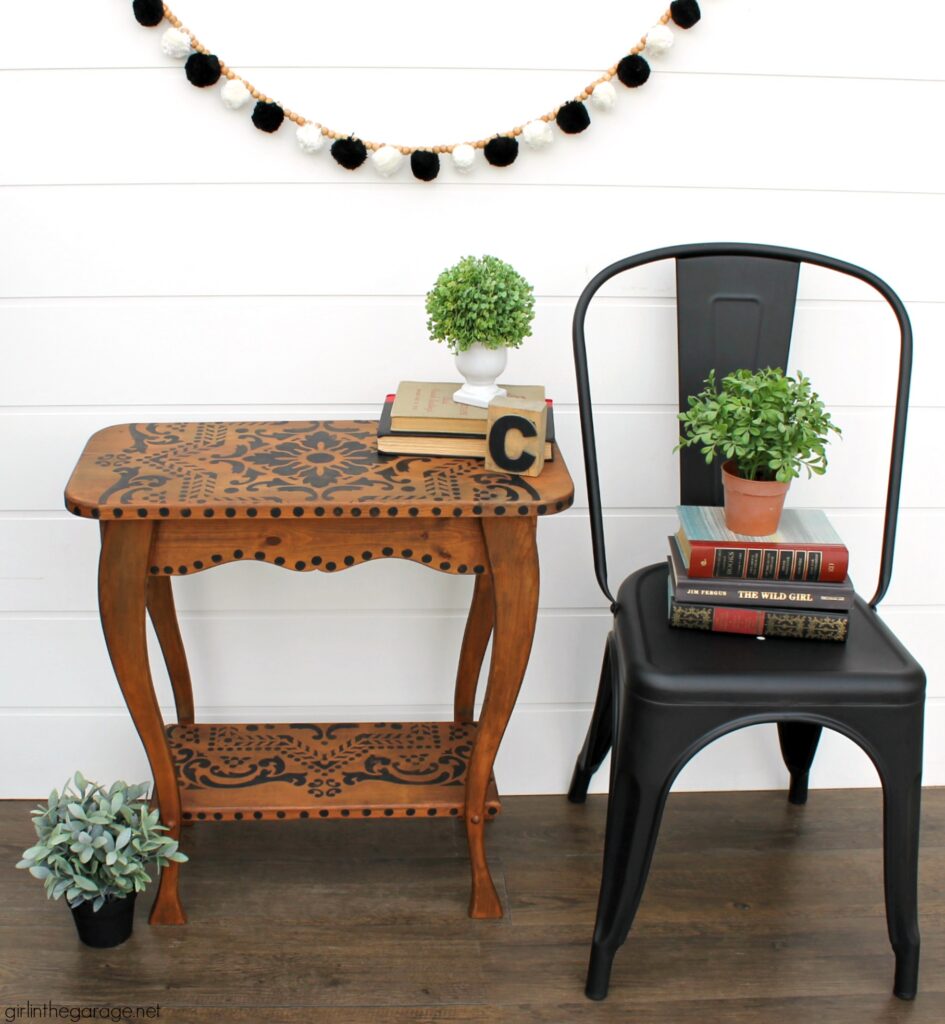 The black wood stain color over the orange makes it look almost like the color of milk chocolate (yum) – not too dark and not too light. I'm curious how the black furniture wax would look directly over plain unfinished wood (without any orange)… that may be a future project!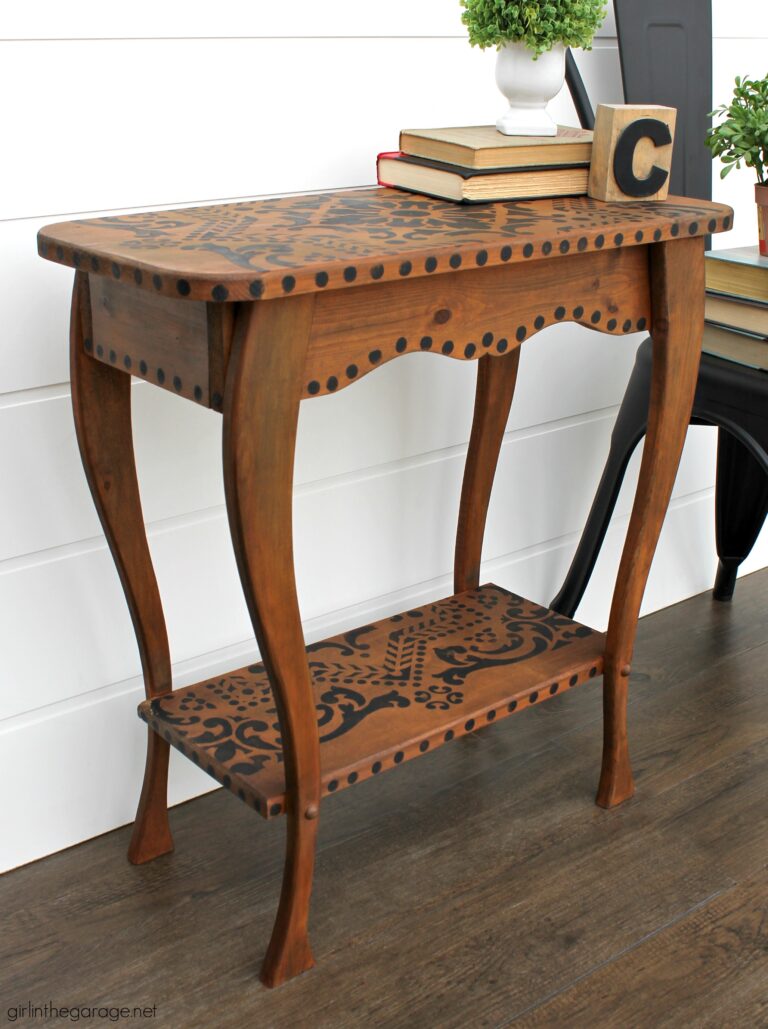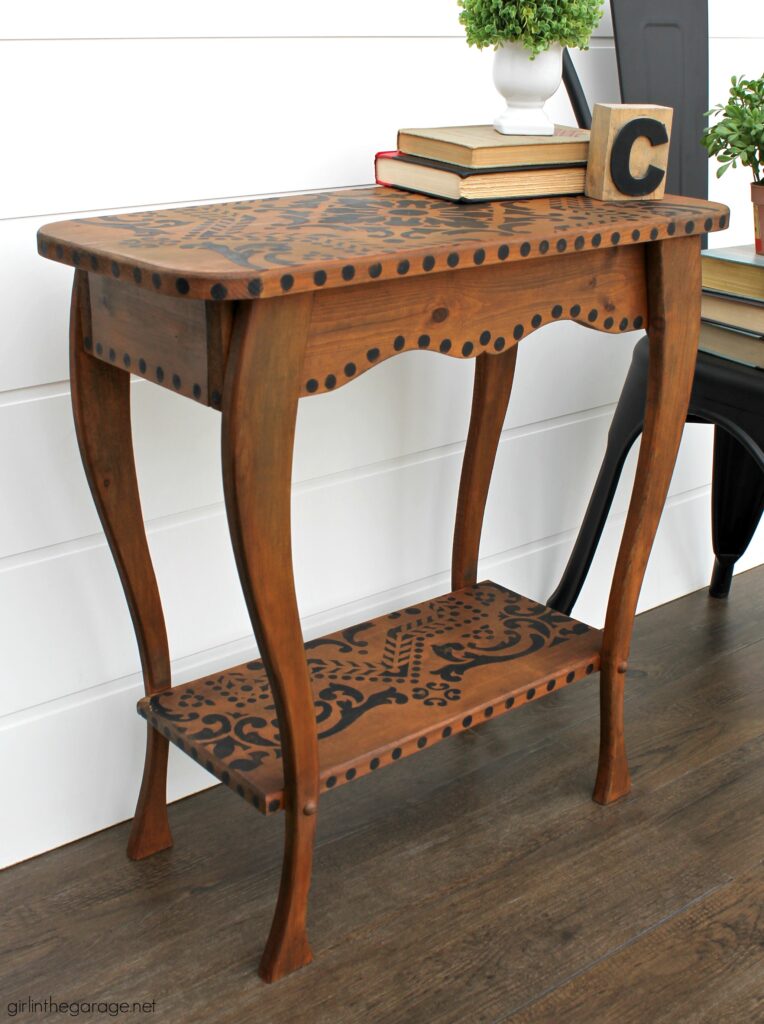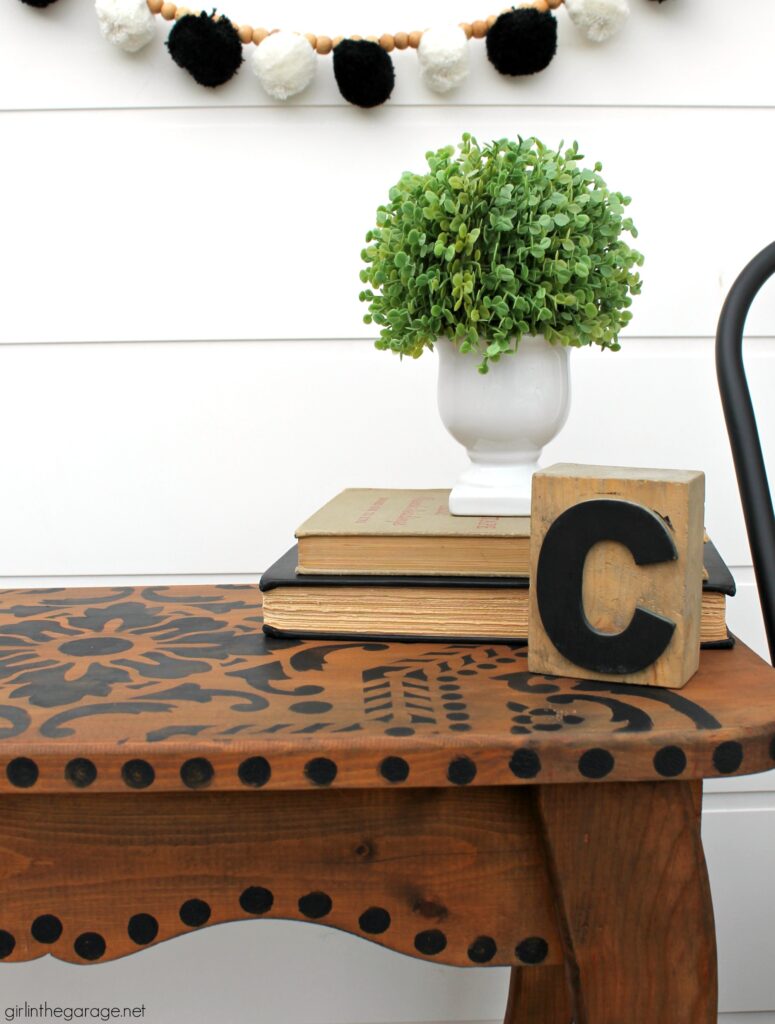 Do you think it looks like it's been tattooed? I do, LOL. Guy in the Garage said it looks like henna.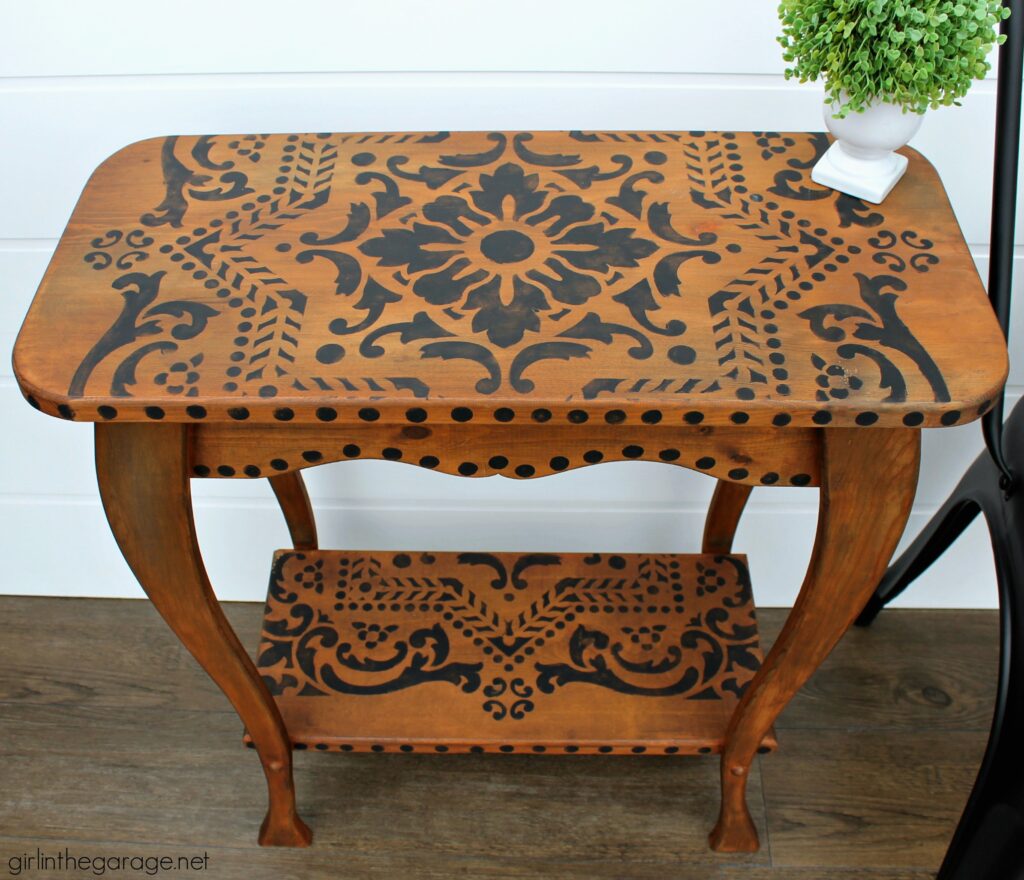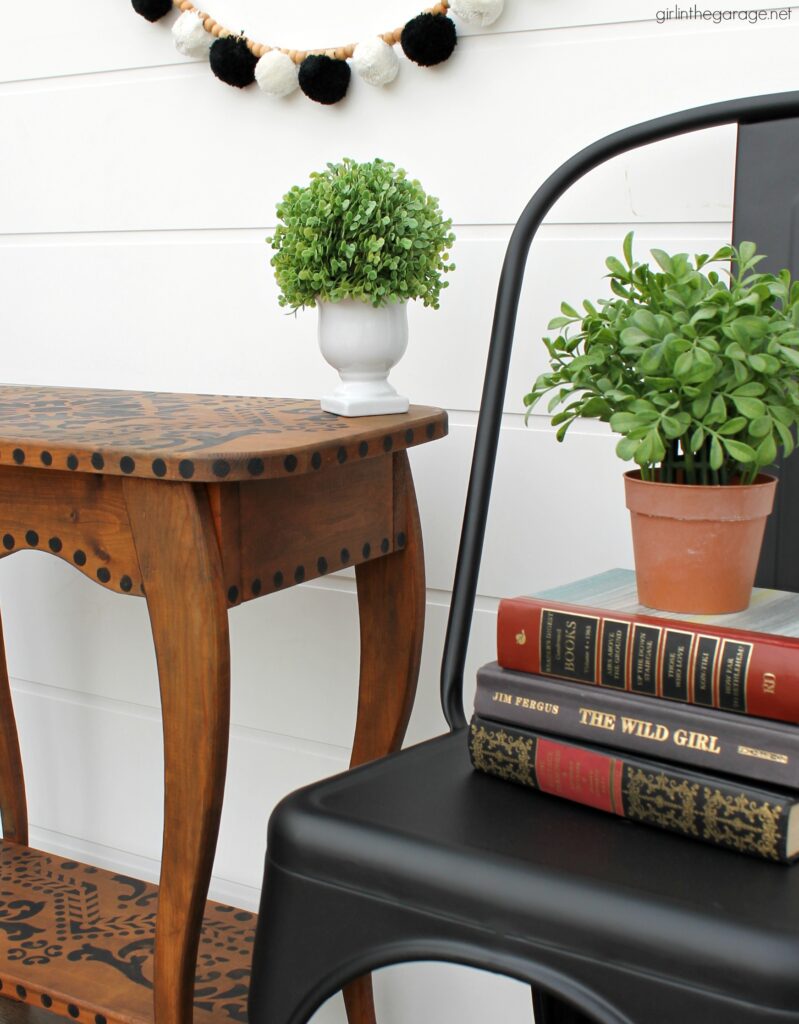 So inquiring minds want to know… have you considered using black wax as wood stain before? Is this a technique you might try? Did I go a little crazy on this table or is it funky and fabulous?
Here's a reminder of the before and after of this stenciled wood table makeover with black wood stain (aka black furniture wax):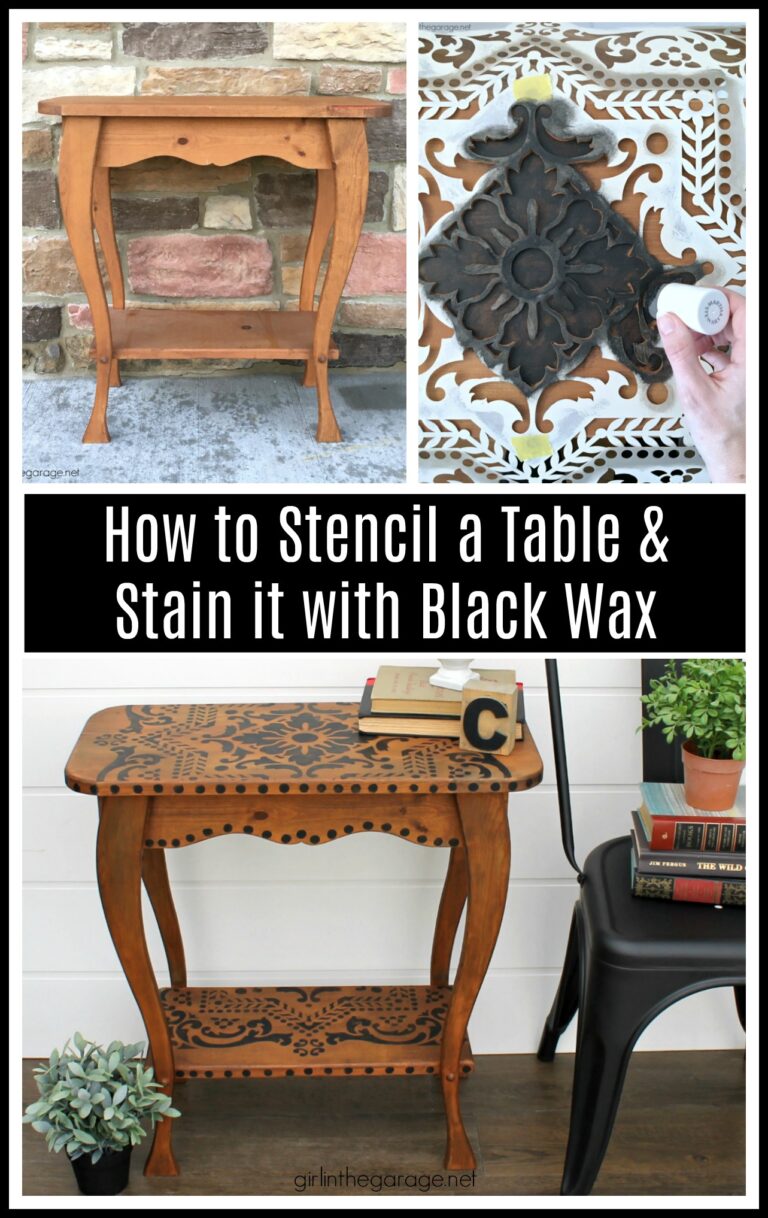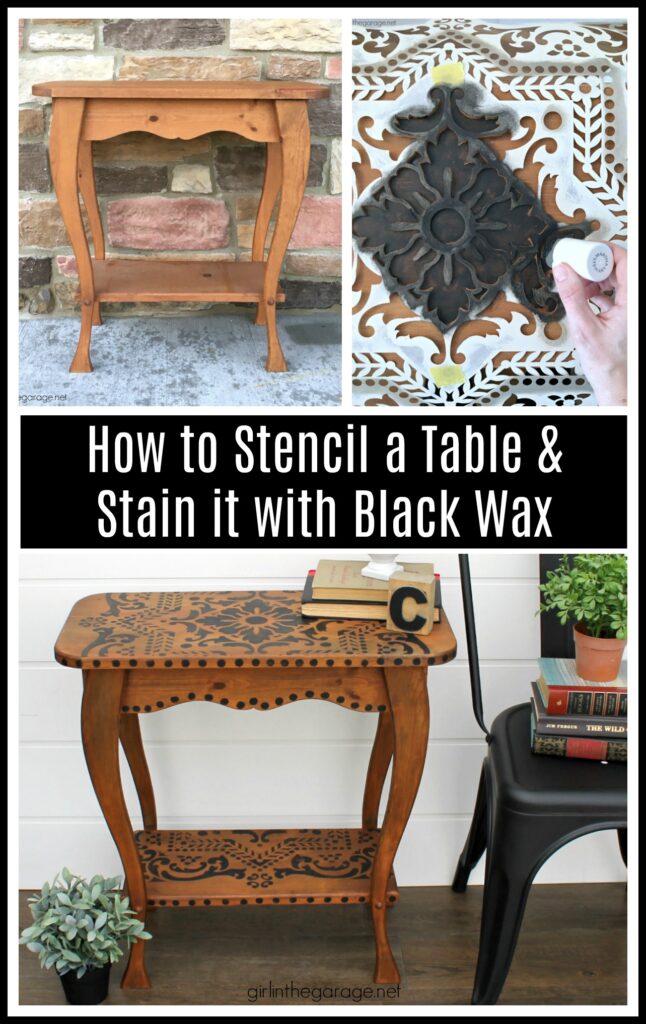 If you've enjoyed this table makeover, I'd love for you to share it with a friend! Also remember you can Pin it for easy access later.
Now it's time for Furniture Fixer Uppers with some of my talented blogging friends… Below are the Before photos – visit the links underneath to see the Afters and to learn how they did it: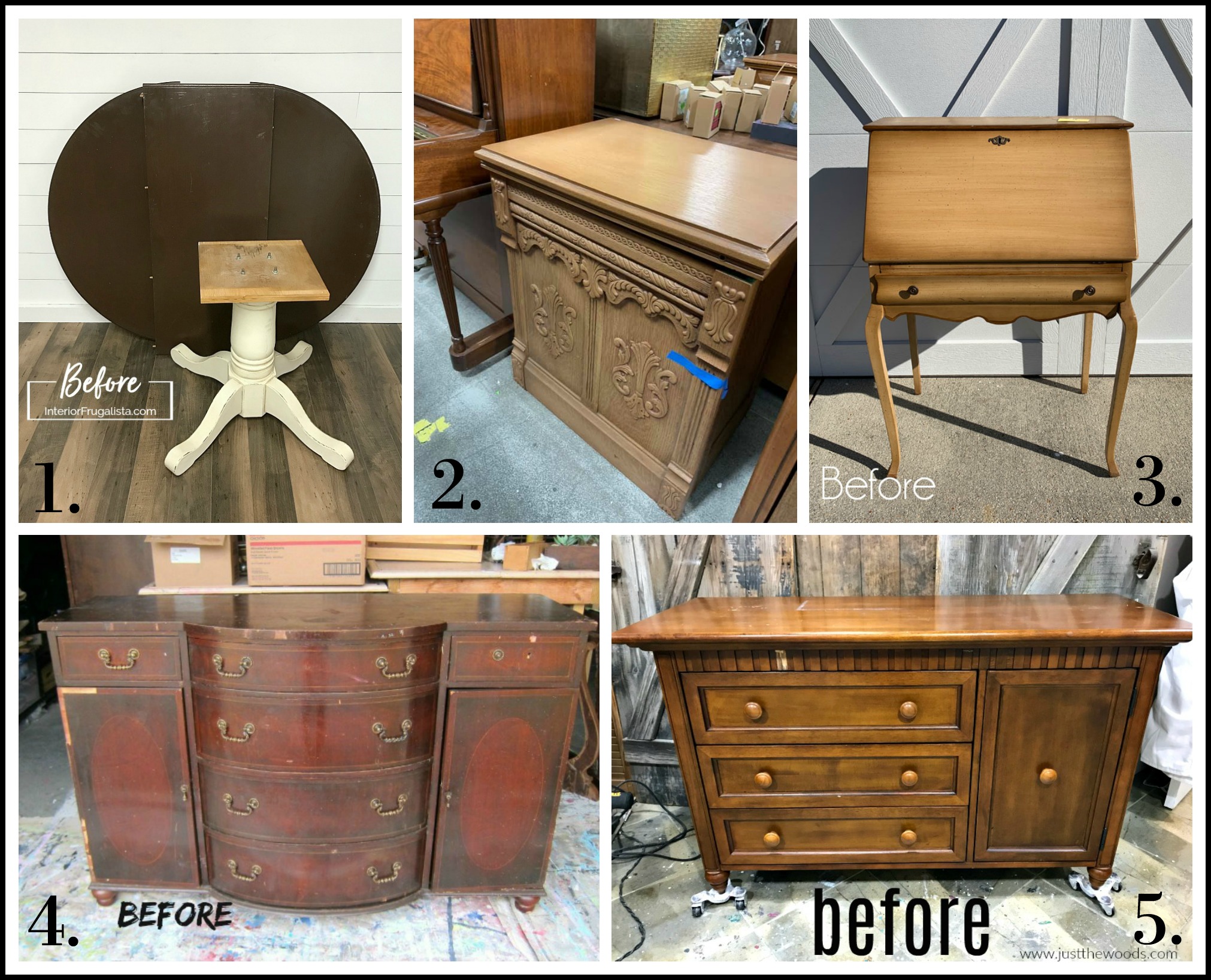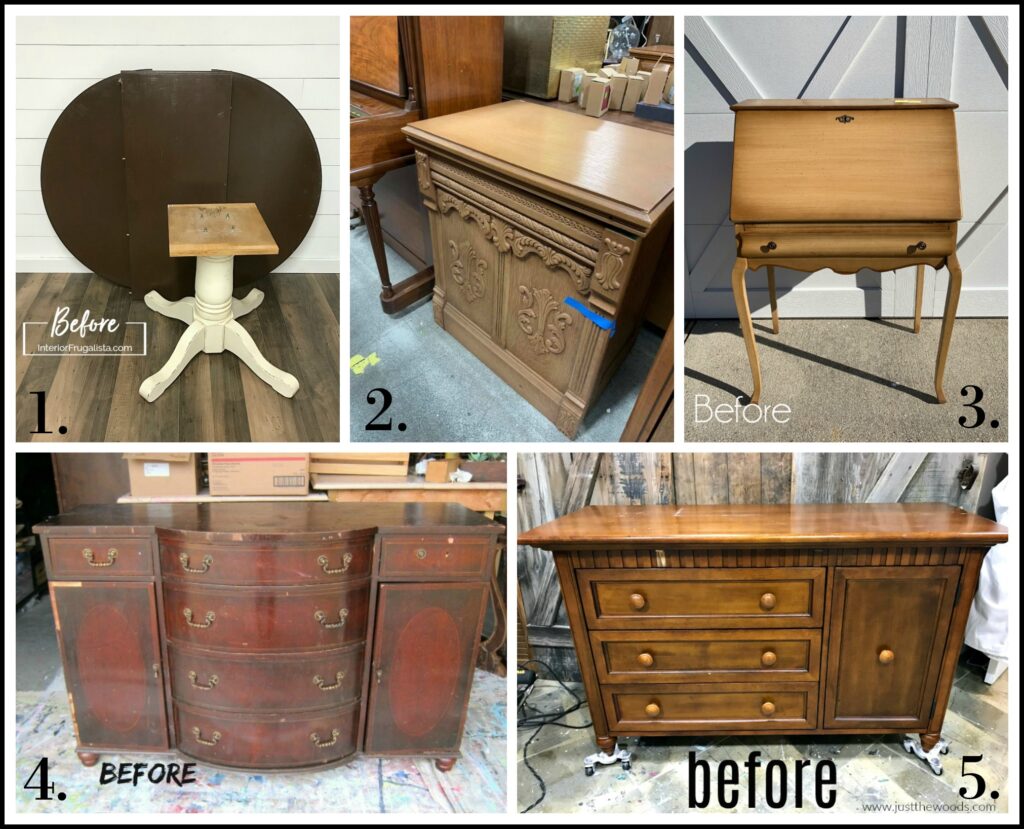 1. The Interior Frugalista
2. Salvaged Inspirations
3. Confessions of a Serial DIYer
4. Petticoat Junktion
5. Just the Woods
As promised, here are a few other furniture pieces where I used the gorgeous Lisboa Stencil: