When I stumbled on these salvaged wood pieces at the antique store where I have my booth, I knew they had to come home with me. I had no idea what to do with them but they were too cute to pass up for only $3.50 each!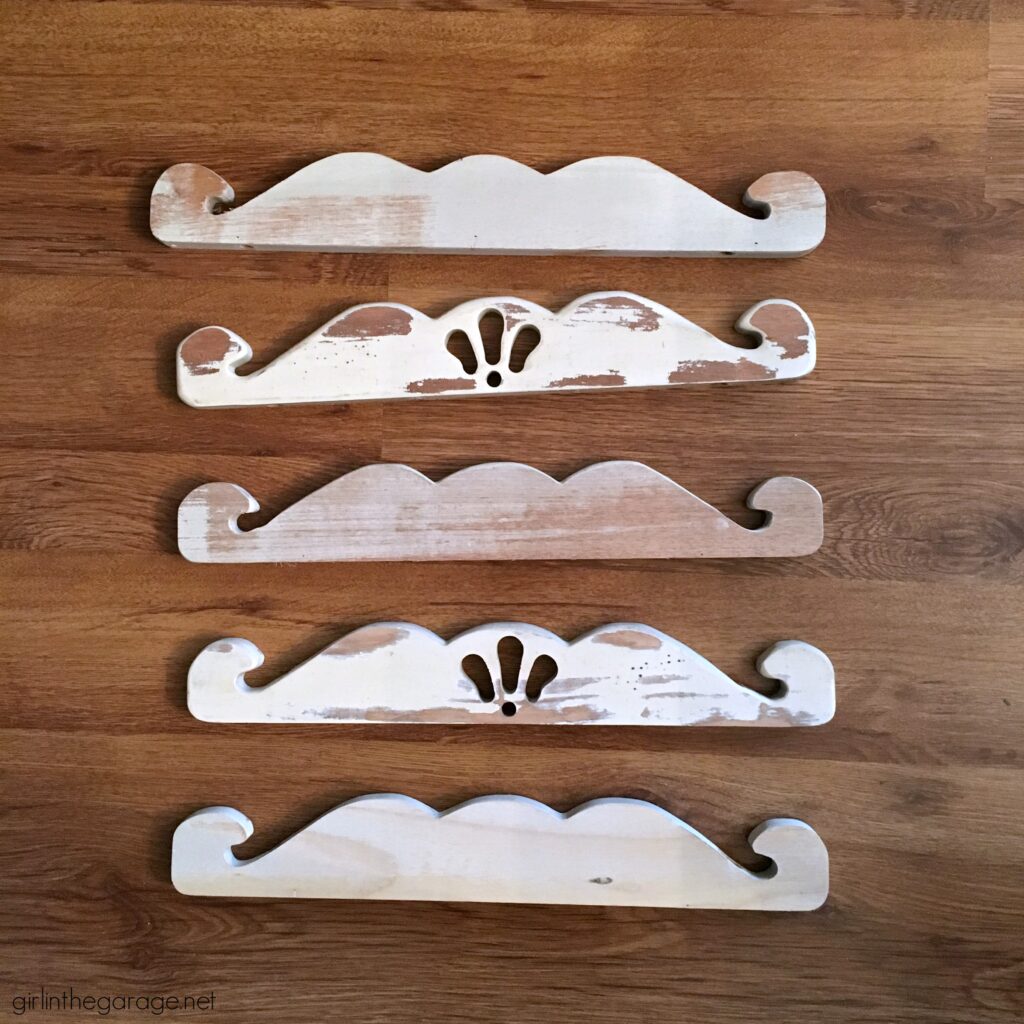 Today is Trash to Treasure Tuesday again with my blogging friends, and finally I decided to repurpose one of these wood pieces into a DIY necklace display for organizing jewelry (I've also included a brief helpful video tutorial in this post). The rest will be used in future projects – I'm still deciding exactly what.
*If you have any idea what type of furniture these came off of (I'm assuming it was furniture since they're about 2.5 x 18 inches) please let me know!*
This post contains some affiliate links so you can easily find the products I use and recommend. Discover all my favorite tools and brands for doing DIY makeovers here.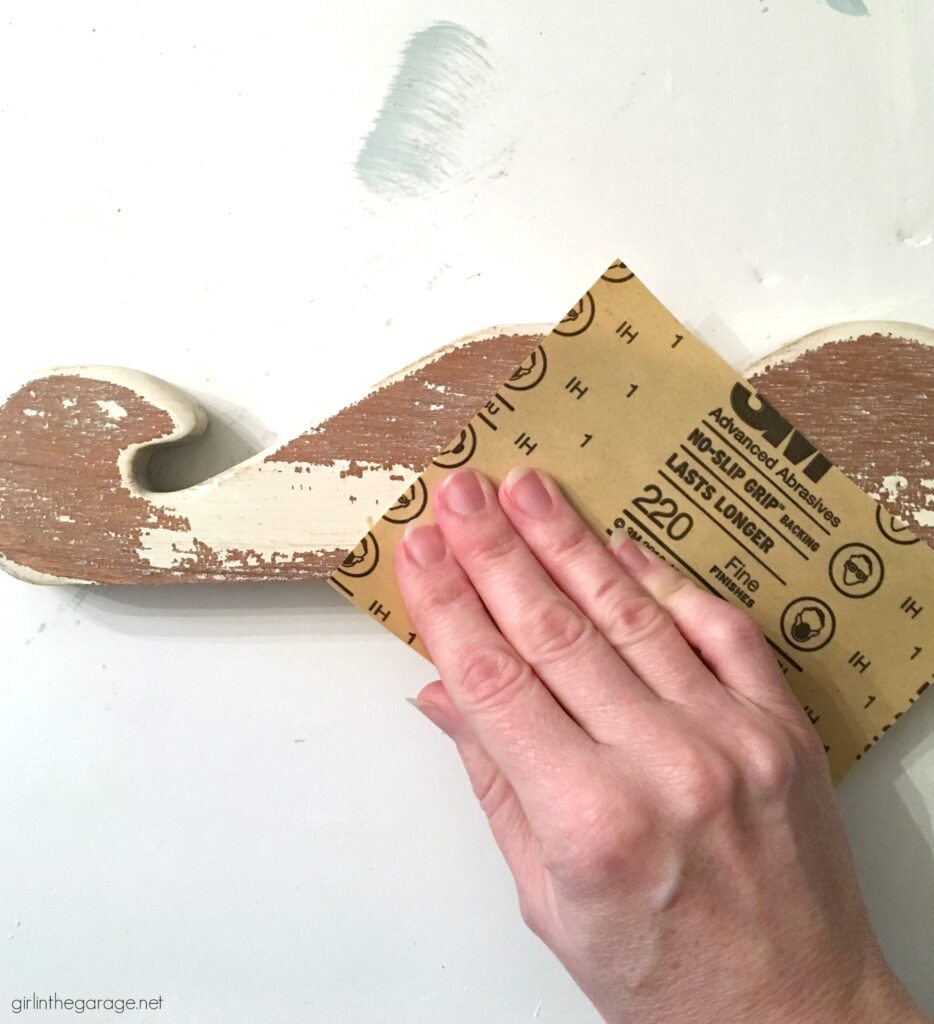 First I sanded the wood smooth with 220 grit sandpaper.
Painting the Salvaged Wood in Vintage Farmhouse Style
Next I painted a base coat of black paint with Fusion Mineral Paint in Coal Black using one of my favorite Purdy paint brushes (I have an assortment of sizes depending on what type of project I'm doing).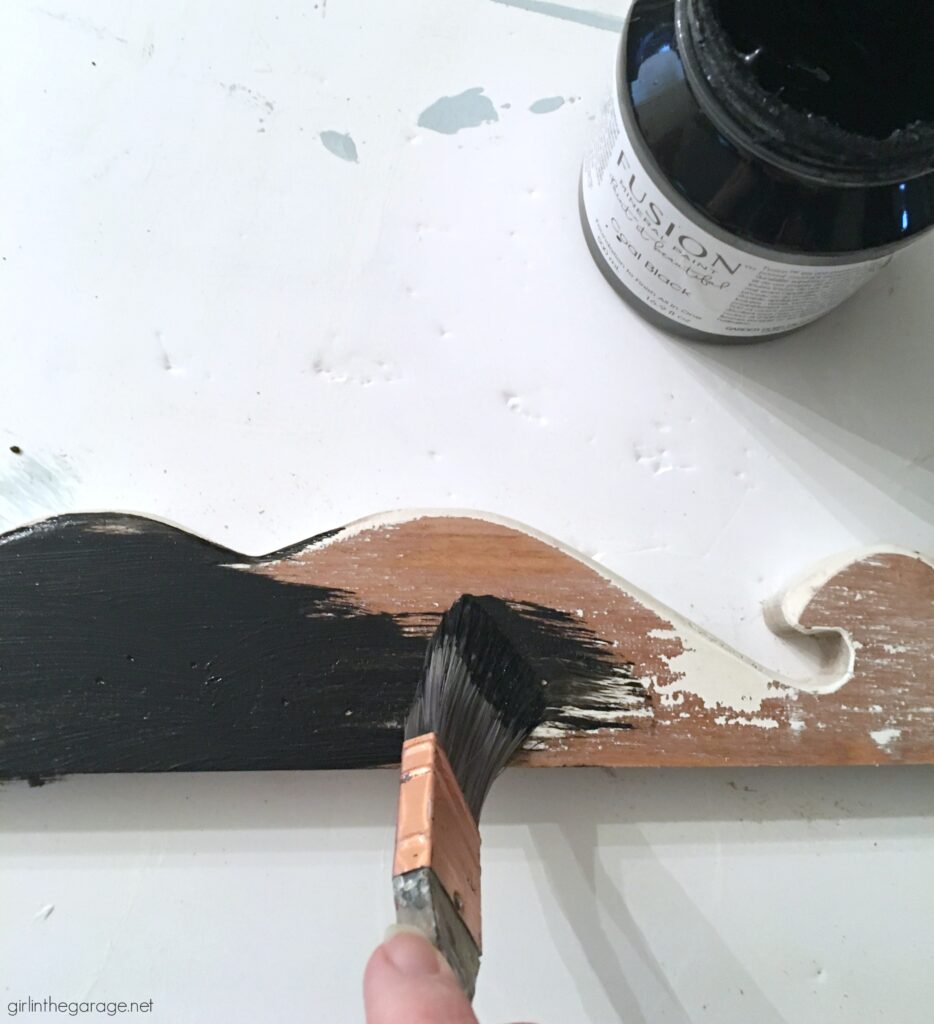 This black paint goes on pretty thick so I only needed one coat, plus it's just a base coat anyway so it doesn't need to look perfect.
Next I pulled out some white paint (Country Chic Paint in Simplicity) and ended up painting three coats over the black with another one of my Purdy brushes.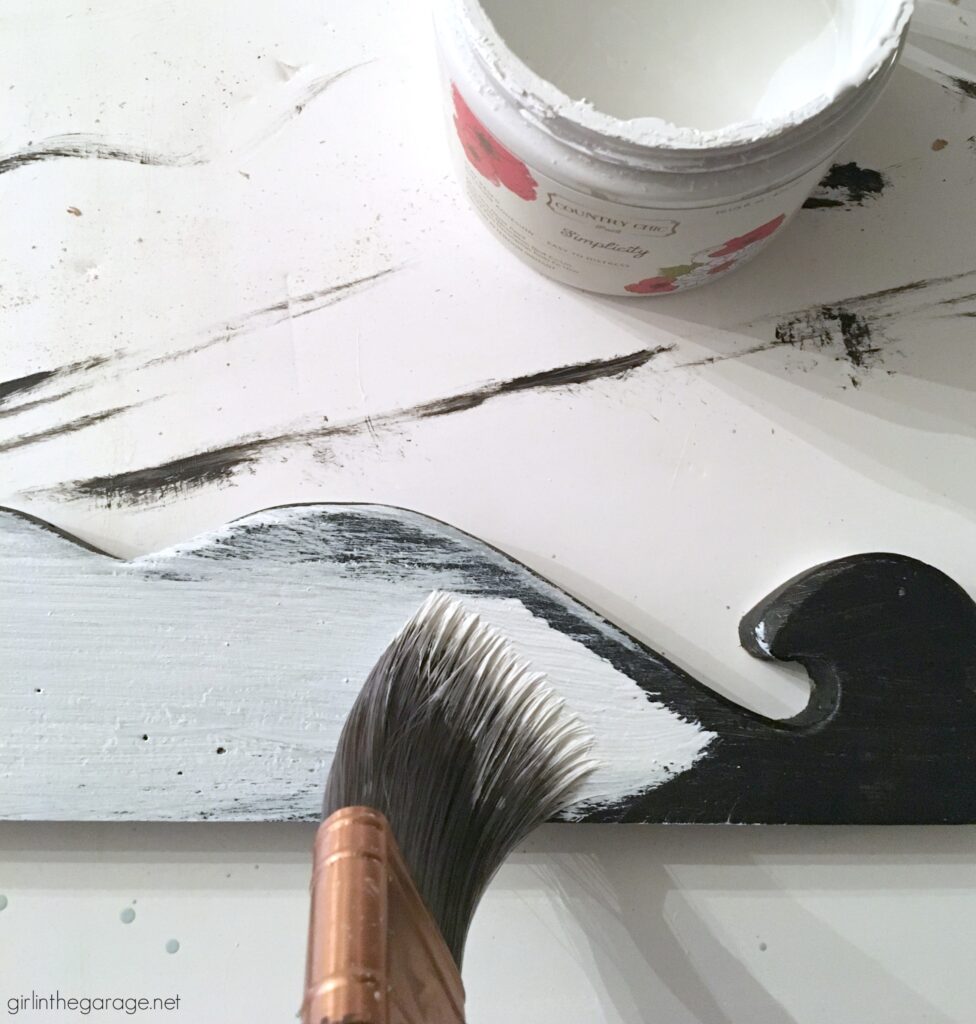 Remember the black is only a base coat to give some definition when we distress the wood, but you definitely want to get good coverage with the white paint.
Grab the sandpaper again and lightly distress near the curves and edges of the wood. Make the white paint smooth and let some of that black peek through for a naturally aged look.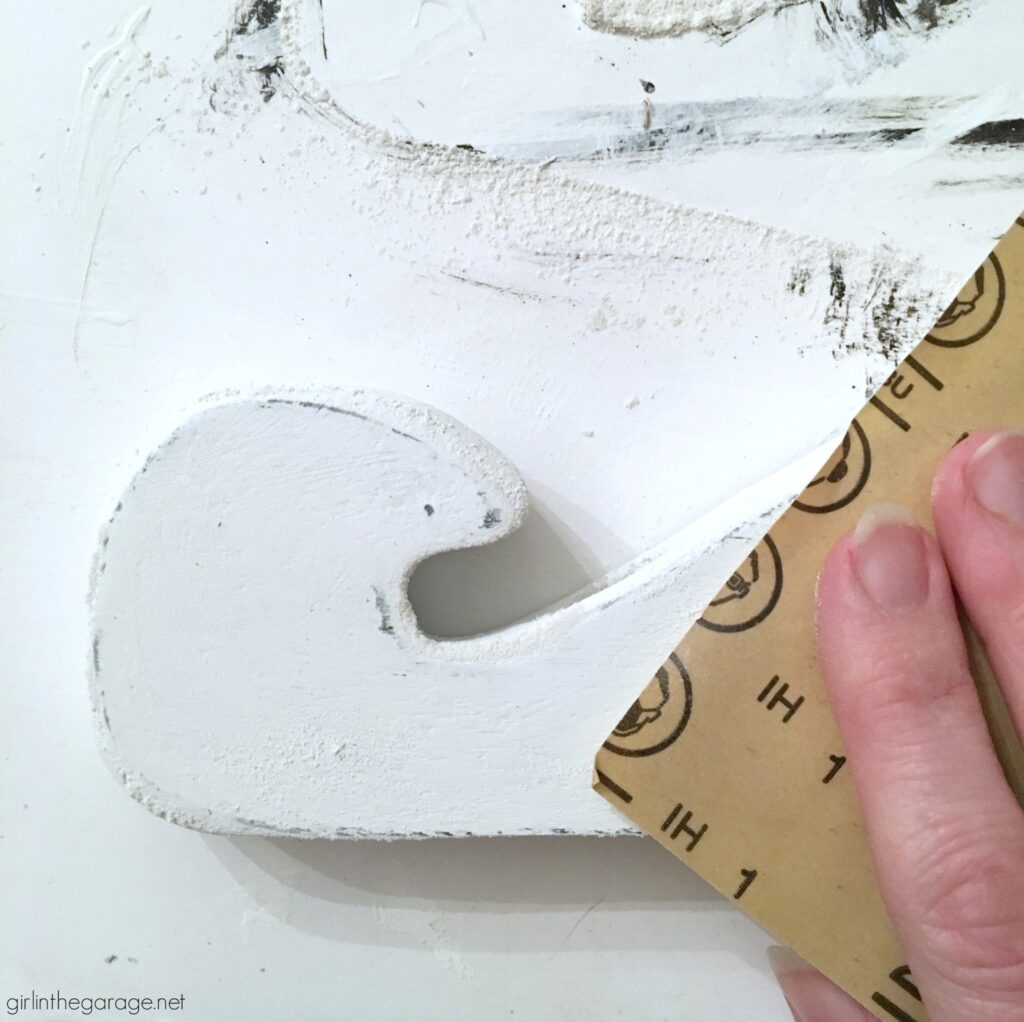 Press as soft or hard as you want, depending how distressed you want it to look. I usually just lightly distress. It's easier to start gently and sand more off later than to go back and repaint if you sanded too much.
You'll probably make a mess with the sanding dust, so have a damp paper towel nearby to wipe the wood and clean up your work area before continuing.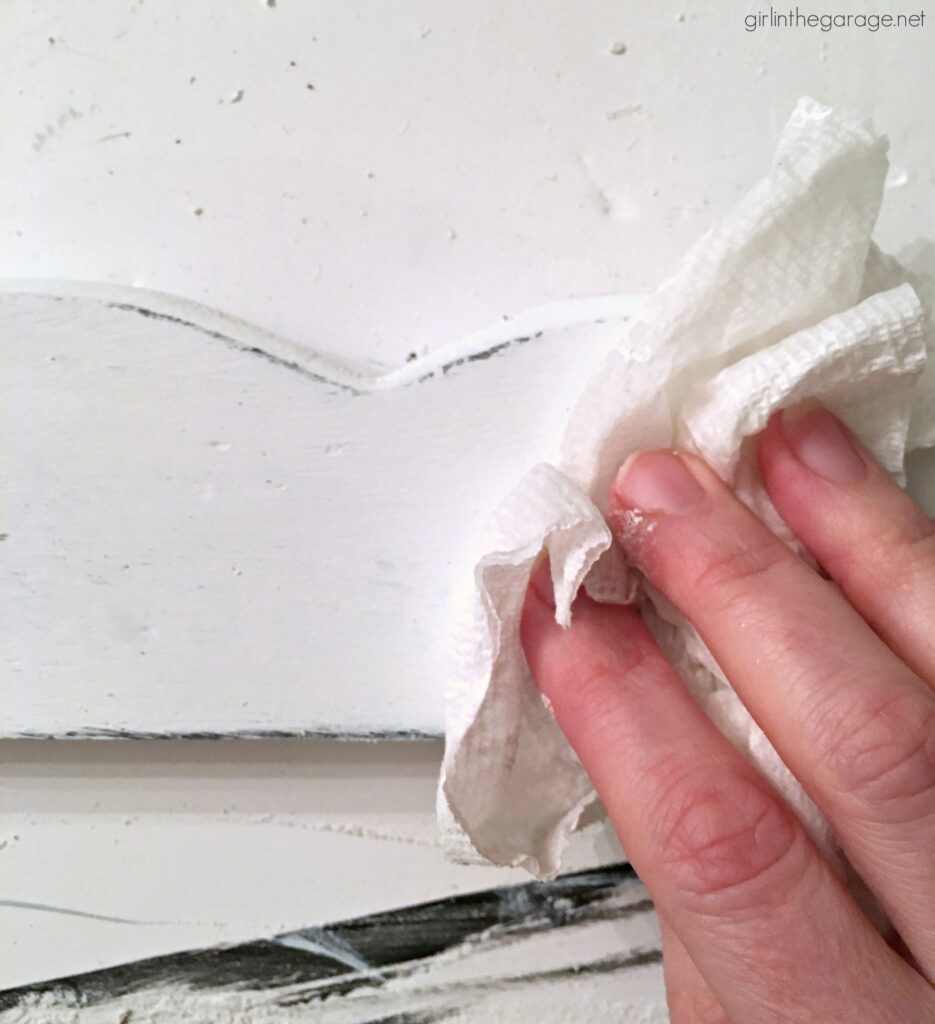 Adding Hanging Hardware to the Back of the Necklace Display
Now obviously there has to be a way to hang this DIY necklace display on the wall, and I prefer to use a sawtooth picture hanger. Luckily this hanging hardware comes with tiny nails to secure it onto the back of the wood.
With a yardstick or measuring tape, measure the center of the wood on the back side and mark it with a pencil.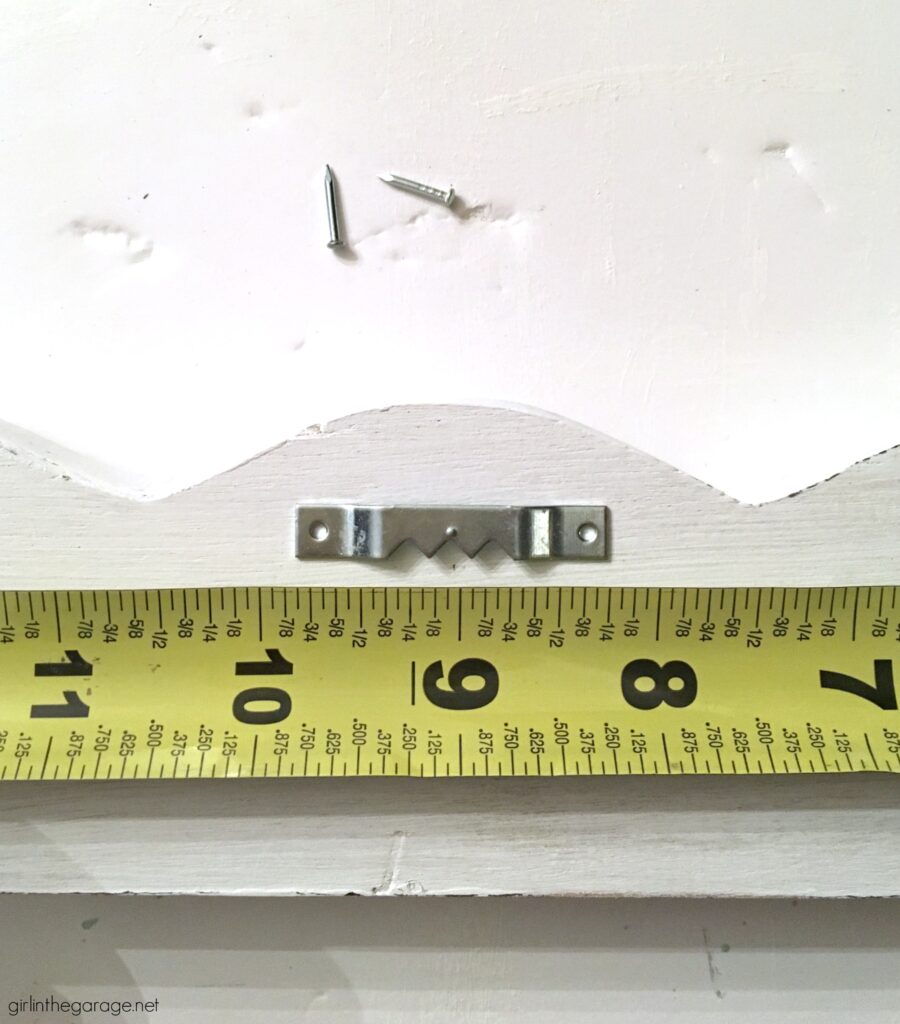 Once the sawtooth hanger is centered, I also mark the little holes with a pencil dot in case it shifts.
The nails are so small that they're hard to hold onto, so it helps to hold them each in place with needle nose pliers while hammering, at least until the nail can stand on its own. (It also keeps your finger from getting smashed!)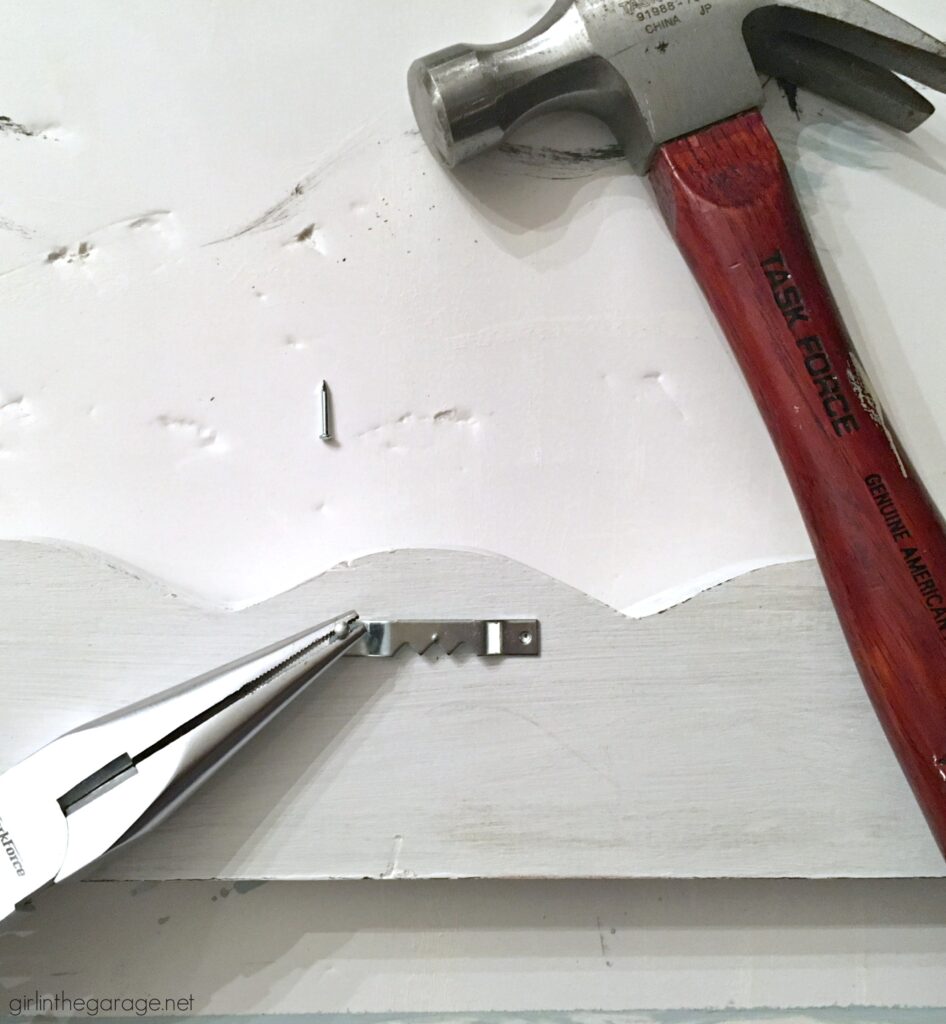 Carefully hammer both nails into place.
Adding the Knobs for Hanging Necklaces
Now it's time to add some bling to our jewelry wall display!
I found these gorgeous crystal glass knobs online – 10 for only $8.99 right now – and they were delivered the very next day since I have Amazon Prime. They're all individually packaged to avoid damage and they came with two sets of different size bolts for furniture makeovers – although we're not using any of the bolts for this project.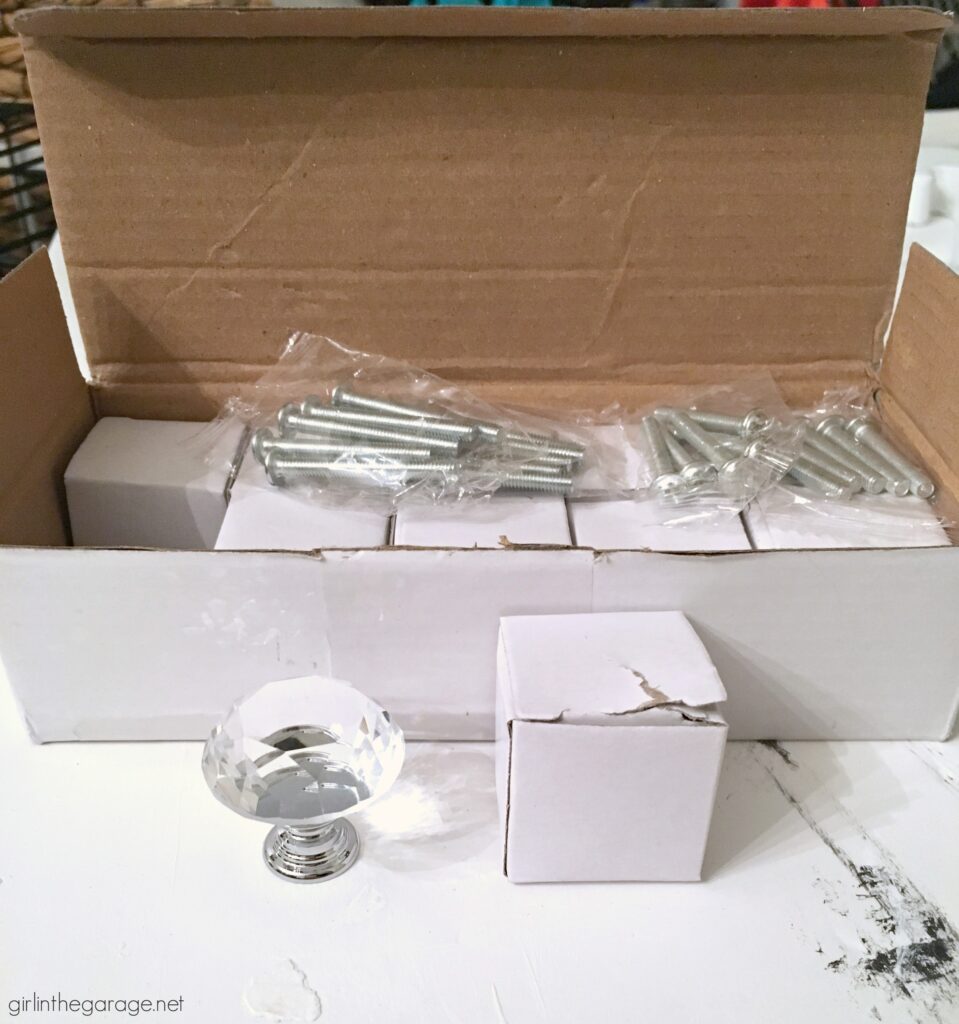 We're going to use three knobs, and still have plenty leftover for future projects.
To glue the knobs onto the wood I chose my favorite super strength glue. It works incredibly well but does take up to 24 hours to fully dry and become full strength.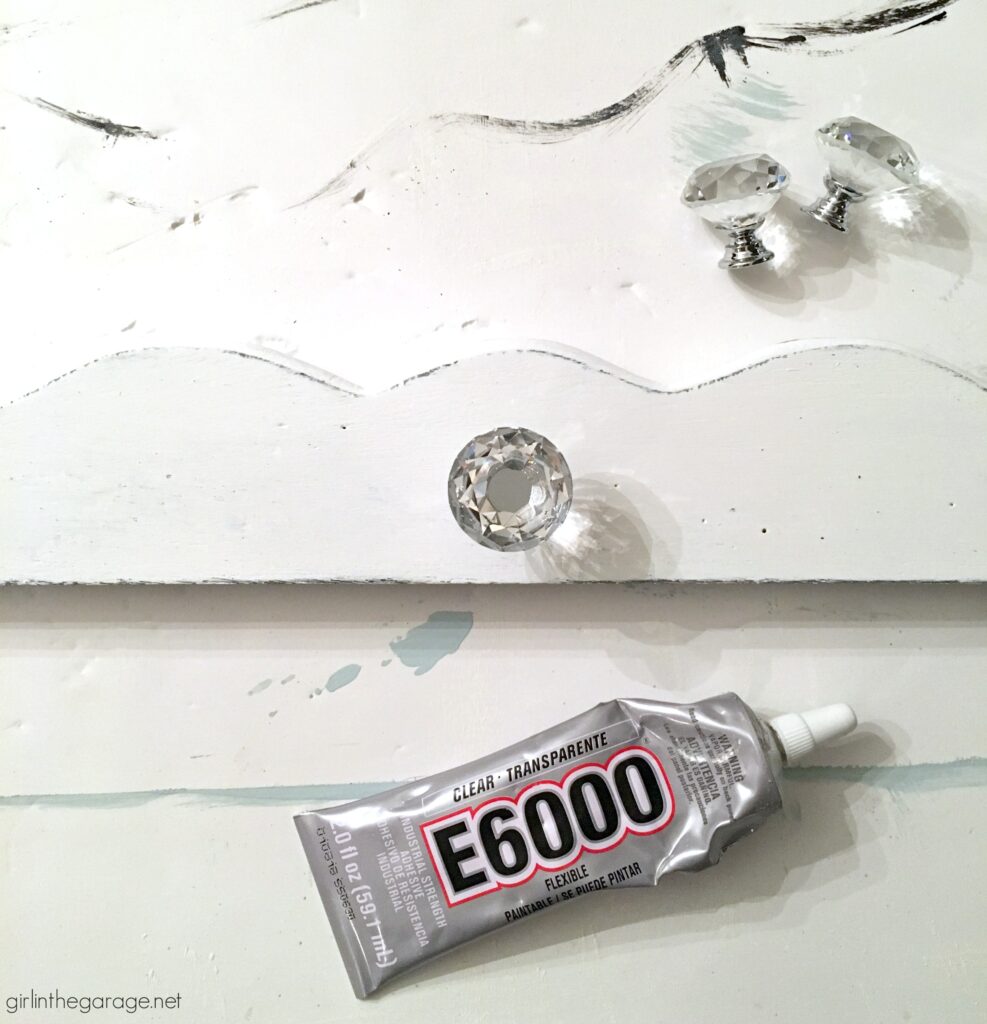 Apply a small amount of glue to the bottom of the knob and then press it onto the center of the board. Don't overdo the glue or you will have a big mess – and definitely avoid getting any on your fingers!
Measure and mark the distance for the other two knobs – this was easy since I placed one under the each curve on the wood. Glue those into place also. Keep a close eye for at least 5-10 minutes. If you used too much glue, it could cause the knob to slide out of place – so make sure it stays put until it starts to dry a little bit.
Let it dry overnight and then the next day you can hang your pretty baubles on your own DIY hanging necklace display: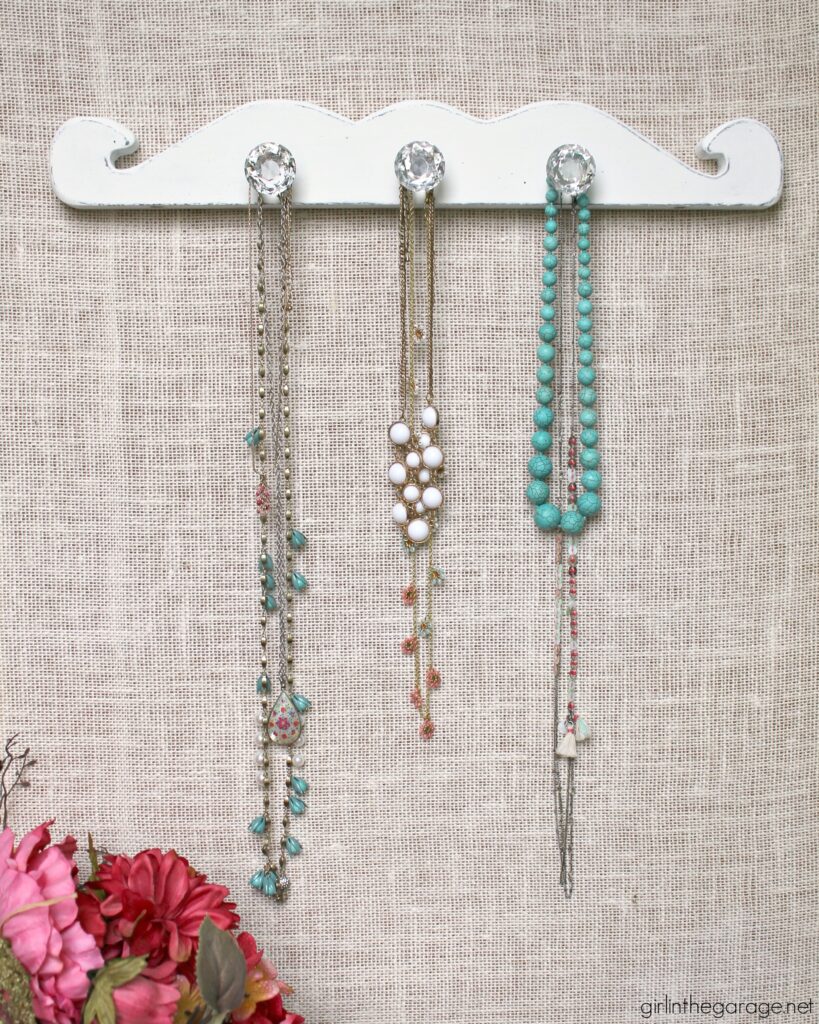 The crystal glass knobs really add the special finishing touch – I love that when you look straight at them, in the center are little mirrors.
It makes them sparkle and shine bright like a diamond.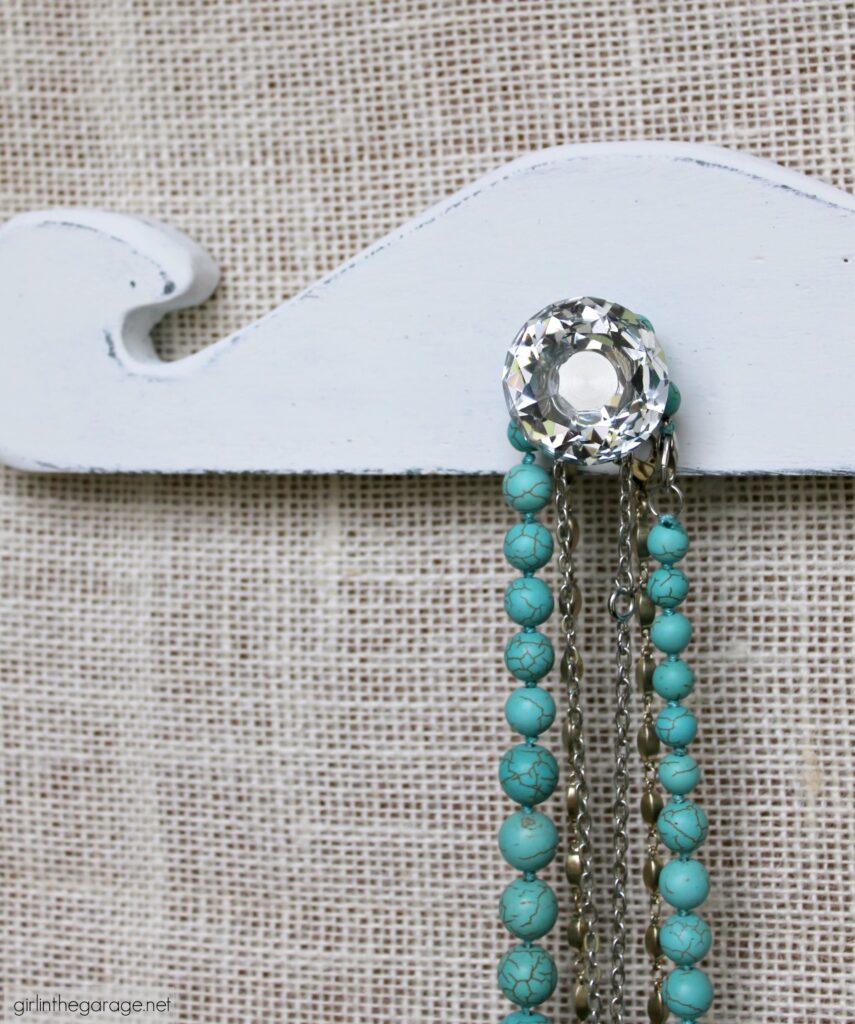 Also the black underneath the white paint gives it extra character too. A little extra vintage charm never hurts!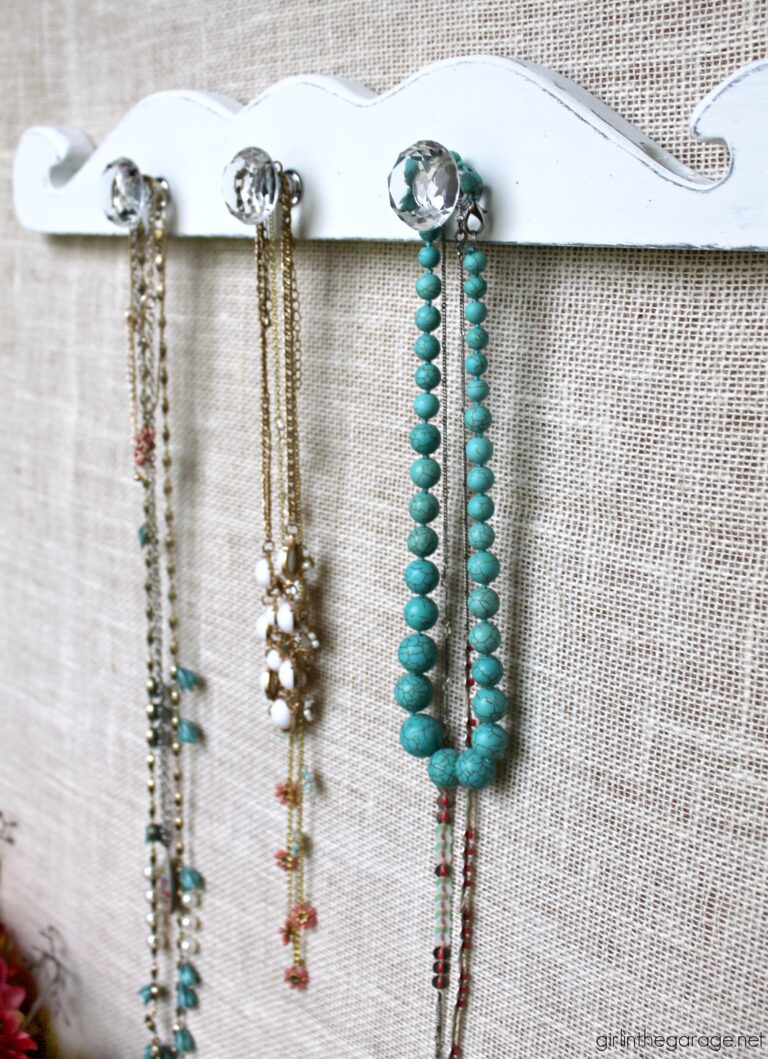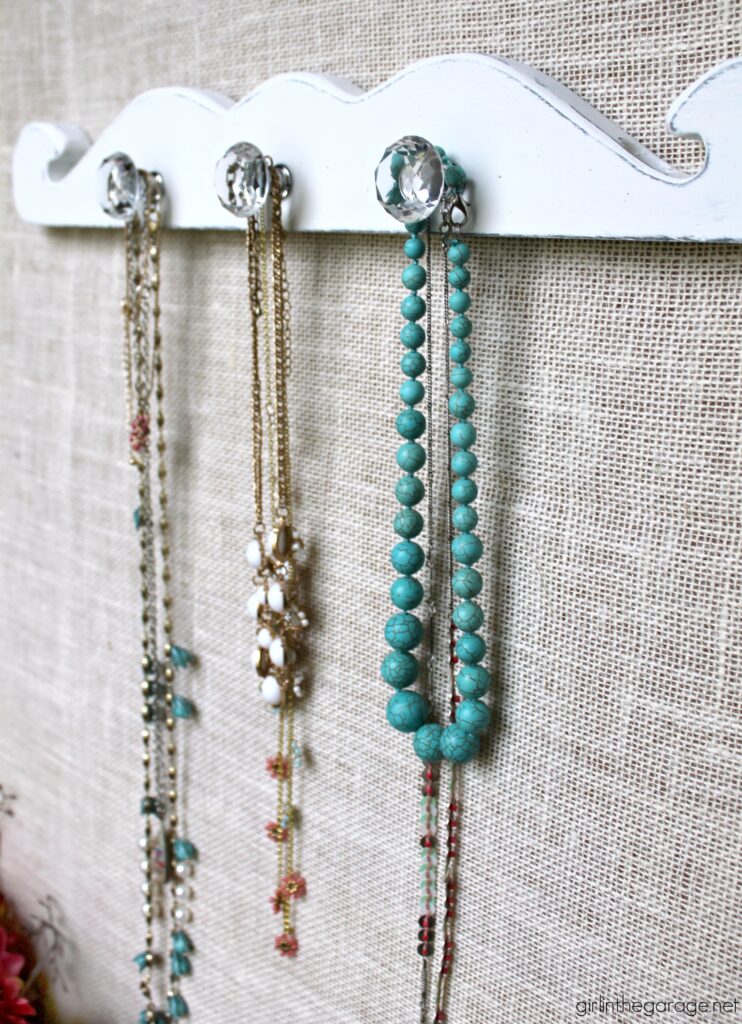 The longer beaded necklace in the photo below is one my husband bought me (from Anthropologie) and the vintage pendant necklace was a yard sale find. I love mixing old and new.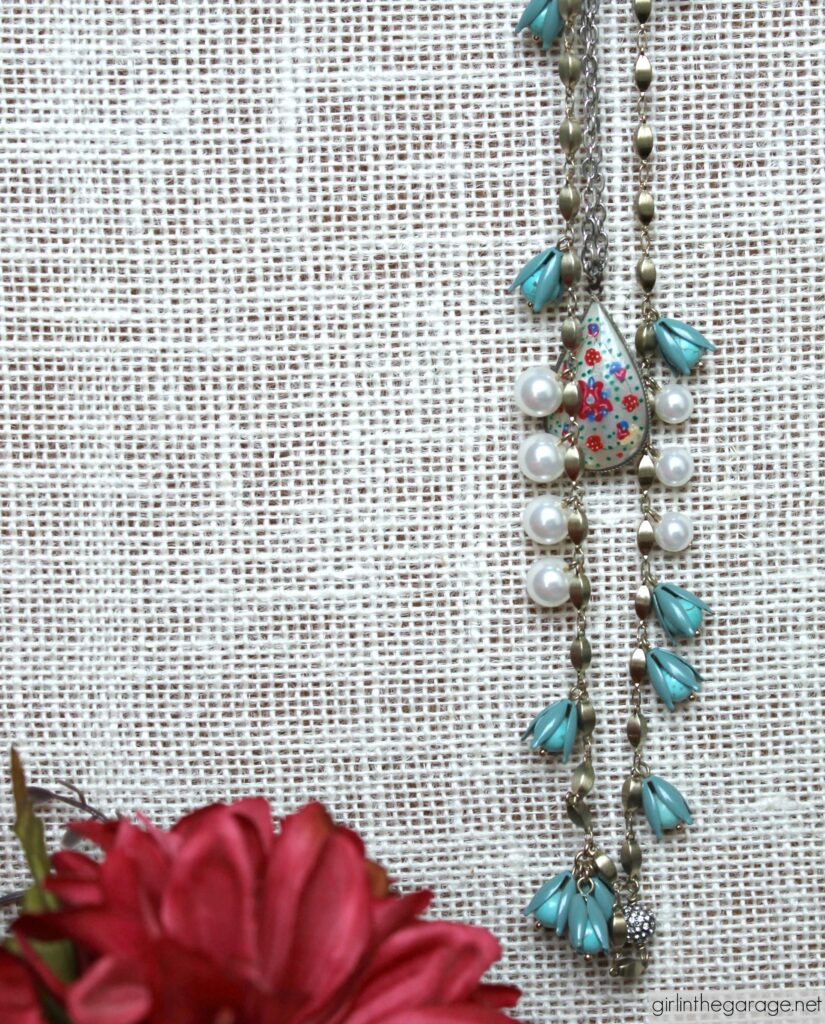 Finally, here's a before and after reminder of this DIY necklace display (and I just realized the wood looks like a mustache! LOL) – feel free to pin or share this makeover for easy access later: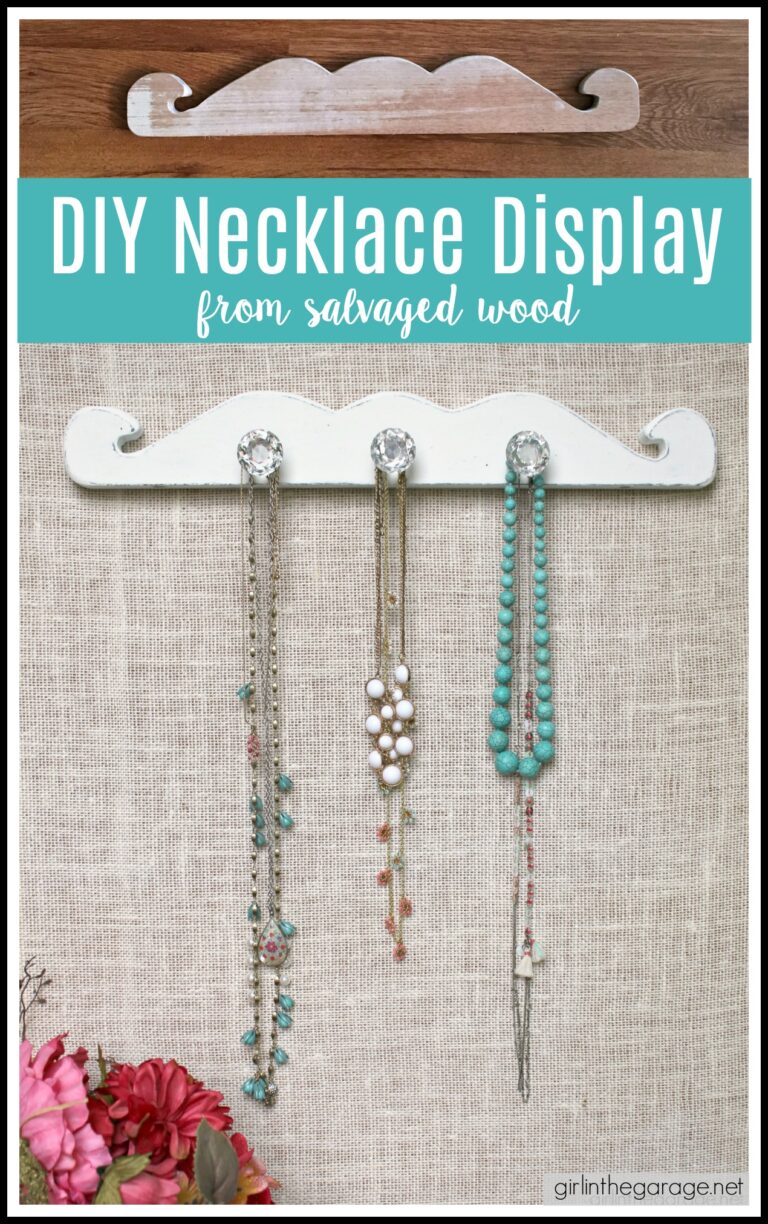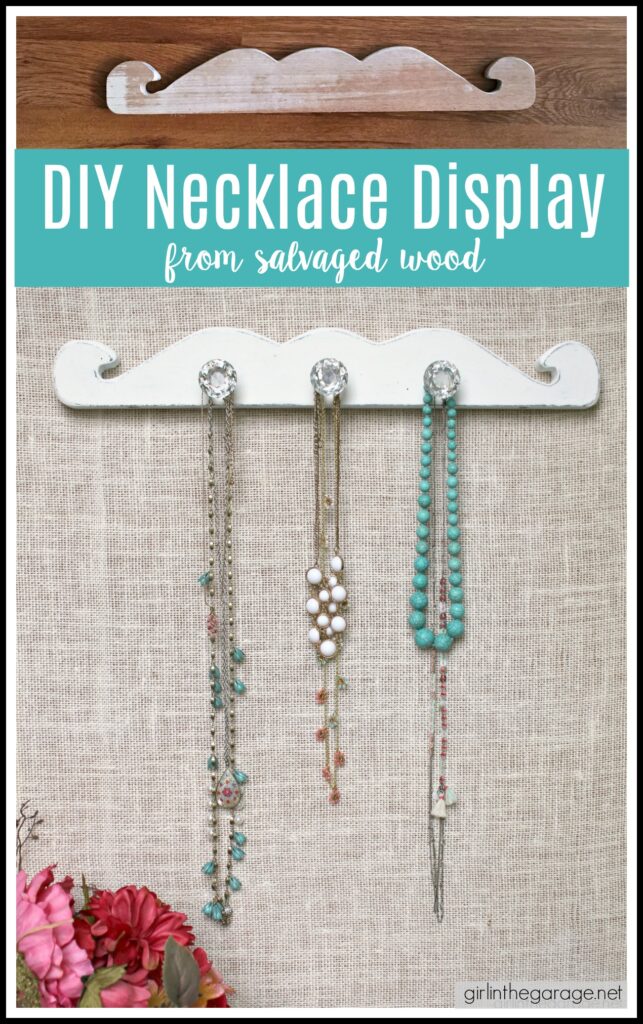 I have a few other project ideas for the other vintage wood pieces – but I'd love to hear your thoughts on what I should do with them. Leave me a comment below.
Now it's time again for Trash to Treasure Tuesday with my blogging friends (see all my previous T2T projects here)…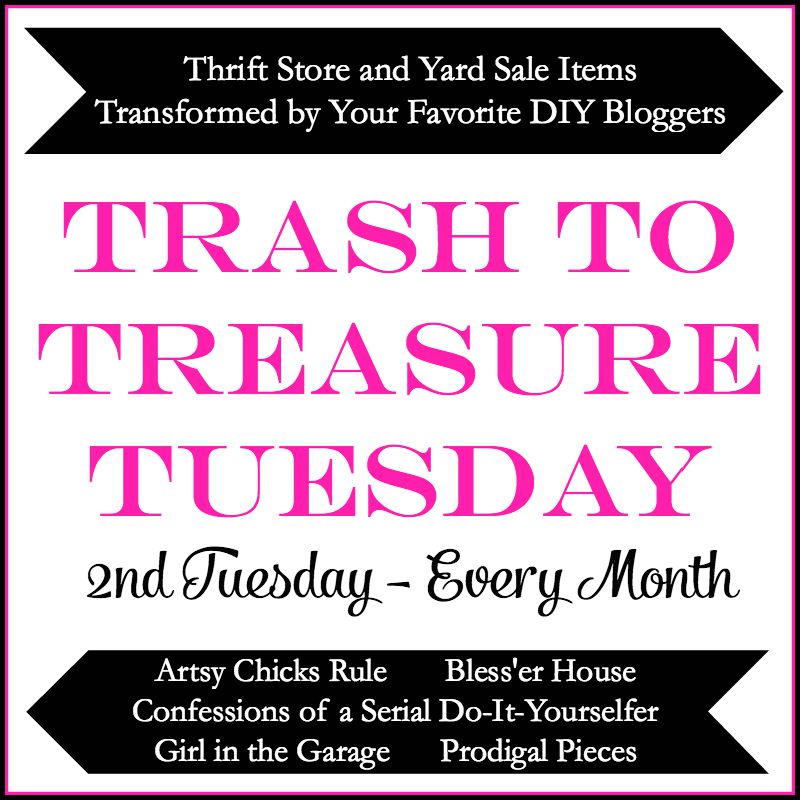 Below are the Before photos – visit the links underneath to see the amazing Afters and to learn how they did it: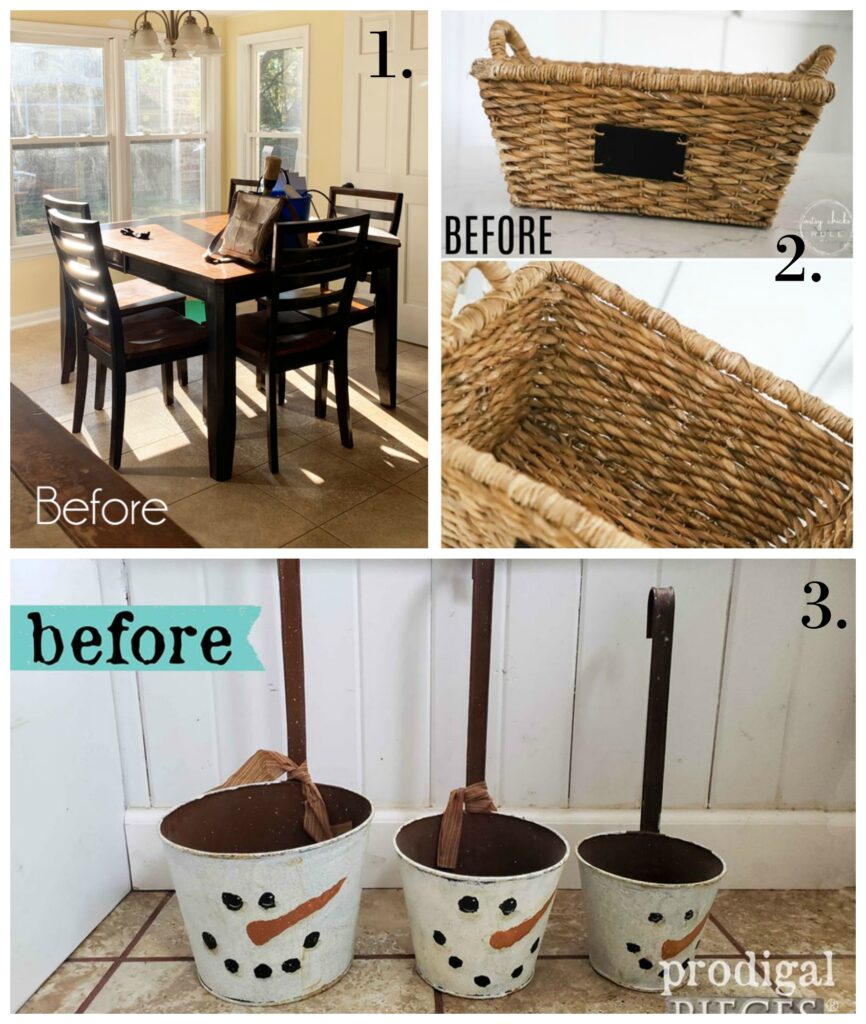 1. Confessions of a Serial DIYer
2. Artsy Chicks Rule
3. Prodigal Pieces
And finally here are a few of my other DIY jewelry display ideas for organizing necklaces, bracelets, and other pretty things: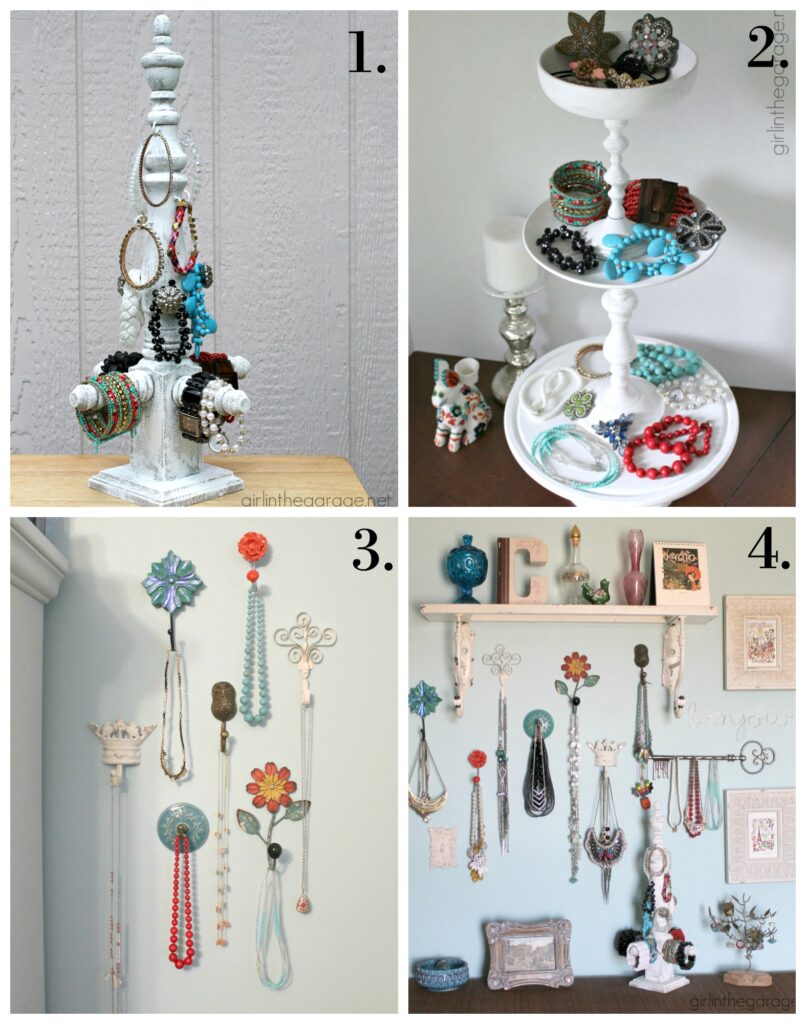 1. DIY Bracelet Stand
2. DIY Tiered Tray from Thrifted Pieces
3. Decorative Wall Hooks as Jewelry Storage
4. DIY Jewelry Wall Display (expanded from #3)