Friend, do you ever get "creator's block?" Today is Trash to Treasure Tuesday with my blogging friends, and for some reason I was having trouble a few days ago. My mind kept thinking of all these ideas… but they weren't trashy at all. In fact I've been having a lot of ideas for projects with brand new supplies, and I'll be sharing some of those very soon.
Finally I settled on this little wooden bucket from my stash. I don't remember where I found it or how much I paid, but I'm sure it was next to nothing. It definitely wasn't pretty…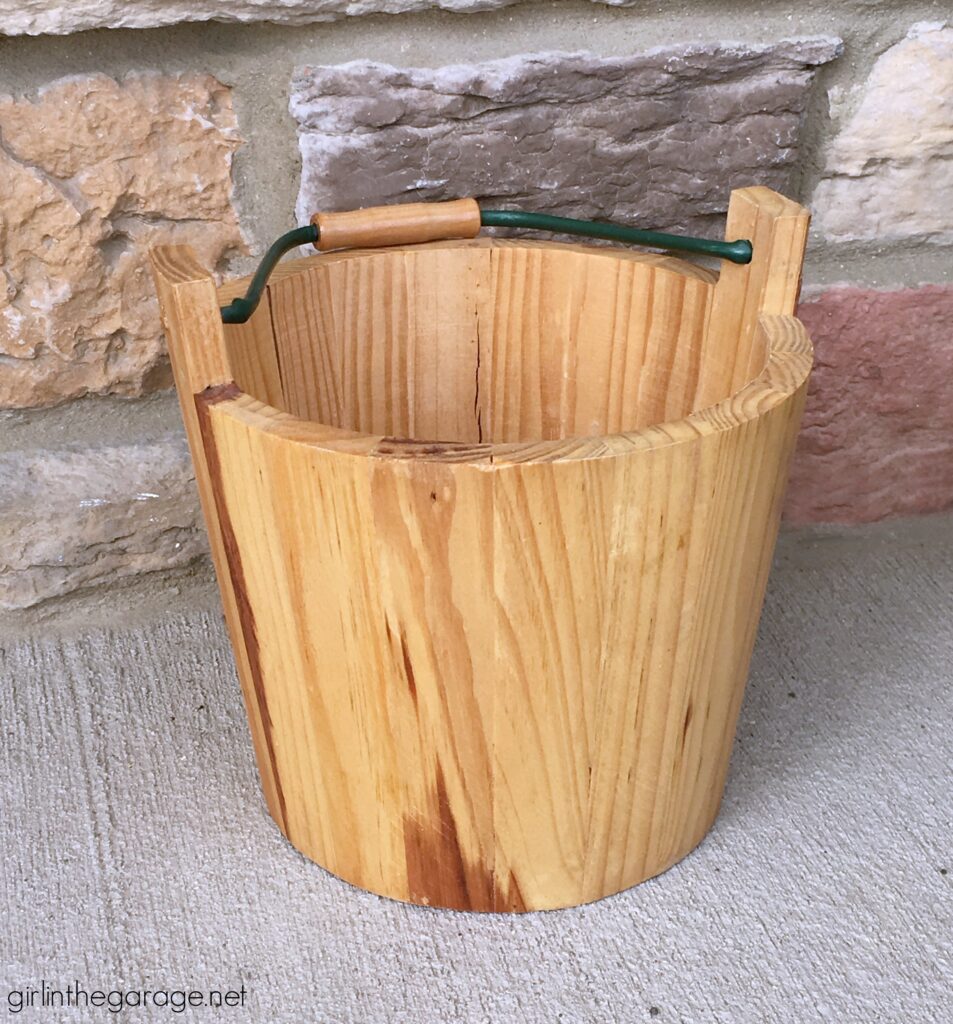 *This post contains some affiliate links so you can easily find the products I use and recommend. Discover all my favorite brands and tools for doing DIY projects here.
Today's project isn't difficult, but I'll give you the step-by-step photos in case you're a visual person like me. 🙂
Bucket Makeover: Prep and Paint
First, I cleaned the bucket and then removed the handle by squeezing both sides in.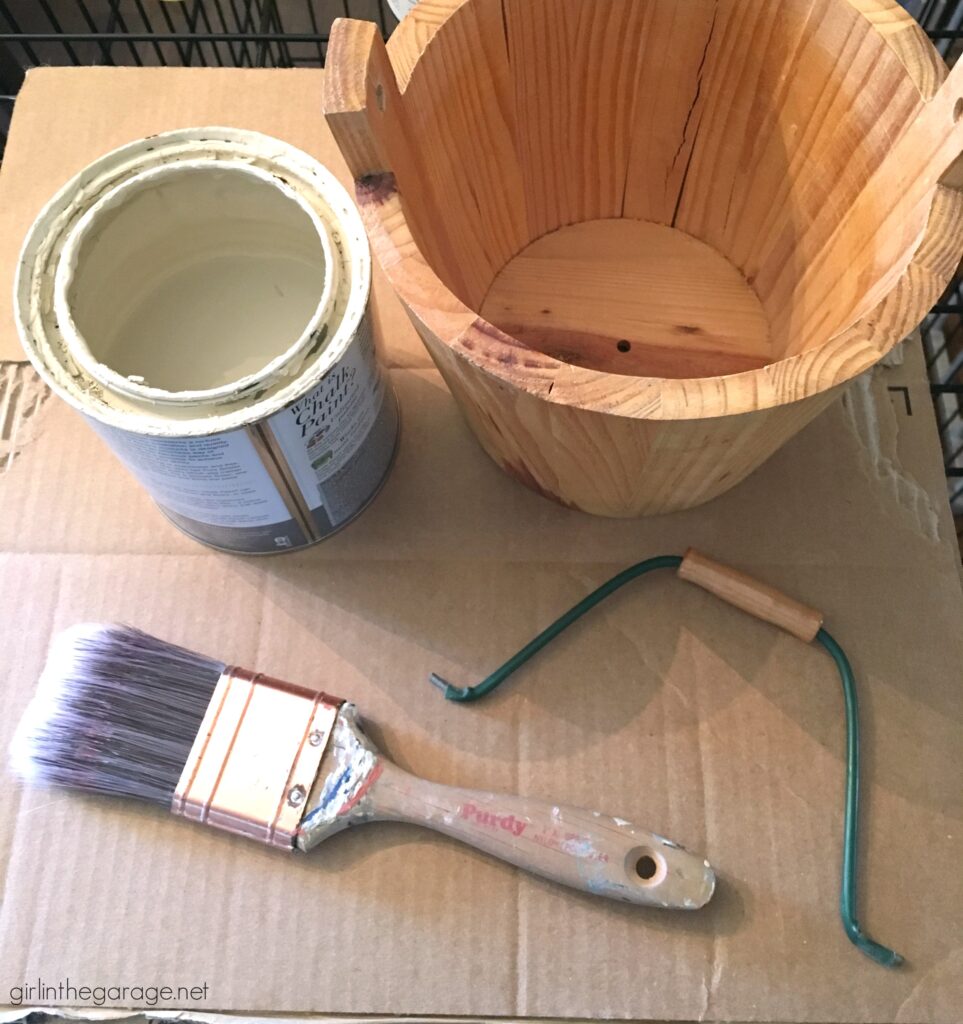 I painted the bucket in Annie Sloan Chalk Paint in Old Ochre with one of my favorite Purdy brushes – two light coats inside and out and then let it dry.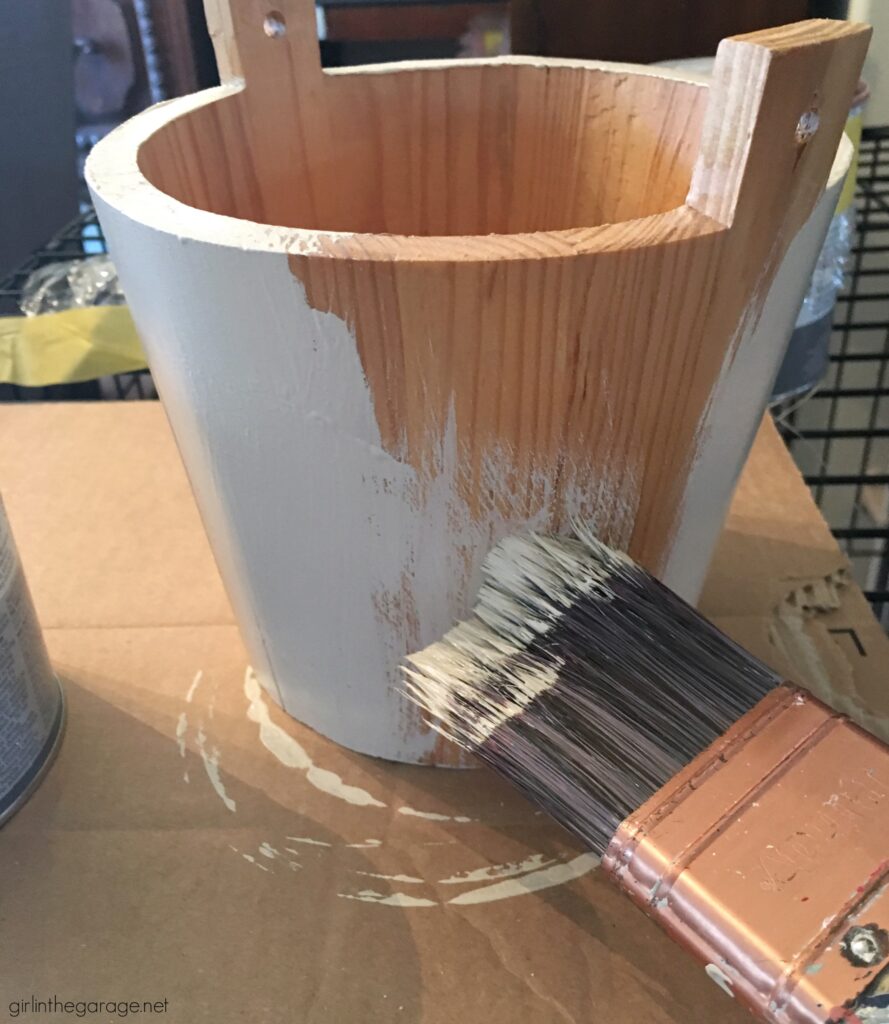 Next, the green rubber on the handle had to go. The wooden piece wouldn't come off, but it would slide back and forth slightly.
I cut the rubber off with scissors and kept tugging and cutting up near the wood until just the metal was showing – much better!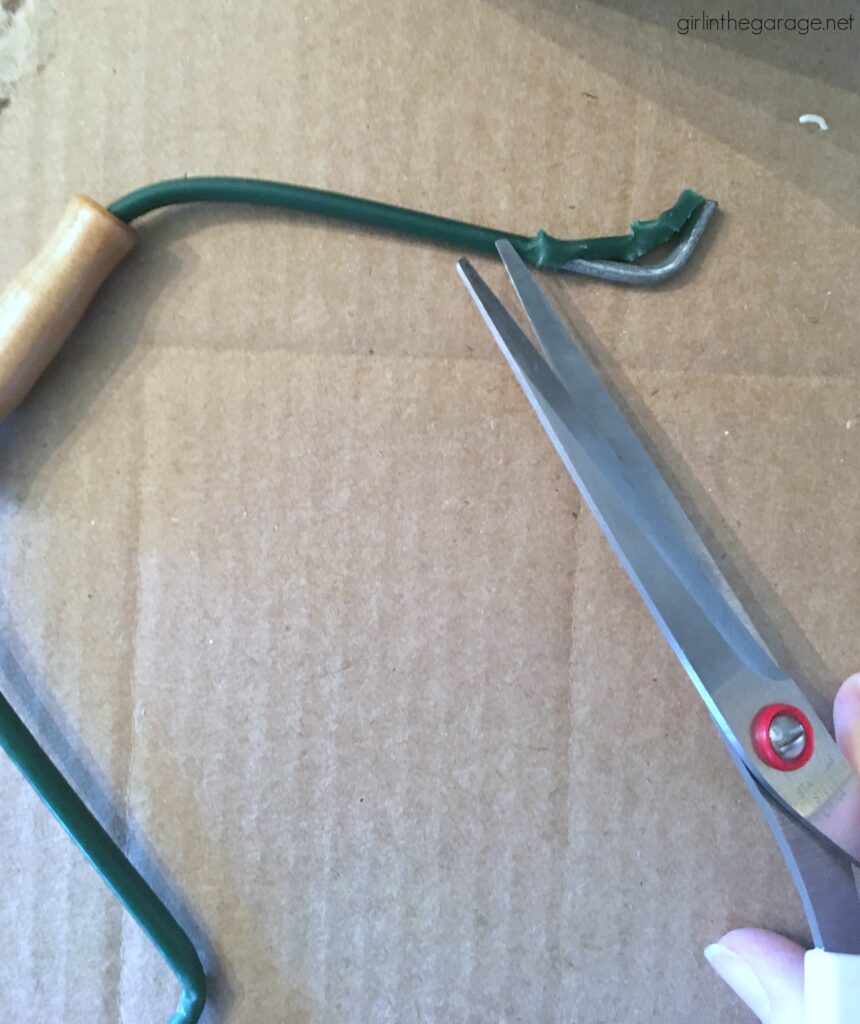 Then I took the bucket outside to lightly sand it with 320-grit sandpaper. (Learn more about the different types of sandpaper and how to prep furniture for painting here.)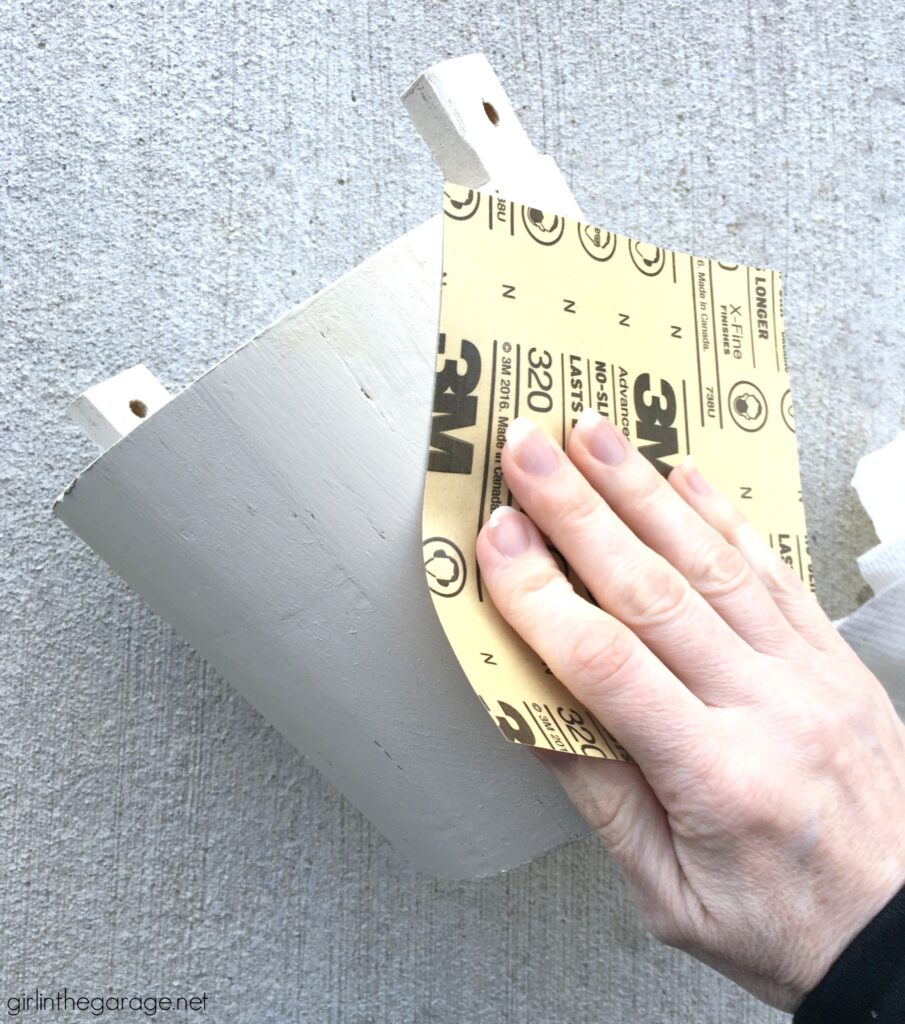 Stenciling the Painted Wooden Bucket
I was itching to try out this new Fresh Flower Market stencil I just got, and of course I used my favorite foam pouncers (medium and small from this set). Tape the stencil onto the piece with this FrogTape – it holds the stencil in place and won't remove the paint you already put on.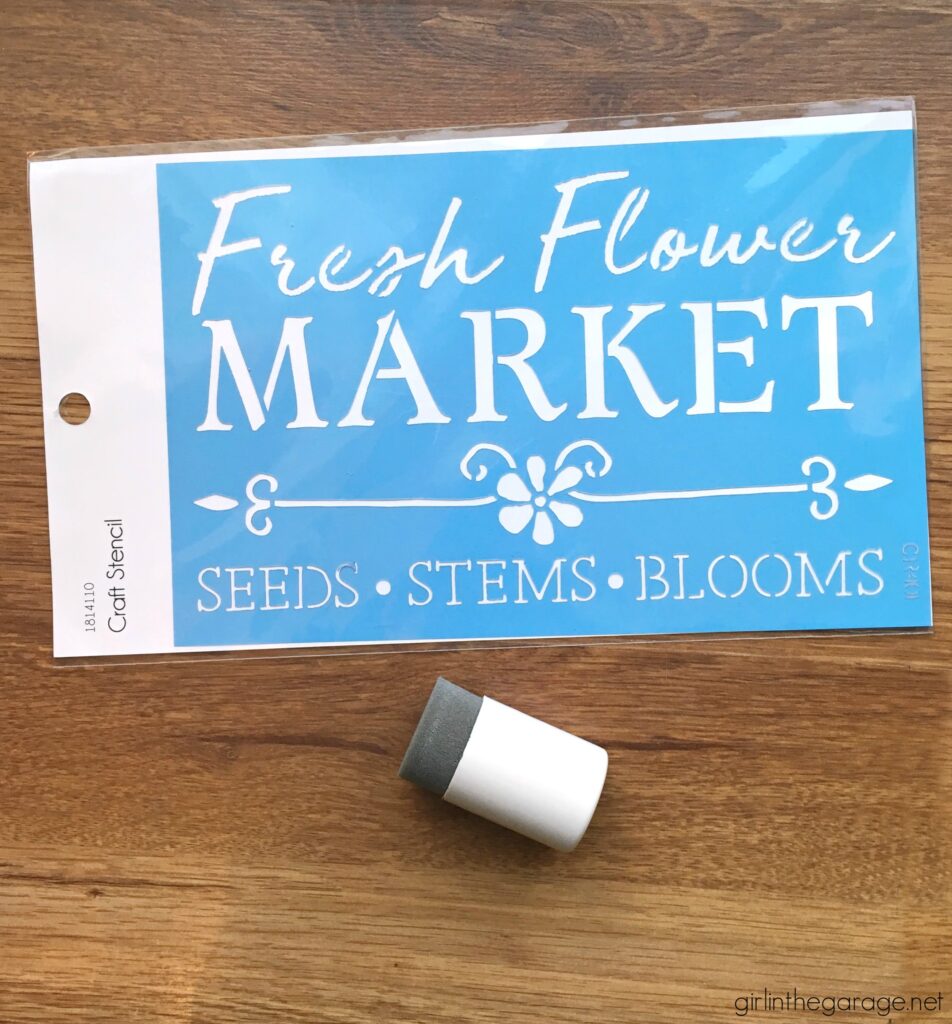 I dipped the pouncer onto the lid of the blue paint (Country Chic Paint in Midnight Sky) because I didn't want too much paint on it. Then I blotted it onto a folded paper towel. You definitely don't want a bunch of paint on the pouncer.
I patted the big pouncer on gently for all the areas I wanted blue.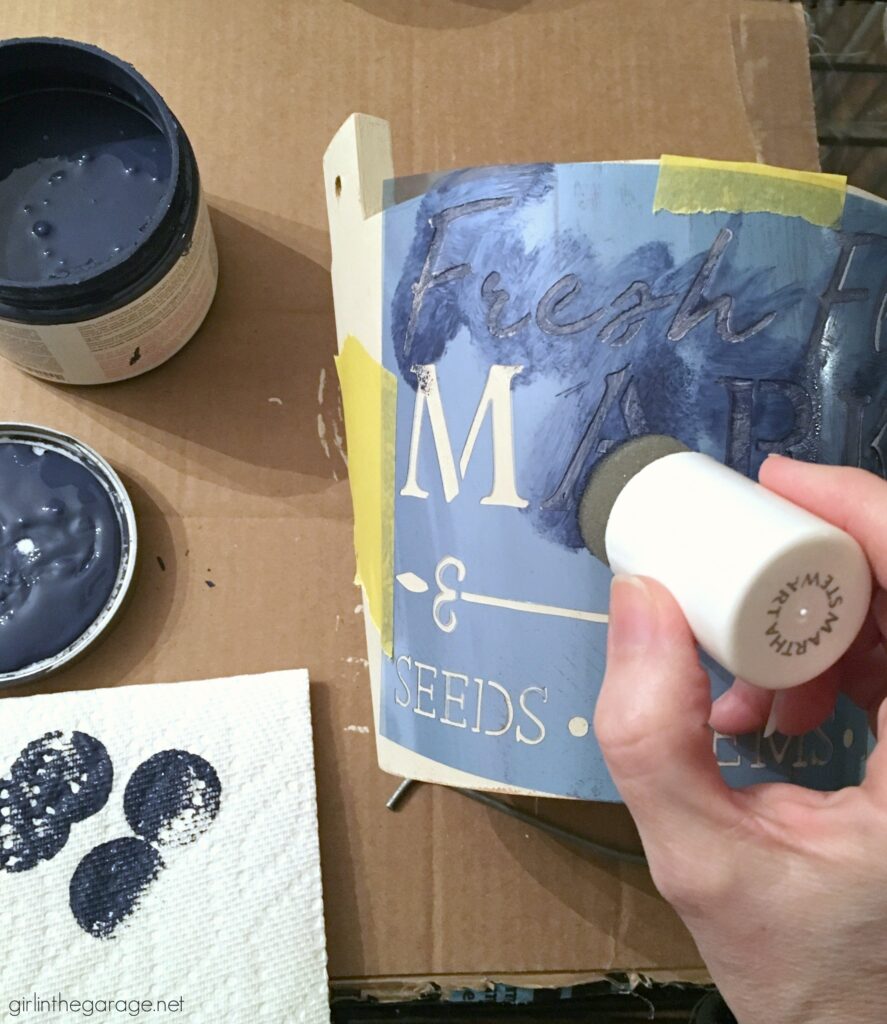 Then I used the small pouncer from the same set for the areas I wanted pink (Annie Sloan Chalk Paint in Scandinavian Pink).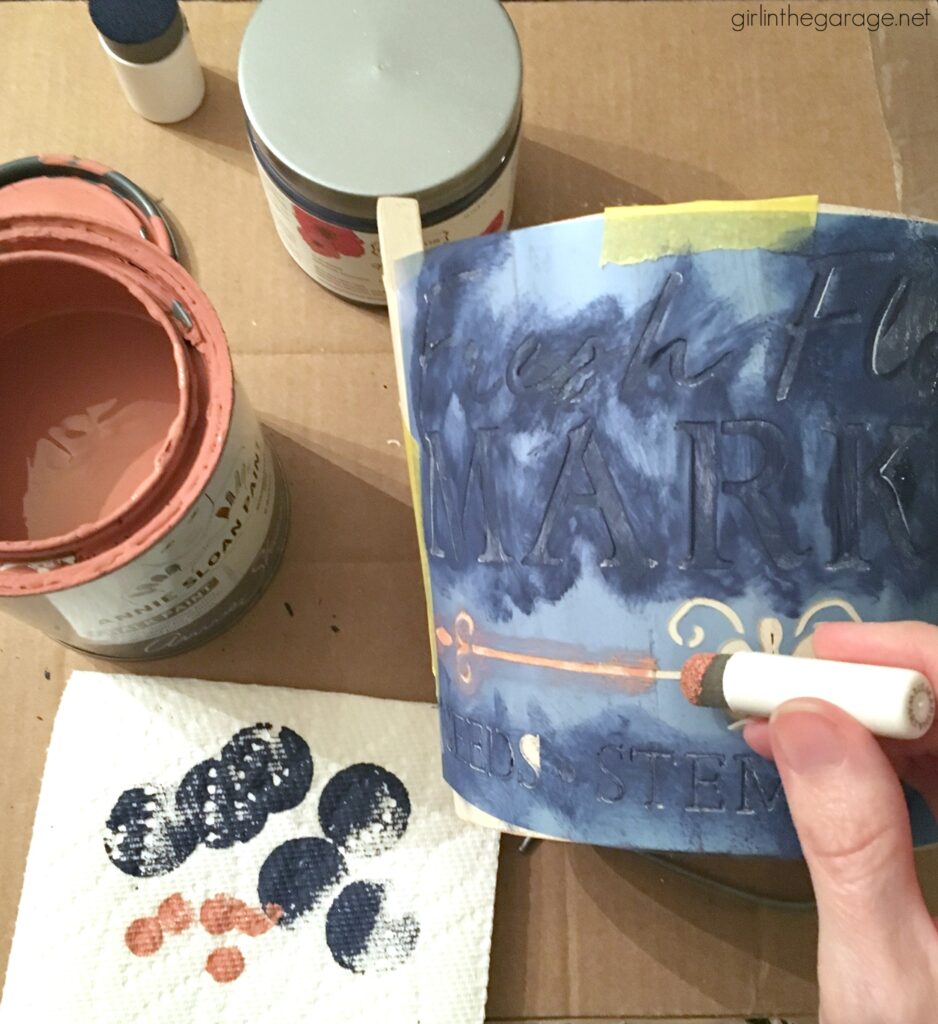 Carefully peel away the stencil before the paint is fully dry. (You may have noticed that the stencil is a rectangle, whereas the bucket is curved. That makes my words curve a little, but it doesn't bother me.)

Next I like to fill in the little gaps left by the stencil with an artist's brush. The design just looks more complete… literally. 😄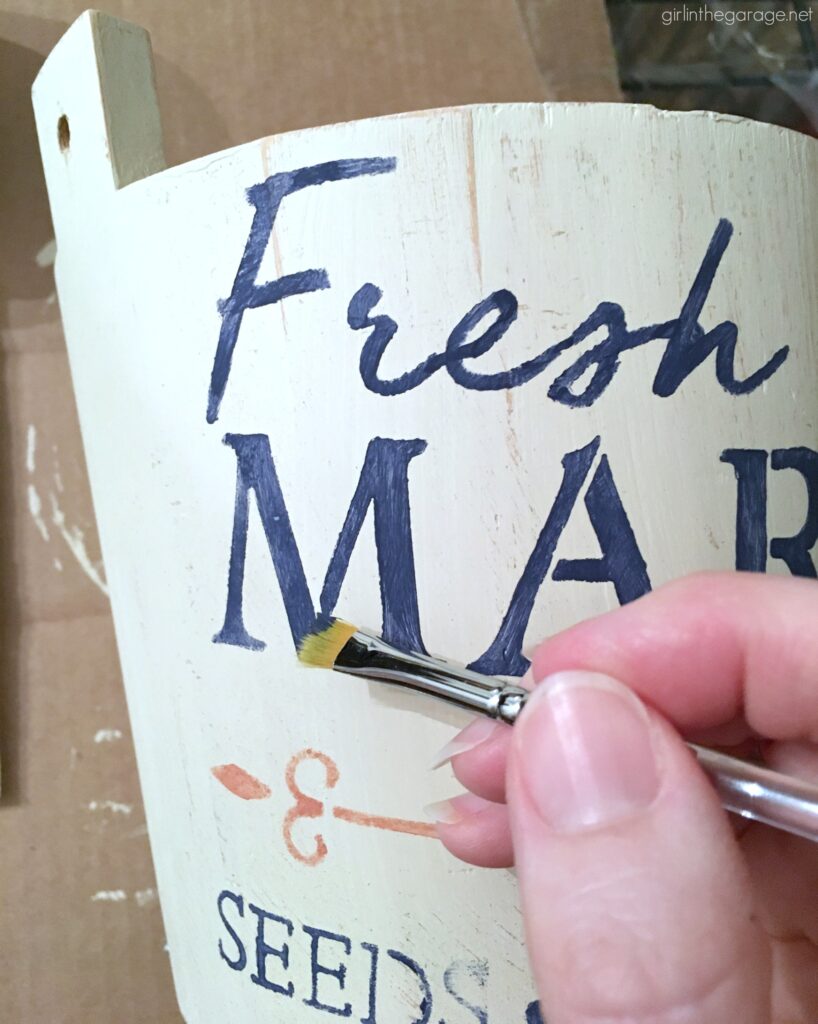 The paint was looking a little too crisp and vibrant for my taste, and I honestly thought about scrapping the whole thing for a minute.
Then I realized I just needed to take it outside and rough it up a little with my sandpaper again to make the colors more faded and worn.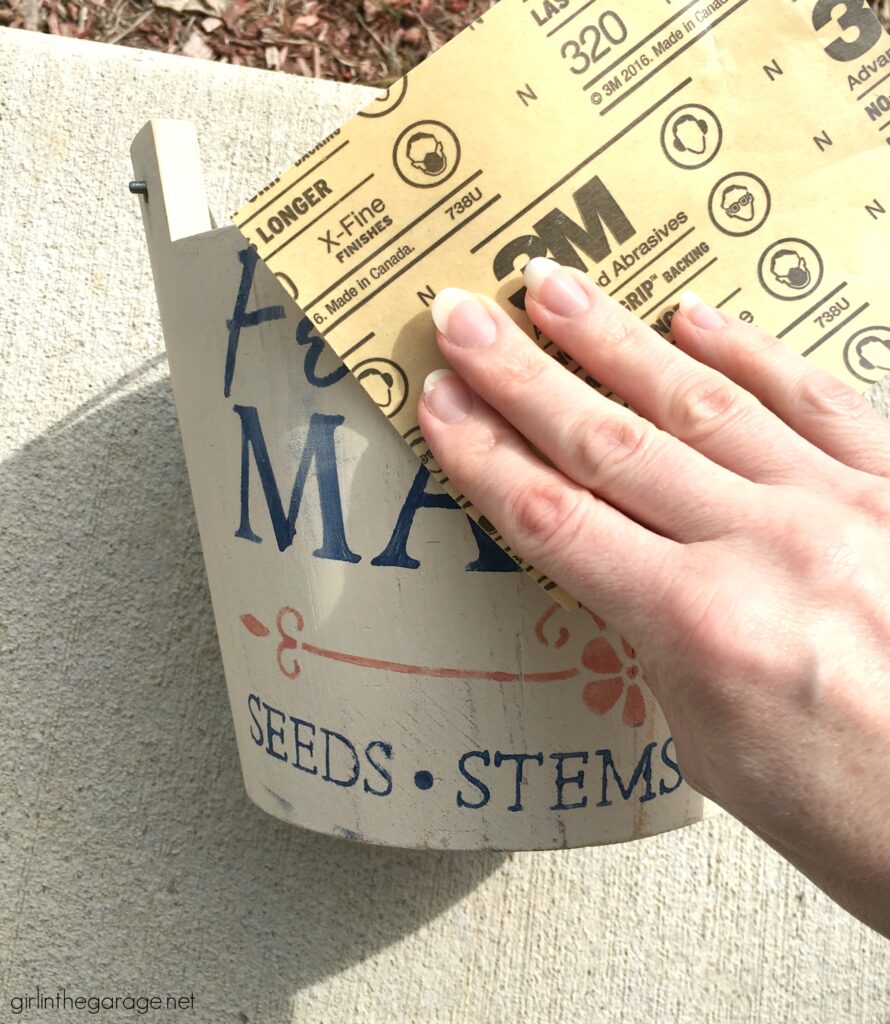 Finally I popped some faux stems inside since I think this stenciled wooden bucket would be a perfect flower pot.
Here she is all finished…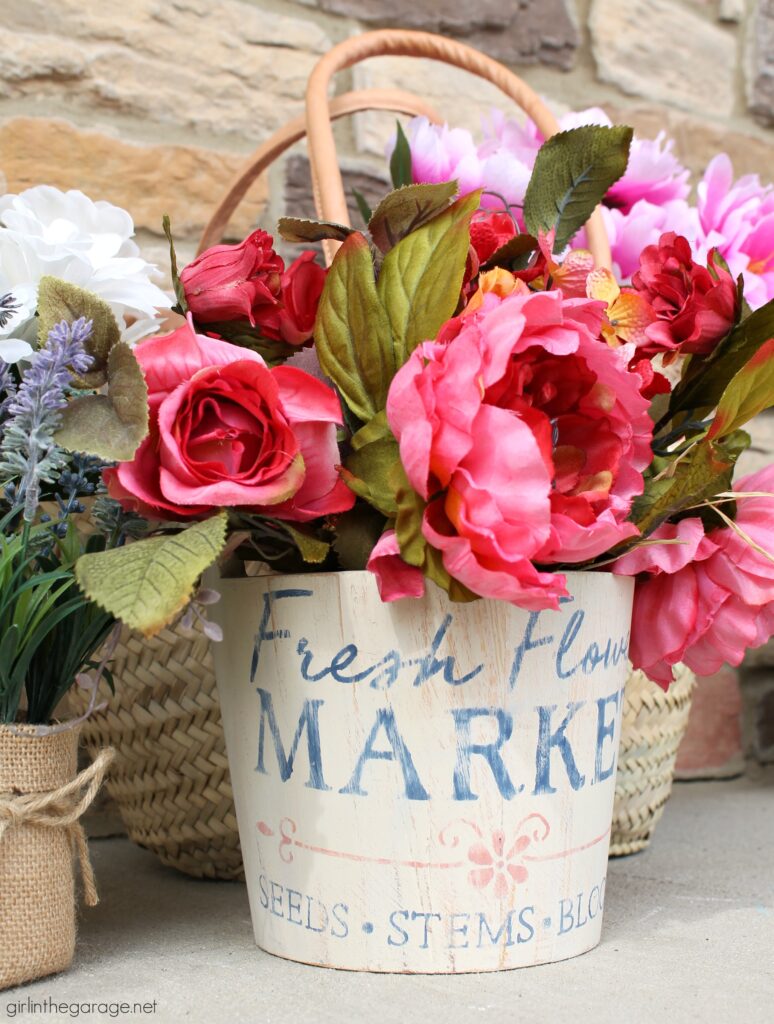 And here she is with a few of her flower friends… almost like a real flower market (ha).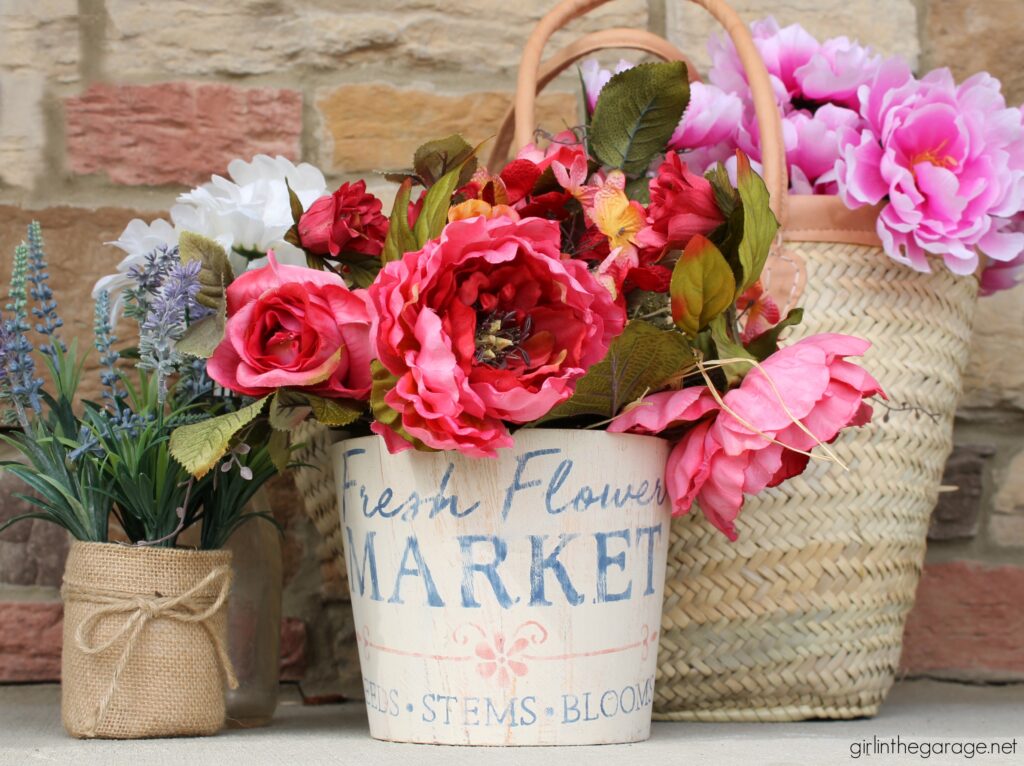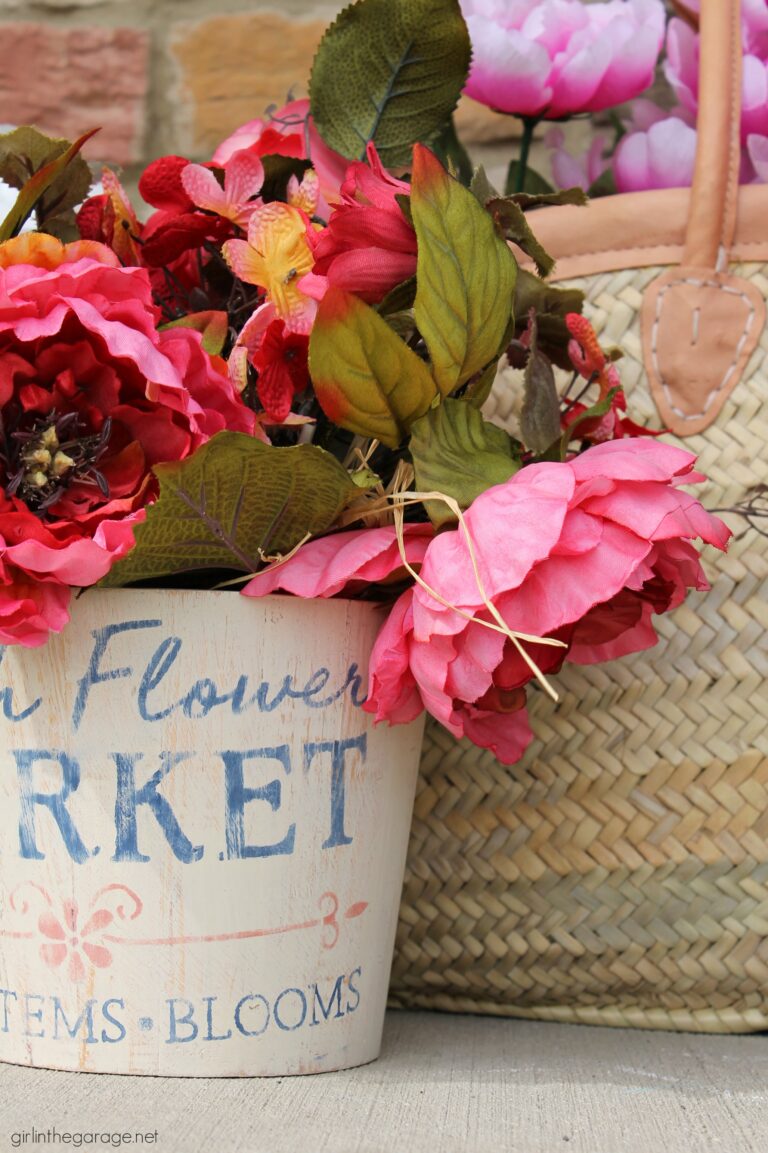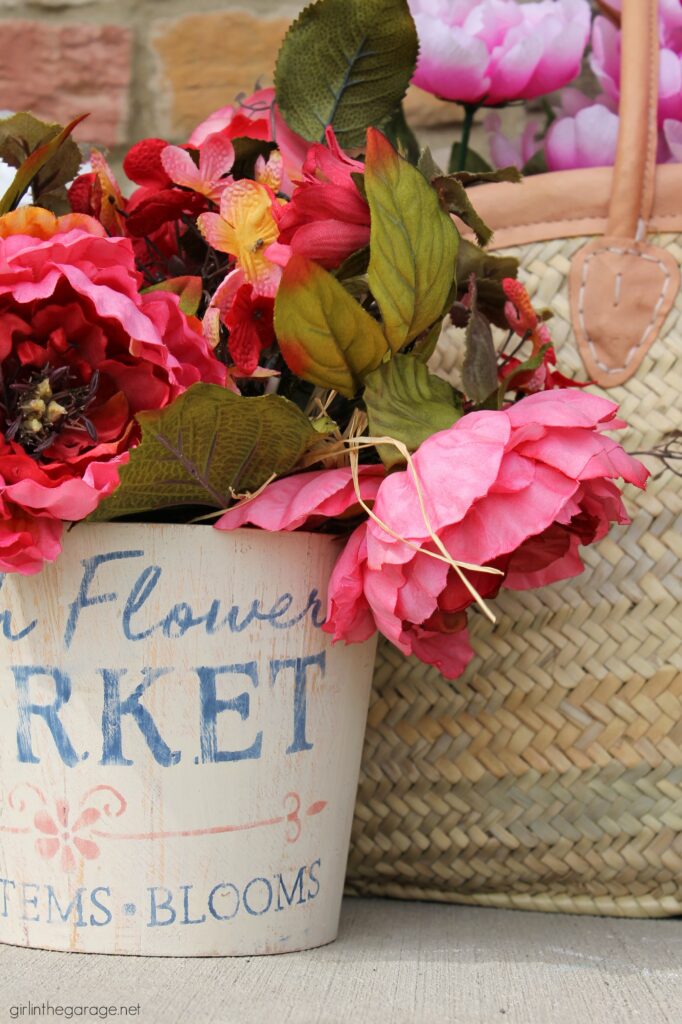 I think it looks lovely distressed, and I'm so glad I didn't scrap this trash to treasure project.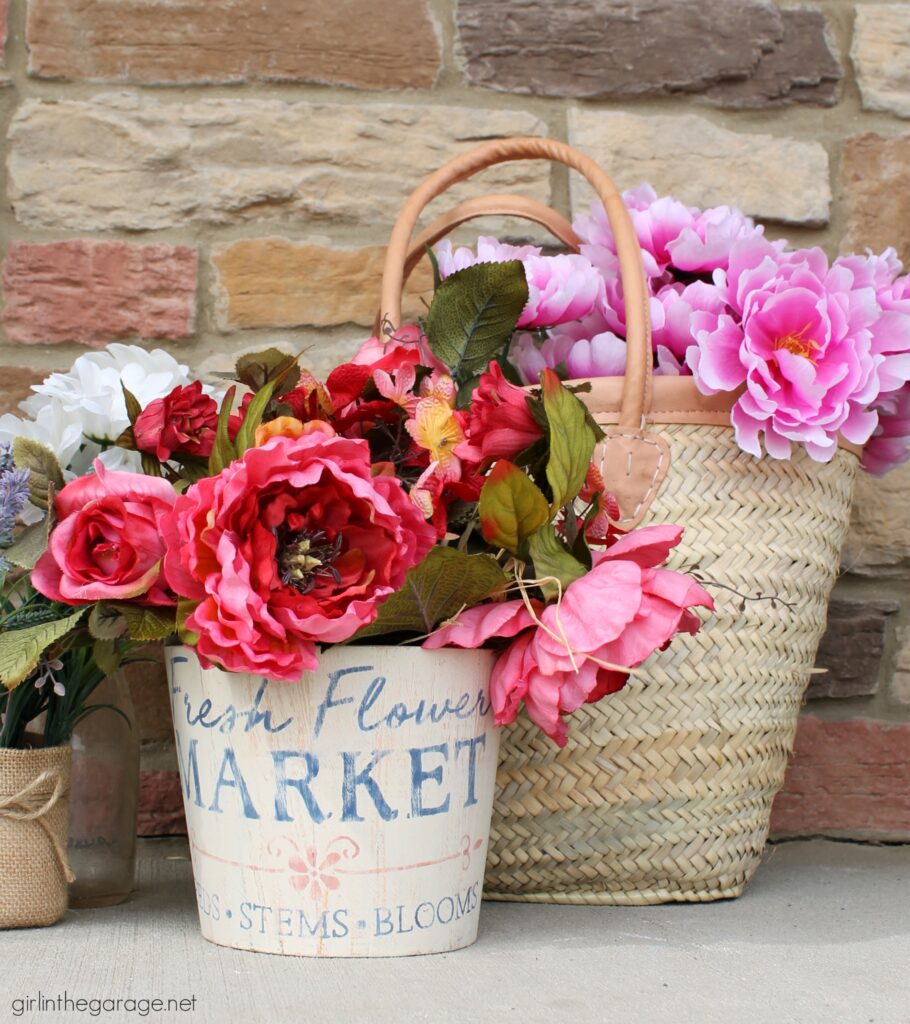 Keep your eyes peeled while thrifting for a wooden bucket or flower pot to stencil!
Here's a handy before-and-after if you'd like to share or Pin this project to easily find it later: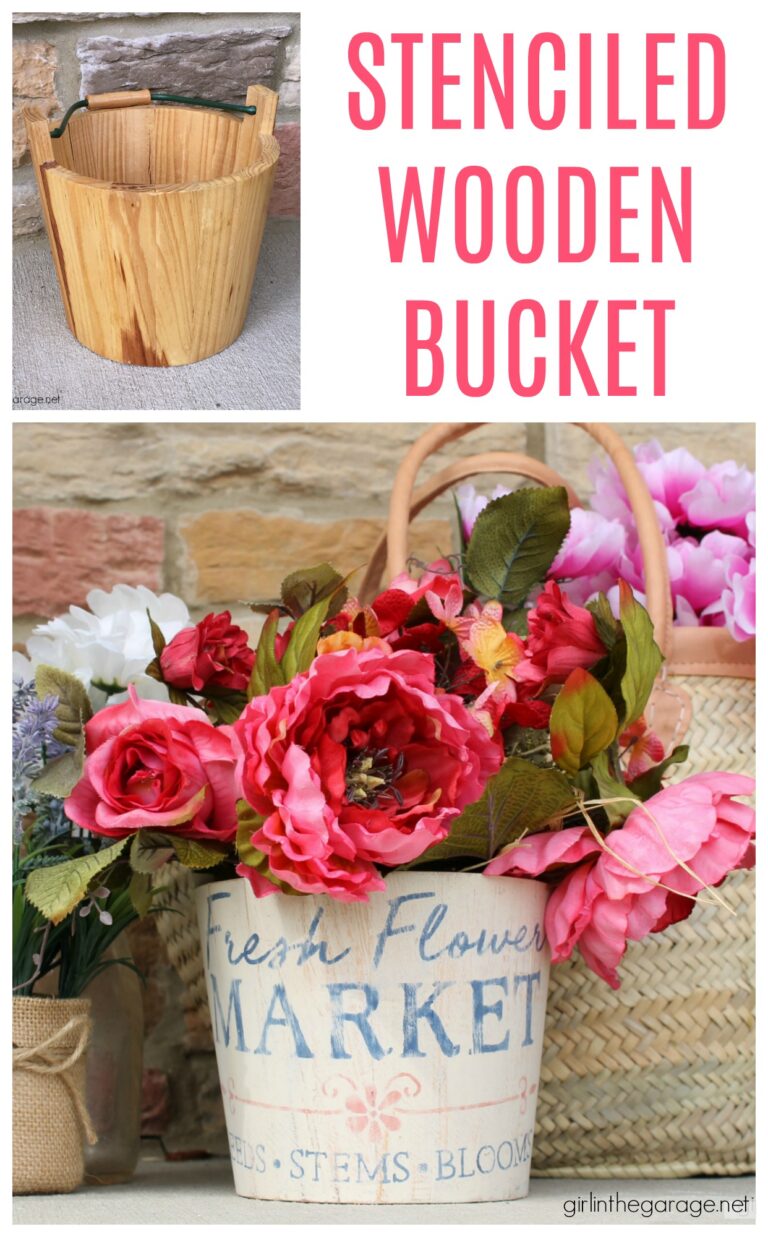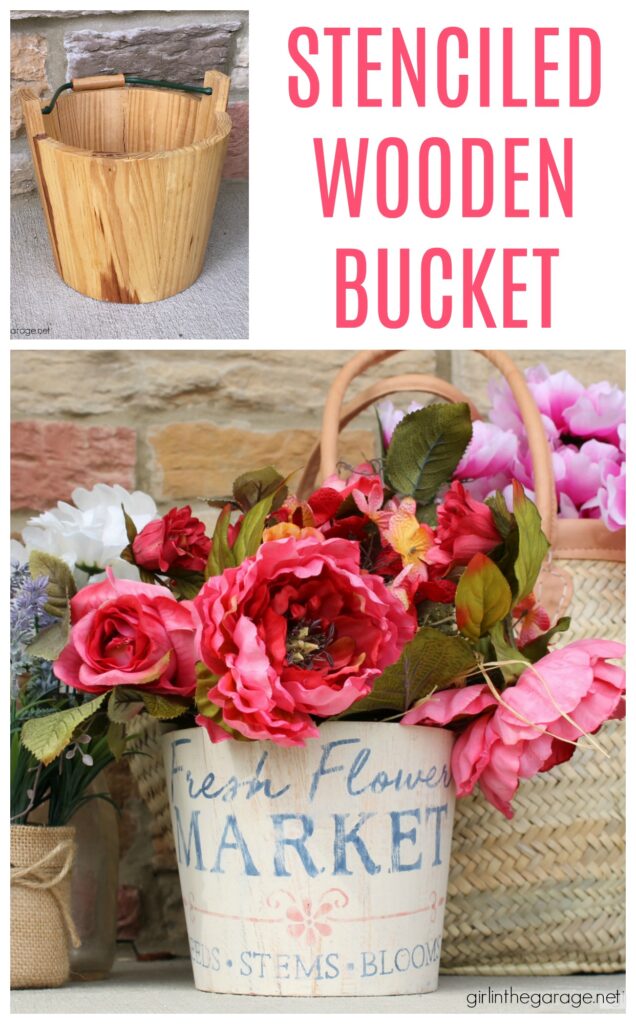 Now it's time for all the excitement of Trash to Treasure Tuesday! My friends and I have created new budget friendly makeovers to inspire YOU.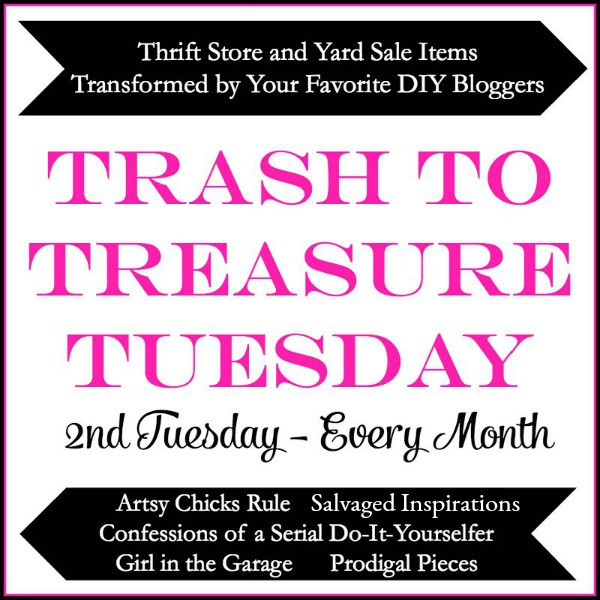 Below are the Before photos – visit the links underneath to see the fantastic Afters and to learn how they did it: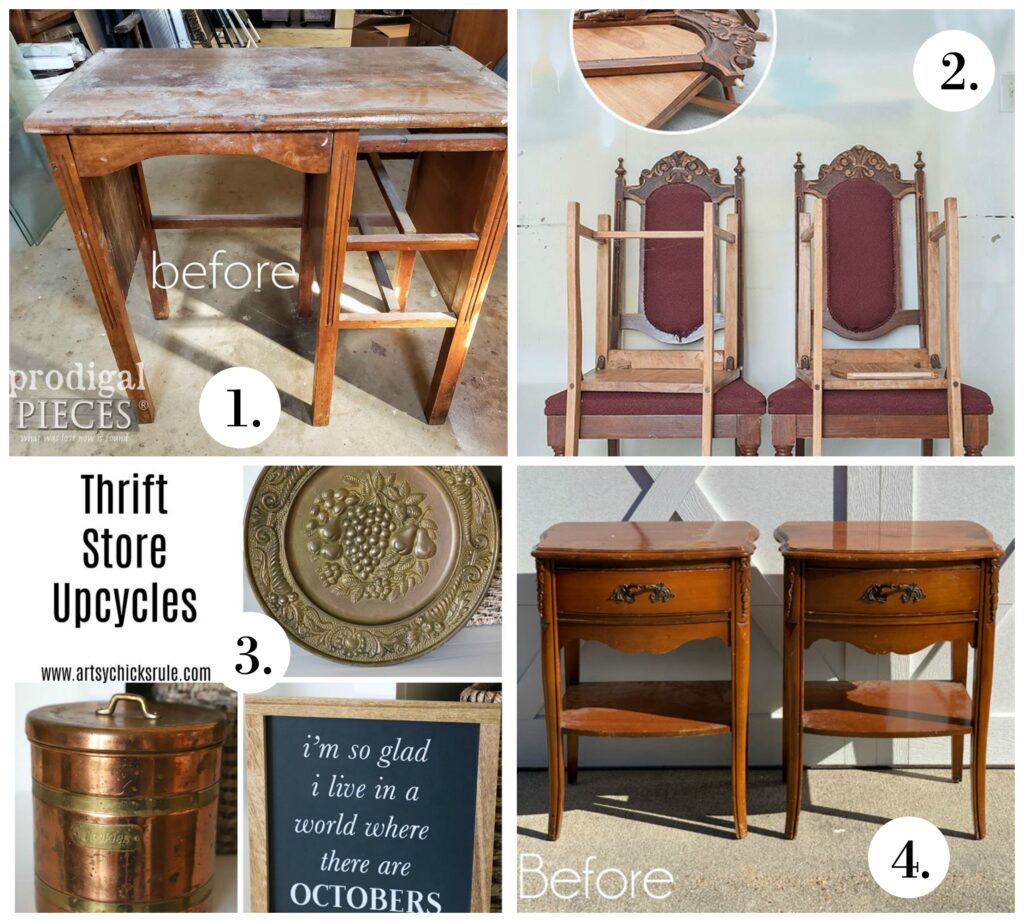 1. Prodigal Pieces
2. Salvaged Inspirations
3. Artsy Chicks Rule
4. Confessions of a Serial DIYer