*In troubled times like this, doing creative projects doesn't come easily for me (probably similar for most people). So many things are uncertain, but it's important to be thankful for the good things we have and try to keep some normalcy in our daily routine (especially with young children at home). I'll do my best to keep sharing creative ideas to give you guys a little respite from all the media and news updates out there – and I'll be praying for your health and safety. ❤️
Throw pillows are an awesome way to switch out your decor depending on your current taste. Even better are throw pillow covers that don't take up much storage room when you're not using them. One of the most cost effective ways to have a variety of decorative pillows is to stencil your preferred designs and colors on IKEA pieces.
For today's project, I'll show you an IKEA hack: How to stencil pillows for inexpensive home decor.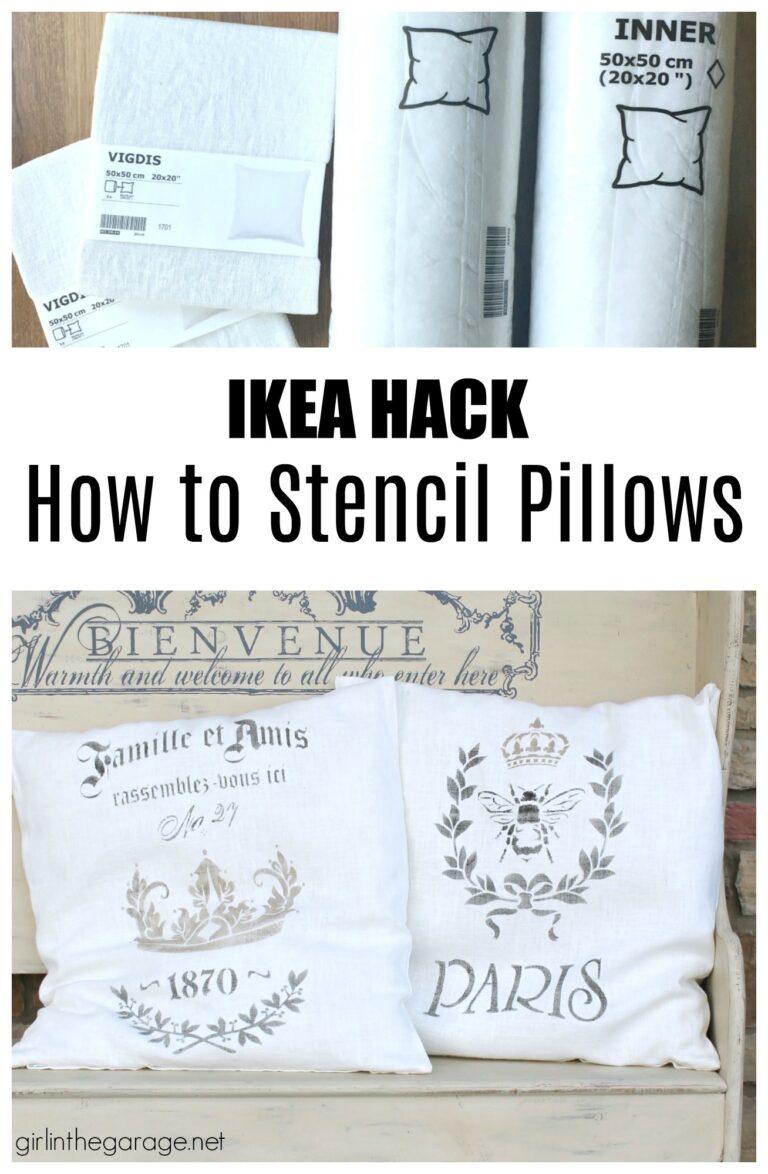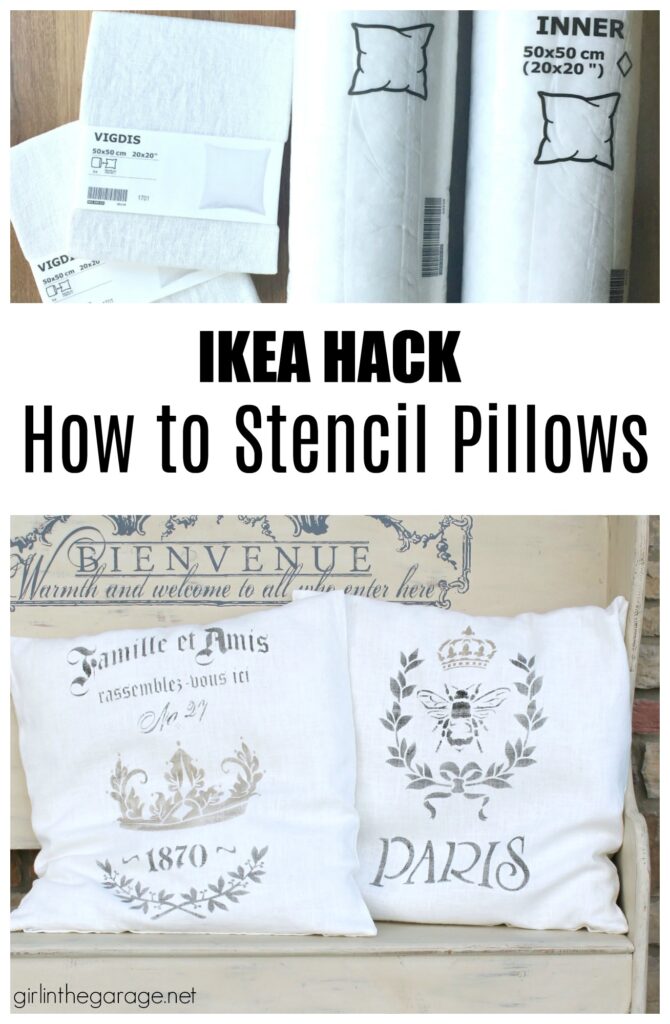 *This post contains some affiliate links so you can easily find the products I use and recommend. Discover all my favorite brands and tools for doing DIY projects here. Also – this is not a sponsored post.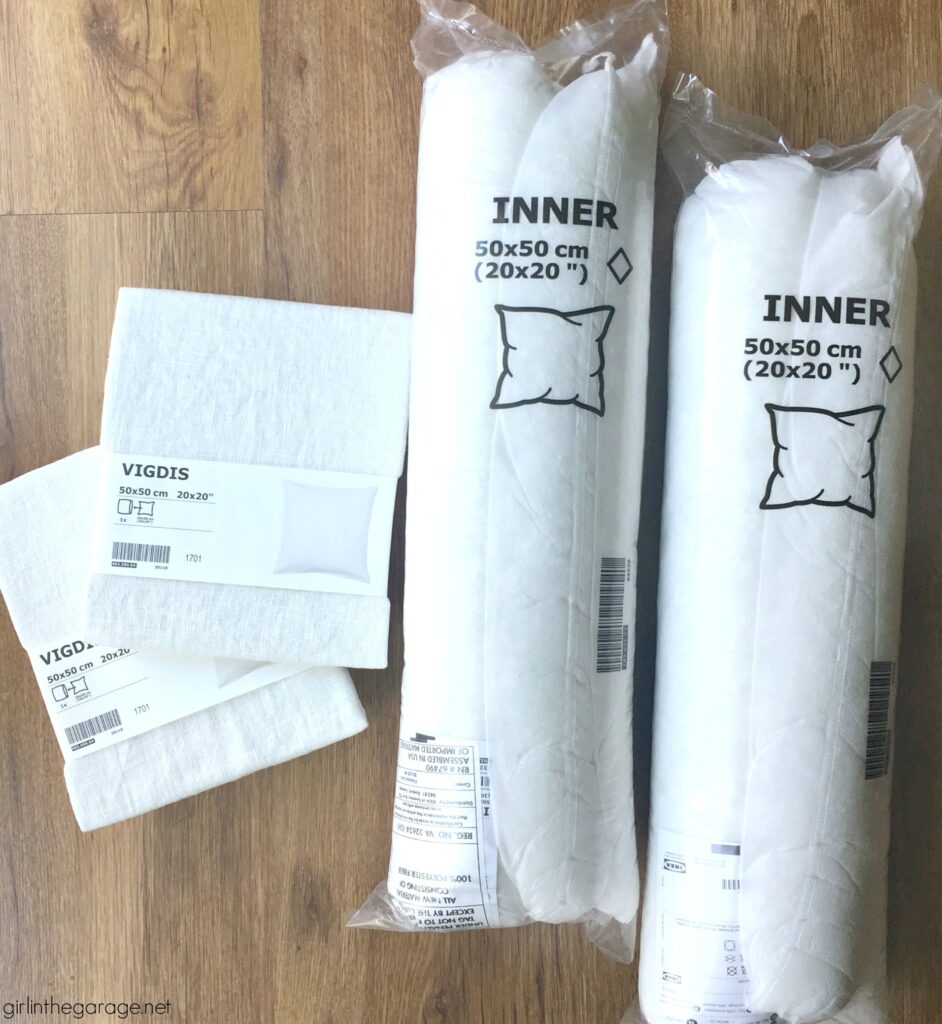 First, iron the pillow cover. I chose VIGDIS because it has a vintage linen look. Insert a piece of cardboard inside so the paint doesn't soak through to the back.
Center a large stencil like this one below and secure with painter's tape, or you could spray temporary stencil adhesive on the back of the stencil to hold it in place – but it can be a little difficult to clean off later, in my experience.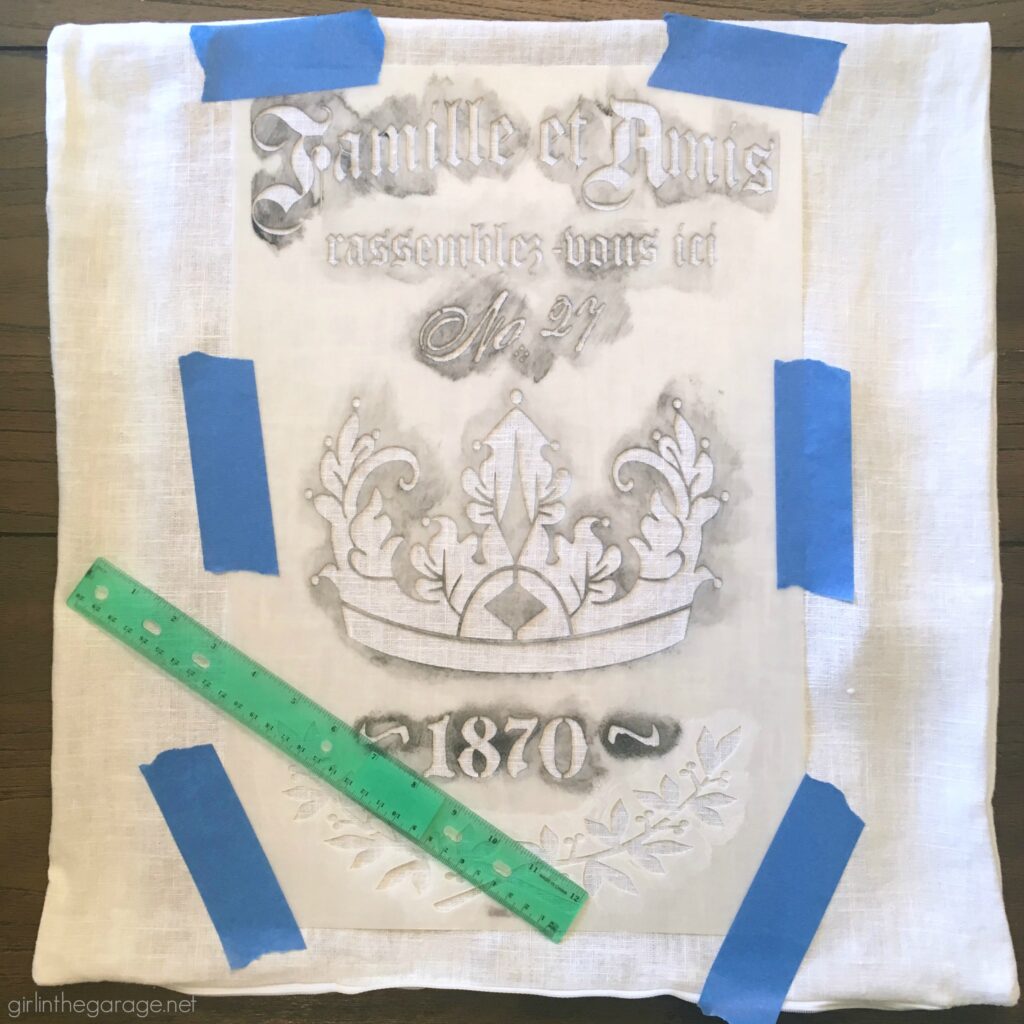 Next, lightly dab the sponge pouncer into the black paint. Blot it onto a folded paper towel to remove most of the paint.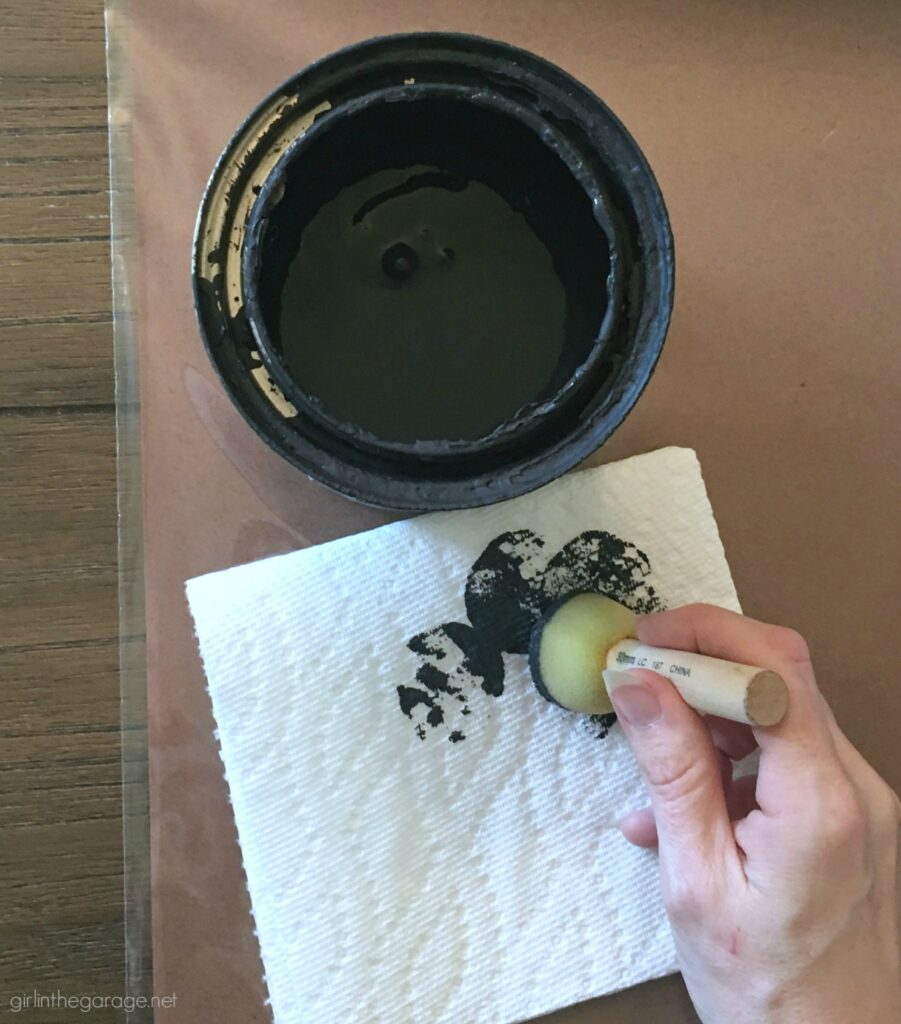 Gently dab the pouncer wherever you want the black paint. Don't worry about perfect coverage – uneven coverage looks more natural, like vintage fabric.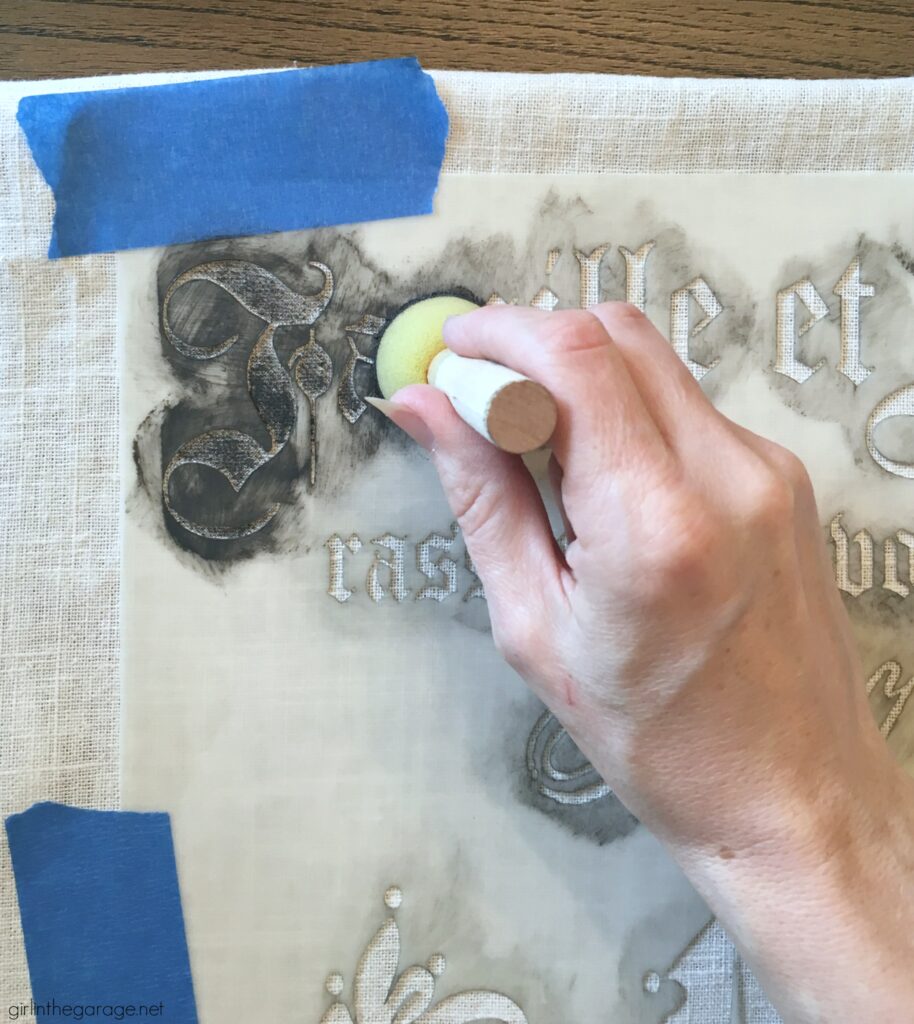 Next I mixed the metallic paint and Coco together for a slight sheen, blotted it on the paper towel, and then lightly dabbed it over the crown with one of my favorite pouncers.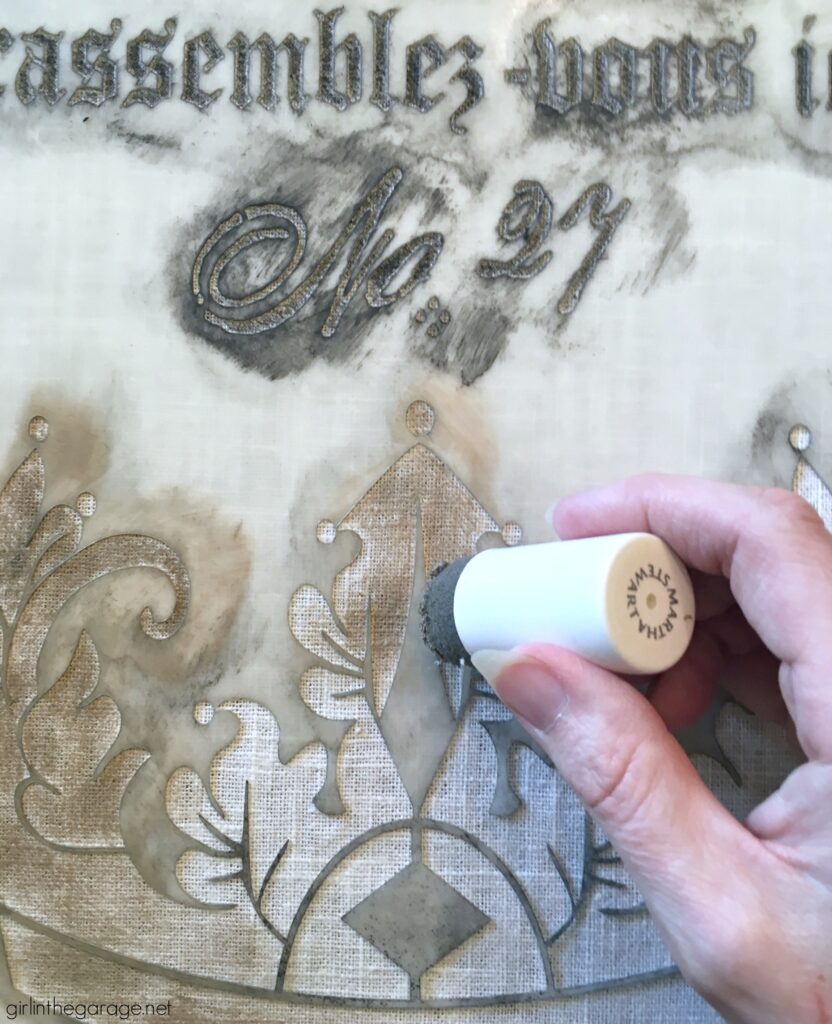 Finally, remove the tape and carefully lift the stencil. For best results, remove within 1-2 minutes of painting.
The second pillow cover uses two smaller stencils. Measure and tape the first stencil in place (like the bee stencil below), leaving room for the second stencil under it. Lightly paint with the pouncer just like before.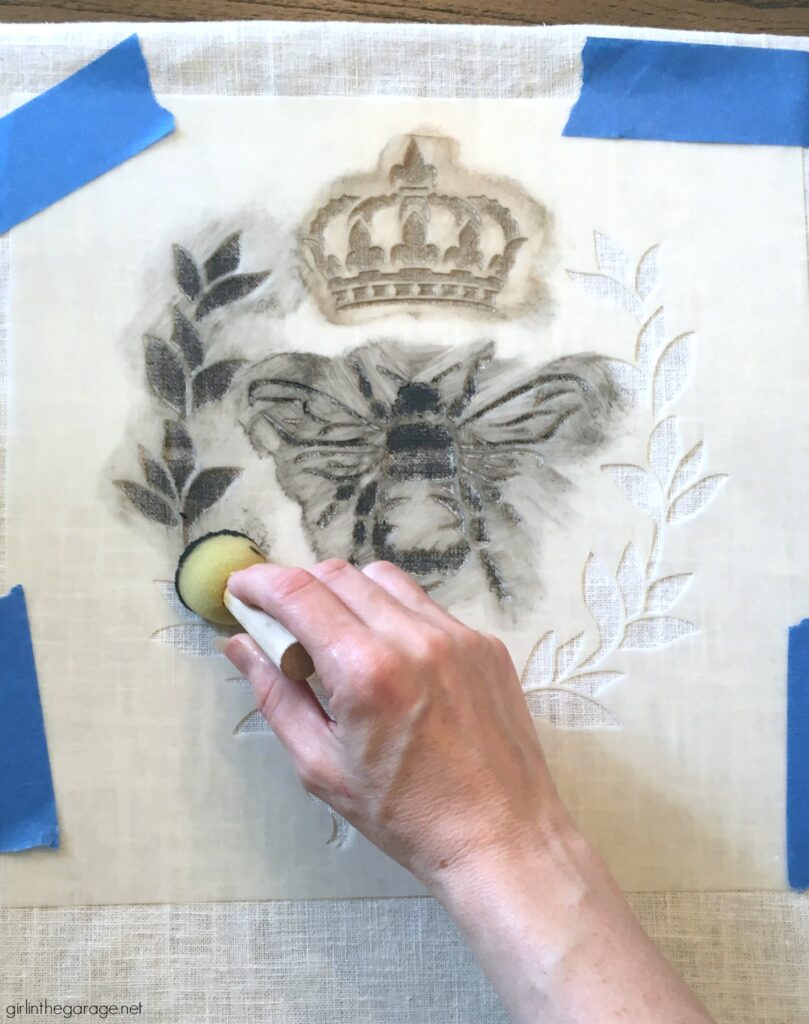 Wait a few minutes until the paint is dry and then place the second stencil and tape it. You may want to tape over certain areas of the stencil that you aren't planning to use, to avoid any paint accidents.
Finish painting the pillow cover and remove the stencil (I used this Paris stencil). It should dry within a few minutes.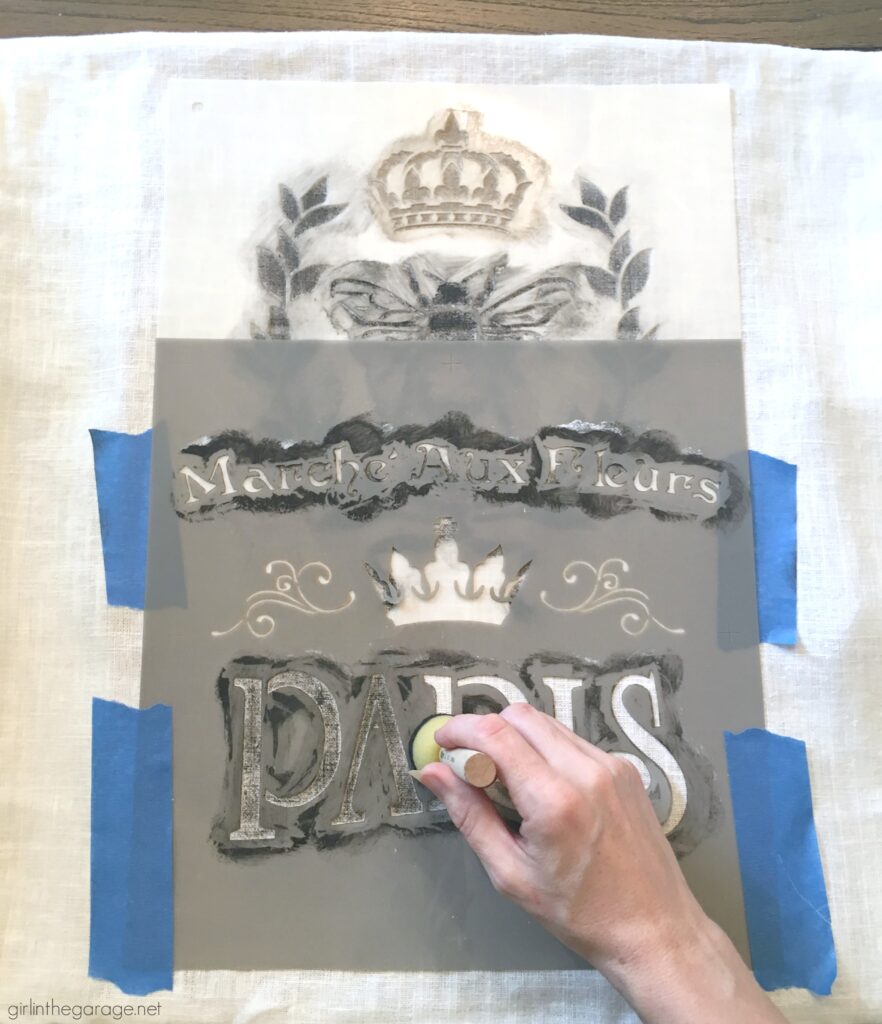 Finally, remove the cardboard and place the pillow inserts inside the covers. You now have beautiful custom pillows for your home!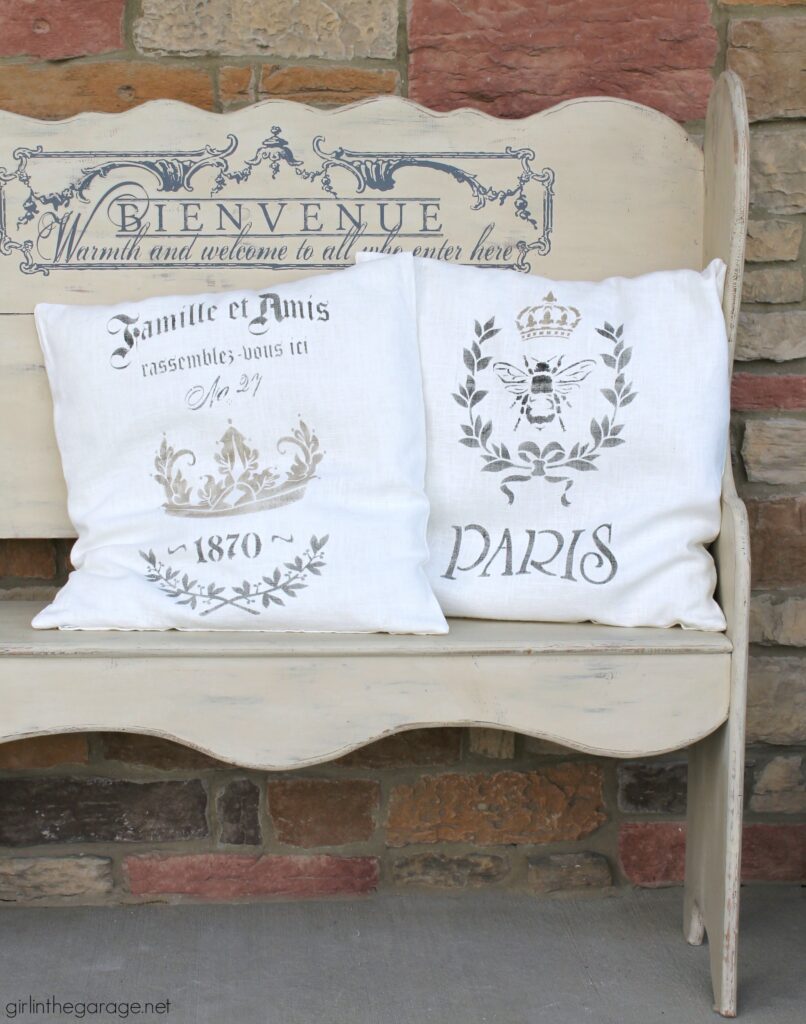 The bench above is one of the exclusive projects featured in my book Amazing Furniture Makeovers: Easy DIY Projects to Transform Thrifted Finds into Beautiful Custom Pieces.
I also did a similar paint and stencil technique on this DIY French grain sack upholstered bench makeover.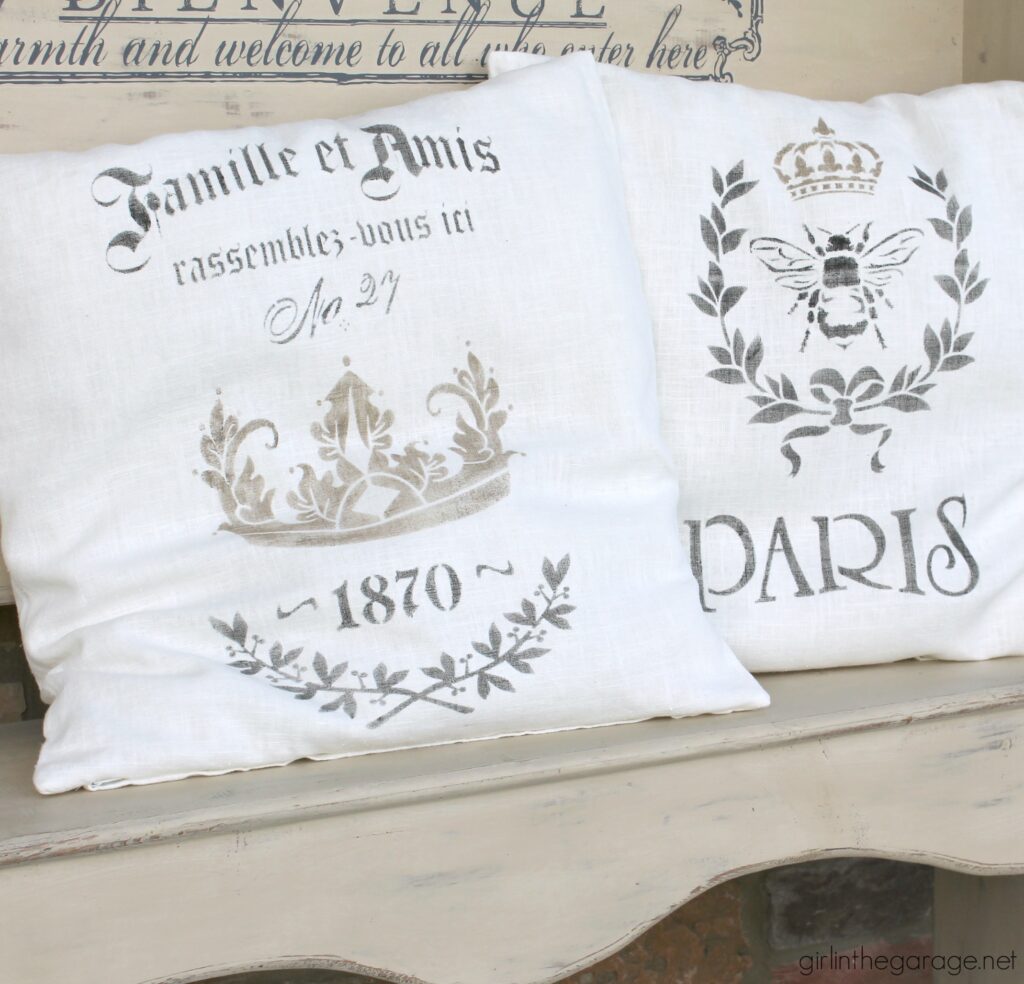 I'll be sharing more projects soon from the thrifted pieces and supplies I already have at home – and some that can be ordered online. You can find all my favorite products and brands for doing DIY projects here (most of which can be ordered).
I encourage you to try and stay creative if you find yourself at home with a lot of extra time on your hands – maybe finish a project you started a long time ago, or dig out some craft supplies from your stash. I'm going to be getting crafty with my boys too. Stay safe – I appreciate you, friend!