Hey guys, welcome back! It's Furniture Fixer Uppers day and I'm going to show you how to stencil furniture with Chalk Paint. I'll teach you some tips for a crisp stenciled finish and show you several pieces of furniture and decor that I've successfully stenciled with Chalk Paint.
First, let's start with this dresser I painted a few years ago. It had nicks and scratches all over and burn marks on top from a curling iron.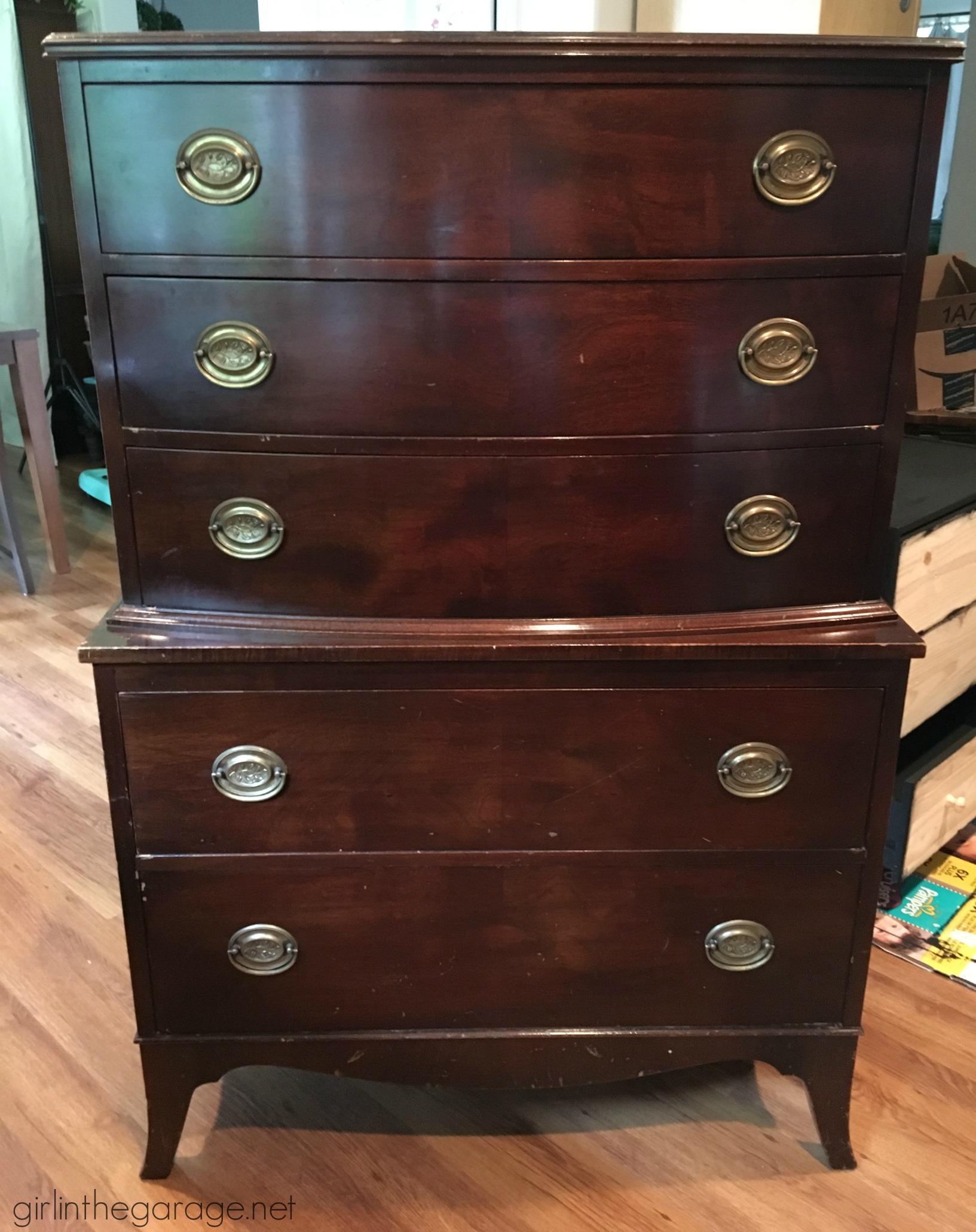 This post contains some affiliate links, at no extra cost to you, to help you easily find some of my favorite products to use. Discover all my favorite tools and brands to use for DIY projects HERE.
First things first, I removed the hardware and wiped the dresser down to clean it. Then I gave it a good light sanding all over to smooth everything out. The nicks were repaired with wood filler.
Then since this is a cherry (reddish wood) finish, I primed it with shellac primer to avoid bleed-through (2+ coats in some areas). Learn all my best tips for how to prep furniture for painting here.
After all the prep work, it was time to have some fun!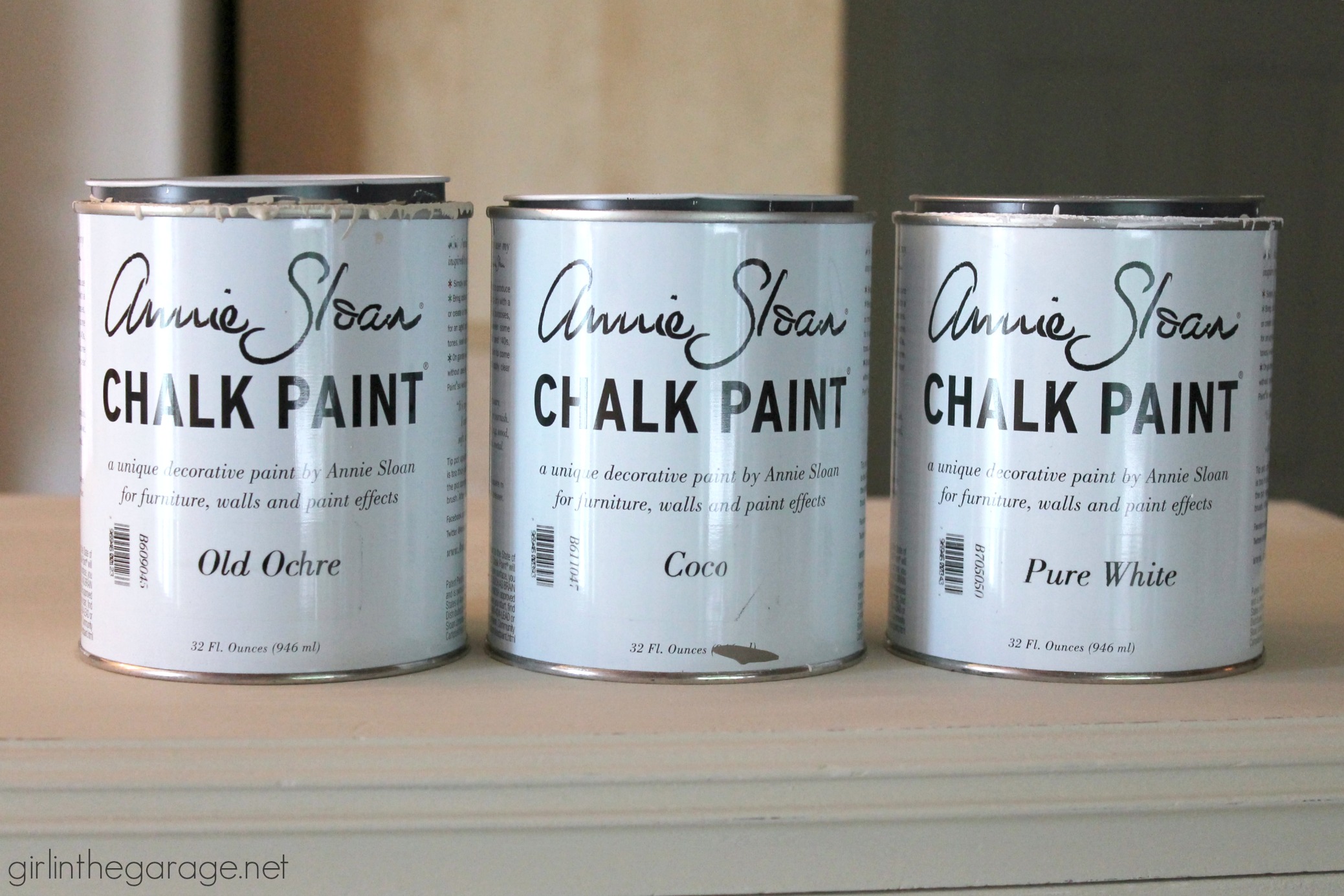 Next I painted the dresser in Old Ochre Chalk Paint by Annie Sloan. I debated on changing the pulls, but since there are ten of them, I decided to paint them also to save some money.
Learn all about How to Chalk Paint Furniture for Beginners here.
How to Stencil Furniture with Chalk Paint
I decided to use the Cherry Blossoms stencil from Royal Design Studio that I previously used on this vanity makeover. (You can find lots of cherry blossom stencil designs in different sizes and different prices here.)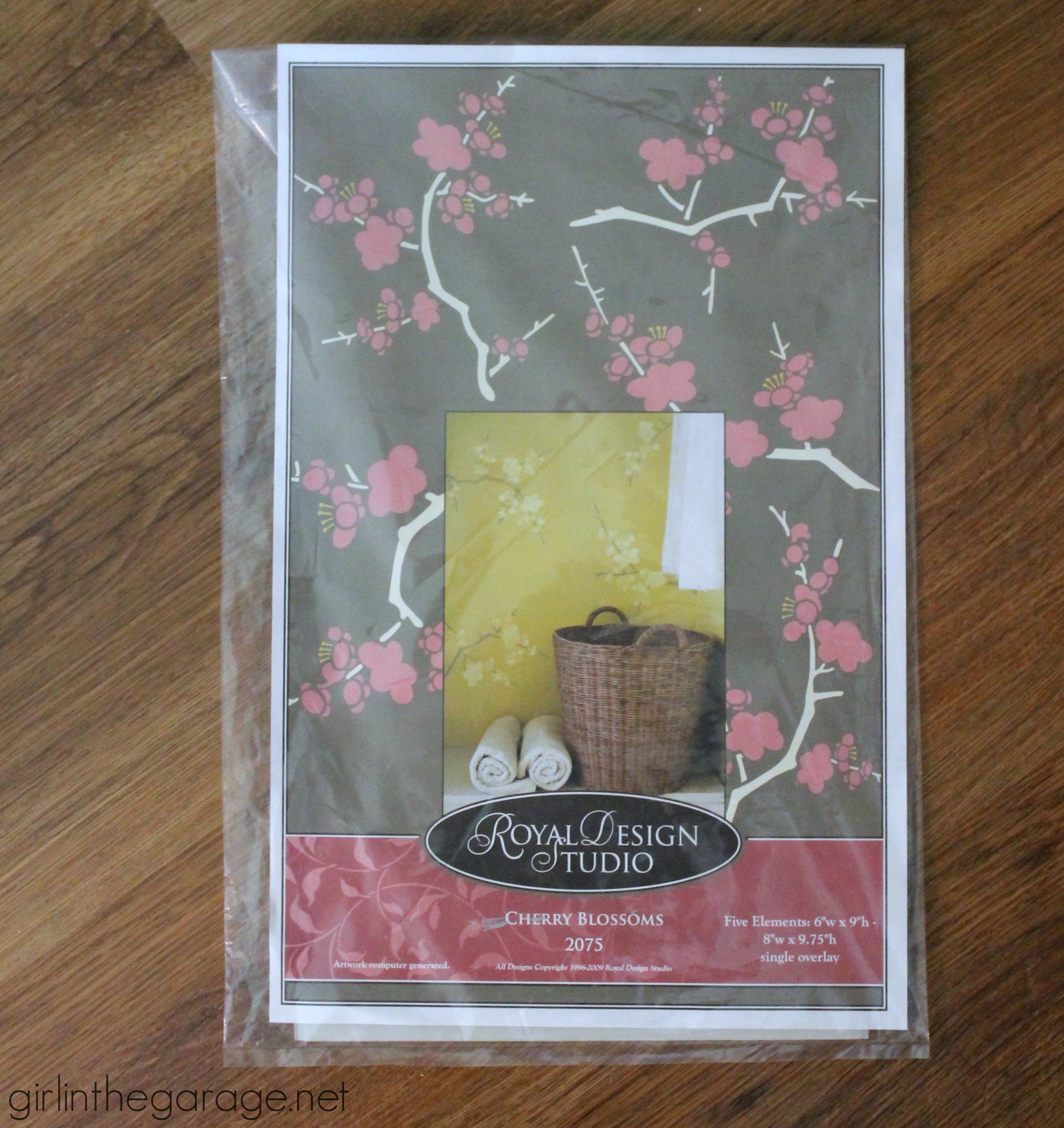 When adding a stencil to a piece that's been Chalk Painted, make sure the base coat of paint is fully dry (let it dry at least overnight).
I played around with the layout of the pieces and then secured the stencil sheets with FrogTape Delicate Surface Tape – this is why it's important to make sure the paint is totally dry first.
Then I chose Annie Sloan Chalk paint in Coco and Pure White as a two-tone stenciled design, dipping a small foam pouncer into the paint and then blotting it onto a paper towel to remove the excess before gently applying it to the stencil.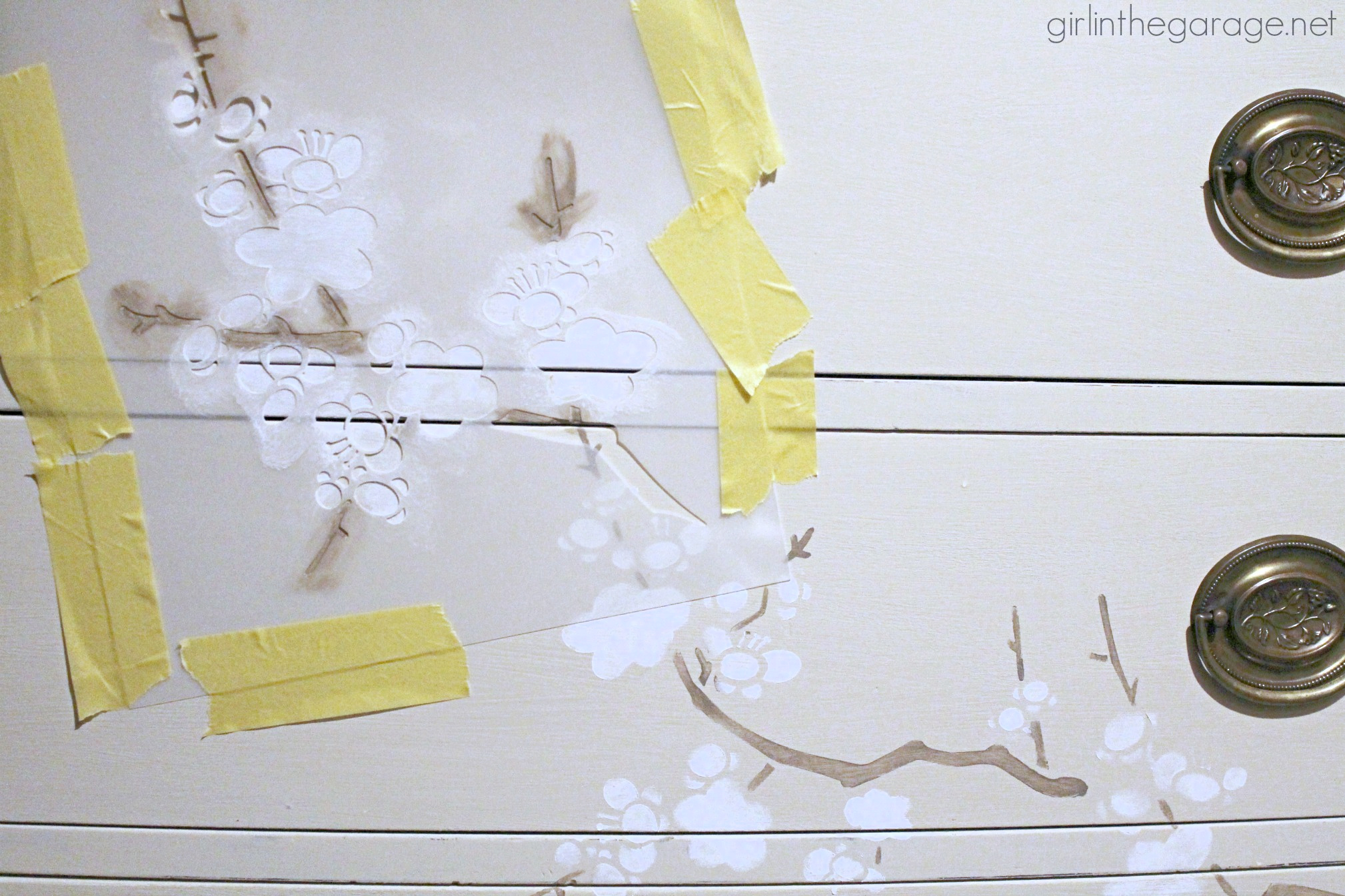 Since I used two different colors, I used two different foam pouncers. Afterward I went back through and connected the branch segments with a small paintbrush so it doesn't look so separated (and obviously stenciled).
Also – if you're going to stencil a large area with a small stencil, be prepared to wait a few minutes after lifting the stencil before laying it down nearby again. You don't want to smudge the work you just did!
Chalk Paint is actually great for stenciling because it's quite thick, which means it won't easily drip or seep underneath the stencil – as long as you blot it thoroughly before applying onto your furniture. Less is more. 🙂
Finally, you'll want to add a topcoat to protect your piece. I used Annie Sloan's clear wax and a lint-free cloth. Just remember to let the wax fully cure (up to 30 days) before regular/heavy use.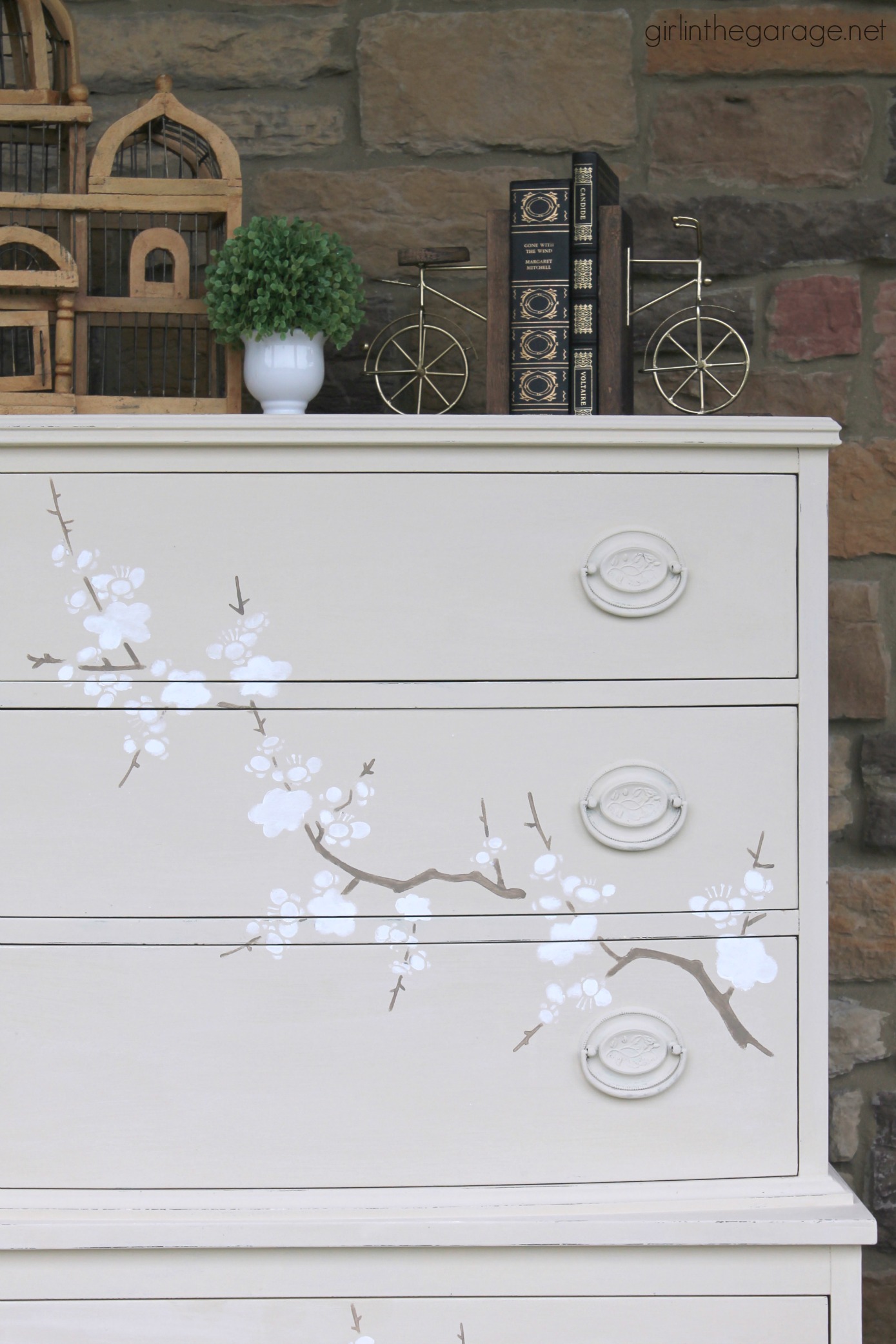 This piece turned out gorgeous!
I'm glad I went with the two-tone stencil colors this time – it really makes the design pop even more.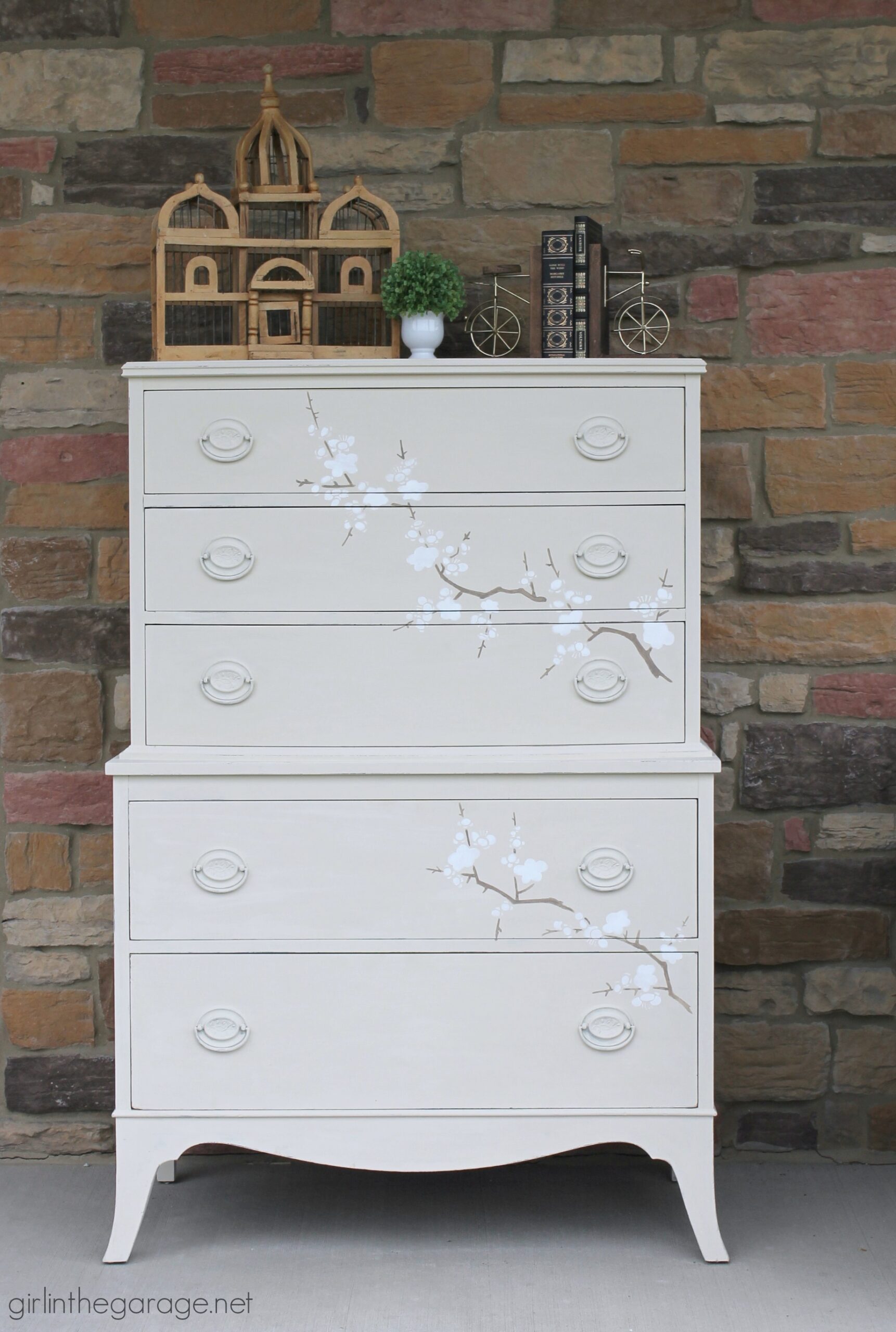 I didn't paint the entire drawers – just the front panel and top lip on each.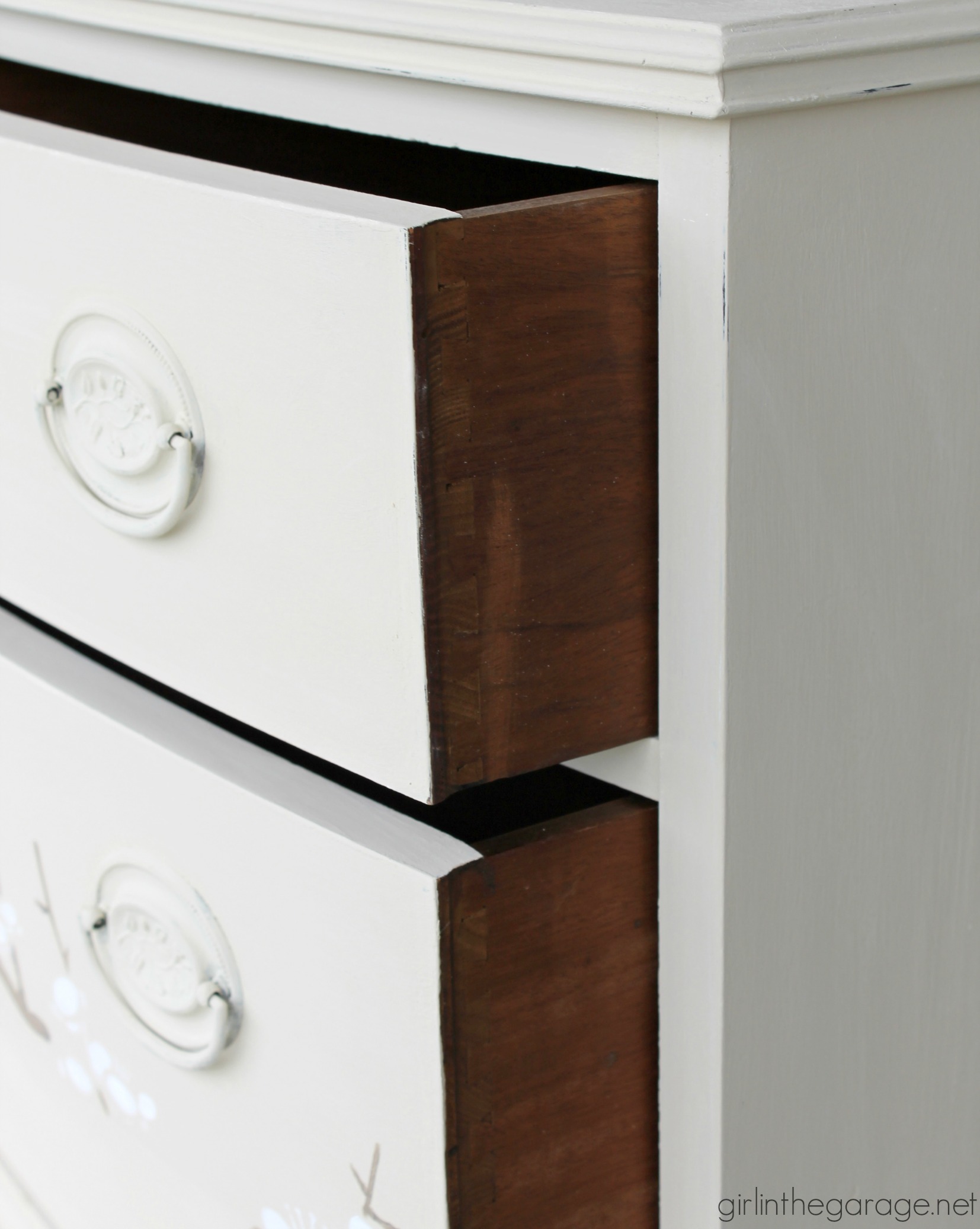 And I'm happy with how the handles turned out. It's great to keep costs down, especially when you're planning on reselling your furniture.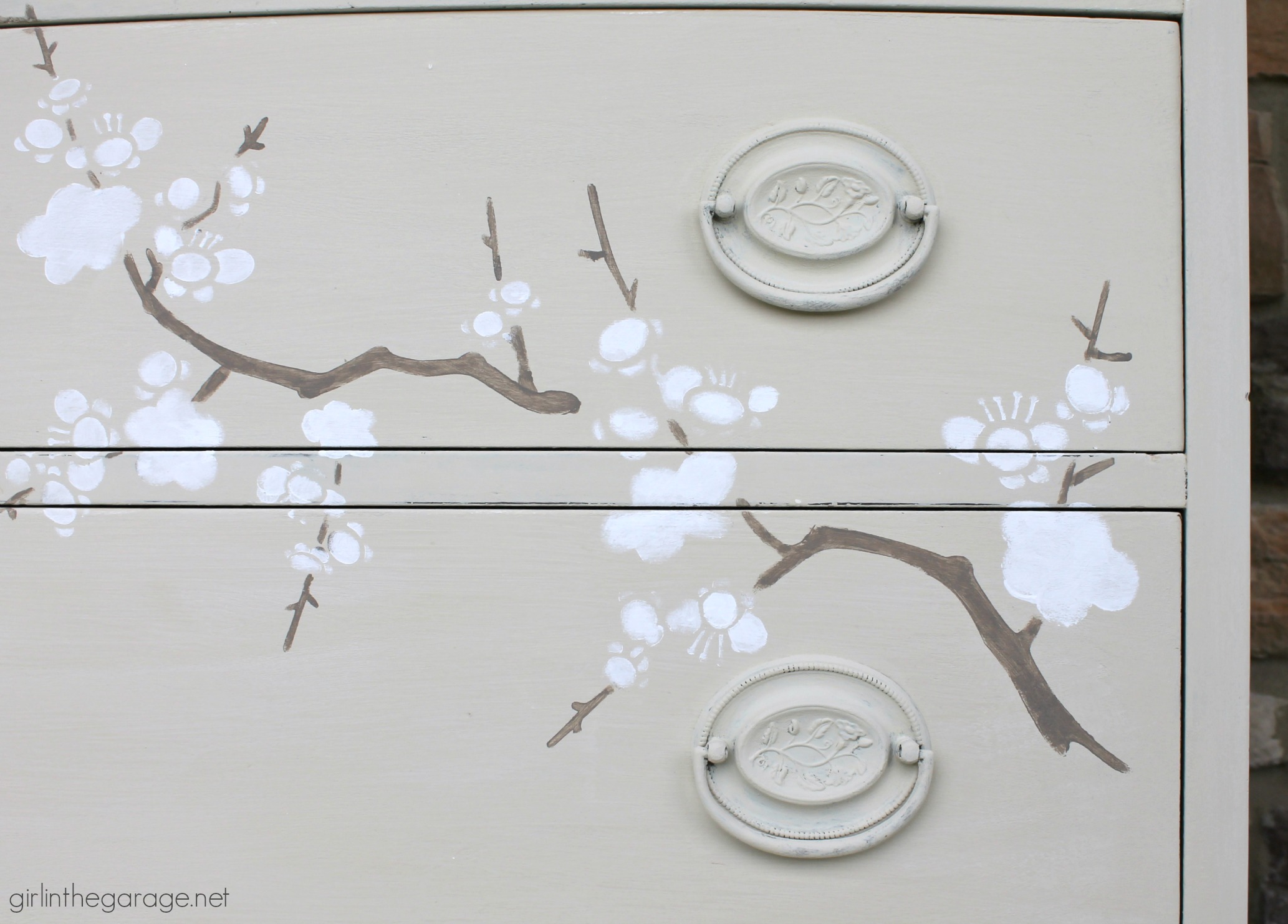 And here's a before-and-after again of this cherry blossom stenciled dresser makeover (feel free to Pin the images below to easily find this project again later):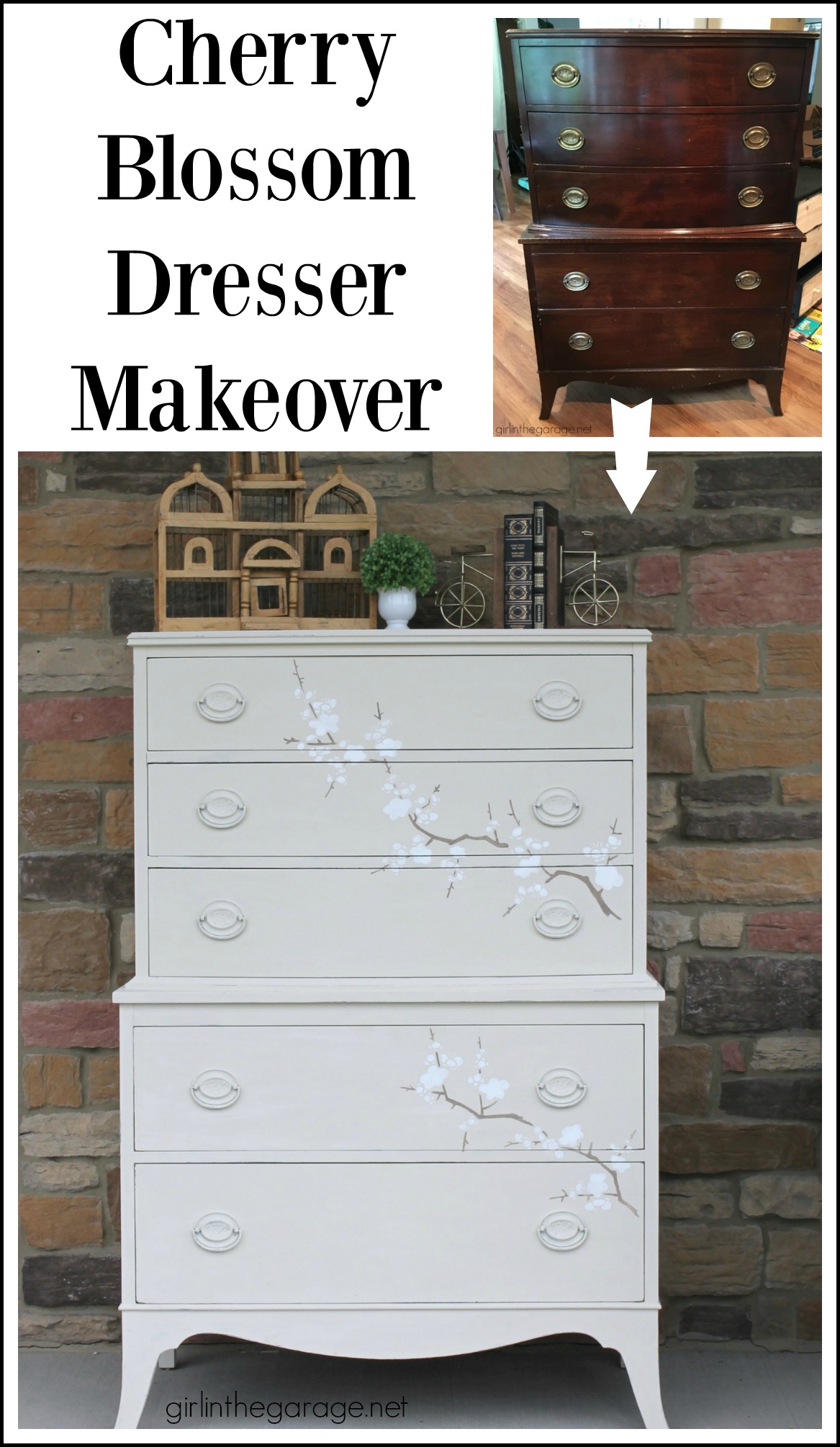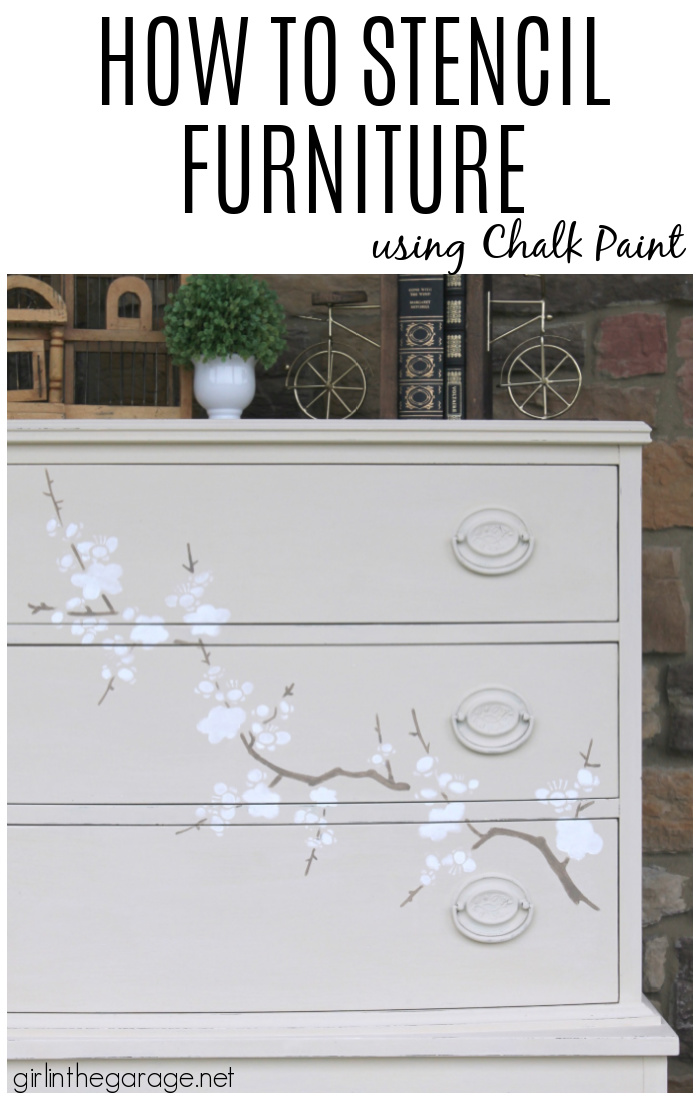 Ideas for Stenciling with Chalk Paint
Now let's look at a few more furniture and decor pieces that I've stenciled with Chalk Paint.
Friend, I hope these projects have inspired you to try stenciling with Chalk Paint. Please let me know if you try any of these ideas. I'd also love for you to share or Pin this project. Thank you so much! – Jen
Now it's time for Furniture Fixer Uppers with my talented friends. I can't wait to see what projects they've been working on!
Below are their Before photos – visit the links underneath to see the amazing Afters and to learn how they did it: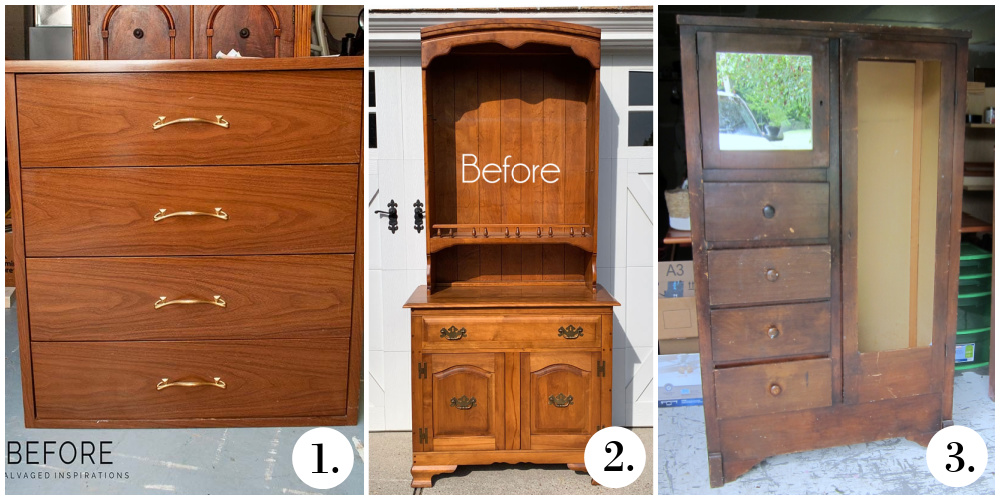 1. Salvaged Inspirations
2. Confessions of a Serial DIYer
3. Petticoat Junktion