Hi friend! It's Trash to Treasure Tuesday again, and I'm looking forward to sharing a brand new project with you. I got this Stanley Furniture thrifted chair a couple years ago to go with this painted desk makeover, but the seat ended up being too wide to fit under the desk so I had to find a narrower chair.
So this one has been in my basement for quite awhile… It had some scratches on the seat but it was really sturdy, so I knew it was a good piece to keep. Today I'll show you how to stain and paint a wood chair like the one below.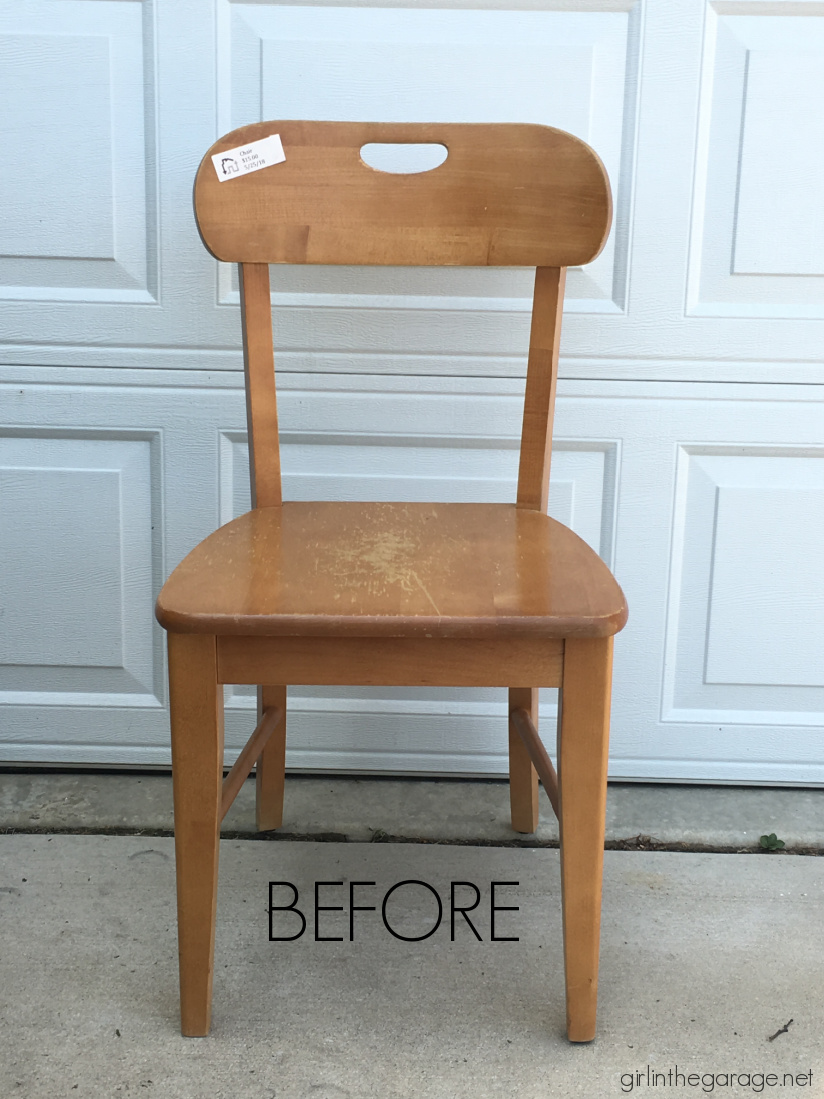 This post contains some affiliate links so you can easily find the products I use and recommend. You can also discover all my favorite brands and tools for doing DIY makeovers here.
First, here's my thought process for how I planned to update the chair: I didn't care for the honey oak finish. It looks like a student's chair, pretty basic and kind of masculine – not the feminine antique style I'm usually drawn to. It needed a simple look, and might actually end up in one of my sons' rooms (ages 12 and under). Apart from wanting to refinish some of the wood, I wasn't sure what to do with the rest of it yet.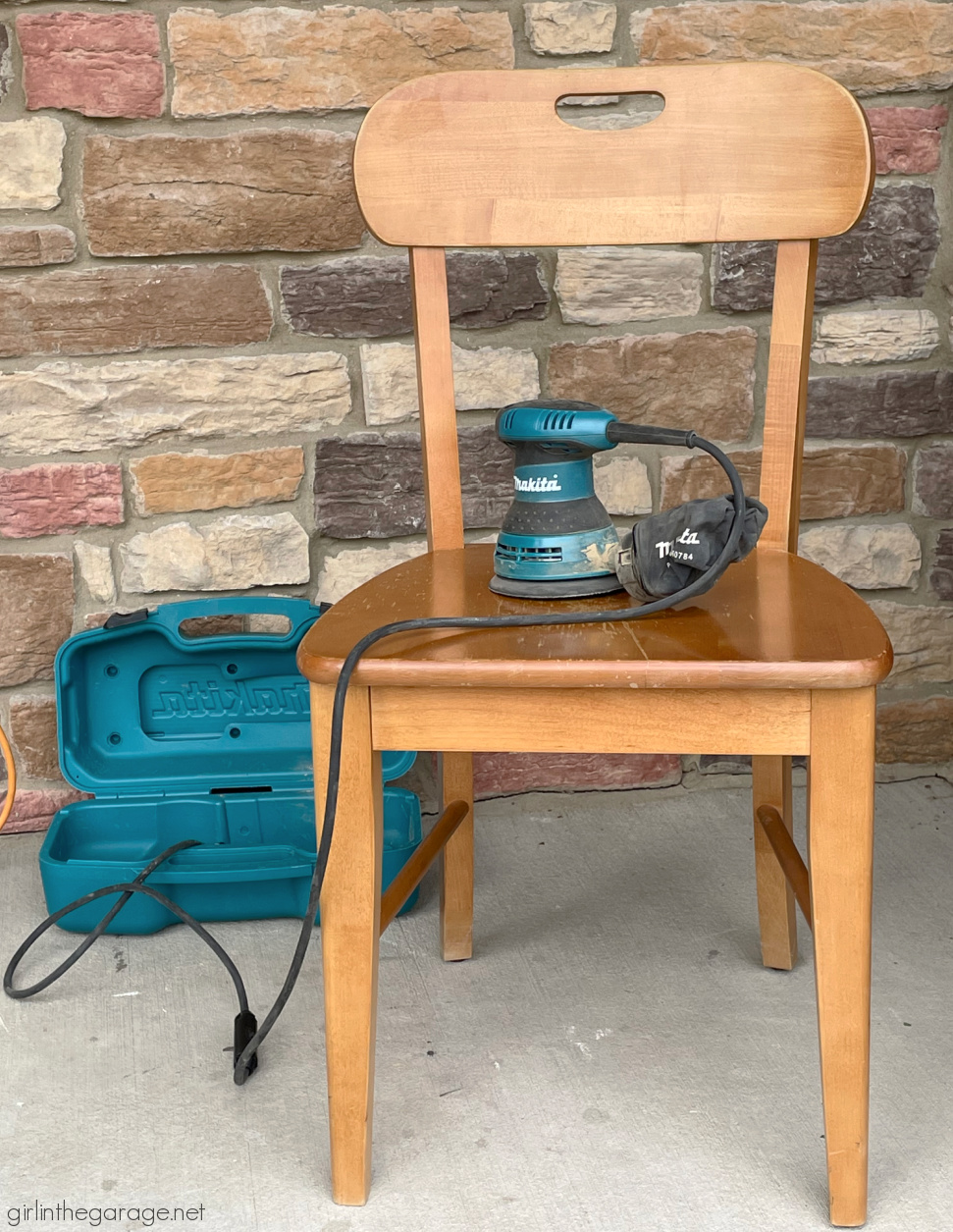 How to Sand and Stain a Wood Chair
I pulled out my Makita sander which I've been loving since I got it last year. It's not too heavy or bulky for my small hands, and it lives in a handy carry case when I'm not using it.
I sanded the seat and back with 80 grit sandpaper until the original finish was gone and it was nice and smooth. Doesn't the wood grain look pretty?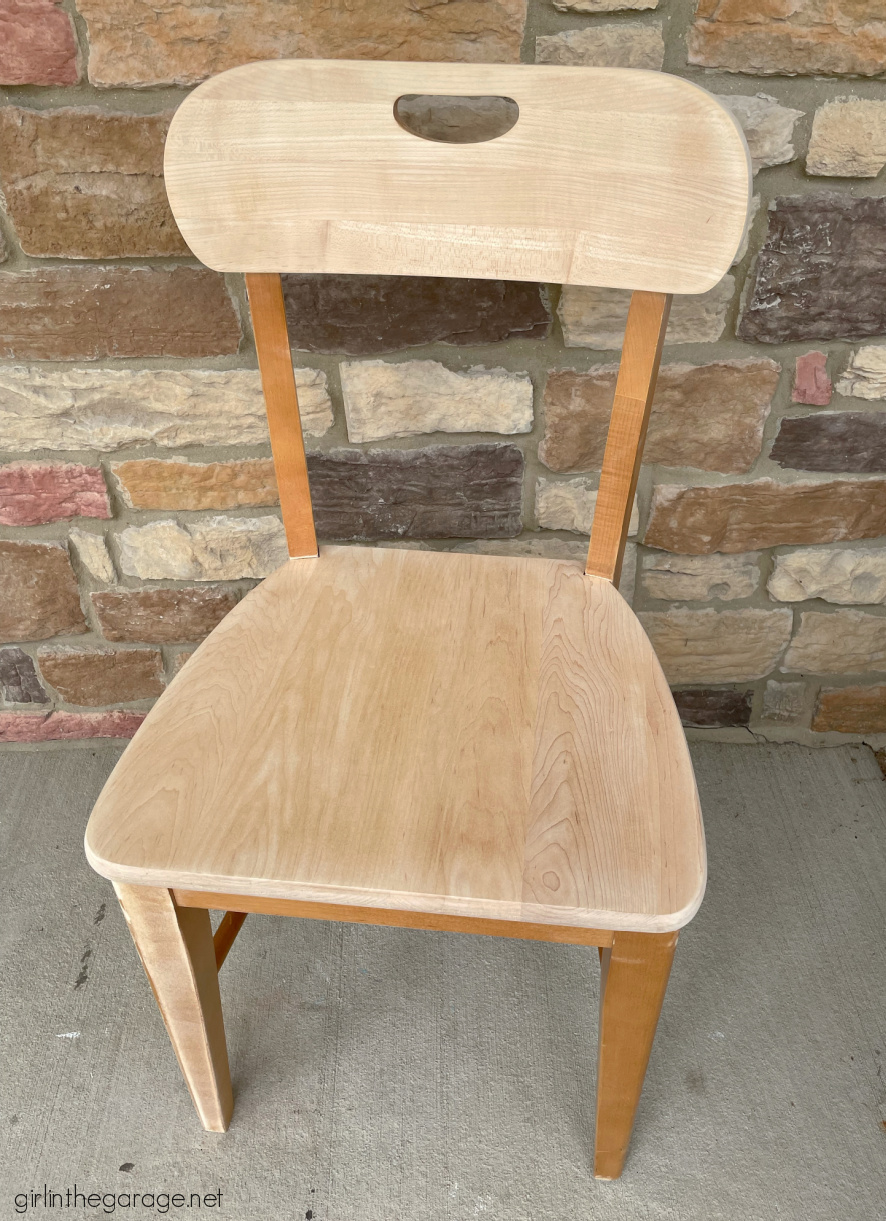 I also started to sand the one leg before I decided I was going to paint that area anyway.
Next I wiped the sanding dust away and then used painter's tape on nearby areas so the stain wouldn't leave a mess.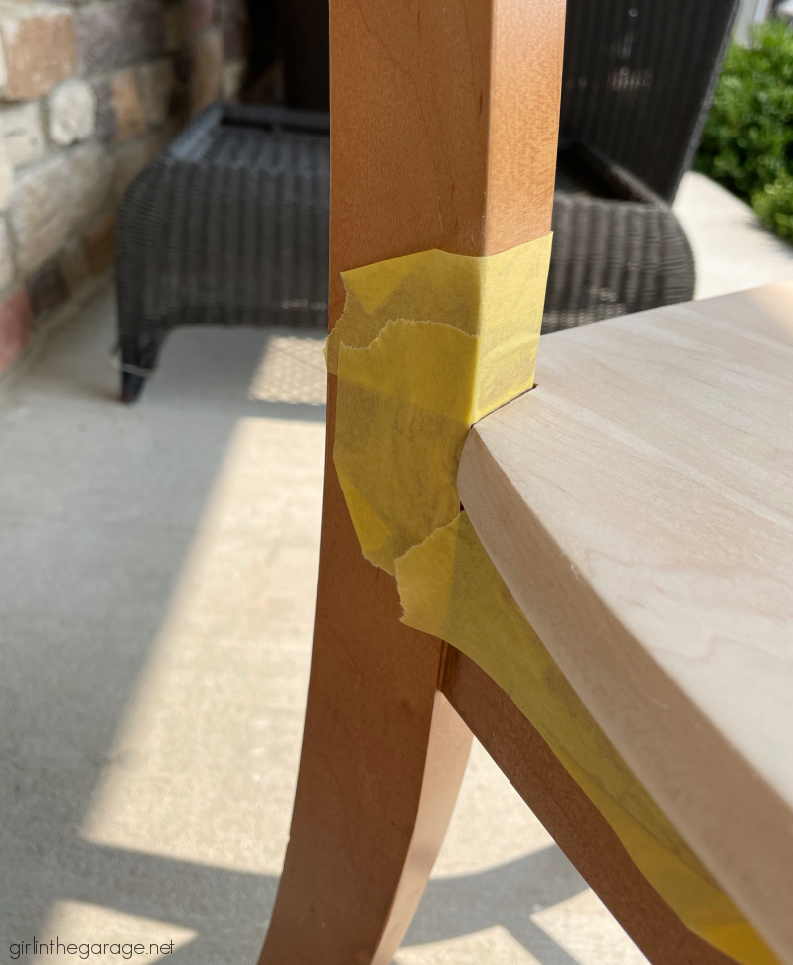 I used Minwax stain in English Chestnut – a medium brown color – applied with a lint free cotton cloth. (For larger pieces I would normally apply Pre-Stain Wood Conditioner first, and use a brush for even coverage. Learn how to properly stain wood furniture here.)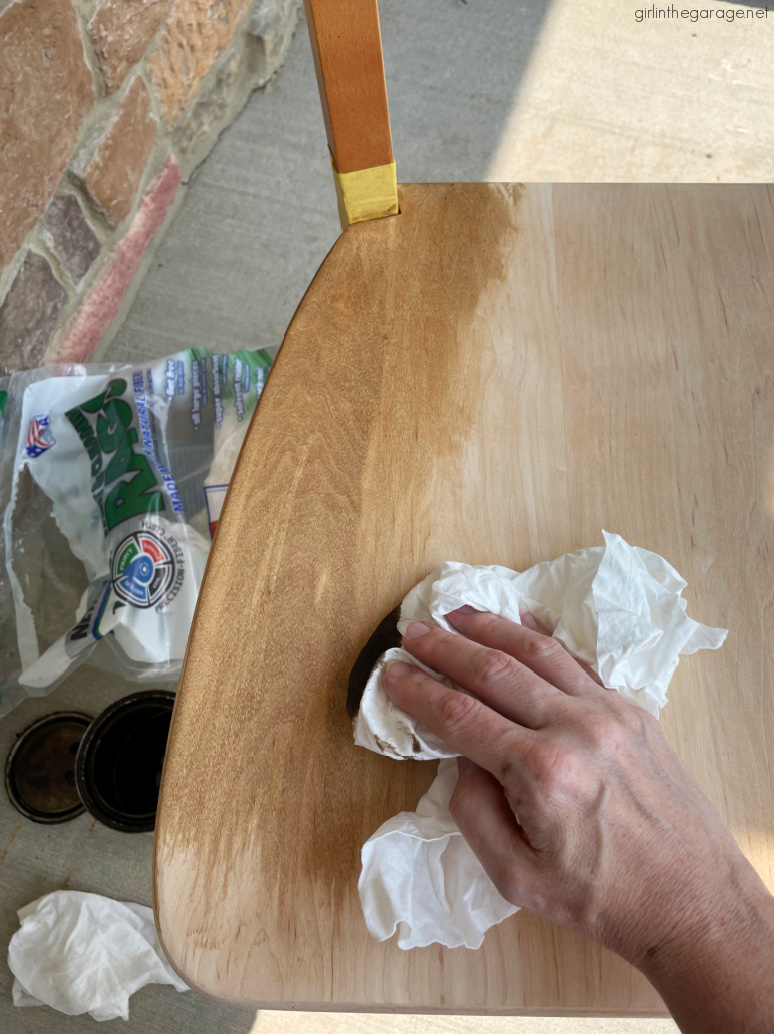 I applied two thin coats of stain (going with the grain) and let it dry.
How to Paint a Wood Chair
If you're painting a dark brown or cherry wood chair a lighter color, I recommend prepping first with a good shellac primer to avoid bleed-through. Lucky for me, I could skip that step since this wood is already very light.
I chose some leftover white latex paint from a previous project along with one of my favorite angled Purdy brushes. Usually I prefer using Annie Sloan Chalk Paint, but for a simple chair like this, it doesn't make a huge difference what type of paint you use. However, if you wanted to end up with a distressed, worn look – I'd definitely recommend Chalk Paint because it's great at sanding down for a distressed finish. Learn all my best tips for how to Chalk Paint furniture here.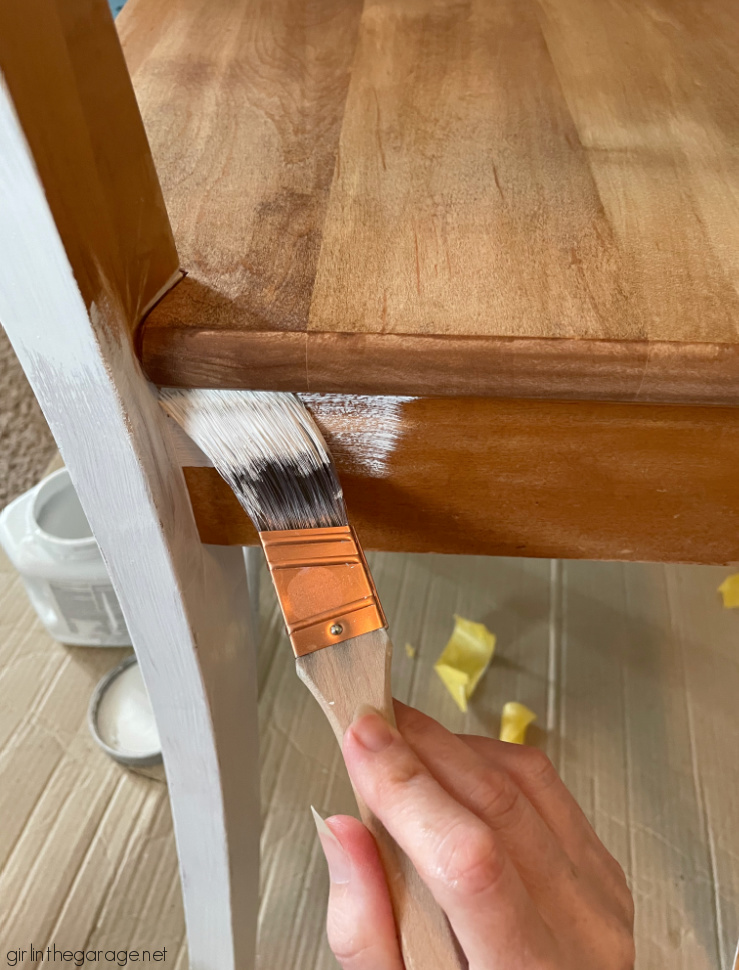 Some areas just needed the angled brush, and some other parts I used the painter's tape for clean, straight lines. I applied about 2.5 coats of white paint for full coverage and let it dry.
Then the chair seemed like it needed something else, like maybe a stencil. Since it might end up in one of my sons' rooms, but I'm not sure which one yet, I added a simple "3" since I have three boys.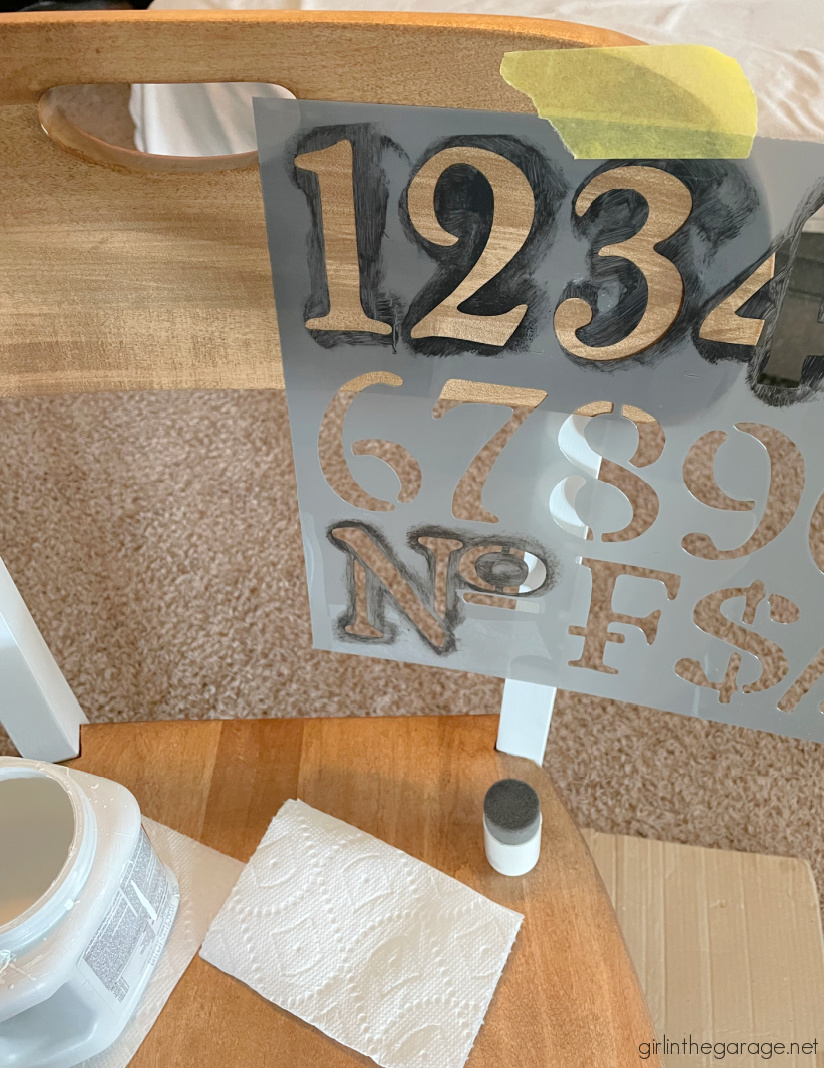 I used this number stencil along with a foam pouncer to add that extra bit of personality. (I can't find that pouncer set online anymore but here's another highly-rated stencil brush set.)
Someone was overseeing that part of the project. 🙂 That's our big girl Rosie below.

Finally, protect your piece with a good topcoat. Beware of some polyurethanes that can turn yellow over white paint. It's recommended to use poly over stain, but in this case I just applied a thin coat of Annie Sloan's clear wax over everything with a lint-free cloth.
And here's how the stained and painted wood chair looks now: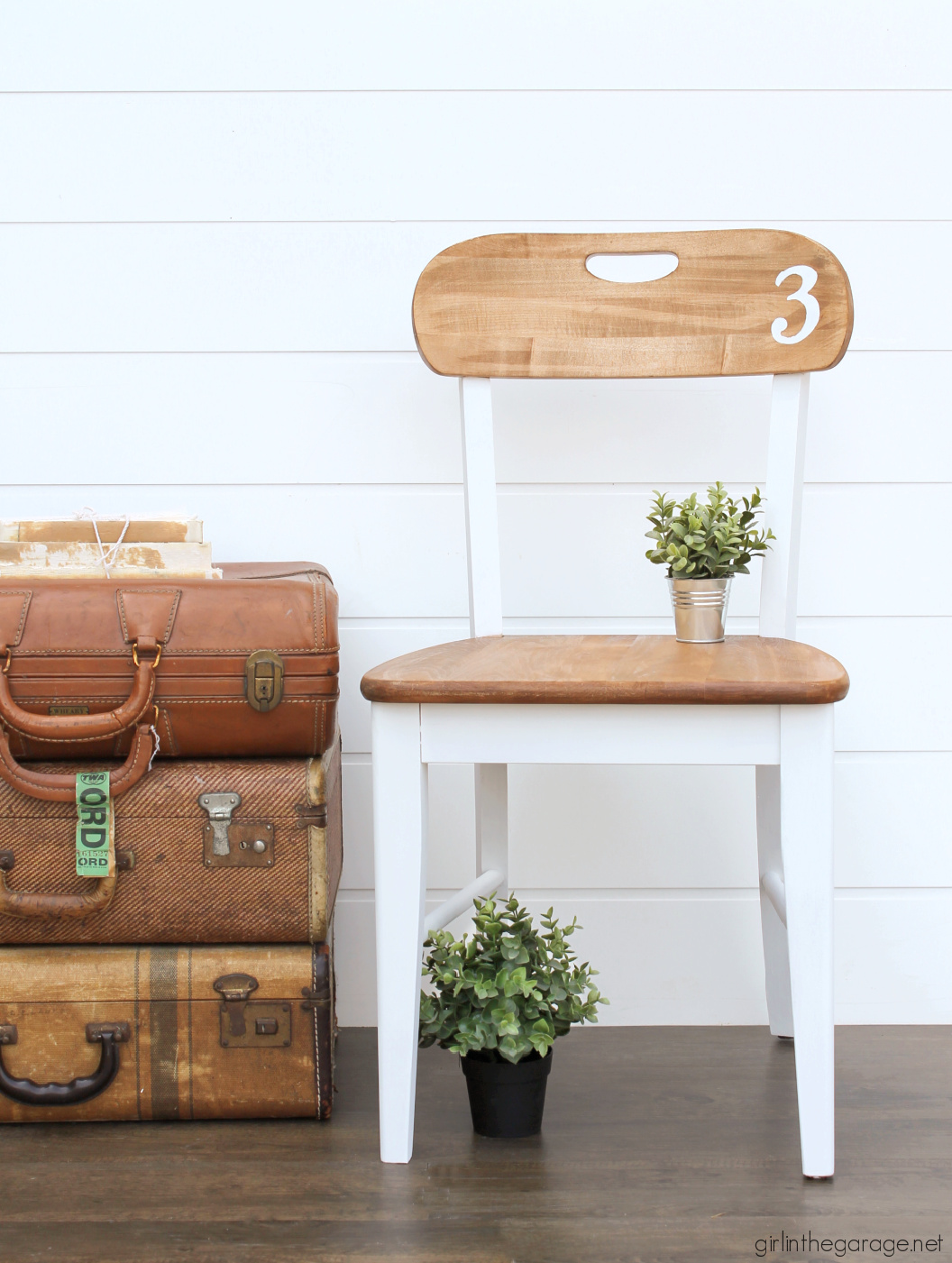 I didn't intend for it to have a farmhouse look, but I'm totally fine with it.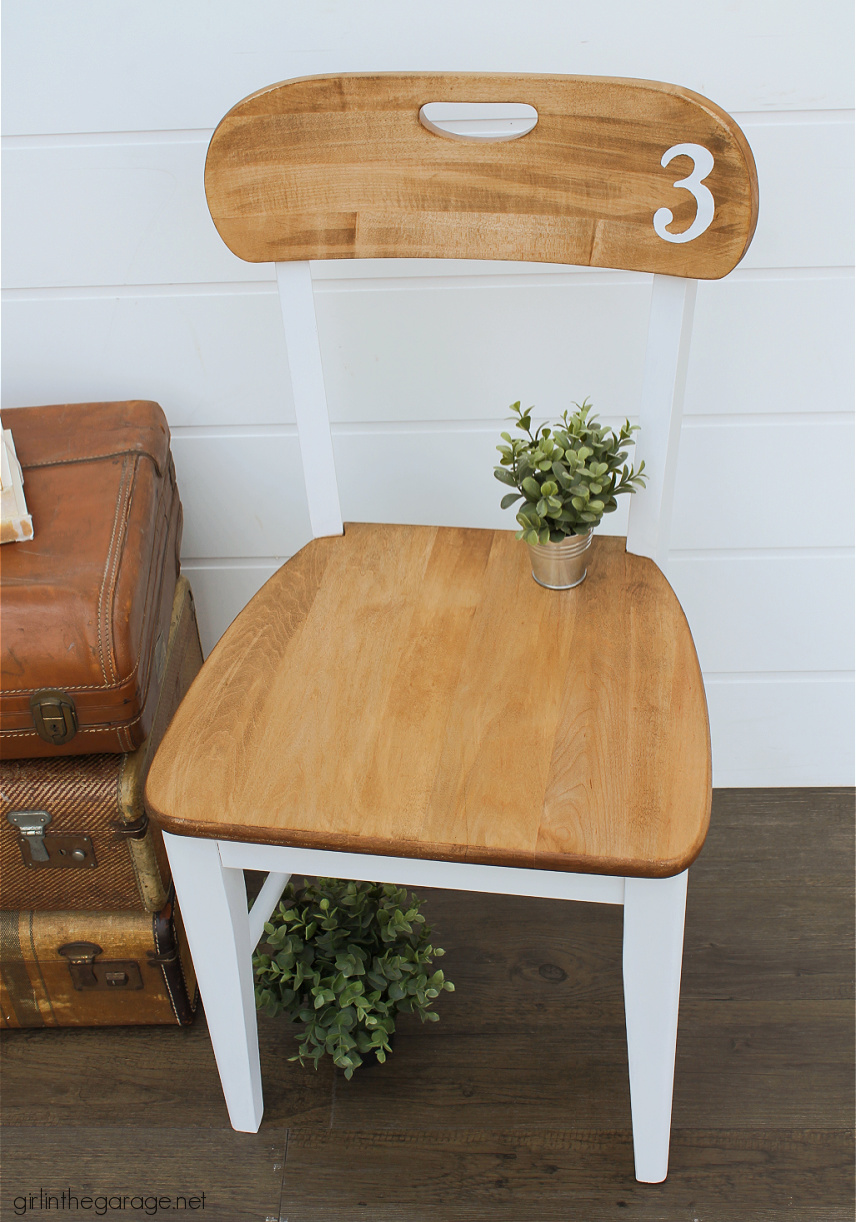 And I think it will look great in any room!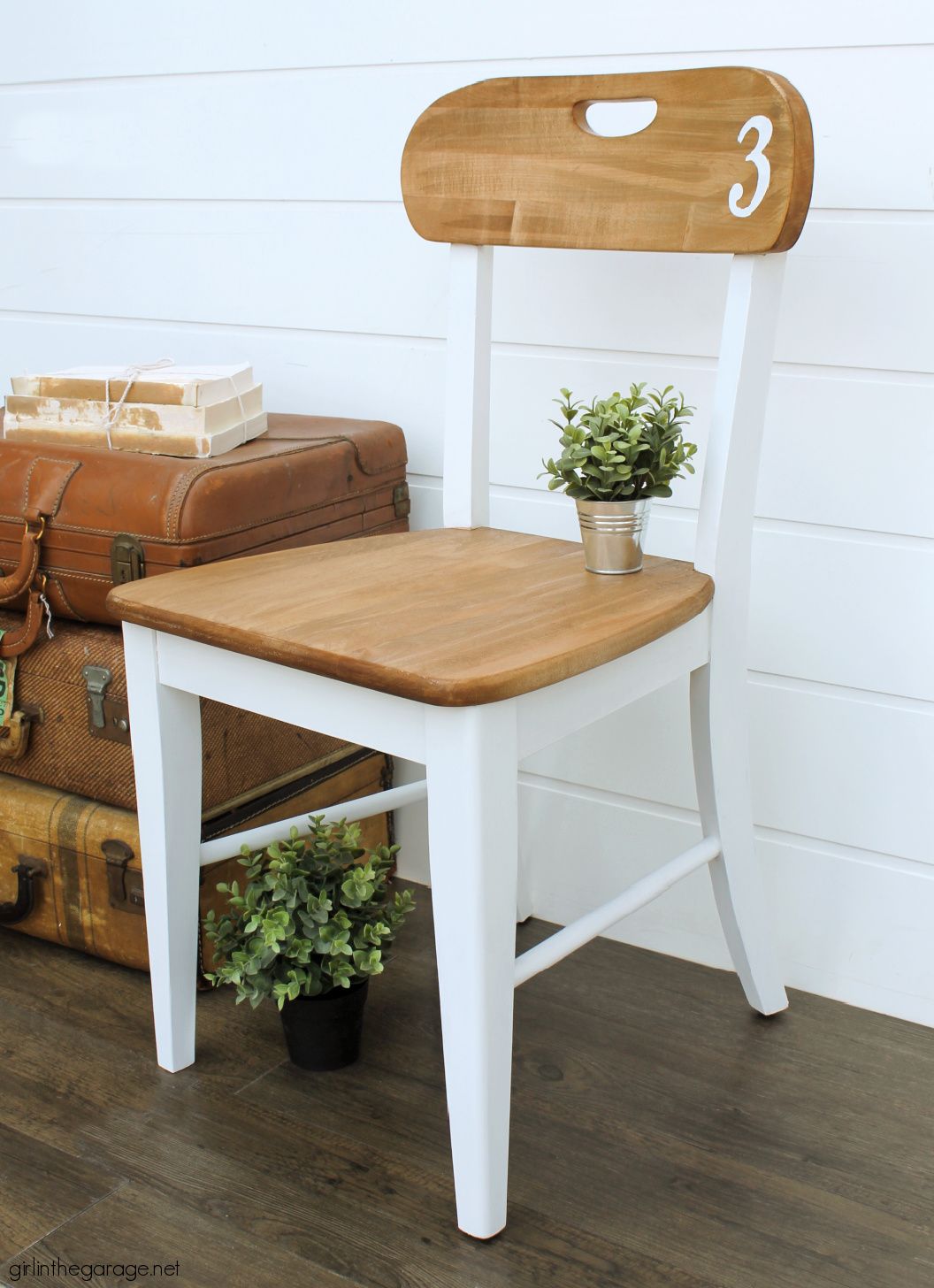 Paint and stain together are a classic combination that will never go out of style.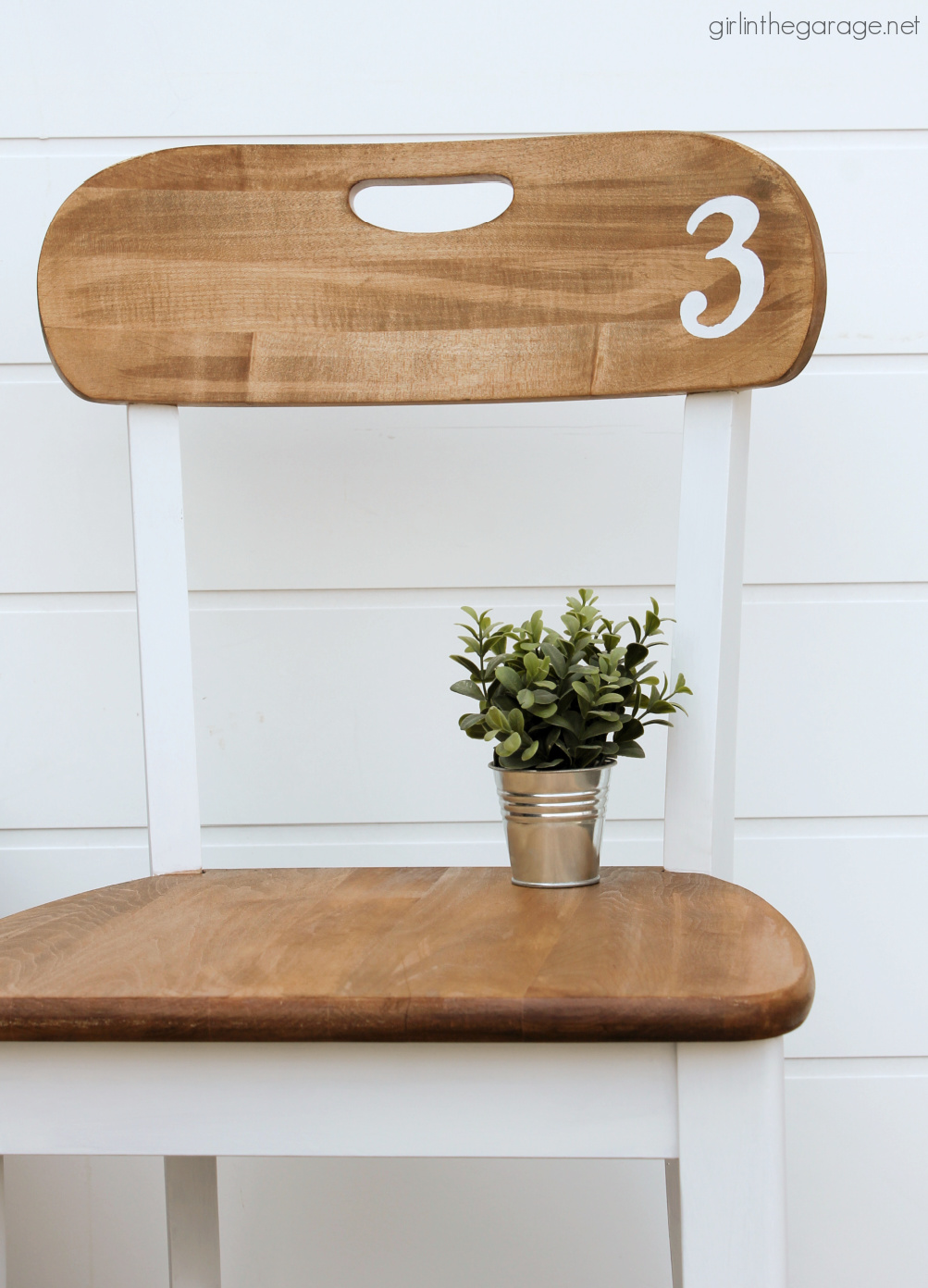 Oops! I almost forgot to take a photo of the back of the chair, but I snapped a quick one for you:
Friend, I hope this tutorial for how to stain and paint a wood chair has inspired you to try something similar. I always see chairs like this at thrift stores – and it's a budget-friendly makeover to add some extra seating. (I think this chair was only $5 on sale!)
Please share this project with a friend or Pin it to easily find again later. And let me know your thoughts!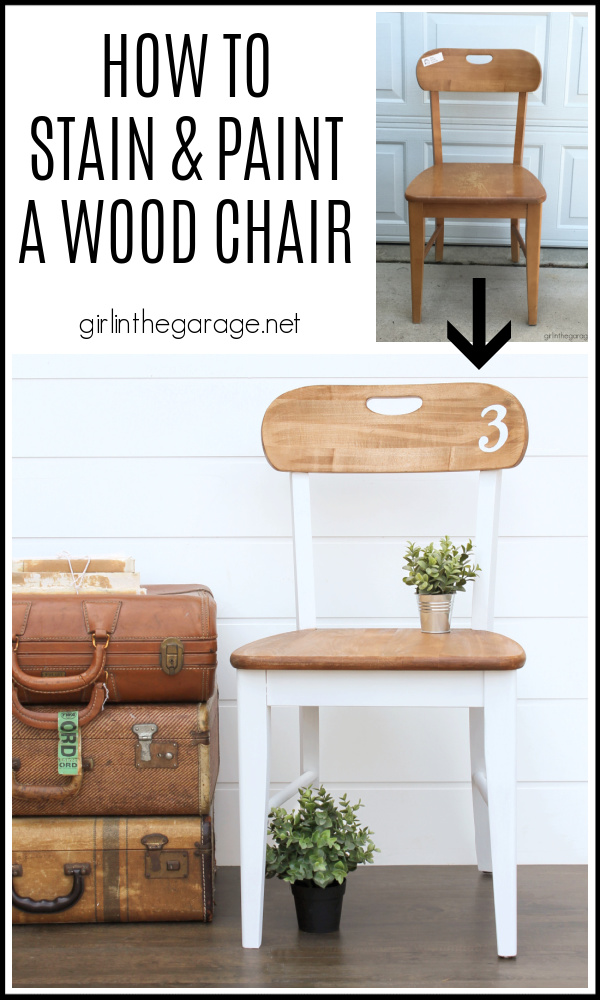 Now it's Trash to Treasure Tuesday time. Let's see what projects my friends have been working on…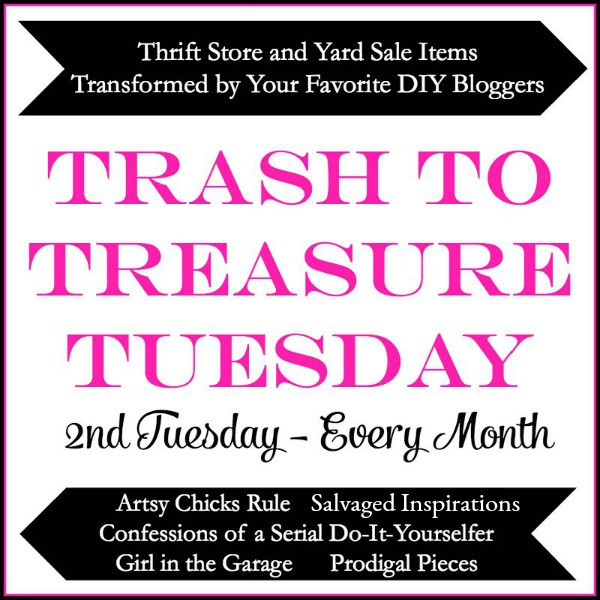 Below are the Before photos – visit the links underneath to see the amazing Afters and to learn how they did it: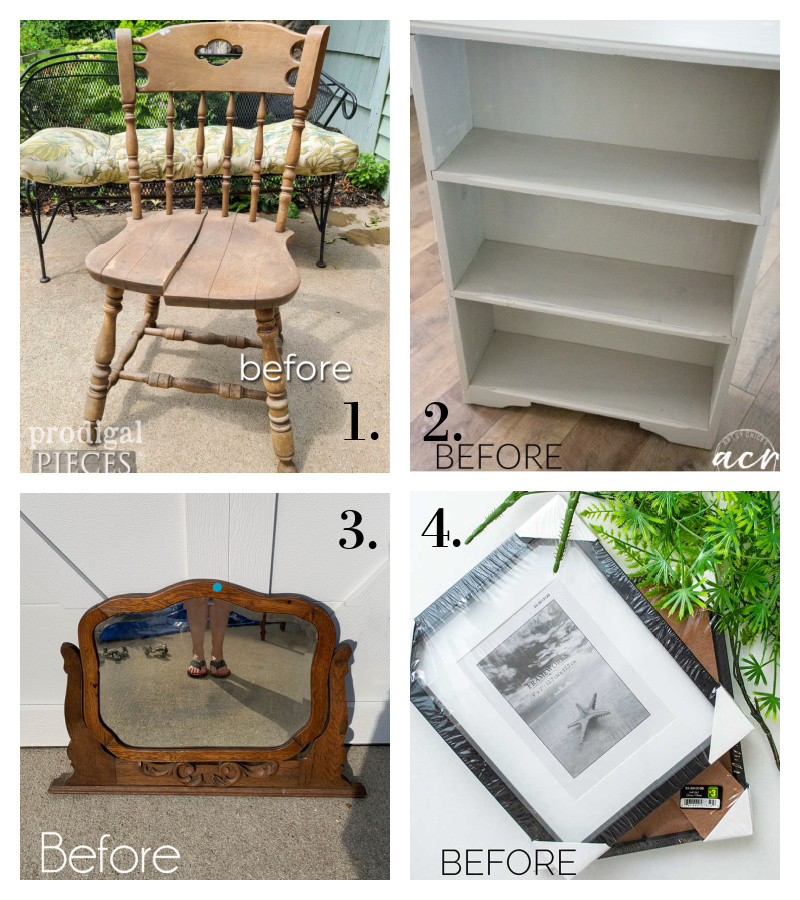 1. Prodigal Pieces
2. Artsy Chicks Rule
3. Confessions of a Serial DIYer
4. Salvaged Inspirations