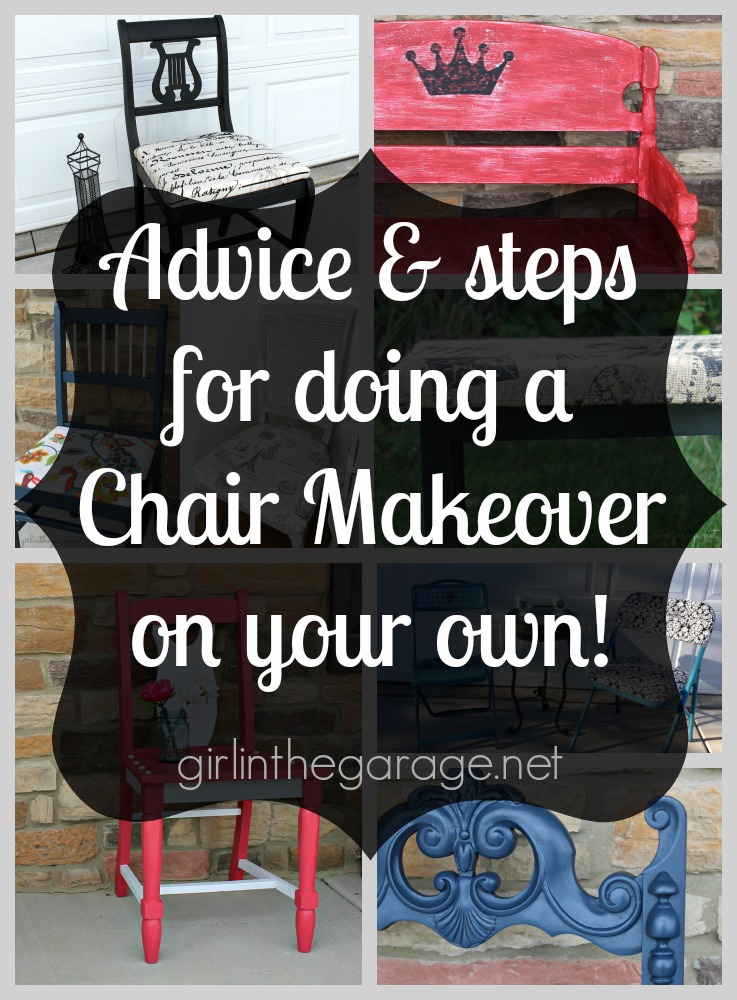 Hi friends, today I have some tips and general advice for doing a chair makeover all on your own.  The typical chair makeover can be done in less than a day and without a lot of headache.  Read the guidelines below and you'll have pretty much all the information you need to redo a chair, bench, or other basic type of seating.  At the very end of this post are links to all the chair makeovers I've done so far – I hope they leave you feeling creatively inspired!  😉
1.  First, make sure your chair is sturdy.  Especially if you're buying a secondhand chair – often if it's wobbly, it's probably not worth your time to try and fix it.  There might be structural damage (like a small crack in one of the legs), and typically there's always a good supply of chairs to pick from anyway.  Unless you don't mind taking it to a furniture repair shop, just move on to a different one.
2.  After you've picked your chair – what type is it?  Wood, metal, and is there a cushion?  If there's a cushion, does the padding need to be replaced?  Purchase your supplies depending on the type of chair.  For me, the easiest option for a metal chair is spray painting it.  For a wooden chair, I always paint it with a brush.  Usually I don't replace the padding unless it's thinned out and the seat is uncomfortable, or if there is obvious damage to it.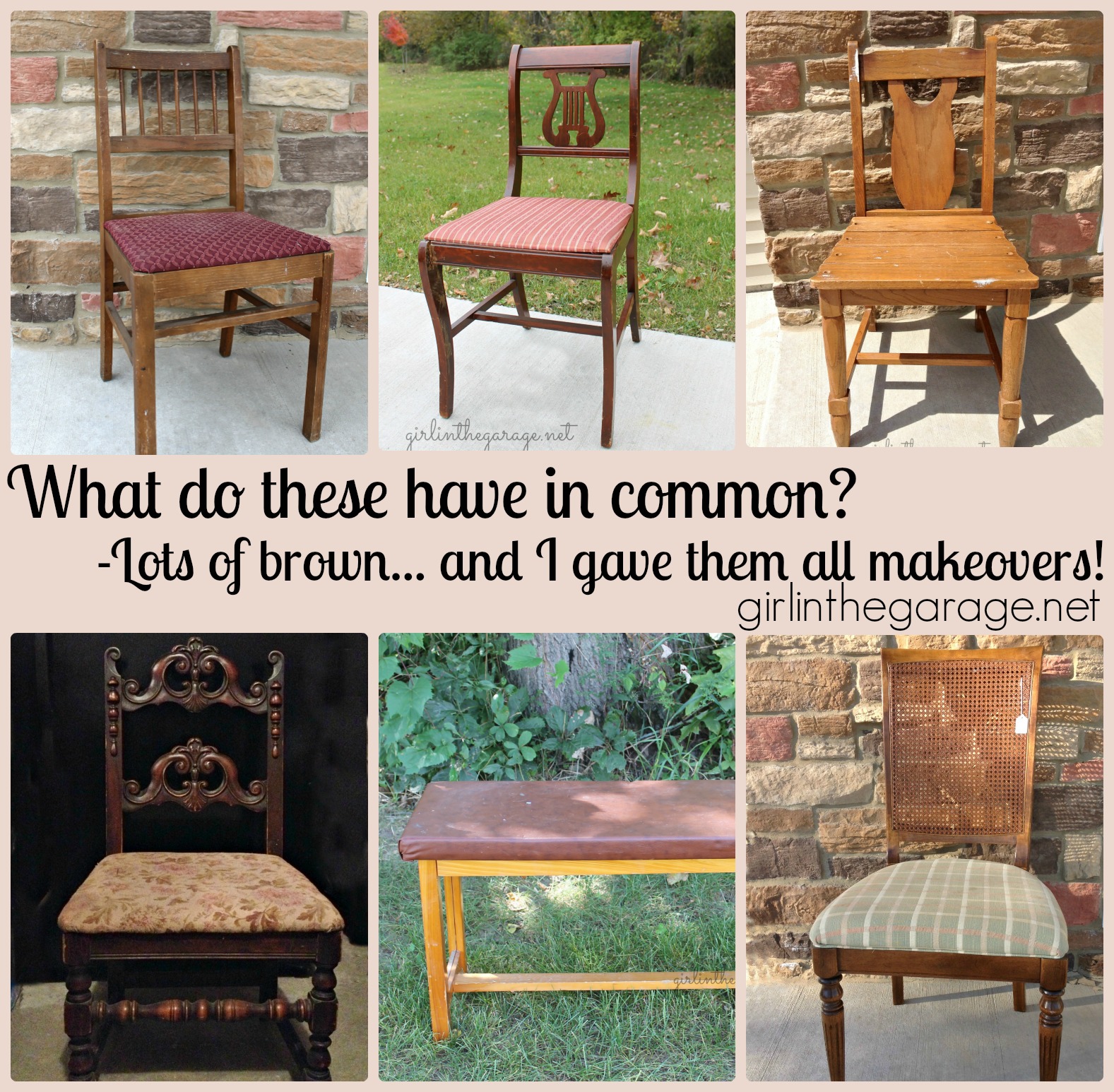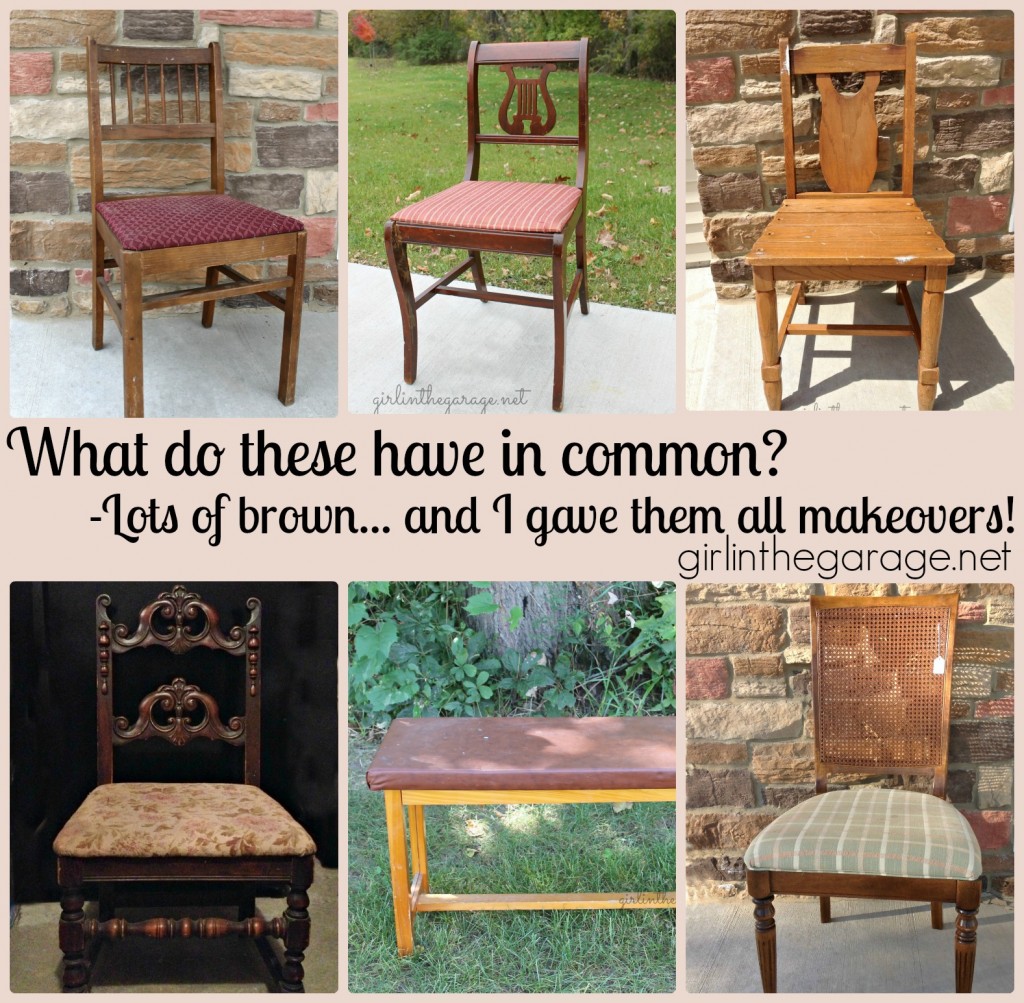 3.  Supplies:
Paint – Spray, latex, Chalk Paint®, or other (I do not recommend buying a generic brand of spray paint, as they usually have poor coverage.  I really like the Rustoleum brand.)
Protectant – Spray paint needs a protectant like Rustoleum's Crystal Clear Enamel.  For latex or Chalk Paint® you can use clear wax or polyurethane.  I typically use Annie Sloan's wax because I have plenty on hand and it's just what I prefer.
Padding – If needed.  There are different thicknesses available inexpensively at any craft store.
Fabric – If the seat is cushioned and you want to recover it.  I tend to buy thicker fabrics with a print on them.  I stay away from white or very light colors as they'll be harder to keep clean.  A normal-sized seat will need less than 1 yard, but I usually buy 1 yard.  I'd rather have extra than not enough.
Staple Gun – If you're recovering the seat.  It doesn't have to be a heavy duty one; mine is a simple version I bought from Hobby Lobby and if the staples don't go in all the way I just lightly hammer them in.
Sandpaper – If you're a messy painter (like I am), you might need to sand out some bumps after the first coat of paint.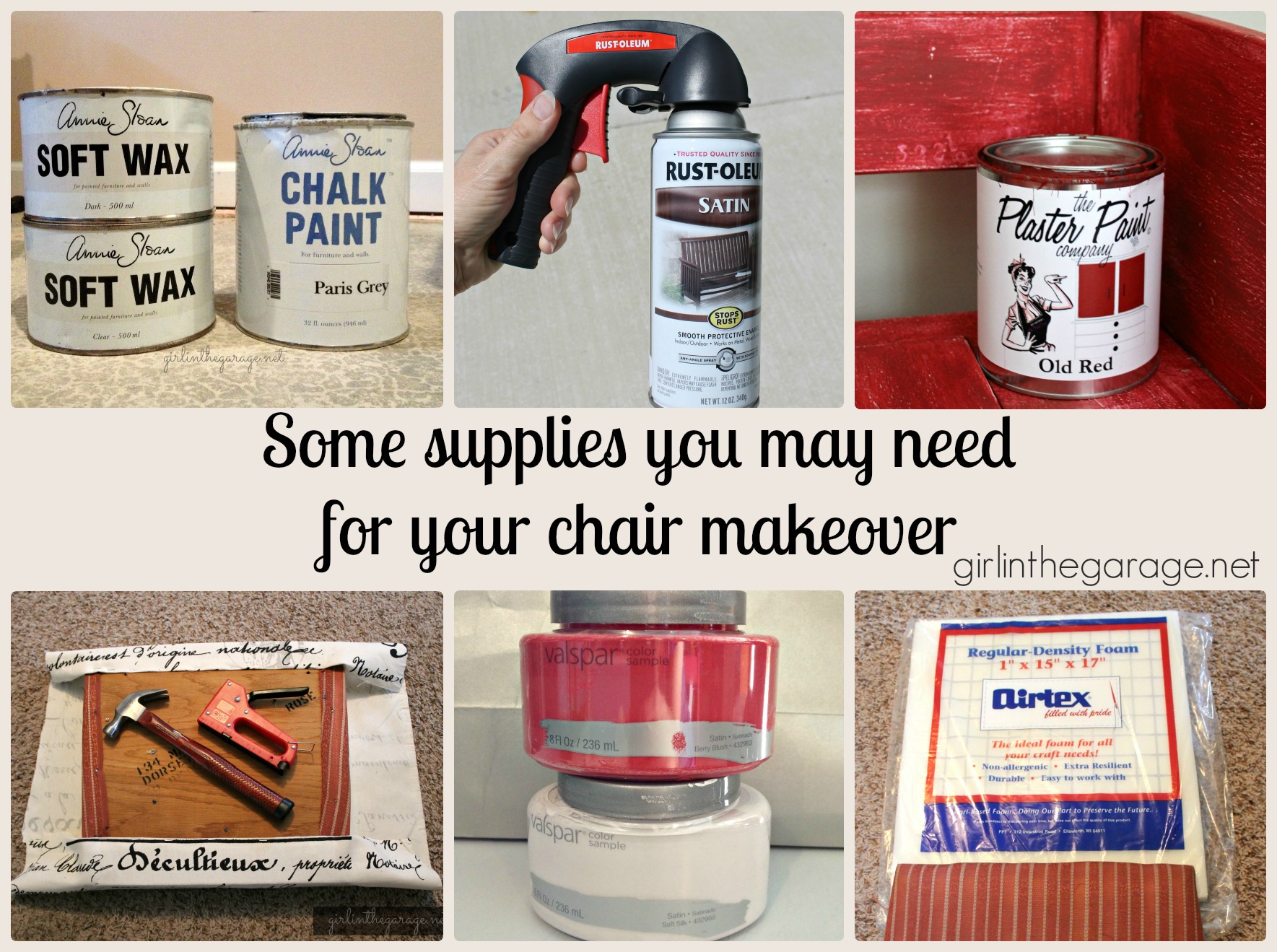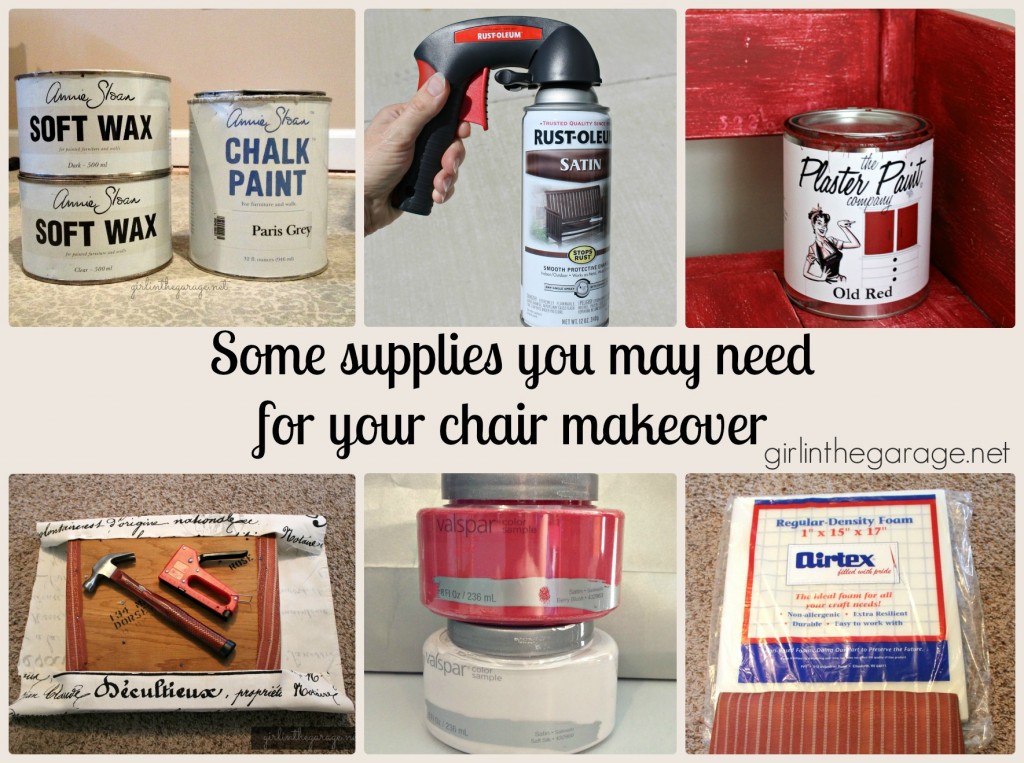 4.  Once you have your supplies, clean the chair.  I use a lightly damp cloth, and if there's a seat that I'm just going to recover I'll spray it with Febreeze and let it sit for awhile.  Any cleaning chemicals on the metal or wood could affect how your paint adheres to the chair.  After cleaning, remove the seat by unscrewing it.
5.  Paint!  Follow the instructions on the can, whether you're spray painting outside or using a brush in your garage.  Wait for it to dry and give it a total of 2-3 coats as needed.  (Sand between coats if you have bumps or little drips.)  Then follow up by protecting it with 1-2 coatings of whichever protectant you've chosen from the supply list.
6.  Remove and replace the padding if you've chosen to.  You will probably need to trim it down to the right size.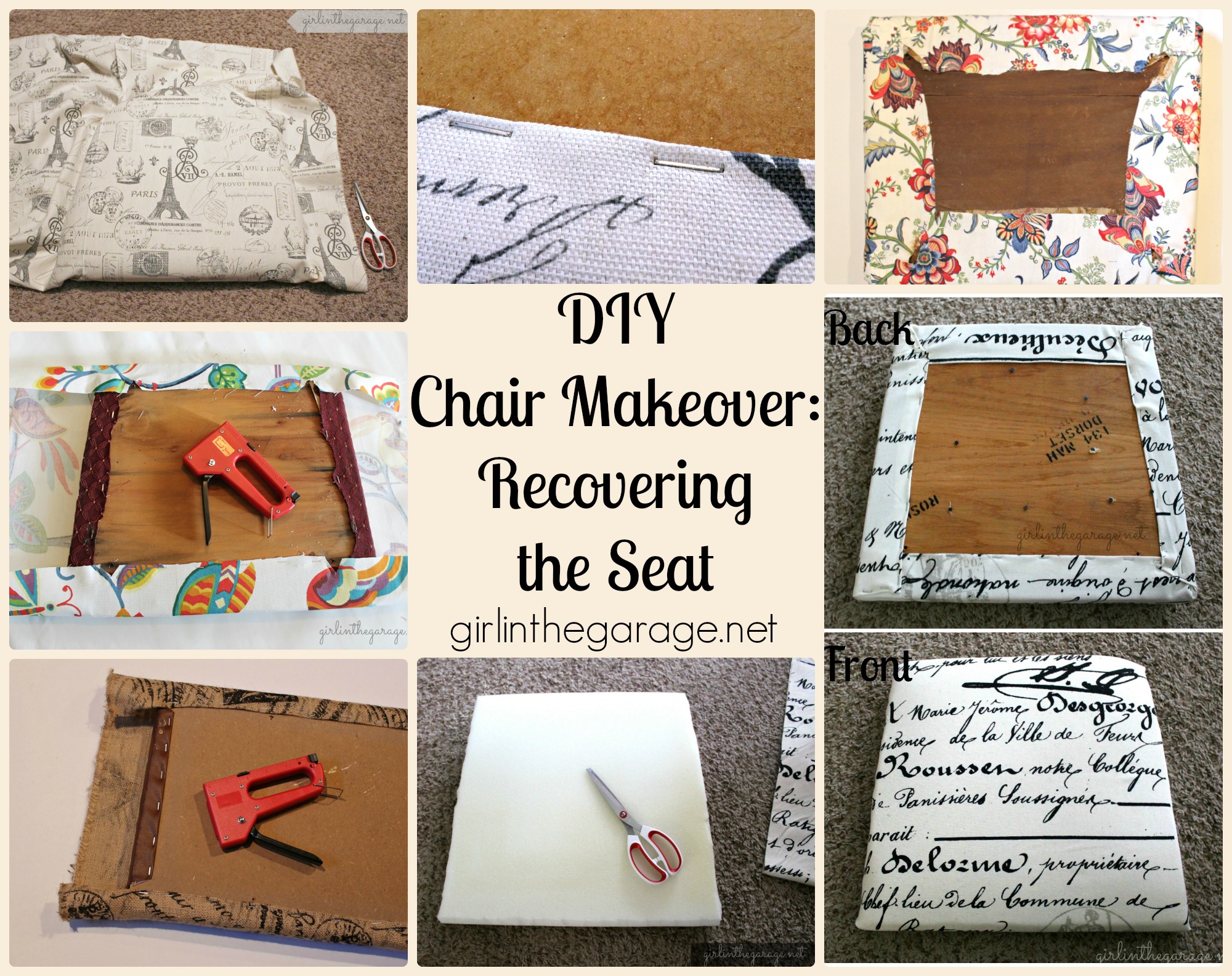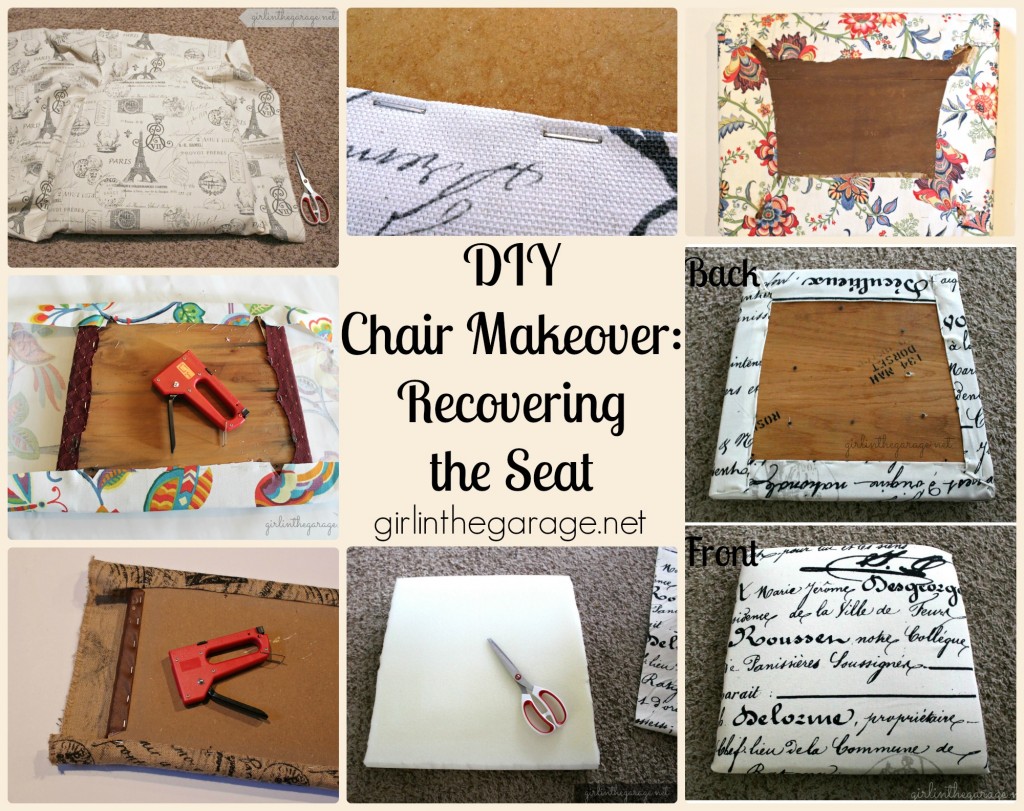 7.  Recover the seat, being careful to center the pattern how you like it on the upper side.  Lay the fabric and seat face-down and cut the fabric with a few extra inches on each side.  Then fold the sides up and staple them onto the bottom of the seat.  (Remember you can hammer the staples if they don't go all the way in.)  Pull tightly on each side.  Pay extra attention to the corners – you will need to make 1 or several small vertical folds to accommodate excess fabric.
8.  Once you've completed all the above steps and the protectant has dried (according to the can's directions), reattach the seat onto the chair.
9.  Celebrate your accomplishment by giving yourself a well-deserved rest on your newly made over chair!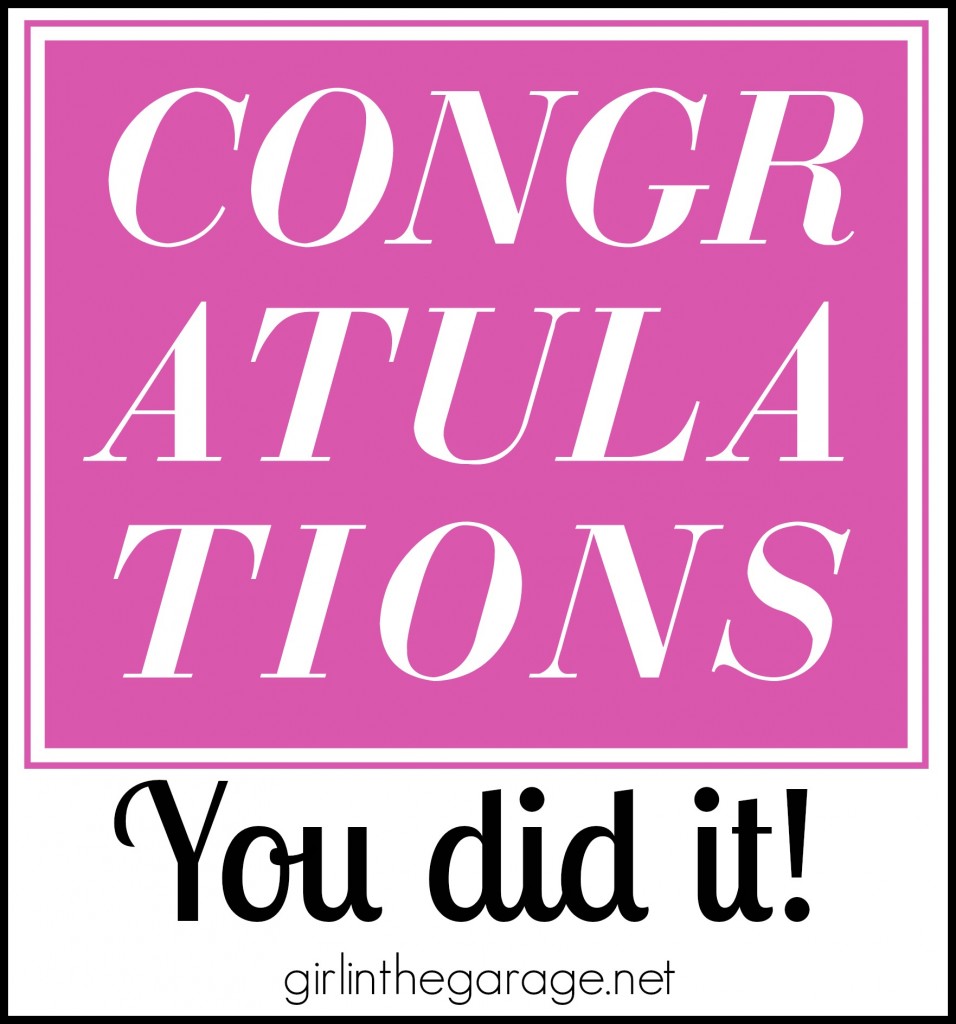 For specific details on these chair makeovers, click the titles below the collage.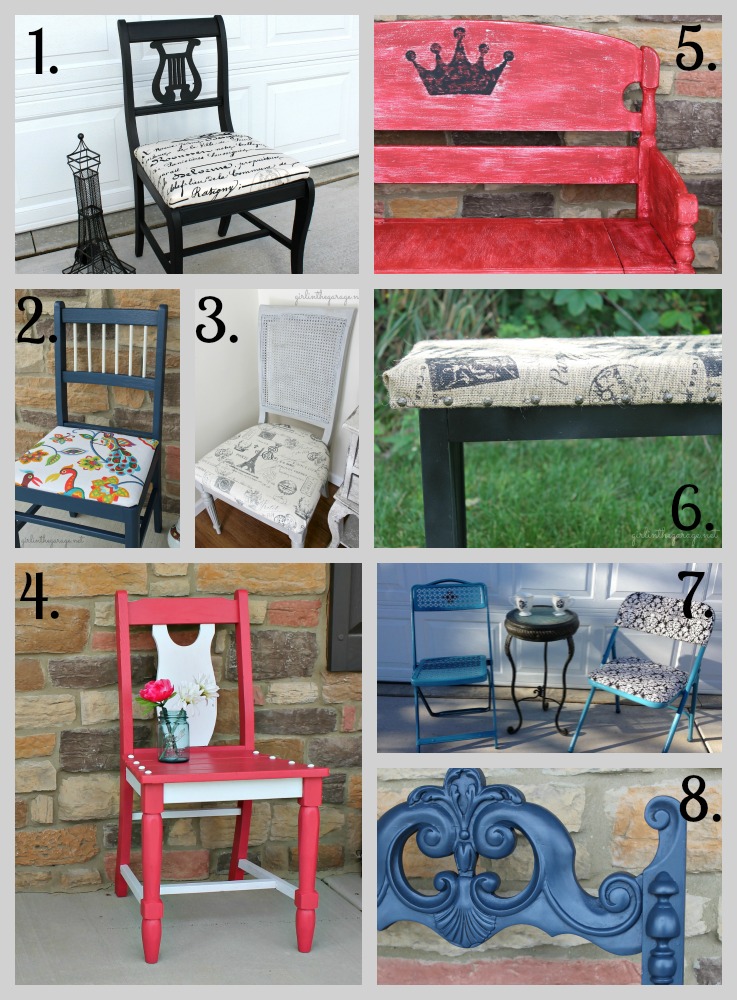 6.  French Bench
7.  Painted and Recovered Folding Chairs
Jen
Recent Posts: