Hi friends!  How's your week going?  We had soccer practice #2 for the boys last night and it did not go very well.  For some reason their attention spans were like .02 seconds and they quickly wanted to do other things – play on the playground, play with nana's phone, eat a snack, sit on the blanket…  (Sigh.)  We'll try to practice with them at home so they'll have some idea of what to do during their first game on Saturday- wish us luck!
Today I'm sharing a fabulous bench makeover with you which I originally posted at One Artsy Mama last month for my first contributor project.  I hope you like it!
I bought this bench, covered in dust and spiderwebs, at a yard sale about a year ago.  I knew I wanted to update the look but I just didn't know how until a couple weeks ago.
I got excited and started dismantling it before I got a good "before" picture; here are two views and you can tell it was not a pretty sight with the fake leather top, yellow-orange wood, and the metal cowboy cutout panels.
Yee-haw.

First I unscrewed the seat and set it aside to reupholster later.  Then I removed the cowboy panels (I saved them though, because part of me thinks I can do something cool with them later).
I didn't want huge open spaces on the sides (for visual interest and for sturdiness) so I had to figure out what to put in there instead…  then I remembered the huge collection of unused paint stirrers I had amassed from all the cans of paint I had ever bought – perfect!
I had just enough to fill both spaces; 7 stirrers each.  I tapped one little nail into each end and kept the little grooves at the bottom.  Here's a peek from the other side:
When both ends were finished, I took it outside for some spray painting.  Here's where things didn't go exactly as planned…
When I bought my seat fabric at the craft store, I wanted to save time so I bought some generic black spray paint there instead of driving to the hardware store.  Big mistake.  The spray was uneven, the black was more like gray, and I used the entire can and didn't even spray the whole bench.  It actually looked like something that had been in a house fire.
So I learned my lesson and ran over to Lowe's to buy the good stuff.  I also got to test out my new Rustoleum Comfort Grip that I got at Haven recently.
This time went much better and I got a very smooth, black finish.  (So did some of my grass!)  Then I protected it with Rustoleum Crystal Clear Enamel spray.
Next up was the seat.  I bought some French burlap from Joann's with a postal theme.  I love anything French (and burlap) so it was a win-win for me!
I used my little staple gun from Hobby Lobby to reupholster the seat, making sure to fold the edges to prevent unraveling.
Then I screwed the seat back onto the bench and I could've really been finished at that point…  but it needed just a little bit more.  One decorating item that I love (and use whenever I have the chance) is upholstery tacks
.  So I hammered a bunch around the bottom of the seat and I think it looks faaaaabulous now.
What do you think – do you miss the cowboys?   😉
Jen
 Miss any of my recent posts?  Catch up here:
Let There Be Lights and a Giveaway (Enter to win a $100 credit to National Builder Supply through 9/6!)
No-Sew Fall Runner and Candle Wraps
Vanity Makeover and Annie Sloan Chalk Paint® Review/Tips
Just one more thing….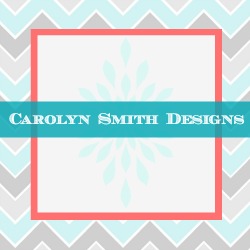 I'd like to introduce you to one of my sponsors: Carolyn Smith Designs.
Carolyn is an interior designer with a great eye for home design and decor.
Her blog includes beautiful photos, how-to's, and lots of inspiration for your home.
Stop by her website to check her out and be sure to tell her I sent you!   🙂
Are you interested in advertising on Girl in the Garage?  Click HERE for more info, and use the code FRENCHBENCH to receive 25% off a new or renewed ad spot!