Tips for Using Annie Sloan Chalk Paint and Clear and Dark Wax on Furniture
Get comfy, friends! This is a long post but one that I hope you'll find informative and inspiring. (If you get confused while reading this- don't worry, there's more helpful info at the very end of this post!)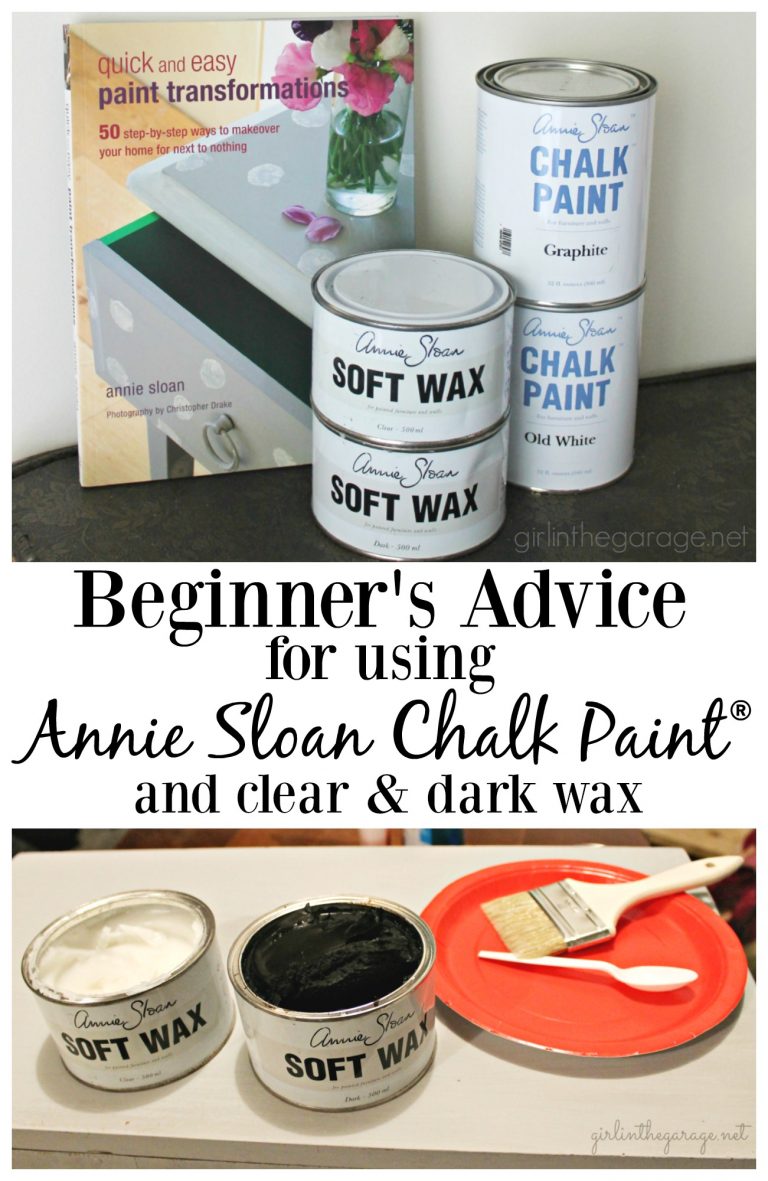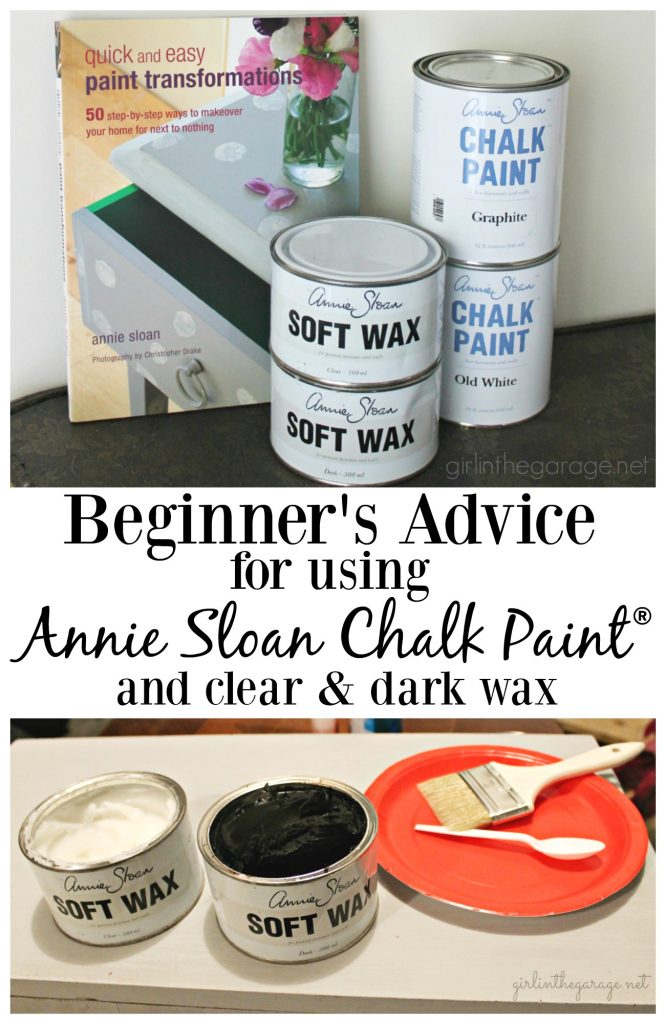 It's no secret that I've used Annie Sloan Chalk Paint on a few of my recent projects: Provence on this table and this bookcase, and Paris Grey on this dresser. I've also shared a few reasons why I like the paint, but I've never done a full review. The folks at Annie Sloan were kind enough to send me some products to try and give an honest review.
*This post contains some affiliate links so you can easily find the products I use and recommend. Discover all my favorite brands and tools for doing DIY furniture makeovers Here.
These are the products I worked with for this vintage vanity makeover: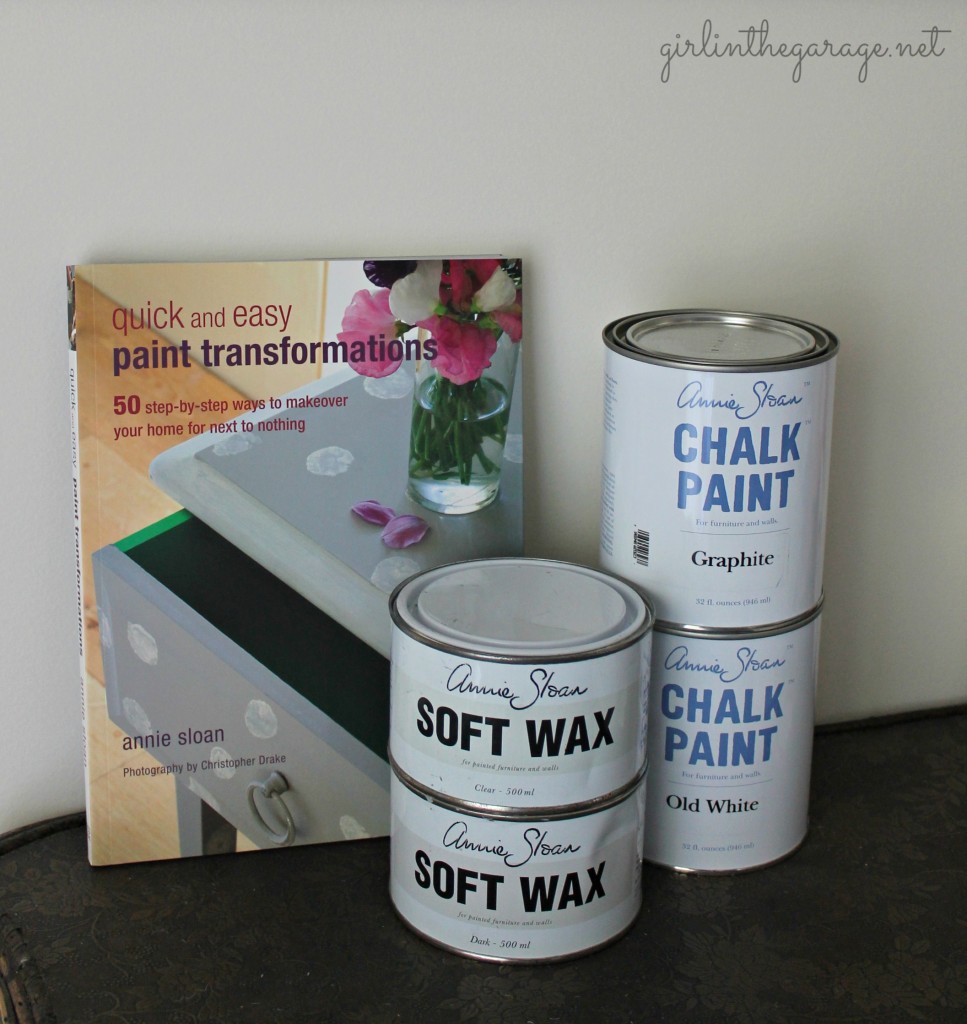 Then I just had to figure out what I was going to paint. I had several pieces waiting in my garage that would've been fine to paint (mostly side tables) but I wanted to do something a little different… Then I remembered I had this vanity that my mom picked up at a yard sale and surprised me with.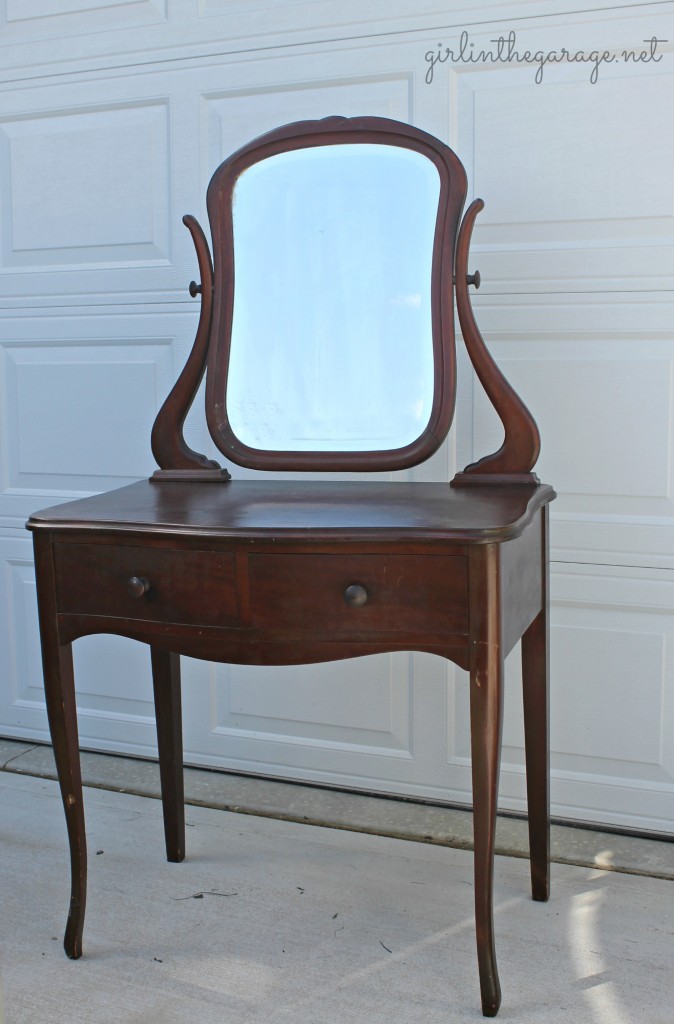 It was a beautiful, sturdy piece but the top was showing lots of wear and needed quite a bit of sanding. Normally with Annie Sloan Chalk Paint you don't have to sand, but there were scratches and little indentations so I wanted to be safe.
So I took the drawers out and the mirror off, and sanded the table top.
Then I painted the base in Old White which is a good off-white color, not too bright. These are the paint brushes I prefer. You don't need to prime with Chalk Paint® decorative paint by Annie Sloan, but with the light colors you will need more than one coat. I did have to touch up a few areas with a second coat after sanding away some brush strokes.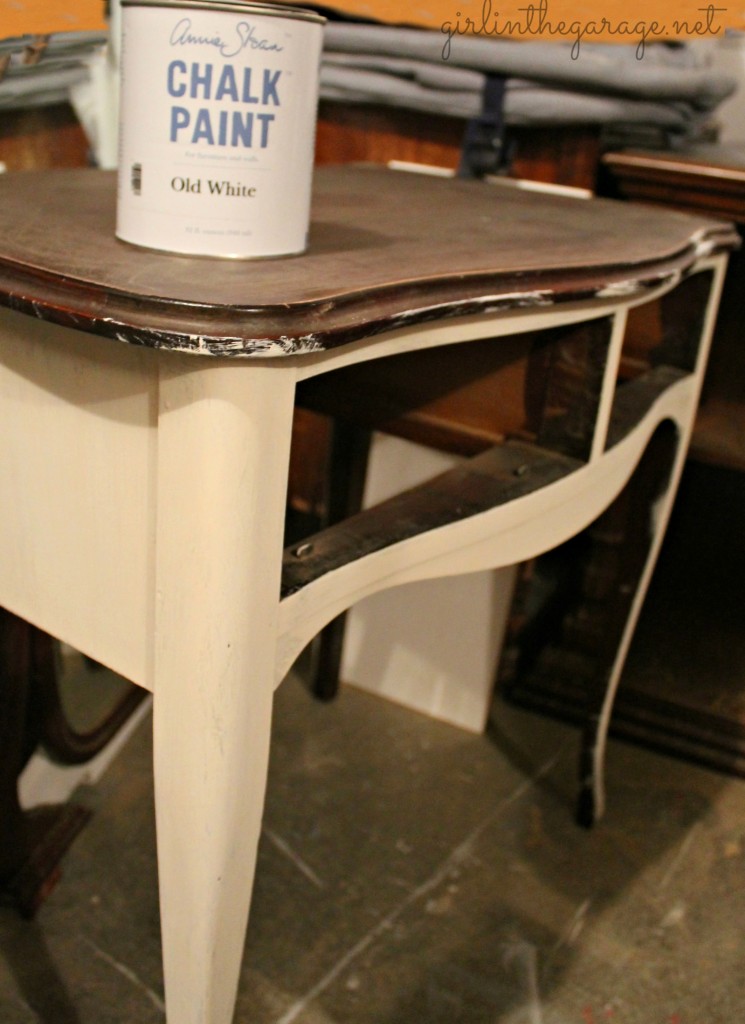 Then I painted the table top in Graphite. Honestly when I ordered this color, I was thinking it would be black. When I opened the can it looked more like medium-dark gray and I panicked!
I only needed one coat on top and then when it dried I was happy to see that it was a pale shade of black (if that makes sense) – like a chalkboard.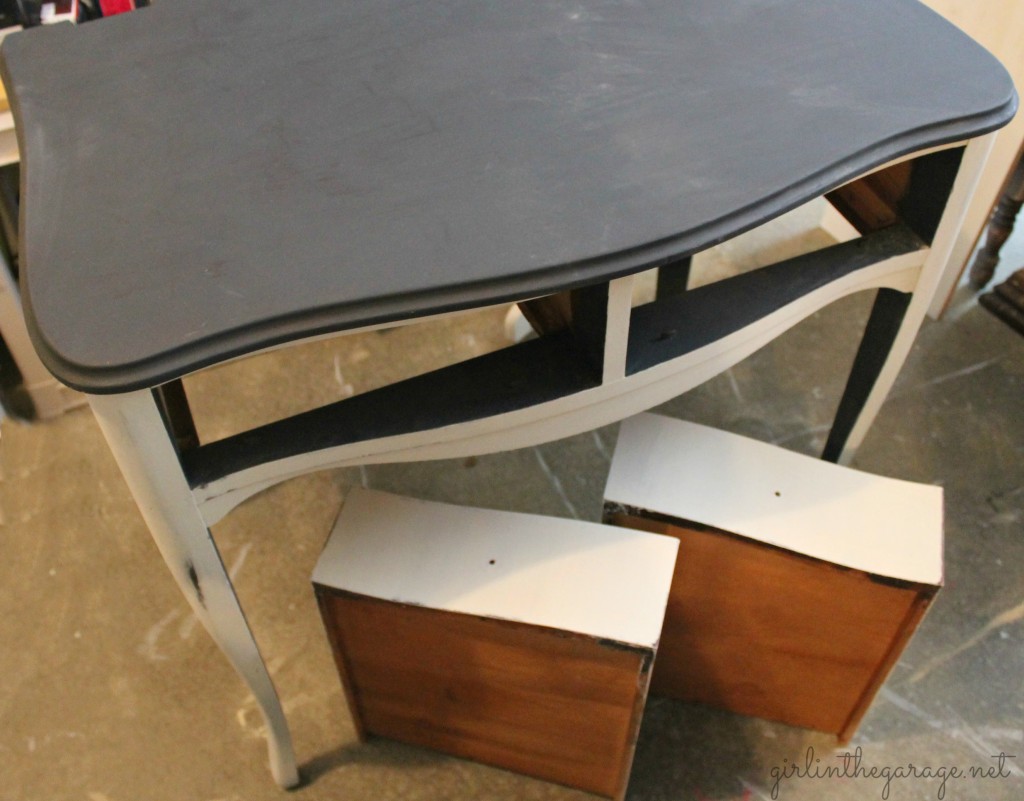 After the base, drawers, and mirror were painted, I got to the fun part – stripes!
I had heard good things about FrogTape so I decided to give it a try. I measured my stripes at 3″ each and then taped and painted.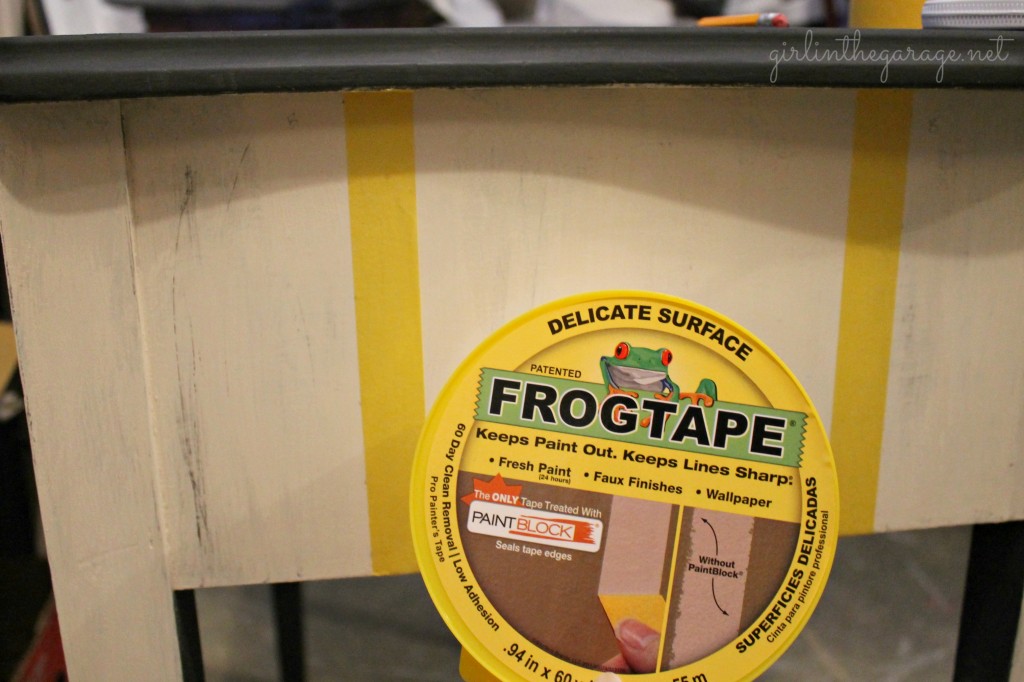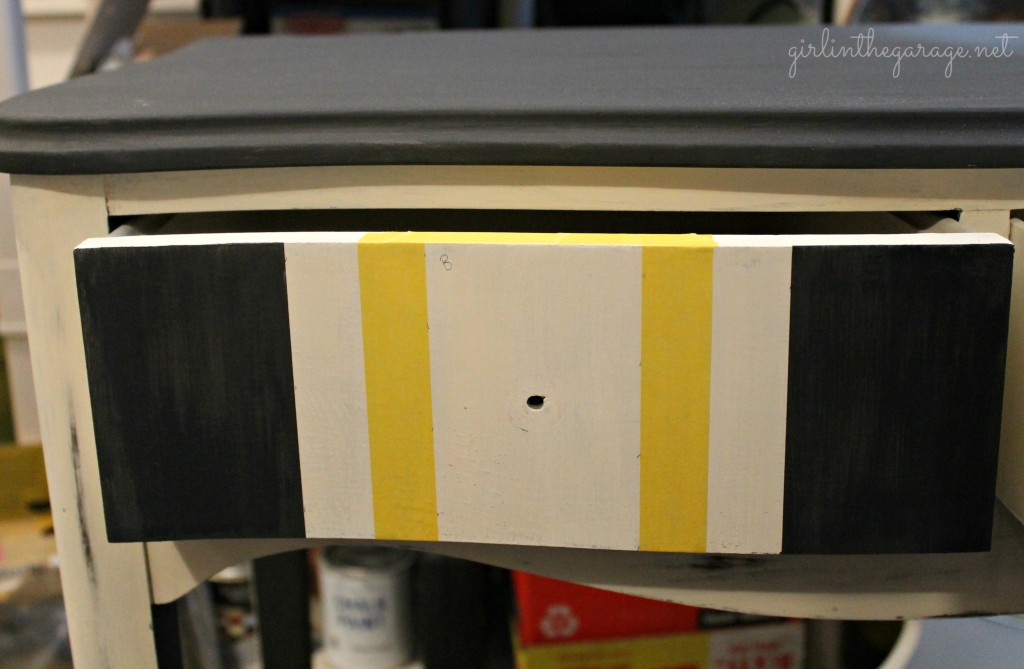 Tip: Always pull the tape off while the paint is still wet.
Those are some pretty straight lines! (Since the paint is fairly thick I shouldn't have worried about it running under the tape anyway though!) After painting stripes on three sides, I reattached the mirror.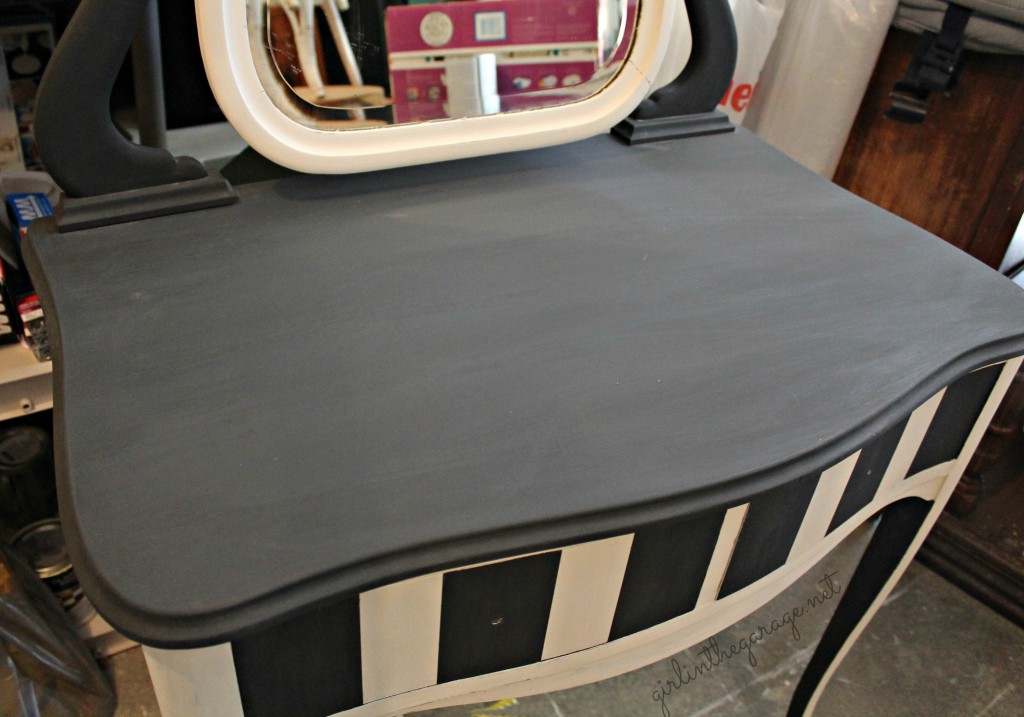 Then I noticed something… the mirror had paint on it! Confession: I am not a "neat" painter – I make messes. (You can also see in some of these pics that my garage floor has paint all over it from my projects.)
I did not tape the mirror like I should have, oops. No worries! I got a couple of Q-tips damp with water and wiped away the paint from the mirror like it was never there. Just like magic, as my boys would say. 😉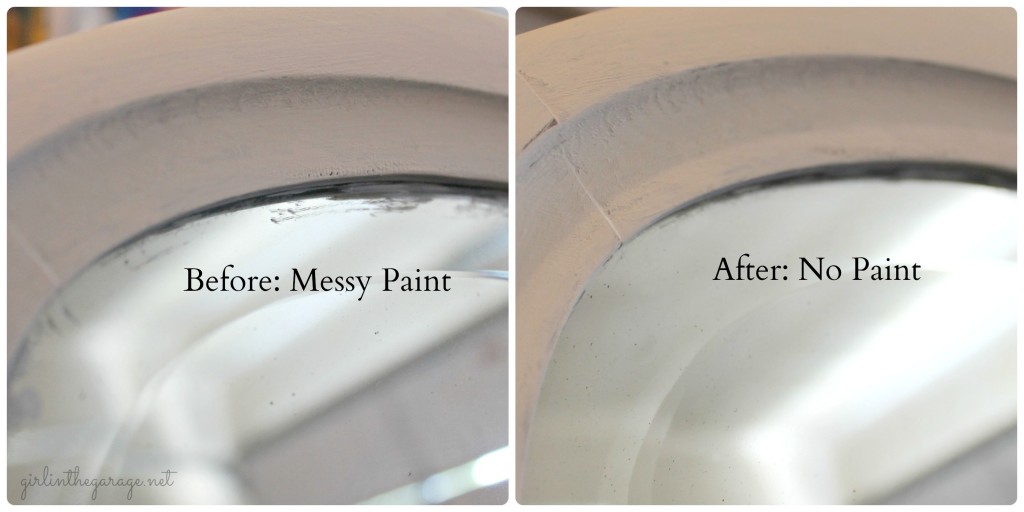 Next it was time for the soft wax. I've used clear a few times and feel pretty comfortable with it, but I had never tried dark before. I was honestly really nervous to try it!
I spoke with the helpful Annie Sloan reps when I was at Haven and they warned me that I should always put a clear coat of wax on before using the dark or I would end up having a really dark piece… since the dark wax is kind of a stain. As long as you use the clear wax first, it's easier to control the dark wax and wipe away some of the excess by applying more clear wax after. Maybe I should start at the beginning…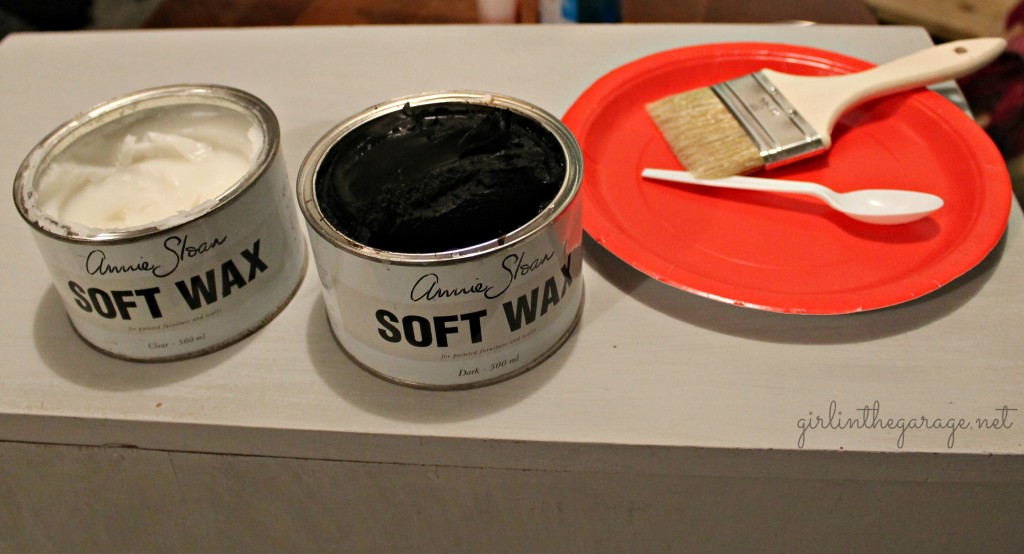 When you're working with wax, it's best to apply in thin even layers. The best thing to do is use a plastic spoon to get a glob of the wax and put it on a paper plate, then put the lid back on. This is so the wax doesn't get contaminated with particles from the air, your brush, or the furniture you're working on.
Get some wax on the end of your bristles and then blot onto the plate to remove any clumps. Work in small sections, starting at the back until you get a good groove. Then after each section, use a clean, lint-free cotton rag (an old t-shirt or bed sheet will work) to wipe away excess wax.
After applying the clear wax all over the piece, it was time for the dark wax. Typically you're supposed to apply the dark wax pretty quickly after the clear – but for me, as soon as I finished the clear wax my boys woke up from their naps. (Happens. Every. Time.) So I had to wait about 6 hours later to apply the dark wax, and I'm not sure if the outcome would've been any different if I had done it earlier.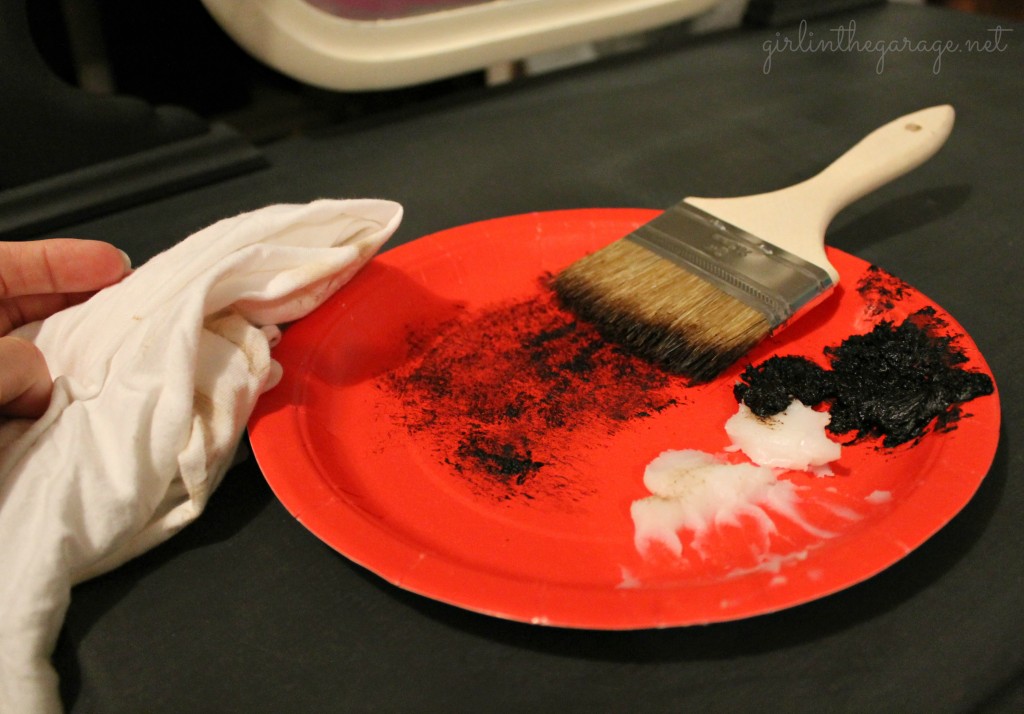 This time I put globs of both clear and dark wax on my plate. (I also used a different brush just so I'll have one for each type of wax, and a new rag.) Same as the clear- I got some dark wax on my brush and blotted it onto the plate to remove the excess. Then I started lightly applying near the back of the piece and made my way forward.
When it went on a little too dark or thick, I immediately used the rag to scoop a small amount of clear wax and then rubbed it over the area I wanted lightened. Although it wouldn't erase any big mistakes, it definitely diminished the areas that I applied it to.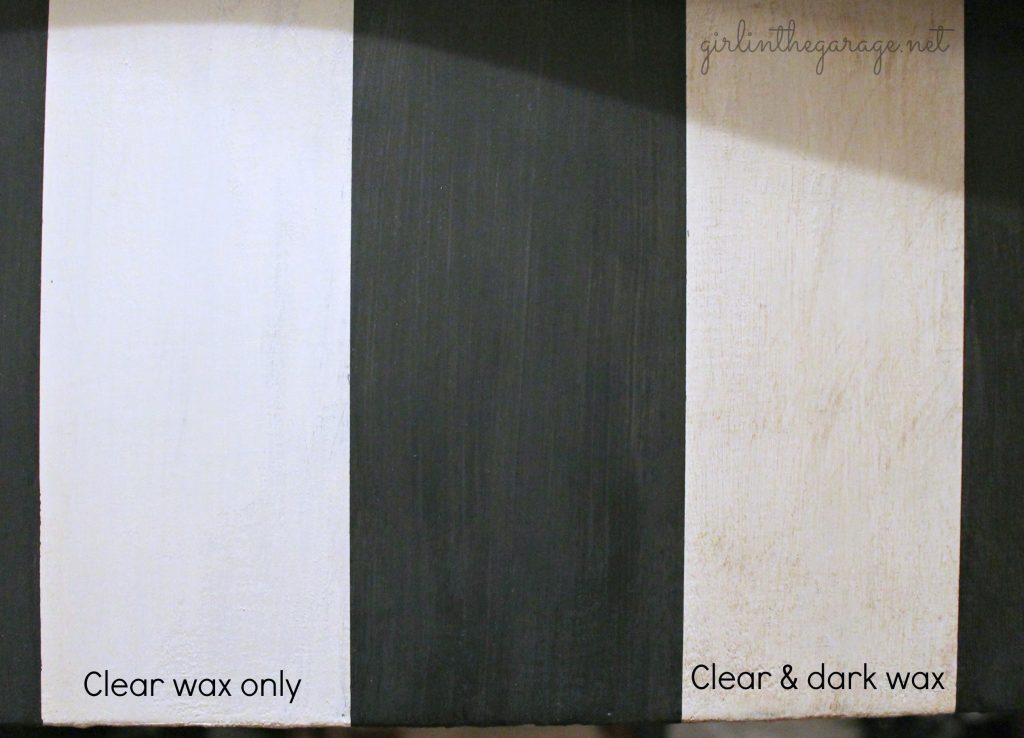 You can see that the dark wax tends to cling to brushstrokes and gives an overall more antique look. I was really nervous at first but I really like how it turned out. The dark wax makes the Old White more of a light taupe, which makes the vanity look less like referee stripes (haha).
After all the waxing was done, I added two glass drawer pulls from Hobby Lobby.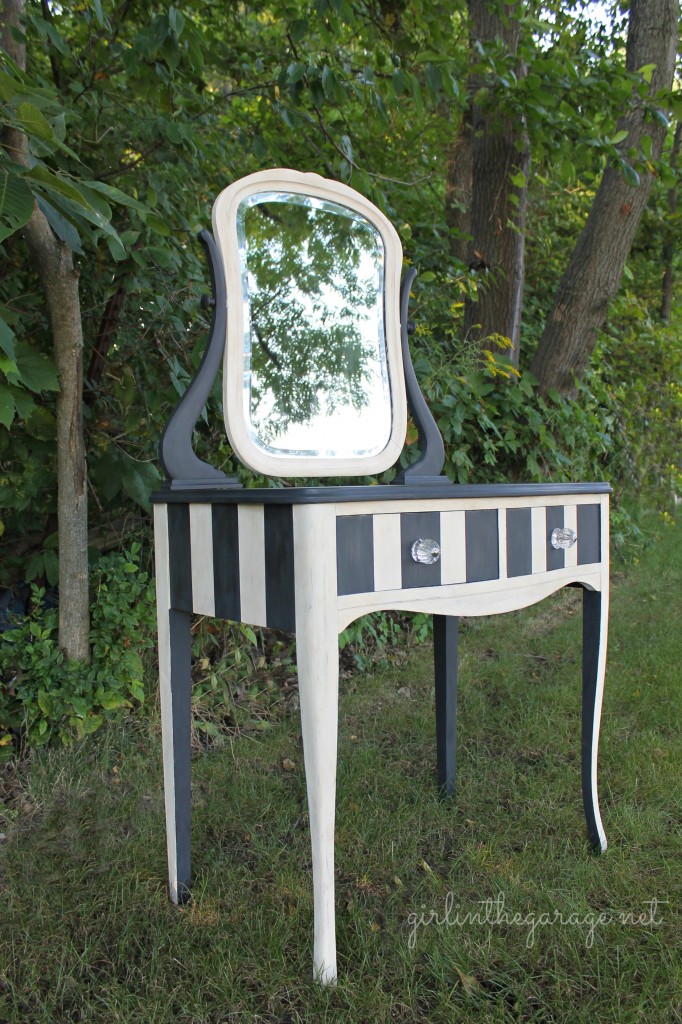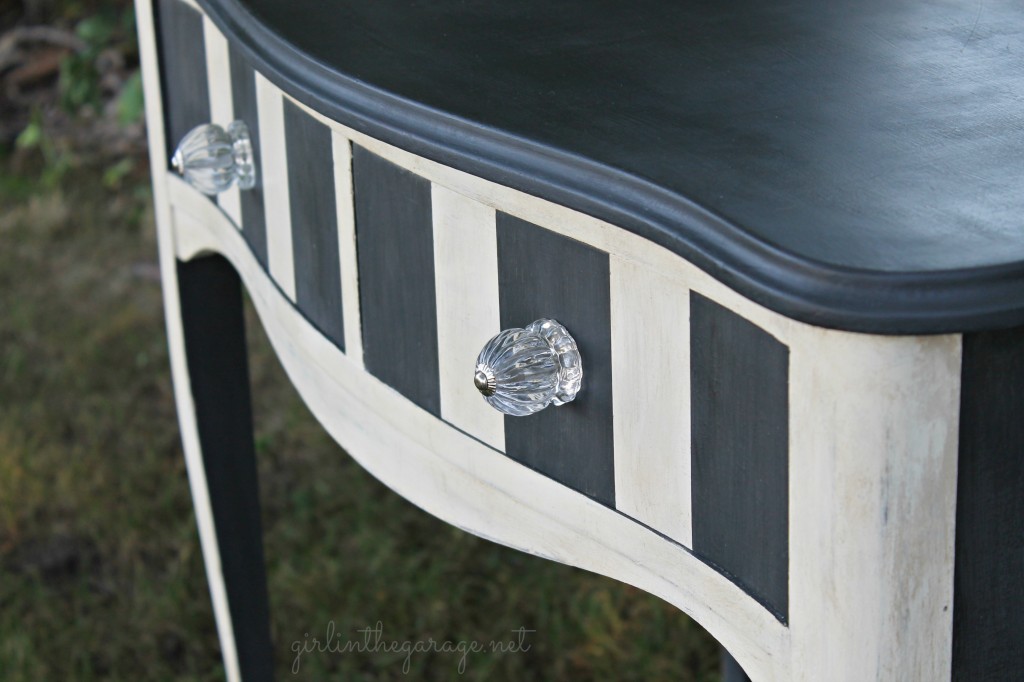 So very chic with the stripes and the new pulls!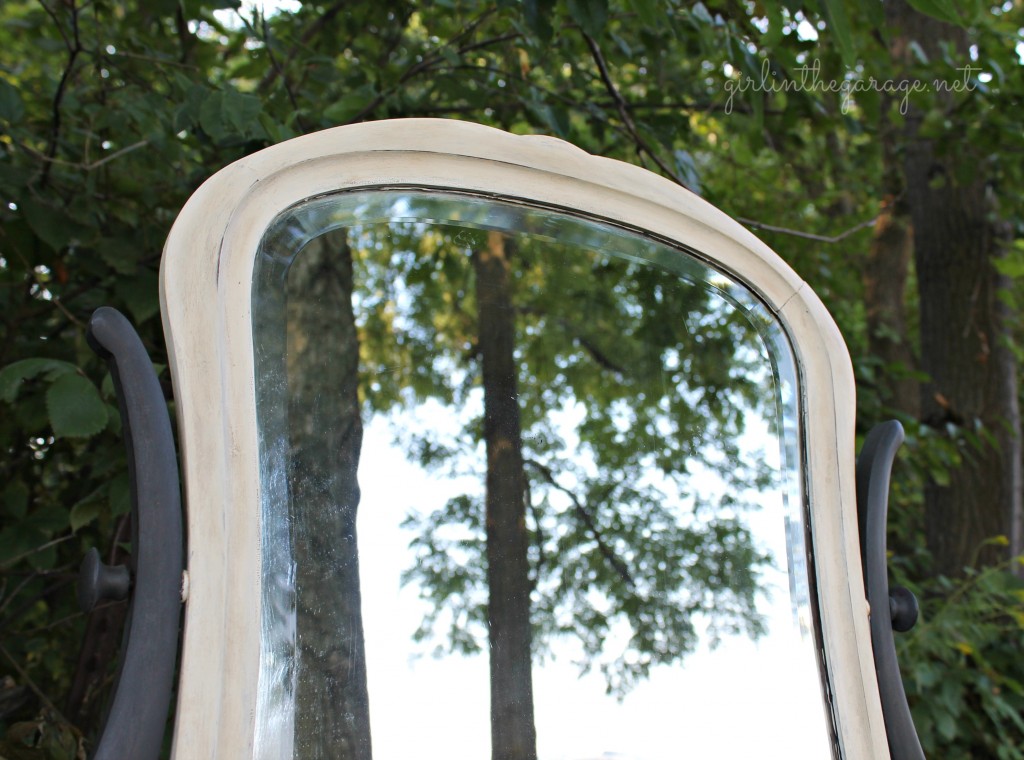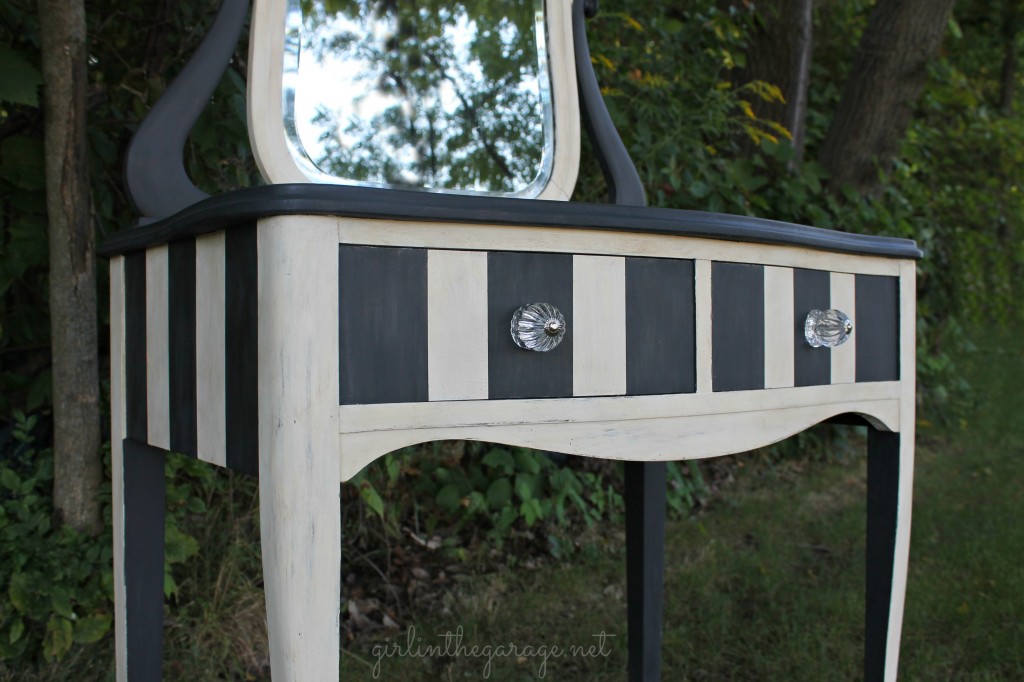 And now for some fun staged photos on the porch (including an antique press camera I found at a yard sale this weekend that I am in LOVE with)…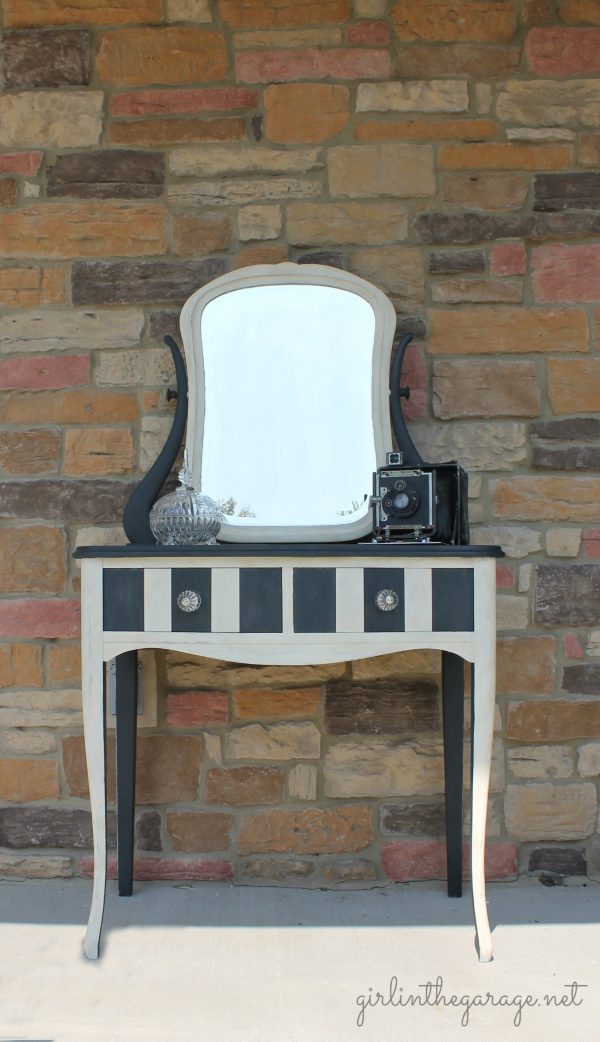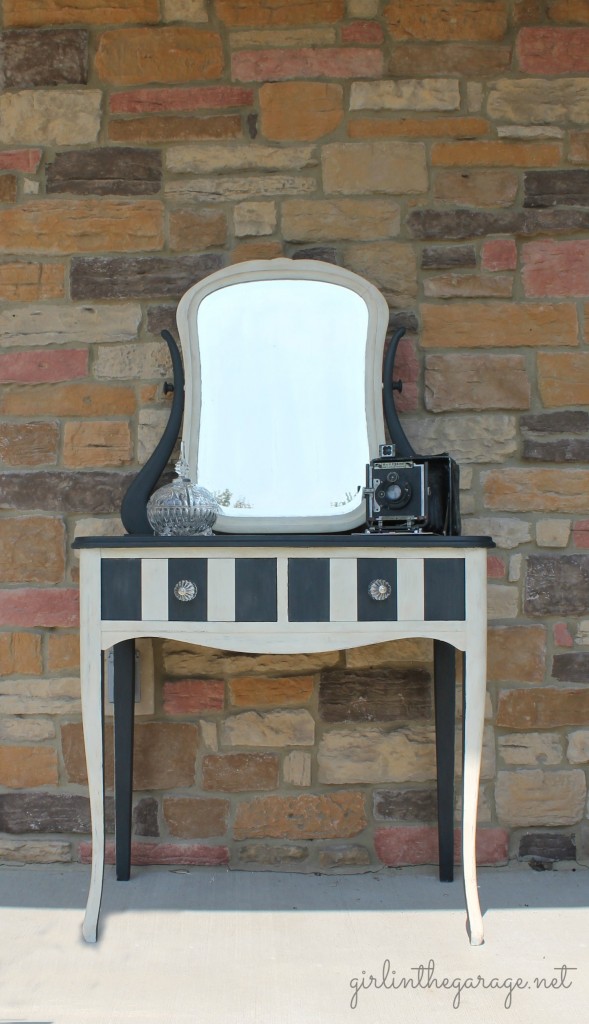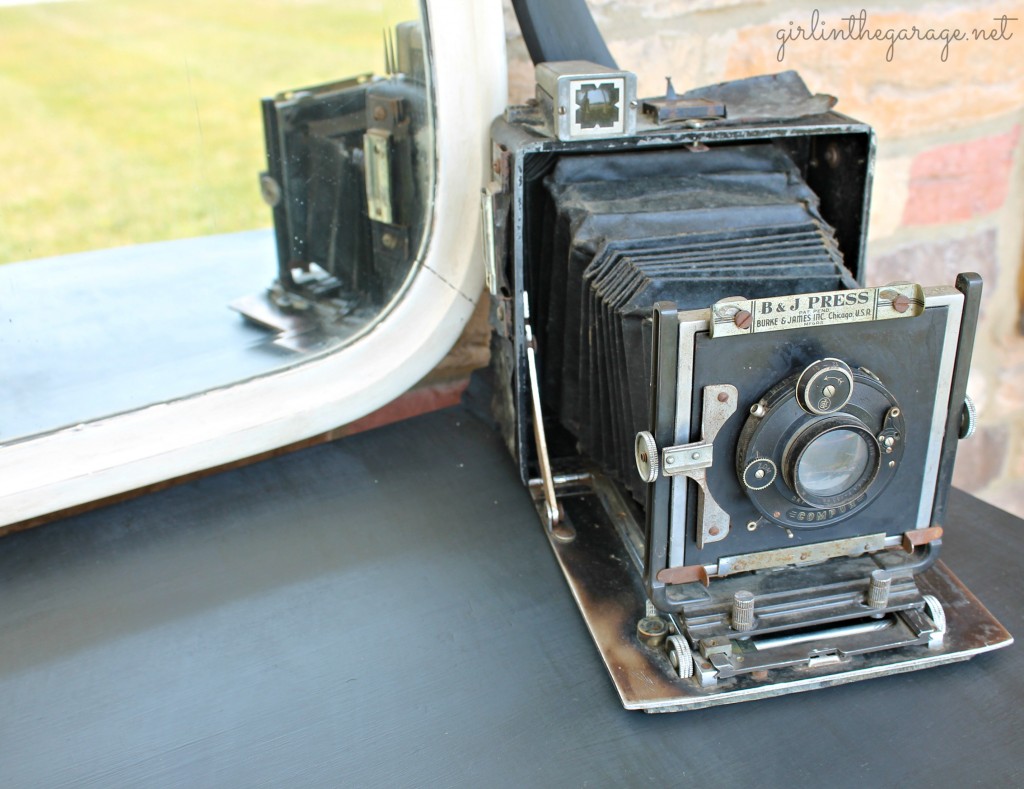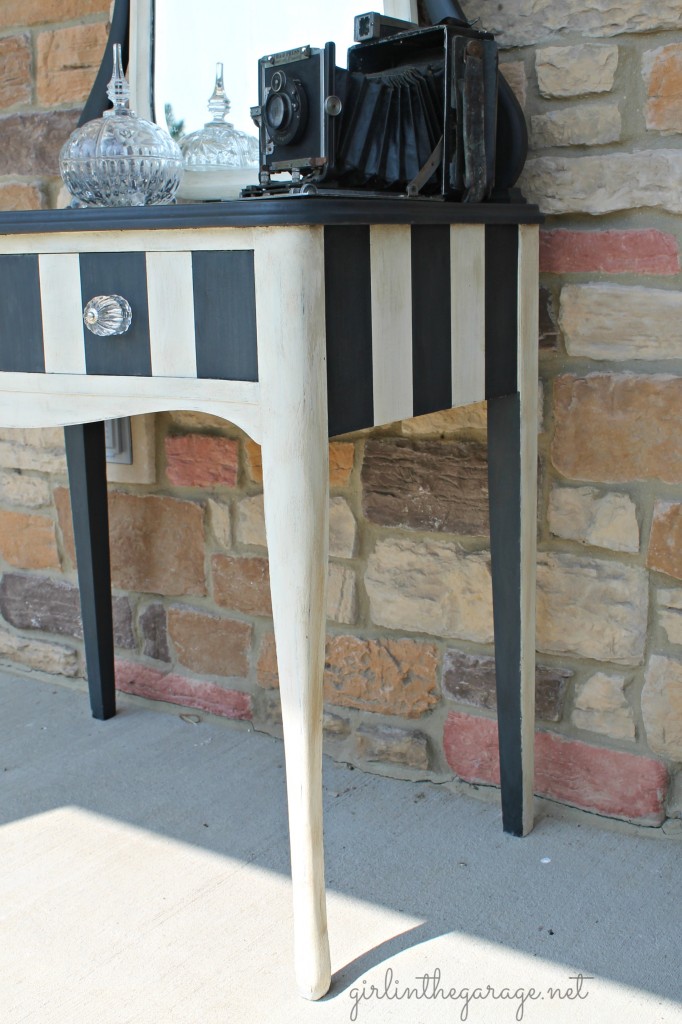 MORE INFORMATION ABOUT CHALK PAINT® DECORATIVE PAINT BY ANNIE SLOAN:
*What is Chalk Paint®? It's a decorative paint developed by Annie Sloan in 1990 named for its matte "chalky" finish. It is not the same as chalkboard paint.
*Pros:
Thick paint means it will last longer- you can also add some water to make it thinner.

Very easy cleanup as opposed to latex paint. Comes off my hands/arms/legs (I told you I was a messy painter) and even paint brushes easily with some soap and water.
Paint can be used on any type of surface.
No sanding or priming necessary (but sometimes a good idea based on the surface you're planning to paint).
Colors can be mixed to make infinite possibilities.
Low VOC's and almost no odor.
Experts at Annie Sloan and specialty retailers all over the country are well-trained to answer questions and provide guidance.
*Cons:
The price is higher than some other paints, but one quart does go a long way. Also, the benefits of the paint are worth it in my opinion.

Only available through approved retailers worldwide, but new retailers are being added all the time.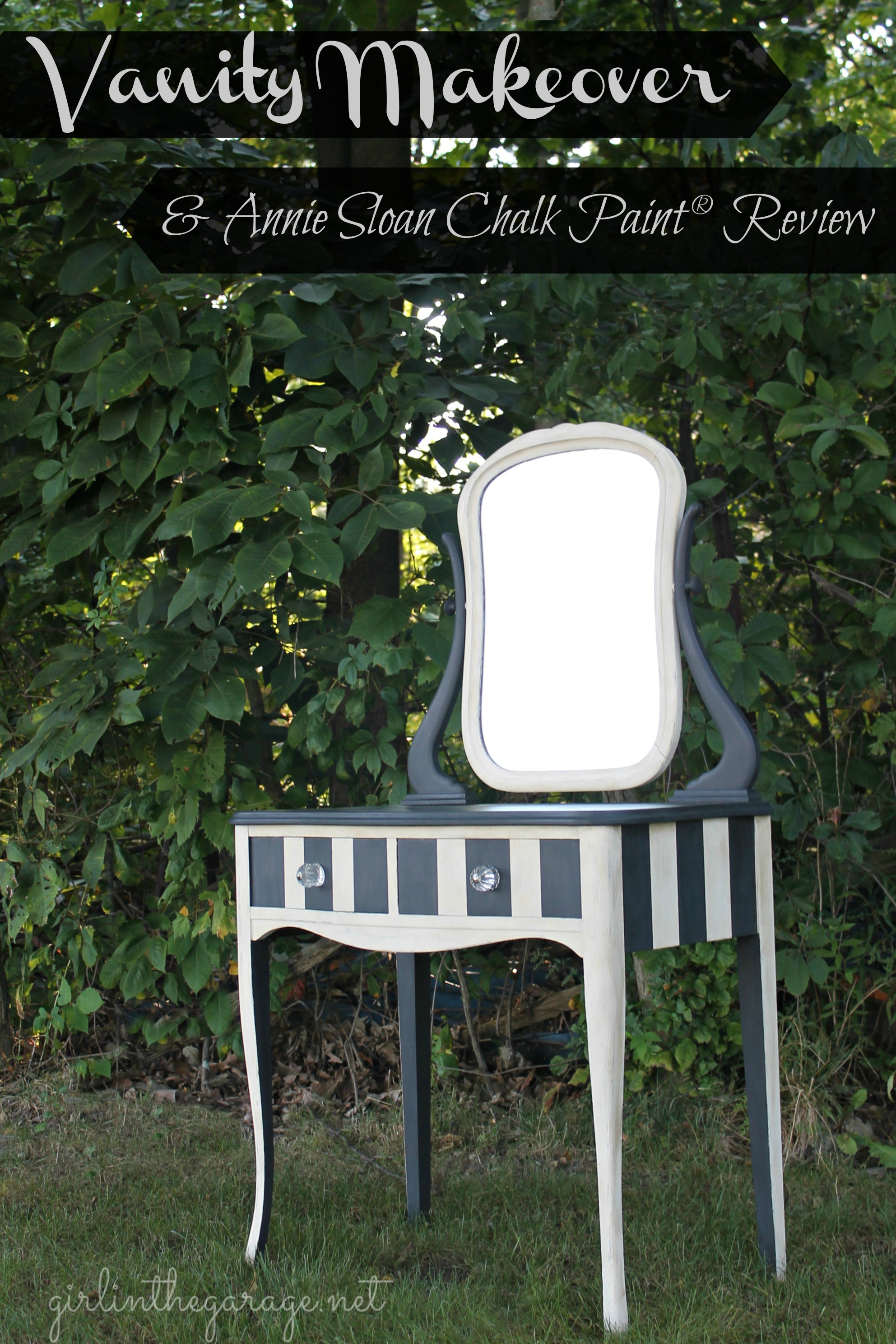 *At the time of this review, I didn't own a special Annie Sloan paint brush. I was using chip brushes from the hardware store (about $1.50 each) and cotton rags for waxing and my regular paint brushes for the Chalk Paint®. Chip brushes are not the best idea for waxing. I highly recommend buying one of Annie Sloan's wax brushes! Read this new post about using an Annie Sloan wax brush.
*Find an Annie Sloan retailer HERE.
*There are also lots of YouTube videos available by retailers and bloggers for using the paint and wax. HERE is a link to the official Annie Sloan YouTube channel.
~ ~ ~
How are you feeling; more confident? I know there's a ton of information in this post but if you read through it all and follow the links provided you'll be confident enough to try Chalk Paint® decorative paint by Annie Sloan and wax in no time! If you have other questions please leave a comment below and I'll try to answer – or contact your nearest retailer for expert advice.
Jen
Find tons of Annie Sloan Chalk Paint® project inspiration Here in my Project Gallery!