This piece almost beat me this week.  If you don't think you can get a workout while doing a furniture makeover, then you're wrong!  My arms and shoulders used muscles that haven't been used in a long time- probably since I painted the entire ceiling in our full-size basement.  And I may have possibly considered just giving up and starting all over…  I'm glad I didn't.   😉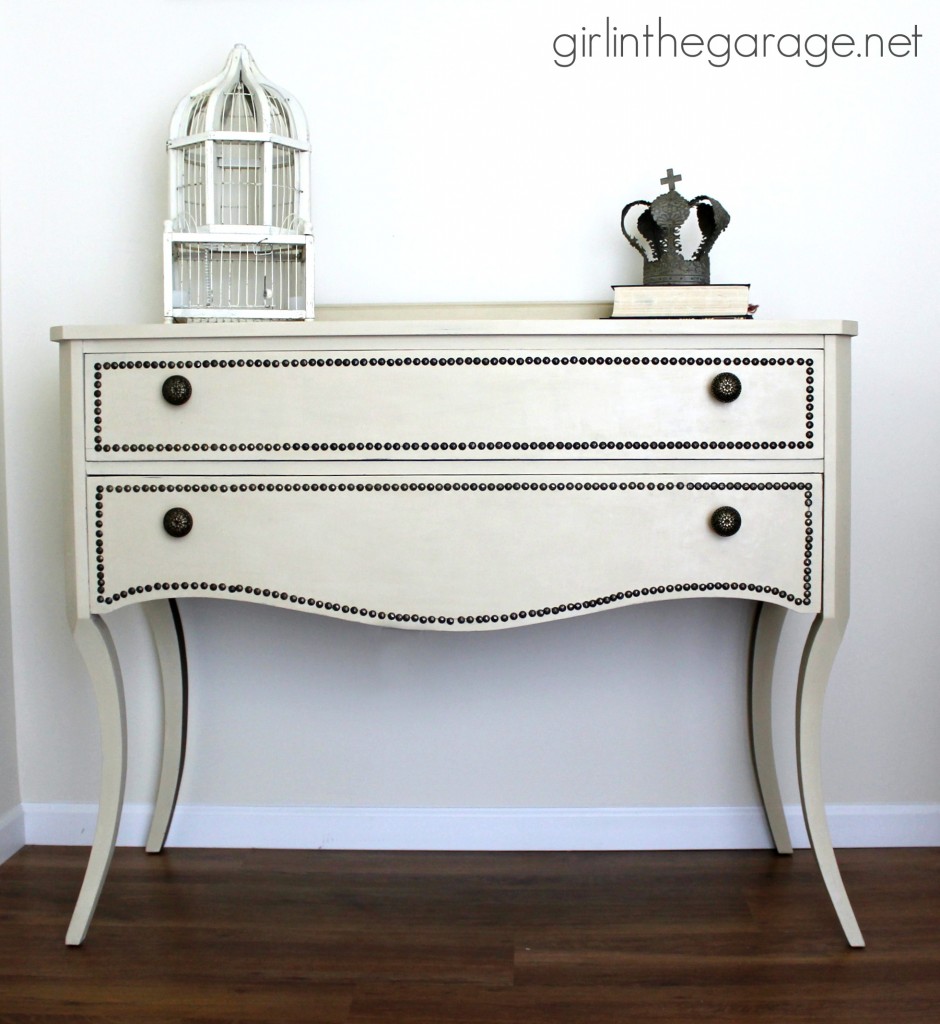 The lady I bought this from said it had been in her family for awhile, but she was getting ready to move and no longer had room for it.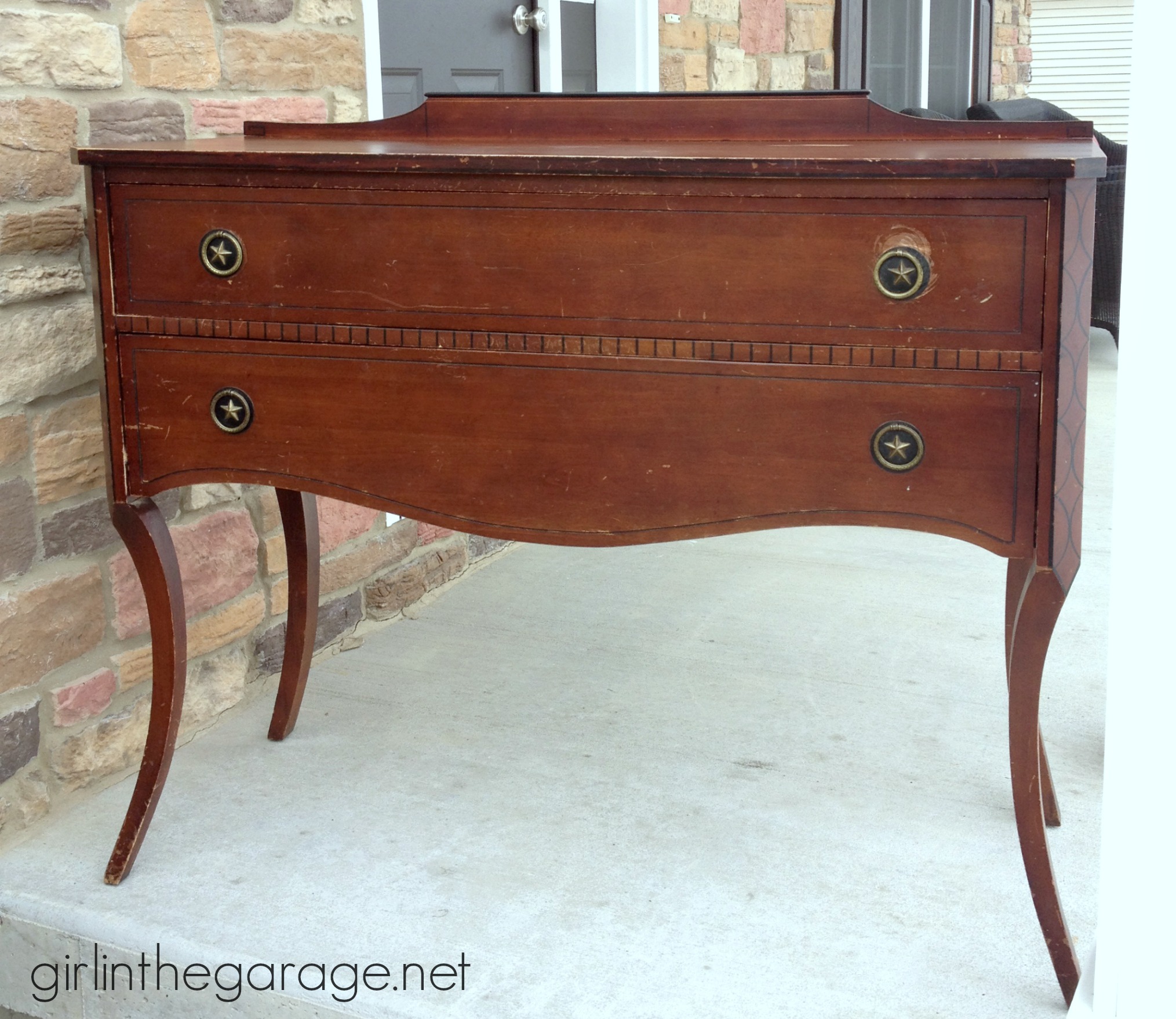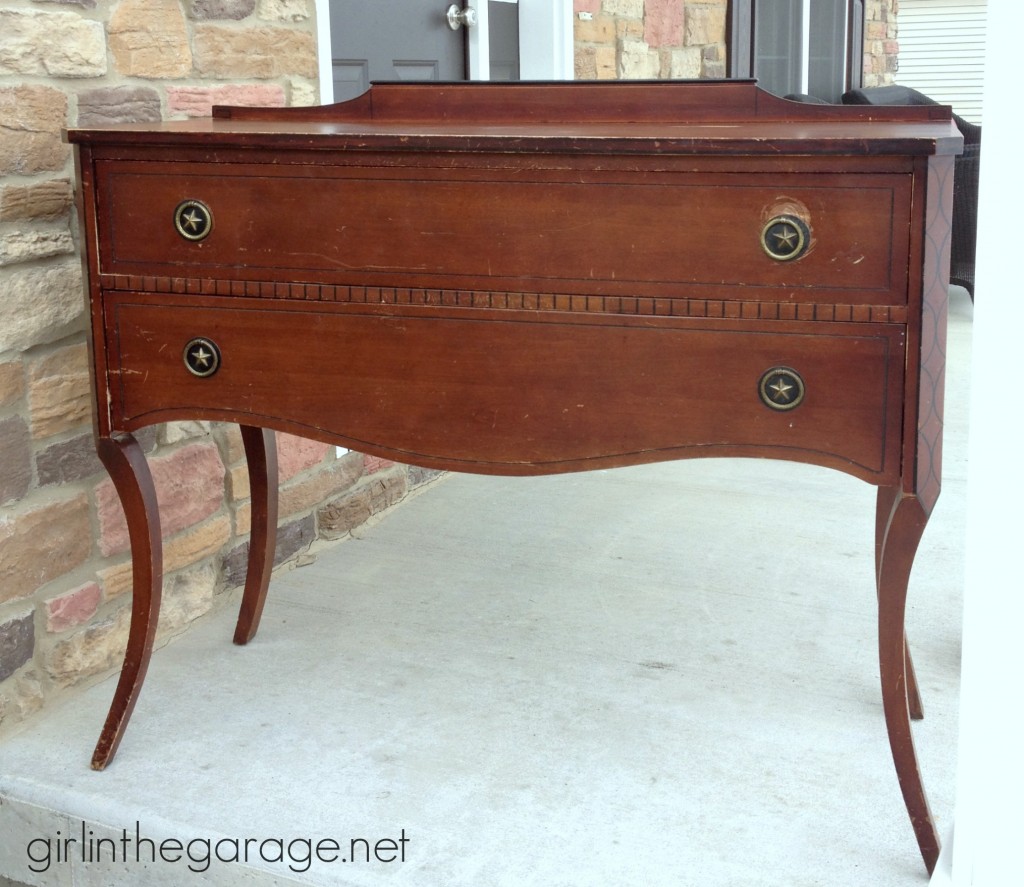 It had a lot of knicks and scratches, and some Western-looking handles.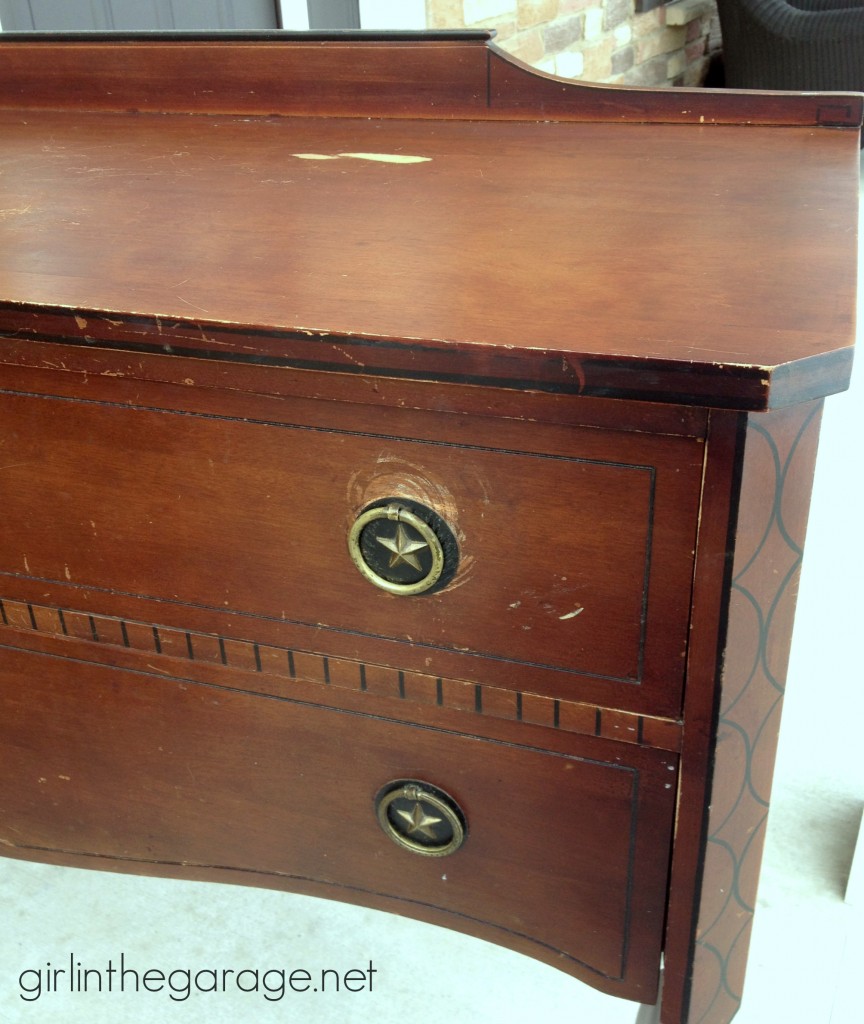 I chose Chalk Paint® decorative paint by Annie Sloan in Old Ochre because I wanted a neutral color with a clean, crisp look.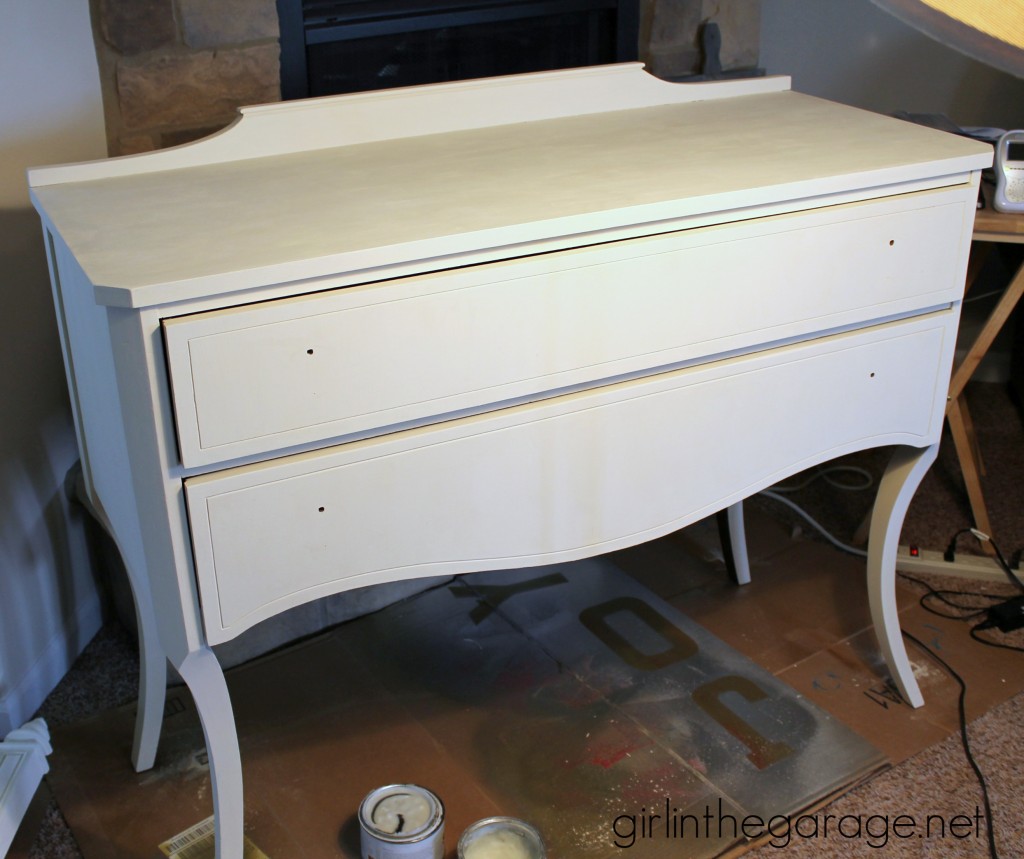 After painting I protected it with Annie Sloan clear soft wax.  This was also the first time I was able to try an Annie Sloan brush for waxing.  In the past I tried an inexpensive chip brush and I really didn't like it, so I switched to using clean rags to apply wax.  Even though they were clean I always ended up with lint being transferred onto my furniture, and I'd go nuts trying to buff it out and have a smooth surface before the wax dried.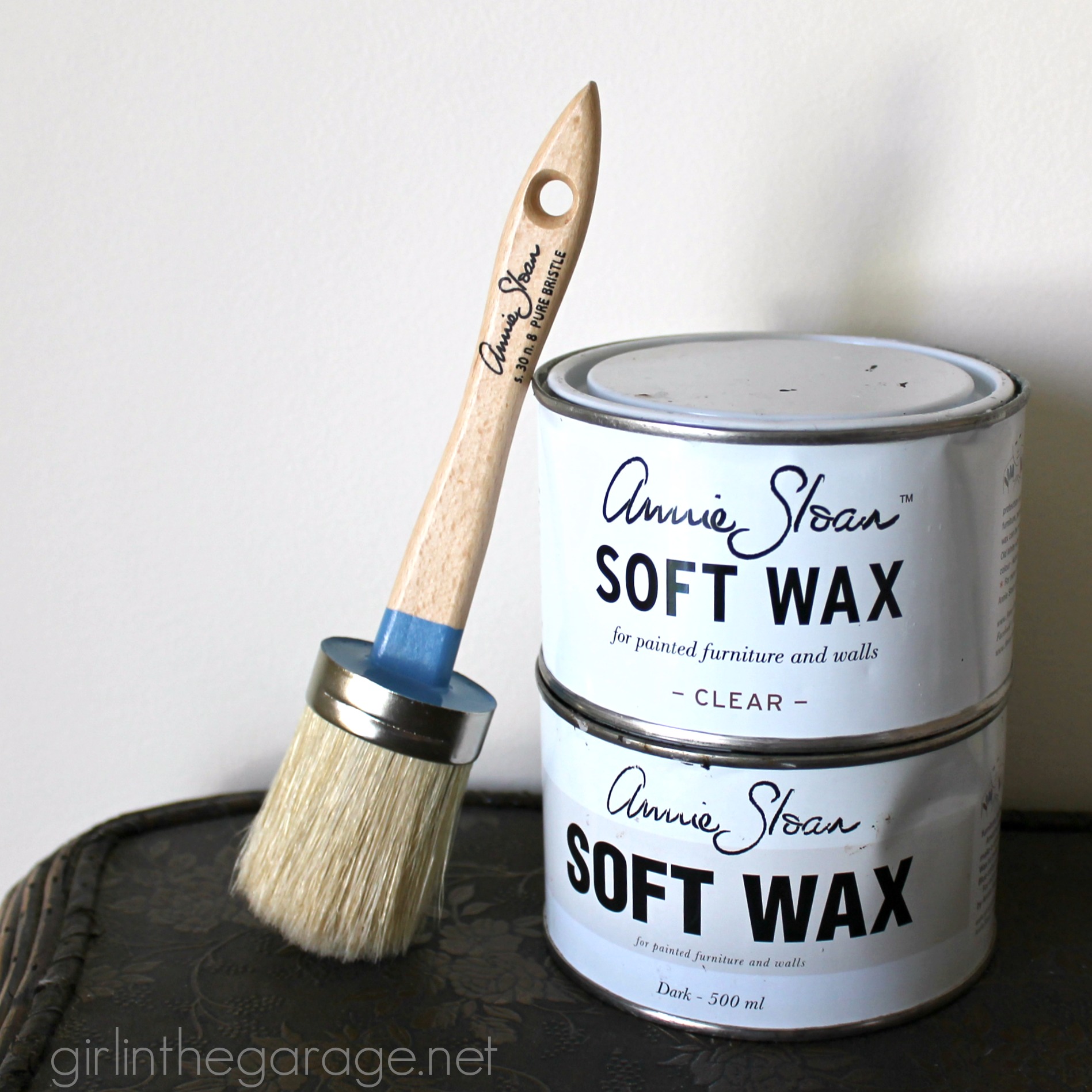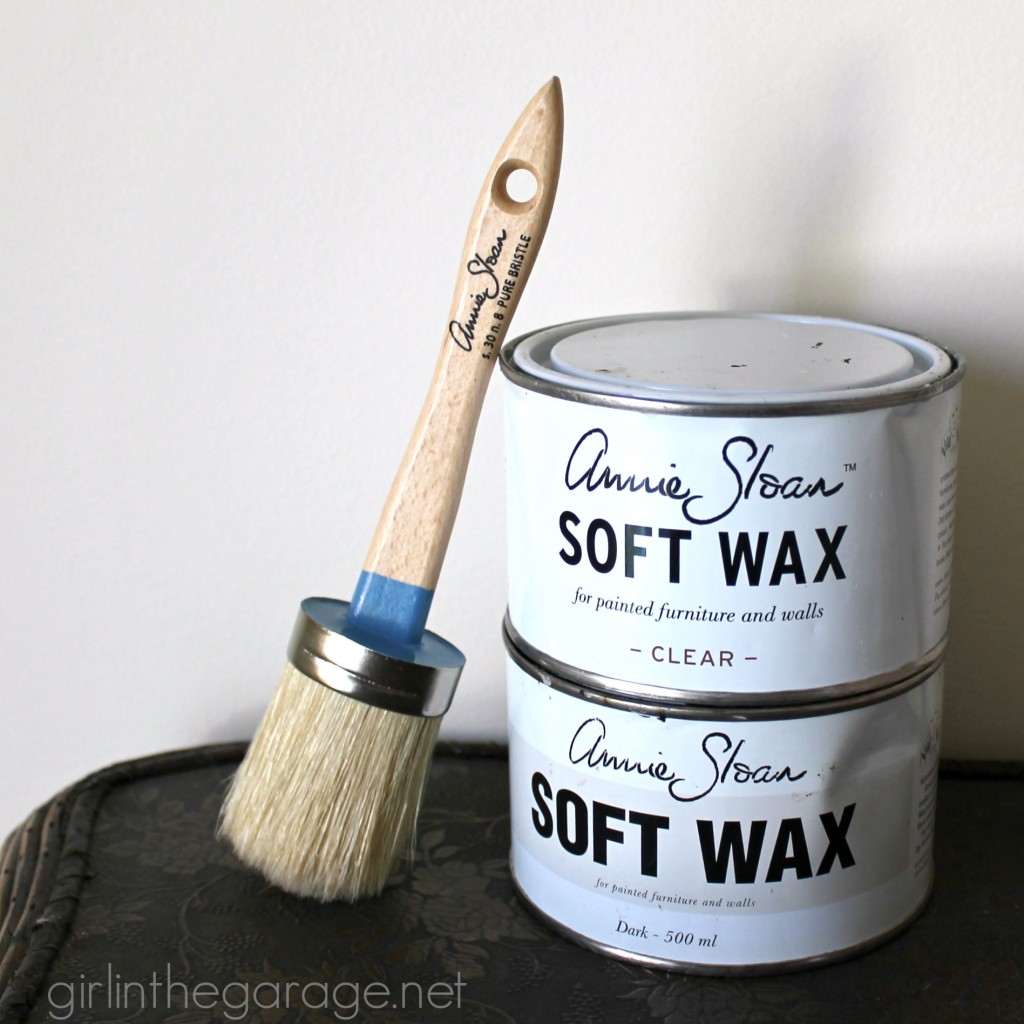 I've been using Chalk Paint® decorative paint by Annie Sloan since last summer – I've owned many cans of paint and wax, and I've done a lot of research.  I've even written a few posts with advice for using Chalk Paint®.  However I never took the plunge and bought the brush. Why?  I'm stubborn.  I thought it was wiser to spend the money on another can of Chalk Paint®.  The truth is, if you are painting more than one or two pieces, then you should really invest the money into a nice brush.  In my opinion, the oval shape allows for faster and better coverage than a traditional brush- and you won't get wax all over your hands like if you use a rag.  (I know this from experience!)
The brush is easier to use if you hold the handle low.  Press the bristles lightly into your wax (it's recommended to scoop some wax onto a disposable plate so you're not dipping the brush repeatedly into the can, possibly contaminating it).  Then work in sections on your piece, pressing the brush down firmly and moving in a circular motion.  Immediately you can tell the difference – the wax doesn't change the color of the paint, but it deepens the hue.  Wax takes about 30 days to fully cure and you'll see the color intensify even more during that time.
When you're finished, cleaning the brush is easy with just soap and water.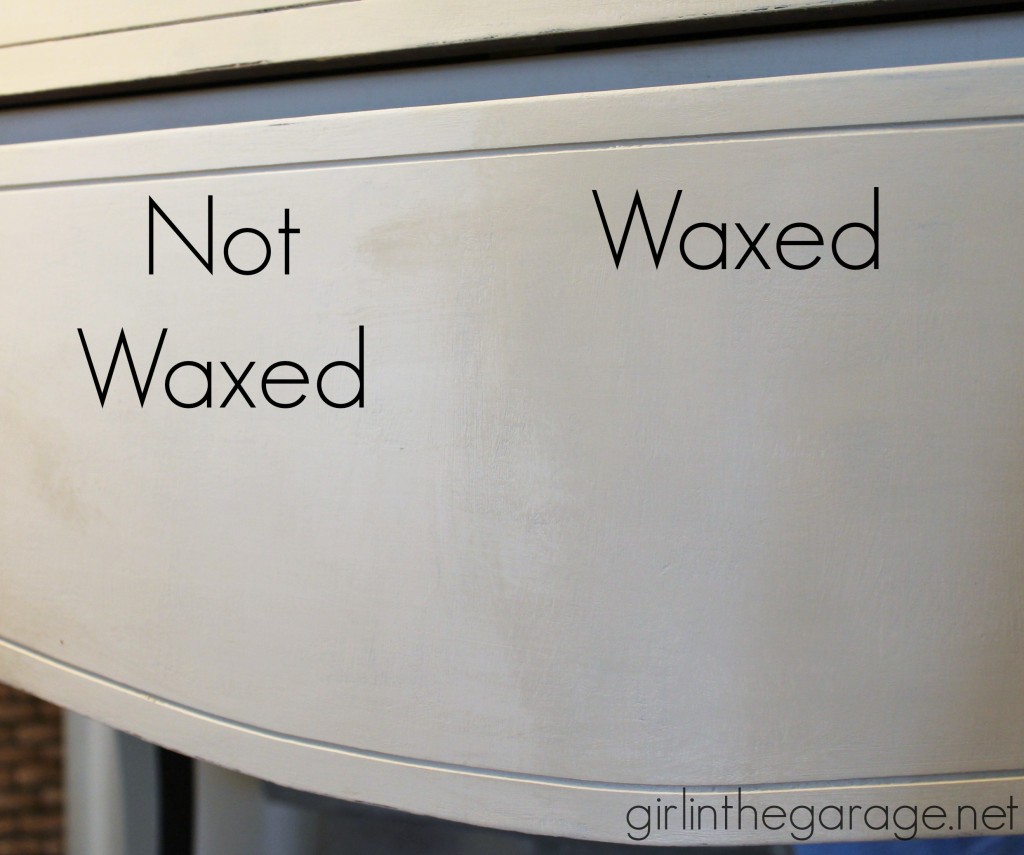 Then I hammered about 400 nails into the drawers.  (I told you my arms and shoulders hurt!)
It took a day and a half of driving my husband, dogs, and kids crazy (in that order) hammering away on the nailhead trim I bought from the craft store.  9 packages x 48 tacks = 432 (minus a bunch that ended up bent or mutilated, before I found my rhythm).
On the second day I was getting ready to start working again and I said "It's hammer time!" but my husband didn't think it was funny.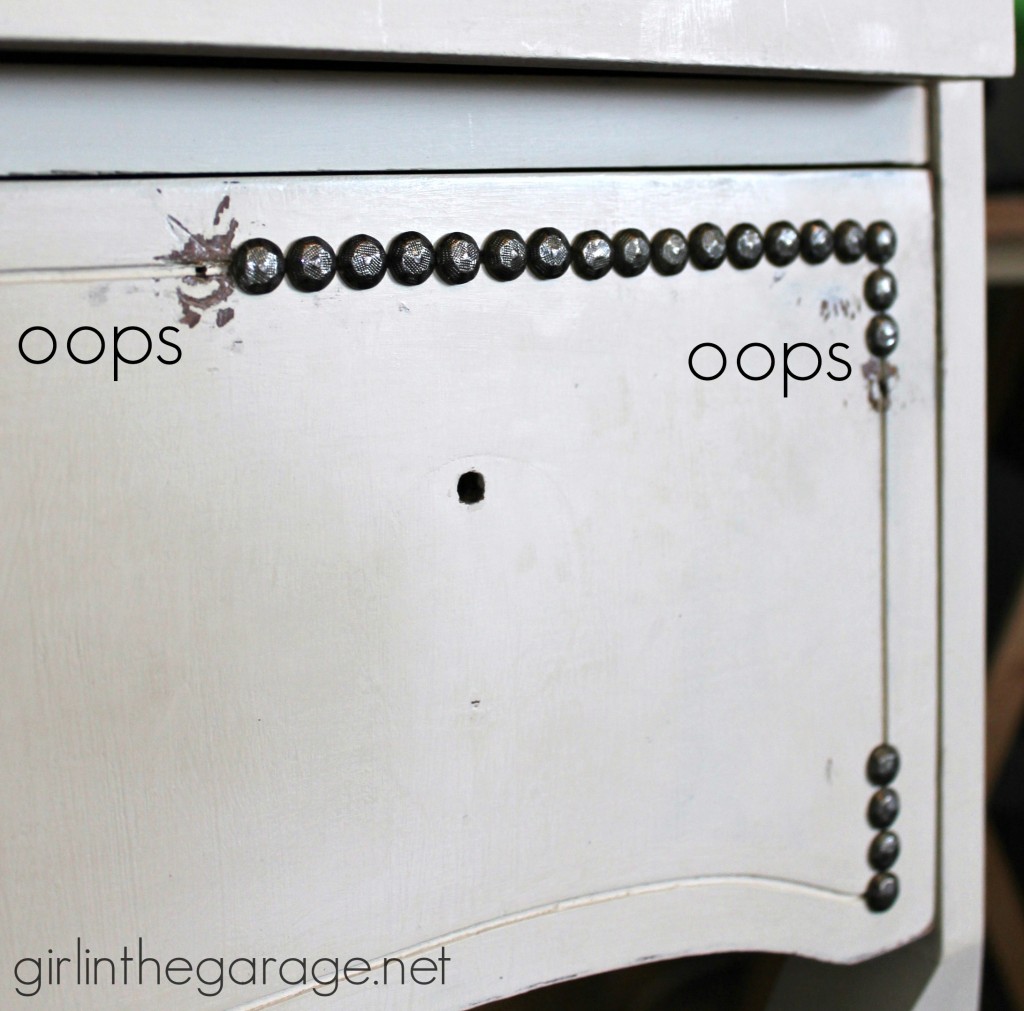 Hint: It helps to take the drawers out first.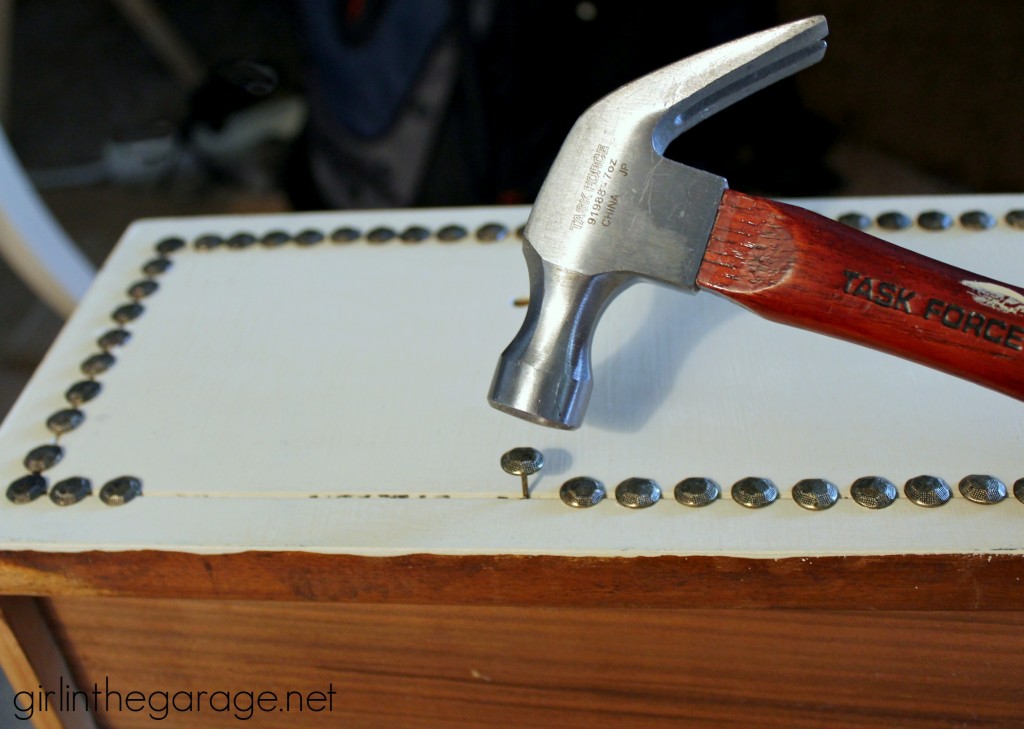 I had to touch up quite a few areas – and only hammered my finger a couple times.  If you look closely it's still not perfect, but it's pretty darn chic if you ask me.
The drawer pulls are antique bronze just like the tacks- I had to do a little hunting to find them but it was worth it.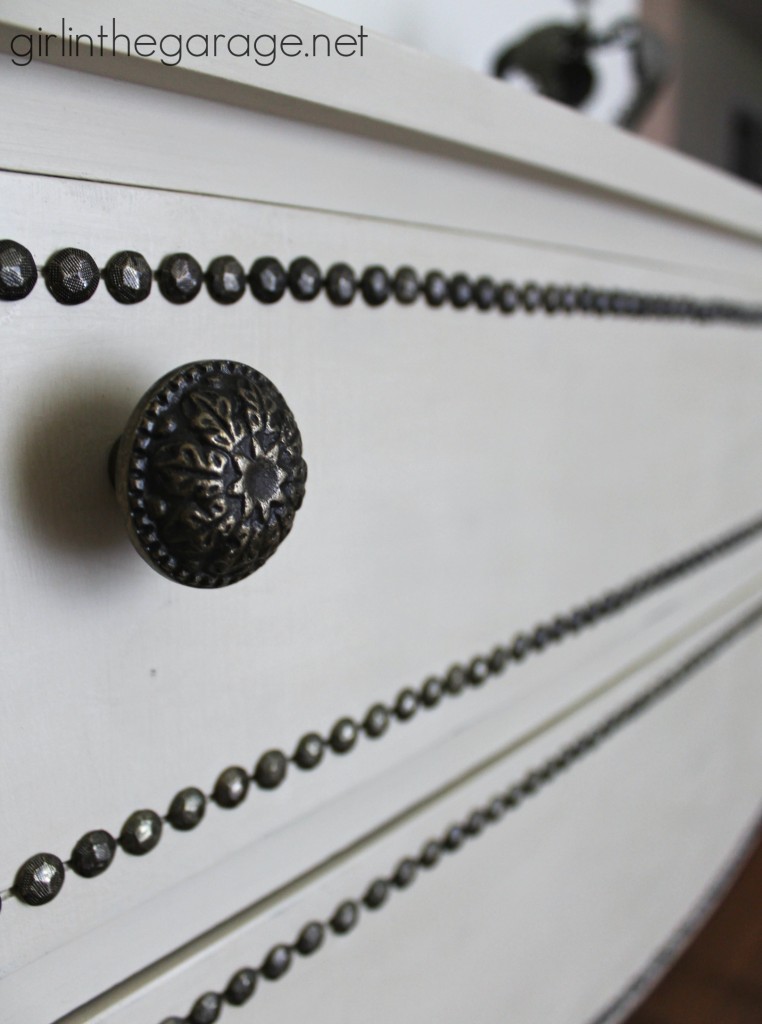 Here's a closer look at the smooth finish thanks to my new Annie Sloan brush!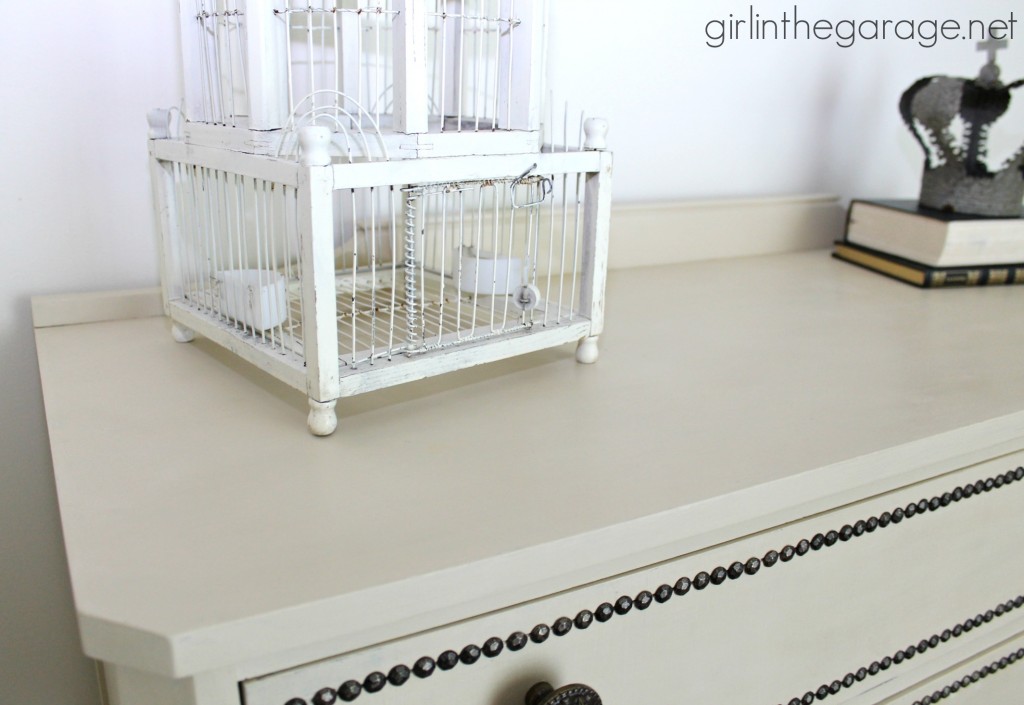 And another…  I love it.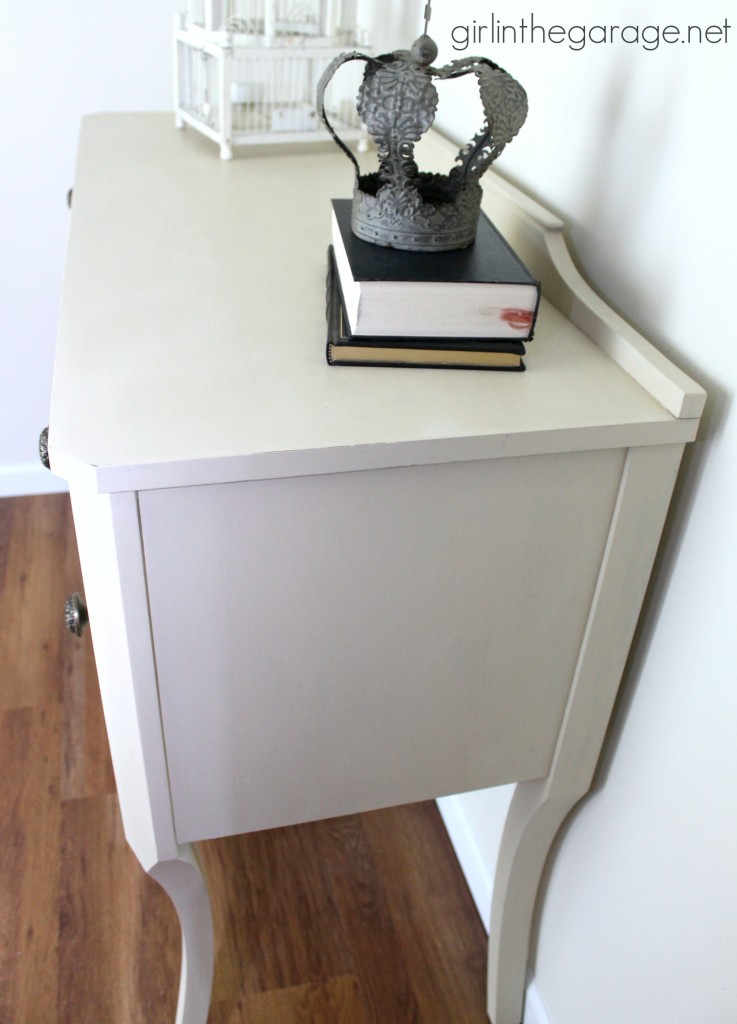 While I was working on this post I found some helpful videos on YouTube.  HERE is a link to Annie Sloan's YouTube channel.
Have you tried the Annie Sloan brush before?
Have you had any pieces you were tempted to give up on, but were glad you didn't?
xo Jen
Related Posts:
* Vanity Makeover and Annie Sloan Chalk Paint® Review and Tips
* Hutch Makeover and How to Give Furniture an Aged Look with Wax
* How Many Pieces Can I Paint with One Can of Annie Sloan Chalk Paint®?