If you stopped by my house unexpectedly one day, you would probably find me in my comfy clothes and my hair in a messy bun.  I'd either be wearing yoga pants and a t-shirt or my painting clothes.  You wouldn't guess that I used to work at Nordstrom or that I used to wear stylish suits everyday as a bank manager.  But if you happened to run into me at church or out on a date with my husband, I'd be wearing a cute dress, shoes, and accessories, with my hair done nicely.  My style has changed because my responsibilities have changed, but I'll always be a fashionista at heart.  (Vogue was my first magazine subscription!)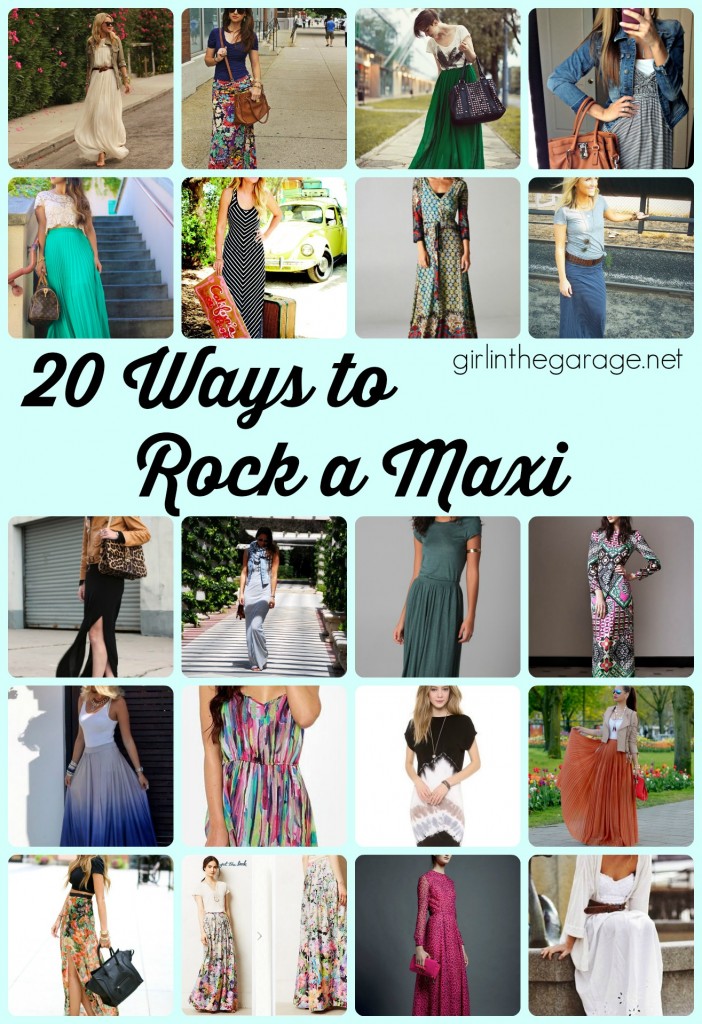 The maxi is probably my favorite spring and summer fashion trend- especially when it's starting to warm up but your legs haven't seen much of the sun yet.  😉  You can dress a maxi up or down by the top, shoes, and accessories you wear with it.
I've chosen 19 of my favorite looks from around the web featuring maxi skirts and dresses – I hope you find some summer wardrobe inspiration!
*Click the link under the image to be taken to the appropriate website, where you can Pin any of these individual outfits.
1.  A casual black and white dress by Lauren Conrad… love her style!
2.  This flowy ombre-type skirt is dressed up with silver jewelry.
3.  A brown leather belt and long cardigan make this white eyelet dress a little more casual.
4.  The colors and patterns on this maxi dress are divine!  Love it.
5.  This style blogger rocks her floral maxi with a boho chic ensemble.
6.  If I had this outfit, I would wear it every day.  😉  It looks so bright and comfy!
7.  This faux-wrap dress also has a bohemian vibe.  I've seen it advertised on Pinterest from many stores but I actually bought it for a great deal on Pick Your Plum a couple months ago!
8.  I'm a girl who loves a good jean jacket!  It looks great paired with this striped maxi dress.
9.  This tie-dyed dress would be perfect for an outdoor evening concert.
10.  This is another maxi that could easily be dressed up or down.  That fabric looks so comfortable!
11.  Another cute casual look with a t-shirt and leather belt.
12.  Hot pink cheetah print?  YES!
13.  A maxi with a scarf is perfect for those spring days that start off chilly and then warm up by afternoon.
14.  This orange pleated maxi looks great paired with a neutral leather jacket and eye-catching accessories.
15.  This look is sweetly feminine!
16.  Another flowy dress with bright colors – it looks like a work of art.
17.  This large studded bag provides a contrast to the sheer feminine skirt.
18.  A romantic gown and heels are offset with a boyish cargo jacket.
19.  Anthro pairs an artsy floral maxi with a simple t-shirt.
20.  Lastly, leather and leopard add drama to a simple black maxi skirt.
Are you on the maxi bandwagon?
Which style above is your favorite?
Jen
Recent Awesome Posts:
* The Repurposed Wardrobe: 9 Upcycle Projects
* Easy DIY: T-Shirt into Infinity Scarf