This post is part of a campaign with Martha Stewart Crafts/Plaid and BluePrint Social.
September is just around the corner and that means: Fall!  Are you ready for it?  Cooler air, apple cider, colorful leaves falling gently in the wind, pumpkins…  I've seen some awesome fall decor inspiration around the web already but I've been a little hesitant to dive into it…  That is, until I received a goody box filled with Martha Stewart Decoupage products in the mail.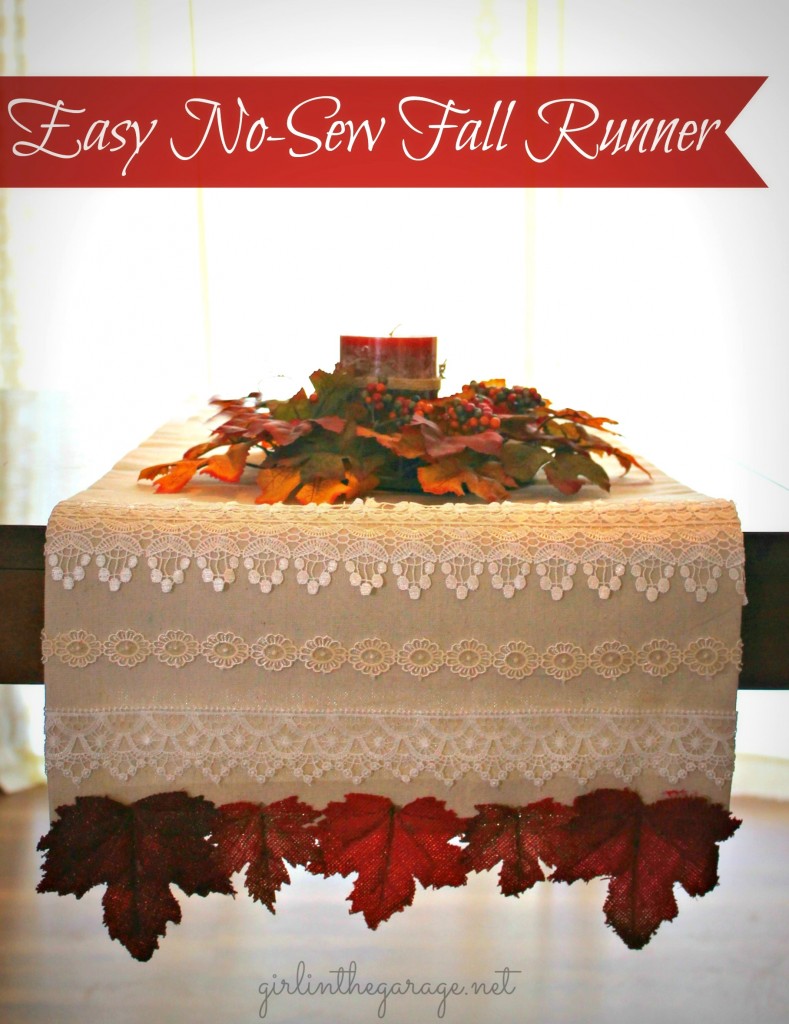 The box included all kinds of decoupage products (glue, soft bristle brushes, paint, fabric and lace embellishments – all available at Michaels):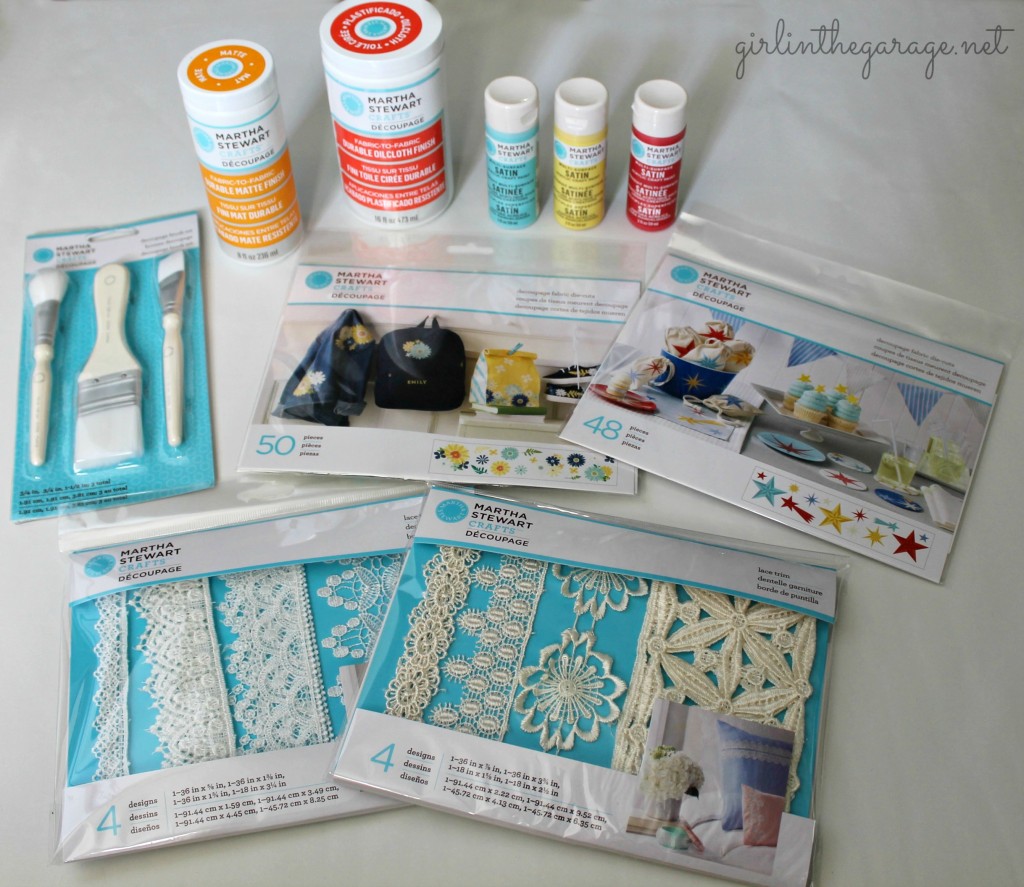 I knew right away that I wanted to make some fall decor so I chose: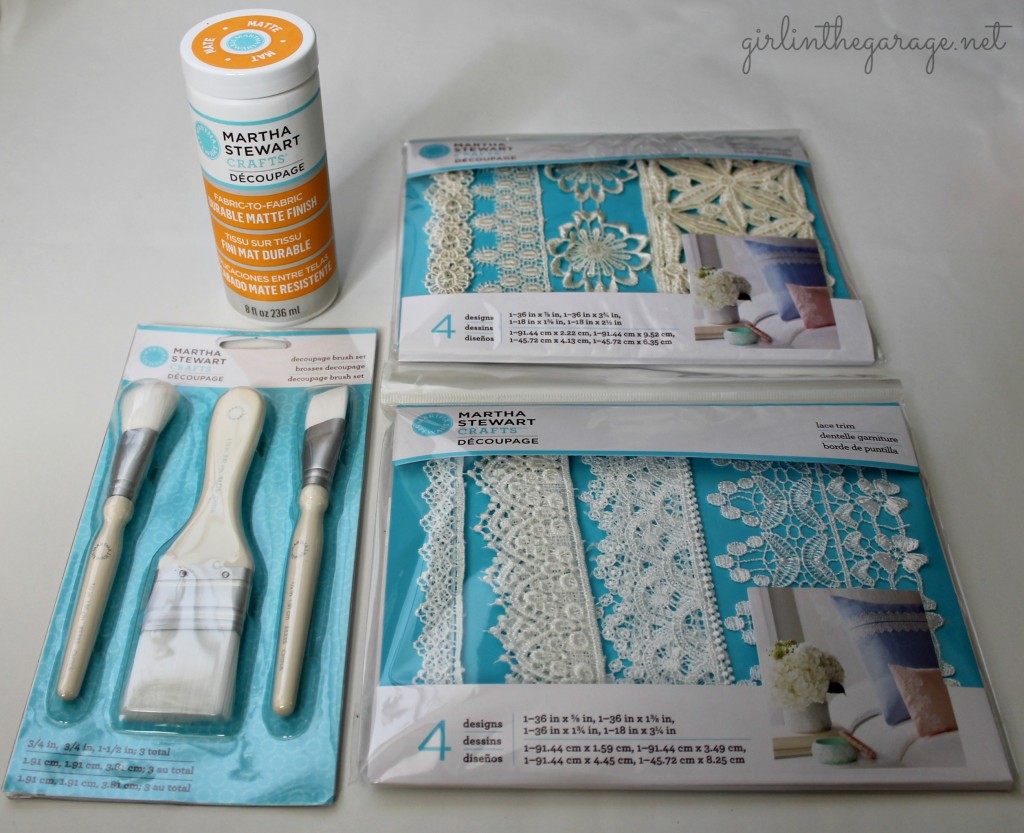 Other supplies used:
Some drop cloth from my stash (available at hardware stores)
A sprig of glittery cloth leaves from the craft store
I don't have a lot of fall decor, so this was the perfect time to DIY some.  Since I had the fabric-to-fabric decoupage, I decided to make a runner with lace embellishments for my table.  (Somewhat reminiscent of the fancy shower curtain I made.)
First, I ironed and cut the drop cloth.  Cut it to the length of your table figuring ample fabric on each side for overhang.  I cut my width at 18 inches.
Then I folded about an inch back all around the edges and ironed it flat.  I used the decoupage to glue the hem in place.  (It's thicker than other glues I've tried, so you don't have to worry about it running and making a mess.)
You're supposed to let it dry for 1-2 hours but I had plans that evening so I ended up letting it sit until the next day.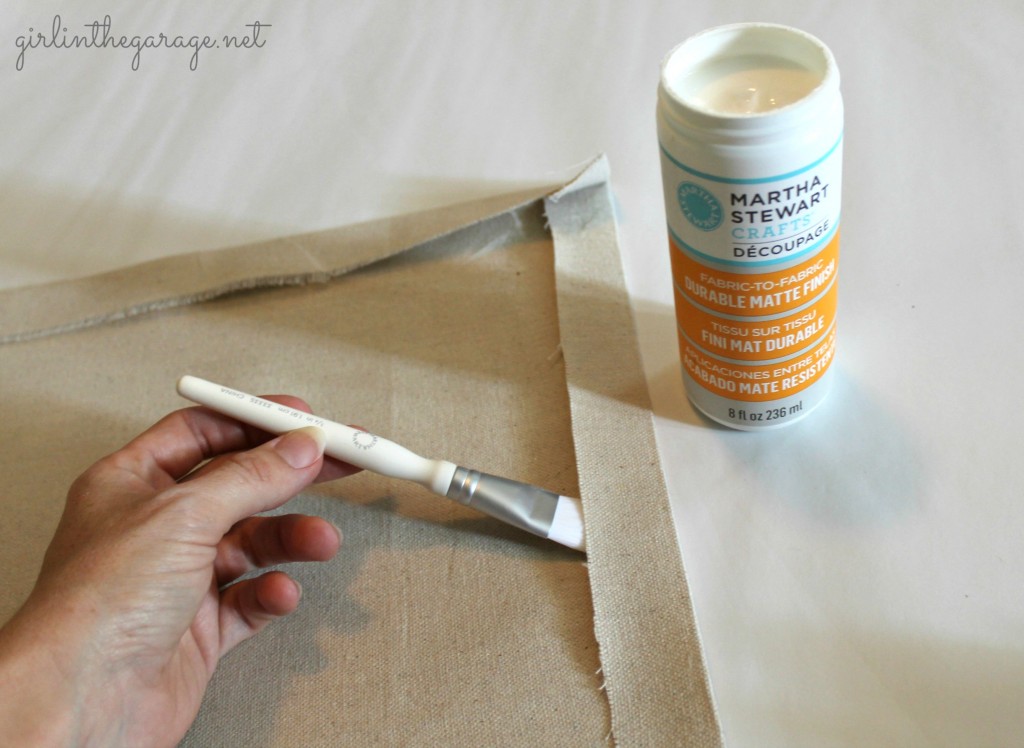 I flipped the drop cloth over and then cut strips of lace, leaving about an inch extra on each side.  I arranged them how I wanted them and used the decoupage to glue them in place.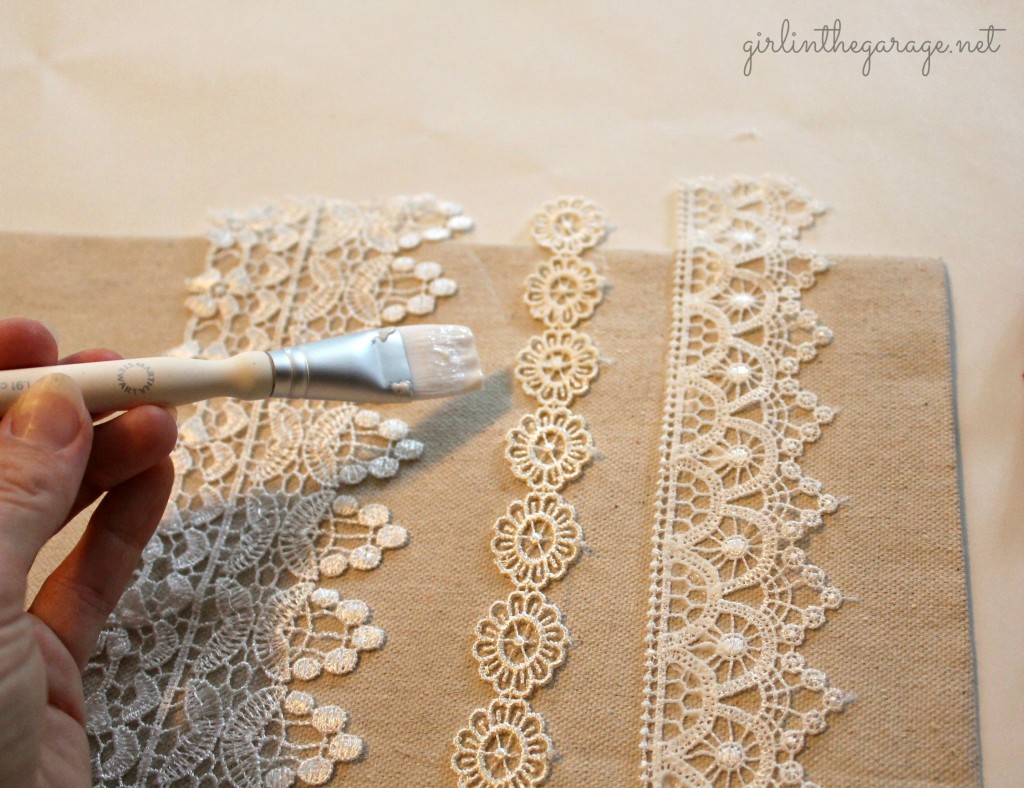 Then I took the sprig of leaves and twisted each leaf until it came off (you can also use wire cutters if you have some).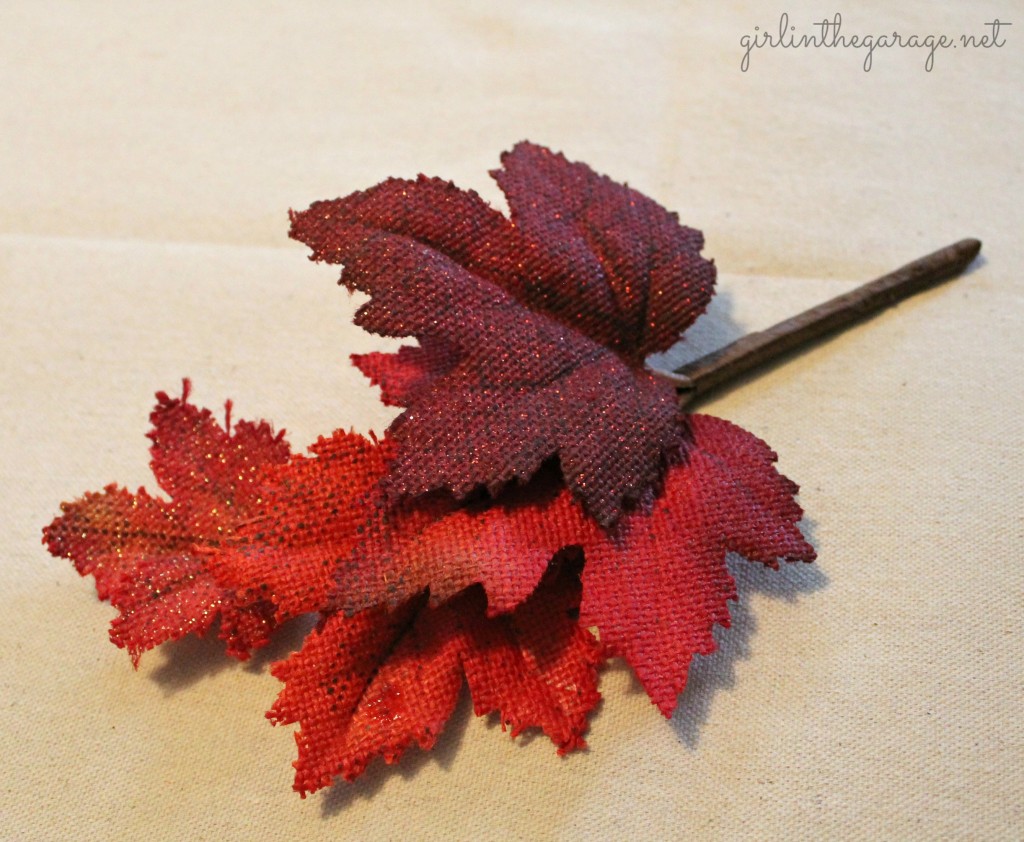 I glued each leaf to the end of the runner to make a border.  Since they were thick I used extra decoupage glue and set something heavy on top until the glue started to harden.  I let it sit for a couple hours, then I flipped it over and glued the ends of the lace to the back of the cloth – letting it dry for about another hour.
I really love how the lace and leaves come together to make a beautiful elegant fall runner – and no sewing required!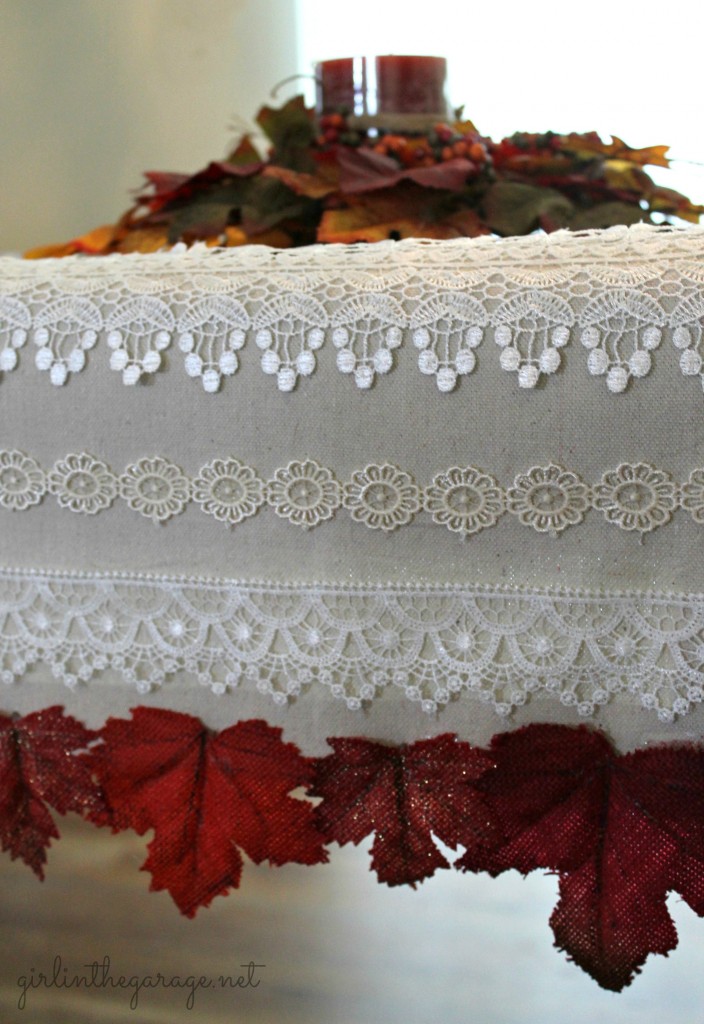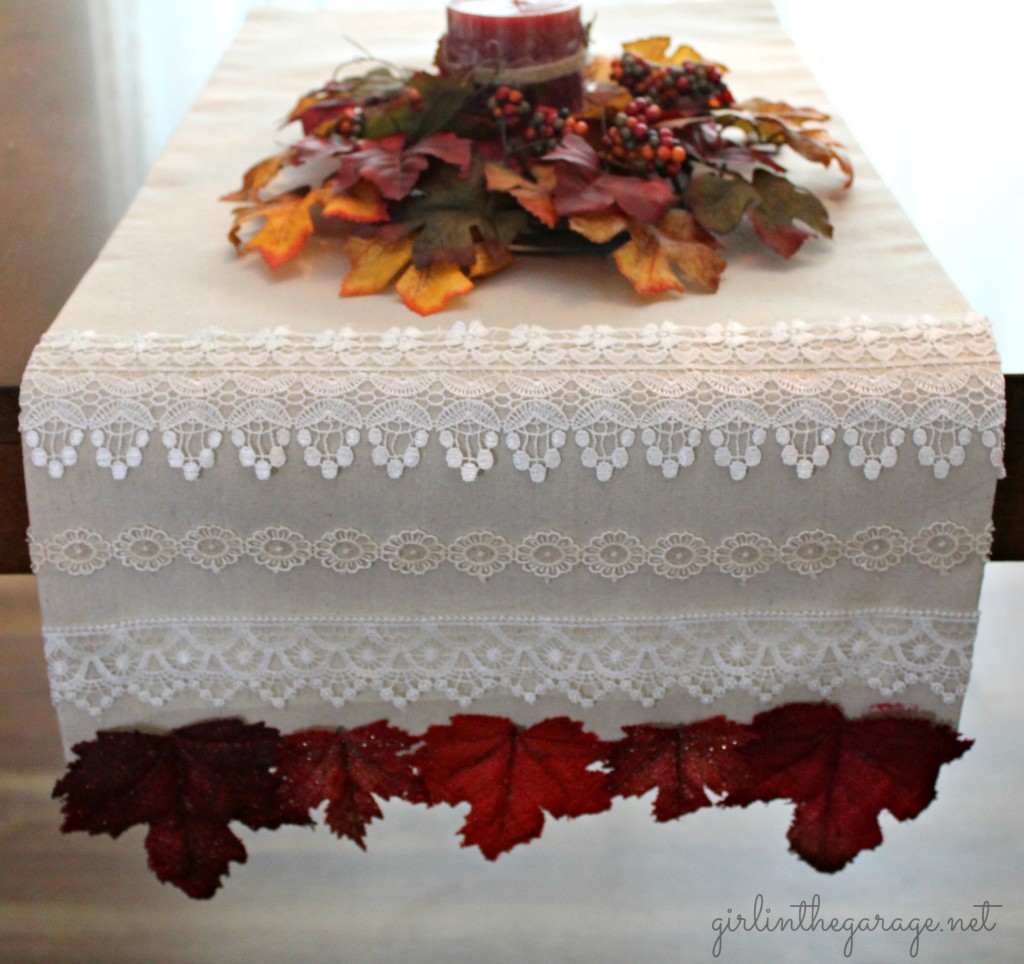 But I didn't stop there.
I also had some plain white pillar candles that I wanted to dress up.  So I got a couple of my burlap scraps and glued some lace on top.
Once they were dry I wrapped them around the candles and used the decoupage to glue the ends together.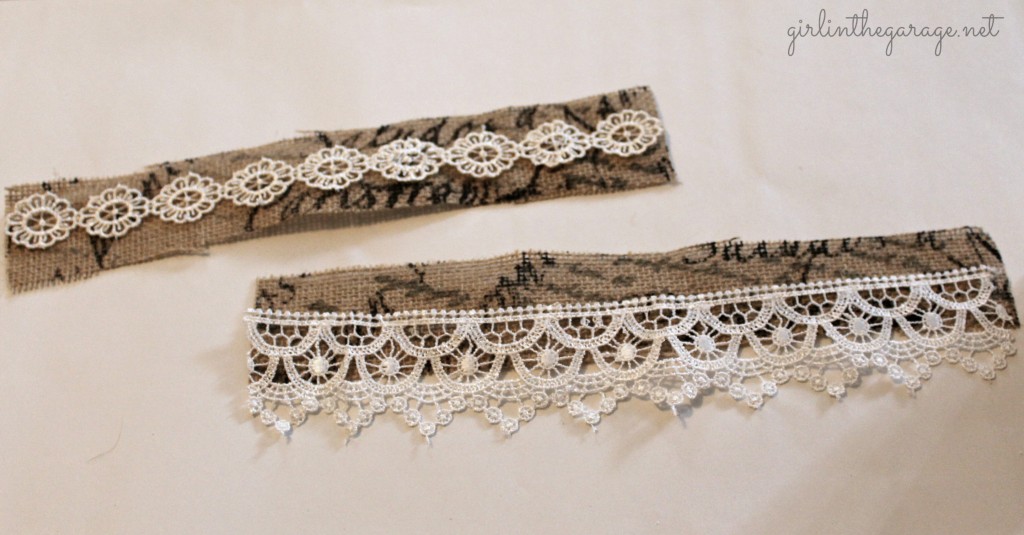 Now they're sitting pretty on my mantel!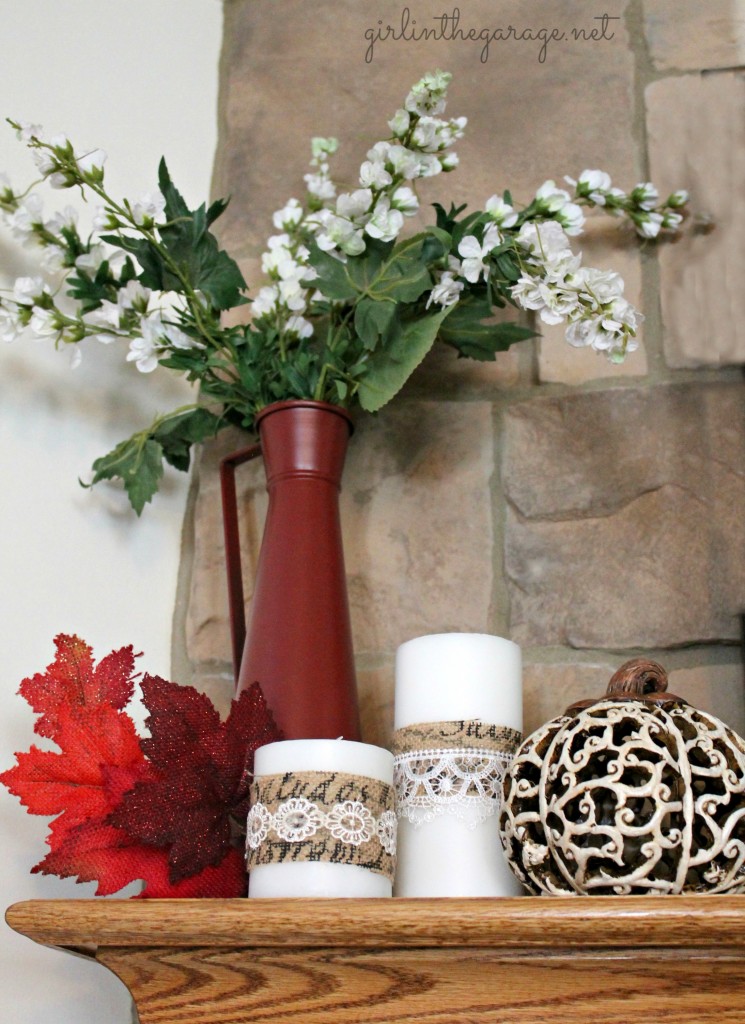 Martha Stewart Decoupage is great because it's durable and easy to work with.
Try some for yourself!  🙂
To discover more inspiration from Plaid:
● Inspired by Plaid on Facebook
Jen
You can also check out what some other lovely bloggers have created with Martha Stewart Decoupage products:
<!inlinkz code start >

<!inlinkz code end >
Join the GITG Community
When you join this thriving online community of 90,000 creative souls, you'll be inspired to discover hidden artistic talents and learn skills to boldly face DIY projects with confidence.
You'll also receive my free guide "Just Paint It: 7 Tips for Transforming Furniture with Confidence."