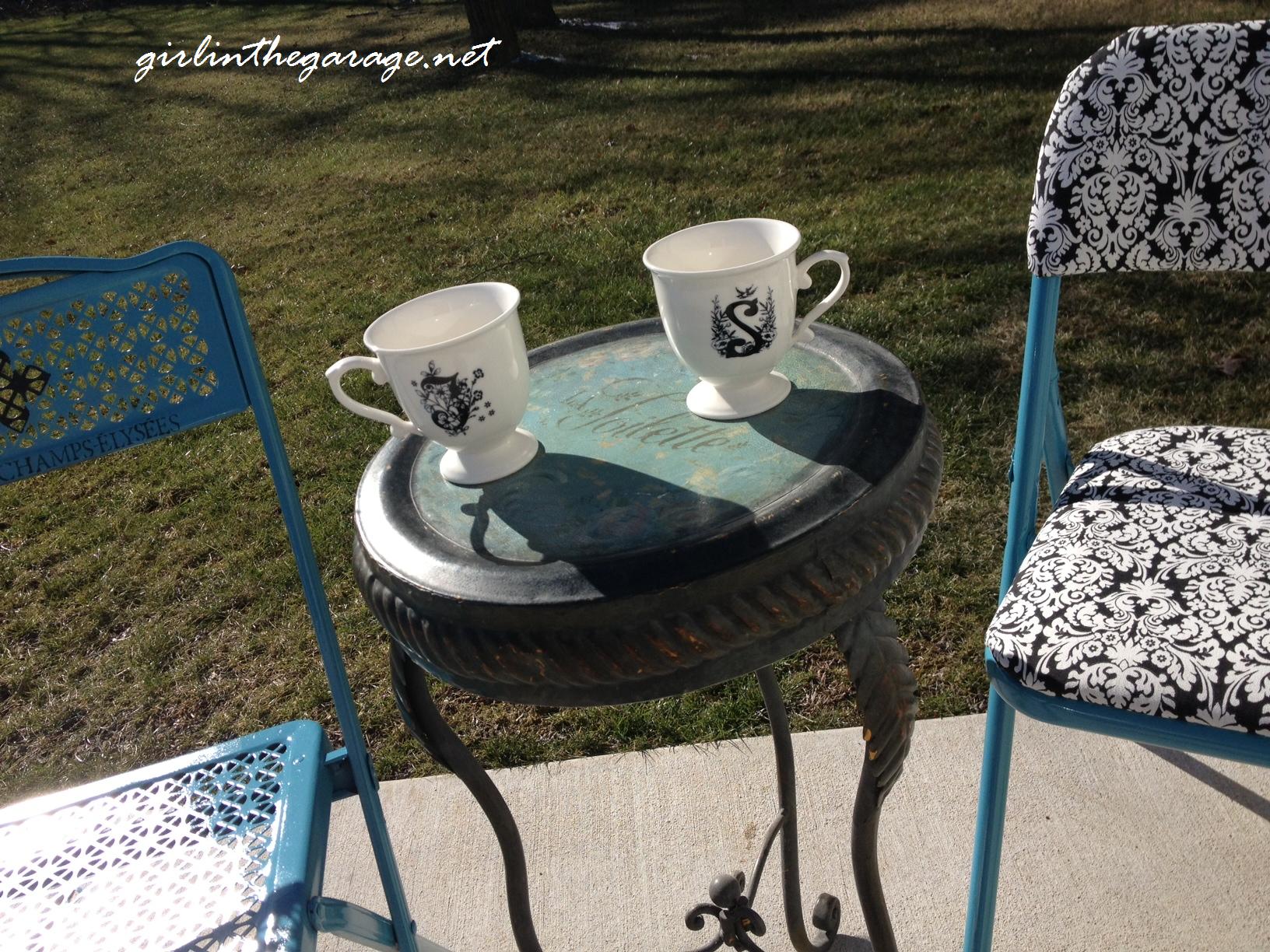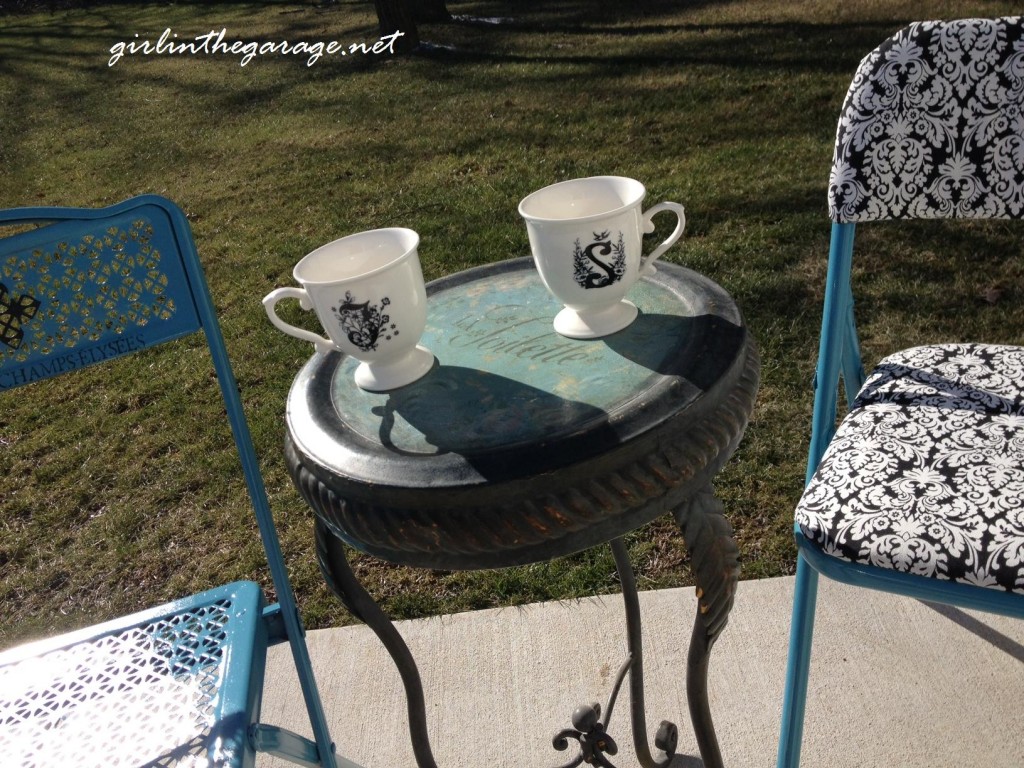 Extra seating – we all need it, we all use it.  But it doesn't have to be ugly, right?!  I've probably never seen a folding chair do anything to help someone's decor.  Brown, gray, black – boring, boring, boring.  It's time to take a stand against furniture with a lack of personality.  Who's with me???   All kidding aside, I had these two chairs from different thrift stores and they were functional but oh-so-desperate for a makeover.  They were totally different in almost every way except for being folding chairs.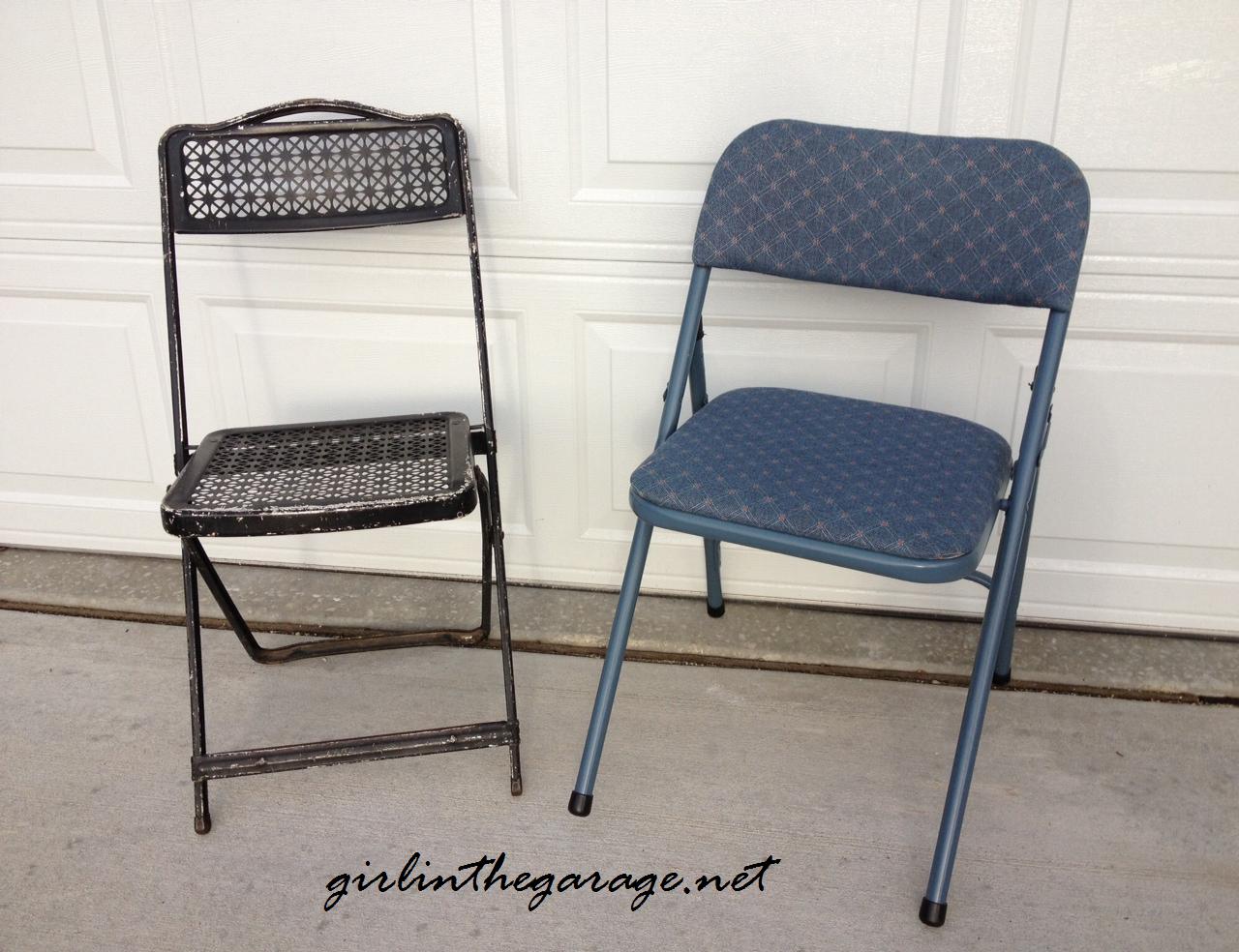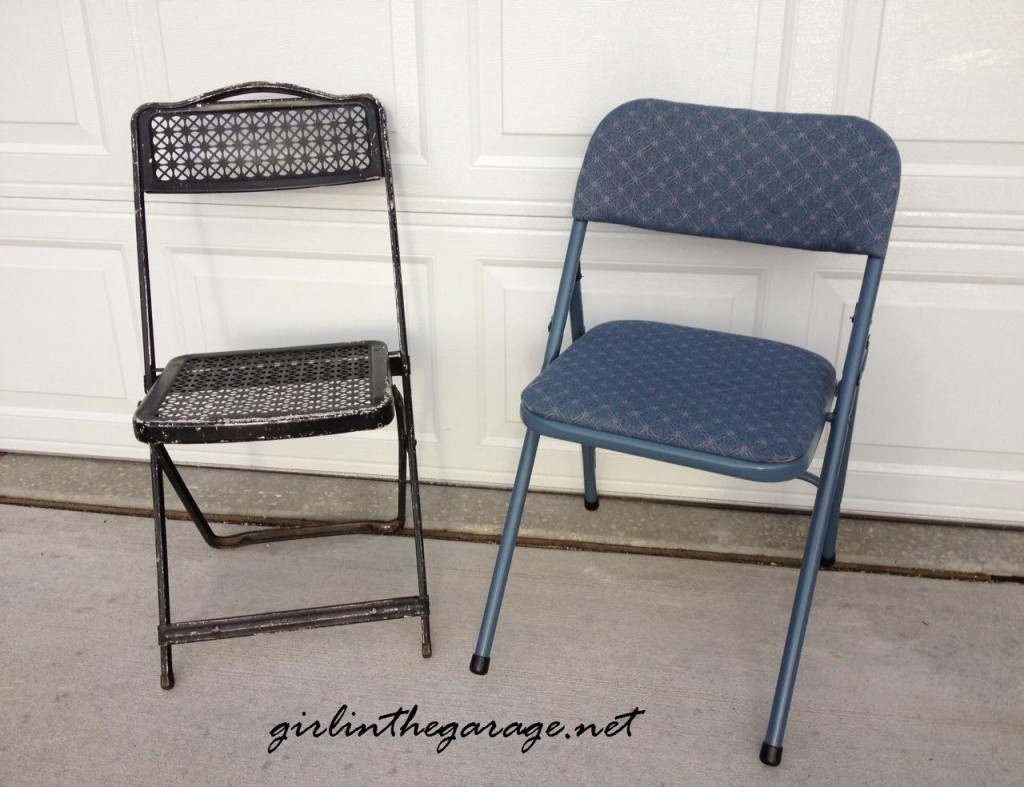 The chair on the left is very vintage and reminded me of one of the cafe chairs outside all the little bistros in Paris.  Apparently it was all black at one time but the silver underneath was showing in many areas.  The chair on the right is just a typical padded folding chair, with some ugly blue fabric.  Comfy but booooooring.
First I headed to Lowe's to buy some spray paint and then to Joann's to get some fabric.  I had to wait for an unseasonably warm day and then removed the padding and spray painted both chair frames with Valspar Gloss in Tropical Oasis.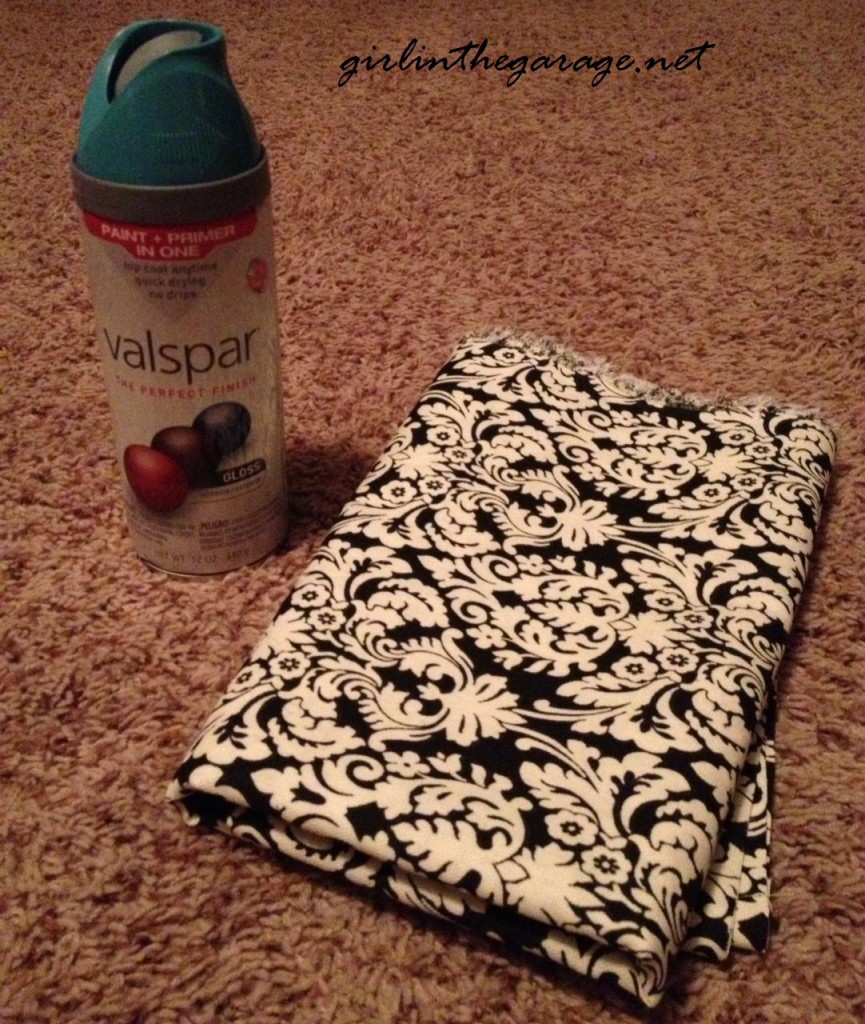 I left the chairs in the garage to dry and de-stink, then started working on recovering the padding from the seat and back.  I cut the fabric a little large and taped and trimmed as I went.  I used a staple gun and had to secure many of the staples with a hammer since they didn't have much to grip inside.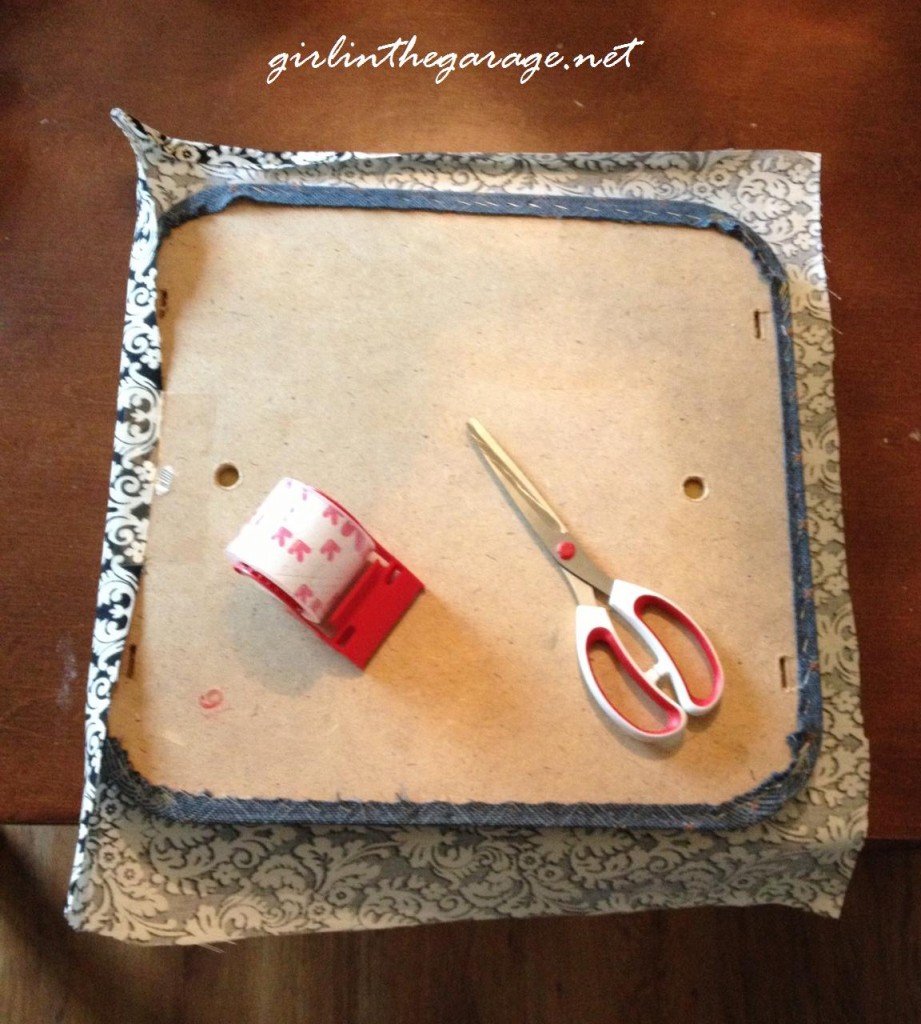 Once those pieces were finished, I brought the vintage chair inside to give it a little more character.  Since it reminded me of Paris (my first love!), I decided to add a stencil to make it seem more authentic.  First I stenciled on paper and then I taped the paper to the chair to use as a guide for alignment.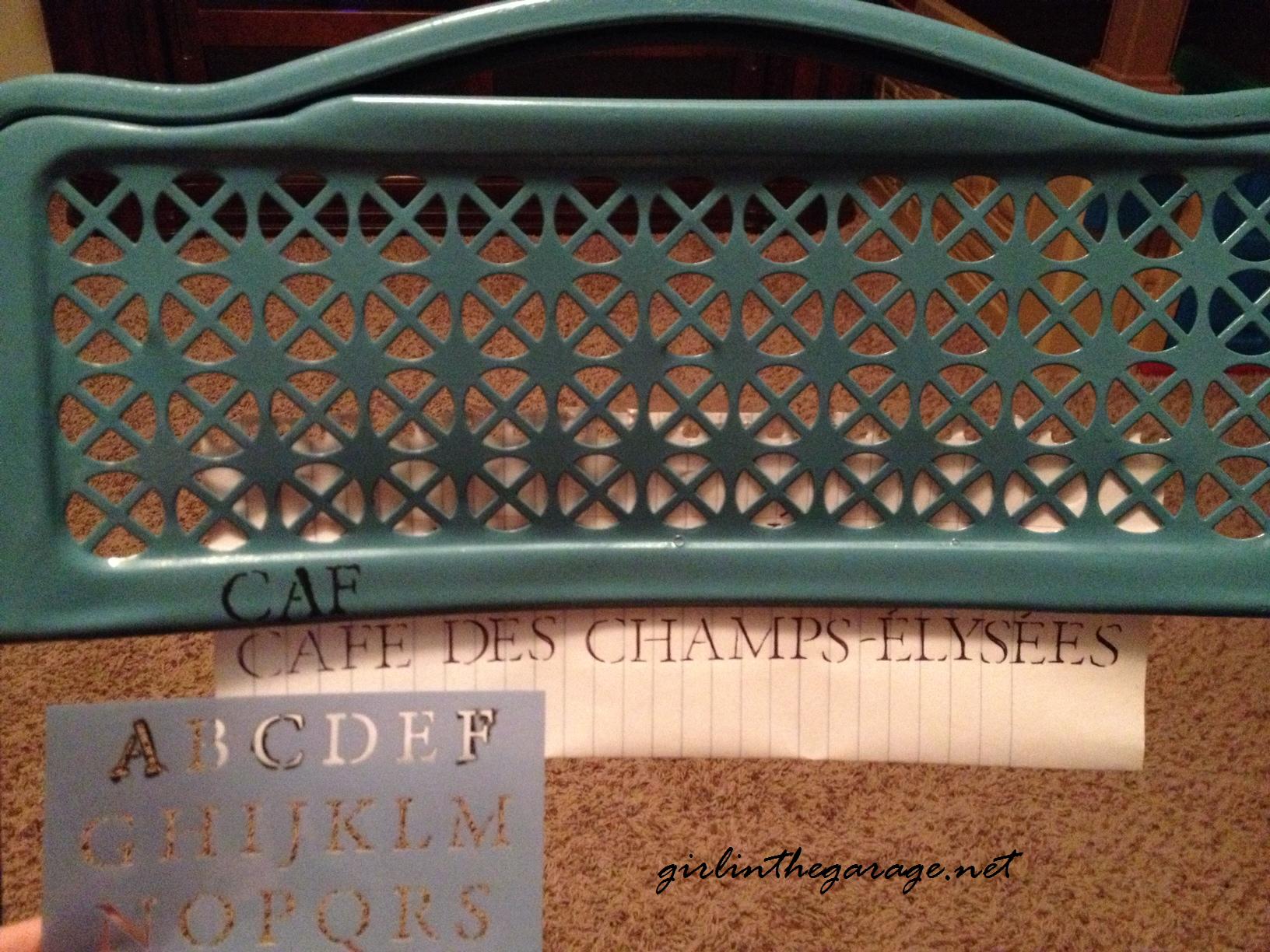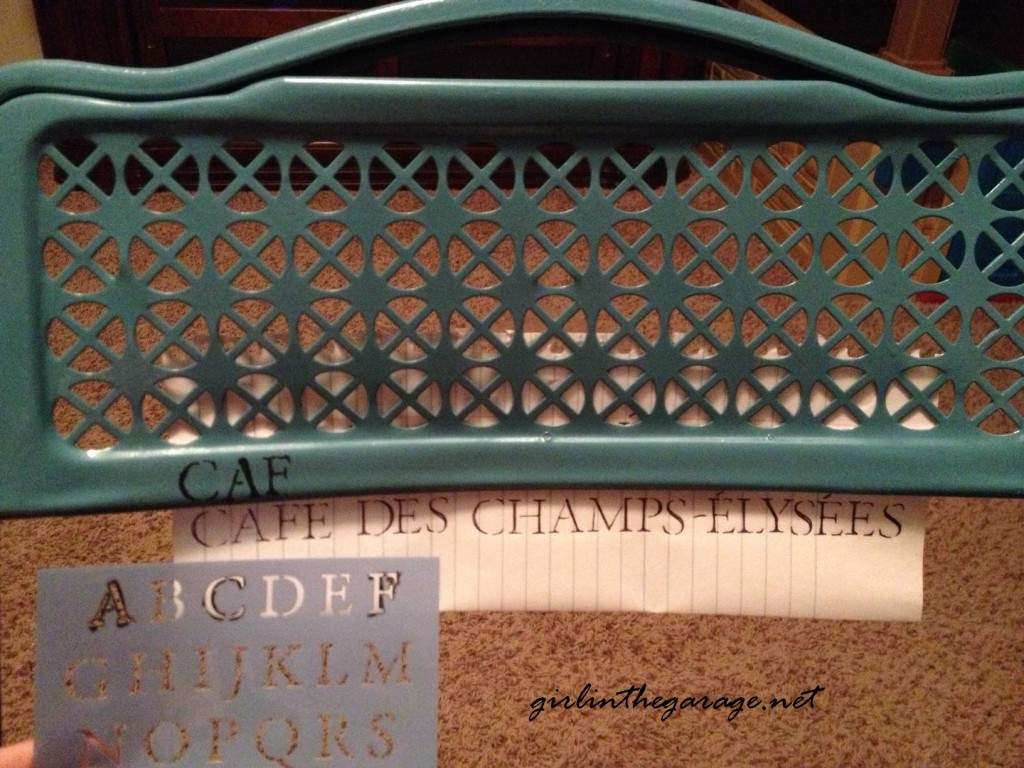 I also stenciled a fleur-de-lis but it didn't quite turn out… so I ended up making it into a random shape/flower design.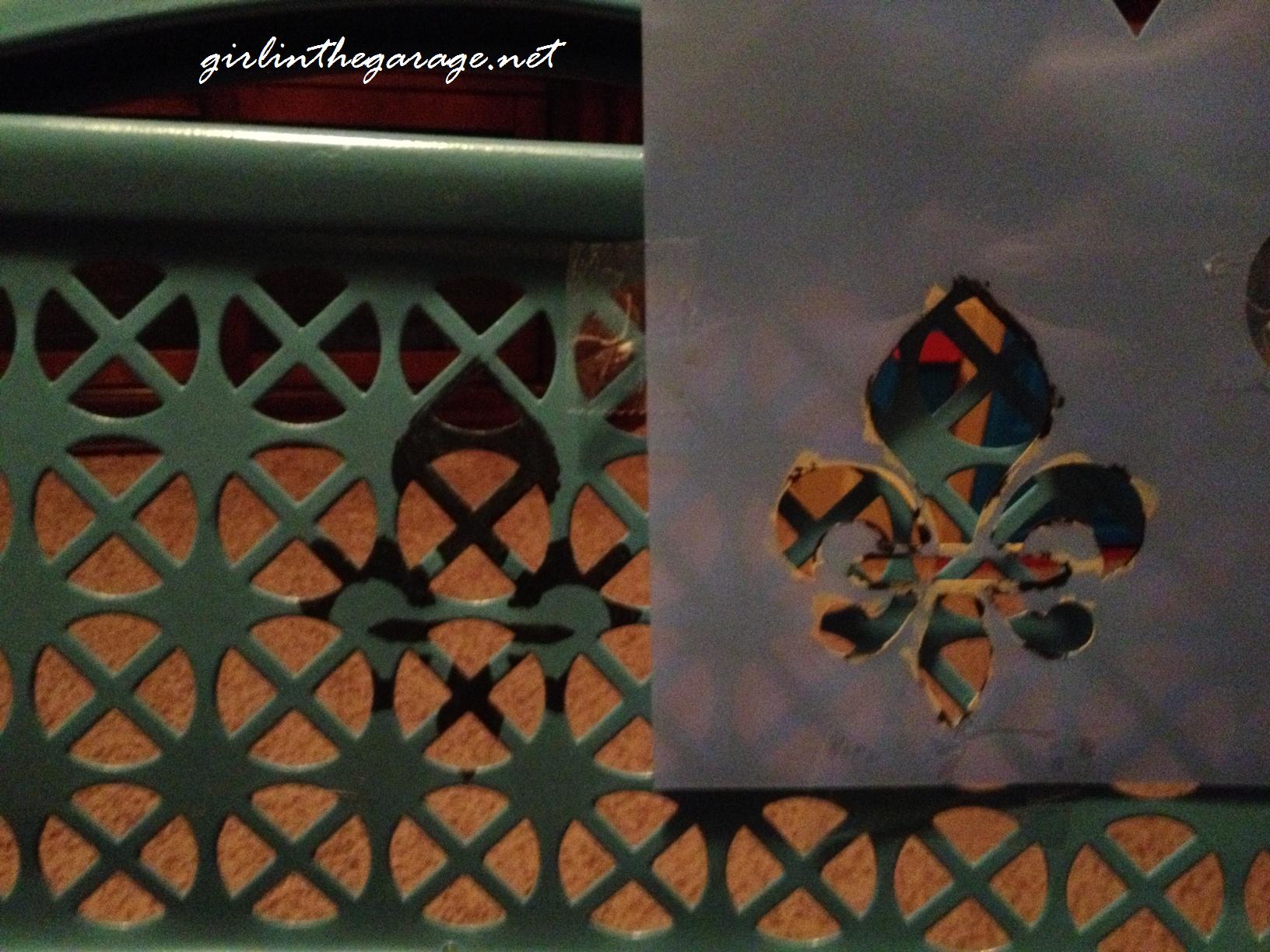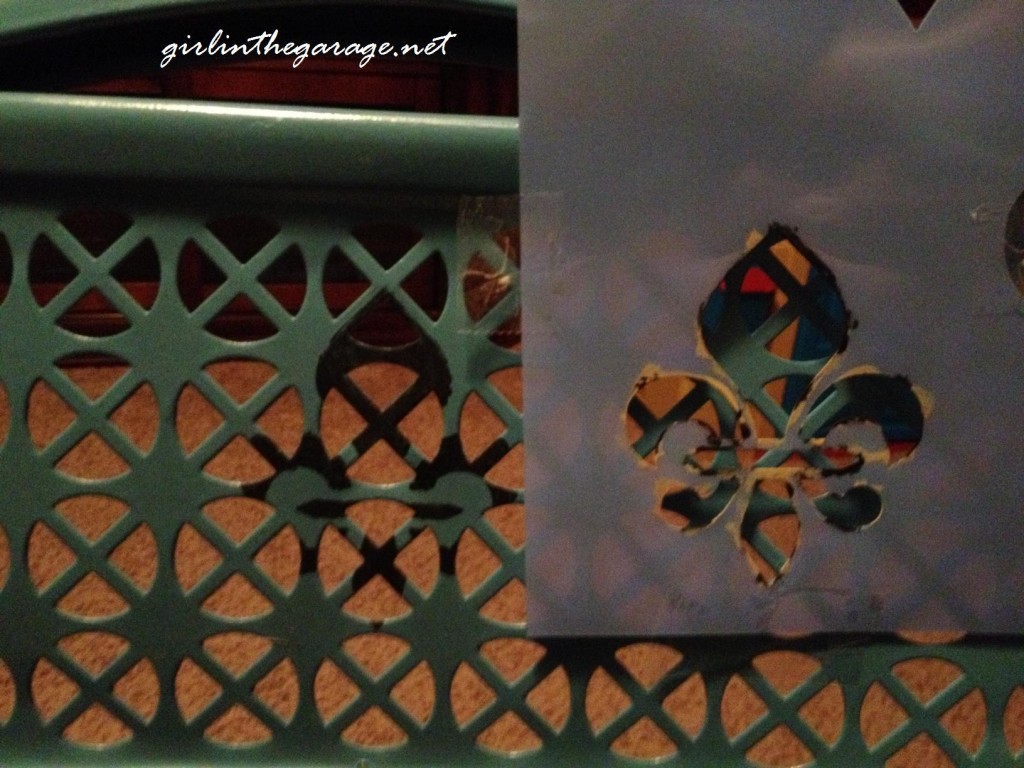 Then I decided to follow the cafe theme and set up my own "tea for two" outside in 20-degree weather…lol.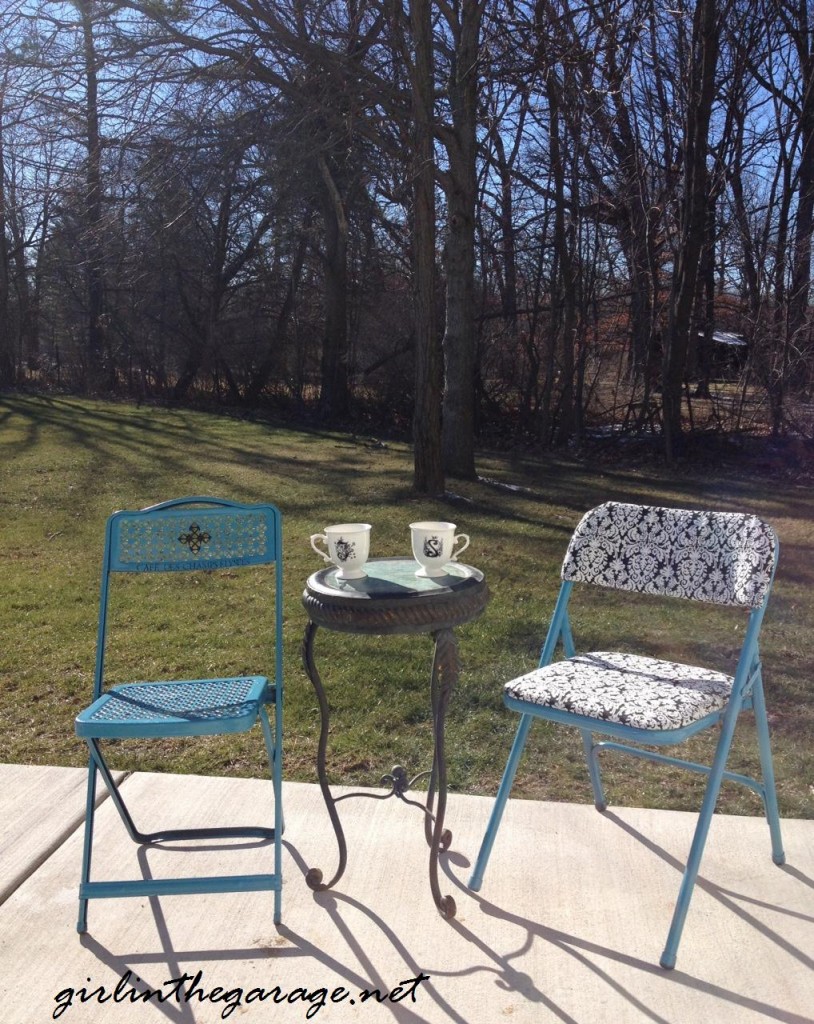 Anyone care to join me?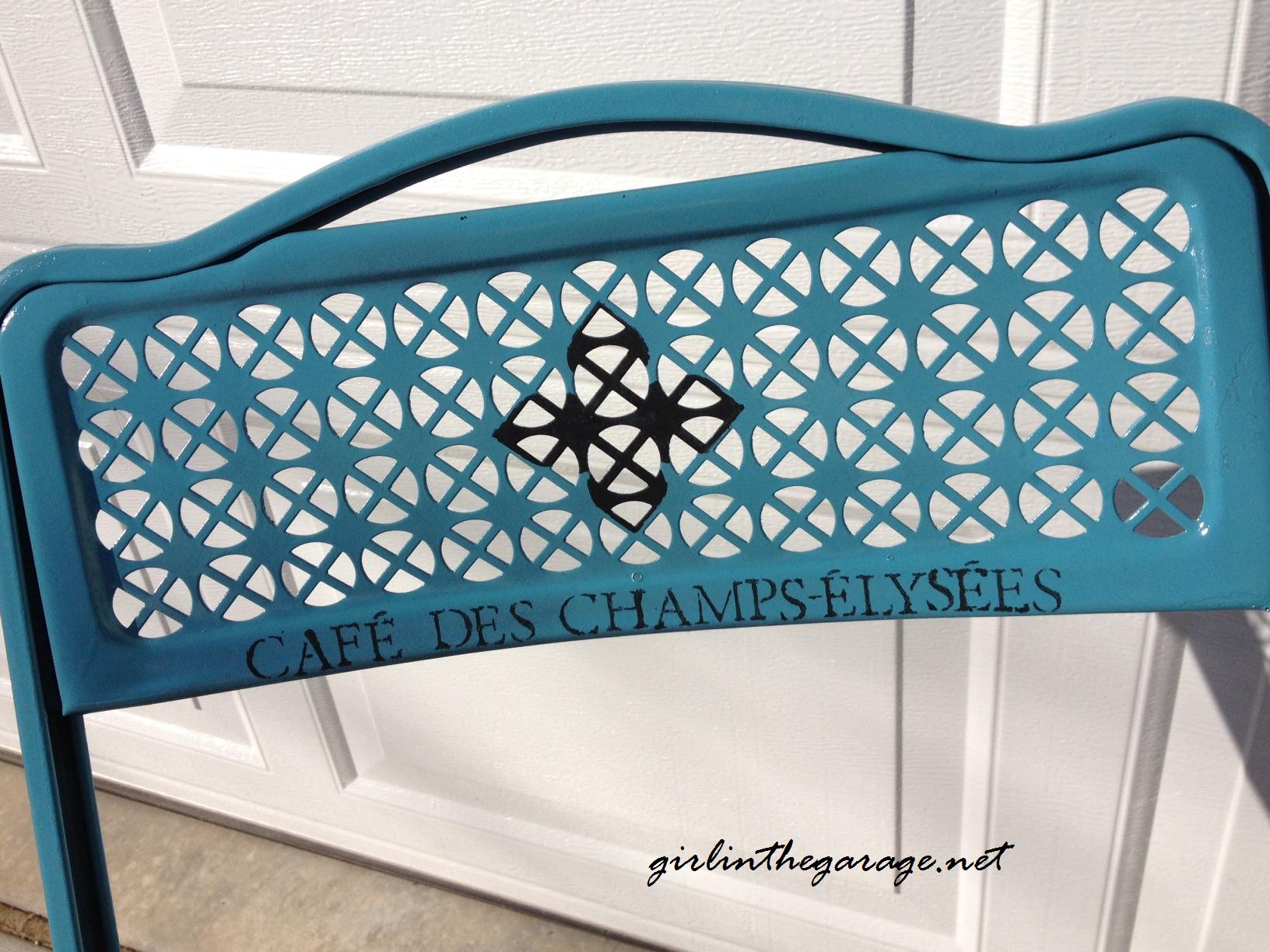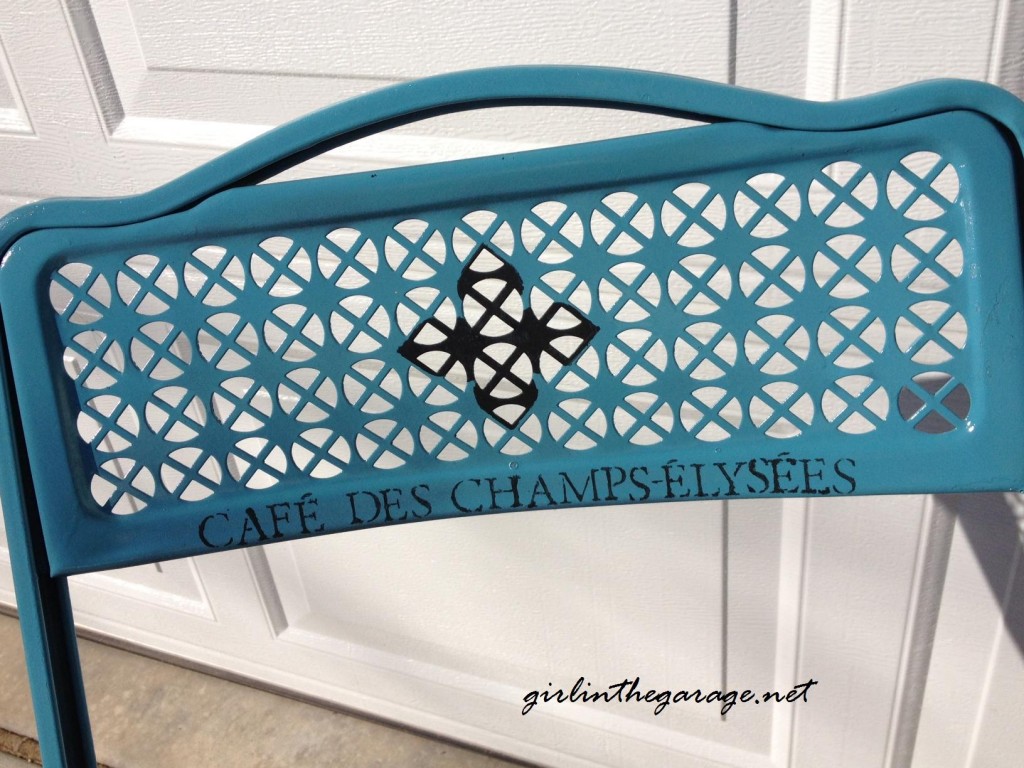 I just love how the spray paint color turned out- turquoise is one of my favorites right now!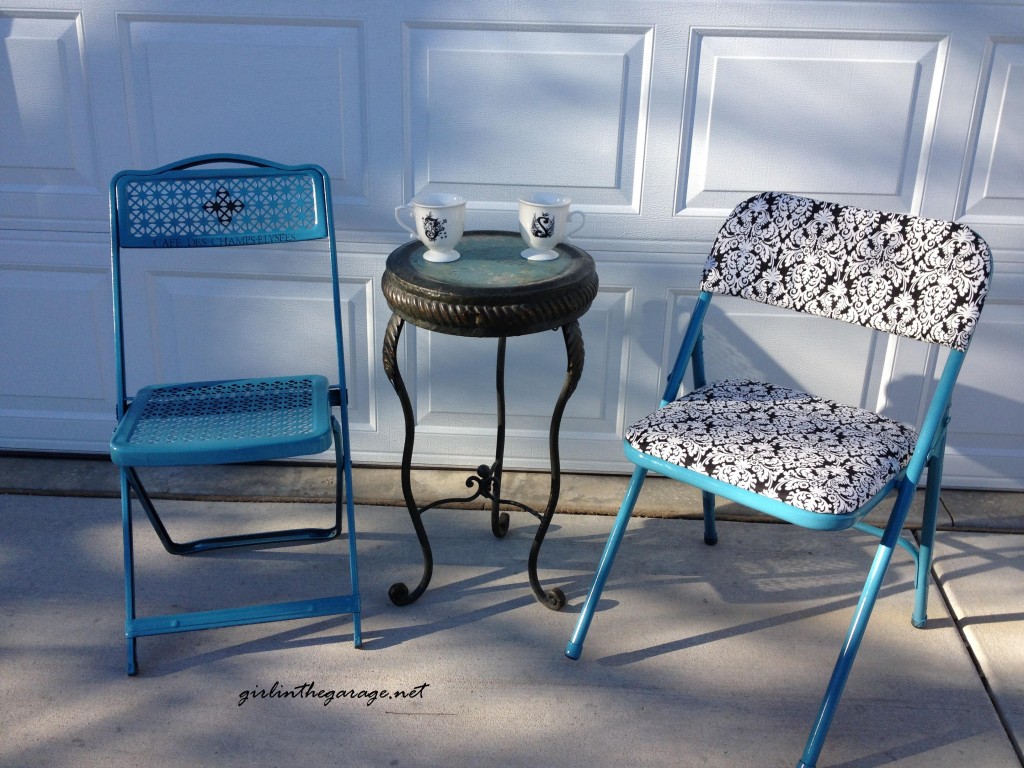 The monogrammed mugs were a gift from my in-laws a few years ago, and were purchased from Anthropologie.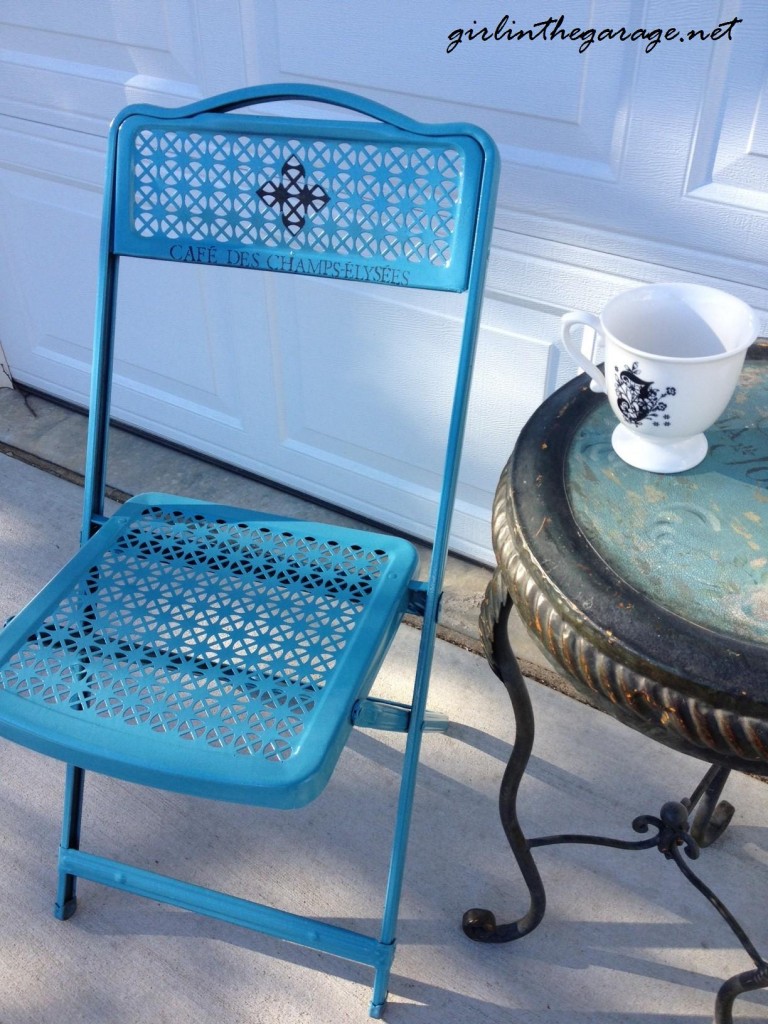 Merci beaucoup de votre visite aujourd'hui et j'espère vous revoir bientôt!
~Thank you so much for visiting today and I hope to see you again soon!~
Jen
Linking up to:  Diana Rambles, Happy Hour Projects, The Frugal Girls, Redoux, French Country Cottage, Miss Mustard Seed, Little Inspiration, Five Days Five Ways, Six Sisters' Stuff, It's Overflowing, Tatertots and Jello, Serenity Now, My Crazy Beautiful Life, Sew-licious, Crafty Texas Girls, CRAFT, Be Colorful, Keeping it Simple, DIY Showoff, DIY Home Sweet Home, Home Stories A to Z, A Bowl Full of Lemons, Sugar Bee Crafts, Homework, The Busy Bees