Guess what?  It's Friday!  I've had a pretty good week- a few small accomplishments at home (although I've yet to finish putting the Christmas decorations away!), a few new projects lined up for the weekend, and a date night planned with the hubby.  I'm not sure what we're going to do yet, but it doesn't really matter does it?  As much as I love my boys it's nice to get a break sometimes and just spend time with my man.  😉
But first, I'm sharing this distressed headboard bench with you (yes that is definitely snow beneath it.. and my fingers almost froze off while taking these photos):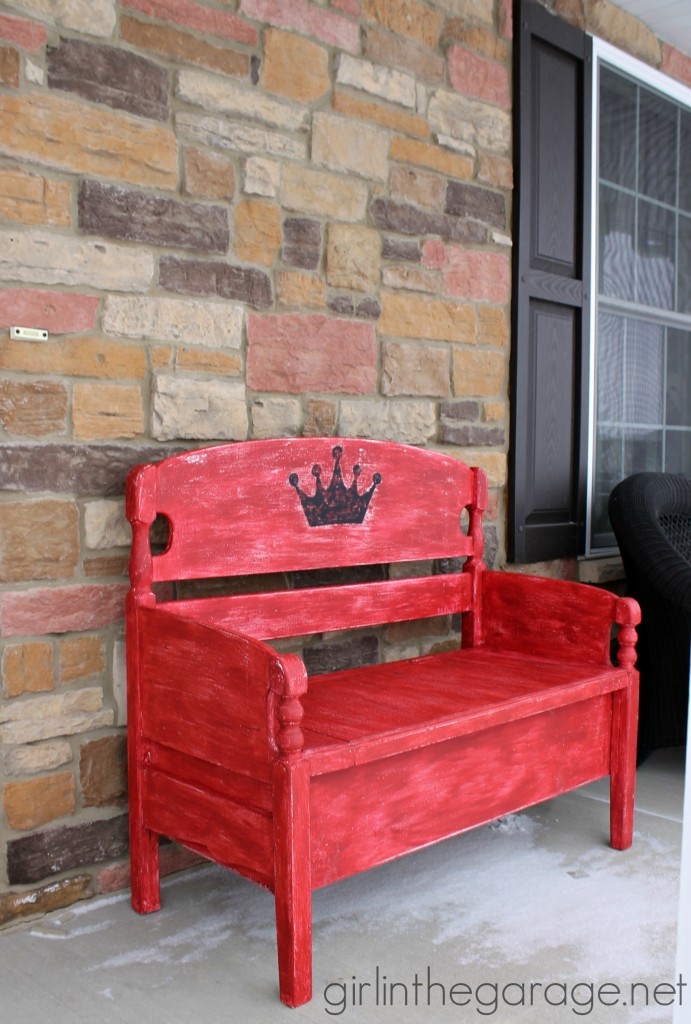 I got the bench this summer at a yard sale for practically nothing, and then it sat on my porch for a long time just waiting for me.  I even hung my mason jar lid banner on it for awhile.   🙂  There are some obvious marks on it that prove this bench used to be a headboard- although it's solid and very well constructed.  There's also some great storage built into the seat.
The only problem is that it was painted in white latex, and it was dingy and chippy (but not in a good way).  Before: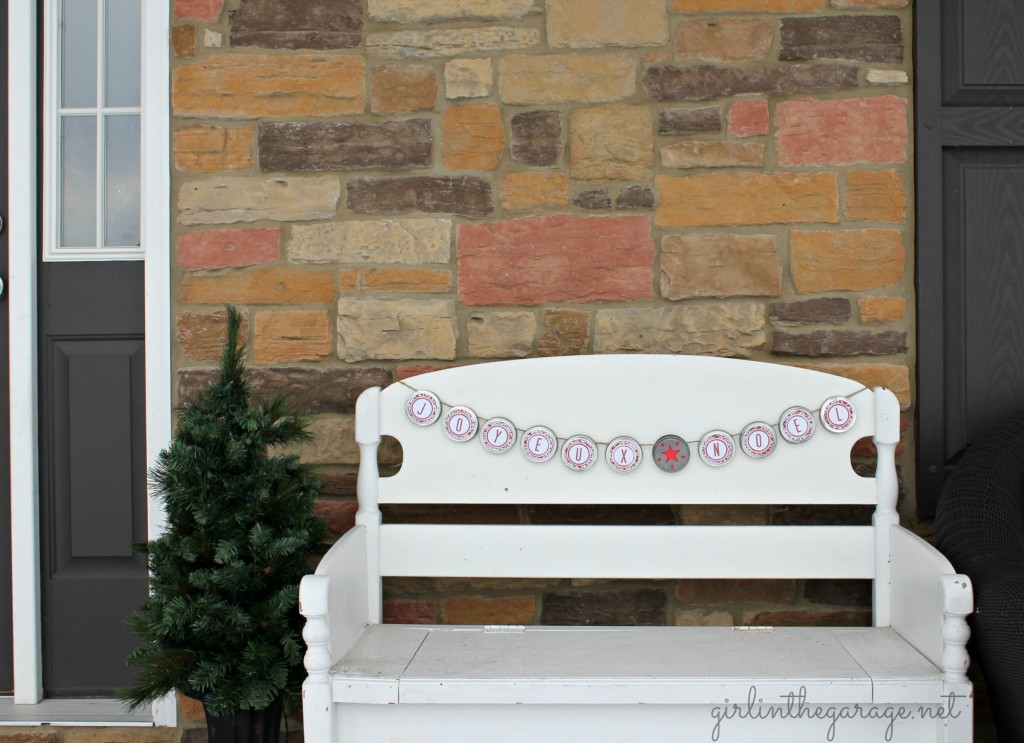 A few months back my friend Clydia from Three Mango Seeds asked me to try Plaster Paint, which she sells online and also uses for her furniture projects and signs she creates.  I had really been wanting to do a red piece so I chose Old Red.  She also sent me a sample of black paint and some wax paste.
I gave the bench a couple coats and distressed it.  I really wanted to do something different and make it look really distressed, not just aged with wax like I've done before.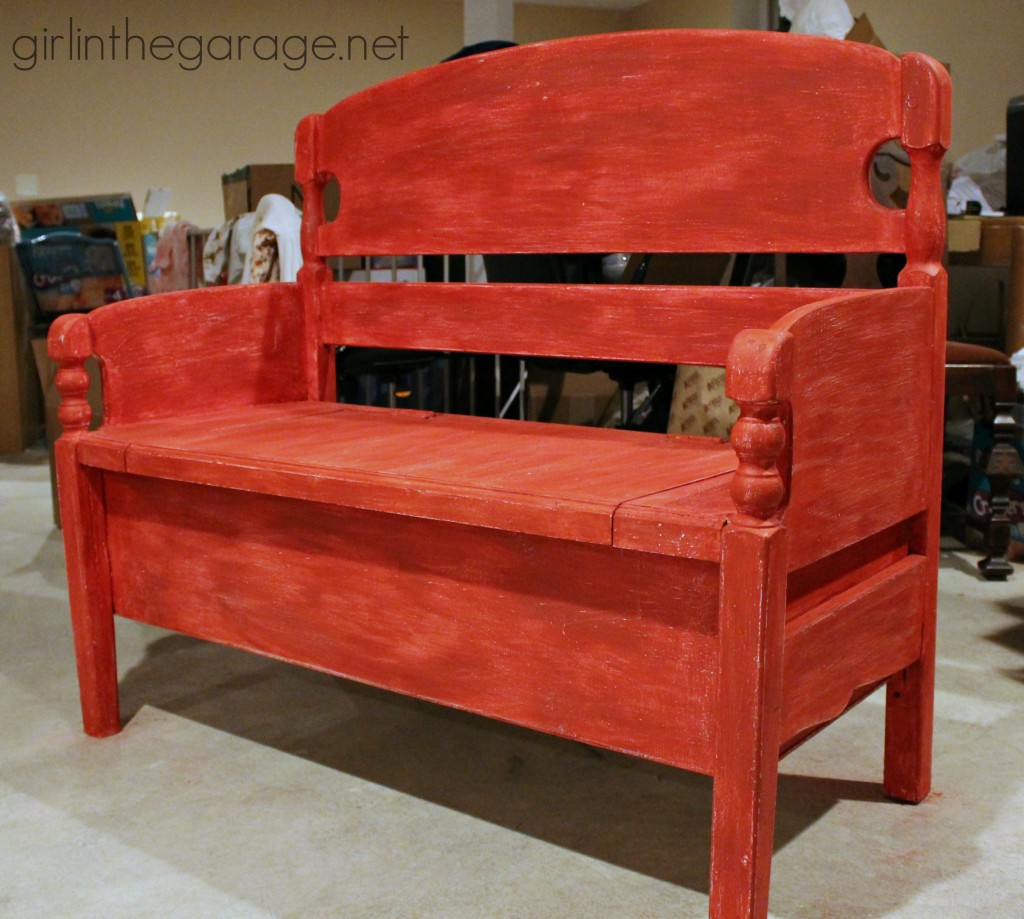 It still needed something.  I wanted to do a stencil or a typography transfer, but I do NOT have a steady hand.  Then I got lucky.
When I was at Hobby Lobby one day I happened to see thick cardboard cutouts and there was a crown!  It was even the perfect size.
1.  I marked the center of the bench and traced the crown with a pencil.
2.  I went over the pencil lines with a Sharpie.
3.  I used a small paintbrush and black paint to thicken the Sharpie lines and then filled in the rest.
4.  A gorgeous crown, no stenciling or transferring required!  It was so crisp… and then I sanded the heck out of it.
Then I went over the bench with a rag and two coats of paste wax.  (Let it set an hour before the second coat, then let it fully cure overnight.)
Even though I don't normally distress this much, I kind of love its imperfect look.
 What do you think- do you like it distressed or is it too much?
Thanks again to Clydia for sending me the paint and paste wax to try.
Find her here: Three Mango Seeds Blog / Facebook
Be sure to check out all the colors available and see all her amazing projects also!
Have a fabulous weekend!  Jen
Recent Amazing Posts:
* How Many Pieces Can I Paint with One Can of Annie Sloan Chalk Paint®?