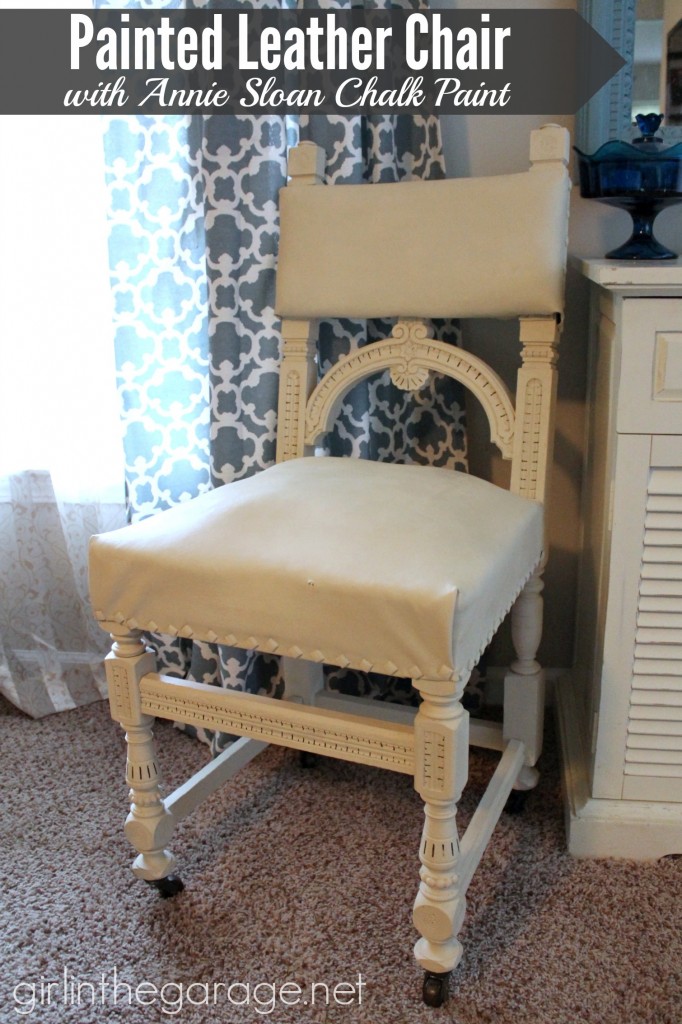 This is one of those projects that ends up taking much longer that you think it will.  A typical chair makeover will take a day or less to complete – a couple coats of paint, new fabric, and a protectant and you're usually good to go.  (You can read my in-depth guide to doing a chair makeover HERE.)
But this antique leather chair has so many nooks and crannies!  Originally I thought of recovering the seat and back since the leather looked so bad, but realized that would be really difficult with all those square tacks on the sides.  So I decided to try painting this leather chair with Annie Sloan Chalk Paint® since I know it can be used on almost anything.
I chose Old Ochre Chalk Paint® which goes on almost white but turns into a soft cream once it's been waxed and cured.
I got a few brushstrokes on and prayed for the best!   😉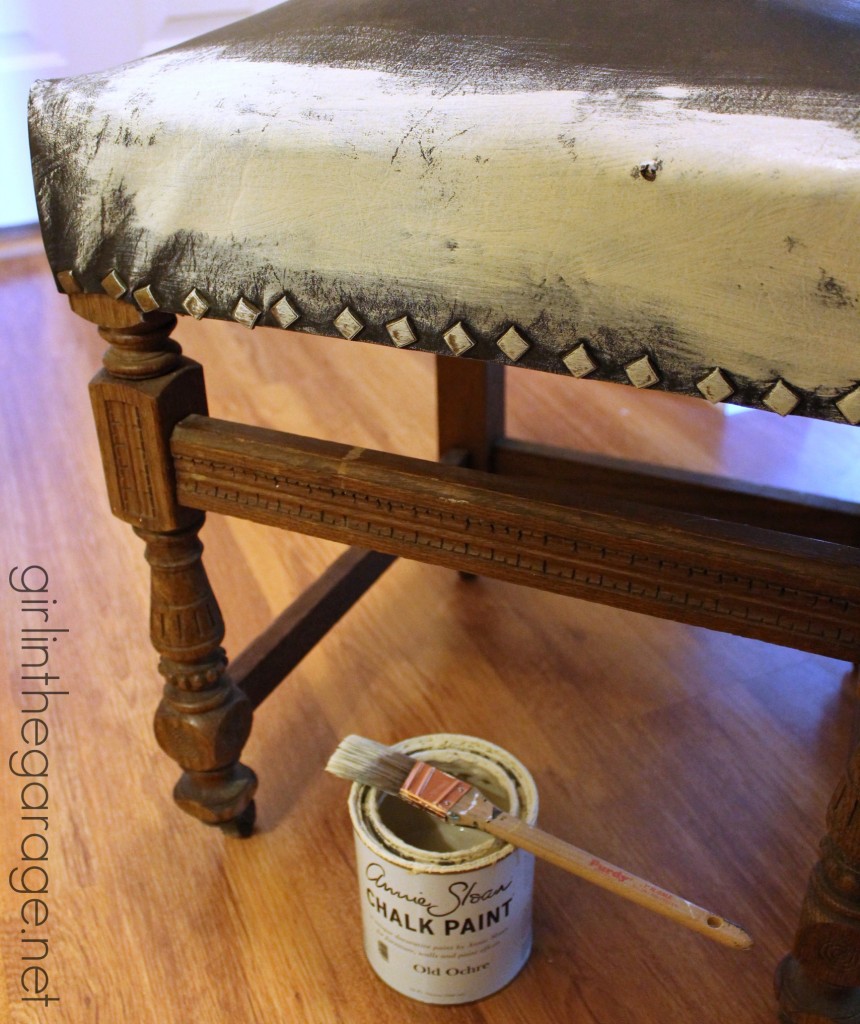 The chair got about 4 coats of Chalk Paint®, with a large brush and a tiny artist's brush for all the details.  I did not water down the paint, in fact it was actually a little thick since I'm nearing the bottom of my can (and I don't always close the lid tightly… oops).
I also replaced the buttons on top of the chair, and gave the whole thing a light coat of clear wax.  I'm going to add another light coat of wax just to be safe.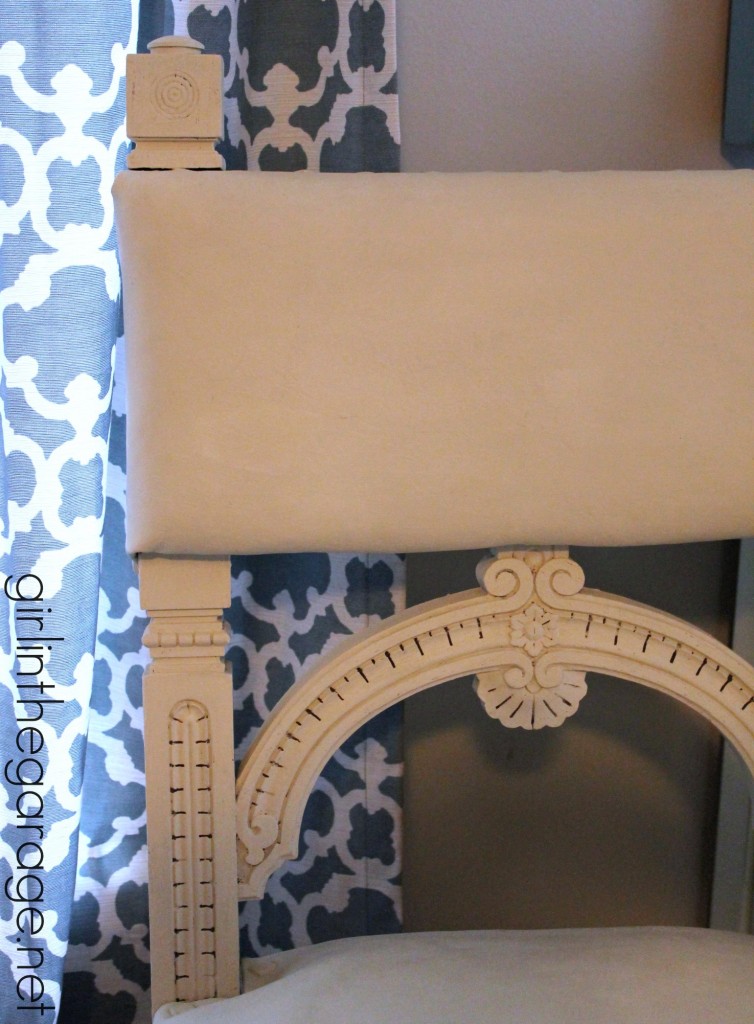 I'm also seriously thinking about adding some gold metallic paint to make the details pop – what do you think?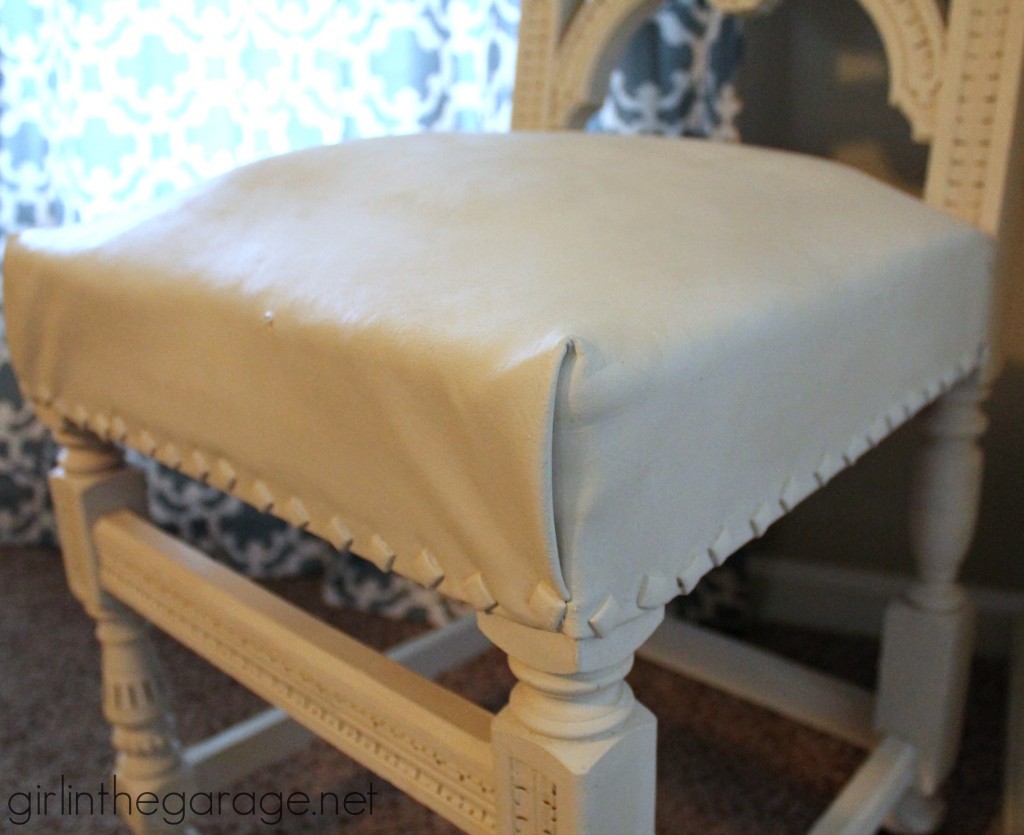 Have you tried painting fabric or leather before?
What are your thoughts?  I'd love to hear them!
Jen
Questions about Chalk Paint®?  Visit THIS PAGE for lots of information and inspiration.
P.S. I have a few friends who have also painted fabric or leather on chairs – visit them for more tips!
P.P.S.  Over the next several weeks, my friends and I will each be featuring each other on our blogs… check out this week's featured bloggers below!
Join the GITG Community
When you join this thriving online community of 90,000 creative souls, you'll be inspired to discover hidden artistic talents and learn skills to boldly face DIY projects with confidence.
You'll also receive my free guide "Just Paint It: 7 Tips for Transforming Furniture with Confidence."