Friend, today is all about fantastic DIY painted desk ideas. I'm sharing how to paint an old metal desk and a wooden chair, plus lots more painted desk inspo in all different styles. Plus it's Furniture Fixer Uppers day, so you'll find 4 more furniture makeovers from my friends at the end of today's post. Let's get started!
For today's first project, I'm showing how to paint a vintage metal desk (and a few fails I had along the way).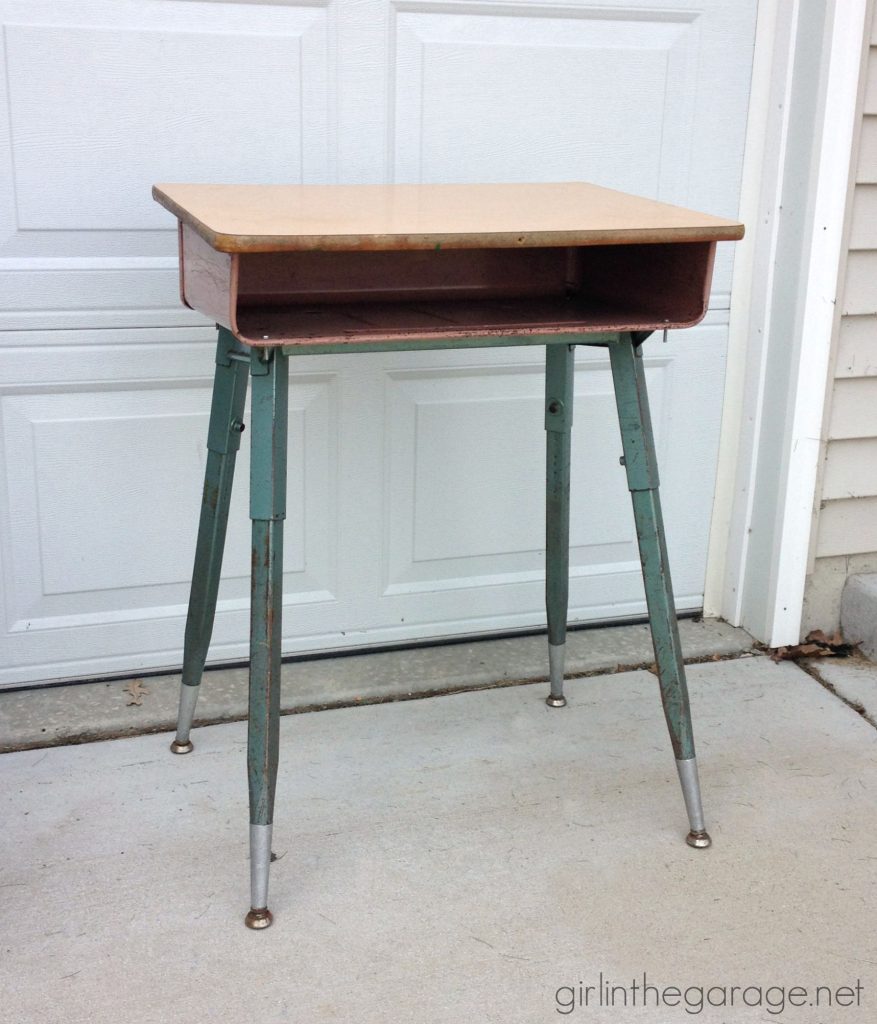 This desk was about $10 and had been in my stash for several years. It's not hard to see why I felt uninspired every time I saw it collecting dust in the garage.
*This post contains some affiliate links so you can easily find the products I recommend. Discover all my favorite brands and products for DIY projects Here.
How to Prep a Metal Desk for Painting
First I took it all apart – it's much easier to work on that way.
I gently smoothed the scratches and rust out with 120 grit sandpaper and then wiped it down. It started out pretty gross, so I wasn't expecting it to turn out perfect or anything.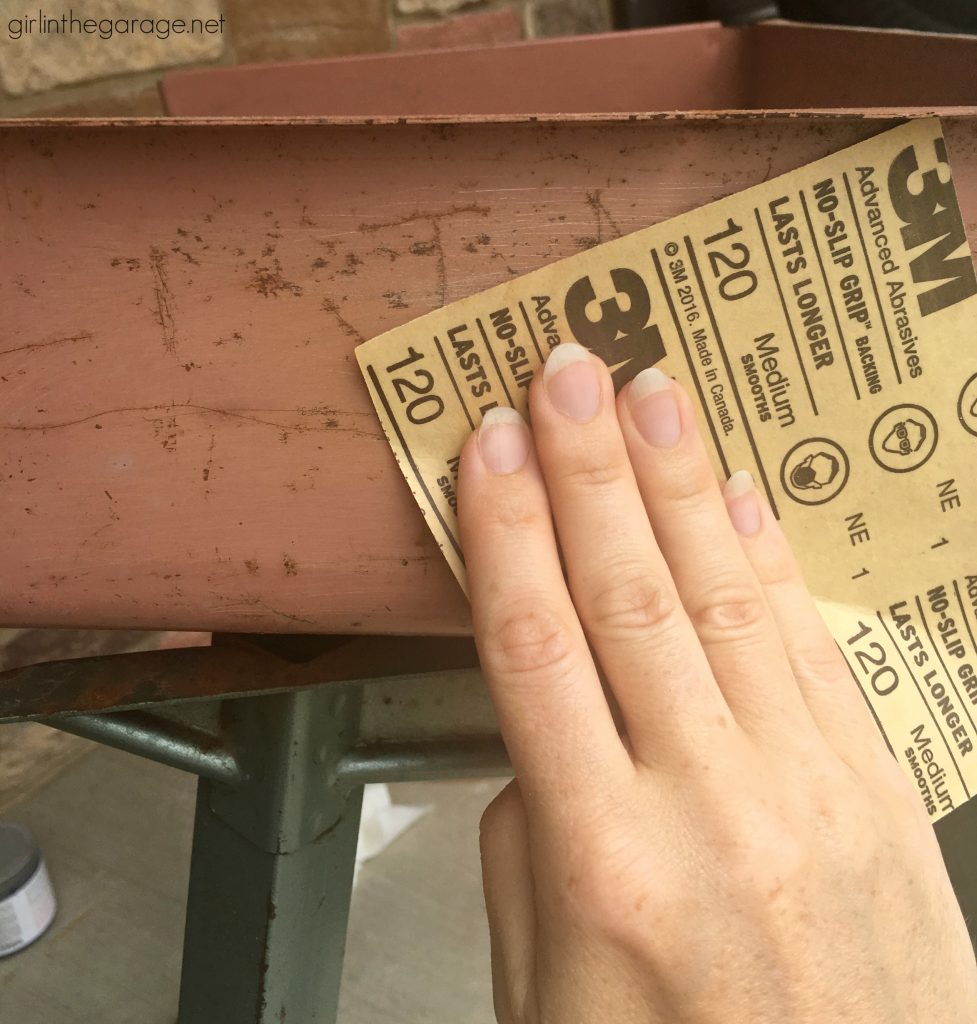 How to Paint a Metal Desk
Next I painted the middle cubby area with one of my favorite Purdy paint brushes and a few coats of Country Chic Paint in Midnight Sky (Indigo Blue).
Can you believe that when the paint dried there was no evidence of any rust or scratches? What a surprise!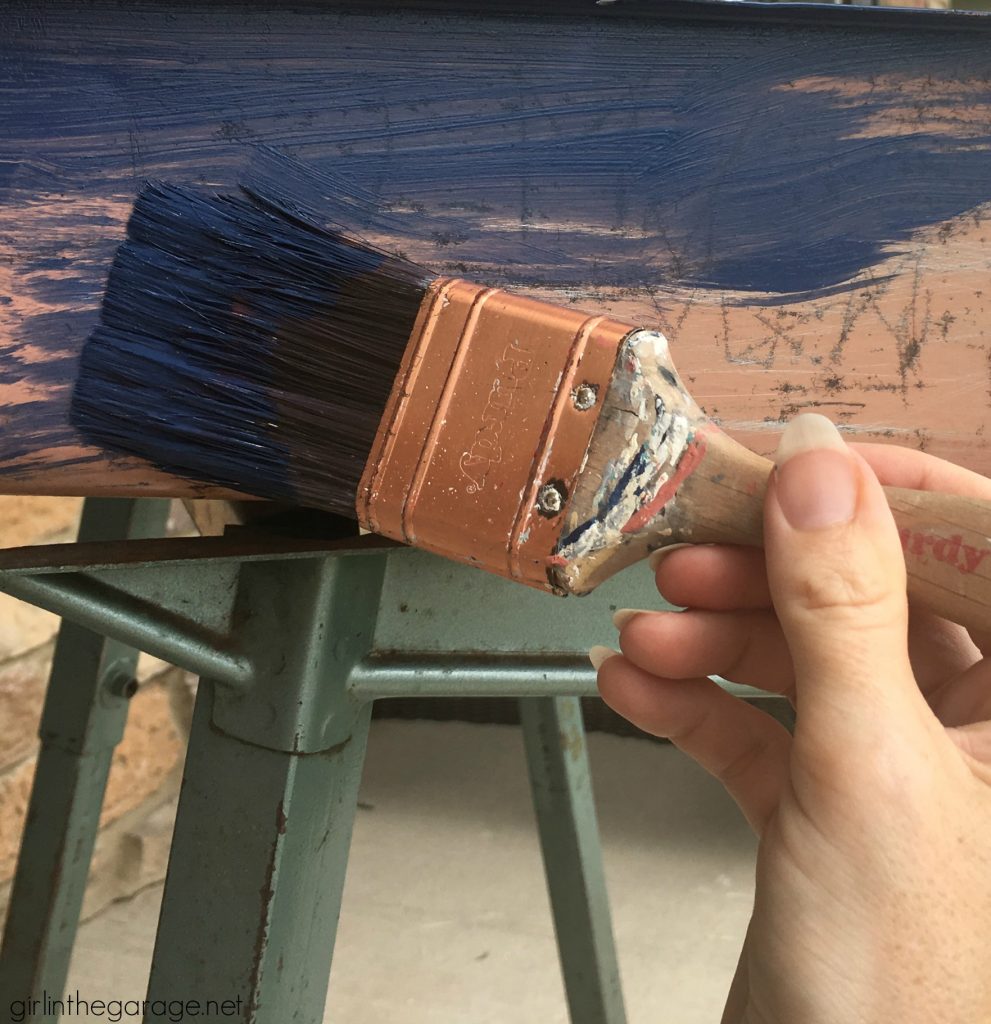 Next the base was painted in the color Go Fetch! by Country Chic Paint. This color has since been discontinued, but CCP Lazy Linen is a similar pale gray.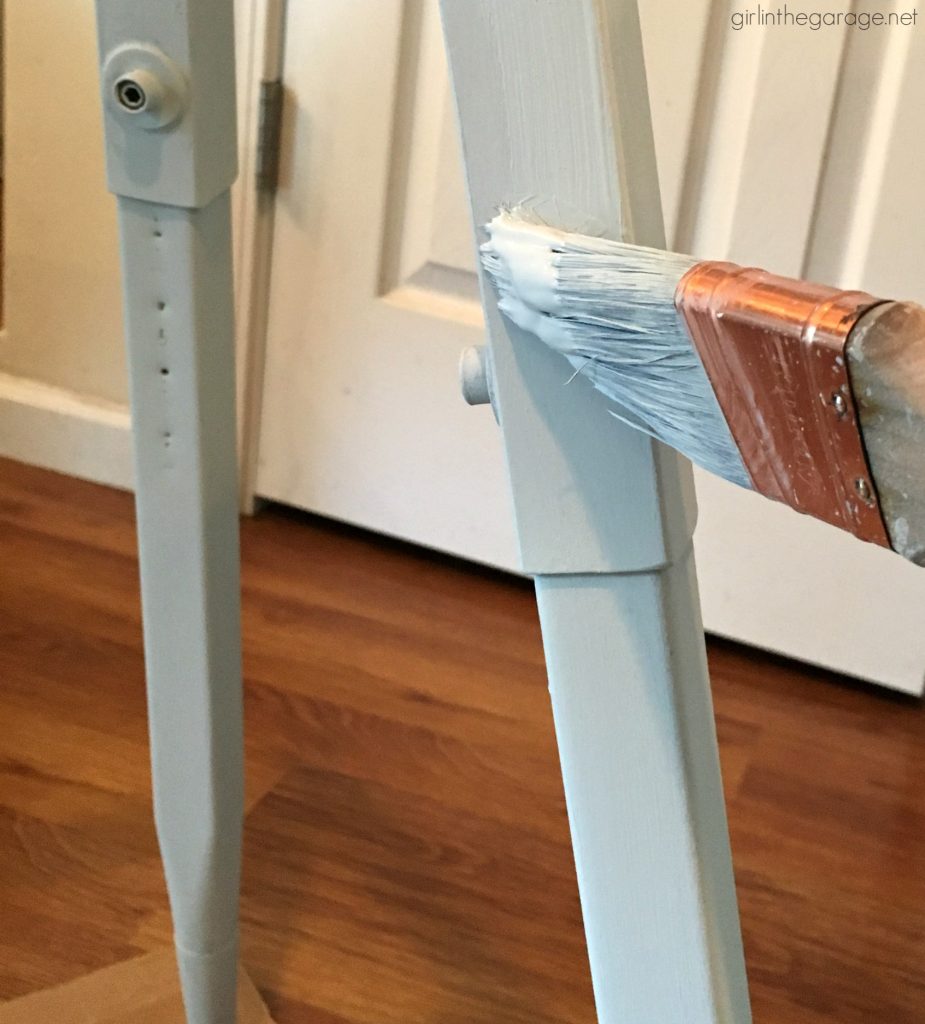 Now here's where the fails happened (is it really a DIY project if you don't have at least one fail?)…
Plan A: Fail #1
I had an idea to stain the desk top. While I was painting the metal parts, Guy in the Garage started sanding it down for me. (We use this awesome Makita orbital sander).
Unfortunately we discovered it wasn't real wood and therefore wouldn't take stain, so that idea was scrapped.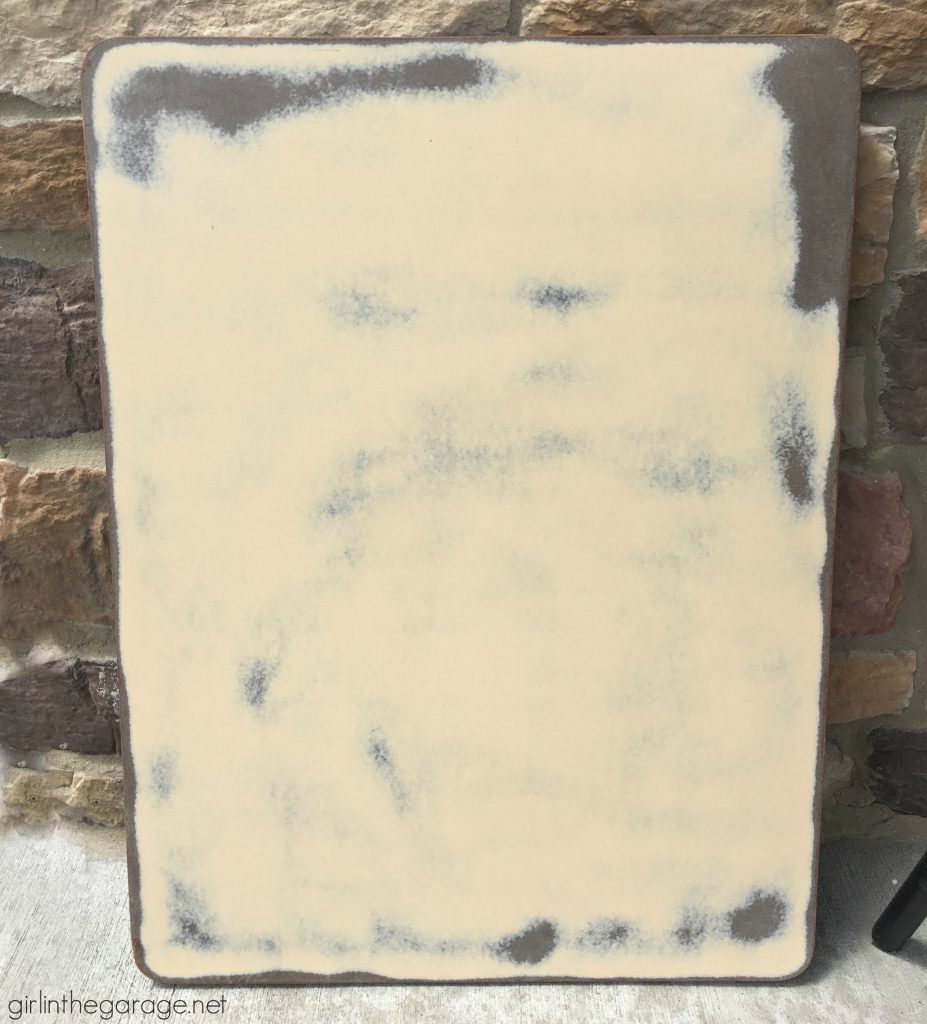 Then I had another great idea…
Plan B: Fail #2
We measured and cut wood strips to do a planked top, similar to this project. Guy in the Garage (he had such patience helping me with this project) stained the boards in Minwax Espresso and I arranged them on top of the desk…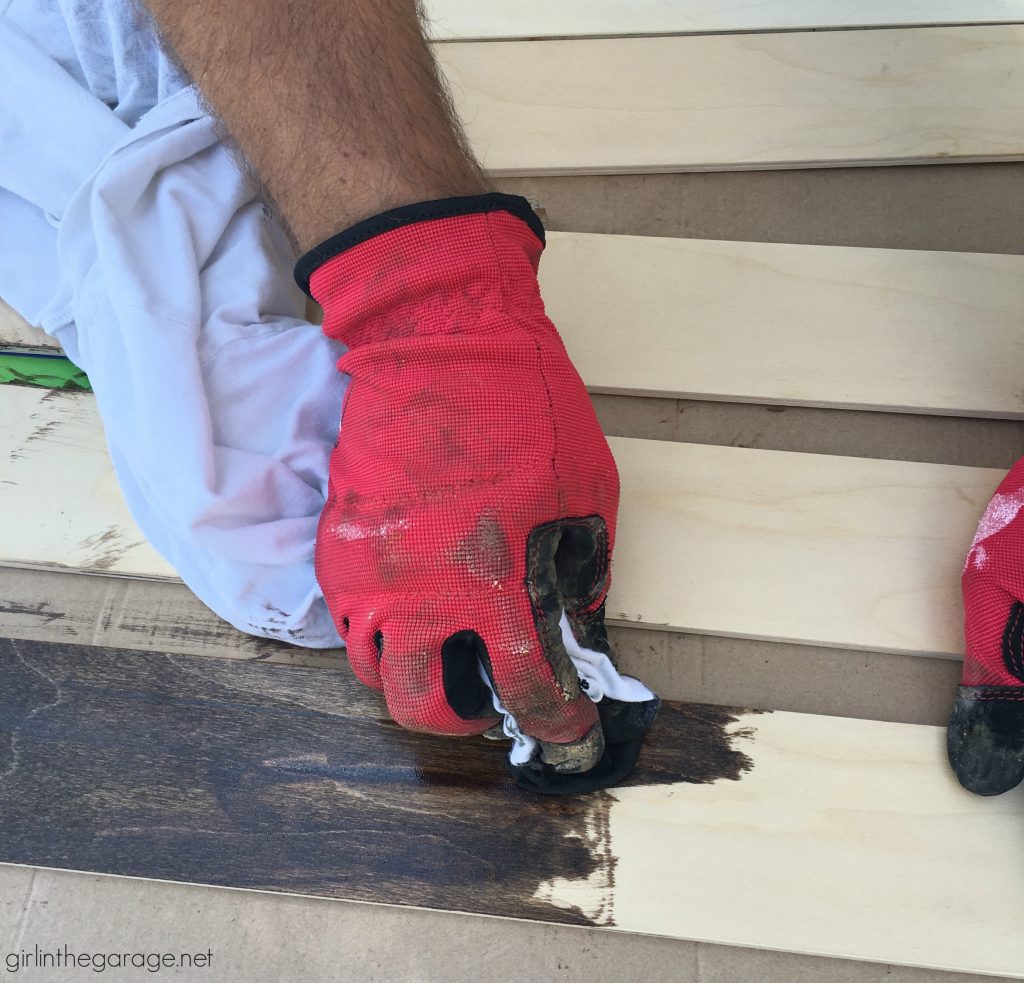 Not good. The boards looked great, but they just didn't look right on this project.
That idea was scrapped too. (Sorry honey!)
Plan C: The Faux Stained Wood Desk Top
How to Paint a Table Top to Look Like Stain
Finally I decided to paint the top brown (Honfleur by Annie Sloan Chalk Paint) to give it the appearance of wood stain, which I originally wanted.
I wiped Annie Sloan's black wax directly over the brown paint with a lint-free cloth to darken it and give it some texture.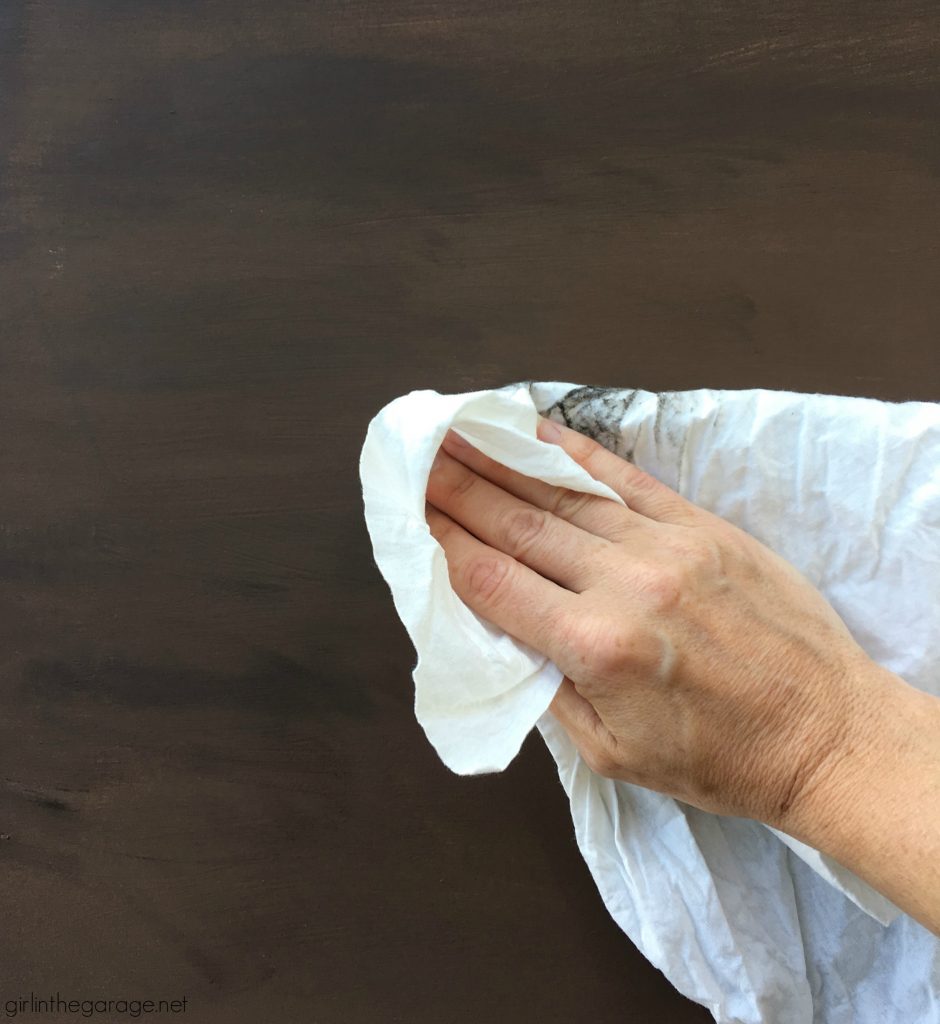 I'll share the desk reveal below but now here's project #2 for today's post: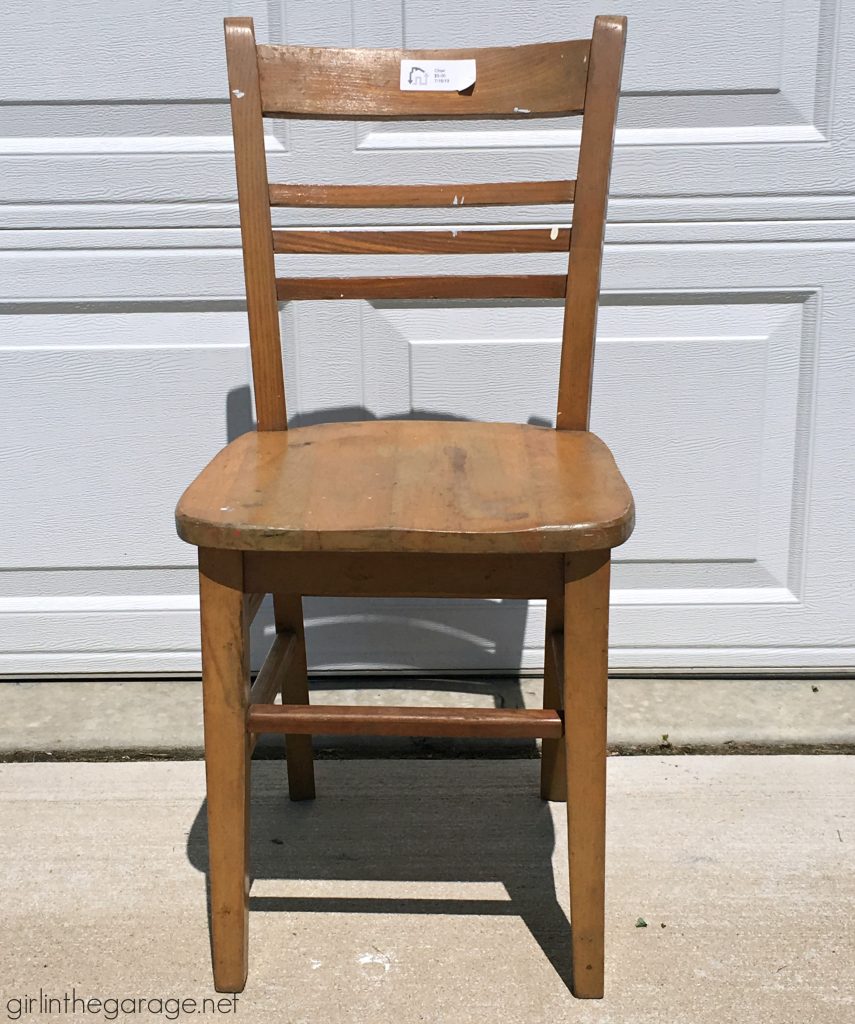 This chair was only $5 at the thrift store. The hardest part was finding a chair that was narrow enough to fit between the desk legs.
If definitely needed wood filler and lots of sanding to turn it into a smooth, useable chair again.
Then I painted it gray to match the desk.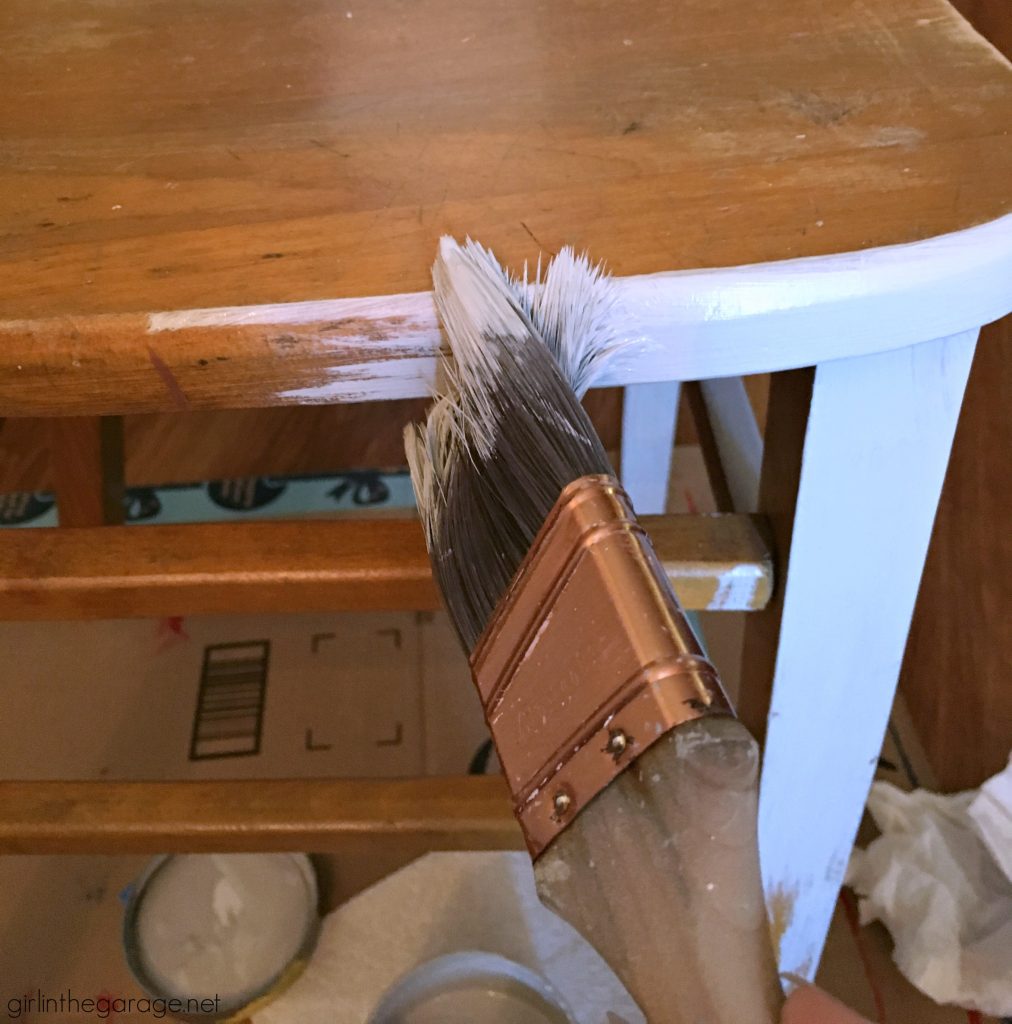 Finally I added a fun grain sack stripe stencil in CCP Midnight Sky to tie all the colors together.
I recommend using FrogTape to hold the stencil in place and these pouncers which I love for stenciling.
Country Chic Paint is clay-based for a matte finish and it's all-in-one, which means it doesn't require a topcoat unless it's a high-traffic piece.
Finally – when the wood chair and the vintage metal desk makeover come together: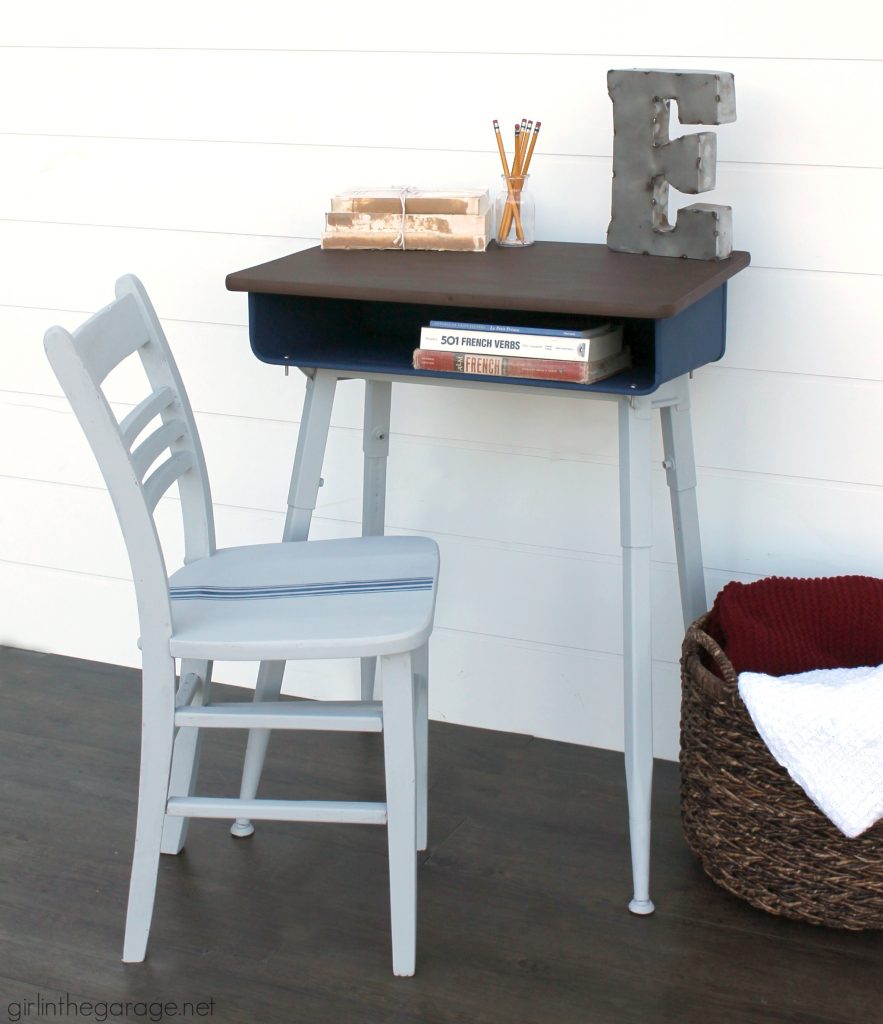 Boom – it's just like they were a set all along.
Here's a closer look at the faux stained wood top: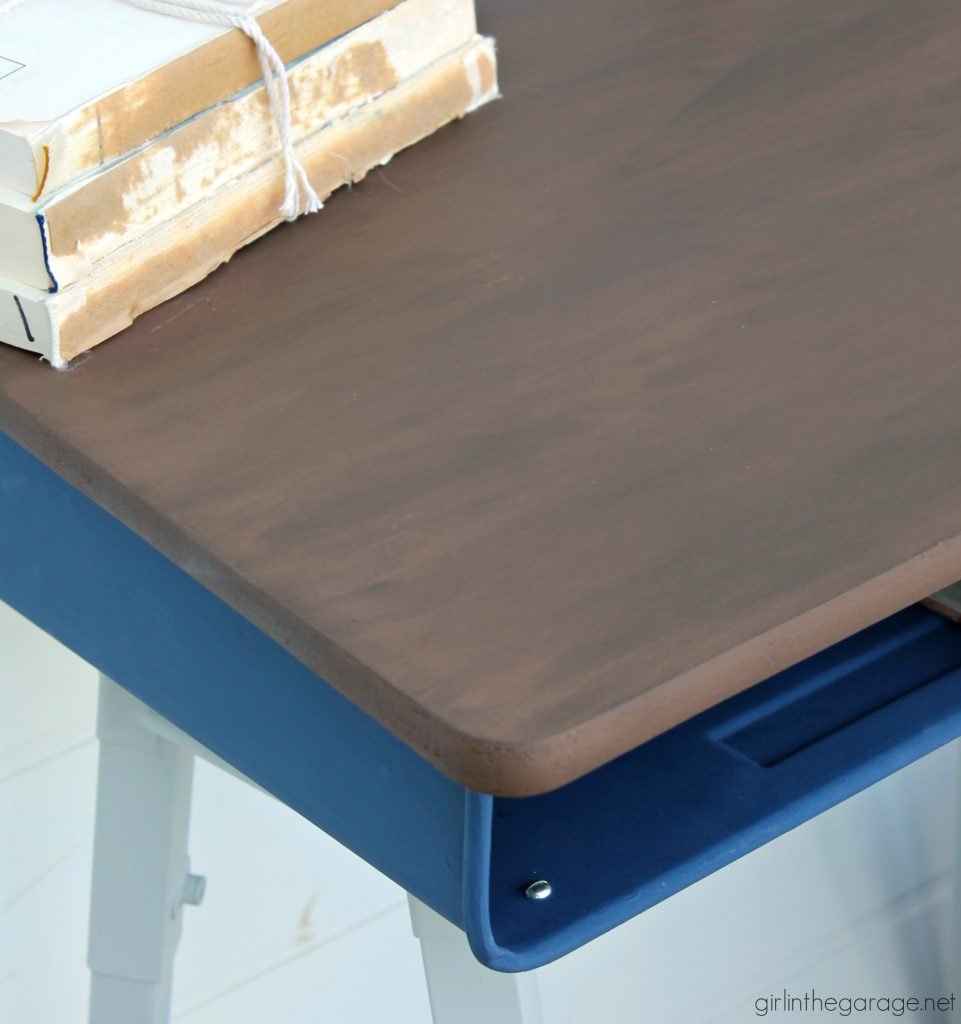 And here's a better look at the painted chair with grain sack stripes: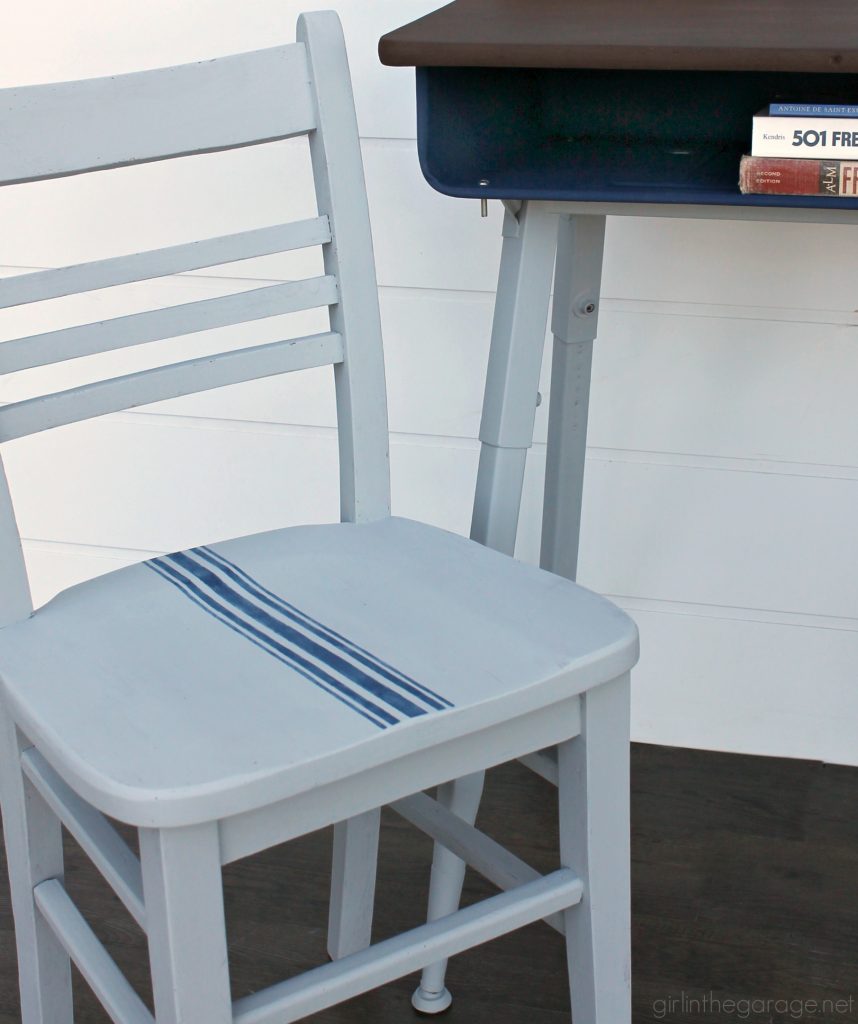 Not bad at all for a $10 desk and $5 chair!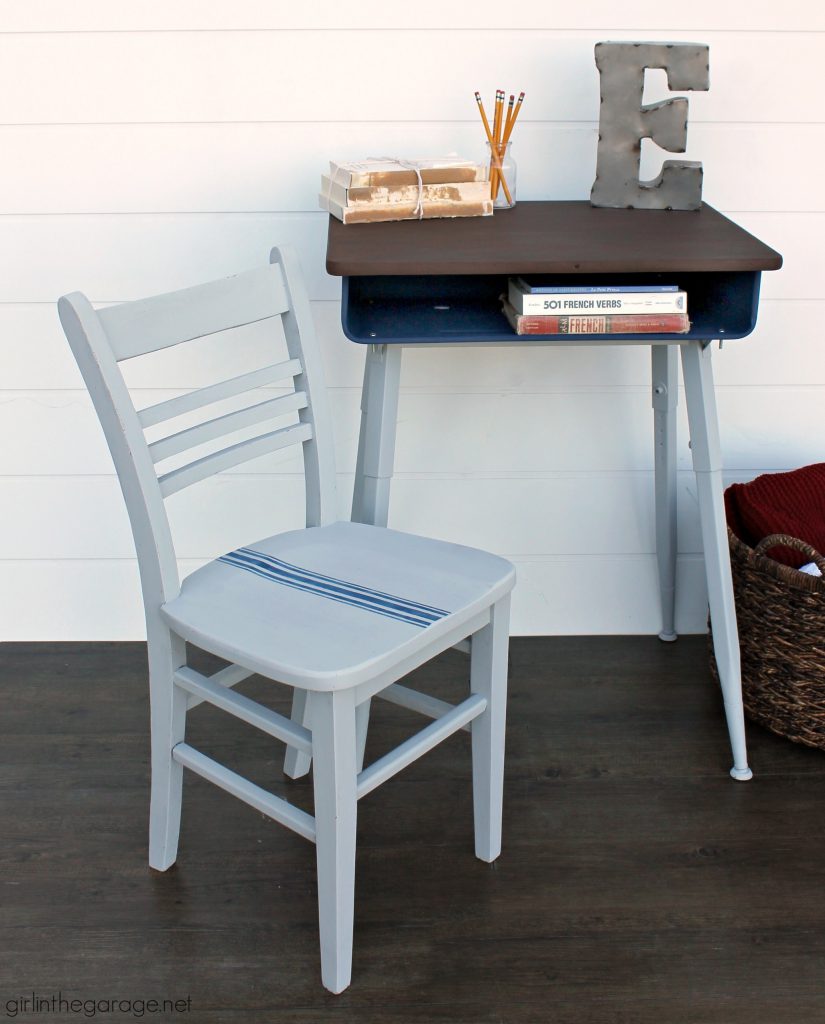 Here's another look at the before pics and the after (pin for easy reference later or share if you'd like):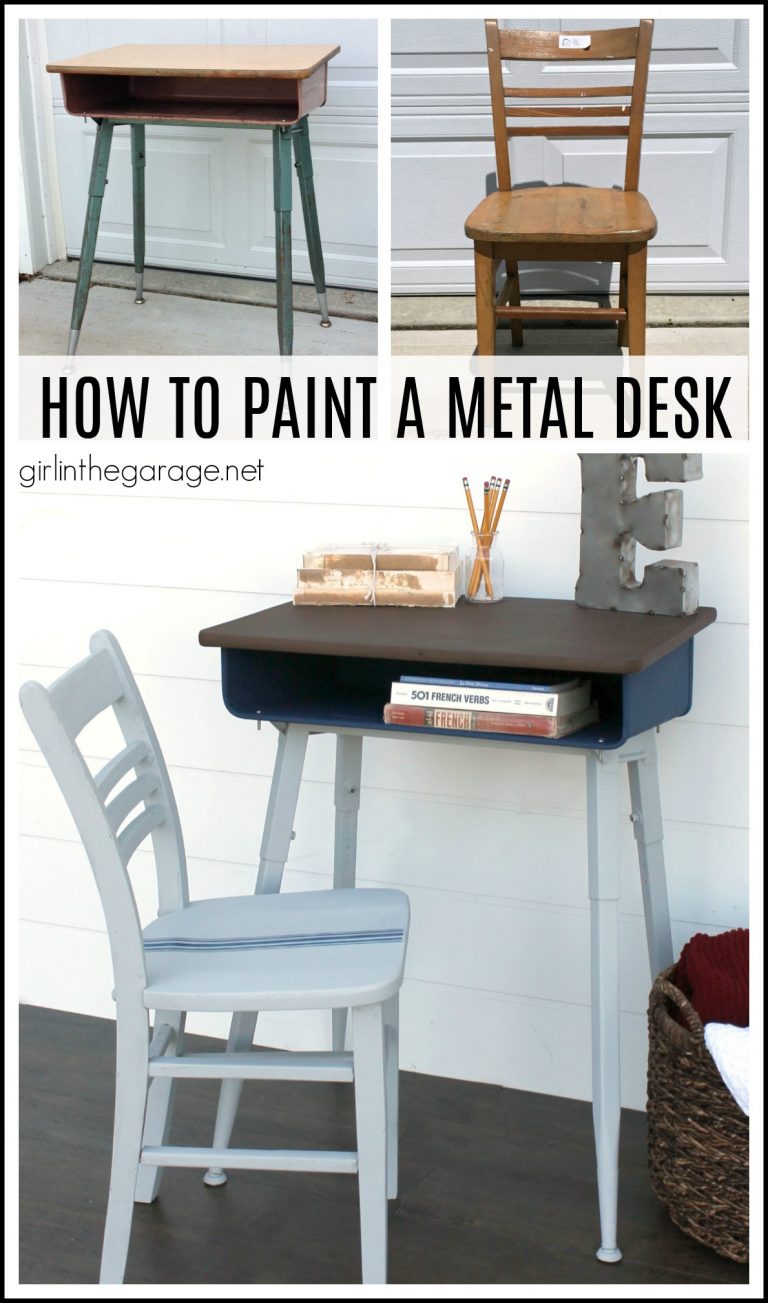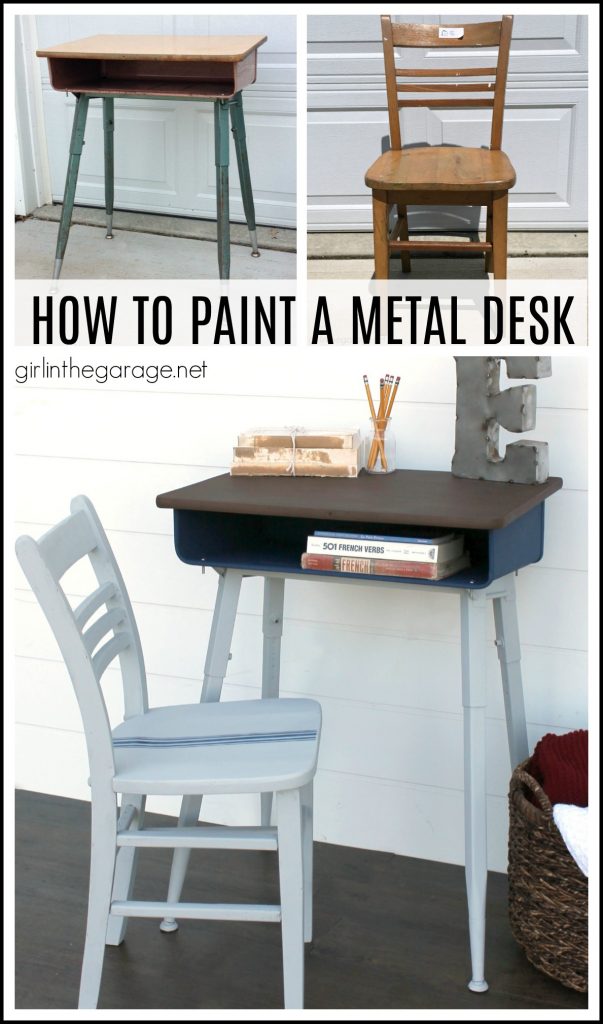 Whether you're working full or part-time from home, a college student studying for finals, or a first grader doing a simple math worksheet, it's a proven fact* that a stylish and organized desk area can elevate your ability to do your best work. (*I'm not actually sure if it's a proven fact, but it's hard to argue otherwise!)
What better way to jumpstart your productivity with a custom painted desk perfectly suited to your style? Be inspired by the amazing DIY painted desk ideas below, and you can click on any of them to learn more and see the full painting tutorial.
Best DIY Painted Desk Ideas
Woohoo, that was SO MUCH painted desk inspiration. Now are you ready for some Furniture Fixer Uppers fun? Discover more furniture makeover ideas from my creative blogging friends below: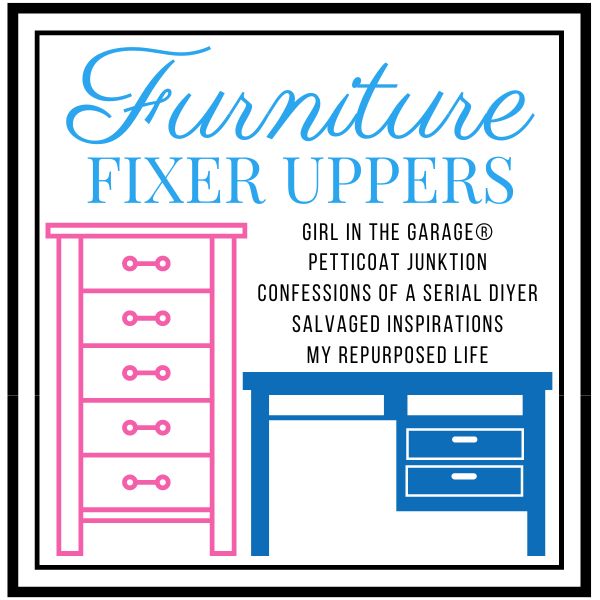 Below are the Before photos – visit the links underneath to see the amazing Afters and to learn how they did it: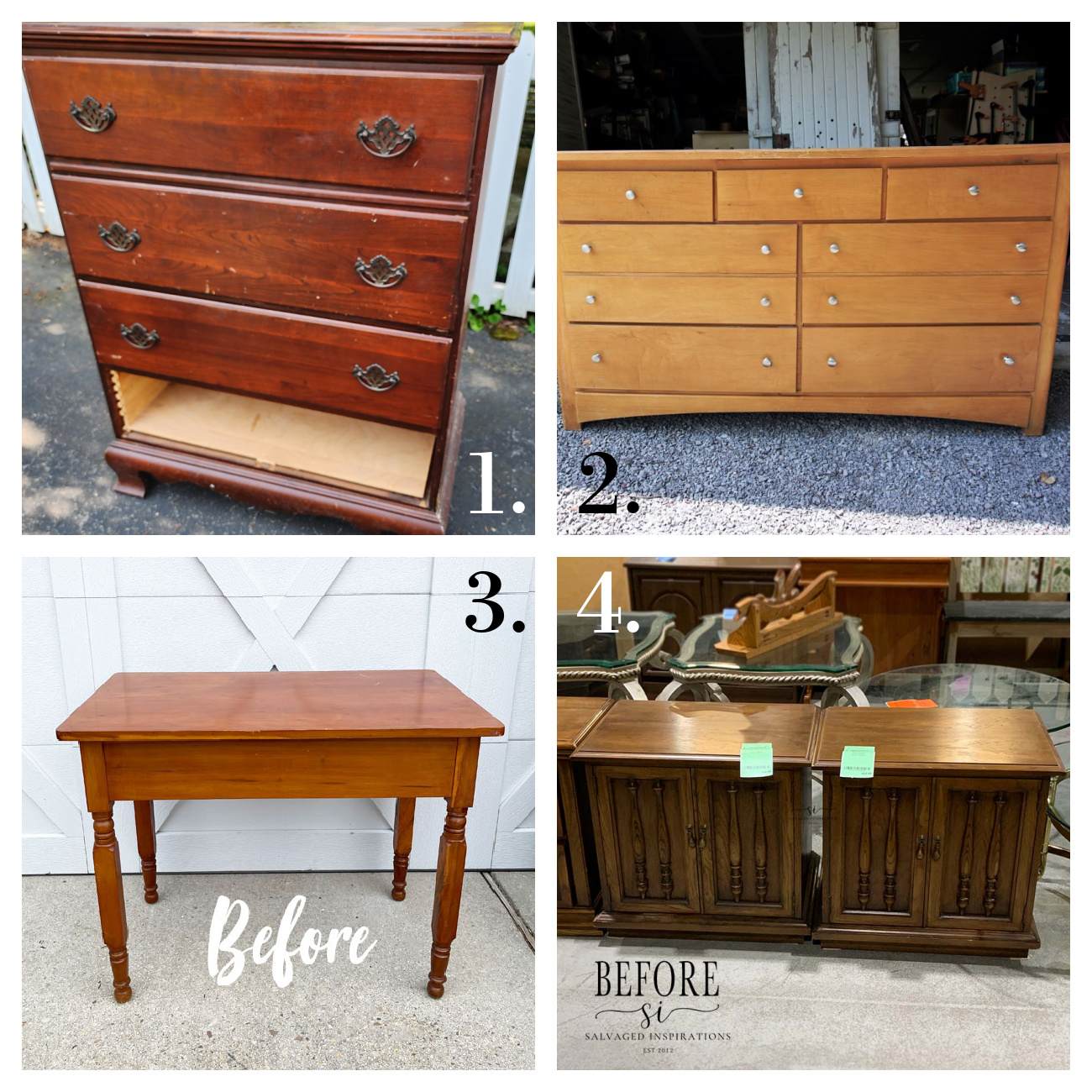 1. My Repurposed Life
2. Petticoat Junktion
3. Confessions of a Serial DIYer
4. Salvaged Inspirations
For even more furniture makeover tutorials, my book Amazing Furniture Makeovers: Easy DIY Projects to Transform Thrifted Finds into Beautiful Custom Pieces is available now. Learn more Here including a list of online retailers, or visit Amazon Here and read through 300+ reviews.