Friend, it's an amazing day for a new makeover! Today I'll show you how to paint a suitcase, like these decorative leather suitcases I got from a yard sale several years ago (one of the few unfinished projects to make it through our big move).
You'll also find 4 more thrifty makeovers from my friends for Trash to Treasure Day at the end of this post – and as a bonus, I'm sharing photos of the great room in our new home! It's probably my favorite space that we designed and built, and I adore spending time there.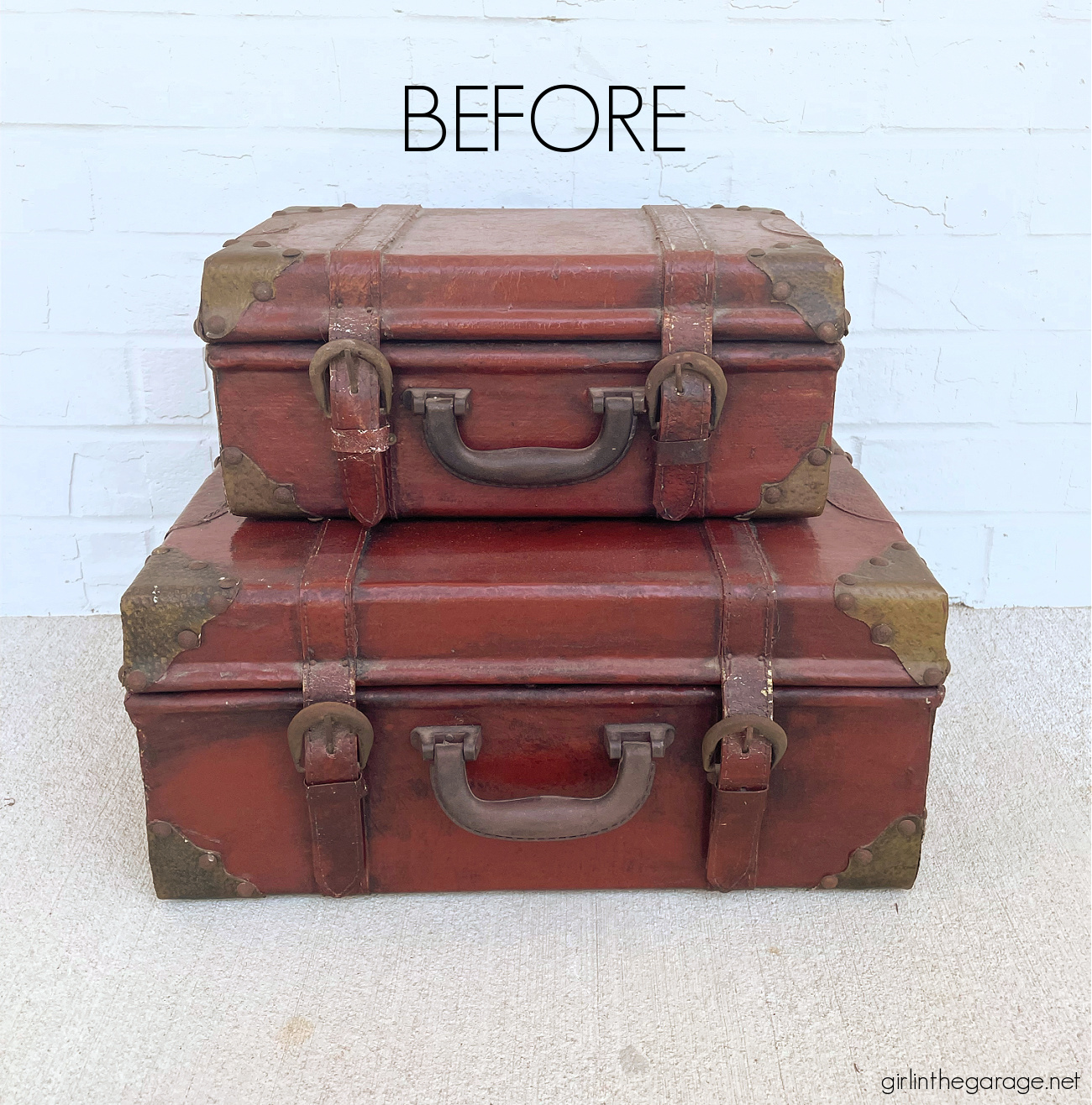 But first – these very dirty and somewhat stinky suitcases needed a fresh look. I gave them a good cleaning and got started on my plan.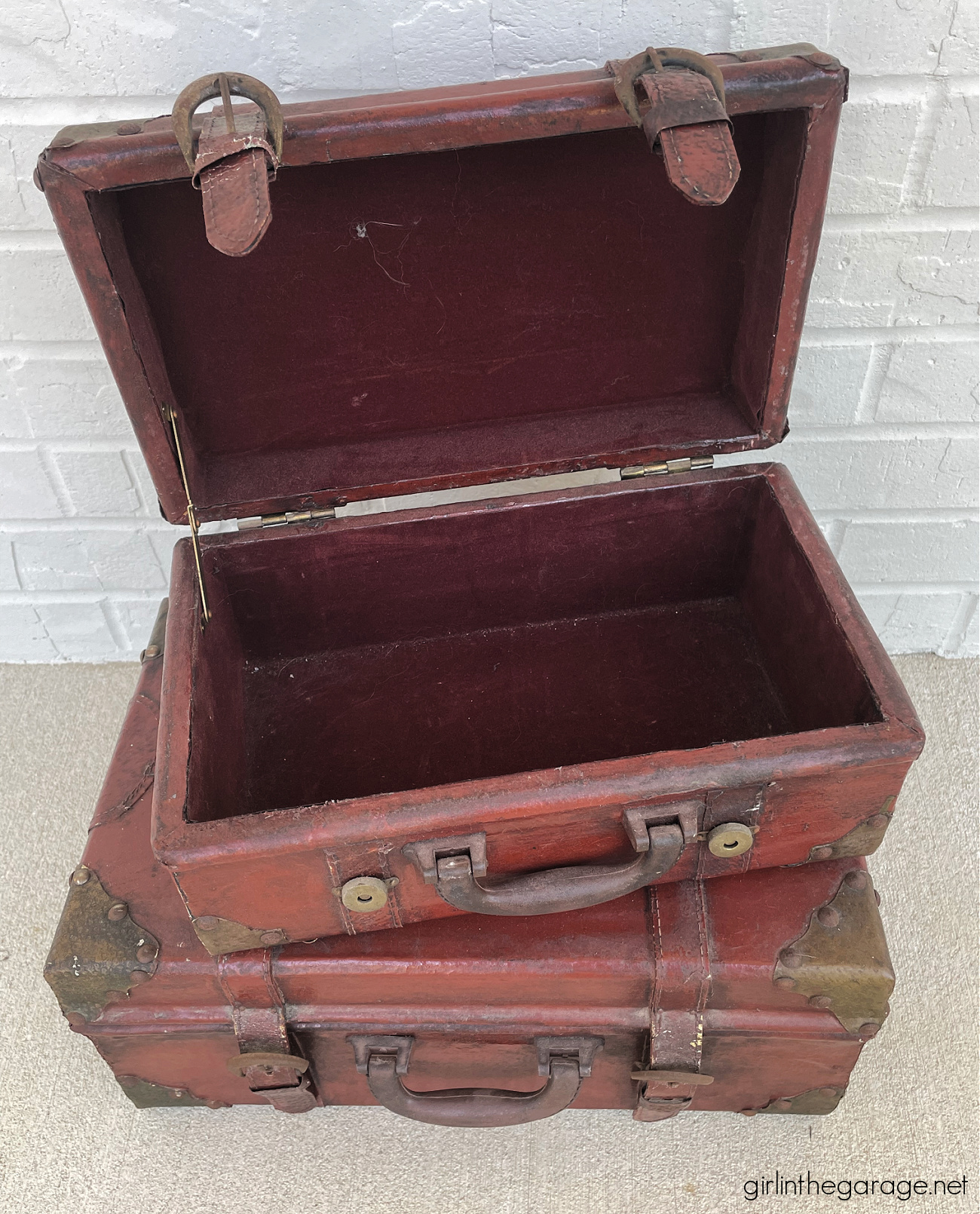 This post contains some affiliate links so you can easily find the products I use and recommend. Discover all my favorite brands and tools for doing DIY makeovers here.
Since we're still getting settled into the new house, many of my projects lately are for keeping. If you need to furnish a bigger home, being thrifty with furniture and decor is the best (and most fun) way to do it!
How to Paint a Suitcase
I chose Rustoleum Chalked Paint in Aged Gray and painted two coats with one of my favorite Purdy paint brushes. This is a pretty light gray, and I planned to darken it up later. There wasn't any bleed-through from the burgundy leather, but if I were painting it white, I would've used primer first just in case. Grab my free guide for how to properly prep before painting here.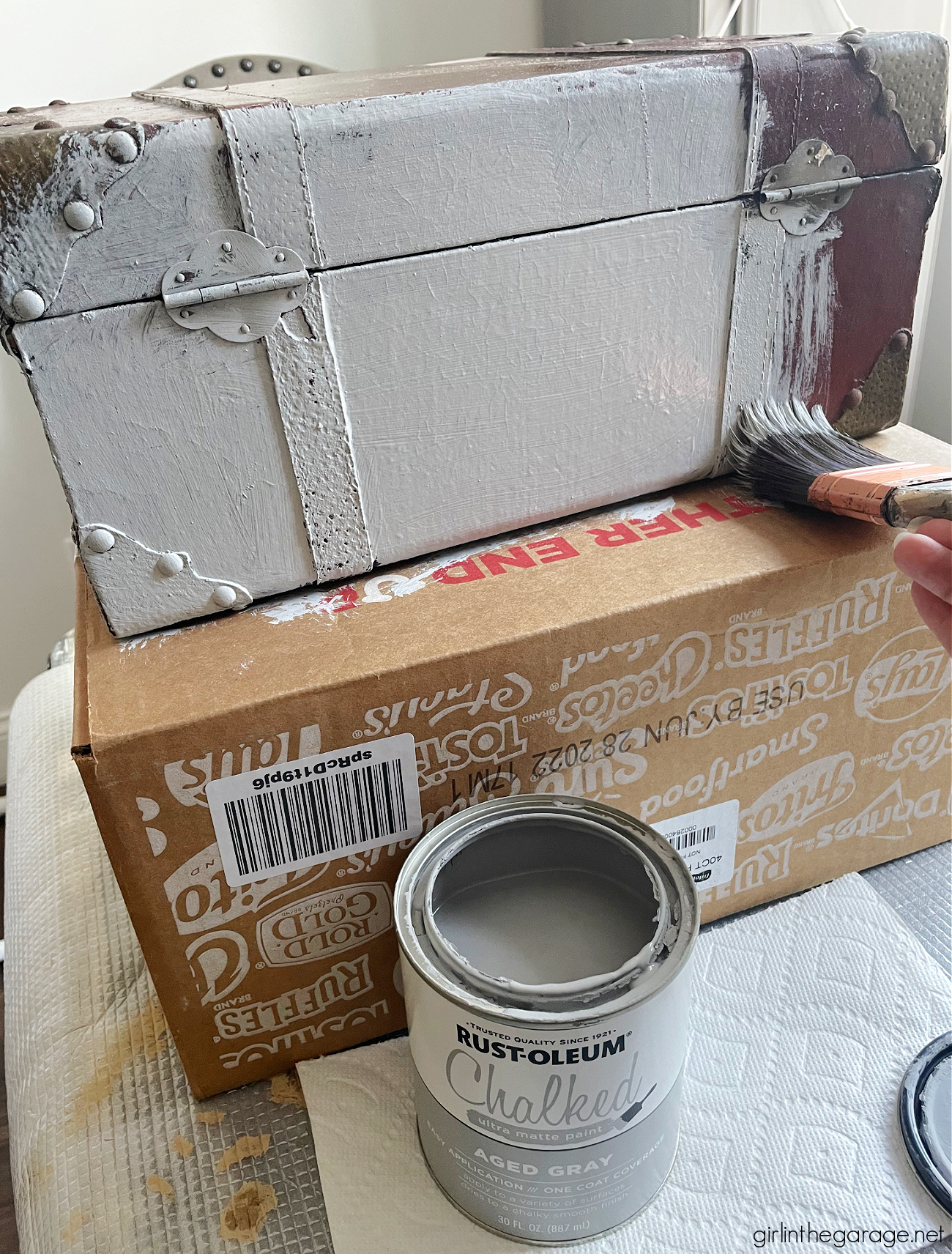 Next I painted the inside of both suitcases black with Country Chic Paint in Liquorice. The fabric soaks up some of the paint, so plan on doing 2 coats if you're doing a similar project. (Again, I might've had problems with bleed-through if I had chosen a lighter paint color.)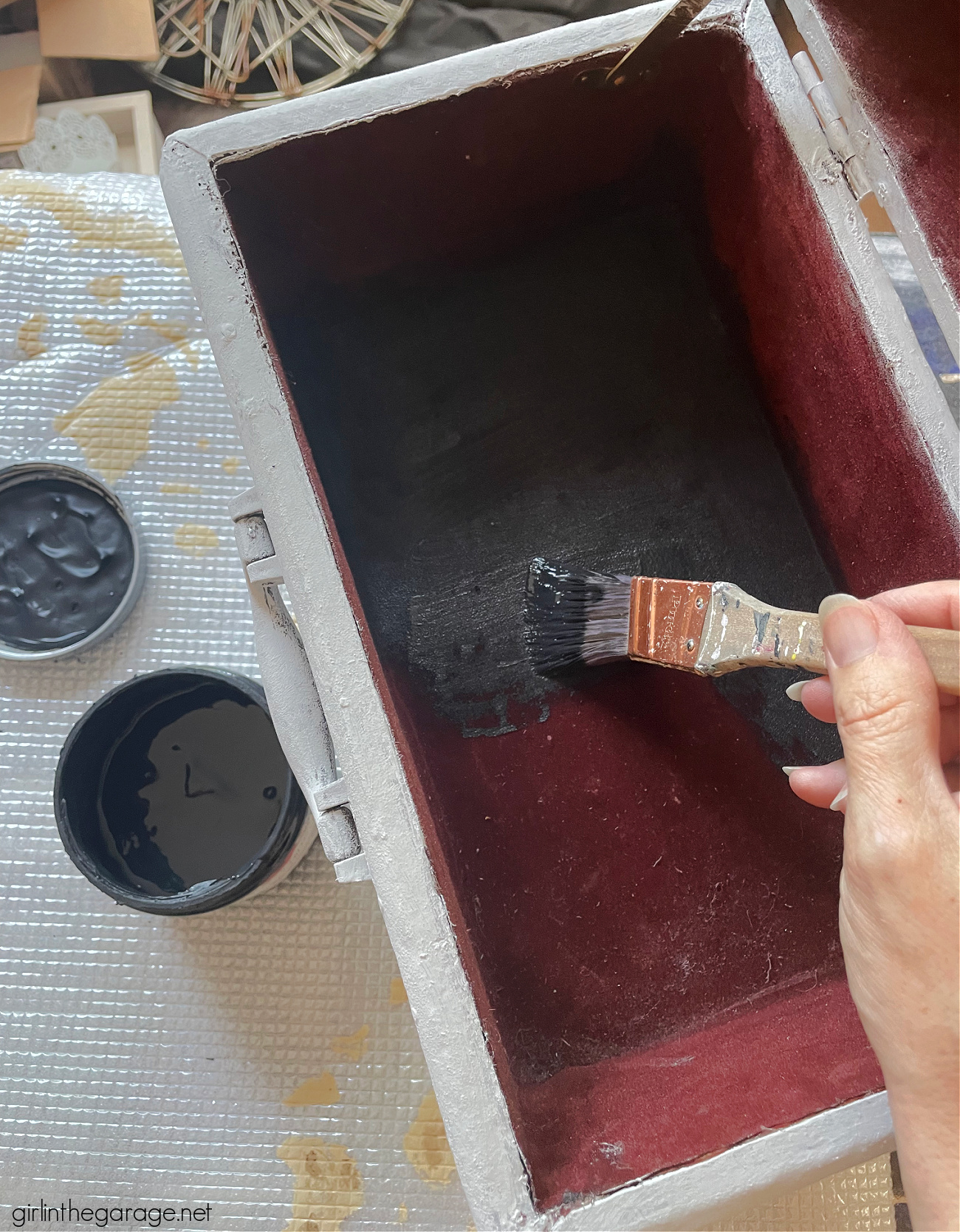 Then I painted over the metal hardware with gold paint by DecoArt.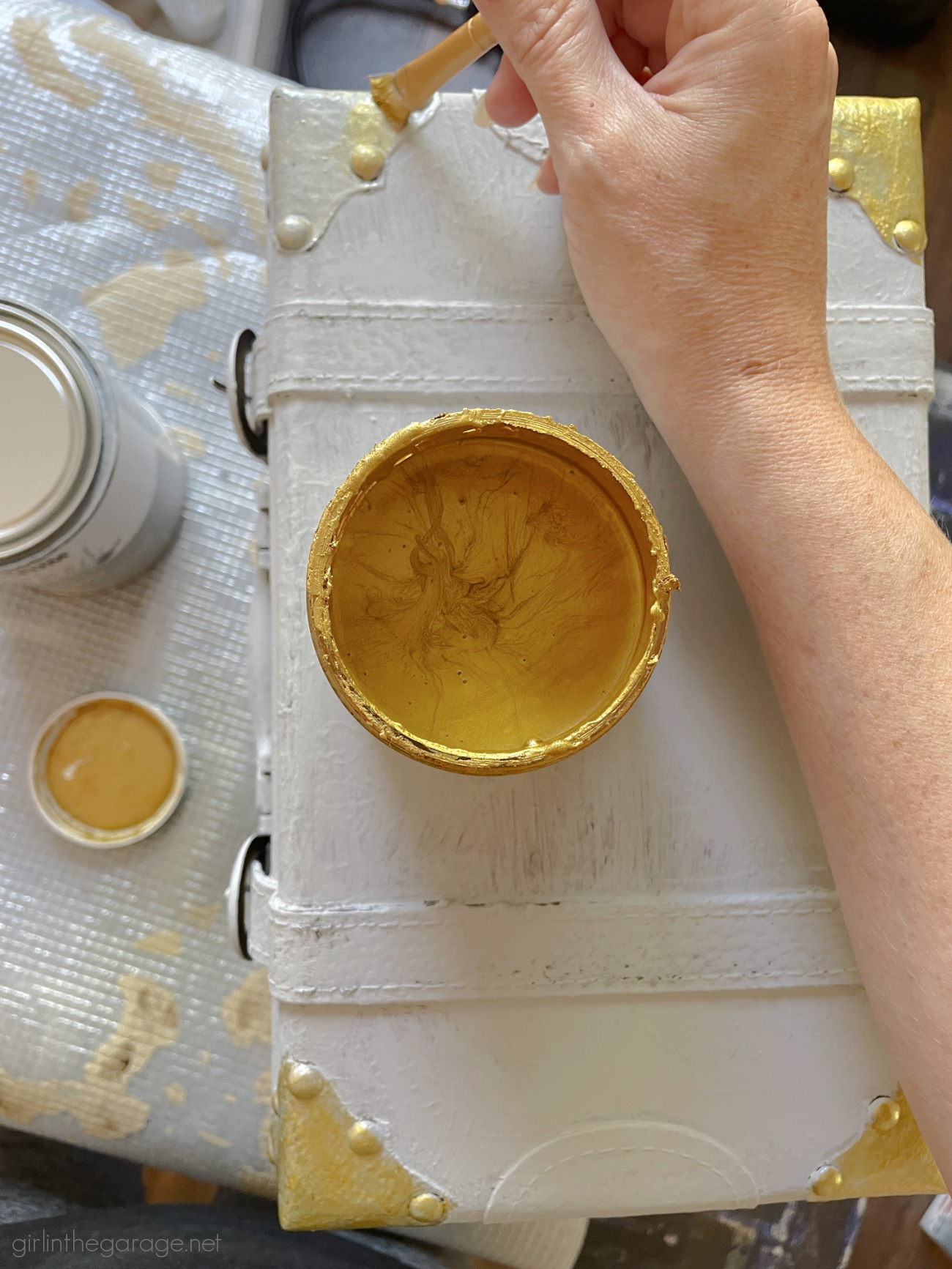 Below you can see how the painted suitcases looked while I let them dry overnight. They are far from done, thankfully, because I was starting to worry if they would turn out how I planned!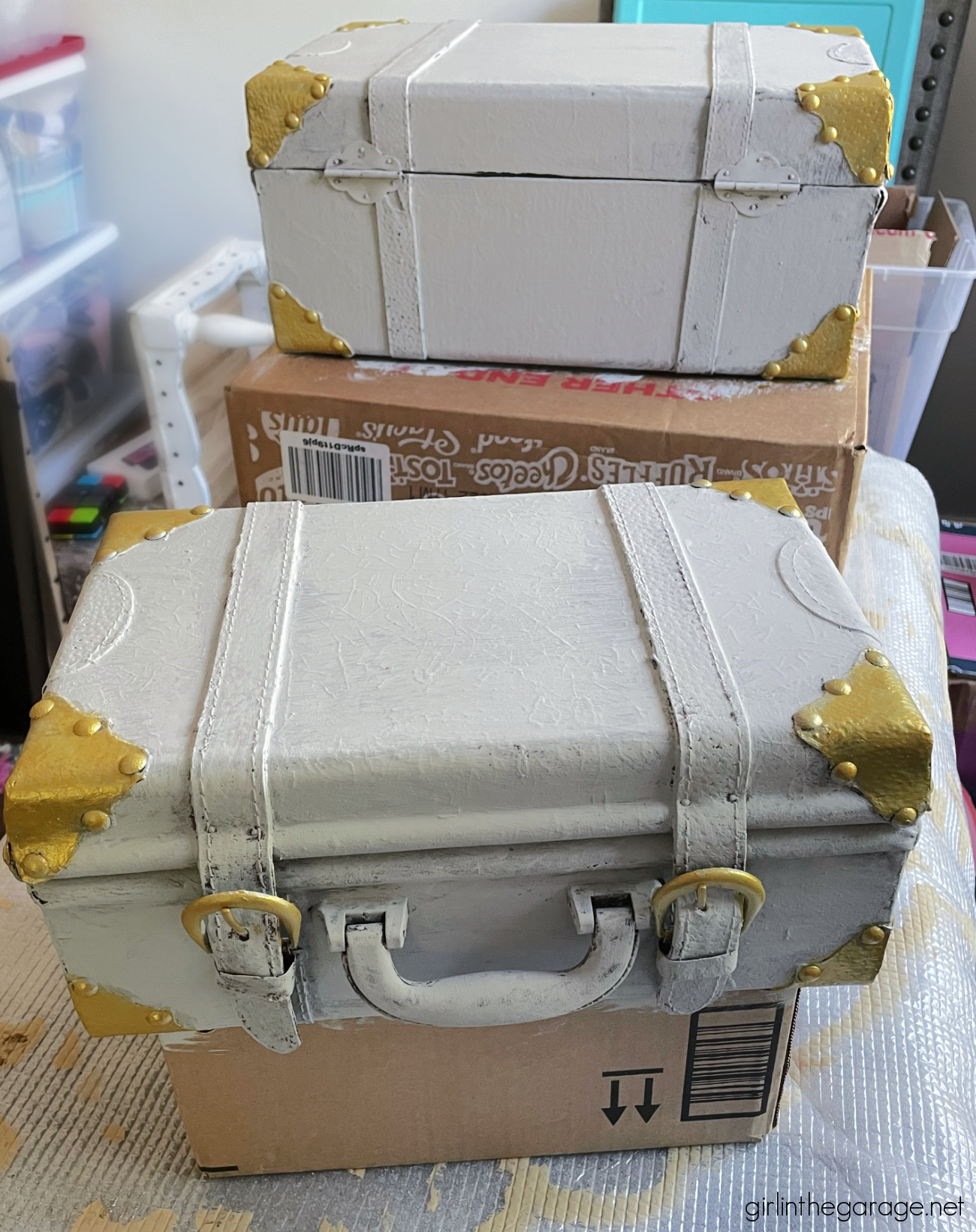 Now, a couple steps happened before the next photo. Maybe you can spot the differences? I'll explain…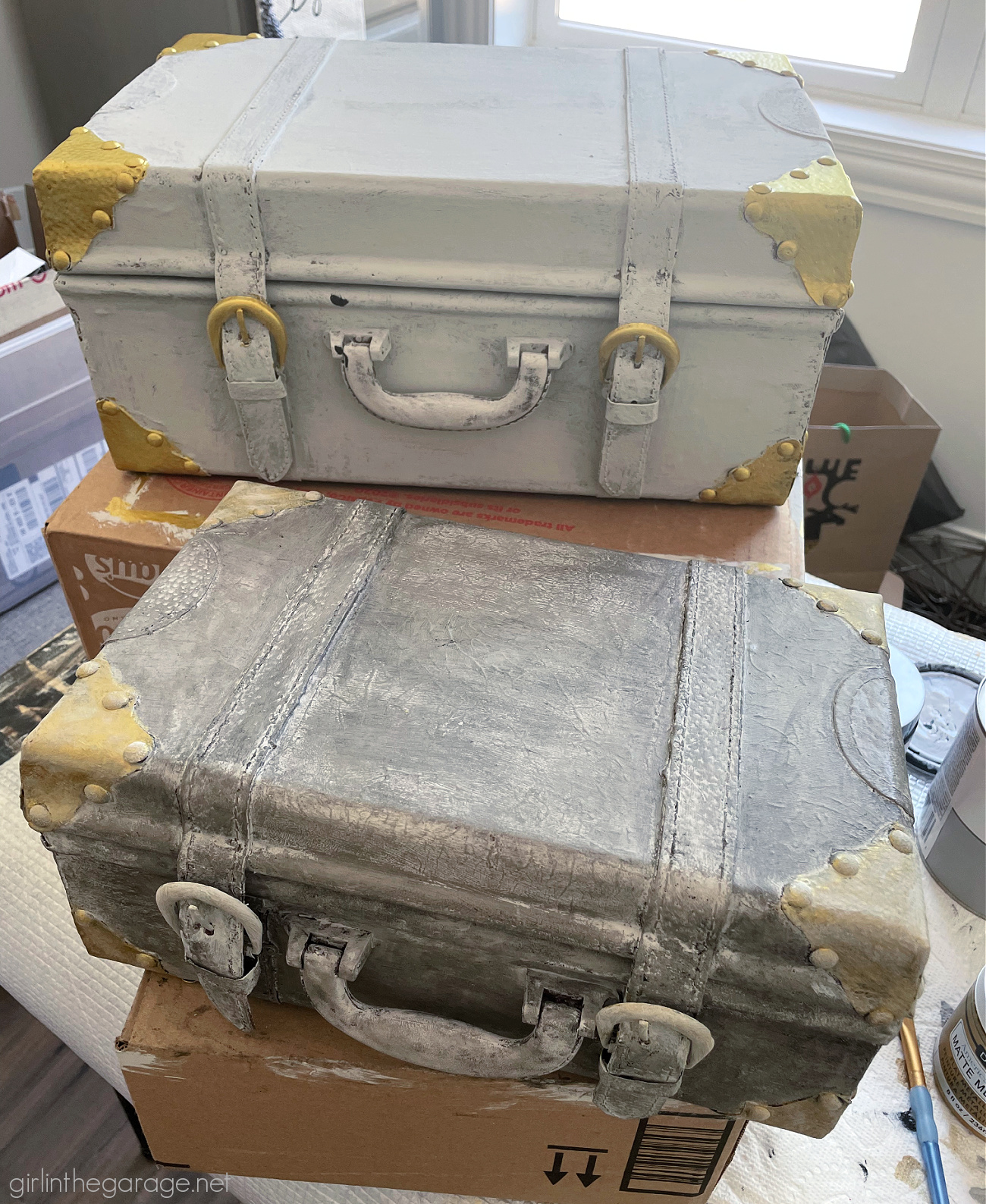 I hated how shiny gold the buckles were, so I repainted those gray.

I hated how shiny gold the corner hardware was, so I lightly dry brushed gray over them to dull the brightness.

Finally, I applied Annie Sloan's black wax all over the suitcases with a lint-free cloth to darken the gray and give them an aged look. (Dark wax looks amazing on pieces with a lot of texture like this.)
And here's the final result…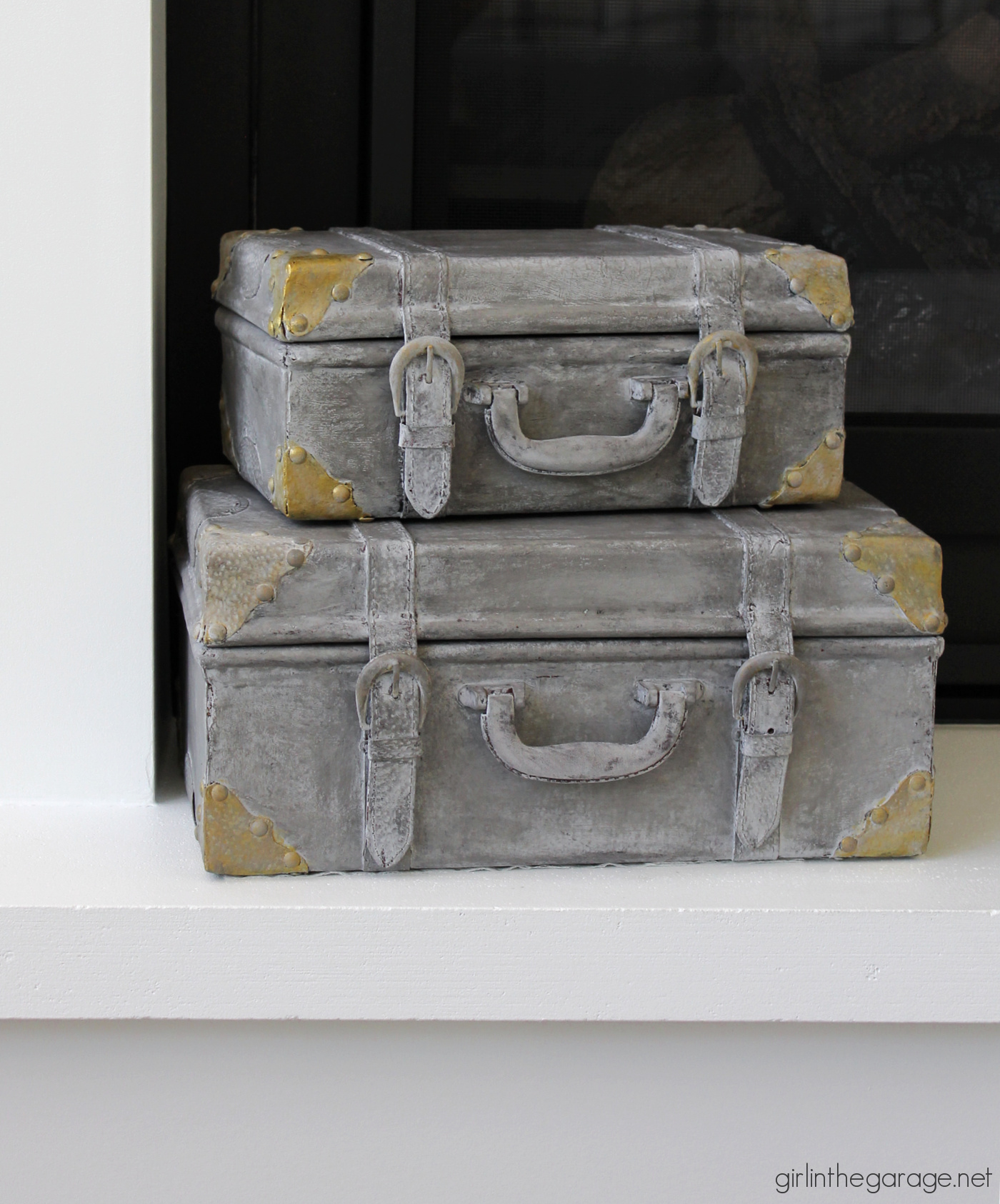 Below is a closer look at all that awesome texture. The suitcases look a little silver in these photos, but it's just a trick of the light gray paint + black wax.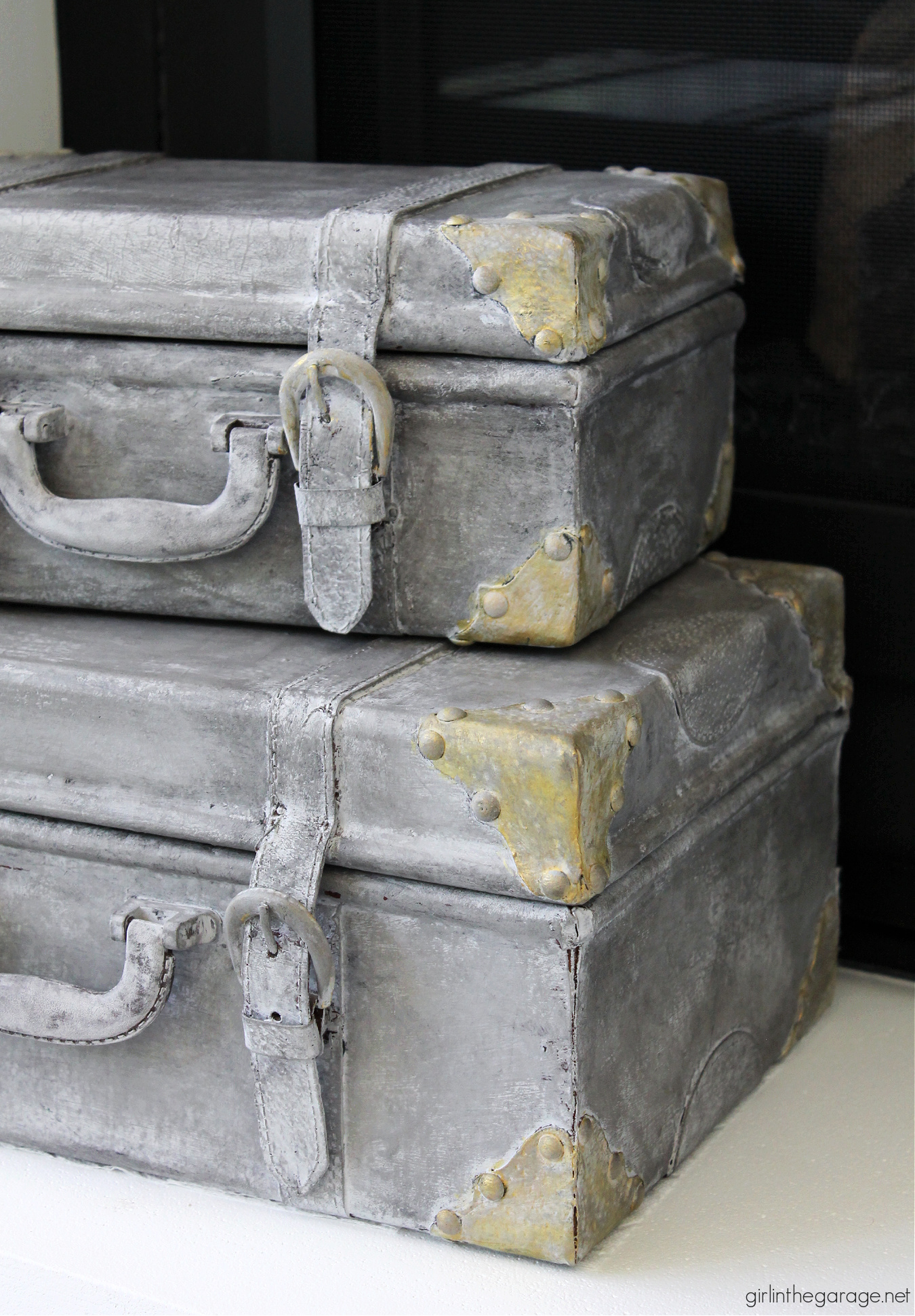 Here you can see the painted black inside. These pieces are great for decor and also extra storage.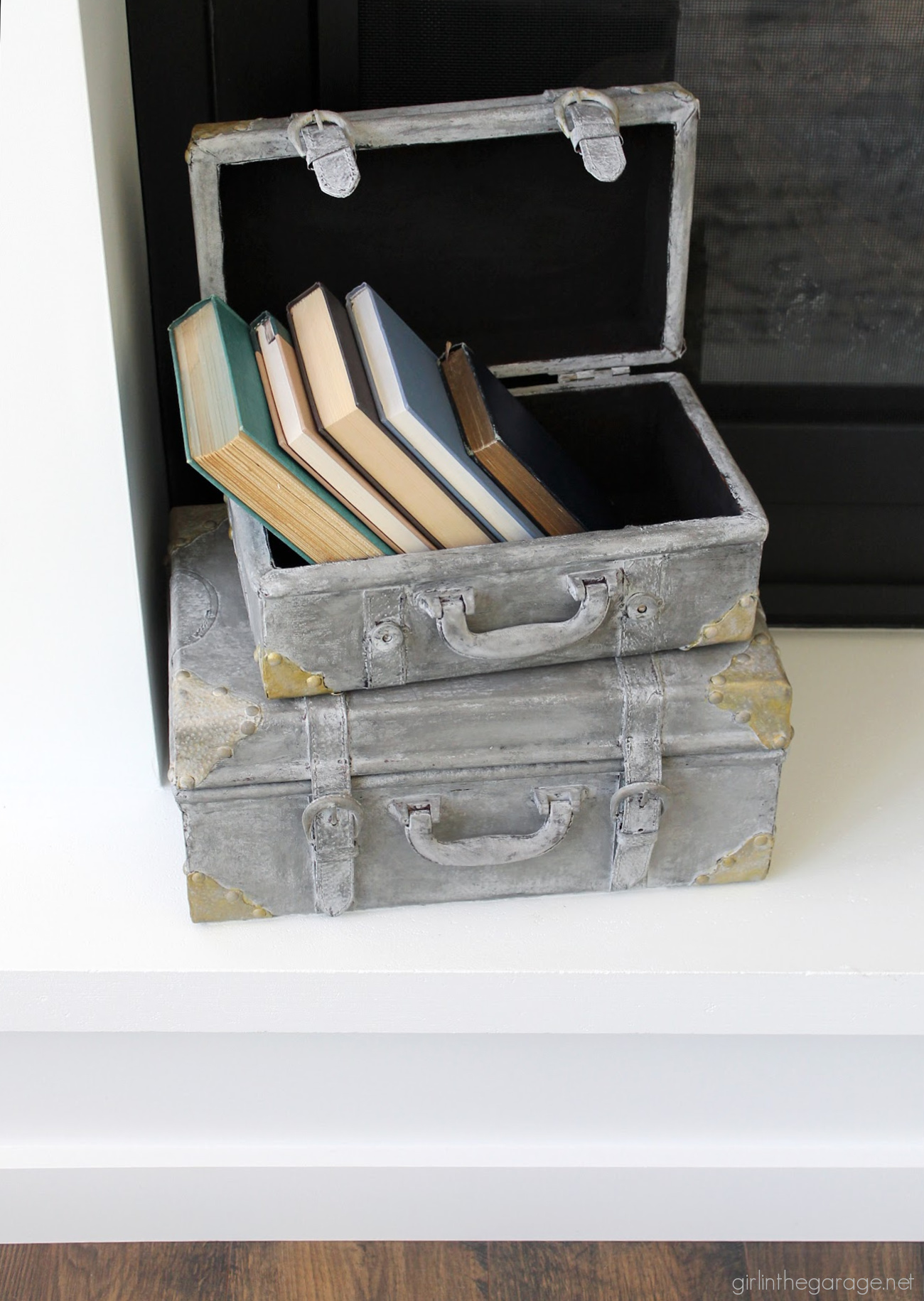 Now, you might be wondering where I placed my new decor – in my new great room! We've lived here 4 months now and I truly love this room and have had fun finding pieces to decorate.
The mantel height is deceiving – it's actually taller than me (I'm 5'2″).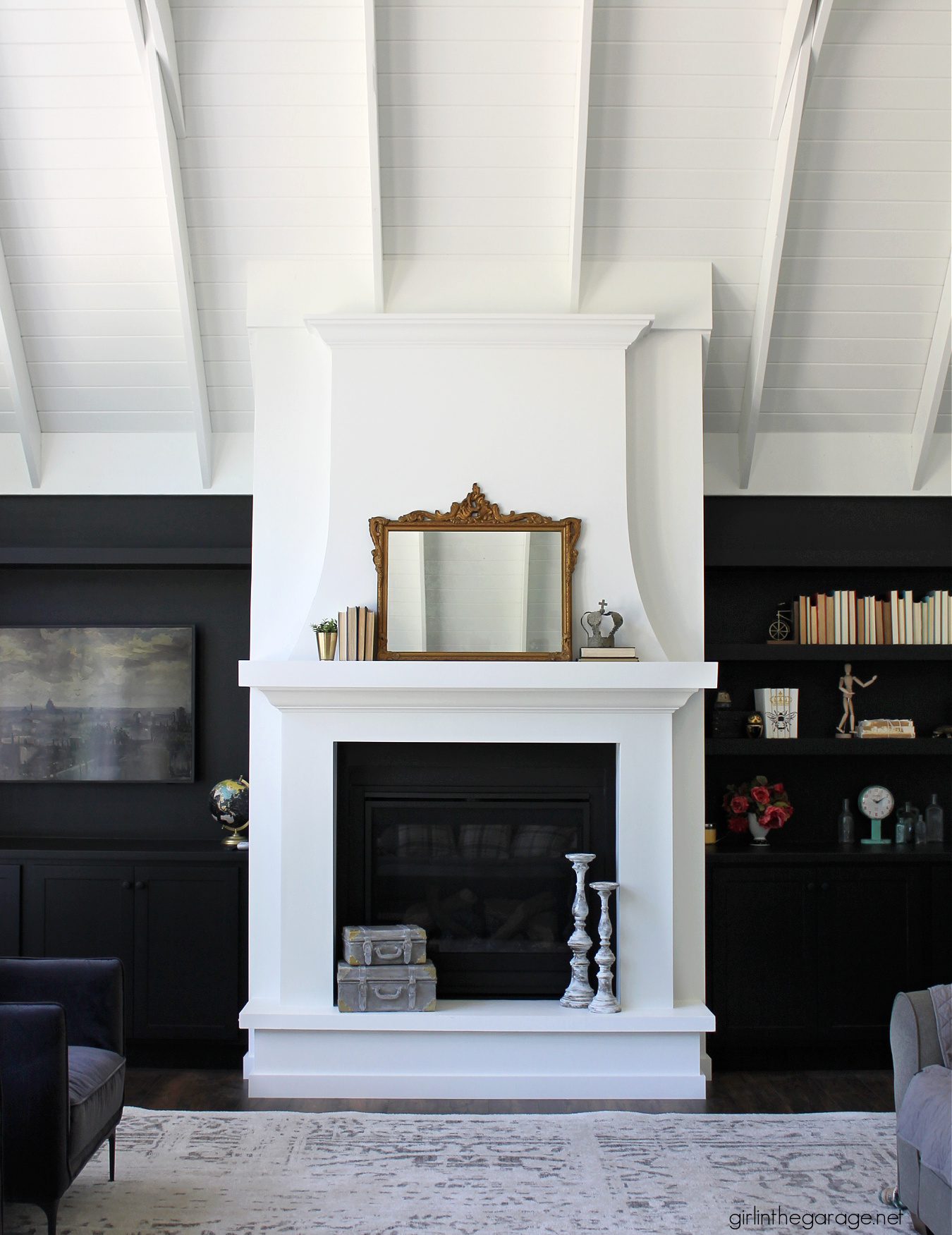 Below you can see from further back, including the chandelier and more of the scissor trusses. ❤️ On the left is our Samsung The Frame TV, which was a must for this room, so it doesn't just look like a big black rectangle 24/7. We can choose from a variety of artwork when we're not watching the TV.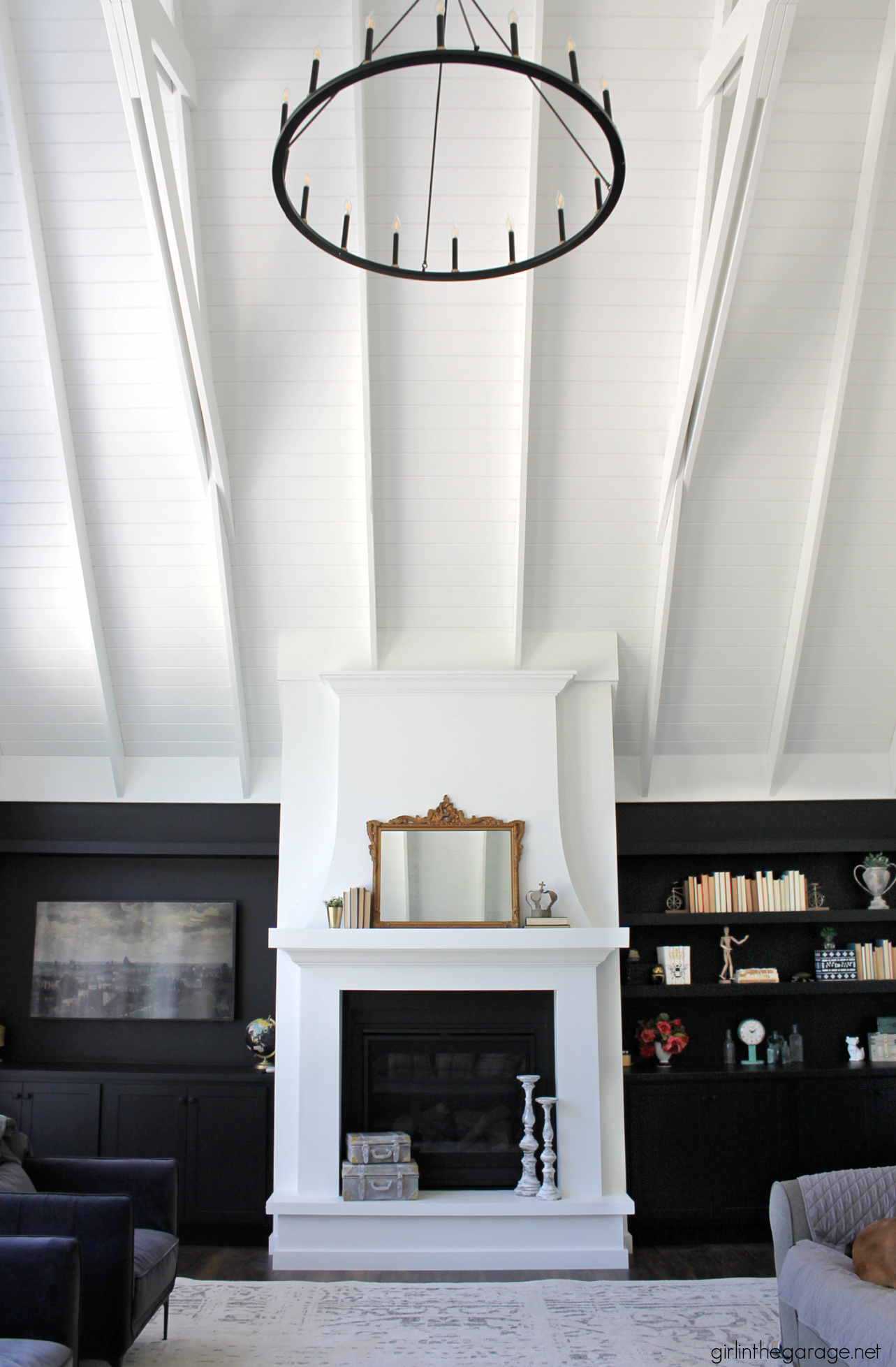 It was a ton of fun designing our home, especially when there's so much inspiration on Pinterest and Houzz. This room was designed by mixing favorite elements from several different spaces we found online and loved.
Learn more about the inspiration for our home's European Country exterior here.
On the other side of the room is the bicycle armoire I painted for my book Amazing Furniture Makeovers (which is temporarily on sale as I'm writing this post!), which had been kept in storage a few years. It's finally getting some use and this space is perfect for it.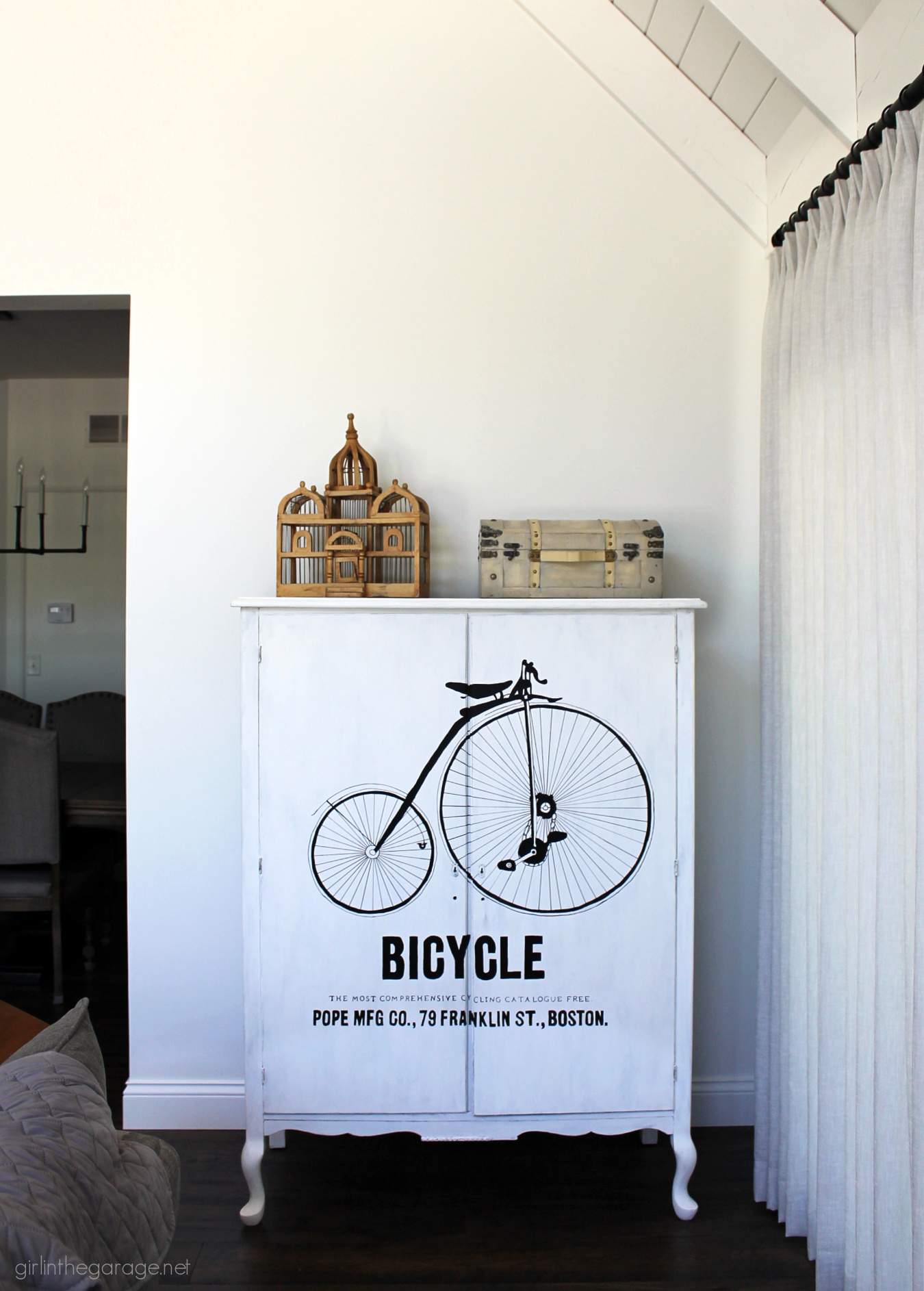 Here's the view from the dining area, right before we moved in. The room is 19×23 and about 20ft high at the vault. (Honestly, even though I have an office/work room now, I love to sit at the dining table and just stare at this view while I'm working on my laptop!) Plus, we see deer almost daily in our back yard.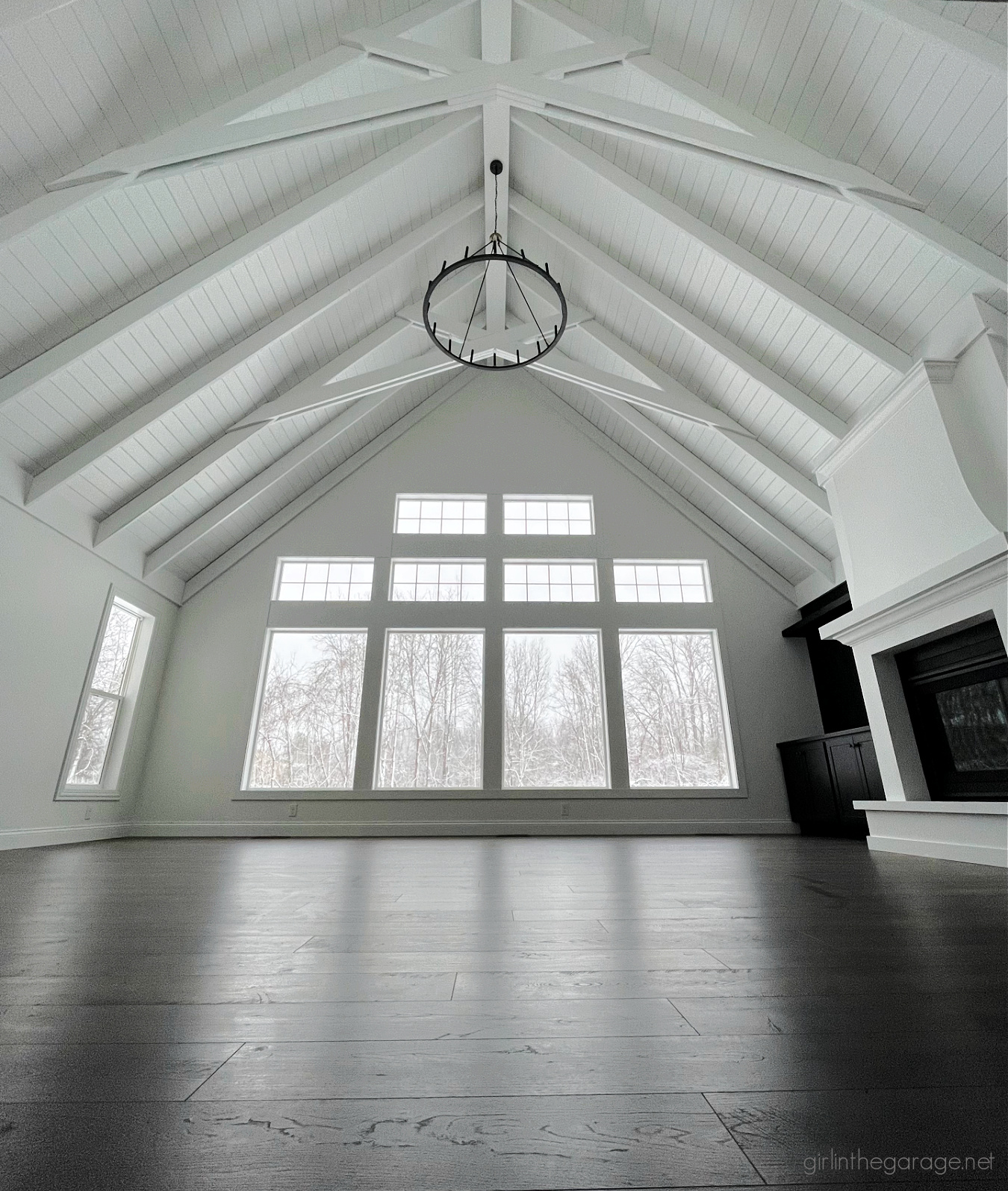 Here's a reminder of today's project: How to Paint a Suitcase. Feel free to pin this makeover to easily find it again later.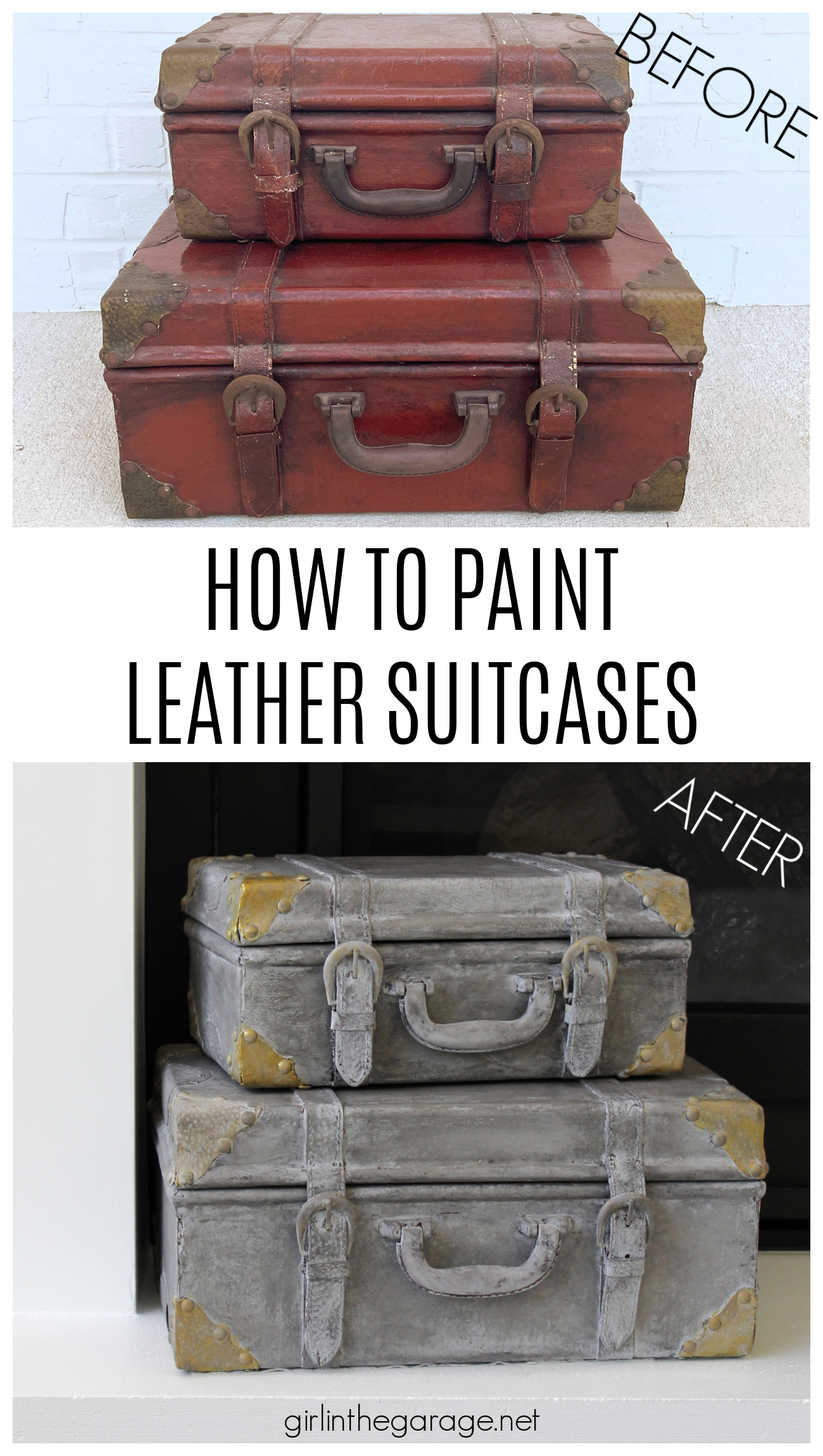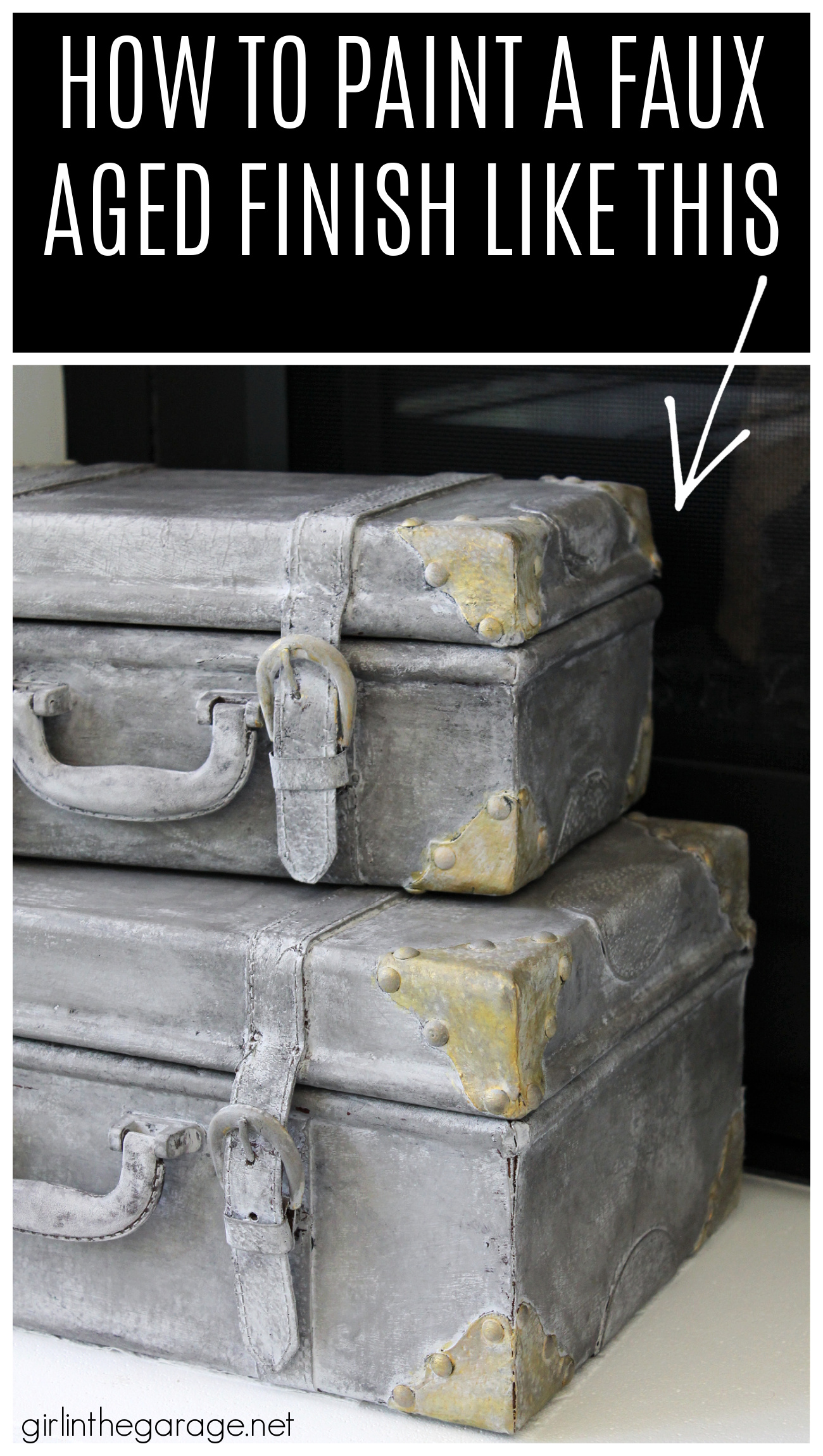 Now it's Trash to Treasure time with my talented blogging friends – let's see what they're up to!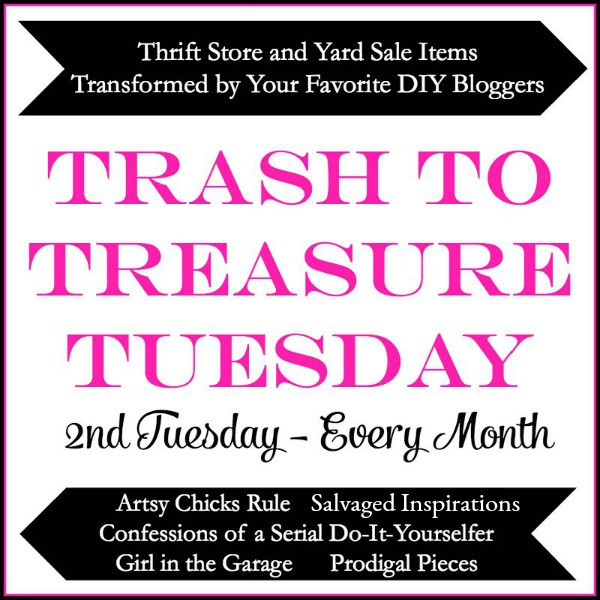 Below are the Before photos – visit the links underneath to see the creative Afters:
1. Confessions of a Serial DIYer
2. Artsy Chicks Rule
3. Salvaged Inspirations
4. Prodigal Pieces
Before you go, find 25 exclusive, step-by-step furniture makeovers and lots of painting advice in my book Amazing Furniture Makeovers. Learn more by clicking the image below.