Friend, one of the fun perks of being a furniture painter is having friends offer you pieces they don't need anymore. That's how I got this beautiful desk below – overall it was in good condition with a few minor issues. Also, the top was carefully protected with glass.
For today's project, I'll show you how to Chalk Paint a desk (but we're leaving the top stained since it looks good as-is). There's also a helpful video included for you.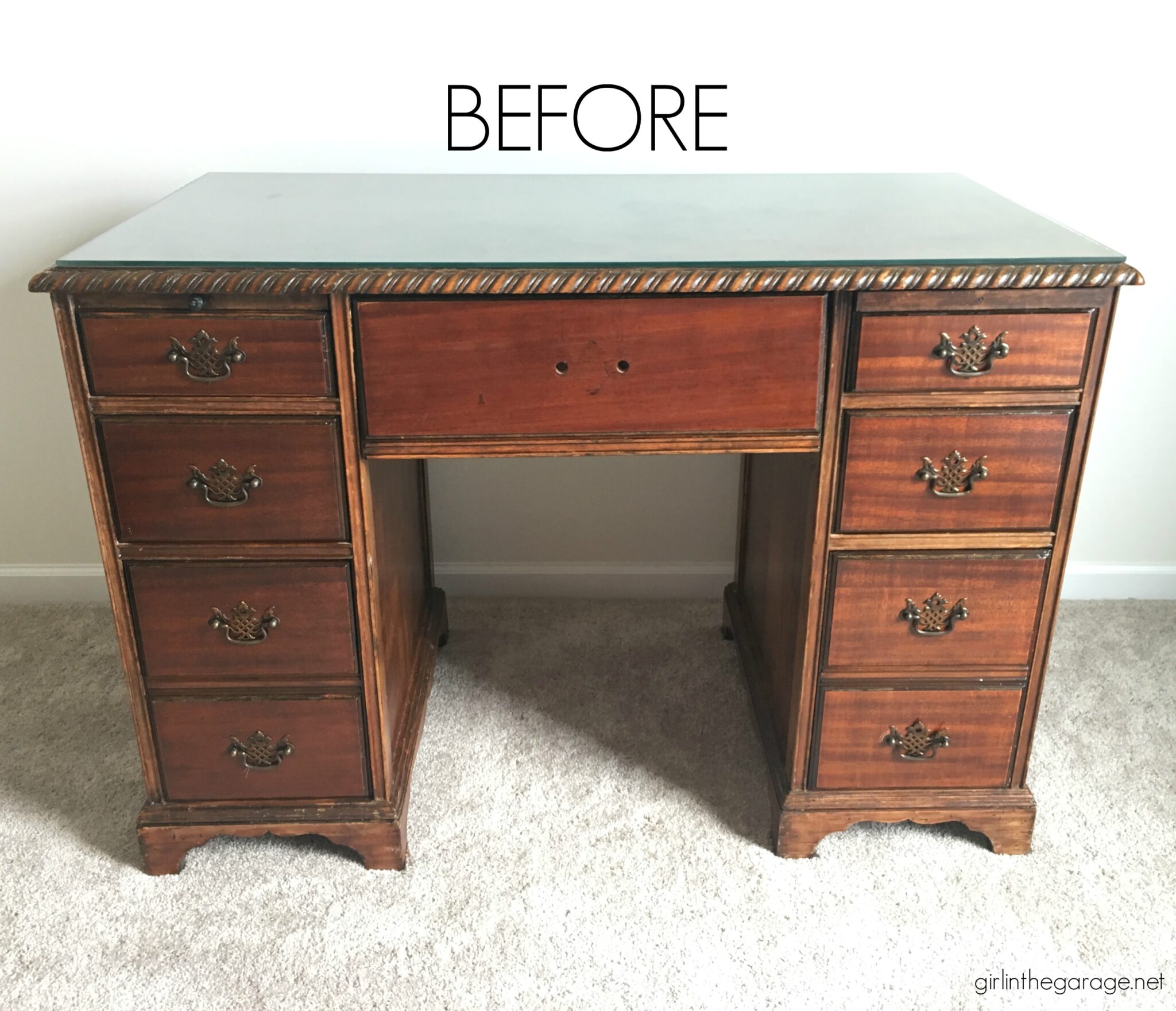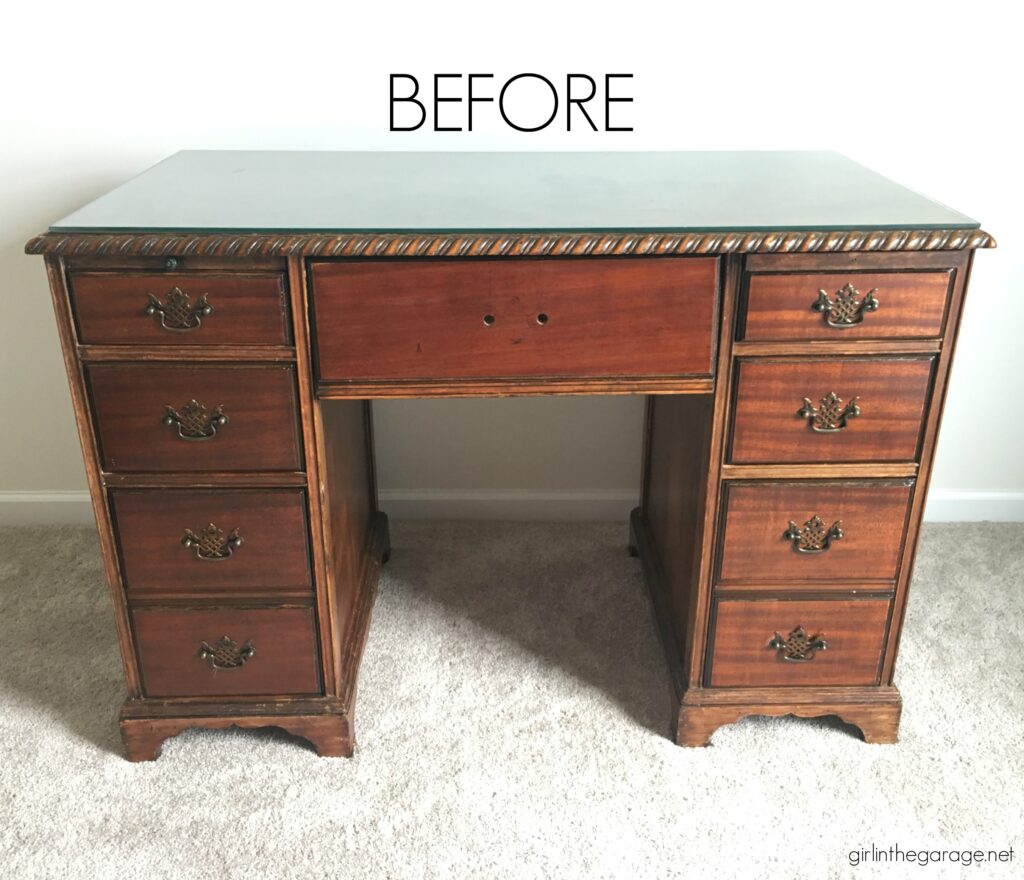 One of the areas we wanted to change was the center drawer. The front folds down and it slides out for a keyboard, but we wanted to make it into a regular drawer for more storage space.
FYI This desk is staying in my family – possibly with my mom for awhile and then back to us whenever we get a bigger house.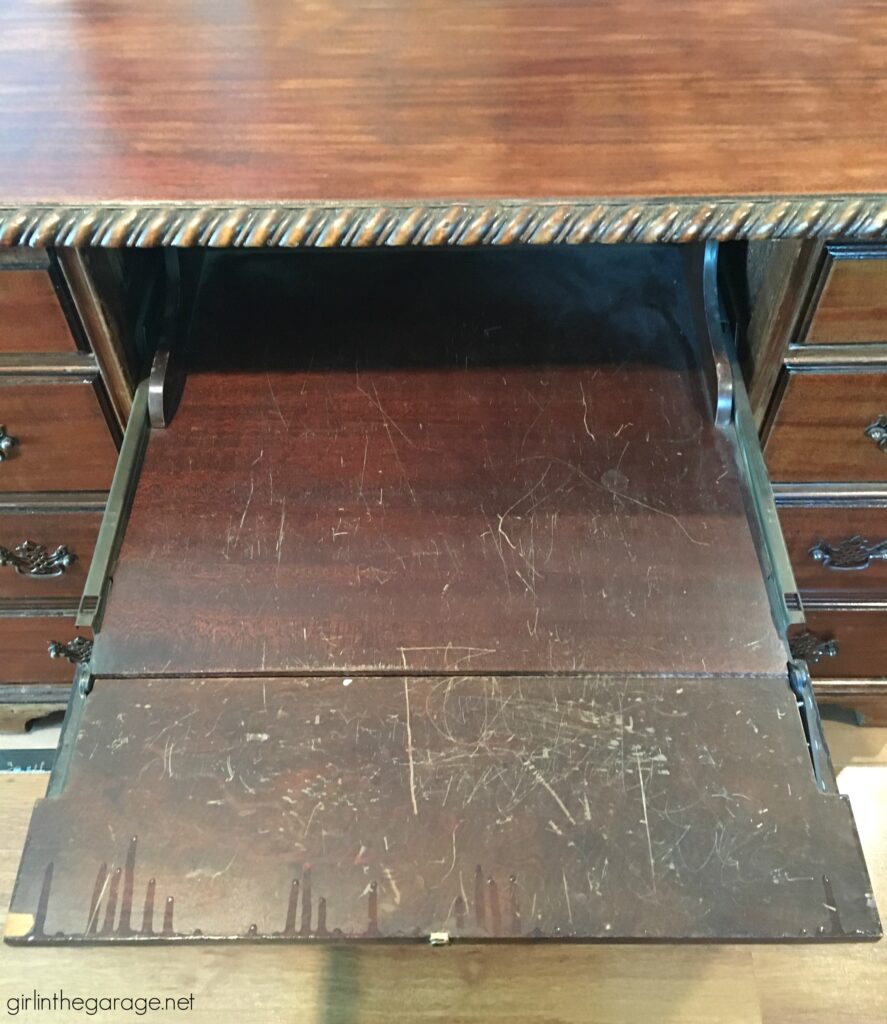 This post contains some affiliate links so you can easily find the products I use and recommend. This post is NOT sponsored and includes my honest opinions of products used. Discover my favorite brands and tools for doing DIY makeovers here.
Another challenge: The desk has two pull-out writing extensions, but one of the knobs had broken off and the screw was still inside the wood.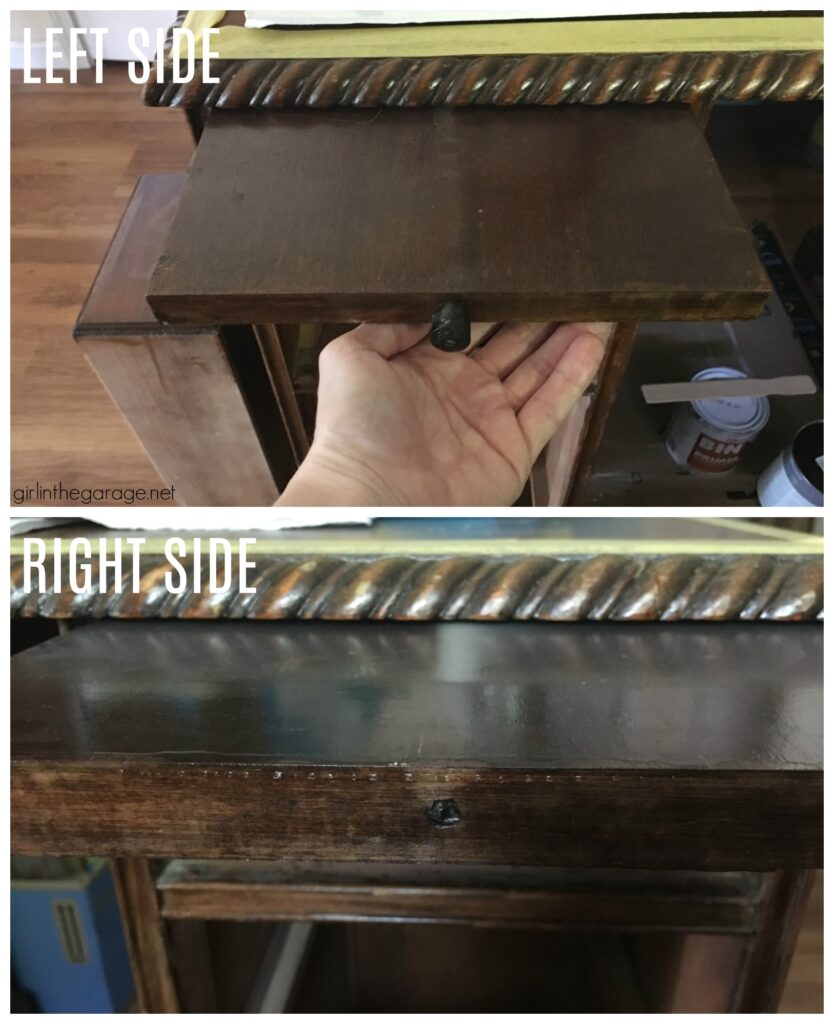 How to Prep a Desk for Chalk Painting
First the drawers came out. I ordered some new hardware online but the screw distance was wider – no big deal though – I filled the holes with wood filler using a putty knife, let it dry, and then sanded them smooth.
Read all about how to properly prep furniture for painting Here.
Next, I was worried about bleed-through since I was going to use a light shade of Chalk Paint on this wood desk.
I applied three coats of shellac primer after taping off the top area with Frogtape. (I tend to be a messy painter.)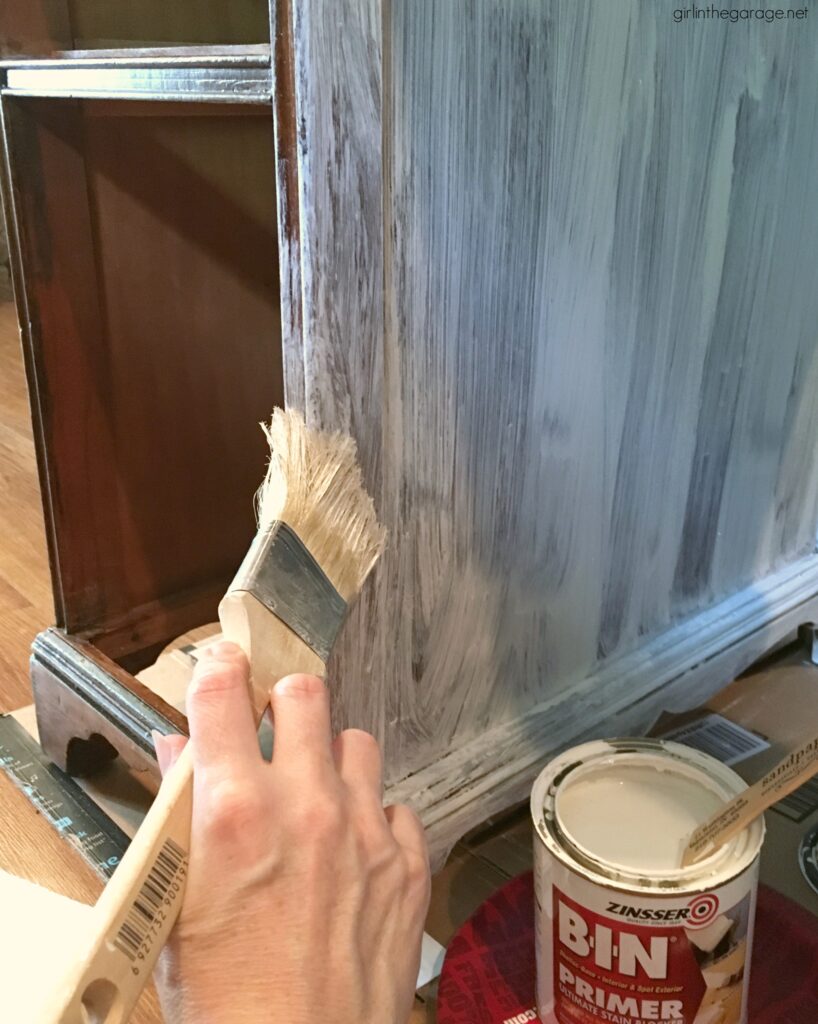 Confession: Sometimes I'm not only the girl in the "garage." I paint wherever I have room, like the kitchen! LOL
If you feel like you don't have enough room for painting furniture, read this helpful post: How to Start Flipping Furniture When You Don't Have Money, Space, or Time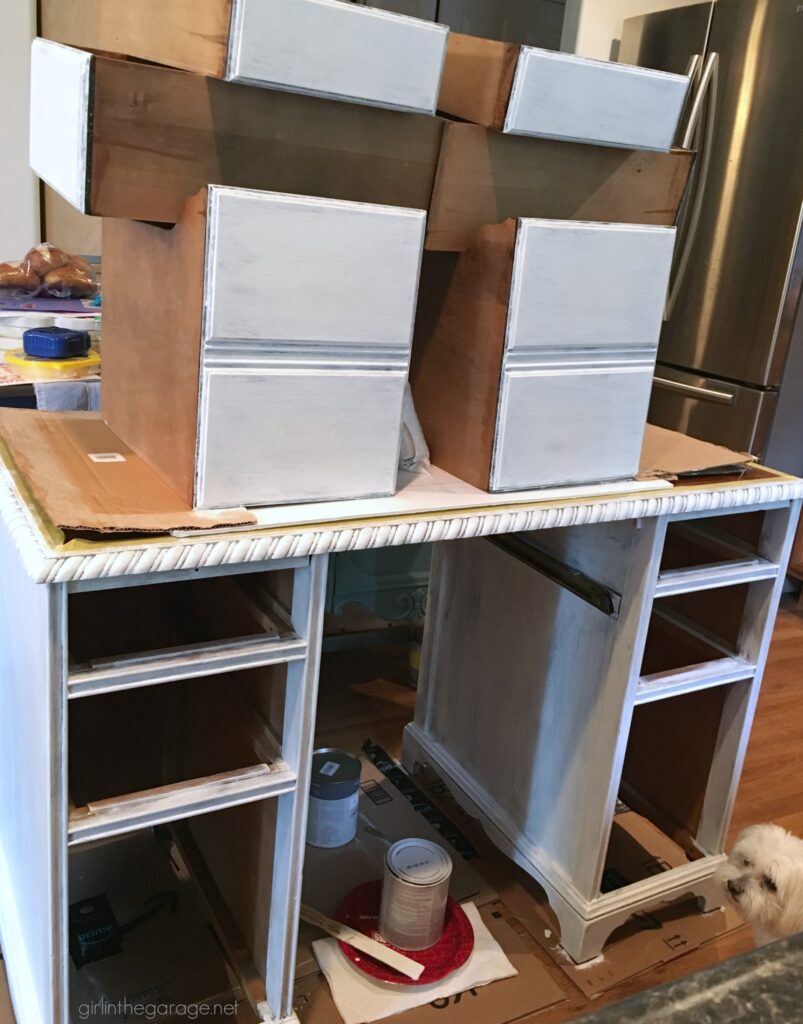 How to Measure for New Drawer Pulls
First, mark the center of the left and right sides with a little pencil mark. Then using a ruler, line up those marks and make another pencil dot at the center.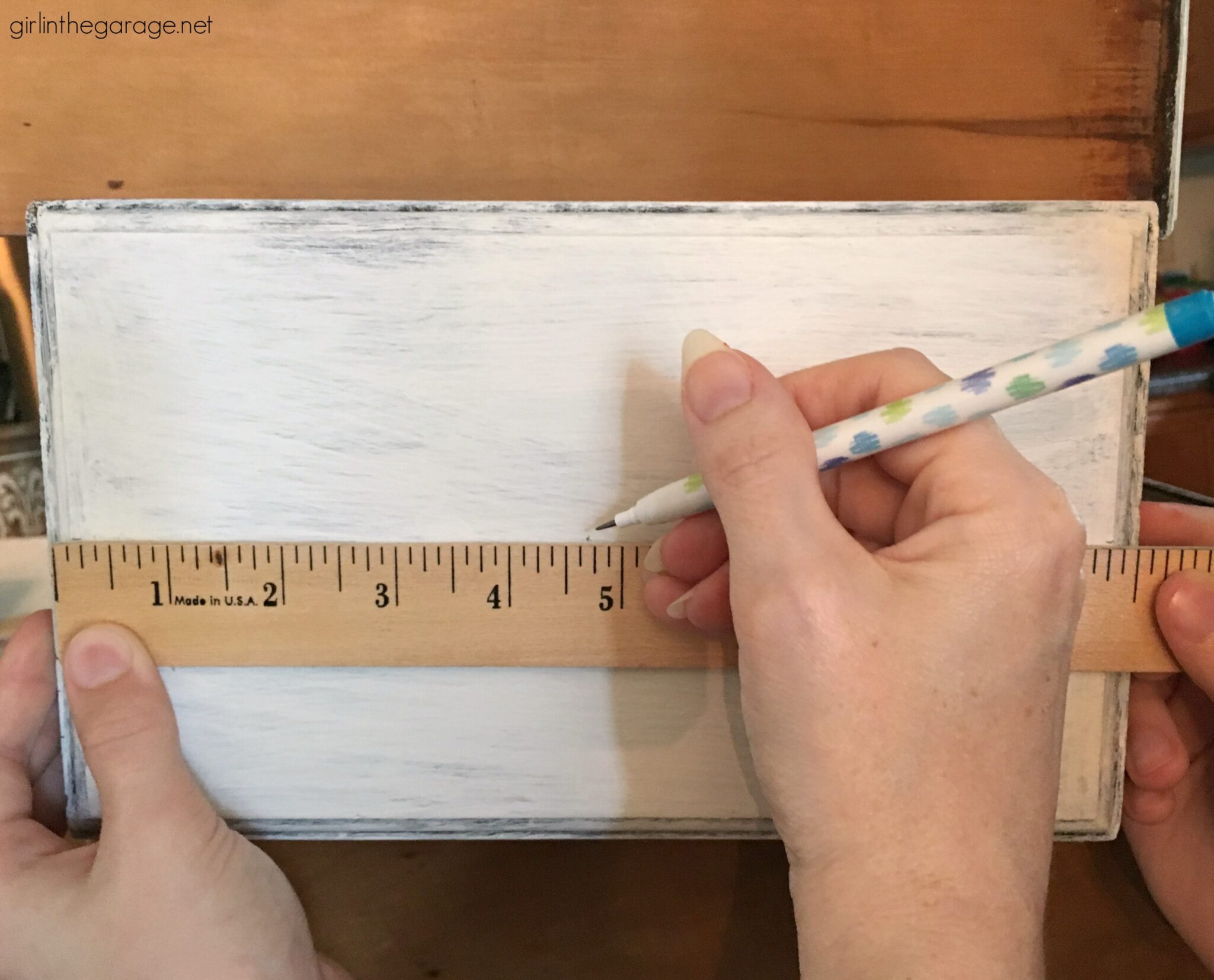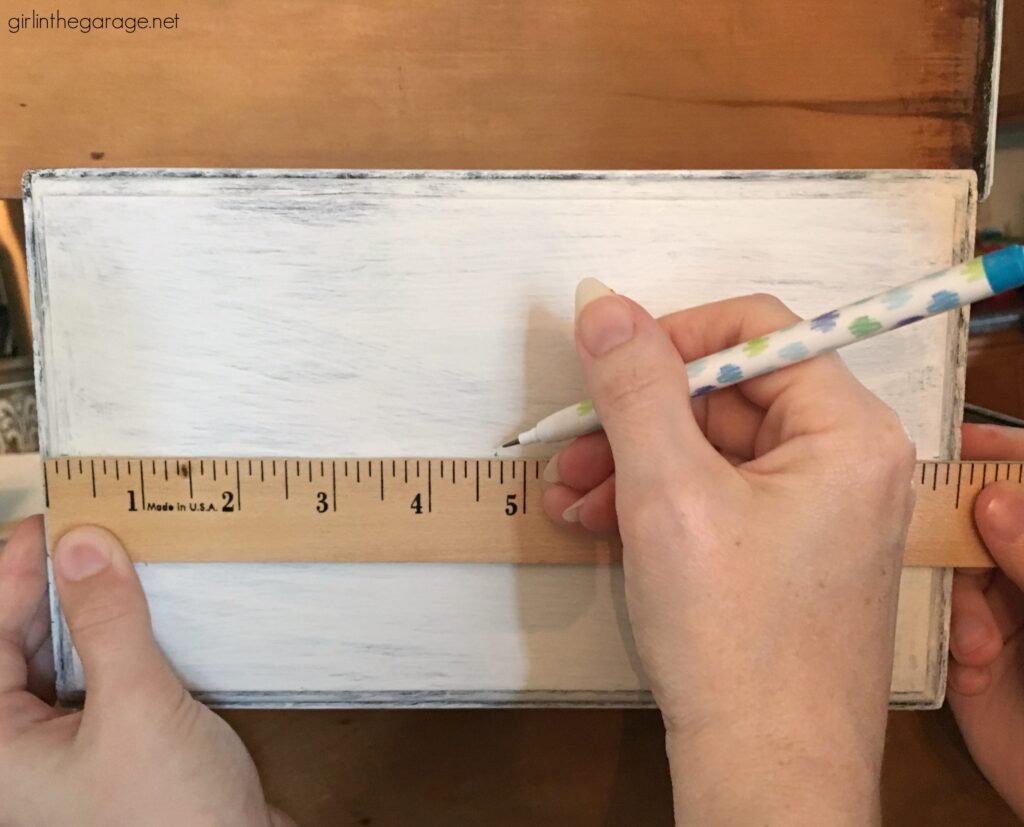 To make measuring for new drawer pulls easier, use a tool like this alignment guide (below).
Rest it along the top edge of the drawer and match up the center dot. The next closest spaces on the guide are 3 inches apart like the new pulls, so I made dots in those holes.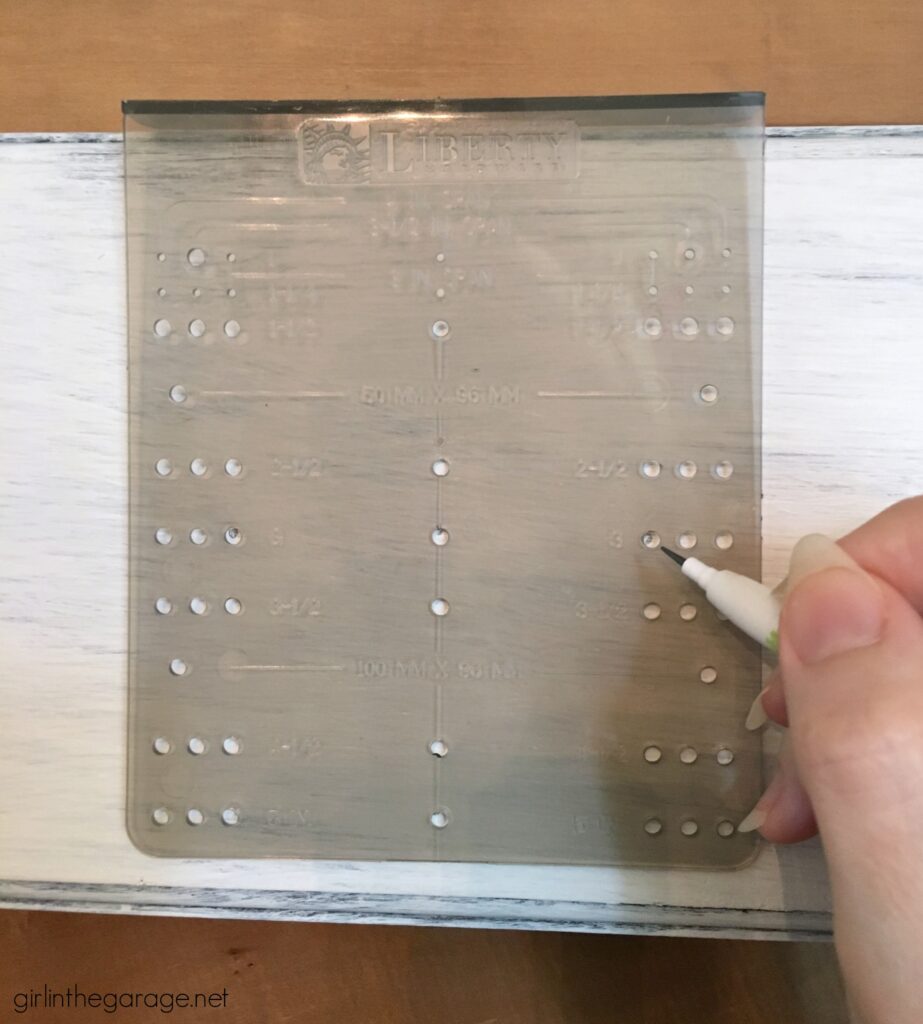 Ta-da! So easy to measure and mark where the new holes should go.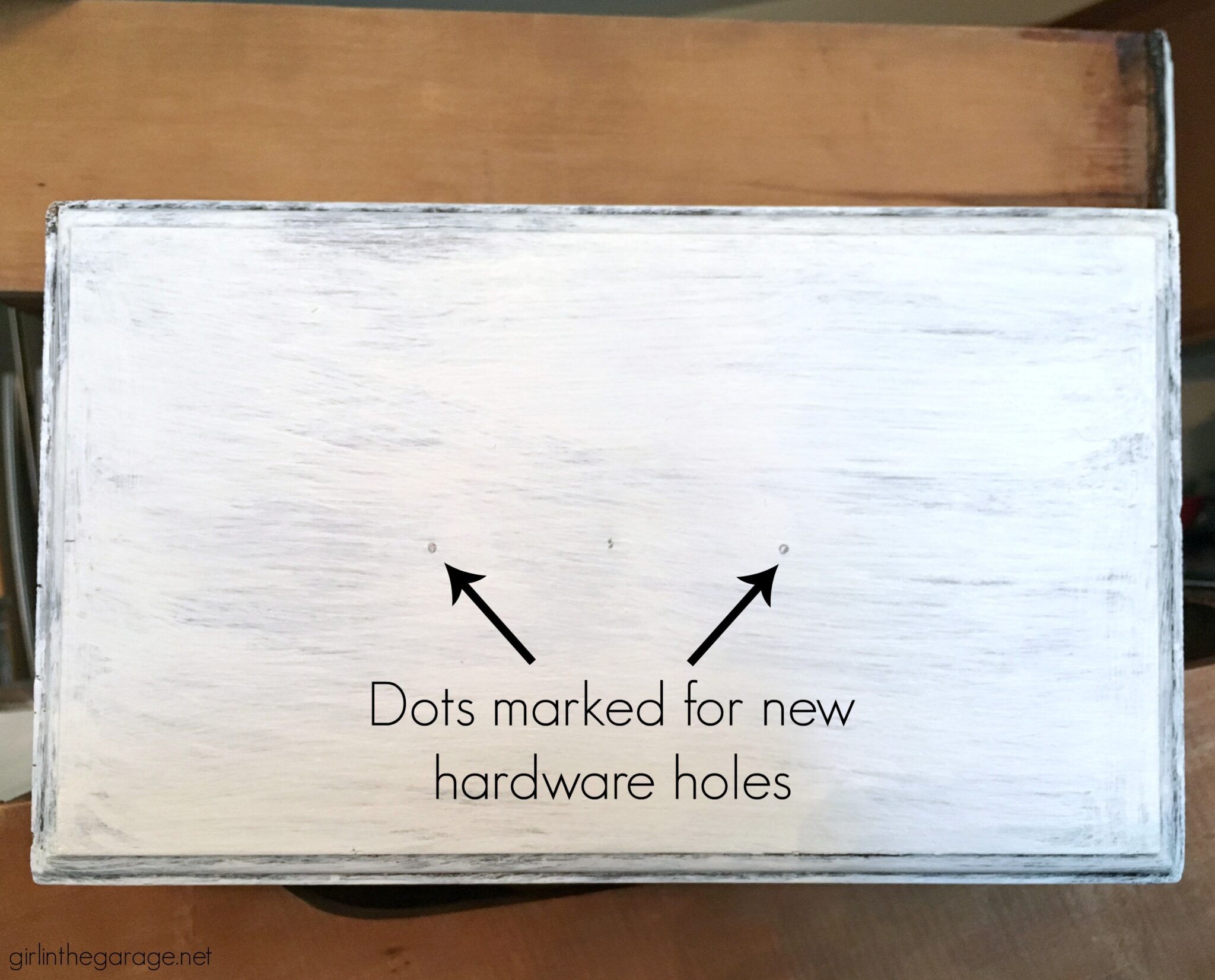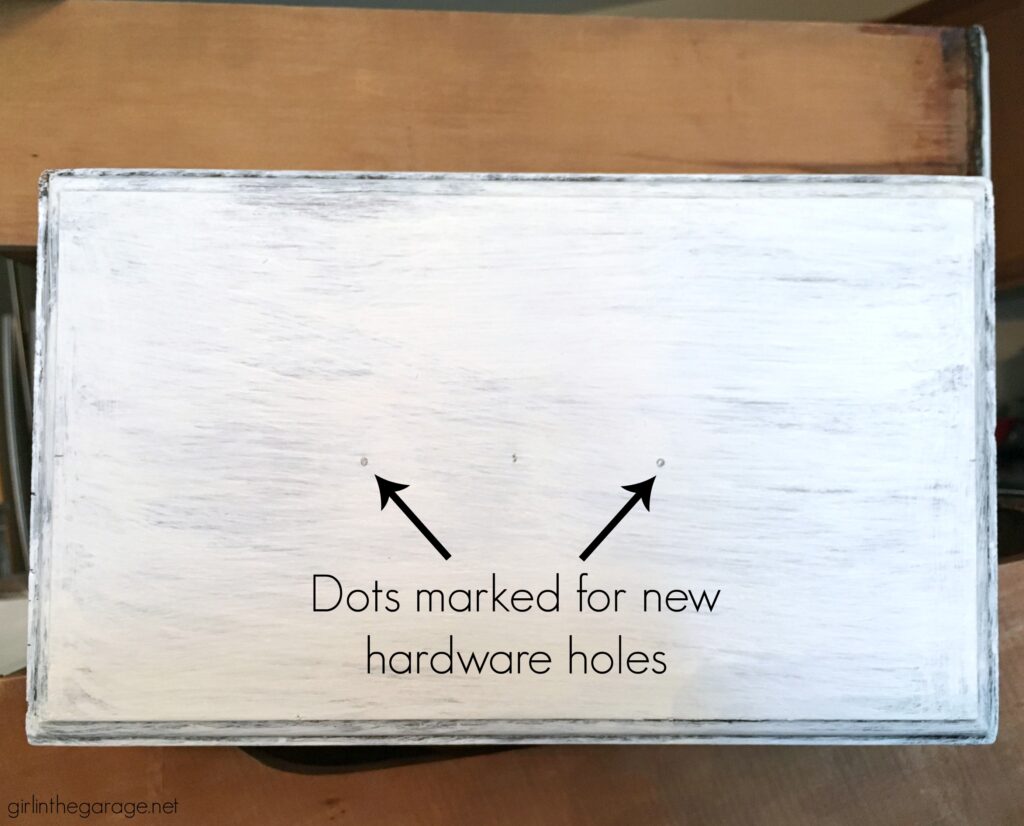 I used my trusty drill-driver kit to drill the new holes. It wasn't too hard, but after 18 holes you might get spaghetti arms (like me).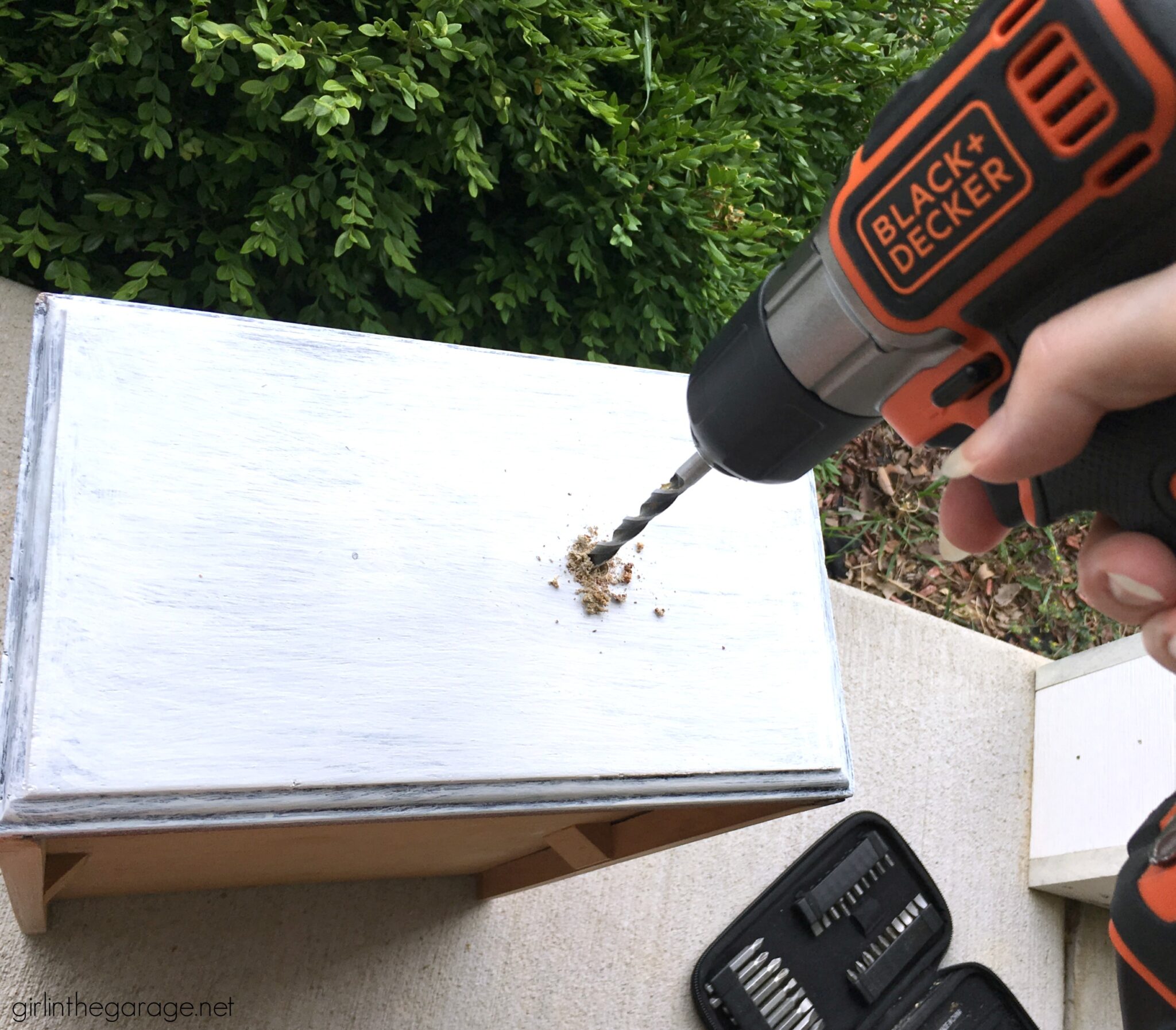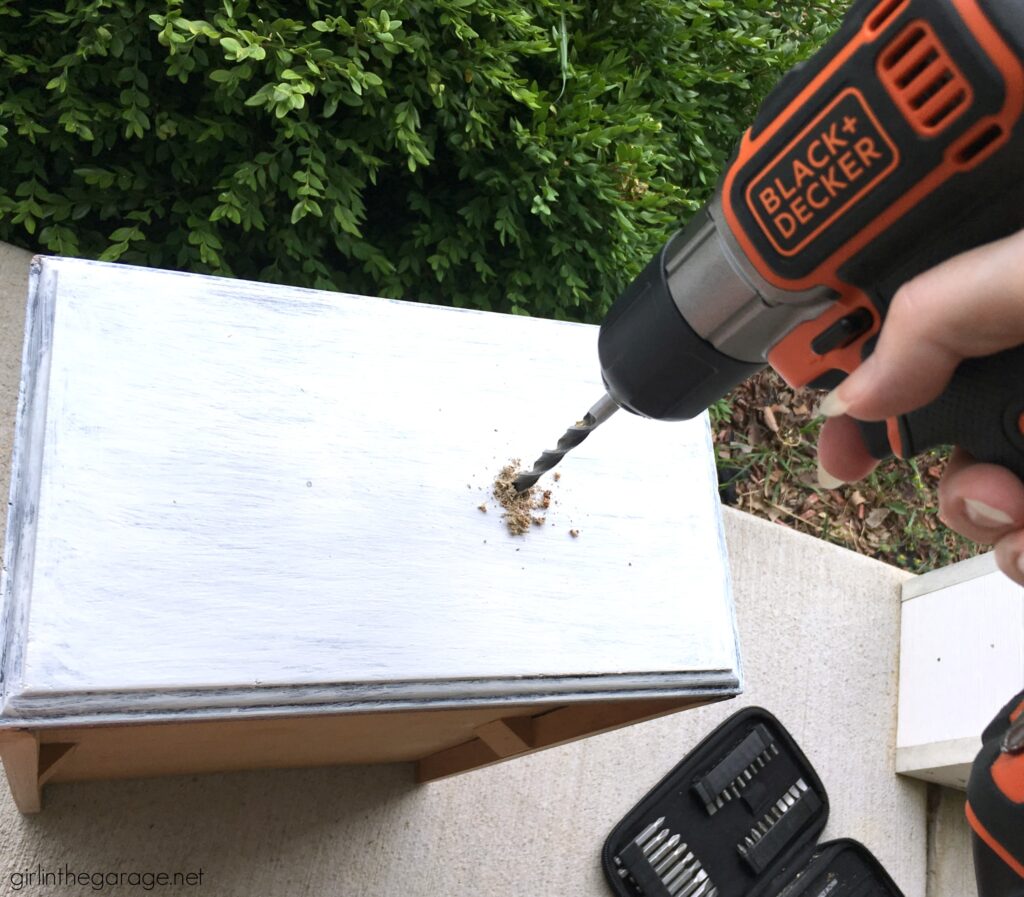 After drilling new holes, I like to tape the inside so paint doesn't drip through into the drawers.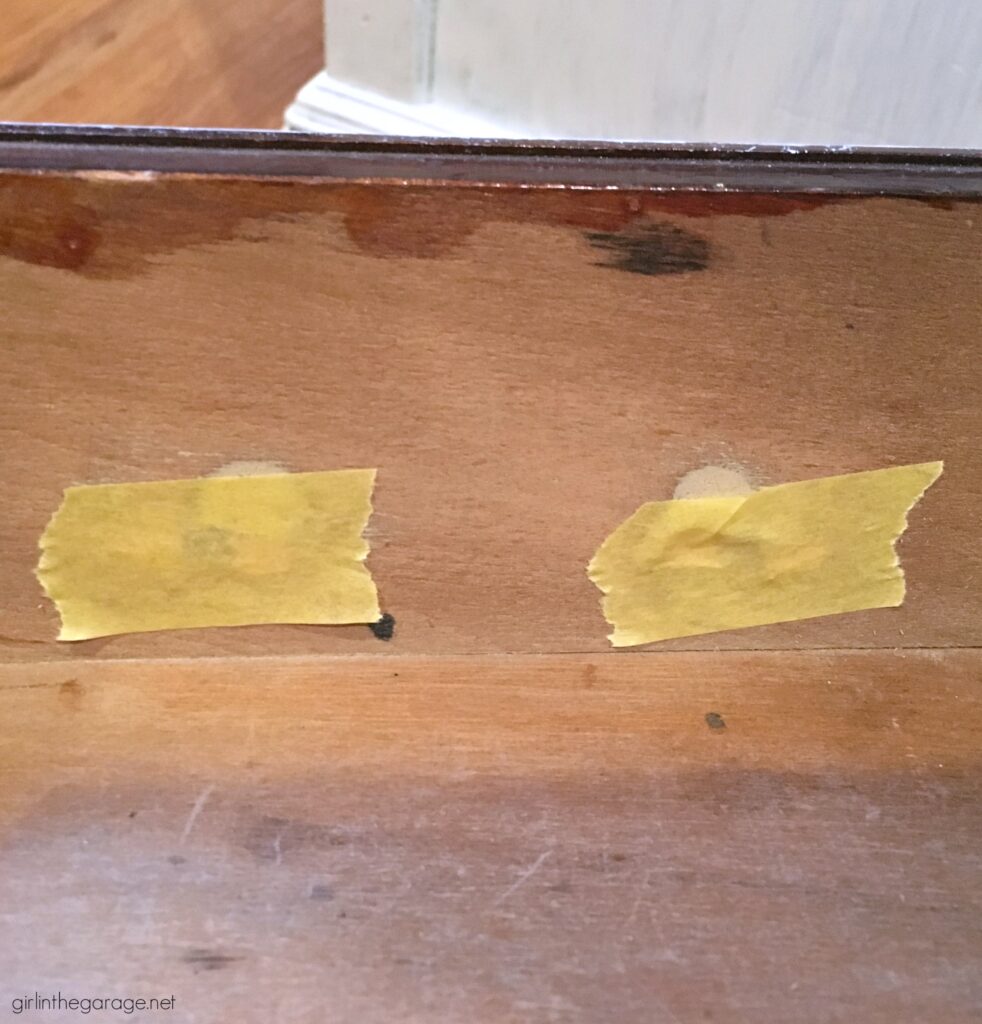 Next: Painting the desk with Annie Sloan Chalk Paint in Old Ochre using my favorite Purdy paint brushes.
I painted about two coats, and didn't have any bleed-through because of the primer which worked awesome.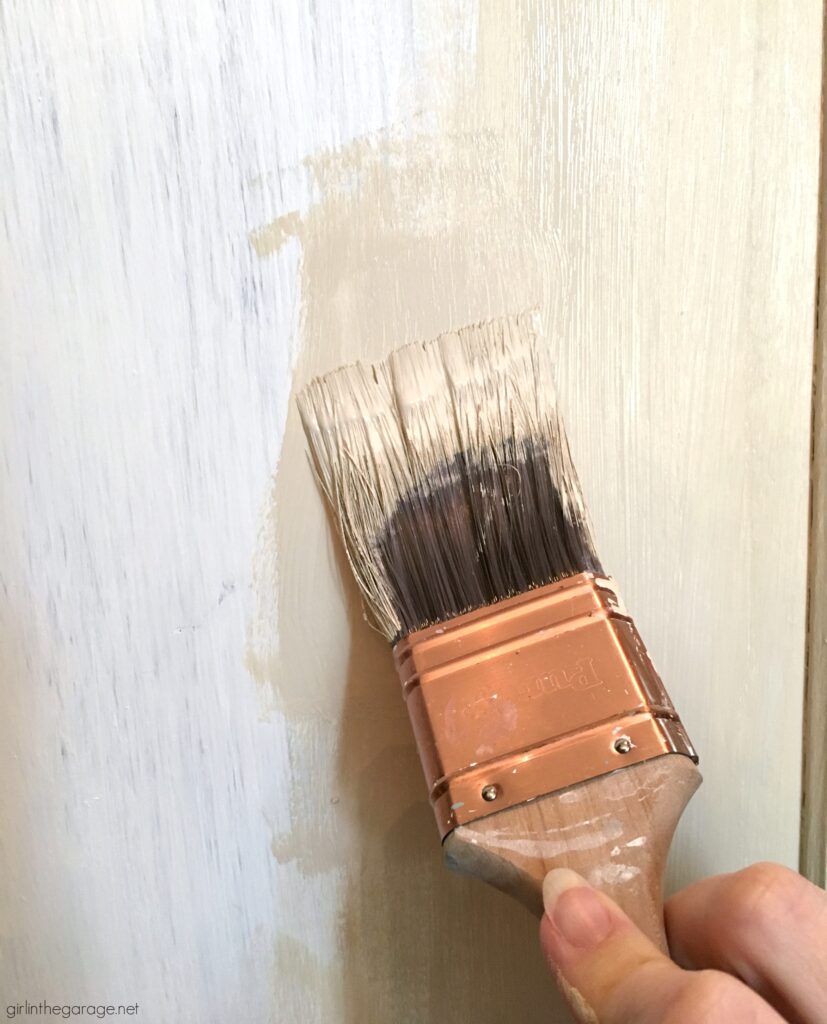 Be sure to let the Chalk Paint fully dry between coats. Since Chalk Paint is thick you might end up with some texture, but you can sand it smooth after it dries.
For more tips, read this in-depth post: How to Chalk Paint Furniture: The Ultimate Beginner's Guide to Chalk Painting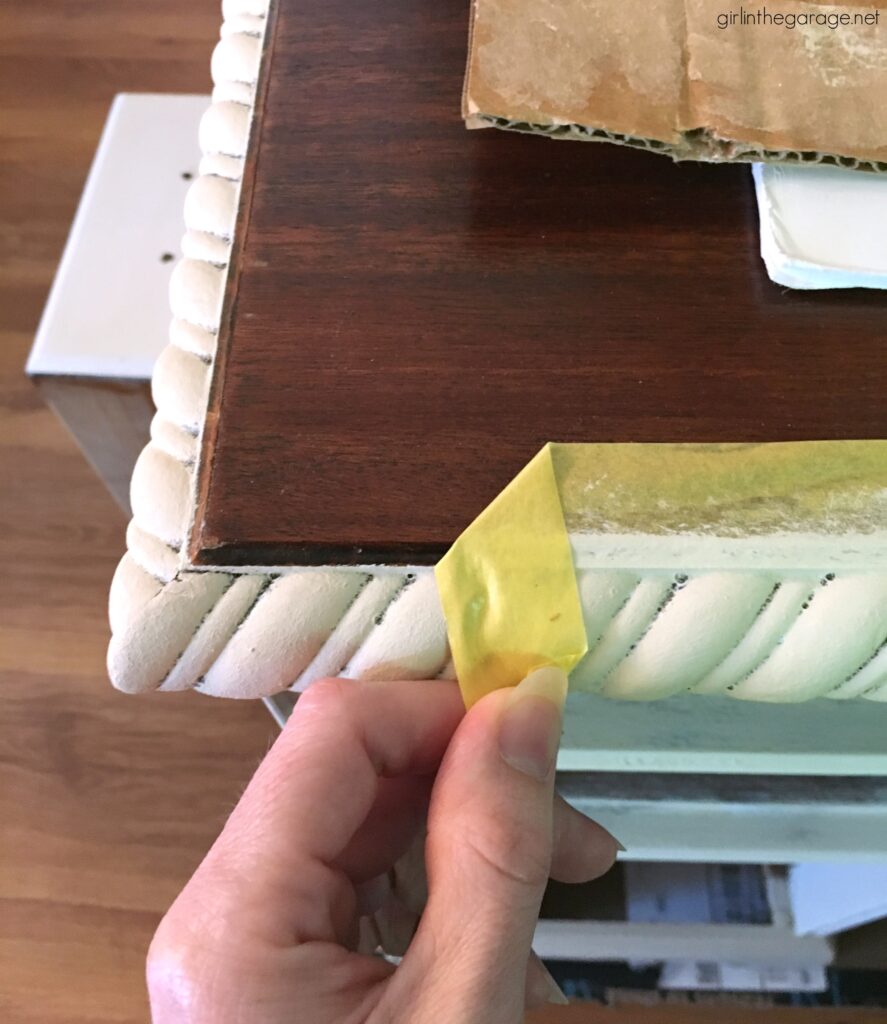 Carefully remove any Frogtape after painting.
How to Rebuild a Desk Drawer
Below you can see the piece that looks like a shelf, which was actually the original back of the drawer. Since we wanted this to be used as a regular drawer, the plan was to cut three wood pieces to use as the new back and sides, and then attach them to the front and bottom pieces. (The front panel would no longer fold forward.)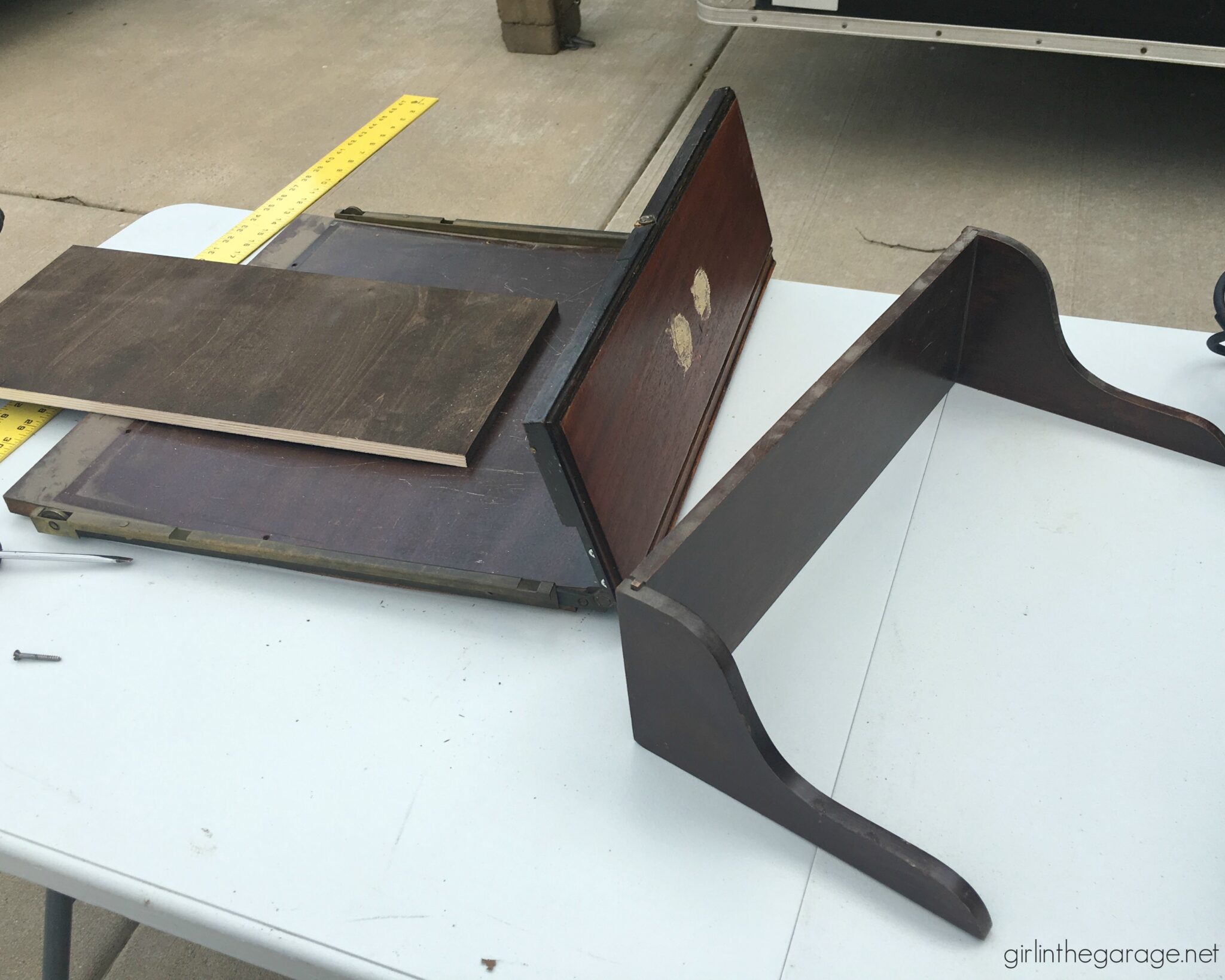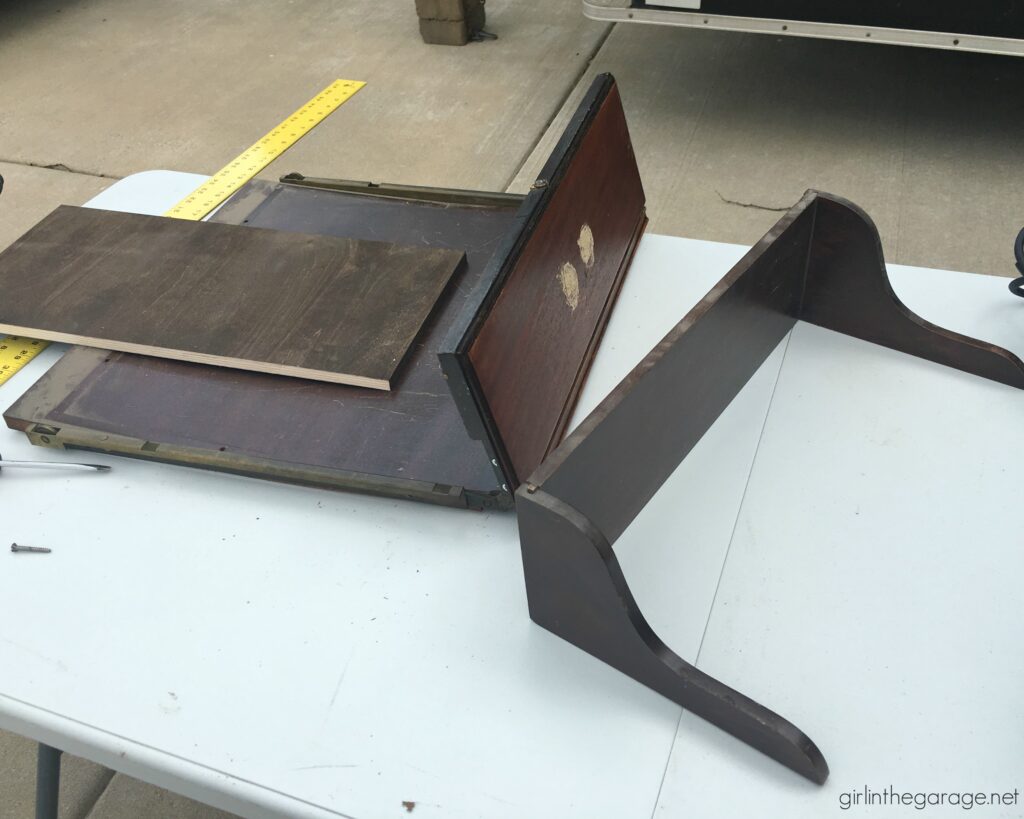 Guy in the Garage helped out by measuring and cutting some scrap wood (already stained) using the table saw.
When using power tools, please remember to always use proper safety equipment and follow the directions.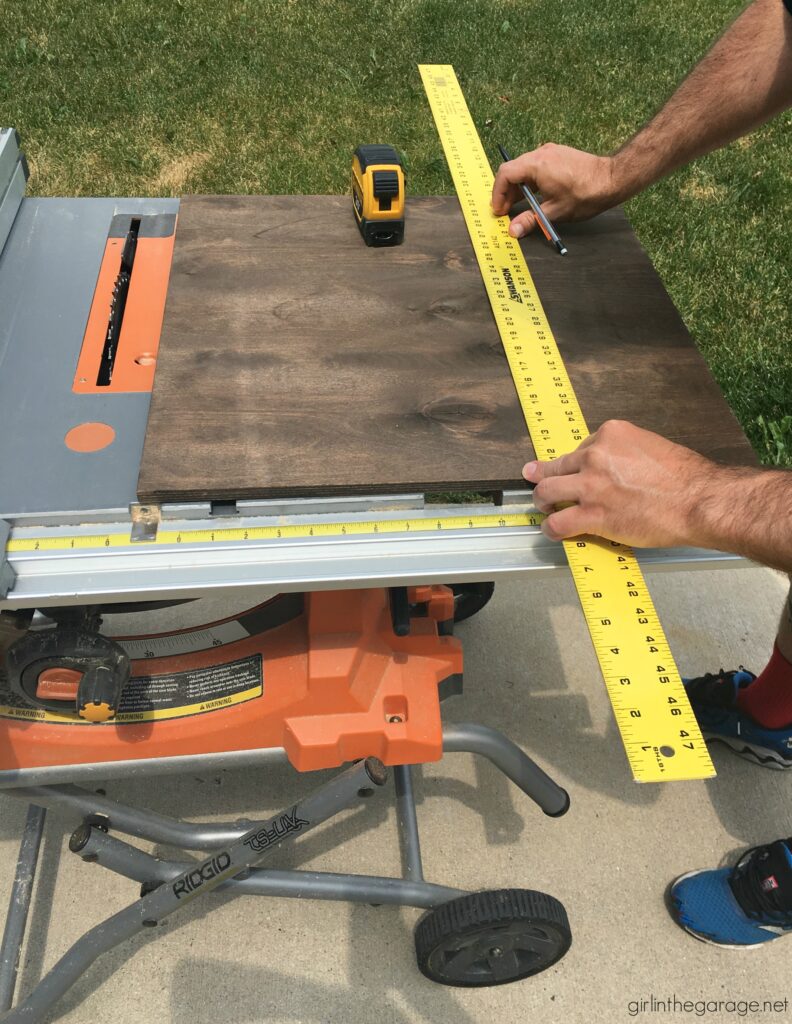 Once the pieces were cut, we double checked by testing the placement and just to make sure it didn't look terrible. (We have no experience in building drawers, so this was a learning experience for both of us!)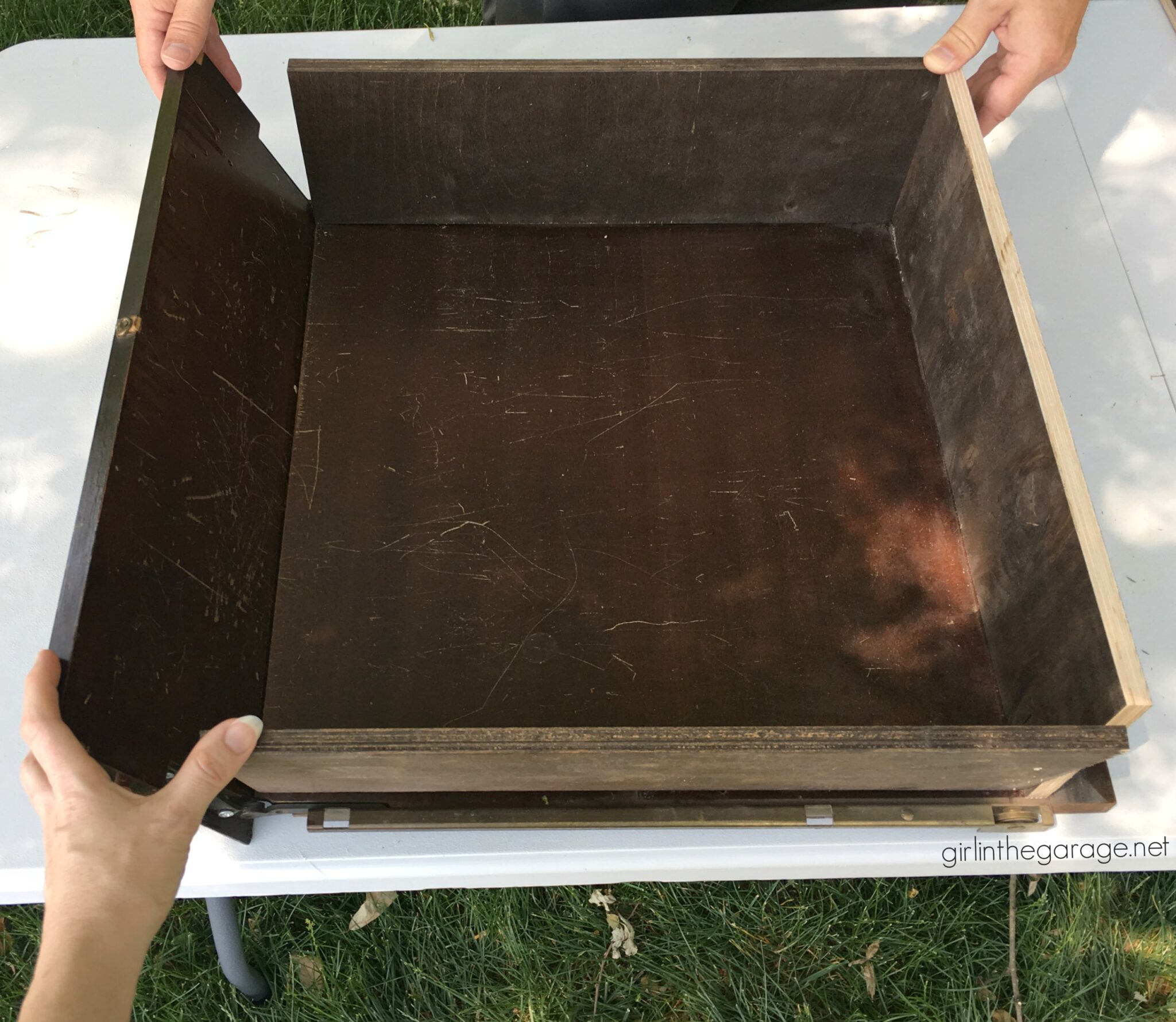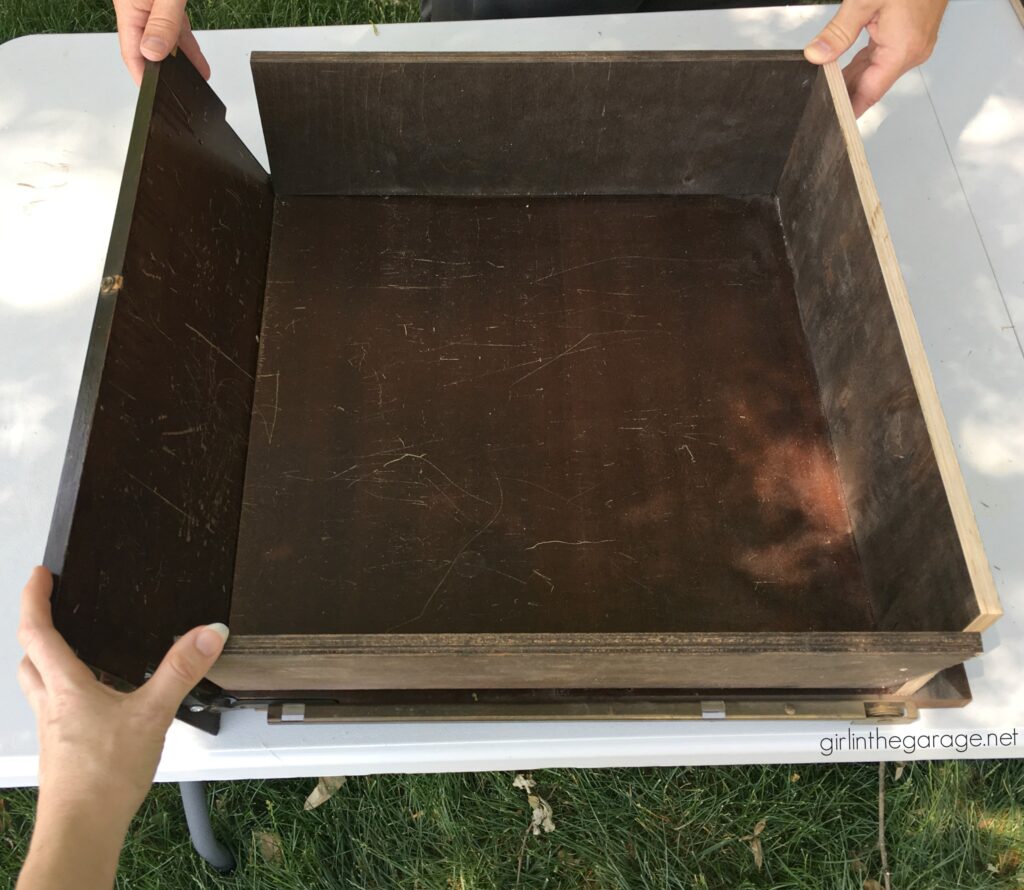 Mr. GITG used the Kreg Jig to make pocket holes in the boards – in order to screw the boards together at a 90-degree angle. Our Kreg Jig system is pretty amazing for projects like this.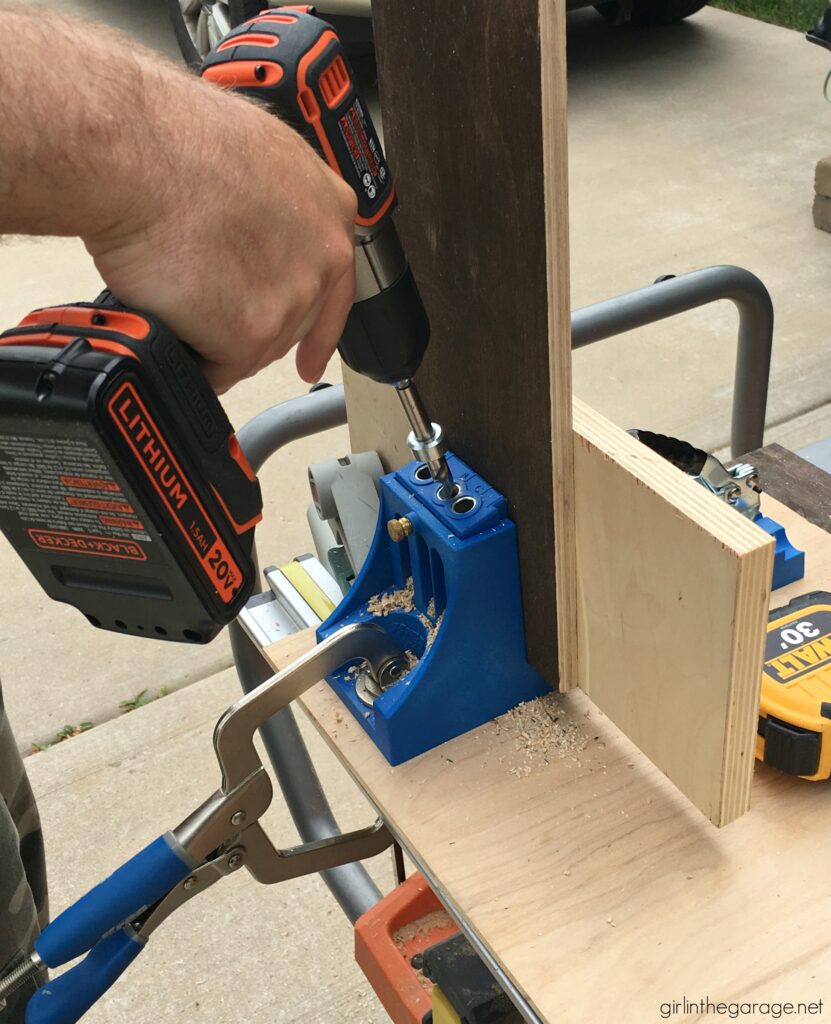 Below you can see how one of the boards looks with the pocket holes.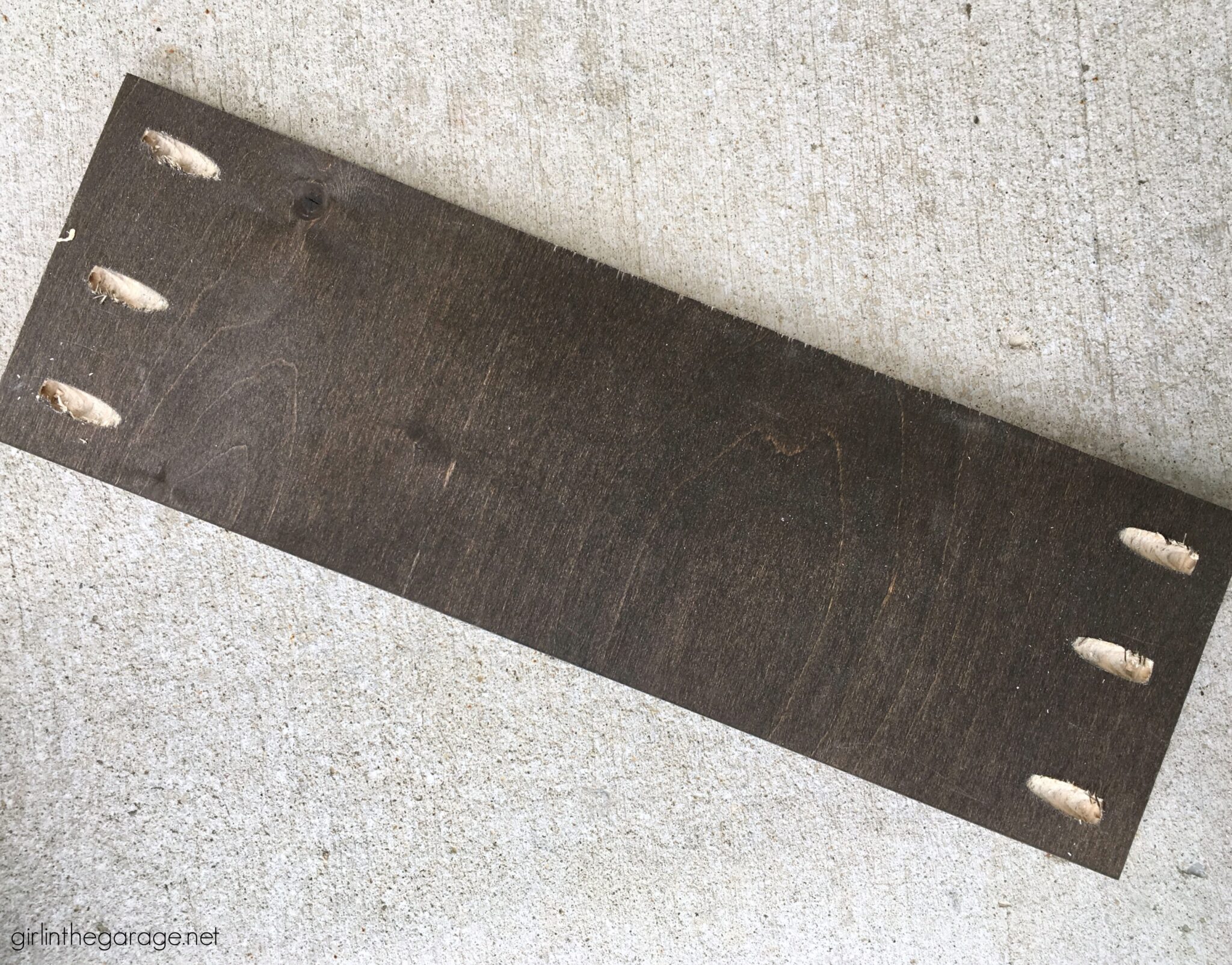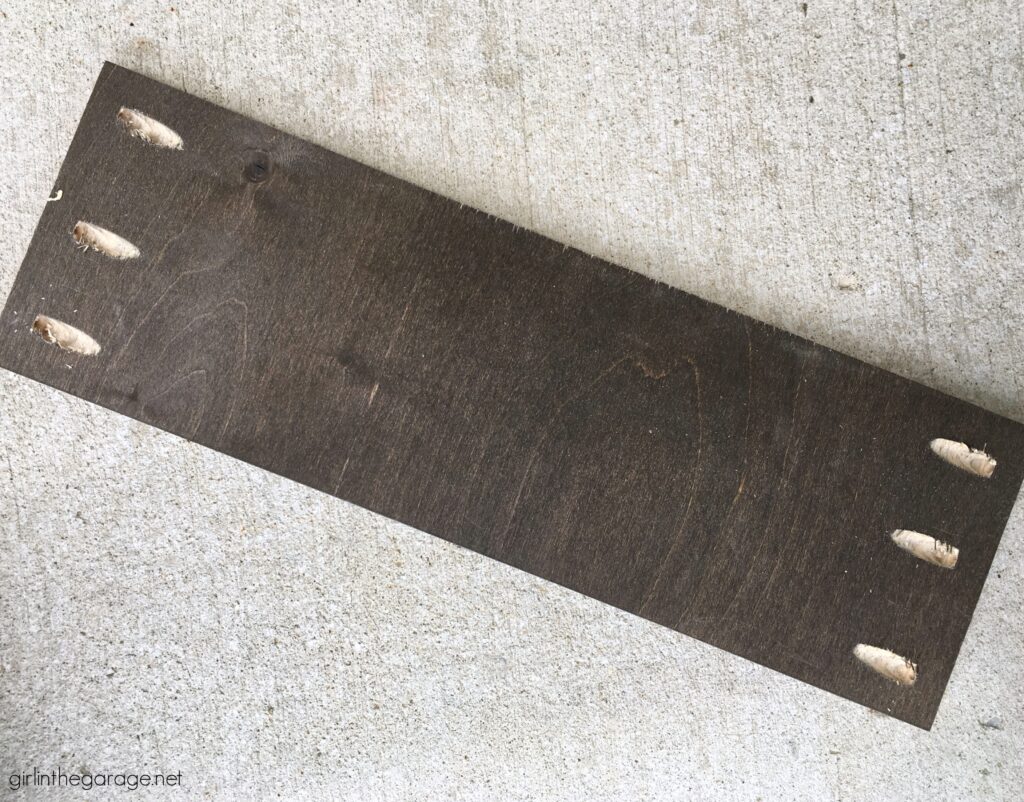 Then he used a Kreg 90-degree corner clamp to hold the boards together firmly while he drilled the screws in place. (Another neat tool that I didn't know existed until a few days ago!)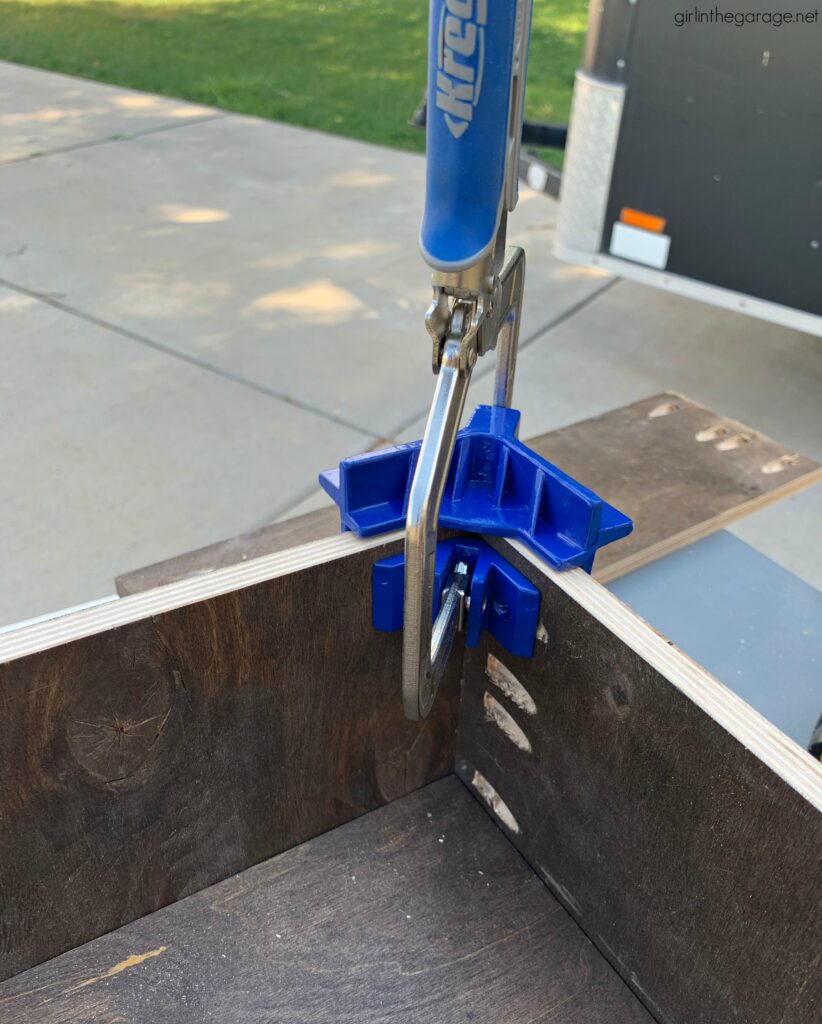 When the three boards were attached we brought them over to the rest of the original drawer pieces and lined them up.
We had to flip it over to add screws from the bottom up through the new side pieces and back.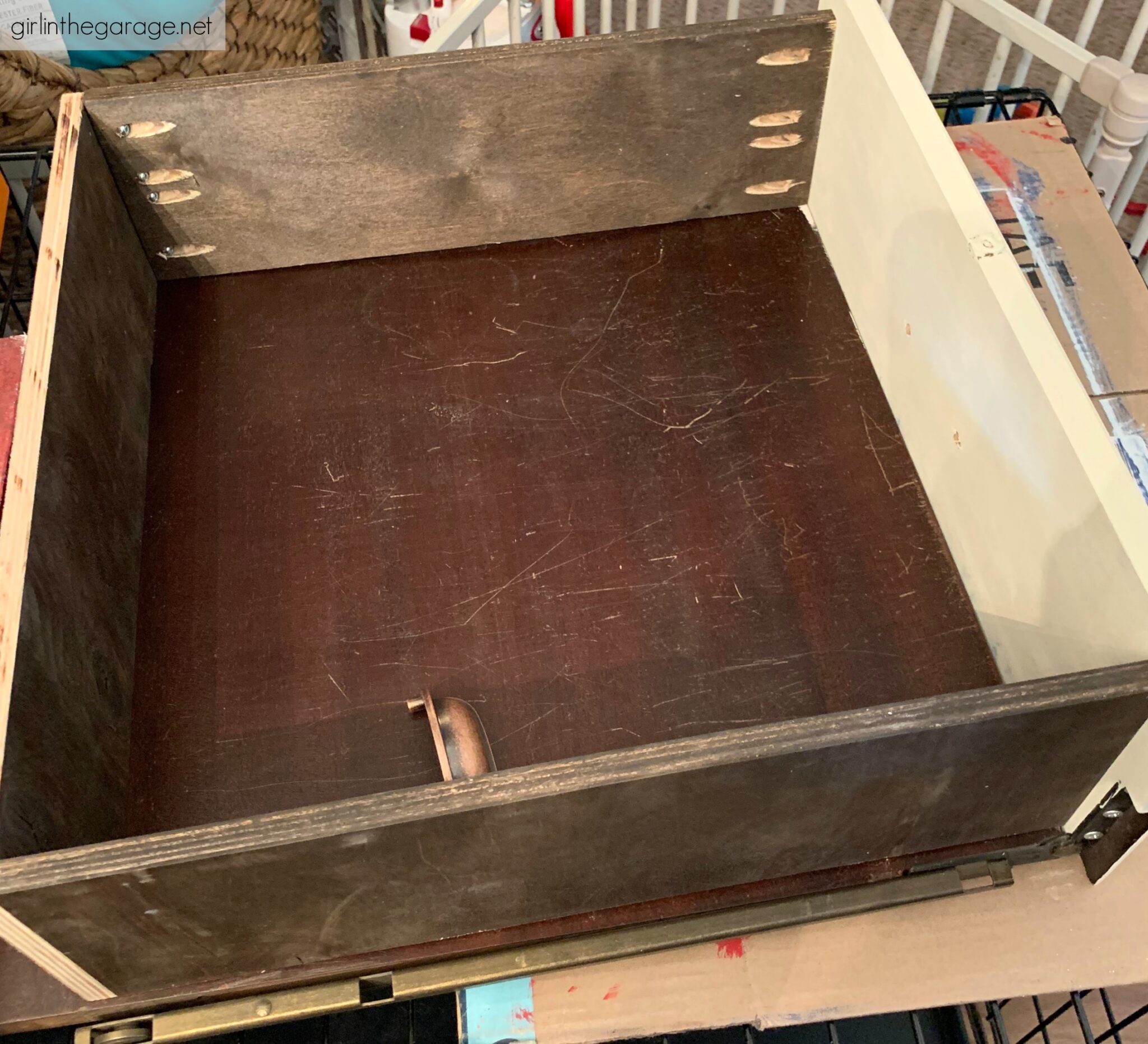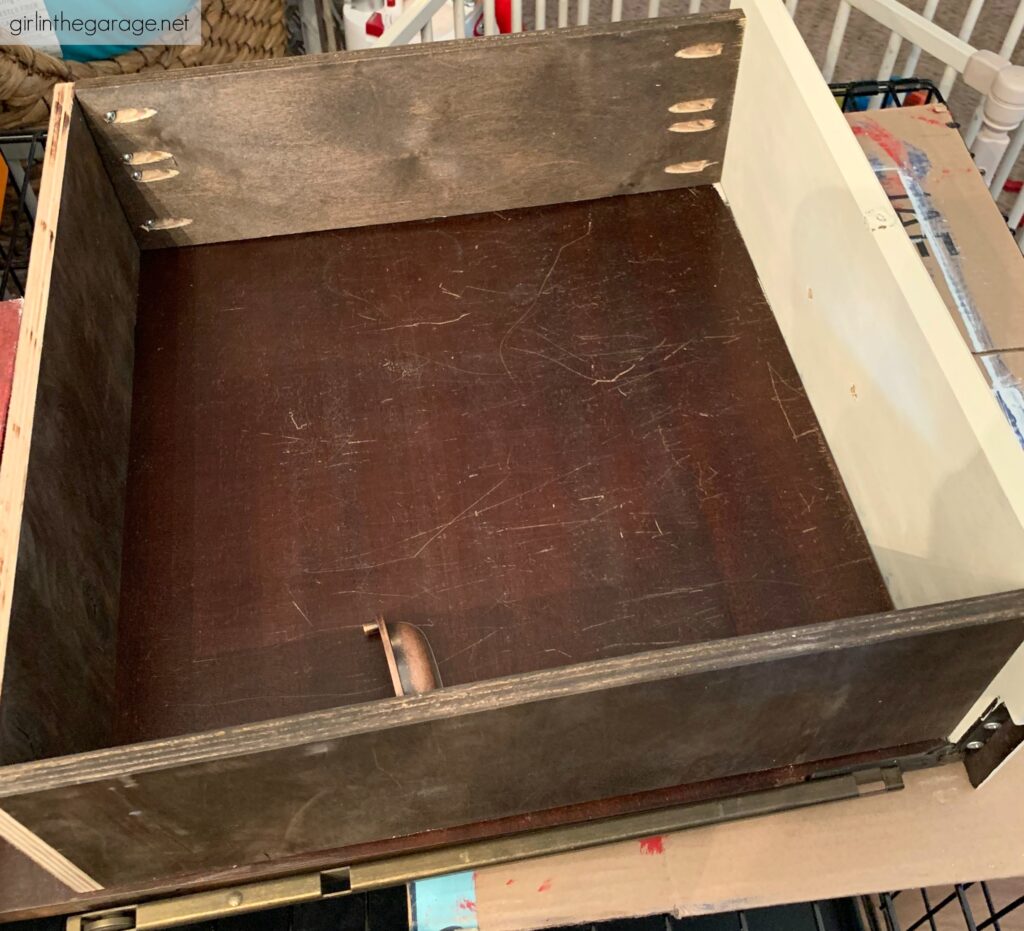 Finally, we could attach the side pieces to the front by driving the screws through the pocket holes. Then you can fill those holes with wood filler and paint or stain over it.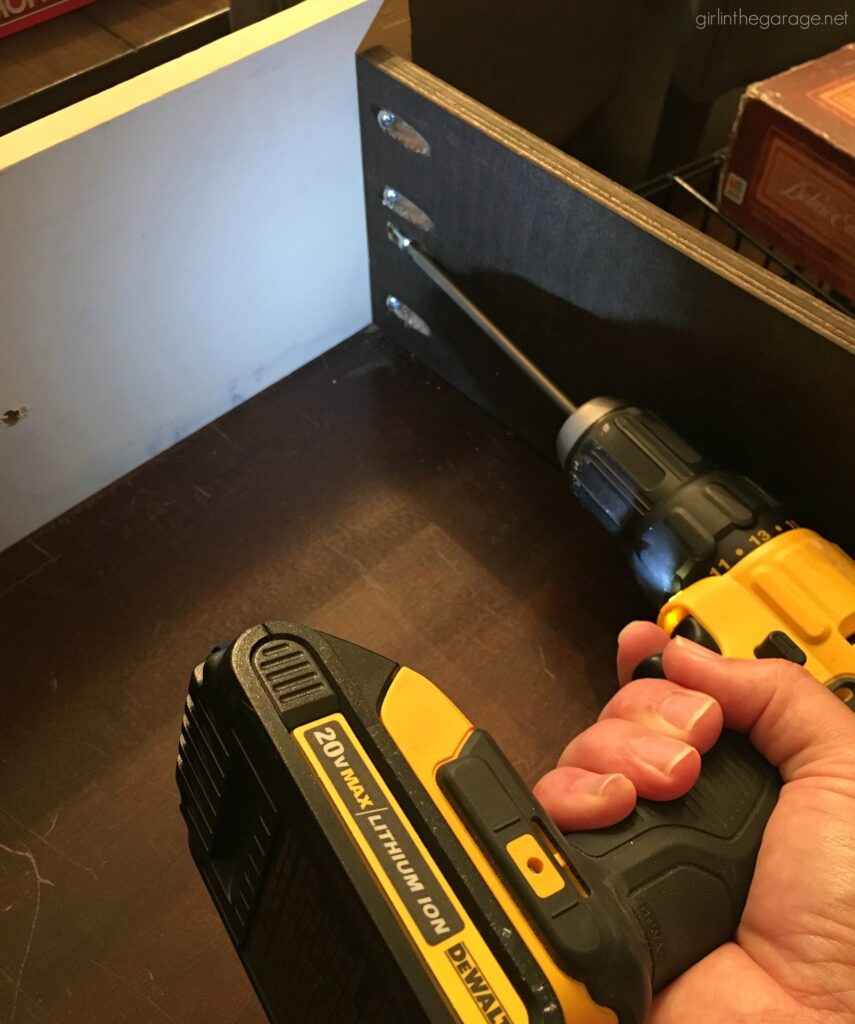 Since there was no good way to get the broken off screw out of the sliding wood extension, and I had a lot of trouble finding front-mount knobs to replace the old one, I discovered these small drawer pulls which are meant for jewelry boxes.
They were inexpensive and work perfectly for what I need them for.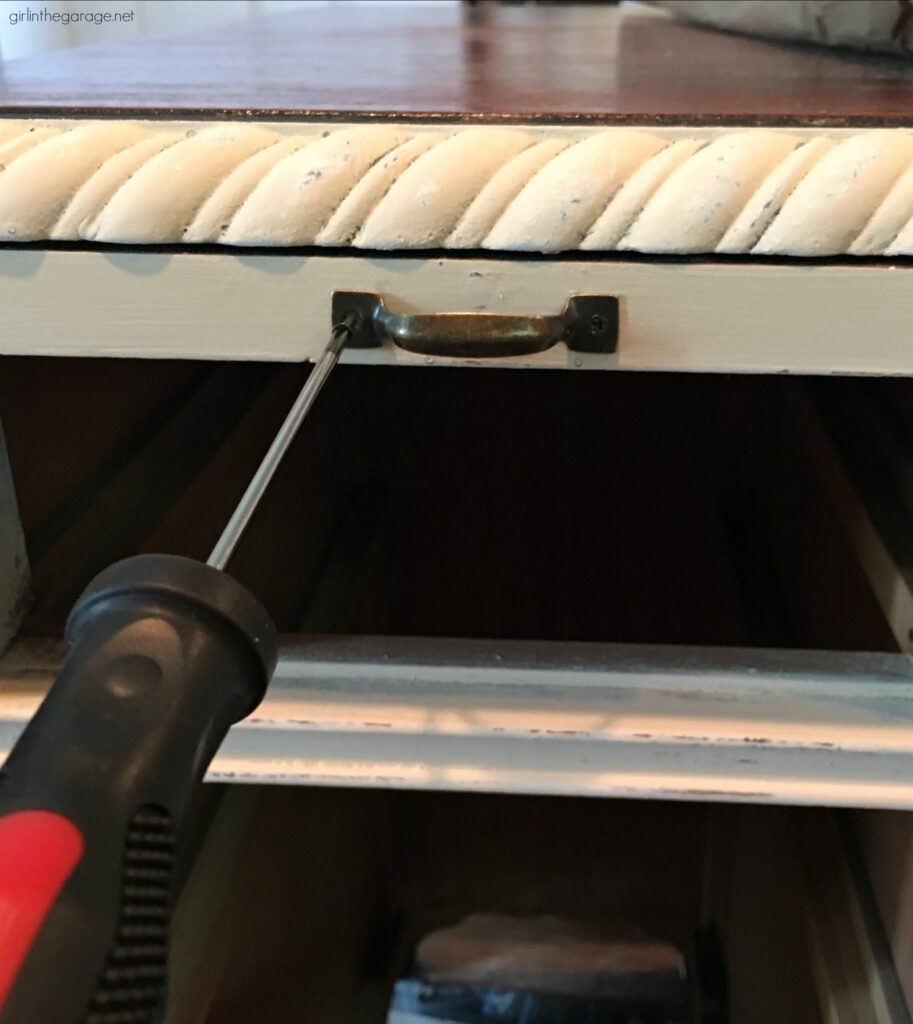 Finally, sand the Chalk Painted desk with 320-grit sandpaper for smoothness and wipe clean. Then apply clear wax for protection with a lint-free cloth.
The last part is usually the most fun – add fabulous new cup pulls like the copper-tone ones I found. They look gorgeous with the wood stained top, don't you think?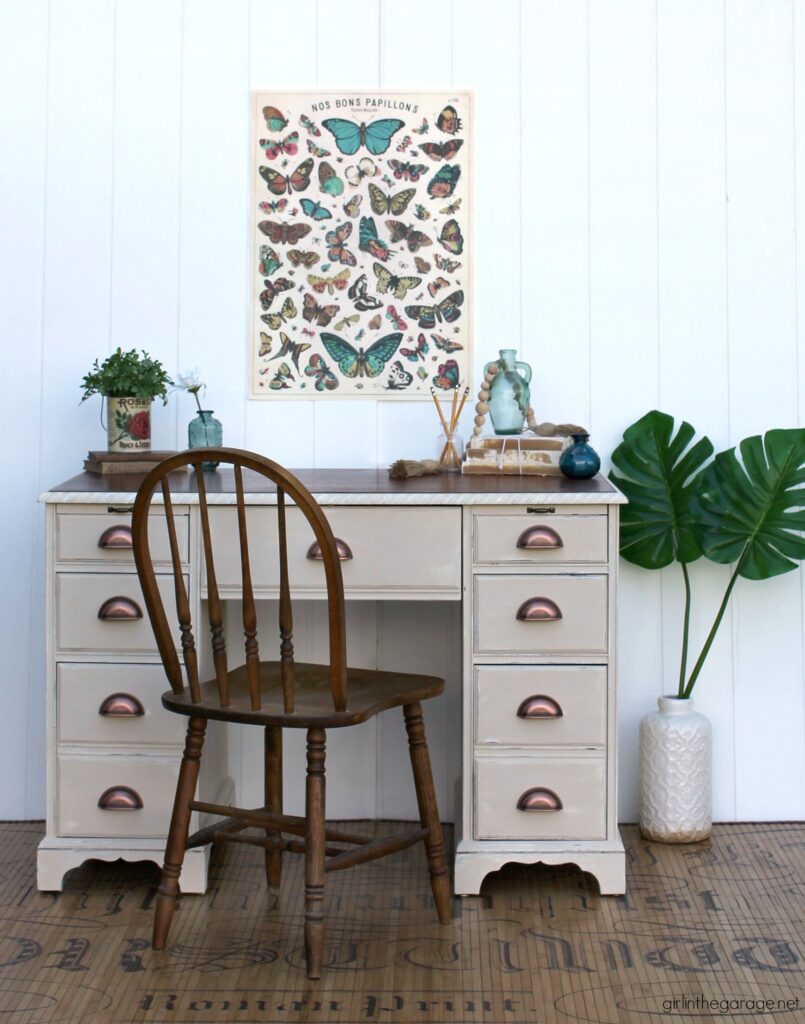 I really didn't want this painted desk to look too feminine or too masculine – my mom might use it for a while, and then my boys might use it for homework someday.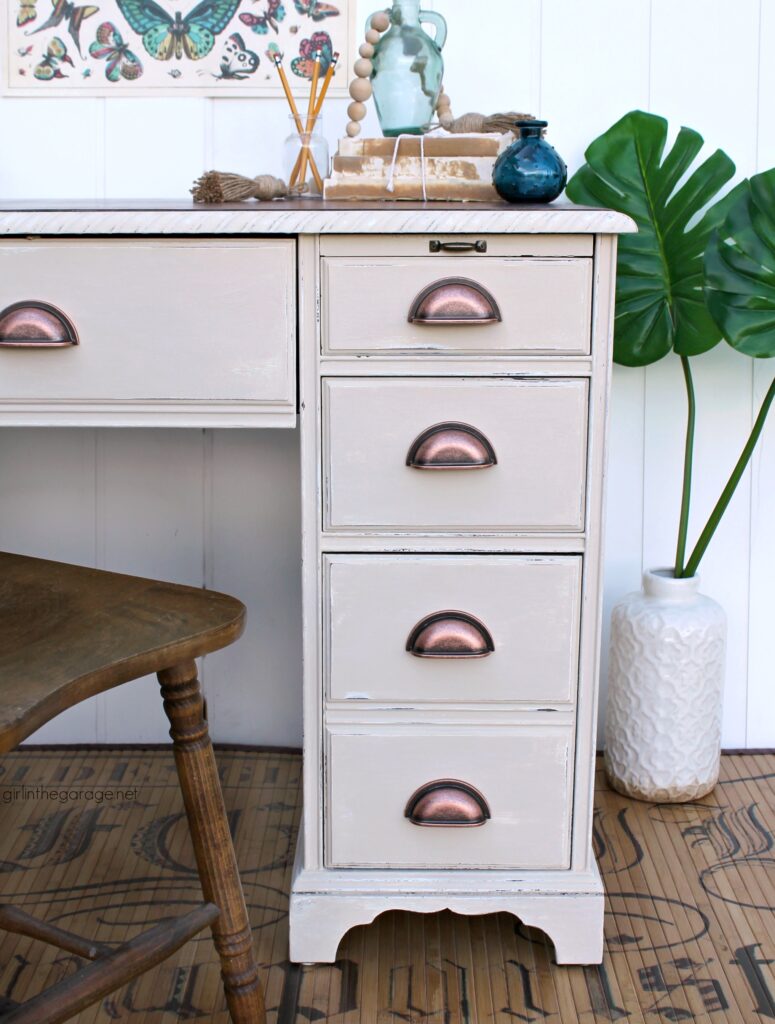 I love seeing a project like this come together so well – we're really happy with the results.
Below you can see the rebuilt drawer in place (it just looks like a cavern of darkness LOL).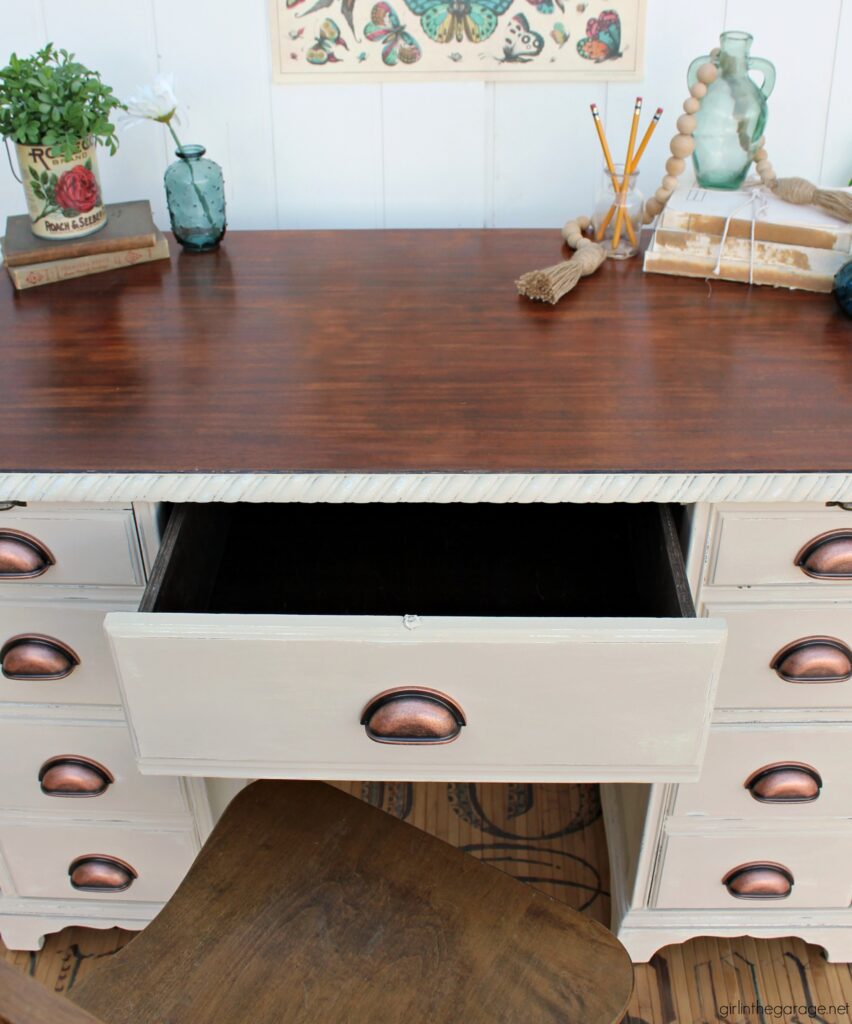 Those amazing cup pulls really bring it all together, and you can find the exact ones I used here.
I forgot to add that while I was sanding the Chalk Painted desk, I sanded heavier in some areas to give it a slightly distressed look. You can see it well closer-up.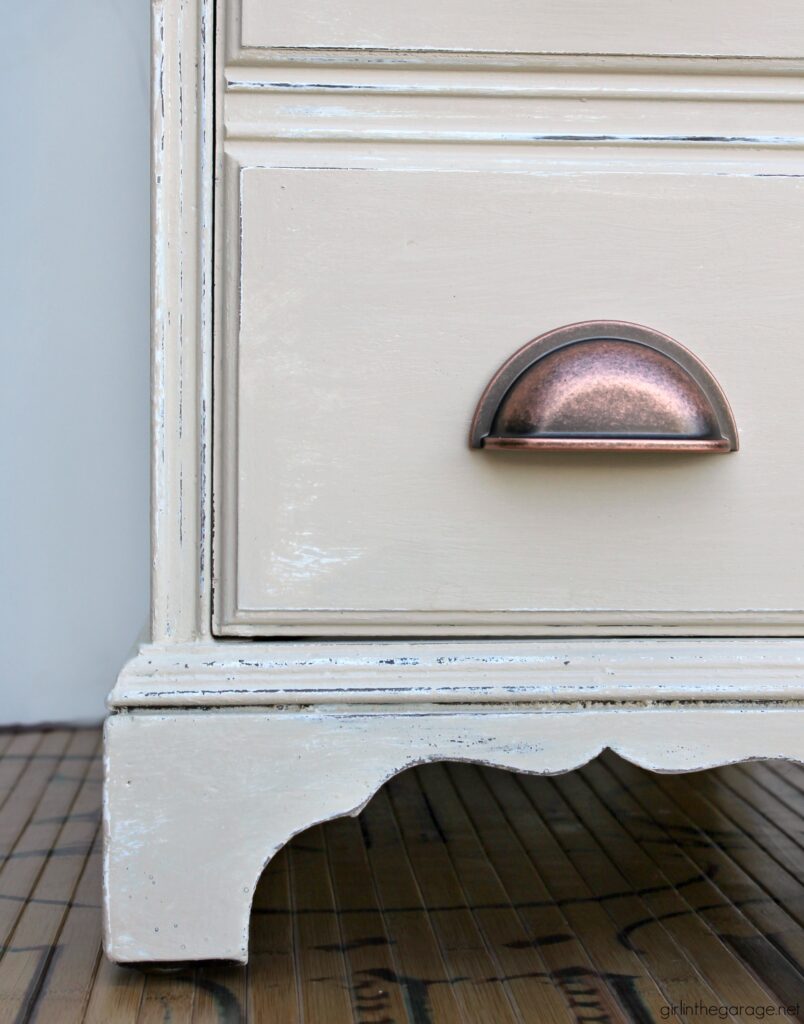 And here's a better look at the stained top below. My friend's husband had sanded and stained this entire desk years ago, and since the top was protected with glass it stayed in excellent condition. (Yes the glass will be going back on for regular use.)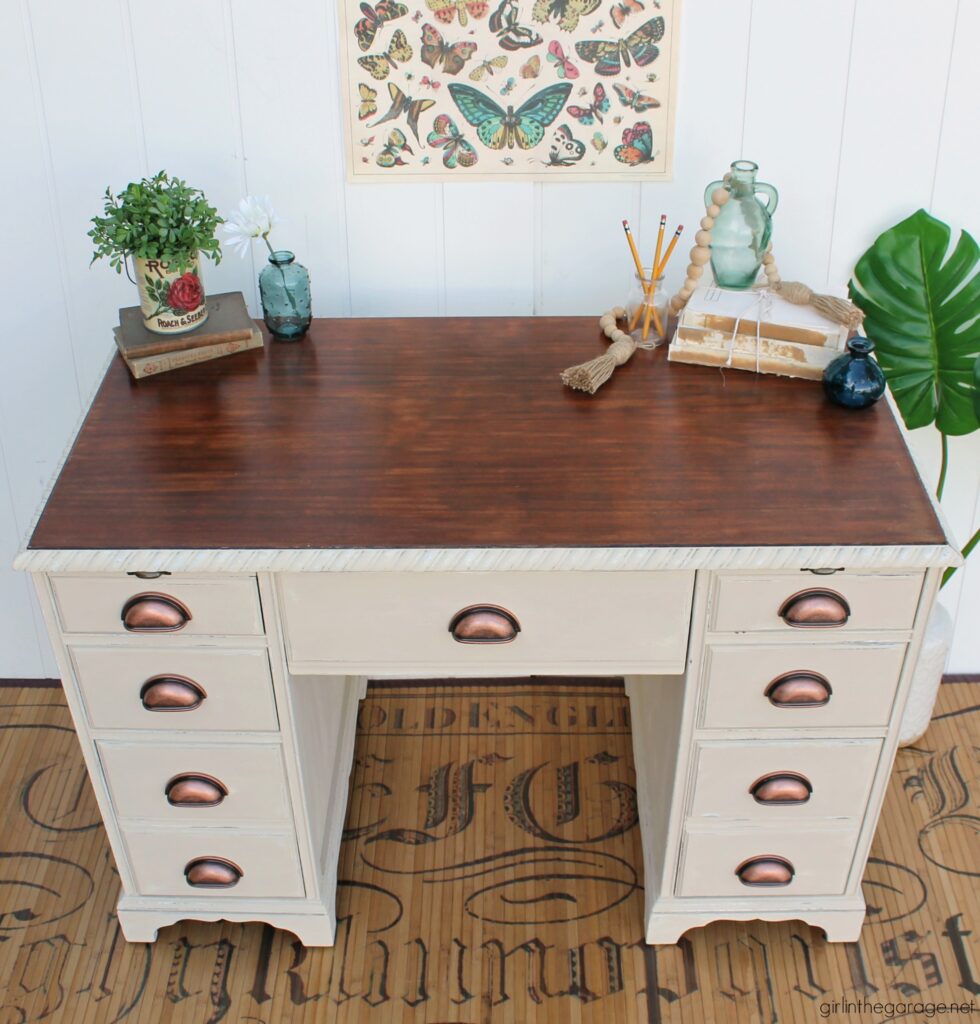 I hope you loved seeing this transformation and learning how to Chalk Paint a desk and rebuild a drawer. Please share this project with a friend or Pin it for easy reference later: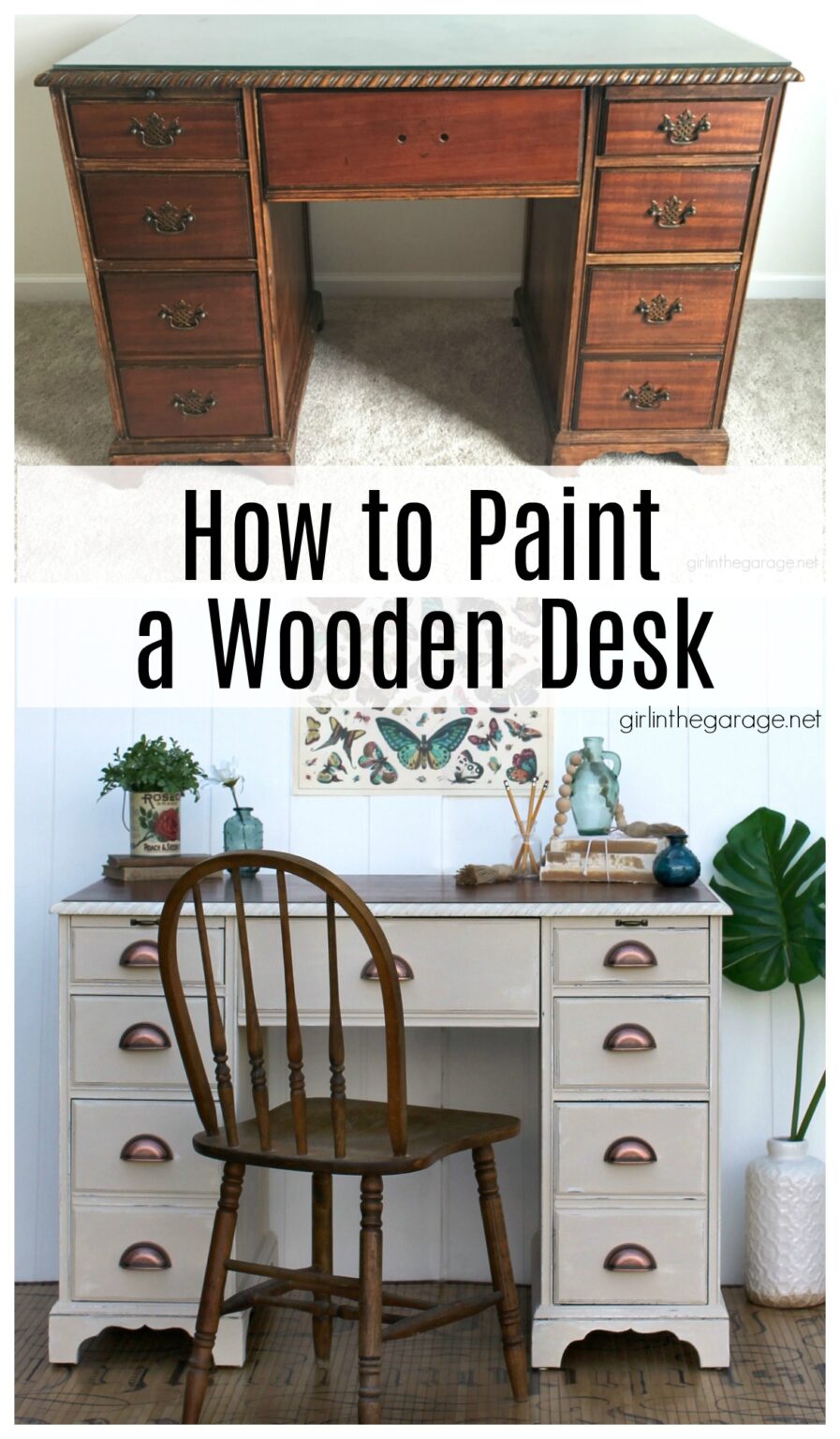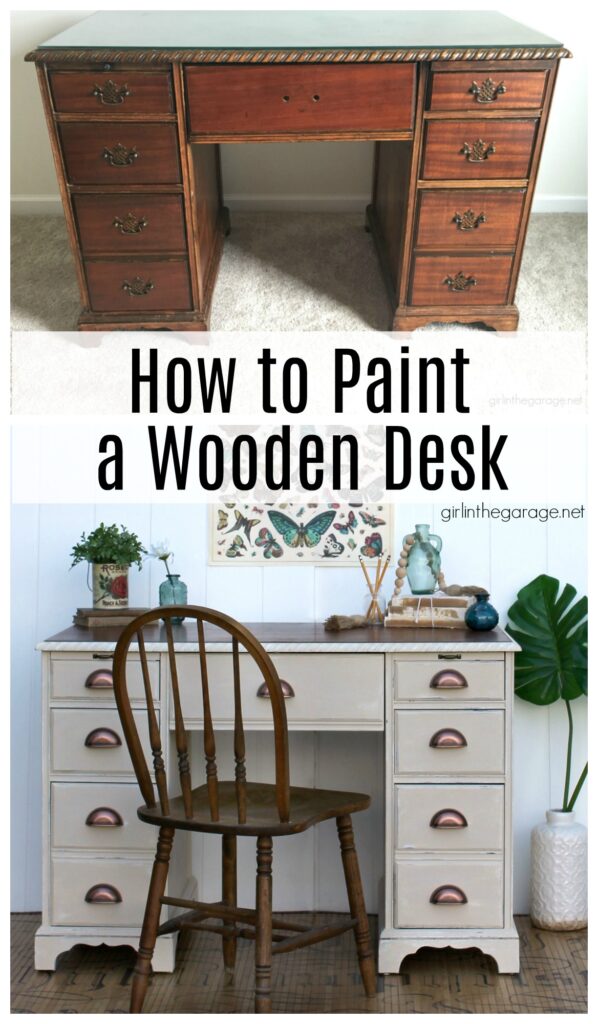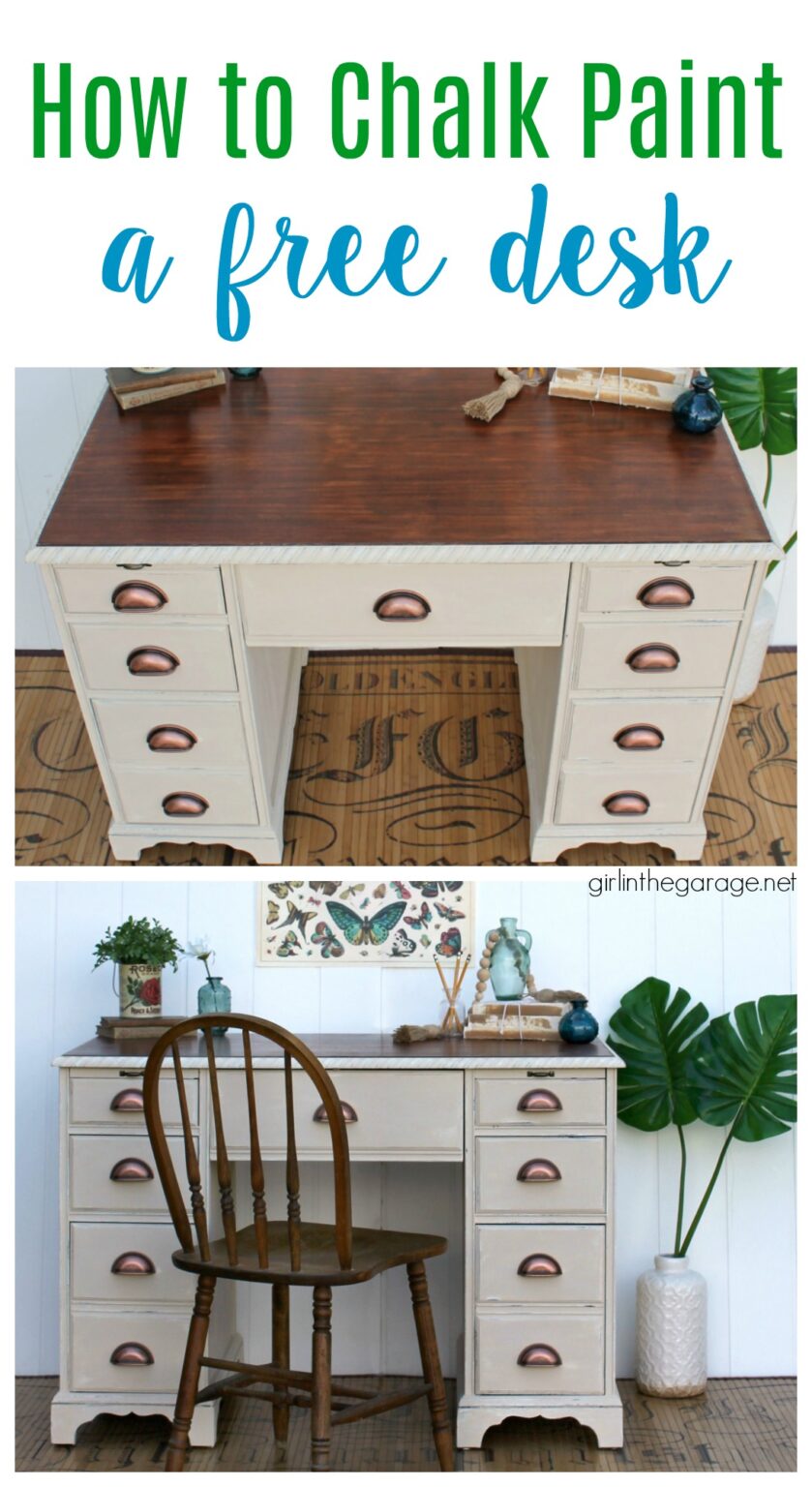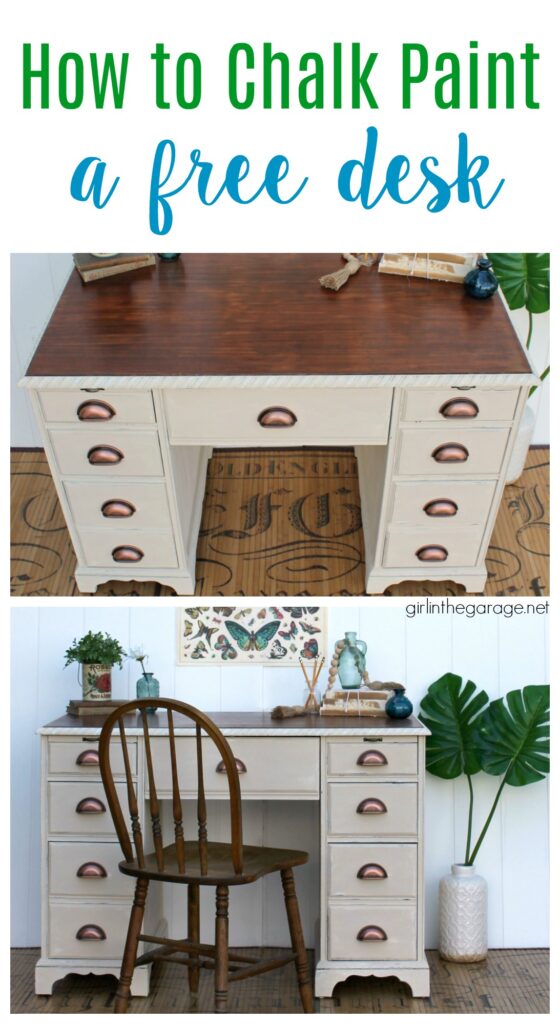 Now it's time for Furniture Fixer Uppers day with my blogging friends (woohoo)!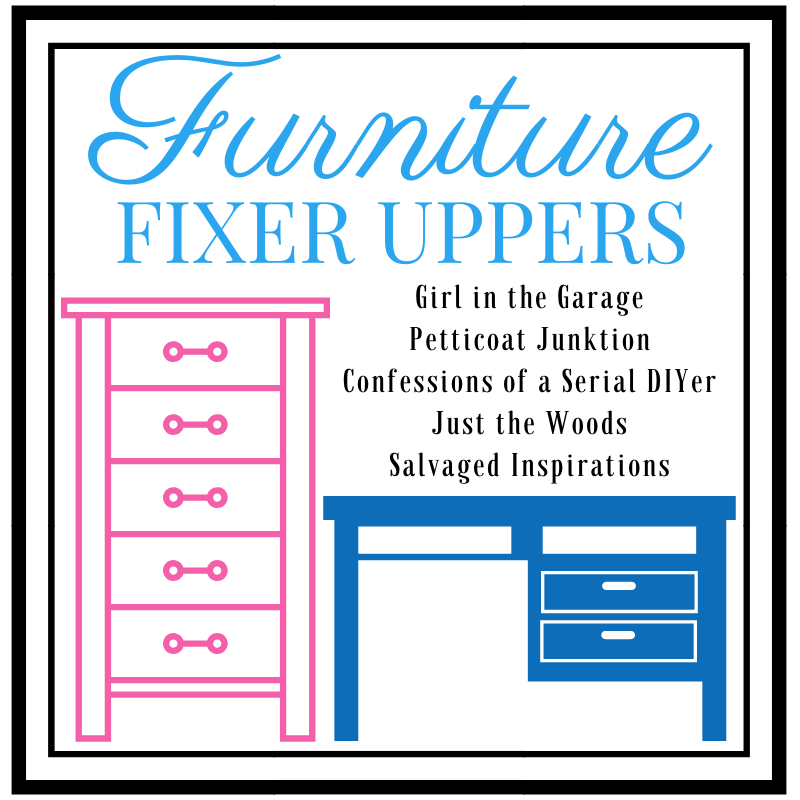 Below are the Before photos – visit the links underneath to see the amazing Afters and to learn how they did it: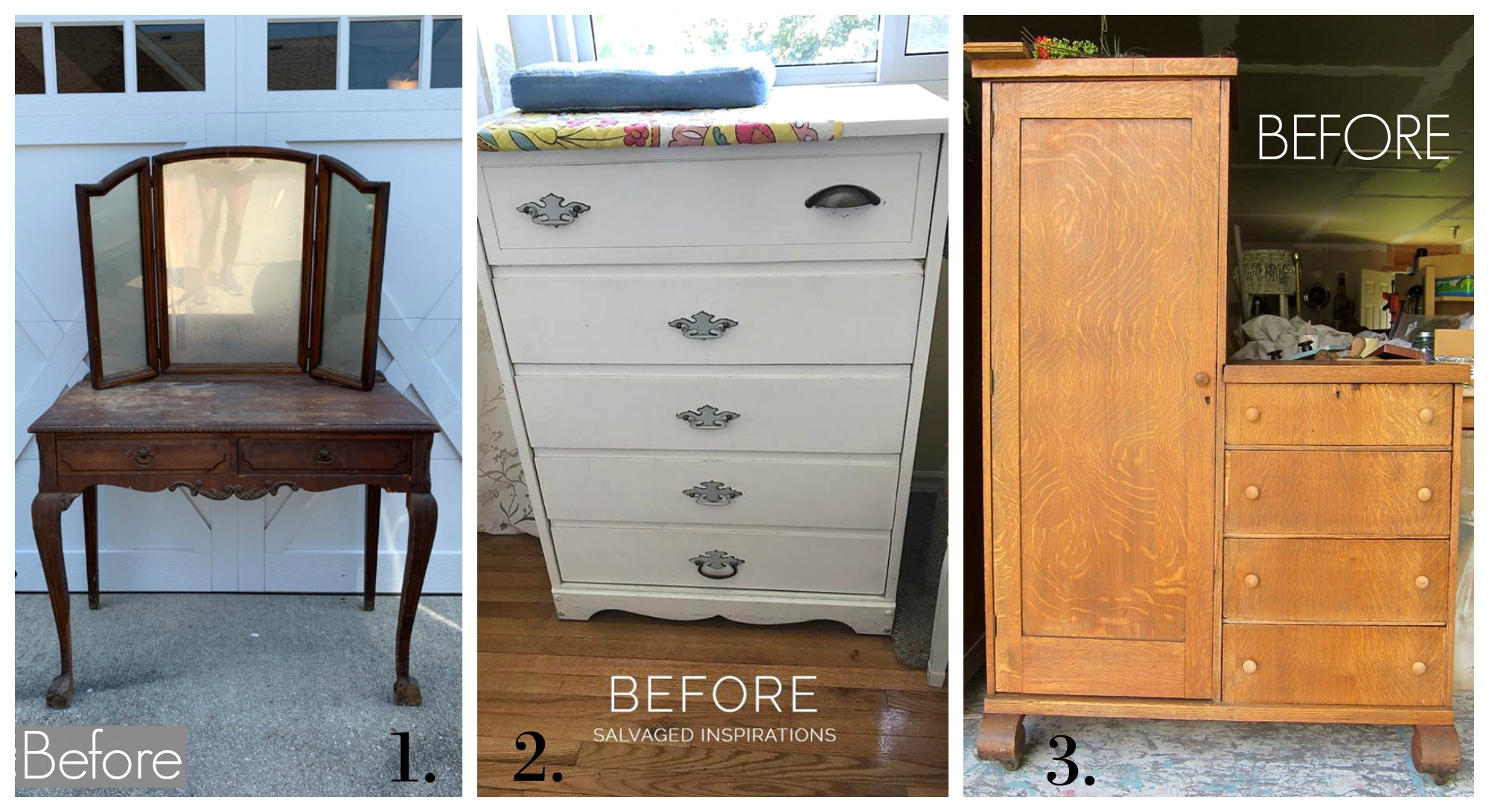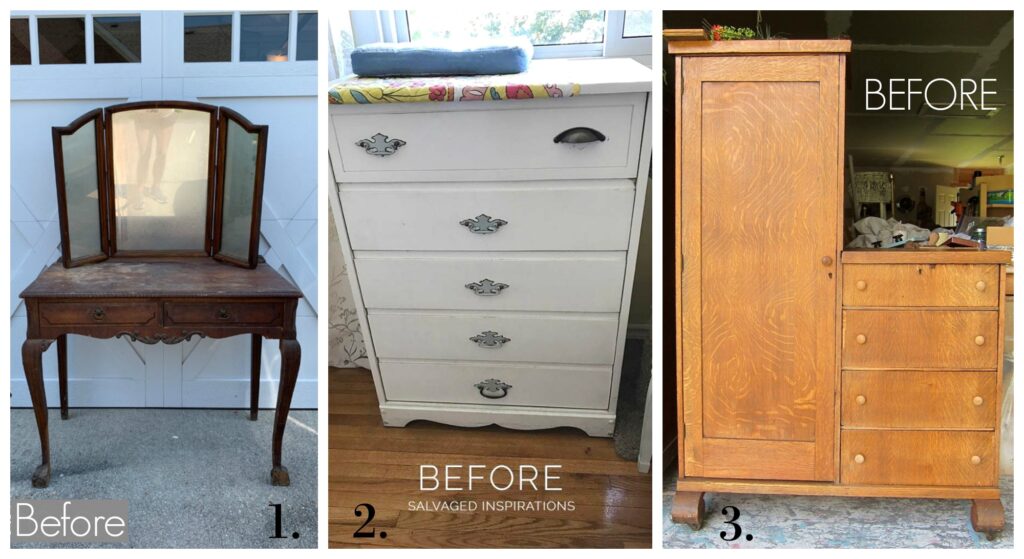 1. Confessions of a Serial DIYer
2. Salvaged Inspirations
3. Petticoat Junktion