Every once in a while I get to escape for a couple hours on a Saturday morning and hit up a bunch of our local thrift stores (and hopefully some yard sales too) to hunt for treasures. Now that the boys' soccer season is ending, maybe I can get some of those mornings back. 😉 What's your favorite place to escape to for a few hours?
This little footstool was found this summer on one of those adventures. It was marked $25 – but with 50% off, $12.50 was a much more reasonable price.
*This post contains some affiliate links so you can easily find the products I use and recommend. Find a list of all my favorite DIY products and tools for doing furniture makeovers Here.
This repurposed footstool makeover would be the perfect project for today's thrifty tutorial.
Here is the underside: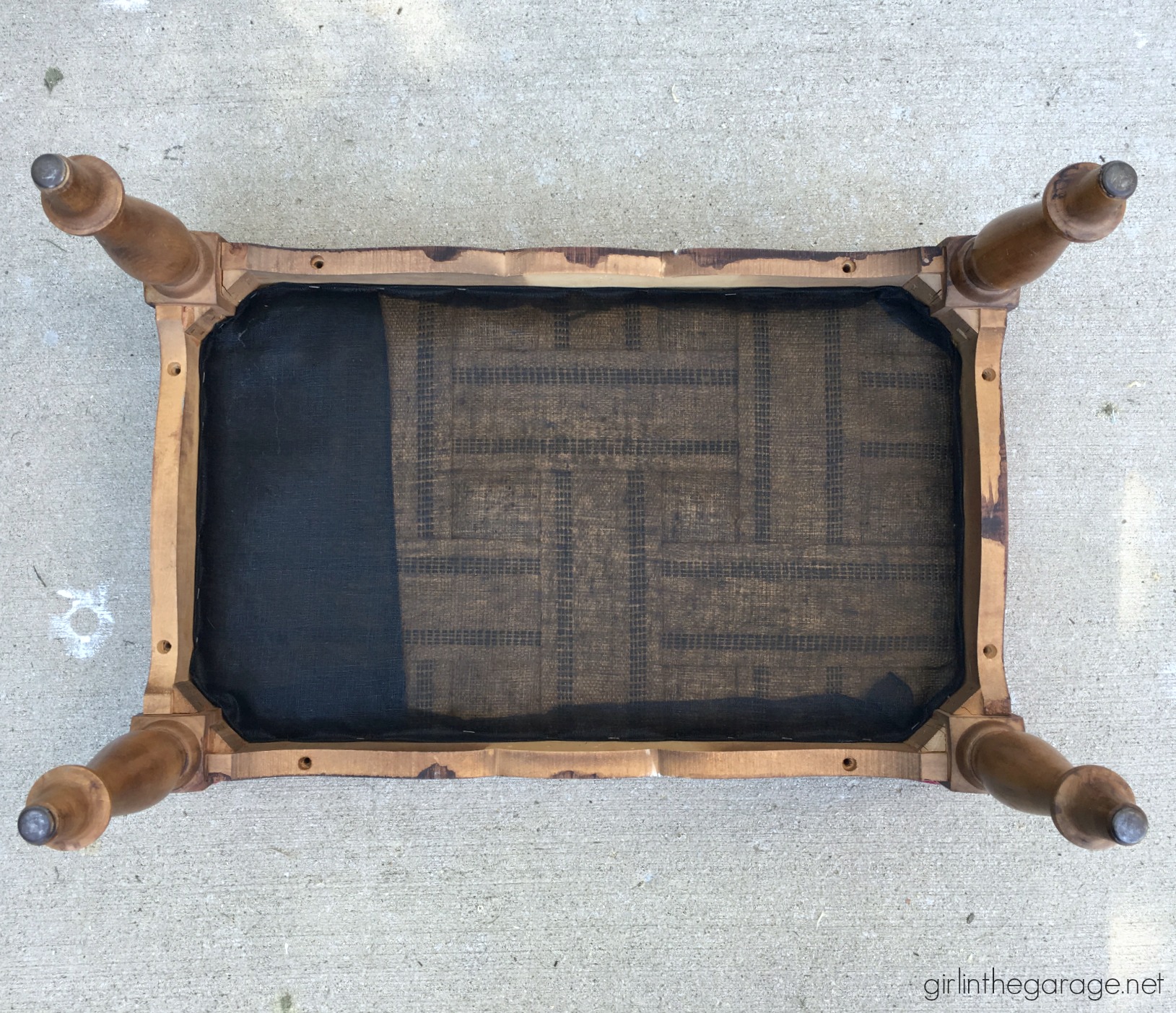 At first I was just thinking of redoing the upholstery but there were a couple weird things going on with this footstool. For one, there was no board of any kind under the padding, just upholstery webbing. It was quite strong though!
What's strange is that there are screw holes on the bottom of the frame, but no screws (because there's no board to screw into).
Another odd thing is that the staples went straight into the sides of the frame itself, since there was no board – which made this project a little more involved than it could have been.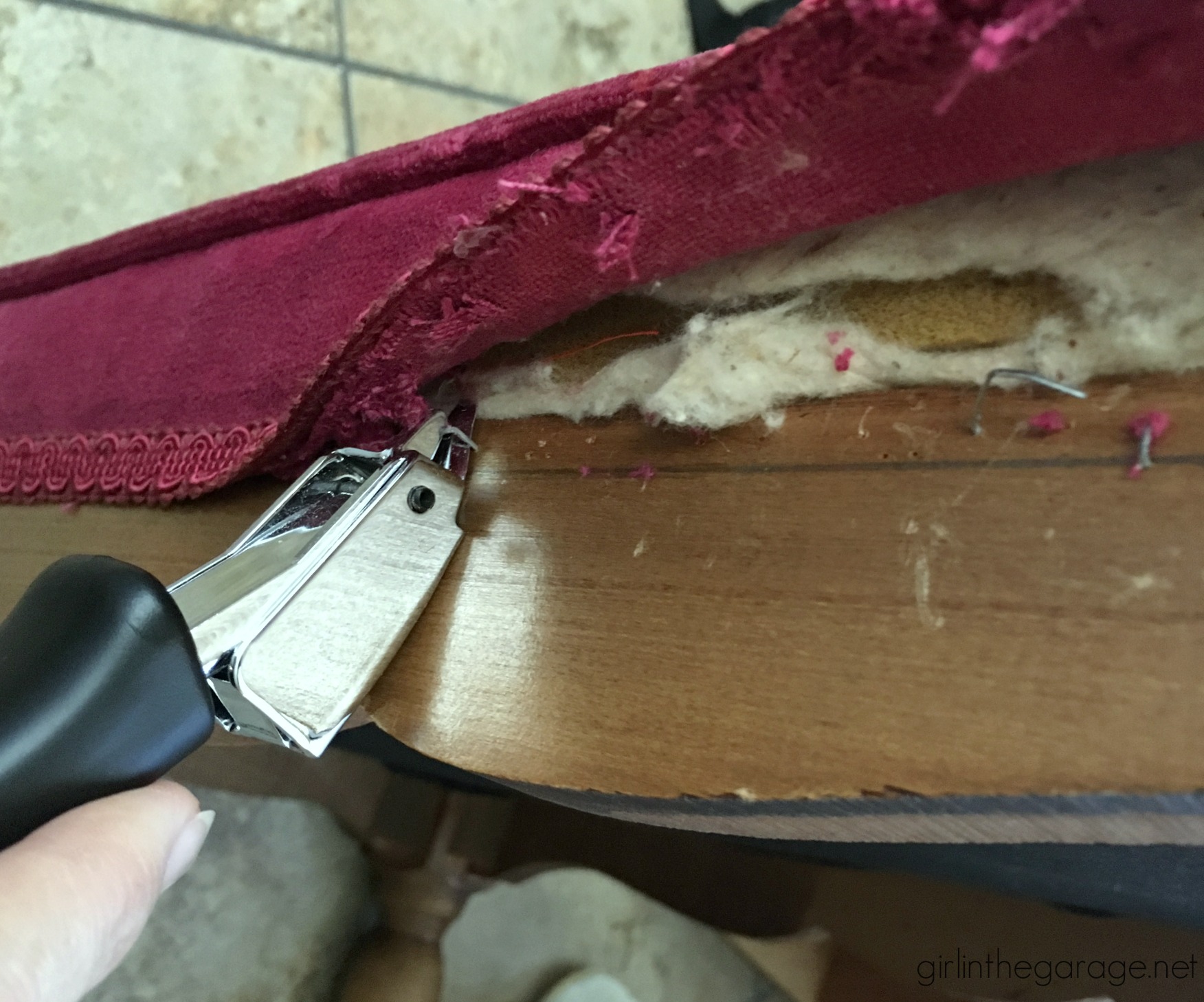 I used this handy upholstery staple remover to get all the old staples out. It works a lot faster and is way easier on my hands than just using a flathead screwdriver and pliers (although occasionally I still use them too for really stubborn staples).
Once the old fabric, foam, and batting were removed, I had to still deal with the burlap, webbing, and the dust cover underneath.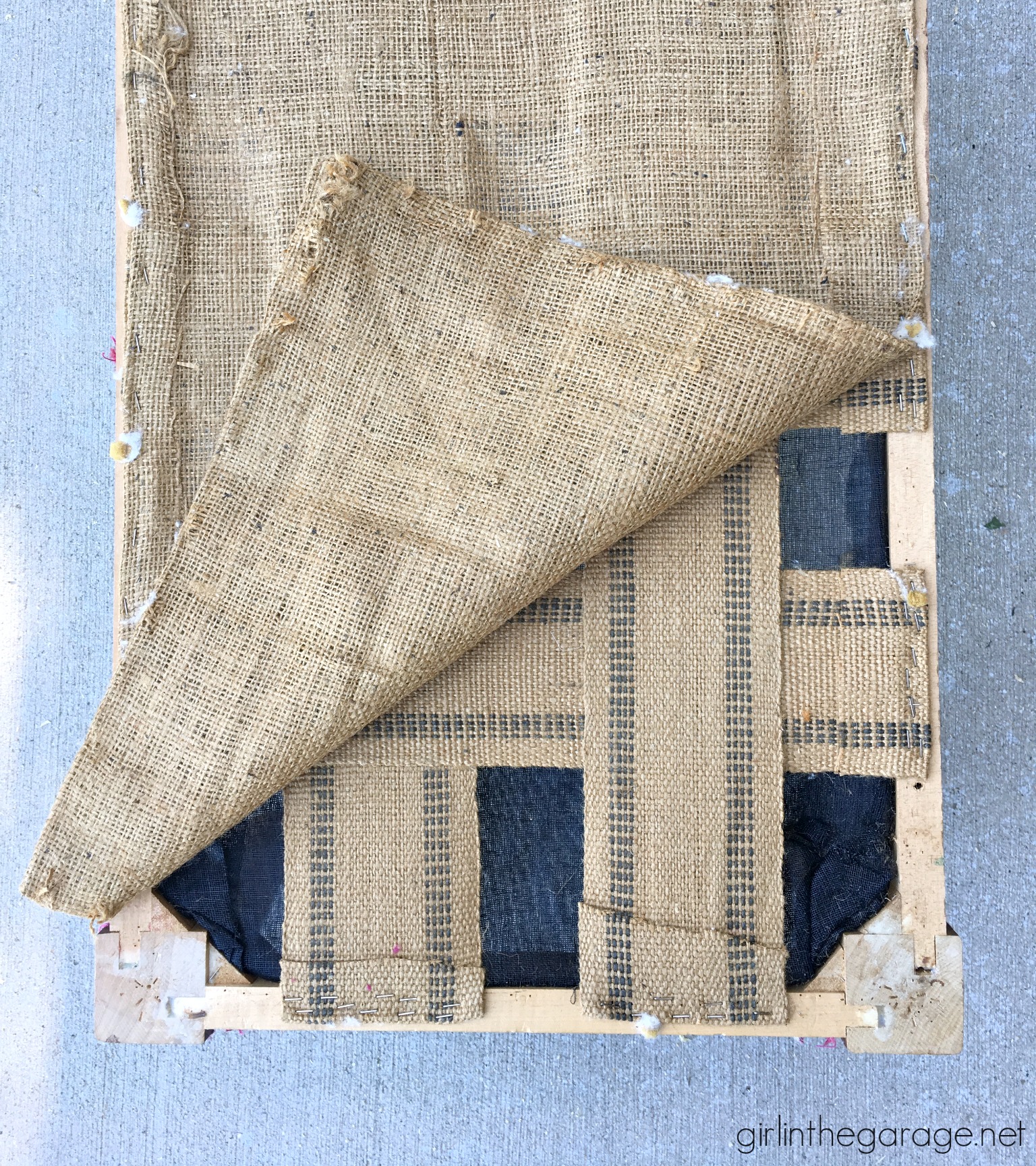 Lots and Lots of staples were removed. And it was then that I realized I didn't want to deal with even one more staple in this project – Ha!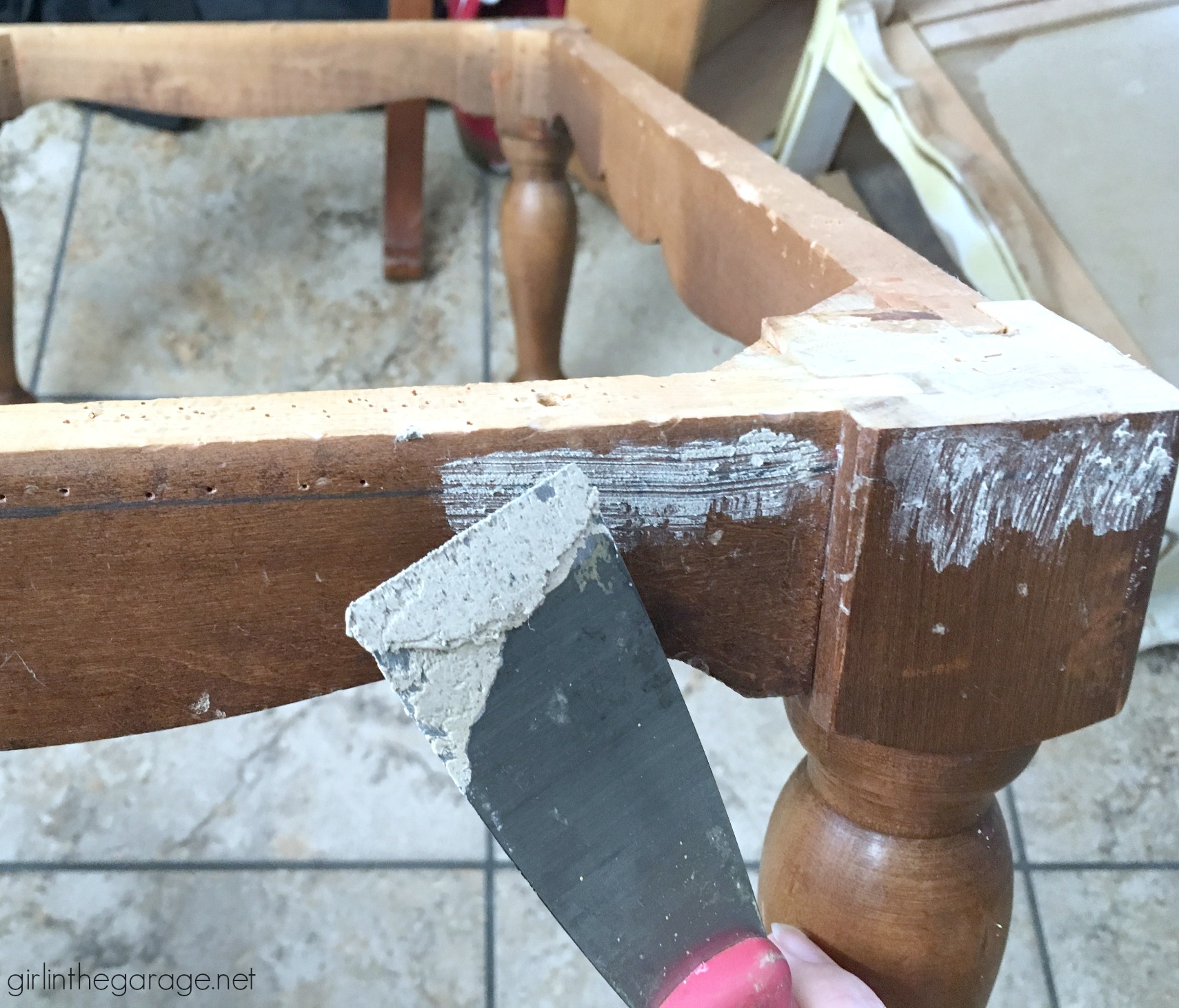 I filled all the little annoying holes with my new favorite wood filler that I love, let it dry, and then sanded the sides smooth.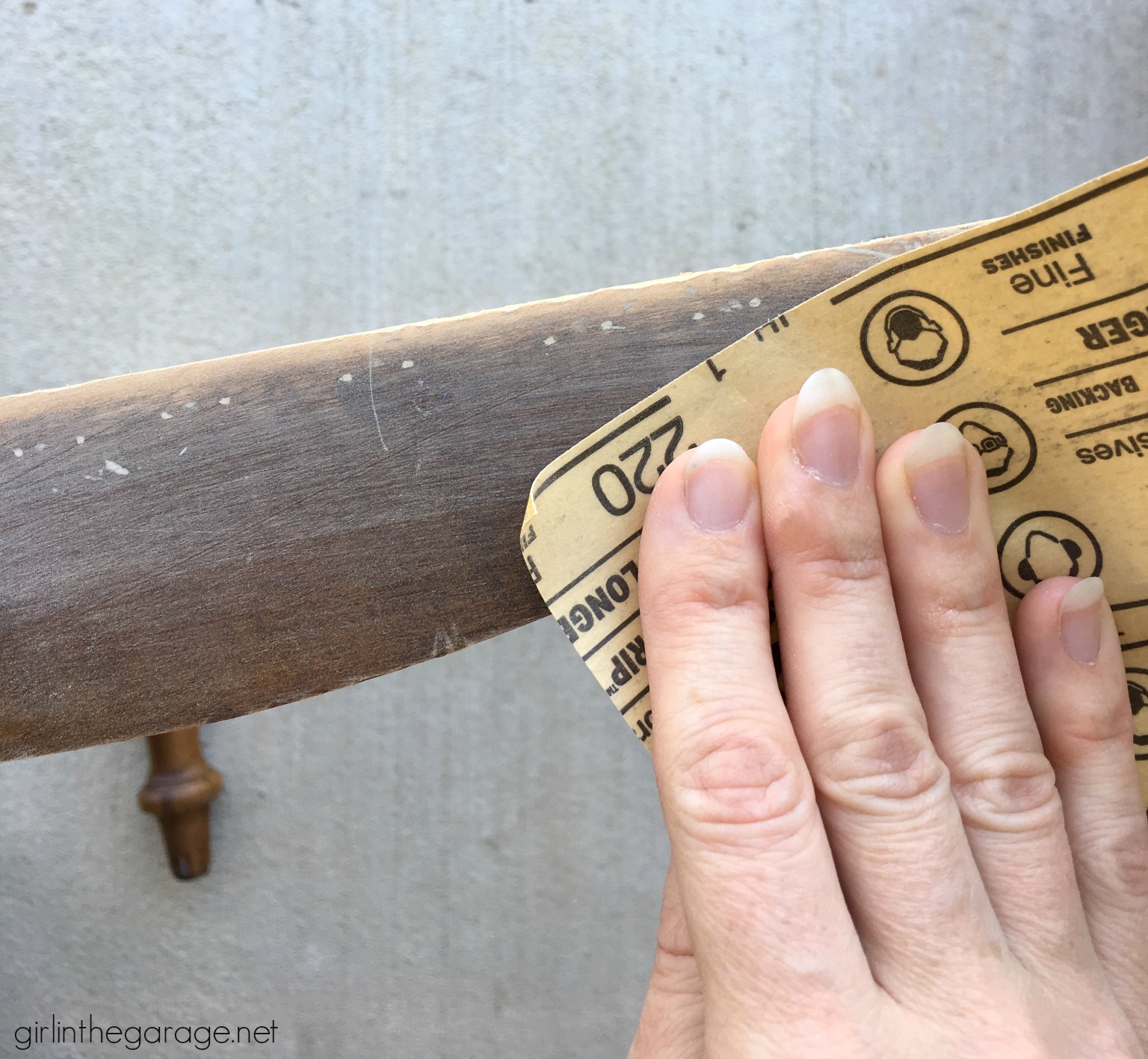 Next I painted the frame black – I used Coal Black by Fusion Mineral Paint (I already had all the paint supplies on hand). After that dried I painted over it with Pure White by Annie Sloan Chalk Paint.
I used black first because I wanted it to show through underneath of the white instead of brown later after I distressed it.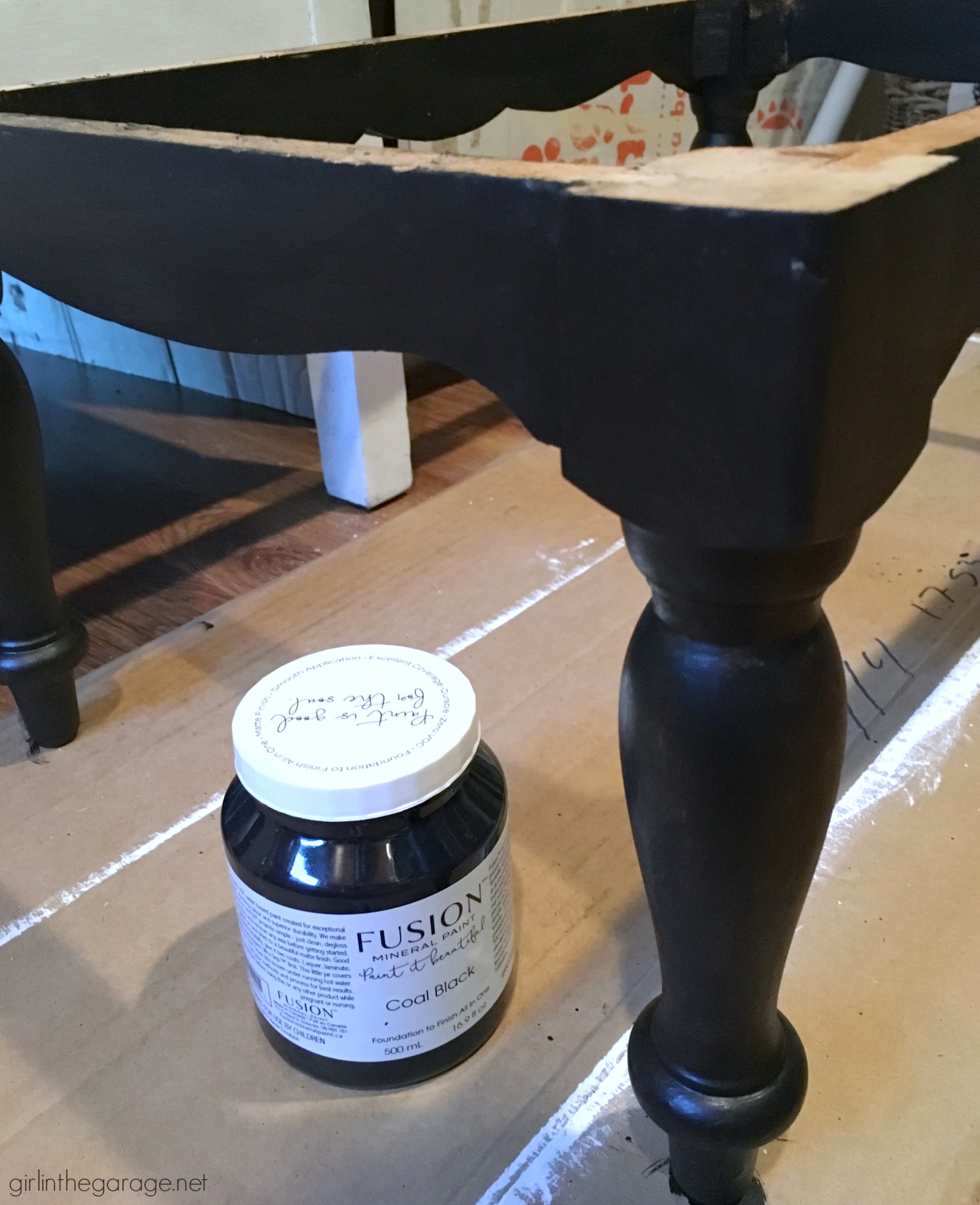 This repurposed footstool makeover was going to become a DIY lap table with a planked whitewashed top. I tried a couple new things in this project that I hadn't done before, but definitely will again…
Here's how to make a planked table top:
For the new top, we bought a 1x4x10 cedar board from Lowe's and Guy in the Garage cut it into 15-inch longs planks. Then I sanded around all the edges to make them more rounded.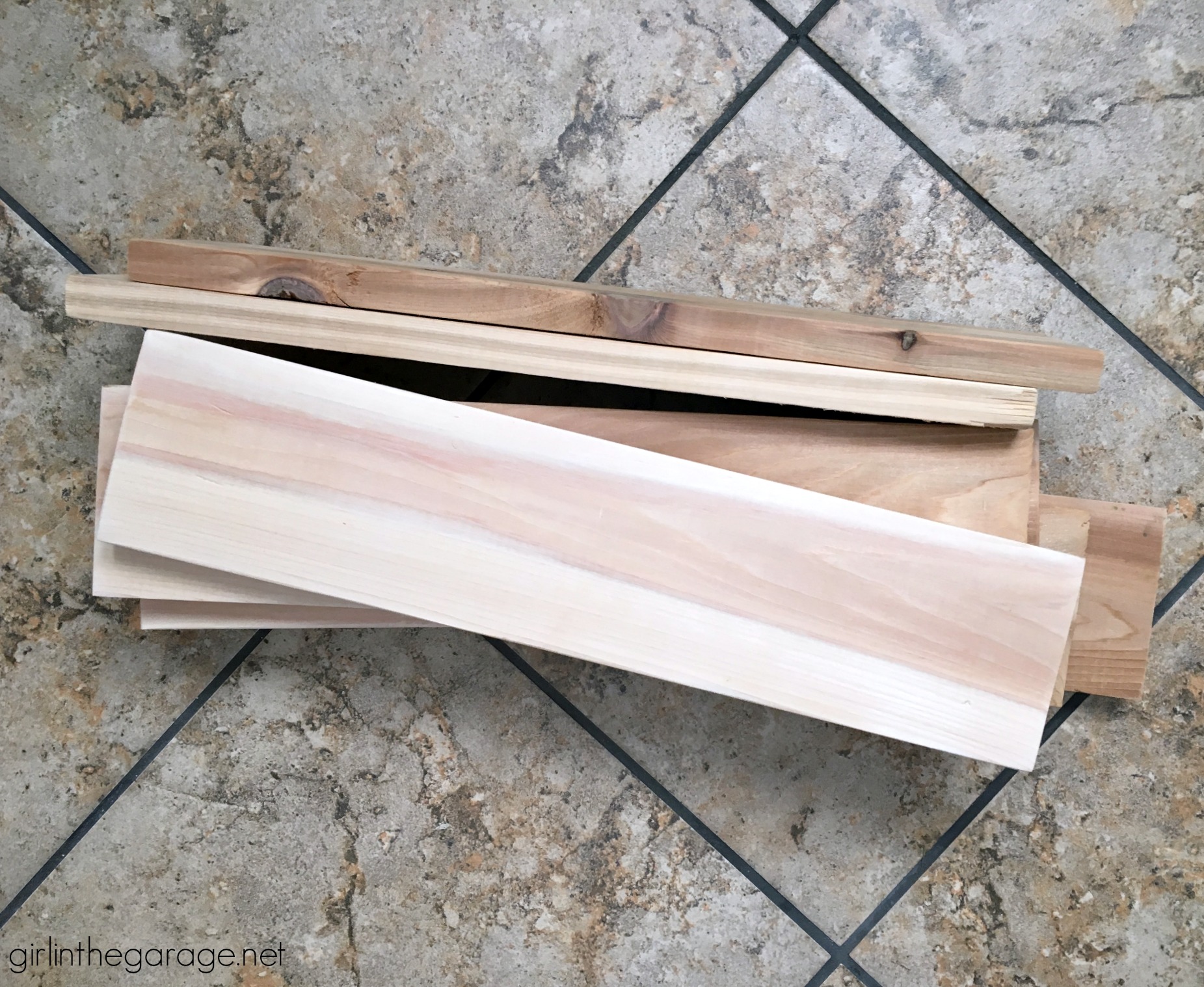 I laid all the boards on top to figure out the perfect placement. First I nailed the center board into place on one side with two 1-1/4 inch nails, then both of the two end boards.
Then I turned the lap table around and nailed the other ends of those same boards into place, starting with the middle again. Finally the rest of the boards were attached.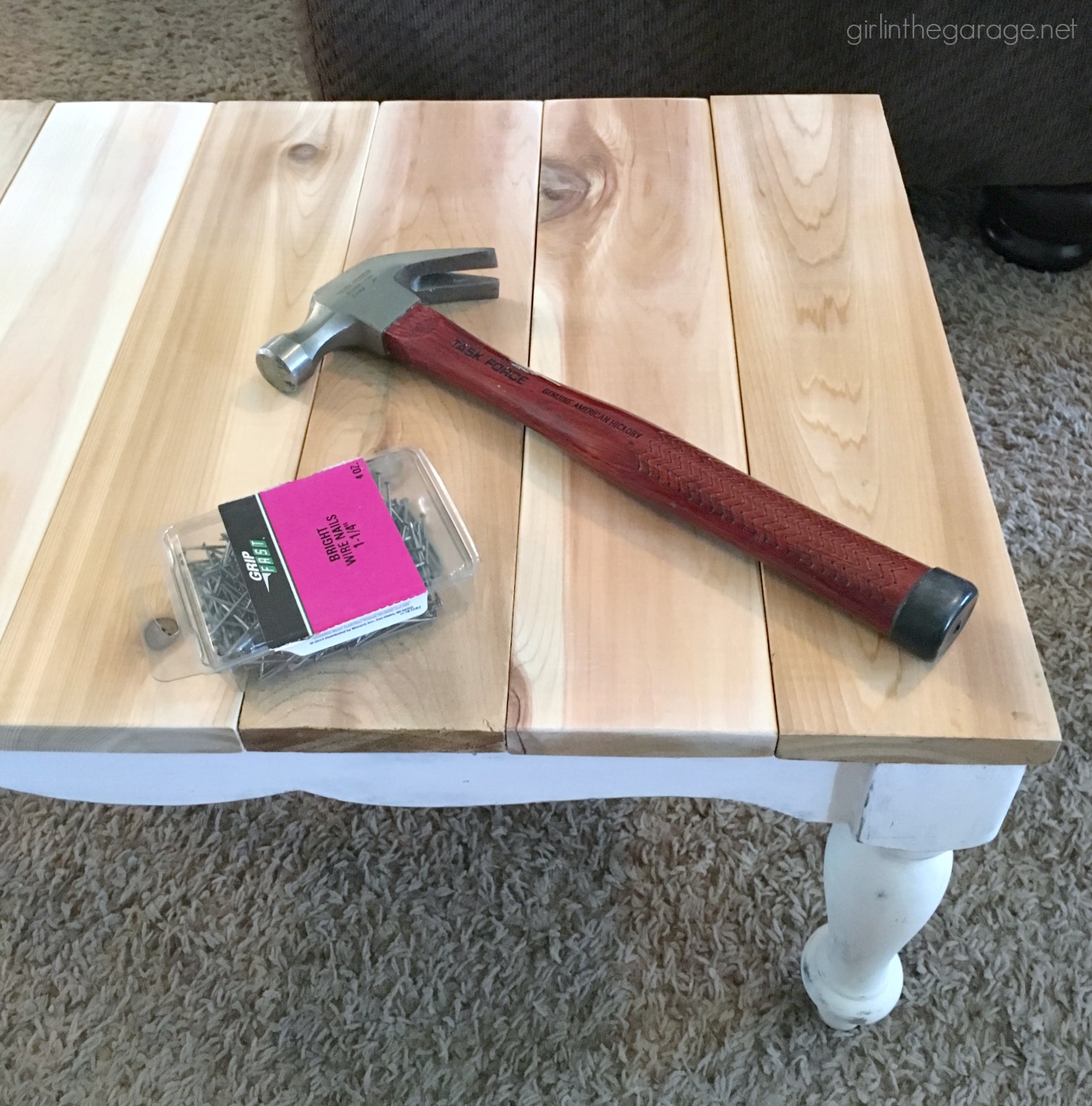 Here's the easy way to whitewash:
Lightly mist a section with water from a spray bottle – I did two boards at a time. Once it's covered, brush your paint on (in this case, Pure White again) and paint as usual, only the paint will thin out and you'll still be able to see the beautiful wood grain underneath.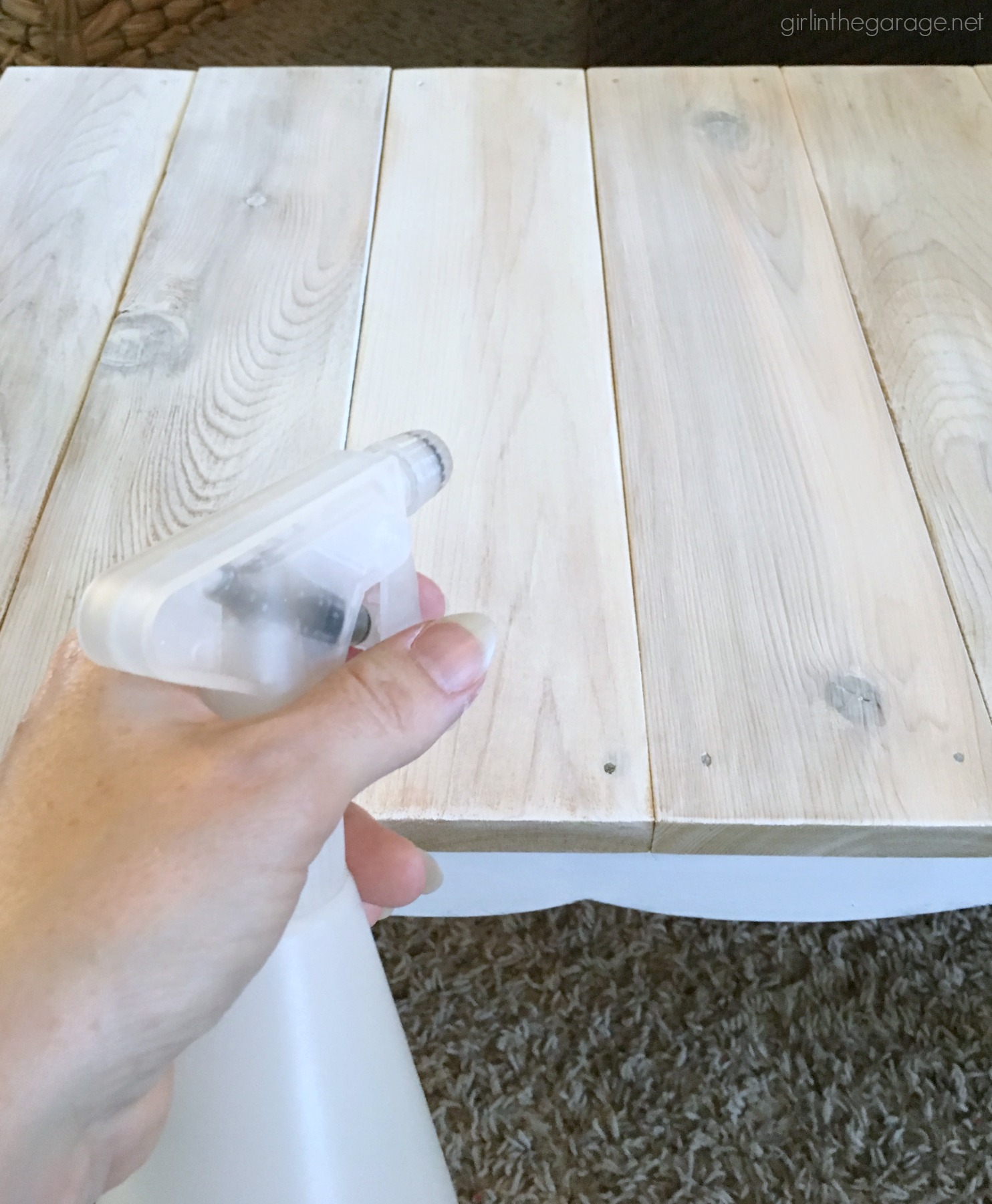 I didn't want to mess with adding water to my paint can for a small project, so the spray bottle made this a much faster option – with no wasted watered-down paint.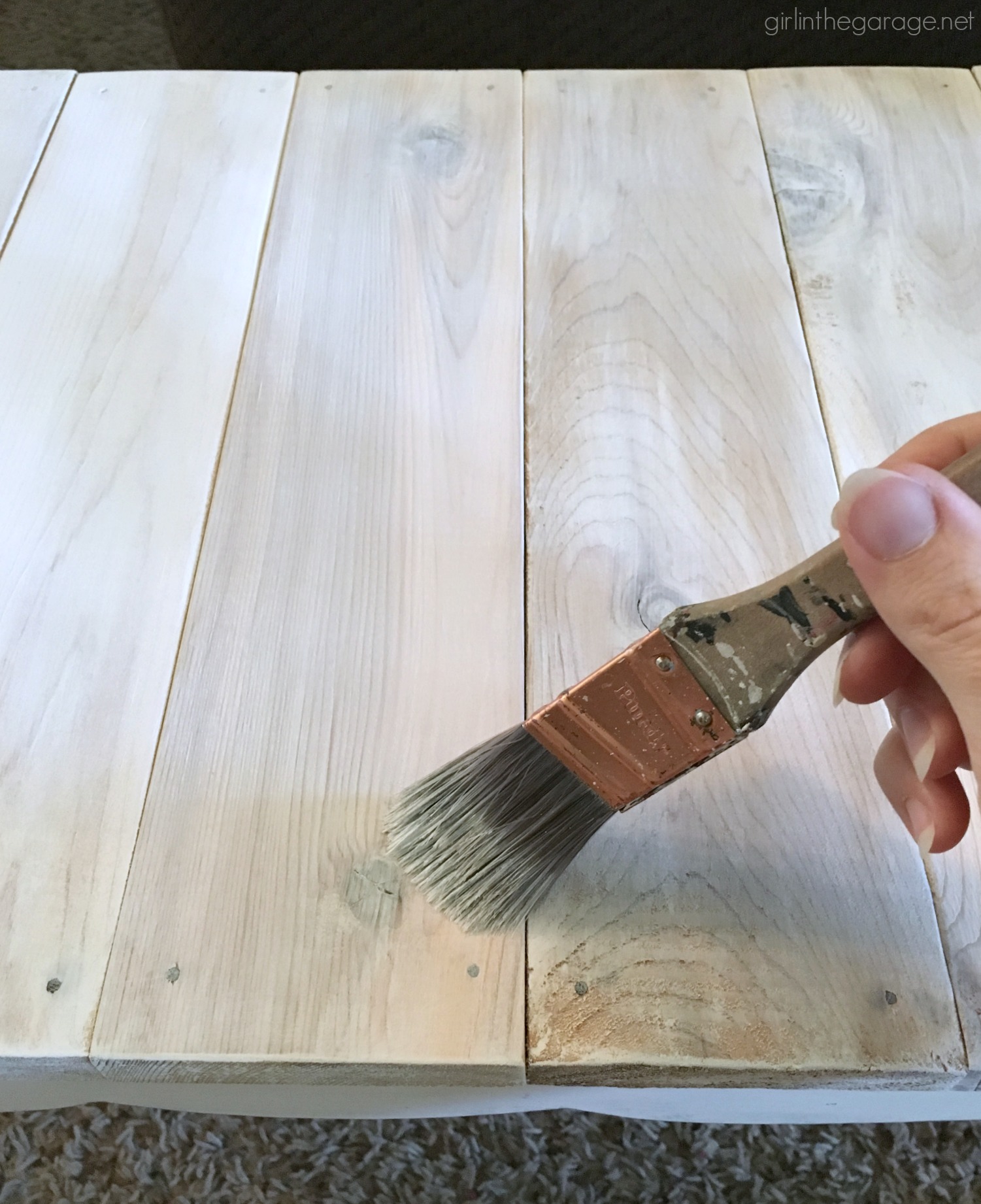 It ended up with the prettiest weathered farmhouse look to it!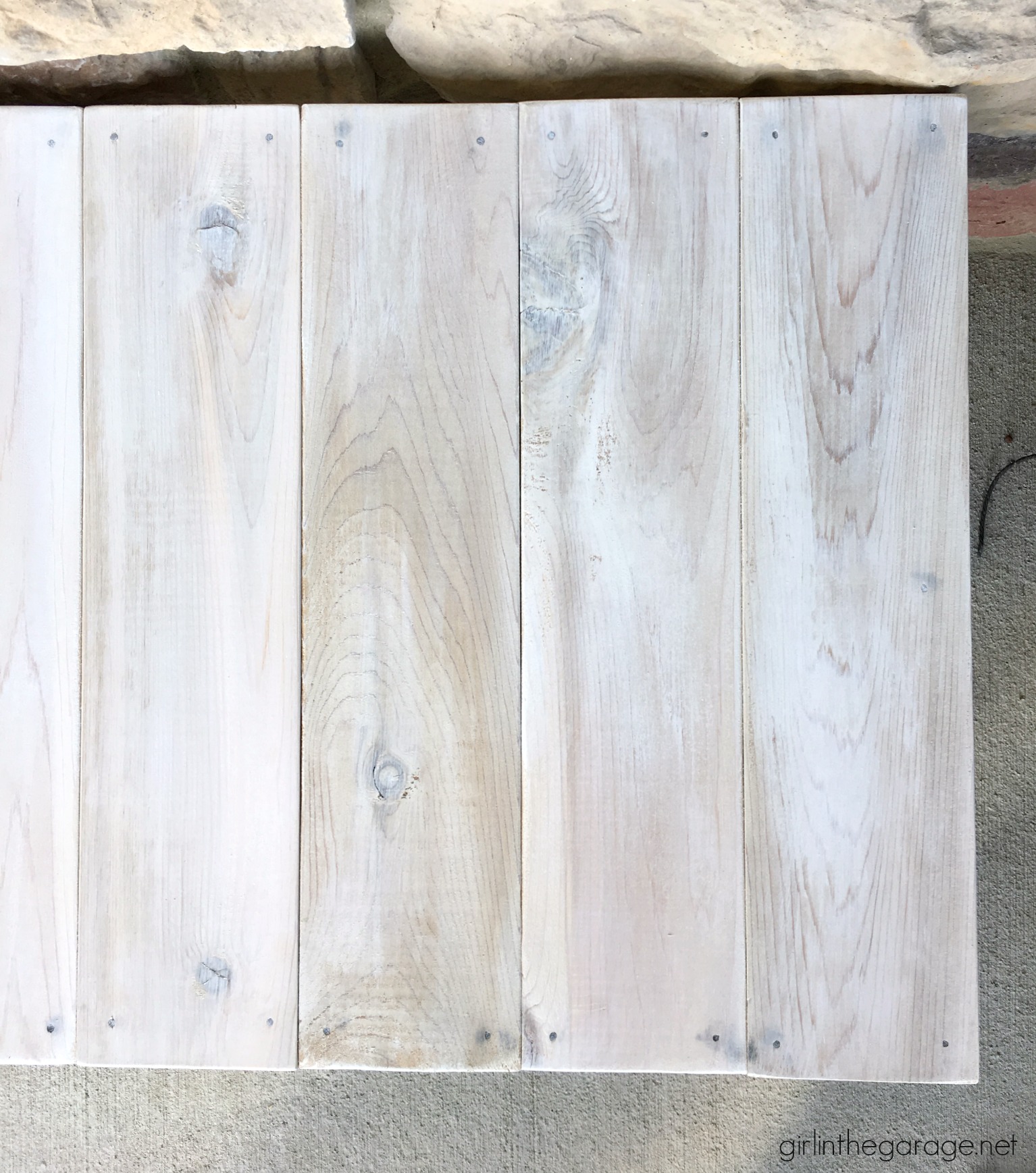 Imagine this next part in a big announcer voice: But wait, there's more!
I decided to dress up this footstool makeover a little more and kind of tie in those black distressed areas with some upholstery tacks.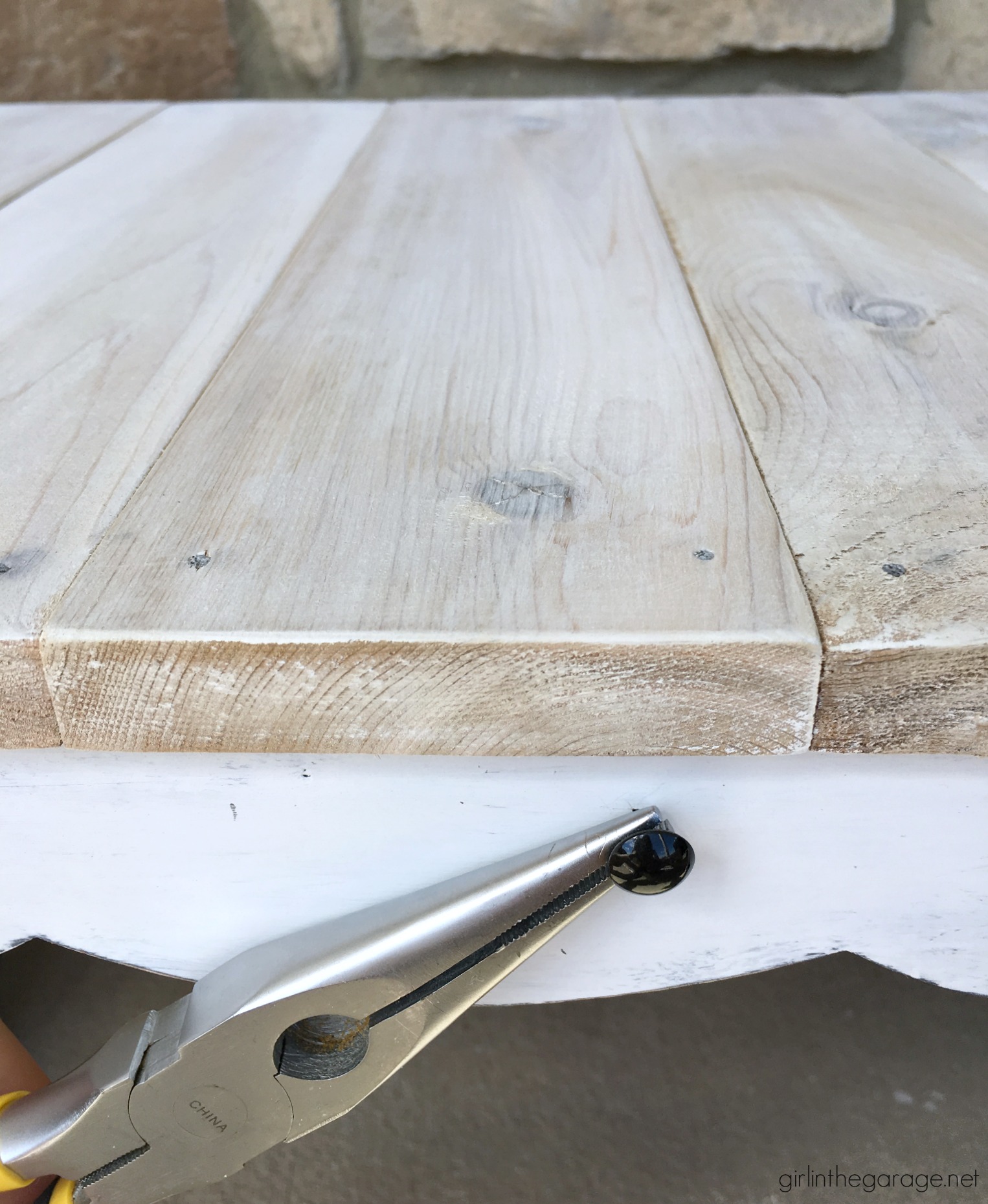 I've shared some upholstery tack tutorials before (here's a good one) but for a quick rundown – measure and mark where you want the tacks to go, start to hammer them in lightly until they're standing on their own, and then hold in place with pliers. Tap them in carefully and as straight as possible. Continue on every side.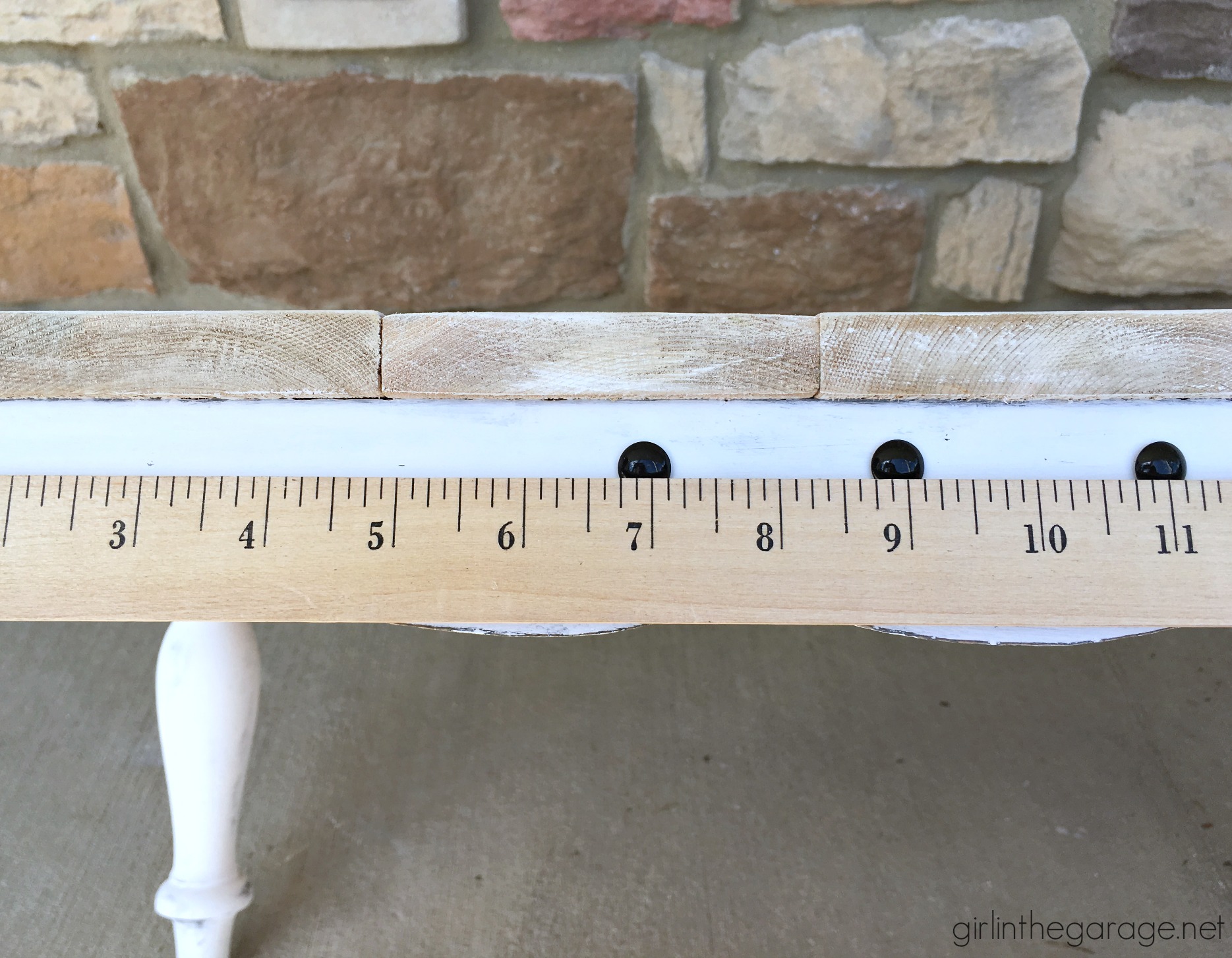 If your tack starts going in crooked, try to fix it asap or just pull it out and start it over. You can also use a spacing tool like this one if you're new to this technique and want extra help with spacing and getting them all lined up straight.
And here's the repurposed footstool makeover to DIY lap table all finished…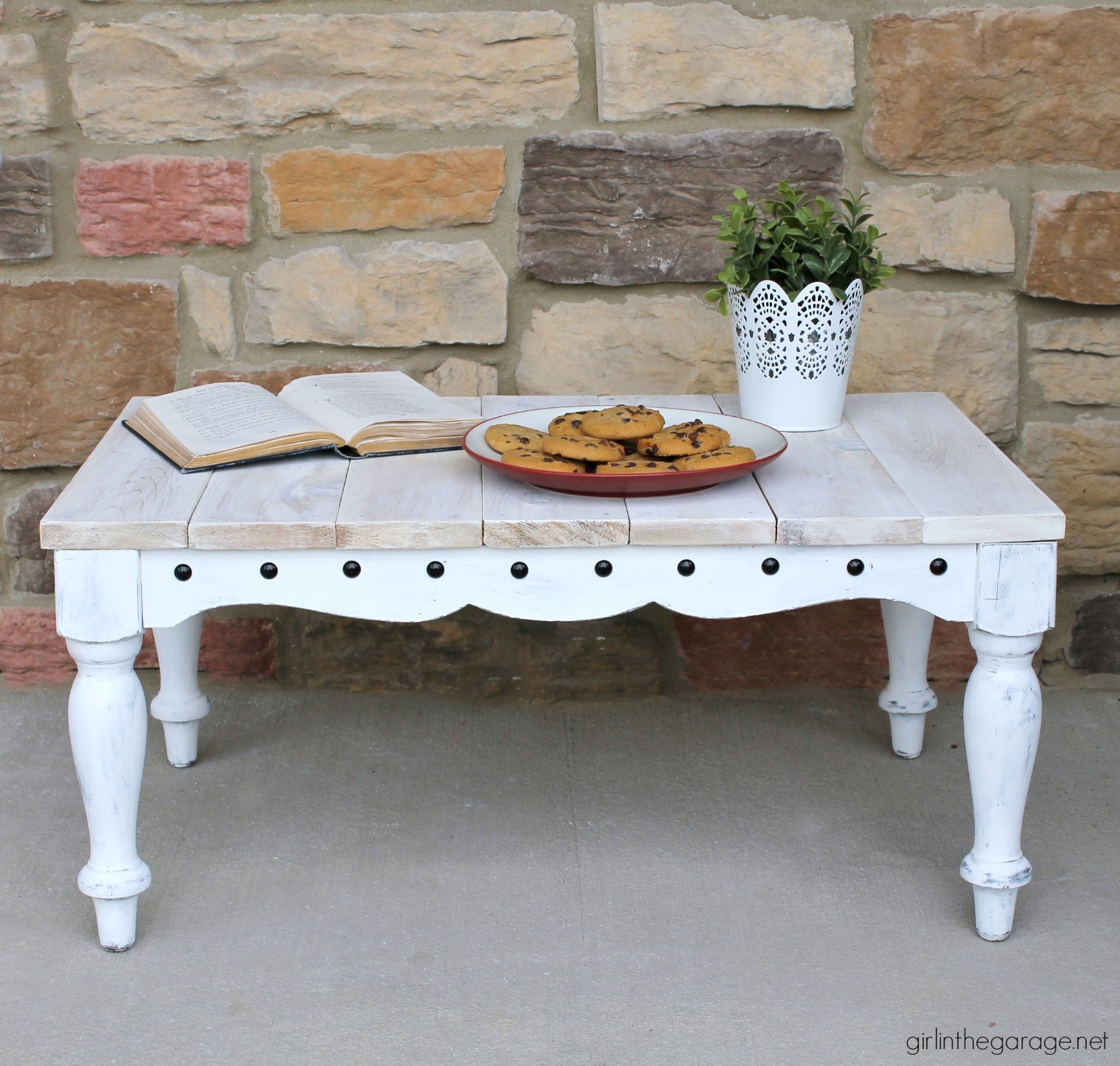 Just waiting to be used for breakfast in bed, a snack while lounging on the couch, or maybe even a child's homework desk? (Yeah right, mama's not sharing this with the kids!) 😉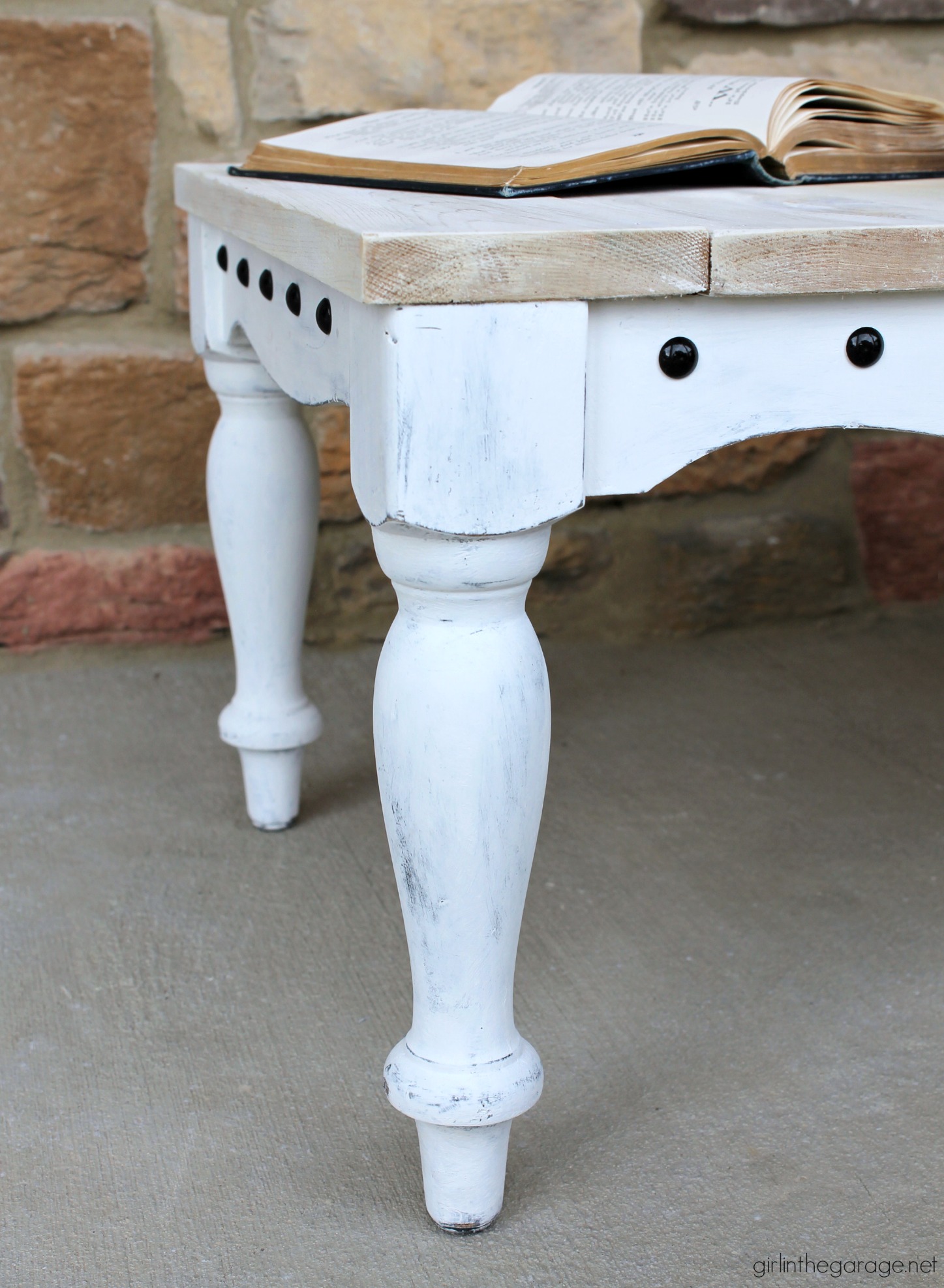 Here's a look at the planked whitewashed top again. I can't wait to use this technique on another project! (Maybe for my book..? 😉)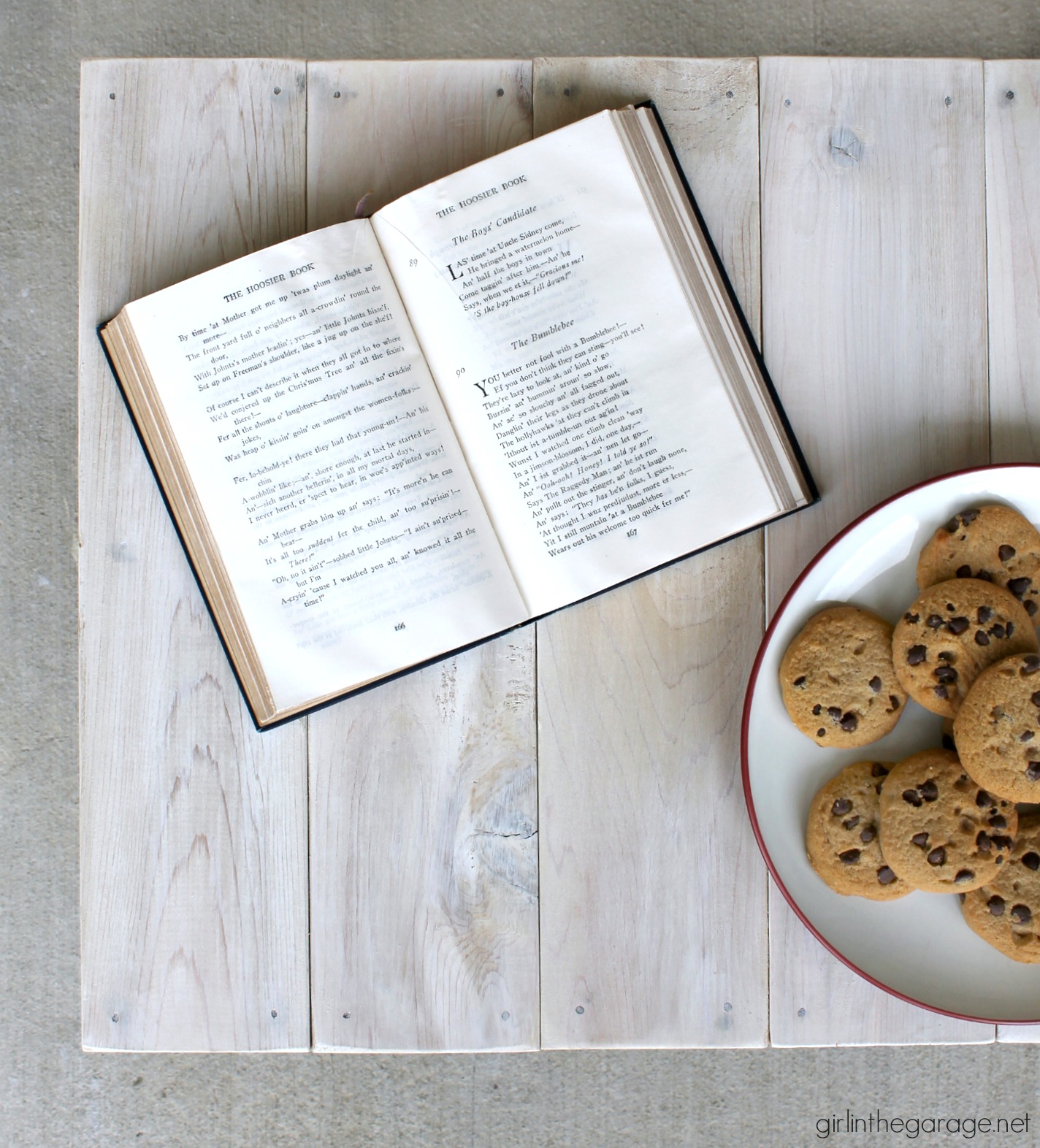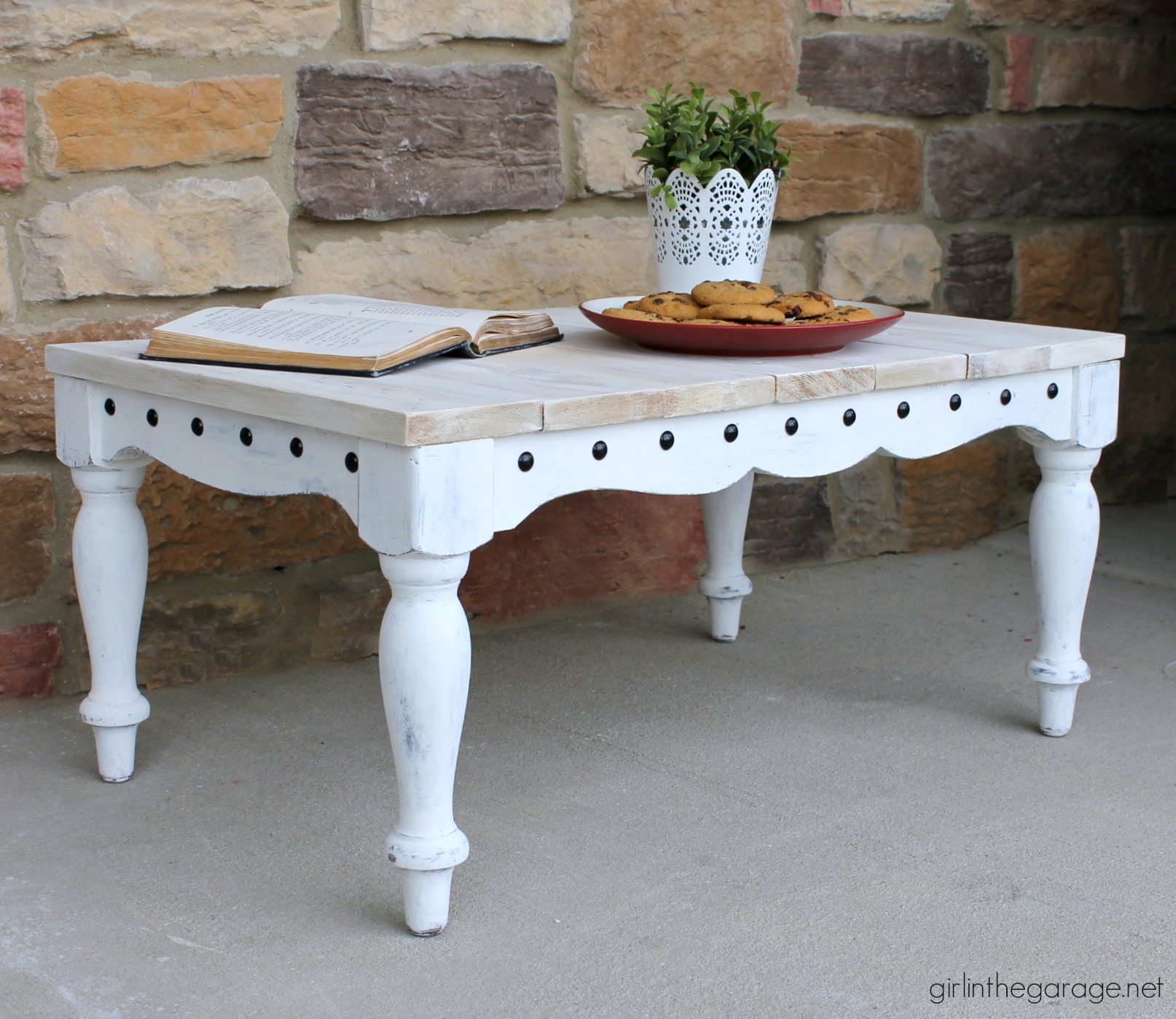 Here's a reminder of the before and the oh-so-different after. I'd so appreciate if you'd Pin this project or share it with a friend!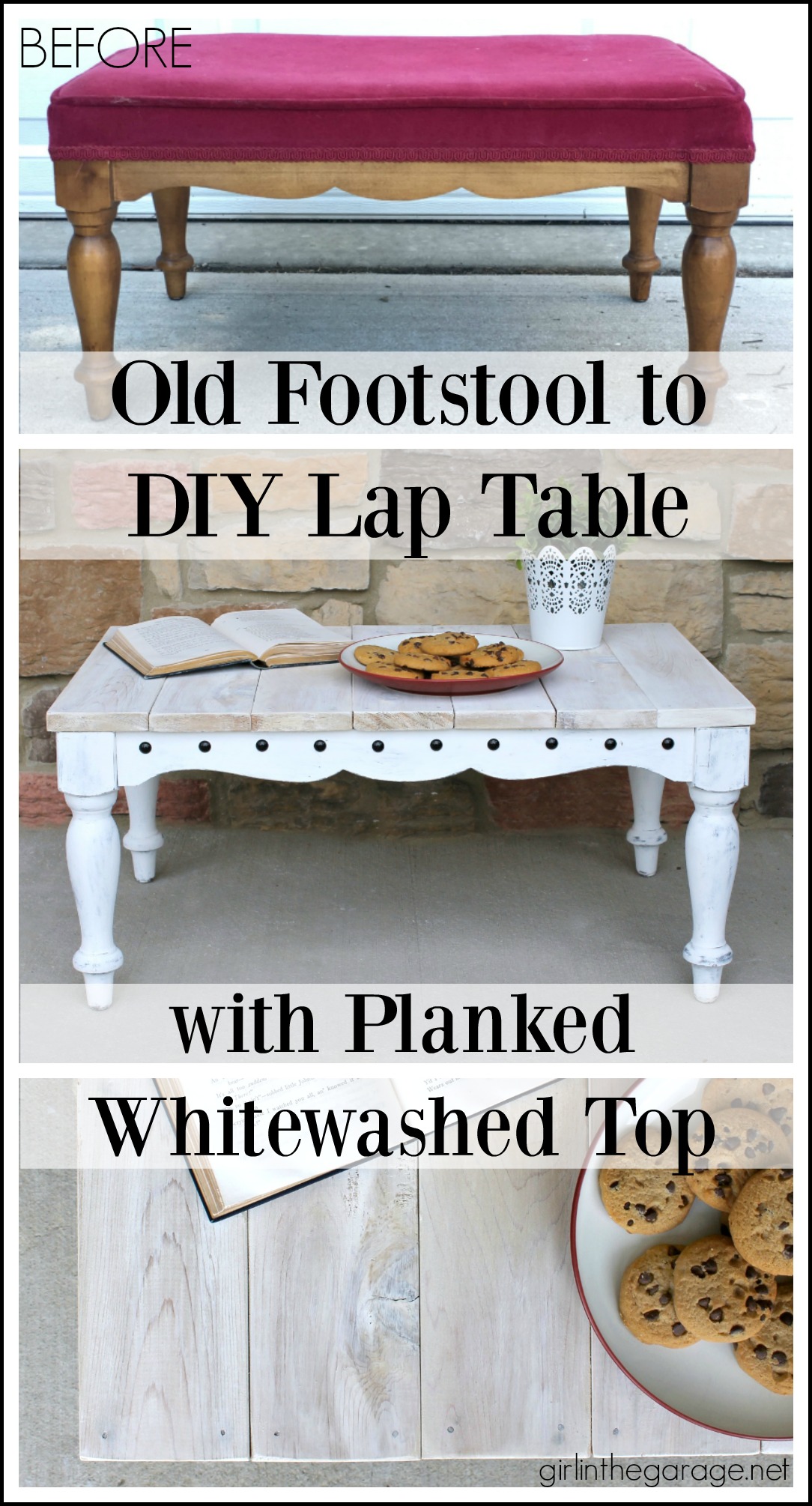 I hope this footstool makeover has inspired you, and I'd love to know your thoughts in a comment below. Thanks so much for visiting today!
.
Now it's time to see what amazing makeovers my friends came up with for Furniture Fixer Uppers day. Below are the Before photos – visit the links underneath to see the After and to learn how they did it.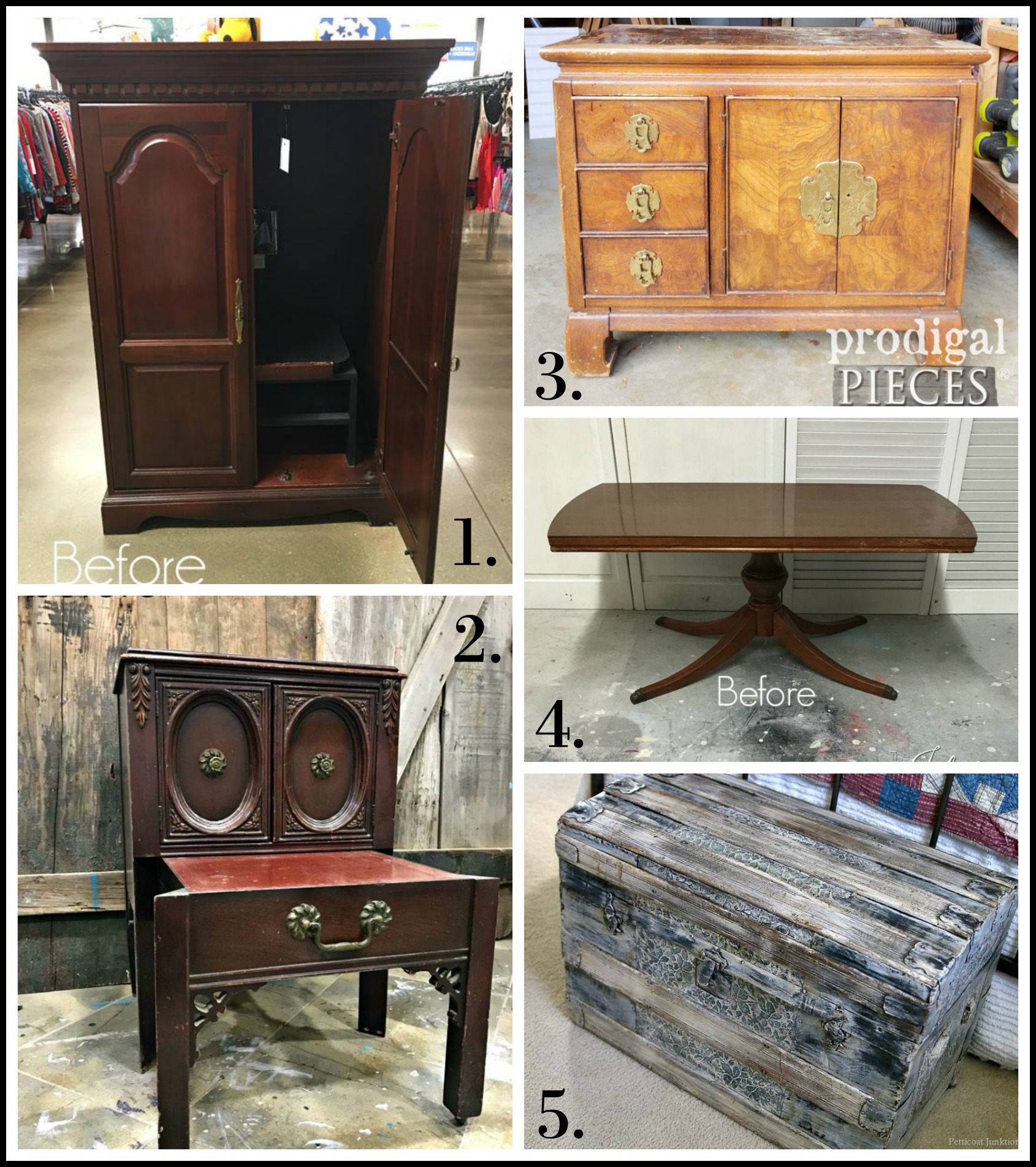 1. Confessions of a Serial DIYer
2. Just the Woods
3. Prodigal Pieces
4. The Interior Frugalista
5. Petticoat Junktion