You may have a dresser just like this… old oak and desperate for an update.  You see the textured wood grain finish, the giant ring mark on the top drawer, maybe some dings and scratches, and you don't have a clue where to begin.  So it sits – good bones and lots of potential – yet unstarted and unfinished.  I am here to help you get motivated.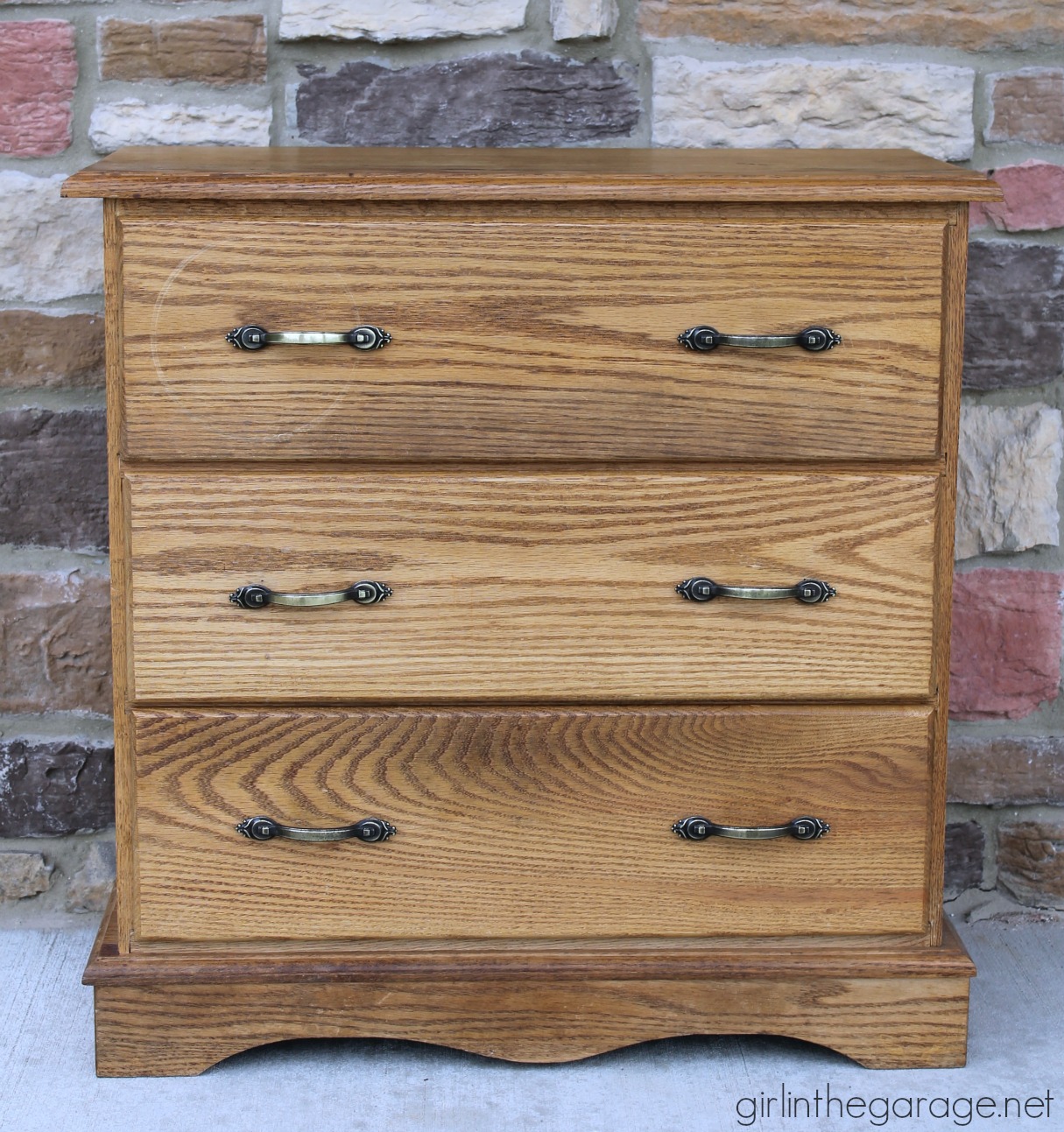 I've added upholstery tacks to two dressers and a vanity now, and they all get a lot of compliments when people see photos.  The first two sold almost immediately from my booth and this dresser will hopefully sell quickly too at the Hunt & Gather vintage market next month.
A dresser with this much natural texture needs some prep work.  This post contains some affiliate links, at no extra cost to you, so you can easily find some of the products I love to use.  Learn from my mistake and Prime First!  I didn't prime since I wasn't worried about bleed through (and I was excited to get started), but I forgot that my paint would seep into all the wood grain grooves and get soaked up.  It took me three coats of Aubusson Blue Chalk Paint® by Annie Sloan – four coats in some areas.  Chalk Paint® isn't cheap, so you'd much rather use a couple coats of primer first and then only 1-2 coats of Chalk Paint®.  I like Zinsser Bulls Eye 1-2-3 primer.
If you're going to replace the drawer pulls with knobs, fill the holes that you won't be using with wood filler and let it dry for about 24 hours before sanding and painting over.  (I worked on parts of this makeover at night while the boys were in bed, so some of the photos may be dark or a bit fuzzy. But you can still get the idea.)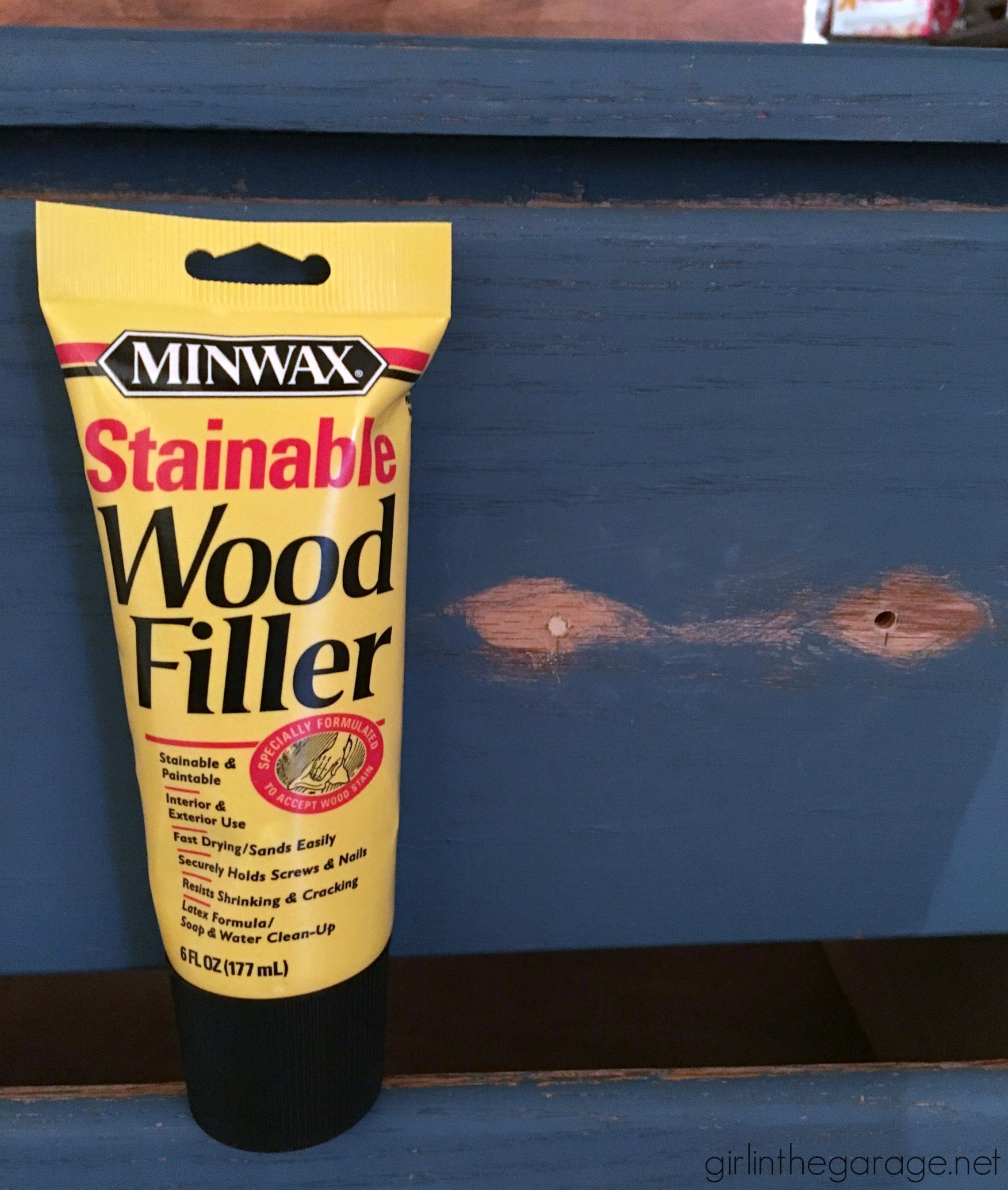 Once your furniture is painted and your topcoat is dry, you can add nailhead upholstery tacks to really transform a piece like this into something stunning.  First, sketch a little drawing of your dresser onto paper.  Draw out a pattern with a pencil for how you want the tacks to look on the drawers.  You can find inspiration online from designer furniture stores, blogger projects, and Pinterest.  It always helps to sketch out your plan on paper ahead of time to avoid problems or confusion later.  Sometimes I work my drawer pulls into the design too.
I thought it would be fun to curve around the outer drawer edge of each pull, so I used my son's baby formula lid to mark a half circle (by poking a hole directly in the center, inserting the knob, and then actually sliding it into the drawer).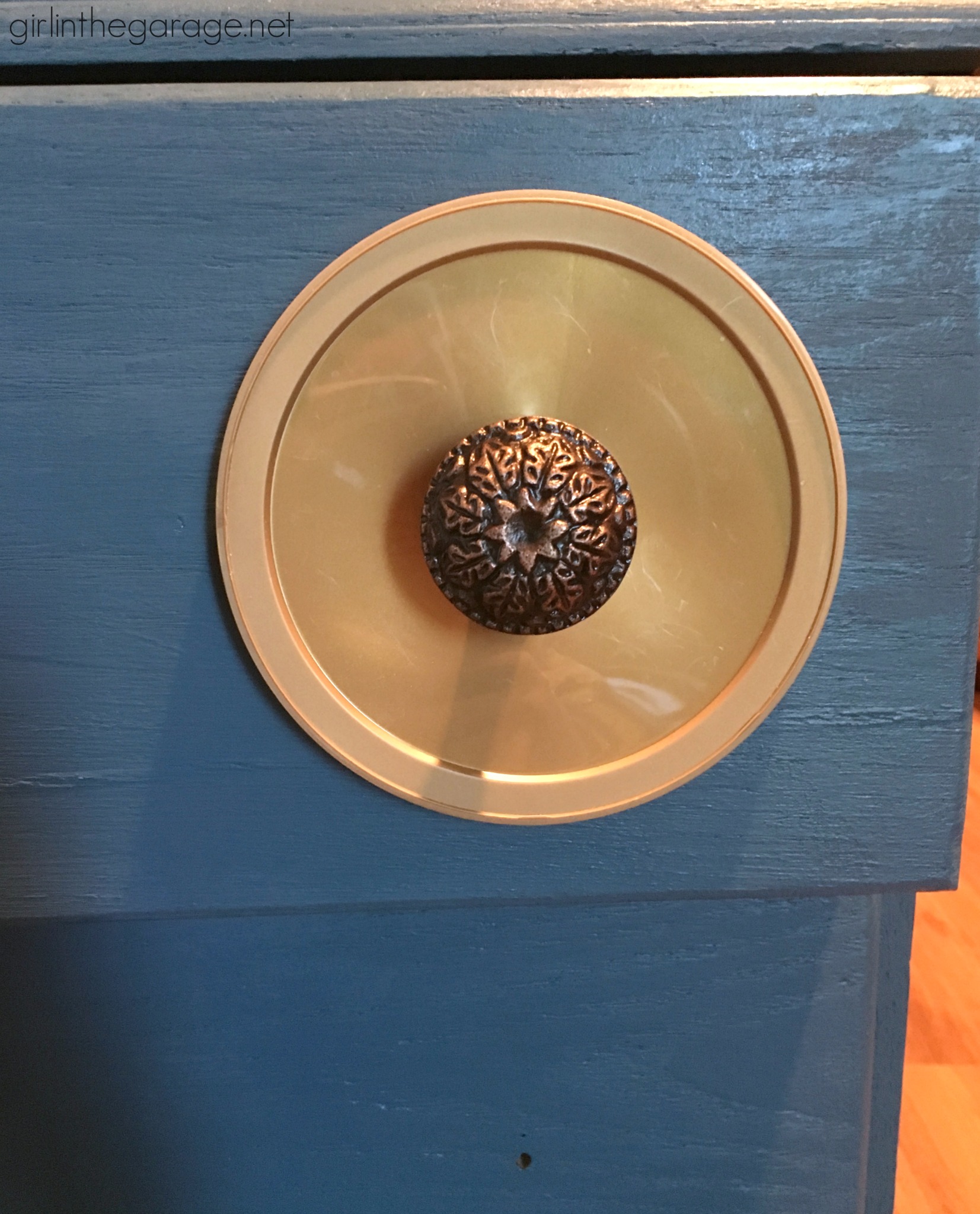 Use a yardstick to mark straight rows, like I did at the top and bottom.  The marks are about one inch apart, and they're light enough so I can easily erase them if I need to make adjustments as I go.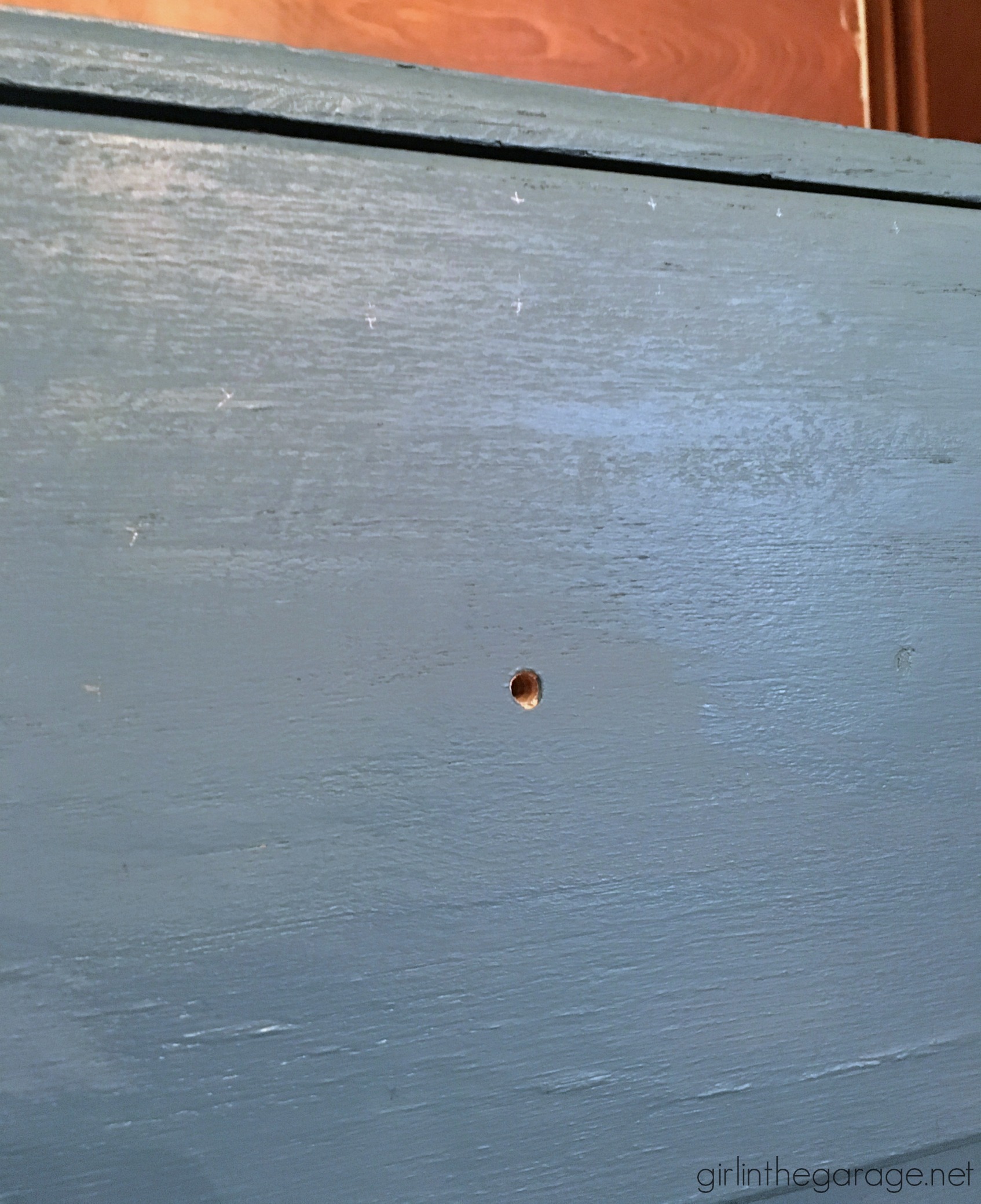 Choose tacks and pulls that coordinate – mine are all from Hobby Lobby.  I used about 3.5 boxes for this small dresser, but I used about 400 tacks before on a huge vanity I did where the tacks were all side by side.  Remember that the closer you want your tacks to be together, you'll end up using more of them.  You can still make a bold impact by having them one inch apart instead of side by side.  Note: I am aware that upholstery nailhead trim exists and some people really like using it.  It can be great if you're just making straight lines.  However, I prefer individual tacks.  They may be a little more work, but you have a lot more freedom to be creative with your design.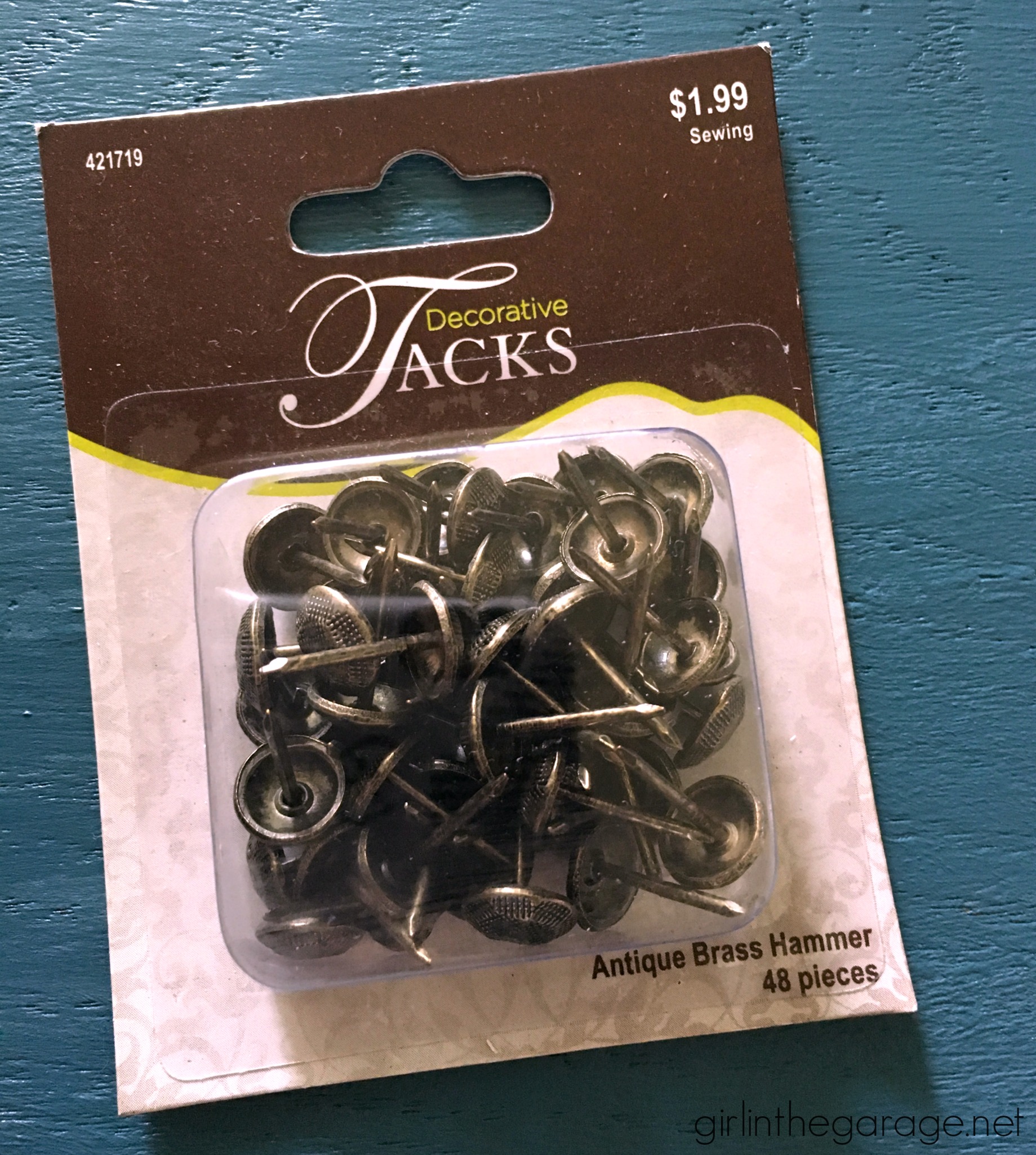 To start adding your tacks, push one into the wood a little where your pencil mark is so that it makes a dent.  Hold the tack in place with pliers where you made the dent.  Hammer it in with your other hand, using the pliers to keep it straight and making little bends and adjustments as needed. Be careful not to put too much pressure on the top, it might pop off.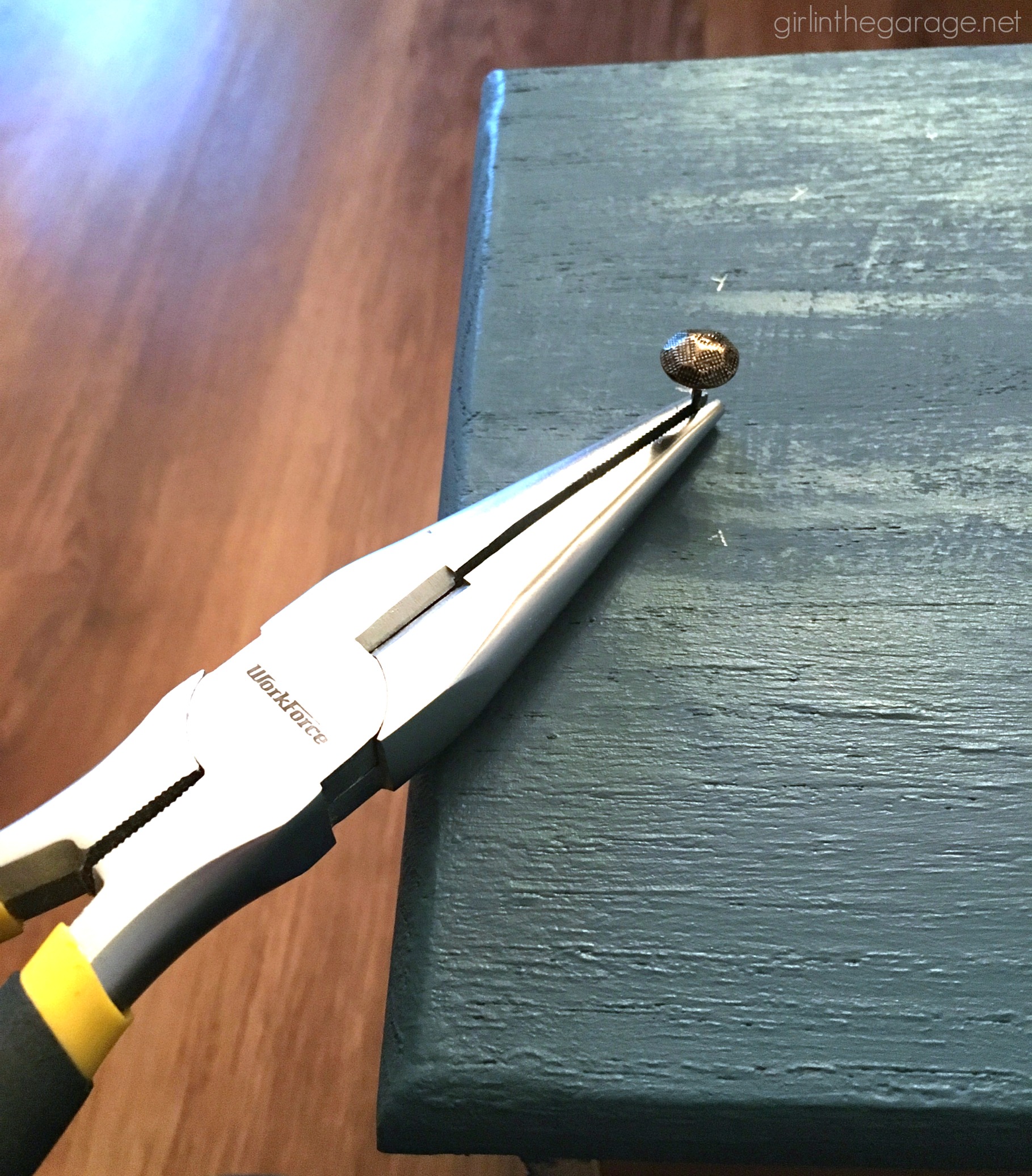 Oops!  It happened to me twice on this dresser.  Since oak is such a hard wood I could not pull out the rest of the tack myself and had to call in reinforcements (Mr. GITG).  All it took was a wrench and muscles.  Making a mistake is common, I've done it many times before – just touch up the area and then you can try again with another tack.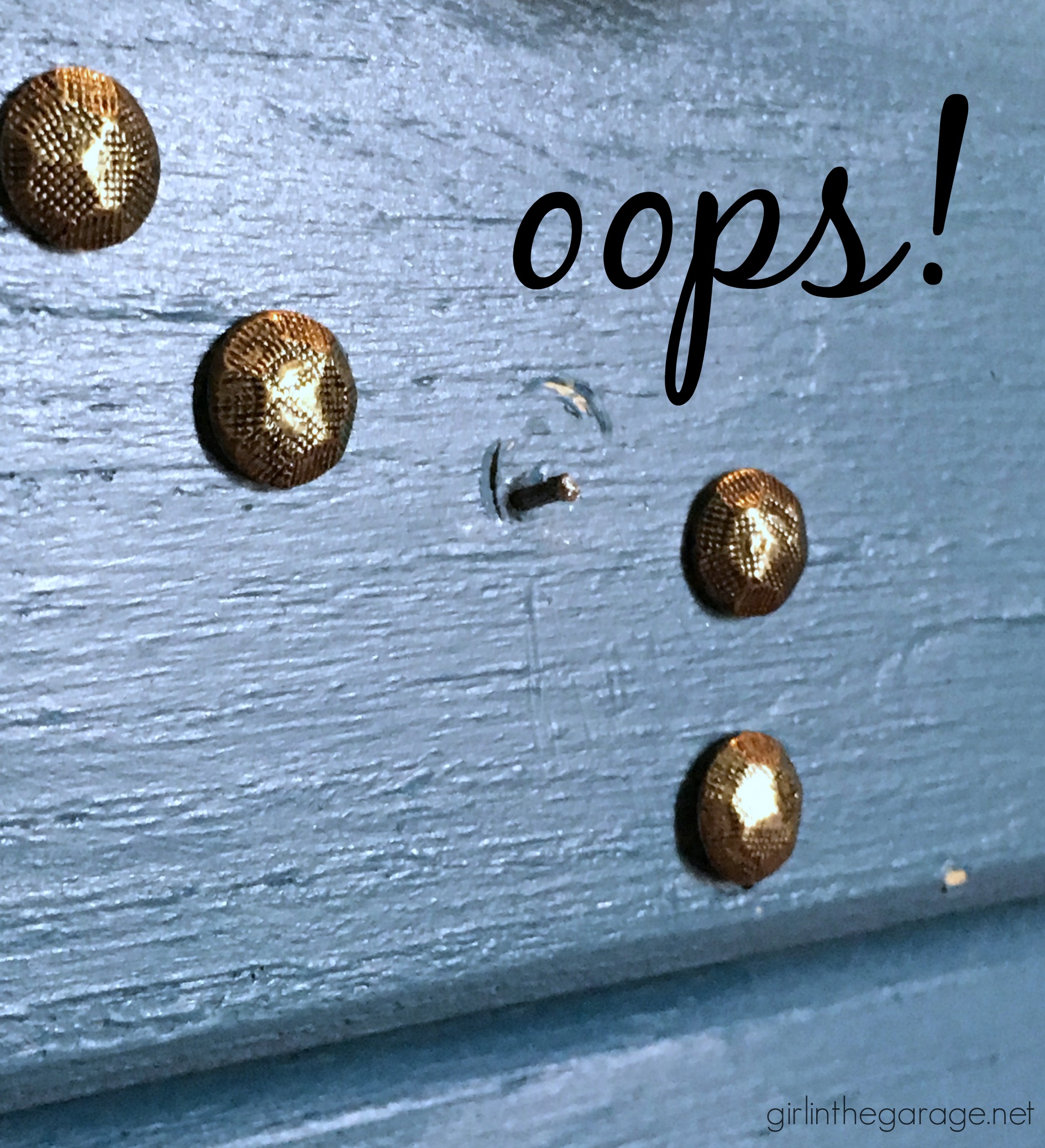 And in the end you will have a truly one-of-a-kind piece of furniture: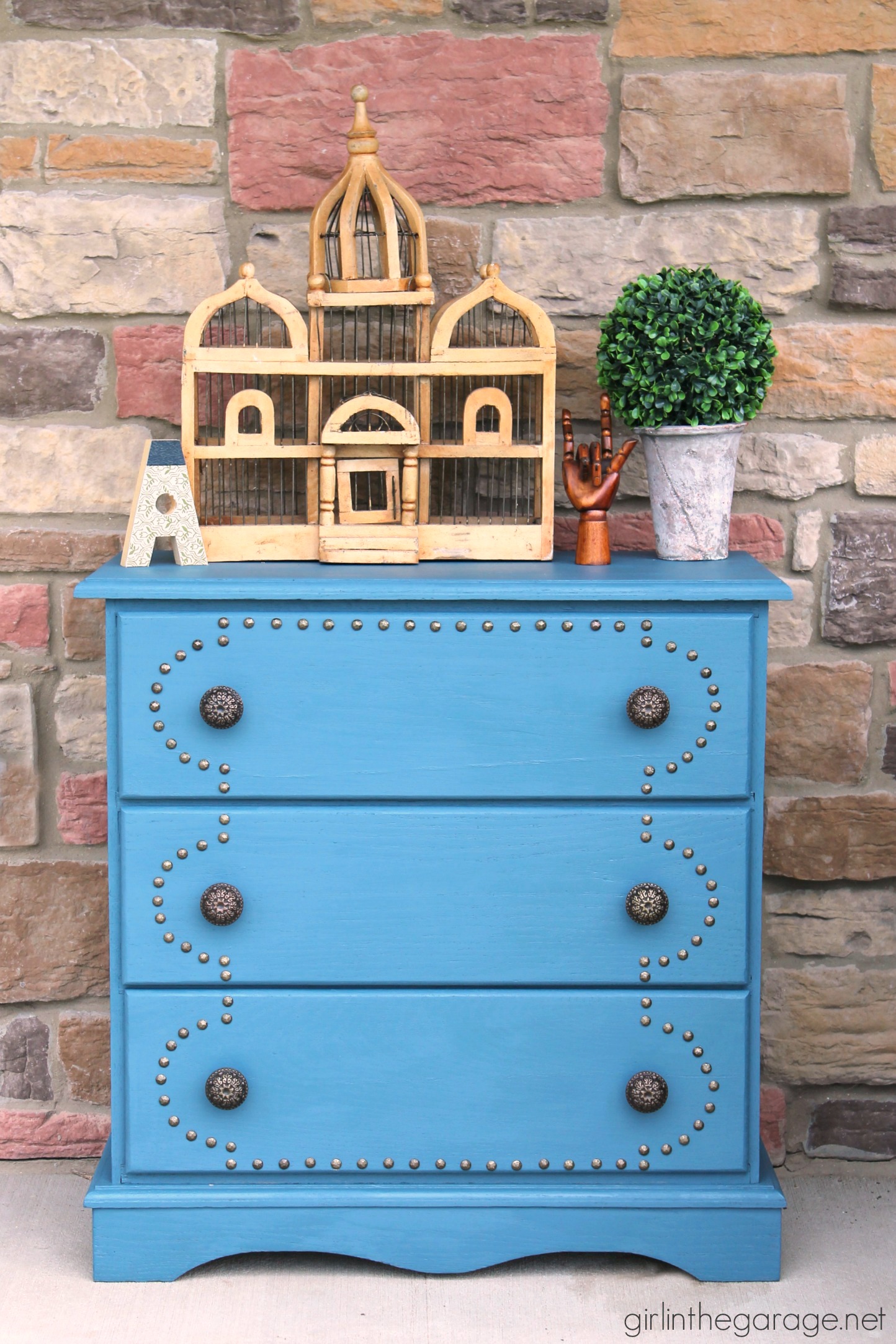 It's funny, once I had it painted and hadn't even started on the nailheads yet, my husband walked by and said "That looks like a completely difference piece – it doesn't look old anymore!"  Yes dear, that is the amazing power of paint.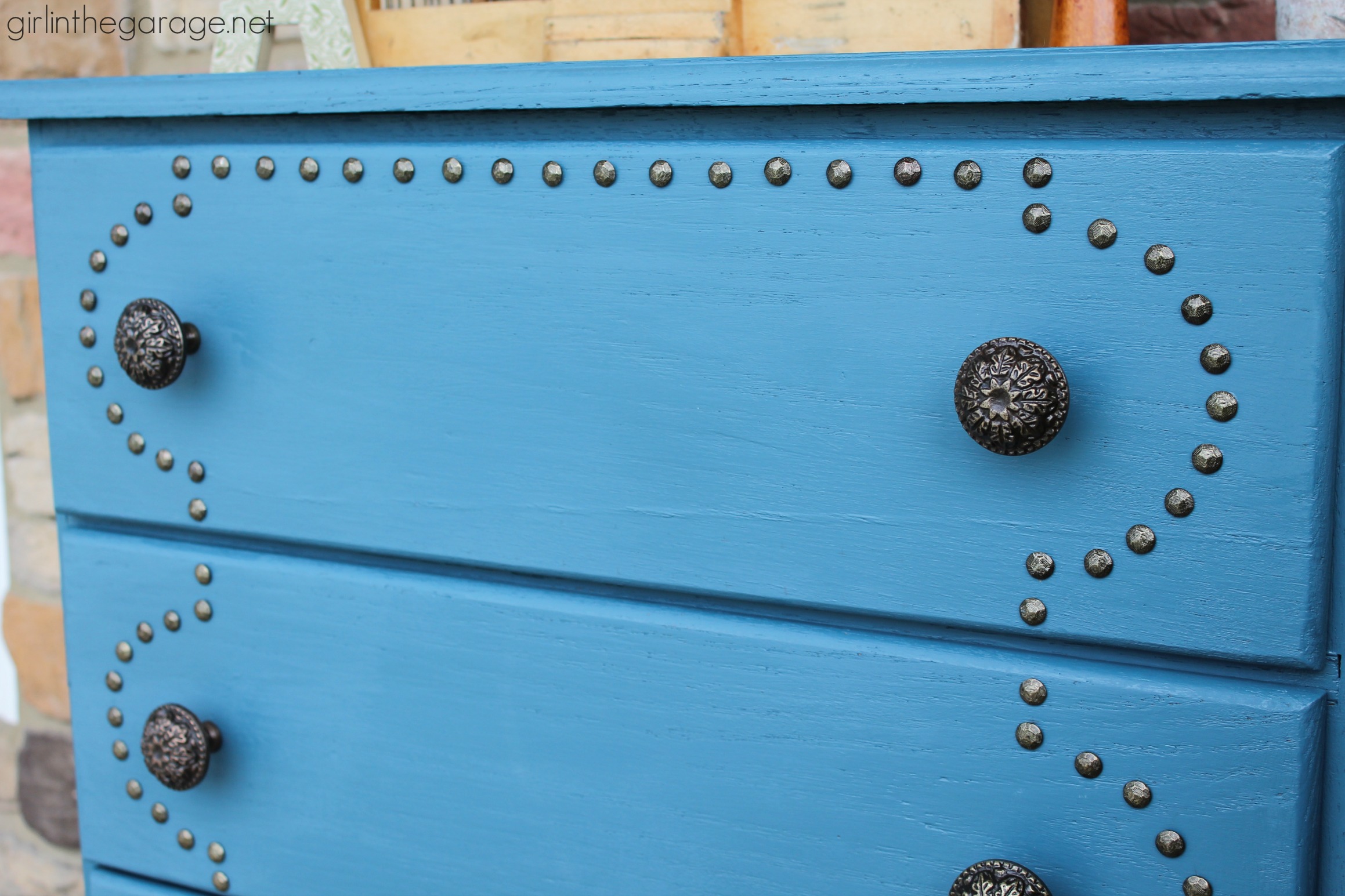 One drawer had some dark stains inside so I ended up painting them blue too.  Unfortunately I forgot to take a pic inside the drawers.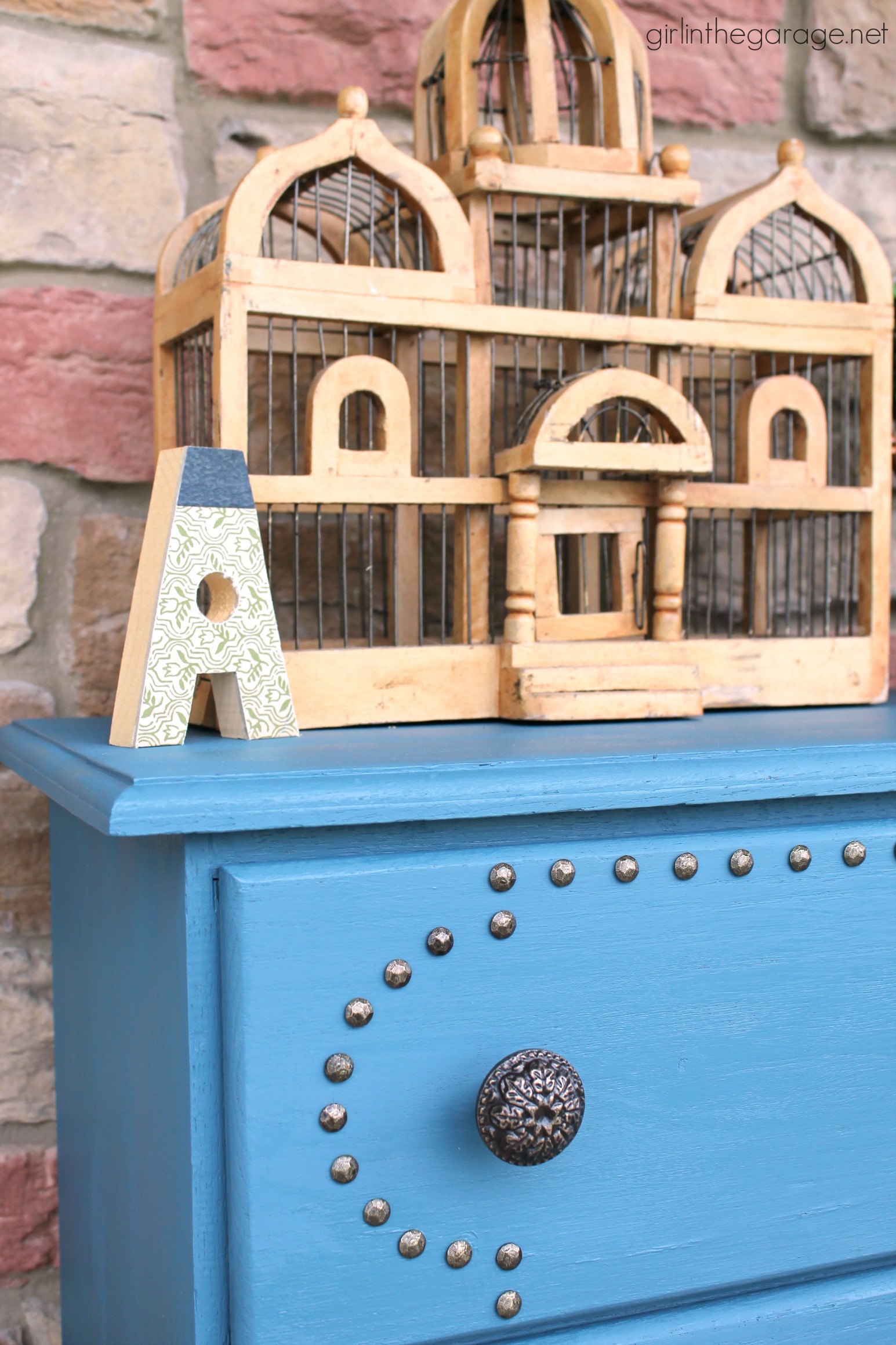 So what do you think – is this something you can see yourself trying?
Upholstery tacks can really take a piece from yawn to WOW!  It's extra effort but can really look amazing, especially if you're redoing furniture to sell (since I rarely see other furniture painters use this technique).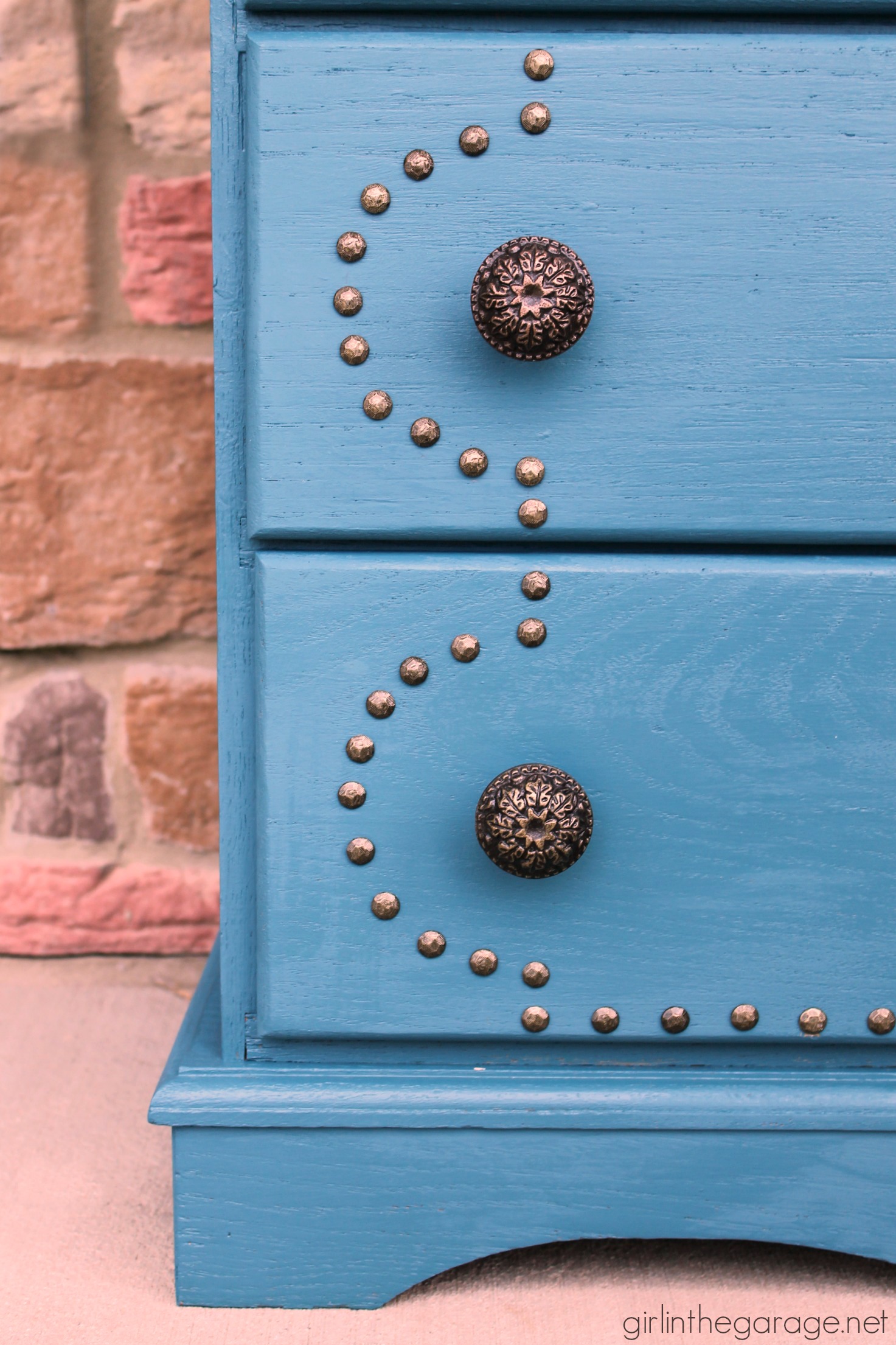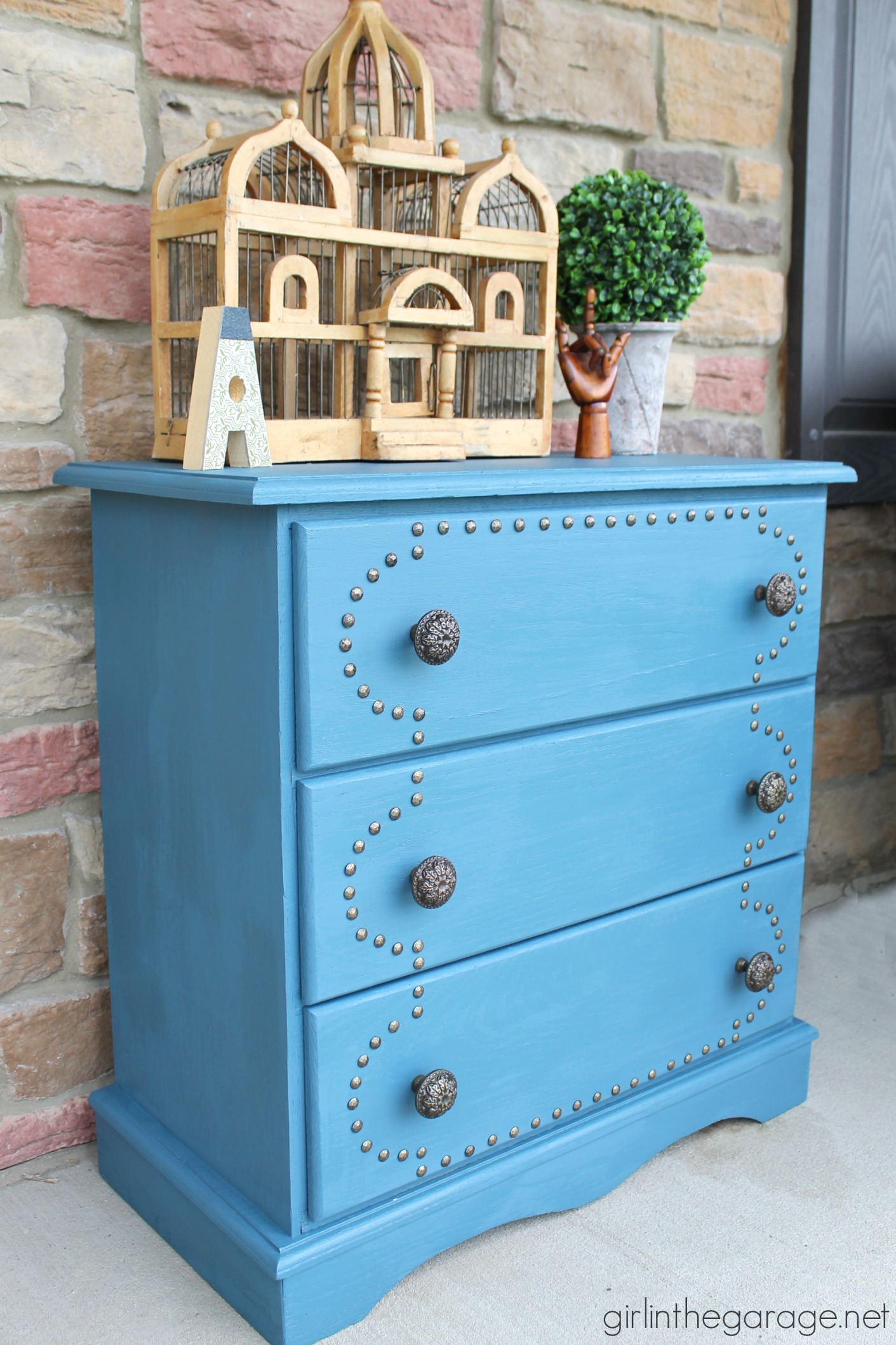 I'd love to know your thoughts or if you have any questions or concerns – please leave me a comment below.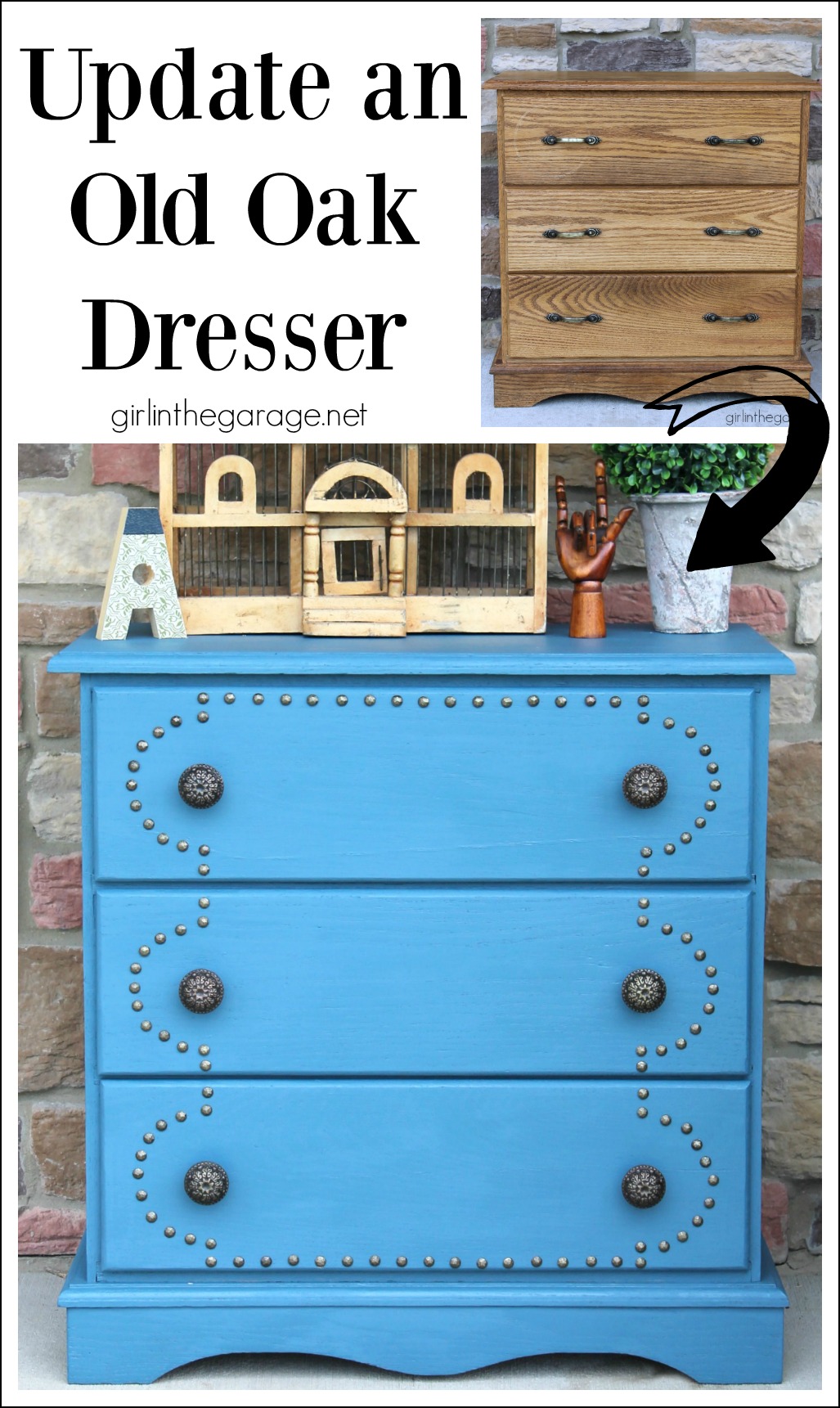 Visit my other posts for more tips on adding upholstery tacks to your furniture (photos below):
Chic Nailhead Dresser Makeover (top photo)
Nailhead Vanity Makeover (bottom photo)

You can also get even more inspiration here: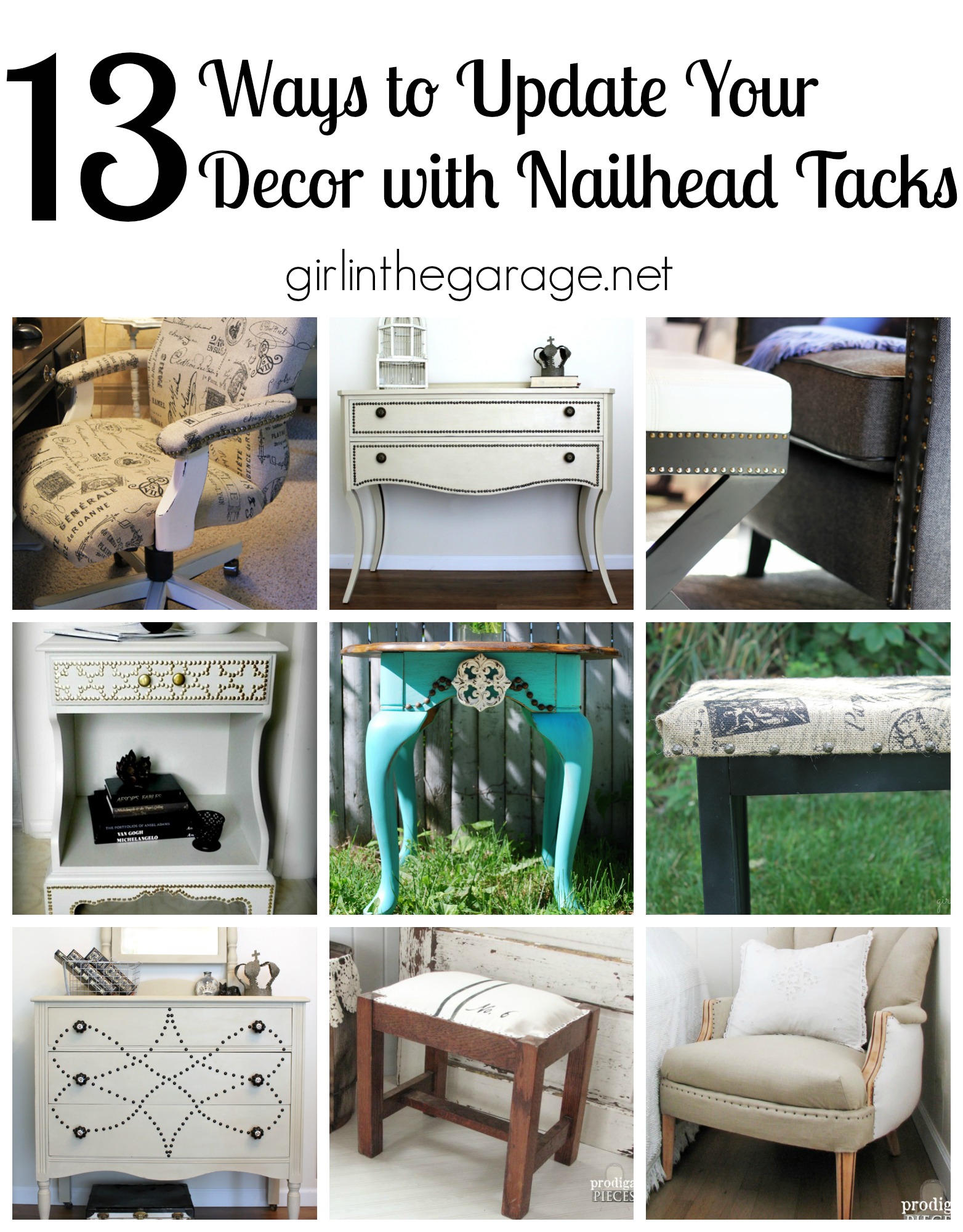 Have a wonderful weekend, my creative friends!
Jen
If this post has inspired you, please share it with others.
Join the GITG Community
When you join this thriving online community of 90,000 creative souls, you'll be inspired to discover hidden artistic talents and learn skills to boldly face DIY projects with confidence.
You'll also receive my free guide "Just Paint It: 7 Tips for Transforming Furniture with Confidence."