Hello again, my creative friend.  It always feels good to finish a project and share it here with you, whether it's a big piece of furniture or something smaller.  Inspiration can come in any shape or size!
This summer I picked up this piece from a yard sale for about $10, and I finally pulled it out for a decoupage cabinet makeover for Trash to Treasure Tuesday with my blogging friends.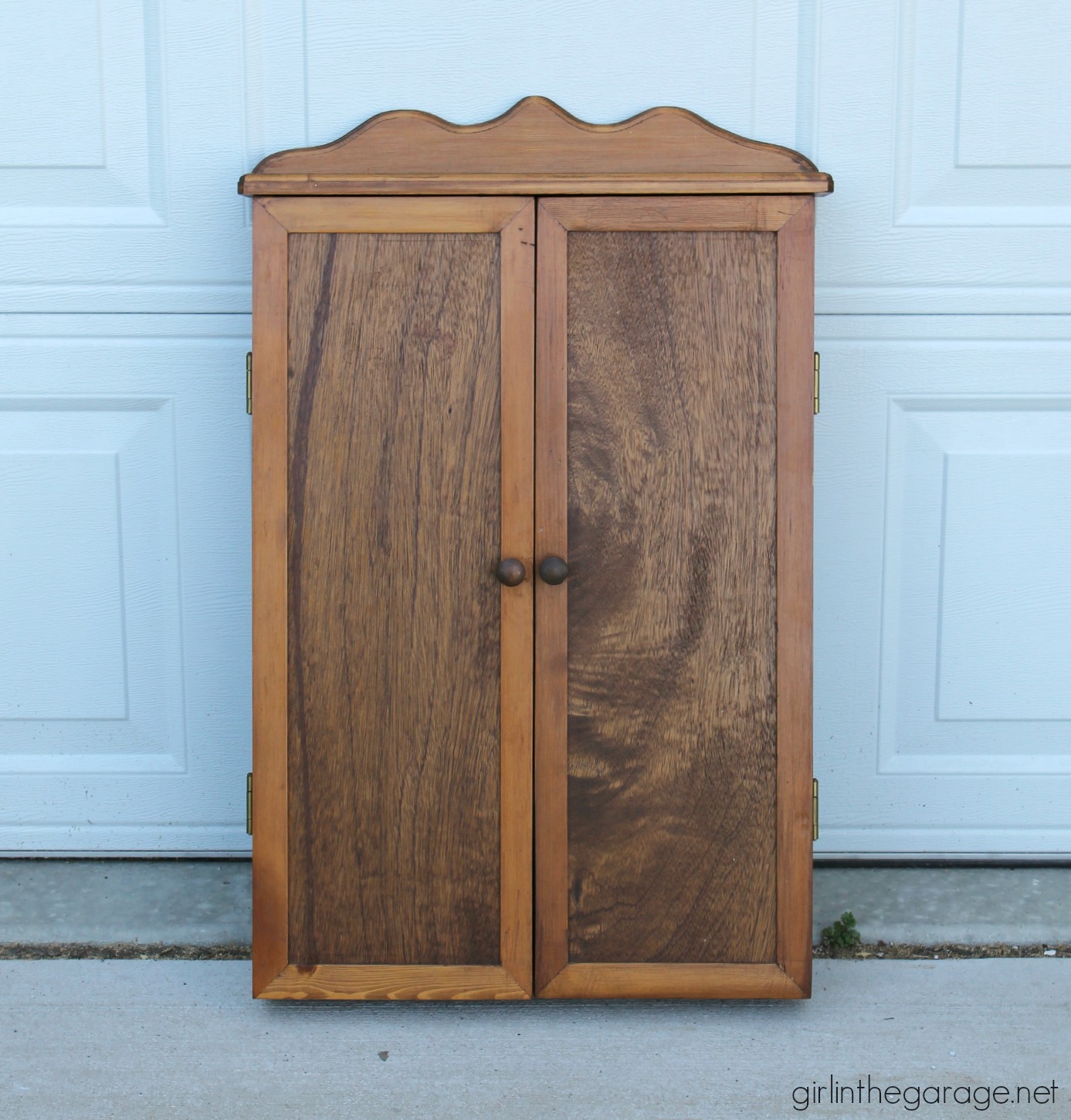 My hubs thought it was a dart board until I opened it and showed him all these glorious little shelves inside…  ("Glorious" for cute storage space, but not so fun for the extra painting involved!)  Bonus: It even came with the previous owner's favorite magazine clippings.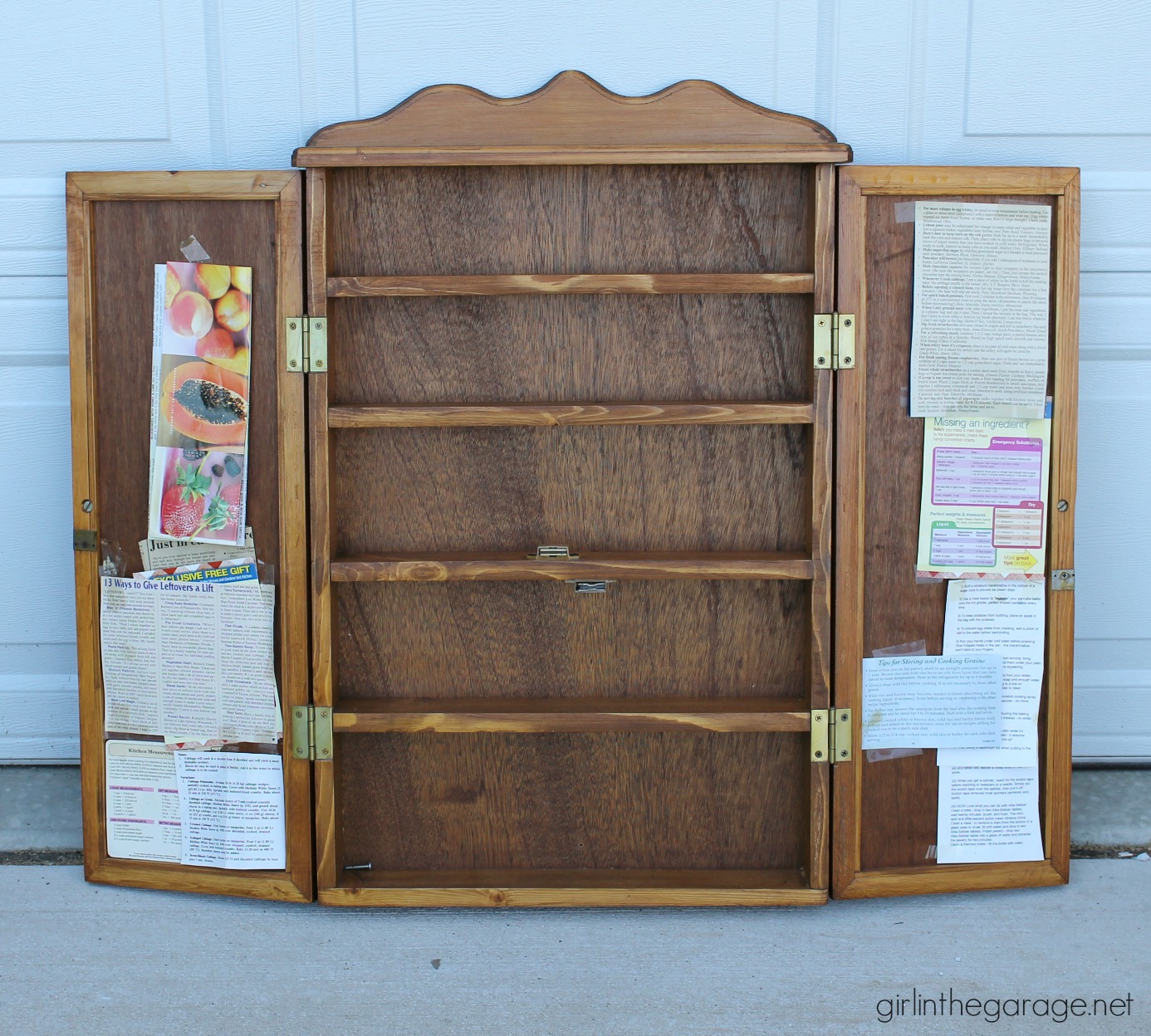 This post contains some affiliate links so you can easily find the products I use and recommend.  Find a full list of all my favorite tools and products for DIY projects Here.
Steps for doing a decoupage cabinet makeover:
First, paint it in Annie Sloan Chalk Paint in Old White.  I used my favorite Purdy brushes and altogether it got about three coats of paint.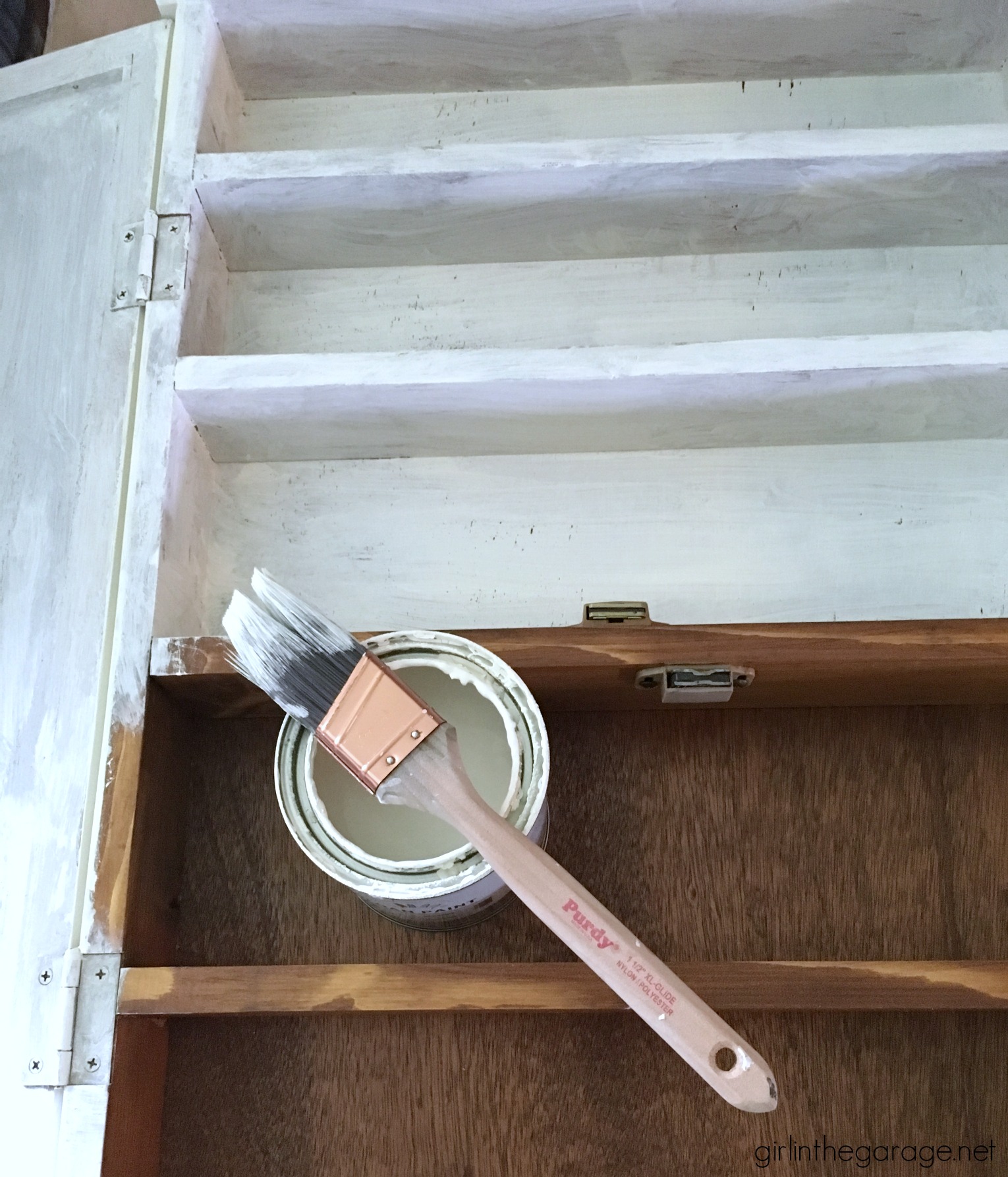 I dry brushed over the hinges to hide the brass color, but ended up unscrewing the big magnets from the shelf inside.  Tip: It helps to snap a cell phone photo like the one below so later you'll remember exactly where they go back, which way they face, etc.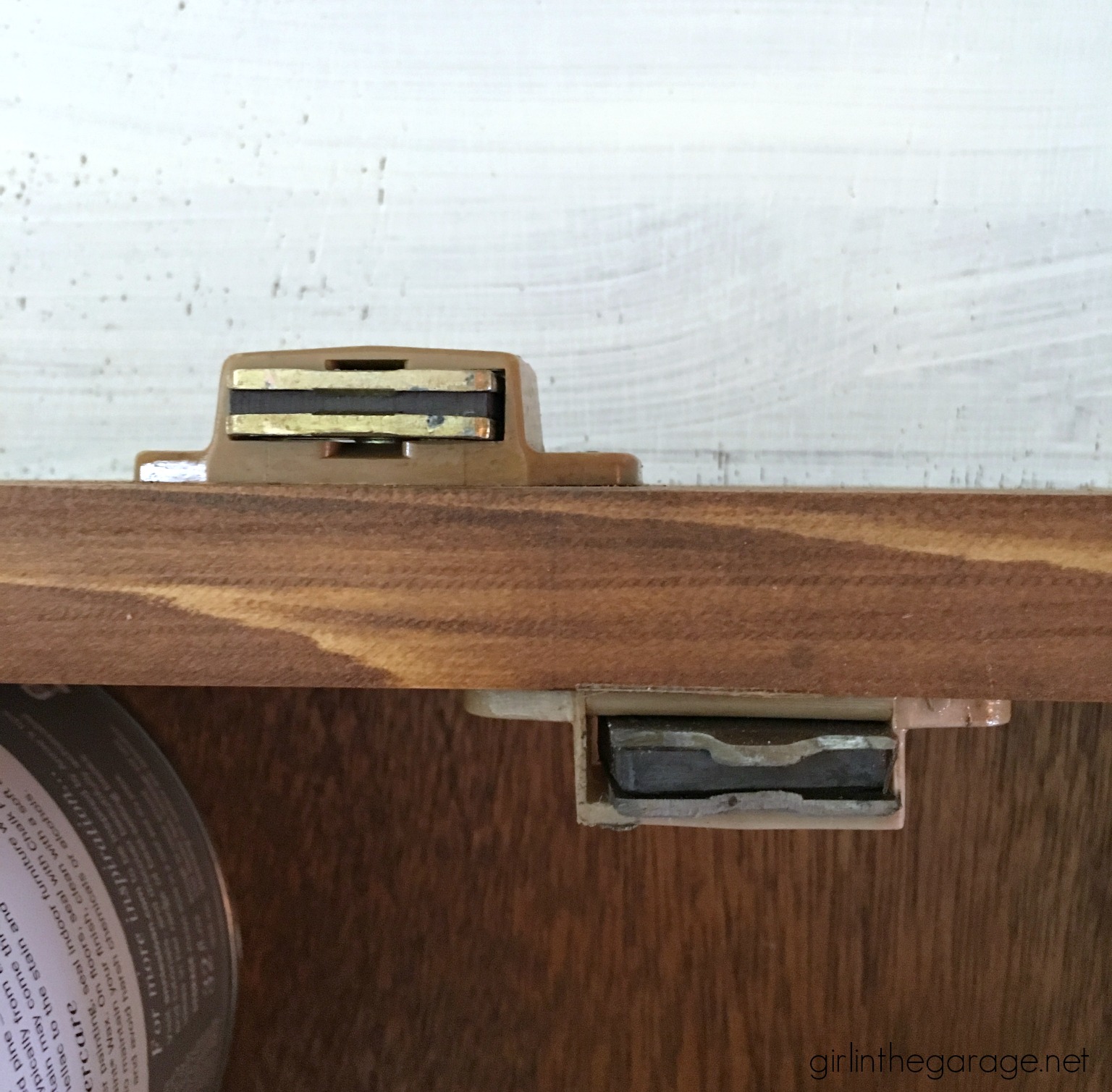 When you're all done painting, lightly sand all over and then give the cabinet a topcoat for protection.  I used Annie Sloan's clear soft wax applied with a lint-free cloth.
Next gather your decoupage supplies:  Matte Mod Podge, a foam brush (don't use a really narrow one if you're doing a large area like this), and paper cut to the size you need.  (I used Rifle Paper Co. wrapping paper, it is gorgeous!)  I also like to have a paper towel nearby to wipe up any excess glue.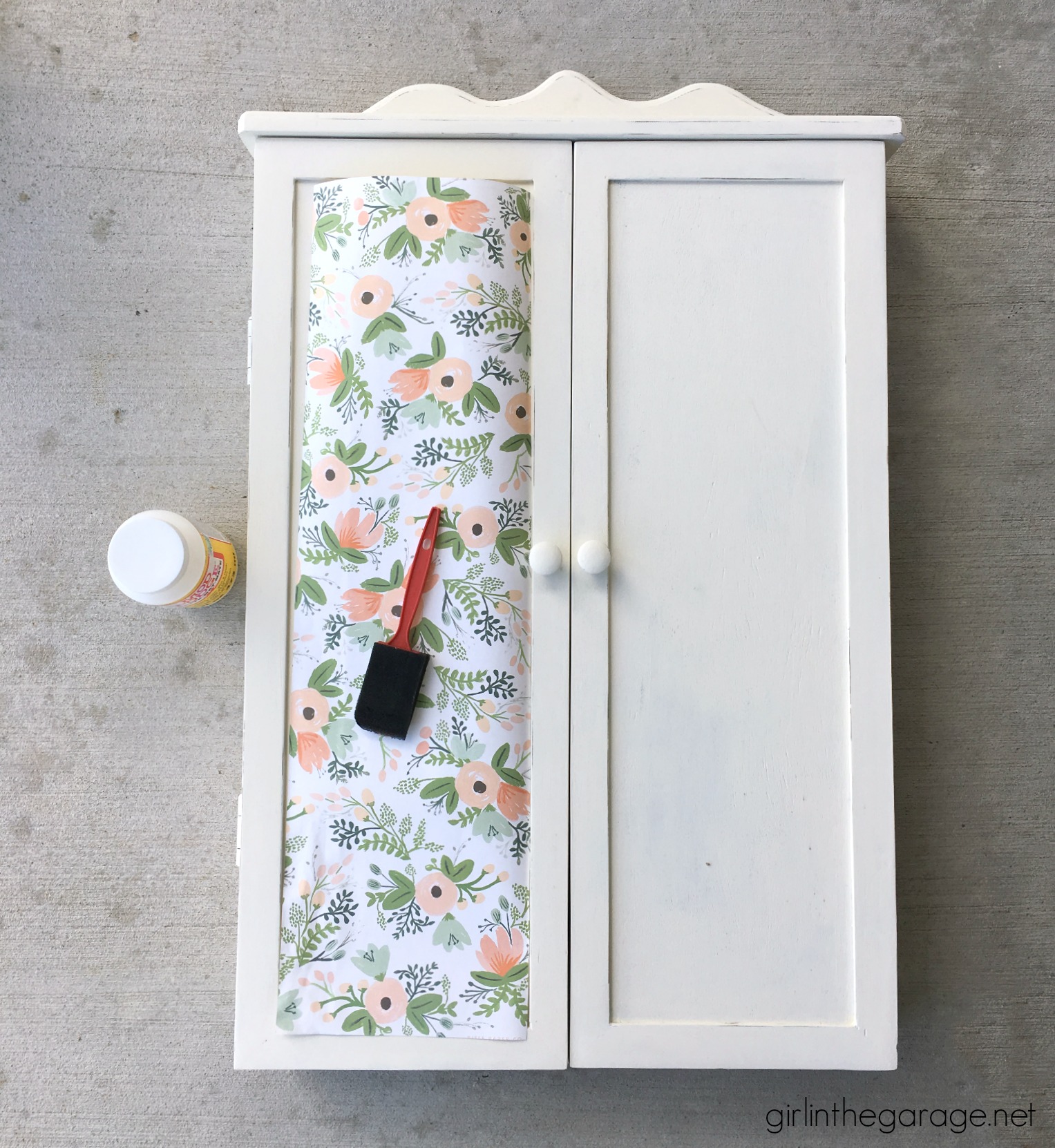 Apply the Mod Podge in thin, even layers. Make sure to get the edges and corners too and try not to have any big globs of glue anywhere.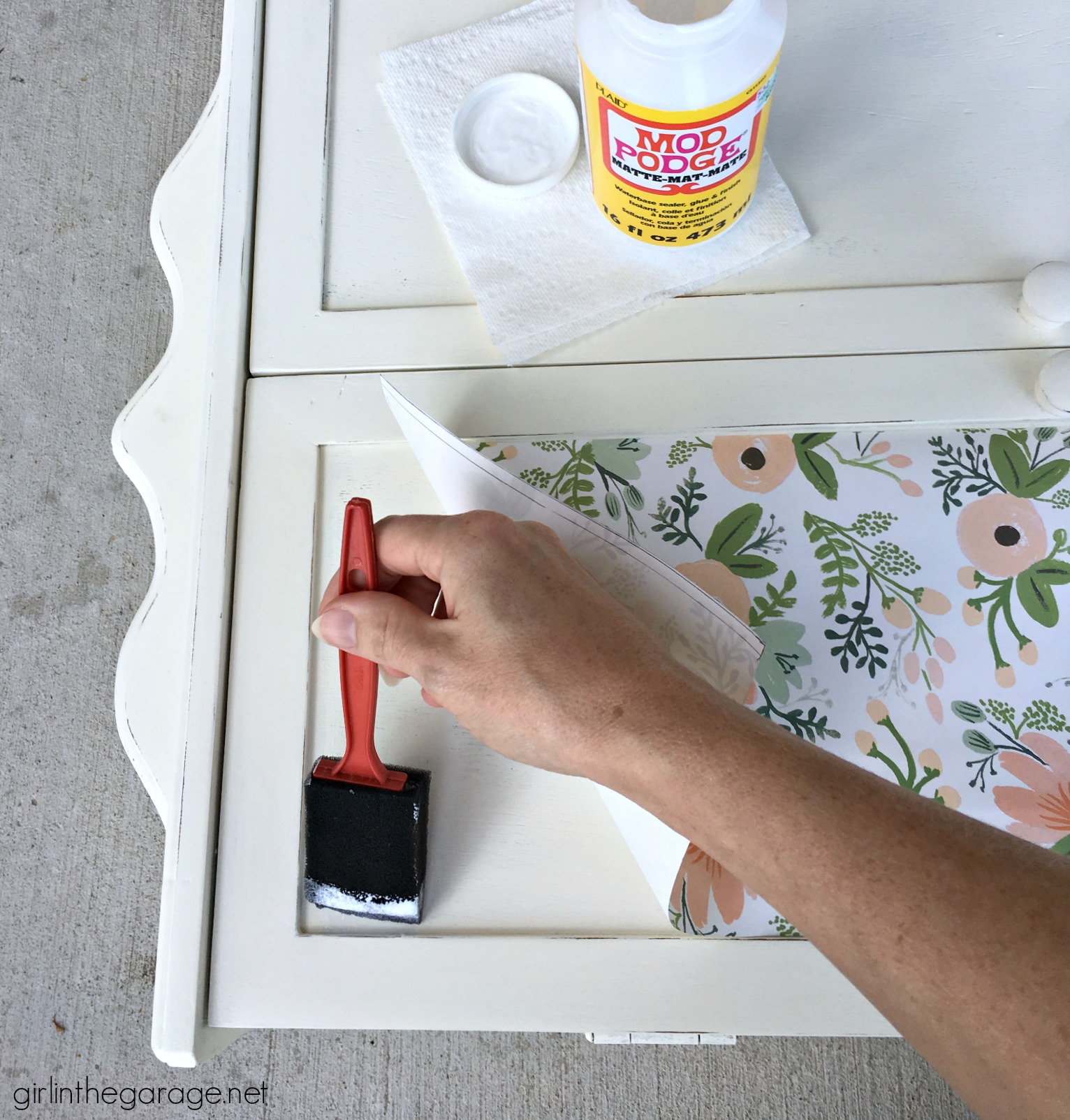 Work in sections (I did three sections for this big piece of paper), applying the glue, carefully laying the paper into place, and then pressing out any wrinkles or air bubbles for a few minutes before moving on.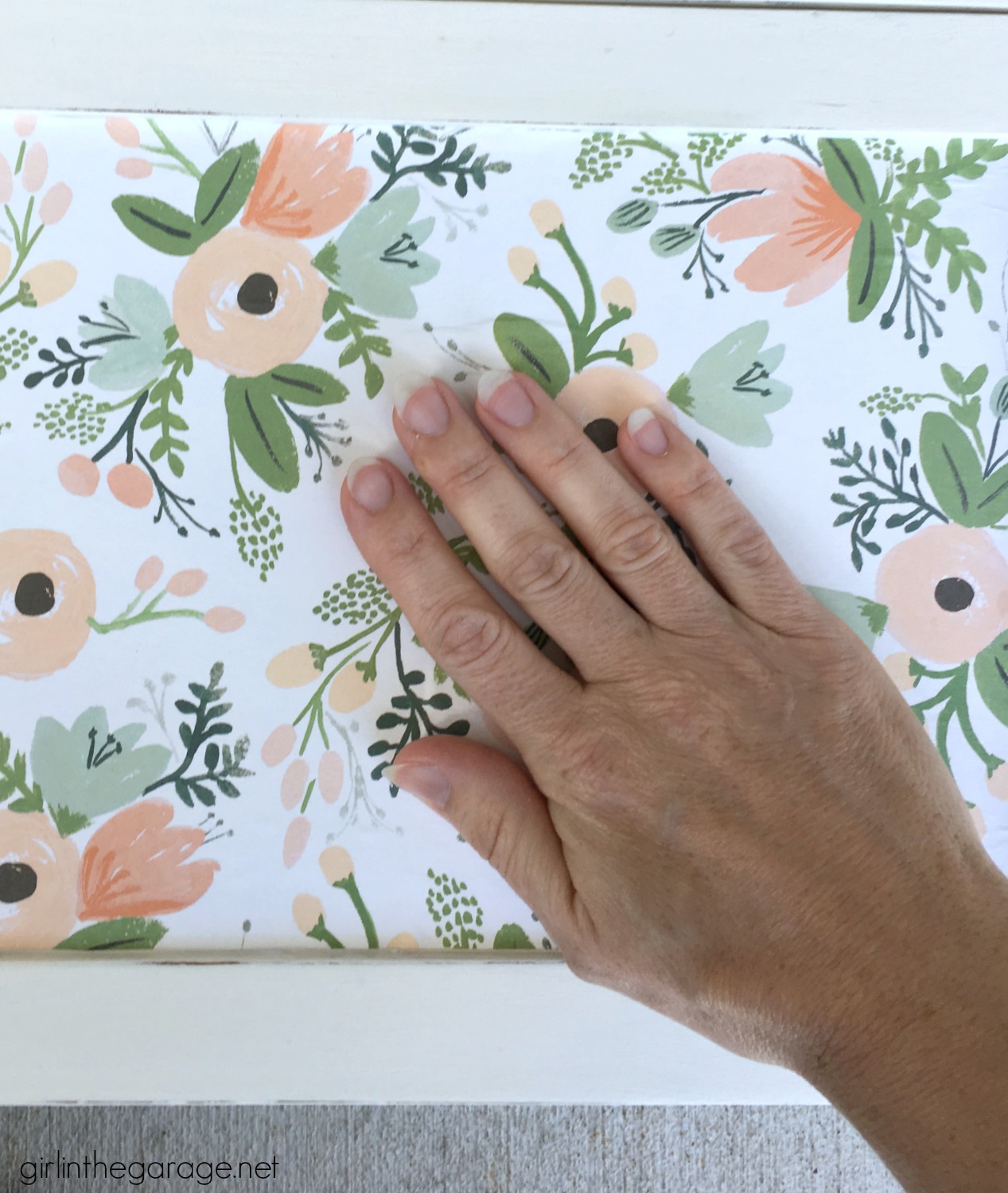 If your use your hands while pressing, check after each section to make sure your fingers are clean.  No matter what type of paper you use, you may have some ink rub off onto your skin.  Clean it off before rubbing the next section of paper so you don't get it dirty.
Once you've decoupaged your paper on and it's dry, you will end up with a pretty papered cabinet makeover like this: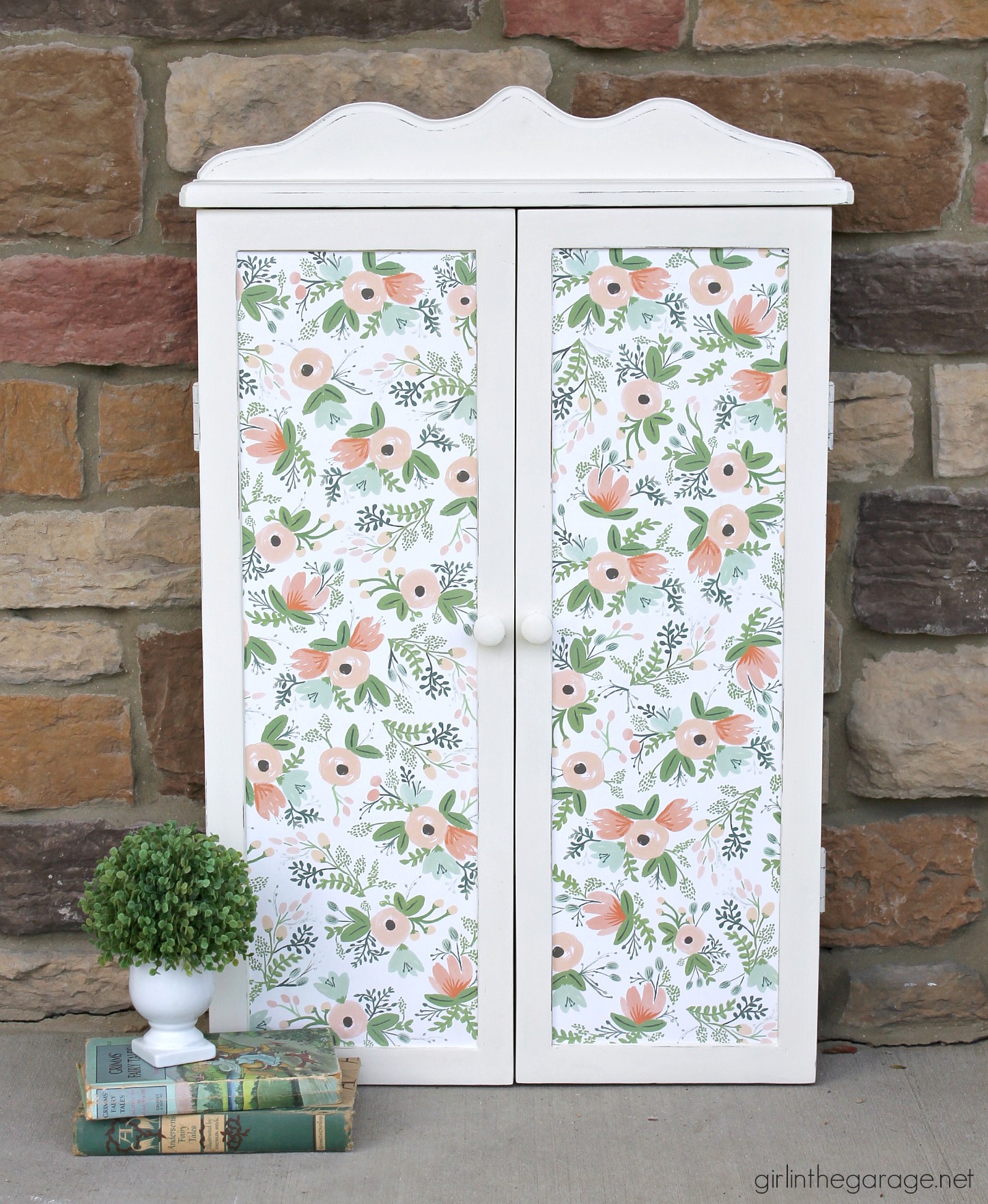 I think it turned out pretty stinkin adorable.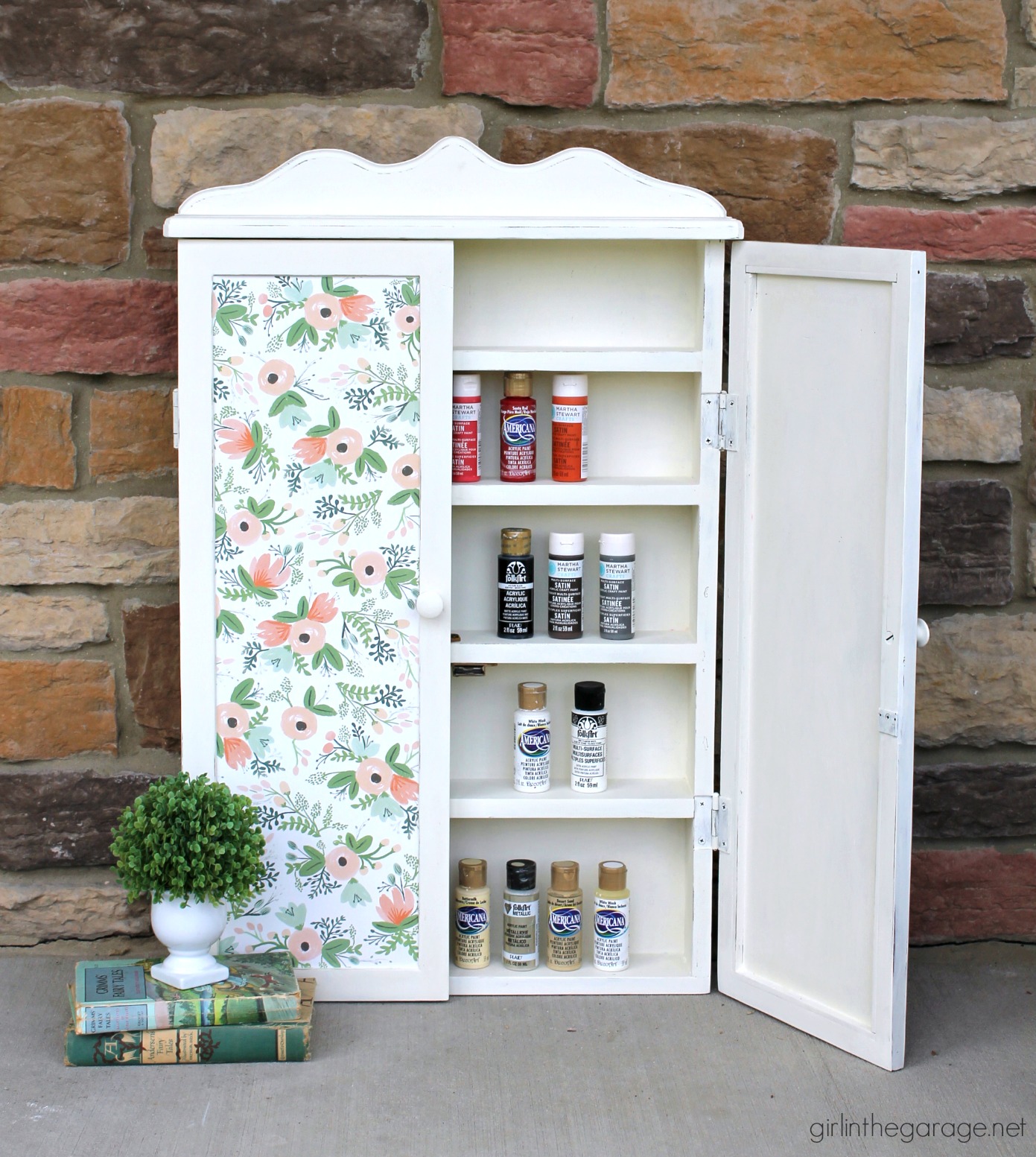 Depending on your project, you may choose to put a layer of Mod Podge over the top of the paper to protect it.  I didn't do it for this cabinet, but I would for something that might get a lot of wear and tear like a tabletop.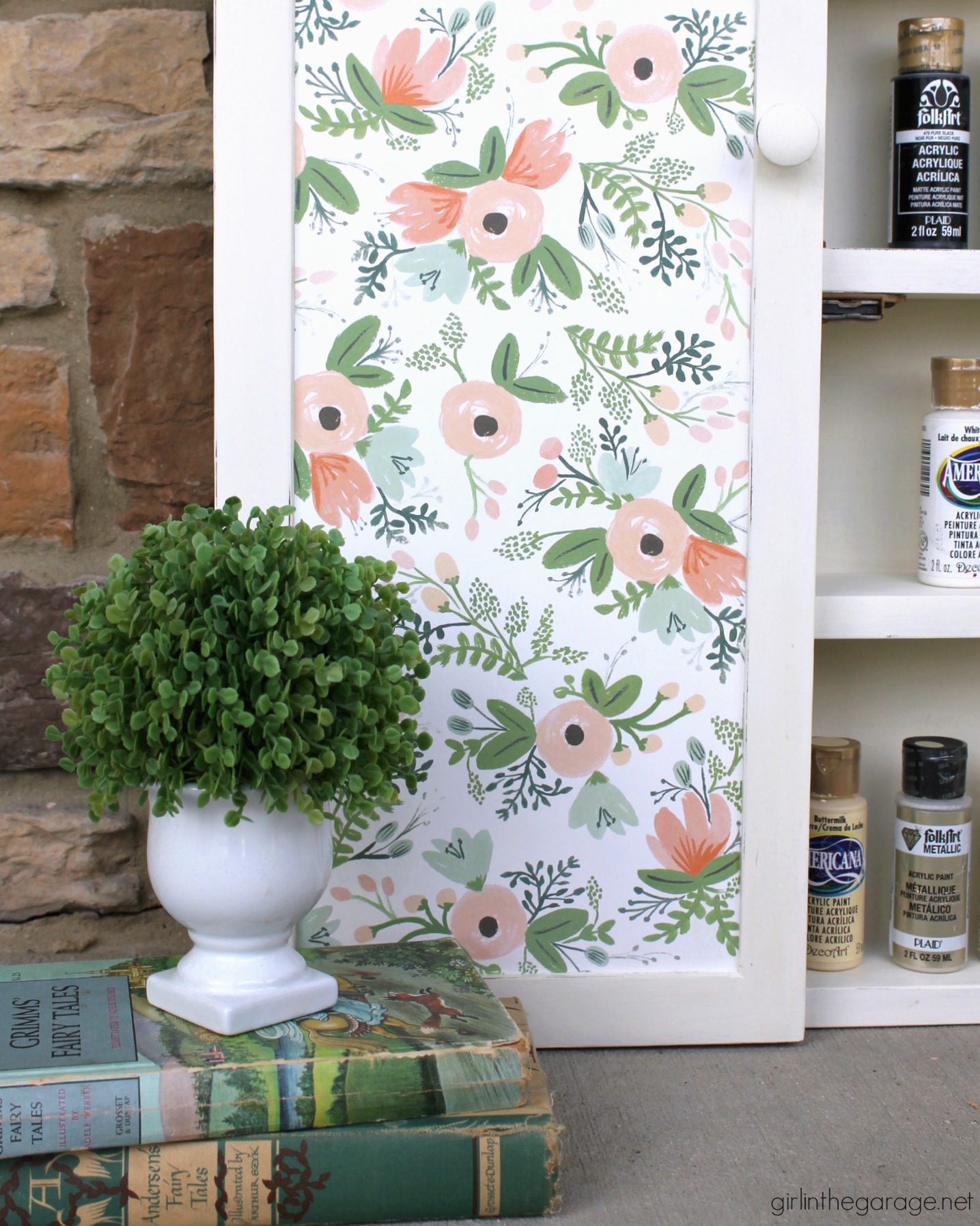 I staged the cabinet with some of my craft paints – but it would also be great for nail polish storage too.  Or maybe miniature dolls or trinkets in a little girl's room?  What else could be stored on those shelves?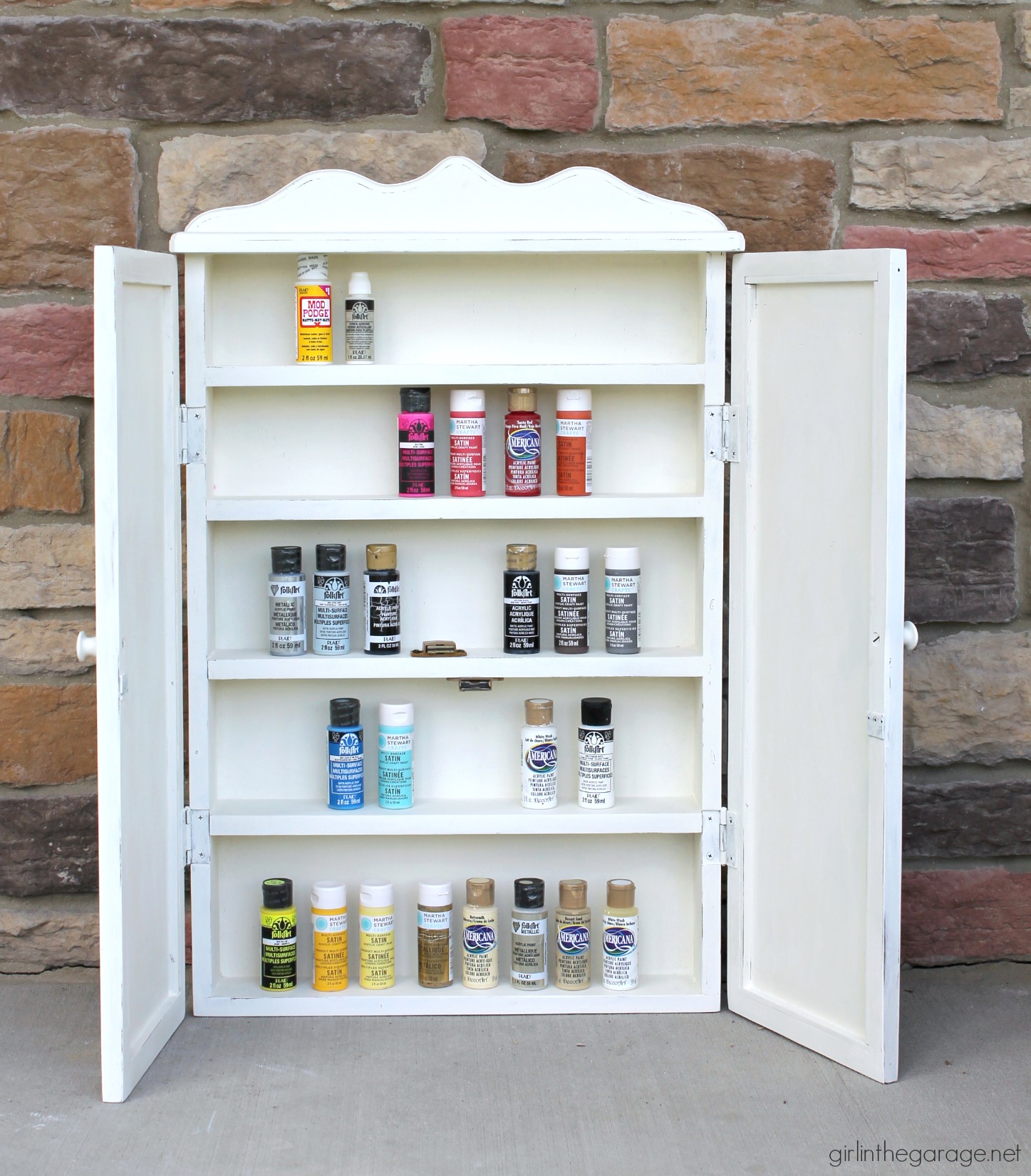 Here's a before and after reminder of this yard sale cabinet makeover – it went from plain to oh-so-cute!   You can share or Pin it for easy access to find this project again later.  🙂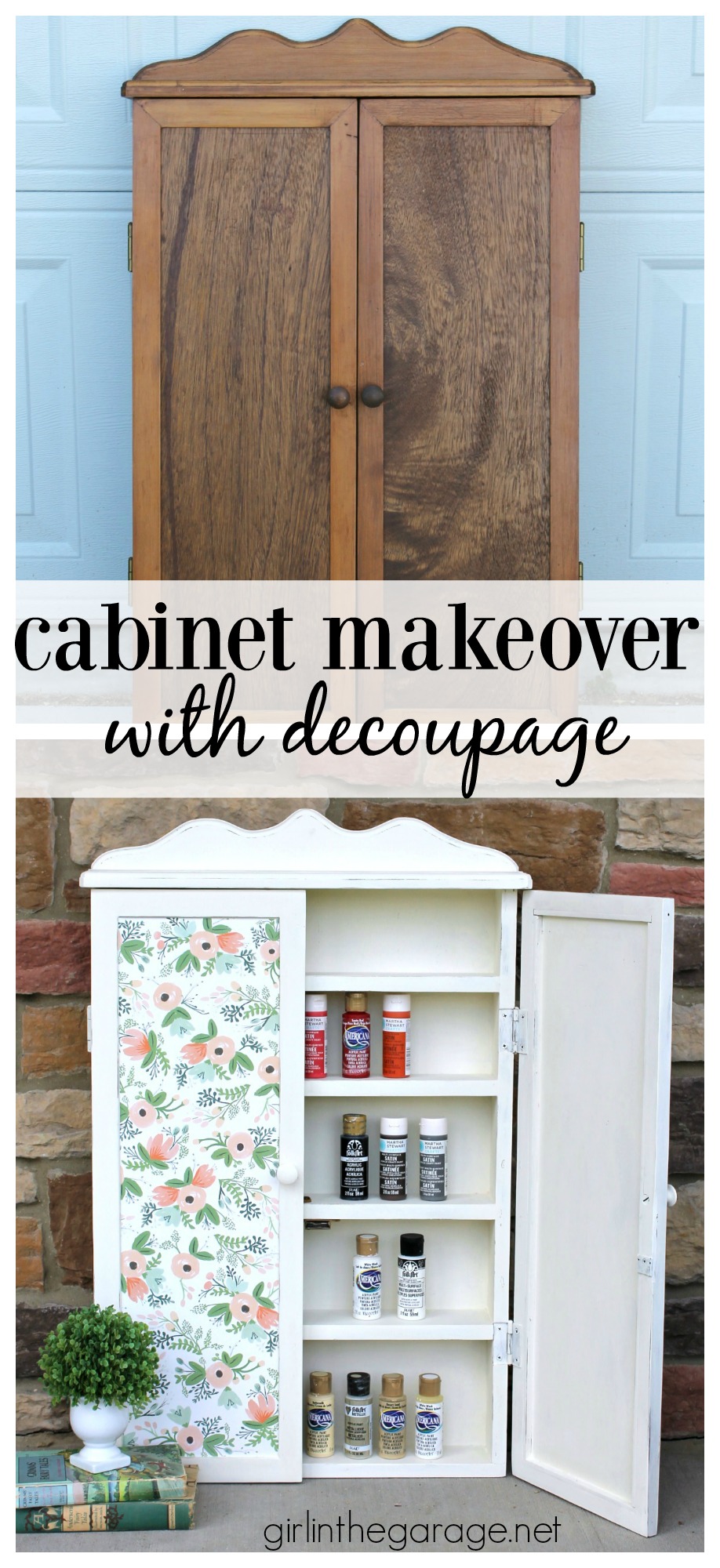 Now it's time for Trash to Treasure Tuesday with four of my talented blogging friends…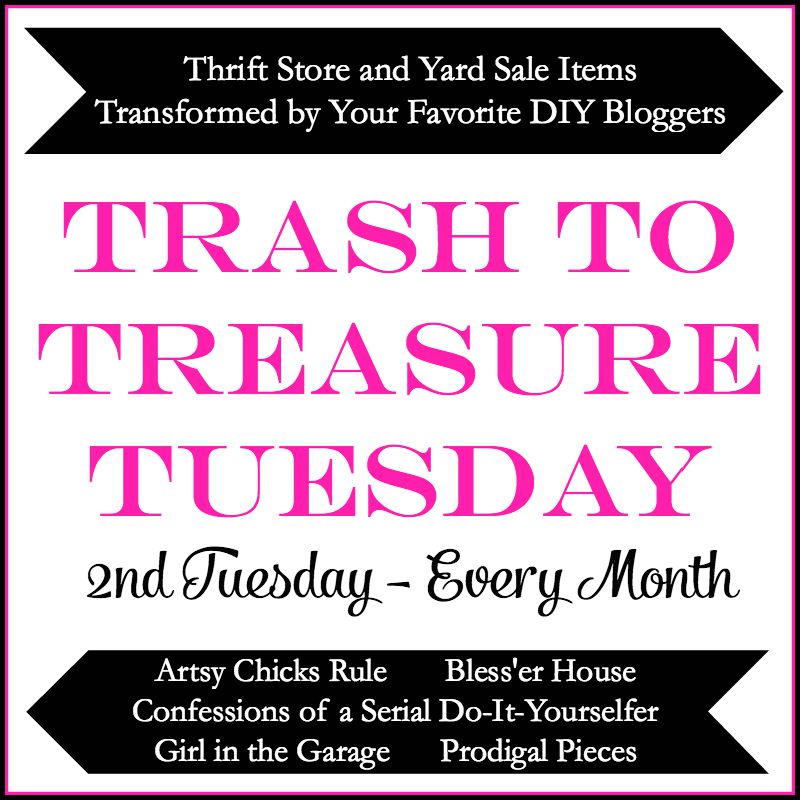 Below are their Before photos – visit the links underneath to see the After and to learn how they did it.  (There are some really amazing ones this month!)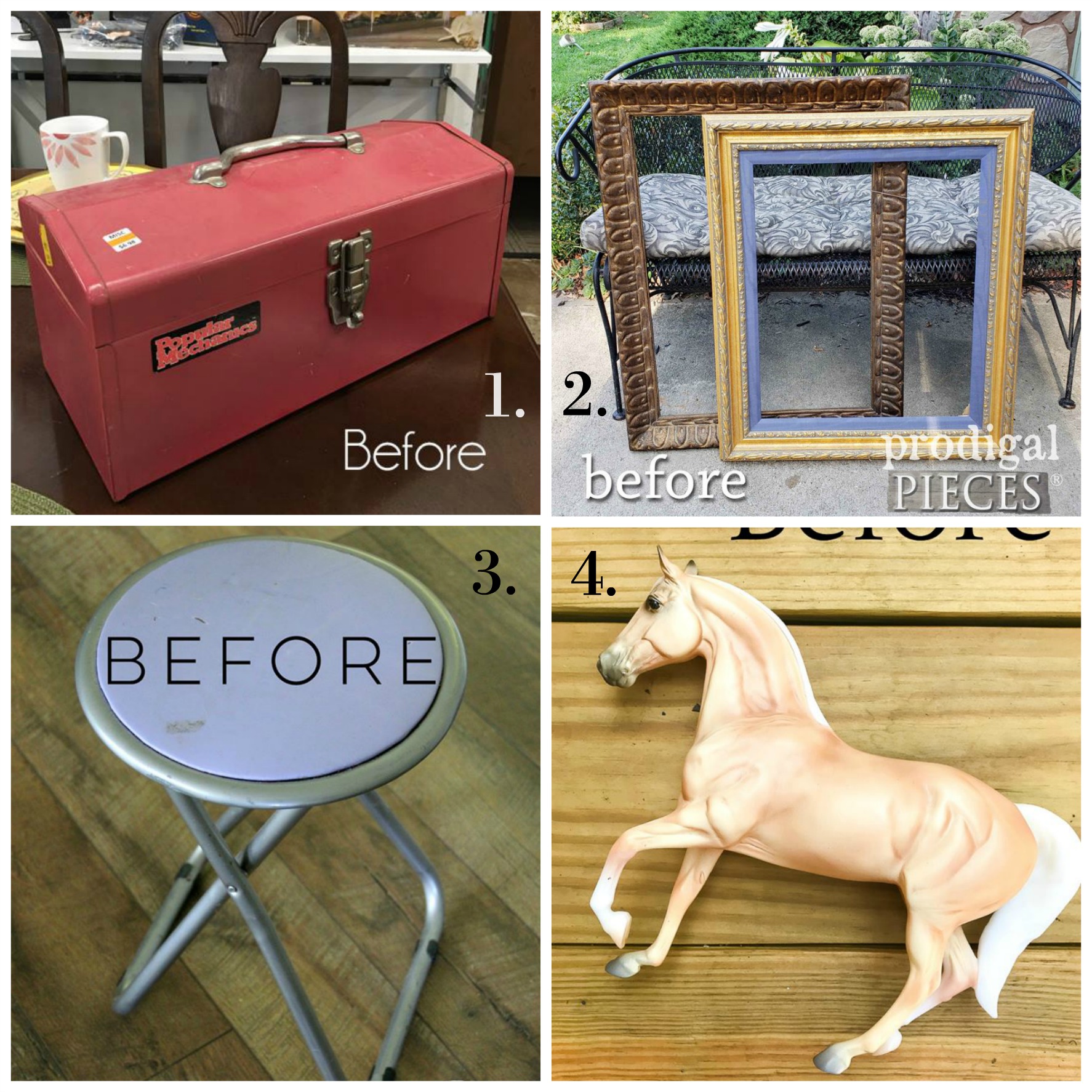 1. Confessions of a Serial DIYer
2. Prodigal Pieces
3. Artsy Chicks Rule
4. Bless'er House
Like this decoupage makeover?  Then you might like this one too…
How to Decoupage and Distress with Napkins