Last week when I was out yard saleing, I spied this little wood desk but didn't give it too much thought. That night I kept thinking how I should've bought it, and thankfully it was still there the next morning! I ended up paying $20, which is pretty good even with all the dings and scratches on it.
Today I'll show you the basics of how to paint a desk, especially a mid century style desk like this one.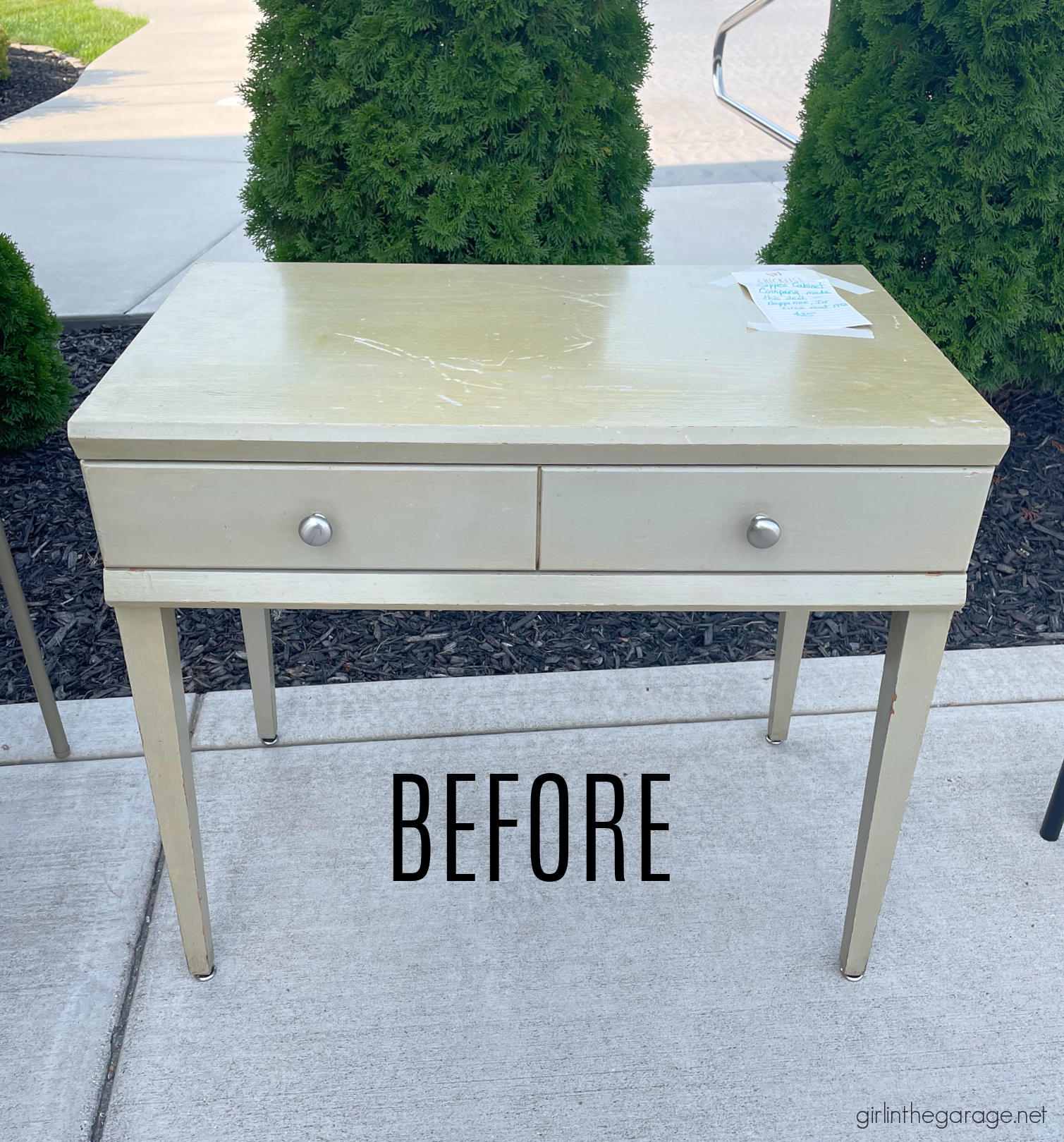 Before we get started, I wanted to say a huge THANK YOU for all the sweet comments and messages about my 10 year blogging anniversary! Celebrate here with me for a bit and then come back to this tutorial. 🙂
The inside of the desk is marked Coppes Napanee (Napanee, Indiana is about an hour from me which coincidentally has a large Amish community). I looked the company up and they're still in business! Coppes Napanee focuses on building semi-custom cabinetry now, but has been in business since 1876. Their website says they're the "oldest woodworking company in the United States." Fun Fact: They were also the first to include a Lazy Susan in a corner cabinet.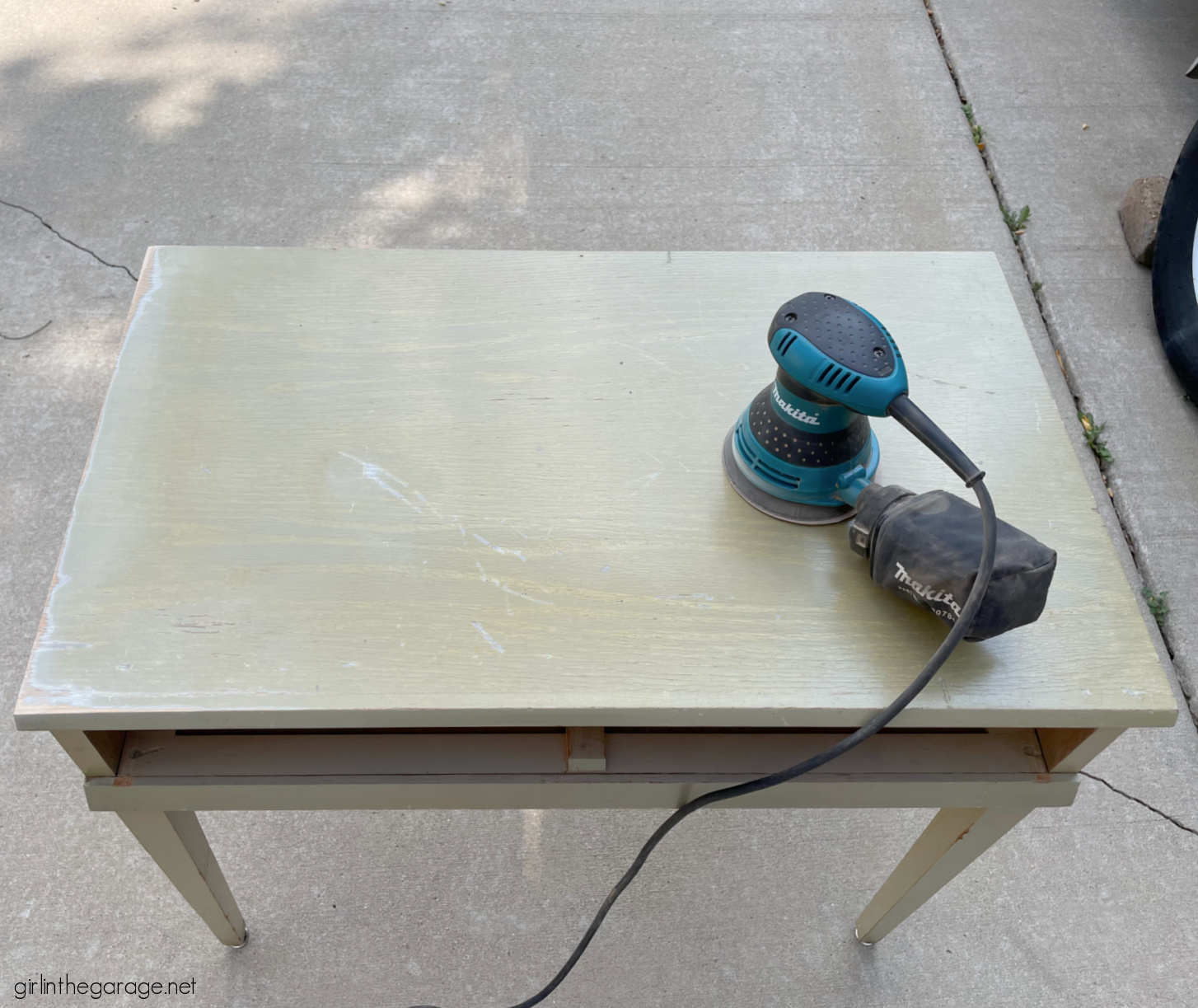 This post contains some affiliate links so you can easily find the products I use and recommend. Discover all my favorite brands and tools for doing DIY makeovers here.
Since there were so many scratches and rough areas, I used my trusty Makita sander to smooth all the wood. I had thought of staining the top, but it wasn't in the best condition, so I just got it as smooth as possible. You can grab my free guide here for how to properly prep furniture for painting.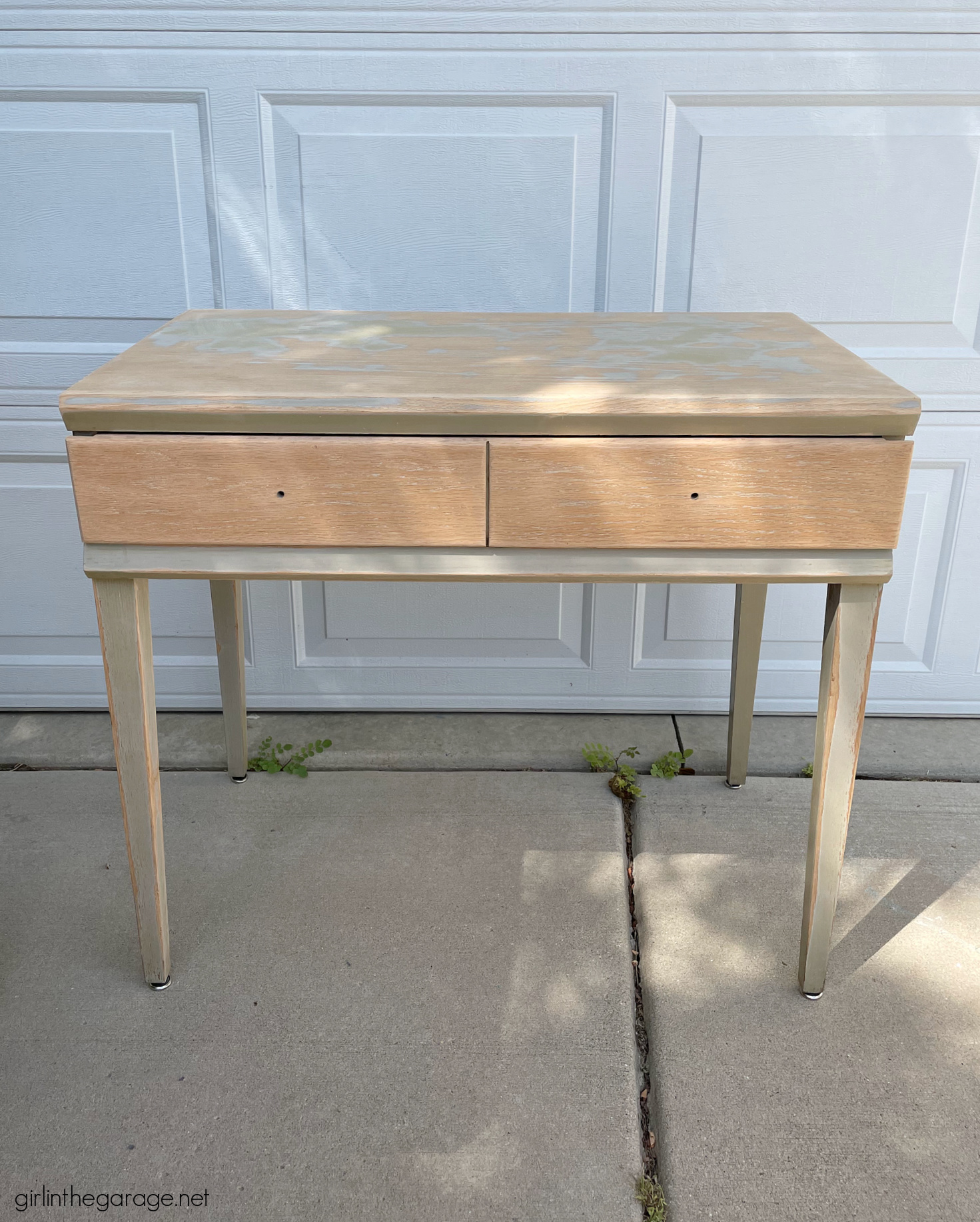 When you're thinking of how to paint a desk, and what color to paint a desk, first consider the style of the piece. I firmly believe in letting the furniture dictate the direction of the makeover. Depending on the condition of the wood, some mid century furniture looks amazing by just restoring the wood or doing a stain and paint combo. This desk with its so-so wood and its straight lines felt like it could use a simple but glam update in black and white.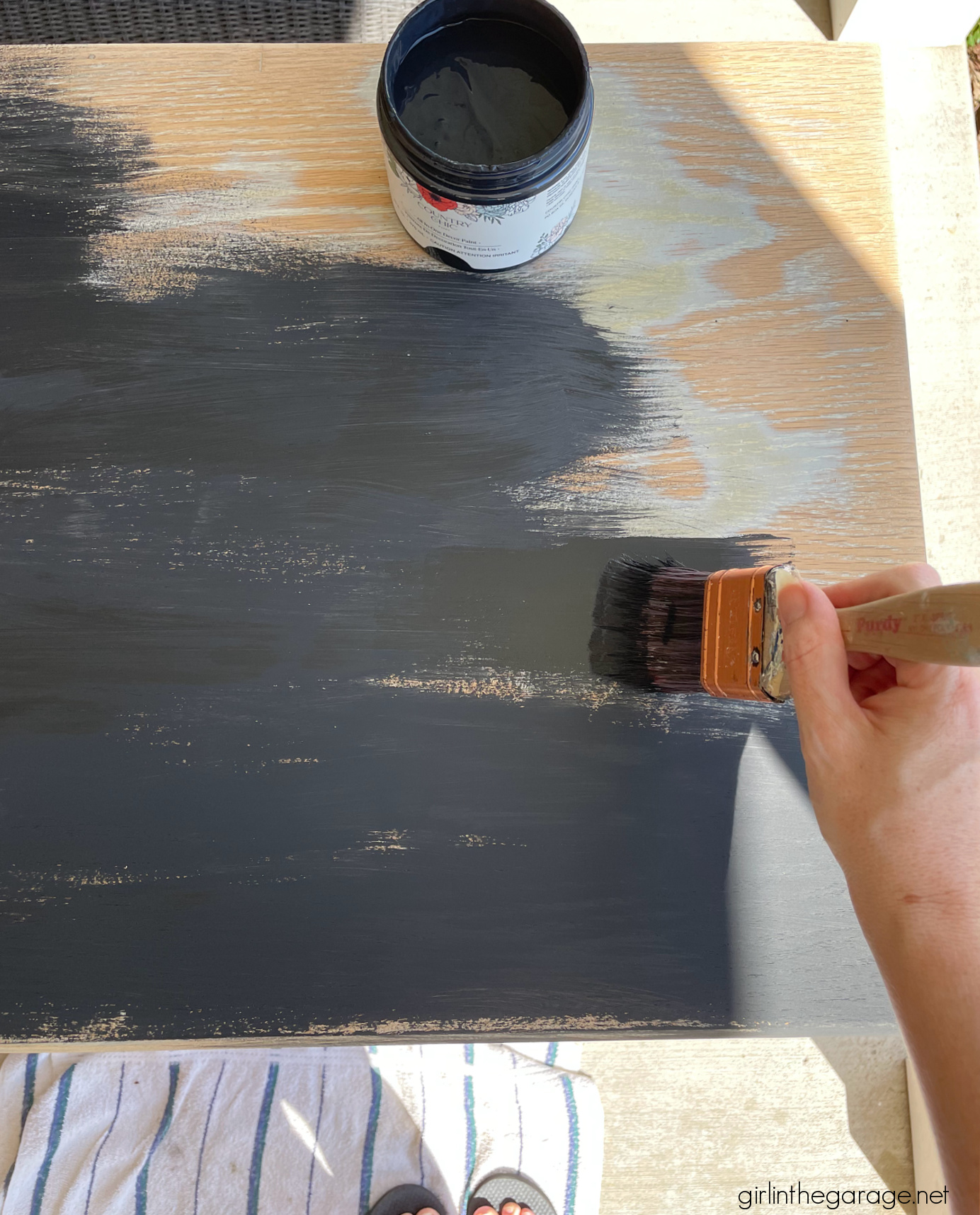 I painted the body in Liquorice by Country Chic Paint using one of my favorite Purdy paint brushes. I applied about 2.5 coats, letting the paint dry between each.
Since the drawer was in good condition, I only planned to paint the drawer front. Pro tip: Put painter's tape over the knob holes inside the drawer so paint won't drip through.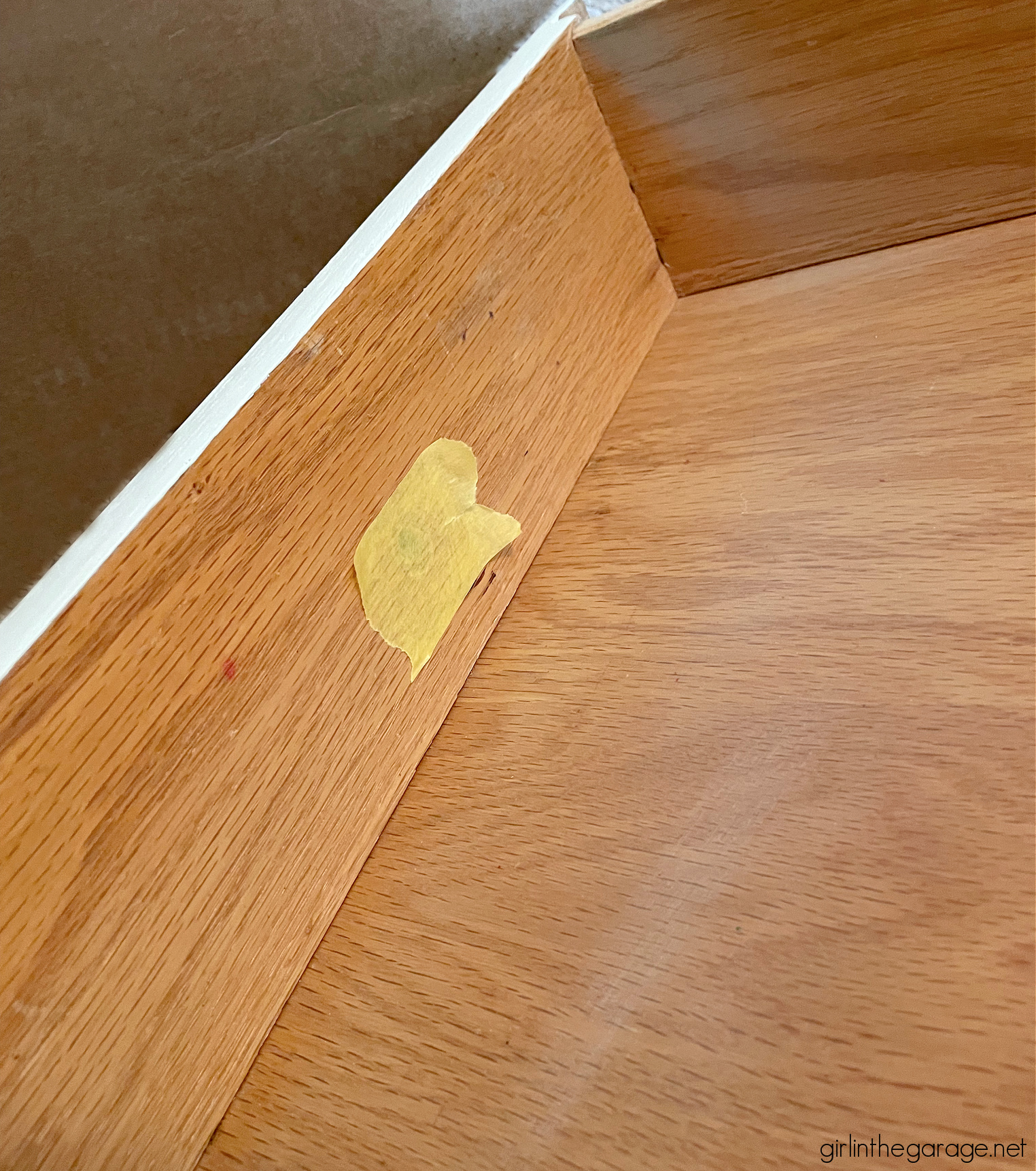 Normally I would prime before painting wood furniture white, but this was a small area so I took a risk and tested it out. There was no bleed-through from the light wood underneath (red/dark woods are definitely bleeders). The drawer fronts were then painted in Rustoleum Chalked Paint in Linen White.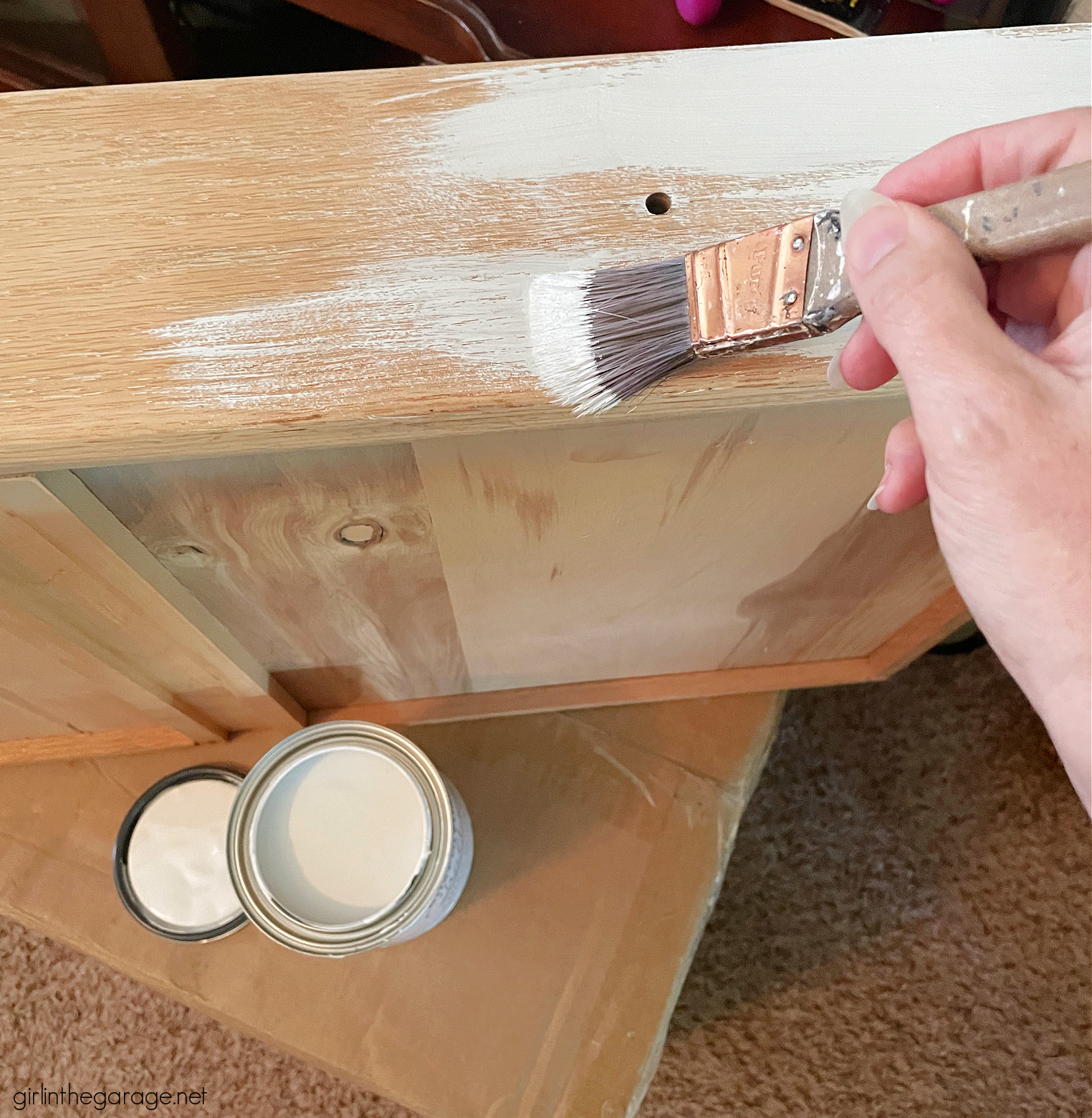 Then I decided to change direction a bit and add some gold to this painted wood desk makeover. The desk was so simple, I wanted to add more interest by framing the drawers with metallic shimmer.
I taped the two drawer sections with painter's tape for delicate surfaces.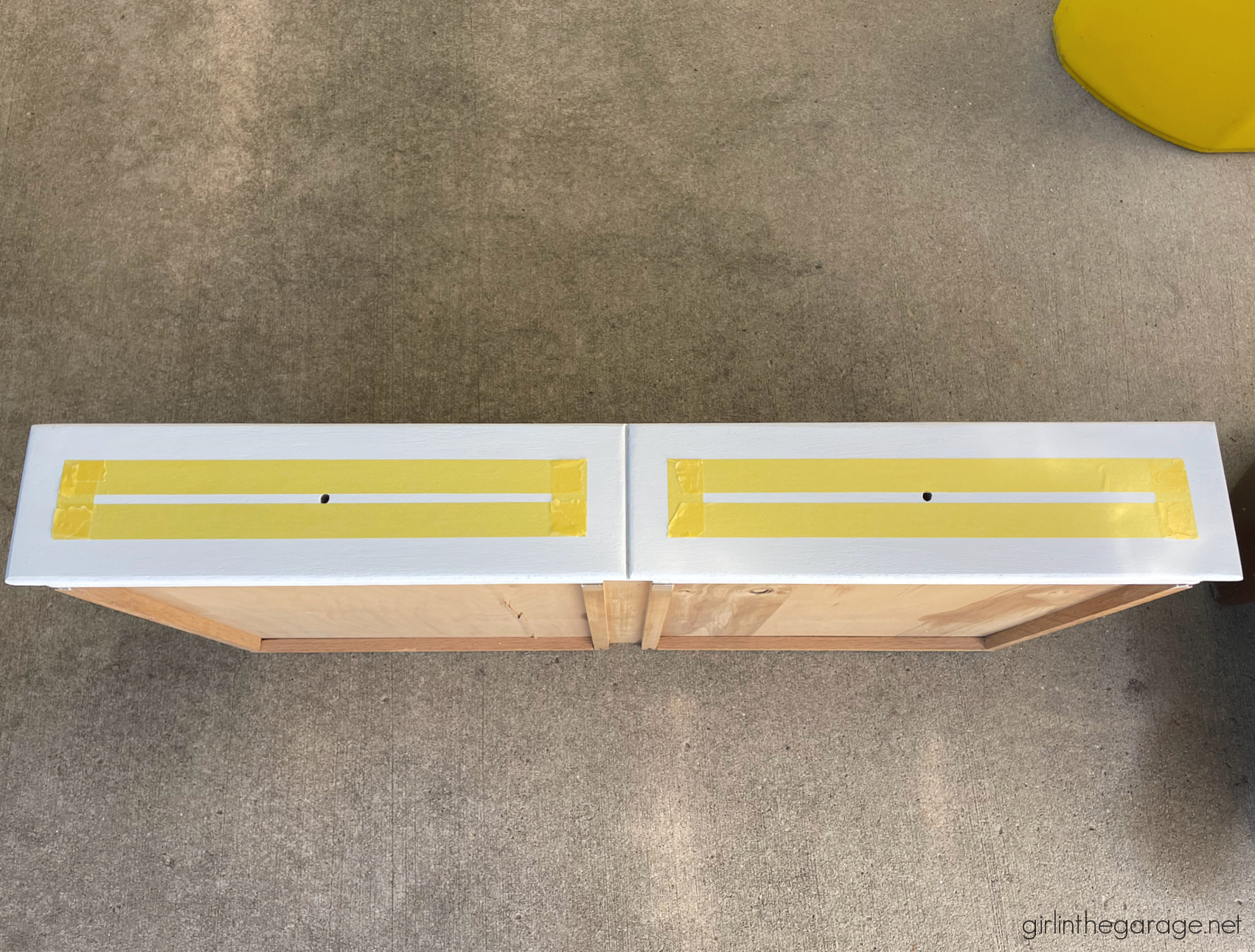 For the border, I used DecoArt Flat Metallic Paint in Gold, about 2 coats. You can see this is a bright yellow-gold color.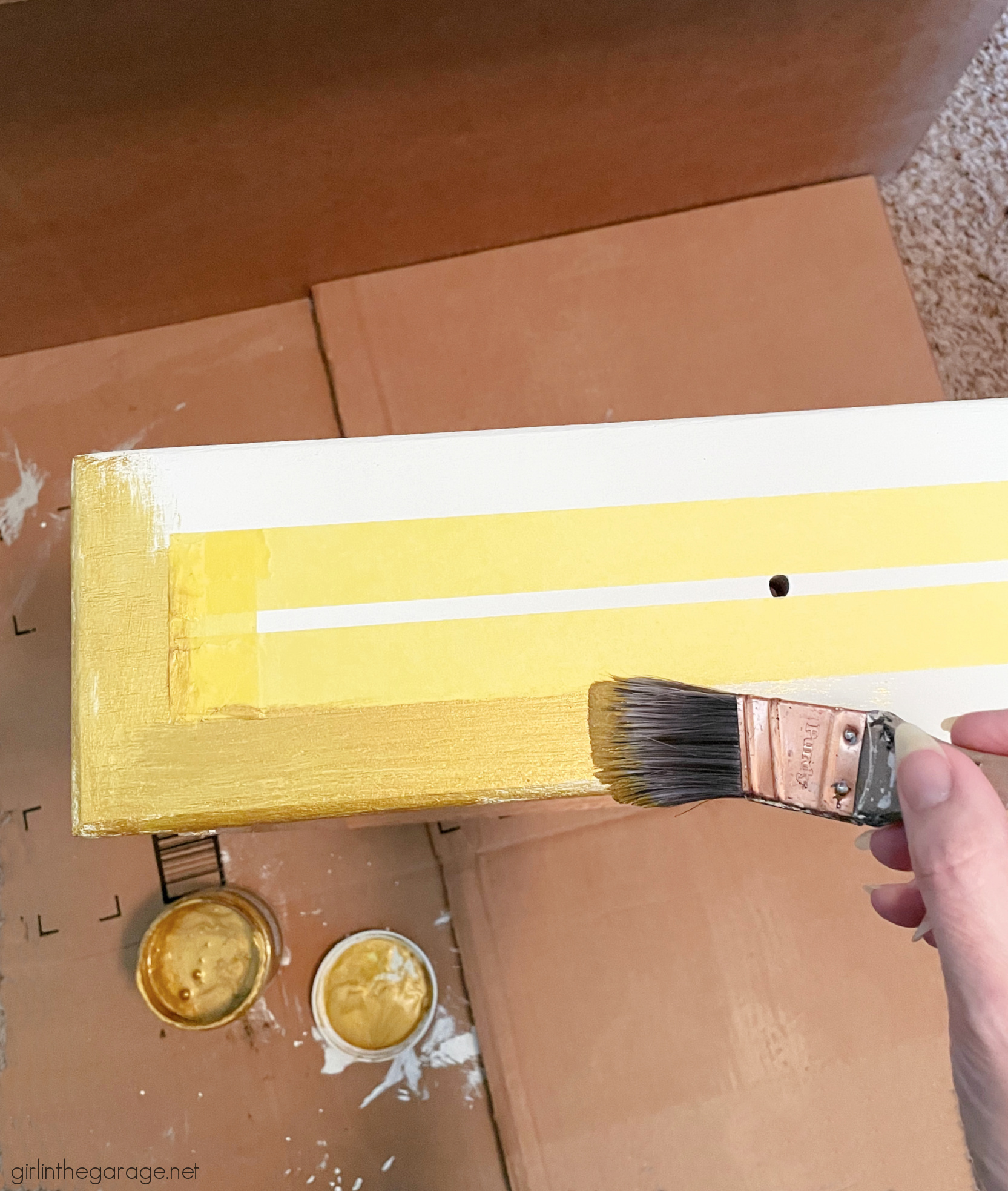 When it's all dry and done, lightly sand to smooth with 320-grit sandpaper. I still have to wax this painted desk for protection – I'll use black furniture wax on the black painted areas and clear furniture wax on the drawer front.
Finally, I added new shiny black pulls from Hobby Lobby.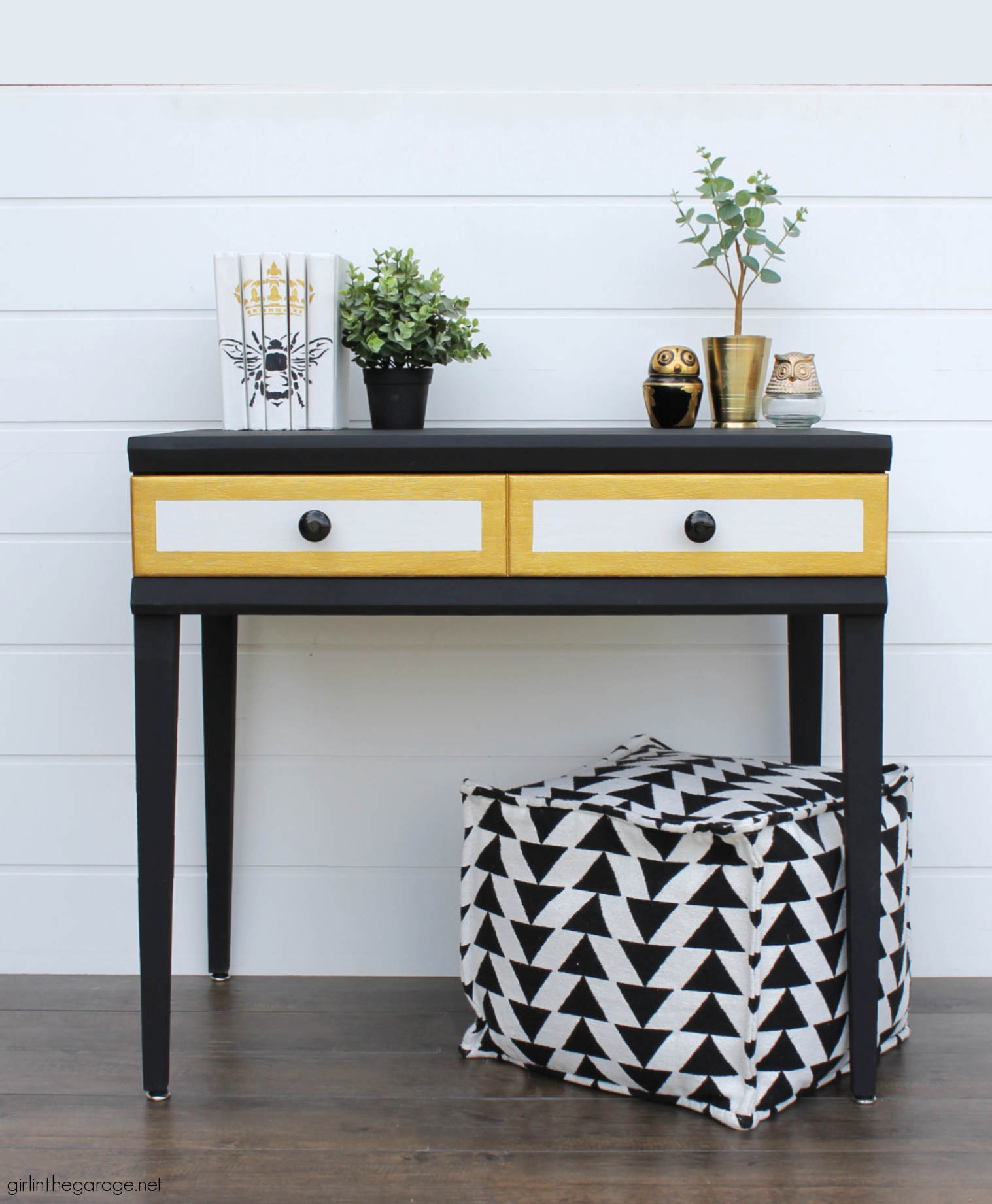 I love how this plain yard sale desk became this glammed up mid century beauty!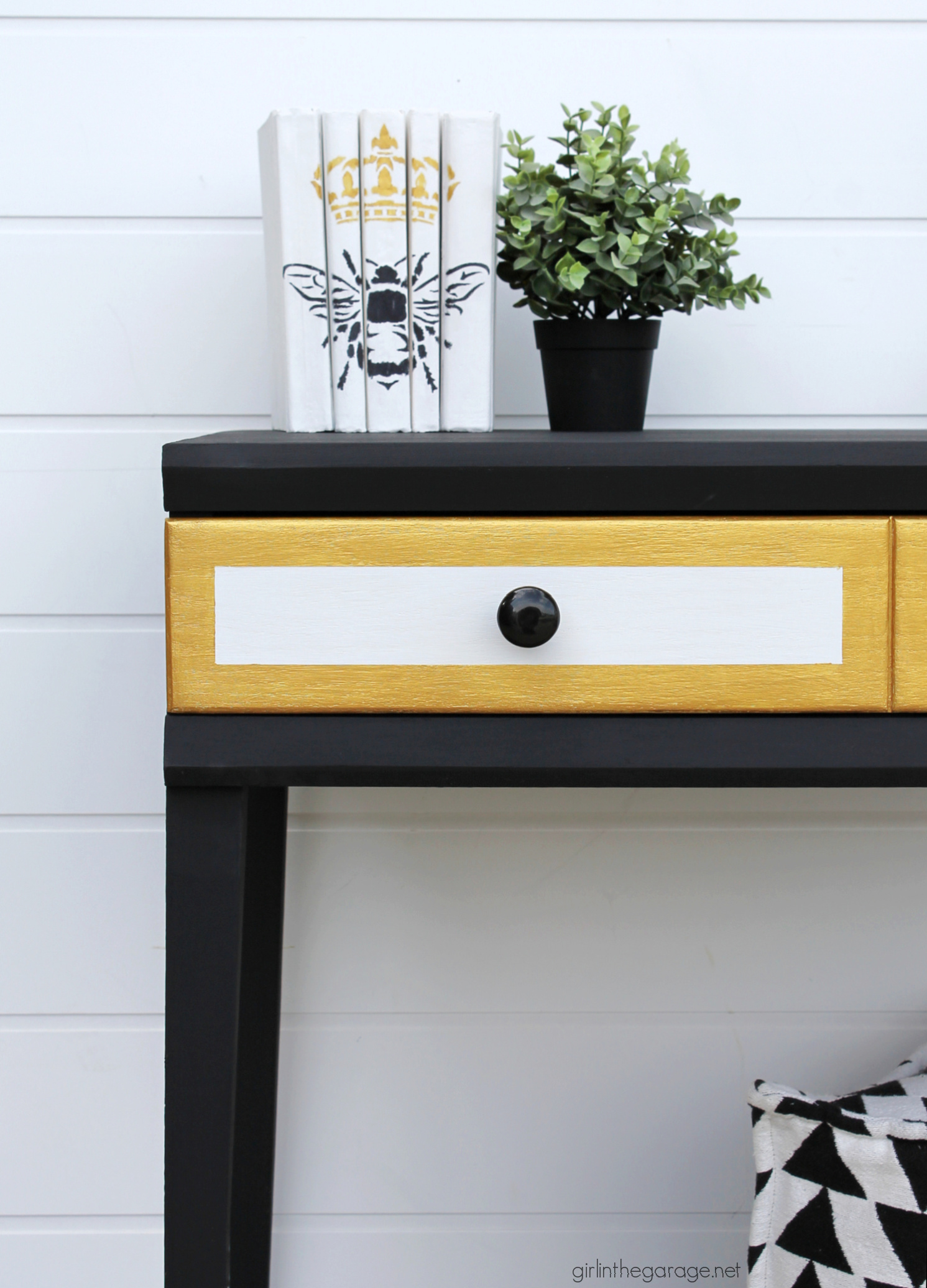 This is a great size for a small desk or even an entry table with a mirror over it.
I painted those stenciled books as a project last year (I still adore them, they're part of my living room decor).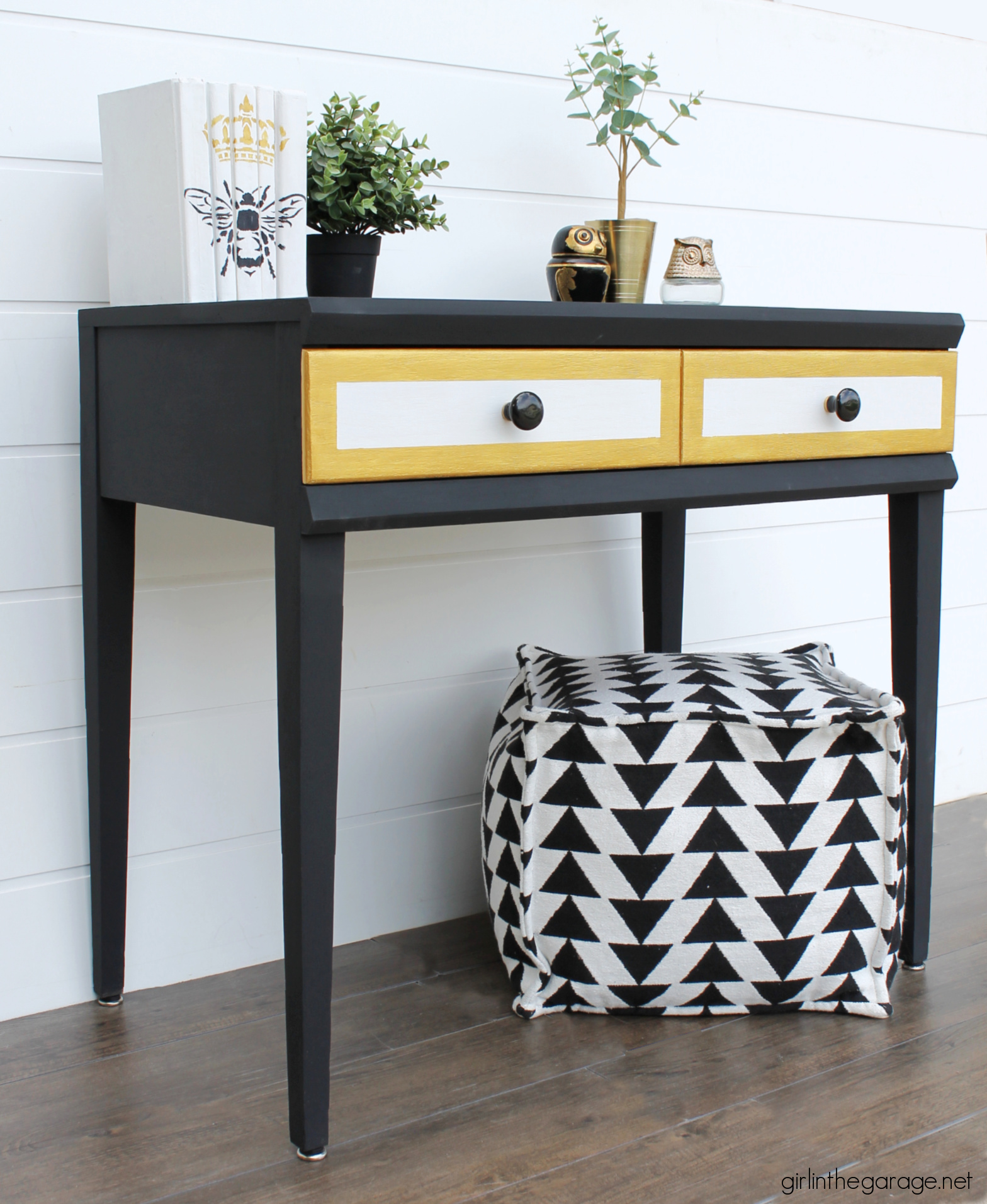 There's one spacious drawer, perfect for holding notebooks or bills or hopefully something else more exciting. (Maybe love letters?)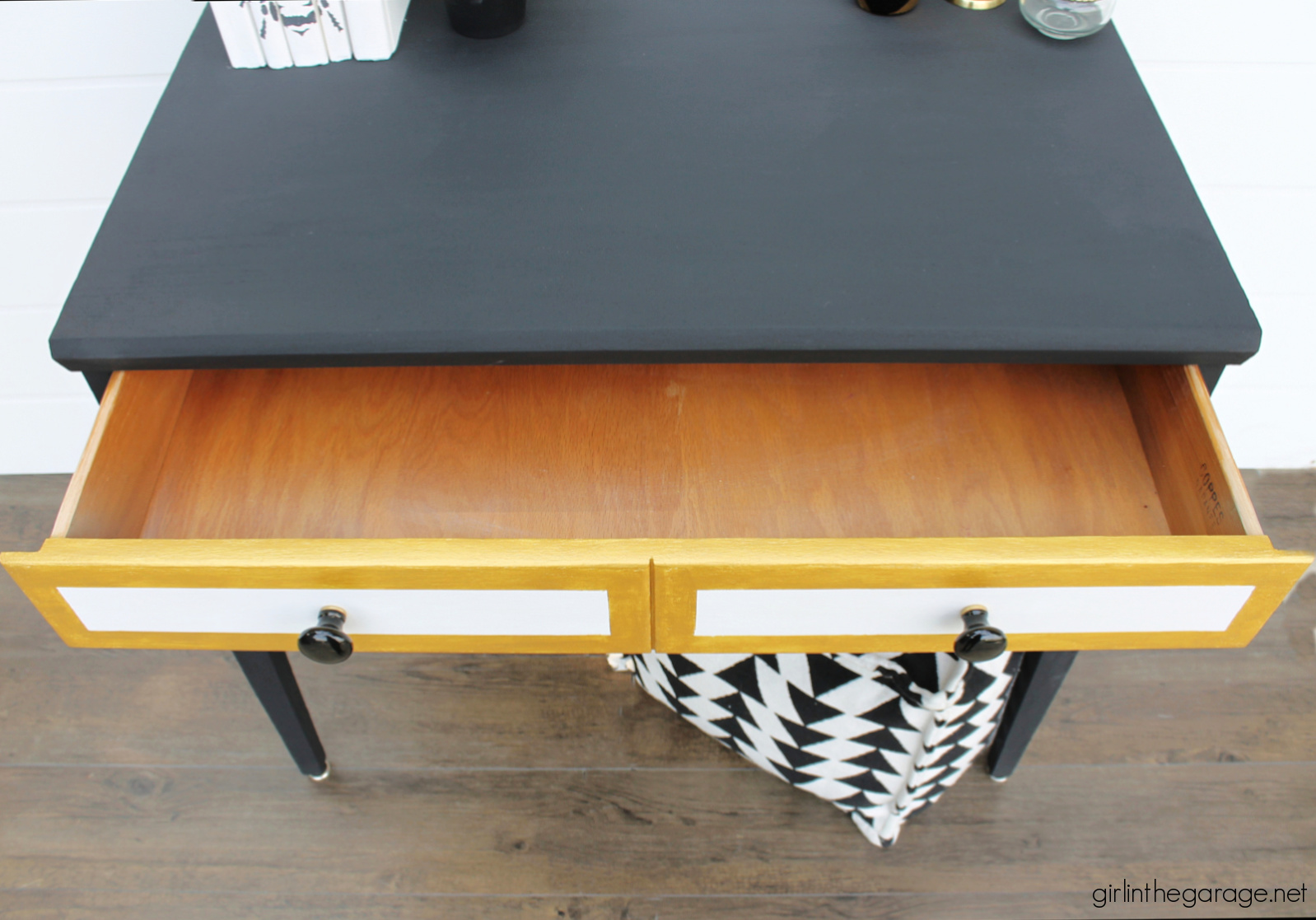 You can see more of the metallic gold shimmer below, and notice the pulls also have gold trim.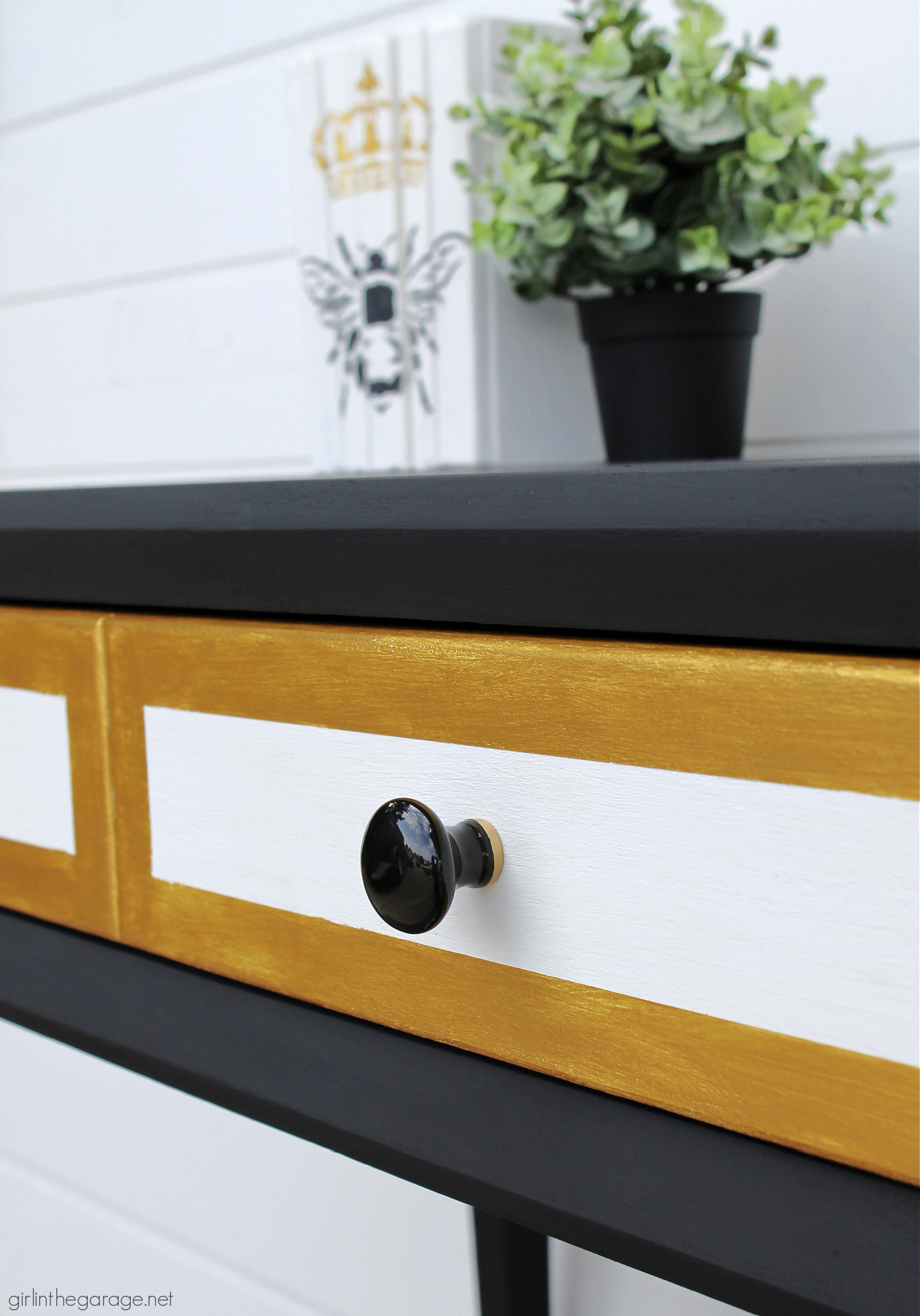 To be completely honest, I had planned on using different pulls until the last minute. I planned to use the hexagon ones below for this desk, but when I put them on, it all just seemed too busy. Which pulls do you prefer? (Don't laugh at my reflection in the shiny black knob, haha)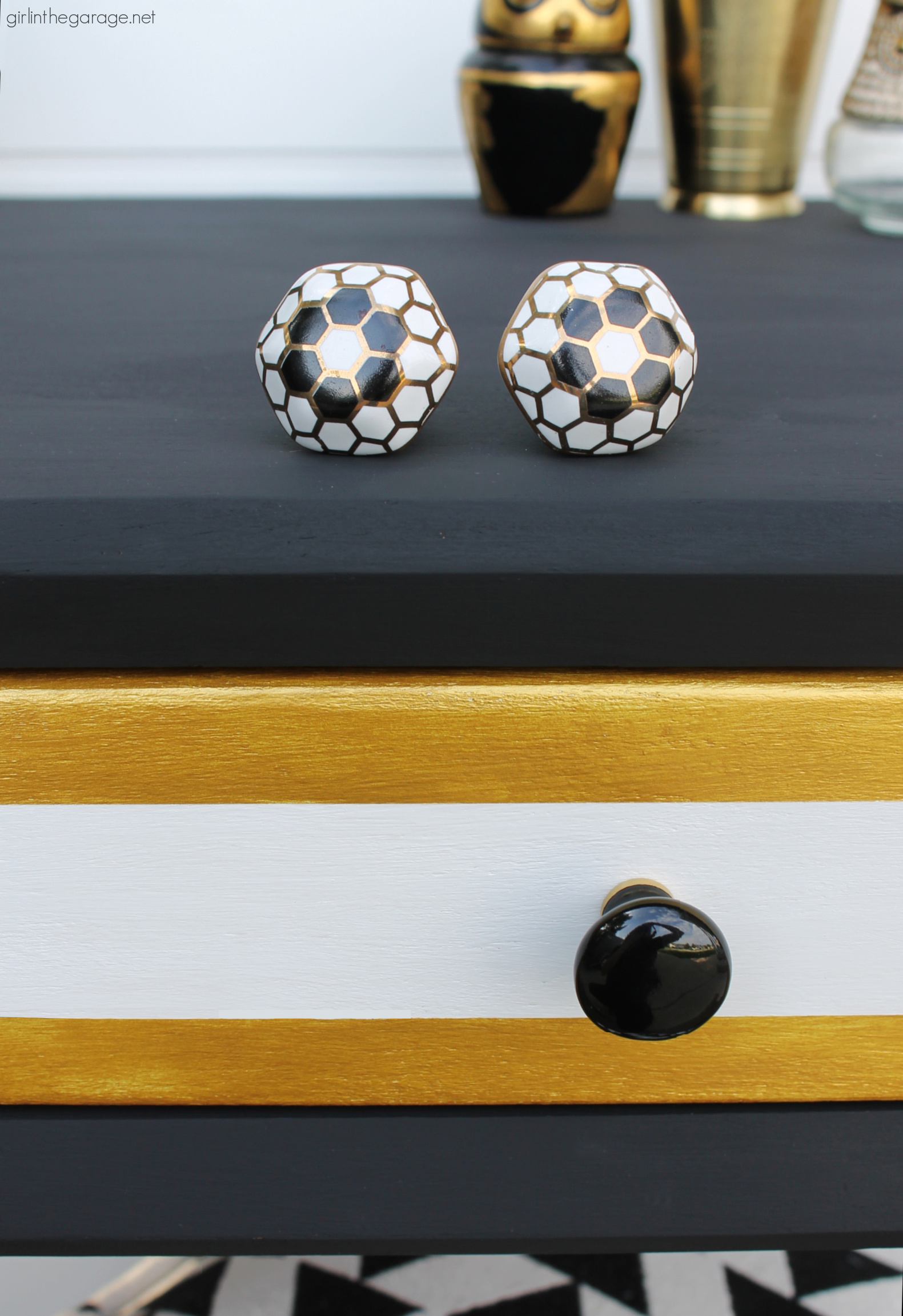 Friend, please feel free to share this painted mid century desk makeover with a friend or Pin it to easily find again later.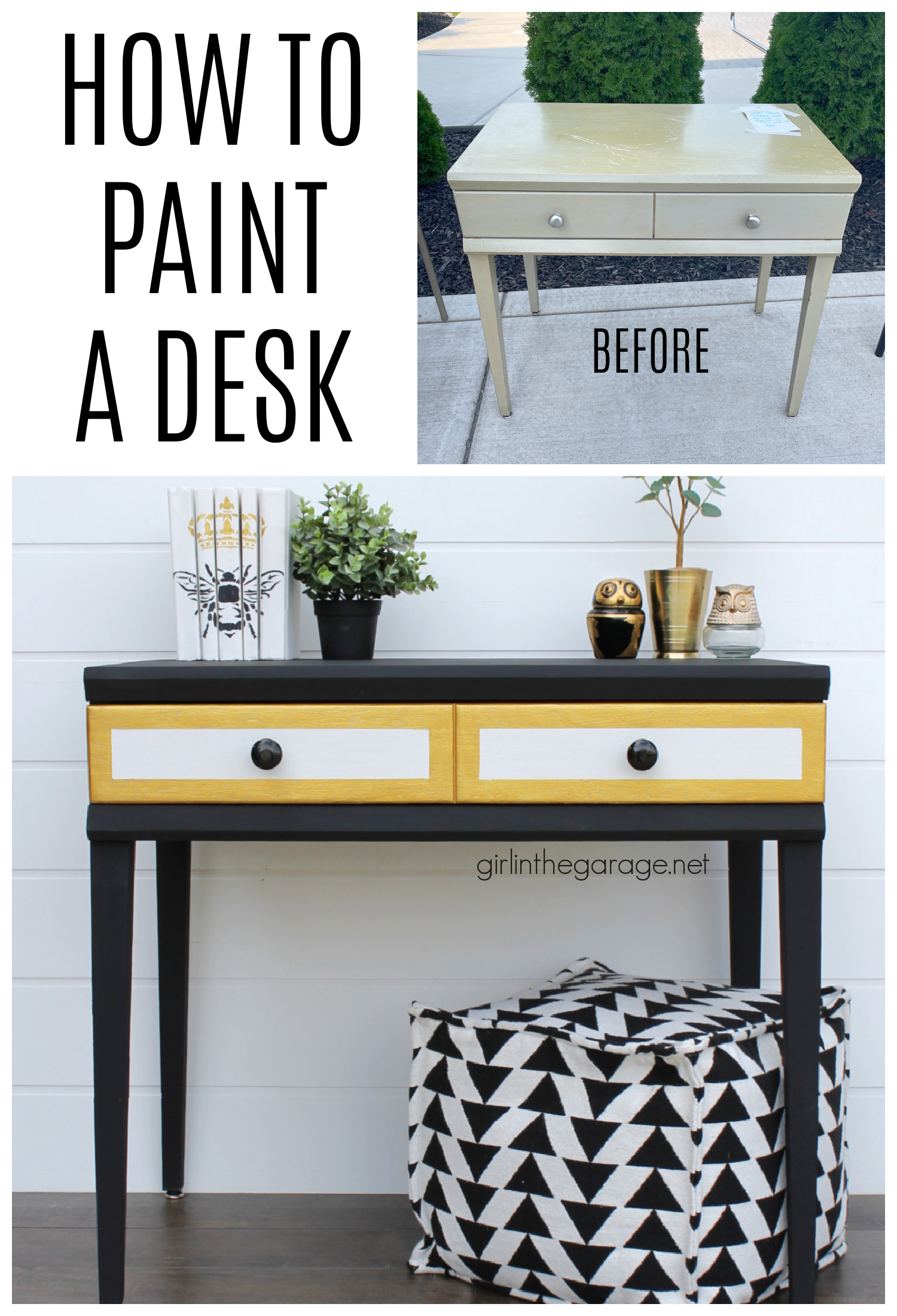 I hope you're feeling more confident and understand more about how to paint a desk. You can also read more tips in this post: How to Chalk Paint a Desk
Now it's Furniture Fixer Uppers time with a few of my blogging besties! Let's see what furniture projects they've been up to…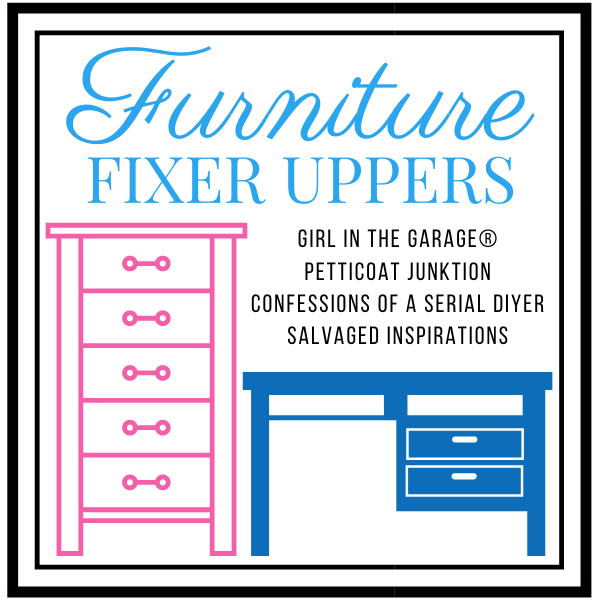 Below are the Before photos – visit the links underneath to see the amazing Afters and to learn how they did it: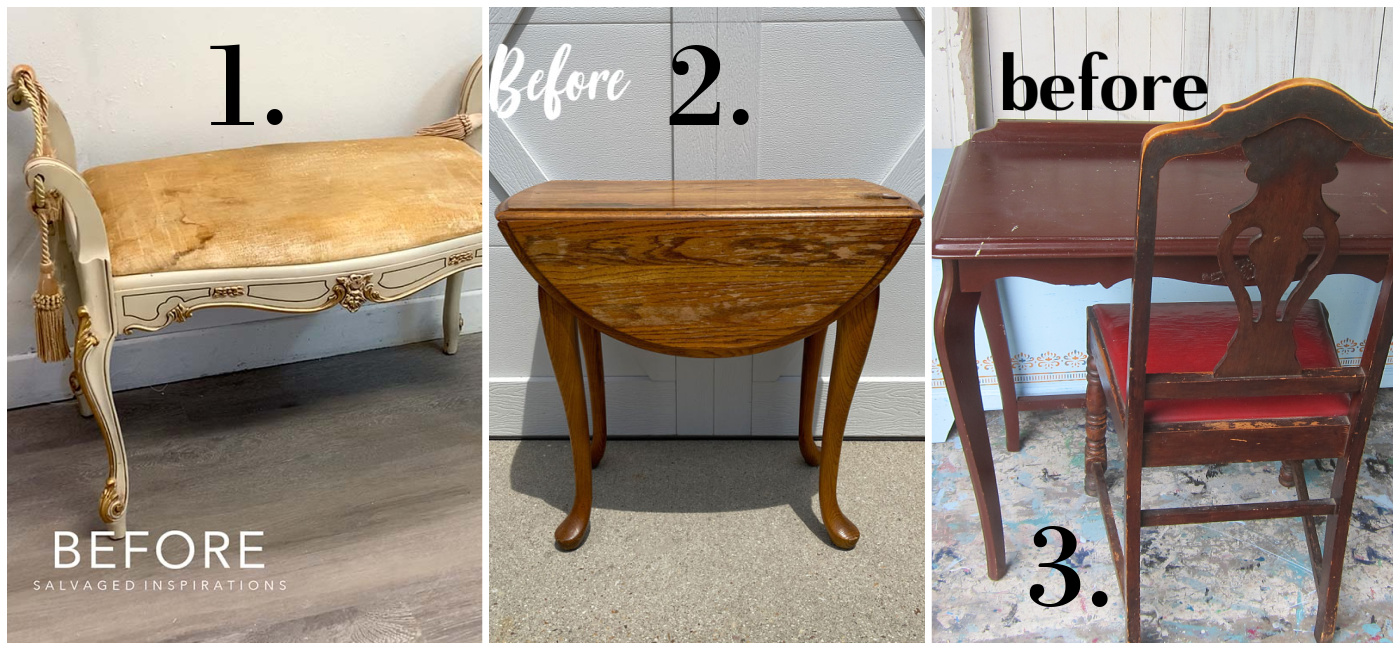 1. Salvaged Inspirations
2. Confessions of a Serial DIYer
3. Petticoat Junktion