Exciting news, friend – this week Girl in the Garage® turns 10 years old! Back in September 2012 I published my first project here, and now there are over 450 articles and tutorials. I never could have imagined how much this space would feel like a peaceful, welcoming home in this crazy online world.
Let's take a quick trip through some milestones from the past ten years and then have a giveaway below! 🎉
In these past 10 years I've turned a small hobby into a booming business, made lifelong friends online (some whom I've been lucky to meet in person), authored a book, and created two online learning programs with hundreds of students (Furniture Makeover Academy and Vintage Vendor Academy). It's literally the perfect "job" where I get to be creative, inspire others, earn some money, and still attend field trips and allll the sports games for my three boys. Definitely feeling blessed.
*But it wouldn't be a celebration without presents, right? In honor of 10 years of GITG, I'm doing 10 giveaways! Enter below and I'll choose 10 winners at random to each win one prize package. Packages will vary but may include:
Signed copy of my book Amazing Furniture Makeovers
Girl in the Garage tote bag
Girl in the Garage tape measure
Starbucks gift card
Amazon gift card
Stencils
Patterned napkins for decoupage
Decorative nailhead tacks
Appliques for furniture or decor projects
Paper flower kits
Pens
Fabric zippered pouch
Other crafting supplies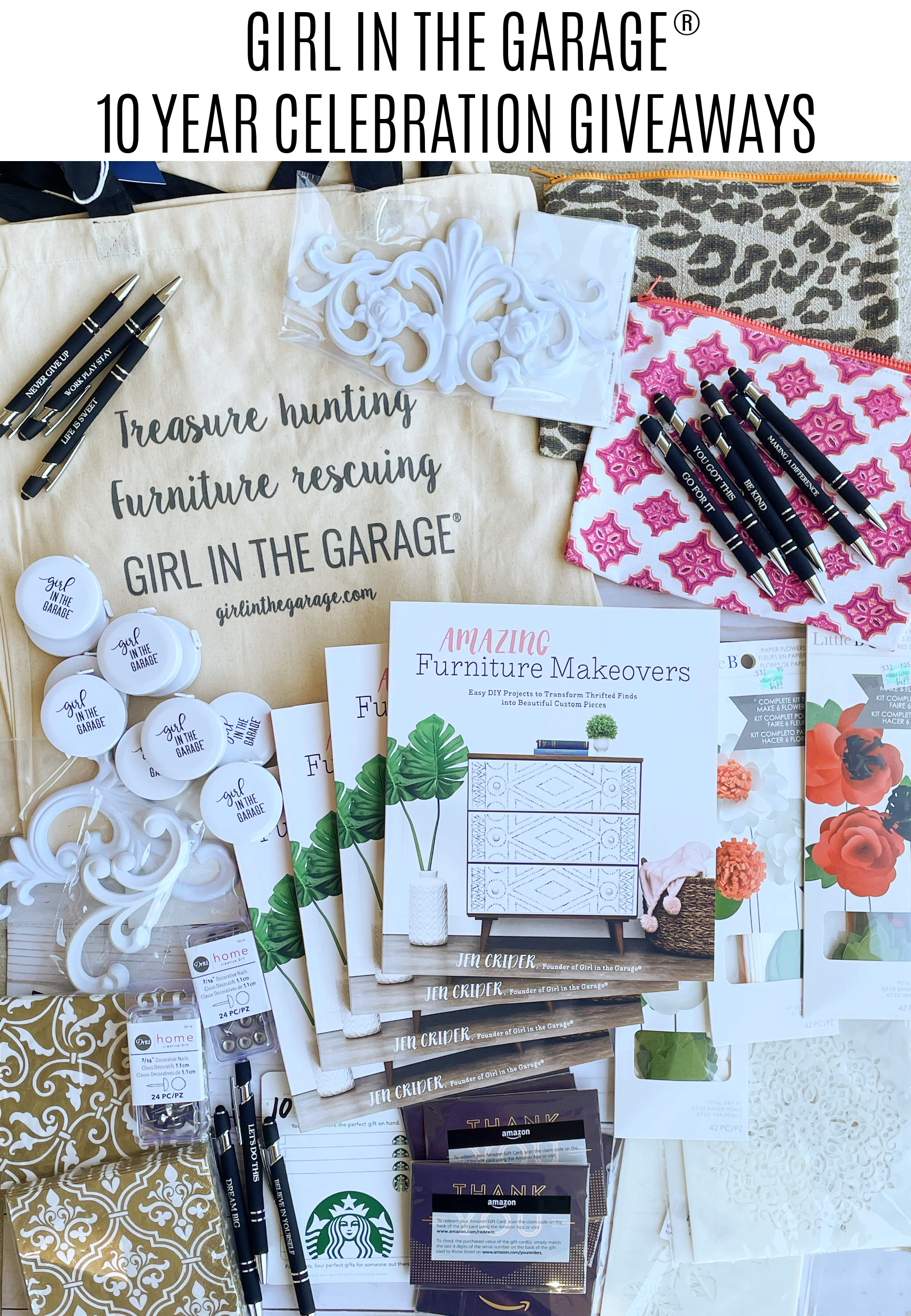 Giveaway is open Tuesday 9/20/22 – Friday 9/23/22. Winners will be chosen and notified via email this weekend and will have 48 hours to respond before a new winner is chosen. Winners must be 18+ years old and have a US mailing address. Enter through the giveaway form below – good luck!
Honestly, this site wouldn't exist today without all of your support and kindness through the years. Your comments, emails, likes, and shares mean so much to me. Any small gesture to show you're following along and feeling inspired by my projects really lifts my spirit and makes my day. THANK YOU!!! – Jen, Girl in the Garage