Friend, it's Trash to Treasure day again which means five brand new thrifty projects for you! My tutorial is below and then at the bottom you can find links to four of my friends' creative makeovers.
Today I'll show you how to stencil on wood, using this painted box that was $3.99 at Goodwill. I'll also share a few more examples of other decor and larger furniture pieces. I've been stenciling for years, and I love how it can transform a piece with just a little effort!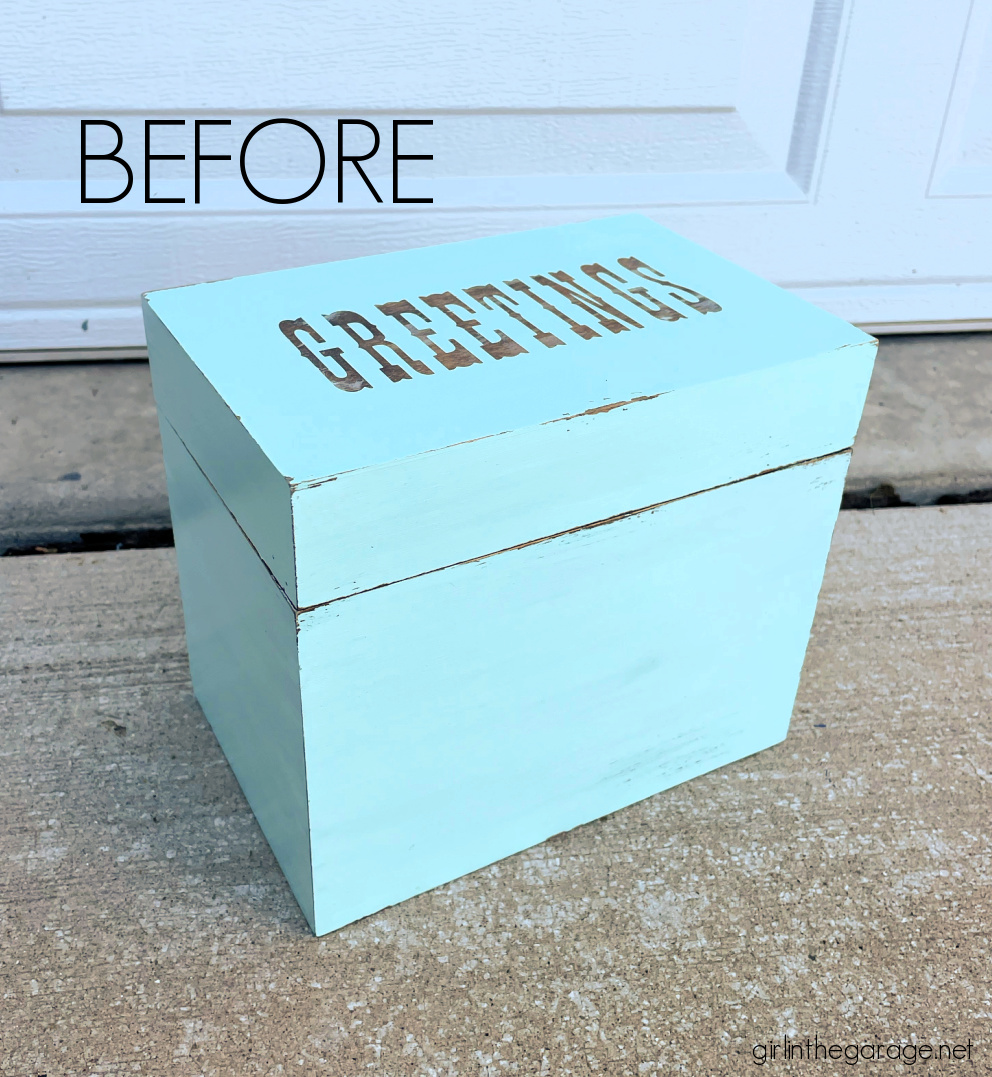 This box was already painted, and usually I try to avoid working on painted pieces. But since this is a small wood box and not a big dresser, I knew it wouldn't be too bad.
The inside was in great condition as you can see below.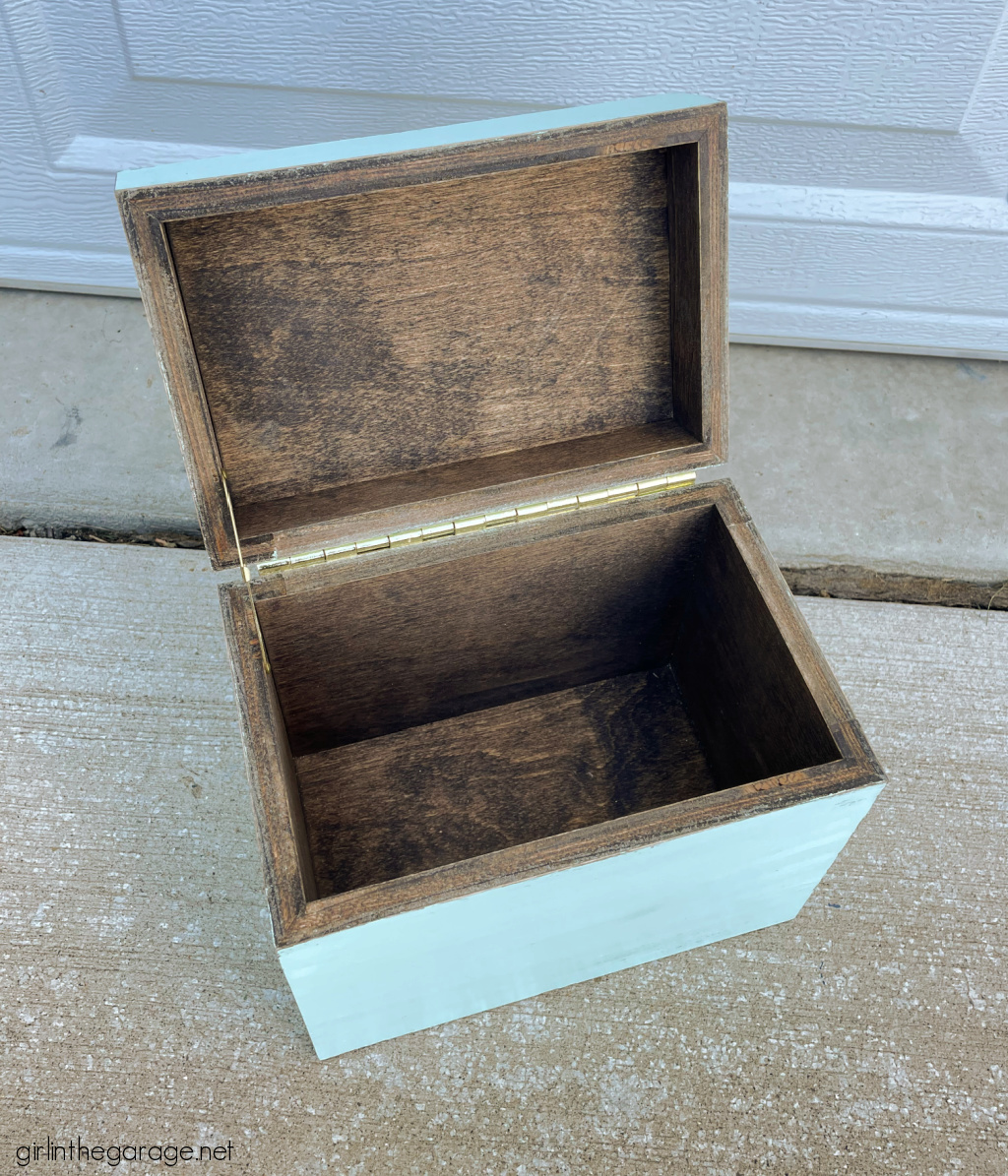 This post contains some affiliate links so you can easily find the products I use and recommend. Discover all my favorite brands and tools for doing DIY makeovers here.
First comes the prep work. You want to make sure the piece is clean and in good working order (hinges work, drawers slide, chips and gouges filled, etc.). Then in most cases (especially for already-painted pieces like this), lightly sand all over to smooth the finish and give the new paint something to adhere to. You might even need to use a primer before painting. Grab my free printable guide for how to properly prep furniture and decor for painting Here.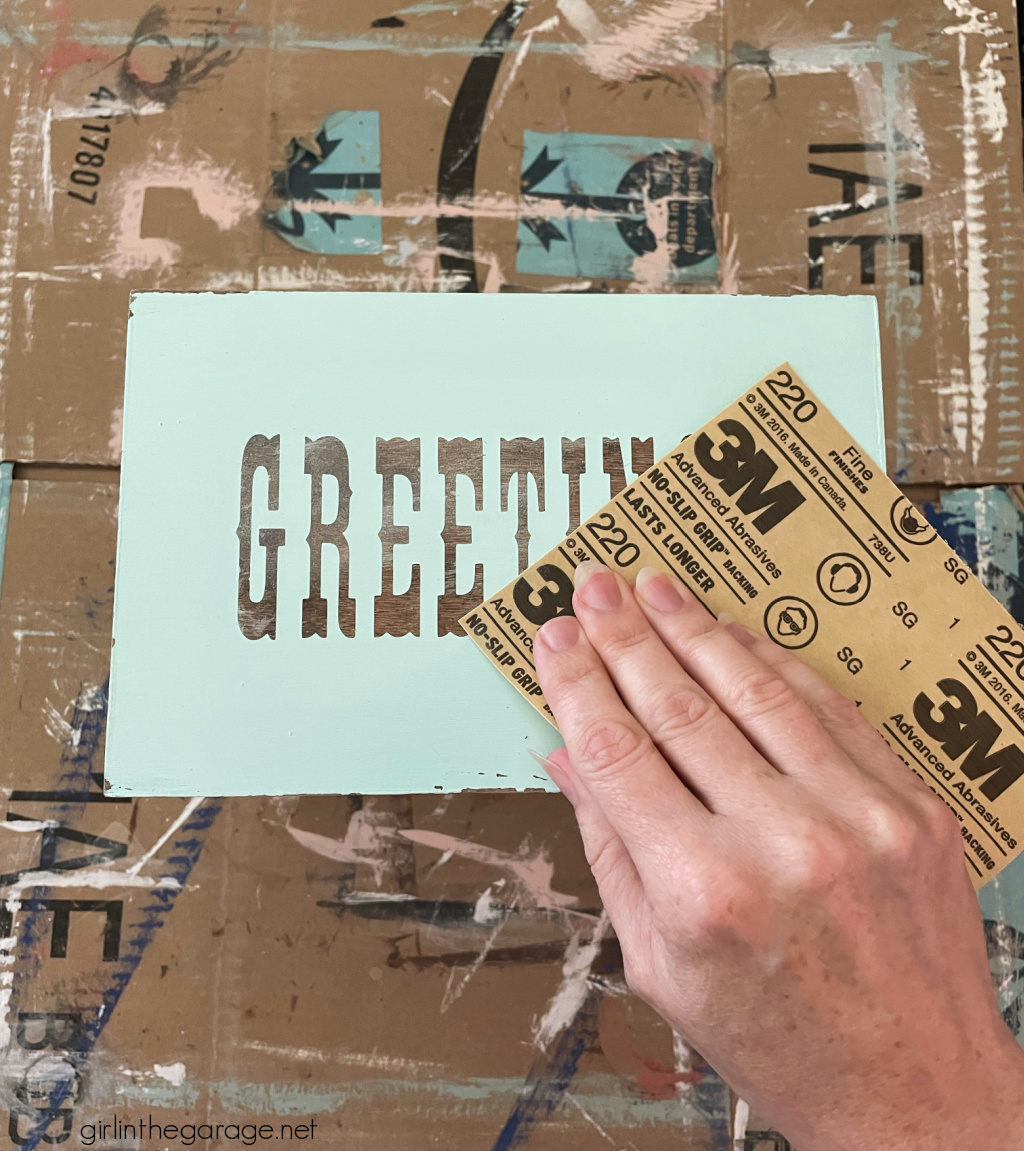 I used 220-grit sandpaper to give it a good scuff and then wiped it clean again.
Choose a base color to paint your piece before stenciling. I used Country Chic Paint in Liquorice (black) with a Purdy paint brush and flipped the box upside down to paint the bottom first.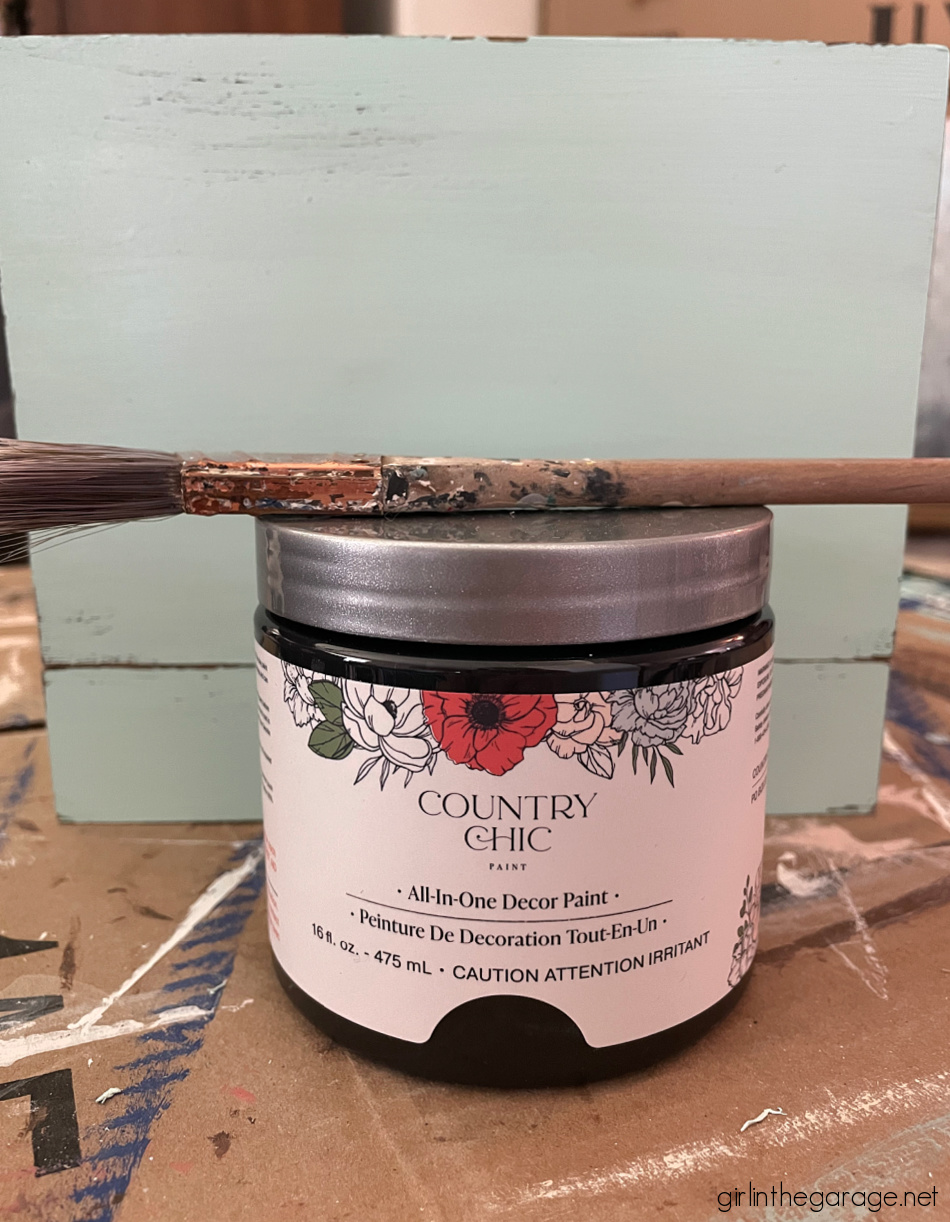 You will probably need to apply 2-3 coats of paint depending on what color you chose.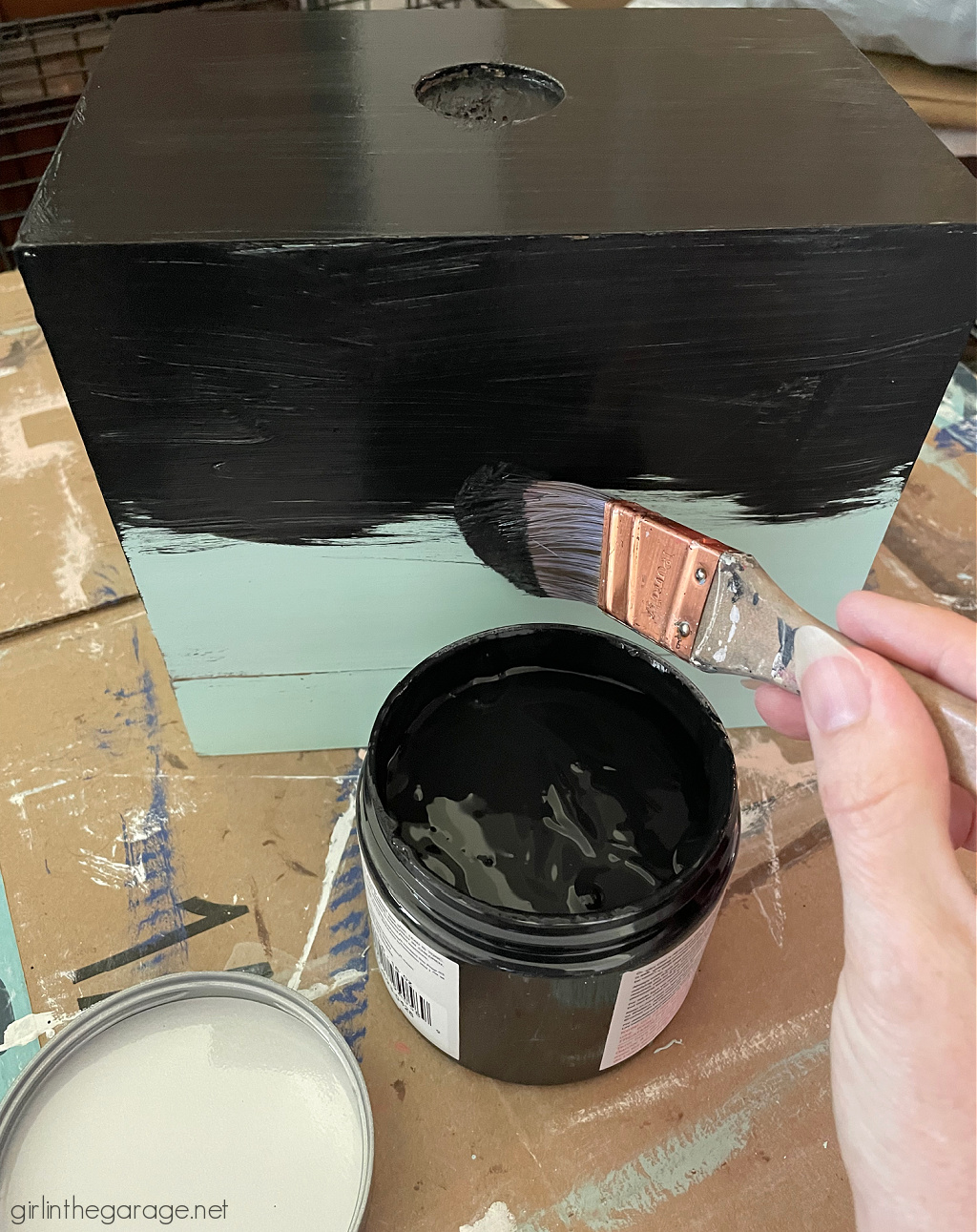 Below you can see that the wood box is perfectly black. Now it's time for stenciling!
There are so many great places to get stencils from. If you search for furniture stencils online, then you might even be overwhelmed with all the options. Some places I've gotten stencils from are Amazon, Etsy, Royal Design Studio, Cutting Edge Stencils, Stencil Revolution, and Hobby Lobby. Just make sure the stencil is plastic (which can be reused over and over) and not thin cardstock.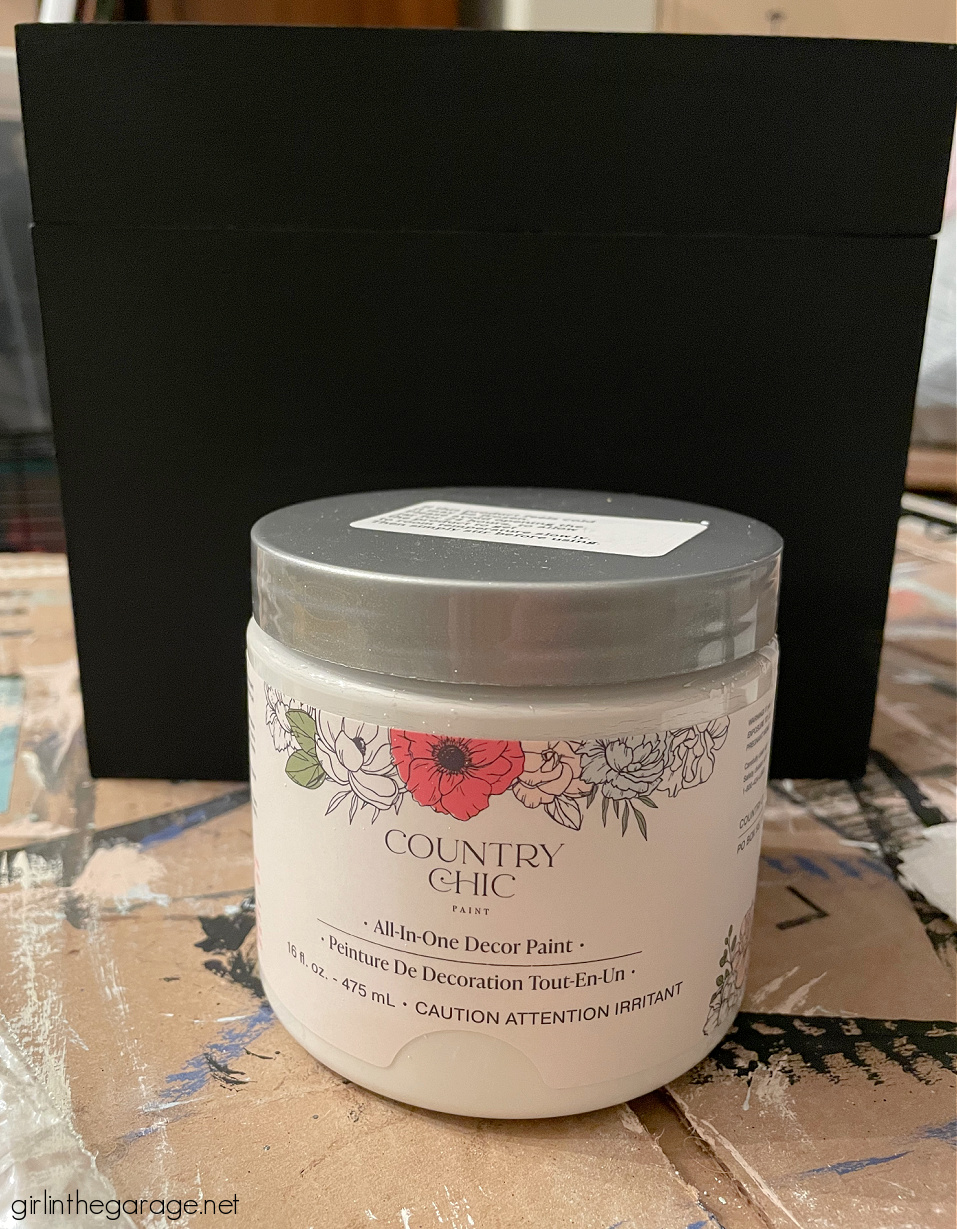 Today I'm using an Indian Inlay Stencil from Cutting Edge Stencils. It comes with five separate designs so you can arrange the pattern however you like. I've used this stencil on wood furniture a few times – here is one painted buffet that I really adore how it turned out!
I chose Country Chic Paint in Simplicity (white) along with a foam pouncer. You can also use multiple colors for a really custom design, like I did for this stenciled bookcase makeover. Lightly dip the end of the pouncer into the paint, and then blot it onto a paper towel to remove the excess. Don't overdo the paint or you'll end up with smudges, which I had a few (they can be fixed though).
I usually recommend placing the stencil on the center of the piece and then working outward. However with a custom design like this and many different patterns, just make sure to plan and measure in advance so you can fit everything where you want it.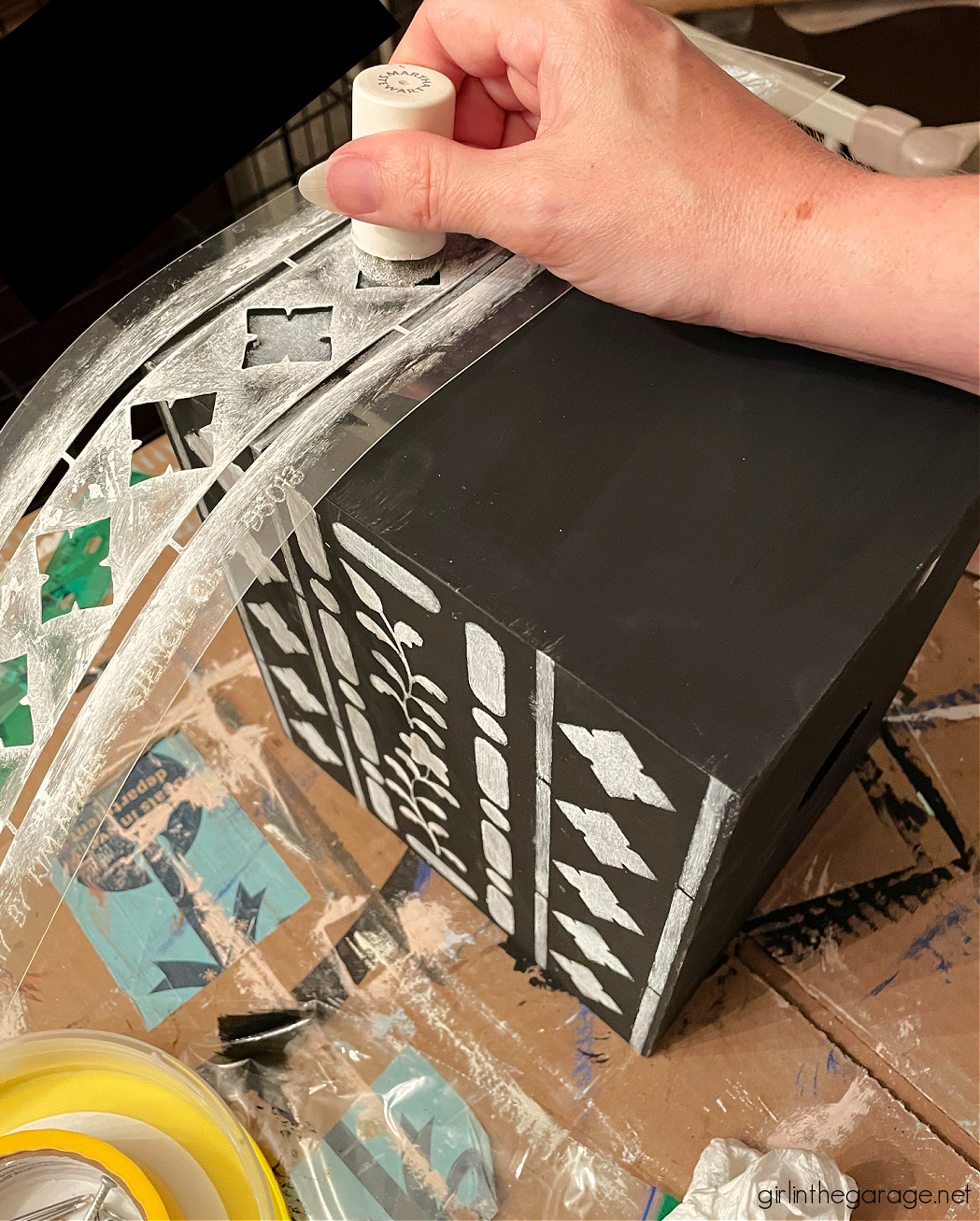 Also, I use yellow painter's tape to hold the stencil in place 99% of the time. Since this is a small wood box and I used multiple stencil pieces for a minute at time, I held the stencil with one hand while pouncing with the other. I don't recommend that if it's your first time stenciling. 🙂
Lift the stencil before the paint is fully dry, and then wait until it's dry before overlapping or moving to a nearby area. Finally, use a small artist brush to go back and clean up any mistakes. I had quite a few on top, but they were quickly fixed.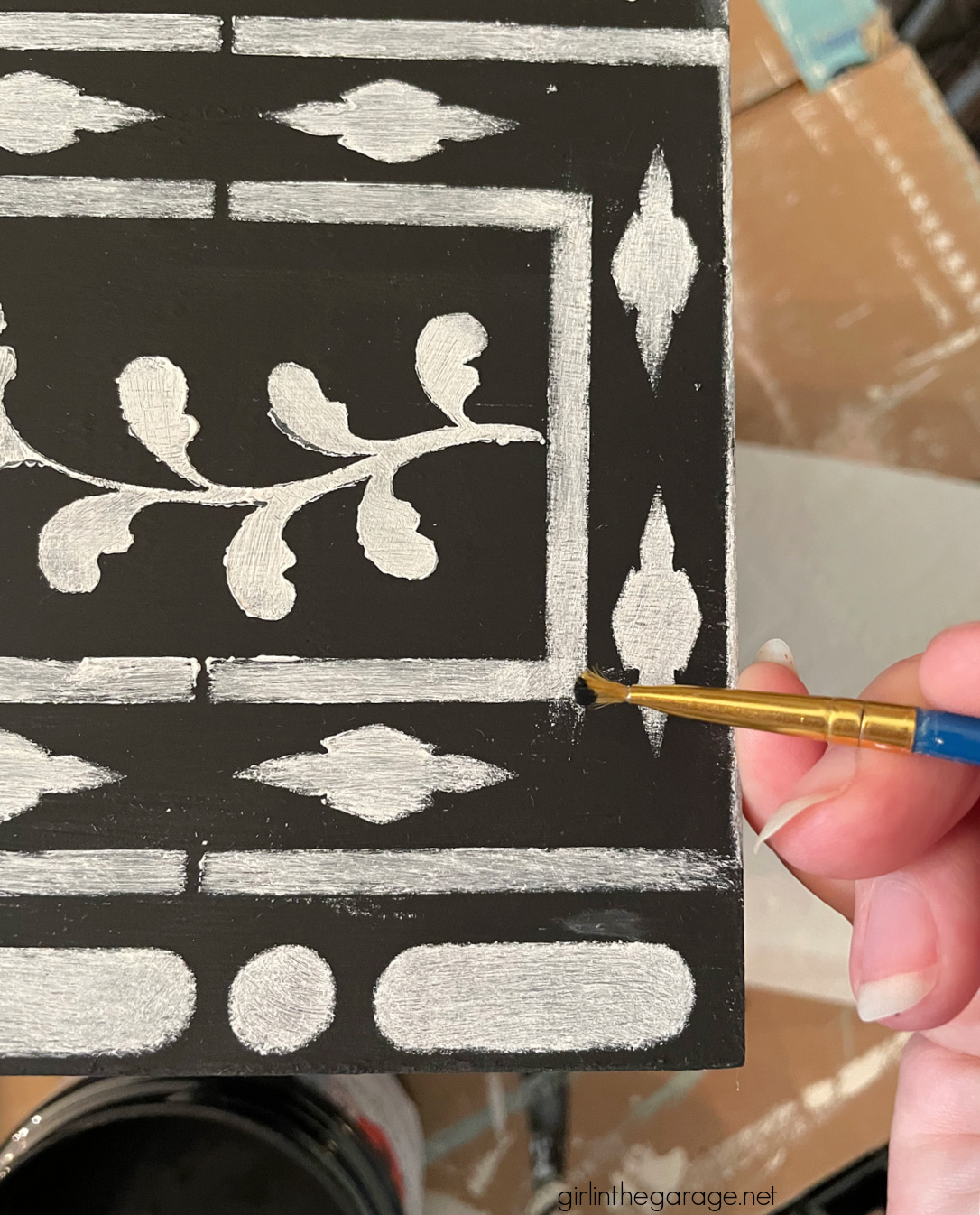 Depending on how you want your piece to look, you can sand it or not. Sanding will blend/blur the lines a bit and fade the stencil color – which is great for a rustic look. I stenciled and then heavily sanded this dresser a few years ago and it looked really cool. I didn't sand this box because I wanted to keep the bone inlay stencil lines crisp.
Finally, you should protect your piece with a topcoat of your choosing. I prefer furniture wax applied with a lint-free cloth.
Now that you know all my tips for how to stencil on wood, here's how the thrifted box looks now: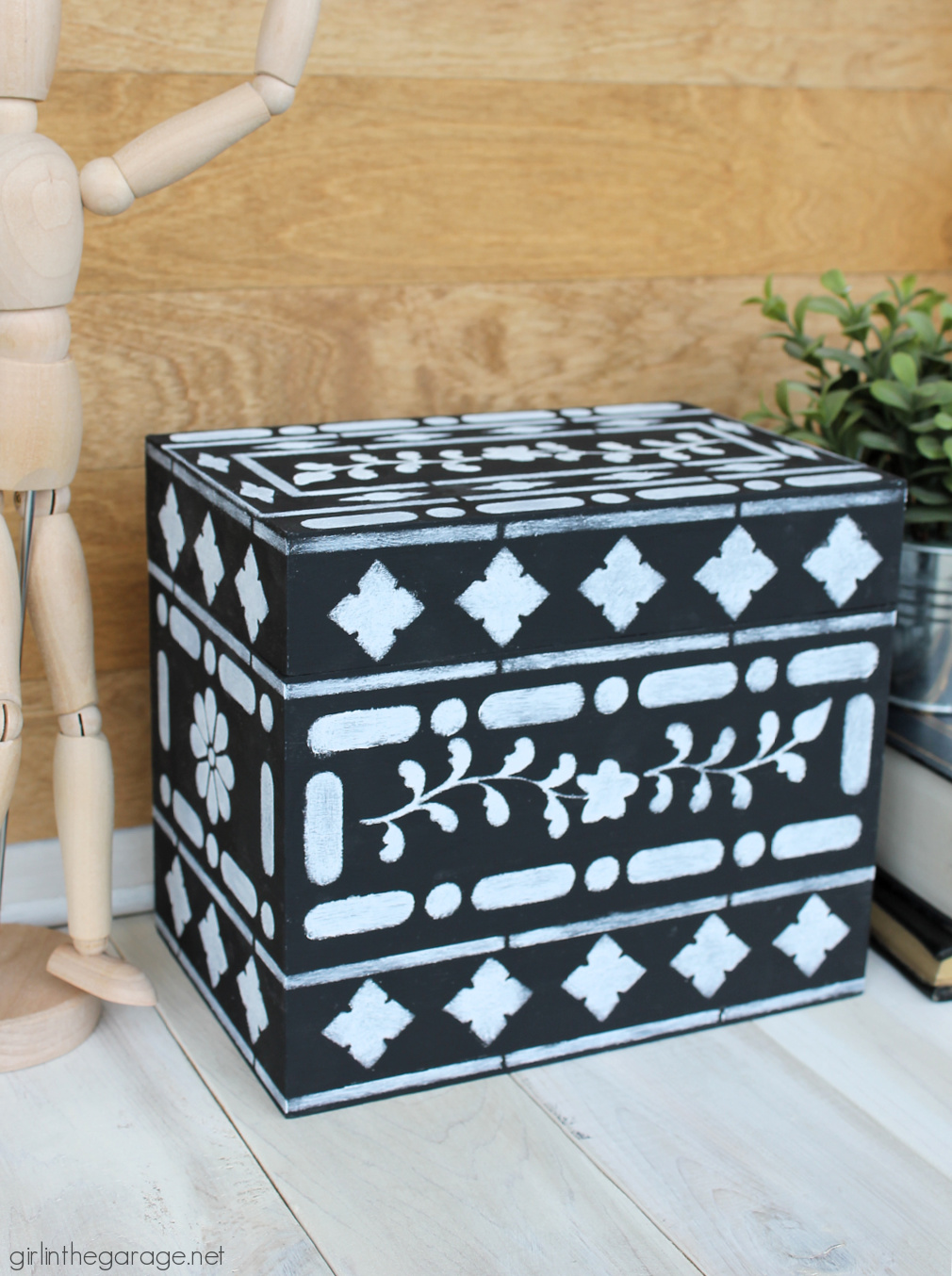 I'm biased but I think it looks so much better. And much more high end!
I placed a few small notebooks inside, but it could hold so many different things.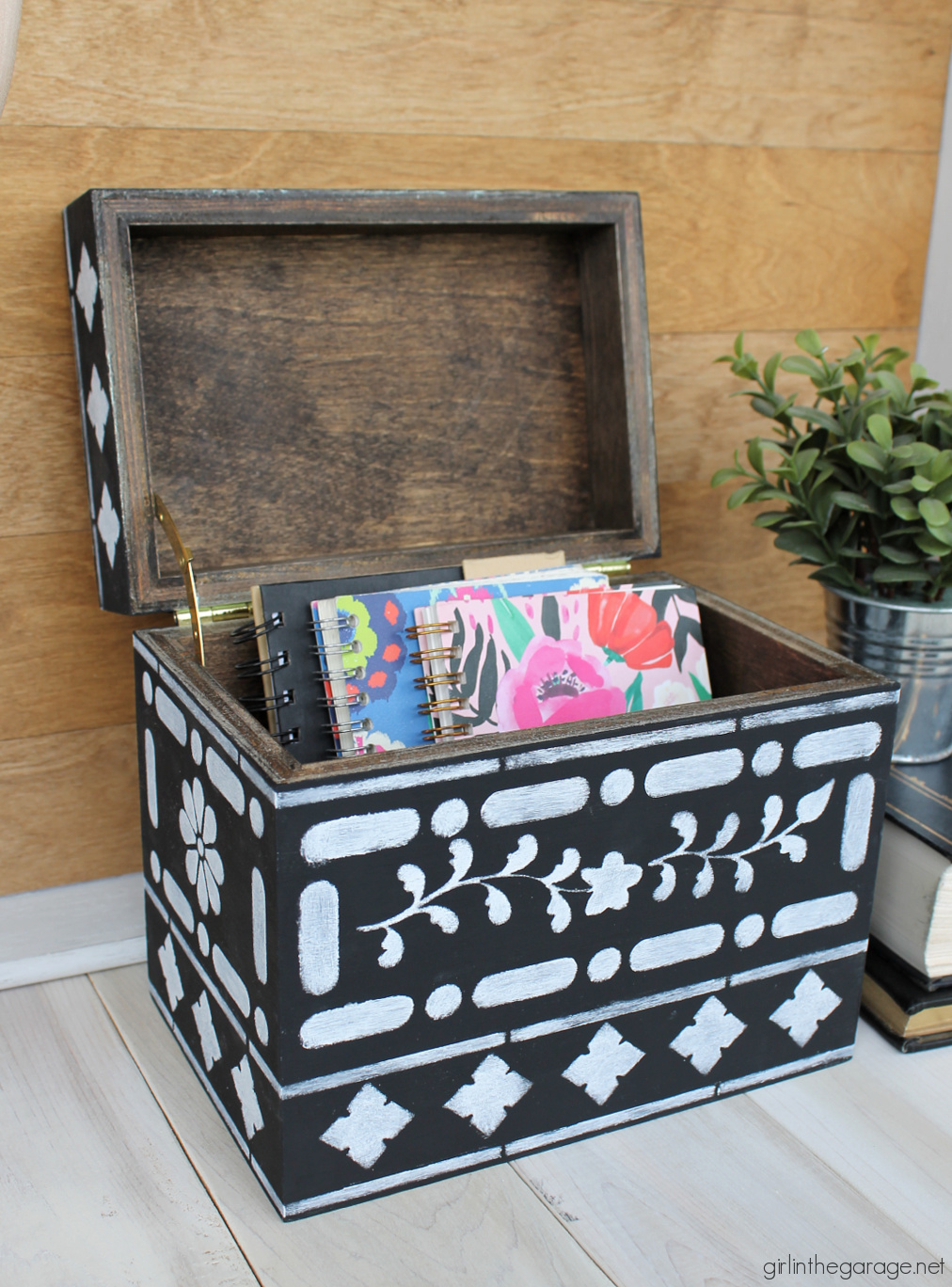 I love how the lid line sort of disappears when the box is closed. I may end up keeping this!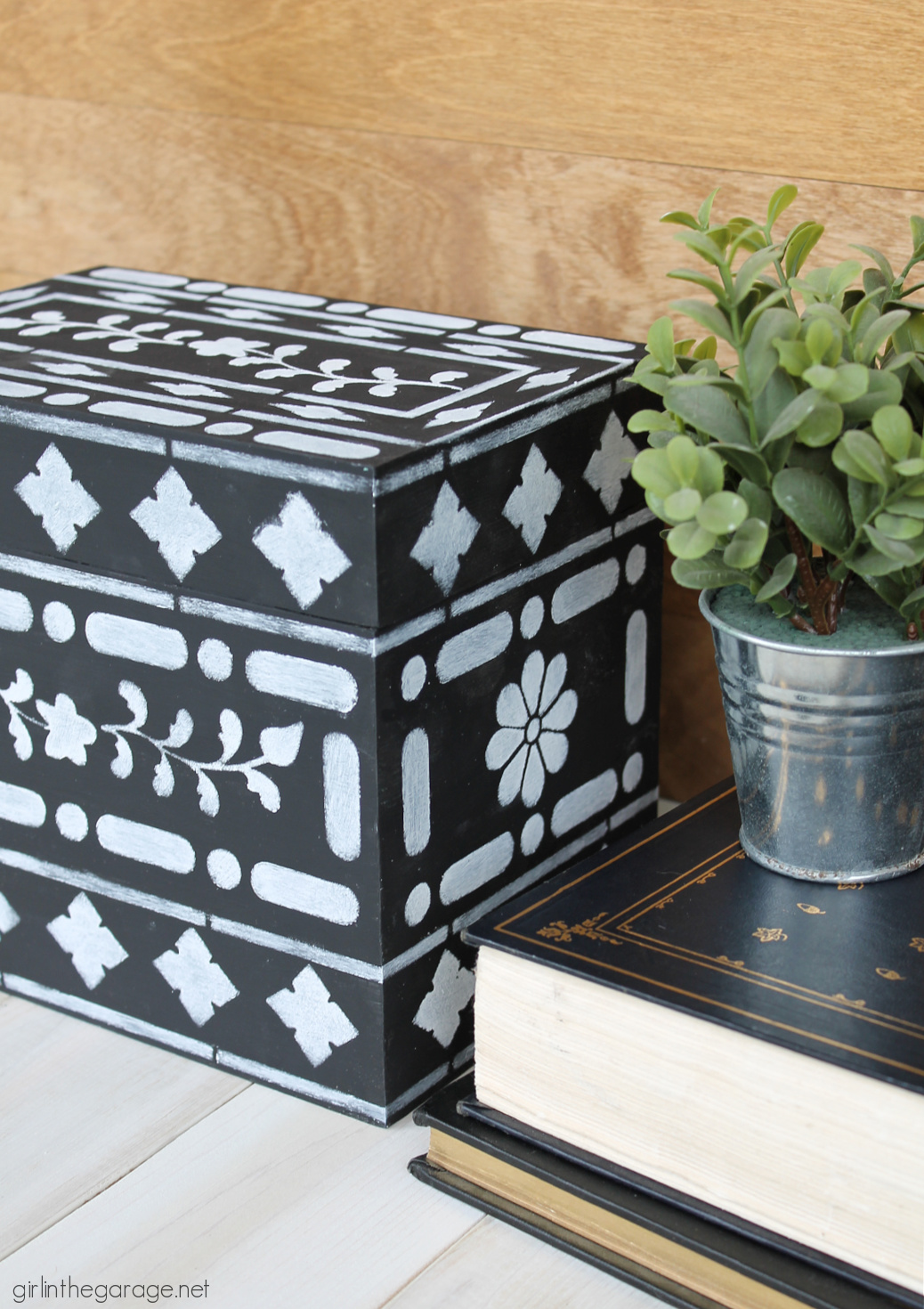 Here's another look at the Before and After. Please feel free to share this project with a friend or Pin it to easily find again later.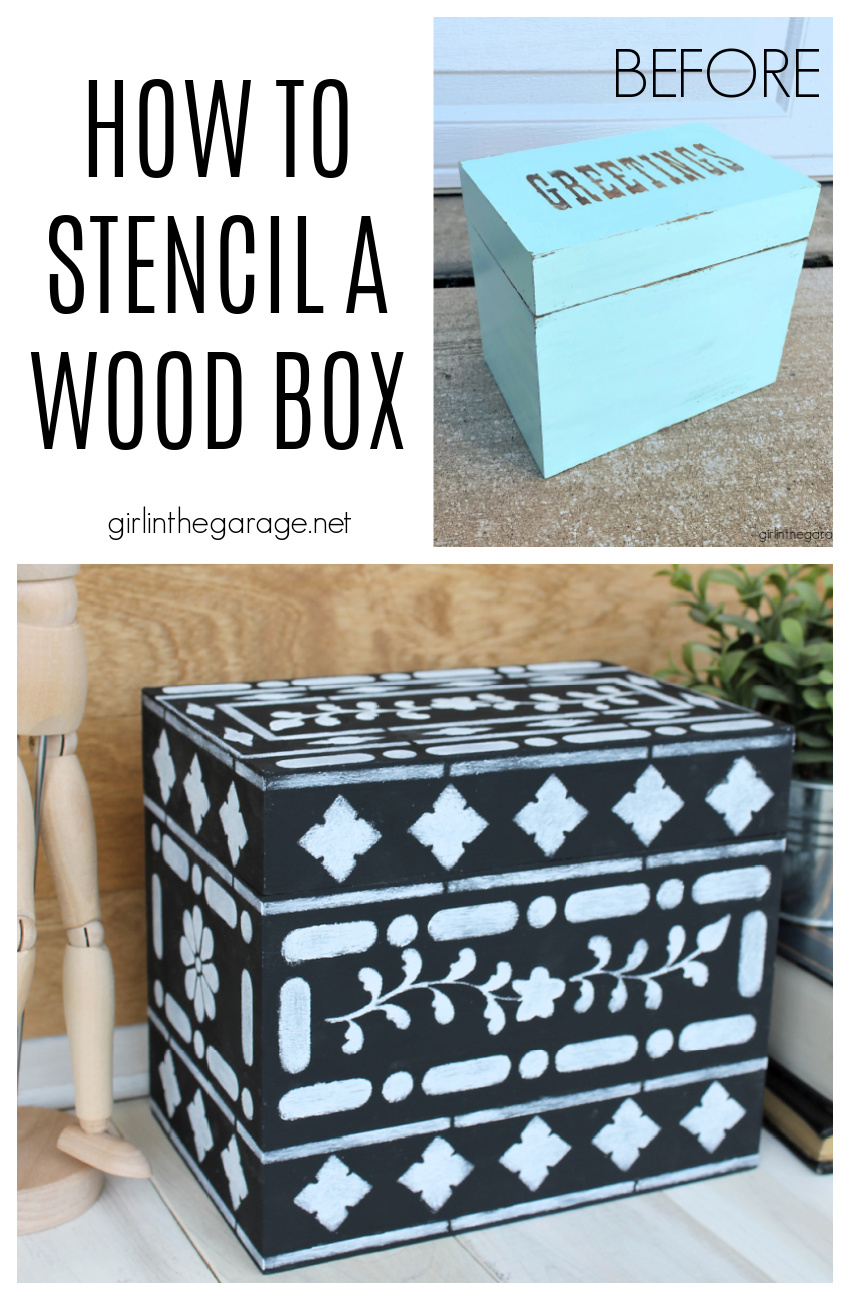 Here's a simple stenciled box makeover I shared last month: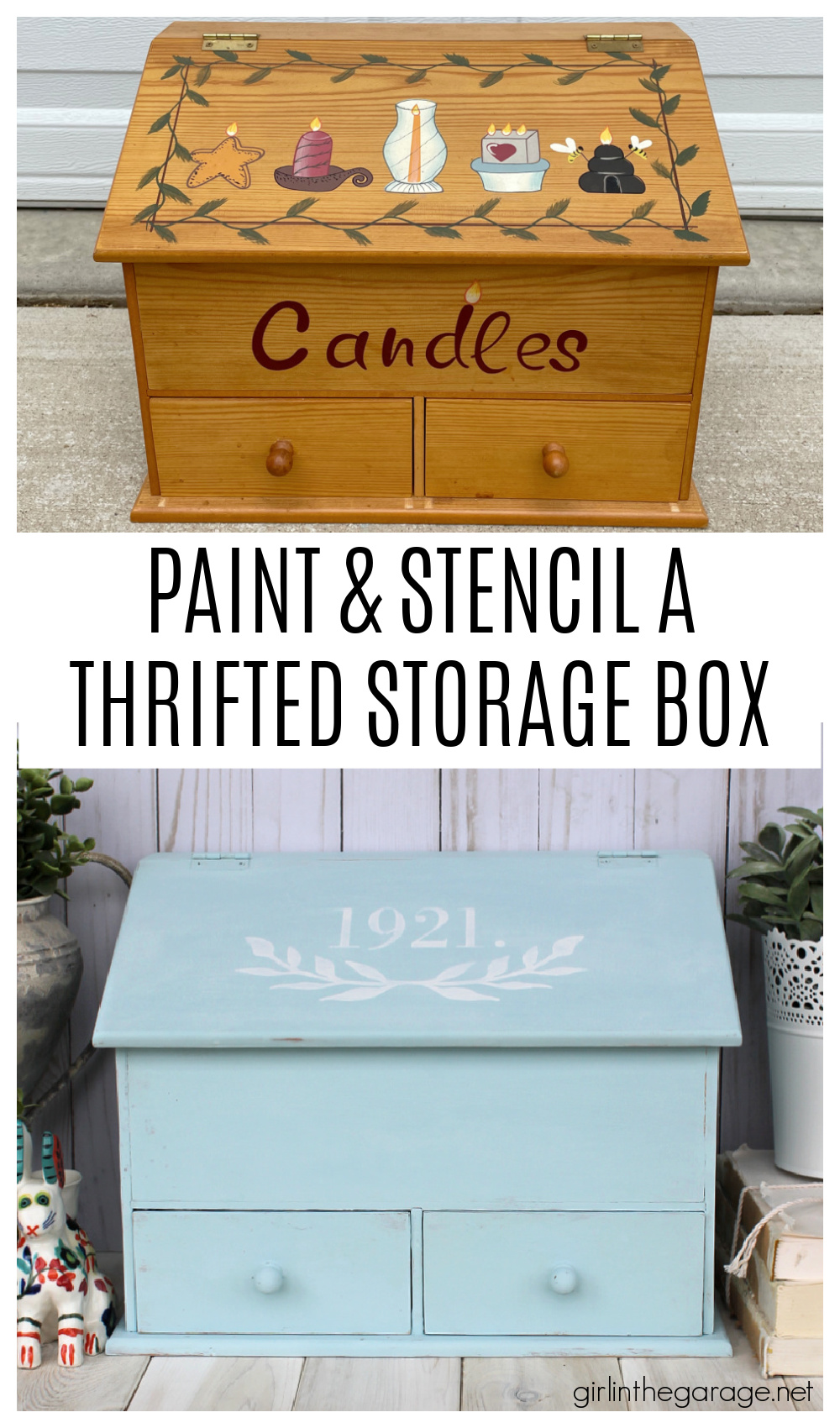 And here are more of my favorite stenciled furniture and decor projects:
Now it's Trash to Treasure time with my blogging friends!
Below are the Before photos – visit the links underneath to see the awesome Afters and to learn how they did it: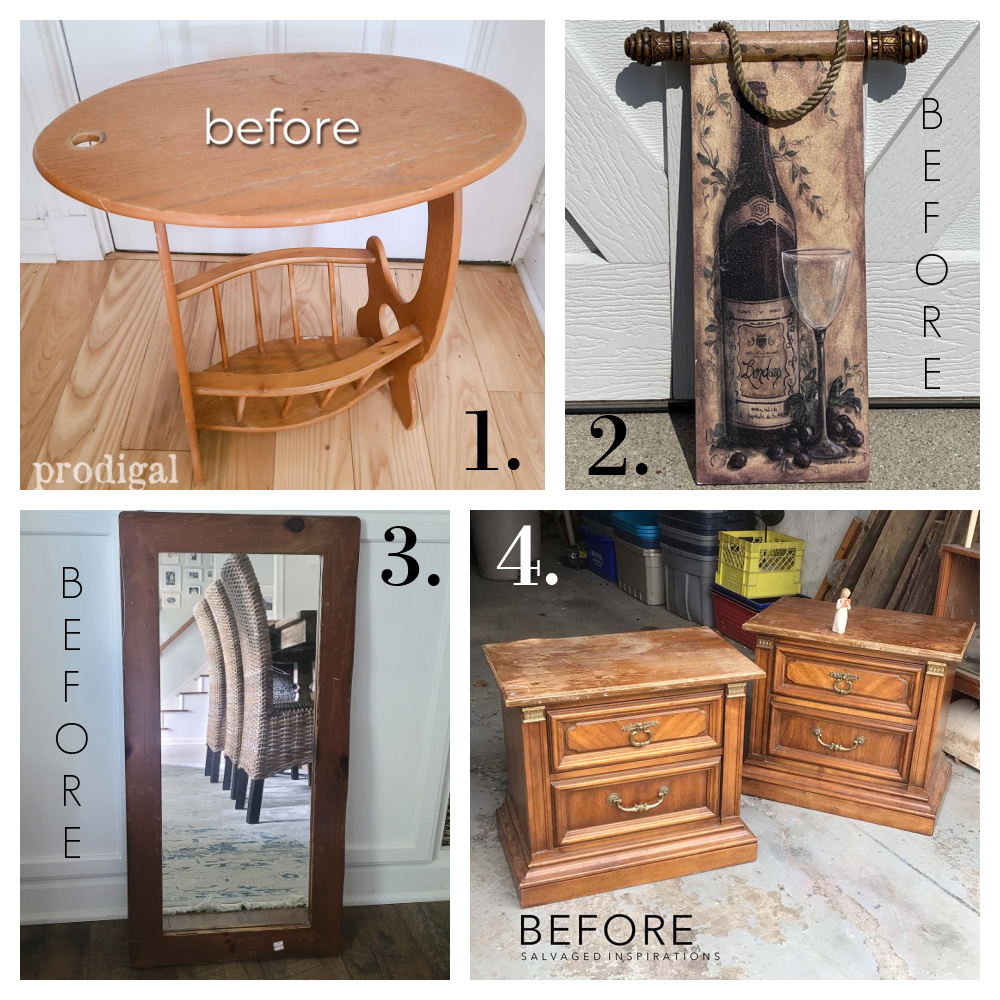 1. Prodigal Pieces
2. Confessions of a Serial DIYer
3. Artsy Chicks Rule
4. Salvaged Inspirations