With thrift store prices rising along with everything else, I really have to keep my eyes open for good deals. (Although yard sales are finally starting up again around here – yeay!) For this month's Furniture Fixer Uppers project, I found this old piece for $30 – not great, but not terrible either. Today I'll show you how to paint a bookcase and then stencil it with multiple colors (using Country Chic Paints this time).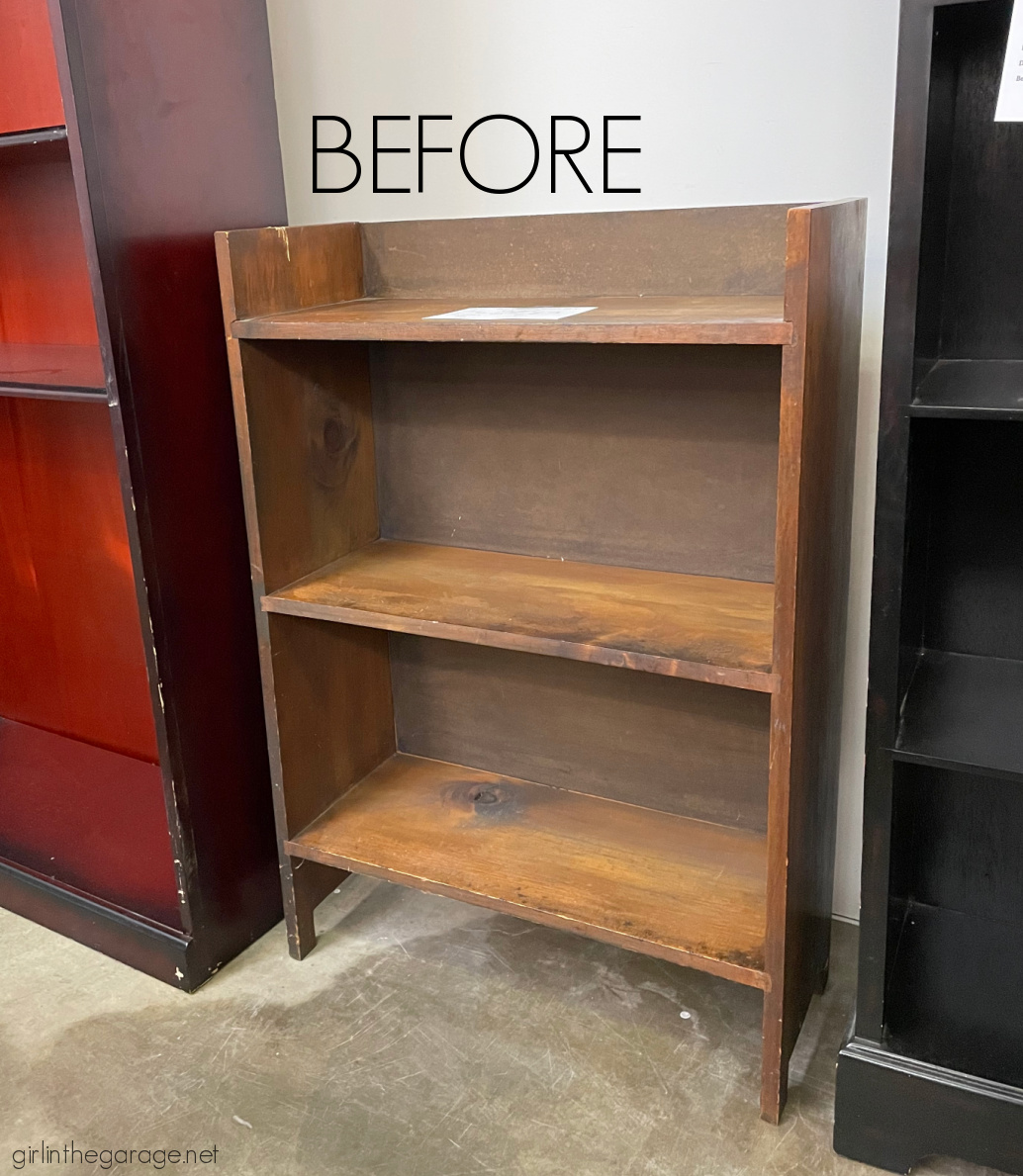 This post contains some affiliate links so you can easily find the products I use and recommend. Discover all my favorite brands and tools for doing DIY makeovers here.
First, I wiped the piece down to clean it. Next I got a flathead screwdriver and carefully started prying the back away – I planned to reuse it, so I didn't want any damage. It's much easier to paint a bookcase and add a fun design to the back when that panel is taken off. Also remove any nails and set them aside to reuse if they're still in good condition.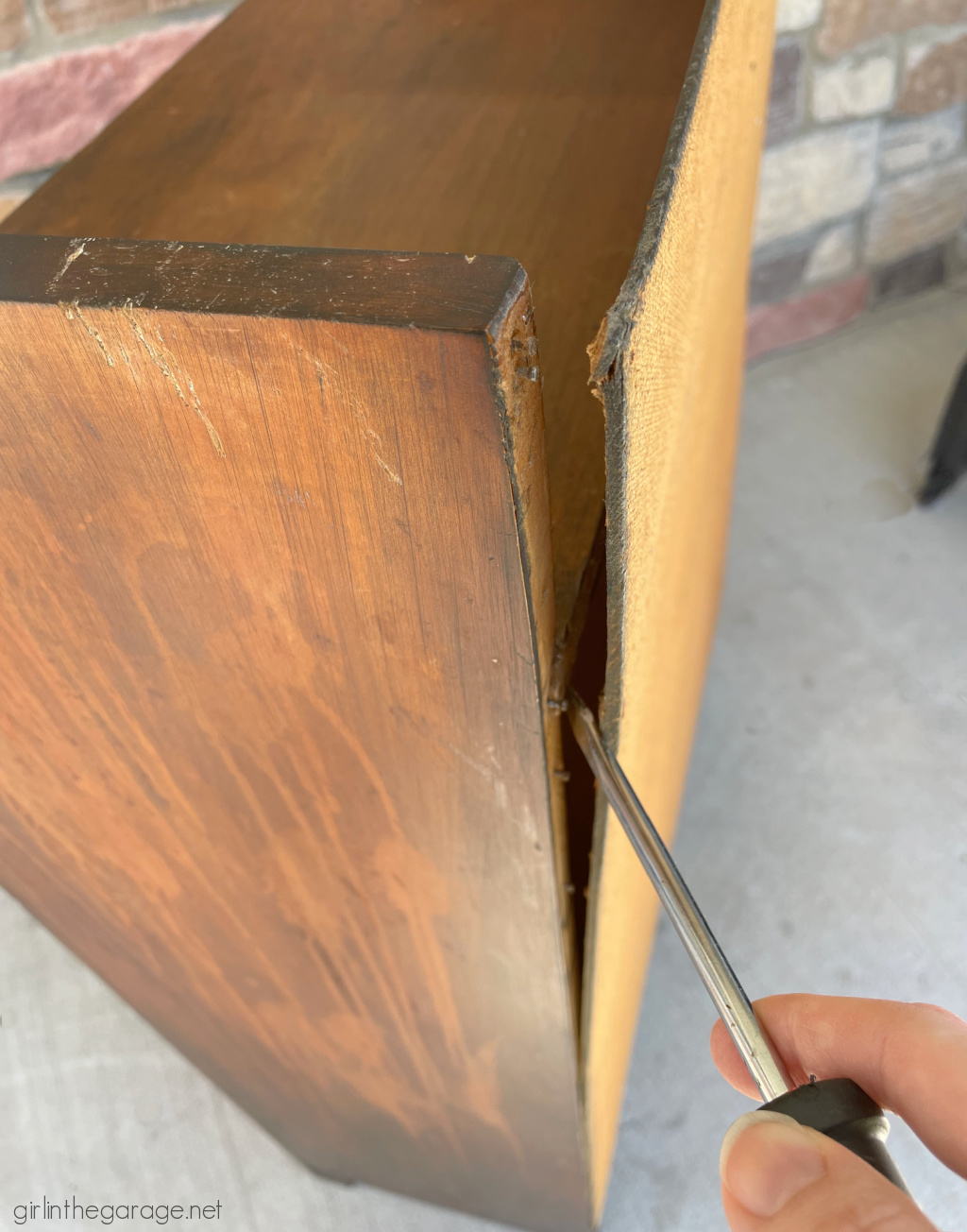 The little cracks and crevices were filled with wood filler. After drying, I lightly sanded the filler and the rest of the bookcase for smoothness.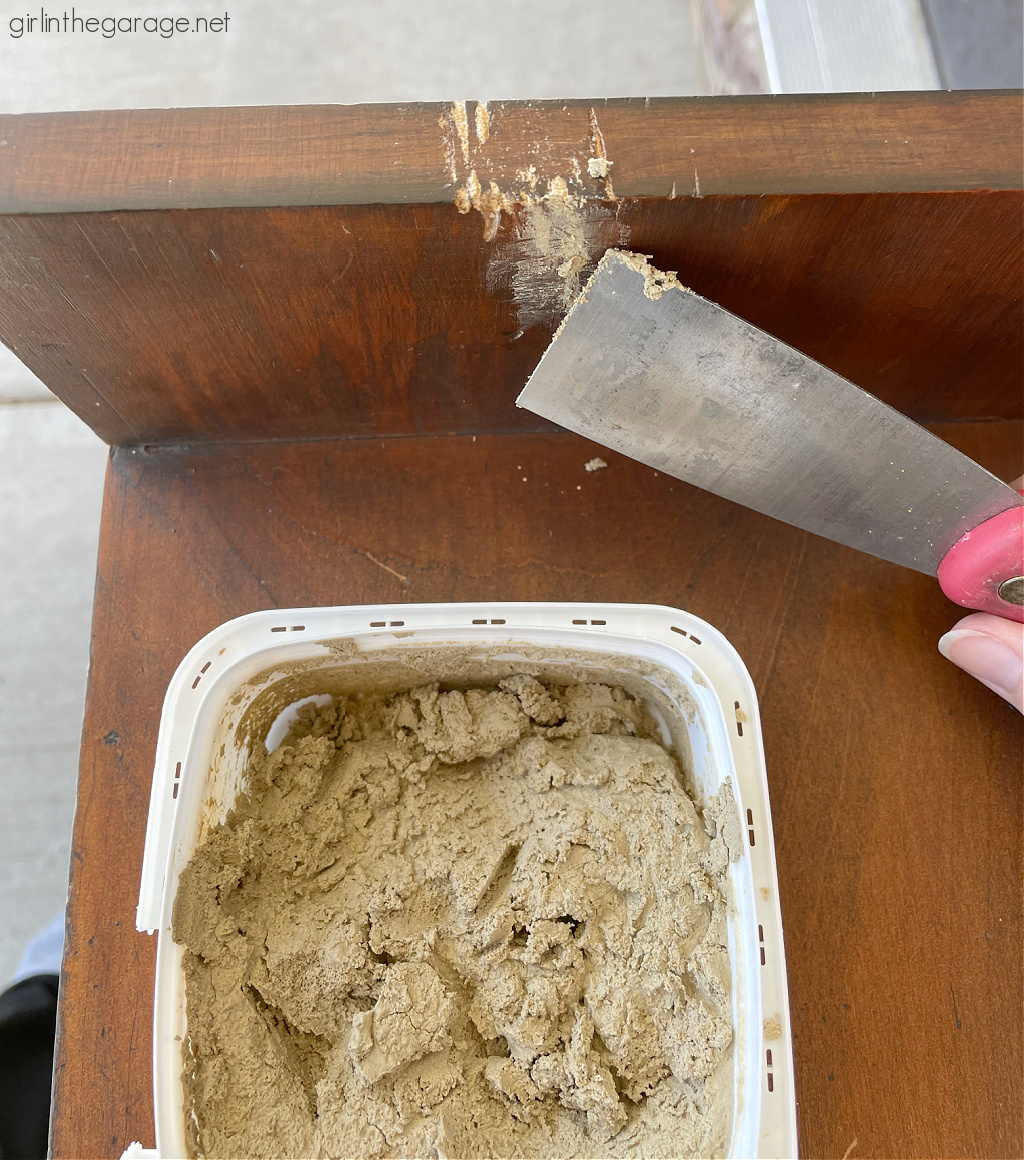 Next, I was concerned that this dark stained and knotted wood would bleed through, so I applied two coats of my favorite primer. This stuff stops ugly pink/yellow undertones from seeping through under white paint and also blocks any lingering odors. And yes, you often need to use primer first even if the paint claims to be "no prep." Grab my free printable guide here to learn all the steps to properly prep furniture for painting.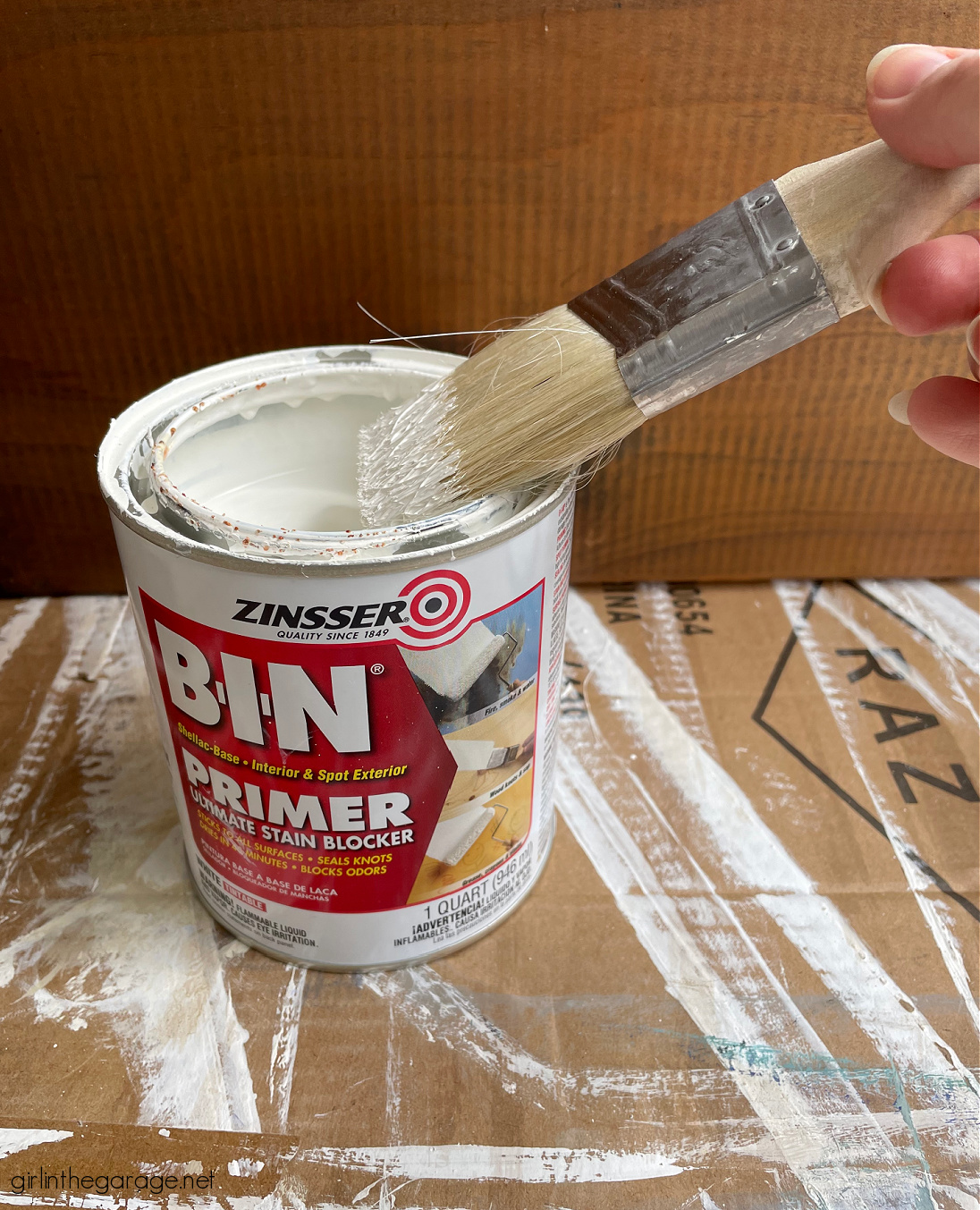 Here is the bookshelf all primed and ready for paint!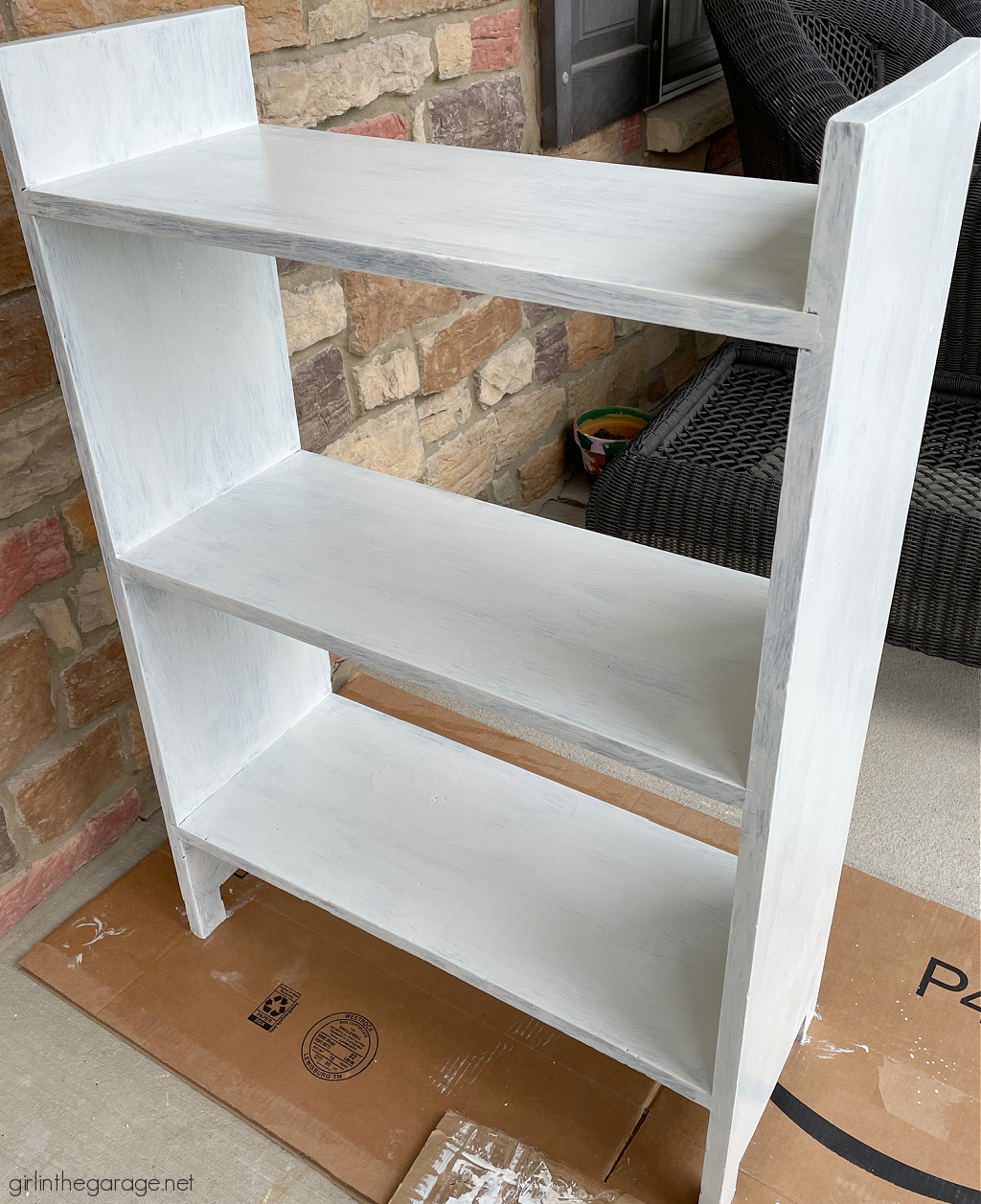 I decided to use Country Chic Paint on this painted wood bookcase project. I've used it in the past and liked it, and wanted to try several colors for my stencil idea, so I popped over to Amazon and picked colors that reminded me of nature. (I bought them myself, CCP did not sponsor this post.)
There are 50 different Country Chic Paint colors to try. I used: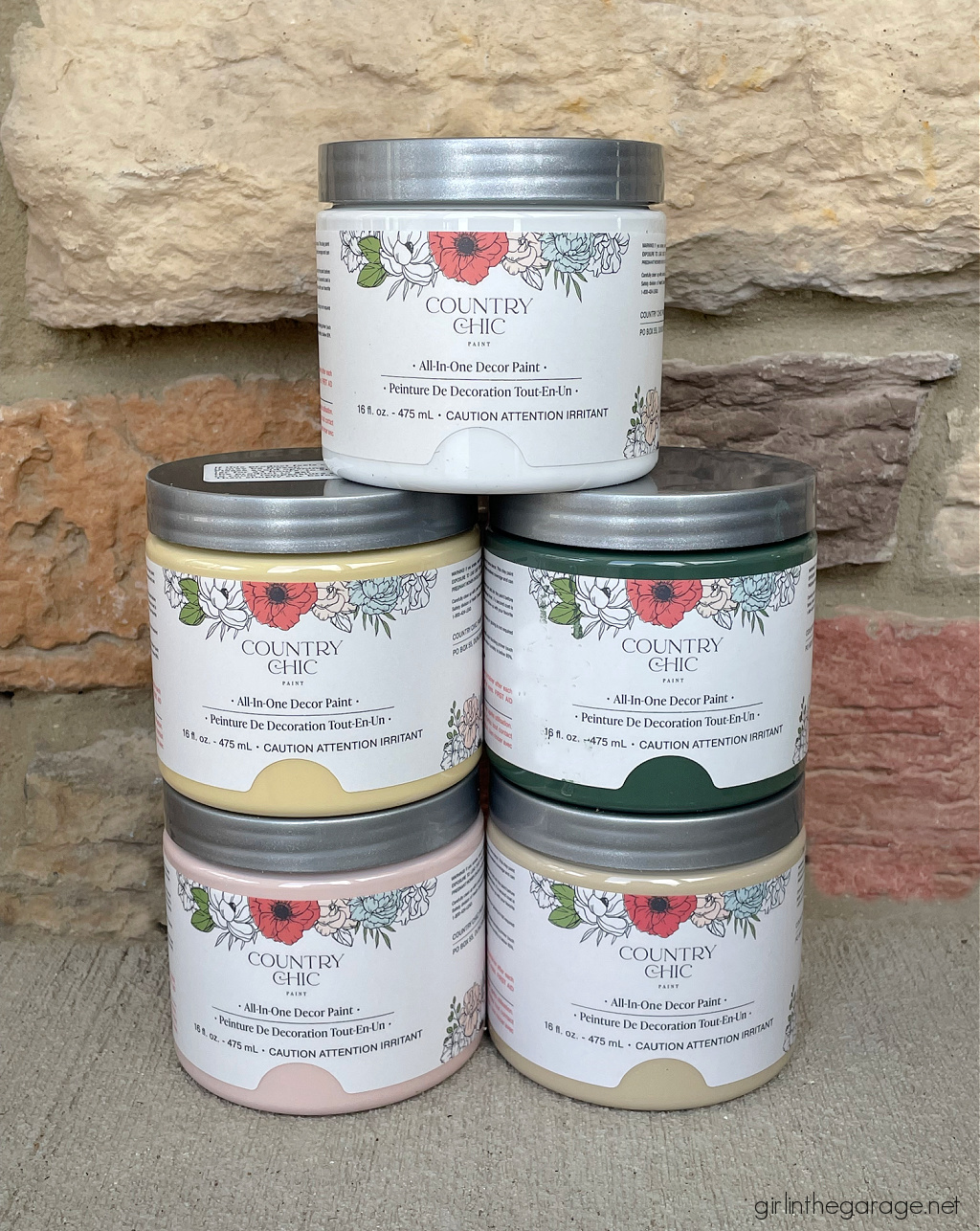 I painted the bookcase and the back panel in two coats of Simplicity using one of my favorite Purdy paint brushes.
Next I pulled out the gorgeous Forest Pattern Wall Stencil that was sent to me by the folks at Stencil Revolution. I love this stencil because it's whimsical and I knew I could have some creative fun by using multiple paint colors to make the pattern really pop.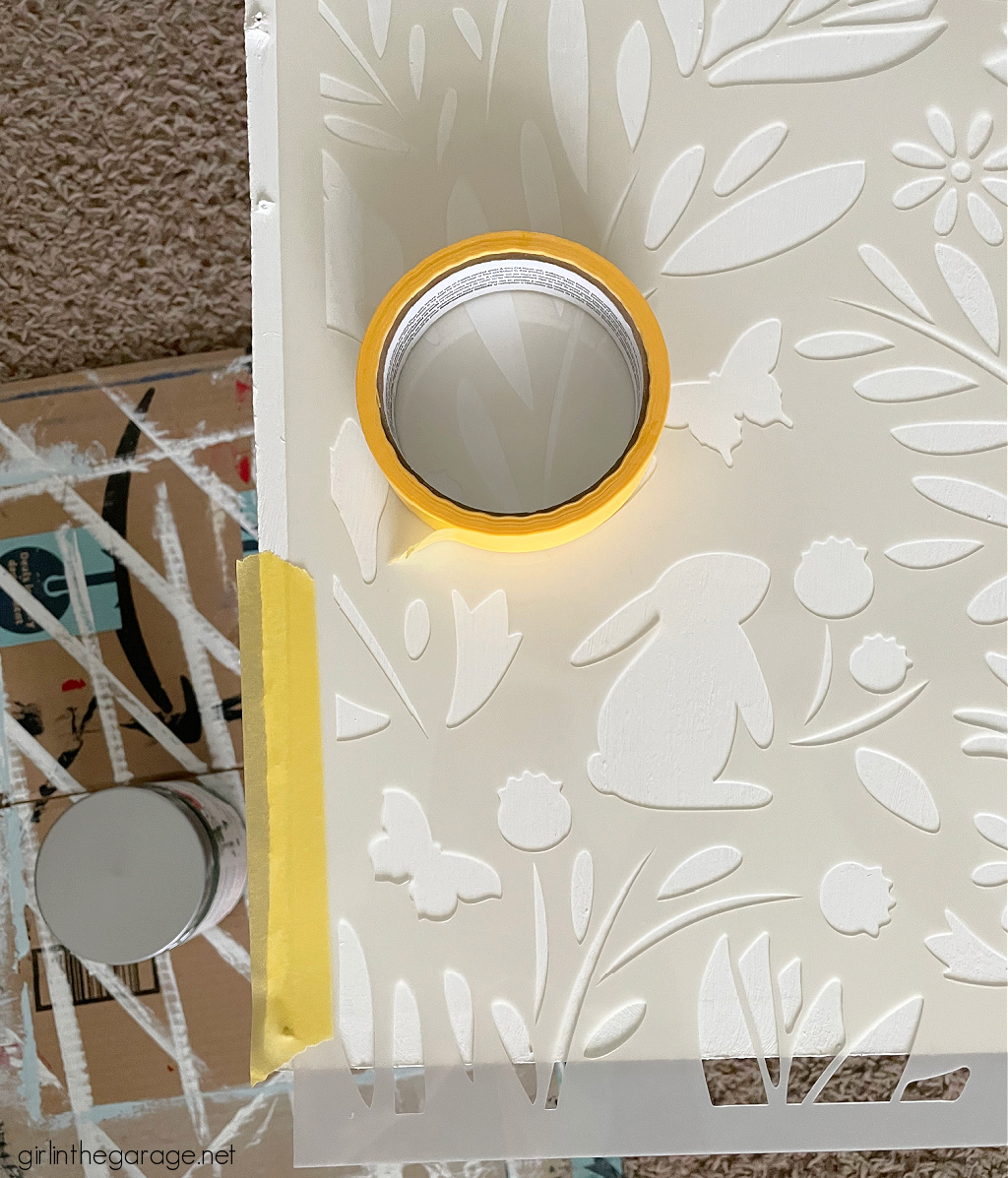 I centered the stencil on the back panel and secured it with delicate painter's tape.
Then I got my Country Chic Paints ready and pulled out all my stencil brushes and pouncers. The most frequent part of the pattern was the greenery, so I started with the green paint. Remember to dab off the excess paint and only apply a little to the stencil to avoid smudges.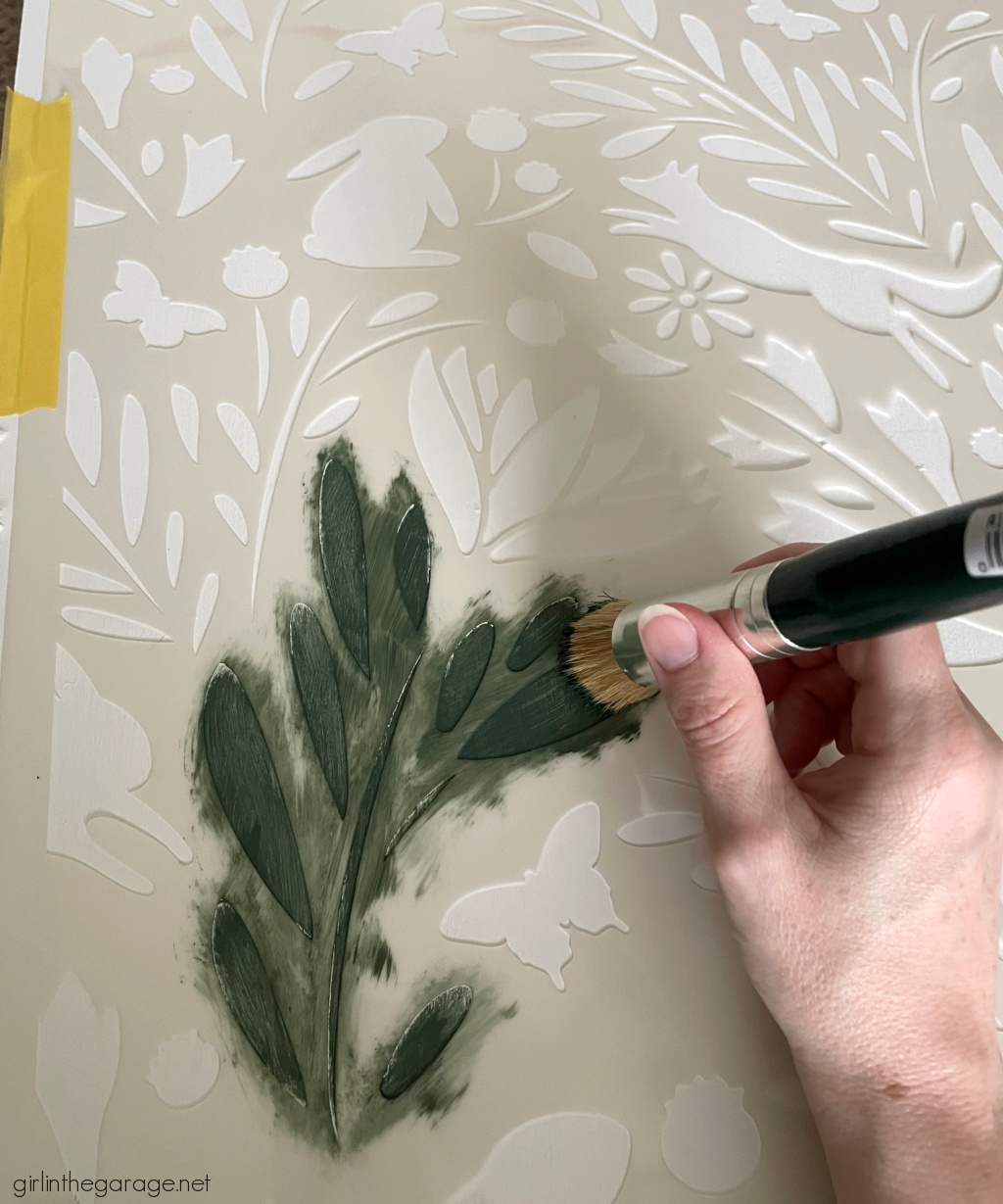 I matched the rest of the animals and plants with the paint colors and went carefully, double checking to make sure I didn't skip any areas.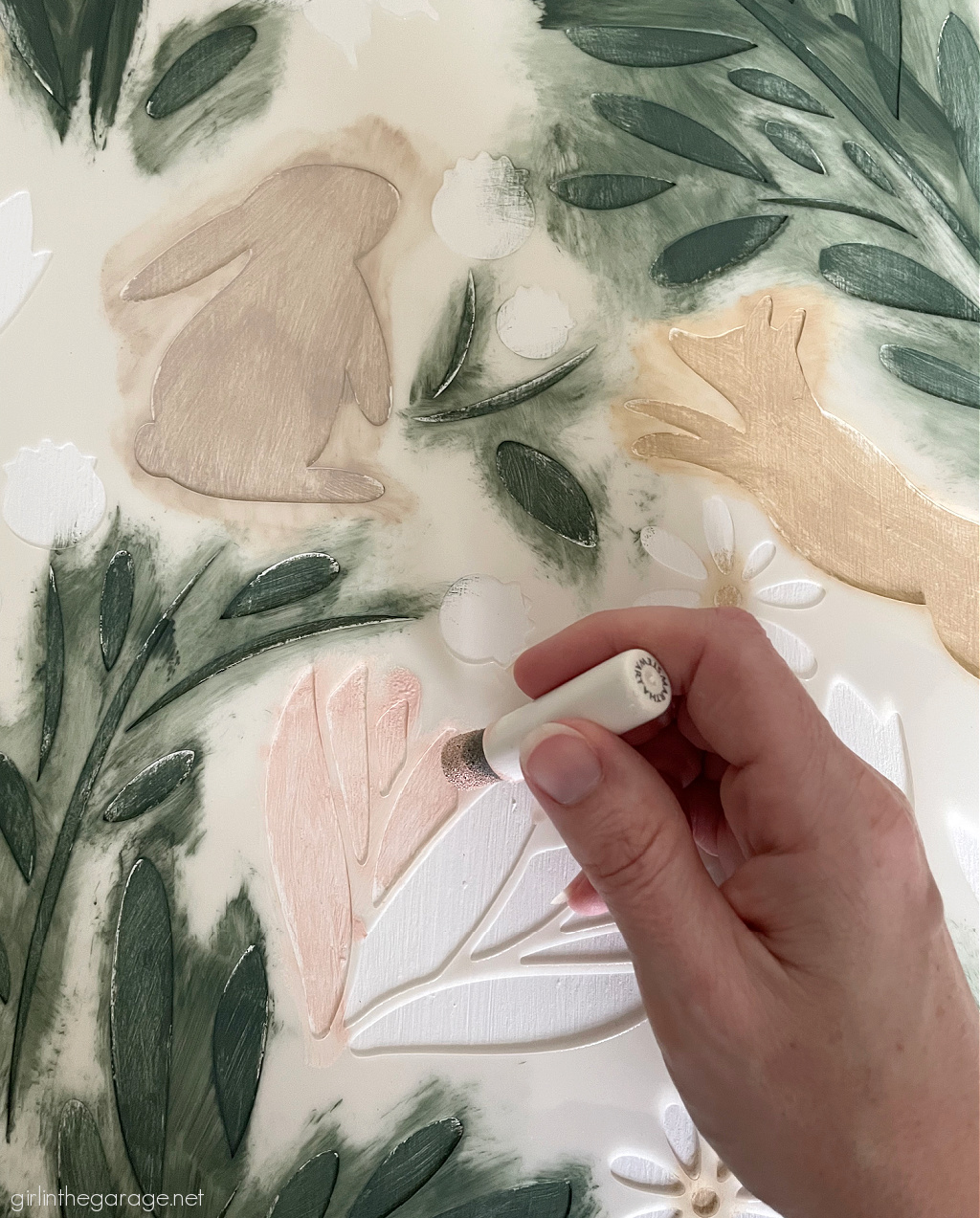 Each area got two light coats of paint. You can see below how I taped off the top of the back panel because I wanted that to stay white.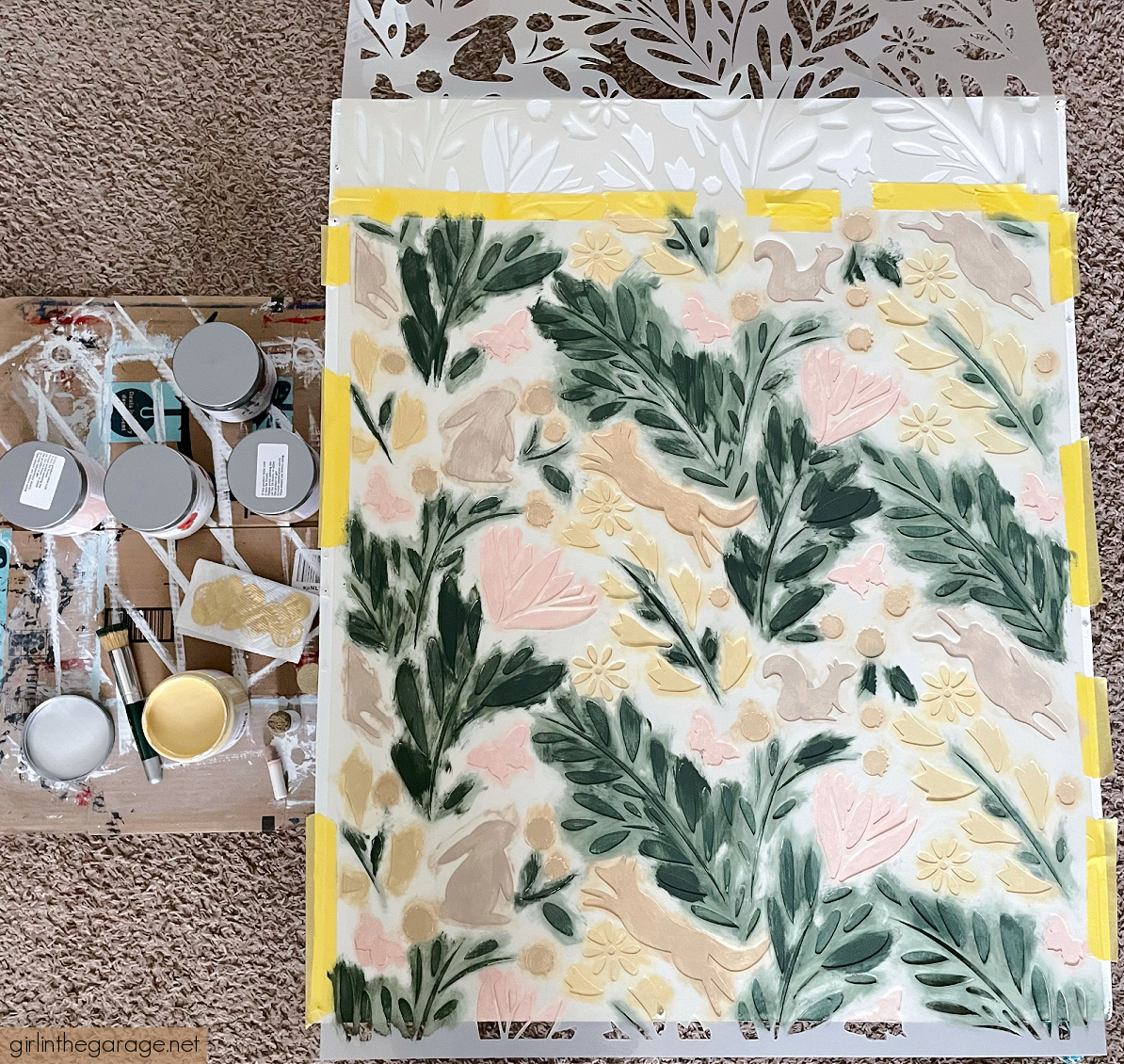 Finally, I went over several areas with an artist's brush to fix any details. I also had to embellish about an inch on each side since the stencil was just a little too narrow.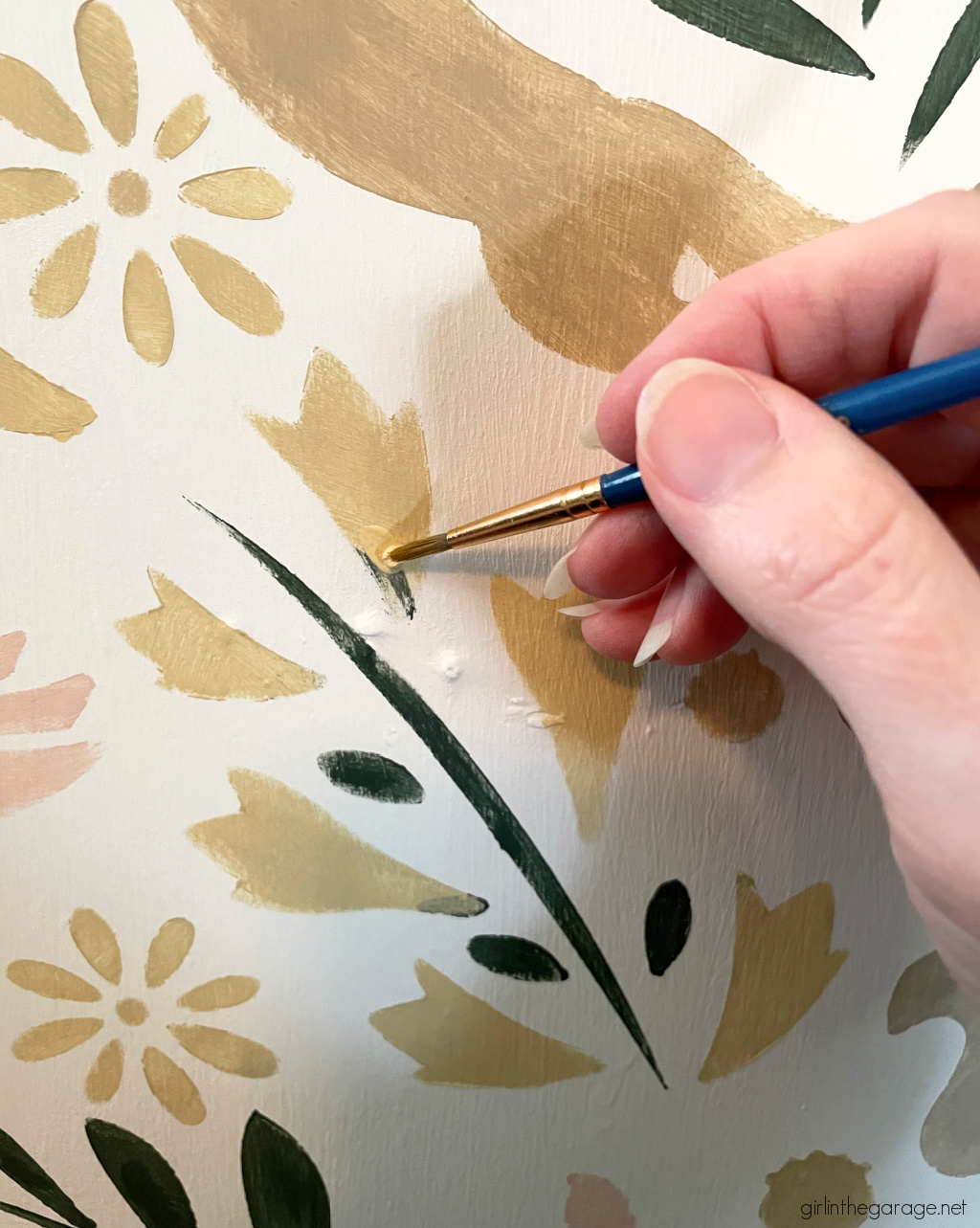 Painting the back of a bookcase is much easier when you remove it first, especially if you want to add a beautiful stencil. I've also decoupaged the back of a bookcase with napkins before – you can see that project here.
When the paint was dry, I reattached the back panel.
And here's a final look at this painted wood bookcase with whimsical forest pattern: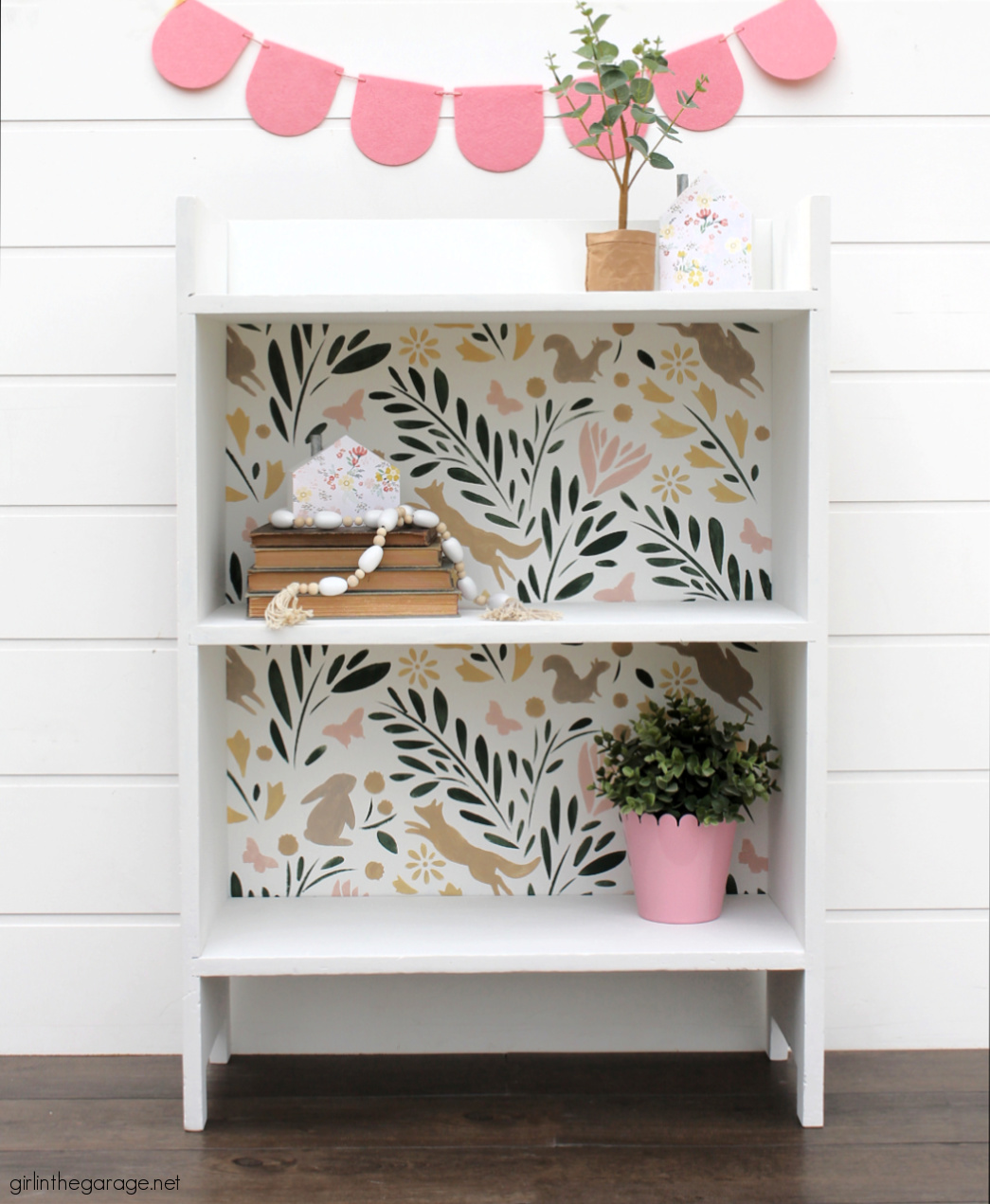 I think the Country Chic Paint colors really help this stencil pop in a fun way!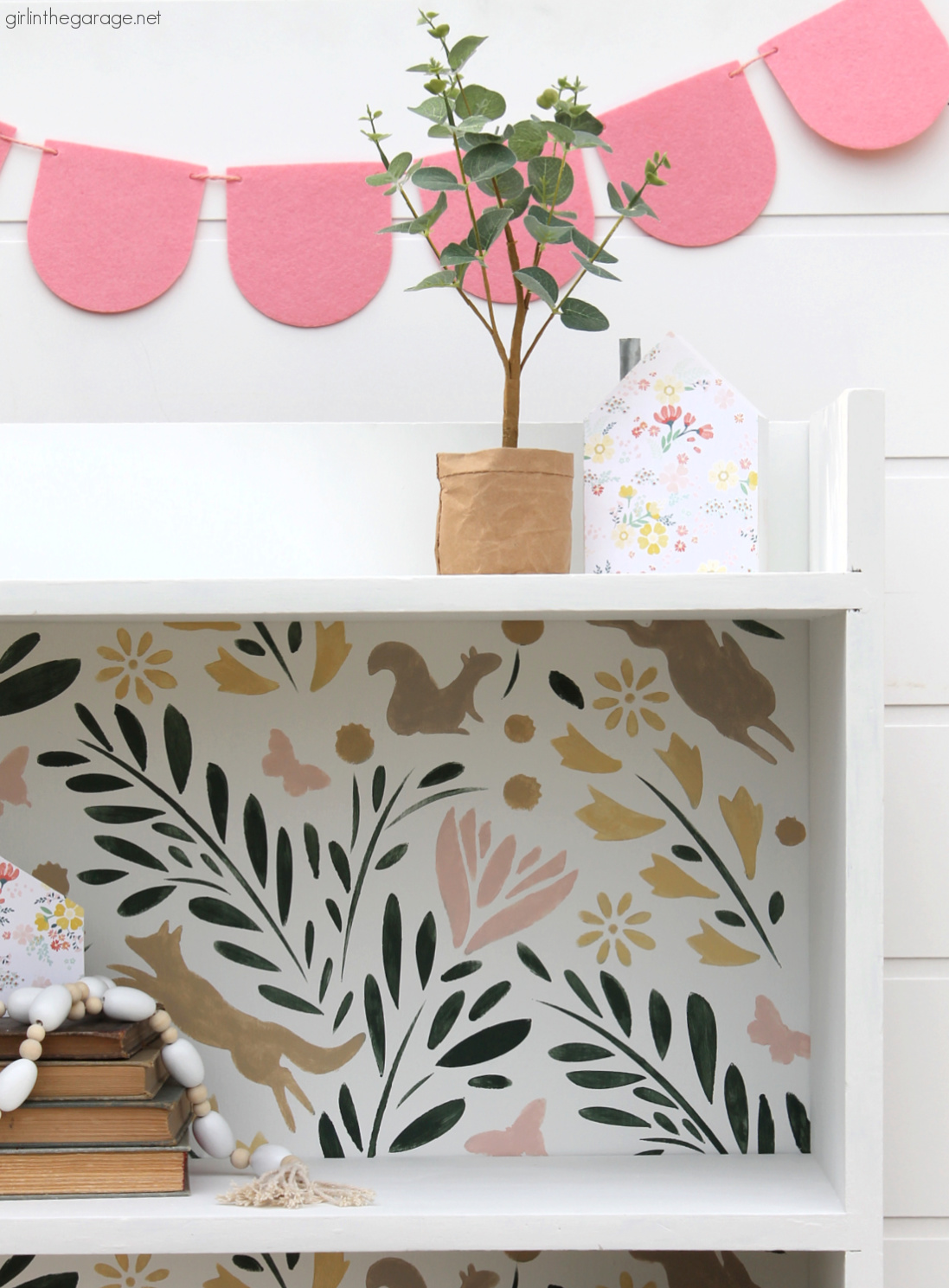 Country Chic Paints are matte, chalk-style paints for furniture and decor. I love that there are so many colors to choose from and the price is reasonable.
And I was also impressed with the quality of this Forest Pattern Wall Stencil from Stencil Revolution. It's large and definitely less expensive than some other popular brands for a wall stencil. I actually prefer to use wall stencils on furniture because that's less that you have to move the stencil and readjust it.
Learn more about Country Chic Paints here and the Forest stencil here (plus if you have Amazon Prime, you can get them with free fast shipping).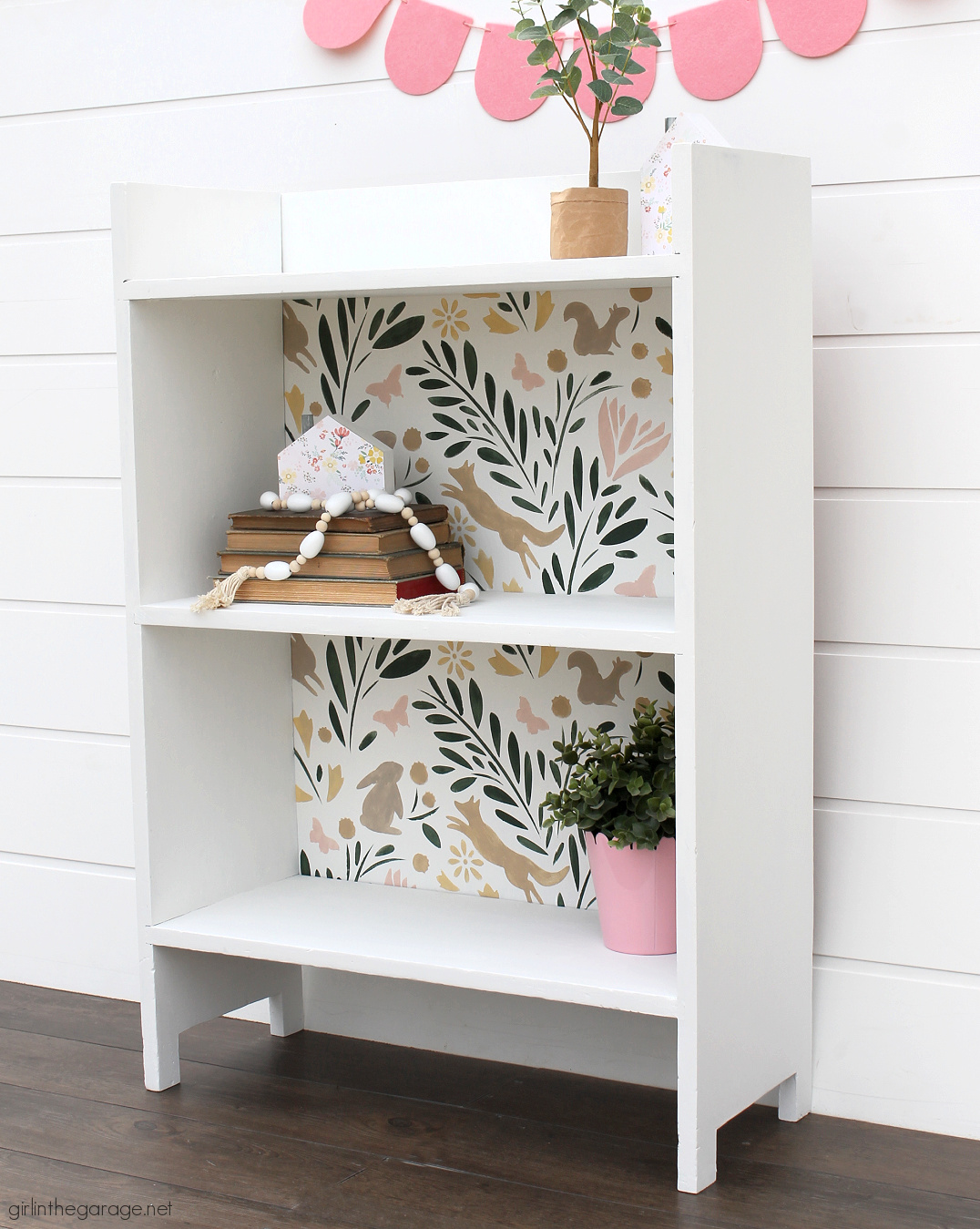 Another closeup – so pretty.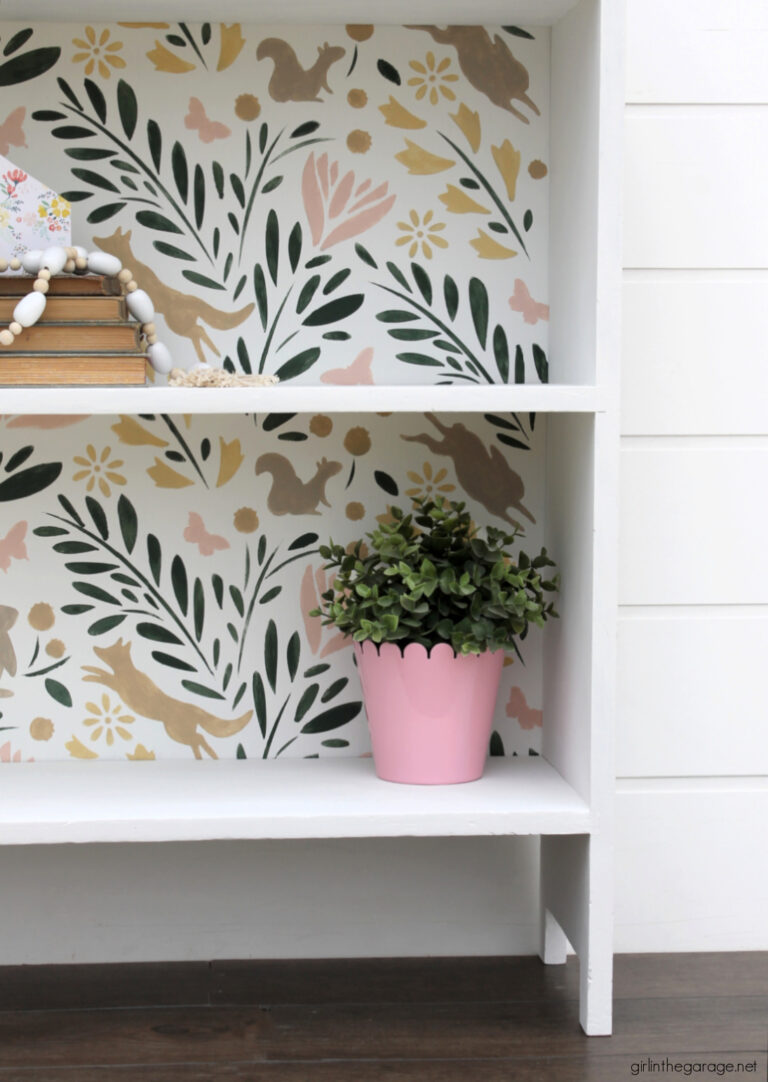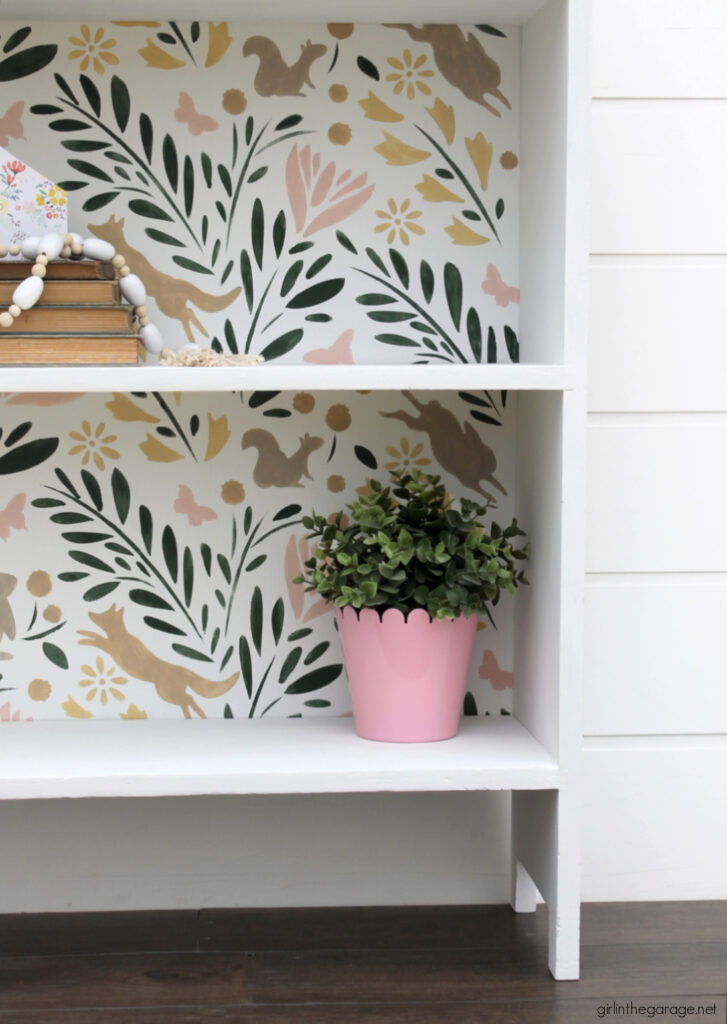 Please feel free to share this project with a friend or Pin it to easily find it again later.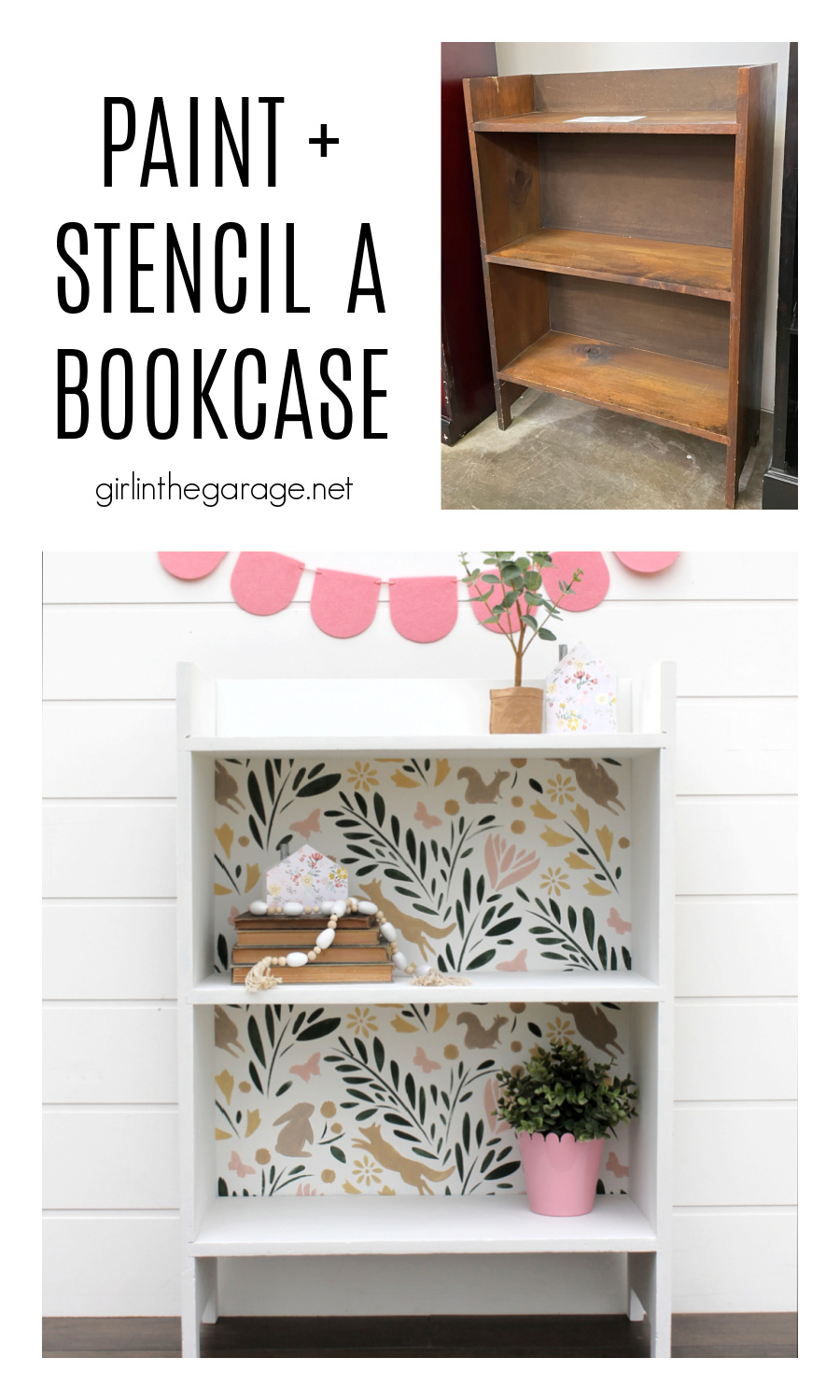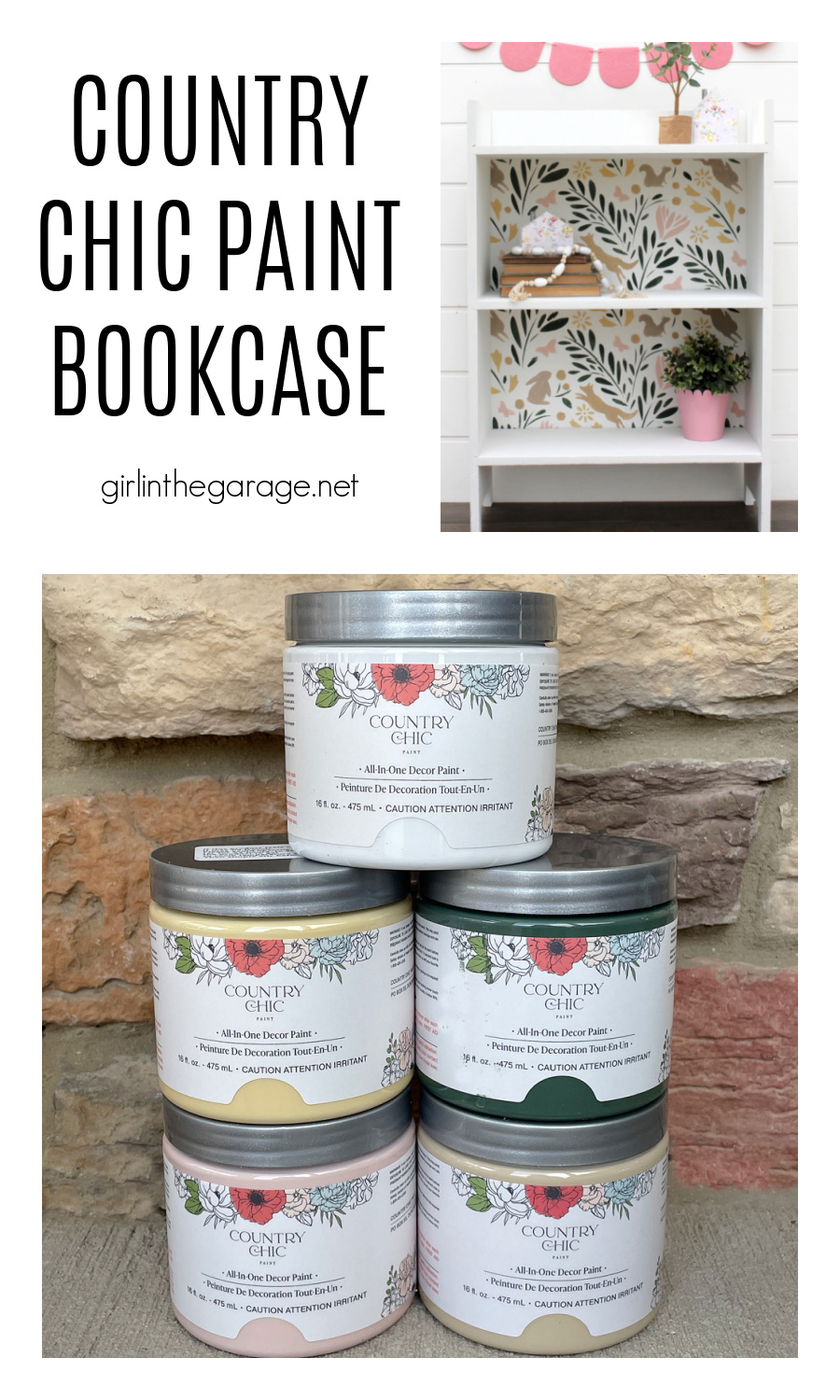 I'd love to know what you think of this tutorial for how to paint a bookcase and stencil the back with multiple Country Chic Paint colors. Please leave a comment below. I read them all!
Now it's Furniture Fixer Uppers time with my sweet blogging friends.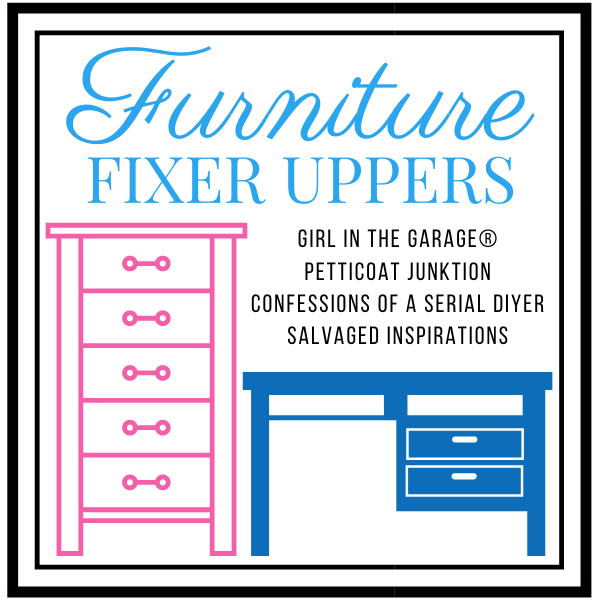 Below are the Before photos – visit the links underneath to see the creative Afters and to learn how they did it: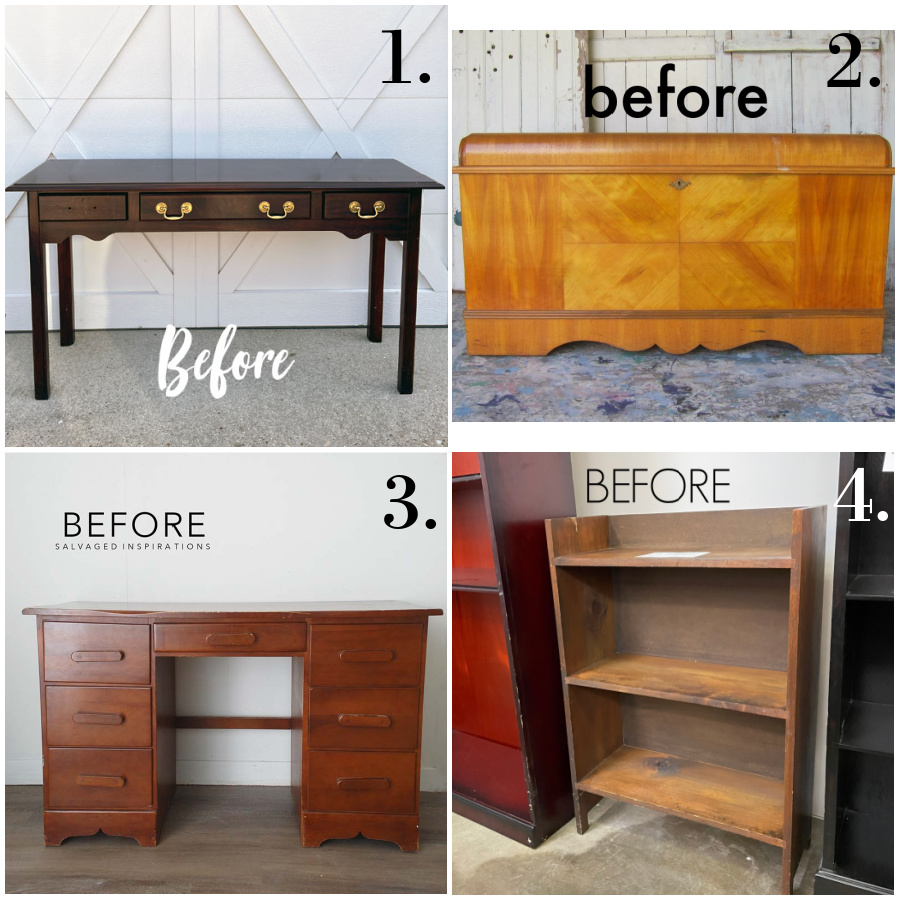 1. Confessions of a Serial DIYer
2. Petticoat Junktion
3. Salvaged Inspirations
4. Girl in the Garage (you're already here)