I've always been a fan of painting bookcases – there are so many outdated ones at thrift stores just waiting to be rescued and transformed.
Today is Furniture Fixer Uppers day with my blogging friends, and I'll show you how I gave this sad piece below a second chance at life – along with lots more creative ideas for painting bookshelves that can inspire you.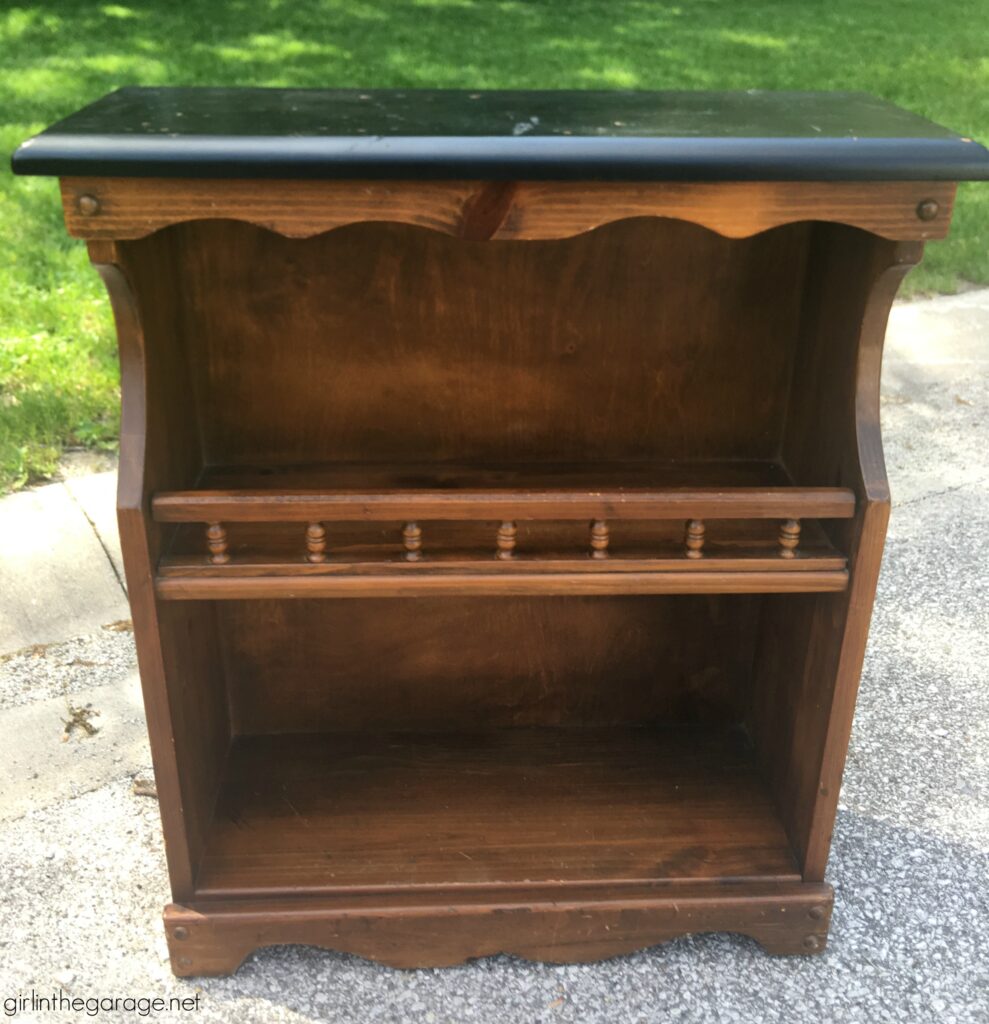 *This post contains some affiliate links so you can easily find the products I use and recommend. Learn all my favorite brands and tools for doing DIY projects Here. Also you can discover all my tips and advice for how to prep furniture to paint Here.
Let's learn how to paint a bookshelf!
Bookcase Makeover: Prep Work and Repairs
First up, the railing had to go. It's easy to remove with a flathead screwdriver.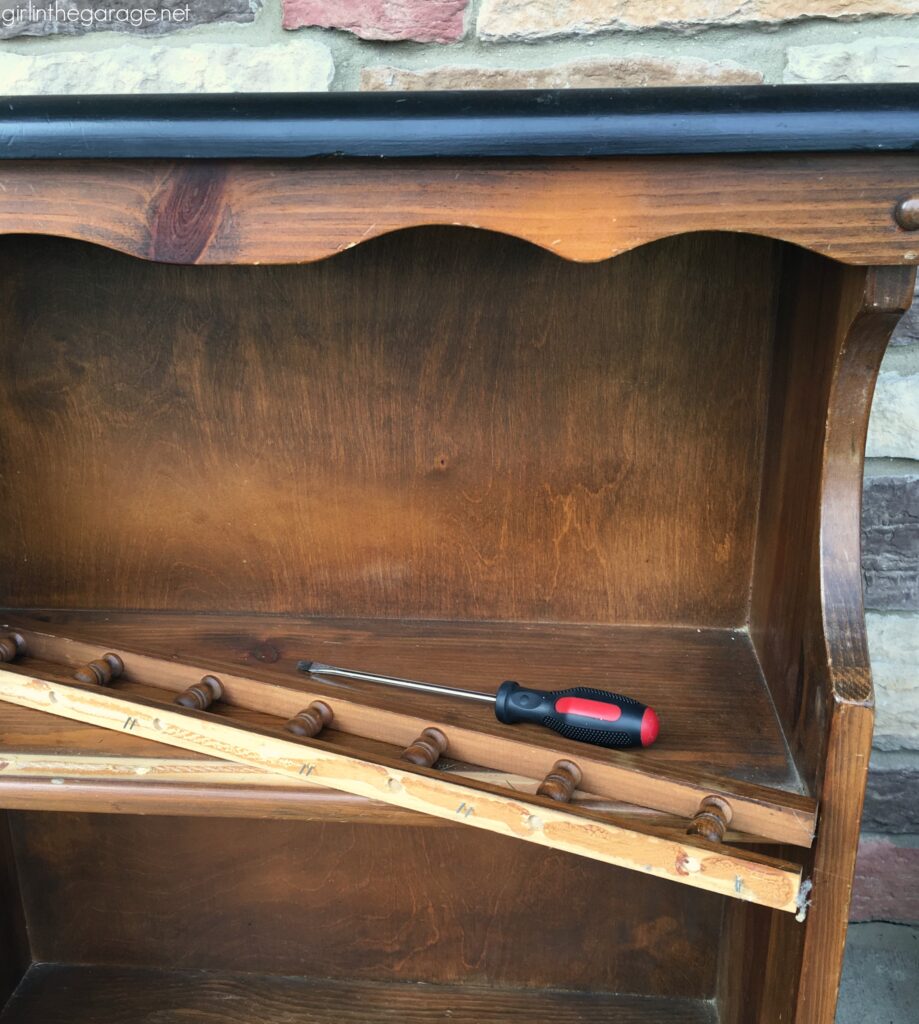 Next it was time to remove the bookcase back. Sometimes these are easy to get off and other times they're a giant pain. This time was a little difficult.
You can see how it all went down in the short video in this post.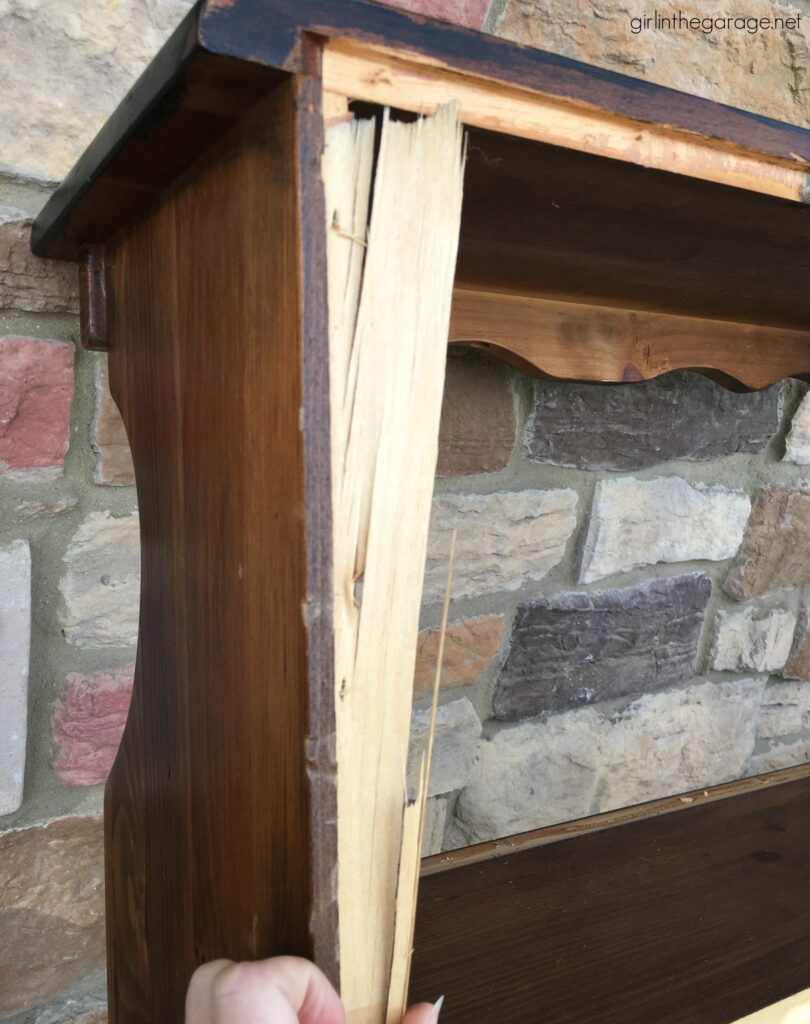 Then all the holes and gouges were filled with my favorite wood filler. For bigger areas, apply several layers if necessary. Allow to dry between layers.
Since so many areas were bumpy and the top had latex-type black paint on it, I used an orbital sander (now I use this Makita sander) to smooth it all out.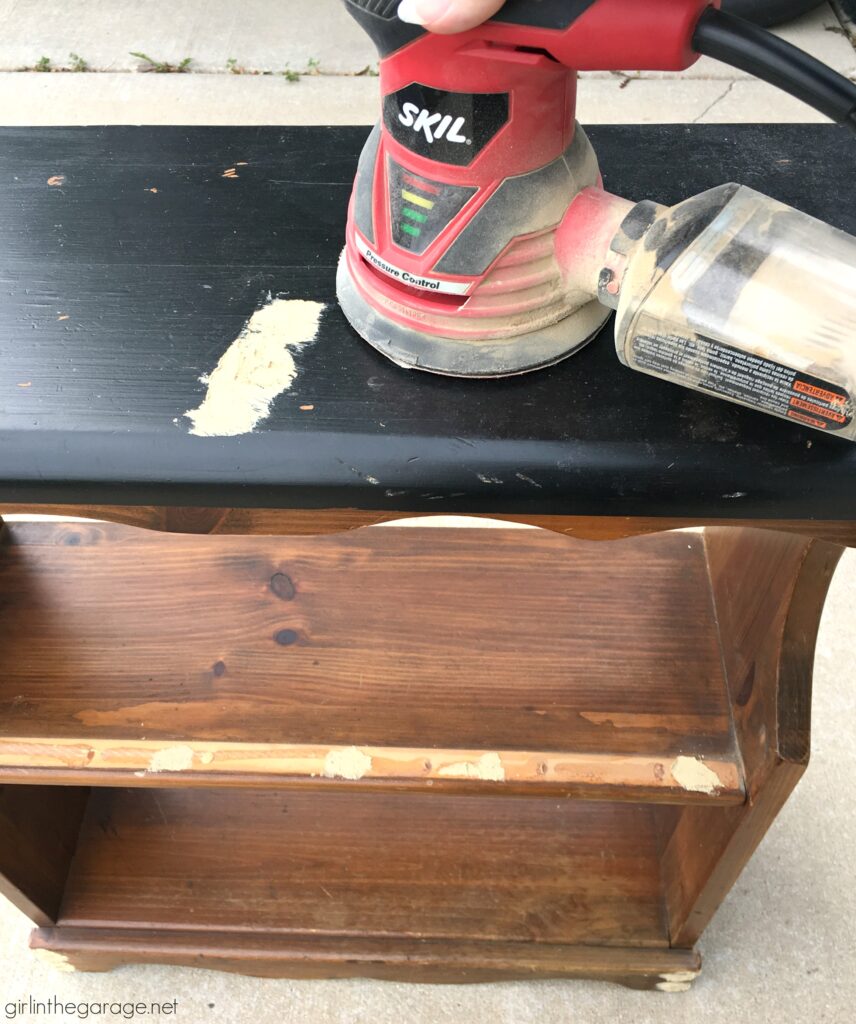 What is the best paint for bookshelves? Any good quality furniture paint will work fine. My favorite brands are Country Chic Paint, Rustoleum Chalked Paint, and of course Annie Sloan Chalk Paint.
After cleaning the bookcase again, I painted the body in two coats of Country Chic Paint in Soiree.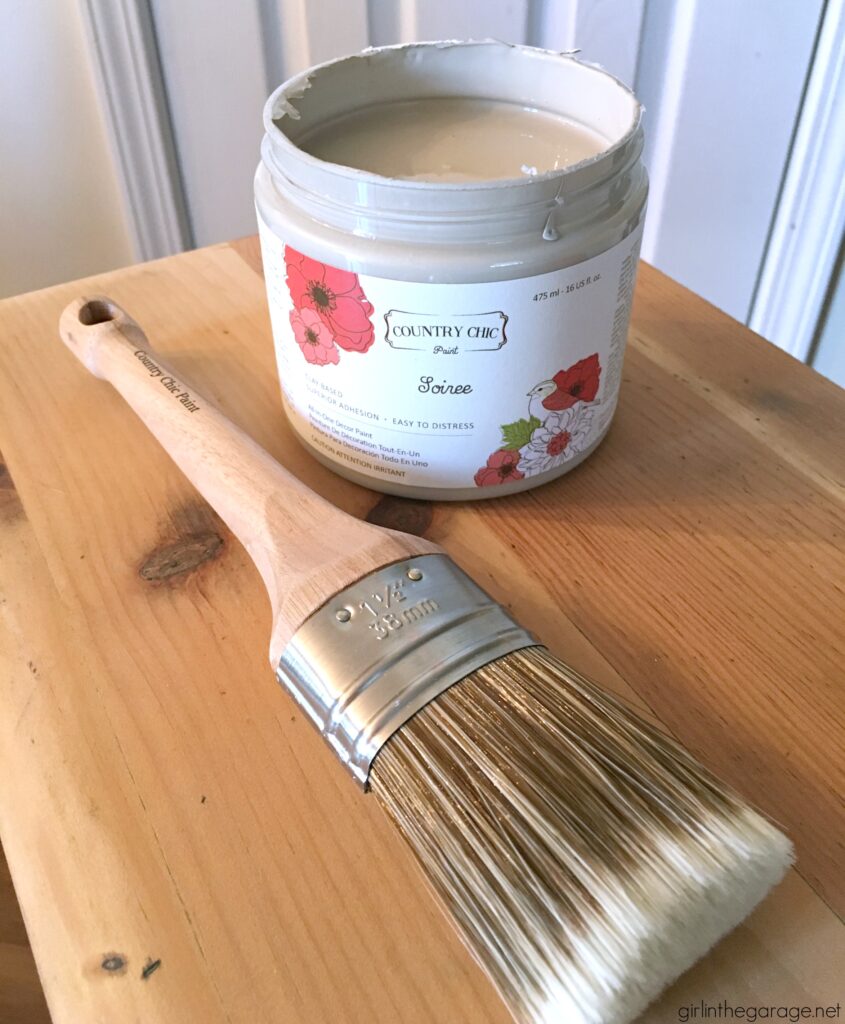 How to Make a Bookcase Back with Wood Planks
The goal was to make a new back for the bookcase out of wood planks. Guy in the Garage and I actually ended up buying toekicks in the kitchen cabinet area.
After measuring, Mr. GITG cut enough wood planks to cover the back of the bookcase. Always follow directions and wear proper safety gear when using power tools.
How to Whitewash Wood Planks
Find a flat surface to paint all the wood planks at once, it's just easier that way. I chose Simplicity by Country Chic Paint to use for the whitewashing. I also used a paint brush and a spray bottle with water.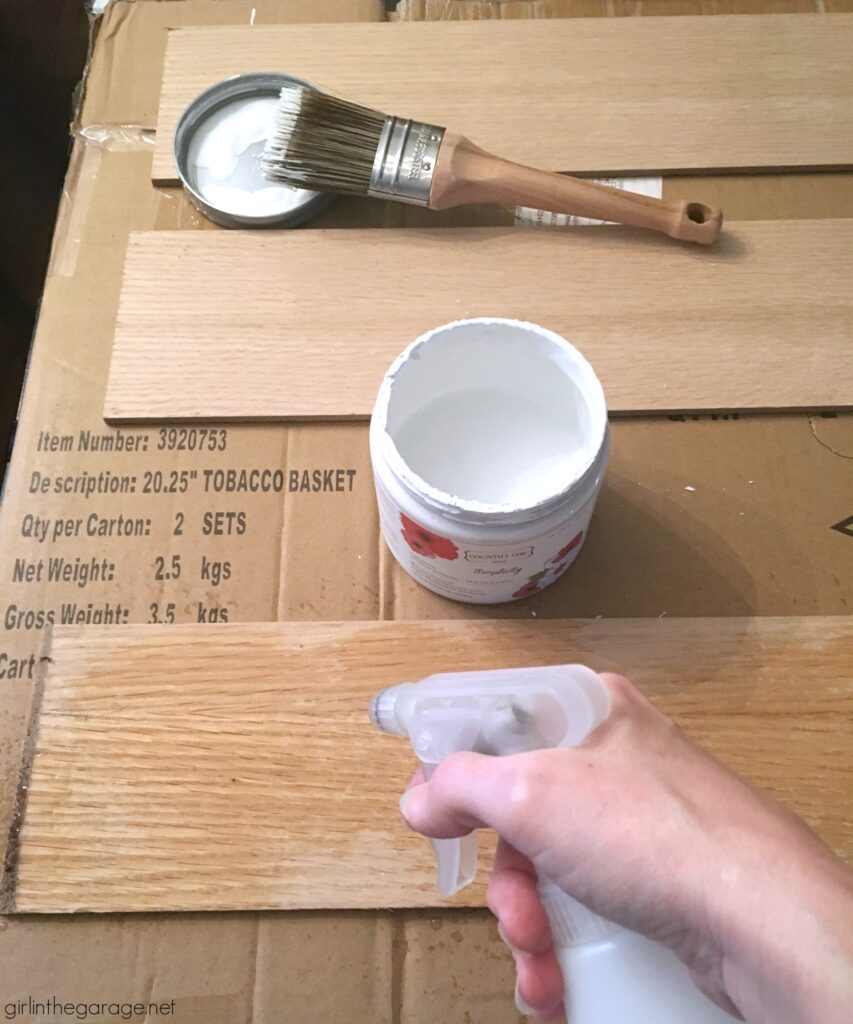 One plank at a time, lightly mist water all over it. Then dip your brush in the paint.
Brush the paint over the wet plank just like regular painting. The paint will thin out and you'll be able to see the woodgrain through it. You can also take a clean towel and wipe away any excess paint.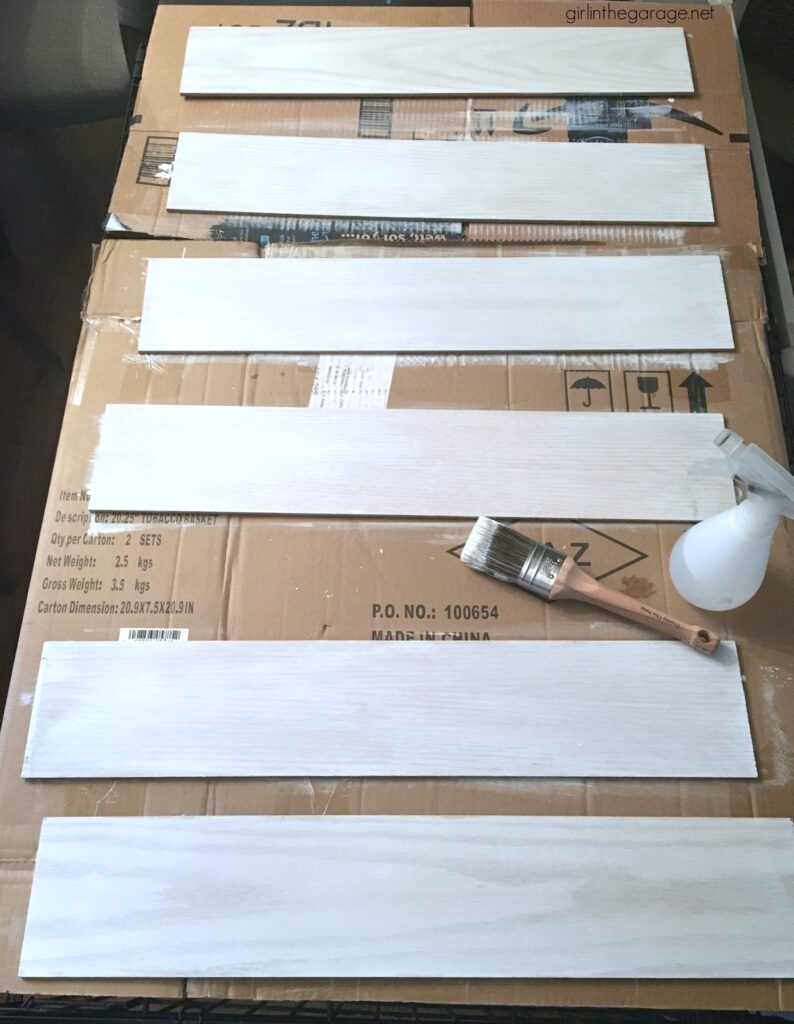 Whitewash all the wood planks, and then go over them a second time if you want (I did).
Once the planks are dry you can attach them to the back of the bookcase. Lay some cardboard down and then the bookcase over it. I used small 5/8 inch nails and a lightweight hammer. Starting at the top of the bookcase, I put nails in every corner and a few more across the very top.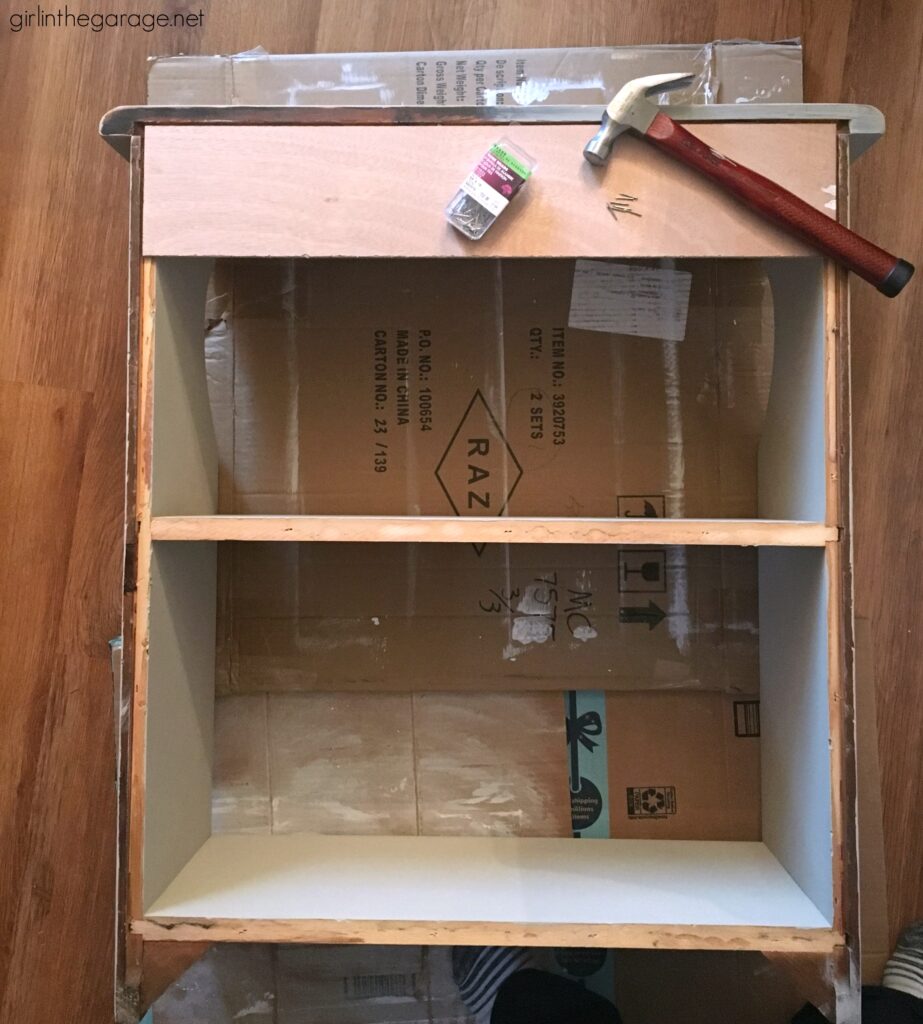 Continue until all the wood planks are secure.
You can sand with 320-grit sandpaper to distress the paint just a little bit, and finish with your favorite non-yellowing topcoat (I prefer clear wax).
Whew! After all that work, here's this painted bookshelf makeover: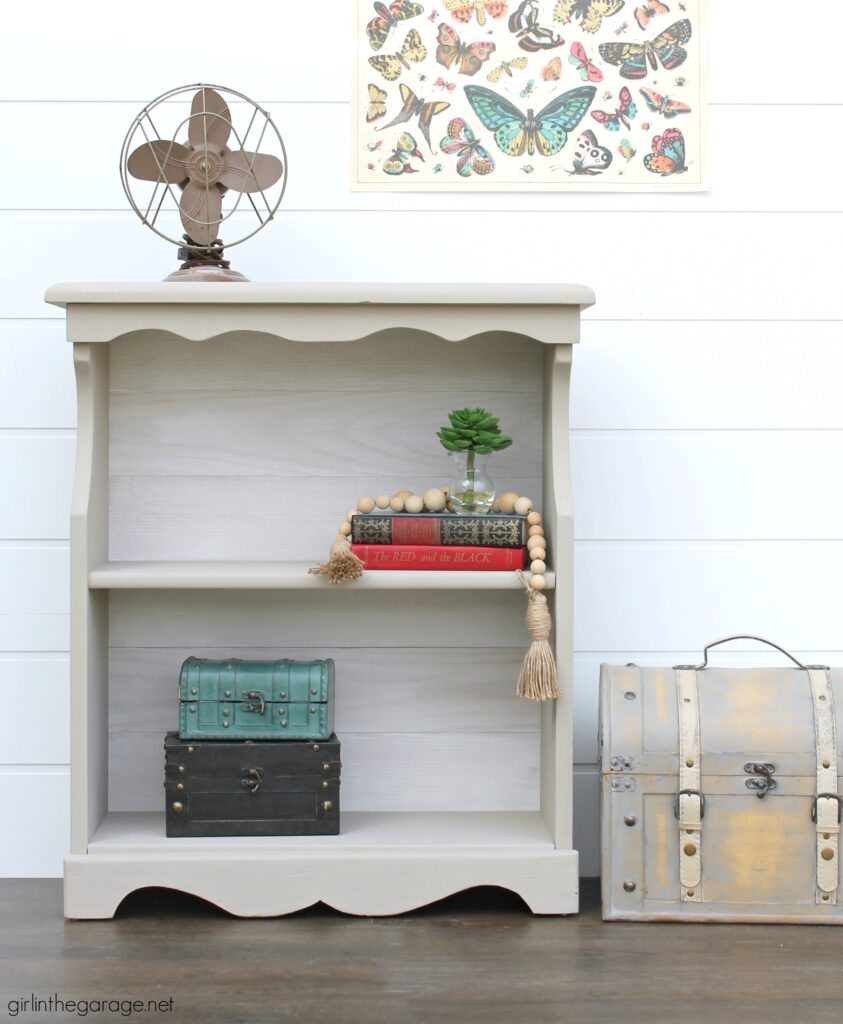 I'm so glad the railing is gone, and the buttons, and the weird black latex paint…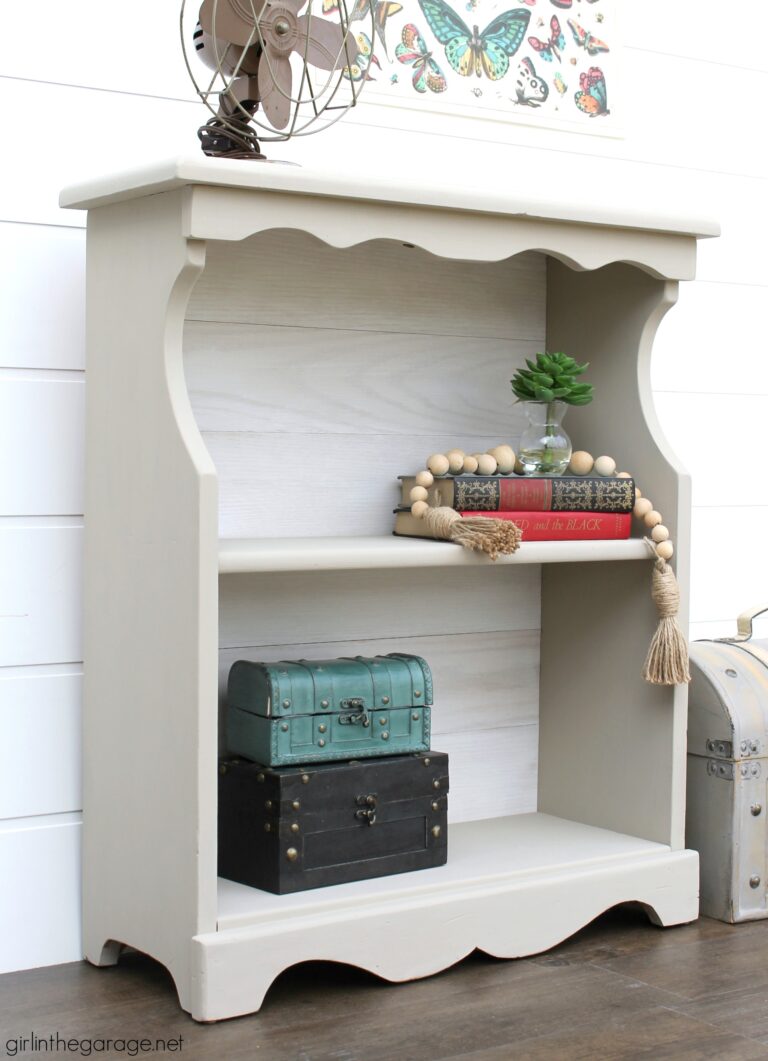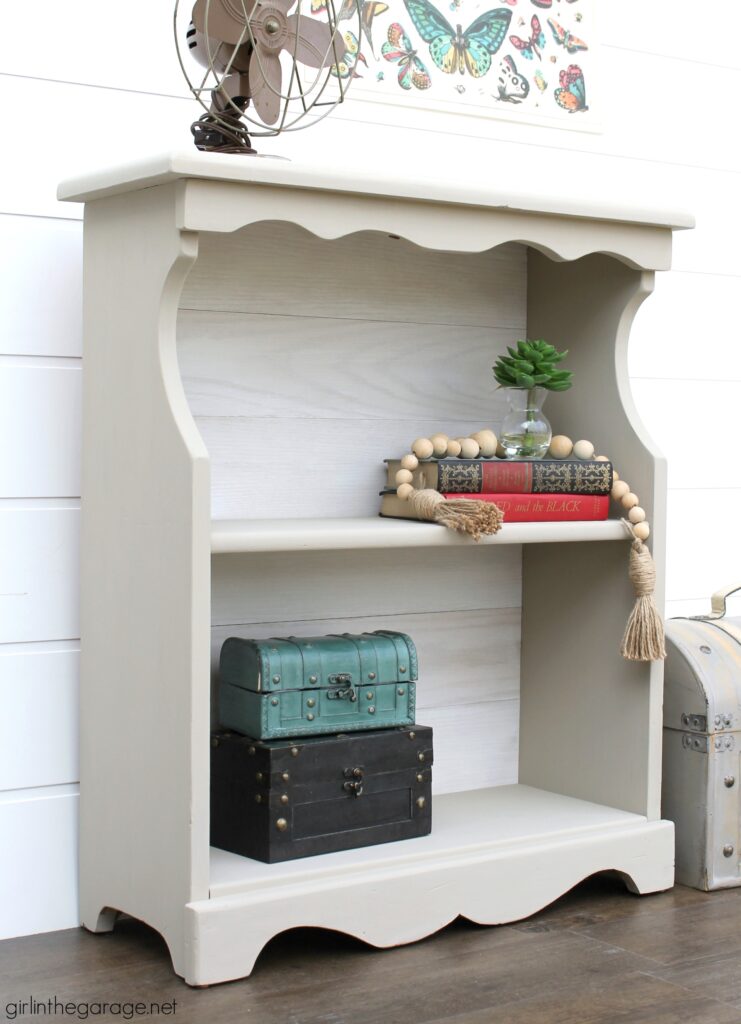 These colors compliment each other perfectly for this farmhouse chic furniture makeover.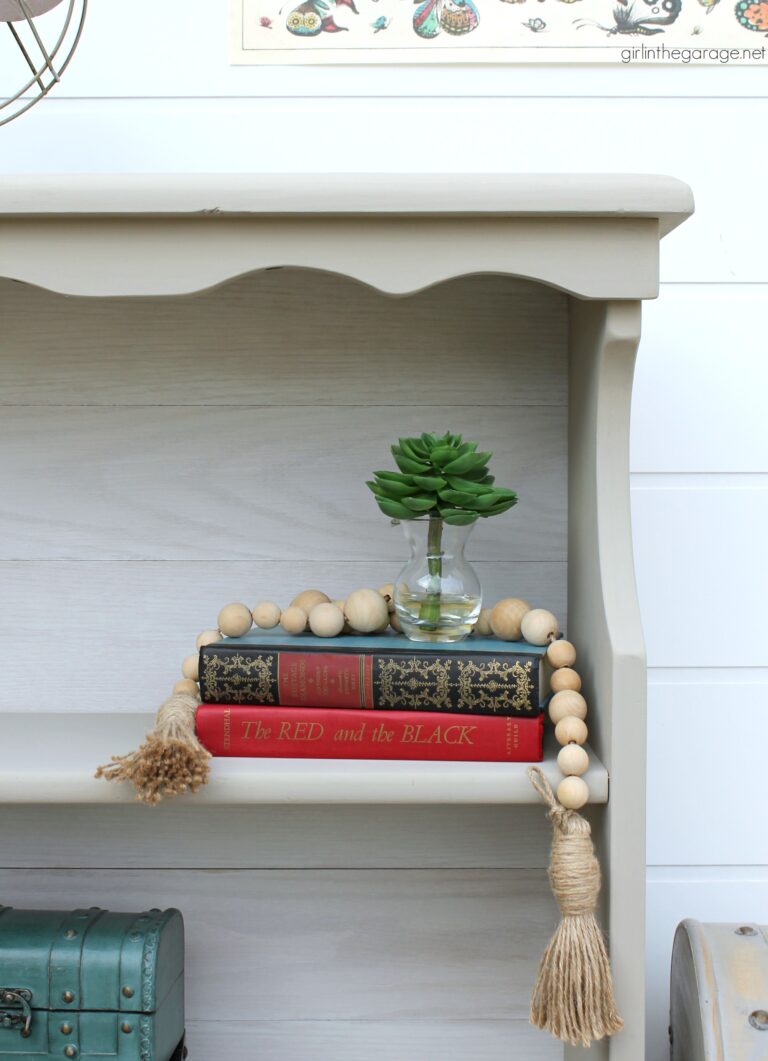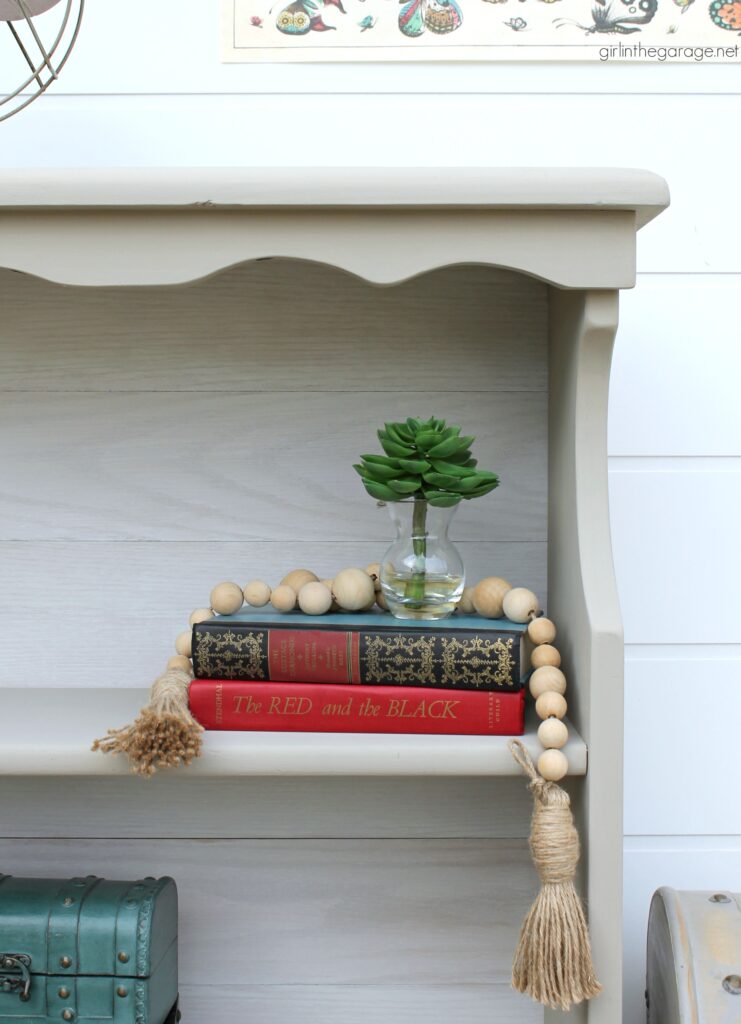 I'm crushing on those sweet vintage curves! How about you?
Here's a handy before-and-after reminder – please Pin or share this project to inspire others and for easy access later: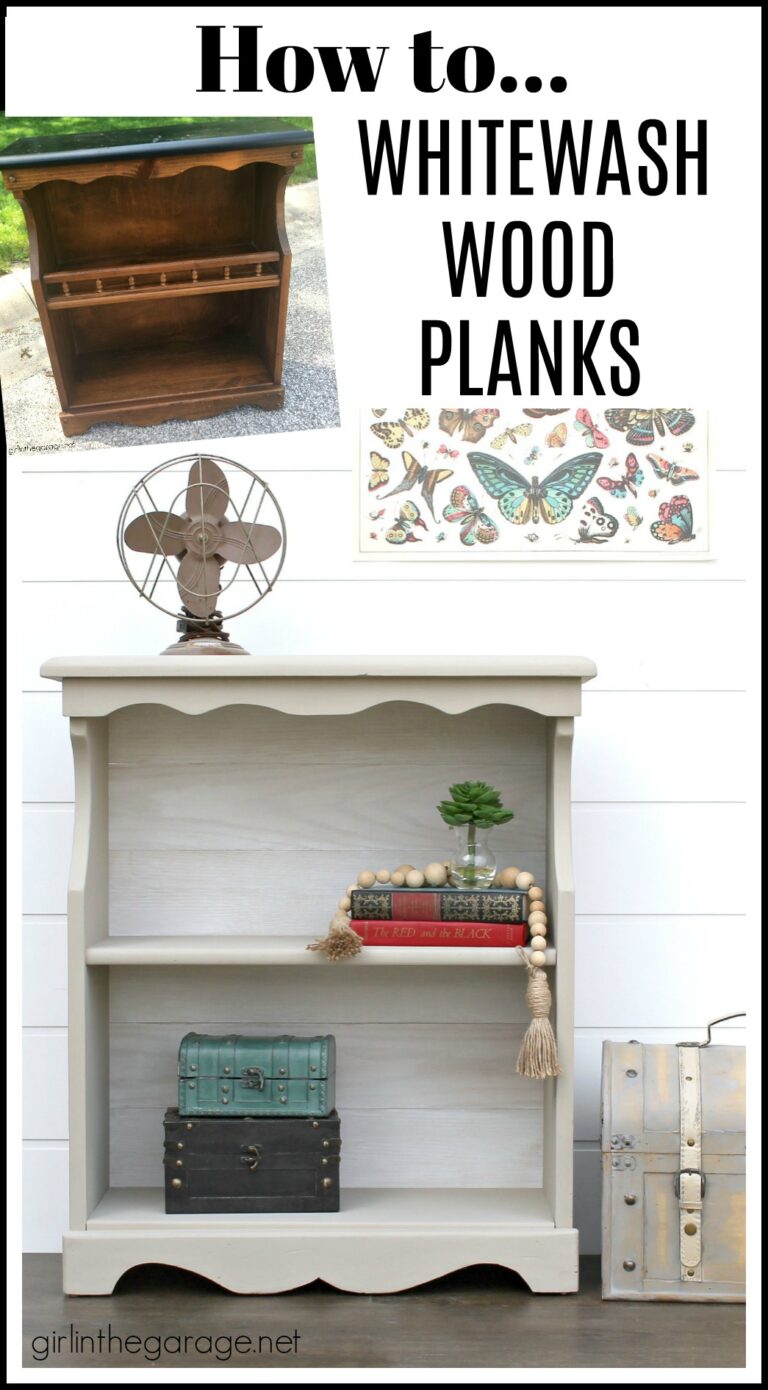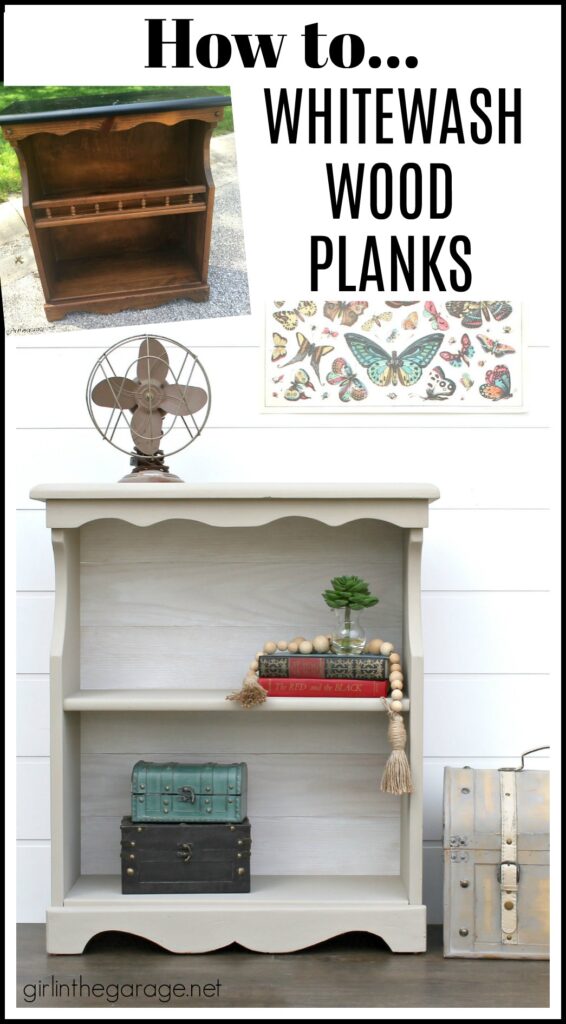 Friend, I hope you've enjoyed today's How to Whitewash Wood Planks on a Bookcase Makeover tutorial – and now let's see more creative ideas for painting bookshelves before we find four more Furniture Fixer Uppers projects below.
Painted Bookcase Ideas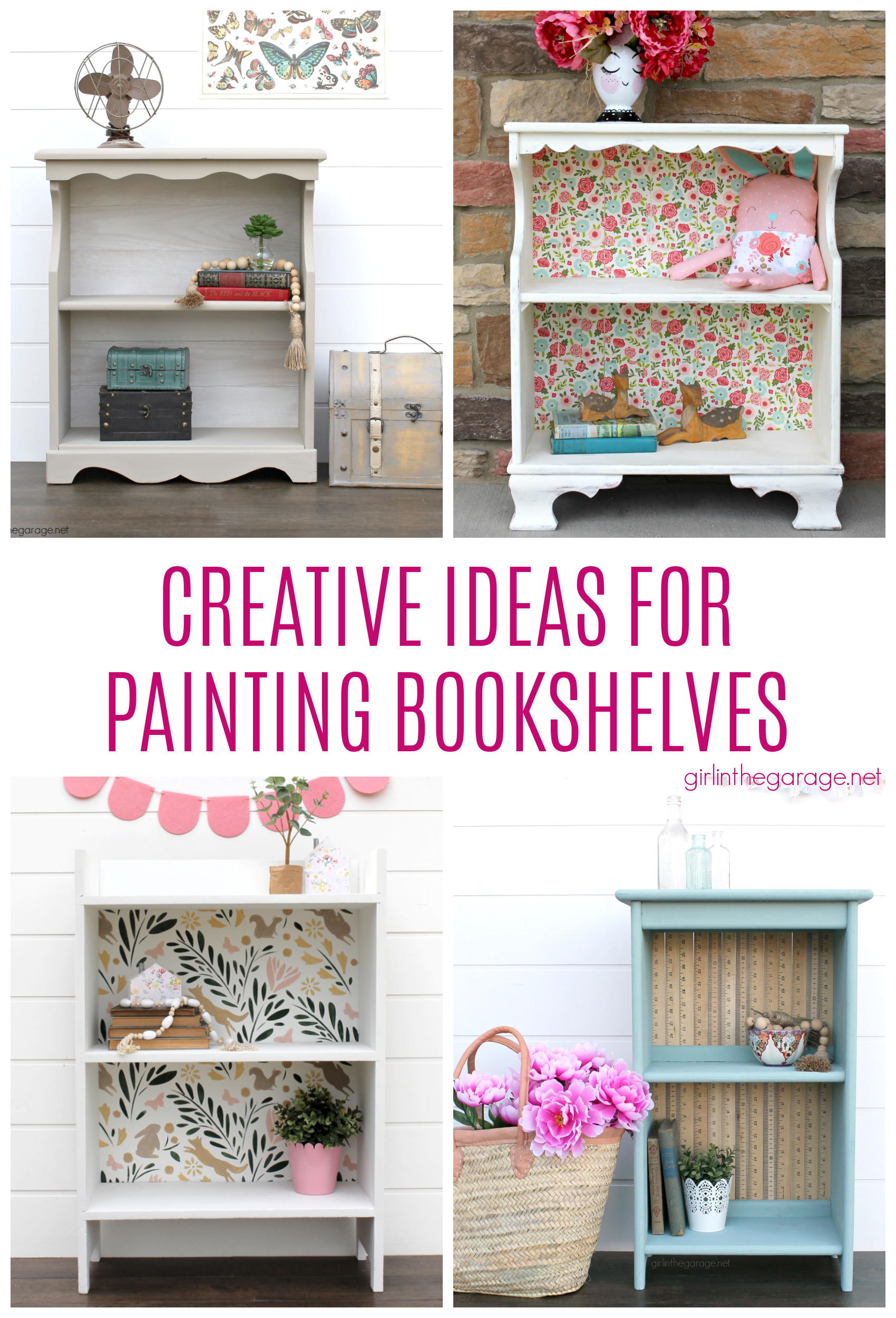 I hope you enjoyed all those ideas for painting bookcases. Now it's time for some Furniture Fixer Uppers fun with my blogging friends!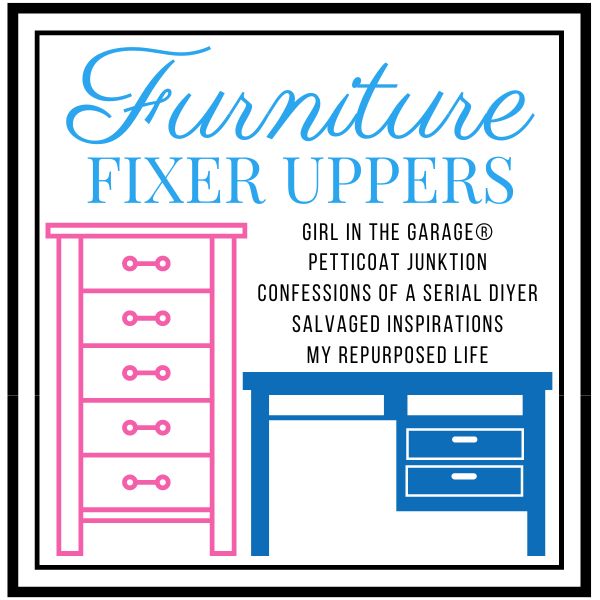 Below are the Before photos – visit the links underneath to see the amazing Afters and to learn how they did it: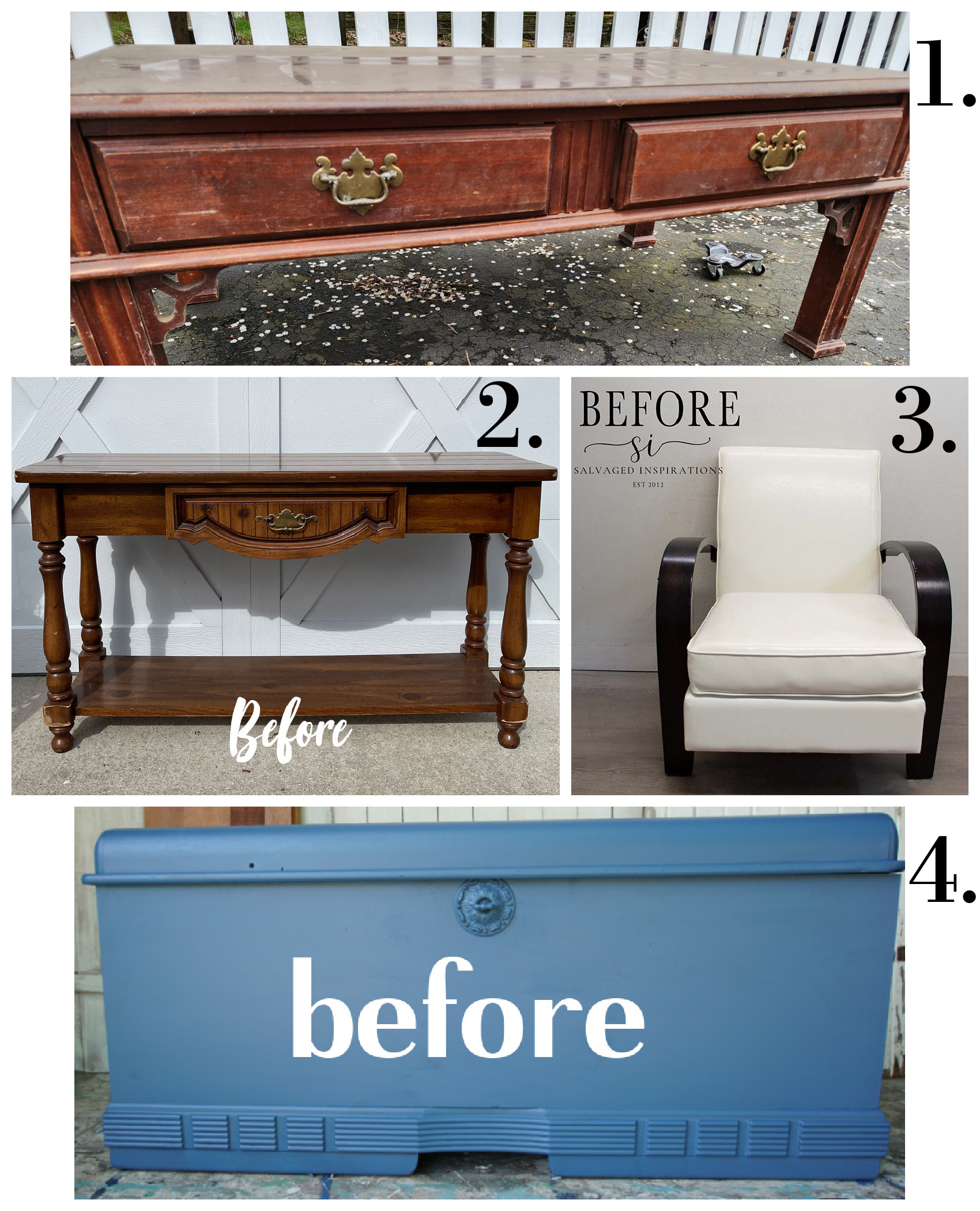 1. My Repurposed Life
2. Confessions of a Serial DIYer
3. Salvaged Inspirations
4. Petticoat Junktion