It's already time for another Trash to Treasure makeover – don't you just love creative project inspiration? I've got a new one below, and then you can find four more makeovers from my blogging friends at the bottom of today's post.
I had an old wood nightstand in my garage for yeeeears, and when we were going through what to keep or get rid of when we moved, I finally realized what horrible condition the table was in. Cracked veneer everywhere and water damage (possibly even some mold). One part that looked in perfect shape was the drawer, so at least I was able to salvage that.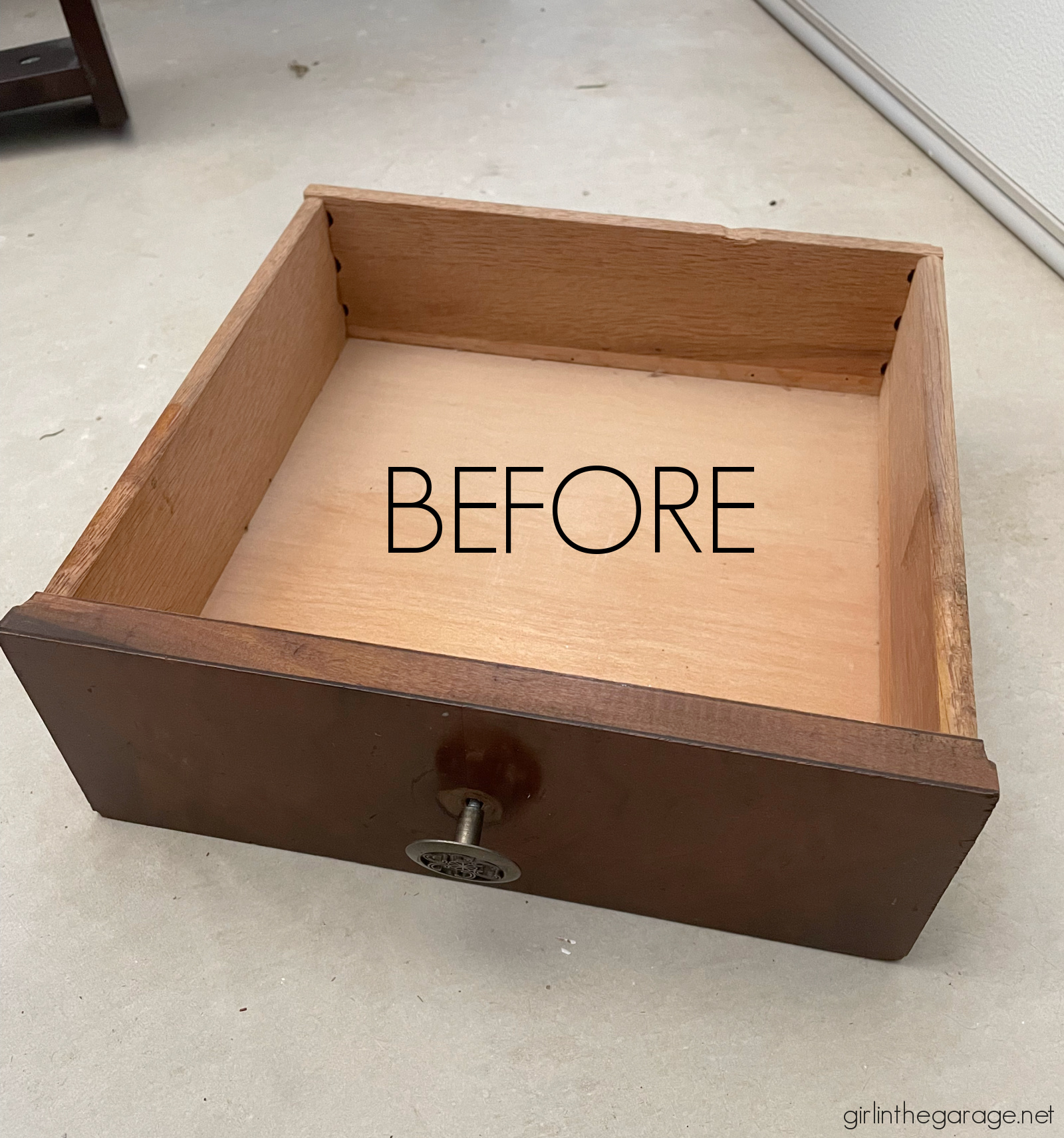 Today I'll show you how I repurposed this small drawer into a chic necklace holder, along with lots of other creative jewelry display ideas. You can use these ideas for yourself at home (I'm keeping this piece for myself) or even at markets or craft shows.
The funny part about this drawer is this drawing that was glued underneath! Poor Don, haha.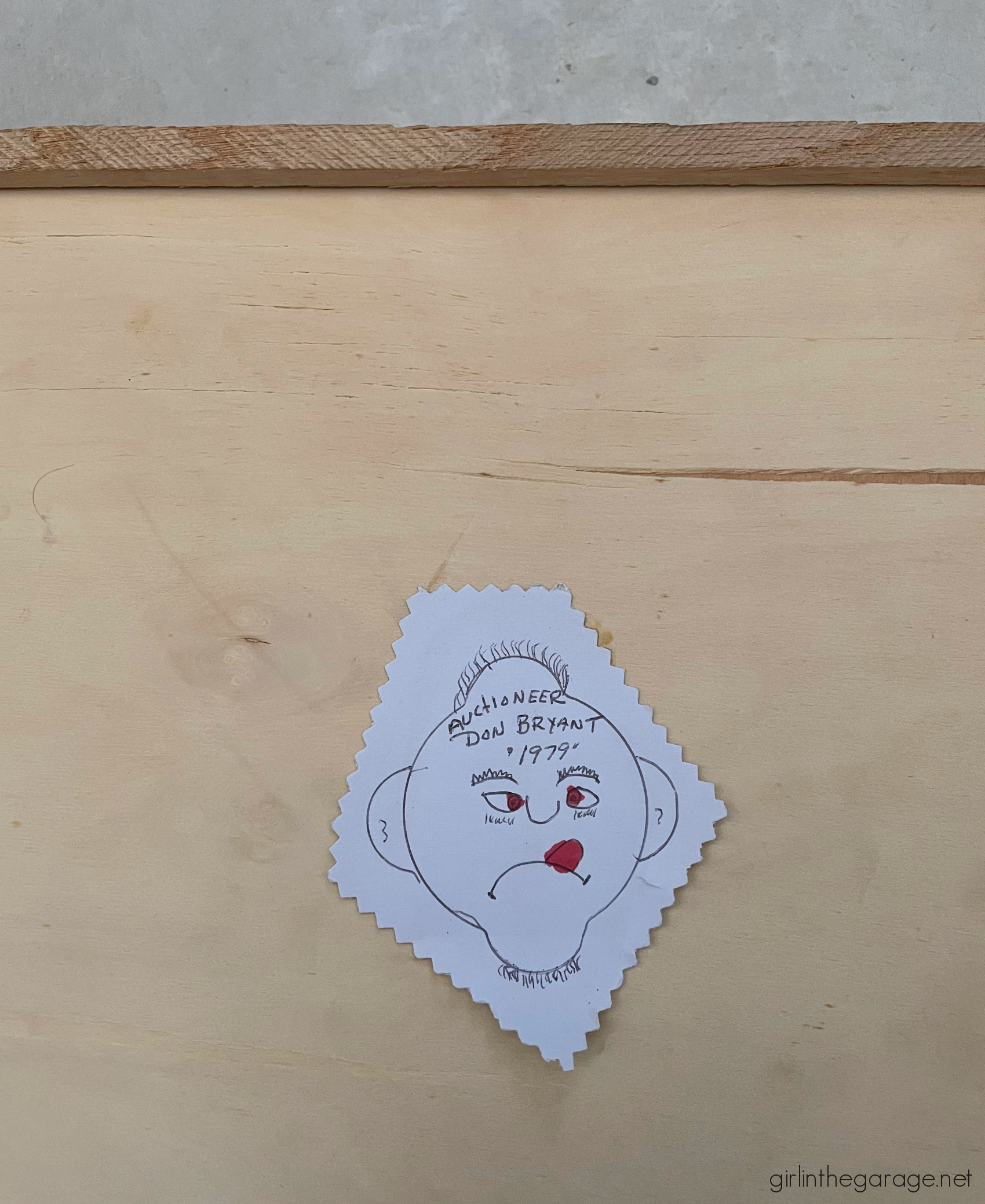 This post contains some affiliate links so you can easily find the products I use and recommend. Discover all my favorite brands and tools for doing DIY makeovers here.
After cleaning it, I removed the pull and needed to fill the hole. My wood filler must've hardened so I think I tossed it when we moved, but I did find this spackling with my supplies. I probably wouldn't normally substitute it for wood filler, but on this project it worked out fine. This spackling goes on pink and dries to white when it's okay to sand.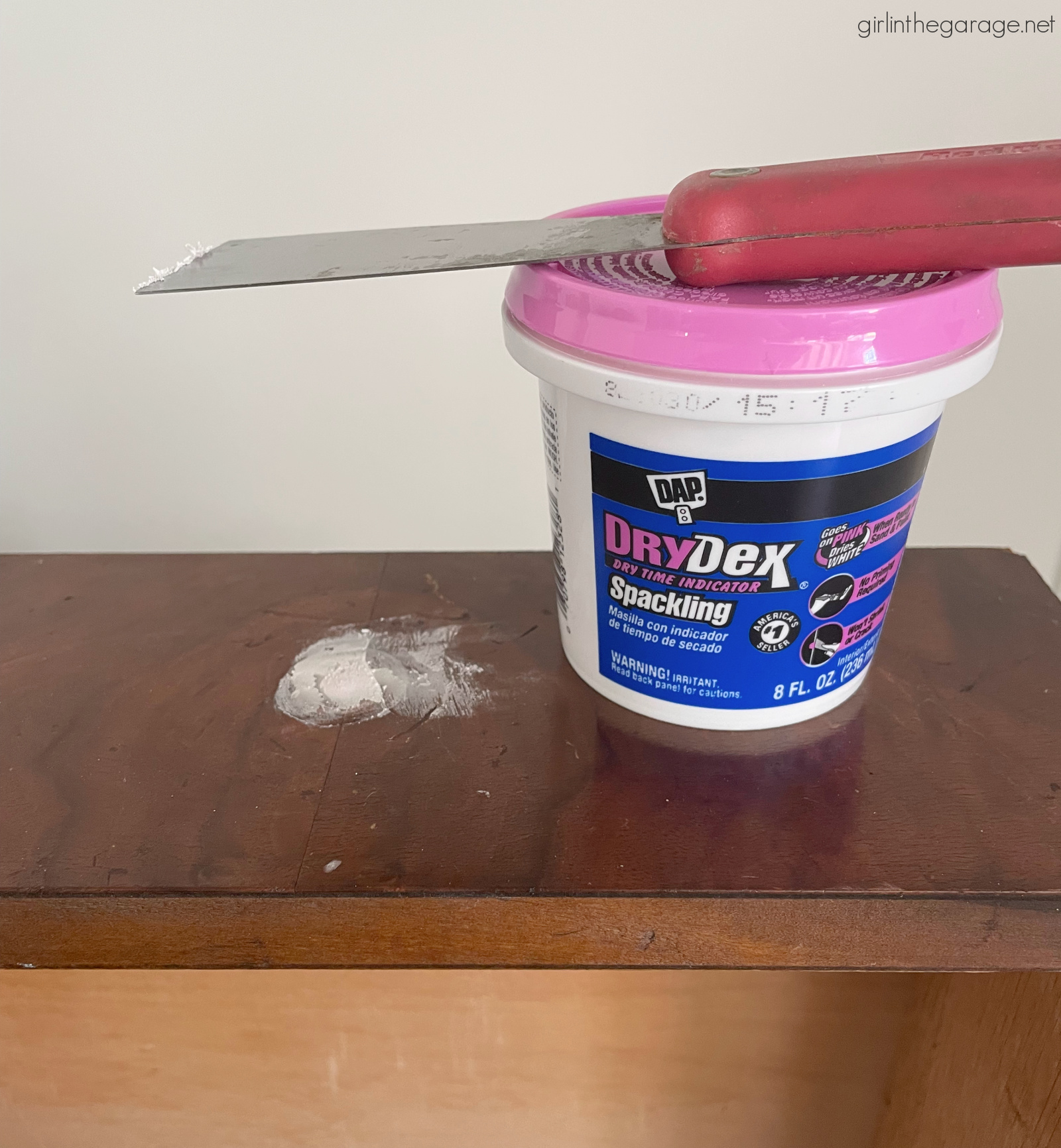 Fill both ends of the hole with a putty knife, let dry, and then gently sand.
Next chose your paint. I knew I wanted to put paper inside the drawer, and chose Rustoleum Chalked paint in Charcoal to coordinate with the paper. Read my honest review of Rustoleum Chalked paint here.
Brush on about 2 coats with a good brush – I used one of my Purdy paint brushes. (You may want to prime first if you're using white or light paint. Grab all my best tips here for how to properly prep furniture for painting.)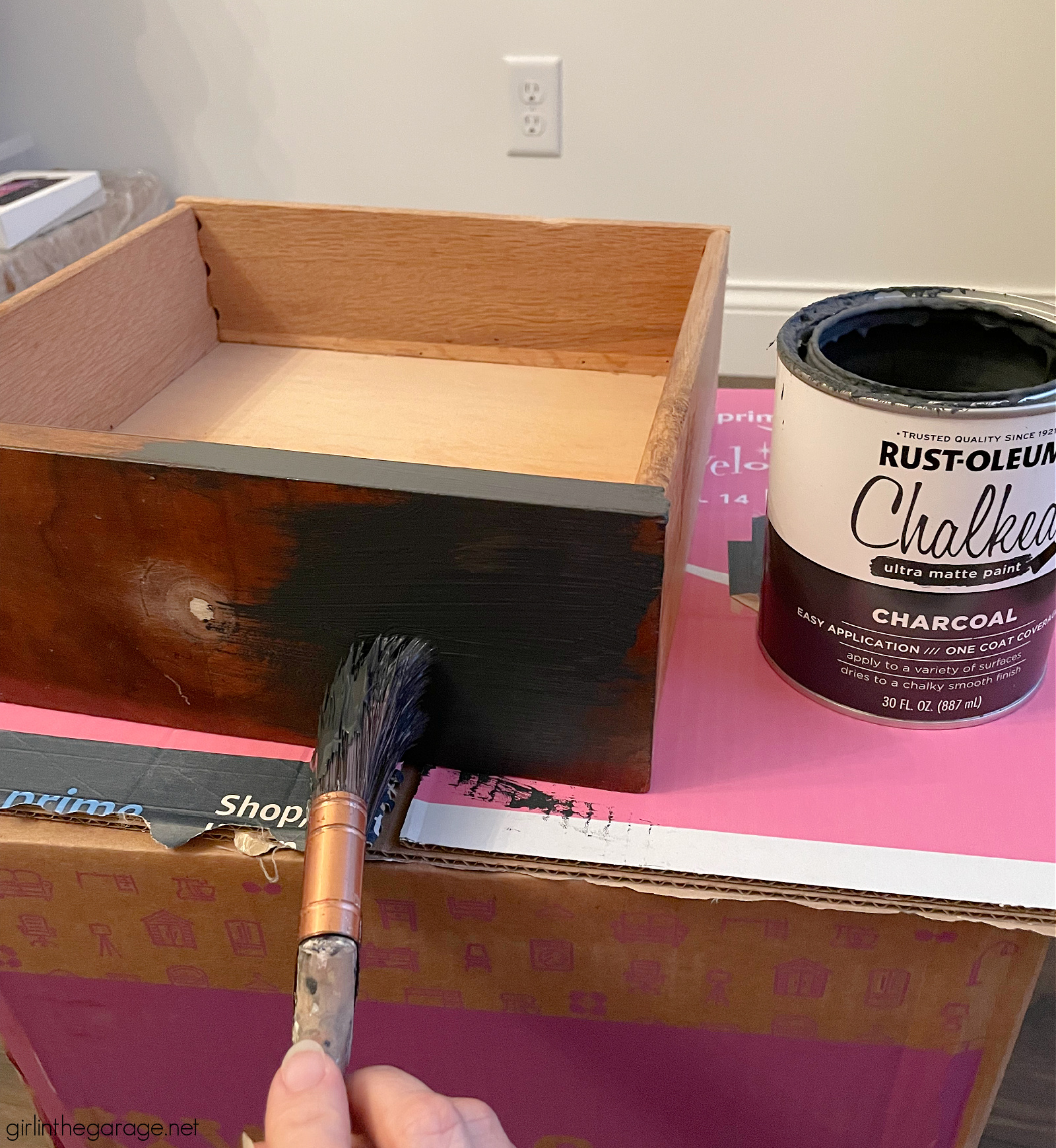 Apply a protective topcoat like furniture wax to keep the finish looking good and let it dry to the touch. Half day or overnight should be fine.
Next, measure and cut paper to line inside the drawer. The inside of this drawer was about 10×11 inches, so one 12×12 sheet of scrapbook paper was perfect. And this paper cutter has been such a big help with my projects over the years.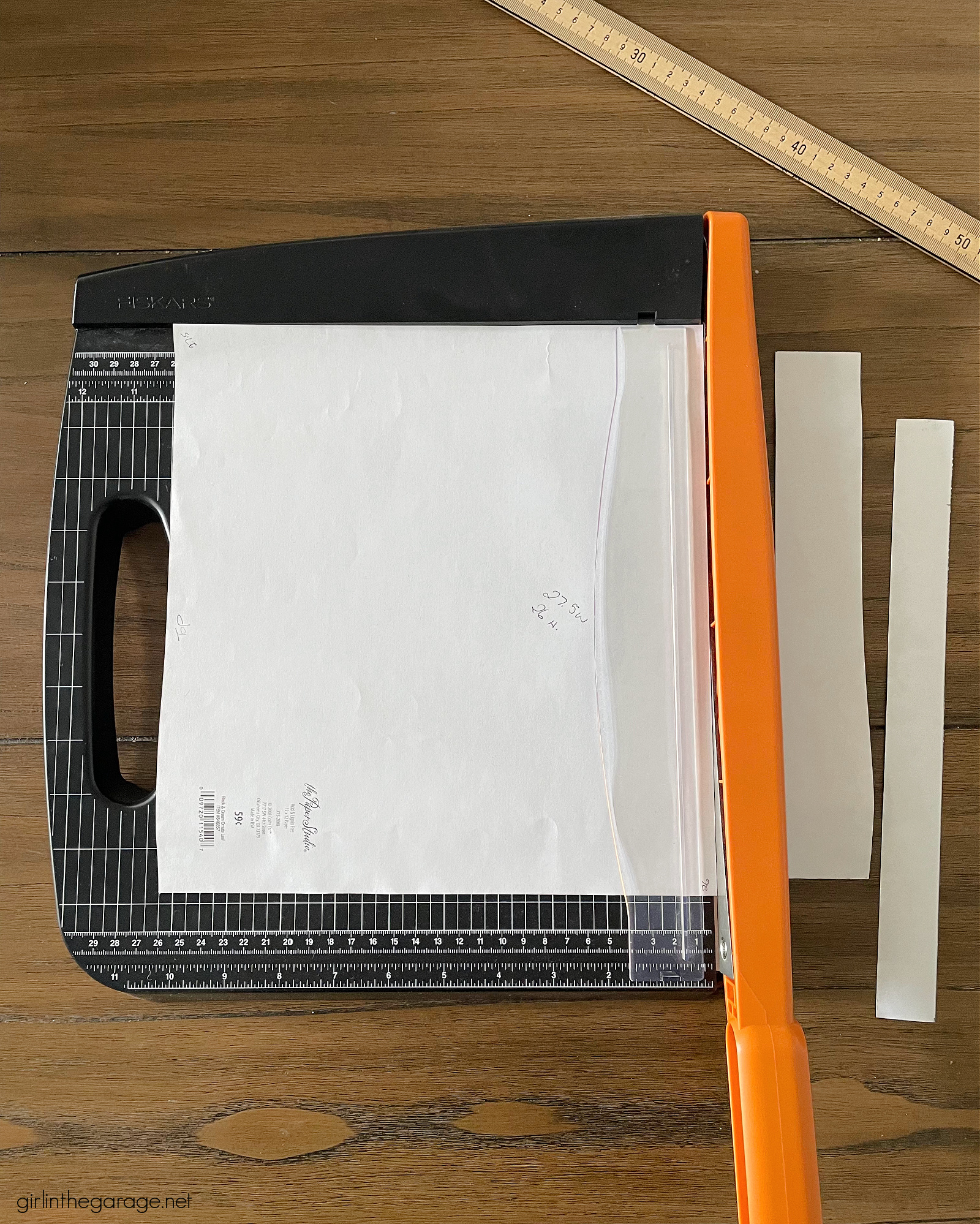 There are several ways to adhere paper inside a drawer – decoupage with Mod Podge, maybe a glue stick, etc. Since this is my own personal project, I cheated this time and just rolled tape on the back of each corner. Plus, now it's easy to change the paper later if I wanted.
Finally it was time to add hooks for hanging necklaces in this DIY jewelry display. Flip the drawer upside down to drill pilot holes in first (drill into the thicker side which is probably the drawer front). Just be careful not to drill all the way through the wood, and always follow directions and use safety precautions when using power tools.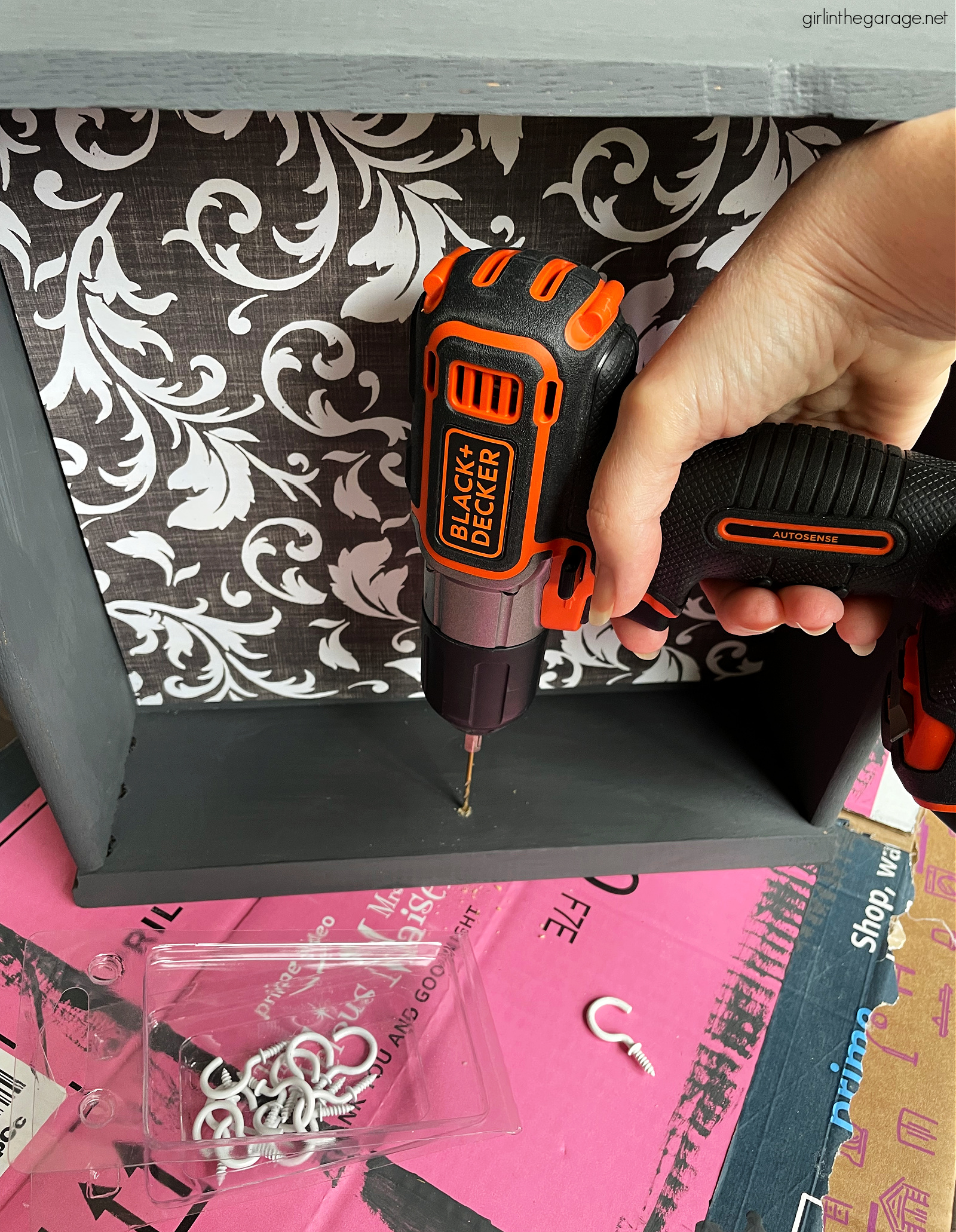 I drilled five pilot holes (three across the front and two behind, between where the others were, like a zigzag). Then it took a little muscle to twist the hooks into the holes.
Now I have a creative necklace display for my new closet to go with the dresser I just repainted. 😊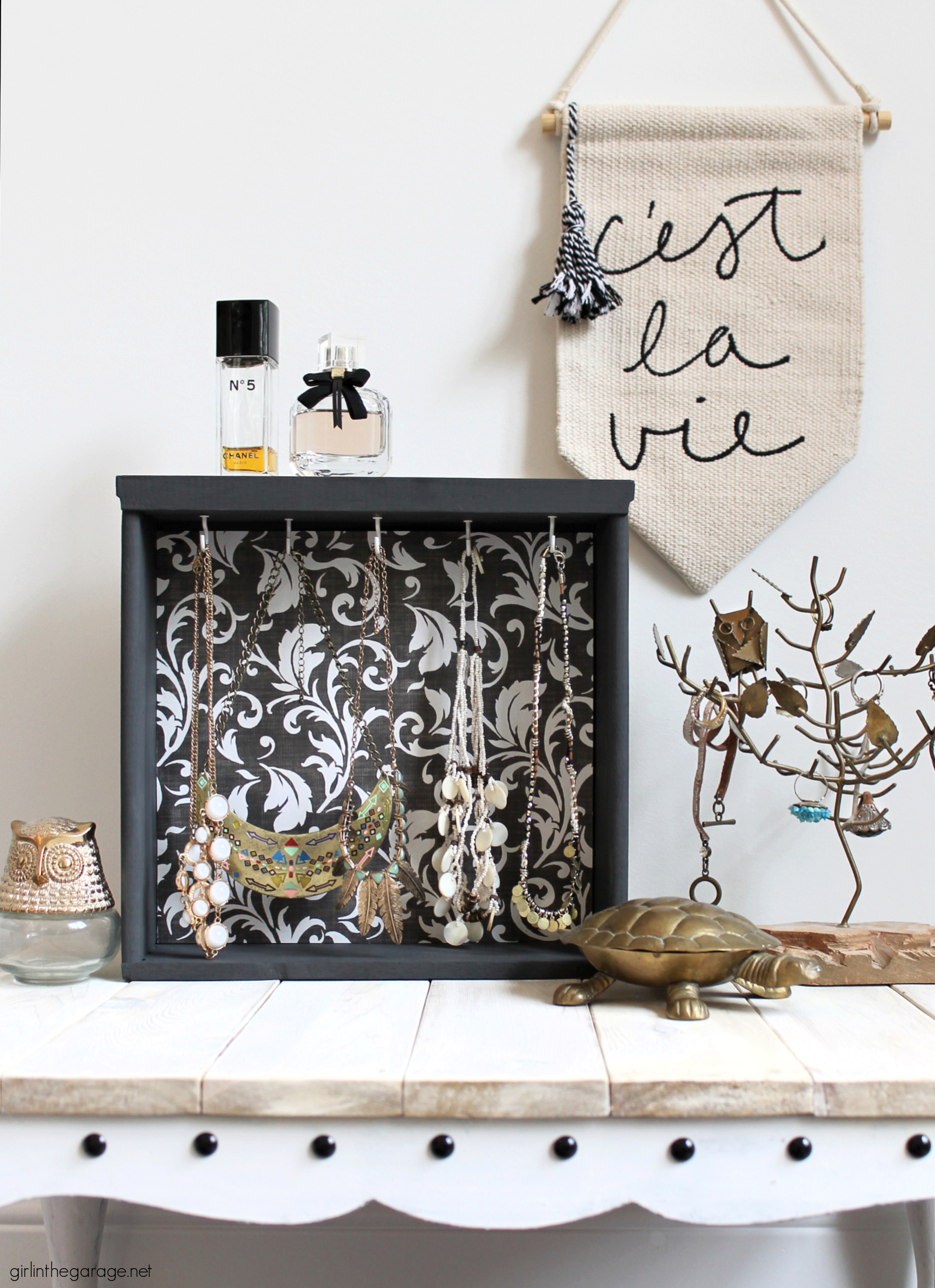 This size drawer is great for short necklaces, and longer drawers would be perfect for longer necklaces. Shallow drawers work better than deep ones though. I think a variety of different size drawers full of necklaces and bracelets on display would be gorgeous in any home or even for a creative craft fair display.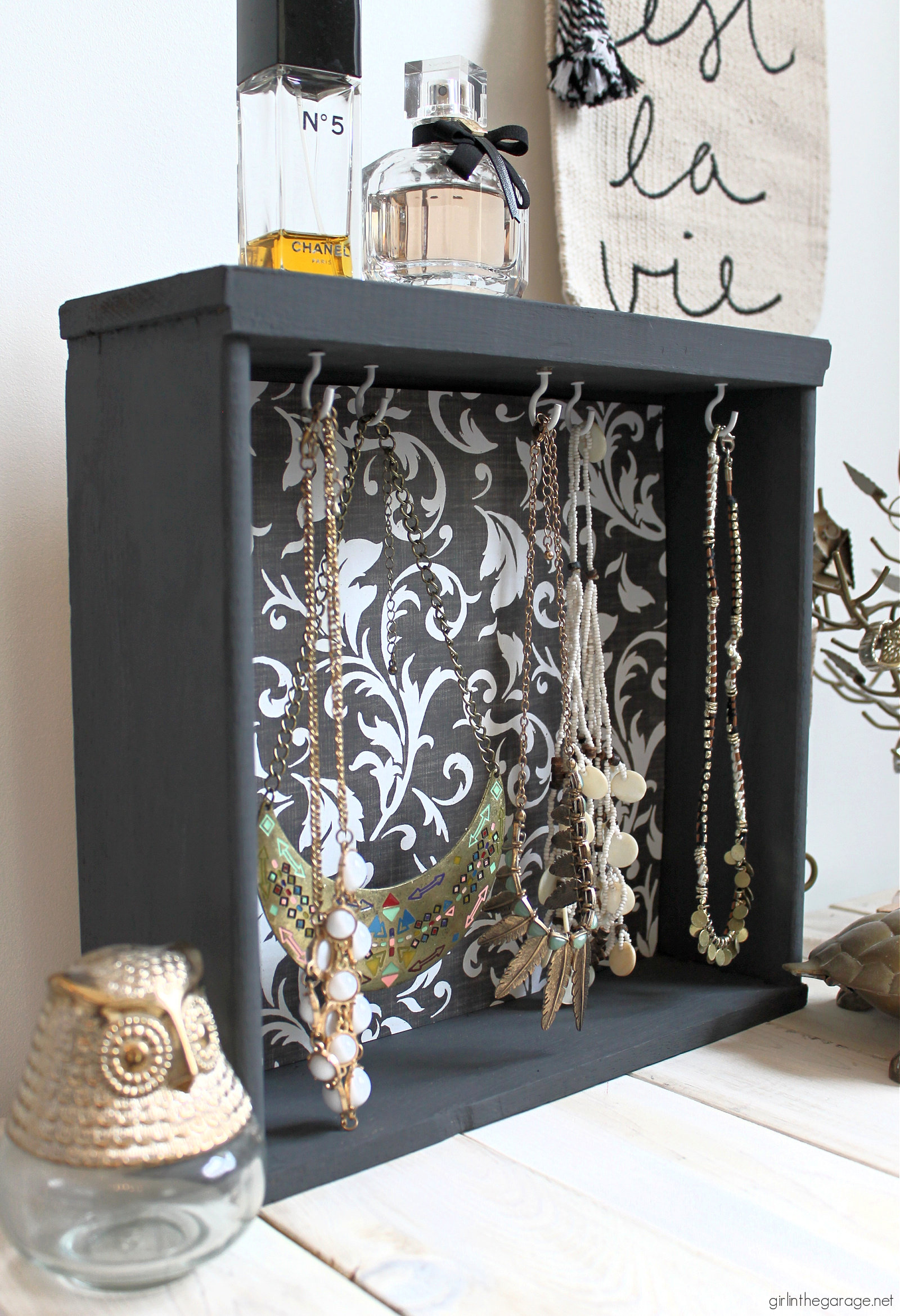 Above you can see how I staggered the placement of the hooks. At our old house, I had lots of decorative hooks on the wall for holding necklaces, and this will save me from putting so many holes in the wall just yet. (Anyone else move into a brand new home and find it difficult to start poking holes in the walls and hanging things? I want my walls to stay smooth and hole-free for awhile, haha)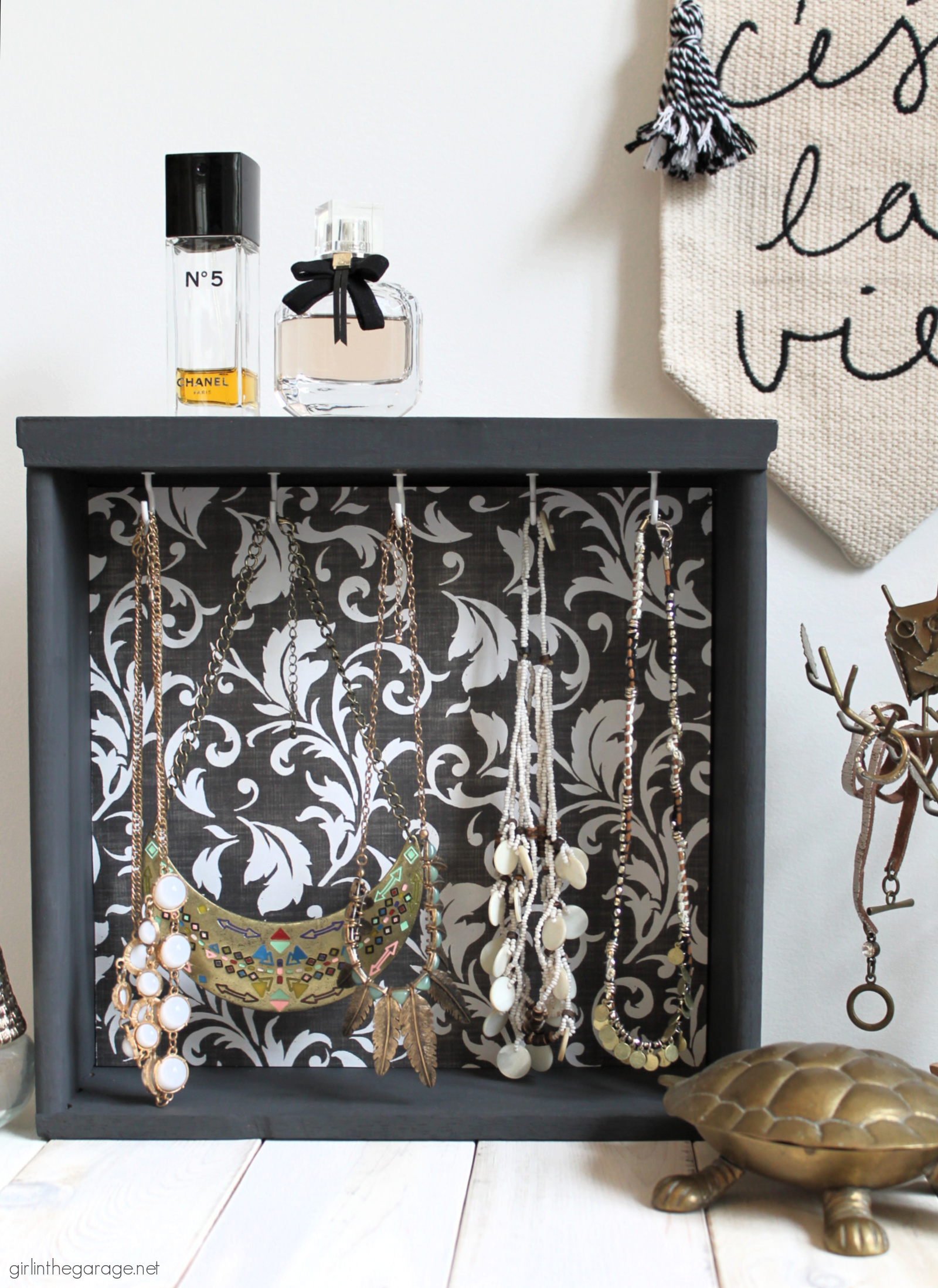 I love this little repurposed drawer to DIY jewelry display idea and I hope you do too. Please share this post or Pin it to easily find again later.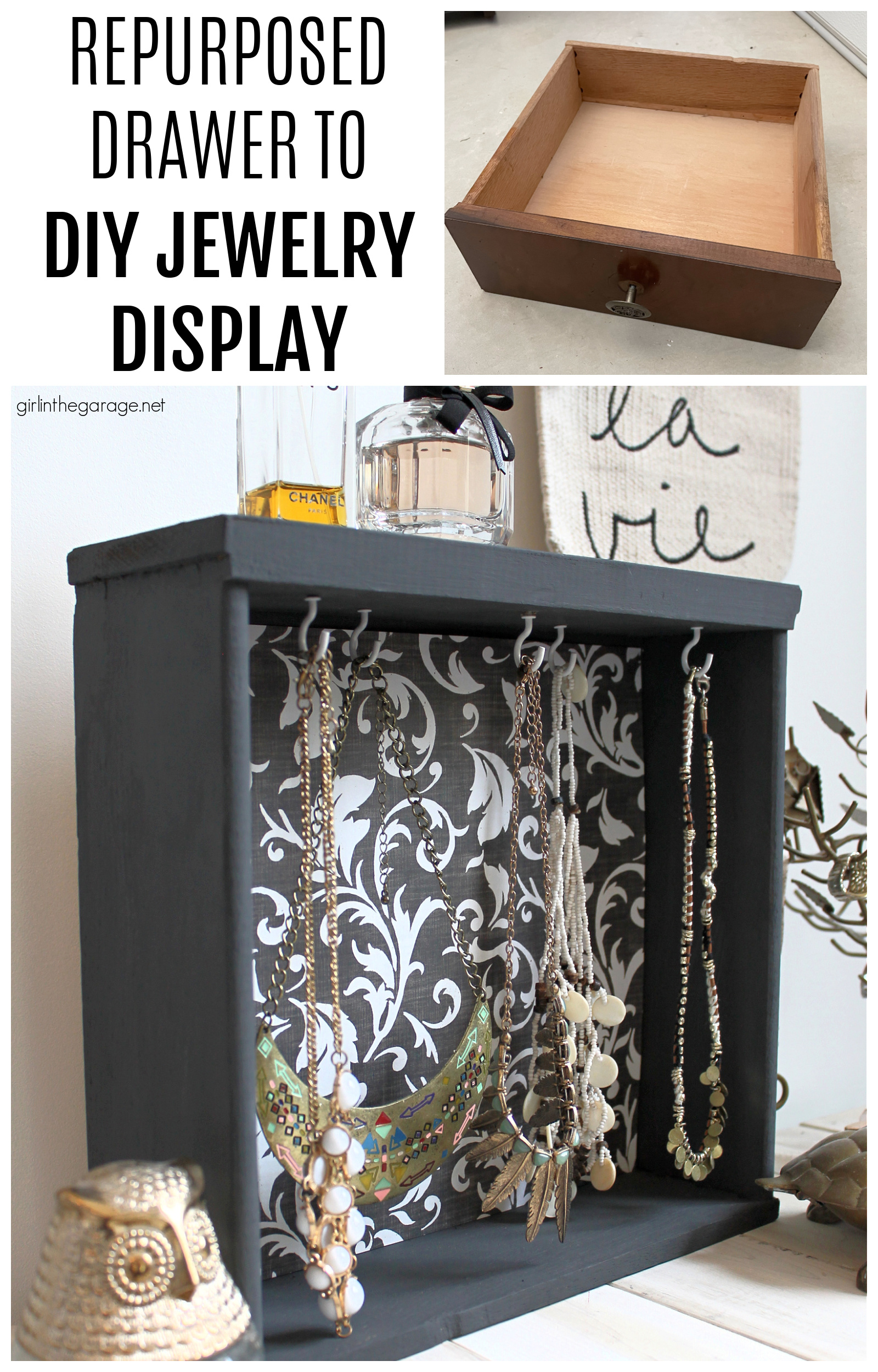 Now enjoy even more creative jewelry display ideas for craft shows, boutiques, and of course your own home. Included are necklace display ideas, bracelet display ideas, earring display ideas – some are DIY and some you can buy directly. (And be sure to keep scrolling for my friends' Trash to Treasure makeovers afterward!)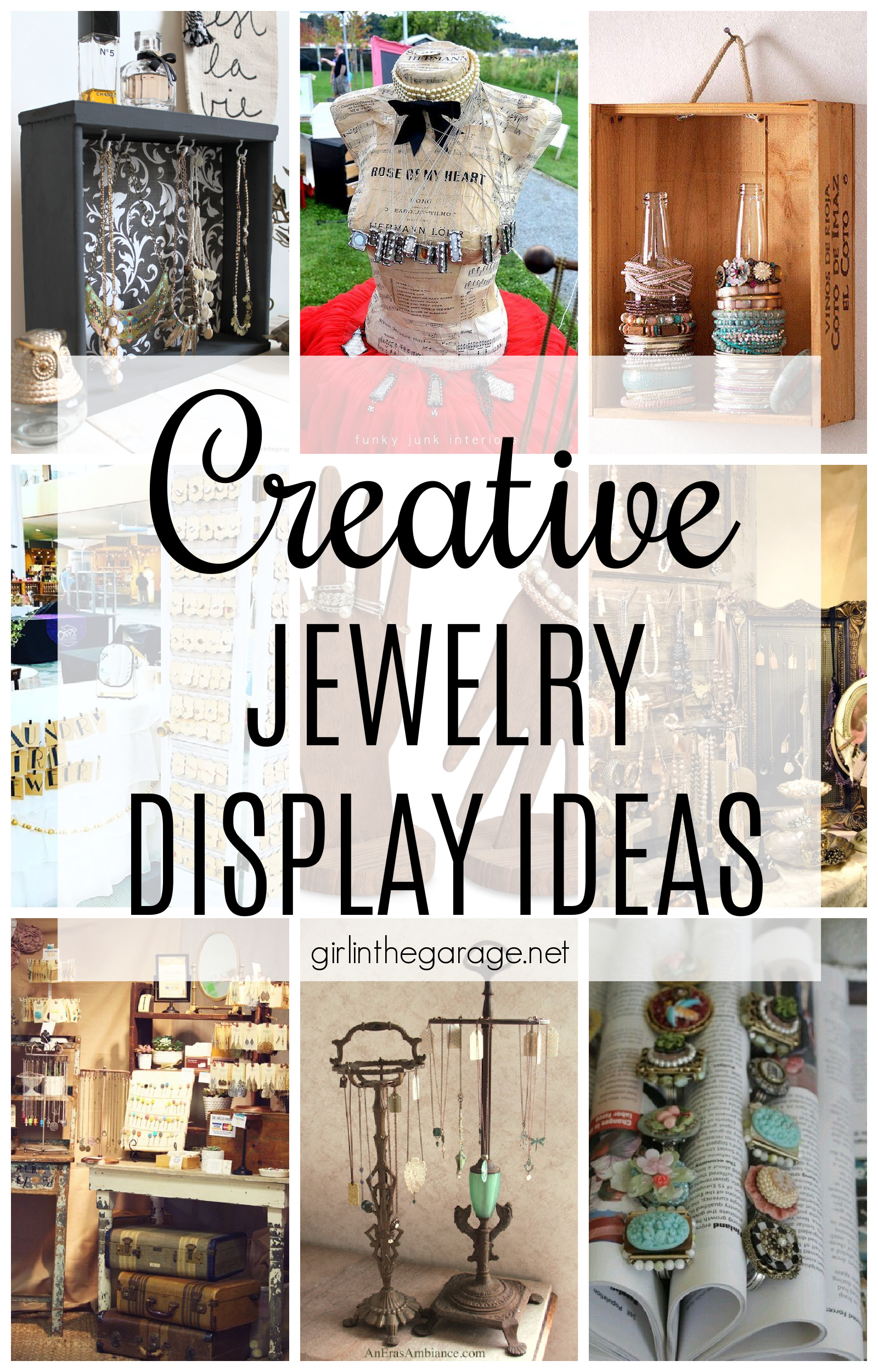 Now it's time to see what my creative friends have been working on for Trash to Treasure Tuesday…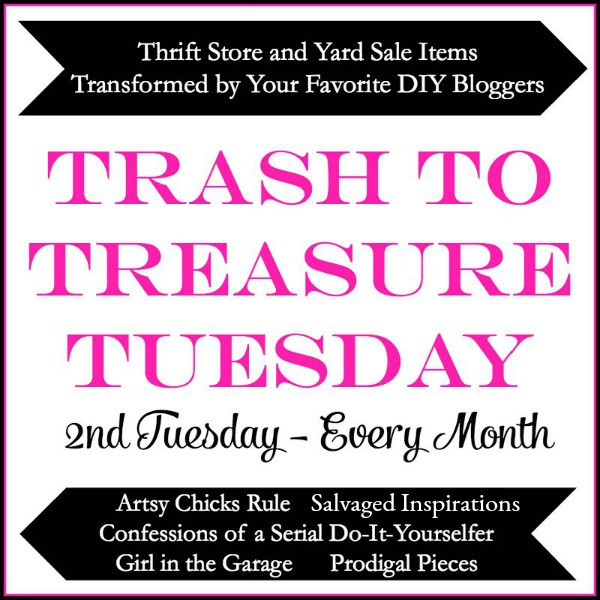 Below are the Before photos – visit the links underneath to see the amazing Afters and to see how they did it.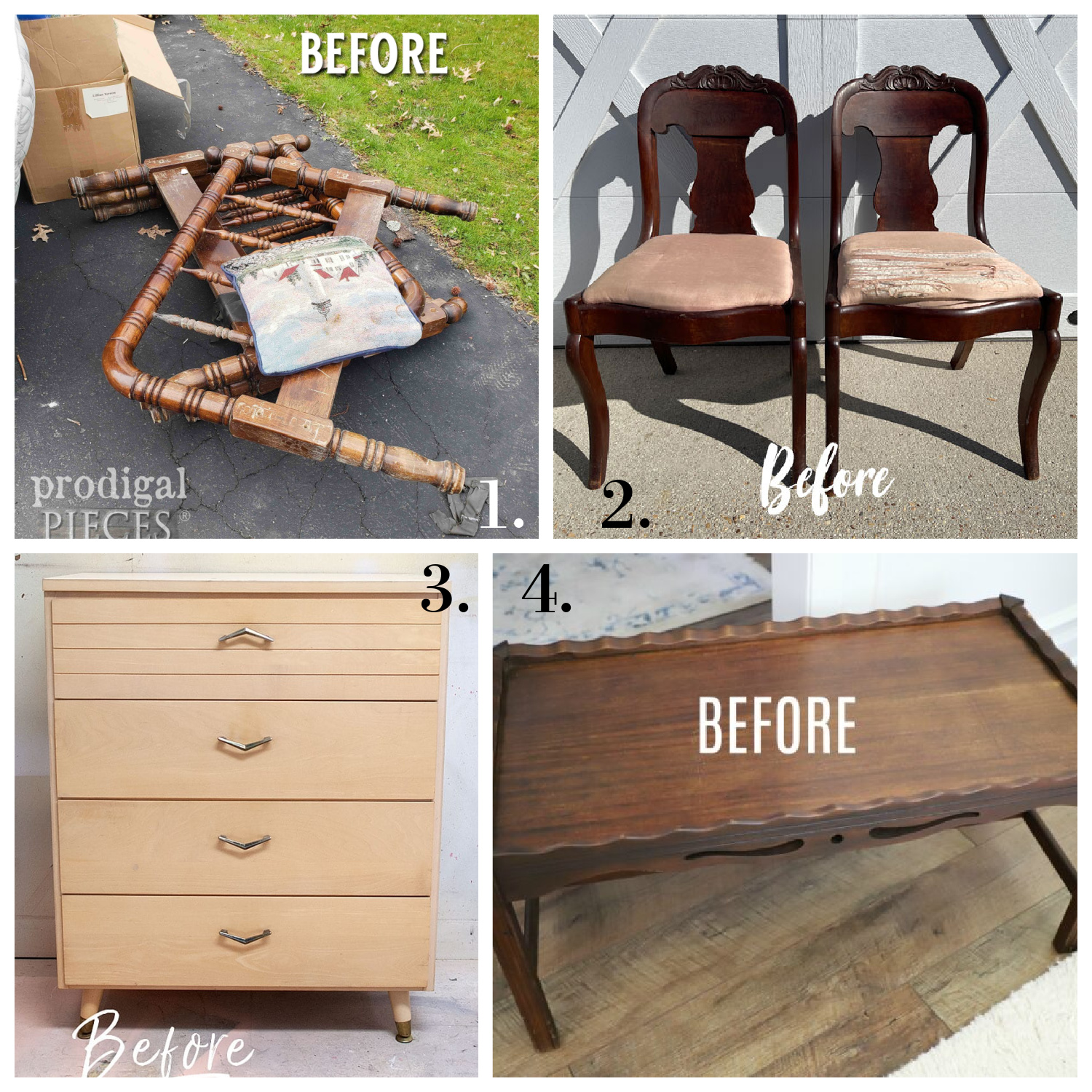 1. Prodigal Pieces
2. Confessions of a Serial DIYer
3. Salvaged Inspirations
4. Artsy Chicks Rule